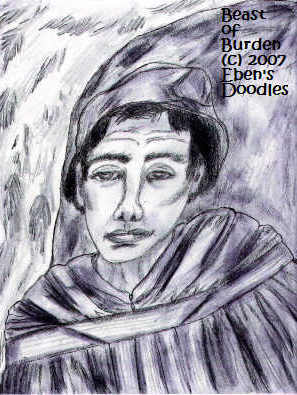 No mere boy could carry that load in his condition, but Clarence did the impossible as his uncle forced him up the path beside the river toward the trestle. "Git goin'—if you fall down and lose the goods my hard-earned gold paid fur—" his uncle threatened time and again, until they finally reached the top. When Clarence wanted to collapse on the snow to rest, his uncle walloped him with his fists. "No you don't, you lazy little bloodsucker.! I'll knock yer noggin clean off your shoulders if you do that again! I'm not staying out here forever with a lolly-gagger like you! Git! Git! You ain't worth a plug nickel of my money!"
How he reached the trestle, Clarence had no idea for the savage wind that blew down into the valley was like a wall he had to push against the whole way up to the crest. Finishing off the bottle of whiskey his uncle was always refreshing himself with, he forgot to send Clarence on ahead. Halfway across the span Clarence thought it was now or never. He struggled free of the ropes that tied the provisions to his back, and then, like a phantom, rushed at his uncle's back, his arms extended and hands ready to give a violent push.
Miscalculating how much force to use, Clarence would have gone over the side with his uncle, but something seemed to catch him and he collapsed back on the trestle, inches from the empty space that plunged three hundred feet to the bottom of the rocky gorge.
The scream of his drunken uncle and the tinkle of a shattering bottle along with a something heavy landing with a couple sounds of something hitting then bouncing and hitting once again—-did he hear really it?—or did he imagine there was no sound at all, just the sound of his own steps in the snow and his own breathing fast and furious both before and after his brief dash.
Lying back on the snow, he heard a voice shouting, "Go to hell! Damn you! Damn you! Go to hell!"
It took him a few minutes to realize it was himself doing all the crazy hollering, when he knew there was nobody to hear him. Was he out of his mind? He rose up, feeling sick and light-headed but also thrilled with glorious, new found freedom. He had done it! At last! At last he was free of the old monster! It seemed anything good might happen now. Life was again full of endless possibilities for him.
The chill of the gathering dark quickly sobered him. He realized he needed to seek shelter, as the wolves drawn by his uncle's body would be looking for anyone else lying dead or wandering in the snows of the mountain. Loading up the provisions on his back, he hurried over the remaining half of the trestle and off toward the cabin. Forgetting the whole incident for the moment, he burst into the cabin, and then dropped the provisions on the floor. He spun around, realizing for the first time it was his own, to do with as he dang pleased!
"It's all mine!" he thought. "All mine to do with as wish!"
He set to work, building a fire in the cook stove, and then made the biggest batch of pancakes he could mix up in the biggest pan his uncle had, and after frying them, he added bacon, and then poured syrup over the whole pile. Feasting, he ate until he couldn't eat anymore. Then before he went to his own bed, he found himself tearing his uncle's bed out of the cabin and sending it down the mountainside. He also broke into his uncle's liquor cabinet, but by this time he hated the drinking so much he smashed the bottles outside on a big rock.
Only then, exhausted and over-fed, did he drop on his bed. Rising early in the morning, he relit the stove and warmed up some pancakes. He thought hard. He realized he had to get out of the cabin before somebody came by and began asking questions. He had to find something valuable to sell for the ticket he needed to escape the town. Mining equipment was costly stuff, he knew. He took some of his uncle's gear, all he could carry, and set off for the trestle.
The weather held good, no blizzard catching him out in the open. The wind was strong and cold, though. It blew snow into his face as he trudged along heavily weighed down on his sinking snowshoes with his uncle's gear. He paused on the mid-point, and saw the snow hadn't blown over all the traces of what had happened there the day before. There at the edge was the place where his uncle had gone over, he could still tell.
It finally dawned on him as he gazed at the spot. "I done a man—my mother's brother is dead because of me. His carcass is lyin' down there somewhere on the rocks."
The realization coldly brought him to his senses. His head whirled with panicky questions. "What happens to me if someone finds out what I done? What if they start askin' questions where he be? What'll I say?"
His courage fled completely away. He realized how young he was, he had utterly no experience how to handle all the adults who would be coming at him. That stopped him in his tracks. He knew he couldn't continue to town, not knowing what to do or say to account for his going there alone, with his uncle's belongings to sell. The town, in fact, was the worst place he could turn at that moment. The town had no sheriff. They'd have him hung in five minutes out back of one of the saloons!
He crept back to the cabin, his heart terrified at the trouble he was now facing. He was so frozen with fear, he went to bed and stayed there the whole day. Finally, he crept out and made a fire, for the cabin was freezing cold. He wasn't hungry any more. He had only his survival to think about.
A plan slowly came to mind. Would it work? He had no other plan. It had to work! He knew he had to work the mine, and then collect what gold he could find from the sluice, and use that to sell and buy his way to freedom and escape. That way he wouldn't be putting himself in so much suspicion.
Kutch the essayist, unlike his uncle's saloon-keeper friends and drinking buddies, wouldn't ask questions if he had gold to sell, would he? He had to wager he wouldn't. If anyone asked, he'd say his uncle sent him to town with the dust to sell for extra supplies he needed.. Trying to sell his uncle's things was now, to his mind, the most stupid thing he could have attempted.
No, he had to get some gold out of the old mine! And get it as soon as possible, before anyone missed the old man and thought to pay a call.
It took several weeks of slaving in the Golden Nugget and at the sluice for him to accumulate any gold dust. He had watched the whole process long enough to know the working of the ore to its final product, but doing it himself alone was seemingly all the harder.
Was he every going to get enough? The tiny flakes and grains eluded him, despite the loads of ore he dug out of the shaft's vein and hauled to the sluice. Fortunately, the sluice was fed by a warm springs that never quit running, even in the coldest freeze.
It ran clear for several hundred feet before it froze up down the mountainside. That was how his uncle was able to keep working the whole winter, and how he had made it so long on so poor a vein.
At last, flake by flake, grain by grain, the needed amount was accumulated and Clarence took the bag, got out his snowshoes, and set out for town early one morning after emptying the glowing embers from the cook stove into the loaded wood box. Leaving the door wide open he left everything without a backward look.
He didn't want to waste any time, so he kept going and didn't look even to see if there was smoke showing back up on the mountainside where the cabin and mine lay.
He also brought matches with him, wrapped in grease paper to keep them dry, and at the edge of town where the big mills stood, he paused behind one and lit his matches in a barrel containing shavings, wood scraps, sawdust and oily rags.
Then he ran for it in the dirty, churned up snow of the road, slowing for a walk when he realized he might draw attention, as he made his way through the town to the steamer dock.
There it was like a shining angel to his eyes! His luck stood good! All he need do is sell his gold, take the money and buy his ticket to freedom.
In the meantime, in case there was anyone who saw him, attention would be diverted by the fire at the mill. Just as he thought, as soon as his gold was sold, and the money was safe in his pock
et, Clarence saw he had gotten his money just in time, for the first sign of anything wrong was men running toward the mills with everything they could grab to fight the fire.
With the partson and a couple helpers taking turns, the church bell tolled furiously. The whole town was alerted, and business stopped completely. People rushed back and forth, either to fight the fire or just to watch its progress.
A wind was blowing hard, however, at the back of the fire. It swept the fire into the mills and continued sweeping the fire into the town with a burning wind and a rain of coals and brimstone-like cinders and firebrands.
The wind grew more savage as the moments passed, for it was a well-known one sweeping down from the mountain through the deep cleft cut by the river. Like a billows, the wind fanned the flames to greater and greater ferocity.
The firefighters panicked and began running back from a twenty foot wall of flame that was sweeping from the mills, which were lost anyway by this time.</h3>
The whole sky behind the town was red and cracking with flames and casting streamers of fire and burning coals ahead of it as Clarence held his ground by the steamer, tense and restless as he waited for the captain.
The captain finally ran up to the steamer and boarded. "We're gittin' outa here! Town's goin' to burn down around our ears in five more minutes! We're gittin' underway!"
His shouts brought the engineer to furious efforts to pump up the flames beneath the boiler, and the wall of fire was close and moving fast enough to send the townspeople running, carrying what possessions they could from their houses and shops. Saloons emptied last, as the loggers took their last drinks for the road, and then looted the premises.
The captain took Clarence's money without counting it. "Git on, boy!" he shouted, and Clarence needed no more prodding. He leaped across the gangplank. A whole crowd followed, but the captain and his assistants had to beat off most of them with wood planks after withdrawing the gangplank. Too many passengers and they would all sink to the bottom of the river!
The steamer drifted free of the wharf as the crowd left behind fought to get to it despite the growing distance of intervening water. A man jumped into the frigid water and started swimming toward the steamer. Someone dropped a rope and he clutched it as his last hope, but the captain wouldn't let it happen again, and he gave orders to shoot anyone else attempting to board. They were already over-loaded with lumber and passengers.
In all the excitement and terror and turmoil, nobody had recognized Clarence, he thought. Nobody asked him where his uncle was. Nobody could care less about one man in the midst of the fire destroying the whole town. It had worked! His plan worked! Better than he had ever imagined!
As the steamer continued swiftly down the river and put the burning town behind it, Clarence would relish his freedom, he did so. Only when men started noticing him traveling alone, did he get any questions.
"Hey, I seen you before, boy|! What happened to your uncle, boy? Didn't old Sourdough make it out? How come you did?"
Clarence had to think fast to answer with any believable. "It's terrible what happened, sir! I was waiting for him as usual at the Golden Nugget, and he was still there when the roof fell in. I tried to go in and git him out, but the flames were too bad—I couldn't—"
Clarence's eyes were tearless, and his explanation too easy to make up, but no one cared to delve any further for the moment. The tragedies left behind were just to massive and bewildering to the human soul,, for any one boy's plight to be considered.
Only by the time they reached Clarence's hometown of Juneau, he found he had real trouble on his hands. Now the skipper and the crew and passengers could turn their full attention to Clarence and the whereabouts of his uncle. The captain in particular eyed him with deep suspicion. He had pocketed the boy's money. He now held it out.
"Where you git this much money, boy? Did you uncle give it to you? How could he, if he was lying back in the Golden Nugget when the roof came down him?"
Questions like that were raining thick on Clarence's head as they neared the dock and true escape to freedom.
Trying to evade the suspicion made it all the worse. "Can't you see," said one to the others gathered round Clarence, "he has no real reason for that money he used to get on board? I know that old cuss. Sourdough'd never give a boy like this one plug nickel! What a miser he was! He owned the mills, and then lived up on the mountain shanty working that old, worn-out vein all those years I knowed him! That was his way; he wouldn't spend anything he could possibly save. Everybody knows he lived lower than a varmint, when he could have moved to fancy digs in Frisco and made like a king the rest of his days!
This here boy is his nephew! His only kin, I reckon, as he never married and he only got that one sister of his, he told me. Why, he could have inherited his uncle's million dollars! Fat chance of that now, with the town and all the mills burned to the ground! That land is worthless now1 Worthless! You couldn't give the deeds away—if they didn't get burnt up in Kutch's bank vault. Who'd want to build in that death trap of a valley again? The place is jinxed, I tell ya! Jinxed!"
Hounded by the questioning, Clarence got off the steamer, and didn't stop at his mother's, but continued.
He didn't dare linger, because he was afraid he would be arrested any moment if he stayed in town where many people knew him. Half-dead at times with hunger, he continued down the coast, catching rides with fishermen, or with miners returning to civilization who needed someone to help oar their boats. Bit by bit, he made it a thousand miles south to Oregon, then on to California. All that wretched and haunted journey, he had time to think about what the men aboard the steamer had said.
His uncle had been filthy rich! He could have lived like a king! He, Clarence, was his only surviving nephew, the heir to a million dollars! But now it was all ashes! Ashes!
After supper, which Clarence found was soup, bread, potatoes and beef gravy, the most substantial meal of the day, the boys were sent to clean their dormitory room, and after that were sent to bed, just as it was turning 7:00. First the dormitory room had to pass inspection, with each boy standing at attention at the head of his bed. The bed had to be made up military style, with the army blanket folded round the cot in just the right way to pass. Any boy who couldn't do it right was given a demerit.
The house warden was strict: no talking in the dormitory quarters. No groups. No passing of notes or anything else. Any infraction past bedtime earned a double demerit.
When the bell sounded for each boy to finish his "nightly meditation" over a printed saying of David Thoreau or Ralph Waldo Emerson handed him, Clarence climbed exhausted in under his blanket. He couldn't possibly concentrate on it, and like the other boys he scrapped it. Some more fastidious boys even collected the printings of Emerson and Thoreau for toilet paper, since the type provided by the Institute was greatly inferior in quality.
Lights went out at the stroke of 7 o'clock when an alarm-like bell sounded.
The night watchman made a round through the sleeping quarters each hour, marking each bed occupied or unoccupied on his list. Anyone missing was immediately reported to the house warden and search was made. Either the boy was turned up, or the whole group was ordered out of bed and forced to stand at attention until the boy was located. Clarence found this procedure out when a boy was marked missing from his bed. It turned out he had been sick and had crept to the latrine without permission. There he had been located and sent to the infirmary.
Clarence waited in his bed, hoping Striker wouldn't remember the meeting, or it had been called off due to the incident of the missing boy.
Hours passed and Clarence dropped asleep. He was rudely shaken awake. A crouching, blanketed form in the dark grabbed his arm and pulled at him.
Groggily, he followed, pulling a blanket over himself to serve as a night robe.
Down the rows of beds, he followed, and here and there boys added to their line, and they all moved in silent and swift file of sinister, monkish appearance toward the house warden's cubicle guarding the door. They passed the house warden, who was sitting inside his small room with a lamp lit but his head face down on the table. The sight terrified Clarence. What if he should wake up and discover them gone?
Striker kept going, using a key to get them out.
Quickly, their leader shepherded them down the hall, past various concrete statuary left over from the mansion's heyday when Ronimous Wolverton the millionaire railway tycoon spent his last days before his suicide there ruling an empire of rail lines that nearly toppled the Eastern banking syndicate' control of California.
Clarence was only dimly aware of the giant shapes that decorated the cavernous concrete-shell hallways they walked down in the dark, with chandeliers and corridors opening out of the hall leading to mazes of other rooms and apartments. Finally, Striker used a key and opened up a room and they all went in. He locked the door and then lit a lamp and faced them.
The boys then sat, Clarence doing as they did, on the floor in their blanket robes (there were no chairs or other furnishings, not even a carpet, though a chandelier hung overhead). The high, stained glass windows were uncurtained, and moonlight split into many colors shone brightly in.
First thing Striker did after they all locked arms at the elbow was hold up a dead rat dangling from a string on a stick. "All recite the sacred creed of our immortal brotherhood," he ordered. With Clarence listening, they all repeated the most chilling ditty he had yet heard.
"Rat on a string, you'll be if you sing!
Figure you're dead for what ya said!
Be a Pirate but do a clam,
Or in your mouth we'll grave dirt cram!"
The meeting did not last long, for Striker's time was cut short by the incident of the missing boy.
"Okay, new business! Pirates, name yourselves!"
Each Pirate named himself with a Pirate name. Then came Clarence, but no one expected his, and Striker called him up to his feet and took his blanket away as the Pirates eyed him with stony, grim expressions as he stood there exposed and shivering in none too clean underwear.
"Glorious Pirate Brotherhood, we've got a new candidate to initiate. You see him! If he passes, he becomes a fellow Pirate. What name shall we give him? Any suggestions?"
Several names were thrown out by the boys. "Naw," said Striker. "You can do better."
He went and peered closely at Clarence, then seemed to think of something that amused him. "This one burns a whole town down, so why not call him after that guy who burned down the Temple of Diana. Anyone remember his name?"
Nobody did, so Striker tried again. I still can't recall what town it was he burned down—maybe he can tell us!"
Every eye fixed admiringly on Clarence, who hated being the object of their intense scrutiny and felt like sinking into the floor. What if he should lie? Would they detect it?
Fortunately, someone thought of a name just then. His hair is curly and black, why not call him Gypsy."
"Yeah, I like that," said Striker. "So you're Gypsy! Yeas or nays?"
Yeas had it, and Clarence was now "Gypsy."
"Next item of business, " Striker went on, "is his initiation. What'll it be?"
"Have him crawl through the manure in the drains, then roll in the straw, and we all get to beat on him!" was one horrible suggestion Clarence heard. The others sounded not much better. "Naw," said Striker. "That's letting him off too easy. He has to think he's really dying at least, not just getting beat and made to stink like a skunk!"
Striker turned away as if considering his own thoughts. He paced back and forth, then suddenly stopped.
"I got it! But first he has to be tied up so he can't get away and spoil it for all of us."
Clarence was breathing hard now, wondering if he had to fight his way out of there like a wolverine would to save himself. The boys gave him no opportunity as they leaped on him and did what Striker directed. None of them wanted to get near the manure, so they gladly took Striker's idea, waterboarding.
Tied to a board so that he couldn't get away, they led him out of the room and out of the mansion, and reached the barns. There he was tied to a thick rope, and several times he was dunked into a watering tank for the cattle and kept under water as he struggled in vain to get free. Nearly drowned, he was finally drawn up and untied.
Clarence collapsed on the ground, spitting out water and bits of straw and fit to kill.
A tally of yeas or nays was taken by Striker. Yeas had it, Clarence had passed!
Suddenly, he felt the boys gather around him, patting and slapping him and welcoming him like a dear brother and comrade into their midst. It was so totally opposite to their former cruelty he was stunned and didn't know how to respond. He had wanted to kill them for what they had just done, but how could he do it now? His preferred weapon was a Chinaman's curved little knife with a dragon carved on the hilt, and the cops had snatched that away the first time he was taken into custody. Then they all seemed to be enthusiastic about his becoming a Pirate and how he had taken the initiation. He had never felt so warm a treatment, and he wanted to believe it as he looked in the eyes of each Pirate.
"You did real great, Gypsy, just like a pirate!" each boy said in his fashion. "You didn't cry or beg for mercy or even turn religious and start praying for help from God to save you!"
That was true to the mark, Clarence was never a kind to do that, no matter how hard it had gotten for him up at his uncle's cabin at the old mine.
Meeting adjourned, they crept back to their beds, the house warden still sleeping off his binge.
At roll call the next morning Clarence was called out and informed he had earned two demerits, one in shop and one in tardiness (anyone at the end of any line automatically receiving a demerit). Three in one day earned a caning. Four got a boy a day in the caboose, as the detention room was called. When released, he had to make up the assignments he had missed, even if it meant he missed a meal.
Striker passed him when they were going to chapel, whispering, "They're going to send you to the caboose just to break you in! So don't be surprised."
Sure enough, at the next roll call he was called out along with two other new boys, and their demerits were announced. Clarence was sent first to the caboose. He was locked up in a long, dark room, with the window boarded up. There was a bucket for his commode, and a bucket of water to drink from. A bed was a filthy mattress on the bare floor.
The room stank of urine and stale air and mice that had crept in and died in corners and cracks.
Clarence sat down on the mattress, only to discover it was crawling with bedbugs. He quickly found a corner as far from the mattress as he could. Never had he felt so miserable, spending hour after hour, without food in such confinement. By the next morning he was sleepless and frantic to get out.
It was a suffocating experience, and he felt he couldn't breathe in such a hole. Another boy was led in as he was let out. He heard the boy start yelling for mercy almost immediately for someone to let him out.
The house warden's assistant, a pimple-faced bully named Cronwitz, smirked nastily at him as he led him down the hall. "He's just making it harder on hisself, actin' uppity and stupid like that!" he guffawed.
Feeling weak and sick, Clarence could not think of any word of response. He could hardly wait to get free of the guard and back to his bed to lie down. Anything was welcome after the detention in the caboose!
Though he tried that day and the next to do everything right, he still received more demerits. They earned him his first caning. But it wasn't a cane the house warden or his assistant Cronwitz used, it was a long, thick, rudder-like paddle that shot pain through his whole body like hot, crackling electricity. After several blows he was trembling where he stood leaning over a table as commanded. He couldn't sit after he received the six blows his demerits earned him.
Missing meals was the worst punishment, he soon found. He had to do the same amount of school work and outside tasks, though he hadn't the energy and strength. If they continued to do this to him, he thought, he was going to have to run away if he could, or collapse.
Receiving more demerits despite his best efforts, Clarence despaired. But when he received more canings, he still didn't cry out or beg for mercy, and the assistant remarked to him, "You're a tough little buggar, aren't you? Well, we'll beat it out of you yet! That's what we paid for!"
One of the assistants, Loritz, took over Clarence's case who was adept at handling the stronger willed boys. Only one boy, Sriker, had successfully opposed him with his much greater intelligence.
This man liked to wrap a wet towel around a boy's neck and squeeze until the boy thought his eyes would pop out. He did this to Clarence. Clarence passed out, and when water was thrown in his face, it was Striker that Clarence saw.
"I admire your standing up to them, but you're only making it harder for yourself! They want you to beg them to quit hurting you, so they can quit bothering with you But you're making them be all the harder since you won't back down. They know they will look bad if they can't have it look at least like they are in charge here. So say something anyway! It doesn't matter what it is—just let them know you know they are your superiors. If you just keep silent, they will think they have to work on you all the harder to break you and make you accept their authority. And one of them loves doing it! He'll enjoy killing you like a chicken with its neck wrung! That is what he used to do, work at a chicken factory!"
Clarence could believe it. He felt Loritz's hairy, thick, meaty hands on his body as he lay strangled into helplessness, as if the man were caressing him. For days after there was a red and black bruise circling his neck like a dog collar.
Loritz also punished the serving boys caught stealing fruit pies in the kitchen, desserts meant for the table of the director. "No, honest, we didn't steal any [obscenity] pies!" the half-witted Rancher boys cried when called out and confronted, though they still had traces of blueberry and blackberry and apple pie still smeared on their unwashed faces. These boys too, though so slow-witted they couldn't possibly think of excuses or a way to pass the blame, were strangled to an inch of their lives and bore the distinctive collar of red and black for days afterwards.
The demerits and punishments did not stop, and Clarence was increasingly desperate to either escape or kill himself.
One of the new boys turned up missing a week before some particularly loud and vigorous harpsichording had been heard issuing from the director's quarters—a clear sign something was going on there. A thorough search was finally made as everyone stood at attention on the lawn outside the mansion. The boy was found, hanging from a chandelier in a distant corner of the building.
Nobody was allowed to talk about it openly. The rest of the day went according to schedule. Clarence was sent again to Loritz the strangler, and he hoped that time was his last, and he wouldn't wake up.
Then the director made a surprise visit to the schoolrooms with his wife, her first appearance among them since her recent arrival from Philadelphia. Cowlike eyes, large in girth, dressed in dark, heavily ruffled silk, she looked an ample counterpart to her husband who walked up and down the silent rows of Clarence's class as the teacher of the beginning year boys sat waiting. It was the first time Clarence had seen the director so close. A very big, massive-framed man, his hands huge and man-killing as Thor's hammer, which would explain the thunderous, half-smashed harpsichording that issued periodically from his quarters—he could easily pound any lesser instrument of flesh and bone into submission to his will, Striker's clever ways and experience notwithstanding.
Yet, size and strength aside, there was an unmistakable sense of refinement about him, which made him more fearsome to the new boys like Clarence. That way, for example, the director stared off into Olympian heights, as if he were determined to go there personally and perhaps take earth with him, willing or not!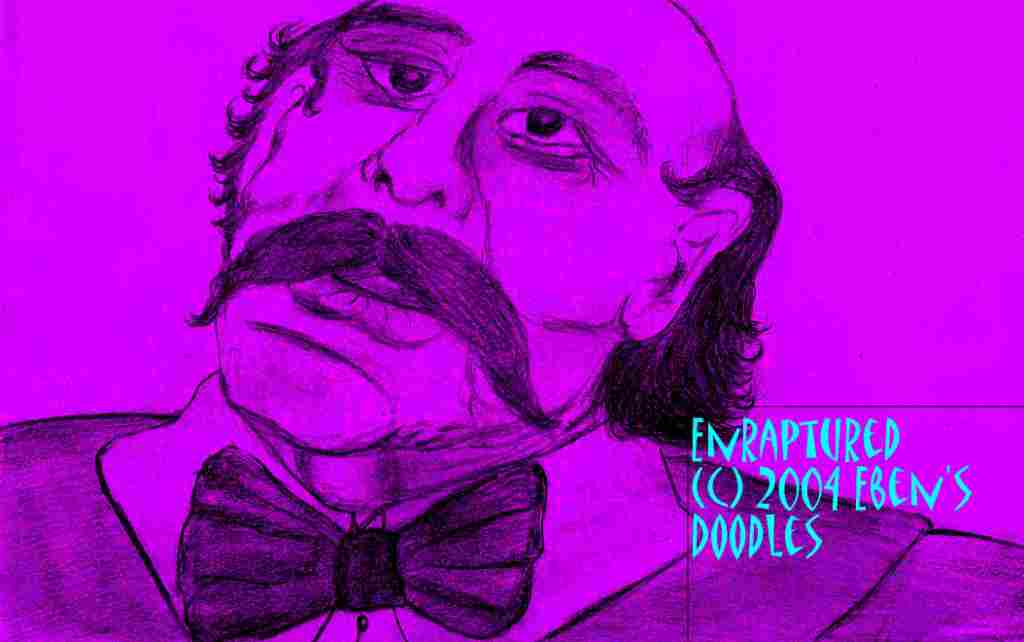 "It has come to my attention, gentlemen, that someone here thinks he is being mistreated at Wolverton. I can't imagine how that could be--for we at Wolverton follow all the guidelines of the state office for rehabilitation of youth, and if there is anyone here who feels he is being dealt with unfairly either by the staff whom I implicitly trust or by his peers, I hereby give that boy leave to speak out freely. We have other fine schools where he can be sent, if this one does not prove satisfactory for his progress and induction back into civilized society. No one here is kept against his will! Now, boys, speak or hold your peace hereafter!"
To emphasize his point, he let his fist swing against the blackboard. The blow sent chalk dust spurting from all the cracks and rattled the whole sheet of slate almost to the point of shattering it.
The director eyed the whole group. Meanwhile, the teacher glared at the boys, as one or two looked as if they might speak up. But the moment passed, and no one dared complain to the director in the presence of the teacher who would severely punish them.
Smiling broadly, the director turned to the teacher, his tremendous slap across the shoulder blades nearly collapsing the man and fracturing his collar bone. "Carry on, you are doing an outstanding job, Woonsocket," he remarked cheerily, sailing ponderously out of the room with his wife.
The director gone, the ashen-faced teacher recovered himself as best he could and got straight to the task at hand. He gave demerits to those boys he had observed ready to raise their hands in protest.
An inspector from the state commission for review of the state's reform schools also paid a visit. The boys were served all the fruit pie they could eat at lunch, their work duties in the barns and fields drastically curtailed, an extra hour at sports was awarded so they could play an entire game for the enjoyment of the inspecting official, and a hastily assembled and rehearsed boys choir sang for him and the director and his wife at a special reception and ball attended only by the highest staff of the institute.
Everything returned to as it had been before the official's visit, however. If anything, the treatment grew more harsh when he was gone, along with the departure of the director's wife back to Philadelphia Clarence continued to receive demerits and punishments.
When he had decided he would hang himself rather than suffer again from Loritz, Striker came to him after hours at night. Speaking to him in Clarence's bed, he outlined a plan to escape. "I've been here two years too long, and I know they're not going to let you off until you start begging them to stop, so how about just you and me getting out of here? Besides, Schwarzhuber is making signs he wants me sent up to his private rooms to try me out on the harpsichord, and I won't take that from anyone. I'd kill him first, though big as he is, it might be difficult. But I'd think of some way! Well, wanna try it breaking out of here? The other Pirates are a pack of cowards."
Listening, now Clarence knew what had been only hinted to him previously. It horrified him to think he too might be selected for a "harpsichording" session. What was it that the director did to his victims?
One boy with blond hair and good facial features had come from such an private meeting with the director during Clarence's time at Wolverton. For days the boy looked dazed and had difficulty even answering his name right at roll call, either because he couldn't hear or his brains were too muddled. Then one day he was called out and sent to another farm school that had a mental ward. Clarence never dared ask him what had happened, and only chance remarks reached his ears.
"That was his own fault, being harpsichorded," someone said in his hearing "Talking nice to the staff, combing his hair every day, even cleaning his shoes off so they wouldn't stink after work in the barn—he was just asking for it, sucking up to the staff that way!"
The other remark was even more chilling. "He says to us afterwards when he come from there, old Schwarzhuber tied him nekkid to the lid of that harpsichord and then played four hours straight! After that, he lifted him off and with one hand threw him across the room onto a couch! Then he drug him to the bathroom, rammed his head into some towels to ketch the sound, then paddled him until he fainted. He did some other things too like that, before it was back on the top of that harpsichord for more music!"
Clarence didn't have to think about Striker's offer. "Yeah, I'll do anything you say, Striker!"
"Good!" said Striker. "I'll get you details of my plan later. I am making a few necessary arrangements first so we can make a clean break."
Striker slipped away like a phantom, just as stealthily as he had come. No one ever blew the alarm about him among the staff. Striker never was awarded a demerit. Apparently, to Clarence's thinking, Striker had somehow struck a deal with the staff to leave him alone. What did Striker do, or what did the staff fear Striker might do if they didn't? It was Striker's big secret, and he wasn't confiding in Clarence.
In the meantime, just to keep clear of the director, Clarence let his appearance go. His boots reeked, and he left them that way. Anything that might spare him the ordeal that had ruined the good-looking, blond-haired boy was worth trying.
Their planned break-out couldn't come soon enough, Clarence felt. He couldn't stand the thought of spending another day at Wolverton. What if the mad harpsichordist who ran it chose him to spend the night? What could he do to defend himself? Nothing!
Striker had all the keys necessary and the route mapped out perfectly. They made it clean out of the mansion without anyone spotting them. Miles down the road, it was still dark enough for them to slip off the road unseen into the bushes should anyone come looking for them. They passed Ronimous Wolverton's pride and joy, his concrete fairyland of giant replicas of Stone Henge, the Great Pyramid at Giza, the Taj Mahal, and a Pagoda. Overgrown with thorn bushes and sage brush since the tycoon went bankrupt when Eastern bankers called in his notes prematurely and shotgunned himself in the mansion's library, the concrete monsters stood all the more impressive in their utter desolation and ruin.
Once their owner envisioned trains full of well-heeled excursionists coming out from the big cities and towns all over California to see his marvels of ancient architecture—the Wonders of the World, of which seven he had made pains to recreate along with others he admired from his world travels.
Taking rest in one of Wolverton's marvels, Clarence leaned against a giant replica of Ramses, the pharaoh whom Moses the deliverer of the Hebrew slaves had confronted in the Bible, and he had no idea what the statue signified, or that it meant anything at all. Striker, being better educated, knew somewhat, but he was more intent on their getting as many miles between them and Wolverton as possible that first day before the alarm went out to the state authorities to look for them and possibly send deputies to round them up.
The rail line the tycoon had built to carry the crowds from the cities to Wolverton was also overgrown, the train long-since sold or retired to rust away in a distant rail yard. But it led the way back toward civilization.
Yet Striker grew uneasy. He took a sharp turn away from the tracks.
"What are you doing?" Clarence called after him, stopping alongside the tracks.
"They've expecting to find us by the tracks, that's what!" Striker laughed. "Why help them catch us?" Clarence felt the sting of Striker's corn and could find no answer to that. But to walk straight into the wilderness—that would get them where? They might perish from hunger and thirst out there! How would they make it through all that desert and mountain country?
"We have no choice. Are you coming with me or not?"
Clarence knew Striker was right. He had to follow Striker. Only Striker seemed to know what to do next.
They continued to lose themselves in the wilderness, putting miles between them and the rail line, so that they felt they could slow down their pace and go more slowly.
What was the big hurry if everyone would be looking for them in the wrong place?
The events that followed disproved everything Clarence thought they had going for them.
The next day, after sleeping out in the open under some half-dead, scraggy trees, the boys were spotted by two men on horseback, and they had to run for cover, reaching a deep riverbed that was spanned by an abandoned trestle. The tycoon had begun another line, one he planned to reach over the mountains of Nevada to the cities of Las Vegas and Reno. This was the fragment of it, left as it was—a trestle with a few miles of track on one side of it connecting to the main trunk line running to Wolverton from the coast. Even the trestle was not passable. The ties and rails were never laid; only the supporting beams were in place and spanned the river bed.
"How'd they find us so quick?" a panicked Clarence cried to Wolverton as they dashed to get away into any cover they could find.
Striker didn't answer, his long legs carrying him down the steep slope to where the trestle started across the dry river. One side of the gorge was treeless and without a blade of grass. But the rock on the opposite side was porous and was trapping the water in the slopes and cliffs, and they were thickly wooded. If only they could get across the trestle, they could possibly get away, Clarence saw. That had to be Striker's plan now.
He climbed down as fast he could, with the pursuing state deputies leaving their now useless horses to follow on foot.
Striker now used his training as "Percival Arbogast of the Flying Arbogasts" in Coxey's Four Ring Circus to leap and catch each girder as he made his way through the trestle's underpinning structure toward freedom on the opposite bank. They could have run from bank to bank in a couple minutes, but the men on foot would have ridden them down in a minute. There was no other way than the one Striker had chosen, Clarence saw.
The men below them ran across the dry course of the dead river to see if they could catch the boys above them when they descended. But Striker, Clarence knew, had already outwitted them. He would simply climb up on the end of the trestle where some ties and rails were laid, and then run the remaining distance and slip into the woods and big rocks. No horse could make it in such terrain on the other side, it was so rocky, steep, and forested.
Could he do the same? Clarence wondered. He had no choice but to try. The men, seeing this, stopped in the middle of the riverbed, and started shooting because it was just too high and dangerous a climb for them to make it up in time to intercept the boys. But that didn't matter either how much they shot at them, Clarence thought. He didn't care if he was shot—that would be a quick end for him at least. He only feared capture and a long imprisonment for aggravated arson, or a hanging if his uncle's death was ever charged to his doing.
As for Striker, Clarence considered him as one who lived a charmed life. He was just too lucky and agile and smart to be caught. Whatever mistake—someone had whispered embezzlement to him once—that landed him at Wolverton, he had long since corrected. No one could stop Striker now.
Hurrying to catch up, Clarence tried to copy Striker's every move and leap. It all went well for both. He was gaining even on Striker. Striker wasn't even worried, Clarence could tell, by the fact they were being pursued so closely.
"They've given up on us!" Striker laughed as Clarence came close enough. Striker seemed to want to give Clarence time to join him. "You're doing great," Striker encouraged him. "We make a great team of bandits and desperadoes, don't we! This is better than reading about periwinkles in Worcester, isn't it?"
Striker smiled and gestured to him to hurry up. A particular last gap needed to be jumped by Clarence to reach the last set of girders.
"Just a little bit more and we'll be on our way again, with no more worries of anyone following us! The country is just too wild from here on for them to even consider it, my friend! We can eat rabbit and quail, which I know how to catch plenty of, so we won't starve. I've got matches for starting a fire, and there's dry wood around here to burn. We've got it made, Gypsy boy! Now come on, jump, you can do it!"
"Yes, I can do it!" Clarence thought. "This is the last big jump, and I'll have it made with Striker!"
Clarence smiled as he leaped toward Striker, his hands outstretched to catch the beam he needed to catch to reach Striker's perch.
At that moment, however, Striker used his circus training and struck out with own legs as he swung on the beam. The move knocked Clarence backwards with a big, expertly aimed kick.
Twenty feet down Clarence hit beam after beam, then dropped down onto the rocks below. Striker, looking down, pulled some papers from his shirt and let them fall and scattered round the body. "Have some perwinkles, sucker!" he shouted down.
A deputy, seeing this act of deliberate, cold-blooded murder, turned confounded to his partner. "Why'd he do that? They both coulda make it away now! Who could be that mean and heartless to do that to his own buddy? Was he thinking the other fellow was slowing him down too much? I seen many bad things in my time, but this takes the cake!"
His partner was staring upwards, watching the last of Striker climbing to freedom as quick as a mountain goat in his own mountain territory. A moment later Striker had vanished in the immense maze of rocks, canyons, and mesas beyond, leaving the crumpled form of his companion.
The deputies, still scratching their heads with disbelief, made their way over the rocks to examine the body. They picked up the papers. They found out they were court and school records, detailing Clarence's various incarceration in San Francisco for petty theft and vagrancy and also reports from law authorities working on his Prescott, Alaska Territory arson and homicide case. The latest dated, composed by a chief prosecutor for the state, recommended that the boy be returned to the state court as witness in a murder case. The prosecutor claimed that they were sure to convict and hang the man if they had Clarence's testimony, for Clarence had been a close friend of the arraigned. The letter detailed how often Clarence had helped the law in the past in like manner, by which he had gained clemency for his own thefts when he had been caught along along with others.
Evidently, Clarence's treacherous buddy had read the full report on Clarence-—including the prosecutor's description how Clarence was a stool pigeon and had turned numerous fellow petty thieves in to the authorities for being let off from doing jail time--and decided back at Wolverton he would never be able to trust anybody like Clarence.
In a bind, Clarence the rat and pigeon would open up to any officer in interrogation, and his friends could all go hang as long as his life was spared! In fact, one man had already had his neck stretched, thanks to Clarence! If that wasn't enough, he had burned down the whole town of Prescott in the Territory of Alaska just to get away from his drunken uncle, Arthur Prescott, or, more commonly, "Sourdough Scottie"! The records told the whole miserable story, and Clarence's buddy decided he would even the score for everybody once and for all, and not risk Clarence's squealing on him!
Why he had waited was obvious—in school he would have been hauled away immediately, but in open country he could easily dump Clarence and get away.
The officers, left on the scene, made out their report, then turned to the task at hand of disposing of the body. They had decided, on the basis of the reports, that a "rat" such as this boy wasn't worth taking out. Let him lie where he was! What harm was that? If the authorities wanted the body so badly, they could send some men to come and get it. They very much doubted anyone, including Wolverton's director, would want to make the effort for the likes of Clarence Silkey.
Yet for decency's sake, they carried the body to another place, and in the dry river bed they made the grave, piling rocks on the body to keep off the coyotes and the crows.
Finished, they paused. Not much in the way of being religious minded, they wondered what next to do for the burial. Was it a Christian grave they had made? They would have liked to think so, for few men will admit to being rank, idol-worshiping pagans.
"He wilt give his angels charge over thee, lest thou dash thy foot against a stone…" is as far as one could quote, which seemed like the wrong sort of scripture for such a malefactor as this boy had been. Unable to come up with any more proper words from the Bible or Last Rites, the men made a cross of sticks and stuck it in the sand at the head of the grave. Stepping back, they admired their work, and then, dusting off their hats on their knees, went back to get their horses. It was growing late in the day. They needed to get back to civilization or spend the night there, and neither wanted to spend it by a grave in so desolate and spooky a place as the dead river that went by the name of "Rio Negro," "Black River" on old Spanish maps.
It was only two hours now past the time when another black river caught Clarence and swept him to his doom below on the rocks, but before he could fall on them he was given an immediate replay of his entire life. He saw the most startling things. He saw everything he had done, but he also saw angels, some bluish, others black as night, at every step of the route from leaving his hometown to go to his uncle's, then from his uncle's back to his hometown and beyond to California and ultimately to Wolverton and the trestle spanning the dead Black River.
As he had fallen he saw a fierce, blue-tinged, long-haired angel standing in the cabin, with a mighty arm outstretched as if waiting for Clarence to cry out for help, holding a sword over his uncle's head. But he did not cry out to God. Then he saw the angel waiting on the trestle, and this angel was a Black Angel of Death.
This fierce-looking avenger waited to thrust his uncle to his doom, but Clarence did it on his own, again without crying out for any help. Then he saw the long-haired angel again standing beside him, waiting to strike the man who was beating, then was strangling him at Wolverton for things he hadn't done wrong, waiting in vain, for Clarence never once cried out to God whose servants were all these angels.
It continued like this. Angels, angels, angels, the blue ones or some black as midnight, attending his footsteps all along the course of his short life. Even when he, still trusting Striker, leaped out toward the beam where Striker waited, there was an angel hovering beneath, waiting to catch him and stop his fatal fall.
But, without a word, he plummeted down past the angel's pleading face and through the golden ring of his waiting, outstretched arms.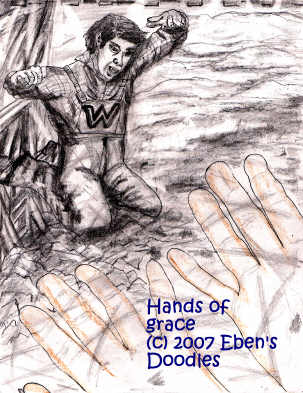 Even when he reached the rocks and they smashed every bone in his body, even there nothing really ended for Clarence, since nothing earthly or afterwards could wipe out his existence. Even before he, having received his sentence at the Great White Throne judgment, walked with a vast crowd of fellow doomed souls that included Loritz, Schwartzhuber, and Grawitz the quack doctor, to the edge of a cliff from which they all fell into the lake of fire, a last adventure—and a ring-like thing--caught him and his three Wolverton tormentors and placed them together on a ship as part of the crew.
Wolverton, before it was shut down by the state auditor when scandals concerning the director's sadistic "harpsichording" sessions broke into the muck-raking papers of San Francisco, was known for its excellent school records, meticulous in every respect as each boy was examined and recorded upon induction. These records were accessed by the State Historical Society and put on microfiche in the Society's archives.
Preserved in that way until the 21st century, they were next transferred to computer archives. This data found its way like a tributary stream into the vast Amazon of criminal information that was the F,.B.I. and C.I.A.'s combined master data bank. One thing Wolverton always did with inductees was remove a specimen of hair from each boy's head, and it went into the boy's file with his records. Someone in the Historical Society found these specimens, and sent them along to the F.B.I, which in turn submitted them for DNA analysis and identification.
Clarence's DNA and his entire life was mapped out in this way and preserved. Eventually, the 22nd Century's genotype bank at Tutasix in the Aleutians obtained the file, and when the White Ship's crew of the Cybernauts was chosen some millennia after that, the Black Ship's crew was also being selected; thus, Clarence's file was drawn, and Clarence found himself flown down to a pirate ship.
There his old school gang nick-name stood him in good stead as he was made known to his crewmates, all of whom were pirates and professional criminals—-thugs of no misgivings whatsoever, able to commit any kind of atrocity they put their minds to.
Poor Clarence was now translated, by the marvel of electronics, into a full-fledged pirate, albeit lacking a dimension or two! He was so shocked when he landed, that his hair turned instantly blanched out. Bon Voyage, Gypsy!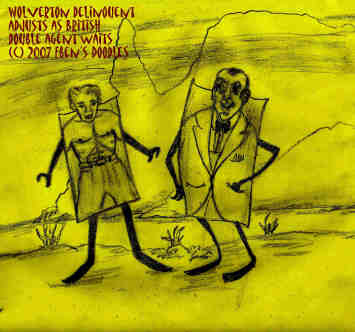 Now the two policemen who pursued him as far as the Black River, they may as well have the last word. One said to his companion as they wrapped up their own part in the case of Clarence Silkey, words to the effect the case was a waste of public money if carried any further. By which he meant retrieving the body for reburial at state expense was throwing good money down a rat hole.
"A boy with a record like that, who'd do in his friends, then his own uncle, and even burn down a whole town just so he could run away to live easy, ain't worth a plug nickel." He paused to spit. "Or my name ain't Josh McClurken!" he added.


(c) 2007, Butterfly Productions, All Rights Reserved