Forced to humiliate her by giving her his answer in the hearing of others, Joseph watched the effect. He saw, unmistakably, the lofty pride of Mizraim the Two Kingdoms rise up in her eyes and countenance, as she gathered in the full meaning of his words and decision. Without a word, she had slightly bowed, then departed from his presence with her women-servants, without asking a wife's leave of her husband and master. He, in turn, was humiliated, for everyone present, the bodyguards, ambassadors, officials, and guests of the court, not to mention foreign suppliants for favor, and others from the lower orders that conducted his least affairs, could not help but note her breach of court etiquette and also a man's rights over his wife--however noble or royal in blood that wife was.
Troubled in heart, Joseph cut the day's business short, and went alone to think and pray. Later, he went to his wife, but found her chamber door shut and also locked against him. Knocking, he heard nothing for a long time. When he called for a man-servant to force the door, only then did she open. "I am ill, Joseph" she said to him, her eyes boldly holding his, though he knew she was lying. And why had she used his Hebrew name, which she did not prefer above his Mizraimite name? Was she saying that she had cut him off from her own people and also from herself?
Joseph turned away. He could not let the household witness any more than it had already witnessed. It would soon become the talk of the whole court, he knew, if he gave the fire any more fuel. As for Asenath, he had to let her go--if she wished to escape out from the courtyard of his love and authority, growing and spreading like a wild vine. If he forced her to submission, he knew he would have an enemy in his own house. As it was, she was becoming a stranger--and by her own choice, not his. All he could do that was wise was to wait--wait in love for her, not in anger. Perhaps her mind would turn back, and she would come to him as she had come before. He wanted her willing heart most of all. To command a woman was impossible for him--after all, she was a gift of God to him. Could he command a gift to be given to him a second time. No, now that it seemed to be stolen from his hand, he had to let it go on its own for a time, even a long time, in the hopes of getting it back.
Such was Joseph's high hopes, but increasingly, he saw that waiting would not be enough to win back her heart. Asenath separted from his own household, taking her servants to herself, and conducting her life as privately away from him as possible in her quarters. He had to choice but to sleep apart from her as well. She showed him no wifely ardor as before, and it was useless to insist on his rights or her duties toward him--he encountered only stiff resistance if he insisted on anything in those ways.
A year, then two, passed in this unhappy way.
The boys grew rapidly to manhood, learning as many Hebrew ways as Joseph's school-man could teach them. They didn't like it very much at first, crying out for their mother and refusing to learn, but as father he could deal with sons even if their mother was beyond his discipline. When he told them his father Jacob's vision, picturing it for them, he expected respect, if not awe.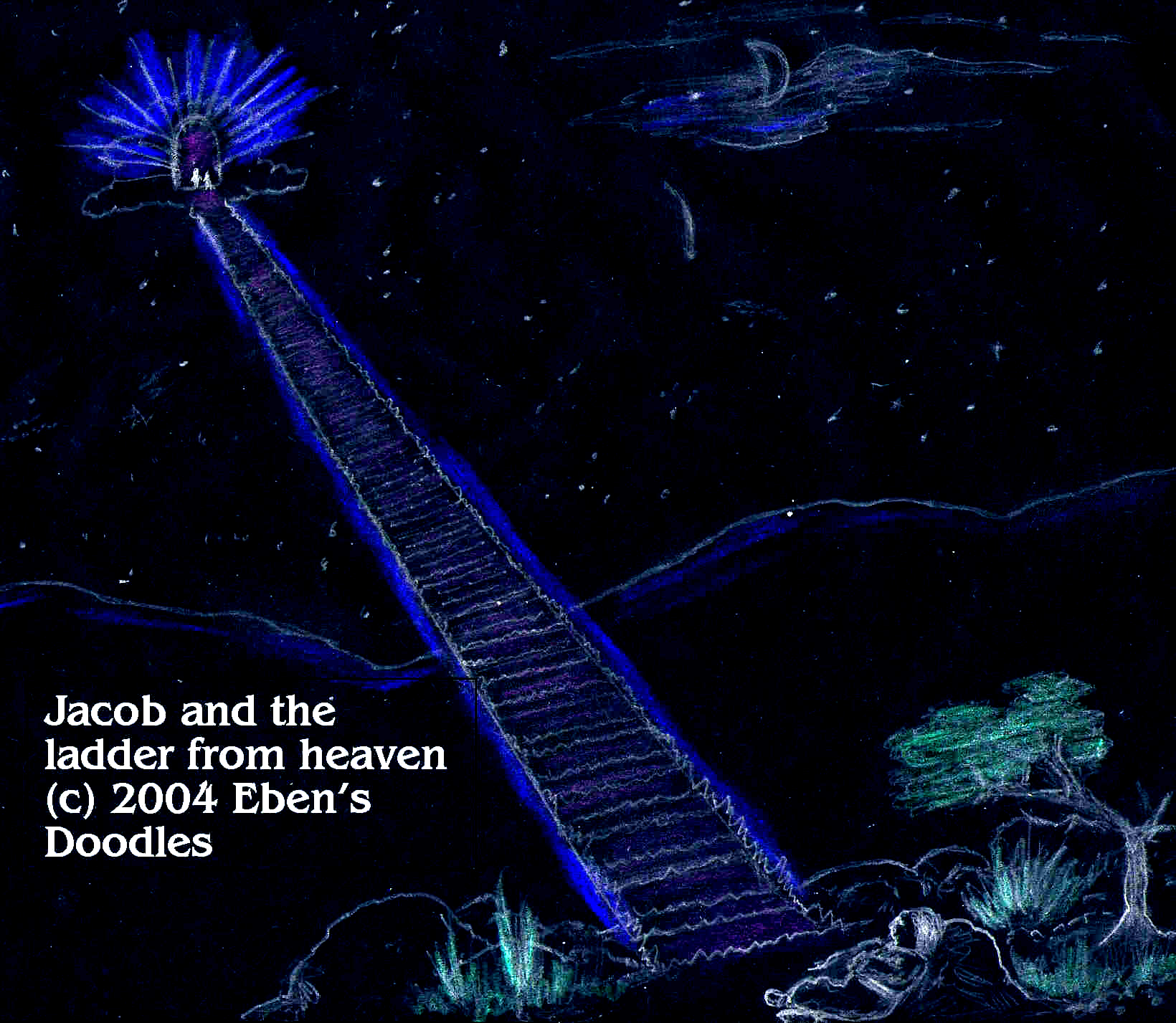 Instead, both laughed. "Why didn't your father ride his chariot up to heaven? Why didn't he ride his horses up?" Ephraim had jeered. Joseph was shocked. He did not like what he had to do, but as he took a firm hand of discipline int he days ahead, they both learned respect for him as their father, and gradually they began using Hebrew in their speech instead of so much Mizraimite. By the time he took them to his father Jacob, when his father was failing in health, Joseph was proud of his sons. They no longer resisted his love and resented his authority, and seemed to respect their holy, chosen people and their ways over the Mizraimite's and their many gods. As for their mother, they seldom saw her, and then only when he was present, and so very little passed between his sons and her.
Yet Joseph saw that Asenath's Mizraimite training had not been altogether in vain. If the boys were fighting, they sometimes let loose a Mizraimite oath against the Most High God, and he even heard Ephraim call Manasseh a Hebrew dog when Manasseh happened to throw his brother to the ground in a test of strength.
Asenath herself did very little for herself as the months and years passed. She no longer read books of any kind. She did not cook or clean, or do anything domestic. Her own person became neglected, as she turned the women way when they came to bathe her, or dress her. She relished and ate many sweet fruits and cakes, and had them delivered to her daily. She grew in size, and her clothes were enlarged or rewoven in size for her.
Joseph sorrowed at her, as she was turning. "My wayward vine, where will you end in your sad journey?" he wondered.
"Once so beautiful and fruitful, will you become a briar and a thistle? You were a noble vine in my household, and I rejoiced over you! But now you have cut my heart in twain..."
Truly, the blessings of the breasts, once so great, had been stolen from Joseph's life--and his enemies, as in the old saying, had become the men (in his case, a woman he loved) of his own household.