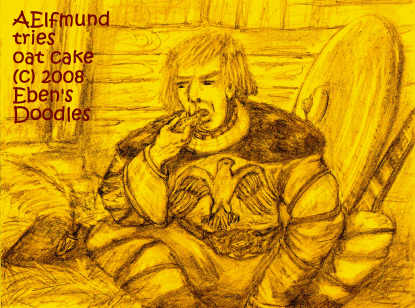 The king darted a second, even sharper glance at the prince, who caught the meaning and retained the cake, though he slipped half of it behind him, then tossed the portion into a dark corner where there was soon sound of scurrying little feet that meant either kittens or furry vermin.
AElfmund still had the taste of it along with a few crumbs in his mouth and throat. He soon excused himself, and hurried out. There was the sound of a loud cough and spitting, as if a horse had caught something in his throat.
His eyes lowered, and his face red as if he had choked, the young warrior re-entered and seated himself, careful not to encounter the king's steely gaze.
Oblivious to all the goings and comings of her guest, the old woman finished her piece of the oat-barley cake with long, drawn-out relish. Then she took the drinking bowls and replaced them on the wall.
The iron pot where she had mixed the cake's ingredients she scraped out for the goat and the cat's benefit, and the chickens got the last few bits of the meal. It seemed to take her forever to complete these few domestic duties.
Finally, she bolted the door, crossing herself as she turned to her prayers.
She turned to the men, smiling as she was addressing them both. "I've not had two hearty Christian men and such well-favored lords in my house at one time," she said. "Neighbors would talk if they knew you were quartering here, but at my age I am not so afraid of mortals of flesh and bone. God Almighty's angel stands beside my door day and night, and he will protect my widowhood and virtue if you are wicked men, and you are not bad to my eye. Now if any heathen Danes too should come, the angels will deal with them stoutly--"
Both men stiffened, and their hands went to their swords immediately.
"So you are truly not the Danes and Vikings, I thought as much!" she laughed. "What king do you serve then, good sirs?"
Both men exchanged looks. Alfred raised his ringed forefinger in caution to the other, then spoke. "I serve no king but the Lord God. I am this country's sovereign by God's grace, good Christian woman."
Now it was the old woman's turn to be mightily surprised. She backed up a few paces, which brought her to her kitchen wall, knocking against her two bowls. Then, bowing her head several times but forgetting to kneel properly, she continued speaking, unable to control her tongue.
"Forgive my words over the oaken-cake, sir! I did not know who you were, to lay such words on you in that manner as I did! So your name is Alfred, son of AEthelwulf, and you are king! I have lived here all my days, and I never heard of you! Is it we good Christian Saxons you be high king over?"
Alfred nodded.
Fully realizing for the first time the full significance of her place as a subject to this guest of hers and how she had rebuked him to his face over the burning of the oaten cake, the old woman, overcome, dropped like a stone, her knees to the floor, quaking like an aspen leaf in the wind and raising her hands to him.
"Oh, blessed saints and relics! If I had only known, I would not have spoken so commonly to thee! Forgive an old woman, a poor farmer's widow. I am not used to tabernacling royal guests in my humble abode!"
Alfred shook his head over her peasant simplicity, and Prince AElfmund appeared about to laugh uproariously over her "tabernacling", but Alfred gave him a stern, warning look that normally could seize a man's heartbeat and send him unconscious into the arms of his aides and cnichts.
He rose with majesty from the tottering wreck of a chair, gently drawing the woman up also by her hand as if she were a fine noblewoman at court.
"No, don't apologize to me. In the circumstances you did very well by us. We can make no complaint against you. You made us feel welcome, and we thank God for you, since we have ridden far to find a safe haven to spend the night. God's blessing be unto your head, old one! We are most grateful, and I will give you something for your trouble from the king's purse. AElfmund?"
"No! No!" she cried out. "But wait! I forgot provender for your noble mounts."
She hurried out, and later she came back, her face flushed, a crock of fresh goat's milk in her hand "Now that we've slaked our thirst with God's good water, there will be enough milk for all of us, my lords! And as for your horses, they are no worry to you now. I put the pig out to go fetch himself roots and old acorns in the woods, and the horses in, with plenty to eat. My two fields grow fine hay, and I always have plenty provender for my animals. I have a goat too, a lovely white one I named after St. AElfmund. But he is not saint himself, sirs. He's always slipping off his tether to go sporting, randy beast that he is, with a she-goat of my neighbor's whose dam was a heathen piebald! I have to tie him stoutly to a tree or I can't keep him a day, the blessed saints forgive me!"
At the name of the goat, and the comments about its questionable proclivities and wandering nature, Prince AElfmund made a sour face, and his royal sovereign and master had all he could do not to not burst out laughing at the poor prince's expense.
Then the old woman, who had no idea how much she had just offended the prince, remembered the king has asked about straw pallets for lying down, of which she had none. What could she do to please the king? she wondered.
After offering each a draught from the jug, with AElfmund abstaining because he was thinking instead of good Wessex or even Danish mead, she set aside the rest for cheese making, then hurried out again, and when she returned she hobbled in with a big bundle of hay on her stooped back.
Fresh and clean and smelling very fragrant, she spread it in two places on the floor. Helping, the men spread their cloaks, and they soon had beds made, such as they were in this humble hut.
Going to her own place to watch for the morning, she sat down, drew up her swaddled feet to her chin, and began to mumble a series of long prayers. With two armored soldiers, both Christian men by their eyes and demeanor, believing the one who even said he was King of the West Saxons, the woman felt assurance in her heart and saw no need to double bar the door with another heavy plank.
And, if that failed, she still had her mighty angel beside the cross-beamed door and another she had asked to stand by the isle's gate in case additional warcraft be needed!
Her household guardian was so fierce in countenance, only once had she dared ask him to his face why he should bother so much for the sake of one old woman, a widow of no account or any wealth.
With a voice that sounded like thunder he had replied, telling her how the Blessing of St. Joseph stood firm and anchored in her prayers for her people, and would always hold true at the gates of the land, and until her soul flew back to God, for now she was the Island's Gatekeeper of the Lord.
'Gatekeeper of the Lord?' The 'Blessing of Joseph of Arimathea'? Astonished, and overcome by the angel's words, she had keep silent from then on. What else would he say if she asked? She didn't dare ask again, fearing to provoke a holy angel with her ignorance. What his business was, she left to him, and minded her own from then on. Time went on, and she simply accepted his presence in her household, like she accepted a piece of furniture.
Far too weary to watch and pray with her one hour for their country or even remove their armor, the battle-worn men sank down on their beds, vastly relieved at having found such a snug refuge, even if the dinner had been rather frugal and the sleeping accommodations thread-bare. p> They knew that they would be warned if the Danes were coming by any one of the king's sentries stationed at the approaches and the exits of Aethelney.
Then it would be a hard dash through the alder and willow-thicketed swamp, not an easy way out surely, but it would cover their retreat nicely. Knowing their countryside better than Danish foreigners, they could skirt the horseless armies of raiders and ford the various rivers and get away to the strong-hold at Tintagel where his wife and royal household had gone because of the latest raids.
When the chorusing birds and a chanticleer awakened them at daybreak, they found the old woman still awake, watching over them. She seemed none the worse for her vigil, explaining that bones and joints' aching after the plowing was preventing her sleep as she began to scurry about like a much younger woman, preparing for a new day.
The king rose and stretched. Prince AElfmund slipped outdoors to wash his face and hands and bathe in the spring that made a small pool and then flowed down the hillside. The king followed, and the squire let him go into the water first as a king should. When it was the prince's turn, he complained loudly about the chilly waters, while the king smiled and shook his head.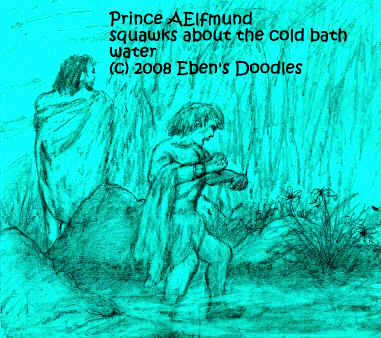 They returned to the hut, to render their thanks to their hostess and then depart. Neither wished to trouble the old woman for breakfast. Would she have anything left for her own body? It seemed doubtful, her hut was so sparse and the farm so tiny.
"Sires, I have something for your repast before you must journey on!" she called out.
Before they could stop her, she hurried out and behind the hut. Returning, she had a basket of four or five brown eggs, but not so clean as they might have liked.
"The merciful God of Father Jacob be praised!" she exclaimed. "Usually I find one or two for all the trouble of feeding them! Oh, my, just look at these beauties--they're fit for a king in a grand palace!" She spit, then rubbed each one tenderly with a bit of her none too clean head scarf-cap.
After showing them how large and finely shelled they were to the studiously grave Alfred and the barely polite, smirking AElfmund, she turned round and went to the hearth fire she had just kindled. She mixed the eggs, some milk and wild honey, and heating the mixture poured it into the wooden bowls, and the famished men forgot former squeamishness and found it remarkably delicious and heartening.
This time they could not deny their ravenous appetites and left nothing for the hostess, but she cried, "Good, manly appetites, that's what I like to see! Men of valor defending hearth and home should have appetites! It does the king's handmaid proud to serve such!"
Abashed, the king handed the bowl to his less than royal "handmaid," and AElfmund set his down too in her waiting hand. She stood, a bowl in each bony, gnarled hand, her eyes shining in the hut's dusky gloom.
Stepping outdoors, the king glanced down the path toward the way he had come. It was high time to be going.
"Where will you be faring now, Your Majesty?' the old woman asked, surprising him.
His thoughts showed in his face, and his brow wrinkled. He rubbed his beard, and shook his head, and looked most unready to undertake any new venture, which then showed in his words. "We must ride fast, then ford the river and get free of the Danes, and if we succeed I may be able to raise another army among the South Saxons, perhaps, and--"
The old woman looked at him strangely. She came forward to him, fixing her eyes on his. "But what happened to your last army?"
The king was disarmed by her hospitality, though surprised by her audacity. He did not hedge his words. "Scattered and hiding wherever they can at present. The enemy were too many for us. We were forced to retreat, and then, those of us who were left of my guard, came here for the night. The prince and I ventured on here, the others are waiting for us below the hill, at both approaches."
Kingdoms like doors can turn on extremely small hinges, rising either to greatness or sinking to ignominy. Just now the kingdom of Alfred poised itself for a turn to greatness or ignominy, for the hinge was now laid in place.
The old woman's eyes showed her grave doubt as she gazed up at him. "What good is raising another army, if they are already too many and too strong for you? You will be ruined even worse than you are now if you feed what men you have to the lion!"
The royal prince in AElfmund was now angered by her uncouth forwardness. He recalled she had already rebuked the king once. Over a stupid, nasty oat cake at that! A second rebuke was not to be bourne!
Quick in passion, he could have slapped her for speaking thusly to the royal high king of Wessex, but Alfred knew him well, and marking that their circumstances and prospects were so greatly reduced, as to make them wards of a poor widow for the night, chose a humbler road and stepped between them.
"Well spoken, good woman," the twice-chastened king replied, "but why do you say that? How do you know my kingdom's strength is but a slender thread about to snap on a weaver's shuttle, if all you know is Athelney as you say?"
The farmer's widow looked him straight in the eyes, unflinching at his logic. "We are country folk, and are ignorant. But we can see plainly the Danes have swallowed up the whole country round us, taking whatever they please. Then here you come, sire, fleeing them. No one can tell me you are equal to them when they pursue you like dogs on a hare!"
Alfred winced, her description proving more than apt, though even his counselors would have bitten their tongues in her place. AElfmund was lividly furious, of course, but the king knew her words were absolutely true.
"You are wiser than I first thought, old one. What is your counsel to a--a weary-legged hare who seeks only to save his country from the heathen hounds of Odin?"
After having confronted the king so stoutly, the woman surprised them when she began to weep. She shook her head, shedding tears like a dog shakes off wet from his coat.
"What am I to counsel a high king? You have noble counselors for that! But go and learn what you have not seen in your great palace yonder. Or let the land teach you necessary arts. Better, let the Lord of the heavens and the earth counsel you, O king, and then you will find the right path through this dark and wicked forest that would swallow both you and your men up!"
She turned away, shuffling a few paces, then paused abruptly "One more thing. I prayed all night for you and your kingdom and throne, that the faith of Christ may not perish from this land. And I dreamed, though my eyes remained open. Do you wish to hear my dream? It may be only a foolish thing, an old woman's dream."
The disgruntled AElfmund had no such desire and went out to his horse. He must have reconsidered his action, and returned when the king did not come out. "Will we be departing soon, my lord?" he asked the king.
But still Alfred, chastened in his spirit by her admonishing words, could not leave her just then. "Yes, " he said to her, ignoring the prince. "We are in grave peril. My kingdom may not last another day if things do not change for the better. Favor me with your dream. It cannot hurt."
Without turning round, she stooped low, her face toward the ground, a hand on her back. "I dreamed of an old man, a holy monk, writing in a book, and the book told of kings like you, one after the other, for an angel like mine stood by, explaining to me what the monk was writing. He wrote about you, then many others. Starting out straight and stout as you, the kings shrank smaller and smaller, and then ceased to have any power, they had become such tiny men. But they wore crowns too large for their heads and sat in mighty, grand palace halls just the same. Finally, one king and his queen and their family were taken in a dragon-headed ship and beyond the stars set on a wheel circling like a moth at night round a--"
Indeed, this sounded very foolish, but the king recalled that she had forewarned him. "I am sorry, " he said gently as he could. "My nephew and I must be going. Perhaps you can tell the remainder of your dream quickly. I have very little time before the Danes trace our steps here and attack us."
The old woman turned to him, her eyes wide open. "What?" she said. "Dream? What dream, sire? Have I been losing my old head again? It pains sometimes, then my tongue starts wagging, and I am saying things I can't remember after I've said them!"
AElfmund, hearing her, rolled his eyes and put his finger to his head in a way that said she was, in his best opinion, incurably moon-struck.
Alfred stepped out of the hut, with AElfmund following gladly. They mounted their horses, then were surprised as the woman cried out, "Wait! One more thing, Your Majesty! I see it now! It's so clear! If you want to stop the enemy, the heathen Danes, go to where they first come at the approaches of the Island, not wait for them to gather together in strength. They are weakest then, and you will be strongest and prevail! After that you can take a big broom and sweep them from the great waters, and no one will touch your throne until four and three quarters generations have sprung from your loins."
She hurried away before he could stop her with a question.
A short time later they were back at the eastern entrance to Athelney, the men there waiting impatiently, strain showing plainly in their expressions.
"What kept you, Your Majesty? The sun is well up, and the Danes are no doubt scouring the countryside round about here for you by now!" said Alfred's chief marshal of the army.
Alfred looked dazed and could not find his words. "I'll tell you later." The old woman's last instructions were running through his mind, again and again. 'Go to where they first come, not wait for them to gather together. They are weakest then. Then take a big broom and sweep--'"
But where were they weakest? At the shorelines of sea and river where they drew up their long-boats, of course!
Why hadn't he seen that before? And where were they strongest? Where they gathered together to fight pitched battles under their chosen league commanders!
Now he had the way, the path the Lord had shown! Someday he would also build a "broom" of a navy to stop and sweep away the long-boats on the waves that brought them to the undefended shores of the Saxon and Anglish kingdoms. Until then he must take his men and go and attack the landing parties, surprising them from the cover of thick brush and trees that lined the streams and rivers! And, of course, he must send men to do sentry duty and runners to carry the reports of landings! There was much to do!
Riding off with his guard, Alfred realized he had forgotten something. He hadn't given the old widow a single penny for all her hospitality, pious prayers, and wisdom--though he really thought a golden bezant of Constantinople might not be sufficient recompense.
And the angel she had prayed would accompany him "in all his ways"? That was a nice thought, comforting him not a little! If only heaven would answer such a prayer!
Shaking his head over his lapse, he thought he must return, or at least send someone. But, hard-pressed with the duties of statecraft and warcraft, he never returned to Atheney's isle in time, though at intervals he had sensed an angel standing guard, not only for his life, but for the entire realm which had enclosed nigh all but half of Britain.
Truly, he owed her something for her having shown favor to him in a moment of ebbing royal fortunes, knowing now that he had met not just a rustic hostess for the night but a genuine woman of God on, of all places in his large-grown and various realm, that swamp isle of old Athelney.
But good intentions reman so only for a time, and thereafter vanish like vapors. The old woman, whose name he had never learned, was dead and buried when he sent a court minister in court robes with a purse of double-headed eagles, Byzantine gold bezants, as well as the King's Jewel, and, the greatest treasure he could give the "king's handmaid," a copy of his newly translated Gospel of John, with royal but sadly belated Godspeed right up the path to her hut.
By this time the Danes and their chief leader, Guthrum, were pushed back by allied Saxon arms, and confined to the Danelaw to the northeast by treaty. Also, he had restored and founded many churches and schools and cities, and Civilization and Prosperity were reviving and reclaiming the widespread ruins and desolation wrought by the invaders.
Further, he was grown to be a mighty king over much of the territories of the Seven Kingdoms, and men were acclaiming him, though not in his hearing, "Alfredus Magnus," or, in plainer speech, "Alfred the Great." Yet, enjoying ascendant greatness, the man could not deny he owed much more than bezants and a translation of St. John to the nameless widow of Athelney, though his court knew nothing of his debt and would smile at the thought of it if they had been given word of it.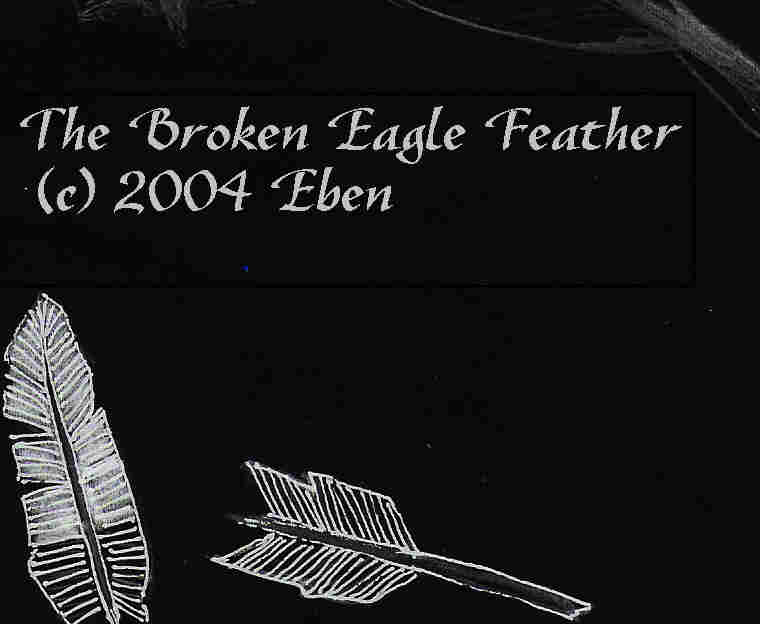 As for the broken eagle feather, it was well-mended, indeed, thanks to the old woman's advice and the brave king's strenuous labors. The feather's strength did not break until the end of the time she had envisoned, and then it was only a change of rulers, the country itself was not destroyed. Rather, it rose to even greater heights--heights the old woman had foreseen no doubt, though the kings in her dream wore crowns mostly too big for their heads, and there would come a time when the kingship would seek refuge on a dim, lesser star of heaven just as Alfred had once sought refuge on the poor and backward Isle of Aethelney.


(c) 2008, Butterfly Productions, All Rights Reserved