The old apartment up the stair,
Carol's clipped art everywhere.
a mattress spread upon the floor,
Swedish flatware--who needs more?
Factory walls, that loomed so grim,
could not snuff the Child down dim.
You wove scarf rainbows in your hair,
not the browns and grays others wear.
Company lunch was full of cheer
as you sparkled to whom came near.
But in this place you could not fit,
the light you brought exposed the pit.
You soon were given the Pink Slip,
and sent back where the cold winds rip.
How did you make it, your earnings lost?
What profit made was worth your cost?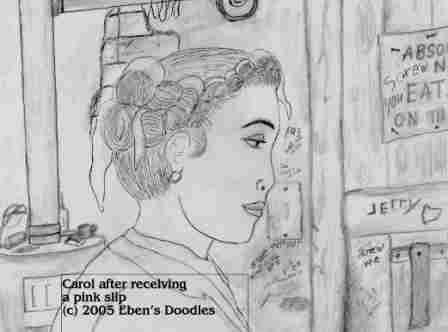 And then you took your Child to France afar,
even south of the Sahar.
Your Child still could laugh in you,
though all around sad things came in view.
You saw the poverty, the sick and old,
to help them you had no silver and no gold.
All you had was your own life,
and Good News that ends all strife.
You left your kindred and homeland
to build a bridge to a tribal band.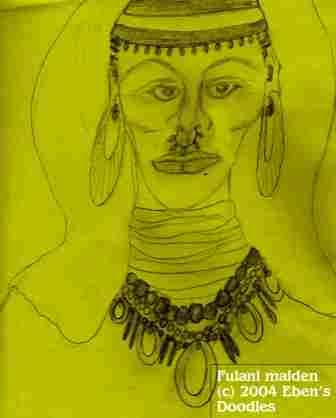 They were called the Fulani,
who tended herds far from the sea.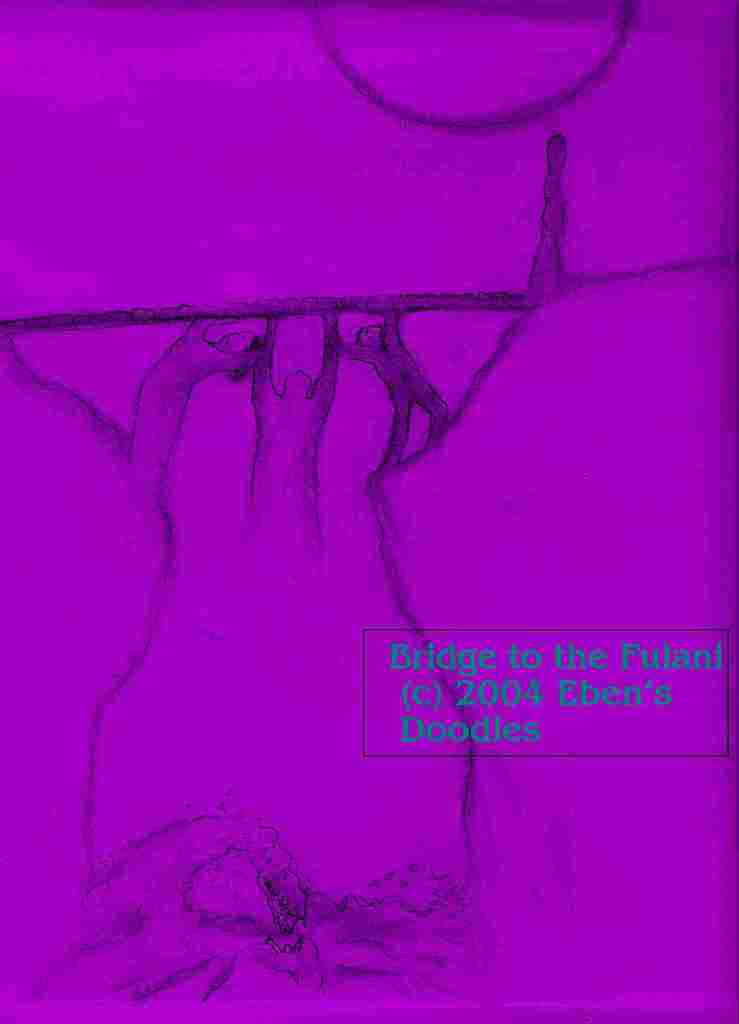 The girls and women loved you, Carol,
your strange, light skin and odd apparel.
You tried their garb, the flowing sack--
far cry from Nordstrem's rack.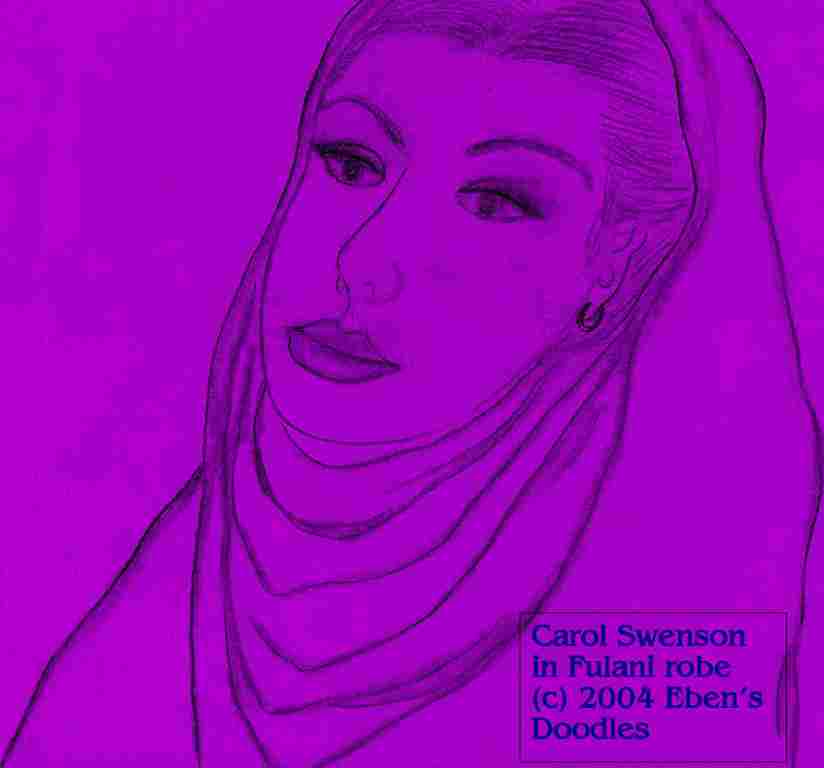 No hair salon, well, then, scarves and braids--
the scarves you saved from last ant raids.
Why wear shoes? God made bare feet.
One dress kept you chic each week.
What fashion was there here to seek?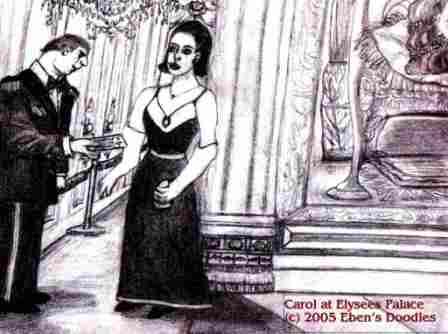 For bread you ground up local grain,
on which you labored, might and main.
Dough and flour drew forth ants,
but the taste--surpassing France!
Gustav Mahler on short wave radio,
a tallow candle burning slow.
A flower vase with blue weeds dried
made a charming sight inside.
Did your Child paint scenes on your walls?
Moon-faced children with stick dolls?
Flowers surely were one choice,
their reds and blues a singing voice.
Upwards all their petals turned
beneath a sun so large it burned.
No quitter then, you kept right on.
Painted Christmas Tree and Child for Ron.
But this Savior now was clear to see,
the One you were to the Fulani.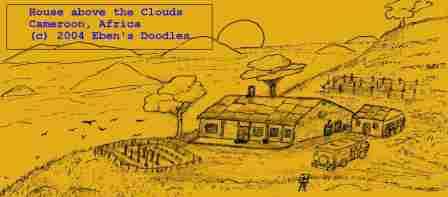 The birds flocked down to eat your garden.
The jackal came and snatched your hen.
The ants invaded thick one day,
the broom swept them back with a "Hooray!"
You drew your water from a stream
that looked, not smelled, like chocolate cream.
You let it settle quite some time,
tried to strain out cow and grime.
Then you cooked it on the stove,
to stun the mites that swam and dove.
Red Kool-Aide then did miracles
to cover up the taste of cows!
Cows were most everywhere--
in your soup you spied cow hair!
How long the days could stretch up there--
your hill house nested in the air.
And clouds passed by below your home
as you broke the last bit of comb.
"How many die, the women here!"
Yet you, the Child, never expressed fear.
Now suddenly came the fatal slide
from this life--"Carol? Well, she died.
The day before she seemed just fine.
Of her illness, still no sign.
And little Jens? He had just been born,
and now from her he has been torn.
What a sight she was at birth,
her feet in pails, and huge in girth!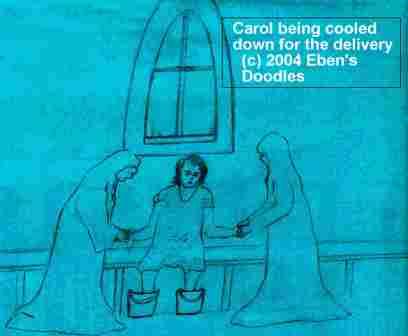 Yet what joy when Jens finally showed--
the fruit of a long, long road.
For hospitals were few and far,
and roads were dust, innocent of tar.
Then, in a flash, she fell down ill,
for which there was no saving pill.
Nothing for it, she must go
back by road to hospital.
That long, long race, so deathly pale!
Ron took you back to no avail.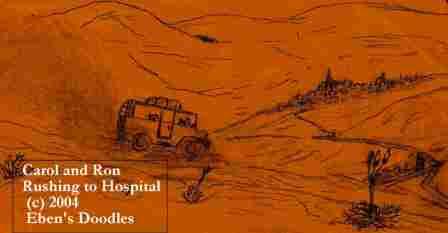 Did angels' hands help at the door?
Eyes wept for you, all hearts broke sore.
Up to your neck in the fast water
running into darkness, Death waiting there--
was the Child still laughing merry in you?
Did she leap out to Christ in view?
Naturally, people wanting to know ransacked the colony's database for information on such unknowns as Schweitzer, Mahler, and other things mentioned in the life. "Kool-Aide," what was that? "Good News," "Fulani," "Christ"--these too needed checking out by many people--fifty million, to be approximate.
As the production's values took stronger and stronger hold on the colony's hearts, charities and crisis clinics and health services and aid organizations devoted to the elderly and disabled noticed a sudden, radical surge in giving by supporters, most of them first-time givers. "A Fulani Christmas" was, evidently, striking deep, just as the other productions of "The Christmas Factor" had already done.
"Birds," "Cows," "Ants,"--these they could not know in reality. But they could know, and did know, suffering, lonely, unwanted, sick people in the colony. Carol's example now began making a significant difference in how thousands and thousands of these people were treated from now on in AC. Who cares if "Minneapolis" could never be properly explained, since whatever it was hadn't existed for over a million years? Who cared about that, when the real issue--the needs of unfortunate people going without care and aid and comforting, caring treatment--lay right before the AC's eyes. Indeed, the AC colony learned a great deal from "A Fulani Christmas."
The production did not end there. The database, extensively searched, turned up yet another item, Carol's long-lost monograph, "...And the Light". This was Carol herself speaking on a reel tape recorded in the 1960s, sometime after graduating from "high school." Using textual criticism, it was determined by the examiners of the monograph that Carol must have composed the spiritual autobiography contained in the monograph while in college, perhaps for a Religion class. It was given somehow to her parents' keeping, and years after her death it was given by them to the Sulkowskies, who had maintained close contact with her family. Ira S. must have treasured it, and much later it was uploaded by an unknown person into a computer's database. Drawn into the combined C.I.A. and F.B.I. files on American Indians (showing an unusual amount of collaboration between these two agencies), it was later sent to Tutasix to augment the files there on Indian populations world-wide. Tutasix, before its termination by natural causes, sent copies of its files to various locations where databases were permanently stored as backups to the main archives at Tutasix. These were secret, highly classified locations, but Nilsson's ingenious Ibsenites succeeded in discovering and gaining access to them. The address of one such location was taken along on ARGO II and later was filed at the base colony in A-C.
"...And the Light," revealed to the public, provoked an immediate sensation. Here was a young woman laying bare her spiritual odyssey--a venture that touched the deepest chords in the hearts and souls of the A-Cs. Within a few months her monograph was presented in dramatic form to huge gatherings. Thousands wept during the readings, they so identified with Carol's struggle to find the Light she had once known with a child's faith but somehow had lost in growing up. It was a most amazing spectacle to see as many as million people at a time gathered to hear and see "...And the Light" produced on a set that showed what her home, church, and high school must have been like. How quaint the setting was! Scandinavian-American, set in the little hills above a fertile, sparsely populated valley in Western Washington that was then chiefly known for growing daffodils, rhubarb, and raspberries. A-C could not have presented a more stark contrast, yet the human factor was the same, connecting the two vastly different times and worlds across unfathomable gulfs of space. "...And the Light" proved beyond any question that the human soul had not changed a degree in the span of over a million years since Carol composed the last sentence: "As I began to think of my earliest faith, a light flickered on...". A-C had "grown up," too, over the course of million years, but had it like Carol lost its direction and now wandered, its anchor dragging, unable to find the right course to its ultimate destiny? This was the challenge the monograph presented to each ansd every A-C: "Who are you?" "Where are you going?" "Where is your faith's anchor set?" "Are you wandering further into darkness or travelling toward the Light?"

Copyright (c) 2004, Butterfly Productions, All Rights Reserved