"What in the world was Cain up to now?" Adam wondered. He went on out to the high ground, and as he climbed he saw it was not Cain but his younger brother. Adam paused, surprised. Was Cain teaching Abel his ways? Would Abel too make things such as Cain did and never settle down?
Then he saw Abel lying face down on the ground. Adam's eyes widened. Their was an oven, but it was a strange sort of thing Cain would have laughed at. It lay open, with the fire upon a high heap of stones. And on the stones, in a burning fire, lay several lambs, their throats cut.
"What are you doing?" Father Adam cried, rushing up to Abel. He pulled Abel to his feet. "You have slain your best lambs! What--?"
Why sacrifice perfectly good lambs, the best of the flock? Adam still could not understand what had happened.
Cain seemed to understand better when Adam his father told his mother and his eldest son. "I can please God too, and even better than he!" Cain declared when they finished speaking, and then he stomped out of Adam's shelter.
On the same high ground, which Cain was careful to clear completely of Abel's piled rocks, Cain spread a mat he had asked his mother to weave, for her fingers were good at such weavings. Then on the mat he spread some of his fruits from the ground he cultivated. At first he thought to offer the best fruits he had, but he greatly desired them for himself, and loathed to waste them by giving them up. Would the Creator discern the difference? Cain thought not, since man cultivated plants, not God. After that he waited for God to speak and approve the offering.
"Abel received good words from the Creator. I heard nothing! Nothing! And an evil wind forced me to flee from the offering I made to Him! That what I get for my offering!"
Only then did the Creator speak to Cain, who jumped as if he had sat on a thorn.
God said, "Why are you angry, and why has your face fallen between your knees? If you do well, will you not be accepted too? And if you do not well, sin is lying at your door; it is out after you to enslave you, but you must master it to remain free."
That was not what Cain wished to hear said to him. Of course, he didn't like hearing anything from the Creator. He rose up immediately from his chair, for he refused to sit upon the earth like his family. He went straight to Abel. But Abel was gone to his flock, and wouldn't go walking with him, so Cain returned to his own house, and there he sat, doing absolutely nothing.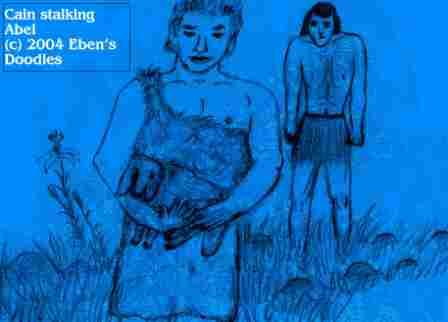 When the moment seemed good (when he thought not even the Creator would notice), Cain took his most pointed cutting instrument and then rushing toward Abel drove it deep as he could into his brother's neck, piercing his throat and causing his blood to flow out. He had done it just as he had dreamed it a hundred times--and it came to pass as he dreamed it. Abel fell down dead at Cain's feet. Quickly, Cain pulled grass up and covered the body. For a few moments he felt wild joy. Then, thinking of his parents, thinking of the Creator who had the ability to go everywhere, with eyes that saw everything, he began running. He ran until he was out of breath, then slowed to a walk.
He did not get very far--the treetops of the Garden and the home of Father Adam were still visible yet--as he walked eastward away from the garden when the Creator said to him, "Where is Abel your brother?"
Cain jumped, as if he had been struck with a wand of thistles across his naked back. He peered around, his eyes wild, then gave it up. He knew he couldn't see the Speaker with the voice he could not shut out. Hanging his head, he stood, as if before a hateful judge who would never cease punishing him, not matter how well he did. "I do not know," he said between gritted teeth. "Am I my brother's keeper?"
And the Lord said, "What have you done? The voice of your brother's blood is crying to me from the ground. And now you are cursed from the ground, which has opened its mouth to receive your brother's blood from your hand. When you till the ground, it shall no longer yield to you its strength; you shall be a fugitive and a wanderer on the earth."
Cain began to weep and cover his face with his hands, as the terrible words sank into his soul. He cried out to the Creator, "My punishment is more than I can bear! Behold, you have drive me this day away from the ground I till for my livelihood, and from your face too I shall be hidden; and I shall be a fugitive and a wanderer on the earth, and whoever finds me will slay me."
"How I hate the Creator!" Cain thought. "Why doesn't he leave me alone! I want him to leave me alone to live in Havilah as I desire! He is always sneaking about, spying on us! Why can't I do things as I like? Why does he always have to tell us what we can do and not do? He can always see me, but I can't see him coming in or going out! If I could slay him, I would, but he cannot be reached! Why, how can I ever be happy if he won't leave me alone?"
Then the Creator replied to the words and, mercifully, not to the hidden thoughts of Cain, "Not so! If anyone slays Cain, vengeance shall be taken on him sevenfold."
Cain then felt the most strange sensation, like finger pressed to his forehead, burning hot. It was instantly gone, but Cain cried out in surprise and jumped back. He felt the spot with his fingers, wondering what new, terrible thing the Creator had done to hurt and molest him.
As soon as he found water in a pool, he lay down to see for himself. The mark surprised him very much. He had expected something bad to look at. But, not, this was a beautiful picture—a tree with three branches, with a golden hand reaching down out of the tree to the tiny couple standing beneath it. How perfectly it showed his parents and their old home, the beautiful lost garden! It was unmistakable. Anyone seeing the hand would know what it meant—God had not forgotten them. Neither would the Creator forget Adam's descendants! Though he did not agree in his heart with God, wanting freedom to do as he pleased much more than he wanted God, he liked the picture, because it was done so well.
Cain looked and looked at the reflected image in the water-mirror. He decided not to veil it or take a burning brand and destroy it. By it his life was preserved from those who might seek to slay him. Who would dare touch him, who had received such a sign imprinted by the Creator himself? Slowly the triform tree relieved his great fears, and they subsided back into his heart where the darkness covered them—the same darkness that had gripped his heart and mind and led him to slay his young brother.
Rising, satisfied that God's mark would cause any future enemies to think twice about taking his life, no one now would dare slay him for his taking his life, he thought of celebrating. He slew one of his brother's lambs, roasted it and ate until he felt he was bursting. He did not return to his father's home, and was fearful that his father might come to him, so he worked quickly. He took some dried fruits and berries in a bag carrying his cutting instruments, and left that place and continued on eastward, choosing to leave the troubling and dangerous presence of the Creator (as Cain saw it) and to dwell in the land of Nod, east of Eden.
As for Adam and Eve his father and mother, they turned for comfort in their hearts to bringing forth more sons as well as daughters, and then to their children's children. Generations followed, and still they lived, Adam tell and retelling the events of his collected Days because his descendants were always asking about the garden and what happened there. For them life outside the garden was good enough, even though they lost Abel and his brother, Cain the wanderer who was always making things. Adam couldn't fathom the meaning of Abel's sacrifice of his finest lambs on the high ground. As for the presence of the Lord, it grew less and less strong in their memory and experience, but Adam's words kept the memory of it alive at least for their succeeding descendants. Only in his latter days, when he drew close to his end, did his understanding grow clearer, and he repeated, with tears, the words of the Creator to him and his wife back in the days of the garden. At the time it had struck him as more than a series of punishing curses than a blessing, but now he looked beyond to something he seemed to see shining in the distance as he chanted the words of the Creator spoken to the serpent: "I will put enmity between you and the woman, and between your seed and her seed; and he shall bruise your head, and you shall bruise his heel." At long last the words of God had sunk into his heart, having lain upon his heart all his life till now.
Undeniably, Death, the fruit of his disobedience in the garden, long delayed, with age and infirmity, had finally come to Father Adam. Having been first, he could see it better than most men! His eyes were dimming until he could not read his own sign books anymore and his third-taken wife (beloved Eve, the mother of all life, had died sorrowing over Abel's death and Cain's waywardness to the end, and the second had lived and died in turn) had to speak sharply into his deafened ears to remind him of things he had forgotten in the Book of Days he recited, his eyes had seen the ever-growing wickedness that dwelt in man, and how it chained man's soul. Generation after generation grew worse, with ever more men and women, in their youth, walking away from the Lord and going to live as they pleased. Disobedience, Envy, Murder, Greed, Hatred, Lust, Adultery, Theft, Pride...the forms sin took grew longer and longer every day as he witnessed the ever-lengthening story of his descendants. Their cities seemed to increase in splendor the more wicked the people became and the more they married their daughters to the sons of God why came to beget children on them.
How different was his own habitation, now a city called Eridu, the place of the garden. Here people lived more decently, and had not entirely forgotten God because of all the things Adam told them. None of the people would have anything to do with giving of their daughters to the sons of God in marriage—something that was forbidden by the Creator because it mixed the seed of angels with men and created giants.
But it was one thing to know all these things, and another to believe on God. On the very Day he was passing from this life, old Father Adam received from the Spirit of God that came to him in his gathering darkness, touched him, and Adam' s heart took hope in the words spoken to the serpent by the Creator God so long before. He reached out to the Creator as his Creator, he believed even as Abel his slain son had long before believed. "Forgive me, O my Creator! And Come, O Seed of Woman!" he cried. "Come and save us from the Serpent's power! Oh, come soon!"
And the Creator-God heard Adam's cry. Suddenly, Adam's dying soul found itself in the garden, facing the Tree of Life he had numerous times passed by, not once eating of its fruit. It had been the only tree he had ever wondered about, how Elohim could have made such a thing and marked it as special, a "tree of life." No longer were the warrior angels standing, blocking his path with flaming swords. And he took freely and ate. He couldn't get enough of it, in fact! Even as his vital energies faded and his great heart labored to beat, Everlasting Life poured into his being, in the form of the Promise of a spirit of the Second Adam who could never die!
For Adam, his decision finally made, it was better late than never. But for others, four to ten, some say 100,000 or so years later, and over one hundred and sixty billion descendants of his to come, it would be decision time, individually, that many times.
Even though he saw the many populous lands along and between the rivers both east and west of the lost garden fill with villages and even big towns and cities during his nine centuries of lifetime, Adam could never have imagined those who issued from his loins would increase in numbers like the sands of the sea. Nor could he have dreamed of how exactly and when the Seed of Woman would come, nor when He would return after his resurrection to call His own seed, the Redeemed.
He had seen many things, good and evil. But he had not foreseen all the evil that would be produced by his sin in the garden, nor could he have imagined that man would ever carve stone and wood into various images, and devise beings with silver and gold that they would fall down and worship as gods in place of the Elohim! That continued to amaze him right up to the end of his days on earth, though he knew the Serpent—always covetous of God's worship--had something to do with it as he continued to beguile and entrap fallen men and women into committing folly after folly.
How else could it be explained that men not just killed one another, as Cain had slain his own brother, but boasted about it? Lamech, the son of Methuselah, for instance, not only married two women, for one was not enough for him, but he killed a young man who had gained the upper hand in a fight. People said to him that he was justified, but Lamech did not stop there. Lamech said to his wives: "Adah and Zillah, hear my voice. You wives of Lamech, pay strict attention to what I say. I have slain a slain a man for wounding me, a young man for striking me. If Cain is avenged sevenfold, truly Lamech seventy-sevenfold!"
Adam, hearing of Lamech's boast stirred himself. How could his own issue not fear God's wrath? They were all in great trouble once everyone started speaking like this foolish Lamech, Adam reasoned. What if the Lord should come down and destroy the whole earth? God told him he had done so once before, when the earth's races grew corrupt and violent. Would he hesitate to do it again if they acted in the same way as the first races acted? So Adam made a long, slow foot-journey to Lamech's city of Fara (he never could get used to the speed of ox-drawn wagons and horse-drawn chariots, and refused to buy his second, third, and fourth wives such luxuries, after Mother Eve had died).
Father Adam found robbers four times blocking his path from Havilah to Fara in the land of Nod. The first three, hearing who he was, took his gifts he brought for Lamech and his household—bdellium, gold, and onyx washed out in the sands of the river Pison flowing out of the garden—and let him go with their blessing. Only the third had thought he was lying, that he was not Adam until he showed him his belly, which had no navel. The fourth believed he was Father Adam but bore him (and all humankind, it seemed) a bottomless grudge and proved more dangerous. He had dug a pit and only Father Adam's turning aside at the last moment saved him from falling in, though he did not see it, the pit being covered with sticks and a layer of dirt.
"What, you have no treasure for my trouble in stopping you?" he cried when Father Adam explained his poverty. "You're lying! Your sly wife or your cunning daughters probably sewed it into your garments." He then brandished a sword in Father Adam's face. "Take off that coat and robe! I am not the fool you take me for!" "But my son—" Adam protested, "If you take my clothes, the nights are cold and I may perish on the way, for I have grown feeble of late." "Who cares?" the robber jeered, as he began to use the blade edge of his sword to rip through the seams in search of gold or jems. "You've lived long enough, farmer, by the looks of that long white beard of yours!" the robber went on. Finally, having cut Father Adam's coat and robe to shreds without finding a thing of value, the robber gave up. Furiously, he circled Father Adam as if looking for the best place to swing his sword. It was then that he forgot the trap he (a coward, who was afraid to confront well-armed men fighting for their own lives) had dug for catching wayfarers. His foot slipped over the edge, and down he went, head-first, upon the sharp rocks at the bottom. There was a terrible screech. Adam peered down through the hole the man's body had torn in the earth and saw him lying still, his eyes open, but mouth dribbling blood and his head split open.
After calling to him, and getting no response but several hungry vultures, Father Adam waited for help to come, and when wayfarers came after several hours, he tried to get them to help him get the man out, but none would help him. The pit was deep, and the man was obviously dead and his spirit gone to the dark place of dead souls under the earth. "If the devil had a rope to use, he has hidden it for his own use. But a lot of good it would do him now! Hahaha!" The wayfarers, who were a caravan of merchants carrying women's woven goods and men's metal-work and pottery from town to town, went on their way. But a few were impressed to behold mankind's Father, Adam—someone they had heard about and wanted to hear explain a few things about the garden and what the First Parents had done to make the Almighty so angry with mankind. But Father Adam was not in the mood to tell them his collection of "Days" with their various events. What had happened disturbed him greatly. "Behold," Father Adam said, "the wicked brings forth iniquity; yes, he conceives trouble and brings forth falsehood. He made a pit and dug it out, and has fallen into the ditch which he made. His trouble shall return upon his own head, and his violent dealing shall come down on his own crown. I will praise the Lord, according to his righteousness, and will sing praise to the name of the Lord." A sermon was not exactly what the wayfarers wanted to hear, so they left the old man, not even offering to help him with food or clothing as they hastened to get on their way.
Half-naked, penniless, starving, Father Adam reached Lamech's house. What he found was luxury and vanity, with no fear of God whatsoever. Not only were gemstone-inlaid pillars and a tower being added to the front entrance, but a grand wedding was in progress in the central hall, with much drunkenness and banqueting that had already gone on for days. Not in the mind to frolic with the drunken men and women guests, he reproached Lamech his great-great-great-great grandson, for boasting to his wives of his murdering a young man.
"My son, this is no example to bear before the tender youth of your house," he said to Lamech, turning to look at the man's sons who stood watching the whole visit, several of whom were as young as eighty or ninety years of age. "The Creator will not hold his wrath forever, if we keep on like this! To slay a man who offended you, is one thing. To boast of it is to draw vengeance down on all our heads from the Almighty!"
Well, he received only laughter and scorn from Lamech and his wives and children (except one son named Noah) for his attempt. "Oh, but you are woefully out of date, Father Adam!" they cried. "Times have changed! We all do such things nowadays, and who can stop us? An eye for an eye, a tooth for a tooth! We are free and highly cultured people in this city of Nod, not like you simple country people with your plots of squash and herds of dirty, bawling sheep and goats! Nobody dare tell us what to do! So away with you, old father, before someone does a worse thing to you than God did! Imagine, casting you and your wife from the garden! What had you done anyway to offend him? Eaten fruit of a paltry tree he said you could not eat of? How silly! Why should it matter what you put in your mouth, if it is good and does not poison you? And how dare God tell us what we can do or not do? The earth and its fruits are ours--do we not water and tend and make every tree, herb, and fruitful plant grow? If he does not stop meddling in our affairs, we shall tell him to go back to heaven where he comes from and--"
They said other terrible, foolish things against God, but Father Adam, his ears burning, could not bear more and left their defiling presence as fast as he could make his ancient limbs move. Only one showed remorse, the son called Noah. Taking his arm, he helped Father Adam out of the house and yard, and pressed a few small loaves in his hand. "They'll help your strength, Father!" Noah said, tears in his eyes as he ducked his head in shame and turned back to his father's house. In a few days the bread consumed. By this time he was in a sorry state, having no way to sustain his strength for the journey. Nevertheless, God's eye was upon Father Adam for good, and sent his angels to leave food for him at various stages along his pilgrimage. There was even a robe and cloak, with a thick fleece for sleeping at night.
So Father Adam quit the bustling and prosperous but corrupt land of Nod where so many of his seed now resided, continually building bigger houses and giving their sons and daughters in marriage. He went away, thinking not so much about Lamech and his foolish wives and children but his own first-born. Cain! How many white hairs had his misdeeds had put on Adam's old head? He had accomplished such mighty things--building cities and beautiful houses and constructing high towers, palaces, defensive walls, forts, canals, water sluices, ships, wagons, chariotry--what couldn't he do? But a covetous man, envious of Cain's reputation and attainments, murdered him, who was not afraid of God's vengeance and the mark God had put on Cain to preserve his life. Then descendants of Cain who felt more loyal to him had pursued the man and slain him in turn, with all his family! Would the bloodletting never cease on the earth. It was, to Adam's eyes, a scene of continual violence and killing, despite all the wonderful things men were building on the earth.
Truly, Adam had not foreseen any of this. Least of all could he have envisoned any such souls such as Heloise Turnbull, grown a giant, a virtual titaness, in the evangelical Christian soul-saving industry. This daughter of Mother Eve was making great strides to save and incorporate millions into her world-wide ministry when the Seed of Woman came like a thief in the night, completely upsetting her agenda.

PLEASE GO TO THE LINKING PAGE FOR CONTINUING PORTIONS OF "BEYOND THE RAPTURE"


Copyright (c) 2005, Butterfly Productions, All Rights Reserved