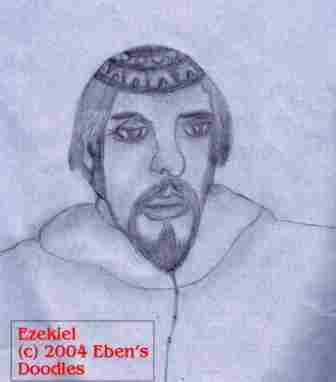 "Don't tell me, let me guess, you are John the Baptist?"
He looked at her with disgust. "John the Baptist was a false prophet, an imposter, don't you know? And Jesus, for that matter, was one too! Woman of the Gentiles, you could not be more wrong! The New Testament Period never happened—it's all a fraud perpetrated by St. Paul and his renegade gang of followers. I am Ezekiel the Prophet, sent again to rebuild the Holy Temple with the people of God! Now is the appointed time for the true Jews to arise!"
She stared at him, her mind racing. She had dreaded meeting someone who claimed to be a second Christ. This was something of a relief, though he denied Jesus was Messiah. Always chosen by the crowd of imposters, another John the Baptist would be merely pitiful. But a second, reincarnated Ezekiel and a revived Old Testament Judaism with this character leading it? That took a little more imagination. He might just be the only Exekiel in the city at the moment. "At least this one is different," she thought. "I couldn't bear a Jesus or a John the Baptist!"
So she decided to play along a bit, for it was getting dark, and she desperately needed to find her handbag with her passport and money. "I'm very sorry, I didn't recognize you, holy one, " was all she could say before a soulful-eyed, young woman, also wearing a robe, with anemically pale complexion and no lipstick, slipped between them.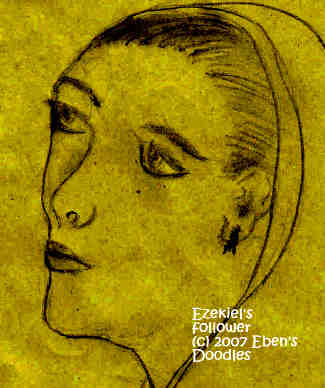 She gave the young prophet a bow you would give a great, religious personage or even the Lord. Setting down a tray of pencils, pens, postcards, and souvenir keychains, she tucked some folded Israel bills in his hand.
"Will the work on the holy Temple begin soon, prophet of God?" she murmured. "I'm praying to live to see that great day. My parents wrote, I'm supposed to go for more chemo in Boston, but I've said no, I want to hang out here with you as long as I can."
"Soon, it won't be long now, " he assured her, taking the money and slipping it away out of sight in his robe . "Your noble sacrifice, my daughter and friend of Holy Israel, will be rewarded!"
Smiling radiantly, the young woman went away and vanished in the passers-by.
Heloise began again. She bowed her head in the manner she had just seen. This was the last thing she had ever expected to do, after having given advice on the subject numberless times, but what could she do? Her circumstances, she thought in quick justification, had changed so radically!
"I am honored to meet you, prophet of the Lord! Please excuse me. I am new in Jerusalem, and I just lost my handbag behind at the wall, and I—"
He seemed in a hurry. "So you believe in me too, just over a handbag? Well, you'll never find it in the dark! Don't worry, my daughter! Somebody will turn it into the police, and you can pick it up tomorrow. People are scrupulous about that sort of thing here. Nobody will take the money and dump the purse in the nearest trashcan or throw it into the bushes in the park. This is a wicked, Gentile-overrun city, but it still isn't as corrupt and cynical as New York!"
"But—"
Rolling up his eyes, he reached for her arm, and because she still felt so horribly weak she let herself be led away.
"Woman of little faith, trust in me! You'll get it all back safe and sound. But if you really do believe in me, we can't speak of holy things in this street. There are too many unclean, world-defiled Jews around here. Most of them I wouldn't touch with a pole! Let's go to where the Spirit of God still dwells in pure company!"
"Okay," was all she could think to say as he led her quickly up and then down some streets.
It was all she could do to keep going at his pace.
She was getting out of breath when he stopped at a stop in the older commercial part, where Sephardic Jews and even some Turkish and Ethiopian Jews had set up shops for tea, souvenirs, Circumcisions "while you wait," clocks, shoes, and fruit and vegetables.
A moment later they were seated at a table in a tiny place with lighted oil lamps on the five tables, and she could get her breath back. What was that smell that assailed her? It was so strong and sweet—-jasmine?
A young girl with far too many ruffles in her purple skirts and gold ribbons in her hair seemed to recognize him immediately and called, and the proprietress, a large woman in a robe with a Star of David hanging a gold chain, who was lighting a lamp behind a curtain, hurried over out and bowed. "Yes, holy prophet, what will you have today?"
The prophet bowed slightly to her. He pointed at Heloise, who could do nothing but stare at them both. "She has just come to believe in me and my mission, and I've brought her here to speak with her about holy things. Ask her if she will have anything? I am on a holy 633 day fast, one day for every holy law of God."
"Not another forty days like holy Moses?" the woman said, looking closely at his smooth, handsome face. "You will age yourself right into old age at this rate. Imagine, wrinkles and white hair at your age!"
Clucking her tongue like a typical Jewish mother, she then turned to Heloise without any pencil and pad.
"Yes, Madam, you have done well by yourself, to find our holy prophet at this time before the time of the Great Destruction of the Gentile Nations! Now, what do you wish? Tea, coffee, pastries? We even have some soup left from the day customers. It is still quite fresh. The goat in it I raised from birth in my own pen in back!"
Heloise couldn't think of anything she could eat right now. Her mind was still on her missing handbag added to her having given the "holy prophet" a false message. Why had she done so stupid a thing as to act like one of his pitiful female believers?
Embarassed and confused, her senses were overwhelmed by the smells and strange sounds of oriental music in the back of the shop where the dishes were washed, and then children came out to stare and ogle her. She counted five that seemed to range from two years or so to the twelve or fourteen.
"Just some tea, please. I've got to be going soon."
She looked around. No menus, not even a crude board with the menu in chalk.
"How much English could the woman grasp?" she wondered.
She decided it wasn't worth the trouble. "Whatever you have, is fine."
The girl and her mama hurried away, and there was the banging, whooshing sound of antique billows, then smoke came from behind the screen, as most of the children remained to stare at the prophet and the strange lady.
Heloise held a napkin over her nose, for the smoke was thick.
The prophet let the smoke curl round his head, and smiled, showing perfect teeth. "This woman—a devout widow from Beirut--does everything the old way without an electric kitchen the secularized, unclean government can turn on or off as it pleases, the way of the true remnant of the people of God here. That is why I like it. They use only an earthenware oven to do all their cooking, baking, and heating. Everything is kosher too! But you have to wait a little longer, that is all."
Heloise heard water slop from a bucket or jar, and excited babble as the smoke cleared a bit, thanks to the proprietress going and opening the door to let in air. Meanwhile, more pans banged in the backroom. The woman, going back toward the noise, yelled something. A young boy hurried out, then ran back, followed by the other children.
Should she flee now? she wondered. The widow's primitive experiment in archaic cuisine was not funny at all. Thanks to him, she was rapidly losing every chance to find her purse on her own. "Maybe I can explain my bow, that it just a mistake in etiquette?"
Suddenly, he leaned forward, peering into her eyes. "You were putting me on a minute ago out there on the street, weren't you? Don't try that bow again on me. You don't believe in me, do you? You really think I am just another of those fellows who go around in robes and say they are John the Baptist or some other prophet."
"I'm sorry," she said. "I just can't believe in Old Testament prophets walking the streets anymore—-least not the ones that we see here in Jerusalem. I think they all have good intentions, but they are basically—how can I say it kindly?—either lunatics or charlatans out for money. Besides, you could be someone from the Shin Bet security service sent to spy on me, an undercover agent."
His eyes fell away from hers, and he sighed as he looked out the shop into the busy street. A few very uncomfortable moments passed. Heloise started to rise when he caught her hand. His eyes looked into hers with a fierce kind of emotion—what?
"It's not your rejecting my sacred anointing and my calling that wounds me. I have grown used to this base treatment by unbelievers and heathen, for no prophet is accepted in his own country. It is only here, my true land of birth, that certain, spiritual people believe me. At least they did until this MJ-—the Anti-Messiah!-—showed up! I've suffered a considerable falling off of late in my following, thanks to him! But then, I have him to thank for purging my own ranks of false followers!"
She almost jumped when he mentioned MJ.
A pleased look shone in his eyes.
"Aha! So you agree with me on him."
She nodded reluctantly, keeping him in full view as she would a deadly snake.
"And your name?"
"You might as well know. If you are from the Shin bet, you would know it already anyway. Heloise Turnbull.."
"Not the well-known American evangelist, Heloise. Turnbull?" he repeated, smiling.
"Yes, but I prefer to be known here at Mrs. Green, if you don't mind, since my divorce. I don't like being hounded by photographers and journalists."
Quickly now, she moved to head him off, knowing where it was all going.
He didn't seem inclined to let her go just yet. His eyes still shone as he regarded her. That made her a little uneasy, and angry too. "So we agree on MJ?" she retorted. "So what does that prove? I am not going to accept your agenda, whatever it is, just because I refuse his!"
"I'm sorry to hear that," but he seemed to be mouthing the words, his mind elsewhere as if he hadn't heard her objection. Instead of being offended, he seemed convinced she was a good candidate for discipleship.
She felt sorry for him. She couldn't believe he really was an undercover agent—he was so artless about his behavior, particularly when she shoved her identity in his face the way she did. He was evidently so filled with good intentions, and totally deluded to think he was the prophet for the people of God he claimed to be leading in the End Times!
How in the world, she wondered, had he come to believe he was the man of the hour instead of MJ ? Why, with his looks, wasn't he an aspiring young actor in Hollywood? It almost made her laugh, from the irony of it all. Here she was consorting with a genuine false prophet, something the heretic hunters back in the states had always accused her of being.
"And where are you from?" she burst out. "You don't look Jewish at all, and your English is too good for an Israel-born. Do you speak Hebrew too?"
A hurt look came into his eyes for the first time. "No, only a few words of our holy language! I was culturally and religiously robbed by my parents, who were supposedly educated Jews!" he exclaimed heatedly. "We lived in an Oak Park suburb of Chicago, with nice upscale neighbors all around, and they were running away from our holy religion, from everything of God. They never even told me I was Jewish. I had to find it out myself.
They never taught me a single word of Hebrew. They were modern secularists, both physics and mathematics teachers at the U. of Chicago, and totally neglected my religious training. I had to find out my holy calling, and who I was, by reading the Torah and the other books.
I moved to Washington and was working for the White House, as a consultant on Jewish voters and financial affairs when, using the archives and FBI files (which we weren't supposed to access but we did it all the time!) I found out I was Jewish, and not only that, a prophet for these very times!"
"But how did you get this far from Chicago and Washington, landing in Jerusalem of all places? And how do you make a living?"
For once she hadn't dared to confront the religious madness in the man. She rephrased her question before he could answer, "That's a quantum leap you took back then, wasn't it? Being Jewish is one thing, how did you ever come to think you are Ezekiel the Old Testament prophet resurrected or reincarnated into the 21st century?"
He didn't seem to hear people who stooped to such pointed and personal questioning, as if he despised small talk. He looked out the open door at the passing modern Israelis. It seemed to Heloise like he might even spit, his face was filled with so much violent disgust.
And he didn't spit, but he burst out: "What rubbish this secularized, godless generation is--truly a stiff-necked and rebellious people! They stone the prophets of God! They will not hearken to the words of any man of God because they have utterly thrown out God from their society and their lives! This isn't Holy Jerusalem, it's really a Westernized Sodom and Gomorrah, Moab and Edom, New York and Vegas rolled into one!
No! God will never build on this rotten, filthy, utterly defiled foundation the Christians and Moslems and the Reformed and Liberal Jews have built together! So I tell the people who will listen to me, God must destroy this city first before he builds holy Jerusalem.
Only when this city you see lies in ruins beneath my feet, and MJ is dancing in flames in Gehenna where he belongs, will the feet of the true Holy Messiah come! Only then will we see the temple restored and the proper rites performed. Only then, I tell you. The treaty they've just signed in an utter fraud and an abomination in the eye of the Lord!"
That was a mouthful! He would have gone on , but Heloise decided not to wait for the tea. Things had gotten too far out of hand to try to handle them now.
"I thought so!" she thought. "He's no charlatan with a hand in everybody's pocket, he really believes in himself, that he is the holy prophet sent by God to make things right in this world." She marveled. "And that makes him dangerous! A fanatic! A wannabe Messiah! He actually prefers the destruction of an entire city just to see the old Jewish Temple and Orthodox Religion rebuilt on his terms!"
Suddenly, seeing her rising to put him off, he dropped his ranting prophetic manner, and touched her arm. "Pardon my preaching at you! I forget you aren't yet a true follower at heart. You need more time, time to absorb the truth of my teachings. But wait! First, I can help you find a place. I see you are needing one."
She was astounded, and paused. "How did you know that?"
He shook his head. "I just know. Wait a minute. The tea here is excellent, perfectly kosher. Then I will show you a nice hotel, where you will be happy to stay. Trust me, my friend from the Goyim."
She looked at him dubiously. "But where is it? What's its name?" she said, stalling.
The proprietress came up at that moment. "You want a nice hotel to stay? Everybody's full up! But this one, he can tell you! He is a wonderful man. You can trust him! He does this for many fine visitors to the holy city who hear of him and come to serve him and the cause of the rebuilding of the holy temple."
Heloise shrank back. Not only did the reminder that he still had followers strike a chill in her heart, but everything they said was being overheard.
"I really don't need help," she said. "I've been to Jerusalem many times before. It isn't new to me."
Both the woman and the prophet glanced at each other, as if this stranger, a mere tourist, had too high an opinion of herself. The woman shrugged and moved off to the kitchen, if that was what it was behind the screen.
Heloise, who had sat back down on the edge of her chair, now rose. But that moment the tea came, carried out on a big heavily ornamented silver platter by the tallest, strongest girl. It was an elaborate service even for the Orient, and Heloise was impressed. There was everything the finest hotel in, say, Iran or Afghanistan, might offer.
The proprietress herself came and ceremoniously poured tea for Heloise, taking every moment as slowly as possible as if to show off her sparkling, gaudy array of finger rings and gold arm bracelets. When all that was done, she stood watching Heloise until she tried the first cup.
Heloise took a sip of the scented tea, and found it pleasantly sweet but fruit-flavored, with a touch of almond. It was delicious! Just the thing for her badly-rattled nerves. For the first time she felt her body began to revive a bit in strength.
Surprised, she thanked the woman. The proprietress smiled. The prophet seemed to relax too.
"I told you it was a very good, kosher place here. They do things right."
Heloise could not disagree, though she had wanted to run for her life a moment before. Now she had to drink the tea that had been prepared so beautifully and expertly.
A little girl came out then with a tray of oozing sweetmeats. Heloise declined, and the little girl went away smiling.
As soon as she finished her cup, the widow returned, and was going to pour another, but Heloise shook her head. "Thank you, but I really should be going. Thank you very much. It was very good! I feel a lot better now."
And it had been good, filling her with warmth and renewed strength. She felt restored, able again to handle the world, maybe even a false prophet or two. It was high time to go and hunt for a room, however. She checked her watch. 7:00! Shops were all closed, except for this one, and she might have difficulty checking in anywhere but the highest priced hotels with their all-night desk personnel on duty.
She rose, still not sure what to do without her passport and other things in her handbag.
"Please let me help you," said the prophet, and he took the plastic one carrying her toiletries.
Hoping the woman could make change with it, Heloise put down a twenty dollar bill from her precious money still in her pocket, her lowest denomination, on the table. The prophet saw it and handed the bill back to her.
"They will be greatly offended if anyone attempts to pay for their sacred service to me," he explained. "It is their offering for the rebuilding of the holy temple, you see. This widow is a true believer! Her husband was tortured and killed by Hamas two years ago for trying to set a model of the Temple inside the Dome of the Rock.
You'll never read about him—-nobody will print the story, of course. And his body has never been turned over to her or his family. We believe his body was dismembered and burnt to cover the crime and also to serve as punishment to the family, which they think deserves the same fate for producing such a son."
His reproachful eye made her wince at the thought of such sacrifices by his followers, as if he had played fair all along and she had been the one to offend him wrongfully by being so suspicious.
After the tea, feeling grateful at least for the favor of some renewed vitality, she was at a loss, and tried to regain lost ground. But it was impossible. She tried to say she could use some Israeli money over and above the charge for the tea, but the proprietress smiled, and agreed with the prophet. "Tea for the holy man of God and his fine friend from America. We are all people of God here. You are welcome to return anytime, since you do honor to God's holy prophet!"
Giving her a look she had no trouble understanding as a man's when he has triumphed yet again over poor, weak female creature, he then walked right out of the shop.
Heloise, though she flashed with sudden anger and resentment, had to hurry or she would have been left behind. "What arrogance! Who does he think he is? And what does he think he can get from me anyway?" she thought, senselessly.
Whoever he really was, whatever his true intentions, he did not even look back as he went this street and that, and finally stopped close by East Jerusalem.
He had turned into a courtyard, and there were several former consular houses, all old, faced with tile, and intricately carved in the doorways, looking like ancient firetraps of the pre-World War I Turkish era. One just like it called "Orient House" had once housed the Palestinian Authority seat in East Jerusalem before the official new headquarters was constructed. Raided by the Israelis under Sharon, it had passed back into Jewish control. But this couldn't be Orient House—there was no sign of it being anything but a hotel.
Heloise glanced at the sign, "The Rod of Aaron Hotel. Proprietor: Ezra Levi & Sons."
How strange! she thought. She noticed there was even a carved almond branch, flowering, above the entrance.
"I have a room here permanently. They will let you rent the biggest apartment, which is empty right now."
He led her into the formal entrance of the old house that had either held the French consulate in bygone days or some local Palestinian sheik from the Trans-Jordan era with a taste for French culture.
She was wondering how to get free of Ezekiel when a robed, gray-bearded Orthodox rabbi came to greet them wearing his traditional talith, the prayer shawl all the orthodox were wearing. Carefully, like an egg in hand, he carried a tiny reproduction of Solomon's Temple in his hand in a glass case, which he set down on the counter. Seeing Heloise, he quickly covered it with a cloth as if it were too holy a thing for her profane Gentile eyes before he turned to them.
Ezekiel introduced her to him as Mrs. Green, a visitor from America who had come to support the cause of the new Temple.
"Noble son of Levi, this woman has to help us in our cause, and I am helping her. She has lost her hand-bag containing her passport and other papers. She can go get them in the morning, however. Will you take her? Our holy laws protect such strangers in our midst and say we must give shelter, do they not?"
The rabbi's manner seemed to relax a degree as he peered at her. But only a degree. "Sorry, we do not have anything very nice for you, Madam. Our hotel is quite old, you see. There is only this one flat with a bath, on the third floor. Can you climb many stairs? I am sorry we have no modern elevator.
The entire structure would have to be rebuilt in stone, replacing all the wood according to the present building codes to take one. There used to be one here years ago, but General Allenby of the British staff took it away when they evacuated the city. Are you sure you don't want to register at a place among your own people? There is an American ambassador in the city, he can help you no doubt."
Heloise glanced at Ezekiel and then back at the rabbi-hotelier. What good, she thought, would it do to set them both straight on her true reason for being in Jerusalem?—she no longer knew what it was anyway! She knew for certain she hadn't chosen Jerusalem, which for her was like going from the frying pan into the fire. Of all the flights she tried to book, only the one to Israel worked out for her at the time she wanted—and she had no choice but to take it.
She then checked her watch, and in the dim light of an elaborate brass lamp she saw she had lost another half hour. It was completely dark out now, thanks to the turning off of many street lamps for either economy or some religious reason. Would she be able to find her way back to the wall? She hated the idea she had to walk the streets of an oriental city at night looking for her mother's handbag! The peeling wall-paper around her, the musty odor, the creaking floor and decrepit carpets beneath her feet—she only wanted to get away.
And could she stay in the same place with such a madman as Ezekiel the Second? Impossible!
"I think I will try elsewhere, gentlemen," she told them wearily. "Thank you very much!"
But she saw in a flash that they weren't listening. It was a matter they held strictly between the two of them!
The rabbi repeated himself after a bow to the prophet who showed no expression and simply stared at the man.
This made her most uncomfortable. She shook her head. "I'm really sorry I caused you both trouble," she began again, moving toward the door.
Ezekiel reached the door first. He turned and almost shouted at the hotelier something that sounded like Hebrew, which he wasn't supposed to know much about.
Then he turned to her. "Don't worry about me, Mrs. Green! I won't be staying here tonight, or the next either. You'll be quite safe here from any imposition on my part. "
He turned back to the hotel manager, using plain English this time. "Now give her my quarters, son of Levi! I have a spare bedroom she can have, with its own bath."
The rabbi looked at them both with horror.
"What?" he cried. "This isn't done in my hotel! We are holy people here! Goyim in this place? God forbid!"
The prophet shook his head. "My son, it will be quite all right. I am going to the Mount of Olives to pray and fast. For the next ten days I will be there until I receive word from the Almighty!"
"'My son'?" Heloise almost blurted out. How dare he think he could address a dignified, older man that?
She watched, amazed, as the rabbi gave in to the younger man. He expressed his deep regrets over his outburst and bowed to the will of Ezekiel as if to his superior, despite the great gulf in age and his rabbinical training. Then he spoke a few words aside with Ezekiel about the temple model, pointing to it several times, and Ezekiel patted the rabbi on the back and said, "Well done! We'll see it done exactly according to the model!"
Having instructed the rabbi the prophet set down her humble bag of toiletries in the rabbi's care and left the hotel, shutting the door.
Now that she had a place of refuge offered her, a sudden weak spell then hit Heloise, and she wanted to sit down. She couldn't seemingly take a step, even to save her life. What was wrong with her? She wondered. Was it menopause? She could accept it was menopause, brought on by all the traumas she had been experiencing both in Dallas and now in Israel!
Heloise let a moment or two go by to try and get back her strength, but feeling no better she went away to the door, then paused on the theshold. If only she had her mother's purse—it was like she had been stripped, like an unborn child, of its own umbilical cord!
Suddenly, it seemed she should stay, or at least look at the prophet's flat. How she could feel that, in her disoriented state, she could not explain. But she felt it anyway.
She turned around, holding to the door for support. "I would like to see it first. "
"Of course, Madam," said the rabbi-proprietor in the kindest tones she had yet heard in Israel. "My sons will show you to the rooms. Please to follow them, Madam."
He raised a little bell, and two young smiling men came at the first tinkle. They lacked the curling sidelocks of the ultra-orthodox, the Hasidim Jews, that made them look so outlandish to Western eyes, but they still were wearing floor length dark robes like their father's.
The proprietor raised his hand, and he paused before he took the plastic bag as if to touch it might defile him.
The rabbi turned to them, said a word, and then turned to her with emotion rising suddenly in his face. "Please excuse us. We are not at all believers in this strange foreigner who calls himself 'MJ' and promises us a new Temple on the Herodian mode—but no, he is a------"
He broke off what he was going to say. "We serve breakfast and also lunch, but, sorry, no ham and eggs and milk, it is strictly kosher here," he added as if in apology for her sake.
Heloise was still startled by the rabbi's outburst, betraying that his faction of the orthodox Jews were holding for a second Solomonic Temple rebuilt on the Temple Mount and were boycotting the chosen "impure" pre-Herodian model ratified in the peace treaty. That was news to her! Despite all the show of camaraderie between Israelis and Arabs, Moslems and Jews, at the Knesset, thanks to a violent outcry by the Hasidim who were willing to shed blood over the issue, there were deep rifts in the peace process already showing up, mere hours after the signings!
Not knowing how best to respond, she decided it was best to ignore the issue, just as MJ had conveniently ignored the bitterly contested Wailing Wall in the whole peace process. After all, she was just a goofy outsider, without a roof to her head or even a handbag to call her own! The very last thing she needed to do was argue with ultra-orthodox Jews over the proper Temple model and whether MJ and the Peace Proposal were good for Jews or not!
"That would be fine, if I stay here, that is. And if it will help, I'll carry my things myself."
That offer seemed to please everyone, so then she followed the two young men up the staircase that took them first one direction then another, winding finally to the third floor. She was nearly exhausted when she found herself at a lamp-lit, beautifully carved door. She looked around in surprise. The hotel seemed to be more lavish on the upper storeys. The young man nearest her opened the door with a huge ornate brass key left over from General Allenby's administration and gestured for her to enter.
Inside, it was dark, yet fragrant with scented candles. The young men quickly turned on all the electric lights available. Heloise was stunned for a moment, though some of her TV sets had been the equal of what she saw around her. Again she was reminded. What a stunning, bewitching place Jerusalem could be! Turn a corner just about anywhere in Jerusalem, and you could find yourself set back, not just one century, but a thousand years! But here it was only two centuries or so backwards in time, not the time of Christ or even the time of the Patriarchs two millenniums beyond Him!
She found herself dazzled by an exquisite chandelier of crystal and gilt. The entire apartment was a reproduction of a French Second Empire salon, all in minature and miraculously well-preserved. The carpet was evidently modern, but in white and gold to complement the white and gold furnishings. It all looked far too much for her slim budget.
Seeing her disappointment, the young men's smiles faded. One showed her a bedroom where there wasn't a sign of the prophet's things—it had to be the spare. The other young men went to the glass doors facing the street, and opened them.
She looked out, and in the dim light she could still make out a balcony of fine marble and tile-work with potted candy-stripe pink geraniums in high bloom. Everything was very beautiful, the prophet had certainly not led her to anything to be ashamed of—but what was the price? Surely too high for her budget!
She shook her head, though quailing at the thought of stumbling down that long, twisting stairway in the dark.
Maybe she should stay one day. She could afford that, and then look for a more suitable place in the morning.
"I will stay," she said, she heard herself saying.
"Thank you, Madam," the young men chorused, and they bowed, leaving the room immediately.
Her voice had shocked her. Why had she said she would stay. Was she crazy too? she wondered. What if he used his key? She was defenseless!
It somehow thrilled her, to be "defenseless," with a holy young prophet about to besiege her married virtue! What an unholy thought it was, she thought, while enjoying it.
How far she had lapsed from her evangelical faith, to be indulging such fantasies! She thought, felling not at all ashamed. On the contrary, she felt revived as a woman for the first time in weeks. Just the same, old habits reasserted themselves. She went to the door, shut it, and locked it. Then she went to look around the rooms. After finding her bedroom, with its elaborate canopy and beautiful crystal lamps, she went out, feeling dazed at all the changes she had just experienced, internally and externally, and sat on a fair copy of a Louis Philippe chair.
Then she remembered something with a start. "They didn't even fuss about my lack of a passport, or have me sign any papers. That was the true Orient for you," she thought.
That still didn't tell her what the hotel really was, however. A rabbi as manager and owner? A resident prophet calling himself Ezekiel? A secret agenda to rebuild the Solomonic temple on the Temple Mount?
What kind of place was it? But now her momentary euphoria was passing. Her head was sinking, she felt so terribly tired. Jet lag, she decided. How much longer would it go on?
Dragging herself to the bedroom, she lay down, and then pulled the antique, gold-monogramed sheets over her clothed body, leaving the light burning in the electrified crystal lamps.
Hours later, she thought she heard knocking at the door in the other room, but she couldn't rise with dark, curtainy mists holding her down, and the noise stopped.
Then she heard knocking again. Where was she? She struggled to remember. Finally, she recalled the prophet she vaguely remembered leading her somewhere in the city.
Her mind clearing, she refound reality with a jolt. She looked around, and realized that the whole thing was not a dream, she really was lying in bed beneath a canopy in a 19th century Turkish era mansion in old Jerusalem of all places!
Life could not have turned more bizarre, she thought. But she still had to face it.
This time she found she could get up, and she went to the door, after trying to get a gold-handled comb through her hair and not succeeding.
"What did I look like last night stumbling in her with that lunatic Ezekiel II leading me?" she wondered. "It must have been some scene, with the so-called prophet and me—a badly frazzled American tourist who had not only lost her ministry, her husband and family, and her money and identification but is probably going through the change of life!"
Determined to check out as soon as possible and see if she could find a doctor to check out her recurring "weak spells," she went to the door, but did not unlock it.
"Yes?" she said.
"Madam Green, we have breakfast ready for you!":
She said nothing, couldn't say anything, and simply waited. She never did say a word before breakfast to anyone—that was just her way since she was a child.
"She's not mad at anyone," her grandmother would say back then, defending her to her own parents. "She's just like me—the Indian part! We never can find any words for anyone, not until we've had breakfast and some time to ourselves first! Give her some space and a little time in the morning—that's all she needs!"
"Please, we have breakfast for you, Madam!" a voice insisted.
Opening, she looked out and found a young man holding a breakfast tray, with everything one would wish on it—a good kosher Jewish meal, fresh bread served with oranges, sliced, and sliced tomatoes and cucumbers! There was even orange juice!
Despite her queasy emotional state, it looked delicious! Her hunger rose up, and she took the tray. The young man went away immediately after a smile and a little bow though she gave him the glum look of a wooden Indian when he said he would return with hot coffee and tea.
She went back in, and then decided to go the balcony and enjoy her first meal in Israel. Pushing open the doors, she found the sunlight dazzling and warm, and was relieved to find a small table and chair. Sitting, she started on her meal, and listened, but there was no sound, not even bird twitter. But as she began bread with jelly, she saw a crow alight on a roof top, and look at her. That look seemed to unite both parts of her, the unconnected, wordless Indian with the reaching-out white part. Throwing a bit of crust over the balcony, she watched it dive down with a squawk.
Room service kept coming.
She was offered American and Turkish coffee, but she sent them back, keeping a pot of hot mint tea, just what she needed, she thought, to make her feel like her old self. She left the tray and went back into the apartment, and felt up to trying to do something with her hair and face in the tiny bathroom she found just off her bedroom.
The ornate plumbing was hard to use at first, but she found the water coming from the tap just warm enough, so she washed her face. Then she noticed the curtain behind her, and drawing it found a small claw-footed bath. She turned the gold fixture and out poured warm water, but with some rust in it. Letting it run, it turned clear enough for her to consider a bath.
A hour later, she left the room fully clothed, and feeling the best she had since leaving Dallas.
"Watch out, world, here I come!" she thought.
She sat down on a chair by the big chandelier, and using a mirror put final touches on her lipstick, trying to get it right. Was her mascara, eye shadow, blush and toner all right? Her hair, without professional treatment, was a a fright, but, then, it made her look something like the pop diva types that seemed to follow MJ everywhere..
She stood and walked to a big mirror, and turned around to see if her clothes weren't too rumpled for the public eye. Fortunately, she hadn't turned much all night, and she decided she could get away with the wrinkles she found in her skirt and jacket. She went out and down the stairs.
She found the desk deserted, but when she looked out she saw the rabbi, or so he seemed, was just then dealing with a paper boy, who handed him a Jerusalem TIMES.
He glanced at her, a fully revived Heloise Turnbull, but went to his desk, laying the paper out, with the pictures of UFOs and MJ crowding the front page along with a headline about the government's fall.
The paper brought her back to reality, which the hotel, a relic of an ancient regime, could never do.
She felt weak all of a sudden.
"Oh no!" she thought. "Not that again!"
The world the old consulate hotel had shut out now rushed back in on her, overwhelming her senses. So much had happened in the last 24 hours! It was, most of it, stranger than anything she had experienced in her entire life—even with her ministry's bankruptcy and the divorce forced on her!
She also felt a terror, not of running out of money in so odd a place as Jerusalem, but of running out of any ability to handle the strangeness invading her life from every side, which was more than she could handle if she couldn't get a handle on what was making her so confoundedly weak!
"I am checking out," she managed to say to the rabbi in a strained, high-pitched voice. The inscrutable Oriental, he simply looked at her without any expression. She repeated it, thinking he had not heard her right.
When he didn't respond, she insisted in a squeaky voice that was all she could muster, weak as she was feeling at that moment.. "May I please pay my bill? I have the money."
The rabbi made an oriental gesture.
"Nothing, Madam. You were our honored guest. Our holy laws—they tell us to shelter the wayfarer and widow and orphan in distress."
"But—but--!" she protested. "I really need to pay for my stay last night, and my breakfast!"
The rabbi smiled, shaking his head as if he couldn't stop once started. "Oh, no, no, you are an honored guest of our great friend, God's holy prophet for the Temple. He will take care of it."
Heloise could not think what to say. How could a madman, a dangerous fanatic which he clearly was, be so well thought of? Suddenly, the whole scene grated on her nerves one time too many. She felt trapped, and she did the only thing she could do. She flung three twenties down on the desk, and fled like an utter fool.
Hours later, she was trying to find a room after having to sit down every spot available, she felt so weak and drained. But everywhere she was told there was no place available.
It seemed hopeless. She paused once again to rest in a small park for Intifadia victims, a few small potted trees and flowers, with some benches, and an inscribed stone. She was sitting there, looking out at the busy street when a shadow made her lurch to her feet. She found herself looking in Ezekiel's offended eyes, who looked down on her as if she were a mere misbehaving child.
He thrust money at her along with her mother's old green handbag.
She snatched the handbag, but refused the money. His look, when she wouldn't take the money, was unmistakable. She knew he was reading her very thoughts, the ones that had branded him a "dangerous fanatic," and his knowledge of her stabbed her heart.
Even worse, he drove home the point with words.
"How could you act like that? You were my guest, didn't they tell you? You must not embarrass me again! They accepted you for the sake of the holy Temple. They truly believed you were sympathetic to our cause. How can you walk on good, decent people's feelings like that?"
Her guilty conscience nailed her to the spot. She couldn't think of a single word of self-defense though she hadn't the slightest interest in seeing the Temple rebuilt on anyone's terms. Yet how could she have treated him so abominably? How? Being left behind, bankrupted, and divorced by her husband and family—they were excuse enough anymore to cover her shabby rude behavior, she felt. Her whole body wanted to run, or at least say some very mean things with her mouth to cover up her own meanness! Instead, she blinked, mustering her best manner, and turned to him with standard old Southern charm—what she had left of it anyway!
"Thanks so much for retrieving my handbag! I really appreciate it! But what do you mean, your 'guest'? I don't even know you," she said, letting the part about the Temple pass.
He waved aside her absurd, little protest after the outrage she had done to his honor as a prophet of God. His face turned deadly serious. "You don't know where you are! You needed my protection. All sorts of people would take advantage of you. You don't know this city. It may not appear to the tourist as crass and greedy as New York, but that is a deception. Jerusalem is a cess pool, overflowing with wickedness and violence of its own kind! The Lord God will soon wipe this Sodom and Egypt off the face of the earth, for its stiff-necked rebellion against his holy law and—"
Seeing a tirade would go on and on, Heloise dropped her stupid, utterly false Southern routine, and she started walking always, throwing the twenty dollar bill down.
Ezekiel scooped it up as he followed her down the street. He followed, but when she wouldn't speak to him again, he finally let her go on alone.
As soon as she was sure he wasn't following, she went in a café, just to sit down and rest her feet. She had acted badly, tried to cover it up and made everything infinitely worse. What could she do to follow that up? Nothing!
A hour later, after several coffees and something Israeli like a hard-shell taco with hot meat stuffing she found too hot and spicy for her tongue, she realized she couldn't stay there all day, and went back out to face Jerusalem without Ezekiel. Her stomach churned. She realized the strong food had been a mistake for her already weakened condition.
By then it was dusk. She had tried all the smaller places, and now desperate to find anything she retraced her steps to the same area of the Hadassah Oasis Hotel. Why couldn't she escape the area? she wondered. It was drawing her like a deadly magnet, despite all her struggles to resist it!
Suddenly, she not only felt very, very menopausal-weak, but she had to get to a bathroom or suffer the consequences right in the public street!
It was without shame she bolted into an open shop and headed right for the back, and found a toilet as the shop girl stared at her. Without a word between them, Heloise went in, locking the door. When she came out, the girl was all apologies as Heloise tried to explain.
Feeling better, she gave the girl a twenty dollar bill for the trouble she had been. The girl shook her head, smiled too much, and Heloise insisted.
It was just as she turned onto Moshe Dayan street, that she saw the sign in the window, "Clean European Studio Apartment" in English, on the second story above a shop. A flight of stairs at the side led up to the second floor, and she went up and knocked the first of three doors, all painted green and set on both sides with big pots of geraniums that could catch the light coming down from open skylights.
A woman in her thirties, beautifully groomed and carrying a little fat-cheeked girl of two or three, opened the door. Heloise practically had to drag her words out of herself. "My name is Mrs. Green, and I am looking for a place to rent. You have an apartment listed. May I see it now? I'm sorry about arriving so late, but--" The moment they were out, the words seemed to drop on the ground, as the woman stared at her, with no expression whatsoever. Then, after a long moment that told Heloise "No such luck!", the woman looked at her doubtfully and quicklly set down the squirming little girl. She straightened up to look at Heloise. "I think it has been shut up for repairs and repainting. Please let me ask my husband. He handles these matters." Disappointed, Heloise waited on her tired feet. It seemed many minutes later when the door reopened, and a balding, older man looked out, saw her, and shook his head. "Sorry, Madam, we have let it go to another before you." He started to close the door. Heloise cried out, surprising herself, "Wait! Please, sir! Do you know of any other apartment around here? I must find something tonight!" With no hesitation, he shook his head again. She saw the door closing, and then heard a woman's voice. The man turned around behind the nearly closed door, and there was talk for some time, while she waited with sweat coming to her cheeks.
Finally, the woman came out again, and smiled. "It is only a poor little room, at the back of my mother's house! She keeps it for maids who help her in her place, you see. I don't think there is anyone in it right now. She can't keep anybody very long in her condition, and—"
"Oh, I'll take it!" Heloise cried. "--even with light housekeeping. Please, where is it? Can I go there now?"
"Why, yes—" the woman said uncertainly. She turned to her husband, who had thrust his face out the door to see what was going on. She turned to him. "Can you stay with the children? I will show it to her, and then she can decide. It is such a little place, she may not want it. And mother will want her to do too much work!"
Despite her disclaimer, Heloise was not prepared for what she was shown. To her, it seemed as if a doghouse had been tacked on the building—-no human being, surely, could consider it fit to live in, she thought. Looking like a closet divided into two tiny rooms not much larger than broom closets, Heloise almost laughed aloud at the squalid "apartment," but she sank down on the chair, and nodded she would take it.
"All right, Mrs. Green, if you change your mind, you can tell me tomorrow. My mother—she is resting now, for she is ill with arthritis and leg ulcers, but she will come early and ask for your name, and demand that you work for her a few days a week, but you can pay her something maybe to leave you alone. She can't get another maid to live here with her, it was impossible for them, that is why they leave every time, and I must find new ones for her somehow. It is very difficult finding anyone who will stay. I had given up, then you—"
Only then did the woman offer her hand, apologetically. "Excuse me, I should have told you before! My name is Esther, Esther Cohen. My mother's name is Anna Rabinowitz, and she was born in Kiev, in Ukraine, and has a lot of the old ways about her still today, I'm afraid. But at least she knows a little English from the days she spent in a concentration camp, from the time Americans came to liberate them. As for me, we all studied English in school growing up--"
Something about the strange sounding –witz on the end of the mother's name and the mention of a WWII concentration camp seemed to send up a red flag in Heloise. She looked at the door for the first time. No lock!
"But I'll fix that," she thought. "I can handle her old-fashioned, Ukraine-born mother too if I have to! There isn't anyone I can't deal with!"
The young woman smiled, looking anxiously back toward her own home. "I must leave you now. Will you be all right? Have you food with you? There is water here at the sink in the hall at the end, and you have only electricity. It is a very poor little place, but you said you wanted to see it."
Heloise, assuring her it was just fine for her, let her go after the young woman said she would talk to her mother in the morning and make arrangements for her to stay, if she still wanted the room.
The door shut, Heloise looked around at what she had gotten herself into—it appeared now, too hastily. What a change from her 12-million-dollar mansion in Bellwood Manor to a room like a jail cell!
She glanced up at the single bulb of her windowless sitting room and its furnishings of two chairs, then went into the other room, which was the room with a bed with no blankets or sheets, only a thin mattress. In the corner was a thread-bare plastic-shower curtain, behind which was a toilet without even a mirror on the wall. The toilet smelled, had cigarette butts in it, and had not been cleaned for quite some time.
She was too tired to react when she saw a gecko run across the wall behind the toilet, disappearing into a big crack. That did it! The reality of the place struck her like cement dropped on her, dragging her down against her will.
Going back to the other room, she sank upon the chair and somehow mastered the compulsion to grab her things and walk out. Only then a greater weak spell hit her, and she realized she couldn't leave anyway. It was too late! She couldn't possibly drag her feet out the door!
She spoke to herself like she would an unreasonable, sick child. "See, you can't leave! You're staying, Heloise! Don't you even think of leaving! Just settle down and rest her a while! Settle down!"
"Where else can I stay tonight? This has got to be it!" she thought.
Slowly, the crisis of her latest attack of "mono" or "menopause" or whatever it was passed as she tried this—a technique she had used many times in the past whenever she had found herself in unspeakably difficult situations in ministry for a Westerner, particularly in Eastern Asia.
Feeling somewhat revived, she decided to rearrange things a bit while she still felt up to physical activity.
After she pulled the bed into the first room and shut the door, she felt she could sleep there, even if she had to do it with her clothes on the first night.
Before she could sleep, however, there was a knock on her door. At that very moment, yet another weak spell nearly sat her down on the floor. She had all she could do to open the door without collapsing.
"Please, some warm things for you, Madam," said the young woman with arms full of blankets, sheets, and pillows. "They will help you to sleep in this cold place."
Heloise, holding to the door for support, almost burst into tears, but forced a smile, and quickly made way.
Smiling, the young woman came in, and though surprised to find the bed in the sitting room, she made up the bed despite Heloise in a faint voice insisting five or six times she could do it.
"You must have some warm things on warm bed, it gets unbearable here in this city at nights with these floors and walls," the woman explained, still smiling. "Even if they are stone, they are very thin, and ice can form on them indoors! Mother would never let you have her good blankets, but we have these, left by some people who are not being allowed back to their apartment—they were Russian Jews and had false identification— and the new people, immigrants to our country, will have their own they are bringing."
Heloise watched her finish the bed, and couldn't keep back tears from her eyes this time. Was she losing her self-control? It must be a nervous break-down, she thought. She was cracking up, shedding tears, and couldn't stop herself. She was almost beside herself, the object of more kindness than she had known in years! Years!
"Why are you doing this for me, a stranger?" she asked, the moment the young mother stood up. "We just met!"
The moment she asked, a flood of thoughts and problems came with it, like a dam had burst:
How can East and West really come to common ground in order to understand each other? Utterly impossible! It is the East that has always been first to know what human hearts are like, and what they desire.
It is the East that knew the human heart in a deeper way than any amount of educated Westerners of the last couple centuries! And here I come flying into her life, vain and light, demanding the knowledge and wisdom that these ancient peoples, the Arabs and Jews, acquired only over long and many ages of time and much suffering!
What in the world can she—this angel of the Chosen People—say to a demanding little piece of Johnny-come-lately American fluffball such as I must seem to her?
"Moses commanded us to care for the stranger in our midst," the Jewess said. "He told us to remind ourselves that we were in bonds once in Egypt. You are most welcome!"
Again, that old law straight from the times of the Patriarchy of over three thousand years ago coming to her aid? It couldn't be! But this was Jerusalem, where the ancient times mixed unashamably with the ultra-modern and hitech, at the drop of a hat!
And a response from her, evidently, was required. But what? Heloise's mouth fell open. She had taught Bible for twenty or more years, but here was yet another living proof that the Bible culture still lived on in modern times, and it was reaching out to her in real space and time!
The young woman bridged the gap herself. She took Heloise's hand as she might her own sister's, saying "My name is—in your language—Esther. It is different, of course, in our language."
Heloise had her answer. Esther? Esther? Why, that was the same as "Haddassah" in Hebrew! And Hadassah had saved her people in Persia from a Persian holocaust, and was the reason for the Jews celebrating the Feast of Purim ever since!
Heloise looked at Esther, who should have been a relic in a museum, not this vibrant, young mother and homemaker standing before her. She then made her numb hand give Esther's a little pressure of politeness, she just couldn't take it in. Her fate? To be sheltered by a "Haddassah"- named hotel on arrival, and now to find more shelter under that ancient name belonging to a modern Jewess, who must have looked quite a bit like the one who was holding her hand. It was all too much for a modern woman from the West to absorb.
For Heloise Turnbull, after what had happened to her at the Wall and elsewhere, this was far too much, indeed, for one day. Whatever her response or lack of it, Esther left her, and Heloise lay down to recover from all the surprises and shocks of the cultures of Israel, one ultra-modern and the other as ancient as the stones of Jerusalem.
She wondered if maybe she wasn't losing her mind, but that her weak spells weren't somehow connected with culture shock. That would explain why she had been feeling the way she did in Jerusalem, after receiving a perfect bill of health, with only minor problems for a woman her age, at her last checkup at Mayo's in Rochester, Minnesota.
Deciding it was only culture shock gave her some relief. Her panic subsided, and she began to think more clearly and consecutively, without the horrible jumble of feelings and thoughts and fears threatening to destroy her sanity.
Yet her culture shock wasn't all unpleasant in its effects, she reflected after a while lying still. She was overwhelmed at the sensation of being in a—could she not say it?—-"Biblical" and "Jewish" bed, feeling the wonderful, home-grown and woven wool blankets draw sleep back into her tormented body. It was just too good for her tired, beaten-up, abused Heloise Turnbull body, seemingly, to believe. What was Heloise Turnbull anyway? She, and all her tribulations and collapsed ministry and its world-wide agendas, had vanished like a child's bad dream. Instead, what had taken her place felt like a furry kitten snuggled in her mother's furry breast!
Was that so bad? No! she thought. At that moment, feeling as she did, she could just let her whole former life go and not regret it with a single tear! At least that was a nice thought to go to sleep with.
Just as she was easing into sleep, Ezekiel's harsh criticisms of the people of modern Jerusalem came to mind with a jolt that stopped her from yielding to the strong tug of sleep.
"Why, the modern Jews aren't nearly so bad as Ezekiel says," she thought, angered when she thought of how lovingly she had just been treated. "He's far too extreme in his judgmental attitudes. Thank God somebody here remembers Egypt and old Moses! Thank God, thank God, thank God…"
For the first time since her arrival, she felt a touch of home—as if her own mother had just come and laid a warm afghan she had knitted over her. In that special moment she felt Israel, the ancient land of the Patriarchs and the Lord Christ, was as close to real home as she would ever know again in her life.
"Israel—-my new home?" she thought, half-amused but also comforted by the thought. "She hadn't chosen Israel. Had it chosen her? Could it be? If so, that would the strangest thing that could ever happen to-—to whomever she was now!"
Then, without knowing it, she dropped off the edge of consciousness as if she had suddenly plunged off a cliff into sweet nothingness.
(c) 2005, Butterfly Productions, All Rights Reserved