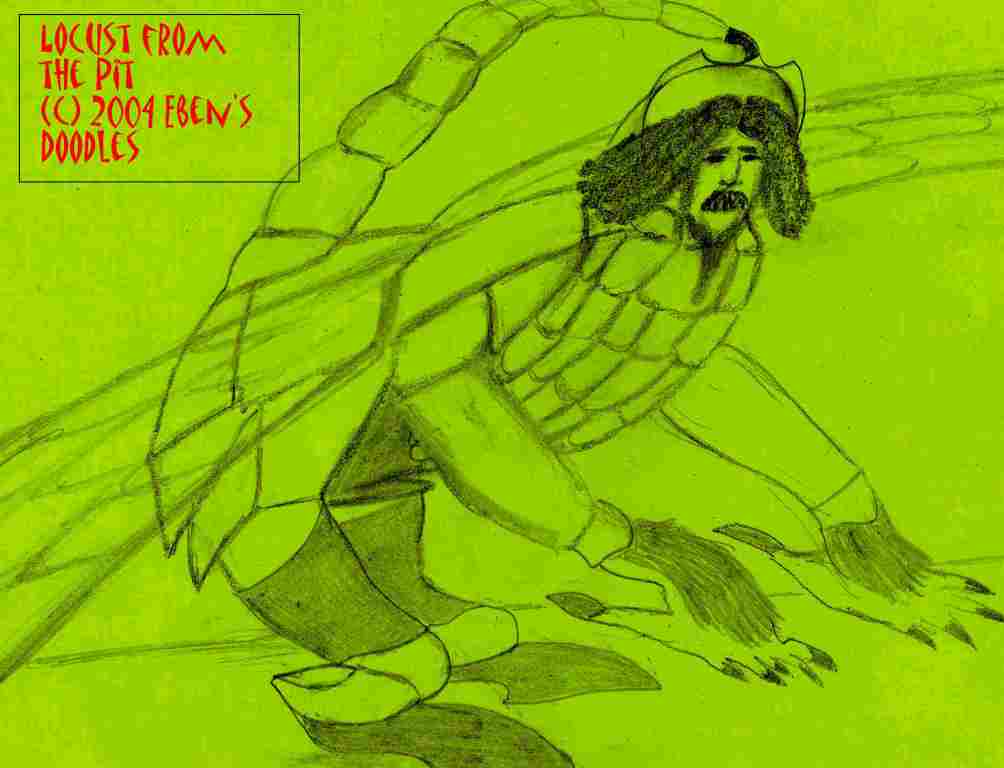 With all this going on simultaneously, creating unbelievable chaos and mayhem, she only knew for sure that Yom Kippur, the Day of Atonement, couldn't be far off-—perhaps it had already happened.
What, for instance, had happened since the evacuation? Surely, the Antichrist would be so furious that he would order a quick and vicious response to stamp out all remaining opposition. Indeed, he did just that, she found out within hours after climbing out of the troop-sized helicopter that had carried her and Anna and a Morroccan family to safety. Anna couldn't even walk after the ordeal of being thrown about in the back the helicopter as it maneuvered round the monoliths in the Judean canyons for hours to mislead any electronic satellite tracking systems recording their escape route. She had to be carried from the copter.
Heloise was not much better. Fortunately, the two sturdy teen-aged Moroccan boys that came with their parents and sisters hadn't minded the journey a bit and helped Heloise, joining her in carrying Anna on a stretcher, so that she could be taken up to one of the tomb shelters in the cliff faces. As for the soldiers, they couldn't be bothered, as they were furiously setting up defense systems and hiding their equipment from view during the few precious hours of light that remained in the abbreviated daytime of the Tribulation.
She found only a few things, from remarks the soldiers made while they were being registered as camp inmates by the army. She was told that they could not expect to return to their homes any time soon. Jerusalem, in fact the entire country, lay cut to pieces in enemy hands, occupied by World Union forces, and Jerusalem's remaining Jewish population was presently being 'processed' for removal and, no doubt, extermination.
"What will they do with the rest of the Jews of Jerusalem?" she asked the soldiers when she got her first chance after landing at Petra. She was too afraid to name Esther, for fear of what they might say in Anna's hearing.
"Those that aren't being executed without trial are being 'detained and certified' as Zionist Jews by the UN-World Union forces and then will be sent to concentration camps," she was told by the soldier who had come to take their names and some other information.
Heloise went pale at the news. "I suspected as much," she said, her stomach giving her a painful knotted feeling, while she felt sweat on her forehead, and cold at the same time-—the signs of war revulsion and shock starting to take its toll on her system. The soldier answered a call on his radio, too busy to spend any more time with civilian concerns.
She desperately wanted more information, and Anna too, despite her looking like she was near death, wouldn't let the soldier leave without telling them what had happened to her daughter Esther and the children. They had been taken out of Hillel but had been parted from Anna and Heloise in separate vehicles.
"Can you tell me please anything about Esther my daughter and my grandchildren?" she interrupted him. "Please! We were separated back there. Check and see! Are they all right? When will they be coming?"
"They're in transit and will join you here--if they make it past the enemy patrols," the corporal said brusquely after calling someone in the secret Petra headquarters. He refused to say when that might be, though Anna screamed at him in the most threatening way, throwing in a Yiddish obscenity about his lack of manhood.
After the soldier had gone, Heloise and the Moroccans tried to set up housekeeping in the tomb without any means to clean it. Some soldiers returned with a few pieces of army camping gear-—cots, army blankets, some army-style utensils for cooking, all which helped, but there was no broom, no vacuum cleaner, and nothing electric. Could they stand to live in the filth of this ancient tomb? Wasn't an animal better off than they, being accustomed to the dirt?
"It's all your fault we've come to this-—this [Yiddish expletive] place!" Anna shrieked at Heloise, seeing the tomb for the first time for what it was-—fit only for a wild animal or the crumbling bones of some ancient Nabatean Arab trader of ancient Roman times.
Heloise looked at her, her eyes closed as she waited for the expect torrent of abuse.
"Yes, you Americans are all to blame for this! Now I have only the filthy, stinking rags on my poor, old back, since you wouldn't let me take anything nice with me from my home! How can you make me live like this! I send you all to hell for this atrocity!"
Having gotten this much off her heaving chest, Anna tried to get up as if she meant to leave for Jerusalem. But she couldn't manage to stand on her feet, and it took quick action to catch her heavy body before she crashed on the boulders and half-sculptured masonry blocks littering the tomb floor.
The cursing Heloise got for all her concern and trouble she took for Anna (nearly breaking her own back carrying the stretcher!) made her almost want to run as far as she could from this horrible old battle-ax.
"It's your fault, you ugly, stinking golem from the Gentile sewers!" Anna kept moaning and yelling. "It's you rich bugger Americans who have done this to us poor Jews and victims of the Nazis, as as for you bung-sucking Christians...!"
Unable to stand the obscenity and screams any longer, Heloise left the tomb, stumbling over the makeshift altar at the entrance. She started climbing down the rugged path that led to the valley floor. It was dangerous at any time, and particularly now as dusk came on. But she had to get away for a breath of free air where Anna's voice couldn't reach her.
Once she reached the ground below, she looked back up, and wondered how she had made it without falling. The rocky slope looked so steep and full of crevices! She couldn't even make out the path in the dying light.
She hadn't even got the breath she had come for when, suddenly, the ground began to shudder. Was it an earthquake? She crouched down, as dust and whirling red sand and flying rocks made it impossible to see what was going on.
Frightened, she found herself in a maelstrom, which turned out to be a squadron of camouflaged army helicopters in swift descent. She had expected it, but when it came she wasn't really prepared. And they swooped down so fast that she hadn't even heard their approach. All of a sudden, as she was trying to see with blinding grit in her eyes, she glimpsed dark figures darting out from the copters in the whirlwind of flying dust, guns at the in hand as they fanned out below the still moving rotors. Terrified, she fell flat, and just lay there. A moment later a boot toe rolled her over. A practiced rifle butt was thrust into her face, then for an agonizing moment she thought she was going to die right there. But the Israeli laughed, shook his head, and turned back to his comrades who then hurried away.
Heloise, shaking, got to her knees. By then the choppers were silent, with groups being led quickly to various parts of the valley and then up the slopes to hiding places.
She didn't think, she just had to scream the names of her daughters and husband. No one turned toward her. Her heart sank. She ran from her spot and tried to intercept the soldiers and their refugees.
She caught up to one group, and the sergeant turned to her with a surly look. He held his rifle on her as she asked for her family. He shook his head, and using his rifle made her stand back as he led the group away.
Desperate, she tried again. She ran, fell in a hole in a grave dug by some ancient, long-gone grave-robber, got up, her clothes torn and a cut on her cheek, but kept running. She thought of Esther and the children too, and screamed her name at the top of her lungs as she leaped and ran, throwing up her arms to get somebody's attention.
Suddenly, a woman turned to her and began running away from the group she was part of.
Heloise nearly fainted as she knew what that meant. "Esther!" she screamed.
The two women, when they met, rushed into each other's arms. Heloise couldn't believe her own feelings. She was sobbing on the shoulder of the younger woman who seemed to be bearing up much stronger than her in the situation. But Esther too was crying-—as the tears spurting down her dusty cheeks testified.
"Where is my mother?" she was whispering in a hoarse voice, before pausing to cough.
" No, wait, where are my girls?" Heloise shrieked in return. "I won't let you go until you tell me!"
When they could hear each other and had calmed down somewhat, Heloise pointed toward the tomb she had just left. Giving a parting word to a friend, Esther took off running toward the cliff, climbing up without any help of the path that she couldn't see in the dark.
"But where are my girls? And Aloes? Didn't they make it here?" Heloise cried, despair almost overwhelming her first joy in finding Esther alive and well.
She didn't have long to agonize. Myrrha was the first to reach her. Unable to recognize the young woman, Heloise stood as the stranger came running to her. "Mother!" Myrrha cried. Then Heloise came out of her daze and held out her arms to the voice she recognized beyond a doubt. She and Myrrha were still clinging to each other when she felt Myrrha release and someone else take her place. Through tear blinded eyes she felt the arms of a man. Her son Aloes? No, she realized, it wasn't her son. She had lain once in those arms--but it had been a long, long time ago.
"Harry, I--" she moaned like someone about to die.
He put his fingers over her lips and as her heart felt like it might stop she almost fell in his grasp before she could steady her nerves and accept what had happened.
The words and touches that then passed between them were like blind people searching the identity of each other.
When they could face the others again, they had a million things to say but no time yet to say them. But where was Aloes? Had he come along, or was he separted from them and coming in on another flight?"
Myrrha seemed to read her mind. "He's not with us, mother. Don't worry. He'll be coming. I saw him board another helicopter right next to ours."
Almost sick with relief, Heloise felt weak in the knees, but she somehow stayed on her feet. After all, so much, so much was going on. Who could take it all in?
"I found we have secret friends in the old CIA that we thought was hopelessly corrupt," Harry Turnbull explained to her as soldiers escorted them to the tomb she shared with Anna. "You wouldn't believe it—there's a whole underground conspiracy in the states going against the world government, and they look on you as a heroine, a sort of latter-day Joan of Arc, by choosing to share the fate of Israel, just when it was going to be made to pay the ultimate price--extinction--for 'world peace'."
"What? But I'm no conspirator and certainly no heroine!" she cried. "After running from the law, all I've done over here is try to keep house for a senile, evil, old hellcat who calls herself a Jew but who had taught me what Christian love has to be, only I could never love like that!"
"That's not what they told me in the states!" he laughed. "After all those ingenious food banks you organized that saved thousands of Jews and Christians' lives when the "compassionate" Jayson shown weeping in his public broadcasts cut off their incomes, they all see you as the victim of a witch-hunt by your enemies in the media and the UN puppet-government ruling the U.S. The investigations all turned up much more evidence of collusion and conspiracy by a combine of media giants, rival NGOs, and courts than was charged against you! To protect themselves they pulled back from prosecuting you, for fear there would be a leak and they'd all be exposed, especially after news came of how you have been helping the Jews these last seven years of hell on earth. Then, MJ's turn to his unbashed, no-stops-pulled policy of exterminating the Jews was held back until just recently by the fact all the security heads knew you were living in the Jewish community in Jerusalem! You've grown to be such a symbol of liberty and decency in the states for your stand for Israel that he was deathly afraid of losing all of the North American 'Dream Ranch,' as he calls it, if he took you out while taking out all the Jews and putting Arabs in their place! Now, of course, he's making up for lost time since he must crush all opposition now or never!"
All together except for Aloes and safe in the cross and altar-guarded tomb, the family talked while Esther and Anna held each other and rocked back and forth.
"Where are Esther's children?" Heloise thought to ask.
"All the little kids and the babies are being held back in a special refuge, that's even safer than this place," Cassia explained. "If we are killed, at least they will have a chance to survive—-that's what the soldiers told us. They let us come here because, even if we're non-Israelis, we're of age to use weapons if they need us in an attack."
Heloise shuddered, looking up around the tomb walls that were so badly lighted with dimly glowing chemical lights the army had supplied. Was this to be the scene of savage fighting, should Jayson give the order to attack with his main forces?
She asked Harry, who told her, "No, you haven't heard the news apparently. We're very small potatoes at the moment. There's been an earthquake, so violent it broke up all the roads between Petra and the north. Worse, millions of Russians are moving down upon Israel with a coalition of northern mullah-dominated states. At the same time China is moving the world's biggest army to the Middle East to take the world's greatest oil reserves for its gigantic economy and war machine. And all the Western nations' coalition fighting forces that Jayson can muster for the world government are converging on Israel, what is left of Israel, that is. Jayson has got to take full control before he can turn the Russians and their allies, not to mention the Chinese, back in their tracks. Once Jayson has liquidated the remaining Jews, he can feel confident he has the country securely in his bloody, manicured, diamond-smothered hands. But even his death camps must wait—-as the Russians and her northern Arab allies, which are God and Magog, we know, and the Chinese who are out to fight both Jayson and the Russians for control of Middle East oil-—will soon reach the area. Once they converge, they will start going at each other with every nuclear and biological-chemical weapon they can muster from their immense arsenals."
"Then what?" she said in a low voice.
He didn't answer right away. All they could hear was the yipping of a desert jackal, and the moans of Anna as Esther comforted her over in their corner of the tomb.
Heloise, feeling suddenly sick with dread, waited. She need not have asked. She had taught on the subject a hundred time, perhaps a thousand times in her decades of public ministry. In the last three and a half years she had seen the fulfillment of hundreds of prophecies. Even before that time she had identified many fulfilled prophecies about the Last Days. She had drawn up a list, detailing the increase of wars and rumors of wars, the extreme materialism, lawlessness, population explosion, the increase in speed and knowledge, the departure of Christians from the faith, intense demonic activity, the unification of the world religions, the unification of political and economic systems, the lack of any rival leaders in other countries so that Jayson could become the 'Man of the Hour,' the universal drug culture mixed with witchcraft, the promiscuity and the international Nazi brotherhood-organized drug cartels, the global killing of the unborn and also unwanted small children, widespread violence and abuse, the rejection of the Bible, the rejection of God himself, rampant blasphemy, hedonism's rise to the status of a major religion, the common acceptance and widespread choice of homosexuality, devil worship, the false prophets, false claims of peace, tremendous growth in military technology, paralleled by the explosion of genetic sciences, the cloning of human beings and the hybridization of humans and animals, a most dangerous and unstable mix of forces made totally ungovernable by great upheavals of every kind in Israel that would call the world's powers to try to solve the dilemma and stop the fighting between Arabs and Jews-—the atrocious list went on and on.
But the Tribulation Period's prophecies, too, had been fulfilled just as emphatically before her eyes. The barbaric savagery of the new warfare, the craze for sex, drugs, and violence all mixed together in the most perverse and evil practices imaginable, people dying from the stresses of a world culture falling apart, horrible persecutions of remaining believers in Yeshua, world-wide famines, unbelievably big hail in storms that covered entire nations at a time, earthquakes that were so frequent and powerful they had literally gone off the charts in number and intensity, tsunamis and disasters of all kinds in the oceans, the loss of light from the moon and the sun, meteorites striking the earth's surface, causing massive destruction in many places, scorching, unbearably hot winds, a new species of locust that appeared like a nightmare out of a horror film, striking victims with indescribable painful stings before vanishing, a universal dictatorship that turned increasingly bloody, the revival of the Roman empire under Jayson, the conversion and ministry of the 144,000, the abomination of desolation which was Jayson settting up his statue in the rebuilt Temple, the martrydom of the Two Witnesses, Jayson's assassination and satanic resurrection—-she had seen it all except for the concluding events soon to happen: things like the destruction of cities like Paris, London, Shanghai, Taipai, Tokyo, New York, and Beijing, the all-out attempt of every power on earth to destroy Israel, and the last battle that would bring all the major contestants to grief.
"We could be just one hour, maybe one week at the most, from the dawn of the Millennium of Christ," Harry said, as if he had divine her thoughts.
"What about the Book of Revelation's 144,000 newly converted Jews—-can you tell me anything about their world-wide evangelism campaign? We here in Israel can't get the news of what is really going on with them."
"They're just as active as ever, but by the tens of thousands they are being hunted down and executed, wherever Jayson can get his bloody hands on them! They are rapidly being killed off. There can't be too many of them left, as most, just like St. Paul and the other Apostles, keep preaching right in the face of the authorities without any fear whatsoever!"
She thought a moment about one most amazing thing. Her friend, the false prophet who had claimed amidst his followers that he alone knew the lost pronunciation of God's name, Jehovah, had finally seen the light and turned in his shingle and given his life to Christ Yeshua! He had run to her on the street one day, full of joy, so full of light she hadn't recognized him at first. They couldn't talk long before he had to break it up, or get arrested. But he was just one of the many Jews, she suspected, who had found the real thing after seeking everything else first. Only death—-a martyr's end-—could stop such firebrands now, she knew. Seeing his transformation was the most thrilling thing that had happened, up to being reunited now with her family and dear Esther too. And it was the family-—she discovered—-that made it possible to think of facing the final catastrophies of the world.
They fell silent, each thinking private thoughts, but finally Myrrha must have spoken for them all, for she said, "To think it took this dirty, old hole in the desert rocks, half across the world from home, to bring us back together!"
Heloise turned away. She couldn't trust herself not to lose all control. But a strong hand reached out and gripped her, pulling her toward the owner
"I really ruined it, I messed up royally with you all," she blurted out. "You all know what a crook I am—exploiting all my devoted, self-sacrificing 'faith partners' just to build up my own selfish empire and glorify myself! I was acting like some kind of vampire, feeding on the sacrificial life blood of all my trusting supporters. How can you want me back! I've done nothing to earn it! Nothing! I am really glad you're all safe and alive, but I can't go asking to return to—to--"
Now she couldn't help herself, spilling her guts. She had to get away if she still could. At the tomb's entrance she was blocked by her son. He whispered in her ear. "Mom! I've got to tell you something!"
"I'm so proud of you for—"
He made an ugly face and shrank back away. The next moment he flung away, and was gone from sight.
"What did I say?" she said.
"He's ashamed, that's all," said a voice behind her, and Heloise spun around in surprise.
She saw Cassia. "What do you mean ashamed?"
Cassia went and took her mother's hands. "He needs to tell you himself. Give him some more time and space. He will come around, but he needs some slack."
Heloise searched Cassia's eyes, then relented, and turned back into the cave as Cassia spoke to her.
"Go back to dad! How can you think you have to do anything! He's forgiven you unconditionally! We've all forgiven you--totally! Can't you accept? that?"
Heloise pulled back from Cassia, she nearly choked at the thought. What was this-—a television melodrama? In real life, it couldn't happen this way, could it? How could they forgive her everything? She had preached it for others, but for herself and her crimes--this was dfferent. It did not seem humanly possible. Why, Anna would agree with her there! She never forgot or forgave one blessed thing the Nazis had done to her when she was a girl! And she was determined to go on that way to her grave, God or no God!
Cassia left her, seeing it was impossible to force her mother on this point.
Heloise stood there dumbly for a time. Finally, she did go back to the group, but started to tidy up in a ridiculous way, trying to arrange the army cots with blankets, but making a mess she could see even in the dark. Cassia finally intervened. "Stop it, Mom! You're supposed to know everything, yet you're acting like a fool! Take it or leave it, we love you! Yes, you! We're not the same people, you see. Why can't you just accept that?" Heloise shook her head. What had happened to her daughters, who had hated her with a passion. How could they want her now? What had the jail time and torture done to them back in the states—-an experience they wouldn't have had except for her! Surely, they couldn't honestly claim to let bygones be bygones and accept her back into the family.
Myrrha fell down at her mother's feet, grabbing her legs. "Mom, try to listen a moment. They really hurt me, in that prison's security ward. I had so many fractures from their beatings I couldn't count them. But it woke me up! It got my attention! I had to have something like that to get me back on track with God, and with myself. They beat me up, when I wouldn't confess anything and sign anything—but I am a new person they can't touch or change! I wouldn't ever want to go back to being the person I was before those horrible things happened. I wasn't alive, I was stone, cold dead! Now I can face anything, I think. Yes, anything, with Christ helping me!"
At last something broke in Heloise. The sea-change in her daughters was undeniable. They had become grown women, and she was still acting like a child! How could she resist what they were offering? She wanted to punish herself--but they were making it too hard--way too hard--so she gave up. She sank down and put her arms around Myrrha. They sat for a time, neither saying anything.
Meanwhile, she gradually became aware that a blanket was draped around them, as it was getting very cold in the tomb. After a time, when she started to doze off in Myrrha's embrace, she felt Myrrha slip away gently, and before she could lay her head down—the night covered what she could not have hoped would ever come her way again.
"Harry, I—" she began lamely, as an old impulse reared its head despite the indescribable happiness she was feeling in his arms. Somehow, somehow she still felt she had to try to pay for it.
"Shut up, stupid," he said. "Remember sheer grace-—you preached it often enough. Now it's time to take it-—a completely free gift nobody, but nobody can deserve--if you've never really taken it before!"
That made her burst out laughing-—the first laugh in 1,250 days, ever since the Two Witnesses began hurling long-deserved woes and destructions at the God-defying, rebellious world! p> Then something spoke to her, stopping her.
"What is it?" Harry whispered.
She shivered. "I don't know. I just remembered something about myself-—and us-—having to do with the holy anointing oil."
The moment she said that Harry stiffened.
"What did the Lord tell you about it?"
"Oh, it was that we are the various ingredients of this oil somehow—and I got the impression that God is going to use us to anoint the Jews and maybe Christians too—-how and when I have no idea—with some kind of ministry for which He's prepared us, but which I can do nothing to create. Could it have something to do with the coming age, the Millennium, the Reign of Christ? Meaning, something the Lord is planning for the next thousand years of His reign on earth?"
Harry seemed to relax when she finished with admitting her inability. "That is what I thought I heard the Lord saying. The kids also have heard it, so we're not just imagining things."
Heloise was startled, though she reminded herself that she shouldn't be surprised, knowing that God shows no partiality, even with family members. Why should she presume to be the one who had God's ear? God spoke to anyone who sincerely sought Him. One needn't be even a washed, baptized, churched Christian to hear from the Lord, she knew.
It was food for thought anyway. God already had planned exactly everything He would do in the coming Thousand Year Reign of Christ. Meanwhile, on the eve of the Reign, the lunatic, blaspheming world was even at that moment preparing to commit suicide, just a few miles to the north of them. They could drive to the battlefield in about two hours--a valley that was so large it could accommodate the hundreds of millions of China's army and her allies, with room to spare for Jayson's legions and also the entire forces of Russia and her Arab allies.
It was so close, in fact, they could stand outside the tomb and probably hear the first maneuvers of the world's greatest armies as they began to face off to decide who would rule over Israel and the oil of the Middle East-—how utterly insane it all was!
In the night as they slept, the sound of helicopters coming in roused Heloise.
"Aloes?" she called.
Whoever it was hurried back out the entrance, nearly falling over the crossed altar.
The moonlight was dazzling like technicolor—-to the point of bleaching her vision. It was a poor night to be walking, much less running.
Hurrying, she made her way down the cliff.
She nearly reached the ground below the cliff when her ankle turned and she fell the rest of the way. She groaned weakly where she lay for the pain was like a knife stabbing her.
Getting up, she started limping, and made it the rest of the way to the helicoper.
Refugees got out along with the soldiers and pilot.
Someone came running in the dark to meet her where she stood, incapacitated with pain.
She sank down. A moment later, Aloes came up to her. "All you all right, lady?" he said, then he must have seen her face, for he fell down on his knees and his arms went around her. They hugged for quite some time.
"Yes, I'm all right," she gasped, despite the shooting flames in her left ankle. She rose up, with Aloes helping her to a big rock to sit on while she grasped her ankle and began to massage it. The pain began to decrease to manageable portions. "It's just a strain. Maybe I can walk on it if I just rest a little while. If not, can you help me back to the shelter?"
Aloes seemed to want to pull away now that he saw she hadn't broken any bones.
"Hey, we've got to talk!" she said to him.
He turned away, and she could see the shaking of his shoulders, as if he were at war with himself. His voice, when he spoke, sounded like a tormented animal's breaking in bursts from its throat.
"I signed--my soul away—to-- the devil himself!"
Her heart nearly stopped. She thought only one thing-—666! He had taken the beast's Mark?
"You did what?" she gasped, feeling like she might faint.
"I signed the confession!"
Heloise was bewildered for a moment. "I'm sorry, you'll have to explain. I'm an old woman now, and you have to take more time to explain things. Please!"