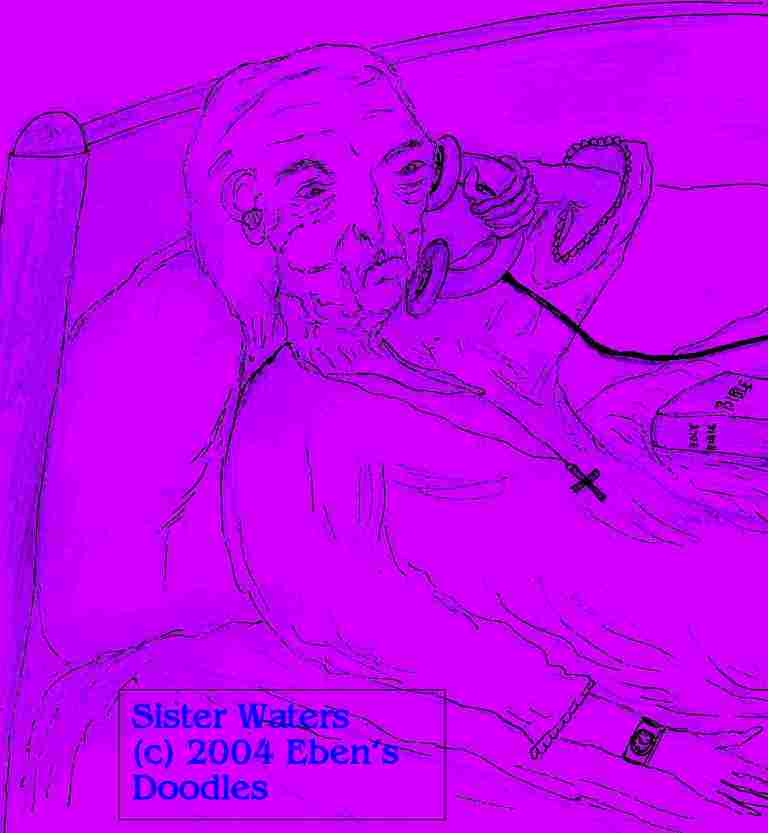 She had been at it for over fifty years of sacrificial ministry, never gaining enough financially to afford a car of her own and a driver. Her "headquarters" was an unpainted, two storey frame house inherited from her mother who passed on in her nineties, with no improvements in the house put in since it was erected. She finally had to retire after developing chronic blood clotting trouble that wouldn't be denied or healed, and despite her own ill health ministered to troubled souls with her own telephone ministry. She had called in one day during a telethon, and something about her authoritative, godly voice had so impressed the girl taking the call that she went to put it through to Dr. Heloise for special attention--an option the telethon volunteers were instructed to use if the donor was a "biggie." "Honey," the caller began, "is this Dr. Heloise? I must speak to her, nobody else!" "Yes, it is, what is it I can do for you?" "No, you've got it wrong, darlin'. I've got something I must do for you. Pray, that is. The Lord says call you right now, don't put it off. He says I must pray for you, but get you on line and pray, you understand?" "Sure, sure I understand," Dr. Heloise had replied, drumming her stretch designer nails on her marble desk. "Go and pray for me. The ministry can sure use your prayer support." "No, honey, it's not the ministry. It'll get along without you just fine. It's you I be prayin' for!"
Dr. Heloise remained silent, and waited. Then the woman, after insulting her, began to shout into the phone. "God Almighty, break through, break through this woman's pride and greed and reach her imprisoned soul, and save her! Save her! Save her from her own strength! Don't let her perish in a web of deceit and selfishness! Open her blinded eyes! I claim her for the kingdom of God! I--"
By this time Dr. Heloise Turnbull wasn't listening. The woman, obviously, was a nut. The old Bible Belt of the South was chock full of such religious cranks. But when the "prayer" was ended, and she thanked her for it, the woman had shocked her by offering her pledge. "I knew you wouldn't believe a word, and the Lord knew it, so He said to me in advance I was to give you every dollar of my savings--$6,103.45. Only then would you believe me, that you really are in trouble and need a prayer like mine. It's coming in the next mail. I've got it in an envelope with your address now, ready to go." Dr. Heloise Turnbull, who wasn't in the business of turning down pledges, especially ones of this size, gasped. "No, not your savings! I couldn't possibly! Maybe a couple hundred bucks, but not all your savings! That would be criminal!" "No, dear," the caller explained patiently. "it would be just plain obedience." Then dial tone.
In a couple days the money arrived and landed on Dr. Heloise's desk, after she had instructed the mail department to keep an eye out and let her handle the letter personally. She tore it open and found only a check, with the pledged amount in full, to the very penny--$6,103.45. This, of course, made things difficult. How was she going to explain it away? She knew she couldn't. So what was she going to do? Was that prayer really from God? It had six grand now to back it up, and that was somebody's life savings too. "Maybe it's all a hoax," she thought, "a devilish ploy to destroy my confidence, and wreck my ministry. I've had others try that in the past. Maybe she's just the latest, and one of the best at it." Truth was, she didn't believe her "maybes," for the woman's voice was just too convincing. So she did the only thing left, she called the woman directly.
"This is Dr. Heloise," she began. "I want to know just why you think I'm in trouble, spiritually. Since I affect so many millions of people, I need to be on the right path, you understand. Won't you tell me? I'm begging to know what's wrong with me! Is my doctrine wrong, is it my approach, is it my prayer life, am I not submitted to my husband? What exactly is it?" There was a long silence, with heavy breathing, on the other side of the line. Dr. Heloise felt like screaming for the woman to hurry up with an answer, any answer, and after an eternity the same voice came on that had stopped her cold once before. "Honey, I couldn't answer right off, I'm not well. I have to get my strength up, just a bit, before I can answer. Now what's the matter?"
Dr. Heloise, having all she could do not control her quaking voice, repeated her request for illumination. Again, there was an appalling, long wait. A weary, hoarse, distant voice came on the line. "Who is this? Oh, did I call you, honey? Forgive an old lady, I sure don't recall. But then I've been known to forget a few things at my age!" Dr. Heloise couldn't believe her ears. "But you DID call me! I have your call and pledge recorded. I can play it back for you, if you just wait a sec so I can get somebody to dig it up. But that's not necessary, for I remember what you said. You said I was blinded by my own deceit and greed and--" She repeated everything the caller had said, only when she finished she realized Miss Waters wasn't listening, she was praying in tongues. Dr. Heloise listened, waiting for her to finish. "Thank you, but I need to know what you meant by what you said to me. Maybe it will help me, and I will pray about it and--" "I don't think that will help, honey," the old woman cut in rudely. "You just go on as you were doing, it will come out all right in the end, the Lord told me. Except—expect some slight affliction, of course, but count it all glory to His holy Name!"
"What? I can't accept that! I want some specifics! I have a right to expect some--" But the old woman wasn't listening, she was praying in tongues again, and in exasperation Dr. Heloise had done what she later regretted, she slammed down the phone.
Feeling terribly guilty, she rang her back immediately, but someone else answered, and said Miss Waters had gone to bed, and they were needing the line to call the doctor. "Oh, yes, call him, I'll get off immediately," she said. What else could she do? Miss Waters had slipped through her fingers like a fish! Then when she called again an hour later, the phone rang again and again. Where was she? In the hospital? It seemed likely. But she gave the number to her secretary to call until she got a response, and several days later Miss Water's friend answered, and said she was doing better, and would be home in a few hours. Did she want to leave a message? "No, I just wanted to tell her I'm praying for her healing, and not to worry about me, I will be fine." "Just fine!" she thought, hanging up. "Just fine, indeed, if I never get another call like hers again! Look at the trouble it caused me! I'm a nervous wreck! And I' m scheduled to lead a big tour in a few hours!" It was good she had her makeup girl on the payroll full -time. She had her come in and do her face, which looked like Omaha Beach after Operation Overlord. A shot of boxon too, helped clear up the gully running between her brows. As for the old nervous tic in her right cheek, boxon fixed that too. Which reminded her she could use another laser collagen treatment and needed reservations booked at the celebrity doctor's center in the Bahamas! As for her nose, which looked like a broken down corral fence, it was beyond fixing. Besides, it was too well known by now to be changed. She was stuck with it!
This call was, therefore, the one she really needed to put through. Her mother's was optional--after all, would the Lord separate a mother and daughter so devoted to each other? It was unthinkable. The phone rang again and again. "Maybe she's in the hospital." She buzzed her chief executive secretary, who looked up the hospital on the Internet, and then gave her the number. The hospital answered, but said they had admitted no one by that name, but had discharged a Miss Waters several weeks prior. Dr. Heloise checked her calendar, and saw the date of first admittance was the one on which she herself had called. As for the woman's checking out, it was just two days prior to her own return from the Far East tour. "She was at home yesterday, then. Yesterday! So where is she today, if she's not in the hospital?" She felt like she would go mad if she didn't find out soon. "Who else for certain can I call? Who else would the Lord be sure to take?" What was she to do? Go down by car to that steaming, bug-swarming, frog-jumping bayou village of Plum Springs to look up Miss Waters in person?
She thought hard, then began punching her phone, doing all the work herself, since she wanted privacy. She called every big ministry head she could think of, and they were all available! She couldn't believe it! Why weren't they gone? Most of them were experts on the Rapture and the End Times!
Pausing, she flicked back on CNN, and replayed the News broadcast that the major networks had all carried, with CNN's Ceo showing up with a big boyish grin to give his own editorial opinion--the one about mysterious disappearances in which he tried, but did not succeed in fully explaining away his own vanished ex-wife. Evenso he got off some telling blows at "fanatical, right-wing, panickey, air-head" evangelicals for making a lot of "Left Behind" videos and books that had now been proven smoke instead of real fire. Even with his ex-wife's abrupt absence from the planet, the disappearances apparently weren't considered newsworthy enough to make the 11:00 recap, but some trouble with the disappearances had occurred in spots, in key transportation hubs, or jobs affecting air traffic or communications and such. But people around had been able to fill in the gaps quickly, without any major problems developing. Was the White House going to comment? Apparently not. National security was not at stake. World crisis? Hardly! By tomorrow the world would have forgotten all about it. This concluded, CNN's founder and president signed off, grinning ear to ear.
Feeling better, somewhat assured by the CNN ceo's analysis despite his usual boorish, heavy-handed slams on evangelicals, she glanced down at the latest briefs on her desk, calling for her signature so that the work could go forward, briefs for projects like joining her ministry studios and satellite channels to a major entertainment giant's network--all for a wonderful sum of cash and stock in the company making the offer. If she signed, she'd have the funds in her account to launch a number of expansions-- branching out into ministries to the homeless, AIDS victims, famine relief, the disabled, and to refugees of ethnic conflicts. Her organization and its outreach would double in size in two years. She'd be the size of the biggest fish in televangelism, and in another two years she'd leave them in the dust! How about that, after starting out in a room the size of a broom closet in her husband's home church building? In twenty years she had built up to challenging the greatest ministry of them all even though she was not physically attractive (her staff cosmetologist's mirror told her daily she badly needed major cosmetic surgery) and not a great preacher, nor did she have any great spiritual gifts.
What was her secret then? Brilliant organization, she thought. Drive and perseverance could accomplish almost anything in this world, she knew, if things were well-planned And she had, since getting this "vision" just after setting out on her calling of televangelism, persisted and kept trying despite a thousand setbacks until she found herself reaching for the highest rung of all. But now, her hand reaching for the pen, she remembered something. She still hadn't confirmed her hunch, that she was making herself sick for nothing. But whom could she call? Everyone who was anybody answered the phone, and it was hard to give an intelligent reason for calling, when she actually wanted to know if the person was raptured or not. Then she had an idea. "Maybe I should just go and walk through the offices, and see who is still here, and who didn't make it. That should tell me something." So she did it, taking care to look cool and informal, as if she were just needing something to fill a few minutes of empty time.
Nodding first to her top executive office help, which included her script writers, she left the "inner sanctum," or "Holy of Holies," as her office was informally known. With a "Breakthrough Faith" emblazoned cup of coffee in hand, she strolled down through the floor. It was actually the 40th floor of the ministry's total of fifty floors of a structure that looked in every way premier and world-class-- the "Breakthrough Faith and Healing Tower"--BFHT emblazoned across the top most beam of the Cross in neon at night. She walked briskly, glancing into the busy cubicles to either side of the carpeted lane. When she noticed someone gone, she stopped and asked whoever was available, "Is she on break or sabbatical leave?"
"No," she was told, again and again. "She just didn't come in! Or call in sick! It just isn't like her!" She could see by the strained smiles it was hard-going for those who were left, to fill in without prior notice and take care of the normal business load. Finally, she challenged one worker. "Call her home, and see if her husband or family will tell you what's wrong. Find out something!"
She got someone to call, a man answered, and his voice sounded pretty distraught. "I've reported it to the police. I'm sorry I didn't call the office, Dr. Heloise. I was meaning to, but everything here is a mess, I don't know what could have happened. She was here, in the other room, and then--no where! And my youngest daughter--she's gone--did they go to the Mall or something? But Melody was to go to Kingdom Kids Day Care today so my wife could go distribute to the homeless--" This story was repeated with a dozen variations as Dr. Heloise continued her tour, level after level. She hadn't done this in years--it was quite a revelation to see how vast her organization was, with actual eye contact. Ninety nine percent or more of her workers had reported on time as usual, but that less than one percent, that was a nagging problem that wouldn't go away, especially since CNN and the others hadn't told the whole story, that the disappeared people had vanished into thin air. Finally, Dr. Heloise couldn't take any more bad news. Taking her express private elevator, one with a dozen fresh long-stem roses in a crystal vase, miniature chandelier, and a Persian carpet, she fled back to her office and shut the door and sank down at her desk. "At least I've still got Harry. I've got my family--" But had she? Wasn't she assuming she had them?
She began punching the phone frantically. She got her daughter Cassia, then her son Aloes, and finally her remaining daughter Myrrha. They all sounded surprised she was calling them during her normally busy office hours.
"What's wrong?" her oldest, Cassia, prodded her, with her usual knowing, scornful tone "I can tell you're really uptight about something. Pledges falling off? Or is it dad? Has the doctor said something about his health or something? What is it?" "No, it's none of that. I just wanted to see if you were all right. I'm a mother, and mother's can't help worrying, the world being as crazy as it is." That lie was the best she could do, and her cynical daughter wasn't buying it, but she kept holding to it until her daughter gave up, and they both hung up. Well, she had her family, her husband Billy Sunday Turnbull, almost all her employees, and then there was the fact that the big ministry heads were all present--or all those she could contact without getting a message to call back, that is. Should she keep calling? She was making a fool of herself, she suspected. What would people think if everyone got this strange call out of the blue from Dr. Heloise asking nothing but apparently just calling to see if they existed? She decided she had best go in person. No more calling. Leaving the office early, she went to her car, the one that she took for short trips when she wasn't needing a chauffeur.
In twenty minutes she left the freeway and was at her mother's. No one answered at the gate when she called her mother. Since she had been given a key, she let herself in the condo. She went immediately into the kitchen, when no one answered the door. The security system, fortunately, was off, for in her panic she couldn't remember the code to disarm it. Her mother, a truster in God, never wanted it in the first place. "Mother, are you all right?' she said with a cracking voice as she crept into the room, fearing the worst, her mother lying on the floor possibly, after a sudden heart attack or stroke. But she found no one, and so she went and searched the other rooms. She found nothing, and returned to the kitchen. Then she leaned against the counter, wondering what to do. It occurred to her that her mother wouldn't leave the coffee on if she was going somewhere. Otherwise, she always had coffee on--that was her mother, a hospitable soul who wouldn't be caught without hot coffee to serve her daughter or some visitor from the other retirement condos.