He looked up and read the painted year, ANNO 2254, and CROSS AT A WALK and NO CAMPING OVERNIGHT AND COOKING FIRES. BREAKERS OF THE LAW PROSECUTED. As he touched the bridge headlights suddenly shone at him. A man laughed and spat some tobacco which hissed on the cold snow covering the planking. Old Goatley again.
"I saw you go over the edge. I thought I see just how far you'd get blowin' on your own windmill."
Thrown back into the truck, Pieter lay still--his "windmill" badly crumpled, indeed.
"You won't be trying that again, I wager," the voice sneered. "Every man has his breaking point, and you ain't near a man with two legs missin'."
"Just try to break me. You can't do it!" vowed Pieter silently. "I don't need legs to put you in your place!"
Pieter's journey ended a mile from the bridge. Its lights shut off, the truck swung into a lane leading to an abandoned farm. Purposely, tree limbs had been left where they had fallen, but the truck's over-sized wheels took them in stride, though every bit of junk tied to it threatened to shake off. Continuing past an unlighted house, it pulled up to a barn, tall and beginning to sway in the back like an old horse. It had to be one of the last old barns left in the province. Almost all were flattened in the first few months after the English disease set in. The mortar of stone and cement in its foundations had decayed, crumbling away from the wooden walls, so not only were there gaps but the whole structure leaned precariously beneath the dangerously sagging, threadbare roof. Long ago someone had painted on it, "SMOKE RED INDIAN" and "FINE TOBACCOS". The paint was flaking off on most of the lettering, of course, but the message where the paint had been could still be plainly read.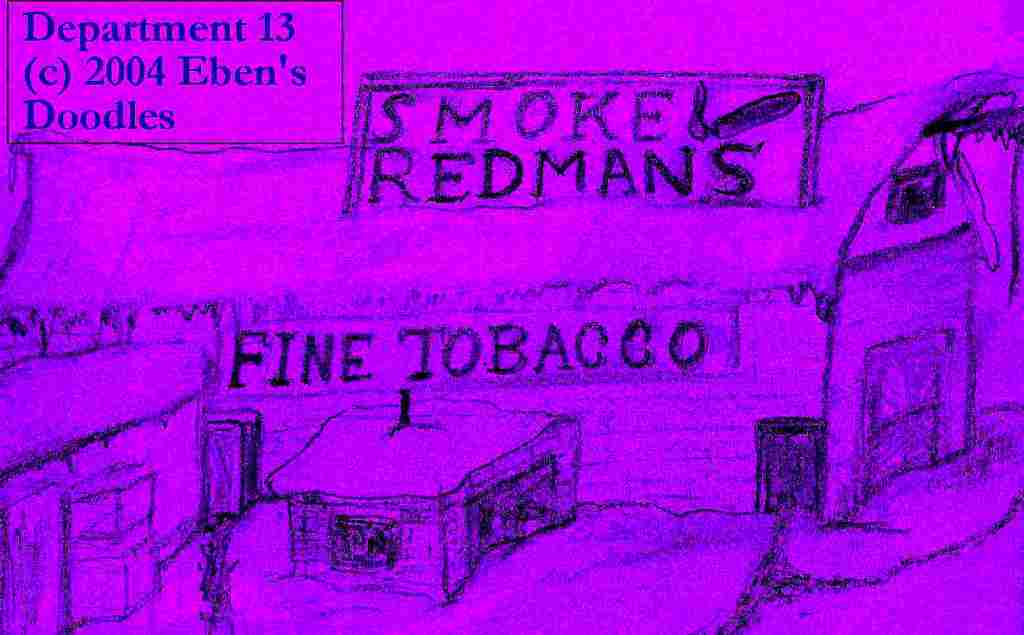 Pushing and swearing at the barn door, Old Goatley got it moving just far enough so he could get the truck through. He pulled the door nearly shut. A hooded figure met him and went outside with a broom to sweep away all traces of the truck's tires. Even the broken branches were put to rights. Only then did he light a lantern. Two more hooded figures came and got Pieter. A musty, foul-smelling horse's nosebag was jammed on his head, a rope fastened round his neck, and he was dragged by the arms and shoved through a trapdoor and down some rickety wooden steps that seemed to go straight down like a chute.
At the bottom, in the first of a series of all cement rooms, he was allowed to collapse for a few moments as his captors discussed him in muffled tones, their heads together. Threatening to take a crowbar to their heads, Old Goatley threw his weight around as if he were somebody important.
Pieter was yanked up from the floor and then thrown into a cell with a concrete floor. He lay over a drain smelling of manure. The door must have been metal, for it clanged shut.
In a state of shock, helpless due to his back injury, despair threatened to break over Pieter like a huge, dark wave. From time to time an eye peered at him through the judas in the door. It was as if he were back in bed in New Alkmaar just after the accident, his body maimed and bleeding.
Lying on the filthy, clammy floor, he began to feel outrage. Why should he beg for help when he wasn't a helpless cripple anymore? He had proved himself since his accident.
He didn't need help or anyone's pity any longer. He could stand up to life--whatever it held. He believed in himself and others that much, and his belief had not failed him. No, he would handle his present situation like a man, just like he had handled everything else previously.
His mind began to clear of all his fear and terror. He realized that his coming to a decision had done it. Instead of shaking with fear, he grew calm, waiting for the men to return. In preparation, he began reminding himself that he had gone through severe hardships before and always grown by them. His ordeal at the Van Tootle's mill, arduous and dangerous trips with Dr. Pikkard to the top of the sky and the bottom of the ocean, his own successful struggle against all his handicaps, they were the wall he confronted and must surmount, the things that grew a man from a boy. Dr. Pikkard, he knew, was wrong about him. He had changed. All the softness was gone. He was plain, solid Dutchman, no more, no less!
His sense of inner power increased, he felt confidence returning. Perhaps, he could still escape, if he watched for his captors to make a mistake and took advantage. There was no prison or enemy force that Dutch persistence and pluck could not overcome, he recalled from Dutch warfare. "I can handle this too!" he told himself. "Whoever they are, whatever they want, they can't stop me. Nothing can."
Finally, there was no more opportunity for philosophizing. His captors burst open his cell. When they spoke to him, their Dutch loaded thick with accents of various kinds. How he hated hearing his mother tongue being abused and butchered to the point it could have been another language. His lacerated, bruised, half-frozen body refused to do anything, as they commanded him to follow them. Cursing, they dragged him into another cage, this one lighted and carpeted. He was put in a low backed metal chair, which caused him terrific discomfort, and they took his rope and tied him to it.
Old Goatley and the dark, strange eyes of hooded figures peered at him. Not a word was spoken. Pieter felt alone, more horribly alone than he felt in the dirty, dark cell, but he forced himself to remember the strength he had gathered there. As before, he felt his fear again depart, and he knew he was ready for anything. Without fear, they could do nothing to him.
But who really were they? Why had they kidnapped him? He still had no idea. To his surprise, a hooded figure threw off a cape, revealing a woman. She was blond-haired, but like the others not Dutch by her accent. Her face seamed with wrinkles, the lines cut especially hard and deep around her mouth, which did not look any kinder for the red gash of lipstick. But something about her eyes bothered him the most. They were hard, like metal. She was evidently in charge of the torture shed, as Old Goatley stood back with the others. Holding the lamp close to his face, she yanked his hair with a pull that almost made him scream. "All right. You tell us everything? You never get away from us if you don't. We bury you here under the floor, cover boards with straw, and nobody know." The woman began to laugh in a thin cackle that nearly sent the dark wave crashing down on Pieter's resistance, but he fought it off once again and she stopped abruptly.
"Let me go. Why did you bring me here?" he demanded.
The woman released his hair, as if surprised and impressed by his defiance. Her smile faded with her laugh. She turned to Old Goatley, gave him a look, and the two went out, leaving two hooded figures to stand guard. It was minutes before they returned. The woman looked upset, running hands through her straight, mannish, close-cropped hair. "We have the most modern scientifical drugs, Pentathal we have, so we get what we vant, nicht wahr?. But we prefer you tell us now. Tell us Dr. Pikkard's business, why he come to Minne--to New Zeeland."
Pieter's eyes blinked. So that was it! Quickly recovering, he shrugged. He had no desire to tell them anything. After all, he knew it was in the papers why they had come. Anyone could read the professor had come to study glaciers. That was all they were supposed to know, he recalled. "He come here to study glaciers!" he said.
"Oh, jah, he come hier to study glaciers!" she mocked, prancing up and down in a rage. She struck his cheek with her fist and Pieter tasted blood. She pronounced "glaciers" so strangely, with a long "a" and three syllables, that at first hearing he did not know what she had said. "Liar! Dey have dem out east too, so why come all da vay here? Now tell us! You hold something very important back from us!"
She seemed to him to be getting more excited, the more he resisted. Her language got worse as she went on. Again, Pieter maintained the professor's line of research was strictly glacial. Yet another fist struck his face for his trouble. He began to spit blood. It went on this way for a while--a contest between a stubborn Dutchman who would never give up and a woman who was just as determined to make him spill the beans.
Finally, a sign from the woman, he was dragged out and thrown back into his cell. The overhead bulb went out, whether from a break-down in a generator or on purpose, he could not tell. Then a light beamed in through the judas as the changing of every hour and an eye observed how he was doing.
The night passed. How he survived to the dawn he could not tell, but he proved he still had what it took to get his heels over the dyke. Finally, the light switched on his cell. He was very groggy and weak when they came for him in the morning, so a cot was brought in and a doctor attended, for how long his confused mind could not tell. When he could sit again in the chair, it was Old Goatley, smiling at him as if they were pals back in the days of scrounging for a living in New Amsterdam. Someone brought in fresh oranges and bananas and a piece of sausage, and Goatley set them on the bed. "Well, chum, you gave us quite a scare, passin' out like that. Now that you're feelin' chipper, do you suppose you could tell us a few things? It won't take more than a minute or two, and then we'll take you back to town, and you can do as you like with your sweet little girlfriend, Miss Anne. She will probably be in need of some consolation. Well, how about it?"
Pieter, his mind made up to endure rather than divulge anything to strangers, would not say any more. He was tired of the beatings he got.
Old Goatley tried several times more to get him to talk. Then his face flushed, and he stood clenching and reclenching his hands over Pieter. The junkman turned away with a stevedore oath. When he spoke again, he was no longer Old Goatley. Like skin, the snake that had shed Dinke Van Klooft shed once again, only completely this time.
The person at the core of the layers of clever camouflage, a sophisticated gentleman of culture and education, stood glaring at the astonished Pieter. As if to emphasize the metamorphosis, he took a long-stemmed holder and cigarette out of a leather case and began to smoke as he eyed the quarry.
It was a full minute while they took each other's measure until Dr. Hugh van de Goatt addressed Pieter for the last time. "You little simpleton! Why fight us? If you must know the reason for all this, we're all patriots here, trying to save our beloved country from the rebels, like this Dr. Pikkard you've been following like a dog all around the world. I know what you think. But we had nothing to do with his plane catching fire and burning up. Maybe you should know that's what happened. Yes, your precious professor is dead! How was I to know he was in that much trouble? I thought he'd be all right once the gas fumes cleared. Otherwise I'd have pulled him out when I saw he had passed out. It was you, not him, we wanted. But I'm not surprised the plane exploded. The whole town knew it was a piece of junk he bought. I tried telling him when he came out a couple times to look it over, but he wouldn't listen. And the fellow who sold it to you knew he was taking the professor for a ride. Now as for my part in all this, certain people I represent only wanted Pikkard to stop his crazy, cockaninny researches, not see him killed. They stand to gain nothing by his death, which will make him a sort of martyr in the eyes of people like him. And don't you realize that this province is changing hands and martial law and a civil war is coming? You're young. Your only chance is to cooperate. The professor refused a long time ago to help us stop this rebellion. We thought, mistakenly it seems, we might have more chance with you. You can still be of help to the country if you quit being so stubborn and cut a deal with us. We'll see you're well paid. In fact, we'll see you never have to go back to the mill, remember? Even the professor, you have to admit, couldn't guarantee that."
Pieter heard everything, but he simply could not absorb the chameleon like changes the man interrogating him had gone through. What he said made far less impression than his becoming such different personalities. Patriots? he thought. He was beginning to be confused. They're patriots trying to save the country? Could they be telling the truth and we are the ones at fault?
For the first time the line between hostage and captor began to blur and the wall between him and his employer suddenly filled in, if not completely filled in before.
The interrogator paused to let his remarks sink in, then continued after he noted Pieter wincing when the mill was mentioned. "Sure, this probably seems terribly strange to you, all this cloak and dagger stuff. And as for me, I have to dress like different people in my line of work or I wouldn't survive very long. Now don't let our past acquaintanceship bother you either. I could see you needed help. So I meant to keep you alive until I could explain our operation. But you got away from me and joined the wrong people before I could stop you. You know the rest. I can explain everything. There are plenty people who are trying to make this province break away and I'm working for those who are trying to stop them. After all, this country is Dutch, and we loyal, Godfearing Dutch must keep it that way, right? The only reason we've been so rough with you is that you don't know you've been working against us. That's not your fault. You did it out of ignorance. So if we roughed you up, it was because we don't take kindly to traitors in these parts. Normally, they just kill traitors here when they catch them, but I wouldn't let them, so you owe your life to me. Now that lady you were so rude to is one of my employers. She loves her country with all her heart and she hates anybody out to destroy our nation. You gave her a certain bad impression, which you can change any time you choose. Well, she came out of her way to see if she could talk sense to you. Now after all I've just told you, I stand to lose my job if you won't cooperate and be reasonable. Your loyalty to your former employer is admirable, I'm sure, but you won't get out of this until you tell us what we want to know. Don't be so stubborn, and you will walk out of here a free man. After all this time, have I made myself clear? Now tell me at once, what was Pikkard's specific business in coming to New Zeeland. All we ask is the truth. Is that so hard for you to do--tell the plain truth?"
"Glaciers" Pieter said with two syllables, more from habit than conviction. Whether or not he was a traitor as he had been accused, he still balked at letting Old Goatley know the real reason. Even if Old Goatley was a patriot as he claimed, the whole situation described to him was so absolutely amazing he had to think it over first before he said anything more. It also made him wonder, when he first saw how some of them were dressed, if they had anything to do with the University of Amsterdam. If they did, it would be even more confusing. But, evidently, there was no time to sort things out fair and square and make Dutch sense of his situation. Goatt threw down his cigarette holder with disgust. He turned away to the hooded figures looking on. "Well, boys, I see he's determined to play the wrong side to the end and betray our beloved country. If he won't listen to reason, I can do nothing more. Take him away. I don't care what you do. I will explain to the boss. Now I've got to hurry and track a certain little lady and make sure she doesn't cause any trouble about the professor's little mishap. She might go to the authorities and start blaming us for his own foolishness in buying a deathtrap of a plane."
The fury of a tigress knows no description, and the claws of the woman after she had received Goatt's departing message went to work on the hostage. When she was through with him, hooded figures helping, the young Dutchman was crammed into a wood and wire cage big enough for a clutch of carrier pigeons--for which it was originally designed. Afterwards, his tormentors stood about jeering and calling him a traitor. It was not long before they had got a coffin made to order, and he was released from his cage and kicked up the stairs. Because no one could be buried in a cement bunker very easily, boards on ground level had been torn up to accommodate him, and a hole was just then being dug. He was obliged to watch the grisly show as shadowy figures shoveled out a hole for him in the gloom while he still tried to make Dutch sense out of what he had heard.
7 The Escape of Department 13
As the gravediggers worked and he watched, Pieter struggled, in his last moments, to push back a dark wave, not of fear this time, but of sheer moral anguish. Just when he had summoned every reserve of his will-power to hold out to the last like a good Dutchman, Old Goatley had said some things that had struck home and started him thinking. But Pieter still couldn't make up his mind. Were they right and the professor wrong? Was Dr. Pikkard a traitor? Was he trying to tear down the country as they seemed to think? Normally, he could have spent day, even weeks, deciding such questions, but there was no time for that now.
It was agonizing to have to think through things so quickly. He made a supreme effort to understand and at last broke though the wall dividing him from his first and final revelation--a summation in which all his accumulated doubts played a part. Not a few of Dr. Pikkard's mistakes and contradictions added up to the clear black and white picture he was so desperately seeking in life. Able to erase his own from the docket, Pieter always had a good recollection of other people's foibles and mistakes.
"Schneller! Schneller!" cried the shrill-voiced tiger-woman. "It need not be so deep, you fools, we're moving on from here in a few hours anyway. And when we go we'll drop the barn on top dis little scum with a stick of dynamite." The hooded figures shoveled a little quicker, then scrambled out.
Pieter was pushed forward to the edge of the dark hole. The snout of a German luger was pressed to the back of his head. Finally, they were ready to put him in the hole for good. The woman was ready to squeeze the trigger. "So you force me to do dis to you? I shoot many vermin like you here--all stupid like you. Won't cooperate. Vel, I will do it one more time den!"
"Wait," said Pieter. Vait for vat?" cried the woman in a rage, her accent thickening with each passing moment.
"I will tell you anything you want to know." Standing there on the edge of the grave, he had finally seen something that he could not see while in the thick of life as an assistant to a scientist. He was no coward. He would have gone gladly to his death like any good Dutchman fighting the Spanish or the Red-coats, if it were a good Dutch cause he was dying for. But now he could no longer do it. He had seen something through a chink in the wall. And though his kidnappers had been brutal as they could be, he now thought they were justified--even as far as executing him. It made him feel sick, to think he had been so wrong, but he had to set the record straight if it was the last thing he ever did.
"We haben no zeit zu vaste! Tell me vy you vant us to vait. Schneller!"
So Pieter told them Dr. Pikkard's strategy and all he knew about the Crays and the professor's various researches. They all stood listening to every word, without interrupting. The plain Dutch boy had discovered what he had more and more suspected all along but couldn't put together in one piece until now. He realized he was working on the wrong side of the wall in the war over Dutchdom .
Other than the times he went back to the mill after his accident and later when he applied to Dr. Pikkard for a job, it was the most difficult thing he had ever had to do in life--change his Dutch mind. But he knew now beyond doubt now that he had aided the devil in Dutch society. Mistakenly, he had joined Dr. Pikkard in fighting the very people who were trying to preserve the nation.
Dr. Pikkard, on the other hand, was determined to revolutionize the world, turn it upside down, not leave it as it was. Who could deny that? The professor was mad, a raging bull of a Jack Dutch heretic. There was nothing wrong with the world that people of good heart like himself could not fix, Pieter reasoned. The professor, traitor that he was, had tried to make people think there was a national conspiracy, so that the government could be overturned in the confusion he had deliberately created everywhere by his researches. He had to be stopped--and was stopped, just in time. Pieter could see it no other way and felt only pity for the deceased.
His own eyes, on the grave's cutting edge, had at last been opened. As he now saw things, PLAIN TRUTH, his true and holy Dutch bride, had been pursuing him all along like a foxhound and finally caught him at the very edge of the precipice.
But there was more to his painful self-revelation.
Beside this goddess of Truth with the noble Latin letters of her name cut into the marble flesh of her pedestal, Anne was a Jack Dutch floozie. She couldn't count out a dollar correctly if her life depended on it! And, back to the professor, Pieter was only grieved that he had not seen through him much earlier, when he had first gone to him for a job. He might have spared himself the tortures in the balloon, and crashing on Mt. Pollux in the Alps, and doing all kinds of meaningless dirty work the professor constantly dreamed up. As for his college plans, he had money saved. Nobody had given him a cent of it. He had earned every dollar with hard work. He didn't need Dr. Pikkard's patronage. He could handle his own life from now on, just as he had in times past.
That should have been enough to assure him a plentiful supply of wheat for his windmill. But there was even more to the revelation--something that gave him an actual thrill. Having achieved this Dutch-plain conclusion of what had been an impossible quagmire, Jan Pieterzoon van de Wordt proved he had come a long way from New Alkmaar--or perhaps he had not left it at all. Of course, there were a few loose bricks not contained in his revelation--Anne's role in her uncle's conspiracy, for one thing. And what exactly would he have been doing if he had not been 'conspiring' with Dr. Pikkard to overturn the Dutch in America? But such questions, if they had not been forgotten in the meantime, could wait.
What mattered was that now he had turned a corner and put the old mill forever behind him. He had proved he could not only survive in the big city, showing he could handle a job with the most demanding employer, learning impossible new things, mastering all types of skills, in all ways becoming what Dr. Pikkard was so proud to be. Only he, Pieter, had mastered Dr. Pikkard his teacher. His employer's brilliance, skill, and drive were now his by virtue of working for them and by inheritance. He, not Anne, had taken all that Dr. Pikkard had and was into himself--excluding his traitorous ways, of course! He would go on and be more learned than Dr. Pikkard.
He would attend the university, the one in New Amsterdam that had been so friendly to him, and win a professorship.
As for his old patron, he was the mere husk of a former life Pieter would cast behind him in the dust, now that he had sucked out all that was proper and good for a plain Dutch boy's digestive system. Whatever the case, there was not enough time left for Pieter of New Alkmaar to finish and tell them exactly where he thought the Cray computers were located. As soon as possible, they should be found and destroyed! Destroyed before somebody like Dr. Pikkard got wind of them and tried to turn the whole world upside down! No, he would go no further with Dr. Pikkard and his ideas! Not one more step!
"The doctor professor's papers--de briefcase--where are dey" the woman excitedly demanded, her voice pitched to a shrill scream. "We don't care about old machines dat sind gut only for scrap. We vant die papieren. Dey sind viele dangerous!"
While the woman was pressing him for the location of the research, dust and cobweb began to pour down in sheets. Perhaps the men's digging had disturbed the foundation beyond recall. In the first place, it would be difficult to say just what had held the old barn's walls up for over two hundred years after the first terrible strike of the English disease. Suddenly, all they knew was that the sky was showing above. The next second beams and rafters, along with pieces of broken antique furniture and even a blue-painted rocking horse from the loft, cascaded down upon them, taking the walls along.
Its rockers ribbed with iron, the rocking horse sealed Pieter's destiny. It hit him squarely on the head with such force it actually fractured his skull--which, considering the durable construction of that skull, was remarkable.
At first, it seemed that no one could have survived the barn's total collapse. But after all the dust, straw, and boards settled, several people crawled slowly from the rubble. Among them was no plain Dutch boy.
That was just as well. They had decided, despite his confession, to kill him anyway.
They got to a truck, with no intention of ever returning to the site of their local chapter of Department 13.
Cursing and groaning with various hurts, a woman and two men roared off toward town. Their destination was a funeral home, the Chapel of Rest in the old IDS tower, in order to report Pieter's remarks about his employer's papers.
They knew that what had happened to them was of no consequence. Though they were well-trained for their line of work, no one over them cared if they lived or died, unless in the process they compromised the covert nature of the organization. For them the only important thing was getting the briefcase before Anne Kilpaison spirited it off.
8 No Ordinary Day
Friday, January 10, 2393, began as another ordinary day for the Reverend Soren van de Waals, the old Dutch domine who shepherded the lone, dying Dutch Reformed church in a shrinking rural town. On a snowy ridge overlooking town the usual contingent of wolves had howled all night, exciting the dogs in turn, but all was well with little Shinar--as well as it could be. Above the leafless box elders and Norway pines rose a single white church spire, and in a small, white, frame structure next door a light went on at 5:00 a.m.--the bachelor parson was up and soon would be getting breakfast for numerous cats.
His own breakfast concluded, things continued routinely enough until 10:00 sharp, when an unannounced caller rang at the domine's door. When he opened the modest door of his little white stucco house with overgrown pines choking the entrance, he was surprised--but then he was already mightily surprised by the simple fact he was being visited.
He peered out and found a young, slim, attractively dressed woman in a dark-veiled hat--clearly a stranger from of town--far out of town. How had she got there? He saw no sign of a horse or car in the street.
She peered in turn at him through gaps in the greenery. Anne van de Kilpaison, Dr. Pikkard's niece, introduced herself.
It gave the domine a slight jolt in the left temple when he realized that this was the niece of the man he had just been reading about in the paper. The jolt was followed immediately by a flash of pain through his chest and extending to his elbow on his right side. Since an old man was always experiencing odd aches and pains, he thought nothing of his sensations. Not meaning to be rude, the old pastor paused to gaze at her for a moment as he recalled the scientist fellow that had just died so tragically on a visit. In the countryside where they were, he had plenty time to recall things while in the midst of receiving a visitor.
Thursday the 9th he had heard people at the general store excitedly discussing Dr. Pikkard's death and thought no more of it than he should about an out-of-town public affair. He had only stopped off for a can of sardine treats for his cats while out making the usual pastoral house calls to the comfortable shut-ins of Shinar's "widows' row"--every one of them quite wealthy for the era and able to get out in their own cars but all the more demanding of his attentions for that. After that he hurried home to begin preparing for his Monday Sabbath message. The paperboy came by with more news about Dr. Pikkard's plane crash. The headline went: FAMED SCIENTIST FOUND IN FATAL PLANE CRASH. Beneath it was a picture of the scene and Dr. Pikkard was identified as DISCOVERER OF LOST ATLANTIS, the supposed sunken continent off the eastern New Netherlands coast--the one thing that had won him the nonpartisan admiration of all the people, Dutch and non-Dutch. Then somehow a pretty, young farmer's wife was mixed in. Her experience at the crash scene was quite incredible. A look of mild bewilderment passed over the domine's face.
Now where was he? Pastor de Waals found himself staring at a young woman on his doorstep, who in turn was staring at him as if she were waiting for something. Dr. Pikkard's niece! Of course! She must be waiting for him to ask her in. Since his was a small and declining village church of less than fifty members on the rolls, he was amazed why the niece of an important man would have taken the trouble to go to him. What could she want with him? How had she found him in such an out of the way parish as Shinar? Few outlying communities had Dutch Reformed churches anymore, or churches of any type, for that matter. He invited her in and led her directly to his study since the front parlor was customarily unheated and not fit for human beings.
Nothing so stylish and cultured as Miss Kilpaison that he could recall in a lifetime of pastoring had ever crossed his pine-cone littered threshold or trod his worn carpets. In the adjoining, church periodical-strewn passage he felt suddenly uncomfortable as they carefully ran the gauntlet of a dozen or more mewing, plump cats and wicker bird cages and pieces of broken-down furniture given to him when parishioners died and their houses were cleared out by relatives. "I'm afraid you find my bachelor's furnishings a trifle unfashionable and dowdy," he said.
He opened the door to an even mustier study than he remembered leaving just a few minutes before, but at least it was warm enough for a conference. He continued talking in a chatty way he could manage with closed eyes, saying the usual things said to put the caller more at her ease. Also, he needed time to get to know them better before getting down to any business of the heart and spirit that needed attending to.
"Yet I feel this is the best of situations for an old man like me, and since my dear sister Heloise moved in with an ailing widow friend down the block I can let the housekeeping go and live here quite as I like with my little friends. Of course, the friend has never had a sick day in the thirty years I've known her, but she wouldn't stop making a fuss until Heloise moved in to look after her so-called illness--which is supposed to be an inflammation of some kind." He must have paused, for she got a word in before he could go on in detail on the caring for and feeding of pets.
"I love animals, for it reminds me of my uncle's compassion for strays," his visitor said quickly. "At least, to be more honest, I appreciate them more now." She scooped up a twenty-year-old Persian that was the pastor's favorite and the parson was amazed when the Persian, who normally loathed petting, fell passive and began to purr like the parson's own Dussendorf. She stood stroking his favorite monster while she looked for a place to sit.
The pastor removed a moldy stack of books and old sermons from a chair. Then he had to dust it with a clean but badly rumpled handkerchief. The young lady, polite enough not to smile at his activities, seated herself, the cat settling down at once in her lap. To his eyes she looked a bit younger than she had at the door. The pastor shook his head slowly, then scratched the back of it.
"Would you believe I had to dust that chair? I'm glad I found it out. Apparently, no one's been in it for weeks or possibly months," he said, his eyes unabashedly showing slight shock and misgiving. He went on as she looked at him, her eyes now slightly amused. The domine shrugged and then smiled in turn. "Well, it's to be expected. Grown old like me, my parishioners find it harder and harder to get out, especially now that the weather's been getting colder every winter, hasn't it?"
The young lady still did not reply but seemed to be waiting for him to begin something. But what?He didn't want to give it away that he had no idea what to do with evidently a high-society, city-bred stranger like herself. He was also perplexed why the scientist's niece would look him up, of all persons. He was a mere village parson and gentleman farmer (he had some acreage he farmed to subsidize his salary, which was sufficient but not overly generous).
As if reading his mind, Anne Kilpaison surprised him further by seeming to read his perplexed mind. "Pastor, I came here because I can't trust anyone in town, for they're far too much in contact with the universities. The newspaper account you may have read is sheer rubbish. I want you to know the truth about the two flyers--for, contrary to the official reports, there were two, my uncle and his assistant. They tried to serve the truth of science whatever the cost. Can I do less and honor their memory? This 'accident,' as it is called, is no such thing. One man has been killed, the other has disappeared seemingly off the earth."
Terrible words, these! Rev. van de Waals's Snowy Owl eyebrows must have peaked to exclamations points at the last statement. But along with the words, he had a stranger impression. Her manner was a bit too stiff and professional. She was like a young girl grown up too fast, or one acting and talking purposely older than she really felt.
As if she noticed his unease and wished to overcome the impression, the niece continued to press on. "I appreciate the fact this is surprising news to you, Reverend. Nevertheless, the truth must be spoken, unpleasant as it may be to our ears."
Two longs and a short at the wall crank telephone interrupted them before he could reply.
Pastor de Waals listened for a bit, then grew very solemn and held out the receiver. Anne van de Kilpaison looked up at him with amazement, but she was too surprised to pick it up. "How on earth did anybody--"
Pastor de Waals put his hand over the mouthpiece. "This is not the grand metropolis of New Amsterdam, young lady. Here in these parts we all know each other's whereabouts at any given time."
He spoke the truth about Shinar--a general store, several tolerated, illegal saloons operating behind the facade of "drugstores," a state-supported Dutch Reformed church, a dissenting storefront chapel, a bank, a grain elevator with round-the-clock guards, a livery stable-garage, and an abandoned fire station and firebombed library. That was all there was and ever would be, since there had been more to begin with and now there was less and less as the years went by. All the Minneapolis city police needed to do was call the general store and they would know everything--even to the particulars of people' business in town.
The reverend left the room for a few moments and poured fresh cream in his late mother's best Delft bowls for his cats. He was careful to distribute the amounts Dutch equally. Suddenly, there was such an unladylike howl of protest from the other room he almost dropped the cream jug on the head of a cat. When he came back, his visitor had put back the receiver and was sitting quietly looking up at his picture of the Prophet Van Balaam and the Ass. She was not particularly composed, as she was biting on her lower lip, her veil drawn up and back over her hat. Her face was, even to his now dim eyes, was a trifle too dark to be standard Dutch. Even her eyes were dark--"exotic" was his impression.
Was she from some island in the Dutch Antilles? he wondered. He had heard of "Black Dutch," though the idea was outlandish. On her part, Miss Kilpaison seemed not to notice his slight shock at her unveiled appearance and began to explain immediately on his return.
"That was someone who calls himself Metropolitan Police Commissioner O'Brien. It seems he has heard about a statement or two I have made concerning the possibility of there being two men going out with the plane. He--he advised me not to say anything more about the matter. It is most annoying, but he says he must have my signature on a statement to that effect. Of course, I refused to give the petty highlander any such thing."
Domine de Waals nodded, sighing inwardly. Harking from the fancy-dress cotillions of the capital, she couldn't grasp local realities. Disregarding authority, she faced a possible lock-up. Worse had happened to strangers in the area, particularly when they were Dutch from other parts of the country. Just because the country was Dutch and Dutch parishes like his could be found throughout the provinces did not mean all parts were under firm control. New Zeeland happened to be one that might revolt and secede at any minute--but exactly when that would be was anybody's question--the issue had been talked to death for at least twenty years. Stock-piling of arms and ammunition too. Militia training in out of the way places. That sort of thing.
The deceased man's niece intercepted his glance of pity and mild alarm. She returned him the sharp, businesslike look with which she had launched the now extraordinary interview. Not for nothing had she parachuted down from her uncle's balloon with a terrified feline and trekked out of the Congo to a port on the coast. Even if she hadn't quite handled a certain Pieter van de Wordt quite as she should, she still had a hand on her own destiny. Unfortunately, the domine could not suspect any of this and was quite perplexed how to go on with her from this point. It must have shown as she detailed the opposition the universities had stirred up against her uncle and h is work--which facts he couldn't be sure of and which, if they truly were fact, would probably get her in trouble.
"Now, you have heard about the kind of man that was my dear uncle and also a bit about those who have been opposing him from the start of his career. He said to me that if something should happen to him I was to make the arrangements. He heard you speak once--but that was long ago and you may not recall seeing him. With his memory, he could never forget a name, even the ones he read in the newspapers. Do you remember the person in this picture?" She got out a crumpled, old photograph. A handsome, smiling youth in Ivy League clothes was standing in a gondola of a huge balloon, while other youths held to the cables, evidently about to land or launch him.
Pastor de Waals slowly considered the picture. "I'm sorry, I cannot recall him."
"All right, that is of small account. At any rate, he knew of you and chose you to head the service he foresaw was a possibility. He wrote in a last note to me [she took out a badly creased sheet of paper from her pocket and read]: 'Just in case something should happen to us out here, I want you to contact the domine in Shinar outside town. If he's still living and able to speak, I'm certain he'll have some significant things to say about life--unlike the vast majority of his peers today! I'll never forget the time I stumbled on his parish back when I was a troubled youth and heard him speaking truly profound things. For instance: ' 'A man who knows his own weaknesses can't be made a pawn--not even of his own strengths. ' So you will do it as an honor to my Oom, will you not? It does not matter if you know nothing of deep sea exploration or ballooning, if only you speak on matters and questions of faith common to us all. Because of his reputation in connection with his discovery of the Atlantic Vent System and the connection people made with Atlantis, I expect a large response from the public. In case the press and the world of science are interested, the day of his death he had delivered to me his private papers on certain recent world-wide disturbances and--"
"Papers?" inquired the domine, his eyebrows peaking. Next there were strange papers to deal with! He was already amazed that he couldn't remember ever saying what Dr. Pikkard claimed in the note to his niece. Perhaps, it had been a guest speaker, whom the professor confused with him. In fact, he had dismissed one such speaker from his pulpit. Though it was many years since the incident, he recalled that the fellow was speaking the most heretical nonsense--from a preposterous, non-theological sermon he concocted called "Utter Reliance on God, Grace and Denial of Legalistic Crutches."
"Yes, research papers," she said, glancing toward a very battered-looking briefcase at her side. "The name he gave them is De Casibus Perplexis--'On Perplexing Cases.' They concern problems with the sun, glaciers, the planet's core, rotation, and other items which support his theory about the English disease. And there was a discovery of an important machine he was working with just before coming here. I fully intend to make them public as soon as possible under their individual titles. As for his assistant's disappearance, I will continue to make every effort to find--"
"These problems you say the professor was investigating, just what were they?"
"He was greatly alarmed that human society seemed to be going backwards. And he also found evidence that the planet and sun are breaking up. The world we know is coming to an end, in other words. Yet the universities--those in our country, that is--have tried a number of times to stop his research, but he keeps--kept--on despite all the opposition."
Though he had often preached on events in St. Van John's Revelation, truly the "Book of End Times," the domine had nothing to add from a scientific standpoint regarding the end of the world. Evenso, he could think of some immediate objections. Northern and Great Plains grasslands, once so luxuriant, were withering and blowing away in dust storms, it was true, but still the forests were spreading at terrific rates to the south. And New Zeeland? Though all round they might give way, this was one province that was still holding fast to its land and blue corn. That, surely, did not speak of Earth's decline. Yet, even if he hesitated to voice his observations, there was something any layman would want to know without having to going into controversial specifics.
"Did Dr. Pikkard identify a cause, Miss?"
The rather too dazzling dark beauty before him frowned and shook her head. "I'm afraid not! It was most frustrating to Oom. He spent years and years tracking it. The effects were clear but the cause always eluded him."
The domine let the discussion lapse for a few moments of silence, impressed with Miss Kilpaison's big city thoroughness as well as her evident feeling for her double loss, while growing truly alarmed for her sake now that he divined her true fiery temperament beneath the sophisticated manners. "I should be happy to do the service for the deceased, if that will relieve your burden." But he was still not satisfied he had heard everything he should know concerning Dr. Pikkard's assistant, a person she seemed somewhat reluctant to discuss. The fact a young man was involved certainly added a shade of meaning to the whole affair, as he well knew.
At that moment a shadowy figure flickered across the study's single narrow window.
9 The Tramp
Going to see if it were a parishioner calling, the domine found only a surprisingly tall tramp at the back door, holding out his tattered rag of a hat like a bucket. Around the man's head a scarf was tied, leaving only unpleasantly keen eyes, long red nose, and mouth exposed.
Pastor de Waals was well prepared for such types on his doorstep--times being what they were. He excused himself, got some food from the pantry, and gave it to the tramp. How many times had he fed unfortunate people so? He had given up inviting them in out of the cold They would take the food but always wanted to be off, as if deathly afraid a sermon would be part of the bargain (a good guess on their part).
The fellow gobbled the cold pheasant, boiled duck egg, and Utrecht pound cake with pink butter-icing standing up. But this one was a bit different evenso. He seemed to have a sharper eye than most, for he commented, between gulps, "Dasn't keep ye from the young lady caller, Your Divinity, so's be on my way. God blessit! Ye's most kind to a po'r, honest Dutchman, and shurely the blessit angels in heaven ain't ne'er seen your likes. Good day, Domino!"
After this flourish of flattery and a couple more gulps of the provisions, he did a queer jig on the doorstep as if to pay for his meal before disappearing round the corner.
If it had been a tradition in his church, the domine would have made the sign of the cross. Somehow, the tramp was different. Pastor de Waals had met many men in his time and taken stock of them as men too. He definitely felt this time he had been visited by a devil or imp. Returning to his study somewhat shaken, he could not help noticing Dr. Pikkard's niece was, for all her grown-up spit and polish, able to register human being. He found this out by catching her quietly dampening a stiffly starched cobweb lace handkerchief with tears. Yet the next moment, when she saw him observing her, she was completely recovered, the handkerchief out of sight, and her dark eyes more brilliant than before. She was stroking the only visible bit of jewelry she wore, a gold locket at her neck. That led to his noticing the absence of any ring on her hand, engagement or otherwise.
"Would you like some tea or coffee?" he offered. "I was just about to fix myself something hot, and I still have some Utrecht poundcake to go with it."
"No, thank you," she said.
To draw her out some more, the pastor asked about the young man who had flown with her uncle.He was thinking the little crying spell had broken through her former reserve on the subject. And he had judged right. For she added very straightforwardly, yet with telltale moistness of eye, some details about Dr. Pikkard's assistant, as if some very thick ice had been broken. He noticed one more thing. She seemed a bit younger too, if his old eyes did not deceive him.
"Pieter and I planned to be married after he started college, and I was to look for work at the college. Those were our plans, though I confess I did not respect his own wishes exactly as I should and--" She broke off for a moment, looked down, then recovered her adultish dignity. "Now he's disappeared into thin air, and the authorities won't even put out a bulletin or look for him! I wish you had met him before this. Despite our great differences in family and social station and the fact I am a little older and more experienced in the ways of society than he, Pieter was in his way the most remarkable and bravest person, besides my uncle, I ever met. He just needed someone to--time to--" She broke off and her gloved hands clenched.
The pastor looked down at his square, red, stumpy hands spread before him on the desk. He did not seem to be bothered by the way they trembled of late, if he noticed it at all. "I'm very sorry I pried into your personal life," he said, hesitant to touch upon the delicate subject his caller had evidently wanted to confess since his religious practice did not entail or delve into personal lives.
Her manner suddenly relaxed. She didn't seem to mind being personal, despite his disclaimer. The Dutch starch seemed to dissolve, leaving her a bit girlish. "I've lost my uncle and my fiancee, two loved ones in this 'accident,'" she said, suddenly throwing back her dark veil so that she could speak all the more openly.
For the first time the domine saw what he had suspected all along. She was not only "Black Dutch" but quite young. Was she eighteen? nineteen? And if so young, where was her chaperone and guardian of the same sex?
His caller continued. "Whatever the papers say, you might as well know the truth. In my uncle's case, it was plain murder. But I don't believe for a moment that the plane salesman is the only culprit. If that was so, both would have died in the plane. I don't know how they did it. Instead, only my uncle was slain and my fiancee, dead or alive, disappeared."
Now the domine had heard, in his day, a number of shocking things. Humans did shocking things on occasion, as he well knew. The area was getting rougher all the time, with train robberies, firebombing of essential services, and bank holdups. That was to be expected, perhaps, after so many people had chosen to flee their unprofitable farms and live outside the law of organized society. But in Shinar itself it had been a very long time since anything truly shocking had occurred. But now he was genuinely shocked--the world's ills had come to his very doorstep in a way he could not deny. The word "slain" caused the pastor's mouth to drop open.
Pastor de Waals, recoiling from the shock he had just sustained, happened to look toward the study window for no particular reason. Was it a trick of his tired old eyes? he wondered. At the moment he turned a dark figure with a flowing scarf at the neck dropped from sight. But it happened so quickly he was left half doubting he had really seen anything.
His caller did not seem to notice anything out of the ordinary, and went blithely on. Despite a rather strong possibility of it, Miss Kilpaison did not again allude to any problem she might have had in her relationship with the professor's assistant--her "fiancee" as she now officially termed him without being able to suppress a telltale blush. The conference wore on, the niece dominating as usual but revealing more and more things about herself and her young man what she had not meant to convey. After listening with half his attention to the niece's accounts of many a narrow escape by Dr. Pikkard and Pieter in the deep of the Atlantic and the height of the stratosphere, he was all the time thinking and wondering about the ways of Providence. He was relieved when she put down his purring favorite and rise to go. He felt need of lying down.
"I'm afraid I am taking up too much of your time, Domine," she said. "Despite your local authorities who seem to want to cover up crime rather than apprehend the criminal, I am going to keep searching for my fiancee until I find him." After throwing his Persian a treat to distract his favorite cat who was becoming a bit peeved with the visitor, he hastened to assure the young lady that he was put to no inconvenience whatsoever by her difficulties. While he was mouthing the polite phrases, he was thinking how, personally, he did not like mystery when it was mixed with mayhem. One could mix too much in the world, after all. If the men were indeed the victims of foul play, the accident would be investigated, after a fashion, by the authorities. It wasn't really his business, he assured himself, to be probing for some light on the mystery disappearance and other particulars. His domain, despite her remarks, was spiritual, was it not?
It was not his affair how the professor died. He had died, that was the matter at hand. Hopefully, he was not trying to avoid anything important by taking that tack, he was just being Dutch-sensible. As for the young man and his disappearance? Young men disappeared every day in the region. It was a commonplace.
While he was still thinking in this vein, that he was a clergyman, a dull and plodding man of the Dutch Cloth and not a detective, she startled him once again by abruptly reaching up and handing over Pikkard's final research papers in a briefcase. It would have been rude to do otherwise, so he took the briefcase and set it on his desk. He sat looking at it, his misgivings showing in his doubtful expression. For what could he say? Such a thing had never transpired before in his study in all this long, long career as a man of the Cloth.
Fortunately, the visitor spoke up in the dead silence.
"Pastor de Waals, my dear Oom lived quite alone, his mother a recluse and his father a drunken beast on his yacht all while Oom was growing up, so later he treated me like I was his only family--which I supposed I was. Whatever he had he promised would fall to me if he should suffer a fatal accident of some kind. But I believe you should have the fruits of his labors for the time being. At least feel free to study them as long as you like and then return them whenever convenient. Although I plan to publish them in the near future, I'm letting you have them because they may help you in preparing the eulogy. And, if something should happen to me--"
"That is very kind of you to want to help with my message" he lamely offered, missing the reference to her life expectancy.
"I am told an establishment calling itself the Chapel of Rest was entrusted with his body by the local authorities," she replied, naming the only such establishment on the Minneapolis side. "You can be sure I had to do some real hunting to find that out. The people connected with that chapel--they all seem very unfriendly, as if they think I have no business in this miserable area!"
They heard a long horn blast from Miss Kilpaison's cab. The driver must have been leaning on the horn, having had just returned from filling a "prescription" at the Happy Skunk "drug store." After she had written down her New Amsterdam address for forwarding the papers, he went out with her to his cottage's ramshackle gate. Feeling very tired and much relieved, he watched the driver help her up into the hired Checker cab-sleigh, the only public conveyance left. After the usual condolences and pastoral blessing, she departed, but not before a sudden outbreak of howling from the ridge drew both their glances.
"Just wolves," he thought. "I see they haven't moved off the hill during the day as they usually do." He watched her motorized sleigh bounce off down the rutted, snow-whitened, unpaved lane toward town and the only main road out.
After the old man went back into the house, drawing the curtains of the study to take a look at Dr. Pikkard's "perplexing cases," the tramp hid in the thick Norway pines and lilacs behind the house for while. He stamped his freezing, footsore feet from time to time and blew on his fingers, for though it was only noon, the day was already turning chilly in preparation for the long night of howling wolves.
"I'll never get used to this cold!" he swore in a whisper, looking toward the curtained window of the pastor's study. What was he to do next? he wondered. Since Dr. Pikkard's meddling little niece hadn't brought it out with her, she had clearly given the old man the briefcase belonging to her uncle. It was just too bad the professor had arranged to have it sent over from his hotel the last minute--the hotel purser must have been given the assignment. Then when they realized what had happened and followed the delivery route to Miss Kilpaison's boarding house, they got there just in time to see her hop in a cab-sleigh with it in hand and head out of town.
Where he had been dropped off, he had to walk in--a tramp had to go around like a tramp, which meant hoofing it most of the time and going without square meals and decent lodgings. Now thanks to Miss Kilpaison's generosity, he might have to terminate the old guy to get the papers. His employers were taking far too long to issue instructions, he thought, stamping his feet again. He had to make far too many decisions on the jobsite, which wasn't a good idea, considering they could hold him responsible for any mistake in strategy. It did not help matters either that his superiors held themselves scrupulously aloof from scrutiny. Who exactly his employers were, he did not know. He only knew they paid well, when they paid, in gold. That's all they allowed him to know about themselves.
He felt angrier than ever. He was thinking hard how he would have to do something fairly soon, or he would freeze to death right where he was! Knowing small towns, he couldn't take a car or horse into town without everyone inquiring and jawing about it, so he had hitched a ride to Shinar. Then, to make things more difficult, the parson's house was stuck right in the midst of a bunch of snoopy old ladies.
He finally decided to get the business over with, the best way he knew how.
He went to the back door again. It would be easy, a sure thing, he thought. A quick, silent slitting of the old duffer's throat. He'd have the briefcase of papers and be off and running in five minutes flat.
The parson came at his knock, though it took him some minutes. He was holding a cat that was licking the cream from its chops. The tramp was ready with the right words.
"Sorry to bother you again, Your Worship, but can you find it in your heart to take in po' lone man out of the cold? Jist a rug on the floor is good enough for--" That was as far as he got. The cat spat, then sprang at the tramp, a clawing fury, and the tramp had to make an undignified dash for safety.
Dabbing at his scratches with his scarf, the tramp paused to rest a few blocks from the church. A car approached. Since there were so few cars in those parts, this had to be one of the few remaining "rich farmers" who could still afford motorized transportation--a nut-brown Metropolitan. The tramp saw his opportunity and flagged it down.
"Say, bub, you wouldn't happen to know of a place where a gent down on his luck could spend the night? I'm willing to put in some wood chopping or spud peeling for my board and eats, within reason, of course."
The farmer looked him over with a fishy eye as if he had never seen a stranger before in his part of the world--which might well have been the case. It took him a long while to answer, and he looked as if he might not. "Nope, sorry, we don't take much to strangers in these parts. But you can ask that Dutchie parson we got here, who lives in the little house to the left of the church. He might know of some barn or hog pen you could put up in for the night. We don't take much to--"
The tramp's eye gleamed as he saw the lay of the land. "But, sir, I've already been to that crazy old Dutchman! Why, he done and sicked his tom cat on me after I was polite as you please. A regular tiger, I swear! I'd been clawed to ribbons if I hadn't outrun the awful, savage beast."
The farmer laughed. "Well, why didn't you say so! Hop in! Those Dutchies are pretty mean and tight as people go, sour vinegar in their veins, I wager! No gettin' any hoomanity out of them! All they keer about is stampin' out blue corn hooch and keeping decent folks down under their wooden Dutch heel! So get in, son, I'll see you have a bed for the night if I have to turn the old lady out to the barn! We can't have strangers going away and tellin' folks we don't know to treat people right in these parts! Why, the Dutchies have a saying that hits the nail on the head, I say. And she goes, 'He who wants to fish at night has to dry his nets during the day.' And that about says it! Yessir! Yessir!"
So the tramp got not only a ride but spent most of the night playing cards with the farmer who took care to mend his nets during the day, while at night, instead of fishing, he proved only too glad for company even if it were a mere tramp's. And, on the tramp's part, it was pleasant to hatch his plans in comfort and warmth, though he yearned to quit the farmer's boring, garrulous company and hit the sack.
"Ain't nobody made a red cent in these parts for years!" said the farmer with undiminished vigor, pouring the tramp another mug of homebrew hard cider. "And we're not takin' it any longer. The dang Dutch lib'rals done ruin't everything--whatever, that is, their conservatories dint swallow first in taxes and penalties for not doin' our farmin' exactly their way and keepin' the trees down where we ain't plowin' We've been hog-tied and squeezed to the last drop by the blood-suckin' old buzzards on the East Coast long enough! Blue corn aint' save us like we all thought it might! Why, it's gettin' colder and even blue corn won't take much more! Yaas--sirreeeee, this country is due for a rev--rev--"
"Revolution, I suppose you mean," yawned the tramp, his eyes rolling up.
"Yes, that too, young fella! Since goin' broke on my last corn crop, the third in a row, I ain't been overly keen in my wits I been so upset! My old lady can tell ya that. Should I wake her? She can tell you a tale to curdle a mother duck's milk. Did you get it? Mother duck's milk? Hahahaha!
"No, I wouldn't want to waken her from a deserved rest," the tramp said quickly. He himself was startled wide-awake. "But you're absolutely right! Absolutely right! The Dutchies have gone too far this time! Way too far, yessir baby, and don't mean maybe!" He was still wondering how a farmer could stay up all night and still expect to do his chores in them morning when his host gave out a strange sound and slumped down, snoring, in his chair.
In the morning, after a surprisingly ample breakfast in such a poor, Dutch-oppressed household, the tramp had a ride back to town in a truck with the farmer, who had a dozen fatted-up turkeys to dispose of. The turkeys had already been crated by a hired man--a tubercular French-speaking migrant who coughed a lot--and then the tramp knew how the farmer got so much work done without doing any himself. They stopped at the Happy Skunk drugstore to fill some prescriptions. Then, sufficiently fortified, the tramp went back to watching the parson's house for another opportunity.


Copyright (c) 2004, Butterfly Productions, All Rights Reserved