Obviously, the professor had not been idle one minute in his life. But his findings, unfortunately, were mostly transcribed in scientific language, mathematics and various arcane symbols. Only with the last four research categories did he find non-mathematical descriptions to any enlightening extent. But it was still very strange to him, the theory Miss Kilpaison had mentioned that the professor seemed to be substantiating with a most impressive array of facts and mathematics. How the world could be changing in such ways and for what unknown purpose were questions best left for the scientific mind to ponder and worry about, he concluded. It was the souls of men and women, not the natural condition of world and the universe, that concerned him.
He started to put the notebooks away but noticed some loose sheets, most of which were in pen and ink or merely messy, unsharpened pencil. Glancing at them, he noticed a hand-drawn world map and notations that included dates, as if the late professor intended to do scientific researches at those locations. One spot was in the Middle East, which caught the domine's eye because he was intending to take a tour there, starting on the 14th of January, the day after the funeral. In fact, his bags were already packed and loaded into his Van Duesen.
Another furnished equations for an aircraft called "Quarkship Systems Design Prototype" with instructions on how to make "composite" panels for the skin of the wingless structure. There was other items even more interesting and curious, particularly some speculations about possible invasion of Earth by alien species, as well as detailed instructions for doing something to a strange machine called a "Cray," but he had to drop the papers and get to work on his Sabbath sermon.
First, he fed the cats their "high tea" of clotted, sugared cream and crumbled Utrecht poundcake made with precious, imported, white flour from Jamaica and, after baking, packed in oak barrels to age for six months. He was just about to put his favorite in its basket for the night when he heard someone at the door.
It was the tramp, the same he had fed previously. He was just about to ask him in to warm himself when his favorite acted most inhospitably and ran the poor fellow off into the bushes. That was most unchristian behavior, particularly for a reformed Dutch cat. The domine was much grieved, shaking his head over his favorite. Such an uncharitable attack on the less fortunate, on his very doorstep, was a thing he could not take lightly. He told himself he would have to seriously consider applying a collar and leash to his favorite when people came calling the future.
The cat and tramp incident over, the domine returned to his chief business--the Sabbath message. But try as he would he could not get Dr. Pikkard out of his mind. Some very thorny questions would have to thought through, he knew, before he could hope to begin composing his sermon notes. They just would not allow him to put them aside.
Why, for instance, had the Almighty preserved their lives only to let Dr. Pikkard die--and, in the young fellow's case, disappear in a questionable manner--just when the professor evidently was at the peak of his scientific powers? That was a question simple folk would be bound to ask. He had to be prepared with the full authority of established theology and not something he himself cooked up.
Everyone knew by now that the plane was not in good condition when it was taken out. Why, then, did the professor take it? What was so important for him to see at the moment that he would risk life and limb? What was his hurry? Was hunting all that important? As the professor's own niece had indicated, surely a great scientist had better things to do with his time and money!
When he had approached Miss Kilpaison with these questions, she shook her head and took out a crumpled sheet of stationery from her handbag, commenting, "I share your bewilderment, Pastor. I have wondered and agonized a great deal about his decision to take such a plane into the air, but I have only this last message from Oom, which came with his paper only hours before his death. He had good things to say about the plane salesman I mentioned, a Vincente de Rabiscu--a man I will hold odious to my dying day! I know it wasn't hunting or glaciers that brought him here. As he put it in his note, he came out expressly to study "possible intrusions from the Large Magellanic Cloud," as he put it. I have no idea what he meant by "intrusions," but apparently they demanded close inspection, even at the risk of their lives." They had fallen silent for a time after she finished. There was only the raspy sound of a cat licking its paws, as each though about the matter of the mystery "intrusions." It was, even then, unsatisfactory, but the only thing she had to shed some light on the question.
Now, at eventide, Miss Kilpaison no doubt resting back at her fancy city hotel while his own cats slept off rich, curdled cream, the domine continued his meditations while neglecting his Sabbath sermon. A dozen clocks ticked around him in the house as he grappled with a question that particularly haunted him.
Why did people suffer? Why did they die in "accidental," seemingly pointless ways? What was the meaning of life in terms of death and human mortality? And, regarding human society, why was life itself faltering and failing from one generation to the next? Where was the progress the government was always claiming it had achieved? These were precise questions that concerned a man of the Cloth, just as they had concerned men of faith and of a philosophic inquiring mind all through the ages. Fortunately, Dutch theology had dealt with all of them in fine detail, so he wasn't exactly cast on his own resources.
It was unfortunate there were only seventeen hours in a day, he thought. With a telephone in the house, he never seemed to have enough time for his parish duties, slight as they often were in his precinct.
He didn't have time to wait.
Two longs and a short sounded.
"Good day," he called wearily into the receiver, "this is he speaking. What--what was that? May I help you? Is there anything wrong? May I be of help?" He had to wrench his ear away, for someone was shrieking bloody murder on the other end of the line. It took some time for the caller to calm down enough for him to understand what she was saying. "Tramp prowling in my lilac border, did you say? Why, if it's only a tramp, I am in no danger then. Yes, yes, I'll be sure and take a look out if that will help. But I doubt if I'll see anything. My eyes are not so good. But, Miss Van Oort, how are your lumbar palpitations--any better? We've been quite concerned about you these past twenty-five years. I trust you will be feeling up to attending the service--"
A full hour later he was able to hang up. The neurasthenic Miss Van Oort was decidedly worse, in her own opinion. When he mildly suggested paying the city doctor another visit, she blew up at him. "Why, that man's nothing but a quack and a robber out to get my money! I went to him in the worst possible pain and he said I only needed to get out and walk and maybe take in a pitcher show--a wicked Hollywood dance production with Van Monroe starring in it, the very idea!"
Her call was followed by others, who had patiently waited their turns after listening in and trying not to cough or breathe too hard on the open line. It took much valuable time before he could persuade each calling lady that he was in no danger from any prowler. What did he have, he asked, that a robber might want? That silenced them, but only on the subject of his welfare. They quickly passed to their own.
Added to such interruptions, his pets broke out in strange, uncharacteristic fits and rages during their usual nap times. Hair flew in fights over cream bowls they had previously been happy to share like good Dutchmen. After so many distractions, his head began to ache as if red-hot rivets were being driven in--a rather chilling sign that his health wasn't much better than poor Miss Van Oort's.
Truly, it had been a most unordinary day! He knew he ought to have spent it on long-overdue parish calls. His last was in August, at the beginning of summer.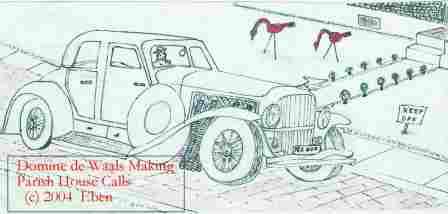 How well his car was working, he recalled, with the warmth of a hot day's seventy degree temperatures, and he had actually enjoyed the drive around Shinar's streets, those that were bricked, that is. If only he could return to those simpler days, which now seemed long past, now that he was being confronted with murder itself.
For Anne the day had never been ordinary. Just outside the wretched, little town where they could look and see, it seemed, for miles in every direction, though there was anything remarkable to see, the driver slowed. Shedding his drunken manner, he knew trouble when he saw it. Up ahead about a quarter of a mile a car was parked by the side of the road. He glanced back at Anne, who was wondering at that moment why he was reining in. She could see nothing about the scenery, the endless fields of corn stubble and snow, that warranted a longer look than necessary.
"Goin' to have to leave the road, young lady. Hold on tight or you'll be flyin' with the little swallows south!"
"What on earth?" Anne cried out, rising in her seat.
The driver jerked his chin toward the car ahead. "Take a look yourself. That black sedan. Just sittin' by the side. Ain't that a little strange to you?"
Anne was growing angry by now, but she kept her voice firm and under control, she thought. "Well, what of it? Cars do that all the time! Now just keep going, or I won't pay you full fare!" The driver shrugged. "Nope, Miss, you're dead wrong. See, cars don't lay along the road in these parts. Farmer Jones would have 'her out in the time it takes you to spit. Gets paid anything the traffic can bear, that's why. Can't make any moolah off his crops, so he's watchin' the roads real close, you can be sure. Fact is, old Jones goes out there every mornin' bright and early along his stretch of road and pours a couple milk cans of water just to slick it up a bit more. And this vehicle been there too long. See that white frosting on top? We ain't had a duster for two hours. I seen it when goin' in the Happy Skunkeroo!"
Anne was now furious. She hadn't noticed he had changed cold sober all of a sudden.
"Oh, if you're going to drink I can't stop you, but I don't see how--well, I won't have you leaving the public road for a cow path. I protest!"
The driver chuckled and turned off anyway.
Anne, alarmed, tried to reason with the madman and drunkard. "Oh, maybe it's run out of gas. Shouldn't we go and at least try to help?"
"Naw, not me. I got my old lady to answer to, and she wants my hide home in one piece."
Anne couldn't just let the matter go like that. She thought desperately how to turn the sleigh back., but could think of nothing. Within moments they were out of sight of the road, travelling between tall trees of a shelter belt that had spread far to either side in recent years.
The driver turned when coming to a Y in the woods. He soon turned again when an X presented itself, for trees were crisscrossed by many wandering, potholed paths made by feral cattle and horses. Unable to control the situation, Anne sat back, considering her slim options. "How is it you know this country so well?" she burst out, after a time. "I'd think you'd only know streets in town." She was holding to her seat now with both hands to keep from being thrown out.
"It's my business to know all these back roads!" he called back. "Cuz of so many robbers and cutthroats about, just wantin' to pick off a lone cabby returnin' to town with the fare in his till. I hafta know their tricks, or I'm out of business quick--my gullet slit and my money taken."
Hearing that, Anne settled down some.
Nothing more was said as they proceeded to Minnpaul by the back door. Anne fully expected to meet up with Indians and renegade, runaway farmer-bands. She had never been in so savage a countryside. They passed farmstead after farmstead, all burnt out, sometimes with strange inhabitants that came out and simply stared as the cabby crossed their land. It took them considerably longer that way, but finally up ahead Anne saw the dome looming in the gray sky--Minnpaul.
A large black Buick sedan was parked near the entrance of her boarding house when they pulled up. The driver had gotten out and was going to help Anne gather her bruised, stiff and sore limbs down to the street when they both saw the sedan. A blond-haired woman jumped from the car, followed by two men in dark suits.
"Could you find me other lodgings?" Anne said hastily. "I don't want to meet those people."
"Sure, Miss. I'm of the same mind."
The driver hopped back to the wheel, and they were off, the woman and her men friends running after them on foot. Next time Anne looked back, she saw their pursuers in the sedan, which was fast catching up. But the cabby knew the alleyways better than anyone. They lost the sedan in a warren that no big car could squeeze through.
When he stopped they were across the river in St. Paul, pulled up in front of a little house set amidst some pine trees. Dogs rushed out snarling viciously but suddenly flopped down on their backs to be scratched. A woman, looking like Mother Hubbard, came out, children clinging to her long skirts and floured apron.
Breathless after the chase, Anne looked at the smiling cabby with protest in her eyes.
"Don't you worry yourself, Miss. We'll put you up for the night and no questions asked."
They led her from the small, cluttered back porch into a kitchen with a big wood-burning range and a plump Plymouth Rock hen nesting comfortably alongside in a wicker basket festooned with ribbons.
"Esmeralda, our best layer," explained the good wife with evident pride. "Old fox in the trees out back would get her sure if we didn't bring 'er in from the hencoop every winter."
In the morning, Anne rose suddenly up in her bed and found her clothes laid out, freshly ironed, on a chair. The woman of the house came in Anne's small room off the kitchen, carrying a pitcher of warm water. "You can wash up with this. Soap's in that dish by the lamp. Potty out back. We'll be expectin' you for breakfast--plain food as we always eat 'round here."
Despite her strange conditions, Anne discovered she had quite an appetite. She had herself an excellent breakfast of Esmeralda's Triple A eggs, bacon, and blue cornmeal pancakes, with apple crumb cake and coffee. They refused to take anything for their trouble (though Anne, making an excuse to look for a hairpin, put some money under her pillow). Times being what they were, the cabby and his good wife, she learned, had been taking in strangers like this for years. And no questions asked.
11 Van Donkt to the Rescue
The task at hand, his Sabbath peroration, continued to defy Domine van de Waals' best efforts of resolution. He simply could not keep from thinking about the funeral service and the message he needed to prepare. Fortunately, he knew just the thing to gather all his scattered thoughts and bind them up in a nice, neat package for the funeral. Human mortality could not be humanly understood, yet it was to be accepted as part of the divine Dutch order. But "accidents"? What purpose did they serve in the scheme of things? Weren't they contrary to Providence, and all that was good, right, and Dutch true in the Universe? Now that was a problem. How did Dutch Reformed Theology handle it?
He pulled out his ancient copy of Van der Donkt's Topical Bible to him and looked for "accidents," and, from the Patriarchal Times section, Joseph's life was the case given. After a twenty-page definition of the word, "accident," the drama of his brothers' betrayal and murderous intentions, then later his forgiving them their foul deeds, was well-known to anyone who had picked up the Holy Scriptures, whether Dutch Reformed or any other version.
Joseph had not only forgiven his brother's attempt at murdering him by throwing him in a pit but, worse, their selling him as a slave to Egypt.
It was one of the most famous accounts in the entire Bible and Dutch theologians had written many volumes and exegeted every jot and tittle. Not to be outdone, Dr. Van der Donkt had devoted an entire chapter, 160 pages, not including charts and graphs, to Joseph, fully explaining how it wasn't Joseph's forgiving his brothers that mattered but that the things that happened to him were no accident. In fact, God had planned and initiated every incident in order to train up a model leader of his people, so that when the crisis came God would have a man to lead them in paths of moral purity and theological rectitude. Anyone who chose not to follow that clear an example was damned, Van der Donkt stated.
This was all very good, Pastor de Waals reflected. But he would be addressing principally a non-Dutch audience. The simple definition, wonderfully complete, was just too lengthy. As for the example of Joseph illustrating a number of meanings to the word, would it be appropriate to tell them the account, even with Van der Donk's wonderful, scholarly treatment to guide his remarks? That might constitute casting Dutch pearls before swine--a sin he naturally abhorred.
Besides, there were some rather ugly and indecent aspects to the account--the seduction scene with Potiphar's wife and the young servant Joseph, for example.
Ladies had been known to faint when that was read out from the pulpit, particularly where Van Moses, the author of that portion of Holy Scripture, described how Potiphar's wife grabbed Joseph's underwear and tore it clean off his body as he fled away from her advances. And there were other things, equally bad and unedifying for tender ears.
The good reverend and his menagerie of cats, parrots, parakeets, and goldfish got little sleep that night as he put off going to bed and worked on his funeral message. It took so long, he grew nearly sick with worry that he would never finish with the Pikkard thing and get to his Sabbath message. Then what? Would his parishioners understand that he had been forced to do an additional talk?
Saturday, the 11th, was no different--fights among his pets, more calls about a prowler, his struggles with the questions whirling round Dr. Pikkard's demise that would not let him go. It was if the whole universe were hanging in the balance--in poor little Shinar!
When he did find a few moments to look over Dr. Pikkard's writings again, they still made little or no sense. All he could figure out was that they represented a whole range of catastrophes, any one of which could severely alter or destroy the world. But he had not needed Dr. Pikkard to show him that. The Bible was full of calamities, from the Flood to the Crucifixion, which had all been sufficiently explained by Dutch theologians long ago. Yet Miss Kilpaison had said something about Dr. Pikkard that had stuck in his mind--that for him "the worst thing was not the present state of the world, it was his having no explanation."
Pastor de Waal's kindly brow creased as it had when he first heard it. What an atypical thing for a Dutchman to say! Was he dealing with a free-thinker and infidel?
If so, then he really ought not to hold him up as a paragon of Dutch genius since heretics were undoubtedly damned. "I must return these documents to Miss van de Kilpaison at the funeral service and thank her," he decided, putting them back in the professor's briefcase. "Perhaps she should think twice about publishing, however, if the community of scholars and theologians is, as she said herself, not favorable to Dr. Pikkard's unorthodox way of thinking."
While the pastor was making up his mind, the lilac border was about in the same state of confusion--only the comfort level was considerably different. The tramp's line of work entailed much physical discomfort on occasion. Deathly cold, the tramp felt forced to break off watching the parsonage. If only the parson had left for a little while, that would have given him a chance to enter the house and get what he wanted--wildcat or no wildcat.
But the domine did not stir once from his residence, and the tramp was obliged by sheer misery to quit his post for good--which wasn't the first time that had happened. Not only the neighborhood but the town, for his long, unexplained presence was attracting attention, he knew, so when he left, he went as quickly as he could. As he stumbled and ran through icy fields in a round-about way back to the main road, he vowed to get even with the parson for all his inconvenience and waste of time. Even if the parson seemed to be living a charmed life, his luck couldn't hold forever, and exactly at the point where it ran out a certain tramp vowed to be waiting.
If the tramp had been able to hold out a few more hours, he would have seen his chance. Early on the morning of the 12th, the domine would leave his house, to fire up the stove in the church and get ready for the day's Sabbath service. It would have been the perfect opportunity, and the tramp would have known it, except he had paid so little attention to religion in his career.
As for the service, Pastor de Waals had just begun speaking on his sermon topic, "The Joyous Daily Labor of Sanctification and Self-Denial," when a terrific commotion broke out in the pews--it was the same troubling pattern of events that had commenced just after Miss de Kilpaison had left his parsonage. Interrupting a solemn Kloopenhude organ prelude, "Variations in G Major, Opus 456," two of the old women, bitter rivals in both the church quilting society and altar guild, could bear the sight of each other not a minute longer. They began to spit curses and throw hymnals.
"You're positively Angelish in blood and you've been hidin' it all these years!" one accused the other, who quickly responded in kind with "Well, you're a dirty-aproned liar with flies in her butter! I'm as blessed Dutch as you are--maybe moreso, since we all know you've no proper father in the Baptismal Records or my name isn't--"
When Pastor van de Waals had finally gotten the principal parties separated and the hymnals back in the racks, he saw the schism needed to be addressed before it spread into the other sparcely-occupied pews. My dear, dear children!" he called to both elderly dames in his most fatherly tones. "I see that strange evil forces are at work among us, stirring up the root of contention--"
After all he had read on Joseph lately, he knew just what to say to put things back right and square.
"As I was saying today, dear ones, God wants to make you fit instruments of sanctification, Joseph is a prime example of the divine process if you will only hearken to the divine model he represents...."
With his example of a pious, obedient boy being trained by his loving, saintly father to do the right thing in difficult circumstances, he proceeded to urge them to forbear with one one another and, for a time, the women listened.
"Observe carefully how forgiving Father Jacob was! He had good reasons never to forget the wrong-doing of his erring sons, for example, but he never uttered a single, bitter word against them in remonstrance. Not one! No wonder his son Joseph turned out so well, with that golden example of absolutely perfect forebearance and forgiveness set always before him like the shining beacon of a towering lighthouse..." These and similar sentiments kept him going for quite some time, and he noted that his sister, Heloise, was smiling at him while she took her usual, copious notes in a large notebook she always carried attached to a chain from her waist.
When he finished speaking, though he had a spell of dizziness and wasn't altogether sure of what he was saying, he had them sing the banner hymn of Oldtime Dutch faith, "Blest Be the Chain That Binds." When they accomplished the hymn without any further incident, he dismissed his little congregation with am abbreviated half-hour-long version of the customary concluding liturgical prayer and blessing, hoping for the best.
He could not have been more shocked when he received his first parishioner's enthusiastic response. "Pastor de Waals, those were wonderful remarks about Samson and Delilah," remarked Miss Delphina Van Oort passing out the door. "I never realized before that Delilah was the true victim. Before you explained it so perfectly, I had thought she was just a hussy who led that poor fellow astray, but now I know appearances can be deceiving! Yes, mighty deceiving!" The pastor's eyebrows peaked. What on earth could he say to Miss Oort? He knew she was hard of hearing not stone deaf.
How many others thought he had been talking absolute nonsense about Samson and Delilah instead of promoting Van Donkt's interpretation of Joseph? How could they be so muddled? he wondered. "Had they heard a single word he said about the excellent example he was pointing out for them to follow?"
His sister Heloise soon put the matter straight, as she always did on leaving the service as the last parishioner out the door. Her face was no longer smiling. She gave him a wag of the head and clucked her tongue. "I detect a certain rambling in your messages of late, brother! Have you been taking that wonderful crushed parsley-and-vinegar tonic I mixed up for you? You really require a clear head to do this nobl, sacrificial work, you know. You spend far too much time wool-gathering in that study of yours, I believe! Or indulging your lust for poundcake, which is the cause of your biliousness! And, furthermore, dear brother--"
Finally, she had gone and the reverend could breathe easier. Shutting the door of the church, the domine sagged against the door. "Is my mind really going?" he wondered. He hated the vinegar and parsley mixture his sister had prepared and hadn't taken even a sip. If it wasn't parsley, it was beet, or turnip, or parsnip, or some other horrid vegetable extract that was supposed to cure everything, including old age.
He slowly plodded back to his home. Trying to shift his thoughts off the Sabbath and his sister's closing remarks, he later opened Dr. Pikkard's case of papers and drew out a notebook at random. It looked promising, entitled "Rotary Aberations of the Earth and Her Solar Orbit."--too scientific a piece, he thought, to involve him in any of Dr. Pikkard's free-thinking. He got to the part about the calculations showing the increased rate over the last three hundred years of the Earth's rotation, which had shortened the day and also the solar year. Failing to credit God with his creation of the Six Day Week, Dr. Pikkard indicated he had no scientific explanation for the change. He even seemed to think Wednesday II, "Fools Day," was a vestige of a missing day! Mankind's poor effort to make up for a shrunken, shrinking year and day!
This was too disturbing a passage to soothe him gently into a nice nap. He pulled out another research paper, but at that point the busy day caught up with him, his chin went down on a half-consumed wedge of poundcake, and he was blessedly dead to the world.

12 A Charmed Life?
As it happened, the tramp had to wait until the domine left for Minneapolis early on Tuesday, January 12. Knowing the parson had to come that way, the tramp holed up in a car by the side of the road, old Highway 89 (the service road alongside a long-closed superhighway), watching traffic--of which there was virtually none from dawn to dark. He would have been more comfortable if he could have risked setting there with the motor and heater going, but that would have called more attention to him than he wanted. Several times already a nosey farmer had come by, demanding to pull him out for ten bucks, and it had taken a few veiled threats to get rid of him.
A beetle-shape appeared on the snowy horizon, then approached the tramp. The tramp recognized it as it came near. Throwing out snow and ice into the ditch from all four chained tires, the Van Duesenberg Phaeton passed, but the tramp was after him in a moment with his more powerful Packard Phantom. Within half a mile he came abreast of the Duesen, though the road was really only wide enough for one vehicle.
The tramp glanced over and saw the parson was staring absent-mindedly ahead, his eyes glazed over with fatigue or plain senile forgetfulness of where he was. "Let this wake you up, you old fool!" the tramp laughed. I've got you and the papers now!"
He turned his wheel sharply. Then something went wrong. The tramp heard only the crunching of his tires on the passenger side against a high ridge of compacted ice and snow. Then his own car veered off sharply in the opposite direction. The next thing he knew he himself was flying ditchward. The Packard landed, bounced, then heaved up and hit a fence post. Shakily, the tramp crawled out of the open door into a freezing snow drift. A geyser of hot steam shot up, roaring from the head of the Packard. "Not the radiator!" he cried with chattering teeth.
Swearing, the tramp looked down the road. He could still see the Duesen Phaeton as it clattered merrily on toward town. He was freezing, so he had to start moving quickly or turn into an icicle. Swearing non-stop, he started hoofing it after the domine with a charmed life.

13 Black Tuesday III
Minneapolis, January 13, 2:25 p.m. Dr. Pikkard's funeral service had grown long and late when, the last scheduled eulogist, Pastor de Waals, was called to the front. The other speakers had done their duty and they covered everything customarily said at such affairs. Finally, the old Dutch parson from the Plains of Shinar shuffled slowly forward to a crepe-hung lectern placed beneath a basketball hoop, just before the closed casket of the famous deceased scientist. It was a strange scene for a funeral, even without the hoop. Just behind the lectern was a stage complemented with a drop curtain portraying ARGO, all-Dutch ship and crew, sailing in quest of the Golden Fleece as various sea monsters and beautiful sirens practiced entrapment with varying degrees of success.
Too large a gathering for the funeral chapel downtown in the old IDS tower, the venue had to be changed to the high combination school basketball court-auditorium-theater. But the unusual features of the setting were not the most disturbing ones, as far as the Dutch domine was concerned. He felt an unmistakable hostility in the audience, which was not surprising, considering the times and the secession-ripe constituency of the province.
Seeing what he was up against, he was glad that he had come well prepared. Following Van der Donkt's suggested sermon outline at the end of his Joseph chapter, he had written a scholarly exegesis of the nature of Providence, which he knew would set Dr. Pikkard's unfortunate accident in proper Dutch perspective. He could see a number of men in the front rows sliding down in their seats, but he ignored it and rose to the challenge to set them walking the narrow road to Dutch orthodoxy.
"Let us pray," he began, folding badly shaking hands. "Dear Father in heaven, this day we humbly bow before thy will and judgment concerning the unfortunate--" Rev. van de Waals was still holding to the lectern when he dimly realized he had blacked out. "How long have I been standing here without my proper senses?" he wondered, glancing about in consternation. He had a hazy recollection he had been telling them something--but what? He hurriedly scanned the faces before him. Dark and demure, Dr. Pikkard's niece sat alone in the roped off section allotted to family and relatives of the deceased. Her chin pointed down behind her elegant lace veil--the very picture of Dutch mourning.
The other faces betrayed no signs of boredom or hostility. Instead, they looked like they were waiting for his next words! He might have felt relief, but he still hadn't an idea what he had been saying during his blackout. "Perhaps it was only a moment," he decided, hoping he could redeem the lapse with some stout, 90 proof Dutch theology, which had never failed in the past to get him over the dyke.
And it was wonderful what he still had on hand. The five main types of Providential events: Miracles, Portents, Visions, Deliverances, and Sustainings! It was reassuring to catch the eye of his sister too. Heloise sat with pen and notebook in hand just behind Miss Kilpaison. Despite the occasional sharp criticism and the vegetable tonics, what a profound inspiration she had been to him in his ministry. Among other things, she had told him a miracle was nine tenths Dutch elbow grease and one tenth God, and in most cases the last tenth wasn't necessary. That same could be said, he knew, about the whole of Dutch theology. Beyond doubt, it was mankind's most sublime achievement.
Suddenly, the lights went out. When they flicked back on. Again, he found himself clutching the lectern for dear life. And once more he had a vague impression he had been expatiating at length about something. What in the world was it? he wondered, steaming at the white, starched collar. This sort of thing couldn't be allowed to go on. He needed to be in control. His eyes, however, didn't seem to be in any hurry to obey and concentrate on his notes. They slipped away and sought out Miss Kilpaison again. There she sat. Strange. Now she wasn't in the front row, between the gilded ropes, but two rows behind his dear sister. Well, that was of no real account, he decided. He made a mental note, however, to return her uncle's papers at the conclusion of the service. Just for that purpose he had placed them in his ministerial briefcase, hadn't he? He seemed to recall doing something like that before getting in his car.
"I wonder what the niece will do next," he thought, unable to tear his eyes off her. "She might be leaving town soon, to return home and sit dressed in black. She needn't be idle. She should knit charity afghans like my admirable sister. That will keep her respectably occupied, unless she marries, and her fiance--but wasn't the poor young man missing?" So much, so much seemed to be slipping out of his prepared address at the moment!
Darkness came over him again, then withdrew, leaving him all the more determined to get to the bottom of it, especially since he had caught the last few words leaving his mouth. "--dear people, some facts of life are inescapable, even if they are tragic. For example, soon after coming to this wonderful country, I was told corn grows at night--"
Tragedy? Was he portraying life as tragedy? And what did that have to do with corn? Tragedy and corn were not in his notes!
He started to define "miracle" and its role in producing model saints and citizens, when, once again, the haze closed in. When he regained consciousness, he found himself saying, "The Lord directs the evil in the world, even the sins and crimes of wicked men so that his purposes are served--"
Pastor de Waals would have liked to sink through the floor at that moment. Mercifully, the shade was pulled. In his next brief interval of lucidity he heard another startling statement pop from his wayward mouth. "Friends, Providence has not abandoned us. Even if the price for blue corn drops to China, we are all his dear children, not hapless flies caught struggling in the nets of that spider the superstitious call 'Ineluctable Fate'."
Some statement, that! It was most unorthodox, even heretical, for it implied that God took a personal, active role in human lives. Horrible assertion! This time he did not black out. He stood there like a manikin while his mouth blathered on, unable to do anything about it. "Friends, these are not easy words to say. They are reality. We have all known hard times and severe testings in our individual struggles to get ahead or just hold our own in this old, sick world. We have sweated and slaved, often from dawn to dark, only to find in later life that we have been fishing behind the net and are dropping behind even our parent's generation. I speak to you as one who has experienced the same tribulation and dismay but knows there is an open door to freedom, joy, and plenty."
Oh, what indescribable misery, to hear himself mouth such nonsense and yet find himself helpless to stop! One eye, his left, wandered and roved over the audience. He saw, without wanting to, that the worn-out shoes of people were not shifting about. Children sat quietly. Parents leaned forward in their chairs as if they yearned for his next words! Meanwhile, Pastor de Waals was thinking fast and furious behind his sweat-soaked, snowy-white brows while trying to focus his one obedient eye on his notes.
"How could I say such heretical, foolish things? I haven't suffered particularly. The government sends me my salary regularly. Why, I've been espousing rank pessimism. It even borders on heresy and unbelief, since it makes God out to be less than omnipotent if I say people are suffering hard times!" Suddenly, cutting across his hot, churning thoughts, words flashed. He tried valiantly to keep from saying them, but to no avail. "--'you intended this for evil, but the Lord has turned it to good.'"
That, he knew, was a quote, Joseph's response to his brothers, the same ones that had thirteen years before thrown him into a pit to perish, then did a worse thing and sold him as a slave. If only he might bring in his Twelve Points now! It might rectify some of the damage done. Consciousness holding firm for once, he girded his loins mentally and then launched forth on Van der Donkt's nine page interpretation of Joseph.
Then, crash! He blanked out. When he struggled back to the light, he was astonished to hear himself commit even greater follies. "So, in conclusion, dear ones, why not shake off the generational hatreds, the curse of your benighted fathers upon you, and forgive our enemies as Joseph did his wicked brothers. Why not forgive all those cruel, grasping corn syndicates and elevator people who have taken such rank advantage of your misfortunes as to lower prices and buy from out of country when it could have been a good year for you? Just like the corn I observed as a young man, Joseph was painfully stretched, in the night, stretched in order to grow into the great provider of his family as well as the nations--"
Pastor de Waals cried to himself, "Oh, my! What am I saying? That's the last thing I should be telling these unsanctified non-Dutch, that Joseph was such a person and they need to look upon God's dealings with them in that way! They'll run me out for sure for this!" And sure enough!
"Bolshevism, I say!" declared a New Antwerp grain elevator man rising from his seat. His vested suit and diamond--studded tie seemed to emphasize the rightness of his objection. "Why, a man who spouts such seditious and inflammatory palaver ought to be run out of town if he don't like the way we does things are in this country!"
Sweating copiously, the speaker agreed wholly with the elevator man, but could he stop? No, he couldn't! His mouth was utterly out of control. With great effort, the domine wrenched his dangerous, loose-talking mouth into a different channel, completely off the subject of Joseph, and at first it seemed to go all right. "--er--Dikard, I mean, Dr. Pikkard, I am given to understand, had come here to our great Northwest to risk his life in a necessary but dangerous bit of scientific research. I have not the mind nor the scientific training to be able to comprehend his brilliant research findings, but I know this much. Was his death for naught? I do not think so. Yet we cannot understand his death any more than Joseph initially understood the crushing calamities inflicted on him unless we too come to see the shuttle of a Divine Weaver moving in the tapestry of our lives. To us mortals of limited vision and understanding it no doubt looks like a mass of dark and tangled threads. Absolutely no pattern can be discerned--not for a good while anyway. Yet as Joseph learned to trust God in his troubles he caught more and more glimpses of the wondrous pattern on the other side! And, what's more, he came to know God as enabling, free Grace and a boundless Source of forgiveness, life, and happiness!"
To the reverend this was the worst yet! And it evoked an immediate rejoinder.
"All lies and poppycock!" the diamond-studded skeptic thundered, this time loud enough for nearly a thousand people to hear. "Why, he's the kind that comes home to his parsonage every night with a wet sail, so what do you expect to hear but a lot of hogwash?"
There was a sudden hush.
"Oh, no, it isn't hogwash!" a female voice cried out just as loudly from the bank-foreclosure ranks. "That's exactly what you're full of, sir!" A farmwoman rushed up and asked to share something at the lectern. It was unheard of, that any common person like that, should demand to address a public gathering that was supposed to be the obsequies of a noted scientist.
Yet nothing had gone right for the domine. He was beside himself. Instead of objecting, he felt his legs moving independently of his own wishes, and he stepped aside like a gentlemen, gingerly, as if walking over one night's ice. Triumphant, the woman stood and faced the audience.
"I don't care a snap what that rude fellow says about the preachin' here today, it's the plain blessed truth!" she proclaimed without a shade of embarrassment. "My name is Mrs. Delmar Dalyrimple, if you must know, and I was sitting there with you all and it suddenly came clear in my mind what the pastor was saying. Corn grows in the dark! And it can't grow unless it stretches! Any farmer knows that--but think about what it means to us! God stretches it in the dark and makes it produce something life-giving. Why haven't I seen that before? It was so simple! Even when I was most beaten down, the time the bank foreclosed on me and Del and we lost everything up to our shirts, I was being enlarged, forced to realize my need of God's enabling power. Why, knowing this, I just can't go on hating and hating like I always done in the past. And I done quit tryin' to do what ever else only God can do. Maybe now I'm opened up to God's enabling grace and power, the kind this wonderful, sainted man done told us about here today!"
People were stirring everywhere as she finished speaking. Her face full of joy, she smiled at the pastor and got back down and sat. A thousand faces but one turned to him with great expectation.
The domine, feeling utter ruin fallen upon him, tried to keep his mouth shut as long as he could, but it sprang open like a steel trap. Again, the fatal, unbidden words flashed across his cringing brain and out his mouth.
"Hark! Blow the trumpet and call the people to celebration! It's a new day, dear ones! It's time to sing a new song! Did not the thankful, rejoicing crowds cry out wherever Joseph appeared in his grand golden chariot, "God's Provider is coming! Make way!" In the same way, by God's enabling power, let us now forgive! But don't try to follow his example, good as it is, by your own pitiful strength. You can't do it! Good examples are not for us to follow anyway. Only God can do that! So loose the shackles and let God forgive through you, so that you can begin to give forth life instead of sinking daily in bitterness and despair--"
However he managed it, Pastor de Waals clapped his hands over his mouth, which struggled and made a gurgling, choking noise. Only when his lips had gone limp did he release his terrible grip. But he did not have opportunity to enjoy his little triumph. Whatever had sought release through his mouth now burst upwards. Unexplanable pain split his brain in two. "Wait!" he thought. "I haven't finished my Twelve!"
The next thing he knew he found himself on Mt. Sinai with Van Moses, attending his superior as a priestly Aaron. It was a glorious vision, just him and the Prophet of the Holy Law. Not even Dutch theology was up to what he had just achieved. They held the two tablets of stone, the sublime commandments of the Reformed Faith, as the dark clouds swirled round their ankles and caught at their robes and long, white beards. But he had just added commandments of his own on the second tablet, etching them with his fiery fingernail as though it had been soft clay and not eternal granite.
The Eleventh Commandment According to de Waals: Thou shalt not forgive thy brother's sin against thee unless he first begs thy forgiveness and mercy and makes full restitution by tithes and burnt offerings. The Twelfth Commandment according to the Aforesaid: Thou shalt not forget any offense done against thee, not even the slightest, lest the evil of it disappear from the earth and peace and harmony be restored to the earth under false pretences.
Women screamed. They saw the domine leave the lectern, turn and flail about for support, then fall onto the floor. The squelched Antwerp dealer got up and stormed toward the door, knocking over chairs. Alarm taking the place of a thoroughly disgusted look on her face, Heloise de Waals rose too, while a man made a lunge for the domine's briefcase.

14 Fritz, Lotti, the Domine, and Plenty of Nothin'
The lady reporter had told Karlotta the truth. Just as she promised, she featured her in a banner article in Friday's paper concerning the fatal Dr. Pikkard plane crash. She knew what she was doing--having learned How To in the big city. The account was rendered in terms that stirred everyone up, Dutch and non-Dutch alike. It had filled the auditorium hired for the occasion. People everywhere were talking about it--housewives in doorways, bartenders and barflies, farmers and townsfolk. The picture of the farmer's young wife struggling through the snow to get to the doomed flier particularly thrilled their hearts.
On Tuesday at the appointed time a crowd Minnpaul had not seen in years gathered. Over a thousand people pushed and shoved to get in the rather small Chapel of Rest downtown, then groaned when they learned the funeral had been relocated to a larger capacity auditorium of the high school. The Enthovens, almost painfully conscious they had played a leading role in the affair, joined eagerly with the throng. Several non-Dutch clergyman, called in by the Chapel of Rest in charge of arrangements, officiated beneath a basket ball hoop and net. The lone Dutch domine from Shinar, Pastor de Waals, was scheduled appropriately for the end. While Pastor de Waals spoke, down in the front rows Fritz shifted about in his seat. He had never been much of man for religious talk, and, besides, he was watching his wife flirt with a fancy-dressed, diamond-sporting man sitting next.
Somehow years of bitter disappointment and dull, hopeless rusticity had fallen away. She looked fresh, sweet little Lotti Quackenbush again--a lily among the humdrum squashes and sorghum. Her life lay ahead, the sky the limit. After all, wasn't she the lovely Corn Princess who figured so glamorously in the article everyone was talking about?
Finally, the old windbag of a country domine had finished, but the end came abruptly. The old man's right arm went rigid as a stick, while his left hand groped and plucked for support that was not there. Despite the fact the speaker had turned very pale and seemingly forgotten his speech at times as he reached up and felt the sides of his head from time to time, Fritz thought it was just his age. Now he watched astonished as the pastor made a few old, fluttering movements with his arms, then dragged his feet toward the audience, only to sink to his knees. That happened in a few moments, during which everyone was too amazed to do anything.
Ladies began to cry out. People rushed forward. A briefcase was grabbed by someone, then knocked by someone else out of his grasp, ending in a slide right in front of the domine's sister. They all saw he was very ill and needed help. Fritz rose up from his chair, trying to think what to do. Just as they had at the crash scene, his thoughts jammed, stuck in first gear.
Next thing, Fritz found himself swept along in a rush to the exits. He was separated from Lotti, but still trying to get his thoughts going again, he fell to waiting outside by the door. He waited and waited. The building was empty, the sick man had been taken away in a van, and Fritz was beside himself with frustration and worry when Lotti finally showed. "Oh, you. Been to the Ladies' to powder my face," was all she said as an excuse.
Actually, because not one person had asked for an autograph, she had indulged a crying jag that ruined her makeup, so she had to start all over before she could go out and face the mean-dealing, poverty-stricken, Fritz-dominated world again.
Fritz grabbed her arm and hustled her to the International. Despite the unseasonal mild spell, a polar storm to make up for lost time seemed to be brewing in the wings. Like a foretaste of what was to come, a wild beast of a windstorm shrieked and howled through the cracks of the Enthoven's windshield as they started out on the road that took them to the nearest exiting gate. Normally, the dome would have protected the city, but it was too far decayed by now. The wind off the glacier rapidly closing in from the north swept right in through the dome's ragged ribs.
Fritz and Karlotta shivered as they left the twin cities and lurched homeward in the ratty old truck. They hoped the heater would kick in, but it never did. Karlotta lit a a cigarette. Her fingers trembled and her face looked moody and puffy again as Fritz glanced at her. Shivering as she was, it took several matches to get her cigarette lighted and the smoldering matches dropped and singed her dress. Still upset over her flirting and long delay in the latrine, Fritz could not think of what to say.
Still highly indignant how she had been passed over for events that meant nothing next to signing autographs, Karlotta more than made up for his speechlessness. But sitting next to a New Antwerp grain buyer in a snazzy suit had perhaps set her thinking.
She began to hum, then sing
Ah got plenty of nuthin'--
The day Karlotta ran off like a spooked critter she left a note saying she had left the farm for good. Coming in the house hungry and irritable, Fritz found the house strangely silent. The record player turnstile was going round and round, the needle cutting a deep groove in a record of one of Karlotta's big swing bands, while his own favorite, the Hoosier Hot Shots of the New Antwerp Carlton Arms Barn Dance show, lay twisted and broken on the floor.
He stood in a house filled with stale odor and let go like a pigsty, a sink full of scummy, greenish water and dishes and drawers pulled out empty in Karlotta's vanity, slowly realizing the woman had gone for good. How, he had no idea, unless someone had come and picked her up while he was out back chasing chickens.
Suddenly remembering the most important thing, he grabbed for the cookie jar in the kitchen. The precious egg money was gone--savings he needed to keep the bank from gobbling his tractor. Instead of money, there was a scribbled note to him. He read, then crumpled and threw it against the stained wall. "That crazy female, I knew it! I knew she'd pull this mean trick!" He kept swearing, calling her every mean thing he could conjure up. Should he try to track her down and wring her silly neck? He smacked his fists together, swearing and kicking furniture around as he vented his rage. Outraged by what she had done to his most prized record, he took hers and stomped them into the floorboards. Then another thought occured to him and he sat slowly down on a tippy, three-legged chair. There was not enough gas, and he had no more credit.
His wife gone, he sat in the house thinking and thinking until his head pounded with pain. "What am I to do?" he groaned at last, feeling very limp and weak all of a sudden. "No tractor now for the spring plowin'! No nothin'!" He could try turning back to horse and plow like many others were already doing, but he couldn't afford a big enough horse for such hard work. And the bank, never very friendly to anyone Dutch, had turned down his request for an extension on his double mortgage.
His parents were spared his present misery, lying at rest in the county cemetery. Relatives were few and lived too far away. But there were his friends at the Happy Skunk! He ran to his truck. At last he knew what to do about his loss of Karlotta and the lost tractor money.
A few hours later, while the Atlantis was lifting off from Minnpaul, Fritz returned home from town and slumped down at the kitchen table. His face turned pale as plucked and boiled chicken skin. Absolutely no one had offered to get him out of his jam. Swallowing his pride, he had set out a collection jar on the saloon's counter, the same as anybody did who was down on luck and needed a bailing out. Sweating, he waited for the reaction. He saw Howie guffaw to the others, then go and stick something in it. But it turned out to be a love letter addressed "My Dearest, Darling Howard." It ended with a lot of X's and O's and a big red valentine heart drawn with lipstick and signed "Forever and ever yours, Her Majesty Lotti Q, Corn Princess Shinar County."
He was so mad he threw a wet beery sponge from the counter top at Howie's head, while the whole drugstore saloon, including the "soda jerk" at the "fountain" suddenly erupted in laughter at Fritz's expense. He had stormed out, intending to drive straight to Minneapolis and turn the illegal saloon's name in to Dutch temperance union authorities, but he thought better of it. Others had tried it, but stool pigeons were so hated they were smart to leave the country or face being caught and stripped and tied to burning rubber tires.
There was not enough gas in his tank. Besides, everyone who had been paid off to let the Happy Skunk alone would be gunning for him. It was a good way to end up fried bacon, the predictable end in New Zeeland for any Dutchman foolish to throw his weight around. Every turn he made in life it seemed he rammed his face into a high, blank dyke. But it had always been like that in what was supposed to be Dutch country. A member of a minority in his part of New Zeeland, life had always been a swim upstream against rapids and white water. Being a "flatlander" among so many Scandinavians and Scotch-Irish was handicap enough. But he was also the runt of his high school class. How he had fought to get on the football team for the chance to prove himself. It had not helped either that one of his eyes was brown and the other Dutch blue. They called him a half-breed, when he knew he was pure, plain, Dutch.
How he had argued about against that label with other kids! He kept insisting his eyes were both Dutch blue at birth, but he had gotten acid in one and turned it brown. Everybody laughed at that, of course, but he could think of nothing else to say. Yet if he was anything, he was a fighter against impossible odds. Even if he was always getting knocked Dutch face-down in mud and manure, at least he made it on the team bench and got to wear the red uniform of the Shinar Cardinals.
He had kept the farm together after his parents--no money to put in improvements and foreclosure from an unfriendly non-Dutch bank heavy on their minds, perhaps--missed the road on a stormy night coming back from town. They were found in the flooded Rings Slough--certainly not the first time old folks like them had stumbled in, nor the last.
The farm was too small an acreage to make it, everyone in town could tell him, but he stuck to it like a veteran farmer or a holy Dutch trekker headed for the Promised Land. There wasn't so much as one seedling tree on all his acreage--he worked so hard to make the thing go. He thought he was making it, as long as he had a mind and a will to do all the hard, dirty work himself without hired help.
Then, despite his parent's warnings, he had courted and won Lotti Quackenbush, the prettiest girl in his class, when no one gave him a running chance with someone who said she could smell a Dutchman coming a mile off. With his gift of gab and dreams of what they could do with the farm, he had convinced her a fortune awaited them.
"There's high-grade anthracite no doubt under those dark rocks over there, or, better yet, gas. No, there's got to be oil, honey, you can bet there's a Dutchman's gusher just waiting for us to tap into! We'll drill as soon as I scrape enough money together to--" So, being young and foolish, believing they saw wheat for their windmills where only thistles would grow, they spent the five grand from his parents' life insurance on a trip to the bright lights of Reno. Money ran out at the Knights of the Round Table Casino and Hotel. Thrown out, they had to hitch rides all the way home in busted farmers' busted wagons and even Gypsy caravans. For the Fritz Enthovens, it was downhill from there.
Now, with Karlotta gone and none of her complaints to distract him, he had plenty opportunity again to think about his whole life. Thoughts were coming faster than he could handle. He recalled how his friends and relatives washed their hands of him and his get-rich schemes. He suspected he had turned them off mainly because they were cheap and miserly and didn't want to see him get ahead.
"If you think I'm come here to beg for your lousy, stinkin' money--" That had been said to too many people. Before he had lost Karlotta and his tractor, he had even said to Howie and the boys at the Happy Skunk. Tuesday's funeral was still fresh in his mind. "God couldn't care about this small a Dutch fly," he decided. "and the fly couldn't care less about Him!"
Fritz sat in his cold kitchen and would have made himself some coffee if he had any. For some time before the funeral he had gone without a dollar in his pocket. He wondered how long he would escape foreclosure when bigger farms--with owners grown too poor in the hard times to pay off mortgages--were again giving up and running off to join White Indian bands everywhere.
He couldn't deny he was reduced to slow starvation. For months he and Karlotta had only some stinking rancid salt bacon. He got it from another farmer in trade for shabby household furnishings that should have gone on a bonfire. "Need it for my dogs," he had explained shame-facedly, though by that time he had already put his dogs down rather than see them starve too.
Chewing on bacon rind and fat he took from a tin and trying not to gag, his mind wandered back again to the funeral. He could still see the last speaker as if he were standing in the kitchen. There had been something--a certain quality--in those dark eyes framed by the squarish face with the big, Snowy Owl brows. Was it "compassion" he read in that face? Fritz wondered, his lip curling. It had to be something stupid and female-ish like that, he reasoned. Very few men had such a thing in those times. New Amsterdam and New Antwerp buyers certainly did not have it. Local bankers and mortgage companies knew nothing about it. Even his fellow farmers were a hard-bitten, resentful lot to be around and bought each other up at the lowest price at auction whenever someone went under.
But Fritz had to admit the old man was, indeed, one of a kind. He could have been sitting in a rocking chair at home, comfortably waiting for the inevitable end. Instead, he chose speaking to people above sitting in a rocker and taking better care of his health. By any name, such a choice commanded respect, even from someone as kicked around as the "dumb dirt farmer" with the mismatched eyes.
Yet respect could go only so far with a man who didn't like taking wind from the front. Without the money he had painfully saved, Hodgkins' Tractor City of Minnpaul and the local bank would repossess the tractor. And without the tractor, there would be no spring plowing (if they had a spring, that is!).
Stunned by it all, the farmer sat slumped at the breakfast table. His very life seemed to lie heaped before him like Karlotta's dirty dishes left on the table, in the sink, and on the counters. With a lot of enemies of his own, he had ample reason to remember every word that followed the preacher's words about forgiving people who "done him wrong."
Fritz squirmed on his tipsy chair. The message had sunk in--an indigestible something churning away in his gut--particularly the pastor's words: how can God forgive you? How, indeed? He knew he could never forgive. Not until calves danced on ice. Hating was--well, his way. If only he could hold to one inch of Dutch ground and turn it into wheat for his windmill! That was all he wanted in life--to keep what he had and not be shoved off by more powerful men with snouts like corn-fed hogs. Was that too much to ask? It seemed so.
Fritz recalled how the old man, a broken basketball hoop over his head, stood in front of the casket, with that simple white cross beside it. The scene, perhaps because it stood so starkly and plainly against the back curtain painted so pretty with a ship and some beautiful women on an island branded itself on his memory, so that it came back to him again and again. "Never!" he thought. Compassion for your enemies, he knew, never put sods on the dyke. So, never would he forgive the blood-suckers! He got up from the table, overturning an empty sugar container of yellow Depression Ware.
Grabbing a rifle, he ran out of the house toward his truck. A few minutes later he was in town headed for the bank, intending to carry out a plan that had simmer on the back burner of his desperate thoughts for quite some time. His only alternative, to his thinking, was going White Indian--and skulking in stinkin' country hideaways, only going out with his band to swoop down on isolated farms and villages to get provisions or maybe fight some other band for a better territory, that didn't appeal. He always had done things his way, on his own.
One good bank job, he thought, would set him up with enough cash to move south, to Jamaica, and begin anew with a one-cow farm and a pretty servant wench.
Downtown Minneapolis, a darkened window gaped open and broken at the back of Hank Snoozy the county coroner's office on "Big Frank" Slattery Street across from City Park. Behind the bottle littered desk the coroner's nephew lay sprawled on the floor, eyes staring into space. His pockets had been turned out, money taken that he had previously stolen from his uncle's strong box, and his hands stripped of rings. "Hank" Joshua Snoozy the coroner, off seeing to his investment in a Reno club, would be the last to know, but his friend the police chief would have written an official version by that time.
On leaving, the burglar left his calling card, D. V. J. It was artfully carved with the added embellishment of a grinning skull, but it failed to make the report as the nephew was not much liked, even by his nepotistic uncle. It would be weeks before the Hank replenished the bootleg liquor cabinet, considerably reduced during the long and thirsty process of investigation. As for the looted money box, he knew where to put the blame.
Ten blocks from an ever-shrinking business district, Vincente Rabiscu resided at 309 Saint Dandolo. The Dutch-narrow frame bungalow of two stories and a gable was also fast shrinking, engulfed by untrimmed, overgrown pines and firs that sprouted, unbidden, everywhere. The house looked like its neighbors. Unpainted all the years he had it, with a sagging porch that was coming detached from the house, it has the single merit of putting off any tax assessor. The street was known as Widow's Row. Houses belong to mostly aging widows whose men had worked for the meat packers and gristmills at St. Anthony Falls. It was a cheap place for survivors to live, that's all.
As he sat on the sofa in his front room and smoked a cigar, Rabiscu thought about the ups and mostly downs of the aircraft business.
While he did that the Rev. Soren van de Waals fought unsuccessfully to give his non-Dutch Reform audience a double physick of Dutch theology. Rabiscu sat with shirt front open to his belly, his tie coiled on the floor, while his wife Elinor busied herself in the kitchen. He could hear from big pans being banged around that she was in her usual dither about something. Finally, he had had enough. "How come you're so blame noisy, Elly Mae? Can't a man enjoy some peace and quiet in his own castle?"
He repeated the sentiment, just to make sure it carried weight to the kitchen. Indignant, he relit the Red Indian that for some reason had gone out after giving him a rank taste of hair and gasoline. As if to make up for lost time, it now smoked furiously, sending up a tall, pitchy plume toward the brown-stained ceiling. He had reason to be annoyed with Elinor. Having left the office early, he had come home purposely to relax and think about things he needed to do. Was that too much for a hard-working man like him to ask?
As if in answer, there was a thundering crash in the kitchen. It sounded like someone had taken the top of the stove and heaved it against a wall. "I said, hold it down in there!" His roar suddenly met total silence. Feeling better, he continued his thought pattern. There was much to consider--not Dr. Pikkard's funeral, for he would not trouble himself about that. No, he had done his duty and spoken a word of condolence to the man's niece--a pretty young thing who nodded her head and seemed to take it very well, considering.
When he added to his sympathy that the professor knew exactly what he was getting into, that the plane came with no guarantee from some bankrupt air museum, and that he, Rabiscu, had done all that was possible to make it airworthy, she made no reply. He thought more about it. What could she say? She had kept her pretty little mouth shut on that point because there was nothing to be said against the way he had conducted the whole business, start to finish!
"By Culp! Just anyone let out one little peep about my handling of the--" His jaws working, Rabiscu took a deep drag of his cigar and finished the growling sentiment silently. There were more pressing matters than the niece, such as how he was to get his dough. When he had talked to her, it was shortly after he had gone to deposited the cheque. He thought he was sitting pretty then. It was she who, starting to walk away, had brought up the matter of money. She said there was nothing "salted away" for emergencies or her uncle's retirement. She said that her uncle had given away a vast fortune from his inherited patroonship to bankroll not only a host of poor relatives but practically every orphanage and animal stray cat sanctuary in the country.
"Of course, there won't be even a schuyler left," she commented. "I hope you are not put out if that happens." "How wrong you are, my little Miss Goodie Two Shoes!" he thought at the time. "Because I already got the crazy professor's whole kit and kaboodle right in my sweet little pinkies."
How surprised he was when the bank called him back. "We're very sorry, Mr. Rabiscu, but according to the telegram just the issuer's bank will not make good on a dead man's cheque."
It was like a lightning bolt out of the blue! Naturally, he rushed right down to the bank to protest. A pert brunette with a ponytail at the counter was telling him this. How he hated ponytails! He couldn't help it. He exploded. "Oh, you're sorry, are you? Why didn't you tell me that before I went out and bought a new car?" Intending to see his lawyers, he stormed from the bank, knocking a spittoon over. Without a dog or cat to kick on his return home from the office, he had, as usual, taken it out on Elinor. After he said a few things to her, she threatened to leave again. She said he never should have bought the Bearcat over her objections. It served him right if the bank repossessed it.
He mentally kicked himself. Elinor wasn't his problem after all. Obviously, Dr. Pikkard's genius had rubbed off on his little niece. She had probably called the bank at the other end and stopped payment. Then she acted so polite and all to his face! He began swearing, then stopped abruptly. But two could play that game! He had called his lawyer friends. They had considered a number of options. Because it was closest to hand, they made immediate inquiries and found Pikkard's estate held property in New Zeeland--not much, but property all the same. There was a farm of 600 acres and a building holding fifty orphans with their elderly guardians. That farm would be his, he vowed. His! His! His! It'd cover the price of the plane nicely. Let the fancypants niece keep Dr. Pikkard's old museum-reject of a car and that decaying family seat on the North River, he thought generously.
Sitting on the rose-patterned sofa, on a thread-bare spot, Rabiscu found rest at last. Soon the farm would be entailed and sold and the money as good as his and burning his pockets. He leaned his weary head back against one of Elinor's embroidered pillows, enjoying his smoke and the savor of triumph over adversity and the doubledealing that came with the territory.
After a hard week of it, he may have snoozed a while. His head suddenly shot up off his chest as the cigar had burned down enough in his fingers to begin scorching them. He looked around, then grew aware of a strange, almost ominous silence. It began to bother him, disturbing what had been a lovely dream of tropical beauties. He could not know it, of course, but the same sort of silence draped itself like black crepe in a room of the Chapel of Rest. There, Pastor de Waals, reviving after his collapse, was given an injection by a tall man who affected a cigarette holder, the funeral hall director himself.
"Elly Mae? What's buggin' you now?" called Rabiscu. "How come you're so blame quiet?" There was nothing but deeper hush. He inquired again, more irritably. Heaving himself up from the low sofa, he went into the kitchen. The day was already fast shrinking into dark, so he pulled the chain of the overhead bulb. There were the pans, laid out with uncooked carrots, blue meal mush, and raw horse steak on unlit burners.
He thought for a moment. A chill lay over the scene. Had she gone next door for a cup of sugar? He checked to see, but the sugar can wasn't empty. Having no choice, he climbed the creaking stairs around the corner from the kitchen.
At the closed door of the master bedroom, the silence was almost thick enough to poke back. He wondered if he should knock. It was his house, his door, his wife. Why should he have to knock? He pushed it open partway. "Hey, are you going to get some grub on or not?" He gave the door a kick. The room was empty. A note, however, was pinned to the faded, thread-bare bedspread. The sight startled him a little.
The rebuke added to the evident loss of his wife ought to have made him sputter and swear. But, sensing freedom was at the door, he suddenly felt assured. "You can be replaced, you know," he thought grimly. "I pity the replacement!" he thought he heard a voice say, and he jumped and looked around. It was then he noticed their marriage certificate, torn in half and thrown beside the trash basket by the bed.
Rabiscu finances took a sharp downturn after Elinor left. His painfully short flush of prosperity over, Rabiscu left his repossessed house and took a room down at a flophouse. The Royal Princess of Flevoland, it was styled, as if sucking up to moneyed Easterners who cherished any reference to the "Old Country". Beds cost an Indian Head nickel a night, and the floor, shared with a tribe of four-footed creatures, was a penny. Fortunately, he still had more than a penny. He wasn't yet reduced to a half-penny, the lousy so-called schuyler that could buy nothing the world had to offer.
He began casting about for something to do. His sales pitch was all he had, he thought, but who wanted it? Van Pinkerton thugs fingered his car. Just like hundreds of down-and-outs, he had to tramp the streets beneath empty towers of broken glass and rusted metal that, like the old IDS, loomed over the squat little pigsty of the New City.
Not desperate enough yet, he stayed clear of meat packers. Slave labor, at his age, would kill him quickly. He might stand the workload and filth a week or two, but after that he knew he would slip and fall in one of elephant-sized vats and end up hamburger. Stories of such mishaps were always circulating in town. Yet packing companies never thought it worthwhile to deny anything.
One of the places he tried was the Van Pinkerton agency. "HIRING NOW--ABLE-BODIED, STRONG AND VIRLE MEN OF UNASSAILABEL NOBEL CHARACTER WANTED for STAND-BY Substitute City Constabulary Aid in Riots, Merchant Police, General Emergency Quelling of Uprisings and Seditious Acts" proclaimed the company sign. So he thought he'd land himself a nice little gun-totin' job, since he knew he wasn't anybody's sucker nice guy and could handle the rougher elements of society. Strangely enough, they didn't seem to understand they had a big sign on the front of the building saying they were hiring. He didn't even get an application to fill out.
"Sorry, you aren't qualified," the secretary informed him coldly when he questioned his dismissal. "Now please leave before--"
"Just tell me why, Missy, why you're not taking applications. A loyal, tax-payin', law-abidin' citizen with no record on him has a right to know, correct?"
"We ARE taking them, it's just that we have a policy of accepting only union men."
Rabiscu rushed to the union office servicing the Van Pinkerton agency.
"Sorry," he was told, "you need a Van Pinkerton job to apply. Please go quietly or--." Soon his funds dwindled to seventy five cents. He was getting dangerously close to that worthless Dutch ha'ppenny! In fact, he was looking now at a county poorhouse or jail--which was actually the same thing, as the authorities, civil and charitable, treated public poverty as a public offense.
Even with the schuyler looming before his eyes like the giant millstone coin of Pacific islanders, he decided he might as well go out in style. He decided he would enjoy one last good meal before he joined society's rejects in the Culpville along the rail tracks, which had taken the name of the current Stadholder, Abel Culp, because he championed the poor but lined his own pockets.
Culpville shanties sheltered folk who lived on what they could heist from passing freights, the ones that had corners and didn't carry machine-gun equipped Pinkerton guards. National guardsmen were always raiding Culpvilles and beating shanty men up, but they never bothered to tear them down, so the men could always crawl back after each raid, if they hadn't been hauled off to jail indefinitely for failing to supply the customary bribe. Yes, it was tough to be down-and-out in Minnpaul, and getting tougher. He slipped into The Red Rose Eatery, which had been closed several times already but had recently reopened with a new proprietor, Soame Stackpole Jenyns, who had won a modest jackpot playing slots at Reno. Like most signs along the streets, Jenyn's neon sign blinked on and off but was missing some letters. It came out "The R-- -atery," but nothing was ever said or done about it. It was a good laugh for locals at least. Formerly, in better times, it had been a Dawg 'n' Suds chain eatery--a once very popular chain restaurant. Customers parked and called in orders from outdoor stalls served by high school girl carhops on roller skates. That, of course, was a day that would never come again, when the profit margin held for four straight years at 2.5 percent and common people ate white bread because they could still grow wheat in the area.