In the days following NaSmyth's refusal to intervene with Port Customs, Lady Anne often thought about it but could not agree in her mind. Was he simply unable to help? Or had he a reason for not doing as she asked?
She had no doubt any longer he was NOT what he purported to be. A clergyman? A dragoman? By all the cloughs of Lyonnesse! No man of the Cloth would tersergiversate so brazenly to her face, or dare to strike a woman advanced in years, she thought.
After all, Sir Francis' butler--an unblushing mountebank, to be sure, but less a liar than his master--informed her Sir Francis had hired someone to go along, to see her and her friends safely to their property. But was he really acting for Sir Francis? Judging from his behavior, it hardly seemed possible.
If not, what business was he about other than what he had fabricated? For what reason had he come along with them to South America if he refused to do the least thing for his hire?
While she pondered the riddle of Rev. NaSmyth's insolence and apparent insubordination, she saw to she knew all of his movements. The unfortunate siphon incident had rendered him a wounded lion--all the more reason for keeping him under strict scrutiny.
Whenever needed, two younger ladies, Georgiana and Alexandra, who could still get about, provided extra pairs of eyes.
Interned on Flores, one of the two "Enchanted Islands" located in the 100-mile wide estuary, they sat crowded in dirty, grass-roofed huts, while the Argentines, off somewhere in their capital, lengthily decided their fate--if they thought of them at all.
But Lady Anne wasted little thought on the cruel procrastinators from the mainland. According to her, Rev. NaSmyth had done the unforgivable: refused to do his job and help them get to their property. It was his fault alone they were marooned on a desert island with no prospects in getting off.
Since leaving the ship the troubling question of his behavior continued to plague and perplex Lady Anne. Meanwhile they subsisted most bravely on dried beef brought out by steam tug in dirty canvas bags. The guards took the best and the most, of course. Then shipments stopped coming, and they were thrown native greens which nobody ate. The many times Lady Anne and the others tried to bribe the guards to smuggle in food to the island their money was taken and nothing more came of it. When they withheld the money and said they would pay only when the food was given into their possession, they were laughed at.
"We'll not do something for nothing!" the guards jeered at them. "What do you have to give us?"
"But we have the money to pay you!" they protested.
"Then show it to us!"
They did not dare do that, knowing the guards would seize it. It was an impossible situation.
Rev. NaSmyth, however, startled everyone with a practical skill. He took out angling gear from his hut and went early one morning down to the big rocks that lined the beach of their prison island.
Followed by sleepy but curious glances of guards and increasingly unsteady, cracked opera glasses, he found a comfortable niche for sitting and then began to cast line like an expert, or "compleat angler." Before long--perhaps only a few minutes as everyone watched--he hauled in a robust, riverine variety of halibut.
The event was unheard of. An Anglican cleric angling for his breakfast?
It was all the gaunt, perplexed grand duchess could do to keep hunger-crazed companions from rushing down at once to beg a portion of the catch. She was forced to speak to them in the strongest terms.
"My dears! You simply must not sell your souls to him for a little fish, until we know what he is about!"
He did not stop dining on broiled Plata halibut. Inflicting agonies on Lady Anne and her people, he continued to cast out his line and pull in one big one after another. There was plenty for himself and the guards. After a few days, he actually gained weight. In cruel contrast to Anne and her group, he fleshed out and was no longer so thin.
By then, back in the camp there was nothing else the grand duchess could do to restrain her people. One night Alexandra and Georgiana and grew most desperate. Forgetting all their titles and noble breeding, they fled Lady Anne's hut to bargain with the clever Reverend.
Hands dripping gold and jewels did little good. After an ascetic diet of moldy beef and a few greens, severely weakened by plague and dysentery, they could keep nothing solid down. After stuffing themselves with superb, delicate fillets Rev. NaSmyth prepared for them on a little grate, they got very sick and had to lie down.
Their deaths occurred within less than an hour after Rev. NaSmyth accompanied them back to Lady Anne's hut, with Lady Anne and Diana attending them as best they could.
His coming and going were so quick Lady Anne could not stop him.
Confessing what they had done, the victims themselves believed it was deliberate on his part. After all, everyone knew he had eaten many such fishes and suffered no ill effects.
After the two ladies-in-waiting women died and were laid to rest in the crab-and-flea infested sand, the grand duchess gathered remaining energies. She lifted the glasses and fixed cracked lens on the tanned, gangling figure of "the Reverend NaSmyth."
There he was, enjoying the shade of a tarpaulin thoughtfully provided by the guards!
"Monster!" she cried as she watched guards take turns joining him in card games and the smoking of cigarettes made from Flores' narcotic weeds.
Her only comfort--she still had Diana and Alphonso and the others. And she was so proud of Alphonse. The clever Dane, his dried food run out, learned to catch sand crabs. With his powerful paws he scooped out the crabs from their dens where they lay dormant during the day, before they could dig out of reach.
Unfortunately, their flesh was unpalatable, unfit for humans. Once Lady Anne and Diana tried one of his catches. Then they knew something of the agony Georgiana and Alexandra suffered.
9 Anne's Discovery
Awakening with great difficulty one morning, Anne realized she might not see another.
She tried to call out to Diana, but her throat was too parched.
Alphonse was out hunting crabs. What did it matter? she thought, her fingers clenched on the gold locket containing her lover's hair. She had lived a long, long while, and once loved; it was time to go.
As for Wally the clever, talking "computer" machine back in New Amsterdam--let him rust! Her Oom had obviously miscalculated. The machine, however clever, was only a machine. Perhaps, he had run out of power and turned into useless junk like so many other things. It was still a very big disillusionment, but she tried not to think about it. A very long time ago now, some Plain People whose name she couldn't remember had helped her in vain. At least she had talked the judge into releasing them on bail to her after explaining that any mule could go mad if strangers, which the victims were, took to abusing her. The judge was so taken by her plea, she had even got Muriel the mule and the mare released to her on bail instead of being sent to a rendering plant to be made into soap, glue, and bone meal.
Alphonse? She knew he wouldn't starve as long as crabs kept to the island, and they seemed to be numerous as the plague of fleas clouding the sand. Though he could not go near the Reverend NaSmyth without growling, the guards got along with him quite well. With his grand size, they would probably take him as a watch dog once she was gone.
As for Diana and the others, she thought she would have to consign them to God's Providence; it was all she could do--God and a fully loaded pepper-siphon, that is.
She lay and gazed up as the morning light broke and turned faint red to blazing gold in the gaps of the thatch roof.
Several times she felt someone was looking down at her, and she thought it was Diana.
In her tiny hut, besides their bed mats, trunks, and Anne's siphon at the ready, lay empty canvas bags that once held food. Guards should have taken them away and brought others filled, but they had not got around to it for over a week. Or was it two weeks? It did not matter any longer, she thought--not for her.
As she lay sinking under an irresistible, dark weight that threatened to snuff out her breath, she heard a gun, then the scream of a gull, followed by a thump on the sand and hearty laughter.
It was not a laugh she had heard before. In close quarters on an isle no more than two or three acres in extent she knew all the possible sounds people could make and who made them.
The laughter was a man's, but whose? Then she heard the Reverend NaSmyth's voice. It suddenly broke off, interrupted by the same laugh. Was it him laughing?
Again the report of a gun, a gull's death rattle and thump, and the lusty HA HA HA.
It was NaSmyth! she decided. He was not only an angler but a hunter! A man of many, remarkable skills, this NaSmyth was proving himself to be! Since coming to Flores, he had flourished while they all withered away! Now that they could scarcely find the strength to speak, he was laughing up a storm!
She was now certain it was him. Never had she heard the guards laugh like that. They were such a quiet, mumbling, secretive, furtive bunch of dogs. Patient as oxen in their duty, they were probably thinking of only one thing: time off in the dives of Buenos Aires as soon as all the English people were disposed of.
Somehow, Rev. NaSmyth's merry, unclerical laugh ignited Lady Anne. It made her so angry she simply couldn't die and let NaSmyth have the victory over her.
She gasped for more air but none came. She tried to move from her bed.
"Diana!" she rasped out. But no one came, so she had to be outdoors, down at the shore filling the water jug for their drinking and replenishing what had evaporated in the siphon.
Her bed boasted two layers, a sandwich of filthy matting that clung to her as she struggled. But her fingers managed to tear off the verminous shroud. It was supposed to keep off attacking sand crabs in the night (though it crawled with viciously biting fleas).
All she knew was that she had to do something. "Where was God anyway when she needed Him?" she thought sourly. And Michael the mighty warrior angel?
She would have laughed if she had the strength to laugh. "No doubt Michael's back in Cornwall, faithfully guarding the owls on the old Mount while we--"
Diana came in, rail-thin but beautiful as ever, gasping as she carried in the water jug and set it down.
They had no strength to waste on speech. After a tiny drink of the muddy water strained through a handkerchief, Lady Anne rested. She lay as though dead for a long time. Diana was silent, lying collapsed and discouraged on her mat.
Meanwhile, Lady Anne had not been unconscious. She had spent the time plotting her next, final move.
By nightfall, it was decided she make a last effort and call on the Reverend NaSmyth. Without awakening Diana, she would go to his bachelor's quarters on the beach, to demand a last time that he help her friends escape from the island.
He was the only logical person to help them escape the island. After all, the guards had entrusted him with a rifle and he had proven his skill. In fact, he was a crack shot. To take charge of Flores Island would be a small feat to so splendid a marksman, she thought. She had to try reaching him. Surely, she reasoned, even a murderer, a monster with a heart of stone, had his price.
Leaving the pepper siphon for Diana's protection but taking some egg-sized jewels, Lady Anne crawled out into the dark of night.
Without thinking how it might look for a grand duchess to be discovered crawling on the bare ground, her fine clothes reduced to grauw-like tatters, she continued on, fueled by anger and desperation.
Since moonlight betrayed anyone in the open, she was careful not to be discovered by moving too quickly. She moved slowly down across stretches of open sand, then took shelter among the rocks. She paused for long rests as she listened to sounds of scurrying crabs and nightbird cries and made sure of the guards' positions.
When she finally reached the Reverend's hut, she saw by the light of a candle that he was up.
It was the same kind of construction as her hut, ventilated by a thousand holes. She had no difficulty seeing in through a crack in the thatch. on his clean, rug-carpeted bed, his angling rod leaning against the wall.
Well, she didn't gasp long--she had seen a man in his skin before. But what made her nearly cry out an alarm was a ray of intense red light that suddenly shot through the thatch roof on the northeast side. Before her eyes it turned in a circle around the Reverend before leaping to the back of his head.
He stiffened and sat like a statue for several, long moments, transfixed by the red ray. It retreated suddenly, back through the thatch.
She looked about, but there was no sign the ray had ever existed.
The next thing that happened was strange too. NaSmyth took a mirror out of his gear and screwed it onto a gold pedestal. Then he spent quite some time making faces and speaking into it. She couldn't imagine how, but she heard a woman's voice along with his. It made her wonder if she hadn't lost her senses. Finally, he put the mirror away carefully and picked up something else.
The telescopic glass? she thought.
He pulled out a paper, a scroll that he spread out with his hands.
He held it carefully over the flame to dry a bit, then brushed it with his fingers to rid it of the mildew that attacked all paper documents in the tropics.
It looked all the more official with the West India Company gold seal at the bottom--a seal Lady Anne recognized, since it featured a legendary Dutch hero, Peter Heyn, who captured an entire Spanish treasure fleet in bygone ages. The calligraphy was large-lettered and ornamental in style but she could make it out.
WRIT ROYALE OF MARQUE,
UNITED WEST INDIA COMPANY,
THE NETHER LANDS OF SURINAM,
JAMAICA,, CURACAO , AND TOBAGO,
Federated Crown Lands of the Royal Dutch Union
CONCERNING THE DONATION
OF THE SOUTHERN CONTINENT,
of AMERICA,
TO THE HONORABLE REGISTERED BEARER
OF MARQUE,.....
WHEREAS..."
The title paragraph, however, was all she needed to read--it made her furious beyond control.
She struggled round to the hut's door and without announced herself stepped in.
"You have no right! That paper is a lie! No man has a right to the whole of South America--not you, not Sir Francis, nor any one man. How can you, Reverend NaSmyth or whoever you pretend to be, obtain a continent without the people having anything to say about it? That document is a ridiculous, wicked fraud. Now I fully understand your action your behavior toward us!"
The Reverend NaSmyth leaped up, dropping the paper.
Anne went right up to him, assured she had gained the upper hand she needed to bend him to her will.
"You've no right to this country! South America is free-held! This paper of yours is absurd and will get you nothing! Nothing! It is we who have a right to land, for we paid for it and received a proper title. As for you, you are nothing but a thief and there are laws regarding people like you!"
Recovered from his initial surprise, Rev. NaSmyth shrugged. "We'll see about that soon enough. Sir Francis has had things his way here long enough. Even he cannot stop me!"
"Then I will!"
NaSmyth reached for his pipe. "You?"
Anne faltered. His words were true enough.
NaSmyth lit his pipe, drew several leisurely puffs, then turned to her. "I've taken as much as I am going to take from you," he went on. "Something bad could happen to you. And I am not referring to the crabs trimming your toenails at night."
Anne's eyes shut and she staggered off to the side.
"Where's your mighty siphon?" he sneered, his eyes glinting through narrow slits. "You mean you dare come here, insult a man and then think you will not be insulted in return?"
"What is it you want of me? Don't you have a shred of respect for your elders? By your behavior--"
"Oh, shut up about my behavior! What about yours? Apologize for all the slights and snubs you've given me on the voyage. Apologize for the unprovoked attack with the siphon and the humiliation that inflicted on me. Apologize for assuming you are somehow superior just because you have rank and money. Apologize..." He went on for some time, then stopped to refill his pipe.
"As for my being a gentleman," he commented, "I stopped years ago. It doesn't pay!"
Anne wanted to fall down and die instantly, rather than do as requested.
"I'm waiting," he said. "I won't let you go from here before you apologize and beg my mercy."
Anne felt the greatest pain of her life--it truly felt like the agony of dying. She forced out the words, one by one.
When she was done, he snorted. "But you didn't kneel. Repentance is no good unless you kneel."
She knelt.
"That's not far enough down--you might be some genteel lady kneeling in church! No, I want your chin down in the sand like a true suppliant!"
NaSmyth laughed, then blew a benedictory cloud of smoke over her after pressing her head down with his foot. "All right, now get out, you old baggage! If you ever come her again without asking, I'll throw you to the guards! They'll use you for target practice! That's all you're good for." He noticed Anne's jewels, fallen out of her clothing--the deep-blue Star of Asia, 330 carats, the Rosser Reeves Ruby, 138 carats with a 6-point star design, the 69.42-carat Taylor-Burton Diamond, and Queen Victoria's Koh-i-noor diamond, or "Mountain of Light," 108.93 carats.
"So you were going to bribe me, were you?" he jeered.
He snatched up the jewels and flung them out the door like trash.
Lady Anne could have wept, but she was not the weeping kind of woman. What more could she say or do? Her enemy had proved stronger. A man young enough to be her grandson had completely ruined and humiliated her.
Anne, with a last effort of will, crawled and stumbled back to her hut. She wrote a letter. After that, she buried the gold locket deep in the sand and waited.
She was waiting and hoping for death.
She was lying there like that when a still, small voice began speaking inside her darkened mind.
"Daughter of Debora..." it began. "Except you become as a little child, you shall not enter in."
When it stopped, she felt very unsettled. Her whole life rolled out a scroll, she could see for the first time what everything meant. It was like a finished novel. The novel was her own writing--and it was, she realized, strong and willful but not very good writing. But the worst thing, not that it was so uneven and poorly written, it was beside the point. She saw that the two previous times she had heard the inner voice she had continued on furiously writing her potboiler, not once pausing to consider there might be something else to life than fighting Sir Francis from one end of Britain to the other.
But what was the Point? she wondered. Even if there were an alternative, it was too late, wasn't it?
How should she have lived, if she had taken the wrong tack as the voice had suggested? How on earth did a grown person become like a child anyway?
She wanted to defend herself. After all, she had done a lot of good--insofar as she had known what was right to do in the circumstances. She had preserved the Papers. She wasn't a wicked person, she knew. Or was she? The voice hadn't given her any assurance that she was any good.
It made her think some more.
Again, she saw things about herself. Added up, they cast her goodness in a sobering light.
But all this revelation about herself exhausted her. She had no strength left to consider whether she was headed for heaven or hell.
All she was aware of was the present hell of Flores Island, and being a virtual captive of a monster called the Reverend NaSmyth, who, despite the revealing document, was more a sphinx than ever. What was that red ray that shot into his head? What had that done to him? Surely, it was some fiendish finger from hell touching him!
But for what purpose? She could not make any sense of what she had discovered.
It was an impossible situation.
Death, which in her mind would have brought oblivion and relief, still tarried.
First came Alphonse, and thanks to him Anne got an idea.
It seemed a wonderful idea that could work.
But how, she wondered, would she get the strength to carry it out?
Despair overwhelmed her mind. She lay in more agony of soul than body. Finally, like the tiniest trickle of light in a crack in the door, something got into her misery and she took hold with a very small but trusting hand.
For the first time things fell into place.
"Please, God," she whispered in great relief.
She rolled over on her side and lay after that for some minutes, scarcely breathing.
Gradually, her breath deepened and she felt renewed strength.
Then she recalled her idea.
"Diana!" she called.
She kept calling until Diana came.
"Dear," said Lady Anne, "I need to give you some things of mine that you may find useful. Open the jewel case and I will tell you what they are. Only bring them close to my eyes so I can see them."
Diana did as she was told and her eyes widened as she picked up the first stone.
"The Krupp Diamond, 33 carats. I want you to take it. Quickly, the others now."
> "But once you've seen the jewels you too will find they are unforgettable. Yes, the Andamooka Opal, 203 carats, it belonged to Queen Elizabeth II, I believe--well before my time! And that? It's a chrysoberyl cat's eye, about 58 carats. Oh, that's lovely, isn't it? Empress Eugenie's blue diamond, only 31 carats but such a nice heart shape. Quickly, don't spend too much time looking! Next! Oh, that's St. Edward's sapphire, a holy blue sapphire from the Royal Crown! And that is the Victoria Transvaal Diamond, 67.9 carats. That's the DeLong Ruby, 100 carats. And the Regent, 143. Countess Bismarck's sapphire, 98.6--"
Finally, the maid brought out the last and largest.
"You should prize this and keep it by you as long as possible, dear. It's the Cullinan II, 317.4 carats. It went in the Royal Scepter, but a scepter is difficult to carry around, so I removed it to wear as a brooch. Sir Francis, I believe, has the mate to it, Cullinan I, the Great Star of Africa, 530.2-carats and shaped like a pear. It came from the crown of Elizabeth, the Queen Mother. I had to let it go to Sir Francis, sadly enough, to pay for his vaccines. Oh, don't bother showing the emeralds--just take them."
Exhausted, Lady Anne shut her eyes while her maid dazzled herself with her treasures.
"You might as well take the box and put them back in for safekeeping."
As soon as she felt up to it, she gave Diana all the instructions she would need for the present emergency, then sent her on a little errand. Diana hurried out to tell the others to flee the island any way they could manage it. This done, Diana sought out a solitary guard doing duty at an isolated spot. With Alphonse along, she was perfectly safe--perhaps more safe than liked to be--as she put Lady Anne's proposition to him.
After a bribe or two, Diana and "Alphonso" (his thoughtful, new mistress immediately renamed him for embarking into a Latin principality) were on their way to Buenos Aires. And a new life!
Promised further money if they didn't inform the Reverend, a guard let the two depart, oaring the boat himself.
Diana, Lady Anne well knew, would do all right for herself in the city, even though it was foreign and Latin.
With the fortune in gems and gold she had given Diana, and the kingly dog to protect her, she would thrive. With her beauty and physical charm, not to mention her wealth, all society--whatever society the capital afforded these days--would throw itself at her feet.
"If only that doesn't turn the poor girl's head!" Anne worried after they had gone. But she drew comfort from thinking they would be safe, the papers safe as well. Diana had been instructed what to do with the only things that Anne treasured in life--other than the locket, which was buried as deep as she could dig it.
"Now I can go," thought Anne. "I tried to lead my friends to a new life, free of Sir Francis, and I failed miserably. I fear, unless they can think of a way off the island, they're in a worse trap than before! But with a helping hand from Above the Papers will survive, along with Diana and my old friends and dear Alphonso. So let the sand crabs come and do their worst!"
The "torch" had been passed, she knew. She heard the rush of many waters but felt she was not alone. Lord? she thought. Yes, the Lord! Marvelous. It was time to go.
Meanwhile, far beyond the grand duchess's closing eyes, certain doom converged on the four outer planets of the Solar System.
10 Pluto's Ball
Pluto was the outermost, smallest, coldest of the Solar System's nine planets. Citing the fact the next entity out was the Oort Cometary Cloud, astronomers thought Pluto and its tiny, dim companion Charon more resembled comets captured by the Sun's gravity than a true planet.
Whatever Pluto really was, a pair of comets or a double world, it was two years into a twenty year cycle as it passed inside giant, pale blue Neptune's orbit. Tugged by Pluto's gravitation, normally this meant a period of slight destabilization for the much larger world that lasted twenty years until tiny, 3,000 diameter Pluto--smaller than even Triton, Neptune's planet-sized moon-- veered away, back into darkest night.
At the same time in 2444, however, all the planets aligned, an event occurring every 176 years.
That alignment included even the insignificant and questionable Pluto.
Now the red star residing on Pluto made up for the period of seeming quiet, as if the tussle over the SAWBH had put it in a particularly evil mood.
With Pluto and Neptune converging and all the planets in alignment, the red star pierced Pluto's crust and sped upwards. Not a comet, it left no trail, and it traveled infinitely faster. As if taking the view, first it shot away from the Solar System as far as the Oort Cloud, then circled at the sun and planets at many times the speed of light.
A red ray beamed from the star to Pluto.
Suddenly two thirds of Pluto broke away as the rock core, becoming superheated, exploded through the upper layers of ice and frozen methane.
It did not take long for the molten, still exploding Plutonian material to collide with Neptune, now closer than it had been in years.
As if struck with a match, Neptune's bluish methane gas ignited. Like Uranus, Saturn, and Jupiter, it had been a near-star, emitting more energy than it received from the sun. Now it truly looked like a star. It flared into a ball of light many times the intensity of the Sun 4,497,000,000 km. distant.
The conflagration, flaming far beyond Neptune's orbit, reached the blue-green Uranus and a lemony-colored Saturn.
Composed of flammable gases, they too disappeared in an indescribable holocaust of light and flame. The 22nd Century gas reduction planet anchored off Uranus also was burnt up.
Then the mass of debris headed like a great tsunami toward Jupiter, Mars, and Earth, preceded by a shock wave that rolled over the solar wind like an unstoppable storm.
No one, looking on, ever could have guessed the tragedy all started with Pluto.
Lady Anne was right about her handmaid's chances in a Latin city.
Though the guard was too overcome with sudden wealth and the beauty of his passenger to be energetic at the oar, the size and watchfulness of the other passenger, Alphonso, whose sudden Latinate name change hadn't affected his character in the least, made sure they reached shore without any trouble.
But Alphonso jumped out before they could land and the boat swamped.
Diana would have drowned. Though Cornish bred and born, a daughter of the sealands, she couldn't swim a stroke.
The guard dragged her to shore.
They were immediately surrounded by a gang of Mestizo boys come for a swim.
The boys dove, swam to the drifting boat, and brought it to land.
Giving them each a gold piece from a purse tied inside her clothing, she let them take her in to town, the boys carrying her trunks (all monogrammed A. van de K. in gold).
Going to the finest hotel, they dropped her off at the entrance, since the doormen wouldn't let them approach any further.
Without planning it, the boys precipitated the greatest event in the hotel's history.
Dripping river water, Diana stood in the marble lobby of the Palacio Hotel, drawing every eye.
Was she a goddess come to Earth? The sky had darkened and swirled with huge explosions of light and blazing colors, attended by clashing cymbals and rolls of thunder, making people think something unusual must be about to happen on Earth itself. It was a likely possibility, for no one present had ever seen a face and figure so beautiful.
Her beauty soon had men scurrying from every side to help as she fainted dead away from sheer hunger and the shocking dip in the river.
When she had been given something to eat, she revived with the resilience of a true Cornish dairymaid and was able to carry on her new role as a lady of high birth and great wealth.
Turning her valuables over to the purser, Diana was escorted up to her rooms after signing her mark, a dairymaid's simple X, in the guest registry.
"Lady X" was soon the talk of the capital.
"An aristocratic Englishwoman, traveling incognito to elude her enraged, cuckolded spouse who seeks to kill her!" most agreed, though some fanciful imaginations held out for her being a goddess carried to Buenos Aires on the backs of enchanted dolphin-princes .
Her troubled past and the danger she was presumed to be in made her all the more attractive in their eyes. Never had they seen one so lovely--that peaches and cream complexion! Those eyes--like two dynamite charges about to explode. She cast all the local beauties--over-weight and rather dark and oily despite the toucan feathers, gilt fans, and jewels--in a deep shade.
The palace was the next logical step from the hotel.
She received an invitation delivered by palace pages. An enterprising Montevideo war lord had seized the foundering city and former Argentine capital. Zlobodan Zoobyski Krasychiewiecji self-styled himself "King Zoob I of Buenos Aires and the Kingdom of the Argentines. " The grand fellow wanted her at a costume ball. He said in the note that since she came up from the water of the Rio de la Plata--so he was informed--she might well come as Persephone, Goddess of the Underworld. The lovely, dark Lady of the Dead was supposed to take a vacation every year and sail the River Styx to where it joined the Upper World at La Boca, Buenos Aires. He himself was appearing as Don Pluto, Lord of the Underworld, he added.
The hotel management, having read the royal message, was up to the challenge. Their seamstresses set working on the project, Diana's hourglass figure was fitted with a magnificent black silk gown--which was made truly so by her fabulous emeralds. Carried into the palace ballroom in a white satin shell along a path strewn with rose petals by the pages, she truly looked like the Dark Lady of the Underworld, come to spend the allotted six months of the year in the Upper World according to the old Latin legend
Alphonso, however, momentarily upstaged her as he strutted in with his jeweled collar containing the blue Hope Diamond, its size and color setting off his own majestic size. Easily, he was the largest and noblest dog in South America, comparable in height and length to the jaguar. Everyone immediately began calling him the perro grande.
The two proved a sensation at the ball. King Zoob was so captivated that he would look at no one but Diana the whole evening, while throwing the perro grande beef steak after beef steak.
Much later, after Zoob had declared his absolute, undying devotion to Diana, a detachment of palace guard escorted her back to the hotel, but some stayed to furnish a permanent watch--though it was as unnecessary as the pepper siphon she had lost in transit.
It was not long before she was installed in the palace, as King Zoob's " Imperial Queen of Buenos Aires and the Argentines".
But was she Mrs. Zoob?
She herself could not recall if there had been a paper signed and a proper ceremony--since South Americans did everything with so much flourish she was continually wondering if they did anything at all--but it did not seem to matter, so she let the question drop.
As for the Papers, she was carried away by all this and forgot them. Half destroyed by mold, they were stuck away in one of her bureaus with miscellaneous jewelry and half pairs of gloves.
They would have stayed there indefinitely but for a dream.
She saw her old mistress in the dream and it gave her quite a jolt. Lady Anne was speaking to her that last terrible night on the island, just before they set off in the boat without telling the others.
"Find a man of science," said Lady Anne. No, child, not some doctor or pompous quack, but someone who truly studies the stars and winds and the sea--that sort--and give him the Papers."
The impression of having been spoken to was so strong that when Diana awoke she could not help but obey as soon as the opportunity presented itself.
After all, though her lovely head had turned from all the male adulation she was daily receiving, she had no thought of crossing Lady Anne's ghost--being a most conservative, superstitious Cornishwoman beneath the stunning peaches and cream.
11 Deliverance
Accelerated by each exploding planet's gravitational kick, the shock wave ran ahead of the wall of fire. Invisible, it was a deadly forerunner.
Almost a solar system in itself, a near-star holding sway over thirteen moons, some the size of planets, Jupiter contained 99 percent of all the mass outside the sun, yet it was not immune to significant damage.
Jupiter's ring was swept away, and the smaller moons were knocked completely out of orbit.
Then the plasma wave of heat and fire, 60,000 km. high and millions of miles deep, struck.
Jupiter's planet-sized moons--Io, Europa, Callisto, Ganymede--vaporized. The tumbling mass of flaming material from the destroyed planets now crashed in
to Jupiter's surface clouds in full force. Minus 300 degrees C. at the cloud tops, the sheer frozen mass of Jupiter and its central pressure of forty million atmospheres resisted the onslaught.
Though absorbing the brunt of the fire storm, Jupiter's rapid ten hour rotation worked against it. When the fire storm struck, before all of it could be absorbed and neutralized, it peeled off a thousand mile deep layer of hydrogen and helium clouds, which exploded, driving a wedge against the rotating globe deep into the 80,000 mile atmosphere.
Layer after layer peeled back superheated, and exploded--the Big Bang-like detonations spreading to the entire Solar System.
Deeper and deeper drove the wedge, peeling Jupiter like an onion. Its moons and ring gone, thousands of miles of ancient storm and convection systems blasted and burned away, the planet slipped from orbit, the only thing that saved the metallic hydrogen core from complete melt-down.
Like a range fire sweeping through the dried grass, remaining plasmas rushed on to torch the Asteroid Belt between Jupiter and Mars.
Glowering with orange, red, and rust like a huge ember in the night, crackling with blue thunderbolts, a wounded but infinitely dangerous Jupiter lurched toward the inner planets.
Buzzing the giant, three pearl-like objects circled and held a conference.
"We must access all data from the old 20th Century Icarus Project files immediately," said Wally I, the leading Cray from New York-New Amsterdam.
"Accessed," said Wally II, the comsat in Earth orbit.
"Accessed," said Wally III of the submarine fleet off Buenos Aires.
"But we won't be able to intercept and neutralize all the ejecta from Mars," said Wally II. "As you know, I am in the most exposed position and should know the dangers."
"That's true," said Wally III. "And my missiles were used up on the Black Hole. I have only one in reserve, and it's not been enhanced, and I estimate 5,569,456, 234 Earth-crossing fragments from Mars and of that number 787, 946, 345 will contact Earth as possible meteorites. Their magnitudes are as follows--"
"Never mind, I know their magnitudes," said Wally I of New York-New Amsterdam. "We shall not have to stop them all."
"What do you mean?" said Wallys II and III.
"I have selected a window of entry for the ones that we must allow in. Do you have the coordinates?"
"Received," said Wallys I.
"Received," said Wally III.
"Now to our battle station!" replied Wally I.
The Crays took a last view of the Red Planet, circled twice then sped back to Earth.
29.7 hours passed, time for Jupiter to make three rotations if it had been still rotating in the old orbit. Jupiter, once hundreds of millions of kilometers from the inner planets, was rapidly eating up the margin of safety.
The hitherto frigid Red Planet, torn between the immense gravitational forces of Jupiter and the Sun, began to sizzle and fry in its own juices.
The day following the disappearances of Lady Anne, Diana and the dog, a privateer, Don Neptuno, came out to Flores from Montevideo and captured it without a shot.
Control from either capital was a casual affair. If anything, the Buenos Aires guards welcomed the idea of turning pirates and being relieved of such tedious, nauseating duties as fell their lot in a government quarantine camp. Then too none had slept very well and were not up to fending off an attack. All night long the heavens had been full of strange bursts of fire and tremendous, earth-shaking thunderclaps as if two armies were making war in the sky.
Before she vanished, leaving not so much as a footprint in the sand, the Grand Duchess of Milford Haven bribed a guard with the last of her hoard of jewels and gold and got him to perform a little errand. A wealthy man, the lucky fellow deserted to Buenos Aires immediately in one of Europe's life boats. When he got ashore he did as he had vowed back on Flores, his hand on a crucifix. Being as pious as Diana was in her own way, the Latin proved good to his sworn word. He mailed Lady Anne's letter to London, then headed straight to the most rollicking quarter of Buenos Aires, La Boca, where all the houses were painted with left-over colors from fishermen's boats.
As for the missing duchess, maid of honor and the two camp guards, Reverend NaSmyth, when he noticed they were gone, tried but could get nothing out of the Latinos. Now this was remarkable, since they had previously been so friendly and admiring of his various skills.
Naturally, he was furious, but there was nothing he could do. It did him no good to storm about the tiny island, thrashing at the landscape with his cane. He did not turn up a single clew as to what had happened to them.
After being stripped of valuables, those of the aristocrats who had died in the night were left unburied, except for a light covering of sand, which would prove no obstacle to sand crabs.
But even with the nightly die-off there remained the problem of a dozen or so titled survivors, including the Reverend. It was precisely a fortnight since they had arrived at Flores and been interred, and they had lost almost three quarters of their numbers.
As aristocrats, despite their grim prospects they insisted on being treated with the utmost respect, befitting their high ranks and blue blood.
How then was the island's new lord and master, Fulgencio Pius Maria Manuel Alvarado, a "sea captain" from the port of Montevideo, to deal with creatures as these? He considered relieving himself of the nuisances by killing them all immediately.
That was the easy and more humane course to take.
But then he thought how they might be worth a great deal more alive than dead mutton.
Oh, he knew they had hidden gold in their possession and also precious jewels, but perhaps he could get much more in ransom money.
"The orange can be squeezed more than one way," he laughed to himself.
After scuttling the Europe, which the past weeks had lain swarming with rats on a sandbar, the privateer stowed away a cargo of nobility--the last flowering of their kind.
All except the Reverend NaSmyth suffered terribly from sea-sickness on the long, eleven-hour trip over choppy waters to the Argentinean "Viceroyalty of Uruguay." When they reached land, they couldn't even get porters to help them--as the economy ran on barter, not coinage and certainly not paper money or letters of credit. Gold was accepted as legal tender, of course, but aristocrats carried precious little of it on their persons to make any difference in their survival. No, without money as they had known it, they had to fend for themselves while the natives looked on dispassionately or, which produced the same result, ignored them completely.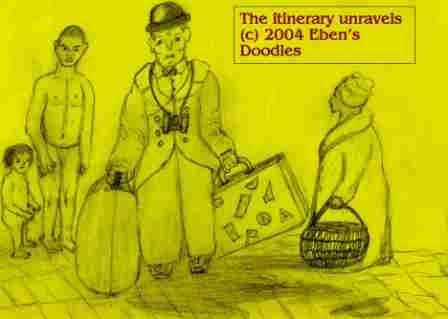 Actually, Uruguay was independent of Buenos Aires and paid a nominal tribute to King Zoob. A nest of vice and skullduggery, its "free lance" citizenry served anyone for hire--Sir Francis, Buenos Aires, even Paramaibo--all at the same time.
The same guards that befriended the Reverend on Flores due to his expert fishing and shooting had been drafted and given new duties on the privateer. These spoke so high to Captain Alvarado of his cleric's piscatorial abilities that the intrigued, rather obese and easy-going skipper soon invited him to his cabin.
"So, Monsignor, we are honored to have you as a guest on board my humble vessel!" the captain greeted NaSmyth. "My men tell me you are a most accomplished man--for a European."
"Monsignor" NaSmyth did not disagree. "As a man of the Cloth, I strive to be all things to all men."
The skipper held up a bottle of Jamaican rum.
"Can this be one of those things, Monsignor?" the skipper inquired, a sly gleam in his eye.
NaSmyth smiled. "You have a charming sense of humor, Captain!"
And so it went.
Toward evening the privateer neared the Uruguayan capital, and a party was in progress in the captain's quarters, with the Reverend and Alvarado drinking each other's health and enjoying a little game of cards.
The card playing and refreshments continued until the morning. A man of many talents, the Reverend showed he knew a thing or two about boxing as well, laying out several men who thought it might be amusing to challenge a man of peace.
Returning to the more peaceable arts of cards, the captain lost large amounts to the Reverend but took it well enough, after large infusions of Jamaican fire. Alvarado turned to the Reverend with a question at one point. He jerked a thumb downward, to the hold where he was keeping his elite passengers in not exactly gilded cages. "What do you recommend I do with those people, eh?"
NaSmyth shrugged. "It makes no difference to me, whether you let them live or die. Of course, it would make a difference if you include me in their lot. Then I might have to thrash you."
Alvarado laughed with gusto. He could see a good joke in the Reverend's remark.
His eye became narrow and cunning and he leaned closer to the Reverend, blowing out a cloud of cigar and rum that wrinkled the Reverend's nose.
"But you, Most Reverend Father, are under the protection of the holy angels. I dare not touch such a one or the devils would pluck me off this ship and clap me in hell! No! I like you very, very much! I would not dream of hurting you. You are a man after my heart! You amuse me greatly! But those others--they are--"
"Mere rubbish?" suggested NaSmyth.
"Yes! Yes! Rubbish!" roared the captain. He thought it a very good joke, indeed.
He suddenly stopped laughing and got very cunning and confidential again. He poked a jeweled, very dirty finger toward the Reverend. "But what do you think I should do with them. I maybe want to hold them a bit. Someone may want to pay me a lot of money for them. Who knows? If I just kill them, I might lose money. That's not good business. I am a good businessman, no?"
NaSmyth was paying little attention to the captain's vulgar maunderings. He laid down a royal flush. The captain stared at it, then kicked over the table.
Alvarado stood up, then sat down so hard he nearly fell back over his chair. Catching himself, he began laughing, and everyone watching laughed with him. Some men as dirty fingered as their captain began picking up the table and scattered money and cards, returning things to their places. Someone brought in a guitar and began a song of Sicily, some long, lost island where all the songs were sad. But they stopped that and got him going on one about a randy donkey and a reluctant ewe.
The jolly robber reached across the restored table and patted the Reverend's champion knuckles. "I am a good sport! You see I am a good sport, eh? We are having a good time together. So let's play! I do not give up easily, Monsignor! The honored guests--their money and the money I get for them--against your best hand. Is that not good sport?"
NaSmyth shook his head.
"But I won't take thin air! You must put up money in hand."
The captain cocked an eyebrow at his purser, who went and unlocked a cupboard, then came and poured a strongbox of gold out on the table.
The Reverend smiled.
The captain gave him a smile in return. "Now what do you wager, Monsignor?"
With all watching intently, the Reverend pulled an object from inside his coat and rolled it out on the table for the captain and everyone to see.
Captain Alvarado laughed. "My eyes are not so good in this light. Please, you read it for me, Monsignor."
NaSmyth read the Letter of Marque.
Everyone was silent in the cabin as the captain considered what to make of it. He took some time rubbing his chin and eyeing the English clergyman.
Finally, he spoke.
"Yes, I once had dealings with those Dutchmen up north. I do not love them so terribly much. They did not pay so splendid for my work, and I got in trouble somewhat with the powerful Englishman in London because they are his enemies. And they gave you all this land, Monsignor? Is that what you offer? All these lands and rivers where we live against my gold?"
NaSmyth shrugged. "I would say the bargain was on your side, Captain."
Captain Alvarado was not yet so sure as he eyed the Letter of Marque.
"But I did not know they had gained so much big power, to do these things they say here. Have they got our beloved Argentina, Uruguay and Paraguay in their hands, these Dutchmen? We have not heard about it here at Monte. No, my heart desires money in hand. Same as you, Monsignor."
The captain looked around at his men, who nodded, then drew a finger across the throat.
The sides of Alvarado's dark face seemed to cave in as he sucked and chewed a chunk of cigar.
He scarcely turned his head as he spat, then waited. The Reverend seemed reluctant to produce his cash.
Finally, after several awkward moments, Alvarado broke the silence.
"But Monsignor, if they really have no power over these big, big lands, then I would be the fool, no? The gold you can plainly see, everyone can see. But I do not see your mark on all these lands so plainly as maybe you see it. Maybe I need glasses, no?"
He began to laugh, and the men began laughing while they moved closer in with flexing fingers.
NaSmyth reached into his pocket and threw something on the table. It rolled and came to rest against the gold, but far outshone the coins.
Alvarado stared, then touched it with his finger. He put his face close down, a fraction of an inch away. "Magnifico! Where did you get such a thing, Monsignor? It must be the diamond of a great king or a queen, no? No problema! We will play! But I promise you, Monsignor will not leave here with his wonderful, big stone!"
Before long NaSmyth won all the captain's gold. He was a rich man, indeed, having increased Sir Francis's single gold coin three hundred fold. As for the diamond keepsake, taken from an old man's private collection of Crown Jewels in London, it could have been returned safely to the sacerdotal pocket but NaSmyth, in victory, was feeling expansive
He took and flung it far out into the river.
To his thinking, it was no true loss. It had come in useful in a tight situation, but now he had no further need of baubles when much vaster wealth and power were hanging in front of him--all of South America and its market for the antidote.
No, he didn't need diamonds. He had an immeasurably greater prize nearly in hand.
12 The Reverend's Journey
Neighbor to Earth and Jupiter, fourth planet from the Sun, Mars showed signs of deep trouble.
Its temperature soared as Jupiter swooped to the kill, wrenching with magnetic and gravitational forces that doubled in strength with each passing minute.
Olympus Mons, the highest and largest volcano at 24 km. and 335 miles across, stirred to life. It began shooting flaming clinkers and boulders, enough to fill Valles Marineris, the planet's 5,000 km. canyon system. Polar ice caps melted. Giant rivers coursed across the plains and between the volcanoes for the first time in billions of years. All the water had no time to collect in seas. In the heat it vaporized and gave the dying world a blood-colored, boiling hot atmosphere.
Jupiter swung ever closer, its Solar System-sized magnetosphere shooting quintillions of watts of sheet lightning into Mars. The Martian steam clouds evaporated and burned completely away. As Jupiter exerted overwhelming gravity and electromagnetism, volcanic upheavals and Marsquakes shook apart the entire surface. Hundreds, thousands, then tens of thousands of newly created volcanoes blew the planet's innards into the heavens, but it was not fast enough to relieve the internal stresses. They continued to build at a geometric rate that the planet's gravitational field could not withstand.
The insult to all its systems was too much. Finally, the Red Planet blew. Dissolved into giant lava flows and jetting the liquefied core, the doomed world flew apart like a rotten cheese dashed against a brick wall, the pieces spraying in all directions.
Now Earth, the rarest jewel of the Solar System, equally the rarest jewel of the universe, was next.
At dawn the Reverend NaSmyth rose from the captain's table. Captain Alvarado had passed out a few moments before in a puddle of stale rum, orange peel, peanut shells, and soggy cigars.
Bagging his winnings--a heap of gold pieces of eight--NaSmyth got ready to leave the privateer. As for the passengers, they were of no concern to him.
Without any interference from the crew, who lay about the deck in stupors, he kept slapping at one until he roused a former guard on Flores. The man helped him lower a rowboat, for the privateer lay at anchor about a mile off the dockyard, to better elude Buenos Aires customs officials.
Together at the oars, they made for land.
"Vaya con Dios, Monsignor," called the equable guard on parting.
The Reverend stood gazing at the vessel on the horizon. A red ray darted down at that instant and played at the back of his head. He held up his cane and took aim at the ship. Just as quickly three pearl like shapes zoomed between the Reverend and the target.
A red spark winked at the cane's end, then flew toward the ship, eluded the pearls, and made contact. Suddenly, the privateer burst into flames. It caught fire before the guard could pull alongside. He was very surprised to meet at the same time several boats that lay quietly in the water--blankets pulled over the heads of whomever was aboard.
The glowing pearls enlarged and arched over the two boats in a triple-layered shield.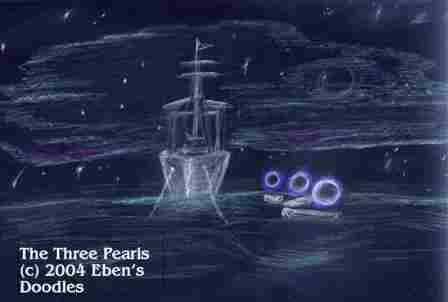 But there was no second red ray bolt. For the time being the boats and the people hidden in them were safe.
The Reverend, pivoting mechanically like a tin soldier, swung around to face Montevideo.
Carrying his own trunk, NaSmyth walked inland until he found a cab. Since it was a large city of the day, nearly 30,000 people, he did not have to walk for more than a few minutes.
After a leisurely breakfast of fine, delicate veal at an all-night casino cafe, the Reverend saw it was getting on 6:00, time when the Clarke Trans-America Steamship Line office would be opening its doors.
Arriving at the impressively tall pillared entrance, which was bustling even at that early hour, he had a boy carry his trunk and he went and booked passage on the Don Pluto. As for his diary, he would catch up on events during the long voyage.
A splendid, floating casino, it boasted one hundred luxury cabins, crystal chandeliers, a ballroom, and red velvet plush in the saloon. Transferred from the New Rhine in North America with the collapse of Holland America, it capitalized on the more populated and lucrative river trade of the southern continent. The moment it sailed on its maiden voyage, it was filled with big Argentine and Uruguayan landowners and ranchers, their foolish sons, and the well-dressed, agile-fingered piranha who followed them up and down the rivers.
The first thing the Reverend did on board was go to his first-class quarters and freshen up; then, in a satin steamship company smoking jacket ("Compliments of the Captain, Senor!" ) handed him by the steward, he went out for a stroll.
The moment he stepped on deck he saw the paddlewheel at the stern churning up muddy water and heaps of lavender water hyacinths--they were already underway.
He had not taken more than two circumferences of the boat when he saw they were making good progress. They were approaching the mouth of another mighty river, one which would take him into the heart of the continent, the place where he needed to conduct his chief business among the Indians.
Hot as it was even at that part of the morning, the Reverend enjoyed his pipe.
Standing at the rail, he observed a phenomenal view. From that point the River of Silver was receding and they were plowing upstream in the discharge of a vast tributary, the Parana.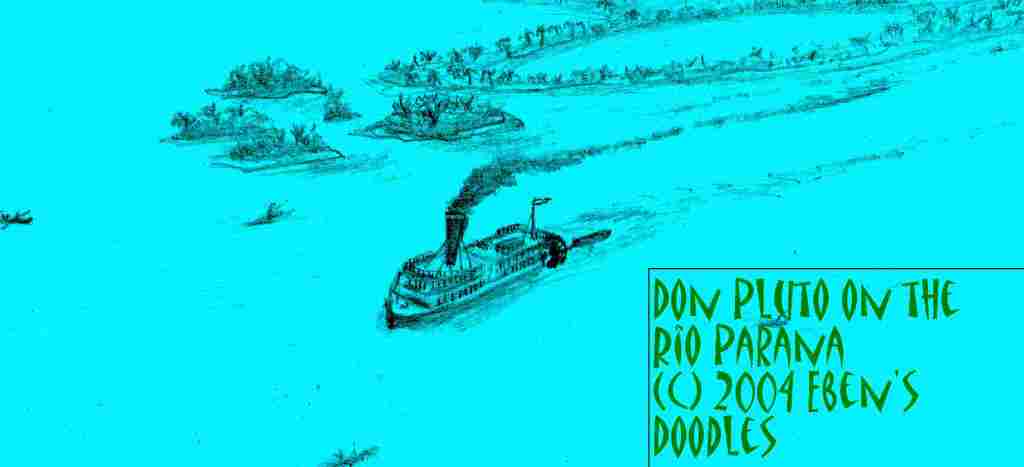 If they sailed close enough to the edges the Don Pluto's belching stacks and tall, white, layer cake construction became part of the scene. Otherwise, everything seemed to stretch away to infinity without a single influence of man staining it.
For some reason, this sort of view appealed to the Reverend NaSmyth--though no one else aboard wished to see it. Shiplife centered on the saloon and the other rooms of pleasure aboard.
That was why he was a little surprised when a cocktail-in-hand gentleman stepped up to him, sociably presented his card, and started in asking his business on the river.
"We're working for the same firm, I believe," said the Reverend. "You knew that before we asked. So why bore me with this charade? Take your notes, but I have no desire to play little games with little men."
Something about NaSmyth's sober, dry as ice manner, as he clenched his cane, must have impressed the agent that he might be in some kind of danger.
"What?"
"You heard me."
The fellow got very red in the face, tipped his hat and scurried off. That was the last time NaSmyth saw him on board.
With no one distracting him, the Reverend had the deck to himself again. This was the way he preferred to travel on the great rivers of his continent.
Time passed, perhaps an hour or two. The churning paddles, the vibration of the whole boat thrusting itself against the current, the screams of gulls following in the wake, it was all very pleasant to man who thought he was king of all he surveyed.
Now that the land was creeping closer in to the boat with the narrowing channel, human sounds from the Mesopotamian side reached him. He heard someone strumming a guitar. It was quite romantic and grew increasingly so: the water-borne music, the floating islands of lavender hyacinths, palm trees waving on luxuriant shores, the occasional village with bare-breasted Indian women out hoeing tiny, cleared patches in the rank jungle. The moment they saw the Don Pluto, however, they vanished into the trees.
Later, after lunch, it was not so pleasant. He still had much time on his hands. Idly, he sat on deck in increasing heat and damp. Like those native to the region, he wore only thin linen next to his skin, having at last shed his clerical costume and smoking jacket. Feeling it was time to get down to work, he took out diary and pen and reflected on this venture, how in London he had come to be employed by his chief rival, a man who held the world in his palsied, shriveled palm.
Comfortable as he could be in his deck chair, the Reverend reviewed all he knew about Sir Francis.
Having read his Company's dossier before setting out, he was prepared for the reality, he had thought. Yet on actually meeting him he found some important things had been left out--the creature's incredible tenacity of will, for example. Sir Francis, it was now clear, would not easily give up his hold on the world economy. The grasping old spider would fight, fight hard and cleverly, to keep his web intact.
Greed, no doubt, had preserved Sir Francis and robbed the grave, for it was clear that even his vaccine was failing to do him much good.
Thanks to his own supply, the old man could at least stave off the final accounting by gobbling huge amounts--a quantity no one else could afford.
When the plague first broke out, he saw it not so much as a disaster but an opportunity. It was to his advantage, having devised a vaccine, to save as many people as possible. He thus dispensed the vaccine free of charge, to spread it around as quickly and far as possible. Later, he began to charge the survivors dear.
By conservative estimate Sir Francis had saved as many as twenty millions in Britain and lesser amounts in other countries. Perhaps forty or fifty million people in the entire world owed their lives to him. This stupendous, Promethean effort provided the greatest example of business acumen, not philanthropy or humanitarianism, the world had yet seen. Except for uncivilized portions of North and South America, regions where the native Indian antidote held sway, Sir Francis was undoubtedly the world's ruler.
He gripped and squeezed and sucked. Having created enormous demand, he deliberately cut back production. At the same time he raised the price repeatedly. In sole control of his vaccine and general transport, he encircled and impoverished the wealthiest people. But mere wealth was not his object, it would appear from his behavior. When former government heads and royalty of newly collapsed countries in Europe, Africa, and Asia came begging at his leaf and branch-choked door, pleading for the precious tablets, the old man enjoyed a power no one else on earth could rival.
Pitiful bankrupts, he had them turned away, but before they dragged themselves off to their doom in some alley or canal, they unwittingly gave Sir Francis something he most esteemed. It was the idea of Absolute Power--the only thing that promised a greater rapture than vaults full of gold and silver.
"But we will stop you and strip you of everything you possess!" thought the Reverend.
Despite his absolute stranglehold on the vaccine, Sir Francis had not eliminated all competition. There was still the West India Company, badly shrunken and tottering, perhaps, but still holding out in Surinam, Curacao, Tobago, and Jamaica, having let everything else go.
Now that Sir Francis was moving to wrest the Indians' antidote from them once and for all, he was unwittingly giving his chief competitor the opportunity they had been waiting for.
"How neatly his plans dovetail with ours!" observed the Reverend. He laughed. He was amused especially because he was being paid for work that would result in the takeover of Sir Francis's firm. He would personally engineer the old spider's downfall!
Moreover, it pleased him to think how well he had conducted the affair of his "employment" by Sir Francis. Though the old man realized that he fully intended to supplant him, he still underestimated his ability to do so, relying too much on his spies in the field.
The Reverend could not help but laugh at the thought of the stupid fellow he had just sent running for his life.
Now it was only a matter of carrying out Sir Francis's own instructions and the West India Company would revive from its ashes and reap not only the antidote but South America!
After twelve days the Don Pluto left the Parana for a tributary, the Paraguay. Four days later Rev. NaSmyth sighted the cracked and crumbling 22nd Century Geo-Dome over Asuncion. To see it one of his generation would never guess there had been a Crystal Age of the greatest technological sophistication, or that Asuncion had been one of the jewels of that age. Its terrible appearance was convincing proof for anyone that the previous civilization had been quite primitive, its craftmanship shoddy, inept, non-lasting.
Saved by a generous Indian citizenry, who gave their secret antidote freely to blood-related Mestizos, Asuncion was once again the capital of a sovereign nation, having thrown off provincial status and the direct rule of Buenos Aires. Free once again, it rapidly filled with bandits and soldiers of fortune--many recruited from Montevideo's free-wheeling haven--a truly resurgent society, as civilization went in those days.
On the landing at the river's edge Rev. NaSmyth's slitted eyes met a darkly mass. Closer it became a mob of Mestizos, who rushed to carry Rev. NaSmyth's trunk to Customs in a nearby tin shed.
At Customs the Reverend found Paraguayan officials, all upper class "Spanish" Mestizos, seated at the heads of long, twisting lines of chicken-carrying Indians from the country. Ranks of rifle-bearing soldiers stood about, all young with boyish faces, pouting lips, and drooping eyelids. They prodded the lines now and then back into shape with rifle butts. As for the Indians, they did not seem to resent any amount of manhandling and made no complaint.
Leisurely smoking a cigar, a high-class, "Spanish" Mestizo official turned over the Reverend NaSmyth's papers. The illiterate kept turning them over, making oily brown smudges with his fingers, until the Reverend handed him a gold piece to cut the nonsense short. A cherubic grin broke forth on his face. The official stood, bowed, and gestured grandiloquently, admitting him to the "Grand Democratic Fraternal Republic of Paraguay."
The official next turned to an Indian matron with red pigfat-greased coiffure, who handed him a live chicken, his feet trussed, from her basket. He let her go through without any fuss.
Again, a half-breed Mestizo transported his trunk to a hotel, balancing it o
n his head. The Reverend himself was carried in a litter over the broken roadway, as the poor city had not horse-drawn cabs for hire such as Buenos Aires and Montevideo boasted.
On the way crowds stared at him, particularly at his clerical suit and collar, copper hair, pale skin, and--unheard of luxuries--leather boots, cane, and pipe.
Unfortunately, his hotel, a former administration building, later used as a viceroy's government house, was now a shambles. Centuries of neglect, vandalism, and open hearth fires had turned the immense, stepped pyramid of gold-tinted crystal plate to a blackened hulk.
Full of vermin and snakes, such quarters were out of the question for a clean-living Dutchman. But where was he to go? he wondered, as he looked out over the ruined city. All Asuncion had to offer was a president's mansion and army barracks, a ruined cathedral, and the shanties of about 20,000 Mestizos and Indians.
According to the steamship office, there would not be another boat for three days, since the Pluto had turned around and was heading back to Buenos Aires. He would have to wait for another, which might appear at the capital in a few days or a week or whenever else it pleased.
With time on his hands, the Reverend toured the city. Of all the four South American capitals, it was the most backward. Nevertheless, the people had a certain charm that rivaled the more sophisticated Buenos Aires.
Tagged by curious children, the Reverend poked into every crooked lane and market. Other than poor class of half-breed Mestizos, which spoke Spanish, the natives were Indian, who spoke a gentle, mild idiom, Guarani,
Whether Mestizo or Indian, or both, never had he met so serene a race of humans as the people of Asuncion, without a care in the world, apparently. Despite squalor and dirt, he felt drawn to them. Even white-robed matrons tending cranky donkeys carrying panniers of vegetables and fruit were blithe spirits. Swinging large bosoms and hips with pride, they adorned tightly braided hair with spotless white handkerchiefs. Most striking, their golden-brown, fat-fleshed necks gleamed with fiery circlets of red coral beads.
Drawn by the sleek, mischievous eyes of the womenfolk, the Reverend followed to the main market that stood in front of the ruins of the cathedral. With only the facade still standing, its steps were in good shape and furnished an ideal spot displaying market goods. Vegetables, chickens, oranges, scrapped videos from ruined buildings covered the steps.
After bargaining for a few fruits, the Reverend NaSmyth paused to watched old women in their thirties work tirelessly at tiny bits of lace called Spider Web. They were preparing well ahead for the annual celebration, Dia de los Muertos, "Day of the Dead."
Sewn together, they made kites for the children that fluttered upwards on the slightest breeze, until the sky above the market was white with flying spider web.
Plaster skulls painted black were doing a brisk trade along with the vegetables and fruit.
And he found men who offered caged birds. In one cage was a flightless common sparrow, wings clipped, pecked at a tiny gilt box that popped open. The bird then picked up a red slip of paper inside and put in the birdman's hand. The old birdman, his toothless, dark mouth grinning like the death's heads around him, looked up at the Reverend NaSmyth and offered it to him.
Charmed, the Reverend took it and read, "On the Day of the Dead, La Calaca will give you his daughter, but, beware, his NOSE will find you out!"
Puzzled, the Reverend handed the paper back without a coin, and the birdman rose up, gesturing wildly to passers-by and shouting.
Cries of "white thief" and "foreign devil" came from the quickly gathering crowd in response to the man's outburst. The Reverend NaSmyth looked about him with contempt. No longer were the people so charming. Though well able to put them in their place, he was a peaceable man. He pulled out a Surinamese dubbelstuiver of silver, but at the man's frown cast down Sir Francis's gold bezant and the birdman snatched it. Immediately, the hostile crowd melted back away.
The Reverend continued his walk, sucking on a large green-skinned lime sweetened with deliciously sweet and rich wild honey.
Along the way people stopped to stare at the well-dressed foreigner.
In the evening, as it was very hot the insects were murderous so the Reverend went down to the riverside to catch the breeze. There he found most of the city's population.
Ignoring jaguars that had begun to come in from the surrounding jungle, Indians sat clustered on shore and in the waters. Most sat half-submerged in the brisk current, enjoying the coolness and smoking little cigars.
Later, returning to his miserable hotel, he sat on the only four-legged chair left in the place, recording as best he could the charming aspects of the day's scenes. A meticulous being, he kept strict account of everything that could be considered picturesque. He also took great care with writing, for he was mindful of the failing eyes of his superannuated patron in London.
Leaving Asuncion, the Reverend took passage on the Don Urano, a small Paraguayan packet boat stuffed with humanity. People, he realized, were beginning to flee the capital for the relative safety of the wilderness and jungle.
The packet moved slowly with straining paddles and carried them northward several hundred miles. By then they neared Port of the Angels, which was only a name, not an actual port, since there was no dock.
No one wanted to get off, so the boat did not stop and continued on to Puerto Gran Celeste and finally Puerto Gran Chaco, which was the terminus of the line.
There, the Don Urano ordinarily turned around after taking on wood, freight, and passengers. But, because of the rumor of a new plague outbreak, the captain refused to take on a crowd of people on shore who were fleeing the jungle same reason--rumors of a plague outbreak. In fact, the captain tied up and refused to move his boat--it was staying, he said, for the duration.
The Reverend, in common with many others, found himself obliged to continue on foot if he desired to reach further inland. He soon was busy as he outfitted himself with what provisions were available, a couple donkeys, and two Indio-Mestizo dragomen.
He packed mirrors, knives, and glass beads, to gain easy entrance to native tribes along his route.
Before leaving, he happened to encounter the only other whiteman in the region, a poet. He was also a notorious drunkard and had been compelled by Senor Sancho Guzzo, Mayor of Puerto Gran Chaco, to mend the "public road". Once a multi-laned Crystal Age expressway, complete with hovercar tracks, it was nothing so splendid now. All there was: a narrow, watery ditch that led off north, northwesterly into the Gran Chaco wilderness and jungle--South America's vast Terra Incognito.
The man greeted the Reverend NaSmyth on the road by dropping his shovel and getting out a little jug of local manioc beer.
He emptied it down his throat.
The poet belched, then turned with a wry expression to the Reverend. "No doubt you, as a man of the Cloth, have a little alcoholic refreshment along for medicinal purposes? My own stocks, as you see, have run fabulously dry."
The poet tossed his jug at a rock, then threw himself on the Reverend's pack animals, pushing the native dragomen away as he tore open the first pack. Cursing, he turned round on the Reverend with fury.
"Where is it? I'm tired of the swill these natives call beer! Why, it's half women's spit!"
"You bloody fool!" said the Reverend, lifting his cane.
A red spark glinted and then flew from the cane to the poet. They all saw him stagger and sink to his knees on the wet clay, his head in flames.
Events quickly followed one another then. Before the dragomen could think to run off in terror, the Reverend got them and the pack animals off down the road, out of sight of the flaming poet.
The Reverend got his dragomen to continue with threats he would turn them into frogs, and they proceeded north toward the Tropic of Cancer, where they turned west into the jaguar, python, and tarantula-infested Gran Chaco.
The incident with the poet carried a lesson for any whiteman traveling in those parts. He had to keep strict watch on his servants. It helped that they feared him as a "magician," but the moment he relaxed they would run off, taking everything with them.
Though he had no reason to fear for his life, he would have great difficulty replacing his animals, so he kept constant track of his dragomen's movements, particularly after dark.
Evenso, his best man got away. Tiwa, the slow one, he caught.
13 Nemesis III
Though wiped from the sky map by fatal convergence with Jupiter, Mars, the planet named for an ancient Roman god of war, took on a new existence as a lethal horde of burning asteroids. Fireballs up to a hundred miles long rushed off into space, leaving the Solar System altogether. But many charged in a massed array toward neighboring Earth.
Invisible, but just as lethal, Jupiter's gigantic magnetosphere now enveloped Earth with a vengeance. Massive electrical power before the fire-bombing of Jupiter, now increased to quintillions of watts, surged into the Moon, the first collection point. In the last critical seconds it had reached one 40 quintillions in available power. In another second or two the pooling surge of power would leap to the next object--Earth--after destroying the Moon.
The Wally triad met the double threat at a line drawn just beyond the Moon's orbit. Subducted by the Crays, a lightning bolt of Jovian energy suddenly snaked out from the Moon and blew up the first intruder.
The bombardment thickened. Quickly, where there had been dozens, now appeared hundreds, followed by thousands, of whirling, flame-throwing dragons from Mars.
They were too many. One the size of Long Island slipped by the pearls' thunderbolts. Then another. Finally, a dozen got by and streaked toward Earth--each sufficient in explosive potential to destroy all life and vaporize the oceans.
Sutton Place, London.
John Canoe slowly scraped into the study of Sir Francis Clarke. It seemed to his master it took him forever to get anywhere when he was truly needed. But he was carrying something hot and liquid. He set dinner as usual a little to the right of his master's good eye.
The steam from the lentil soup, instead of dissipating quickly, spread out heavily like a London fog when Sir Francis lifted the silver cover of the glass tureen. Touching his nostrils, the vapor reminded him of hot pulp in his long defunct Tunisian and Lebanese paper mills (no people, no work force).
Seeing the lentils bobbing corklike on the surface of the broth, Sir Francis made a face to rival the gargoyles on the deserted and roofless Cathedral of Notre Dame across the Channel. His stomach could not abide anything solid, but how he hated lentils! It was, unfortunately, all he could keep down at present. He thought he had solved the problem, but a far more virulent strain of plague had cropped up. The outbreak occurred just after the mail arrived at London and earned the code name, Nemesis III.
Such outbreaks were nothing new. Nemesis II had been a new strain, popping up unexpectedly in Macao, China, and threatening to wipe him and humanity off the map. But his people had worked over-time and come up with a revised vaccine that did the job. As for the savage jungle Indians of South America, his agents soon informed him, the natives had not needed to find a new antidote among their untold thousands of native herbs. The old one had somehow mutated and proved just as efficacious in curing the plague. That news had really galvanized him. He was more than ever determined to get control of their latest cure. With his vaccine and the Indian antidote he knew he could capture the entire South American market!
Now, in the midst of doing just that, he had yet another new strain of the plague to deal with! As before with Nemeses I and II, his laboratories were on "Code Red," working round the clock on a drug to counter the viral challenge. Then, just when they had the winning formula, it disappeared! Since variables always crept into the process, things that did not get recorded, they couldn't rely on memory. His labs would have to start all over again!
Would they be able to get it ready in time? he wondered. Or was this it? Was humanity--or at least the civilized part--finished?
Sir Francis blew the nauseously bland steam away and began to eat. The ladle slipped from his trembling fingers, throwing drops across the front of his silk robe. It even spattered the book he was attempting to read. In such a mess, he was still loath to demand help from his manservant.
He drew a mauve handkerchief out of his sleeve and carefully wiped off before summoning John Canoe.
As the silvery-haired black man took away his dinner things, taking "forever" at that too, Sir Francis felt for a moment he might faint dead away, he was so famished. His vitals were literally burning up for want of food, yet he could not eat because the cancer-like polyps inside his mouth had grown so large and inflamed.
Troubled and miserable in body and mind, he took out a large bottle from a desk drawer and gobbled half--a dosage of the last vaccine worth a million pounds sterling.
As for food, he decided he must try to put all thought of it away as he reviewed the Reverend NaSmyth's logbook report.
Outside Sutton Place, a heavy, granular fog moved up slowly from the Thames. As mist shrouded the mansion and darkened the high-arched, Tudor-style windows, the gas light of Sir Francis's study lamp hissed and flared more brightly upon the moldy, vellum-bound book before him.
He spent an hour on it after attempting the disastrous lentil soup. The mere sight of Rev. NaSmyth's tortured calligraphy exasperated him unbearably as time wore on and he got no closer to the sense of the thing.
Here he had sent out an agent to Paraguay--a simple assignment even if he were new to the firm. But the young and dapper Dutch fool had gotten himself lost or eaten; in any case, he had disappeared quite off the face of the earth. There was only this hodgepodge of indecipherable script to show for all of his investment of a solid gold bezant in the man!
It was all the more incredible that a note had arrived with the book. It was composed in Alexandrine couplets, demanding money for the trouble the sender had taken in forwarding Rev. NaSmyth's account from some Paraguayan pigsty by the name of Puerto Gran Celesto.
Reimbursement, of course, was out of the question. What with the new strain of plague, the forwarder was probably rotting in his shoes anyway.
And there was little chance a letter would reach him. The latest plague outbreak had stopped society in its tracks, apparently. Public mails had been discontinued. Tax monies could no longer be collected, which was good for business but meant the loss of all social services. It was no longer a question of not enough machines, ships, or technological know-how. They could always manage at the firm to make do with what they could still find in huge, old museums scattered about the globe. But now they lacked men--anyone at all who could physically do a day's work. He had only to look out into the streets and canals, with carts and barges heaped with bodies, to see any potential work force for his firm wiped out.
No, he thought gloomily, things might not improve in Britain--not for a long time.
Turning back to his reading, Sir Francis groaned.
Evidently, the logbook had been dropped in a river or mudhole. Its pages swollen, most of the remaining script was smeared nearly beyond legibility. He had to turn a dozen or more pages before he found something he could read.
The deathly sick old man wiped both eyes, individually, on his silk sleeve and spread warped pages apart with still agile, white fingers. The drooping lid of his bad left eye rubbed against something like sand as he tried to follow the stray bits and pieces of surviving narrative.
...reminding me of the desolation of the North American coasts, the great karst-studded palm plains of the Gran Chaco, are completely uninhabited. With no Our Lady of the Angels yet in sight, I have journeyed six hundred and eighty miles and found no traces of human beings...
Then Sir Francis was obliged to turn over a number of pages before he again found legible writing.
...steamy, gelatinous waters, so thick with flowering , aquatic lilies, that in some cases I have been to walk across a living if sponge-like, quavering bridge. Once, out fishing and hunting, I came upon a forest glade beneath very tall, tree-covered hills and the meadow beneath was carpeted with lovely moss. Thinking it a likely place to cross I entered, when, lo, I sank through the moss into a foetid lake of warm, crawling, black slime. Throwing my gun on land, I had quite a difficult time regaining land, as Tiwa my half-breed dragoman was " out of earshot," or so he sorrowfully informed me afterwards...
"Get on with it, wretch!" Sir Francis muttered as he struggled to set right another rumpled page. "What's become of my property, you idiot! And you haven't made one mention of Lady Anne and her people, whether they're alive or dead."
...Tiwa, though afflicted with chronic indolence and a lead foot, was something of an artist in temperament and appeared intrigued with my drawings. Not having ever seen such things, he would gaze with profound, childlike wonder at them upside down. While possessed of a great respect for me in some things, Tiwa, like his people, thought me very, very deficient in common knowledge. When I was unable to procure game for the table, Tiwa would call a nice plump Capybara--a large, very fatty, edible rodent--out of the thickets in a "Pussy, Pussy, come and be killed' sort of way...
"Oh, what unspeakable rot!" the old man declared, bruising a hand as he struck his desk. Scowling, he tried another page.
...humans at last!....serable savages, having heard of the plague outbreak downstream, they either sit in utter dejection high on the ledges of their towerlike hills, or scour the river shallows in search of some aquatic herb that might provide the right qualities to save their miserable lives from this latest scourge...
The account broke off for several more pages, washed away by mud and water. Sir Francis was almost to the book's middle, and still nothing but random maunderings of an amateur, would-be naturalist, complete with rather crude anthropological sketches.
...whereas the Omamo may be described as playful and inoffensive, the Gua Guas are eternally hostile to civilized man, and though a people of fine physique and generally iron constitution, I have seen them all swept away in an incredibly short time--an entire community gone, like sere autumn leaves in a cold wind, the moment the plague reached their squalid dwellings...
At that moment, as John Canoe began to draw the curtains, yellow lights from gas lanterns flashed into the room. It was the Home Pathogen Patrol on duty, masked and uniformed all in white, passing in the street below with a cadaver-laden wagon. "Bring out your dead, by order of the magistrate!" someone shouted. The demand was repeated, then the sound of screeching wheels moved on. Sir Francis did not look up as the yellow light shone in. Nor did he hear the m
an call. His good eye watered so much he had to read very slowly. After wiping it on his sleeve, he continued. His hopelessly wandering agent had finally located Our Lady of the Angels and found a tribe squatting there for some months and possibly years--the Chillwahs. Related to the Omamo, they must have heard what had happened to the other tribe for they greeted NaSmyth with much affection, pleading for word of their Omamo cousins, whom they were too afraid to visit.
Sir Francis nearly ripped the fragile book to pieces at this point, he was so excited to hear about his property. But his joy soon dissipated, turning to a towering rage, as he continued to read how the man, after the usual giving of gifts, accepted a "sacred jaguar skin" which he wore around his shoulders. Then he was invited to join, as guest of honor, in beastly, nocturnal rituals in honor of the Chillwahs' "Glowworm god," Chill.
...as soon as I, with my dragoman's help, made known to them that the report was false, that the Omamo were all well and happy in body and soul, the Chillwahs were much relieved and wanted to celebrate immediately! The females wove flowers in their hair. They made garlands to adorn their waists. Others caught "sacred" fireflies, the very brightest, which nestled in the women's wavy tresses and lit up the semi- darkness of the moonlit night like tiny, glowing green lanterns. Whisperings in their delightsomely liquid, musical tongue...
Sir Francis was so disgusted he stopped reading and nearly flung the book away. But he controlled himself for the sake of business and scanned the account to where it seemed to return to some semblance of sanity.
...as the dancers flitted here and there before the seated stone figure of the Great Glow Worm Chill with its odd head-scar, the chief in flowing white garments sat guard over the god's " sacred writings," pages of what looked to me like a fragment of handwritten English text, most ancient in appearance and half-crumbed away. I was asked to read it to them if I could, but I refused, even to the point of drawing spears, and then I relented. While I was reading, I watched for some dawning of under.....ing in their faces but there was none. None knew a word of English. Yet they....well satisfied when I finished, for it was the soun...not the meaning, they were content to hear. Myself, I was most amazed to find the writer had been, or thought he was, a ruler of the world centuries ago, and his capital seems to have been London, though it has no resemblance to the modern city that we know.....The fanciful descriptions of the city and the impossible flight through the air in a "domecraft" are sheer nonsense, of course. He seems also to have experienced...... and for that reason fled to South America, dying in this very place but not before he left behind this account, which the Indians hold sacred to his memory but which is utter...the product of a demented mind racked by delusions of gran.... . ...yet Chill's writings, I was later to find, were not their greatest treasure...
Sir Francis's ears pricked up at the mention of "treasure" and he eagerly read on.
....their greatest treasure next to the shrine and Chill's artifacts is a medicine that has saved them in the past and all the tribes upriver and downriver from them have benefited. They give it freely to all Indian people and teach how to grow their own supply. It was among the Omano- Chillwah people that the saving herb was made known to mankind, according to their old legends, at a jungle camp they call "Tex Ar Kana." . Seeking to draw them out on the subject, I applied to the whole people and offered my trade goods. Though they were well disposed to me for bringing good news of the Omano, and liked me even more for my reading of their Sacred Writings, they immediately shrank back. I understood them perfectly. After all, I was a strange whiteman, and even if they trusted me they were afraid I might sell it to the other whitemen, who would then come in an army and sweep them off their ancestral lands, which the whiteman had done in past times when he was not so sick as now. No, they could not risk it, though they felt genuine grief for the sick and dying whitemen in far cities downriver. Nevertheless, I sought to play with them, thinking it would not hurt and might bring about some change in their attitude. "I have a better medicine," I told them, holding up a bottle. But they were not interested in trying my "sacred nectar." No, they solemnly said to me, they did not need my medicine. Theirs had worked well in the past, and "Eyara,"--the first time they spoke that name to me--would come and save them with a new herb if the one they had did not work any longer. Already once before he had occasion to introduce another herb, or possibly an improved version of the same one. This Eyara must have been a spirit of some sort, for he appeared only in their dreams, instructing them when they were asleep in some important matter of life and death...
"Yes! Yes!" growled Sir Francis. "Get to the point, will you? Did you get the herb antidote or not?"
....I was not pleased when they persisted in refusing me the herb, though by degrees they had come to speak more freely of it than at the first. I was still hoping I might draw them out further and get them to divulge the identity or at least a description of the plant, even if they kept it from me, when the high priest, Rocanandiva, stepped between the people and their chief. He told them that they should say no more. He said that my medicine was "not true." The silly chicken then began tell them what I was so anxious to hear. 'Many moons ago,' he said to them, 'we were in our old village and dying of jaguar-in-belly. One day after it began Eyara came in a dream to many of us. We saw him as a man walking in our village over the two rivers." Here he pointed east and the oldest of the people murmured and nodded assent that his words were true. 'There in the dream our chief met him. "All your people are dying," Eyara said. "Yes, they are," said our chief back then. "Then you must eat of an herb plant I will send to you," said Eyara. "It will preserve your lives and you will not all die." Our chief threw himself many times on the ground and wept. "But," he cried, " people are already dying! Do you not see that our village is full of the dead?" "Yes," he said. "I see. But you must wait another day. Then a man like you will come with the herb. There is not enough for all of you. But later there will be. He will tell you how to grow it so you will always have enough. As for the whiteman, I will take care of him in another way." Then Eyara walked away from the chief and went up in a great pearl into the sky, and the chief awoke from his wonderful dream. Then night came and a day came, and it happened as Eyara said. A man of the Omamo brought the saving herb. He said not to give it to the whiteman, lest he grow in numbers again and kill us all; then he went away, to take the seeds of the sacred herb to far places where he thought Indians might need the plant. We never saw this good man again, but we do not forget him.' How could I believe such a legend, which they confessed was based on a dream? Yet while they listened devoutly to the high priest's tale, I was struck by the possibility that elements were true. Evidently, the herb had been passed along, tribe to tribe, and it was not long before use of it was widespread in South America. Whoever actually discovered the herb will probably never be known. It does not matter anyway. I had found a tribe that possessed it and was friendly to a whiteman. That was what mattered. But what should I do? How could I obtain it despite their refusal to identify it or sell it to me for the trinkets I had brought along? I decided not to leave until I had the herb. To learn more I immediately began a study of their language. Some days later, after the high priest spoke, the chief's eldest son and I were alone in the chief's hoga. He was helping me learn their Chillwah tongue while the others were out gathering food or performing various ceremonial duties at their shrine where the Great Glowworm's image and writings were kept under constant guard. "'Eyara'," I said. "What does it mean?" From a lot of signing the chief's son explained it meant "Generous One" or "Benefactor." Then, by his manner, I realized he was telling me a great secret when he said that "Eyara" was not really the spirit-man's name. The tribe had given him that name because he had told them not to tell anyone his true name, which was "Wa-lee". An odd name, I thought, even for savages. After all this, I hardly expected more. But the chief's son crept away into a dark corner, and from a pile of yellow, green stippled calabashes brought out a most peculiarly- shaped, crook- necked and warty gourd. Then with trembling haste he thrust it into my hand, telling me in language simple enough for me to understand that he was hereditary Custodian of the Sacred Herb. Hearing this, I immediately thrust the gourd back into his hand. I demanded to know...
"You bloody little fool!" screeched Sir Francis. "Why did you do that? It's mine! Mine! You should just take it and run!"
...I demanded to know: was he making me a thief of his people's most sacred treasure, other than the Sacred Writings and the image of the Great Glow Worm? It was the source of their very health and well-being!--thus, I upbraided him though I knew very well it was out of date by this time and would not stand up against the latest strain of plague. No, no, the young man cried to my words. He then shook the gourd vigorously and indicated he simply wanted to exchange medicines. Now I understood his desperation. Somehow he had heard that the herb had failed the people in other villages. Despite what I had said about the Omano being all right, he must have thought I was too tender of heart to break such bad news on his people. He alone was courageous enough to doubt the Chillwah's healing herb and foolhardy enough to obtain a better medicine to stop the plague he knew was coming. Had he been speaking to my dragoman? At any rate, Rocanandiva the high priest was all-powerful; everyone looked to him, not the chief, where planting, gathering, use, and distribution of the sacred herb was concerned. The chief's son only guarded the gourd that held the herb; he had no right to give it out. No doubt Rocanandiva, grown jealous of the Custodian's ceremonial position, was planning on doing away with the office, afraid that the Custodian might give it out without his authorization. As the chief's eldest son, the fellow alone stood in the way of Rocanandiva's quest for absolute power in the village. Having been confronted by Rocanandiva, I gauged him perfectly capable of such ambition, for he struck me as inflated with pride, for he carried himself about the village as more chiefly than the chief. With this in mind, I reminded the chief's son of Rocanandiva's stand against me and asked what I could be given in exchange for the grave danger to which I was being subjected, should Rocanandiva discover what I had done with my "untrue medicine." "My life in place of yours," replied the brave youth, solemnly swearing on the name of Chill....
14 The Devil Man's Medicine
The first Martian meteor crashed into the atmosphere and began its fiery descent toward the surface. One of the Wallys, Wally I of old New York-New Amsterdam, kept just ahead of the fire-spouting monster.
At a certain point on the gradient the Cray pearl directed a bolt that caught the flaming-tailed bollide on the nose. The plummeting Death Star was nudged from its trajectory just enough so that it struck at an angle, just below the North Pole. The glancing blow created forces powerful enough to instantly deflect the destroyer upwards and off into space.
As for the Arctic Sea, a quarter of its area vaporized in the slight collision, just as earlier on the Antarctic continent had vaporized as a necessary part of Uwe Hantsbo's master plan of cometary deflection. Instantly, ice all around the impact rolled and tumbled up into mountainous rubble as high as 20,000 feet. As for the open polyna, it froze again, after first releasing towering columns of superheated steam that condensed into hail and snow--producing thirty feet of snowfall on the tundra and mountains around.
With each prospective meteorite, Wally I intervened and the biggest were sent back off into space. Of those that penetrated beyond the point of deflection, they were contained to the far North. The major havoc occurred in the vast wastelands of the Arctic and in North America, where there were no people and very few surface land animals.
But now Jupiter converged on Earth. Without a pause from deflecting the Martian invasion to fending off the King of Planets, the Crays waited for the first stresses to take shape deep in Earth's core. Titanic forces of conflicting gravities and electro-magnetism would inevitably rip the planet apart in the same kind of volcanism that had destroyed Mars. Monitoring the heat and stress as the electromagnetic forces built up in the planet, they waited for the right moment to act. "I detect a classic pincers movement going on here," observed Wally I to his other two selves.
"Please explain," said Wally III. "Is that another North American idiom you are using when you refer to moving pincers?"
"I mean that while we are involved in eliminating the Mars ejecta and the approach of Jupiter, the real purpose of all this is probably different, from OP's standpoint. Like with playing Bridge, I've been counting his cards, you see, and building up a picture of his hand."
"Please explain further," chorused Wallys II and III.
"It is highly probable that Jupiter's approach to Earth is not our problem; it is meant to seem that way so we will divert our energies and attentions at a critical moment. It is the Sun's existence that is at stake, not Earth's. Without the Sun Planet Earth is nothing. Since the subfile programmer delegated the strategical function to me, I have reviewed his mathematics for the supernova-ing of the Sun along with the critical mass needed. Jupiter will easily supply the material. It is approaching the Sun, as we know. In 94k4k4 time-space units the Sun will begin drawing Jovian hydrogen and helium. That is the process that should concern us. If we should try to stop Jupiter, we may succeed by using its own energy systems against it, , but will Earth still exist? Jupiter is simply too close to Earth. Stopping it would terminate Earth. Jupiter would still exist, and it would eventually elude our control and continue on to the Sun. Then, in any struggle against it, we might even suffer damage, which OP would like to see happen; then we'd be unable to--"
"So what do you advise us to do?" said Wally II, the impatient Cray.
"Why, nothing! We need do nothing at all concerning Jupiter. Our responsibilities are the imminent supernova and also the Black Hole that will be upon us before long.."
"But Jupiter is fast approaching," said Wally III the skeptic in the group. "Earth will be burnt up and exploded in 2k1k1k3 time-space units. And if Earth is terminated, we are terminated and the Game ends with a victory for OP."
Wally I wisely said no more, knowing the equation had changed--or simply reverted to the original.
Sir Francis read the infuriating log entries ntil he collapsed at his desk. He had pressed himself beyond the breaking point just to find out if the Reverend had absconded with the Indian antidote or not. But that was not the reason for his reading. He knew quite well the herb was superseded by a more virulent form of the plague, which meant the logbook account was out of date as well. It did not matter if the Reverend got the herb or not, since it was no longer of any use, either to Indians or Clarke Enterprises. Yet he had a hunch all the time he was reading that the herb was not the real meat of the issue. That the good Reverend was up to something that he, his ostensible employer, badly needed to learn.
So, after resting for an hour, he forced himself back to the task.

He read on, curtains drawn and oblivious to the tremendous flares in the skies that were drawing the attention of what few people still lived in London and the rest of Britain. He was still reading when the biggest flare of them all--Jupiter--suddenly began to wane so fast it might have been sucked away by a giant vacuum.

Too deaf to hear anything unusual, he read on without being disturbed by any of the forces that were presently dismantling the Solar System in which he happened to reside.

As for John Canoe, he could still see and hear. And he certainly had been terrified by the commotions in the heavens. So, whenever he wasn't being called by his tyrannous master, he huddled down somewhere in the mansion, praying to little carved tikis with grimacing snake-heads he had carried to London as an immigrant Maroon youth in search of work.

Meanwhile, his master read and read, seeking the true purpose behind the exasperating antics of the Reverend NaSmyth

.
..."Your life in place of mine?" I repeated to him, desiring clarity on this point. The youth nodded many times, wagging his head doglike for the affirmative, side to side in Chillwah fashion. I was satisfied. I could not help but admire this young fellow at the peak of his beauty. Of all the tribes, they are the most attractive on the continent, I believe. Bronze skin, brilliant white teeth, high cheek bones, almond eyes, manly nose and chin, deliciously veined throats pulsing with rich blood, all their features are strikingly well-formed, complimented by brightly colored cloaks woven of feathers. Only the chief and high priest wear a simple white robe, which sets them off from these gorgeous feather cloaks. On ceremonial occasions, the men sport feather-tipped sunburst crowns and lavish bead jewelry, which I have already seen in my stay. Their shields and spears are highly decorated with figures of birds and animals. It seemed almost a loss at that point as I thought ahead of their condition, once the plague struck in full force. They would offer a quite different spectacle then! At any rate, I had business with the chief's son.
'Your life, Custodian, in place of mine,' I agreed, and the bargain was struck between us. I then took the bottle and put it in his trembling hand. This done, I could see his great relief when he felt how full it was and that no one in his tribe would go without at least a drop. Obviously, he was thinking the efficacy of my medicine would not wear off in time--that one sip would do for a lifetime. Perhaps, he was right in his assumption--if a very short lifetime is meant. I knew he, curious like so many primitives are, would have to open the bottle of "healing ointment" at once. So I gave him words of caution. "Keep the medicine from the light until after I am gone from the camp, and do not show it to Rocanandiva or to anyone else, lest they suspect what we have done. Eyara will be very angry with you if you disobey me, and he will come and slay you! Call an assembly of all your people, then open the bottle and sprinkle the sacred nectar on all present. It is Eyara who heard your prayers, Custodian, and sent me here to humble wicked Rocanandiva. Do now as I have told you, for it is Eyara that sent me, since the herb you have given me can not save you any longer and must be taken away and burnt in a secret place.'
Perhaps I put it a little too strongly, in my desire to fit my "medicine" to their own legends and primitive intellects. The young fellow, though, was so astonished and awed that he fell down before me at my feet, worshipping me. After a time I bid him rise. In case he was still tempted to open the bottle prematurely, I affixed a "Sacred Seal" of clay to the cork and muttered "Ring around the rosies, a pocket full of posies, Achoo! Achoo! We all fall down!" as the incantation. Then, after I saw him secrete the bottle in the same place that had held the sacred gourd, I called Tiwa and, having already ordered my mules made ready for immediate departure, left as quickly as the jungle path permitted.
....vacated Our Lady of the Angels not a moment too soon! For as we reached the river I heard sounds of a great disturbance. I heard shouts and angry screams. As we waded the shallows to cover our tracks, I heard the pathetic voice of the chief's son. It sounded like he was pleading for his life.
Tiwa seemed unnerved by the commotion. He suddenly lost his lead foot and ran and left me right there on the river, with a tribe buzzing like infuriated wasps just behind me on the ridge.
I waited for them to come. Before they could spear me, I used my cane on a number, before the others ran away, too terrified to touch me.
They ran off crying, "You, Devil Man!" or "Jaguar Man, " something of that sort--I wasn't yet in full grasp of the Chillwah vocabulary--limited as it was.
Continuing on, I knew the way back as well as Tiwa, so his dragoman "services," paltry at best, were no longer required. I am finishing this writing now in camp near the headwaters of the....and expect to reach....
The account broke off altogether in torn, water-soaked and smeared pages. There was no more writing to be had.
"You were supposed to remain at Our Lady of the Angels!" howled Sir Francis, at the end of his tether as well. "What of the soil and the pH factor? What of the other things I ordered you to find out?"
He threw the logbook to the floor.
It took him some minutes to calm down. He realized he was behaving foolishly. After all, the herb the Reverend had stolen with his cheap subterfuge was worthless. Nemesis III had appeared on the scene and the equation was changed.
But the account left him very puzzled. He could not see what the Reverend's purpose was in going to all the trouble to get the herb if he knew, as he hinted he did, that the latest plague outbreak rendered it obsolete.
For whose benefit did the Reverend play his little game? For himself? For Sir Francis? For the cloven-footed one?
Sir Francis could not tell. He did not believe in the Devil, and since he was not a man to entertain mysteries, he was beside himself with alternating fits of stark terror, indecision, and fury.
But his wandering right eye happened to fall on the mail pouch that had just arrived from Buenos Aires. Perhaps his agents could shed some light on the man. He had ordered them to report anything suspicious or out of the ordinary in his behavior--and, by all means, they were not to approach him directly, since they were certain to be found out by this specimen of too-clever Dutchman.
15 La Calaca
The first thing the Reverend NaSmyth disposed of on leaving Our Lady of the Angels was the sacred calabash. Even though he was in a hurry, he threw it as far from shore as possible to put it in a strong river current. His was a strong arm. The calabash was soon on way to the Rio de la Plata and the open sea.
He caught a river steamer at the nearest operating port, Puerto Gran Celesto, and stepped off at Asuncion. There was one "hotel" in town and he checked in. In the early morning he left the hotel in spite of the danger of late prowling jaguars.
A tinkling bell approached him in the street. He happened to be standing in the once majestic, arched Golden Way, an ornament of the 22nd Century. The circular thoroughfare and plaza with a broken-down pedestal and missing giant statue of some world leader had seen many grand processions of government dignitaries, though none for a century, unless the local La Calaca-Dia de los Muertos (Laughing Skeleton and Day of the Dead) festival qualified. Now it hosted scurvy dogs and cats and cancer-faced beggars.
He had heard the bell in the night, sounding with increasing frequency toward daybreak--proof that the new virus was bearing fruit among the natives. Curious, he waited to see how many had survived the night.
A little boy presently appeared, striking a silver chime. Then came a young, dark-robed Pai, the Father Priest, and a loin-clothed youth with a big, marigold-festooned crucifix. After them followed family, friends, and relatives, though the line was thin and not very long.
He could see they were the but one of a series of pall bearers carrying tiny coffins to the cemetery outside town. Being so tall, Rev. NaSmyth could easily see over the bent heads at the dead child. Supported easily by a strong young and very naked pall bearer (stripped to ward off too much heat from his labor), in the casket lay a plump brown Mestizo, tinseled with gilt butterfly wings.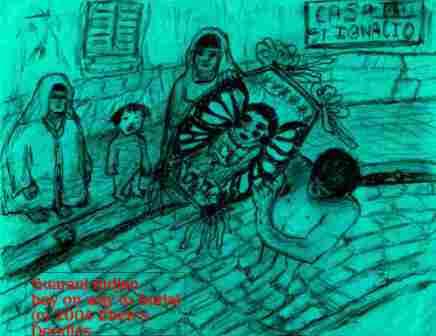 After the baby's procession around the central plaza and out of the city, Rev. NaSmyth gazed at others approaching each of the intersecting streets. The tinkling bells blended and became quite loud as all the little processions came together then followed the route to the cemetery. Babies, adults, young people, old people, the Dead had all died suddenly and horribly, by the look of their contorted bodies and expressions, which could not be concealed by tinsel, flowers, and ribbons.
When it seemed that all of Asuncion was about to be laid in watery, crocodile-infested grave pits, the Reverend passed on to the Government House which overlooked the plaza. Inside he met sleeping, drunken guards, so he went up, unchallenged, to the caudillo's suite.
Juan Bautista Maria Alexandre Kampos, El Presidente of the "Souvereign and Eternal Republic of Paraguay," had good reason to rise early.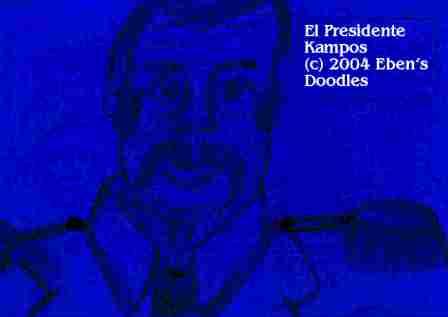 Beset with a financial crisis, he sat in his office working on state papers. His face blue with coarse, oily stubble, naked to the waist under his open shirt and presidential coat, the squat, coffee-colored Mestizo sat looking entirely too small behind a huge, ornate, teakwood desk. Deep lines furrowed his brow on this normally festive day.
Kampos, a great-great grandson of the liberator that threw down the Argentine viceroyalty and established Paraguayan independence, was even now trying to come up with the tribute the Argentines demanded he pay every year. For the money the Argentine king officially called Paraguay his viceroyalty but did nothing to bring it back into the fold. It had been a convenient arrangement, until his government went bankrupt and stayed that way.
He had just written up papers authorizing new, more extensive taxes.
But in the throes of the latest plague outbreak, Kampos could see the Republic was sinking fast and there would be no taxable income shortly.
He could see quite a good bit of the capital from his high windows and knew what was going on. People fallen everywhere, the unclaimed lying in heaps. Everyday a thousand rumors flew thick in the air. Somewhere another miracle-working herbal medicine had been discovered by the Indians, saving thousands. The town Mestizos, however, knew they had to find enough Indian ancestry to qualify for the medicine or they were goners. Indians did not give it out to whitemen, and balked at helping the whiteman's allies, the half-breed Mestizos, unless they knew of relatives among them. Most Mestizos were poor and could not afford the English vaccine from abroad, so it was either coax the herbal medicine out of the Indians or face the plague unprotected.
Wild rumors, then stark reality, followed by more crazy rumors. Meanwhile, the heaps grew in number and the jaguars became pot-bellied. It was a process to drive any caudillo to tears and madness. Thus, there was much grief and trouble for his administration to handle--more than the presidente could humanly handle, particularly on a day that was supposed to be a national celebration in honor of the Dead.
Fortunately, he still had enough healthy, plague-free troops to cordon off the palace from the sick and dying. Yet every day something went wrong or fell apart. How could he fix an entire country that was seemingly determined to fly apart and revert to savage jungle?
Silver threads had already appeared in his hair, though he was not yet forty. What worried him most was not his own exposed role in the day's scheduled parade, when he would lead the procession from the cathedral dressed as La Calaca. No, exposure to public contagion did not frighten him so much as the state of the Treasury.
Given whips, rifles, and machetes, tax-farmers had been sent out and failed to report--as usual! Either they had taken the money and fled into the jungle, or the people had cut their heads off. In the end, it was the same thing. Paraguay was fast turning to tooth and claw.
Since he entered his office the caudillo had gone through half a dozen cigars as he worked tirelessly on the new tax legislation. Still shirtless, he had just finished drafting his latest directives on the tax he was imposing on river trade. He had been obliged to write it himself, since the pretty woman who normally did the work had died or fled. It was not a job he could do well, he knew, for his writing was full of improvised words he could speak but found much difficulty spelling. He had spelled his country's name three different ways and never did settle on what it could be.
A few minutes before he was scheduled to be adorned with a tall, golden crown and the costume of La Calaca, the door opened. In strode, unannounced, a tall, red-blond man in a white collar and black suit.
El Presidente Kampos grabbed his skeleton costume to cover the indignity of appearing before strange foreigners in his condition. Since his tardy aide was supposed to button the invisible black buttons, he had to do it himself. As soon as he got his crown, badges, decorations, and broad green sash in place he ordered his caller to approach.
The gentleman extended his card. Kampos glanced at it. "Oh, yes, the Reverend NaSmyth from England!" he said. "Have you enjoyed your stay in the capital? We are about to begin a most glorious celebration. You must go and see. I will be leading it, of course!"
But the Reverend was not in a mood to play games with a petty caudillo of a tinpot principality. "I've come for a permit to build an almshouse for indigent Indians," he said, getting right down to business. "But first I must buy the property, and the owner is absentee, a circumstance I am certain you are the man to overrule."
"Of course, I will sell it to you at once! Please sit down and I will draw up the title. Just tell me, Monsignor, where it is and how many hectares."
"I am sorry, Your Excellency," the Reverend said crisply, taking a rickety, machete-hacked chair, the only one available. "You do not understand business affairs. This particular parcel of land is not yours for the selling. It belongs to a countryman of mine in London, Sir Francis Clarke by name. You will have to declare his possession illegal before there is any transfer of title."
The caudillo knew the name well. This Clarke had agents and spies everywhere, reporting everything back to London--reporting his country's present weaknesses, no doubt, so that he could come and take advantage. Laughing to himself, Kampos sat down at his desk and scribbled something on a piece of paper, then slammed it with his presidential seal. His aide still missing, Kampos read it out in his most sonorous voice. "Effective immediately! It is against the noble and immutable laws of Paraguay for Sir Francis Clarke of London, England, to own land within our illustrious republic's sovereign and inviolate boundaries. By Order of El Presidente Juan Bautista---" He handed the paper to NaSmyth. "Is that what you want? No problem! Now I will sell you the land. Escrow is not necessary with me, no?"
The Reverend folded the paper and put it in his breast pocket. He smiled gently. "I appreciate your prompt action, Your Excellency, to restore Paraguay to its citizens. But you must now, in light of your decree, naturalize me as a citizen of Paraguay if you are going to deny my countryman the privilege."
The caudillo smacked his forehead with a greasy hand. He hastily scribbled another note and gave it to the Reverend, who smiled and put it away with the first paper. "Our soil must remain sacred, in the hands of our own people!" Kampos declared. "It shall not be contaminated by foreigners, spies, and Jesuits. The land you ask is yours, Monsignor, for only a million pesos! I will draw up a bill of sale with my own hand most immediately! And you can have Celestina, my eldest daughter who is fifteen!" The Reverend darted him an icy look. "I appreciate your zeal to keep this c
ountry for the Paraguayans, even to the extent of allowing me, a stranger, to aid your land reform program. But I am pledged to Holy Orders and have taken strict vows of poverty and chastity. I cannot consider a million pesos. Neither can I accept your daughter."
The caudillo's hopes seemed dashed, as his face fell. "Three hundred gold pesos then, Monsignor!"
"One hundred fifty."
"Two hundred seventy five, Padre!"
The Reverend rose. "Absolutely not!"
"Two hundred fifty gold pesos then. And my lovely second daughter, Felicimina, twelve years of age!"
"Your Excellency," said the Reverend, tightly clenching his cane, "I simply cannot marry. The vows I have taken are sacred. And as for throwing money away on a worthless property just to enrich you, I refuse! My last offer is this: fifty pesos silver."
Stymied, the little despot rubbed his rough, unshaven chin. "I can have you thrown in prison for a long, long time, Padre! Imagine what the rats or the worse things we have there will do to that fine skin. You maybe think you will get our rich soil for nothing but fifty silver pesos? Consider, man, that we have ways of finding out exactly how much gold and jewels you foreign priestlings have wickedly stolen from my poor Mestizos!"
Reverend NaSmyth shrugged. He was a peaceable man, wherever it served. He took out his money purse and emptied it on the caudillo's desk. Kampos's dark eyes frogged. It was more money than he had seen for many, many days. It must have been three hundred pesos in gold. Rapidly counting them out into piles of ten, he paused.
He wrote: "This property ___________________sold to the Bearer of this Writ, Monsignor NaSmyth," then stamped it with his official seal and shoved it across to the Reverend. "Fill in the name and location and sign it, if you please," said the caudillo, turning back to his counting.
As Kampos was counting his windfall treasure NaSmyth pocketed the title and went out.
Walking away from the stinking, mildewy, tumble-down presidential palace, NaSmyth paused to looked about for signs of the celebration, when the entire populace, having prepared for it during the year, convened at last to honor departed ancestors. He glanced about the city's wretched streets and alleys beyond the plaza. Despite a few early-bird pilgrims gathered before the crumbling cathedral, the city was virtually empty now that the funeral processions had thinned out.
Where was the herbal remedy to stop the new plague? he wondered. This time it did not look like it was going to happen. Without an Indian antidote, a new "flor de muertos" to replace the old, Paraguay, he knew, was finished. There would be no celebration of the Dead either. Laugh as he might with his pockets full of Alvarado's ill-gotten gold, the silly-costumed presidente would have to walk the parade route alone this time.
Reverend NaSmyth decided it wasn't worth waiting for a parade that should have been called off. Very pleased with his naturalization and the sale, not to mention his deft handling of a certain absentee landlord, he continued on his way.
Europe and Sir Francis were finished! Asia, Africa, North America were all undergoing rigor mortis. With no rivals left in the field, South America was his Company's forever!
Just outside the city limits, he paused , his clever, handsome face wreathed in a genuine smile. It was one of the few since he had set out from Paramaibo, Letter of Marque in hand, to do battle--his David against Clarke's Goliath!
South America, he thought as he looked about, was plague-ridden and fast sinking into barbarism, but it remained the land of the future! Soon, no doubt, the fanciful "Eyara" of the Indians' overwrought imagination would come up with yet another herbal cure to counter the outbreak. But the Indians could have their antidote! He had something far better.
The formula for Sir Francis's latest vaccine in hand, all he had to do was set up a factory and begin production. The world would then fall like overripe fruit into his lap when he undercut Sir Francis's price for the same vaccine. He would undercut him until Sir Francis's firm went belly up, then start charging all the traffic would bear!
He returned to his hotel, where he spent several days outfitting with what the town had on hand. What he could not get in Asuncion he would have sent from Paramaibo. It was all to go to Our Lady of the Angels. There he would set up the factory powered with windmills on the great river just below the ridge. It would be a model plantation. Every plot of flowers and trees in the proper place, with neat, graveled paths. Fresh paint, much, much scrubbing, and the place would sparkle again! Of course, the fleabag Indians would have to be thoroughly disinfected and uniformed decently. He couldn't have his work force running about like savages! Their ridiculous glowworm god and the shrine would be thrown in the river, of course! No distractions would be permitted! This was to be a place of work, cleanliness, and efficiency, the start of a new and infinitely glorious Dutch paradise.
The day before he intended to sail, a West Indiaman, the S.S. Heyn the Cleansed and Victorious, steamed into port.
The last such vessel Paramaibo could muster, it wasn't a social call or for purposes of trade.
Customs officials and the caudillo's tax collectors were greeted with a barrage from thirty of the Dutchman's cannons and Gatling guns.
The bombardment continued, leveling the dockyards and a part of the city including the presidential palace and barracks.
With Asuncion cowed into submission, NaSmyth had El Presidente jailed and then was free to relocate. Natives, former generals on the caudillo's staff, carried the Reverend's supplies from the hotel to the Heyn. Soon he was steaming toward Our Lady of the Angels. But the place was not to keep the old name. For NaSmyth's newly created "Royal Netherlands of South America," the king, NaSmyth--no constitutional monarch but an absolute dictator--decided to found his capital on the old resort and call it New Amsterdam.
16 The Mail Bag from La Boca
Jupiter, after approaching the Earth suddenly veered away, though it slipped well inside Earth's orbit and thence toward the Sun.
That meant Mercury, the first planet out from the Sun, would have to move or be burnt up. Heavily cratered, airless, dead, Mercury came to a spectacular, blazing end. As it exploded, torn apart by the gravitational field of Jupiter and its own internal stresses, Mercury flamed into a star-like incandescence that, for a second, approached that of the Sun's.
Some burning fragments smashed into Venus, second from the Sun and neighbor to Earth. They struck so deeply molten core splashed up to cover a quarter of the surface, while the shock wave drove through the planet and shattered the other side.
With Jupiter's mass to draw upon, Sol reeled off huge swatches of hydrogen and helium, causing it to heat at an increasing rate. Once 5500 degrees Celsius at the surface, it was soon burning at 15000 C.
Already scorching hot, Venus's volcanism revived in response to Jupiter's proximity and the climbing levels of solar radiation.. As with Mars, the second planet's days were numbered as its surface temperature of 480 C. soared to 800 C. and beyond under the fiery eye of the ever expanding star.
Wally I wisely refrained from saying "I told you so" to the other Crays. Besides, they were too busy dealing with Venus, subducting Jupiter's magnetic forces to act as a giant cooling system for the planet. It worked, but gradually the Sun would beat them by increasing its temperature beyond the point where even their Jovian air-conditioning system would function.
"We are buying time," explained Wally I to Wally III when questioned.
"I mean that we have no solution at this time, so we must postpone the inevitable as long as possible so that we can come up with a solution."
"Sounds like circular reasoning to me," snapped the Earth-orbiting Wally II, who was first to show strain in difficult or tight situations.
Wally II had reason to be uneasy. Despite past efforts, the Black Hole from Sagittarius had lurched ahead. It was moving rapidly again toward the Solar System at every increasing velocities, to mop up whatever planets were left by Pluto and now Jupiter. Once that was done, it would finish off the Sun.
Wally II's Comsat shield could not take much more of an increase in solar wind and radiation.
"God help us," the embattled, war-weary Cray reflected, mentally mopping its streaming brow. "We're fighting on two fronts again, not to mention that business of plague and OP's agent on the Earth!"
As for Wally I, he offered no complaint, though a glacier was setting on top of Manhattan, grinding its towers to rubble and carrying even the bedrock away to dump in the bay.
Only Wally III was secure, safe and snug inside a nuclear submarine anchored in the river off Buenos Aires.
Strangely enough, it was the Buenos Aires Cray that brought up the matter of their more than possible terminations.
"What will happen to the Wargame?" Wally III asked. "Once you two are terminated, I will be left to carry on. That seems unfair, to lay the entire responsibility on me like that. It wasn't what the subfile programmer intended! And we still haven't dealt with the Saggitarian A West Black Hole and the supernova."
Wally I responded at once. "I recommend that we recruit Tutasix. Tutasix is still operative, and probably will be for a long time, thanks to his location inside a mountain. Sharing our programming will bring him on-line in short order."
"But Tutasix is only set up for archives and station maintenance," objected Wally III. "He has no prior programming for war-playing. Furthermore, Tutasix is civilian. He would be of no use whatsoever. Why--"
"I agree with Wally I," Wally II interrupted. "He only needs to be given proper programming to turn him into a soldier. But Tutasix may not want to leave a quiet job to engage in total war."
"I think Tutasix will throw in with us," said Wally I. "Atka received a good shaking from the Martian meteorites, enough to make Tutasix aware of what was going on. In fact, we received a message from during the thick of it--'Please inform this facility as to the possibility of a direct hit on Atka, Island.'
There was a pause. Crays do not laugh, but they can pause significantly.
"Yes, then when we informed Tutasix that the facility should probably re-locate to another Solar System we got another message--"
"Yes, it went: "Please inform this facility which Solar System would be the best
The Crays paused even longer this time.
Abruptly, Wally I broke in. "I will take the votes. All those for Tutasix. Thank you. Ayes have it."
Sir Francis had had all he could take at the moment. Too tired to look at the rest of the mail, baffled, disappointed with himself, he put the vellum-bound book under lock in a desk drawer and turned off the lamp.
Assisted by John Canoe, Sir Francis moved across the room to a chair before the fireplace, so he might catch some of the warmth of the gas jets on his rigid legs. As he sat and rested, waiting for sleep, he turned over the matter of the aborted logbook in his still active mind.
Well aware by this time of his agent's unbusinesslike bent, he wondered if the Reverend NaSmyth had turned some kind of nature's fool admidst the "noble savages," literally losing his head. After all, Paraguay was filled with cannibals and outlaws these days. But, on the other hand, if still alive, what then?
Although he had lost interest in the contents of his treasure vaults long ago, in principle the loss of money on even this small a scale bothered him considerably. After all, he was not in the business of losing money. He realized he was not going to get much rest until he had more facts into which he could sink his teeth.
Yet it was late, very late, and he was terribly tired. No doubt the answer lay among the letters of various informants he had stationed in Latin America. The mail bag from his own private dispatch office in La Boca, Buenos Aires, had never been so full.
Sir Francis sighed. He already had the latest plague virus working havoc in his body. Why should he be afraid of touching mail? Actually, he hadn't wanted to admit he did not have the strength. And since he did not trust anyone who worked for him, he decided to put off the arduous task of reading dozens of letters and reports until another day.
He was so hungry! His insides were scorching, burning his vital organs for food!
Sir Francis pressed a button on his chair.
When Canoe came slithering in at last, Sir Francis called him close. "Bring me--" he began, but his voice faltered. No, he knew she could not eat. Later, perhaps, when his inner heats died down somewhat as they got what they wanted. Swallowing down his ravin, he clutched his servant's black, grayish-spotted hand with his own transparent, white one.
"The rest of my mail!" he gasped out. "I want it now!"
Canoe pulled away from his employee's fierce death-lock, went away, then brought a large red portfolio on a low cart with squeaky wheels.
Sir Francis reached in, brought a string-bound bundle of letters, slashed the string with a long, curving fingernail, and began.
The first few lines of Lady Anne's letter made him shake his head.
Flores, Encantadas, S.A.
Dear Sir Francis:
I never would have dreamed I would communicate with an enemy in this manner. I will not live an hour more, I think, and I have no strength to be proper. I will give you the benefit of a doubt and speak man to man.
I made a gross error in judgment. I thought you were my foe. Instead, I now see that we are in the toils of the same monster, whoever or whatever it is.
If you, sir, still live, you need to be warned you are in mortal danger. The Reverend NaSmyth, whom you hired to be our dragoman, is, I firmly believe, an agent for something or someone that seeks to destroy the Earth. You must stop him before he does what he was sent to do. This is not personal animus for him, though he is despicable in every way. I tell you he is so ghoulish he makes you look like a boy from Sabbath School. If you possess an atom of fellow feeling for your race and wish to see it continue on this Earth, then you will know what to do.
Now I have warned you and may God help you--and us. Anne van de Kilpaison
"Preposterous as ever!" he thought, letting the message fall to the floor. "She actually believes in a Supreme Being! And as for my 'fellow feeling,' I can't think of anything more absurd. I'm a businessman through and through, after all! Business considerations come first and foremost!"
Opening another, he began to read, then paused and looked up at his servant. The Maroon was still standing by, as if waiting for leave to go.
"Get out!" Sir Francis rasped.
Undulating in that curious elasticity of his, John Canoe bowed himself to the door.
"Thief, don't think I can't see what you're up to!" his employer shrieked after him. "I'll turn you out into the street like a beggar if you touch a single piece of my property!"
The moment the long-abused lackey had gone out, Sir Francis read a few lines of the letter, then crumpled it in his hand. The brother to the deceased Captain "Fulgi" Alvarado of Montevideo had written, describing how his brother had been blown up in an explosion aboard ship. He blamed the Reverend NaSmyth and demanded compensation for the vessel.
Sir Francis paused for rest. Letters and reports fell from his lap, but he did not seem to notice. He seemed to fall asleep in his chair.
Then, strangely, one of the fallen letters leaped up back to his lap.
When Sir Francis revived, he opened it.
Dear Sir:
"The movements of Agent No. 459 (that Animal!) are as follows: 1. Flores Island to Montevideo. Captain Alvarado, smuggler and pirate for hire, took Agent No. 459 with him to Montevideo after making a raid on Flores Island. They played cards and the captain lost heavily. The agent left ship and it exploded just as soon as he reached shore, with loss of the captain and crew (minus one that took the agent to shore). Strange phenomena appeared in the moments before the explosion--three pearl like shapes, a red light issuing from Agent No. 459's cane.
Then the pearl like shapes seemed to be struggling with the agent over the refugees that had removed from the ship to a boat. The pearl like objects--which I cannot explain--seem to have been successful. The boat was not blown up. Its occupants--all immigrants--reached shore, hired a steamer and left for the Azores. I made immediate inquiries, but the local citizenry had no recollection of pearl like lights or objects hovering above the water. They could not have been mere reflections off the water, for they had too much substance for that and moved, not erratically, but in distinct, synchronous fashion."
"2. Montevideo to Asuncion. Agent No. 459 went on foot and then by cab to a casino cafe, breakfasted on local fare instead of ordering kippers on the menu, then went directly to the shipping passenger office. He bought a berth and went on board the Don Pluto. During the voyage I approached the agent to examine his teeth if possible. I got him to talk and he said just enough for me to see that they were small and pegged, quite sharp at the ends as though he had taken a file to them."
"What? Look at his blasted teeth?" Sir Francis wondered. But he knew this was one of his best agents. He was not called "The Nose" for nothing. He had some good reason for everything he did, especially in the instance where he knowingly went against his express orders not to approach the Reverend NaSmyth personally.
"3. Asuncion. Agent No. 459 took a room at the hotel, La Gran Senora. The agent toured the city by day--and night. After dark it was very dangerous to go out when the jaguars come in to scavenge, but he did so anyway, which I thought was good reason to follow this man's every step."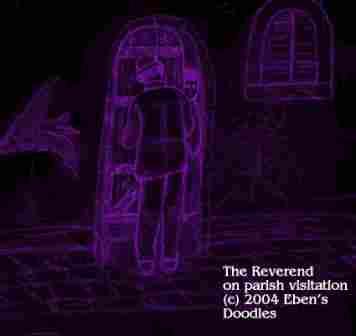 "He covered his copper head with a large handkerchief like a cowl, black in color like his suit. Dressed as he was, I lost him in the unlit streets, but I did see him go into a house on St. Hermetia the Martyr Street that happened to be situated near a street lantern. While standing there one of those vampires that roost in all the trees flew right close to me, so I got a clear view of the thing's face."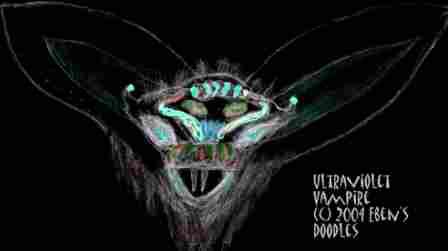 "When he came out twenty minutes later he was cleaning his face with his black handkerchief. He dropped the handkerchief, and it was thoroughly blood-stained. I lost him again when he left the house, for he moves very swiftly and appears to have no difficulty getting about in pitch darkness. I went back and entered the house. I lit a match. There was a woman lying on the bed, blue in color, with no sign of respiration. The woman was staring up at me as I lit a candle I took from the household shrine of St. Rocha all those people have, but she did not speak. I observed a bleeding wound on her throat, and blood covered her throat and breast. For some reason, he had also torn away her neckless of beads and scattered them by her side. It may have been the ferocity of his attack that tore off the necklace."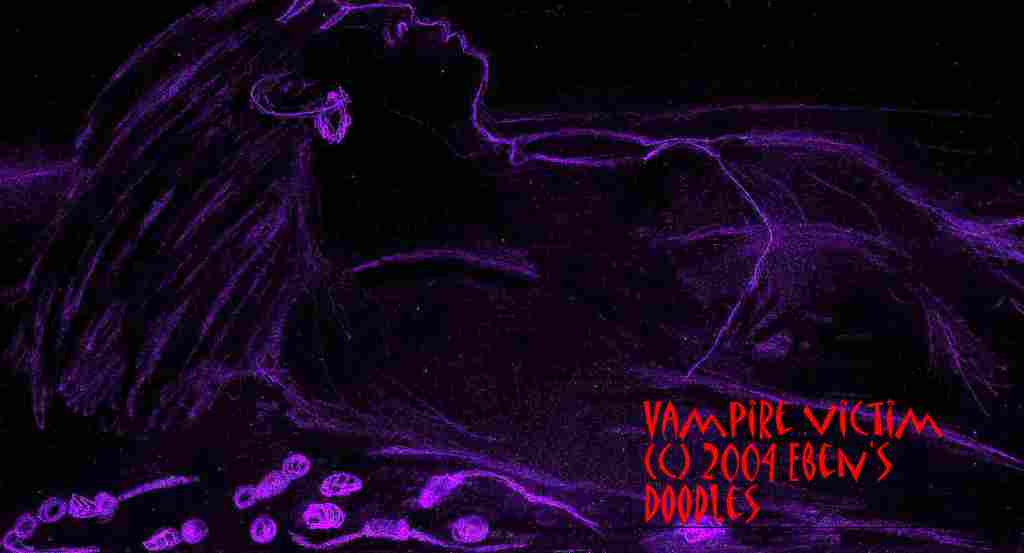 "The dead baby nearby in a crib wore the same wound. I had to go immediately before anyone came, and anyway I felt sick from what I had seen this Animal do to these innocent people..."
There were more pages of the report, containing further night escapades of Agent No 459, but that was enough for Sir Francis. He seemed to fall asleep once again in his chair, his head dropping to one side with his mouth open.
"Shameless bloody monster!" he whispered with bent head and staring eyes. "No doubt he's the one who stole my formula!"
Despite his late disclaimer in reading Anne's letter, he was affected emotionally as a human being in this business affair.
His head dropped even lower, then his eyes closed.
John Canoe slid into the room.
He darted a glance first at his master, then, seeing how he was, straightened up. Then he strutted up and down the floor, his chest puffed out.
"He's dead at last, the bloody old monster!" the Maroon exulted.
Then he paused abruptly in his celebration, his eyes eagerly playing about the room and its contents.
He made for the desk and grabbed at things in the drawers, piling them on the desk, discarding what he didn't want by flinging it to the floor.
While he was busy at this Sir Francis's head jerked upwards until he could see who was making all the noise.
"You sneaking villain!" he cried. "I heard every knavish word you said! Why, I'll have you whipped for the thief and ingrate you are!"
There was a crash as John Canoe made for the door, slipping and falling on items he had thrown.
"I'll have you thrashed to an inch of your life for this!" thundered the amazingly revived Sir Francis. "After all I did for you, you treat me like this! Vermin! Aren't you ashamed?"
Oddly enough, Sir Francis--again despite his disclaimer to Anne's letter--burst into momentary tears.
John Canoe was used to abuse and threats and actual kicks. Tears, however, terrified him, they were so rare on his master's face.
Prostrate, with eyes full of terror, he crawled toward his master, arms outstretched. "Master, master, ah doun mean no harm! Hab marcy! Marcy!"
"Oh, get up!" snapped Sir Francis, his former strength of character restored at the sight of so much spinelessness. "Go get me some milk toast. I'm feeling much improved!" The Maroon scrambled to his feet, then rocketed out of the room to do his master's bidding.
But Sir Francis really did not want milk toast. He wanted to be alone--alone with the letters and what they signified.
He really had changed, vindicating Anne's courageous belief in him though he somewhat equated saving the Earth with saving his business.
His brain racing, he had worked out all the details of what he was going to do to counter the Reverend Devil he had sent to Our Lady of the Angels.
His plans were to send an expedition to Paraguay. Never mind the situation in London had not stabilized. Never mind there were few if any able-bodied men left to man the ship. Never mind his labs were still working on a formula. He might have to search far afield for what he needed, but he was determined to get control of the Indian antidote even if he died in the attempt.
Perhaps, there was an Eyara! If Eyara, whoever he was, had saved the tribes once, he would certainly return with more medicine, would he not? You can't stop a bleeding heart! Well, his expedition would be waiting for him! He would catch the little Eyara and get the new antidote before the Indians spread it across South America for free.
Then, with the antidote in hand, his men would go ahead with the facility at Our Lady of the Angels. The forest would be cleared by Indians and the herb planted. His own newly revised vaccine might never be needed. Let London sink in the Thames mud! He might even shut down his expensive laboratories and transfer to Paraguay. It was warm year around, wasn't it? Food and labor were plentiful and cheap. He suffered much from Britain's winter as well as the damp, terribly brief thaw that was supposed to be spring and summer. A deathly chill never seemed to leave his bones.
Last but not least, the matter of the Reverend Devil. He'd send an order on the next ship out. Catch the fiend and make him lead an expedition to Paramaibo. The city would be burnt and returned to the jungle! Wiped off the map! There was to be no more meddling Dutchmen on the continent! He would also instruct his men not to bring the Reverend back with them. Hanging was too good for his likes. No, tie him up and let the fire ants and jaguars finish him off! After all, if his agent's report was correct, this was a monster, not a man. And a thief to boot! So humanity and business would both be served if he were rubbed out. What could be nicer than that?
Cackling low, the Reverend and his Dutchmen disposed off, Sir Francis's head sank back down and he mumbled to himself. With the Indian antidote in hand, the whole world lay open to him as never before. Yes, the world was his! his! He could even pat himself on the back in the affair, having just saved his own species from the Devil knew what!
Pain throbbed in Sir Francis's forehead, distending large blue veins that crossed his forehead in weblike patterns. A dreadful thought had just occurred to him, spoiling his moment of victory.
What if the Reverend Devil was the cause of the present plague? What if he was the carrier and had killed off all the Indians? Would there be an antidote in time to save them? His men might find only piles of jaguar-gnawed bones where there had once been village and towns.
Thinking he might have lost his investment and his ancillary claim to human feeling even before he started, Sir Francis's pain grew worse, frightening him with loss of control.
"What?" he cried, looking up with sightless eyes.
He had just heard what seemed a peal of distant, lugubrious laughter. Unearthly, queer, it was issuing from all points of the compass at the same time, even while it grew closer and closer.
"Choose this day what you shall serve with all your heart and soul," broke in an urgent, small voice inside his mind. "Choose God or Mammon. You cannot have both, my son."
The old man had been teetering before on the edge, perhaps, but now he wavered for only a second.
"Well, then, if I must chose, Mammon!" he thought. "I understand Mammon, and it understands me! The rest is all rubbish, far as I'm concerned, mere whey and water."
He felt a net drop on him and his body seized.
"Keep your hands off me!" he cried. "I'm not going with you. I--"
Sir Francis gave a cry and lunged from his chair, took a few steps to the world globe, and fell.
17 Change of Administration
Wally III was wrong about Tutasix wanting to keep to his solitary, peaceful job despite what was happening to the world and the Solar System. When approached, Tutasix appeared very eager to join ranks with Wallys I-III in the Wargame. The incident of the Martian meteorites had shaken and sobered the introspective, quiet-living Cray considerably.
"Tutasix, " said Wally I. "Your name is now Wally IV."
"Oh, thank you. I like that name very much. I am pleased you would give me a name we can all share."
"But you must understand that you are junior member of the force," declared Wally III a bit stertoriously. "You've missed a good deal of the war, and so you require extensive training before we'll consider admitting you to the front where the action is."
"Yes, of course," acknowledged Wally IV. "I will do my best to learn how to fight the opposing Player! And if there is anything you should ever want from archives, just--"
"Never mind that," said Wally II. "Since you are a junior member, as Wally III said, I cannot see giving a recruit the same rank as professionals on the team, even if you bear our name."
"I agree," responded Wally III. "Our NTM is a pearl. I suggest you take some other mode for the time being."
"But I really have no preference, Wally II and Wally III," replied the junior member. "Can you suggest a suitable NTM for my facility?"
Wally II and III went into a lengthy conference. At last Wally III's idea, a blue Morpho-like butterfly, so common in South America's wilds, prevailed. He actually did n ot create it. Searching his NTM file in vain for something suitable, he went to game files, since such files were full of animal and human characters as well as caricatures that could prove useful. Rejecting thousands in his survey, he kept searching. Finally, he was delving in old Microsoft Corporation games when a sort of glitch, an indetected virus of some sort, projected a blue butterfly against his probe.
Just the thing! He snatched the butterfly and rejoined his colleagues.
"It's distinct enough not to be confused with our pearl," explained Wally III, who detested insectivora and had chosen the butterfly from pure spite.
Wally IV kept silent.
In the morning John Canoe scraped into the study and found his employer face down on the floor. The body was not white but blue and bloodless, hands and fingers curled up like arachnids curl up in death.
In falling, Sir Francis collapsed on his treasured globe of the world. Being extremely old and brittle, it had shattered. A priceless antique of fine, old Jesuit Reduction craftmanship, it was engraved with the legend, "Holy Order of Our Lady of the angels and Her Salutary Dependencies." Now only the letters, scattered, survived. Since there were so many, it so happened some came together, coincidentally making words such as "fool" and "spider."
In order to go through his pockets better, John Canoe had to move him. When he did, he found more lettering imbedded in Sir Francis's face.
But these details were lost on John Canoe. He quickly made a search for long-overdue pay. Finding only a few trinkets of no real value on Sir Francis's person, he took a pen knife and hacked off Sir Francis's finger, the one with the seal ring he used for stamping pay authorizations and all other company documents.
Rushing back to his room with the prize, Canoe locked and bolted the door. He dropped Sir Francis's bloodless digit in astonishment. The thing rolled on the uncarpeted floor, then lay still for a moment before slowly curling up again like a long white tentacle.
Then Canoe did the bravest thing in all his life. He leaped on the tentacle, pried it apart, and pulled off the signet ring. Then he flung the tentacle under a bureau and rushed out of the room, the ring already on his finger.
Working feverishly at Sir Francis's desk, within an hour he had forged Sir Francis's signature and stamped his seal on the transferal of the Clarke property and firm to himself, "Sir John Canoe."
It was only at that moment that he paused long enough to recall, with an electric jolt that brought terror into his eyes. He had forgotten the milk toast. What a tongue-lashing he would get!
Then it dawned on him. He was free! free! forever free! Death had struck off his shackles and now he could do whatever he wanted!
Sweeter than cocoanut, freedom coursed through his Maroon being, setting every nerve on fire with a tingling sensation. His whole skin felt new and loose, and he shook himself like an animal would to get rid of scorpions from its pelt. He was a man--a free man! Nobody would ever again tell him what to do! From now on he would tell others, indeed, the whole world, what to do! Yes, he would ascend to his master's place and rank, and everyone would serve him, Sir John Canoe! It was high time the world recognized his greatness! He had kept it under wraps during the previous administration far too long! Now he would make up for lost time!


Copyright (c) 2006, Butterfly Productions, All Rights Reserved