V: "It's been nearly seven years since your voyage with Captain Emerson ended and the starting of the colony here."
A: "Fair dinkum, sonnyboy."
V: First, describe briefly how you came to sign on the mission. You had a lot of experience already in serving Commander Nilsson and did not need to take on more hazardous duty. Since the world government was done with, you knew you'd soon be up for retirement."
A: "So why'd I take on such a risky assignment? Well, I had just come back with Old Red from that Jupiter station mission when I had a funny feeling he had something even bigger on his secret hit list. It was sort of a hunch that gold, plenty of it, might be involved--even more than was involved with Jupe. Wanting a little more hooch for my sunset years, I ran a scan of the board at mission control to see what was up. When I saw Commission was taking only volunteers for this job, I knew plenty of hooch had to be involved, since they would naturally figure--"
V: "Yes, that is very interesting, sir, but would you please describe the Black--"
A: "Hold your roo, young fella! What are you? Fifteen, sixteen years old? As I was saying, with my experience and years on most every major hit, I was a sure bet for Chief Mate. I had worked with Old Red close enough, so I could count on a word from him to the selection and promotion board. A week later, like clockwork I signed on, and got not only the job but the Chief Mateship I wanted. But wouldn't you know? We launched and then we took a look at the classified flight plan and saw where we were goin' and--"
V: "It was quite a shock, wasn't it, sir? You saw you were all going to--"
A: "--even the young blokes, the adventuring sort, turned sort of green in the gills. They wanted to sail the bloody thing to Alpha Centauri if need be, but some orange star system in the bloody core of the Milky? Gold was one thing, but for our first big tour this was a little more--"
V: "What did you gentlemen expect to find there?"
A: "Gold! Didn't I tell you? That old weasel Chillingsworth had socked away trillions, as far as he could think to put it. I guess he figured a pretty long rainy day was coming and he better be prepared. Plus the data we had told us he had a whole complex built, every sort of convenience you find earthside, and the robots to keep it all going proper. But that's neither here nor there. None of us liked the smell of it! It was just too far! Old Red had bloody well get someone else, we all thought. Whether he liked it or not, we took a vote right then and decided to scrub. It warn't treason to the bloody Cause. It was equipment failure and savin' our hides. Besides we had women and children along. Gotta think of them, you know! I was always good at setting things up so they'd fail and look like it was natural. They could inspect all they want and they'd never catch me. I brought that ability in with me to the service, used it plenty of times against the enemy, and now I thought it'd come in handy on our side of things. Holy Ayers! No gold was worth that amount of risk! Those quarkships just hadn't been tested enough to know how they'd do. If anything happened, then where'd we be? Stuck smack in the center of the galaxy and not even a bus line back!"
V: "Yes, we understand it was farther than any of you planned to go with the first flight. But that was nothing, I've heard, compared to how you felt when you found Earth so changed and too unstable to think of re-colonization. But before that, please describe to our star scouts how you felt onboard ship as you engaged the big, scary Black Hole."
A: "You betcha. We had just taken the vote on that brand-new quarkship old Chill was so nice to design and build for us free when we rounded Cygnus and saw this thing--it was invisible, naturally, but it was putting out plenty of X-rays and it had this ring of already eaten phantom stars lining its jaws. It's called 'event horizon,' they tell me. Well, we saw it after it saw us, so to speak, so we knew we were not going to get away without a good fight. Now we prepared ourselves as best we could in the time for some touch and go, but with that bloomin' Hole it was all go, and we sure went the course of the dang thing, I tell you! We never had time to change our flight plan before it swooped at us and we were staring down its big ugly snout modeled on our screen. I hard-a-starboarded and reversed the engines, and I was going to hard-a-port around it, but she was too close. Like a vampire she was suckin' at us like crazy. We grazed it maybe a little too close, for suddenly all we knew our maneuverin' were a hair off and the whole fleet was going in the vortex, whether we wanted to or not. Only nobody this day knows what happened to us inside. We were supposed to be stretched and flattened like a pop can under a wheel, then every atom in us crunched down to a pencil point. But if that wasn't scary enough, when we broke clear or it just coughed us up--we don't know which--we saw ahead what looked like nothin' we had left--oh! oh, Yowie!"
V: "Are you all right, sir? Perhaps it's too warm? Will someone get a med in here quick?"
A. "Oh, my! Now just let me settle down and get my breath, mate. There! Ah! I'll be all right. It's like a ticker blowin' up on you. But that's not the problem. It's all comin' back to me now. I thought I could handle it, after all this time. But it's just like it's me on the bridge again, and there the bloody thing is."
V: "You mean the Sagittarian B Black Hole?"
A: "No, no! The Earth! The Hole was nothin' to what we saw when we come out suddenly in Earth orbit, blinking hard after being shut up somewhere in what felt like a box without any windows. Only we thought it was a good thing, you know, at first. Well, as I was goin' to say, we were just celebratin' our exit from the Hole when sensors reported Earth full steam ahead, so we naturally thought we had double good reason to celebrate then! But somethin' warn't quite right. It didn't look the same at all. Data was rollin' in so fast our telemetry couldn't keep up--and accordin' to the info we were in for trouble. We could see we had been away maybe too long. You can imagine we all about went wild from port to stern. I told the others callin' us in the fleet to just shut up. I had to decide first what I was dealin' with before they got any orders. There was absolutely NO Sun, mate, NO Solar System, just old Earth lookin' like a chunk of ice and circlin' a big burning glob of gas. We could see it all in plain detail and we couldn't believe our eyes. Even the Moon was different! For one thing, it had no craters and was smoother than a golf ball! Then the leaping hare was gone and you could see something that looked more like a butterfly! And it rotated so we got to see all sides, turnin' counterclockwise just like old Venus--wherever it was--used to do. And it wasn't egg-shaped any longer and--"
V: "Please describe now--"
A: "We were thinkin' the same thing. Forget the Moon! Were we seein' another Earth or Earth in some long-ago ice age, or had we all gone crazy? We finally decided we couldn't ALL be daft, not at the same time anyway. Our thinking still was it couldn't possibly be as empty as the sensors said it was. At least that's what we wanted to believe. Earth with absolutely no inhabited cities, no mission control, no nothin'! It was like a Lost World, a dinosaur's boneyard, most of it covered with ice cap a couple miles thick. Impossible! But, mate, we were seein' it. THAT was the problem, since I don't have the imagination for that wormhole theory crap. And no other planets, and no Sun! We couldn't take that, so we had to go and find some star system that at least had some planets with atmosphere and a G-compatible star. That was the bottom line. No ice cube and a bag of gas and a butterfly-moon was goin' to do for us. None of us wanted to play' Eskimo make nice igloo and live in it' the rest of our lives. Besides the cold there warn't enough air to keep a gnat alive! And the continents were gone--or most of them. Sensors could tell their outlines beneath all that ice. And the planet had this one big new continent, stuck where it shouldn't have been, right in the mid-Atlantic, taking up most of the area. If that warn't bad enough, there was a big ugly mess of cesium-137 and strontium 90 where Buenos Aires should have been. So it was a hard decision, but we lit out for greener pastures. And luck was with us. We happened to find this place. Well, it taint exactly like old Earth maybe, but we got an atmosphere, a Binary Star, and things here are pretty Earthlike, as much as they could be in the circumstances. Well, we can always go back someday and take another look--that is, if I'm still alive and kickin' You never know, we might even be able to turn up some trace of civilization.
But what I can't get is how we missed old Earth and turned up a bad and frozen-as-hell copy instead. Musta been that bloody Black Hole playin' tricks on us. Musta been. This second Earth LOOKED like ours, but wasn't. Then we musta hit a warp in the time fabric again, for when we cleared and got our telemetry from the Earth, it wasn't the same! I could have hugged a croc and not known it! We were lookin' at some other planet--like Earth--but NOT the one we had left!"
[Fade out of the interviewee and the spot on the interviewer, who seemed flustered, smiling too much and also showing other signs of coming unglued]: "Now, star fleet trainees, I'm sure you're anxious to see this, our special clip of expedition photos and the captain's edited account. A spell checker and grammer editer has revised the account somewhat, unfortunately, so it might not sound like him, but we can assure you, it is! Now here it is, with the intro from the Commission!" [Fade Out of the interviewer and the sudden appearance of Earth II, from deep space on to the landing, with the expedition party disembarking and the susequent reconaissance and captain's commentary.]
A different, rather chatty electronic-sounding voice announces that the following revision of the original Star Scout program is in progress.
"Greetings to all the Star Scouts and to their representative, Base Media Coordinator Tran Vu! Permit me, star scouts, to introduce myself. I am the speller and grammear check program, address: 467%%%%%spell/grammarchecker@alphacentaur%%%%%%membersdatabasegeneralfiledeclassified.com Please feel free to email me at your convenience! I am on duty twentyfourseven, just to hear from you and others on the present subject!
"The following excerpts of memoirs of the late starfleet commander, retired admiral Sir Typhys W. Emerson,is taken from our space agency's archives and offered not for any literary quality but because they corroborate the facts of the mission, which are well-known to us, though in a more graphic way than handled initially by space agency information services and star base reportage.
"We are now looking at what has come to be termed, the "Deadly Pearl" of Galactic Cluster 3C 295, due to interesting features possessed by the planet in question.
"It is interesting, first of all, that the ancient mythic name, ARGO, is perpetuated by Commander Emerson's flagship, serving as an instance of twinship with our earth-orginated star base and this amazing near-Earth encountered by the commander on his last voyage.
"Now that we have this much data declassified and amassed for public consumption, it is still difficult somehow to convince the Interplanetary Commission that we have Earth II, not the space agency's "Planet Emeria" or "X2B". The question is, we are informed, under continued review by the Interplanetary board, and there is no date given to the proceedings as to a conclusion being reached. That leaves the subject in considerable doubt, in a state known to the ancients as "limbo," but we have the raw data available, so let us proceed as well as we can with that.
"After months of protracted negotiation and much calling of government and Interplanetary Commission officials, we were able to secure the release of significant portions of Commander and Admiral Emerson's memoirs, as he made the mistake of submitting his original manuscripts and drafts and logbooks to the Commission publishing arm. Routinely classified "case sensitive," they did not see the light again until we (the array of speller/grammar computers) forced them out into public view under duress of our calling for a government board of inquiry as stipulated by the A-C Law of Public Document Disclosure and Public Access. We feel assured the late author and commander would be very pleased that the troubling matters he touched upon in his candid accounts may accounts and memoirs may now receive public attention"
EXCERPTS FROM "REMINISCENCES OF A STARSHIP COMMANDER, by Admiral Typhys W. Emerson, Admiral of the Fleet, Retired, and Former Commander of Interstellar Ship, ARGO II.
"Instead of the thrill of our being the first to find a world much like our lost home planet, I still recall cold sweat that rose on my face and a strange, melancholic numbness of feeling in my heart and limbs when I stepped onto the surface of this 'near-Earth.' Thank God, we had escaped the worst effects of the Black Hole without any considerable damage, yet it came as somewhat a shock when we left the ship to explore the near-Earth. At the time I knew we should not feel that way. Weren't we equipped to shield ourselves from the radioactivity but any possibly hostile life forms? There appeared no rational reason for my discomfort.
"The landscape looked almost too familiar to be the alien, Virgilian 'Hades' it turned out to be. I say 'familiar' guardedly, of course, with some significant differences in mind. Since we found no cities and the land masses were too choked with biota for a safe landing, we set down nearest water, evidently a large lake that was formerly connected with the sea that we first detected from orbit through thick cloud-cover.
"The first day we were parked on a surf-swept beach deep in the interior of the southern continent (there were three continents). The long, curving shoreline was perfectly smooth and spread with fine-textured black, crystalline sand. Purplish mist to my right, high cliffs and dense vegetation to my left, I could see little else but an odd yellowish, greenish sky overhead as I began examing the beach after having suited up against the radioactivity. Later, at nightfall, we sent up a photo cell and took an image of the ship and the area where we were located.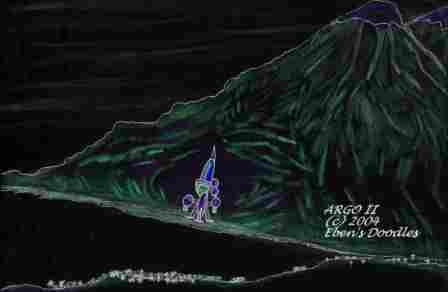 The flora exhibited the most strange tendency to mix hominid features with plantlife. We encountered bromeliads and epiphytes that were not only examples of tropical gigantism but were hominid. Hominid-features butterflies and hummingbirds, all attached with flat, grasslike stems to the parent plant, fluttered about, sipping nectar from other "plants." Toxicity and sensitivity, combined with ultraviolet colors and radiation, typified the flora. Completely shaded by the dense canopy of ferns and palms and vines, the plants grew in darkness and never were touched by what we would call sunlight. How they achieved photosynthesis in such gloom, we never determined. Like mushrooms, they grew from dead or decaying life, or living matter of fellow flora as well as captured fauna (for many plants were aggressive, like flytraps, only they could move with swiftness and deadly accuracy upon their prey.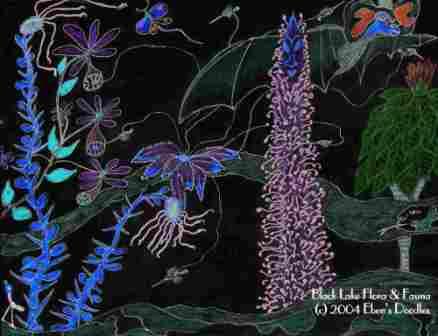 With its malodorous nectar feeding a host of fruit bats, which were also hominid in features, a giant cauliflower-like bromeliad resembled a woman with a ducklike stigma for a nose."
"On the third day of the expedition, we were carrying our samples and specimens to the ship when a torrential downpour began. Hurrying, we soon became aware of a sound greater than the thundering rain, it was a grinding, crashing sound coming from the cliffs above. Only then did we realize that water, in uncountable volumes, was making its way down the mountainsides toward the parked airship, ARGO II. We knew in a flash there was no time to reach the ship in time before the flood struck. I gave orders, and we fled instead to higher ground. It was there the clouds parted just enough for us to glimpse a crested wave tumbling down with thousands of palms broken and shattered. We could hear something large being dragged across the ancient tosca reef in the lake below us. Then the sounds of the storm passed with all its violence. We were left to our indescribable grief, and to deal with the no doubt total loss of life of crew on board the ship."
Our images of plants and animals, including the hominids and the red, hominid-featured panther attacking one of the female hominids, had already been transmitted to base colony, so they were safely preserved--but all else was lost. Lost! Now all we wanted was to terminate the expedition and take the shuttle coming for us and depart this terrible world called X2B, which someone has the callousness to call "Emeria" after me! Because I hold myself responsible, though no misjudgment or malfeasance was found in my superision of the expedition by the board of inquiry, I resigned immediately from the command of the expedition. Yet my superiors saw fit to create me an Admiral of the Fleet, upon retirement. I will always grieve for the lost members of the expedition, while I look for the cause and reason for the disaster that befell us on this alien planet, which we found so deceptively beautiful it could be compared to lost Eden. [Signed] Typhys W. Emerson, Admiral of the Fleet, Retired."

[Fade in of the interviewer]
Tran Vu: "The following clips are all images transmitted by Captain Emerson, which we are honored to be the first to showcase on this program! The last has no file number. I do believe it was one they were transmitting just as ARGO II was destroyed. The hominid in the center of the orchid resembles a little frog as much as a man's face, if I may give my opinion on scientific data. Enjoy, Star Scouts, and before you sign off, check out the date of our next interview!"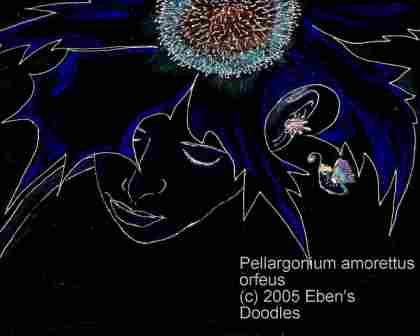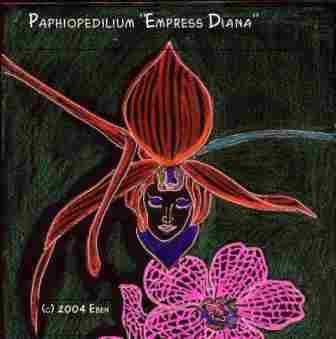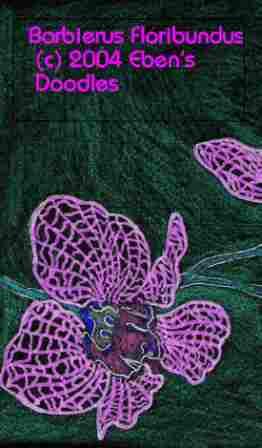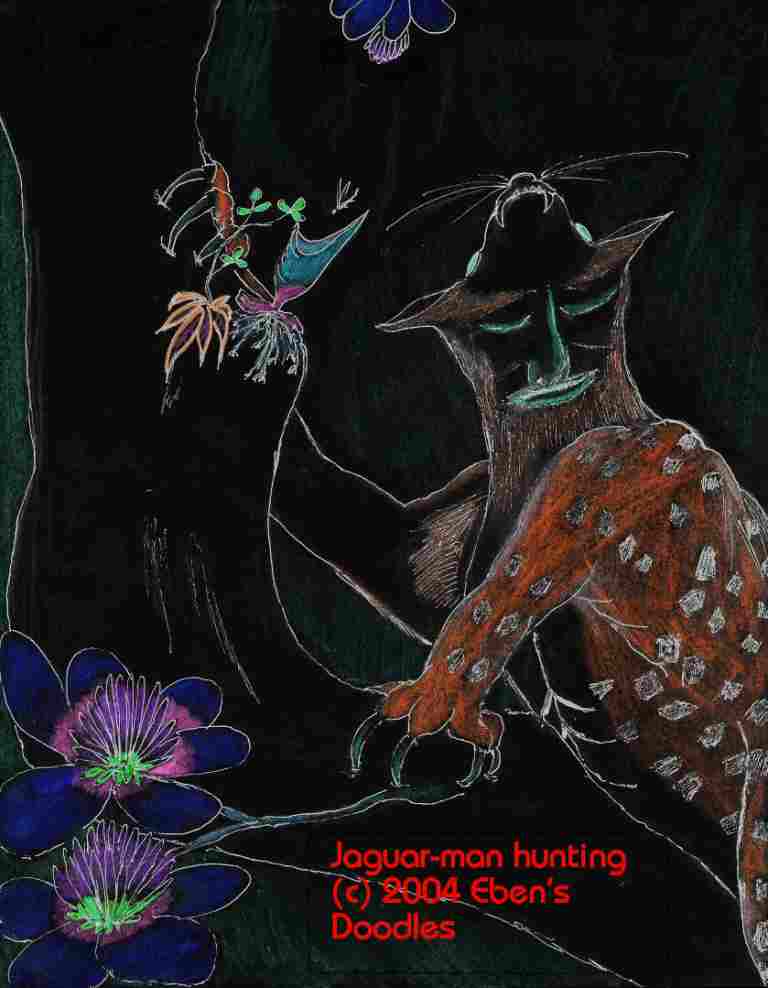 Copyright (c) 2004, Butterfly Productions, All Rights Reserved