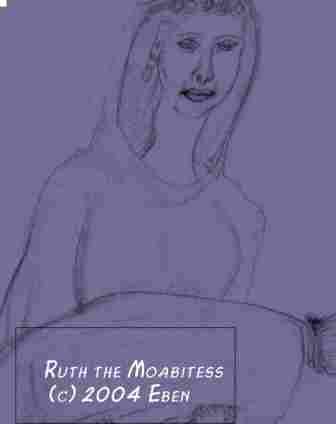 Like a malignant boil pressed before its time, which only increased the inflammation, news spread in the city before Ruth could reach home. Though she had been shown favor in Boaz's field, it changed to rank jealousy, anger, and indignation in the city. But she was far too excited to notice the evil looks and curses that flew thick at her from every side. Naomi, waiting up anxiously, unbarred the door and let her in. Ruth put her sack of wheat down carefully, then moved it inside the little shed they called home. The mother-in-law slowly followed on throbbing legs, which seemed to swell all the more on poor diet and lack of food. "What is all this you bring?" she cried amazed. "You haven't stolen it, have you?" Ruth remembered and quickly brought out the roasted parched grain for Naomi's dinner. After the widow had eaten, she renewed her urgent questioning. "Where could you have gleaned so much today? Blessed be the one who let you work in his field!" Ruth could hold it in no longer. "The man's name in whose field I gleaned is Boaz." Naomi, after a long pause, finally took it in. Then she began to laugh and weep at the same time. When she finally got some control, she turned and said, "May the Lord bless him richly then, for he has not forgotten to be kind to the living and to the dead. He is near of kin to us, my daughter! One of those closest to us of our line! But did he say anything to you?" Ruth told her all he had done and said, including his repeated instruction later in the day that she should keep close by his workers until they finished the harvest and not go to another field to glean. Naomi, full of experience, nodded. "Yes, it is good you do that, keep close by the field women all the time you work there, and stay in his grainfield where your honor is safe." And Ruth did as she was advised, and no harm and much good came to her and Naomi.
A traveling Levite poet who, like many others of this facile, landless tribe, earned his living by versifying local events came by Bethlehem, heard the account, and with his arts fashioned a new song on the spot that he took pains to adapt to his ordinary, workaday audience, the common townsfolk. Simple in form and expression, the song became popular, particularly after the city forgot its rancorous, marital troubles and joined in celebration of the birth of Elimelech's third son and heir. In fact, Bethlehem Ephratah was never the same again! After telling Naomi's troubles in Moab and the journey there and the troubles she suffered in a strange land, the "Song of Naomi and Ruth" described the daughter-in-law who refused to leave Naomi to her misfortune, but shared it and even accompanied her back to Israel, forsaking her fatherland for the sake of her mother-in-law. Then, it continued with the unfolding events of how Naomi found favor with an Ishamelite trader, who gave them free donkeys, and how God granted mercy and Naomi found free lodgings with an old widow in Bethlehem when no one else would take her in, and how Naomi's kinsman, the good Boaz, granted favor to Ruth when she came unwittingly to his field to glean, and how, as the poet put it...
Evening came to end the day, Ruth did thresh her gleanings out; Wheaten grain, an ephah lay, Was much to bear on her home route. Naomi was waiting up, Saw the wheat grain in Ruth's robe; "Blessing fill that farmer's cup Who favored you as God blessed Job." Ruth replied with joyful face: "Boaz is the man's own name." Mahlon's mother praised God's grace; "This man," she cried, "of our line came." So until the wheat was in, Ruth the Moabitess gleaned, Heaped with golden grain her bin, And from the heads all chaff she cleaned. Naomi then said to Ruth, "Daughter, may I serve you well! This I know, it is the truth, Draw up close, and I will tell. "Boaz winnows grain tonight; Wash therefore, put on fine scent, Best of clothes, and veiled tight-- The threshing floor to him was lent. "Daughter, wait until he's done Drinking, eating to his ease; Go then softly, do not run, When he lies down to rest his knees. "Lie down then at his bare feet, He will tell you what to do." Ruth rose up from her low seat And chose a gown of purple hue. Eglon's daughter, as some own, Lost her kinsmen, family, all; Royal princess, poor and lone, She fled from Ehud, palace, hill. Wed to Mahlon, no one knew Ruth was purpled in her blood; Years then passed, and not a few, As Jacob's God slow formed a bud. Bruised by Israel's Most High, Cast down from her high estate, Ruth a servant chose to tie Her life to Mahlon's mother's fate. Love was all she had to give, Crushed and winnowed of her chaff; El Shaddai began to live In her own heart, plowed whole, not half. So to threshing floor she went, Down below the Water Gate; Trust, obedience had bent Her soul to love as its own mate. Darkness fell upon the hill, Ruth saw not a single star; Silent wings of good, not ill, Dropped round her close though God seemed far. Doing as her mistress spoke, Ruth lay down by Boaz' feet; Midnight came and he awoke And found a woman in his wheat! "Who are you?" he said amazed. "O sir, 'tis Ruth, your maidservant; Pray, spread your hem o'er God has raised, My mistress is your honored aunt." Boaz sat on threshing floor Bruised and beaten by a Hand; Golden grain from stem so sore Now fell unnumbered as the sand. Yet he answered to the call: Rahab's son to Moab join; Spread his hem, and with it all, Gave up right to his own loin. "God bless you with his favor! Young men, rich or poor, were not Chosen by you, time's child; Now I will help you as I ought. "Yet there is a nearer kin, Well if he will do his part; Yet if not, his right I win, So have no fear in all your heart! "Stay this night and take your rest, I will do what is ordained; In the morning light is best For working out what honor gained." Ruth then lay on ripened wheat, rising early after dark; Grain he gave her, six heaps full, For Naomi's eyes how sweet! Bent with Boaz' grain she went Home with strange joy as her part; Stars still shone, their light now lent A beauty that vied hers at heart. "Wait his day, for time will tell," Naomi then said to Ruth; "He will settle (I will sell Poor Mahlon's land!) all this in truth." And all was done as Boaz said; He went to Water Gate and sat; The next of kin declined to wed, Restore the Dead with his own fat. The land Naomi had to sell To next of kin was Mahlon's due; Then 'twas redeemed, a fountain fell on Mahlon's grave through Ruth's womb-well. Giving up redeemer's right, The kinsman passed Boaz his shoe; Ten elders witnessed by their sight That Boaz bought Mahlon's wife too. Then Boaz said without gainsay To elders and the people there: "For you all witnessed on this day What was redeemed by right most fair: "The land of Naomi but more, Elimelech's and Mahlon's too; So that their name lies dead no more, I'll wed the dead son's wife as due." All Bethlehem ran to the gate To see the great things making there; An Ishmaelite not come too late Was passing through with camels bare. He called the train then to a halt, His camels roared and came to stop; He took the story with some salt, But something in his heart did hop. They told him of a heart full true, A Moabitess from afar, A widow serving widow too, With love that shone just like a star. He saw a vine as they did speak Climb up a barren trellis there, And fruitful grow through stem was weak, The two proved strong, no longer bare. He saw again a golden Vine, Fair Israel upon her God, And then believing on this sign He felt his heart begin to laud. "O grant me, Lord, one look at them!" He prayed silent within his breast; But he must now leave Bethlehem And carry home what grain was best. Going to the threshing floor, He bought (no barley!) wheat like gold; It tasted sweet unto the core, His camels heaped 'til all was sold. Much grain of Boaz, clean and bright, Now threshed and beaten of the chaff, Went forth with joyful Ishmaelite, Who praised the Lord with sons not half. The people at the gate all cried: "We all today are witnesses; The Lord be with you and abide, Build up your house as with Perez!" A small boy piped a cheerful sound, And reapers raised a manly cry: "In Bethlehem be you renowned, In Ephratah your wheat heap high!" And then the maidens sang a song, With timbrel they all solemn-stepped; They circled in a line along Where Boaz sat with heart that leapt. "As Rachel, Leah, both bore fruit And filled up Jacob with increase, So may Ruth now, though poor in root, Give sons to you without surcease!" So Boaz took his Ruth to wife With pipe and dance and glad array; El Shaddai brought her womb to life, And she conceived within a day. The Moabitess bore a son, Through him the Star of Israel raised; Yet God had hid what He had done, To Naomi the women praised: "O blessed be the Lord today! He raises poor up from the dust; For those cast down he lifts his sword, His steadfast love for those who trust. "From the dung-heap they are raised up To sit with princes of his land! He fills the barren woman's cup And gives her children by his hand. "For she who bore this son of yours, Is more than seven sons to you; On you this daughter's love outpours." 'Twas then the widow ceased to grieve. Without her mourning garment on, In festive garments, Naomi Then took the boy as her own son and cared for him most tenderly. The neighbor women sat round one day, Rejoiced and gave to him a name; "Obed" or "Servant" they did say, Unknown to them had gained great fame. For Obed was forefather too Of Jesse by whom David rose To glorify the Lord he knew, Who one day conquered all man's foes. Far off from Bethlehem at night, An Ishmaelite to God gave praise; He thought he saw a birth of Light, Where there was none a Star did blaze.
Bowing low before the collected citizenry after his performance, the minstrel collected what pennies were cast into his bowl and passed on to other cities and other lands. He too had seen the star the Ishmaelite glimpsed. But both men missed seeing yet another star of Bethlehem light the sky over the city. The child Obed was not a year old and his head thick with astonishing, red ringlets when a house in town blew up in a fiery explosion. Something flew upwards into the night sky, turned and came hurtling back toward the city. It hovered close over the rooftops, gleaming and glittering like an adamas stone the size of a small mountain. The heat started some of the rooftops aflame before it drew back as if scorched by a greater fire than its own. What was burning it? Everyone who witnessed the actions of the "fiery star" thought it was the end of the world, but in fact it was the end of the fiery star that was more probable at that moment. Now the old woman, a mother of Israel, had not said, "Then come and abide with me." Without teeth, a mistake could easily be made. Not hearing their need, what she said to Naomi and Ruth far back now on the road was, "Flee, my children, from the Wrath to come." That warning word might well have been heeded by the resident devil-star. Something a certain Moabitess had ignited in the hearts of people around her suddenly began to vibrate and agitate, creating a powerful and energetic radio energy field that could heat and destroy anything inimical to it. If there was a single message in the phenomenon, it was "Love selflessly!", with Selfless Love invoked by His mighty nomenclature of two letters, the first and the last of a divine alphabet--
"A-Z! A-Z! A-Z!.....
The OP in Bethlehem was soon aware it was over-heating as it hung above the city, reluctant to leave. The pulse grew stronger, unbearably stronger, in the closing moments of the year.