"No, it is a Christian mission, but as a seafarer you are most welcome to stay and rest until your ship departs. Please do come in! We will try to make it at least half as comfortable for you as you have it back in your home country."
The former Olympic torch bearer of the secular 22nd Century Crystal Age did not know what a mission was, Christian or otherwise, and had no desire to find out. Besides, the house had the strange look of being way out of its time period, by at least a couple centuries. How could he put it politely, that he wasn't interested in their hospitality and "comfort"? Then he thought of something. "I am probably late to my ship. They might leave without me."
Both women laughed! "Oh," Mrs. Funnemark said, "I've met your good captain already, and he agreed to lay over another day if any of his hands are late in returning. So come right in and have some coffee and doughnuts. Christine here will sing you a nice song at the piano! She plays well for her age, I think you will agree."
Ero could not resist that--he felt he was starving for food, for the first time since he disembarked. Anything, even these offered "doughnuts" sounded good to him right then. He hurried after the women into the house, and found himself in a parlor with overstuffed furniture, a lot of newspapers and books, a piano, and a highly polished table with a bouquet of flowers set on it in a tall crystal vase.
Filled with embroidered pillows and lace doilies and needlework flags of Norway, it was a quaint though beautiful room, everything dusted and shining with polish and cleanliness.
He saw a staircase, too, leading to the second level, on which he heard slow, halting footsteps and a tapping with them. A mariner came down slowly and entered the parlor, greeted Mrs. Funnemark and Christine, who introduced him to Ero as Mr. Christolph, the sole survivor of the British clipper Atalanta that sank hard by Deception Pass, which was famed for its treacherous, fast currents. Mr. Christolph, unable to sail again from injuries in the Atalanta's sinking, using a cane, exchanged some books from the little library in the parlor, and taking a doughnut and some more coffee went even more slowly back up the stairs.
Mrs. Funnemark glanced at the old sailor as he went away. She smiled at Ero, observing, "Many sailors are like that, I find, toward the end of their seafaring. It is a dangerous, hard life they have. They start off so young, many of them mere boys who skip out of school if they can to run off to sea for the adventure of it. They are strong and courageous and good-hearted. That serves them for a time, but the hardships wear on them, and they turn old before their time. Without education, children in their minds, they fall prey to the temptations of the ports, many of them. All the money they earn is taken from them--so they never can save anything. When they finally are old, they suffer in their bodies, and need care. So when they come by here, we try to do whatever we can to ease them. They never remain here long, for their adventurous hearts always urge them to move on to some other place--always roaming, until they die in a lonely room somewhere. They like to be quiet here and remember their younger days, the good days, at sea, so we let them talk when they want to, or be silent if they wish! I am telling you all this, because you are just starting out, are you not?
Sitting down where the women showed him, Ero was handed a tray with a big pile of fresh doughnuts and a steaming cup of coffee. As he devoured the homemade but somewhat bland doughnuts (though he would have preferred roast goat with rice, some cheese and green olives, Turkish coffee and dessert of marzipan), he heard the girl begin singing at the piano, and her voice, though not remarkable, was sweet enough. He began to listen once his stomach pangs went away. Mrs. Funnemark refreshed his cup, and offered him cream and sugar.
The room was warm, and he felt so at ease there that his head fell back on the couch, and the next thing he knew someone had laid a blanket over him, and then gently guided his head to a pillow and his feet to the other end of the sofa, and he was oblivious to the world.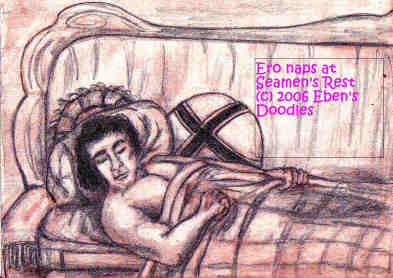 When he awoke, he found Mrs. Funnemark sitting by him in a chair, working on some kind of knitting in her wicker basket. She saw he was awake, and then put the basket down on the highly polished, fir-planked floor.
Her raised eyebrows and smile seemed to encourage him.
"What is this place"? he burst out. "Why are you doing this for me?"
Mrs. Funnemark glanced toward a gold-framed picture of a bearded sea captain over the fireplace mantel. "My husband and his ship and crew went down, all drowned--and so I felt called of the Lord to do something for seamen if I could. I sold our home in Norway, and here where we landed my daughter and I have tended seamen like you since then. We have never regretted it. So many sailors have come to our door--we have a guestbook you must sign before you leave and go back to your ship, young man."
Ero looked at the guestbook she had meanwhile picked up and was handing to him.
It fell open, and her eyes caught the names on the sheet. She started telling him about the entries, whom they represented.
After he listened to her tell something about each ship, he had to ask her something. "What is this city? I don't think I like being here. I want to leave. It is like no city I have ever known. Where are all the people?"
She smiled, but her eyes were not smiling. "It is called the City of Destiny, young man. It has three Gates, or three Doors--the Door of the World, the Door of Flesh, and this Door of Seamen's Rest Christine and I keep here for sailers like yourself--make of it what you will. You can leave this city now with your ship and good captain, but you must choose once you've come ashore. What door, what doors, did you choose, young man? For I know you have gone into the city, seeking your own destiny, before you came here."
Ero did not like such questions about his own personal life and search, but they made him think, and Greeks like to think even more than sailing a good ship over the sea.
"What do you mean by 'World," and what is 'Flesh'?" he asked, just like a Greek.
Mrs. Funnemark, gathering the plates and napkins, turned to Christine. "Dear, you tell him, while I go and wash up. If I need you to come and help tidy things a bit more, I'll call."
She went out to the kitchen, leaving Christine and Ero in the parlor--who could not have presented a more strange sight--a young lady properly dressed from her toes to her chin, and a Greek torch-bearer with just his running shorts.
Christine turned to Ero, who was embarassed to be left alone with her, though she was too old-fashioned to his eye to be attractive.
The sea captain's daughter eyed him keenly, as one who knew sailors top to bottom, fore and aft. And she knew exactly what all the rigging was for, and what to pull to haul up the main sail or trim the jib sail too.
She held out a small, glossy-black book. "Here, read this please. It isn't very long. It will tell you what the Door of Flesh is."
Ero took the book reluctantly, glancing at its title, "Diary."
Christine noticed his glance and explained. "It is one sailor's account of his time here. He came off the British clipper, Dashing Wave."
Ero opened it to the first entries, and it was in English, but that was one of the world's official languages, so he had no need for Christian to translate.
He began reading.
Oct. 19--"Hey, mates, this here is Jackie London speaking--seaman, able bodied and ready for anything, come hell or high water. Shipped in Dashing Wave laid up at Tacoma for repairs and supplies...Discovered that Mrs. and daughter Miss Funnemark keep a Seamen's Rest on Carr Street, Old Town. Curious name they have. Funnemark means "Found Land" in Norwegian, so they said. Paid them a visit & enjoyed myself immensely.
Oct. 29--"Was paid off this morning. Decided not to sign back on. Went to Seamen's Rest, but could not settle myself to read. Met a dandy bloke, from Captain Wolvewoeld's clipper, Sea Wolf, took him around town to show him the hot spots...we had quite a spree. Turned up at the Rest slightly excited, but cold not sit still for five minutes...had to run out for more beer at old Red Kelley's.
Oct. 30--"After dinner I went to the Rest, where I had a long talk with Miss Funnemark, being greatly touched by her wonderful faith in God. She gave me those Norwegian cookies too--with the funnny Norwegian names, but all tasted good.
Nov. 17--"Turned out 10:30 in a very uneasy state of mind, a sense of foreboding evil overpowers and smothers me like big black wings...met Miss Funnemark who told me I should not do anything crooked...am sure something is going to happen, tho' don't know what. At the Rest, heard of the loss of the Dashing Wave. She went down off Alsea Bay, 16 miles south of Yaquina Bay, taking all my chums. Would God do that if he were a good God as the Funnemarks tell me? I doubt it!
Nov. 18--"Captain Wolvewoeld returned to port, and is needing a few hands after some little mishap, bumping another vessel in a fog off the Columbia River. Should I sign on or not? Can't decide. You have to sign on pretty much for life, with this skipper. Not sure I want to spend my whole life on his one vessel. Heard he was looking for hands down by Yaquina Bay near where the Dashing Wave, bound for Britain via the Horn, went down--but no sign of anything but the wheat cargo floating everywhere and some salted pork barrels cast high and dry on the beaches.
Nov. 19--"Got on a horrible drunk with the jolly boys on shore leave from the Sea Wolf, then went to the Rest...Oh, how I felt when I came to myself and found out where I had been and where I was. When I undressed for bed, saw there was lipstick on places I would be ashamed to tell anybody. I never felt so dirty, drained, used up."
Ero flipped through the next pages, all blank, then turned to Christine. "Is that all?" he asked, surprised. "It is a very short account he wrote. Why isn't there more?"
Christine looked down. "But he chose and ended it exactly there. You see, he took his own life. He jumped from the roof of that unfinished train station hotel overlooking the Olympic stadium. Since the book was left here, we came into possession of it. He gave us no address when he signed our guestbook, so we can't sent it to his family or relatives. Now do you understand what Mama meant by "Flesh" and the fateful Door it represents?"
Ero thought for a moment, shifting uncomfortably on the sofa, which seemed to grow hot, then cold. He remembered Kelley's, and the sailor's account pictured what happened to anyone who could not escape from there. Maybe he thought he could escape his desires if he killed himself? Maybe he thought that was the only way out? Was it? Ero could not be sure. He too had desires--and he had never dreamed that he should resist their control over him--not until, that is, he read the sailor's account and heard from Christine how he ended up.
It made him think all the more. He could not resist asking something that had nagged him about Crazy Dan, and until now he had not been able to put it into words. This seemed to be his opportunity to get clear on the matter, before he shipped out with his captain.
He rose and moved toward the door. "I gotta go, but I do have another question. What is the Door of the World?"
"You can become a slave to the desires of the Flesh, which ultimately demand your soul in payment," she said. Ero, out of the porch, paused. It was quiet on the porch, then he was moved to aay, "I don't think I have a slave to my desires, though I now see where they can lead a man. But the World? What is that?"
She followed him down the steps. Her pale blue, almost gray eyes seemed to grip his. "The World? It is the lust of the eye and the pride of life that is in it. Men hunt the World's glittering gold, wealth and status, power and prestige--and they too will turn hunted and lose their souls when the World demands full payment, as it always does. Remember, what the World gives so sweetly and generously, it will someday take back, with razor-edged shark's teeth. That is why you should not seek its honors and rewards, or if you do seek them, then don't give your heart to them, or they will enslave and utterly ruin you. We can give you the names of so many who were ruined in this way--"
But Ero had heard enough and wasn't listening. Her words "they too will turn hunted..." and "it will someday take back, with shark's teeth" burning inside his heart, the former Olympic torch bearer walked quickly off.
"Good-bye!" she said. "You are always welcome at the Rest!"
Only when the high gable of the Funnemarks' home was out of sight did Ero realize he was carrying something. The diary! He took a few steps back toward the Rest, then stopped. He shook his head, then flung the suicide's last words into the bushes off to the side and continued on, hurrying to the White Ship, anxious as he was to get away from Kelly's, Crazy Dan, and now Seamen's Rest.