"Please wait a moment," he said to the widow, then ducked down to the special place where he kept valuables, such as the bag of gold pieces he had lately won as a prize for throwing the javelin.
After filling the vessel with a fortune in gold, he handed it back to her, and she looked at him, surprised by its great weight.
Jason smiled. "Keep the vessel for yourself, it will earn you many a gold piece. I will take your sons as wards! Do not fear for them. I vow to you, on my name and my father's honor, that I will bring them all back safe to their grandfather's home and family in Orchomenus. There they can receive the inheritance due your husband and his sons. And there they can send for you, so that you can join them in their good fortune and see your grandchildren born to you."
The mother and widow did not waste any time. She bent low, spoke something to each boy, and they stiffened manfully, with tears in their eyes. Then, without even a caress, she dropped the warm woolen mantle fit for a king into the hands of the eldest and taking the vessel of Phaistos walked swiftly away, as Jason gazed after her with amazement. He turned around and found Mopsos gazing at him.
"Well, what would you have done in my place?" Jason burst out.
Mopsos smiled, as admiration shone in his eyes for his Trapesian-crowned captain. "The same, O King, " the Seer replied in his laconic way.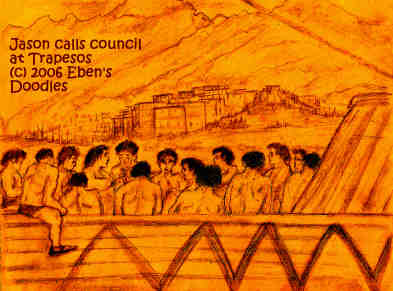 Jason asked them if they would decide whether to return home or proceed on to Colchis for the sake of winning the Golden Fleece. He told them to think about the risk, and ask themselves if it were worth their possibly losing comrades and even their own lives? They had already lost half their number even before they had reached Trapesos. Would Colchis be any kinder to them? Its king, he had learned, was the most treacherous, bloody, gold-crazed despot in the world, and the lives of his people, and especially those of strangers, meant little or nothing to him.
Despite a loving, obedient daughter who worshipped him as if he were the best father one earth, he was capable of any cruelty toward man or beast. King Gorgas had even told him that Aeetes' servants attending his sleeping chamber were always in great hazard of their lives--for the least thing that didn't please him was cause for him to throw his big bronzen water jug at their heads--and if he missed braining some poor servant girl to senselessness or death--he would grow all the more enraged and grab his sword and gash a wolfhound chained to the foot of his bed. The royal kennels were hard put to supply him with guard dogs, in consequence of his many rages--and after his frequent attacks on them, the terror of the dogs was such they had to be bound and dragged in to his chamber, for no stall in the kennel would could keep them very long. Somehow they would break out and run themselves right off the cliffs of the palace heights.
The wretched tyrant lived in constant fear of assassination, so that he seldom, if ever, slept in the same bed chamber twice in a row. That was why the palace was always under construction--new bedchambers were always being built, until now he must have a thousand places to sleep, and more high towers and well-stocked arsenals and soldiers added to guard them.
He also permitted no pillows whatsoever on his royal bed, having an evil premonition that he might someday fall ill and helpless and be murdered by his attendants smothering him with the pillows off his bed.
Poison was uppermost in his mind, too, so he permitted no morsel of food, and no drop of wine, to touch his lips until the food and drink were first tested by his Cupbearer and Chief Baker. If they did not turn ashen-faced and drop to the floor clutching their bellies and writing in agony, he then knew it was probably safe for him to eat and drink the same food and wine they had just sampled.
Nothing was so strange, however, as his habit of growling and chewing the edges of his carpets when he grew so angry he turned into a kind of beast or wolf. His chief officials had all witnessed him behaving beastlike as he crawled about and clawed the floor on his fours. Despite this, his daughter was reported to refuse to hear a single word about it. She believed with all her heart that he was just as high and holy a monarch as he took pains to present to her whenever she was in his presence. In her image of him, he could do no wrong. Even if the whole land sweat blood, or the moon cause cows to birth human-headed dragons and other atrocities, she would never ever think him the cause. Instead of reason, which the Achaeans much preferred above life's pleasures and even placed over the crowns and scepters of kings, she chose loyalty--"the king, do or die!" For her, it was sufficient to blame his ministers for every atrocity committed in his reign. In her eyes, he was innocent and just in all his acts.
Just to drive the point home about the king's madness and his daughter who adored him to a fault, Jason told them, after seeing that Mopsos took the grandsons of Phrixus out of earshot, that this Colchian king, Aeetes, murdered innocent men--including the four sons of Phrixus! Such was the report, from the lips of a widow of the eldest son.
When the men heard this report, particularly the sad news about the sons of noble Phrixus, they were greatly sobered, realizing that a king who would dare such a crime would probably not hesitate taking their lives too as mere candles are snuffed out--the moment he pleased to do so.
After that report sank in, the Argonauts forgot Jason was even present and freely began to vent their feelings and thoughts about whether to continue or not. Talking things out in this manner was the best thing, he knew, to grumbling and fearful insurrection on board the ship at sea! If there was a divided man on board--they were all in danger--as he knew full well, even before the base traitor, Lukeios, had darkened the fair Argo with his evil presence!
He saw he had no need to give them any more details of the information given him by King Gorgas--such as how the king had whole rooms stuffed floor to ceiling with golden, gem-encrusted shields and swords, while taxing his Colchian people to the most wretched depths of starvation and nakedness.
The king's gold-lust could not be satisfied, it seemed. He was forever scheming how and when to attack his neighbors in their cities or kingdoms, to steal their wealth for himself, just so he could hoard it in his fortress palace high over his capital, Aea.
One after the other Argonauts gave views on whether they ought to confront such a monster of a king in order to seek the Golden Fleece. The council was a heated one, as the subject was a matter of life and death--their lives and possible deaths!--and nobody was counted anything but equal in reason in the assembly--and so whatever was thought worthy to be said by any man was given a respectful hearing by all.
This was what Jason wanted to see in a council.
The Achaeans were, of all peoples, free men, able to speak their own minds--without having to told what to think. No man, even if he wore a crown and had many soldiers, could make an Achaean think the way he demanded. Achaeans would die, rather than submit like a dumb animal or a slave to its keeper's rod. This was the chief thing that made Achaeans different from every other tribe and nation of men--they loved to think freely and inteligently, and were not afraid to say what they thought. If was not enough, though, to express one's thoughts--they must be given evidences, proofs, by which good thinking is distinguished from poor, faulty, spurious thinking. Any fool thinks, but he thinks poorly, without any foundation. No Achaean admired the spouting fool! Rather, Achaeans pelted such fellows with rotten fruit if they wouldn't shut up! Achaeans did not suffer fools for very long. All men were free to speak their minds--but not stupidly, wasting people's time and patience. Even worse than stupidity to the Achaeans was lying. Liars were not thought clever fellows. Liars were stoned--with real stones, not overripe figs. The truth was loved by the Achaeans, so much so that anyone who offended, by not telling the truth, was considered an enemy of the city--and was driven out of society, having shown he was not fit to share the society of civilized men. Since kings even ran races yearly, to prove to their subjects that they were fit to continue in their reigns, so everyone was expected to train and nourish his reasoning power, for the good of all.
Civilized cities were judged those that welcomed the free exchange of ideas, about which no one was forced to agree--except those that were necessary for the preservation and health of the city. Traitors were stoned to death, without much of a trial, since treason was counted the most base and senseless thing a man could commit against his own people. Outside of treason, they were not at all displeased to hear what they did not agree with--that made them all the more interested, in fact, when someone did not agree so that they could try to persuade the man to join their way of thinking, without force, but with superior reasoning.
The man with superior reasoning was the hero they most admired--just as much as they admired champions who could fight or win at some test of strength, courage, or skill.
Achaeans were thrilled whenever a man demonstrated in word play that he commanded the superior reasoning power. In this sport--which was held in greatest esteem, even over the physical contests--a thoughtful farmer could perform as well as a man of the city, a tradesman as well or better than an official or nobleman in a mansion. It was superior reasoning, the Achaeans held, that proved the true worth of a man--not his wealth, or social standing, or whether he was handsome or ugly, old or young.
So Jason listened intently, not saying another word. As for himself, he would not ever change course, or cut and run from his quest of the Golden Fleece. It was his destiny, he knew, for which he was set on the wide and wonderful earth, and he knew he would achieve nothing by not staying the course he had set for himself in Iolkos now far away across the wine-dark sea.