CHRONICLE OF THE TIME ROCKET, VOL. IV, RETROSTAR
CHRONICLE OF RAGNAROK A. S. 1937, Singer of the Ancient Seer How a bard left the Emerald Island to look at old vellum books and paintings preserved by the Benedictines in a monastery in Padua, Italia, and how they warned him about a second great world conflict of the Wasichu nations, which would usher in the new world order and the rise of a lion-bodied, man-headed Beast, the False Messiah, who would seize world power and crush out all the light of liberty and decency in Civilisation. CHRONICLE OF RAGNAROK, VOL. IV, RETROSTAR
CHRONICLE OF THE MOUNTAIN TOMB A. S. 1938, Eugenio's Secret How a Basque fighting with the Loyalist forces in the Spanish Civil War found ancient scrolls and artifacts in a tomb that were older than even Eskual Herria, the Basque homeland that predated every other nation and nationality in Europe.
CHRONICLE OF THE MOUNTAIN TOMB, VOL. IV, RETROSTAR
CHRONICLE OF THE OSLO TAPESTRY A. S. 1938, Katrine's Secret How a Norwegian woman, living alone, grew so desperate about her bone-dry spiritual condition that she would do anything, even take pictures of simple leaves and shadows in her garden, if it would help restore her faith--pictures forming a tapestry portraying events to come that would have astounded the world if all of them had been made public.
CHRONICLE OF THE OSLO TAPESTRY, VOL. IV, RETROSTAR
CHRONICLE OF THE RUINED CATHEDRAL A. S. 1940, Winter of the Soul How Coventry was sacrificed, along with its ancient cathedral and much of its population, by a decision of Churchill who aimed to let the bombers through without any warning to Coventry in order to make the Nazis believe their secret code had not been cracked by Britain's code breakers at Bletchley House. How a half-literate scrubwoman in the smoking ruins of the Cathedral found the means to confront the unspeakable tragedy of losing practically everything in the bombing and firestorm that destroyed Coventry; that is, her husband, children, neighbors, city, cathedral, even her house and job.
CHRONICLE OF THE RUINED CATHEDRAL, VOL. IV. RETROSTAR
CHRONICLE OF THE SEA LION A. S. 1940, 1. Convergence at Abbotsbury How a pious, elder daughter caring for an aged, ailing mother, prayed the right prayer, effectively throwing a switch to a most powerful blessing 1,900 years old.
CHRONICLE OF THE SEA LION, PART I, VOL. IV, RETROSTAR
2. Winter's Grace How a Welsh "College of Intercessionary Prayer-warcraft and Fasting," founded by a former coal miner, succeeded in turning the major events of World War II, starting with the Battle of Britain.
CHRONICLE OF THE SEA LION, PART II, RETROSTAR
3. No Wings But a Prayer How Sir Francis Cecil, hereditary Lord St. Aubyn of the Mount of St. Michael, Cornwall, while squadron commander of Spitfires in the Battle of Britain, was struck wingless by enemy fire but continued flying, and how he was taken out over the coast where he witnessed an even greater event taking place off the notoriously stormgirt Chesil Banks.
CHRONICLE OF THE SEA LION, PART III, VOL. IV, RETROSTAR
4. Ivy's Grand Slam How a little English girl in Portsmouth changed her bedtime prayer and turned back an incoming V-2, setting it on a trajectory that almost took Shickelgruber out of the war.
CHRONICLE OF THE SEA LION, PART IV, VOL. IV, RETROSTAR
CHRONICLE OF THE PILLAR OF LIGHT, A. S. 1940- , How on Earth I Elijah, a Romanian boy growing up in a brutalM Communist-ruled country, found a miracle-producing faith just like Jason the Argonaut's to stand up against the impossible odds of confronting a militaristic, atheist dictatorship destroying his beloved homeland, and how he made a new life for himself, succeeding after tens of thousands before him had been slain in the same attempt to win freedom.
CHAPTER 1, CHRONICLE OF THE PILLAR OF LIGHT
CHAPTER 2, CHRONICLE OF THE PILLAR OF LIGHT
CHAPTER 3, CHRONICLE OF THE PILLAR OF LIGHT
CHAPTER 4, CHRONICLE OF THE PILLAR OF LIGHT
CHAPTER 5, CHRONICLE OF THE PILLAR OF LIGHT
CHAPTER 6, CHRONICLE OF THE PILLAR OF LIGHT
CHAPTER 7, CHRONICLE OF THE PILLAR OF LIGHT
CHAPTER 8, CHRONICLE OF THE PILLAR OF LIGHT
CHAPTER 9, CHRONICLE OF THE PILLAR OF LIGHT
CHAPTER 10, CHRONICLE OF THE PILLAR OF LIGHT
CHAPTER 11, CHR0NICLE OF THE PILLAR OF LIGHT
CHAPTER 12, CHRONICLE OF THE PILLAR OF LIGHT
CHAPTER 13, CHRONICLE OF THE PILLAR OF LIGHT
CHAPTER 14, CHRONICLE OF THE PILLAR OF LIGHT
CHAPTER 15, CHRONICLE OF THE PILLAR OF LIGHT
CHAPTER 16, CHRONICLE OF THE PILLAR OF LIGHT
CHAPTER 17, CHRONICLE OF THE PILLAR OF LIGHT
CHAPTER 18, CHRONICLE OF THE PILLAR OF LIGHT
CHRONICLE OF THE ORACLE OF MENO A. S. 1938-1941, St. Roderick's Secret How a Basque patriot, deserting the Loyalist army in the Spanish Civil War, became a free lance secret agent for the British side against the Nazis, luring Shickelgruber into the race for a Super-Bomb while withholding vital information that would have made the Nazi project a success.
CHRONICLE OF THE ORACLES OF MENO, VOL. IV, RETROSTAR
CHRONICLE OF THE RAG DOLL A. S. 1943, Christmas at Auschwitz How a young, brilliant, blind chemist, soon to perish in a gas chamber, afraid it was all for nothing, was given unmistakable proof her life was divinely touched. CHRONICLE OF THE RAG DOLL
CHRONICLE OF THE BAYEUX TAPESTRY'S SECRET PANELS A. S. 1944, Questioning the Sphinx How nuns guarded what came to be known as the world's most famous tapestry, the one detailing the Norman invasion of England in 1066, and how an American nun, an expert in tapetries, discovered additional panels that had not been sewn onto the masterpiece--panels that had been kept secret for the obvious reason they were found so disturbing because they were so prophetic about the world to come.
CHRONICLE OF THE BAYEUX TAPESTRY'S SECRET PANELS, Vol. IV, Retro Star
CHRONICLE OF THE BROKEN GLASS A. S. 1945, 1. Legacy How the victorious chieftains at the Potsdam council meeting from Britain, the U.S., and the Soviet Union, in the name of peace started the "War of Ice," and how Britain's "Tube Alloys" nuclear project came to nothing with suppression and disappearance of vital M-2 intelligence, and President Truman's ace in the hole, the Manhattan Project's Super-Bomb, fizzled at Alamagordo--apparently forcing America to join forces with Britain and Stalin's Russia to fight on to the finish with conventional forces against Premier Hideki Tojo's best troops and, unknown as yet to the Allies and their war planners, a whole nation swept by Kamikaze, the "Divine Wind".
CHRONICLE OF THE BROKEN GLASS, PART I, VOL. IV, RETROSTAR
2. The Pack Rat How a peddler of information, selling whatever he dug up to the highest bidder, happened on a deadly superweapon--one of three that Senhor Averinata had offered the British--that later would be used to help tip the scales against America in favor of the United Nations and a world government. To the Jews the crushing of the wine glass in a Jewish wedding recalled the destruction of the Temple by the Romans in ANNO 70, but to the Basques, it meant the whole universe was shattered--never ever to be put back together as it had been. (How could he barter and trade the destinies of whole nations as if they were trinkets and trifles? Peddlers, like foraging rats, consider only the present moment, and the penny or two gained or lost--never the long haul, which is, for a peddler, far to frightening to even consider in a rodent-type mind. Without the ship, the rat would drown in the open sea. Yet it infests the ship, spreads its diseases with its own dirt, and gives the crew a deadly plague, and the ship, without anyone to guide it to safety, strikes a rock and sinks, drowning the rats who caused the disaster. This has happened countless times. Their own nature, thus, gnaws off the rope that holds them above the pit. Pity the civilization where such men, such vermin, proliferate and gain high office! And you can always tell the end is near when such are numerous and run free, from deck to deck!).
CHRONICLE OF THE BROKEN GLASS, PART II, VOL. IV, RETROSTAR
3. The Angels of USS Indianapolis IP How on July 29, following the successful test of a new death ray in the first week of July, that dissolved atomic structures and could fuse human flesh to metal, a battleship was loaded with the deadly "gadget" and sailed for Tinian, an island in the Marianas Chain. Locked in a steel box bolted to the deck of the captain's cabin, the weapon that would knock the Japanese on the home islands to their knees would be assembled in the secret facility at North Field on Tinian, then deployed by aircraft over the first test cities of Tokyo and Kyoto, the two most revered cities in Japan and the centers of Japanese cultural life. How the best laid plan of the war came to naught, with details of immense tragedy and even angelic intervention that were so explosive in nature they could never be revealed to the American public.
CHRONICLE OF THE BROKEN GLASS, PART 3, VOL. IV, RETROSTAR
4. The Divine Wind How Operation Downfall, the invasion of the Japanese home islands, ultimately succeeded but without superweapons proved so costly to America and Russia that they had cause to recall King Pyrrhus of the Greek kingdom of Epirus, who conquered Roman armies on their home turf but sustained such heavy losses he complained in his famous statement known for its unforgettable pathos, "Another such victory and I am ruined!"
CHRONICLE OF THE BROKEN GLASS, PART 4, VOL. IV, RETROSTAR
CHRONICLE OF THE HORSE OF NAKING A.S. 1947, A light in Prison; A.S. 1950, Victory in Shibuya How a flier with Colonel Doolittle on his surprise raid of Tokyo afterwards was himself surprised to find there was a way out of the all-consuming hatred he felt for the Japanese guards who were starving and torturing him and other P.O.W.s.
How the mission commander of the Japanese squadron that devastated Pearl Harbor's naval force met the flier after his release and how a great light was passed from the dark hole of Nanking to the former mission commander in Tokyo"s Shibuya Train Station.
CHRONICLE OF THE HORSE OF NANKING, VOL. IV, RETROSTAR
CHRONICLE OF THE WINTER SACRIFICE A. S. 1947, 1. Winter's Child How deeply the alien star's rays penetrated postwar America, and how an old farmer's beloved son was killed in the Wioteheka hi, Month of Terrible Moons. 2. Plain View Farm How two deaths in a fiery plane crash were needed to thaw the frozen hearts of two other men.
CHRONICLE OF THE KILLER BEAR'S DESCENT A. S. 1951, The Bear and the Lamb How Djugashvilli fared, while on the operating table in the Kremlin, as a small army of surgeons desperately tried to preserve his life after a massive sroke; how they failed and Djugashvilli, an atheist, found himself still alive, imprisoned in an Afterlife cell which could only be described as hellish. How things got progressively worse for him, as he encountered a strange Jew wearing a prayer shawl and next faced a Judge sitting on a throne so immense it couldn't be anyone less than God sitting upon it, and how he was judged by the testimonies of thirty or so millions he had had tortured and slain, and how after that he found himself shunted into a burning lake of blast furnance intensity, and how he, like all the others in it, were forgotten.
CHRONICLE OF THE KILLER BEAR'S DESCENT, VOL. IV, RETROSTAR
CHRONICLE OF THE MAN LIKE A BRIDGE A.S. 1956, The Search How a young woman of the First World discovered the way back to her lost childhood faith, a faith that carried her all the way to Third World Cameroon wilderness in West Africa where it finally set its roots deep and briefly bloomed. CHRONICLE OF THE MAN LIKE A BRIDGE
MYSTERY CHRONICLE OF THE 50TH ANNIVERSARY A. S. 1962 The Phantom Ship How Lt. Greg Culpepper's life and career took a radical turn and plunge to the bottom of society after a storm at sea and his sighting of the R.M.S. TITANIC going down as he was inspecting the lighthouse facilities at Cape Disappointment and North Head on the mouth of the Columbia River, Washington State. MYSTERY CHRONICLE OF THE 50th ANNIVERSARY, VOL. IV, RETROSTAR
CHRONICLE OF EDYTH'S GOLDEN CROSS A. S. 1963, A Truth Not Told How Miss Edyth Hamilton, humanist, classicist, and world-renowned authority on Greek and Norse mythology, was strangely confronted on her deathbed with certain false premises that undergird her whole life-work.
CHRONICLE OF EDYTH'S GOLDEN CROSS, VOL. IV, RETROSTAR
CHRONICLE OF THE LADY OF THE SPARROWS, A Tale of Old New York and Central Park A.S. 1964, Lucky's Big Strike How Lucretiza Tisdale, a spinster lady in her nineties, fed the sparrows of Central Park faithfully every day and how her death under the wheels of a beer truck brought changes, through the very sparrows she had given soda crackers, that she could not otherwise have achieved at her age and with her insignificant, sparrowlike strength.
CHRONICLE OF THE LADY OF THE SPARROWS, VOL. IV, RETROSTAR
CHRONICLE OF THE FIGHTING ANGEL, PARTS I AND II A. S. 1963 How the Swensons, a young American newlywed couple, in training for the mission field, took a break from language school in Paris, and came to a crisis of their relationship and a man's faith in God on and beneath the Mount of St. Miguel, the Fighting Angel.
CHRONICLE OF THE FIGHTING ANGEL, VOL. IV, RETRO STAR
PART II: How the Swensons came to share their Christmas with the Fulani Tribe in Cameroon, West Africa, and how their cheer spread from there as far as the stars to a lost tribe of the Alpha Centaurii.
PART II, CHRONICLE OF THE FIGHTING ANGEL AND CHRONICLE OF THE LOST TRIBE (VOL. VI, NATAL CONVERGENCE, "A FULANI CHRISTMAS," RETRO STAR
CHRONICLE OF THE REVIVAL OF HAGIA SOPHIA A.S. 1968 How Lidia, a Greek Orthodox nun, ventured from her safe refuge in a convent in Athens, to return by tourist boat to her lost homeland in the Turkish nation that had forced her family to flee for their lives in the savage. almost genocidal war that broke out between the Greeks and Turks after World War I. How she learned things she did not expect from her day trip and contact with the enemy occupying her people's chief city and seat of the Greek Orthodox Patriarchate of Constantinople and East Rome. How she received a gift she would always treasure--and ceased feeling herself robbed by the Turks though they had taken her Greek homeland as their own and pushed out virtually all her fellow Greeks.
CHRONICLE OF THE REVIVAL OF HAGIA SOPHIA, VOL. IV, RETROSTAR
CHRONICLE OF THE SHOW ME STATE'S PROPHET (EARTH I) A. S. 1966, Elijah's Mantle How young and aspiring Brad Bright Jr. dreamed of becoming a prophet to "Holy Spirit-led, on-fire" Pentecostal churches in Missouri, his home state. How his promising life was cut short by a fatal collision with a tree when he was driving his truck home from a church youth meeting, and how his dream of ministry was defeated only temporarily, as a bit later he was brought back to serve with Elijah's mantle in the war against the AntiChrist Beast and his prophet during the post-Rapture Tribulation Period.
CHRONICLE OF THE SHOW ME STATE PROPHET, VOL. IV, RETROSTAR
CHRONICLE OF THE GIANT CHIEFS A. S. 1972, Two Sayings of Uwe Hantsbo Regarding the Atlanteans: Elektra's Sad Fate, and Atlantis on the rocks, anyone? How the Earth's tribe of original giants that stood like the tallest trees on Earth lived in a vast land that sank beneath the Eastern Sea.
CHRONICLE OF THE BLUE BRIDGE SALIENT A. S. 1973-1978 Even while the armies of France, Britain, and America struggled unsuccessfully in southern Asia to push back the communist forces from the north, a greater battle was being fought among the stars. How Atlantean star fleets combined with the red star and other star-stones to force an entry into the Great Nebula in order to destroy the protective forces centered at the Blue Brige. How, nearly successful, they were rebuffed, forcing an Atlantean subcommander to retreat to Earth.
CHRONICLE OF THE BLUE BRIDGE SALIENT, VOL. IV, RETROSTAR
CHRONICLE OF HANTSBO'S NOTES A.S. 199?, On the Bipedal Workforce of 1994tk66--A Flying Texas How Uwe Hantsbo discovered on a planetoid a most interesting cache of mutants, freeze-dried specimens of the very kinds that had been proposed by a Washington geographical society in its magazine to be authentic human prototypes proven by science and archeology. The only problem, as Hantsbo points out, is that they were found all mixed together, obvious contemporaries, not separated by millions of years or mere hundreds of thousands as was said to be the case by the East Coast Brahmin evolutionists entrenched in the powerful, elitist geographical society.
CHRONICLE OF HANTSBO'S NOTES, VOL. IV, RETROSTAR
CHRONICLE OF THE ICE BIRD, PART II A. S. 1973, Voyage of the PRION Inspired by Shackleton's legendary heroism, how an exlorer from New Zealand set out to be the first to circumnavigate Antarctica in a small boat solo, and stumbled into an unknown "Devil's Triangle" of ancient Atlantean orgin just off East Antarctica's Ross Ice Shelf that changed his course so radically he was propelled in space and also time as far as an ancient Atlantean outpost opposite the gate of the Great Nebula of Orion--the very site of what Tennison the Poet Laureate of Britain described as holding a "vast mystic charm." CHRONICLE OF THE ICE BIRD, PART II, VOL. IV, RETROSTAR
MYSTERY CHRONICLE OF THE WHITE CANOE A. S. 1977, Fairwind in Deep Waters How a young electric plant operator of mixed working class and New England blue blood background takes a cruise into the unknown mysteries of time and space aboard what had first seemed a New York based cruise ship on its way to Peru.
MYSTERY CHRONICLE OF THE WHITE CANOE, VOL. IV, RETRO STAR
CHRONICLE OF THE ICE BIRD, PART III A. S. 1978, Cavendish in the Sky with Diamonds A somewhat crusty curmugeon of a retired journalist, in remission from cancer but angry over the recent loss of his wife to the same disease, reflected on the supreme irony of his life. He had planned his retirement so differently! He had just begun writing poetry, meditations, and music under a nice nom de plume when his new, promising, third career of letters and music was stopped right in its tracks by a disaster in his own home: his wife had taken deathly ill. Cancer! Now he was too sick to go on writing and composing--even though the time to do it was his again, lying heavy on his weak, trembling hands. Feeling like the icy, polar coulds of Global Freezing would hang over his head until he died, he goes out into his ruined and half-frozen back yard and changes places with a Prion, a polar bird that has wandered into his garden and died. Somehow the bird in death becomes him, giving him wings of a starship that can touch the farthest stars and Orion, Gateway to the Morning, where something bright and shining with destiny for everyone on earth seemed to open to him.
CHRONICLE OF THE ICE BIRD, PART III, VOL. IV, RETRO STAR
CHRONICLE OF FOXY PASSES A. S. 1983 How Skip Cavendish, alias Stuart Hawkins, wrote a poetic tribute to "Foxy," a local political icon, and, drawing upon his first career in vaudeville, made a last and notable performance at the Capitol theatre before a packed house of State socialites, government leaders, and the wealthy. How the very people preyed upon Hawkins's former schoolmate, Franklin Delano "Foxy" Benedict, the state capital's foremost "facilitator" and master of the incurably corrupt government patronage system, watched in growing disgust and anger as their bizarrely costumed impresario tore Foxy's mask off in verse after verse; how the old fox could still run (or at least roll) from his pursuers, but he still could not escape his and his enemy Cavendish-Hawkins' destinies being woven together in a strange, future cyber-world that neither could have imagined, long after Foxy and his nimble "smarts" had suffered an Ichabod-like fate.
CHRONICLE OF FOXY PASSES, VOL. IV, RETROSTAR
CHRONICLE OF THE LADY OF THE ANCHORED A.S. 1983 On the Trail of St. Paul How Prunella, a sedate altar guild woman from the Midlands, England, on tour with a cruise ship company in the Middle East, finds release from a crushing depression over the accidental death of her daughter.
CHRONICLE OF THE LADY OF THE ANCHORED, VOL. IV, RETROSTAR
CHRONICLE OF THE SURVEYOR OF THE QUEEN'S PICTURES A. S. 1983-, The Knight of Darkness How Sir Anthony Blunt and his fellow Cambridge-educated colleagues became involved in a secret spy ring inside the British secret services, serving not Fascism but Soviet Russia during part of the Second World War and for some years of the following Cold War with Soviet Russia. How Sir Anthony "retired" from being a double agent to being the Surveyor of the Queen's Pictures, with the responsibility for all the Queen's artworks in the royal palaces, but how he was exposed as a spy and found guilty but was allowed to retire with some dignity to his home, while his co-conspirators fled to Soviet Russia. How in dying they singly and together discovered an Afterlife their Darwinistic beliefs had denied was possible, which delegated them to a new venture just as exciting as betraying their own country and serving her arch enemy--a contest involving the Golden Fleece and a rival ship called the Argo.
CHRONICLE OF THE SURVEYOR OF THE QUEEN'S PICTURES, VOL. IV, RETROSTAR
CHRONICLE OF THE FURLED SAIL, THE UNQUEST OF LARRY PRUFROCKSKI, A. S. 1986, The Man Who Never Launched How Larry Prufrocksi, a solid union man and a railway worker from the Pacific Northwest, took one of his periodic tours abroad, this time a tour to Russia, Siberia, and Mongolia, naturally encountering a set of new circumstances, but meeting them with his same characteristic determination never to be changed by any of them. And he wasn't changed--right up to the moment his Air France flight, on its return to the U.S., swerved back from Long Island and vanished in what was thought to be an northern extension of the Bermuda Triangle. Pieces of the wreckage were found, however, and enough fusilage so that some artifacts and possessions of the doomed passengers were retrieved by the investigative teams. Among the items was a travel journal, kept by Larry, telling about the entire tour in his usual neat, square-lettered, no-nonsense style of writing, the same style he used for making out railway reports. Sent by mistake to the lone tour member who survived, a woman who had been kept behind in Moscow due to a sudden stomach problem, the journal was sent on to the surviving family, with her comments and condolences entered in the unused pages.
CHRONICLE OF THE FURLED SAIL, THE UNQUEST OF LARRY PRUFROCKSKI, VOL. IV, RETROSTAR
Optional tours can present some unusual challenges, it has been found. Larry's tour of the Soviet Union proved no exception in that respect. The optional tour to SSR Georgia, which was in ancient times Colchis, the legendary land of the Golden Fleece, gave Larry a number of unpleasant changes. But Larry could have experienced far worse, if he had gone on another optional tour, this one to Tula, the jumping off point for Yasnaya Polyana, the estate of Leo Tolstoy, the renowned author of WAR AND PEACE and ANNA KARENINA, and other classics of Russian literature. No one knows just what potential for igniting world-class disasters lies hidden within a man's secret self, unless perhaps he has been challenged by similar circumstances such as Larry experienced in that hypothetical optional tour.
Unchronicle, "The Man Who Never Launched," Vol. IV, Retrostar
CHRONICLE OF THE SACRED COWHIDE PAINTER A. S. 1987, Ira's Letter to the 11,000th Century How an artist's paintings for a B.I.A.-Lakota Christmas arts and crafts competition were preserved for a tribe of Wasichu lost seemingly forever among the lodges of the stars.
CHRONICLE OF THE SACRED COWHIDE PAINTER
CHRONICLE OF THE LION'S DESCENT, A. S. 1995, "The Lion's Descent," Part I, "The Lion's Legacy," Part II, How a U.S. Supreme Court Justice who was a very nice and likable gentleman became responsible for a once great and godly nation's descent into self-destructive depravity and violence and also for more deaths of Americans than were slain in the death camps of Himmler and Hitler (Earth I), and how he fared in Hades (Hell) after his death.
CHRONICLE OF THE LION'S DESCENT, VOL. IV, RETROSTAR
CHRONICLE OF UWE HANTSBO'S NOTES A. S. 199?, On the Bipedal Workforce of 1994tK66, A Flying Texas How Uwe Hantsbo points out certain rather glaring flaws in the evolutionary timeline and evolutionary theory after seeing the flaws in question with his own eyes, frozen specimens of hominids and so-called human precursors, flying aboard a Texas-sized hunk of rock; how their existence supports his own view that highly intelligent, highly terrible ante-humans he names as the Atlanteans were responsible for the Dachau-like work camp on the asteriod.
CHRONICLE OF UWE HANTSBO'S NOTES, VOL. IV, RETROSTAR
CHRONICLE OF THE GREAT WEAVER PEOPLE A. S. 1997, The Secret of Dream Catching How Horace Brave Scout wanders the Southwest and finds his life-guiding vision among the caves and baskets of an extinct tribe. CHRONICLE OF THE GREAT WEAVER PEOPLE
CHRONCLE OF THE UTERO-NAUT A. S. YEAR OF THE CHILD, PART I, Orientation How Shawnta, a 19 year old wannabe careerist like her single mom, was processed at the local abortion mill newly opened in her black neighborhood.
CHRONICLE OF THE UTERO-NAUT, PART I, RETROSTAR
PART II, The Argonaut How Shawnta's unborn child (no such thing as "fetus" ever existed on earth), genius that he was, got going with the name of Jason on a very promising career that might well have benefited the whole society and probably the world, but was rudely interrupted by an abortionist's foreseps, scizzors, and vacuum--but also how the Master Plan created by the FC kicked in with a contingency plan to restore Jason's life and future.
CHRONICLE OF THE UTERO-NAUT, PART II, VOL. IV, RETROSTAR
CHRONICLE OF THE PEARLY GATES A. S. 1998, How a Pearl Was Made How a farmer's daughter's experiences in life and her decision to be forgiving came to form one half of a gate of heaven.
CHRONICLE OF THE PEARLY GATE, PARTS I-II, VOL. IV, RETROSTAR
CHRONICLE OF THE GRAND PUZZLE--Earth I A. S. 2001- How Anatoly, a survivor of a notorious Nazi death camp where Anne Franke and her sister perished along with tens of thousands of other Jews, spent his convalescence and waiting period to go to Israel by playing the lottery after the camp was in the hands of the Allies; how he shattered the laws of probability by never losing and always managing to win back his stake; how this impossible gambling feat came back to haunt him in the last minutes of his life as he lay dying in a Denver hospital, but how the Hound of Heaven led him to win the Jackpot of life, the greatest prize of all.
CHRONICLE OF THE GRAND PUZZLE, VOL. IV, RETROSTAR
CHRONICLE OF THE LOST CITY A. S. 2002, Last Breakfast in the West Wing; Melt-down on Pennsylvania Avenue How the Wasichu of the U. S., in moral and political decline over against the British Commonwealth ever since Potsdam despite the highly-publicized moon and space programs of NASA, are struck by an invisible enemy and lose all their chiefs at once, and chiefs from the rest of the world come and set up a new council fire for the nation on Manhattan Island.
CHRONICLE OF THE MILLION MAN FLESH-EATER, VOL. IV, RETROSTAR
CHRONICLE OF THE DEAD MOVIE QUEEN A. S. 2003, The Burning of Coburn How a Hollywood legend found that all her fame, fortune, and feisty feminism couldn't erase the incredible after-death reality that was evidently turning against her--not only did she find she existed when she should have dissolved into nothingness, but all sorts of strange, powerful beings seemed intent on judging her and then throwing her into what appeared to be a Pacific Ocean set on fire.
CHRONICLE OF THE DEAD MOVIE QUEEN, VOL. IV, RETROSTAR
CHRONICLE OF MOSHE, HONORGUARDSMAN A. S. "Night of the Iguana" How on Earth I, Moshe Benlevi, a young Israeli soldier, a freedom-loving Sabra, was chosen to be a part of Michael Jayson's honor guard in Israel when the EU President arrived there for the signing of his "eternal peace" accord he had brokered with the Palestinians and the Israelis. How Moshe tasted sour grapes in the deal and decided to stop the world (at least his slice of it) and get off, but how he was intercepted by someone he hadn't included in his life's equation.
CHRONICLE OF MOSHE, HONORGUARDSMAN, VOL. IV, RETROSTAR
CHRONICLE OF DJUGASHVILLI'S SERVANTS A. S. 2024 The Titan of CNNC A hostile takeover by Ted Hunter of a competing Christian network, Alpha-Omega, backfired tragically for him when his wife, converting to Christianity right in his own penthouse on top the CNNC Towers in Manhattan, took A-O's side in opposing him. A takeover that was supposed to be routine, thanks to his billions and an army of corporate lawyers, became a living nightmare when he met a world-class power player in A-0 that more than proved his match.
CHRONICLE OF DJUGASHVILLI's SERVANTS, VOL. IV, RETROSTAR
CHRONICLE OF THE FALLEN GIANT A. S. 2024, How the Dominion of Canada, like the Humpty Dumpty the ill-starred egg man in children's nursery tales, broke up due to the disastrous effects of resurgent glaciation but could not be put back together; how it gained an ephemeral capital called Flin Flondia, once called the "Sunless City," in a book by that name.
CHRONICLE OF THE FALLEN GIANT, VOL. IV, RETROSTAR
CHRONICLE OF THE LAST CAMELOT A. S. 2170-, 1. Idylls of the King
CHRONICLE OF THE LAST CAMELOT, PART I, VOL. IV, RETROSTAR
2. The Panther's Jaws
CHRONICLE OF THE LAST CAMELOT, PART II, VOL. IV, RETROSTAR
3. Women and Children First!
CHRONICLE OF THE LAST CAMELOT, PART III, VOL. IV, RETROSTAR
4. Le Morte D'X-2914000?
CHRONICLE OF THE LAST CAMELOT, PART IV, VOL. IV, RETROSTAR
5. "Merry Christmas from Lyonnesse"
CHRONICLE OF THE LAST CAMELOT, PART V, VOL. IV, RETROSTAR
6. Wotoo's Black Box; The Duck King
CHRONICLE OF THE LAST CAMELOT, PART SIX, VOL. IV, RETROSTAR
7. Last Wagon Train to Avalann How the Royal Tribe of Windsor fared in exile on a base off Charon, Pluto's moon, and how they adapted to the loss of Earth and the dissolution of the monarchy
CHRONICLE OF THE LAST CAMELOT, VOL. IV, RETROSTAR
CHRONICLE OF THE STAR CHAMBER A. S. 2363, Christ in Atlantis? How Professor Pikkard was tried before a university panel for his heretical views and found guilty without evidence to refute his case.
CHRONICLE OF THE STAR CHAMBER, VOL. IV, RETROSTAR
CHRONICLE OF CHRISTUS TRIUMPHANS, Parts I, II, & III A. S. 2392, The Christmas Factor How Dr. Pikkard, meditating on the mystic Teilhard Chardin's visionary commentary on a medieval painting portraying a "standing" not a "hanging" Christ on the Cross, went on to reflect as well as the Incarnation of Yeshua, and how he concluded that a mystic thread connected all things, even to the blood of the human body, but that he had to wait for a "later" and "younger" talent to make it known scientifically. How, unknown to him, that younger visionary came to be his own predecessor, a Darwininian Establishment-challenging young man named Behe in the 20th-21st centuries, along with his contemporaries, Gabriel Tall Chief and Horace Brave Scout, who traced golden threads and lesser threads in a grand "blood cascade" of their own in the chronicles they brought forth.
CHRONICLE OF CHRISTUS TRIUMPHANS, VOL. IV, RETROSTAR
Book Two
CHRONICLE OF YOSEF'S PILGRIMAGE A. S. 4117, Flight to Avaris How Yosef and his young wife Maryam, with Maryam's newborn Yeshua the Promised Messiah of the Jews, fled from troops and spies of Herod the Great to safety in Mizraim, and how they journeyed back to Nazareth, their natal city, once Herod was dead.
CHRONICLE OF YOSEF'S PILGRIMAGE
CHRONICLE OF THE SECOND RESURRECTION A. S. 4150, Secret Sharers, Part II How the Second Zechariah the prophet, slain in the temple courts alng with many other prophets and saints, rose from the dead as a sign of the resurrection of the Messiah way back in A.S. 30, and how he went into the holy city and appeared to many, after which he was triumphantly escorted by angels to heaven's paradise--a spectacle first recorded, with certain new additions to the Resurrection Rolol, by Secret Sharer Josheph of Arimathea.
CHRONICLE OF THE SECOND RESURRECTION, VOL. IV, RETROSTAR
UNCHRONICLE OF THE CHRISTMAS PLAY A. S. 4 6 5 ?, "Merry Christmas from Lyonnesse," A Play, How a miserly, cruel banker seeks to destroy a whole town he has foreclosed on, closing down the only means of employment, the town mill, and how a small girl, Emily Cogwell, revives faith and hope in the people by refusing to give up her own in the bitter circumstances of poverty and homelessness, and how she turns and saves the banker when he experiences a change of heart after seeing her standing alone in the town square holding the Nativity Scene's Christ Child doll.
UNCHRONICLE OF THE CHRISTMAS PLAY, VOL. IV, RETROSTAR
CHRONICLE OF THE DRIED SPRINGS IP A. S. 4760, A Chief's Son Named Laughing Waters How an old chief and his old wife who had no children were promised a son by God, and the old woman laughed, yet later she conceived and gave birth to a beautiful son she named Minnehaha.
CHRONICLE OF THE PEARL DIVER A. S. 5927 -, Shipwreck of Dreams How a despised half-breed, part Keftiuan and part Myceneaean (both nations bitter enemies in the world) and Prince Daedalus do not get along and almost come to blows over the pretty orphan girl Theseus runs off with, and later after the girl's death (and the shipwreck of Theseus's dreams) how they find a way past hatred and revenge. CHRONICLE OF THE PEARL DIVER, VOL. IV, RETROSTAR
CHRONICLE OF THE FIRE WATER MAKER A. S. 5931, The Chosen How a brewery malt masher got herself a mighty warrior as a husband, and how her head was knocked in by other poor women, and left to die, but a great chief's prayer gained her the ear of the Most High and she was healed. CHRONICLE OF THE FIRE WATER MAKER, VOL. IV, RETROSTAR
CHRONICLE OF THE BLESSINGS OF THE BREASTS A. S. 5932-, The Wayward Vine How the births of two sons, Manasseh and Ephraim, comforted and cheered Joseph in the land of his bondage, but how his beloved wife and companion's heart turned toward her people and away from her husband.
CHRONICLE OF THE BLESSINGS OF THE BREASTS, VOL. IV, RETROSTAR
TWIN CHRONICLE OF THE AMBUSHED MAIDENS, TWIN CHRONICLE OF THE AMBUSHED BRAVE A. S. 5934, 1. Dawn Flower
TWIN CHRONICLE OF THE AMBUSHED MAIDENS, VOL. IV, RETROSTAR
2. The Prince of Gilead
TWIN CHRONICLE OF THE AMBUSHED BRAVE
How a chieftain's daughter and her maid-servant fought for their virtue; how the maid-servant escaped to safety and found a young man she could make her husband; how a prince, robbed of all his wealth, was left for dead in the desert, and how he found a greater wampum.
CHRONICLE OF THE BITTER ROOT A. S. 5938, Abdullah's Return How good times fattened Abdullah but did not improve his character, and how resentment and blood revenge took root in his heart, and how he could not rest until he avenged his brethren's deaths on the head of the chief of those he held responsible--Joseph. CHRONICLE OF THE BITTER ROOT, VOL. IV, RETROSTAR
CHRONICLE OF FAT WOLVES AND HUNGRY PEOPLE A. S. 5941, Part I, A Bruised Reed and a Broken Staff; Part II, The Return of the Brothers How the little family tribe of Joseph's father began to starve in their desert hogans and needed to go for provision in another country where there was said to be abundant food and water, thanks to a most far-seeing ruler in it who had set aside one fifth of the harvest for seven straight years of abundant harvests.
PART II, CHRONICLE OF THE FAT WOLVES AND LEAN PEOPLE, VOL. IV, RETROSTAR
CHRONICLE OF THE FAR-SPEAKING VASES A. S. 5931-, 1. Secret Diary of Ipu-Pheres (cont. by Benohe-Pheres); A. S. 5942, 2. Letters of Ipu-Pheres, Jonathan H. Thompkins, and Bertha Mae 3. Letter to Reader by Editor of the 23rd Edition of RETRO STAR series. How spirit-house shamans who have not yet been born could talk to people in stone tipis which had long since vanished under the ice. CHRONICLE OF THE FAR-SPEAKING VASES, VOL. IV, RETRO STAR
CHRONICLE OF THE BLESSINGS AND CURSINGS A. S. 5957, Jacob's Last Testament How all his sons received their future shares in the Promised Land and how his blessings in some cases seemed more like curses; how Jacob's embalmed body was carried back to Ken'an and buried with his father's bones. CHRONICLE OF THE BLESSINGS AND CURSINGS, VOL. IV, RETROSTAR
CHRONICLE OF THE BLESSINGS OF THE EVERLASTING HILLS A. S. 6011, The Kingdom Pledge How Joseph, on his deathbed at age 110, prophesied that his bones would not lie forever in Mizraim, but they would be gathered to his fathers in the Promised Land by his people. How seventy five years of great blessing followed Joseph's death, but then enslavement of the Hebrews began. How blessed was the one piece of ground, the field outside Shechem, owned by the people of Jacob and Joseph. CHRONICLE OF THE BLESSINGS OF THE EVERLASTING HILLS, VOL. IV, RETROSTAR
CHRONICLE OF A CLOUDY AND DARK DAY A. S. 6719, A Mighty Chief Called Barley Cake How one young brave was chosen by God to fight tribes of thousands of enemies that oppressed and starved his people, coming every year and taking all their food away. CHRONICLE OF A CLOUDY AND DARK DAY, VOL. IV, RETROSTAR
CHRONICLE OF THE GIANT-SCALPER A. S. 6852, The Runt of Ephratah How a tribesman of tiny Ephratah, smallest portion of a small country, he himself youngest in his family and despised by his brethren, killed and scalped a giant warrior and became the chieftain of the whole country and one of the most famous kings in human memory and whose second name is spread over the whole earth.
CHRONICLE OF THE GIANT SCALPER, VOL. IV, RETRO STAR
CHRONICLE OF THE CHIEFTAIN'S DAUGHTER IP A. S. 8732, Elektra's Contingency Plan--Implemented How a chieftain's daughter lost her last sky-canoe and seemingly all her people but found a tribe who didn't know better and took her along with them.
CHRONICLE OF THE CHIEFTAIN'S DAUGHTER
CHRONICLE OF THE NIGHTENGALE A. S. 9,857, The Boy Who Sang a Lion to Sleep How a castaway son of a canal beggar and a prostitute became the savior of his sea island home city and people of Baton Roo, when they faced their greatest peril and were about to be destroyed by an armada of hundreds of ships and thousands of cannons.
CHRONICLE OF THE NIGHTENGALE, VOL. IV, RETROSTAR
CHRONICLE OF THE SEVEN STARS, THE GREAT WHITE CHAIR, AND THE END OF EARTH'S SKY-TRAIL AND THE GREAT LAST COUNCIL FIRE (EARTHS I AND II) Z-Point II
GREAT LAST COUNCIL FIRE, VOL. IV, RETROSTAR
1. Z-Point Deferred: Battle of the Seven Stars How, on Earth I, the "Light Bringer" Lucifer attacks the Seven Agensl of the Seven Cburches, determined to gain absolute control of Earth I, and how he uses this attack as a feint in order do the most damage he can to his true objective: the Blue Bridge of Orion that contains, he senses, to the Plan of Restoration for both Earths and their Universes.
CHRONICLE OF THE SEVEN STARS, VOL. IV, RETROSTAR
2. Part I: The Sentencing Trial: The Great Assize Part I How all the people who had done bad things were shown what they had done and were cast alive into the mouth of a Star-Eater along with all the spirit-creatures that lodged inside the enemy stars. Part II: City of Destruction How the cities and nations were judged and then their names and official seals and insigne cast into the Pit, and all memory erased in the mind of God of their former existence.
CHRONICLE OF THE GREAT WHITE CHAIR, VOL. IV, RETRO STAR
Part II, CHRONICLE OF THE GREAT WHITE CHAIR, "CITY OF DESTRUCTION, the "Emerald City", VOL. IV, RETROSTAR
CHRONICLE OF THE BLUE BRIDGE LINKING CHAMPIONS--EARTH I AND EARTH II How the Bridge once linking the Twin Earths was restored in the Cavern of the Great Nebula of Orion, a work that spanned the ages and completed the destiny of both worlds; how the choice to forgive by one wounded human being, a pioneer Exoduster's daughter from a farm in Kansas, joined the two half-spans together forever.
CHRONICLE OF THE BLUE BRIDGE LINKING CHAMPIONS
2. Homecoming of the City of the Great Chief IP How the council gathering of the Lamb of God, finished after an eternity of careful construction, came down from heaven and set upon the center of restored Israel, where the Nail-Pierced One and his tribes would rule the Earth's nations for a thousand years until the Final Reaping of the Earth.
Volume V Beyond the Rapture--An Eschatology Lived,
Chronicled by Horace Brave Scout
CHRONICLE OF THE GREAT CHIEF'S RETURN A. S. 200? How Yeshua comes to Earth I, unexpectedly to most people, gathers those few "Wise Virgins" who are prepared, and leaves those who were tremendously successful followers, they thought, only to find themselves lumped with the ungodly in a world society racing toward the abyss. How Heloise Turnbull, the televangelist, lost her world-wide organization and wealth along with her husband and family but found new life and a new ministry in Israel where she fled to escape the collapse of everything she had achieved.
PART ONE, BOOK ONE, JACOB'S TROUBLE, "THE VOICE FROM THE GROUND"
"Thief in the Night," Part Two, Beyond the Rapture
"The Spin Shamans," Part Three, Beyond the Rapture
"luv heat and the marcyz boyz," Part Four, Beyond the Rapture
"Hard Choices, Part Five, Beyond the Rapture
"The Wailers at the Wall," Beyond the Rapture
"Shelter from the Storm," Part Seven, Beyond the Rapture
"A Covenant God," Part Eight, Beyond the Rapture
"The Lion Unleashed," Part Nine, Beyond the Rapture
"Retreat to Petra," Part Ten, Beyond the Rapture
Book II:
Book II, Yom Kippur, Chapter 1, Volume V, Beyond the Rapture
Book II, Yom Kippur, Chapter 2, Volume V, Beyond the Rapture
Book III
Book III, The Seventh Day, Chapter 1, Volume V, Beyond the Rapture
Volume VI Natal Convergence
by Horace Brave Scout
CHRONICLE OF THE LOST TRIBE A. S. 1,136,786 How the Alpha Centaurii discovered an archive of Late Twentieth Century artifacts in a time capsule, and information revealing a Magnum Mysterium that revolutionized everything, to the point where they chose the dreaded White Martyrdom, a final search of the Universe for what they had lost, in which they discover what Ira Sulkowsky has already shown them in.... "The Christmas Factor" 61000202A-Z, Subfile A1, "Dogon Star Child"
61000202A-Z, Subfile A2, "Lakota Nativity" 61000202A-Z, Subfile A3, "A Victorian Christmas" 61000202A-Z, Subfile A4, "Christmas with James Dean"
"Subfile A4: Christmas with James Dean, A Requiem with Poinsettias" 61000202A-Z, Subfile A5, "A Fawn in Winter" 61000202A-Z, Subfile A6, "A Fulani Christmas"
"A Fulani Christmas," Vol. VI, CHRONICLE OF THE LOST TRIBE, RETRO STAR
61000202A-Z, Subfile A7, "Street of Dreams" 61000202A-Z, Subfile A8, "Winter Rose"
CHRONICLE OF THE LOST TRIBE, WINTER ROSE, VOL. VI, RETROSTAR
61000202A-Z, Subfile A9, Act III, "Christmas from Lyonnesse"
61000202A-Z, Subfile A10, ACT III, "Joseph's Letter"
CHRONICLE OF THE LOST TRIBE, VOL. VI, "Joseph's Letter," RETROSTAR "Natal Convergence!"
Volume VII Final Wars...Convergence at Orion by Horace Brave Scout IP
How two major battles fought for Orion and its secret "Skunk Works" resulted in the destruction of the chief project, the Blue Bridge, to the point where only half survived in each Universe; and how a single act of an individual was strong enough to unite the two halves into one whole, thereby completing the bridge and defeating the opposing players.
Epilogue II EPILOGUE II, "THE HARROWINGS OF HADES AND HELL," RETRO STAR

NOTE OF FRIENDLY REMINDER TO DOWNLOADERS: THIS CONTENTS PAGE DOES NOT LIST A GREAT MANY COMPLETED CHRONICLES, SO THERE IS NO WAY DOWNLOADING CAN OBTAIN THE COMPLETE RETRO STAR SERIES. THERE IS, I AM INFORMED, A CERTAIN STARLIKE ALIEN ENTITY THAT IS BEING FEATURED BY SOMEONE, AND THIS OF COURSE IS MY OWN COPYRIGHTED INTELLECTUAL PROPERTY--"BORROWED" FROM MY OWN STABLE OF STAR-STONES, OR ALIEN ENTITIES. HAVE FUN, WHILE WE GIVE YOU A BIT OF LOOSE LEASH! WHAT IS GIVEN TO PUBLIC DOMAIN HERE IS JUST ENOUGH TO OPEN A WINDOW ON THE SERIES AND ITS POSSIBILITIES TO WHOMEVER IS SERIOUSLY INTERESTED.
Earth I's supercontinent, which may have contained all the continents which presently exist: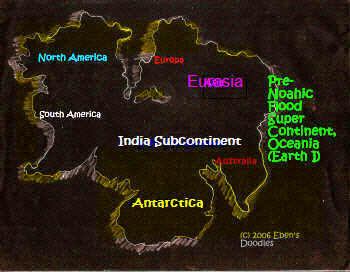 Earth II's lost first civilization, Mukalia, and its continent: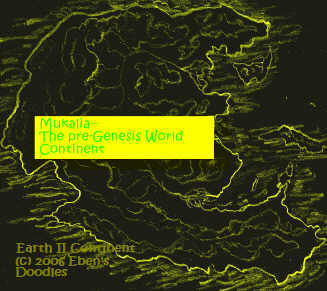 Earth II's Mother Continent, Atlantis II, after the Re-Location of the Planet:


CONCLUDING PORTION OF "THE MAN WHO NEVER LAUNCHED":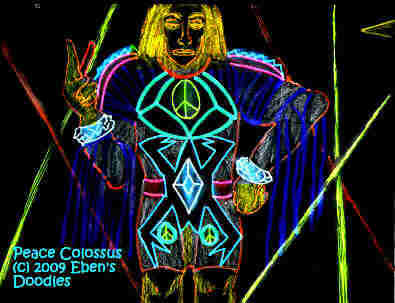 Closest to the action, London's Lord Mayor had a most elegant and exclusive party going on right up to the moment of the disaster, with the decks of his yacht crowded with the cream of international society. Whoever was anybody would not have missed the King of Pop's own personal appearance--which was to occur at his own selected time, for as many minutes as he could suffer rubbing his sequined elbows with mere mortals, even if they were avid fans. So while they awaited the King of Pop's arrival by either special helicopter or some other more flamboyant means, so that the guests could enjoy the best view of the various dance teams onboard the board, the Lord Mayor's yacht was drawn up as close as possible on the starboard side as the barge was towed upriver. Here the head, or the major portion of it, along with some of the torso that might have been the buttocks, so happened to descend. That put an immediate end to the party, of course. Fifty of the guests were unaccounted for later for quite a few hours of frantic searching by authorities and diving teams, as the yacht capsized and everything and everyone was dumped unceremoniously overboard into the turbid Thames.
The rocket seemed to have a thing for smashing icons, and the King of Pop proved no exception. Maybe if there had been more time, and if the cockpit hadn't been in such shambles after the Eiffel Tower bust-up, the outcome might have been far different. With Larry unable to maneuver the rocket's course, the fatal convergence occurred despite his best efforts. The King of Pop's cork was popped.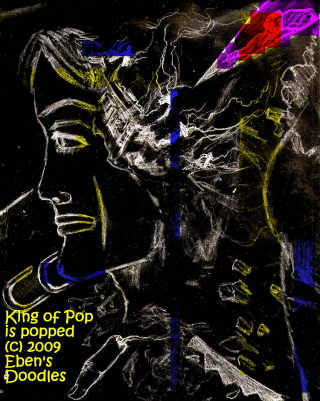 For Chronicle Sixty-Two's Unchronicle I, in which Ero flies the Wally-programmed copper dome of the City of Destiny's old Union Train Station to 19th century Chicago just as the Uproarious Hog Butcher of the World erupts in the Great Chicago Fire, and next to the 21st century's dramatic debut with Puppet Master Osama bin Ladin's Muslim terrorists wreaking destruction on the World Trade Center, then a direct hit on the Pentagon, followed by a near take out of the White House, go to Unchronicle I.
CHRONICLE SIXTY-TWO, ANNO STELLAE 10,999, QUEST OF THE CYBERNAUTS

UNCHRONICLE II, PART I, THE CHRISTMAS PRODIGAL; PART II, THE HOUNDS AND THE BLACK PANTHER, PART III, THE KNIGHTS OF THE AXES OF HONOR, CHRONICLE SIXTY-TWO, VOL. III, RETROSTAR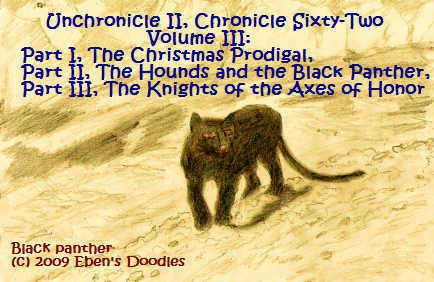 UNCHRONICLE II, PART III, THE KNIGHTS OF THE AXES OF HONOR1>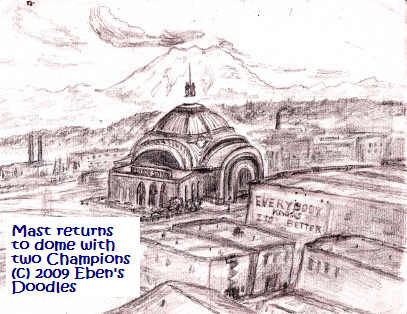 The return of the mast and the missing dome "lid" to the top of the Union Train Station happened much to the surprise of the lone occupant, Crazy Dan still playing solitaire at his table set beneath, and he dropped his cards for a few minutes just to stare at it. Eventually, when he couldn't figure it out, he went back to his cards, which was about the only thing he was good at these days since he retired from the car dealership.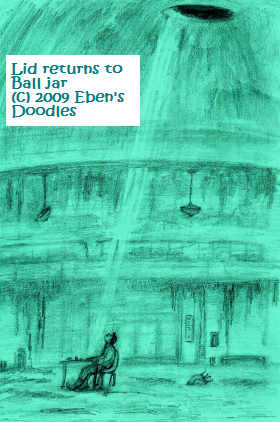 Saved from the nuclear destruction that the Vampire, with considerable help from two of its star-stone siblings, had ignited to eradiate the growing germ of faith within its own eyeball, the two champions, feeling little like champions, looked around from their perch. Damon was not recovered from seeing his world destroyed, and he was not able to comprehend what he was seeing. Yet Ero had been there before, and he did his best to help Damon, and reassure him that things were going to get better, if they did not lose hope. As for his family, they did not know yet what had happened to them. Perhaps, they still could find out.
Comforted by that thought, Damon tried to deal with the present challenges of landing in such a strange city, the City of Destiny. What Destiny did it offer? He had seen his own destiny destroyed before his eys--was there a better one in return for the burning ashes of his own world?
As the mast did not seem like it was going anywhere soon, and the Kater's Compass did not respond to Ero's questions, they realized that they might have to explore the city on their own.
They soon decided they might as well climb down the dome and the building to street level and take a look around.
Ero had climbed up on the west side, but this time they climbed down the north side, which put them on a flat roof of the train depot's offices. Here they found a metal, roof-access ladder that let them get down to the ground.
They were right on time. A grand reception was waiting for them, though they could see no one present!
A gala platform of tented material, with heraldic banners, materialized. The banners were the most remarkable they had ever seen, of two main kinds. The first featured a magnificent golden rampant lion, crowned. The second kind showed two axes on a blood-red background.
The two candidates for knighthood, who did not know they had already served their apprenticeships and been approved, walked around looking at each item. What was this all for? they wondered, glancing back at each other.
Suddenly, they heard, rather than saw, a multitude of people around them, as if they were standing in a great pillared hall, with thousands of courtiers and knights taking their places for the entrance of the great Lord of the people and nation.
Then there silence, and the sound of footsteps. They could hear the footsteps and see the impression of them in the carpet as someone invisible walked by them toward the front, and sent to the pavilion and turned around and faced them.
A mighty roar erupted all around the two candidates, that almost knocked them off their feet. People were cheering and shouting a single name. "Yeshua?" wasn't it? both candidates thought. Yes, it was. There could be no mistaking it. Gradually, the calling of His name receded, and there was a thump, three times, of the lictor's standard on the ground, and again, dead silence. The hair on the back of the candidates' necks stood up, they could feel thousands of eyes turned to them. It seemed they were waiting for their response, but what should it be? The candidates had no idea.
Damon felt a nudge against his shoulder, looked, but Ero hadn't done it. He saw no one else could have done it. Again he felt his shoulder being nudged. Realizing that this was something bigger than he could see, he took a few steps forward, then continued until he stood at the base of the pavilion. A red cushion appeared at his feet, and he knew what it was for this time. Wasn't that the sort of thing the candidate for knighthood knelt on before he was dubbed a knight by the king or queen or the castle lord?
He felt a gentle pressure on his shoulders, as if two hands were being pressed there, and he realized it was what he thought! He knelt.
Damon's heart slowed. He could hardly draw a breath, and he felt as cold as if a bucket of ice water had been thrown suddenly in his face. He would have sweated, though cold as he was, if he could sweat in cyberspace, realizing then that a life and death choice of some kind was being set before him, a test of his character and life that would allow him no appeal if it went badly. And it was what he felt, he soon discovered--a test, the most serious one he had ever faced.
Would he pass the Trial of the Candidate? Unlike medieval candidates, he had not spent the whole night before the Test in solemn fasting and prayer, kneeling alone before the Cross and the altar in a chapel, but had been running for his life in a speedboat, Sasan at the wheel, chased by gangs of spies and government police down the canals of Poseidia!
What was that going to do for him now? His knees felt very weak, gone to water. Now he knew why the cushion was there and he was kneeling, because there was no way he or any other candidate could manage to stand up at such a moment! He felt it was all over with him.
For the first time he heard a voice! It had the tone of a commanding officer's too! A general, or a field marshal, would sound so authoritative, Damon knew. He had met and photographed several such in private sessions attended only by a few chosen aides, but this commander sounded even more impressive. His voice seemed to penetrate his whole being and then flood out into the world, causing the whole world to stand still and listen.
At the sound of that Voice, Damon felt like he was standing alone on the docket before the Supreme Judge of the Universe, not just a commander or even a commander-in-chief.
He wanted to flee, to bolt, to even spring up into a tree, but he had no strength to do it!
The Voice was speaking, in perfect Greek too, and Damon heard every word of what was the "Test of the Three Vows".
"Candidate, wilt thou vow Honesty, Courtesy, and Probity, and be always ready to deny yourself and defend the weak?"
What on earth was "probity", Damon wondered with consternation. He knew what the first two and the last entailed, but...there was no time to be consulting the dictionary, he had to answer, he felt, with a nudge at his shoulder to reinforce that impression.
"Candidate! Wilt thou vow...?" the lictor prompted.
"Yes!" Damon blurted out. "Yessir! I mean...ah--"
Again, he felt someone nudge his shoulder, a little sharply too, as if a sword was being used, since no one was asking him what he meant other than "Yes" or "No."
He had no time to think about it further. The second Test Question came, riveting his attention.
"Candidate, wilt thou pledge thyself to Lady Purity, and wilt thou defend her virtue and honor always?"
Damon relaxed a bit. This was easy! He thought of Natalia immediately. Was she all right? Would he ever see her again? He was a long way off, he knew, and that was all he knew about his whereabouts. How could he find his way back to her? No doubt she was waiting faithfully for him to return! He knew now, at this very moment, he loved her, and that there was no one else he could marry or devote himself to in marriage. And, yes, he wouldn't run after any other women--he would give that up for Natalia. She was more than worth it! It wouldn't be easy, but he was going to do it! Deny himself! Why had it taken him so long to get to this point. Was he so independent, he hated to give up his free-wheeling, self-indulgent lifestyle and all the willing, pretty women for anyone, even one such as Natalia? But now he had made his decision, and he was going to see it through!
Damon felt another nudge, this time on both shoulders. He remembered, with as start, where he was. But he had forgotten the question! What was the question? All he could see in his mind's eye was Natalia. She was beckoning to him, and he was holding back from her. But his heart said yes! yes!" Another voice sounded, not the same as the first, perhaps the Candidate Avocate who was present in Spirit, announcing: "The Candidate has pledged troth from the heart! He has vowed to remain pure for her hand, and throughout the time of his union with her he will remain faithful to her, loving only her as his wife and helpmeet. Let it be written in the record!"
Again the first Voice sounded. Damon felt relieved beyond words. Apparently, his unspoken vow had been heard and approved by higher authority.
It was now the time for the third question of the Test, the climatic one that decided whether Damon would pass and become a Knight or not. Two right answers so far would not win him knighthood. He had to answer all three perfectly.
As if the whole congregation present were well aware of the gravity of this very moment, the very air was rigid with suspense. Everything hinged on his handling it rightly. The whole scene was deathly still, and a preternatural silence it was, as if it were the dawn of the eight day, the day after the Week of Primal Creation, when all the Earth was reformed and given order and all the living species, with Man installed as the reigning Sovereign.
"Candidate, wilt thou vow to be faithful to thy vows even unto death?"
Damon's heart dropped down in his chest the moment he heard it. The flesh of his entire body was screaming and crawling, as if it wanted to leave his bones and muscles! This was, for Damon, the hardest question of all! The first wasn't so bad. The second was a piece of cake. But this one! This had put its finger on something he would admit to no one! He knew for sure he wasn't up to it. His heart sank even further. He had never, never been faithful to anyone or anything in his entire existence, had he? But there was one thing, he couldn't lie about it! He despised liars, and knowing how despicable liars were and anxious to save their wretched hides. But he knew he would have to live with himself knowing he was a cowardly liar, a cheat, an imposter. What kind of life would he have then, if he made himself a miserable liar? It would be like being chained in a deep, dark dungeon, with evil spirits calling him dirty names, day in, day out! So why should he try to fool anybody now? He couldn't bear to live like that--though many people he had known had chosen to, for the sake of sparing themselves some calamity or even a small inconvenience!
"I--I can't...!" he gasped out.
"It's impossible for me!"
At the moment he said that, there was a tremendous stir, as if the whole invisible host of nobles and knights of God present were struck aghast--as if no Candidate before him had ever dared say anything of the kind.
Damon felt he was finished! He had blown it utterly! He was disgraced. He was was disqualified. What now? Would they drag him out and throw him into a dungeon somewhere, to live out the remainder of his days in chains? But, still, he felt he had said the right thing, the only thing he could say honestly, even if it exposed him in all his weakness--something he had never revealed to anyone before--that for all his strength and bravado about being a man's man, he really couldn't say he could stand up to torture on, for example, a cross and still remain true to his vows. Every man had a breaking point, didn't he? He knew he would break too, if the pressure was great enough.
"Yes!" the Voice thundered, answering in Damon's stead. "For man it is impossible, but with God all things are possible. The Candidate has vowed these three times in solemn assembly, before the Father, the Son, and the Paraclete! Recorder, write it in the book!"
The congregation of witnesses exploded as the tribunal lictor thumped the base of his standard for order in the assembly. There was no other word for what had happened: it was "sensational".
Still gasping, Damon felt hands on him, holding him upright on the cushion. He felt so faint he was liable to pass out right where he was. When the rejoicing and congratulations for Damon died down, the ceremony concluded.
This was not altogether pleasant, either. It was not pleasant at all, in fact. Even with his head down, Damon could see the diamond sword being uplifted, as if his head might be severed in the next instant. Instead it was lowered slowly, and touched...not his head, not his shoulder, but his heart..
Damon felt a blazing warmth spread through his chest and through his entire frame from head to feet, making him feel as if he was going to explode with strength and power, and he also felt ...what? Joy? Yes, it was joy!
"I, Your Lord and God, will be your Strength and your Strong Tower, your Mighty Fortress, just as I have been in the past, so will I be to you in your coming battles. Be of good cheer, and rise! You are now a Knight of the Order, the Axes of Honor. Stand and receive your garments and weapons!"
Springing to his feet a true champion, Damon waited with great expectation. But the entire scene went instantly dark, and he was left standing seemingly alone in pitch darkness. Was this how it was going to be?--a lone warrior struggling against dark forces that were hiding somewhere in the night enfolding him? Perhaps so!
But he was deceived by appearances. He was not forsaken. He found himself instantly garbed head to foot in chain mail and a tunic, holding a spear with a standard and a shield, with a helmet and sword to complete his knightly equippage. It was wonderful gear, though somewhat antiquated, as he understood warfare. Nevertheless, he knew he could do some damage with it! Just give him some practice and the opportunity to prove his prowess, and he knew he could wield a sword with the best of them!
Yeshua again spoke, but this time it was a private audience. He awarded the hero a new name, inscribed on a white stone, which no one else would know or see. After several more words in from Lord Yeshua, Damon stepped aside to wait for the second Candidate to be interviewed.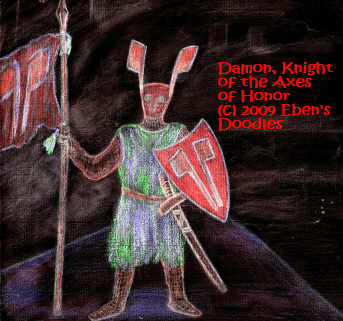 Then the light flashed back on, and the awesome Knights Tribunal continued.
Ero II had watched Damon go through some sort of medieval age ceremony, without seeing who was performing it, and then the lights went out momentarily, it was completely black, but Damon stood there, highly visible, or was it someone else in his place? He was dressed completely different, with two axes set along side his head on a metal helmet, wearing a shining green and cobalt blue tunic over a chain mail body suit. He wore a sword, and in his right hand held a spear holding a standard emblazoned with the two axes on a red background. In his left hand he held a shield emblazoned with two axes on the same blood red background. What was going on? Ero marvelled. He tried to move from his spot, but something seemed to hold his feet fast where he stood, as if he were set in concrete!
After a short time, while Damon seemed to be talking and being talked to, he stepped backwards, bowed deeply, then moved to one side of the carpet and stood quietly and glancing back toward Ero.
It was Ero II next who felt like he was being propelled forward to the base of the Judge's pavilion. The concrete was gone, he could move his feet again. It felt like someone had given a push to his shoulder, as if a page were at his side who knew all the fine details of the ceremony and testing, giving him the nudges so he could perform the right moves according to the tribunal protocols.
He started forward and then paused at the base of the pavilion. The cushion, rich in plush red velvet, encrusted along the edges with what looked like diamonds, was still there waiting for him. He realized what it was for. He knelt on it.
Then as he waited, totally awed by what was happening, he saw Yeshua appearing before him, for he had been there all along, Ero knew, but was not visible to his eyes until then, for some reason he could not understand.
He dared not look up, but saw only the fringes of his robe, his hands up to his open holed, red nail-pierced wrists, and there was one thing more, a glittering white sword, an incredible weapon seemingly cut from a single diamond, blazing with light and fire in the right hand.
The sword was so blindingly bright that Ero couldn't look at it! What was he going to do? Cut off his head? Ero II wondered just as Damon had before him. He really didn't think that would happen, but he had never been knighted before, and it was too far back in Greek culture, hundreds of years in fact since Greeks were knighted at various courts in the medieval Byzantine times.
The candidature "ceremony" was brief and demanded sharp attention. There was nothing casual about it. It felt like he had been summoned to appear at a military event, a tribunal of the highest order-- in every detail, extremely solemn, perfect in execution, and almost frightening lest anything not be done not just right according to regulations, thereby bringing dishonor to the commanding officer, the Judge that presided over the Tribunal.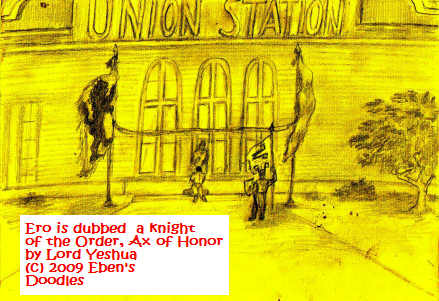 Ero was surprised when the same things did not happen to him as to Damon his brother-warrior. He was given no mail suit, tunic, spear and standard, and no sword! How was he going to fight the enemy? Presumably, that was what this ceremony was all about, to equip them for a coming battle or war of some kind. It wasn't just a ceremonial, he felt, considering how solemn it was being conducted. This was a matter of life and death, he knew for certain. He couldn't see, but he felt the presence of thousands of people, who sounded like all warriors and soldiers, by the sound they made. He could hear them, sense them, and so he knew he wasn't imagining there was a huge assembly gathered round about for an imminent war.
Wondering what role he could possibly play, Ero was even more surprised by the test questions. He was first asked,
"Candidate, wilt thou forswear all earthly, mortal shields and ramparts and trust in Me alone?"
That astounded Ero the Olympic Torch Bearer. What? No shields or protective mail suit? No anything?
But he thought again, "Warriors, even the best, still die with such things in their possession, they can still be conquered and slain, so really, such things do not save a man from a more powerful enemy. What then can I trust in?" Suddenly, it flashed upon him, how Yeshua had come through for him, time and again. It hadn't been his own bow or arrow that had saved it, it had been Yeshua. Surely, that would never change. Yeshua had been proven faithful, always. He had only one answer he could give: "Yes! to the question.
Then he waited, afraid he would be told he was wrong, that he was being ignorant, presumptious, without common sense, thinking he could go forth into battle without any normal gear.
The lictor thumped his standard, declaring: "The Candidate has answered rightly. For it is written: "His faithfulness will be your shield and rampart. You will not fear the terror of night, nor the arrow that flies by day..."
The assembly erupted in rejoicing for the Candidate's success at Test Question 1. Ero took a deep breath.
The Judge's voice thundered again:
"Candidate, wilt thou tell the number of all who were saved in the ark Noah sailed?"
This question nearly knocked Ero off his cushion! It was so unexpected, as it had nothing to do with warfare--at least it seemed as far fetched as it could be! Bible was not his strong point, as he hadn't been raised in a home where the Bible was read more than one or twice a year, and usually it was by the priest at the church in Seriphos too. He had been told some of the events by his nurse as a child, so he knew some things. But details like this that Yeshua was asking?
What was he going to do? Guess? But a mistake would cost him the candidature? He would not be able to join and continue on with his warrior-brother, Damon. What would he do then? He knew he was utterly lost, for his destiny was tied up with Damon somehow, and he couldn't let them be parted now!

Fortunately, as he wracked his memory in the few seconds allotted him to answer, he recalled in sharp detail what the family's nursery maid had read from the old family Bible Storybook. There was Noah, of course. Then his wife. And he had some sons too. How many? Two at least! And weren't they married? There were at least six in the family. But what if there had been three sons, that would make eight altogether, right? Now which was it, six or eight? Six or eight?

He didn't know it, but he was so bothered, that he was mumbling, even speaking out loud, and it tumbled out "...eight? eight?"

There was an ominous silence. Ero thought he was a goner, he was flat wrong. Oh, if he had only opened his Bible more! He was so terribly ignorant of the Bible--how could that be justified before Yeshua?

In a daze, he heard the lictor thump the standard pole, making him shudder with a sense of doom, and then the lictor announced: "Candidate has answered rightly! Eight souls were saved from the waters of the Great Flood in the ark!"

What was that? He had answered right? Could he believe his own ears? His nurse had saved him, by reading those stories to him over and over, so that he never forgot them, though he had not thought about them for years.

Ero felt faint, and a hand steadied him as the assembly again voiced its joy for him. Gathering himself together, Ero squared his shoulders and prepared for the final and climactic question. It came, amd literally blew Ero's hair back.
"Candidate, Who is the ark by which men are saved from the Great Floods, the one by water, and the coming one by fire?"
Now Ero, like his people, was extremely quick-witted and clever, and loved words games and tongue twisters and hair-splitting in rapid fire verbal repartee practiced in towns and villages everywhere across his homeland, but this stumped him. An ark was a "who"? He knew an ark was a "what"! It was wood, so high, so long, so wide, filled with rooms for the animals on board, and quarters for Noah and his family, with storehouses for the food supplies. What on earth did Yeshua want?
How could a boat, or an ocean-going vessel such as the ark, made to float but not sail, be a "who"? That meant it was really a person! That was logically impossible, patently absurd!
"Oh, Lord!" he exclaimed, at a total loss. He finished now!
The lictor thumped his standard. "The Candidate for noble knighthood has answered rightly. The Lord is the Ark, by which all men are saved from the Great Floods!"
This time Ero, hardly able to stand, could hardly believe what he was hearing. What had he said? He had answered right? Didn't they know he--? But he could see the ceremony was not over, except for one thing. He was to be equipped for the coming battle, was he not?
Ero stood and watched an Olympic torch appear in Yeshua's hand. Yeshua held it out to Ero, and Ero took it with a trembling hand.
The Tribunal hall went instantly dark, and Ero stood there, with the torch glowing bright, while the lictor quoted from the Scriptures:
"Let your light so shine before men, that they may see your good works, and glorify your Father which is in heaven."
It was impressive, doubtless, Ero thought. But is this all? Is this all I have to defend myself with?
No body armor?
No sword?
Not even a helmet?
From the most ancient times, every Greek that went into battle had at least a spear and a shield, even he didn't have a stitch of clothing to keep off the cold at night. A lighted Olympic torch? He glanced down, however, at the stem, and saw an inscription. It was in Greek! What it said was his answer, he discovered as he read it. He knew he would not need anything more. He had everything he needed. It was more than he had expected, in fact.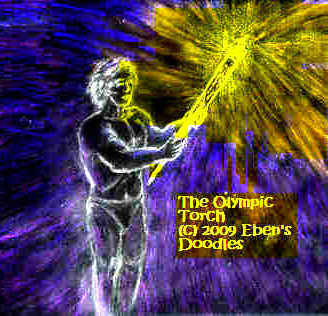 Ero was given his new name, inscribed on a white stone, presented by Lord Yeshua, and, after Lord Yeshua dubbed Ero a knight of the Order, the Axes of Honor, the lictor gave a final three thumps, and the assembly was concluded.
Ero and Damon were left a moment later, free to go, but they lingered, looking over each other's equipment.
Ero was excited. He had followed Damon his newfound brother for a long time, and now he had a thousand questions he wanted to ask him. Here was his chance. To think he would be able to share Damon's adventures, no longer just an observer, but standing side by side with him through thick and thin! He hoped Damon felt the way he did--and from the looks of him and the way he acted, he thought he did.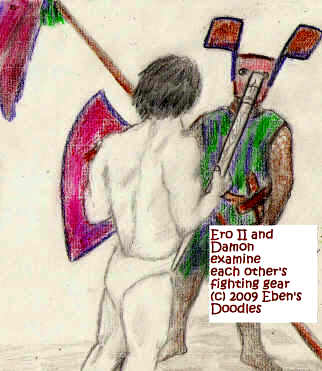 They did not have a long time to get really acquainted. They both felt they must be on their way, as the pavilion was now disappearing, piece by piece, and even the Union Station was crumbling! Something like a leaf fluttered by Ero, and he grabbed at it. It was one half of the Kater's Compass--but it was shriveled up like an autum leaf, no longer any good. He let it drop, wondering how anything once so powerful and helpful could be nothing now, but turned back to Damon. Damon threw back his helmet and grinned.
"Let's go explore what there is here! This gear is meant to be used! Well?"
Together they set out, and discovered that in just a few moments the entire City of Destiny had crumbled away, or been transformed into something very different: a huge castle mount that filled the whole skyline with forts, walls, towers, and defensive gates.
Awestruck, the two brother-warriors now joined, stood taking it in. It was a glorious sight. But what were they going to do on this new, unexplained quest? They had no idea.
After gazing at the castled mount, they decided to go and find out if they could.
In high spirits they set out, feeling as though they were both homeward bound--as a minstrel at a shining court in a grand hall full of knights and nobles, holding a golden rose from the king's hand, once described it:
"I am homeward bound! But I cannot tell
How near may the haven be,
Or if many storms may be may beset my barque
Ere I gain the Crystal Sea?
But I know that my Pilot is near at hand,
And that is enough for me.
I am homeward bound!
And the sun sometimes shines
out of the golden west,
Till it almost seems like the gate of home
And I think I am near my rest;
But if long or short may the voyage be
Still my Pilot knoweth best.
And I know I shall reach the port at last--
The haven where I would be,
Where the storms of life shall distress no more
And there, by the Crystal Sea
The loved ones whose earthly voyage is o'er
Are waiting to welcome me.
I am homeward bound! 'Twill be 'Home Sweet Home'!
I shall see my Pilot's face;
Not a stranger there in a far off land--
I shall feel His blest embrace;
And shall know more fully than e'er before
All His sovereign love and grace."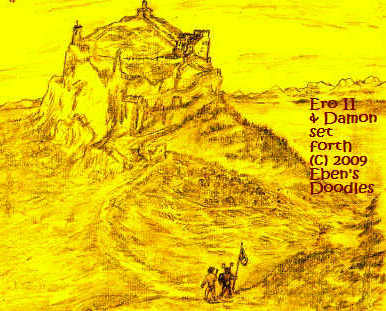 Malevolence was always not far removed, and its eyes were keen to detect and watch the knights-errant approach the gates of its bastion, Mount Defiance. They were not going to enter them so easily, if it could be helped! Possibly, they might not even make it through alive.
A typhoon blew up against the coast, its roiling black clouds rapidly climbing the slopes above the northern shores of the sea that encircled the peninsula of the Mount. It happened so fast that the champions were taken by surprise. Even as they stood and looked at it, they realized in a few moments that they were in a struggle for their very lives.
The light went out, and then downpours that pounded them, along with chilling sleet, soon made the road vanish before their eyes. Water rushed around their ankle and legs as it ran to escape down to the bay. But they remembered their objective and plunged on into the darkness and flood.
It almost seemed that part of the world at least had liquified and was going to slide down as a mass into the bay and be drowned. If only they could reach higher ground! was their single thought in all their struggling.
Ero kept his torch held up, determined not to let it be swept away. As long as the light remained to light the path, he had hope they would make it to safety. Fear was his greatest enemy, he found. If he let it take any ground in him, he knew he was finished, he would slacken off his struggle and be swept away!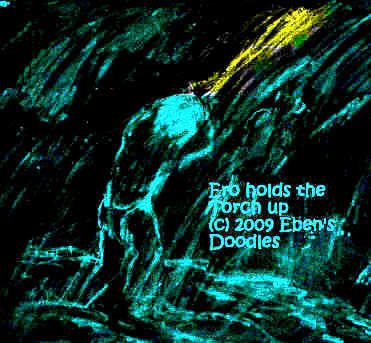 Ahead of him somewhere was Damon, who got separated from him, though he was just a few steps away. Damon too fought against the monster of fear. Just then Ero nearly fell headlong as he stumbled over somthing. The torch nearly flew out of his hand.
In the shrill roaring of the wind, which sounded like an asylum of maniacs all screaming for their blood, Ero thought he heard a groan or a cry. He wasn't sure where it was coming from. Yet was it that log he had stumbled over? Was it no log at all but some unfortunately human being?
Ero turned around and held out the torch, feeling more with his feet, trying to stay upright and not be knocked down as he searched. Then he found what he was seeking: a man, fallen on the ground, on the verge of being swept over the side and thence down the steep slopes that tumbled into the bay. Ero grabbed the man by the hand, holding him back as the streams pulled him downward, and then Damon too appeared, and he too helped get the man back on his feet. Together they pulled the man with them toward the slopes of the Mount where they stood more of a chance of finding shelter.
The man was now unconscious, and silent, but they would not let him drop, even if he was a dead weight.
Was he gone? They did not know. But perhaps there was some life in him, if only they could find shelter, and revive him there.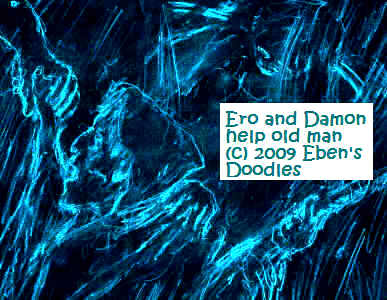 At that moment, when their hopes seemed vain and their fears were the victor, a greater light than the Torch flared into brilliance that almost knocked them flat. In the brilliant light their eyes were struck and dazzled to near blindness, but then they began to see there was Someone standing the light, and by degrees they made out colors too... royal purple, as of a king, predominated. Was this a great king? Could it be Lord Yeshua?
Ero and Damon were certain of it. Lord Yeshua was not going to let them die there, along with the poor old man in their arms. Yeshua was Master even of the greatest storms, which they discovered when it lost intensity and began withdrawing from them on both sides. The water stopped rushing over the roadway, and they were able to sink down on their knees, in relief as well as to pay homage.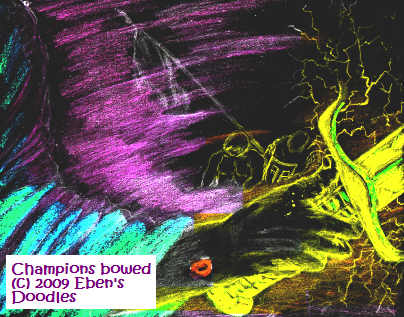 The encounter was so brief, it was over before they could form any thoughts about it. But they knew it was Lord Yeshua who had raised his mighty sword and stilled the storm of fear. Its deadly assaults were quenched! They knew they could make it now to the village they had spied from afar, whose chimney fires even now were burning. The storm evidently had not reached to the village, covering only the roadway where they had been walking so blithely just a few minutes before they saw the first black clouds of the typhoon climbiing up toward them.
It did not take them long, even carrying the old man, to reach the Mount's village, which nestled on its outer wall, just beyond the first gate and towers that guarded the entrance and the road upwards to the Castle.
From a distance it looked idyllic and so peaceful they thought it must be a place of friendly, even kind souls.
"Not a drop of rain fell here!" remarked Damon to Ero. "There's not a single sign of any storm here, no damage from the weather!" Ero marvelled. "Will they believe us when we tell them about it? But strange as this is to see, Yeshua commanded us to warn them, nevertheless, of the burning Flood to come, the fire next time that will consume everything we see, this mountain will split wide open and the castles on it and the village beneath it will be swallowed by the fiery streams that boil out of the earth, killing all the people and their animals. They must all flee this place, seek refuge in the Ark of Yeshua, or be destroyed in the fires Yeshua said were coming soon. We must tell them before we travel on to other parts!"
As they entered the first lanes that wound down to the village square, they did not feel much of a friendly spirit, despite their first impression.
Eyes peered at them coldly in the windows or between cracked shutters in the windows, and no one came out to help them or ask what they might need. Not a drop of rain had struck the town, amazingly, wheras the knights were drenched, shivering, their hair wet, and the old man himself half-alive after being nearly drowned!
Looking everywhere for someone to ask directions from, Ero and Damon exchanged glances and then continued looking. The town seemed all the more hostile to them even as they approached the center. Wasn't anyone going to come out and at least say a word to them?
They could hear dogs snarling, leaping up against doors and gates, and Ero and Damon braced themselves for attacks, but none came out, as if the owners could see they might lose them if they were loosed.
Finally, the knights stood in the square, facing a single large building or house that might be an villager inn. As they started toward it, the old man in their hands groaned, opened his eyes, and as they paused, he recognized the place.
"Take me in there!" he croaked. "It will do for now. I know the place, and they know me well, from my stops to buy their forage for my horse. And sometimes in earlier days I hired the entire establishment, and celebrated there after leaving the king's castle with his gifts. But the place has grown more evil with the passing years, till I don't dare abide there overnight. And I haven't been able to return to the Mount lately until now, being too old, and the way up is so hard these days, and the queen prefers younger singers these days... but who are you, sirs?"
Then the man's eyes turned up, and he sank back in their hands. Hurrying, the knights carried the old man to the door, and it was flung open in their startled faces. A woman with a big cloth tied round her chair, and a floury apron wrapping her large middle, thrust her hard-boned face out, screaming something like "Who's causing trouble here at my door? Git thee--"
She eyed the knights up and down, but then saw what they were bringing. Her expression changed. It did not become kinder, but she jerked her thumb, thrusting open the door wide as she stood aside, wiping her mouth with her flour-caked and stained apron.
The knights looked in, saw many faces gaping at them, but there was a fire burning in a huge, smoke-blackened hearth, the clasthing sound of crockery and metal cups clanking on tabletops and many men dining with their assortment of womenfolk, all crammed elbow to elbow from one end to the other of the large public room, and it was clear what this place was: a public inn and taverna in full spate. Half the town must have been there! The smell of sweat from unwashed bodies and stale beer and cheap perfume, mingled with thick tobacco fumes and smells of rancid food kicked under tables a nd chair, it made the knights want to hold their noses. Was there none other? Ero and Damon did not like the looks and manner of the mistress of the establishment. She evidently did not like their looks either. Damon was dressed as a proper knight, to be sure, and Ero, well, he was a near naked slavey or serf acting as the knight's attendant--a common enough sight in the village, nothing remarkable about that. They had seen their share of lackeys treated worse than dogs, hardly fed, scantily clothed, and groveling at the heels of their masters worse than any dog!
Should they enter, or try some other place? But the village was not likely to have another place, or anything better, they realized. As for their burden, it was his interests they were seeking, not theirs, so they went in.
The moment they got him indoors and lay him down on a bench, the inn's mistress barked orders, and her servants rushed to get a room and bed ready for him upstairs, along with suitable quarters for the knight next to him, and a straw pallet thrown on the rush-strewn floor for the slave-page.
"But where, pray tell, are your horses and palfrey?" the woman screamed at them. "Have you come unhorsed to my stables? I never heard of such a thing! What has happened to the good man's mount? He always comes with fine apparel and an embroidered blanket on his horse, with plumes on its head, and ascends the mount and sings to the court of the high lords and ladies of the castle! So where are his good horse and jaunty equippage!"
Ero and Daman stared at each other. What was she talking about? All they had of the man's possessions was the troubadour's instrument, still covered with leather tightly corded, so it might not be ruined after all if it were laid out carefully to dry. As for a horse and whatever else it carried? Had it gone over the cliff?
They shook their heads. Damon spoke first, finding the language close enough to understand to what he had been spekaing in Poseidonia, even though their accents were so thick and coarse. "Madam, I have no knowledge of his horse or equipment. Was it lost in the storm perhaps, or was he robbed?"
The woman screwed her fat-pillowed neck and made big owl eyes round about her, and then threw her thick, big bellied body back in a laugh that rocked her whole frame, and set the entire company laughing with her at their expense. "'Was it lost in the storm perhaps?' she jeered, cocking her head and neck one way and the next, her hands on her hip and her elbows akimbo as if she were dancing. "This fine gentleman and noble knight saith, 'Was it lost in the storm perhaps?'"
The room exploded, and wine and beer flagons flew through the air, dashing their contents against the walls.
Damon's face flushed dangerously as he eyed the woman, but Ero did not make a move, and Damon resisted his own anger. How dare they insult him! He came from a noble family in Poseidia and bore a mighty sword, did he not? Yeshua had dubbed him a knight in full regalia. Yet he had to wait, as Ero touch his arm for caution.
The woman in the breadmaker's apron and cap sneered right in his face. "Methinks," and she jerked her head and indicated the whole watching group with her thought the same thing as she, "you, sire, are the robber of this good man!"
Damon stiffened, and even Ero's hand did not hold him back now. He was on his own.
"Methinks," she went on, her eyes gleaming, even as they glanced pointedly at his sword and his hand hovering over the hilt, "you are the dastard, the montebank, the dirty jackanapes that has dealt him a terrible loss this day, taking his horse and all he carried with him to the Castle yonder. What of that? How do you acquit yourself! Say!"
He looked at them with contempt, without a twinge of fear. He knew he could do them far more damage than they could do him and Ero, though whatever damage he inflicted on the men, he would not strike the fat old shrew of a woman, however offensive she was. But what about the man whose life they had come here to save? He had no chance of surviving if there erupted a deadly brawl.
It was terrific how he struggled in a brief moment to master his rage. But he conquered it evenso. He even bowed his head to her in deference.
"You do well, Madam, to seek the best interests of this unfortunate gentlemen. We found him lying close to death on the road, his head under water, unable to help himself. Of horse and possessions, we saw nothing. We carried him here immediately. Will you help him, and please accord us quarters too, or we will go and look elsewhere? But please do what good you can for this man, we beg of you. Then we will leave here in peace, when we see he is taken care of."
Mistress Follie, for that was her name, hearing his civil speech, seemed to be at a loss, her jaw dropped open.
"Why, I--" she began. "We all saw no storm hereabouts you claim did this, but there are some signs of wet on him, 'tis true..." Then, frowning, she turned upon the assembly, who were all standing with knives and swords drawn, ready for the moment to spring upon Ero and Damon.
Disgust and disappointment in her expression, she thrust herself through them, scattering some to either side, as she went toward her kitchen. Swearing, she sent her maids scurrying to do the work to get the three guests accommodated, and then vanished into the kitchen.
Relieved, as it had been a severe test indeed for Damon's self-control, Ero and Damon followed the porter, or whatever he was, that led them up the rickety wooden stairway into a narrow, badly lit hallway that in turn twisted and turned through the upper rooms. Some rooms were open, and scenes in them were things that both Ero and Damon glimpsed with disgust--as this was not just an inn, but a bawdy house in full progress.
The porter stopped before a door, then kicked it open, and they all went in. There the knights found a big, four poster bed with a tattered, moth-eaten canopy with faded heraldic patterns of some bygone dynasty and lay the old man out on it, and the maids quickly had him in thick wool blankets, and were then hurrying to get some hot coals in brass foot pans to put in with him to bring life back to his limbs.
Was the old man going to live? Ero and Damon watched, as they worked to revive the fellow, and finally they seemed satisfied and went for some food and drink from the kitchen when it seemed he would not die but live a while more.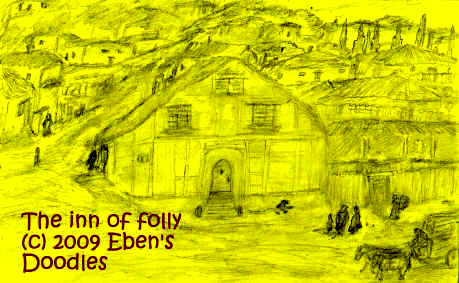 Ero and Damon had no desire to remain in such a foul and unfriendly place, but they denied their own wishes and feelings to see that the rescued man would receive the help he needed to recover his strength. So they stayed close by him for the next few days, and it was an ordeal for them the entire time, as the inn carried on with all its ribald partying by drunken debauchees day and night. Crimes and thefts and follies and immoral acts that could not be described--none of it dared come in the door that Damon and Ero guarded like two fierce sheep dogs.
At last the man regained enough strength to speak to them and even move about the room with Damon or Ero holding his arm. He started telling them more about his life--how it had once been easy, with much gold flowing from his rich patrons into his money belt, but with advancing age, his voice had grown thin even as his beard lenthened, and the king's women particularly did not invite him up so often to sing of lovers' exploits and whatever else they thought might amuse them at their parties. As for all the noble songs and lays, the Song of Roland, El Cid, Arthur and the Round Table--they no longer wanted to hear them, much preferring the racier tunes and lyrics about adulteries and betrayals. If he had been able to find another line of work, he would have done it. But abject poverty stared him in the face, whenever he sickened of what he was singing about, and he could not stop for fear of it.
"I am feeling my strength increase apace in my bones again," he remarked to the knights, as a maid came with his dinner and set it down beside him on a small table.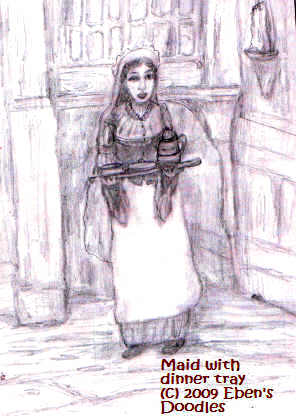 He waved her away when she went to try to feed him as before, but though she went toward the door, she did not entirely quit the room and remained still listening to him as she stood in the shadows. Her name was Minnie Avannches. Her twin brothers were of the age now for pages, and she had high hopes of suggesting them to the knight or even to the old minstrel. The courtiers of the castle who traveled through the village, never stopped, as they beheld the village and its inhabitants with utter contempt. But her brothers would make fine squires someday, she thought. As for herself, well, she would be married off to some old man of some means, a cobbler perhaps or a baker, and that would be all the good fortune she could expect.
"Later, later perhaps! I'm not hungry at the moment--how they stuff a person around here! Pork with drippings, honied ham, quail and goose with breaded mushrooms, sauced lamb, breadstuffs, gravies, cheeses, blackbird pie, grog and malt beer and wines and ale and sack...! Now, perchance you gentlemen will be quitting this place, and I shall lose your good company! But I pray thee, abide with me a bit longer. I have something for you to consider-- will you do that? I cannot ask you to do anything more for me, but though I haven't the gold and silver for your just reward for saving me, I will yet do something for you, if you are willing?"
"We ask nothing of you, sir, but that you be of good health and prosper as you once did! We perceive you have a good heart, and wish you success, but we must be going as Our master has commanded that we go and tell the words he gave us to the whole mount."
The old minstrel was taken aback. He cocked an eye at the knights.
"Your lord commanded you what? What were his commands to thee? Pray, tell me--"
But they could have held back their words to him, for when they went to explain the Lord Yeshua's commandment--to warn the people they met to flee to the Lord's ark, lest they be all consumed in the coming fires--they found he had literally dropped asleep. He had slumped back down, sitting back on the bed, his head fallen down on his chest.
"Sir?"
They heard someone clear her throat. Then:
"Sir?" Damon and Ero hadn't noticed the maid, they thought she had gone out, and were startled to see the speaker now creep out of the shadows. She bowed to them both.
"What is it, Missy?" said Damon. "Are you needing something?"
"No, not for myself sire. But I ask your great favor, sir, that you consider my two brothers for service."
"Oh? What could they do for me?"
"They are growing to be striplings, sir, and wanting some honest trade to enter. What future is there here in this small village? I don't want them working in this--this place! It would work great harm on them!"
All the time of her little speech she glanced fearfully toward the door, as if she might be overheard.
"Don't be afraid, you can tell us what it is on your heart, Missy. Please continue!"
"My two brothers require work and guidance. They are of age to be pages to a knight. They have no suits and equippage of their own, but could you still take them. My father was the blacksmith in the village, but he has died of black lung, and my mother is not well, so I work here so we may be provisioned. But my brothers--their appetites--well--"
Damon and Ero glanced at each other and laughed. "Yes, we understand what boys can eat! Bring them here at your convenience. We will speak with them first."
The little maid turned to go, but Damon remembered and stopped her. "And their names and ages?"
"Henri and Louis, and they are aged both twelve years, being twins."
"Splendid, just the age to start their training to be squires, so bring them here when you are able. Perhaps the gentleman here will look kindly on them and engage their services. He needs pages to run errands and look after his equipment."
The maid smiled profusely, bowing repeatedly, and backed out of the room, knocking against the doorframe and dropping her tray and utensils, but hastily gathering them sped away. A few moments later the knights heard a clatter of the same tray and utensils, and obviously she had dropped them again down the stairway!
The knights lay the old man gently on the bed, covering him with his blanket. Yet less than an hour later, he awoke, and his eyes were bright. He sat up, then moved to the edge off the bed, waving aside the dinner tray offered him but accepting a long overcoat to keep his body warm. "I had a most refreshing dream, my lads! I would tell thee the dream, but no matter! Some other time! First straightway to the signal business I have to broach with thee!"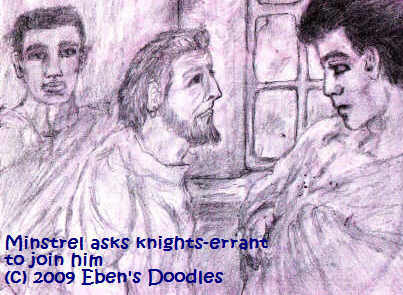 Ero and Damon listened as the old man rose with dignity in his bearing, speaking as a court minstrel who remembered better days as he played his lute and sang the verses he had composed and amused countless castle audiences, not to mention the king and his court high up on the mount.
"Far and wide, they called me 'Tithonus the Golden Mouth,'" he mused. "I had a deep lusty voice back then in my youth and even into my prime I could draw a multitude to hear me sing. There was not a song of heroes I did not know and could not sing perfectly, without mislaying a single rhyme or line!"
His eyes glittering with his grand memories, he seemed to look afar and forget where he was for a few moments.
"I--I don't recall from whence I come, there has been so many changes hereabouts in latter days, but always find myself on the road approaching the village and the Mount at this precise time of the year, only the storm broke upon me this time..."
Then, with the memory of it still fresh on his mind, he returned to the reality of the scene at hand, seemed a little confused, then recovered his train of thought. He offered them a position with him in his entourage. He had a feeling this was his last venture of this sort, and he wanted to do the best he possibly could and perhaps win a stipend or income from the king! They would assist him at the court, and draw many a eye of the beautiful ladies, who would all the more gladly have him, an aged singer of lays and epics, when attended by such noble and handsomely appointed young knights.
If either or both sang, that would also help.
Did they sing? Did they compose and quoth courtly verses?
Damon shook his head, but Ero could not say he did not do such things. Being Greek and born and bred in the isles, he too was a born poet and a singer, and he listened to the minstrel describe his offer and the duties it entailed with growing interest.
The minstrel turned to Ero. Would he join him in his singing ballads and love lays at the castle? Maybe he could slip in a noble song or two of a grand hero of old--"Jason and the Golden Fleece," for one! Or, portions of the Iliad, for another.
He could also use Damon as a knight attendant to present a more stately impression. All they needed were some mounts suitably caparisoned and plumed to make a splendid showing at the castle. "But all my baggage of fine suits and velvet and brocade capes and plumed hats and gold-engraved sword--except for my lute, they were all lost, with my horse!" the old man suddenly lamented. "Alas, my lads, the cruel waters swept them all away!"
"Not all lost," Damon smiled. "While you rested we have been away for a few hours, and when we climbed down the cliffs, we found your finely crafted things. You are not to go without them. Go see for yourself, sire! We can take you to them at once.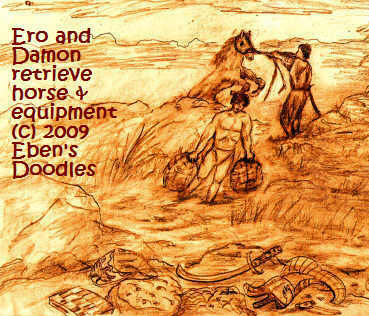 "Is this true, lad? I can scarce believe it!"
Damon went on, as the old man seemed close to tears but anxious to hear how they fared. "Yes, your fine things are now drying on racks in Mistress Follie's kitchens, with an attendant I ordered stand and watch there to see the things were not stolen, and most seem to be all right, and you can see for yourself what can still be of use to you. Your horse too is in the stable, and will be mending from his bruises and cuts. I checked him over, sire, and he wasn't lame as you feared, just had a bruised forelock on the right leg, and should be recovered soon."
The old minstrel was delighted. He clapped his hands together. He must go at once, hanging on Damon and Ero's arms, to see for himself in Mistress Follie's kitchens.
The old minstrel was so overwhelmed, he was rendered speechless as he found it was just as Knight Damon described. He was so delighted and encouraged he gave orders for his things to be brought up to his rooms the moment they were dry, so that they could be distributed to the knights to add to their necessary equipment. These things he wanted to give them as a proper reward for all their service and kindness to him, including their greatest gift, saving his life from a certain drowning out on the high road.
Meanwhile, while Damon went to see to the minstrels' horse, Ero brought the lute that Tithonus called for. It had been carefully put out to dry in a soft, indirect light for days now, and had not cracked but slowly dried and was as good as new. After inspecting it and seeing it was not the worse for being doused in a stream, with only a leathern case to protect it, the old minstrel loosened a couple strings, and then moved a tuning peg or two, and a secret panel moved in the handle and two bright objects slipped out into the palm of his hand.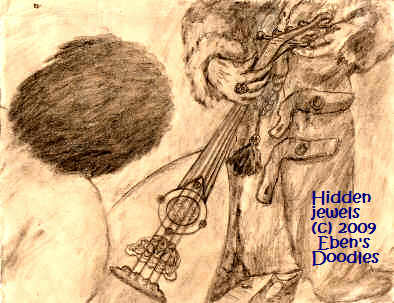 Smiling, he showed them to Ero, pointing to each gleaming stone.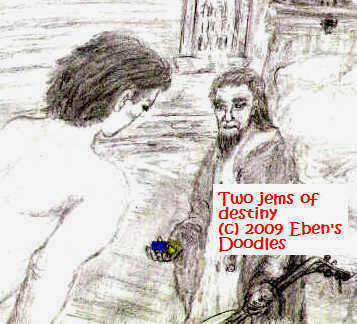 "This carbuncle is the blue star they say that once lighted the Ark that Noah and his family sailed over the tumultous seas of the Great Flood. The topaz--it is the bright, golden sun that shone on them once they opened the Ark's door and ventured forth into the new world over which God stretched his wondrous Rainbow of promise. They will now light our way." His eyes softened with a wistful, faraway look.
"They were to be my retirement, my lad! I earned them as rewards in the days of my greatest success and renown as a singer, when the whole world was a ring on my finger! But I have better use for them now, as I feel I will not need the little cottage and a servant and cook I had planned to comfort my last days with. No, there seems to be a better use for them. I have been lying abed for hours, awake or asleep I do not know, and these curious ideas and scenes keep coming into my poor old head--"
He slipped the huge jems worth a king's ransom into Ero's hand for safe keeping, then lay back, sighed, and told Ero what he had been dreaming. "I perceive you are a holy knight, my lad, and you carry a special sword of your own, that blazing torch of yours. In my dream I saw you with a red cross emblazoned on your naked chest, driving back all the forces of darkness assaulting you, wielding that torch as your only weapon! It was a most wonderful sight! And your noble brother knight, he too will play a great part in the coming battle. He will, as I saw in my dream, ride a fine horse one of these two jewels will buy for him along with a great spear for jousting. Now all we require is two experienced, trustworthy, squires, one for each of you--yet where can we get them? This village has no such clean young men available--they are all wastrels and scroundrels and louts by the time they attain manhood! Pfau! I wouldn't even consider using one of them to dust my chimney! But maybe we can go look in some other place..."
"Not necessary, sir! A little, sweet faced serving wench has offered her two brothers, twins, who are of age to be pages at least. Would you be interested to see them? She seems a fine girl, so unlike the other wenches of this inn, so perhaps her brothers are suitable too."
The minstrel was surprised. "Here, say you? You think there may be suitable people here? I doubt it! Ha! I wager my entire worldly pelf they would just as soon strip me of all my clothes and purse and possessions as serve me! Why, without your constant presence, in my condition, I would not sally forth from here with a single nightshirt to cover my nakedness--beaten and robbed, that would be my certain fate, then turned out on the public road to starve and beg from passers-by, now that I am reduced to this woeful, feeble old age! I've seen it happen often enough to better, stronger men, how could I hope to escape?"
Ero did not question what the minstrel said. He had early on seen enough of the inn and its denizens to know that the minstrel was not misrepresenting it in the least. It was an evil place, indeed, and anyone at its mercy could not expect to leave without losing something dear. All sorts of nasty-smelling, knaves and cutthroats, their hair and clothes and under-linens unwashed, beards matted with dirt and hanging in ropes and filthy with lice, men who had the stealthy manner of footpads intent on skullduggery and the eye of murderers seeking helpless or unwary prey--they infested the place and vicinity, waiting for an opportunity to pounce.
Then the main body of inhabitants were lawless too. A drayman's wife drove her cart so fast and reckless of life and limb, that she dragged the dog behind it to its death. Fights broke out at any time among the gamblers who crowded the doorsteps and any least shelter along the streets. Knives flashed, with stabbings, and the assailant ran off, leaving his bloody deed unpunished by the constable, who was too deep in his cups at Follie Inn to go do his duty and chase down the murderer. As for the bailiff and beagle, they too kept to the inn and its amusements. Merchants plied their wares, but cheated the people with false weights. The customers cheated the merchants, too, whenever possible, their offspring stealing items while the mother or father distracted the merchant. Spoiled fruit and vegetables were laid beneath the goodly ones, then the lot sold. Buttons fell off clothing from poor thread, colors ran in the first washing, patterns dissolved. Shoddiness was made to look fine enough to fool the most sharp of eye. Children were kidnapped and sold for slavery, and locked away, never to see the light of day--made to work on endless mean jobs assigned them in windowless garrets or, worse, in foul, damp basements and cellars. The money lenders of Rotten Row foreclosed on the houses of widows, after greatly increasing the rates on loans so that they could not repay them. Pawnshops did a thriving trade too, giving a pittance for valuable things, then reselling them at a huge profit when the owners failed to return with the redemption money. Butchers sold tainted meat, and called meat any name they imagined would sell it, rather than name its true, detestable origin. Animals sick and infirm and even dead, were carved and sold as fresh, good meats. Furriers did the same--naming rat and dog and cat and mule and even skunk by other names. The potter's wares crumbled or leaked when water or wine or milk was poured in, they were not fired sufficiently. The baker's breads were full of millstone chips, sawdust, and mouse tails, and sometimes the dough was left moist in the half-baked goods, since he was niggardly with his wood supplies for the oven. In Blind Lane, an uncobbled track just behind the jail, the worst miseries ran like open sores , the lane so overhung with foliage it resembled a dark tunnel. Here witches brewed potions of every kind, casting spells for a fee, and herbalists and fortune tellers too eluded the law of the Mount that forbade them in principle (but taxed them for the king's revenue). So it went in the village aptly named Strangways.
All this the old minstrel knew from experience, and which Ero too could testify having witnessed after only a brief residence at the inn and while walking the lanes.
Just then the maid, Minnie O'Flaugherty (a daughter of a Mutiny on the Bounty sailor and a native island woman), came in with the daily dose of posset, hot, cream-rich milk in a pitcher that was curdled with ale. It was medicinal, reputed to revive the ailing body, even being attributed with raising those with one foot in the grave. Seeing her, Ero was reminded of their previous agreement, and turned to the minstrel, pointing the maiden out:
"She is the fair, young damsel, sire. Her young brothers are applying for service as pages. Will you see them?"
The minstrel thought about it, then nodded his head.
"Since you have spoken for them, I have changed my mind. I should not be too quick to judge all men by the ones I find here. Yes, tell her to bring them in here eftsoon, so I may see how they answer certain questions. If both give me fair enough reply for their tender age, for I shall not suffer fools of any age to attend me, I will engage their services and pay them well."
Hardly able to contain her excitement, the maid set the posset next to the minstrel on his little serving table, then hurried out on her errand (hoping she would not be reported to Mistress Follie and suffer a tongue lashing and a beating for leaving her work). A few minutes later, just as Damon returned from the stable, where he had seen that his instructions to the stableboy were carried out rightly, Minnie hurried back, breathless, with her two twin brothers in tow.
A year younger than herself, and shy because they had no father to give them boldness, they hung back, disappointing their guardian sister, but she made them go and kneel beside the bed where the minstrel lay during the day, propped up by big pillows and cushions.
The sister retreated toward the door with her serving tray, then paused and waited, her heart beating hard in her breast, so anxious she was that the interview go well. Without success and favor of a patron, these two decent but fatherless churls had no chance of making anything of their lives, their prospects were so wretched in the dirty, crime-infested village without parents who could protect and guide them rightly. But if they were employed to serve knights, only then did they have a real chance to get clean out of the village, which she herself as a lone commoner female without a dowry could not hope to escape. She herself was doomed, but they at least had a chance to make a better life, and that would be her one comfort in the coming days.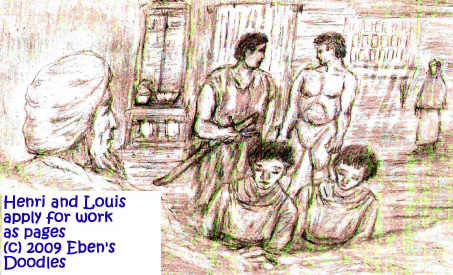 "You there, the one named Louis," the minstrel began, "what was your father's trade, and was it honest work he did?"
"Blacksmith," replied Louis in a tiny, soft voice.
"Speak up!" said the minstrel. "I want pages who will not strain my ears! So use your pipes like a man! Now try again."
"Blacksmith, sir!" growled the page. "That's better. But answer the question. Was he honest in his work?"
The boy looked uncertain, but as he thought, it was apparent he was searching his memories, and then he thought of something.
"Yessir! I remember he gave a woman back her money once when she said her horse was limping, though it warn't--I ran around to check on it, and it was standing just fine and dandy in the street. She was lying, sir, but my papa paid her back anyway, then she rode away and her horse did not limp once!"
"Fine story! Do you swear this is the truth? You did not make a word of it up?"
The boy cried, "My father would not cheat anyone, leastwise a woman!"
"That's enough, Louis my boy, I believe you. Now for your brother Henri, I set this question. If I command you to tell someone I am out, when I am in my chamber, will you obey?"
Henri darted a glance at his brother. "Remove yourself from the room, Louis. Your brother must answer for himself!"
Their sister hurried forward, snatched Louis by the arm and took him out. The minstrel turned back to Henri, who was very nervous by this time, and near to tears. "Calm yourself, my boy! Just answer truthfully, that is all I ask. Now again, would obey me if I commanded you to tell a visitor I am out, when actually I am in my chamber and wouldn't want to speak with him?"
The boy squirmed, and then glanced back where his sister and his twin had disappeared out the door. But suddenly he squared his shoulders. "No! I won't tell a lie for you!"
"Peppers and blackbird pies!" the minstrel cried. "You're both hired! I couldn't get better pages than you. Now, once you have your uniforms prepared, expect to be called to duty at any hour of the day. You are first to attend to me, run my errands, receive or turn away visitors--ah, truthfully, that is--and anything else a page must do. Will you do that, my boy?"
Before he could answer, the minstrel had the knights bring the other boy and his sister back in. There they received the good news. The sister's face almost flooded with joy, but she swept her apron up over her face as if to cover all her emotion, and left the room. The boys looked at each other, slowly realizing they had done well and would be embarking on a whole new life. They glanced back at the minstrel, and he smiled, and let Damon and Ero explain their first small duties to them, including where they would make their beds, and what their mealtimes would be.
Once that was finished, the minstrel spoke again. "Let them return now to their home, and take leave of their family, such as it is, and return tomorrow for service. If they require more time than that, let them have it. It wouldn't be easy, at their ages, to leave their homes and families and go to work for a stranger."
The new pages now returned home to spend some hours with their mother and sister and talk over the changes this service to the minstrel would entail. Then two days later they returned, without their sister, and and went and stood smartly before the minstrel, awaiting his instructions.
The minstrel eyed them for a moment, then looked very pleased. "I think they are going to both do very well," he later commented to Ero and Damon when the boys were gone on various errands. "I only had a problem telling them apart, so I thought of a way. From my stock of earrings, I had an earring put in Louis's right ear, and an earring in Henri's left ear. What could work better than that?" he laughed.
Daily feeling improvement and an increase of strength, the minstrel set to work. He began parting with his beautiful things that Damon and Ero had rescued from destruction or theft, apportioning them out to Ero and Damon, but mostly he had the pages in mind, as they were needed complete suits of clothes, head to foot. Some things had to be refitted, of course. He had seamstresses brought in, and then instructed them as to their duties. Patterns were cut out of paper, then the items of apparel he had to refit were conformed to their shapes and sizes.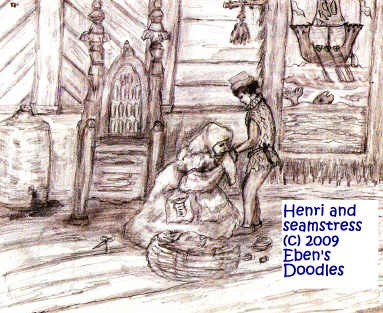 The cobbler was summoned, and shoes were made on the spot, so that the minstrel could inspect the work and the leathers used, and get the quality he demanded before he paid for it.
Damon did not require much outfitting as he could wear his knight's fine costume, of course, when they ascended the Mount. Ero? Well, he wasn't sure what the handsome young fellow would accept from his wardrobe, and so decided to approach him later about his costume. The horses also required proper gear and decoration. But even before all these arrangements were concluded, Master Tithonus decided to make his mind known to the two knights. He had himself dressed in his costume, and the pages in theirs, and called the knights and the pages to attend him out on the Jousting Field, where they could speak privately.
His pages bearing the minstrel's long, velvet train to give them practice, he proceeded with the knights to the expanses of Cheney Field, where no little bird could overhear and fly and tell the crafty king of the Mount of what was being said.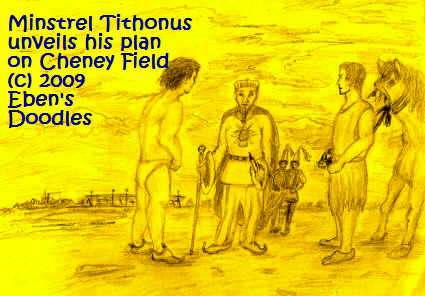 Their benefactor Tithonus had spent the proceeds from sale of the topaz for all their expenses at the inn so far and the cost of the outfitting, and the carbuncle remained. The knights were concerned that he keep the carbuncle back, in case things did not go as he hoped. Ero brought this up, since it was uppermost on their minds.
The minstrel shook his grizzled head. "Nay! I will venture it too, if I must. We must present a most splendid appearance, for we will not go as poor beggars to the court but as peers of the realm. Now I know why I felt I had to load up and bring all my fine things on this journey to the Mount. They will see this at once when we are presented--that we are their equals. Then I shall sing the best piece I have in my bag of songs, and Ero? You shall join me if my voice should falter--for it may fail me. You will learn the verses and sing them for them, wherever I leave off. Will you agree to that?"
Ero nodded, for he loved to sing the epics of his homeland, and hoped that the minstrel would choose one of them.
That business concluded, the minstrel turned to the more pressing matter on his heart and mind. "I brought you all out here, for this purpose. After entertaining the king and his court, whether there is a reward or not that is won by us, we shall challenge the king to a jousting contest. You, Sir Damon, being my knight to engage the pick of his best knights. Will you agree to that? If you win the contest, three bags of gold at least will fall to you, and two of the three will be mine as your lord, but I will ask only one. Then all the fallen knight's possessions, equippage, and wealth, will be yours as well. I only ask the one bag of gold, it will be enough for me, since my remaining days will be few, whereas you are young and your road ahead is long. What do say, aye or nay?"
Damon looked uncertain, though it was not about the division of the treasure. He wasn't sure he could fare well at jousting.
"Sire, I will do anything you ask, but I have no training with that long spear, the lance of the knights, nor much time in the saddle either. Could I be trained? Is there time for that?"
The minstel smiled. "Yes, there's time enough. It will not take much time to learn. The lance is simple to employ, though heavy to bear, and your horse only requires a brave master who will ride straight at the opponent, who rides straight at you. Both of you will be armored head to foot. Whichever one emerges alive after that fatal convergence, and still mounted, while his opponent falls to the dust, will win. Unhorsed, you suffer disgrace, even if you bear no wound, for that is a black mark against you to lose your horse to the challenger. Even if your horse is injured and I provide a speedy replacement, he will not bear the same armorial blanket and plumes as the horse you lost, and your appearance will be spoiled. So you must keep your horse under you and never drop your lance or your shield. And do not worry about the training you lack. I have sent word to the Mount to engage a trainer. They have plenty such for hire. One I know by name returned word for you to appear here on the morrow, just after dawn. Will you do this? Have you the courage for the task?"
Damon nodded, though his face was rather pale.
The minstrel looked from one to the other of his champions, then motioned to his pages to bear his train and he started back toward Strangways. Then he paused and looked round at the knights, who were not following. To Damon he said: "See what thy brother wishes for his costume. I forgot to ask him, and now I am weary and must seek my bed. Will you do that, and then report to me what he requires. I will get the things made for him."
Damon glanced at Ero rather sheepishly after the minstrel and his pages were gone.
"Tell me one thing, brother, why do you wear so few clothes? You have done this since I first I met you."
Ero shrugged. "I feel no need of more, that's why. I am Greek, and we have a saying: 'Clothe a pig, he's no less pig; clothe a man, he's no more man.' That's why we Greeks have, since the earliest times, put no great stock in clothes. Clothes do not make the man. Whoever said that was a fool, and certainly not a Greek!"
"Really?" Damon laughed. "But don't you feel the cold sometimes? I know I do, even with all my clothes!"
"Yes, I do feel the cold sometimes. When I was flying high with the mast, it was cold at the high altitudes. But if I do feel cold, I just press my right wrist here." He showed Damon.
"When I do that, these buttons pop out. I can press the first two, to feel warmer, or even warmer. The third button will cool me if I am too warm. It works very well for me. Don't you have them too?"
"Not that I know," replied Damon, pressing his wrist and finding nothing of the sort.
Damon still had a question. "But people look at you, and it makes me uncomfortable at times, to see you go about with so little in all sorts of weather. They don't know or care you are a Greek runner. Isn't that reason enough to take the costume Sir Tithonus will want to give you?"
"I didn't know he intended one for me. I should be happy to wear it, only I don't feel strange as I am. It is all I need, my native Greek skin. All I really need is a pair of good running shoes. I can run better that way, without clothing to slow me down or get in the way."
Damon clapped Ero across the shoulders. "That's all right then with me, if you prefer your skin over a lot of clothes. Shall we go and tell the minstrel what you decided? He will then be spared the expense and trouble. He has enough work to do to make his horse and yours presentable to the court, I think!"
"Wait a moment," Ero said, almost as an afterthought. "I forgot something. I have something else to show you."
He reached down and pressed both ankles with his finger and immediately small wings popped out. Then he gripped his hands at both wrists, and shot upwards, astonishing Damen, who stared as Ero rose high up over the jousting field. He was still standing there awestruck as Ero lowered to the ground, laughing at Damon's expression.
"This might come in handy, brother!" Ero said. "I think we could both fly together, if you hold tight on to me. Want to try?"
Damon jumped at the chance. He gripped Ero round his middle, and then Ero's winged feet propelled them upwards once again, and he could, by leaning, go any direction he wanted. When he wanted to descend, he merely put his feet together.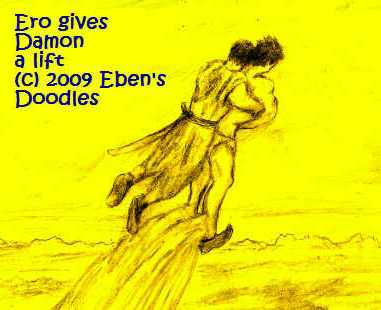 This was a most amazing spectacle, and if anyone was alert on the battlements of the Castle Mount, they would have not believed what they were seeing. But there were clouds covering the Mount at this time of the afternoon, and so they might not have been spotted flying like two big herons or storks tied together.
Damon could not get over it. "That's wonderful, what you can do! Why didn't you show me that before? I would have loved to let you fly me anywhere you would take me!"
"But I didn't need to use it before," said Ero. "I had the flying dome, and then the mast. I have neither of them anymore to use, and when Yeshua told me at the dubbing ceremony that I had such powers, he said I may need to resort to my wings from now on, in a pinch that is. If anyone from Strangeways saw them, they would probably try to kill me to for them! So you see why I haven't been flaunting them."
"Wouldn't they now!" laughed Damon. "By the looks of most, they would just as soon cut off your feet rather than your head, if they thought they could strap them to their own feet and fly with them! Have you ever seen such degenerate people as these Strangwayans? If they are that wicked and shameless in the village, what will the people be like on the Mount?
It was meant to be amusing, but the moment that was out of Damon's mouth, they both realized it was no laughing matter. Sobered by it, they walked back to the inn in the village without another word.
Ero, however, paused at the door. "But brother, do you think you will be trained well enough to beat your opponent? The loser often dies in these jousting matches. Aren't you jumping into water that's too deep, when you're just a beginning swimmer? You can be trained, but your contenders will have been in a number of matches, and known every trick there is--whereas--"
Damon considered Ero's caution, but his eyes were steady as he faced his brother-knight. "Don't worry about me," Damon assured him. "Yeshua told me back at the pavilion that this would be coming, and gave me this word, 'For the weapons of our warfare are not carnal, but mighty through God to the pulling down of strongholds.' I believe He's going to help me win the victory, so I am not afraid. He also said to me, "The horse is prepared for the day of battle, but deliverance is of the Lord."
Ero smiled. "Well, if I see you are in bigger trouble than you can handle, I'll run and let you grab my ankles, and off we will fly out of danger!"
"Thanks," laughed Damon, as he pushed open the door, "but it won't be necessary. You'll see. If I do all I can, which is the possible, then Lord Yeshua will do the impossible. He promised me He would, and I believe his word."
Inside the crowded dining room, Ero and Damon found it was business as usual: assignations for fellow thieves for division of the night's spoil from various robberies and murders, men impoverished by gambling away their houses and flocks, seeking to pass the favors of their wives or their daughters to the highest bidder, gluttons and drunkards drinking and eating themselves to death, children in tattered, dirty clothes looking for lost fathers or lost mothers, whores selling themselves for a mug of ale or gin, a man bawling at the top of his lungs about his money bag being snatched while he dozed off in a puddle of spilt sack under the table, a woman dancing and screeching out a dirty song to the music of a harmonica, draymen and carters thumping their mugs for penny refills of the cheapest ale, a forgotten babe in a blanket wailing for its mother, an old man sitting sprawled on the filthy floor where he fell after being clubbed, his bloody head still bleeding, and no one paying him the slightest attention.
Observing them, Ero and Damon were struck with the feeling of imminent doom, a sense that had grown all the stronger as days passed since they climbed up to the road, after going to retrieve the minstrel's belongings. They had seen the steam and the fiery glows in the side of the cliff as they climbed--it was clear to them that what Yeshua said was going to happen, as the fires built up within the Mount, flooding up from deep within the earth. How long before the fire burst out, destroying everything and everyone in a vast explosion of fire and smoke and ash? It might happen in weeks, or mere days. But they sensed it would not be long in coming. How could they warn these people of the fiery wrath to come? Who among them would listen?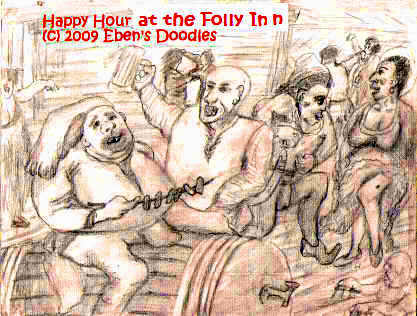 They knew they couldn't be heard amidst such din and confusion, so they started to pass through to see how the minstrel was proceeding with the instruction of the pages.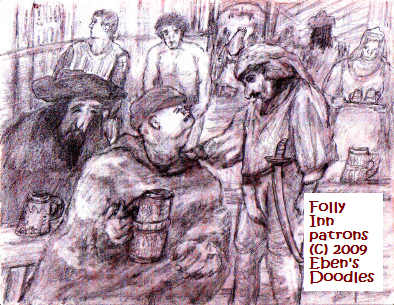 But this time through they were not going to pass quietly. A butcher who regularly passed dog meat as lamb and worse things too rose up, blocking their path, and a number of his cohorts at the cups also joined him.
"Not so fast, gentlemen knights! Here I am with my friends, enjoying a cup or two of cheer, and see you don't imbide. Join us! We needs fine fellows such as yourselves--you might have a goodly story or two to your names, exploits of knights and some such thing, and we are all ears to hear ye out! Sit ye down! Let us join company!"
Damon and Ero looked the speaker and his "friends" over, and decided it was not so friendly as the butcher made out. Ero nodded toward the stairs.
"Thank you, sirs, but we must decline your invitation, as we have to attend to our patron. Yes, we do have something very important to render you that you should hear. But--perhaps some other time is better."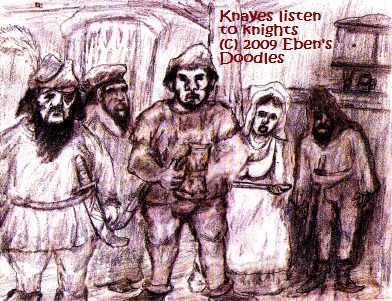 The butcher turned to his cronies, aping Ero's remarks. "Hear ye that, my gay blades! He's attending to his patron, says he! Perhaps another time-- la la la! What a fine and fancy gentleman he is, and a noble knight besides, who can't dirty himself with the company of common lackeys such as we be! Is that to your liking, mates? Is it?" The men, at his call, rumbled and growled and cursed. "How dare he call us dirt! Let's show them a thing or two! These foreigners come in here with their dainty airs and think they can ride over us with their prancing white horses and we don't have a thing to say--it is our desserts, they think, and we ought to take the whippings of a dog. Well, we'll show 'em!"
Shoulder to shoulder they pushed forward, knocking over chairs and drawing their weapons at the same time.
Ero and Damon did not move, though Damon had his hand on his sword. Damon suddenly had a word for them: "The Lord says to you, Do not rob the poor because he is poor, nor oppress the afflicted at the gate. For the Lord will plead their cause, and plunder the soul of those who plunder them."
Anyone present could hear these men who heard this rebuke gnashing their teeth, and they were all the more furiously going to throw themselves upon Ero and Damon. At that moment a screeching voice rang out--and the butcher and his gang heard it and paused. Mistress Follie came storming out and confronted them. "Git ye back into your stinkin' kennels, or I will throw you out myself! You dare touch the retainers of my good, paying customer, do you?"
She raised the big wooden ladle and the men fell back, as if cowering before her, though all she had to thrash them with was a wooden spoon.
The entire room, which had grown deathly quiet, now began to get noisy again, and everyone turned back to whatever they were doing. The butcher and his troublemaking friends also turned and slumped back at their table, gazing up at Mistress Follie, who hurled a few choice curses at their heads, then departed.
Ero and Damon went first to check on the minstrel's fine belongings still drying in the warm kitchens near the ovens. As they saw that their guard was doing his job properly, they turned, but happened to noticed the street boys, most fatherless and abandoned, gathered in the merchants' delivery door.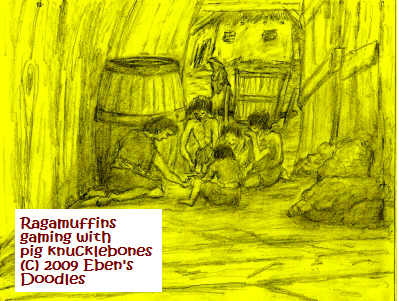 He knew they were considered rubbish to be kicked around. No one had ever been kind to them, he knew, unless it was their mother when they were a baby at the breast, who was probably lost to them now, by the looks of their dirty rags half-covering their scarecrow limbs. Damon went over to them, and they scrambled to gather their knucklebones, as most men gave them a kick if he could as he passed, just to be mean to them. Shrinking back against the wall, as if he was going to cuff them, the boys eyed him warily.
Damon smiled, extending his hand. He had something for them, a coin, but they snatched it immediately, for they never had money, unless they could steal it. "This is your wage for something I want you to do for me. Get yourselves some sweets from Mistress Follie and share them equally, but be sure and guard this door well, we don't want anyone coming in here to take things!"
"Yes, Sir Knight!" they all cried in a chorus, and Damon had to hide his smile, as they looked so earnest and brave, after he had hired. Then Damon and Ero went up to see how the minstrel was faring. They found him anxious to give them instructions, and had a jousting trainer beside him, ready to meet them.
Even as this meeting was taking place, a courtier who kept his ear close to developments that could affect the king and his interests, was giving a word of caution to a Knight of Dishonor--strangers were in the castle village outside the gate, attached to a certain minstrel, and rumor was that they were going to be trained for jousting matches by an expert trainer the minstrel had found the money to hire.
Noblemen will come from all parts to contend for the prize. That was the usual thing with jousting matches. What did this business about the old minstrel and his friends matter to the Knight of Dishonor? Very little, of course, but the courtier, experienced in the behind the scene workings of the matches, thought otherwise. These strangers were not the usual sort, he said. He had seen them pass in the streets, observing how strong and intelligent looking they were, and had heard from a source he had at the inn how they had rescued the old minstrel when he was in dire straits on the high road, and then was retained by him to be trained as knights for the coming matches. That proved their cleverness, did it not? The minstrel was their means to gain access to the social circles of the Mount, including the matches. They must have taken advantage of his gratitude for saving him. But in return the minstrel had something to gain by their use--what was it? Yes! Why would he do this for them unless these young men were champions who stood a real chance of winning the grand prize--booty he would naturally share?
"Beware the dark horse!" the nobleman warned the knight, who was rather dark himself in costume, and he nodded, and went straightway to inform the other Knights.
Now there were other fine details that need not be mentioned by the worldly wise courtier. The Knight of the Axes need not discuss them with him, as they were well-known, accepted axioms in their society, particularly figuring in the arena of jousting.
What made the newcomers unpalatable was simply this: displaying a certain moral caliber as they did, whether feigned or real, a troubling question arose concerning their future performance in the joustings. Would they take a fall, as newcomers must, in order to play the game as it had been played for time beyond counting? The prize was rotated, from knight to knight, on the basis of seniority and noble rank--it would never be let go at the onset to a newcomer, a foreigner, a parvenu. And if these fellows would not play according to the rules and take a fall, then they would be eliminated--they would not ride away from the field! On the other hand, if they were wise enough to cooperate, the system would work well for them, in a given time. But they must know they couldn't just ride roughshod in, at the minstrel's invitation and under his banner, and seize the grand prize and carry it off!
The courtier glanced toward the inn, considering if now was the time to make his approach on the foreign knights. He rather wanted to intercept them on their walks, loathing the inn's company and the many watching eyes that were greedy to horn in on other people's business. But if they didn't come out, he could not stand there all day and draw attention to himself.
So the courtier waited for a few more minutes, then slipped away toward Blind Lane, as he had business there.
The vulture-lizard's emissary had no more quit the public square when Ero appeared at the inn door, descending the steps with a tray of food, the lunch the minstrel declared he had no taste and appetite for. "Might I give it away to one of the beggars?" Ero asked. "As you wish!" the old man said. "But hurry back as soon as you've done. We have more to go over concerning the joustings. As your knight's squire, you need to know all his duties well, learned by heart, so that you can carry them off flawlessly. A single mistake will be fatal to your knight in this game. You'll see! But if you are careful, you will help him win the grand prize! Think of it! It is more money than I was awarded in all my years of minstrelsy! And I would have been rich if I hadn't spent and squandered almost all of it on fine robes and gewgaws and-- the charms of women! Ah! How foolish I was in my youth! But you, lad, are just the opposite, and your knight too--he isn't a bad sort either. How you two shine-in this dark and dirty place--"
A beggar was not long in coming. He was the same that crept about the floorboards of the inn, searching for dropped morsels of bread and bones with some meat or gristle on them that the diners threw down for the dogs. Sometimes a sot would drop a half-filled bottle of ale or stout, and then he would drink himself insensible. But that was rare--it usually poured out before he could catch it.
Ero slowly approached the beggar that came scraping and dragging his way slowly toward the inn. It was painful even to watch him. His useless legs and feet bent back and off the ground, all the wretched fellow could do was use his hands and arms to pull himself forward while his body dragged on the ground. No one would make him a a little sledge or cart to help him along--he was too poor to have one made too by a carpenter. So he had to make his way everywhere as a kind of foot crushed, wounded beetle might, that had lost the function of its lower limbs.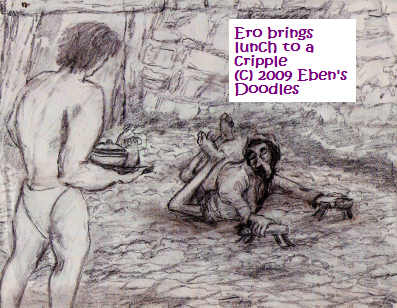 Even if he could do something for the village's poor, there was nothing he could do to bring law and order to the surroundings. The Mount had hundreds of knights and soldiers stationed in the various forts, but they never left their posts to police the country round about--the king being content to tax his subjects while relieving himself of the expense of providing them basic protection against highway robbers and murdering vagabonds. Poor mendicant friars, travelling about to beg alms for the poor they sheltered and fed, were even attacked on the high road, robbed and murdered for the little money they carried.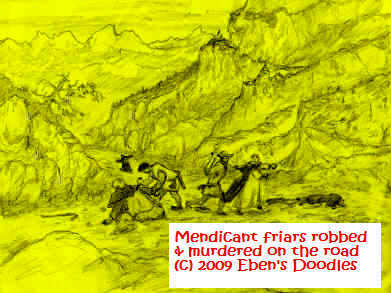 In this particular ambush, they got precious little for their efforts, even if they were rather small efforts, due to the fact that friars went about unarmed. That was why they killed the friars, they were so angry with them for being what they were, mendicants begging for other mendicants, poor friars helping their poor brothers and sisters in the lowest classes. When Ero found the friars, two were dead, one was dying, and one fled away. The dying friar was struggling to say something to him, his lips moving, and his eyes fastened on Ero with a gleaming urgency. "Lad, lad," he whispered. Ero couldn't make out what else he said, so he raised the man's head as gently as he could in his hands and bent close.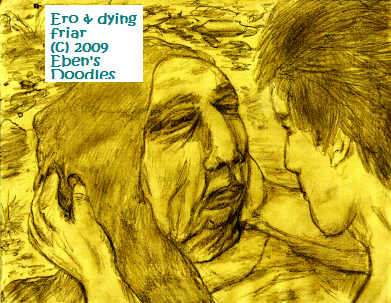 Then he heard, "There is a certain poor widow in the village, a washerwoman on Blind Street, her daughter is very ill with fever. I came with something for her Please take the feverfew in my bag. Give it to her. Please! By the mercy of God, do it! It is the medicine that will save--"
The man's eyes glazed over.
Ero bent closer and could feel no breath on his cheek. He laid the man's head down with care, then drew the cowl over his face.
He looked around. "Feverfew"? Did he hear right? The friar said something about it being a medicine for fever. Could he find it?
He searched the area, and then saw a bag with a cross stitched on it torn open, and around the bag was scattered a tufts of what looked like dried weed. Was that the Feverfew? He stuffed it into the bag, and then, because there was no time to lose, left the bodies of the poor friars undisturbed where they lay and went directly into the village.
He got some ugly looks from various passers-by and loungers in Blind Street, but he pressed on, glancing in at one hovel after another, asking anyone who would listen to him about the washerwoman. Finally, after being given some choice oaths and some thrown slop water from out a window, he was told where she lived. He came to the door, and it was partway open, so he looked in, then entered as he saw it was full of wash lines and laundry. This had to be the place!
He found the widow hard at work beside big tub of soapy water, scrubbing out linens on a scrub board. She looked up and saw him and her hands froze on the scrub board. In the room was a little boy, clinging to the tub and staring at him, his eyes like saucers.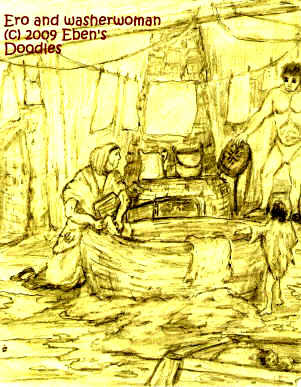 The boy too looked as thoughhe had never seen such a sight before as Ero. Ero, wanting not to frighten them any more than he had, held out the friar's bag, and she seemed to recognize it, for she sprang up and then darted toward him, her eyes fixed on the bag.
Before he gave it to her, he explained. "It is the medicine the good friar gave me to help your daughter. He cannot come with it himself, for he was waylaid by vagabonds on the road and--your daughter, is that she?"
He glanced toward what looked like a wooden feed trough, and in it a little girl lay, her hair wet and tangled against the pillow.
The mother seized the bag and brought out the herb in her hand, her eyes widening.
"It is the medicine the friar sent me to take to her," Ero repeated. "He has been murdered, I regret to say. I found his body with the others of his order on the road--"
The washerwoman's eyes suddenly began to pour. She wiped her eyes with her apron, then hurried to the stove and dropped the herb into the hot water boiling there in a pot. Ero watched as she soon poured out some into a saucer, and she hurried over to the crib. After blowing on the tea, she got her daughter to accept a few sips of it.
She did not turn round, and continued to sit by the crib, crooning to her daughter as she urged her to drink more of the medicine.
Ero saw no reason to remain any longer and was showing himself out, when he found the widow darting out to stop him.
He turned back to her.
"Thank ye, sire! I have no money for ye, will you accept a fine coat I have for a gentleman knight?"
It would be unthinkably uncivil to refuse her now, Ero realized, so he too the sumptuous garment. The moment he looked on it he realized it was a royal prince's robe, and he was astonished. How could an impoverished washerwoman ever come into possession of such? Had she stolen it?
As if she divined his misgivings, the woman cried out, "Nay, sire! I didna' filch it! She's mine. I washed her up fine and ironed her for the fine knight, but he never showed--he forgat it, or he died. I never did hear which. So she's mine for the keeping, for the cost of the washing and pressing, and it's been years I kept it nice in a chest, just in case --with rosemary and thyme to keep out the moths. But it's been so long, he must have been kilt in the joustin's or such. Sire, you take it, wear it proud, for it is yours. I have no other way to repay ye!"
Ero's mouth dropped open. He didn't need to be repaid, and leastwise was he willing to deprive this poor woman of a princely garment she could sell and gain quite a living by. But there was nothing for it. What if he refused? Wouldn't she be crushed by his rejection of it?
Her question next interrupted his seeking a way out of this. "Where is the little father? I wish to thank him too. I know the medicine is working. My daughter is breathin' better already, she is! Her sweat is coming down too, she's dryin' out, she is!"
Ero was much relieved to hear that. But having to her the grim facts about the friars was very hard. But he did, and she wept right where she stood, her tears coursing down her cheeks while her red, scalded and scaled hands reached up to tear at her own cheeks.
Ero had to say something, to see if he could comfort her somehow.
"He wanted you to have the medicine. It was his last words, telling me who you were, and how your daughter was very ill with fever, and what I was to do to find you. They were his last words. But apparently they saved your daughter's life."
The widow stopped weeping and wringing her hands, gazing at him with red eyes, then a look he would never forget lit her features as she gazed away toward the road. Bending down, the widow vanished back into the hovel. When she returned, Ero held out the garment. "Madam, I really can't--" he began, but she paid him no heed and ran up the street, toward the high road. He watched her stop in a a couple doorways, and then several men came out and followed her toward the road. Ero understood that they would see to the friars' burial, so he left Blind Street and made his way back to the minstrel's apartments.
When he reached the inn, dinner was being served. But Ero took the pages and the dinner before they ate anything and went to see Damon. One of the pages carried the knight's robe that the widow had given him. When Damon saw the robe, he forgot about his dinner. "What is that?" he asked.
Ero told him everything he had seen. It was still so fresh, he had no appetite, and neither did Damon after he heard the whole story. Together they sat and were silent for a while as the pages consumed the dinner Damon handed to them.
Ero turned to his brother knight. "Should I sell it and give the money to her? You should see how meanly she lives with her children, and how hard she must work to support just the two of them! Her patrons must pay her next to nothing! It is a shame, since they could afford any price she named, since they can wear such clothes as she gave me."
Damon thought, then his face lightened. "I'll talk to the minstrel. Perhaps he has an idea. He might think of some more employment for her, something better than washing clothes for miserly lords and ladies."
Damon left the pages at the stable to keep watch on his horse, and took leave for the evening, to return to the inn with Ero. Together they presented the needy case of the widow to the minstrel.
He heard them out in silence, then nodded for a while, and finally he slapped his hand against his thigh. "Of course! Just the thing for her! It's a proper line of work, respectable for a widow to do. She'll be a cook for me, our private cook! I never met a woman yet who couldn't make a meal for a man, so why must I rely on Mistress Follie's fare--she will poison me yet, for a good enough sum! How do I know what all she slips in my sauces and stews? It might be a pox to carry me and you off, for all I could tell. So it's done. She's Cook! Send for her at once. I doubt she'll refuse."
Damon and Ero, very glad to hear of a solution, hurried off on their errand. In a short time after the friars had been given proper burial, the widow had gathered what few possessions she wanted to carry away from her cottage. Ero and Damon hoisted the widow's things on their strong backs, and the widow carrying her little daughter, her son tugging at her skirts, they made their way to the inn as every eye in the village seemed intent to watch them go.
It was amazing how quickly news spread among the poor and sick and elderly and oppressed of the village, that there was a man, undressed as a slave or a swineherd would be, and yet another dressed as a knight, full of love and compassion in their midst. That became apparent whenever Ero went out from the inn, and then he encountered these wretches, and did the best he could for each one. The minstrel paid Ero's wages promptly and generously, and Ero used them all for feeding and clothing and buying medicines for the people who waited hours in the streets for him to come by. Damon too helped all he could, whenever he was not practicing on the jousting field.
One time he was on Pacific Avenue and the fish-monger came by pushing his long box of fish. The stench was terrible, for the Mount's king and court always had first pick, then sent the rest back down to the village to take what was left, and by then the fishmonger's catch was half-spoiled and fly-covered. Yet the people still had to pay high prices, Ero noted. They had no choice but to pay them too, along with a stiff tax for the Crown. Actually helping to cover the smell, a fumerol had opened up nearby, and its fumes, though sulpherous and smelling like rotten eggs, at least counteracted the rotten fish odor.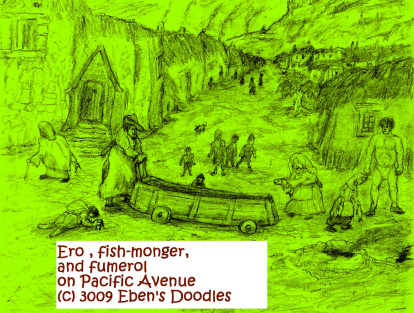 But his training demanded many hours each day, which was necessary if he hoped to learn all the protocols of the contest of strength, endurance, courage, and prowess with the horse and lance. Of course, such things were not necessary in a rigged contest, but Damon did not even know he was training for a pre-arranged fall. The wicked idea never even entered his mind.
The feminine component was not far behind the masculine element in all this preparation for pitting horse against horse, man against man, lance against lance. Little birds seem to carry news to the highest towers of the Mount, for the ladies knew all about the two new contestants that had come on the scene--actually, a knight and his attending squire, and the two pages they had acquired as well. With the necessary equipment, there was no keeping them from challenging any warrior of the Mount and in the king's elite circle. It was clear they had come to do this, and the ladies, from the queen on down to the lowest chambermaid and scullery drab, were already manuevering to get more information, and if possible, a word or two from them.
Elizabeth the queen was not to be upstaged by her inferiors, and so she wasted no time and sent out her chief lady-in-waiting, Lady Margarethe, to take a close up view of Knight Damon on his training exercise field.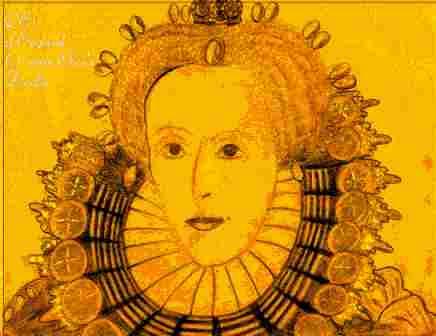 This was the queen's royal perogative as a monarch, and in this highly advanced era of sophisticated toleration, an age of courtly love and knights paying nightly visits to their lady loves who, more often than not, happened to be other men's wives or mistresses, nothing could be said against her use of it.
She herself could not condescend to go personally on such an spy's errand, but the countess's eyes were just as sharp and good as hers, she wagered. Lady Margo could answer all the questions she had about Damon, who cut a most dashing figure of a man to her imagination, and so allay some of the fascination she already harbored in her heart and which already disturbed the slumbers in her royal bower.
Calling some attendant knights and squires and pages to attend her messenger, she waiting impatiently after they departed for Cheney Field.
Lady Margarethe herself was impressed as she viewed the wonderful physique and agility and courageous pricking of the young knight being run through his paces by his trainer. Would he be the one to win the grand prize this year? she wondered. She thought he might have quite a good chance, having seen the knights of the mount perform in past matches. It had all bored her to watch the games, as everything seem so routine and without any real excitement. Bets were always laid on the contestants, but somehow everyone seemed to guess who was going to win, so the stakes were not very great and the gambling takes were lower year after year, as there were few dark horses and upsets, if any. But this newcomer seemed to her eyes to be different from the others. He had a vigor and beauty and presence the others lacked. There was a shining quality about him, unlike the others. Her blood ran quicker in her veins as she watched him dash first one way and then another, leveling his deadly lance at the leather targets set up at opposite ends of the jousting field.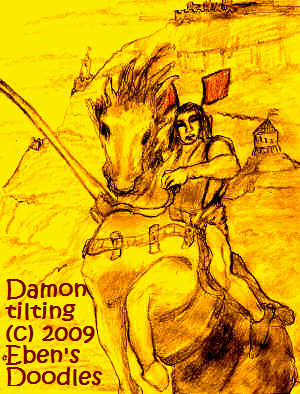 Never once did he slacken his pace or swerve or make a misstep. His horse was obedient to everything he commanded too. Together, they were a magnificent sight to her eyes. She could hardly wait to tell the queen, "No one at the court tilts like him! And he wields the biggest lance you have ever seen!"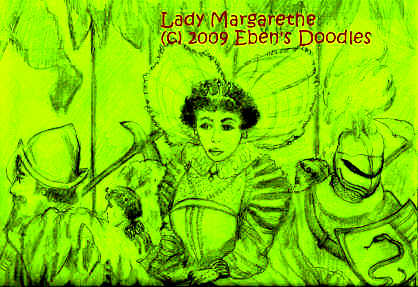 After a training session, Damon led his mount into the stables, and this time he did not find the stableboys, who usually ran forward to take his lathered horse and bring him water and rub and brush him down. His trainer too seemed to have made off. Without no one to help him, Damon knew what to do, and he set about making his horse comfortable. Then he saw he had a visitor, quietly observing him from where he sat on some straw, smoking a long-stemmed gentleman's pipe.
Annoyed that there was someone observing him like that, Damon let the horse go for the moment, and turned to see what the man wanted.
"Who are you?" Damon asked, his whip in hand.
"Where are the stableboys? Did you send them away?"
The stranger did not even look up, he just kept puffing at his pipe. Then he finally spoke. "Yes, I sent them away. Privacy is required for what I have to say to you. It is growing high time we came to a little understanding. I have been appointed to tell you about the deal we are willing to make with you. It is most generous. Will you listen carefully? I won't repeat it."
Damon was even more annoyed at the arrogant manner and speech of this cavalier, and the mention of a "deal" with him and his kind really put him on edge.
"What business do I have with you? I have no such thing with anyone like you. Who are you anyway?"
The man looked at Damon in the eyes for the first time, then put down the pipe. "Lord Ratchet, Thirteenth Earl of Ratchetbury, at your service! Now I will get straightway to the point of this interview. It is simply this. There is no way we will allow you to win the prize of the king, this first time of yours on the field. This cannot be allowed. You are new here, and so you must begin at the bottom of the list. But you can expect, if you prove obedient to our wishes, to gain favor and eventually be awarded the prize. We do not ask your compliance, we demand it. It is either this, or face expulsion from the field, or worse. Well?"
Damon's face flushed. His hands clenched, and the whip whished back and forth in his hand, as if he could barely control his urge to use it right then and there. "Get out!" he said in a an even more menacing voice.
The gentleman shrugged and slowly rose, knocking out his pipe's still glowing ashes on the straw-strewn floor, despite the hazards of fire.
"Did I hear you right?" Lord Rachet asked. "Do you dare address me like that?"
"Get out!" Damon repeated, and he took a step toward the man.
The visitor's face now colored, and he seemed to feel a great possibility of being bodily assaulted and thrown headfirst out of the stables if he lingered a moment longer.
Darting Damon a look of pure venom, the visitor turned to leave at once.
Stepping posthaste toward the exit, he must not have noticed the height of the doorstep in the frame, for his boot spur caught on it, and he was flung headfirst, right into a pile or two of fresh horse droppings.
Damon looked out as the nobleman moved, his breath knocked out of him momentarily from the hard fall.
Rising slowly, noticing that his clothes were covered with stinking filth, Lord Rachet got back on his feet, tried to brush it off, standing unsteadily, his features lit with fury. "You--you will pay for this indignity! I will not live another day if I allow the likes of you to humiliate a nobleman of the Mount like this!" Damon stepped out of the stable door, his whip raised, and the man thought better of taking vengeance now and bolted to his horse, which was tethered a short distance away, and galloped off toward the Mount.
Events were now racheting up. Damon was learning all he could from his hired trainer in the time remaining. The thickening traffic on the road to the Mount showed that it was drawing close to the time when the royal court convened with a ball, and all the nobles and knights and ladies would present themselves before the king and queen of the Kingdom of the Mount of Defiance.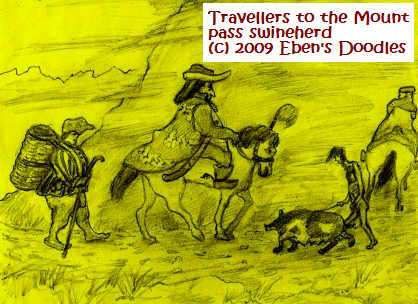 Somehow all sorts of carnival workers go wind of a coming trade fair, to be held in conjunction with the jousting tournament. These now began flocking to the Mount, and not being invited up, made do with Cheney Field, where they hoped the trade fair would be held as it had been in past years. Damon was thus joined by every kind of acrobat, performer of tricks and sleight of hand, stilt walkers, and whatever else a carnival can boast. It was an interesting spectacle, to say the least, enlivening his long training sessions and even his nights spent guarding his precious fighting horse, Bucephalus.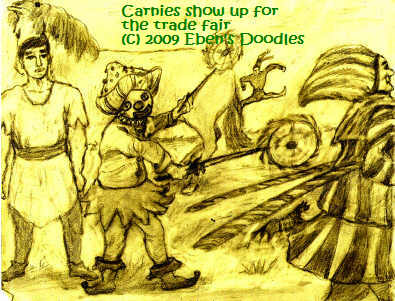 Performers and venders of all kinds continued to come out to the field and begin to set up for the trade fair. The trade fair, whether scheduled or not, was taking place, for villagers were already coming out to see what was going on, and they stayed, joining the increasing number of suckers that the trade fair was thee to milk and bilk of their last coppers.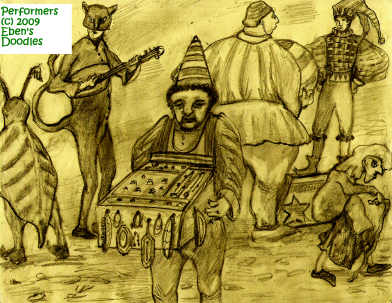 Damon entertained himself after training watching the various performers go through their acts. Damon watched while the Gypsy with the bear on a chain was putting it through its dance routine, while he beat a small drum. He had to keep a strict eye on his horse, however, for a moment's distraction could cost him everything, he knew.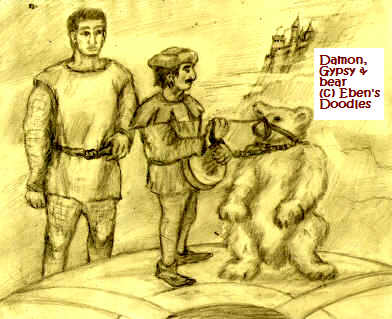 Returning to the stable, he missed a Gypsy dancer called Perfidia going through her act, with a couple admirers as her audience, with her husband, a concertina artiste, furnishing music.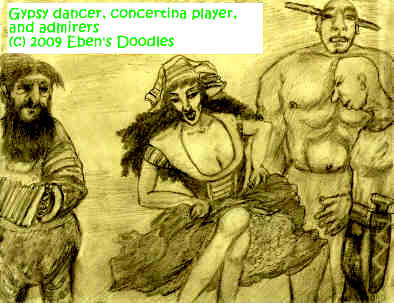 First, after the ball, if a jousting tournament was decreed by the king, all the knights of jousting caliber would reconvene at Cheney Field for the grand parade of knights and their equippage, attended by squires and pages. The entire court was also present in all their splendid finery, to lay bets and root for their favorites. In the upper stands, but in rough planked and dirty seats sections that no nobleman would think to enter, the king's commoner subjects sat. Only after that would the jousting contests begin at a sign from the king, at his command a dropped red silk banner from the topmost flagpole. The crowded stands, which had reserved galleries for the nobility and other sections for the commoners from the village and surrounding country, would erupt in cheers and the contests would commence, after lots were drawn for the order of contestants to ride forth and do battle, while last minute bets were laid with any of a hundred or so bookies. Huge fortunes often passed hands and men were dispoiled of their castles and everything they possessed if a favorite did not produce as desired. But that was the name of the game: the heavy risks involved. Each contesting knight rode three times at his opponent. Each had three chances to dismount his opponent. At the first try, a successful dismount would gain the full three points, which relieved him of having to ride again until the play-offs, when the top contenders all faced off for the grand prize. If all three tries failed, the two knights were disqualified from further participation in the jousting. No two could win it, of course, so the playoffs continued until only one champion remained in the running. A contestant was in some tournaments allowed a bodily injury, but not a dismounting. If he was dismounted, and had to take another horse, he lost considerable points and it was hardly worth his while to keep jousting. Rules changed from tournament to tournament. Sometimes an injury disqualified the knight completely from continuing--if it was a disreputable kind, such as a thrust of a lance through the intestines or privates or an arm or leg torn off. Othertimes, it did not disqualify him if he had himself tied and bound with rope to his horse in such a way he could still manage another joust. Other things that might disqualify was a flagrant lack of breeding shown--if the knight spit on another knight, or cursed a highborn lady calling him a coward or worse, or failed to display proper respect for the judges or arrived too drunken to keep to his horse with dignity, and other lapses of decorum, which occurred often, such as losing too much of his costume in the fray to cover him modestly. Fights that broke out between competing knight's squires and pages, those also disqualified him. With the king and queen present, vulgar melees of this sort were crushed immediately with the king's bodyguard riding with flailing whips into their midst. As for the rough mass of commoners, there was little to be done to maintain them in good behavior--and so drunkenness was tolerated, and as long as the disturbance did not reach the king's attention, also stabbings and robberies and assignations between lovers. But if they grew too riotous and threatened a revolt against the Crown, the king was not above a blood-letting, commanding his armed guard to charge the mob with swords and maces, to teach them a lesson.
The darker side of this whole enterprise had just been revealed to Damon, however. In the shadows behind the grand and glittering spectacle of lords and ladies in their finest robes and jousting costumes lurked a conspiracy, the ignoble cabal of a select few who decided beforehand just who was going to ride off with the grand prize. It disgusted Damon to think the whole affair was no more than a sham, and he wanted nothing to do with it. He returned to Minstrel Tithonus and revealed what he had learned, but the minstrel, a man of the world, shrugged.
"I suspected as much," he said to Damon. "But you, my lad, don't have to play their nasty little game. You can do your best, which I suspect will carry off the grand prize despite all their cowardly, sneaking back-room strategems to keep you from it!"
The minstrel offered a caution. "Beware of anything out of the ordinary, that might trip you up. If such men were scheming to take you in their net, now that you have rejected their offer, they have become your bitter enemies and will do everything within their power to set snares and traps for you to fall into."
That was a sobering thought for Damon. He himself was not afraid of anything they could do to him. But he thought of something, and the minstrel smiled as he divined Damon's thought. "Yes, your horse, they will try to slip it something in its water or feed that will render it unsuitable on the day you ride. You won't have time to train another mount to do what this one will do for you without flinching. They know that, and will target your horse--that will take care of you without a fight! From now on you must guard your mount yourself, or risk whatever they will attempt. You can't even trust a stableboy who might be trustworthy in the past. They will threaten him with harm to his family to make him do anything they want, and pay him royally too. Money will usually make a thief of most any poor working man who has his family to support." Hearing that, Damon felt much better, and decided not to withdraw, and keep a strict watch himself on his horse, day and night.
Ero was out with the pages and a trainer one day hunting pheasant and grouse, to teach Henri and Louis skills in archery, and he noticed a strange sight--hundreds, even thousands of little waving tails in the grass, and it was a horde of rats, he found. Above them a cloud writhed of uncountable beating black wings--bats! The rats and bats, he saw with amazement, were not stupid creatures, they sensed approaching doom and were fleeing the Mount as fast as they could.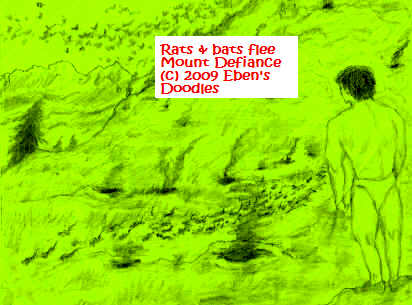 Had the fumerols opening and spewing black and smelly toxic fumes warned them along with tremblings in the earth? Were they first to recognize the peril of residing on the Mount? Surely, the Mount's inhabitants would take notice, he thought, and flee too. But the next day, there was no sign anyone saw or cared about what had driven all the rats and bats off the Mount. The villagers were not even concerned, though they lived at the base of the Mount, and should anything slide off or break away, they would be destroyed and swept away.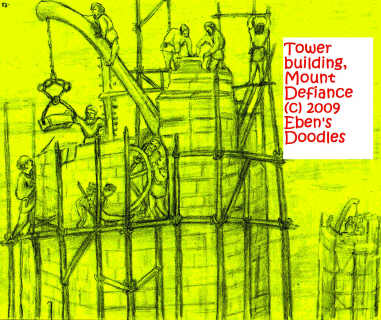 Another thing Ero noted. Instead of taking heed, the king himself was constantly heightening the towers on his walls and castle and fortresses and gates. His main castle was also being expanded, to accommodate important guests, who were coming in increasingly numbers.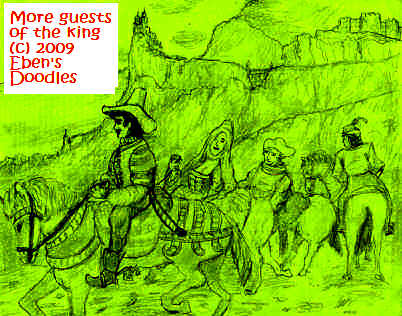 Now that Damon was the talk of the Mount, among both lords and ladies (and particularly the ladies!), naturally male jealousy was stirred up, and not a little rage too against an upstart daring to challenge the knights of the Mount (and, especially galling and offensive, turn down what they thought a very generous offer tendered by Lord Rachet to the stranger). What to do? The Knights of Dishonor met in a conference and decided they would fight him and utterly destroy him. He had given them no other option, and his horse, guarded night and day by Damon, was beyong reach and not going to be of any use to them apparently. They could always try to hamstring the horse, by sending in somebody to do it, but nobody would volunteer his neck if Damon caught him at it.
The conference concluded with a consensus, that if Knight Damon refused to work with them, then they would have to eliminate him entirely. So the Mount's knights began showing up on the Field for conspicuous practice, which was not only to show the weaker sex on the Mount that the men still ruled but to let this parvenu from out of nowhere know he wasn't going to carry off the prize without inflicting real pain on himself.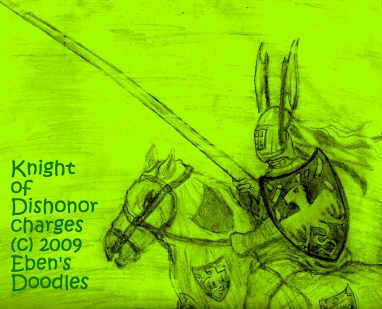 The minstrel's quarters at the inn were beginning to look like a knights' dressing room with all the garments and accoutrements hung about, and the number was increasing, as Ero was outfitted, first with a mail suit, then with a proper shield (even if unfinished as yet in its emblems) and the other necessary items to give him a brave showing before the king and queen and the royal court.
The fitter put finishing touches on the new tunic too, using the light where the mica windows were the largest in the house.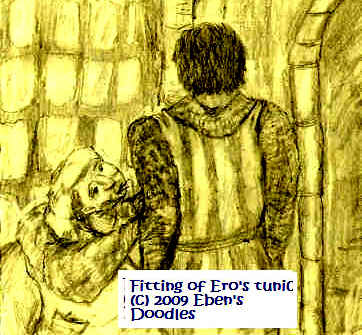 Since the minstrel awaited a royal courier who could come any day and any hour to summon him and his retainers to the castle, furious work was going on by the minstrel's small army of seamstresses and craftsmen.
To see if the things fitted, Ero submitted to a grand rehearsal, in which he put on all the things so far gathered. After the mail suit, he was to wear the widow's tunic, which was now fitted perfectly to him. First on the list, the mail suit was no joy to him, however, being heavy chain covering every inch of his body, leaving only his face bare if he drew up the cap. But it was necessary to be in full uniform if he was to present himself as a knight, so he pulled on the mail suit, then stood in it to see if it was a close fit or not.
Whether he liked it or not, he decided to continue wearing it, as he had to become accustomed to it, as if it were his own skin if he were to function properly in his full armor.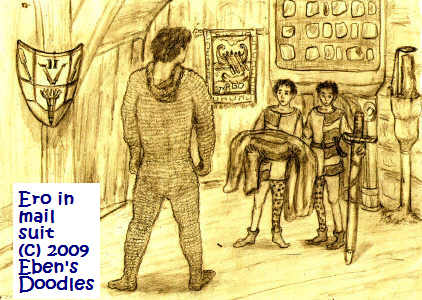 In the night, Ero had a dream. He saw a strange emblem, unknown to him, with a sword and a book, and across the book was written something.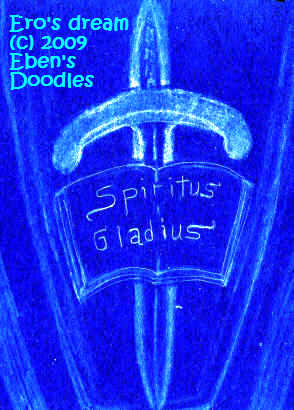 The next morning, Ero hurried to see Damon, taking along the shield. He had great news of a strange sort. Yeshua had appeared, or rather, had spoke to him, showing him a vision of a new emblem for his shield--a sword, and inscription, and a Book. Yeshua explained the Book was his own Word, which was eternal and imperishable and always victorious. As for the writing, the words "Spiritus Gladius" came from the emblem and shield of St. Paul and meant, "The Sword of the Spirit," so together the emblem meant, "The Sword of the Spirit is the Word of God." But what was most astonishing, Ero told Damon, was that when he arose with the dream still fresh in his mind, he went to get the shield and found it already embossed with the beautiful emblem, in two places!
He had immediately asked Tithonus, who was later in rising, but still very much awake, who had come and done it. But the minstrel stoutly declared no one, there had been no one in his rooms that night, as he had an ear for the slightest shrew creeping about for crumbs under the table and chairs, and so he would have known if there had been an intruder in the night. Besides, he added, a smithy was needed, a skilled craftsman too, to do such work!
As they spoke, suddenly words came to Ero and Damon simultaneously.
So this was Lord Yeshua's chosen Standard for them! Now both Damon and Ero were very relieved, as they gazed at the shield, for it meant that Yeshua was still Commander-in-chief, and had set his own emblem on Ero's war shield. Would there be another?"

Ero noticed that Damon, despite the interest he showed in the shield and his story, was not quite himself. "Anything wrong here?" he said, peering intently into Damon's eyes. "You don't seem your old self. Is it the long training wearisome?"

"It's not this place or the training, brother, it's me."

"Let's go talk, where we can be more private," said Ero, and he told the pages to wait for them, and they were glad to stay in the stable and went to help the stable boy feed and water the horses.

Damon and Ero walked out into the pastures beyond the jousting field, where the grass was tall and waving in the cool morning breeze.
They sat for a few moments gazing up at the Mount, hearing roll calls of knights and retainers in the various courtyards of the castle and forts, but strangely no barking of dogs, as they had all run off by this time, and then Damon started talking.
"It isn't the training, nor this having to bide my time in a stable watching the horses," he repeated. "Rather, I am missing my own world, my own country. This place is strange to me beyond saying, even with you, my brother, close by. I understand that Lord Yeshua has me here, and you too, for his grand purpose, but what is it exactly? Am I just to joust with strangers and seek to throw them to the ground and win a prize for which I care nothing? That seems so pointless to me? I lost my whole world, for this? for some a man's spilt blood and a sack of gold florins and ducats?"
Ero didn't know how to respond for a while. He struggled to deal with his own feelings too, as they were much the same as Damon's. He too had lost his beloved country, Hellas, and his home island of Seriphos, where was it? Could he ever find his way back to it? Would Lord Yeshua give him leave to return home? Or would he wander forever on various quests, as he had been doing for some time now?
"I have lost my country too, brother," he replied. "My family, not to mention, my friends--I have no idea how they are faring, or if they are even living. But Lord Yeshua--he has taken me up as his knight in liege to him, and I am in his service for life, and I desire to be too. I cannot forget his face! Nor his words, which still burn in my heart! He is like no one else I ever met. For him I think I would endure anything--"
As they talked further, they came to no answer, but it was a great relief to see how similarly they felt and thought, and discover at the same time they were knights knit in heart, as well as in destiny--for both felt that there was a greater destiny yet to be revealed, beyond the coming appearance at court and the jousting match. What was it? Would they greet it with joy or dread and dismay? They had heard talk of dragons, being in earshot of conversations of patrons of Follie Inn, where there was much talk of strange beasts attacking villages such as Strangways. Dragons were seen flying in the vicinity of the Mount, it was said, spewing out fire and smoke that consumed whole houses at a time. But what of the most important thing: warning the people of the coming conflagration? That was Lord Yeshua's solemn command to them, as Knights of the Order of the Axes of Honor. Surely, that would be more fearsome than any winged, fiery beast?
They were thinking the same thought, for they turned to each other, and read the thought in each other's eyes.
"We haven't fulfilled our mission," Ero said, "until we warn every soul who will hear us. So far, we haven't had our opportunity, but soon we may. We must wait for the right opening, which I believe will have to be an incident that scares the living daylights out of them! We must not quit now. Yeshua said this is our mission, did he not?"
Damon nodded. "Perhaps, when we present ourselves with Master Tithonus at the court before the king and queen, that will be our opportunity! Surely, they will hear it then. These simple villagers seem to care for nothing but carnival, food and cheap wine--when they aren't fighting and robbing one another! If there isn't mischief that hasn't ever been done, they will be sure to think of it first! Mind this, brother! What with all the gambling they are doing at the trade fair, they are desperate for money and valuables they can wager. I've seen some of them lose every stitch they have on, and get kicked out of the gaming house to spend the night lying in the cold grass, which is all they have to cover them! I've given away all the rags we keep to wipe down the horses, so they can get back to their homes with some shred of decency, but the next day they are back, gambling again, this time with their wives and their children's clothes torn off their backs! Keep your post, brother, at the Minstrel's door, or they will pick the place clean, and leave him shirtless in his own bed!"
Ero rose, laughing. "Isn't that so? Will they ever change their foolish, strange ways? I have to wonder! Yet they must be given the warning too, before it is too late, even if it falls on deaf ears. There might be a few at least who will take heed and flee from this wretched dungheap of Strangways!"
Ero's shield still held two empty panels, and as if in anticipation they were seen to glow incandescently at night. And Ero was right! Yeshua had some things in mind for them after all! The sign of Noah, the captain of the Ark of old, came to mind in the dreams of the night. The shield already bore two oaring paddles, which stood for the Ark as well as the ARGO. But now two references to Noah, which could speak of only one thing: the dread imminence of the world-destroying Flood. Only with this difference, it would not be a Deluge of water, it would be a destruction by fire.
Obedient to the will of Yeshua, Ero rose in the morning and spoke of his dream to Tithonus, who nodded in agreement with it, saying that he felt such a thing was truly imminent, and an extra warning on his shield would be well to place there. Calling in an artisan good with paints, the artisan no sooner appeared at the door with his brush and little paint pots in his wooden carrying case, when the emblems appeared on their own, without the artistry of a human hand!
They all--Tithonus, Ero, the pages, and the artisan, stared at the shield, for on it appeared the Ark triumphant upon the Flood that destroyed the wicked world of Noah's time, while above glowed a bow of shining colors. Yet that was on one panel, the other held something different. It was unmistakable, a shofar of warning and proclamation--warning that the sin-ruined old world was going to pass away in fire, and proclaiming at the same time the beginning of an unspoiled, righteous, happy new world, the Millennial Kingdom of Yeshua!
Later that same day, while out training the pages in running and Damon was making sorties on Bucephalous with his single-toothed dragon-biter, a storm sweeps up, engulfing the Mount with dark clouds and flashing lightning. The earth trembles, with the force of the tempest. And then Ero, shielding the pages with his arm, looks back over his shoulder and sees something fearsome and huge, a black, manlike shape in the roiling clouds, wielding a huge sword.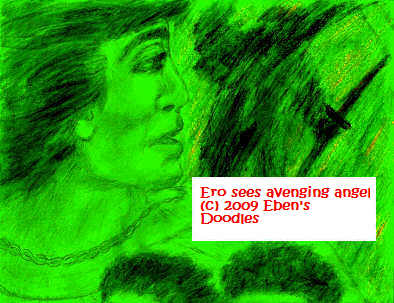 The warrior-like figure seemed to be waving it back and forth as before a charging beast, while moving forward to push it back into its pen or cave. He thought he saw a long, lizard like tail whipping about in the mist--but it appeared and vanished from sight so quickly, he could not be certain what he actually saw.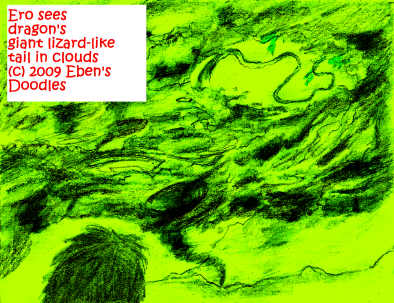 The storm passes, and they return to Strangways to find the village in an uproar, not over the big wind that shook the whole area but the latest sighting of the vulture lizard they called the dragon.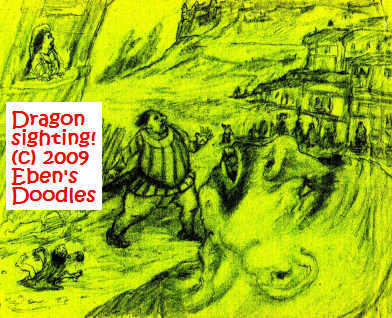 Apparently, someone had gotten a much better look from higher up on the Mount and relayed the information down to the village, and news traveled quickly, indeed, shouted from tower to wall, and fort to gate, then to the village huddling in the shadows below. The report was that the dragon was observed headed this time straight for the village when the storm cloud overtook it and it disappeared in the black, tumbling clouds. Then when the clouds blew away a short time later, the wind blew the sky completely clear again, and no dragon was to be seen! The sea tempest and the churning funnel cloud had delivered them! Or so they thought! Just the same, most of the village was gazing upwards, trying to see if the dragon had really flown away, or maybe was coming back to attack them once the storm had blown itself back out to sea.
Everyone was greatly relieved, but Ero could still tell from their ashen faces and braggadocio they had received a very bad fright and wanted to deny or cover it up as quick as they could. All the patrons of the Follie Inn were in the street too, tipsy and stumbling about, but some were bragging they were bitterly disappointed in the dragon's sudden retreat, as they would have taught it a thing or two if it had dared to fight them face to face! These boasting oafs were greeted with jeers, and then some fighting broke out by the offended champions. Was this the opening they so desired--would these people be willing to hear the warning Yeshua had given? He had to take a chance and not let the moment pass, so he spoke out, addressing them all. Heads jerked his way, and for a few moments there was silence as his words rang out over the entire group, with many others listening in from unshuttered windows and doorways.
He told them a great fire was going to break out in their midst, and consume not only the village but the entire mount! It was time for them to flee, and take only what they could comfortably carry, as they need to flee in haste and not be overly burdened down! When would this great fiery judgment fall? He knew only it would be very soon, and every passing day brought it closer. Best not risk being caught in the flames! Leave this place now, before it is too late. Flee the Mount of destruction--for it had defied God, and now its defiance would bring its due reward. If they care for their children, their wives, their friends and the old ones, take them away now to safety! he urged the men.
Response? There passed a few more moments of silence as the people looked round at each other, then with one voice and mind laughter and jeers erupted from the whole village. The children were even guffawing and making fun of Ero and the pages. The scare the dragon had given them all was completely forgotten. They had already paid no attention to the cracks in the Mount and fire and smoke issuing from them day and night--portentous signs of great fiery wratch boiling up from beneath the mount, were they not?
Shaking his head, Ero gave up trying any more words on them, and he and the pages went to to see how the Minstrel was doing and attend to any needs he had.
He had gotten together from somewhere several benches and low tables, had them set up with slate writing boards, and they looked like a kind of school was about to commence in his quarters. They soon were apprised of that very fact, indeed.
"Henri and Louis, you are going to learn your letters, starting today!" Tithonus announced. "And Ero my lad, you are their tutor. I can't have my pages ignorant as stableboys who can't even scribe their own name! Besides letters, they will learn music, art, good manners and gentlemen's deportment, along with the usual archery, swordsmanship, hunting, riding, and such, as they progress--if they work hard and progress--into squirehood. Well! Might as well get started, time is a'wasting!"
Coming episodes: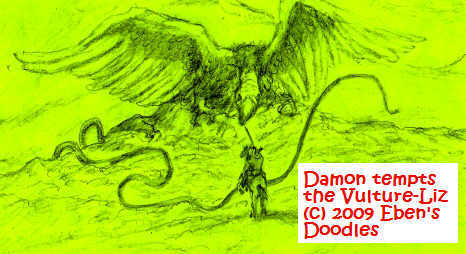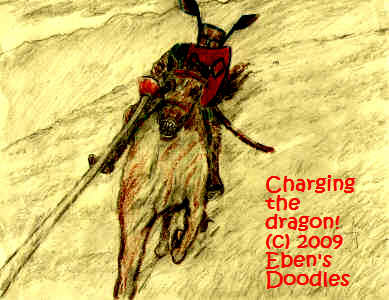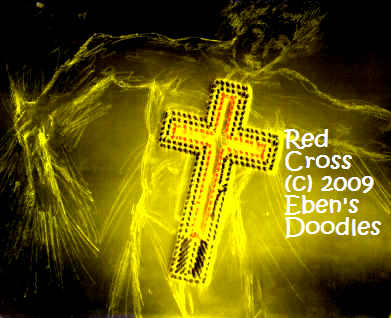 Ero and Damon, the inseparably linked brother knights of the Axes of Honor, are in big trouble. Without faithful Wally (via the re-programmed Kater's Compass) serving as their wargame's ombudsman, they will be facing seemingly insurmountable opposition and brutal, merciless retaliation if they do not, as newcomers, agree to take a fall when the jousting match is held some time after the court festivities that open the gala season. An inexplicable thing is going to happen. At some point in the coming fray, Yeshua will create a blood-red cross, emblazoning it on Ero's chest and torso. This is the emblem of ultimate sacrifice and signifies true, unstained Holiness, something to which every noble knight of the way of truth should aspire. Holiness, then, will do battle with Dishonor, and Truth with Falsehood. He will attend Damon initially as a squire, but this promotion by Yeshua will empower him to more than ever to even the odds against them.

To recap the action of Unchronicle II, Part III:
Ero, on his flying mast-bot, proceeds from the cyberworld into the surrounding Vampire spirit-form hidden within the Carbuncle. He discovers the inland sea, the Sea of Doubt (which is more the size of an ocean than a sea). He encounters a palace set in the midst of the dark waters, and within the palace he flies through vast halls and pillars and finds a stranger scene, a fountain pouring blood into a big basin. Then he watches in growing horror as a bat flutters down from above and grows enormously, becoming the Great Vampire Spirit-Form that inhabits and directs the Carbuncle star-stone. This evil entity is not cyberspatial, it is real, but can affect Ero in a disastrous way if he is not careful. Yet the Vampire too is somewhat vulnerable, as Ero is not so tiny that he cannot inflict some damage himself. Attacking the Vampire, he finds the Vampire is so much greater in size that he only succeeds in penetrating its eye. Inside the Vampire's eye is a world unto itself, full of photo-files, like the billions and billions of galaxies that populate the universe. These photo-files each contain a world of its own, running along certain themes or people in them. He enters one photo-file and finds himself involved with the life and destiny of a 19th century small town paper's printer's devil who seeks his prospects in the big city of Chicago, and on it goes, event after event including the Great Chicago Fire, until the up and coming young man of society dies in the fire, and then it is on to other events and photo-files. Ero encounters such people as Eryk the fetler on a train in southern Atlantis II, and the free lance photographer, Damon Santiago Coxie, before he is given a twin, Ero II by Yeshua who has been closely tracking them in their progress through the photo-cell and various adventures. Damon is destined to be joined with Ero's twin, Ero II, as a knight of the Axes of Honor.
The hydrogen bombing of Poseidia, and the missiles carrying similar warheads to all the other major cities, are meant to annihilate both Eros and also Damon. Ero escapes through the portal first. Ero II and Damon fly out on the mast-bot from Poseidia before it goes up in a mushroom cloud, only with no where to go. Damon's world is doomed. If that isn't enough, the entire photo-cell is about to be deleted by the Vampire to make doubly certain the "anti-matter" of faith doesn't spread to the other photo-cells, thereby spreading and destroying the entire spirit-form and its star-stone.
But Yeshua intervenes and not only do the two champions, Ero II and Damon, escape through the portal, but they are returned to the original starting point for Ero, the nexus of the Union Train Station in the City of Destiny. The mast-bot is then retired, screwed back on the top of the copper dome. The trusty Kater's Compass from Charles Darwin's voyage on the H.M.S. Beagle, which Wally had programed with wonderful guidance systems and very useful popups and helps, that too is retired, completely worn out in their travels.
At the Union Station, they are welcomed by a grand event already in progress, for their testing and then dubbing as knights-errant if they both pass the rigorous questioning by Lord Yeshua. Both prove successful, and they are dubbed knights by Lord Yeshua. Given their respective knight's equipment and gear, they sally forth on their way to Mount Defiance, which is a huge castle mount studded with many seemingly impregnable walls and fortifications and towers. On the way, a storm nearly sweeps them into the bay of the sea below the Mount, but Yeshua intervenes, and they are spared. They rescue a man who would have surely drowned or died of exposure at least on the road. His destiny becomes intertwined with theirs, as he enlists them for a trip to the the court of the king ruling the Mount. They will serve as his knight-retainers, with a page assigned to each. He will sing his epic poems to the lords and ladies and the king, and this will be his swansong, as he is at the end of a long and distinguished career of court minstrel. He hopes for the customary three bags of gold that is awarded the court minstrel on retirement. But, deep in his heart, he knows of a greater purpose than his own comfort when he can no longer earn his bread and butter. So he trains the young champions for the coming jousts he suspect the king will command, for the king is known for jousting tournaments to test the mettle of his knights against any visiting or challenging knights. The winner receives a special prize, of course, either a court lady's hand in marriage together with her entire dowry, or some grant of gold and jewels from the King's purse. The winner can also help himself to the vanquished knight's uniform, banner, horse, equippage, and money purse, of course, and anything else he may have to his name (winner, indeed, takes all!). As for his wife and family, if the loser has them, they become slaves and chattel to the victor.
Surely, the king, on espying the strength and youth of Ero and Damon, will not miss the opportunity to challenge them to jousting on on the field of contest, which is Cheney Field, an ancient baseball field that lies hard against the northern flanks of the Mount. With the two jewels the minstrel has reserved and hidden away for his old age, he buys the necessary mounts and equipment needed for his knights, so that they can make a splendid showing before the assembled court and the king. After some training sessions on Cheney Field, and the minstrel meanwhile seeing to all the necessary wardrobe for himself, his two knights, the two pages, and their mounts, they will set forth for the gates of the outer wall of the Mount to present themselves for the court's pleasure at the king's yearly birthday banquet and royal ball.

About the time Ero II and Damon are embarking on their duties of service as Knights of the Axes of Honor, commissioned by Lord Yeshua to do battle with the Axes of Dishonor that ruled the City of Destiny's Castle Mount and all its forts, Ero I is soon to be involved with an entirely different set of challenges in his respective part of the Cyberworld of Kastorr created by Wally the e-butterfly for his retirement.
Continuing his journey within the malevolent, evil eye of the Carbuncle's spirit-form, the great Vampire, Ero has no idea what he was going to encounter next, of course. There is no explanation from pop-ups. Yet he isn't particularly worried. This photo-file seems to have landed him a a nicely verdant country, quite unlike most stretches of the more arrid, coral and calciferous White Continent, he finds. It is most pleasant to the eye. He likes the look of its gentle, rolling hills and winding rivers and streams, with a line of low mountains on the horizon. What kind of country was it? Would he find it inhabited? What era was it? Where they civilized? Or barbaric and backward in culture? He knew he would soon find out. He wondered how Damon was faring, but that was somebody else's concern now--somebody who looked surprisingly like himself, he recalled from the brief look he had of him before he was whisked away to other worlds. He had helped Damon all he could (even going beyond the perimeters that Wally had set), but whether that would bring Damon to his destiny, that was something he could not know. Just the same, he hoped it would be a good journey for the young gentleman with the camera--that the best was yet to be.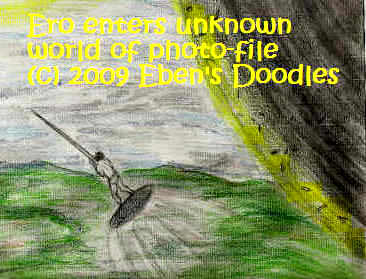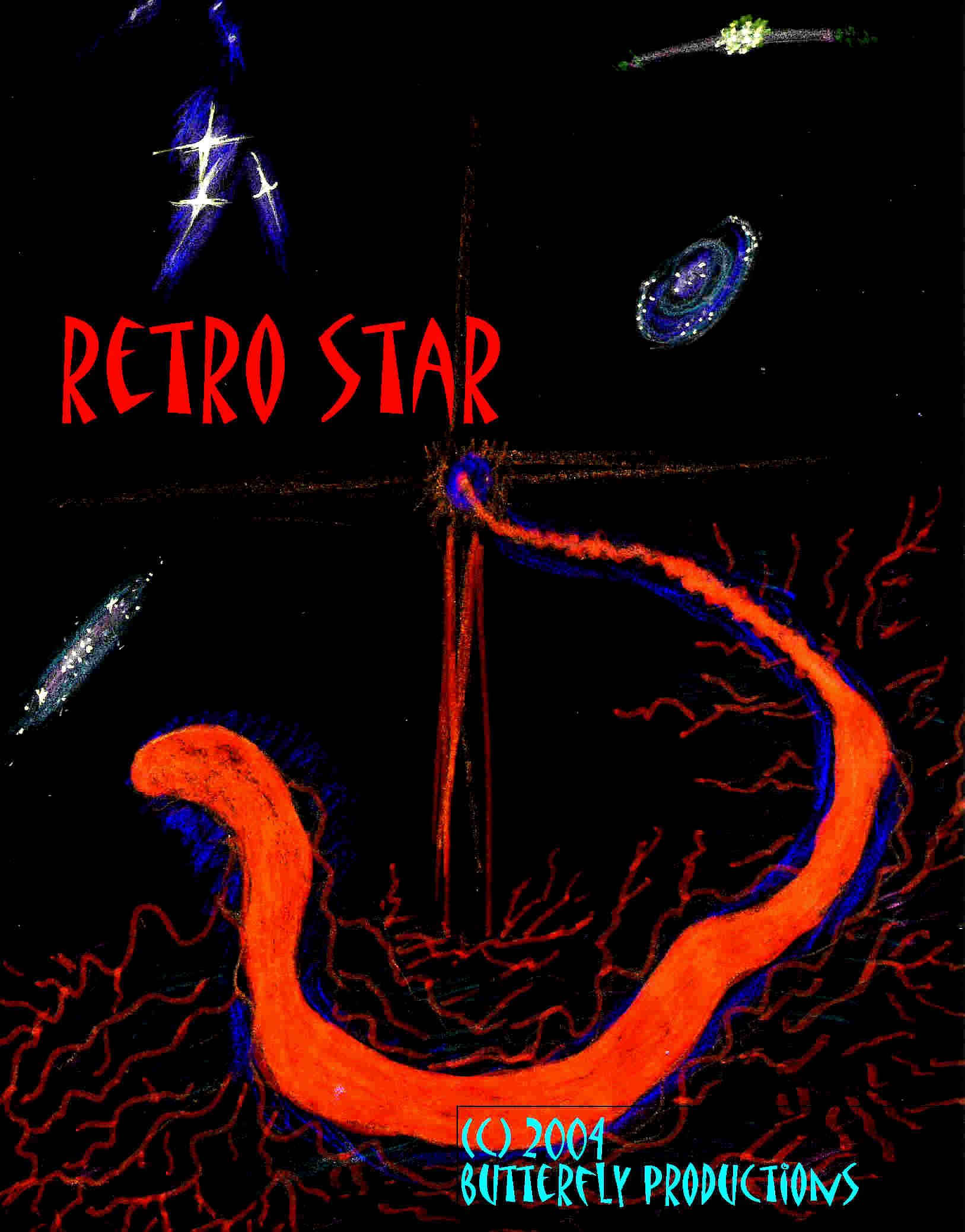 The Star-Stones, the Evil, Scheming, Destroying Jewels of Fire, & Other Fatal Jems:
Curses attached to certain diamonds and other precious jems--are they fiction or real? The late Vera Boch beautifully illustrated the malevolence and deadliness that lurked in the most alluring and costly jewels: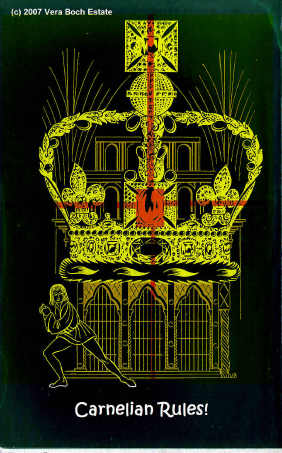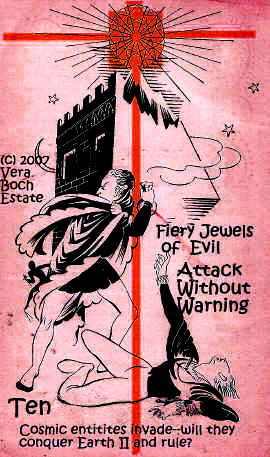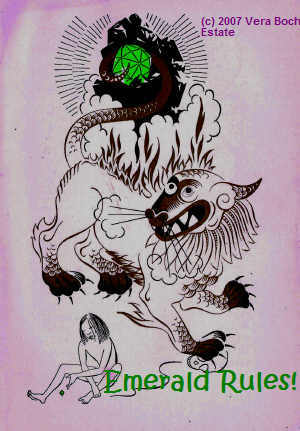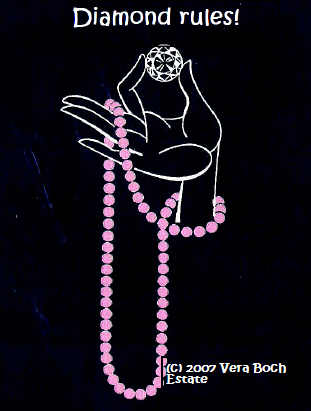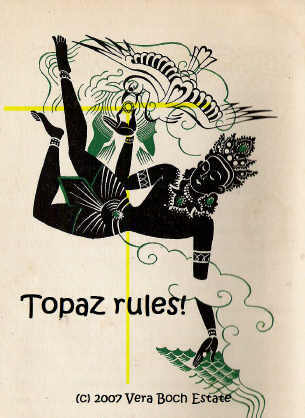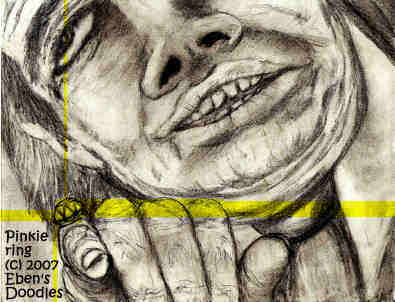 The last detectable brain wave of the current administration in Washington and the White House. Showing signs of collapse and futility on several prior occasions, it went completely flat at the time of the Cairo Speech and remained there since. It also depicts the direct effect on the general Human Intelligence Quotient by the vampires of environmentalism and Global Warming propaganda (which are based on bad science mixed with hysteria mixed with toxic socialist political opportunism). Human Civilization cannot continue, obviously, with so little brain activity--but Government can, because it requires no air, no light, no intelligence, and in septic conditions it not only survives it flourishes, grows, expands, devours, multiplies by the hour, like a gigantic malignant cancer. There is no chemo or radiation treatment that can stop Government. It is irreversible, once it invades the unsuspecting host. In the terminal stages of a society, masses of ragged, starving people are pressed, groaning with hunger and misery, against the windows of the palace, looking in as the Government has itself a ball while they perish in the cold, babies dying even in their mother's arms! Ask Romanians what it was like! Ask the Russians! Ask the French under the effete, beribboned, powdered-up Louies! Ask all oppressed peoples, oppressed by Big Government grown into a blood-sucking vampire! Sic semper tyrannis! "Thus to tyrants"--Virginia's State Motto (Is it still in the Virginia State Seal, or has O.H.B. had it removed by Federal Marshals? In any case, he will have the Supreme Court, with his implanted Justice's deciding vote, rule it unconstitutional and thrown out.)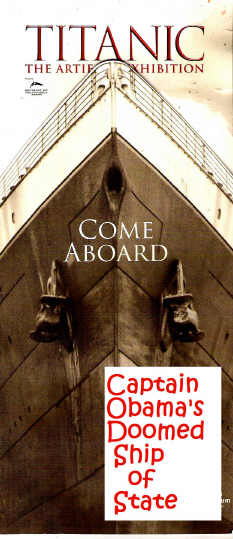 A Shot Across the Bow of the current administration in Washington (the New Babel):
"Babel was a stupid and arrogant attempt to build a culture without God. We are living in the wreckage of those tower builders."--Ann Paton, February 17, 2008, published in War Cry, Salvation Army Magazine, April 12, 2008
"I have thought, I am a creature of a day, passing through life as an arrow through the air. I am a spirit come from God, and returning to God: just hovering over the great gulf, till, a few moments hence, I am no more seen; I drop into an unchangeable eternity! I want to know one thing--the way to heaven; how to land safe on that happy shore. God himself has condescended to teach the way; for this very end He came down from heaven. He hath written it down in a book. O give me that Book! At any price, give me the Book of God!"--John Wesley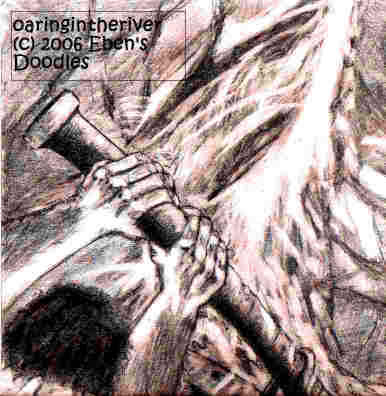 WWW.OARINGINTHERIVER.COM Master Directory