CHRONICLE OF THE TIME ROCKET, VOL. IV, RETROSTAR
CHRONICLE OF RAGNAROK A. S. 1937, Singer of the Ancient Seer How a bard left the Emerald Island to look at old vellum books and paintings preserved by the Benedictines in a monastery in Padua, Italia, and how they warned him about a second great world conflict of the Wasichu nations, which would usher in the new world order and the rise of a lion-bodied, man-headed Beast, the False Messiah, who would seize world power and crush out all the light of liberty and decency in Civilisation. CHRONICLE OF RAGNAROK, VOL. IV, RETROSTAR
CHRONICLE OF THE MOUNTAIN TOMB A. S. 1938, Eugenio's Secret How a Basque fighting with the Loyalist forces in the Spanish Civil War found ancient scrolls and artifacts in a tomb that were older than even Eskual Herria, the Basque homeland that predated every other nation and nationality in Europe.
CHRONICLE OF THE MOUNTAIN TOMB, VOL. IV, RETROSTAR
CHRONICLE OF THE OSLO TAPESTRY A. S. 1938, Katrine's Secret How a Norwegian woman, living alone, grew so desperate about her bone-dry spiritual condition that she would do anything, even take pictures of simple leaves and shadows in her garden, if it would help restore her faith--pictures forming a tapestry portraying events to come that would have astounded the world if all of them had been made public.
CHRONICLE OF THE OSLO TAPESTRY, VOL. IV, RETROSTAR
CHRONICLE OF THE RUINED CATHEDRAL A. S. 1940, Winter of the Soul How Coventry was sacrificed, along with its ancient cathedral and much of its population, by a decision of Churchill who aimed to let the bombers through without any warning to Coventry in order to make the Nazis believe their secret code had not been cracked by Britain's code breakers at Bletchley House. How a half-literate scrubwoman in the smoking ruins of the Cathedral found the means to confront the unspeakable tragedy of losing practically everything in the bombing and firestorm that destroyed Coventry; that is, her husband, children, neighbors, city, cathedral, even her house and job.
CHRONICLE OF THE RUINED CATHEDRAL, VOL. IV. RETROSTAR
CHRONICLE OF THE SEA LION A. S. 1940, 1. Convergence at Abbotsbury How a pious, elder daughter caring for an aged, ailing mother, prayed the right prayer, effectively throwing a switch to a most powerful blessing 1,900 years old.
CHRONICLE OF THE SEA LION, PART I, VOL. IV, RETROSTAR
2. Winter's Grace How a Welsh "College of Intercessionary Prayer-warcraft and Fasting," founded by a former coal miner, succeeded in turning the major events of World War II, starting with the Battle of Britain.
CHRONICLE OF THE SEA LION, PART II, RETROSTAR
3. No Wings But a Prayer How Sir Francis Cecil, hereditary Lord St. Aubyn of the Mount of St. Michael, Cornwall, while squadron commander of Spitfires in the Battle of Britain, was struck wingless by enemy fire but continued flying, and how he was taken out over the coast where he witnessed an even greater event taking place off the notoriously stormgirt Chesil Banks.
CHRONICLE OF THE SEA LION, PART III, VOL. IV, RETROSTAR
4. Ivy's Grand Slam How a little English girl in Portsmouth changed her bedtime prayer and turned back an incoming V-2, setting it on a trajectory that almost took Shickelgruber out of the war.
CHRONICLE OF THE SEA LION, PART IV, VOL. IV, RETROSTAR
CHRONICLE OF THE PILLAR OF LIGHT, A. S. 1940- , How on Earth I Elijah, a Romanian boy growing up in a brutalM Communist-ruled country, found a miracle-producing faith just like Jason the Argonaut's to stand up against the impossible odds of confronting a militaristic, atheist dictatorship destroying his beloved homeland, and how he made a new life for himself, succeeding after tens of thousands before him had been slain in the same attempt to win freedom.
CHAPTER 1, CHRONICLE OF THE PILLAR OF LIGHT
CHAPTER 2, CHRONICLE OF THE PILLAR OF LIGHT
CHAPTER 3, CHRONICLE OF THE PILLAR OF LIGHT
CHAPTER 4, CHRONICLE OF THE PILLAR OF LIGHT
CHAPTER 5, CHRONICLE OF THE PILLAR OF LIGHT
CHAPTER 6, CHRONICLE OF THE PILLAR OF LIGHT
CHAPTER 7, CHRONICLE OF THE PILLAR OF LIGHT
CHAPTER 8, CHRONICLE OF THE PILLAR OF LIGHT
CHAPTER 9, CHRONICLE OF THE PILLAR OF LIGHT
CHAPTER 10, CHRONICLE OF THE PILLAR OF LIGHT
CHAPTER 11, CHR0NICLE OF THE PILLAR OF LIGHT
CHAPTER 12, CHRONICLE OF THE PILLAR OF LIGHT
CHAPTER 13, CHRONICLE OF THE PILLAR OF LIGHT
CHAPTER 14, CHRONICLE OF THE PILLAR OF LIGHT
CHAPTER 15, CHRONICLE OF THE PILLAR OF LIGHT
CHAPTER 16, CHRONICLE OF THE PILLAR OF LIGHT
CHAPTER 17, CHRONICLE OF THE PILLAR OF LIGHT
CHAPTER 18, CHRONICLE OF THE PILLAR OF LIGHT
CHRONICLE OF THE ORACLE OF MENO A. S. 1938-1941, St. Roderick's Secret How a Basque patriot, deserting the Loyalist army in the Spanish Civil War, became a free lance secret agent for the British side against the Nazis, luring Shickelgruber into the race for a Super-Bomb while withholding vital information that would have made the Nazi project a success.
CHRONICLE OF THE ORACLES OF MENO, VOL. IV, RETROSTAR
CHRONICLE OF THE RAG DOLL A. S. 1943, Christmas at Auschwitz How a young, brilliant, blind chemist, soon to perish in a gas chamber, afraid it was all for nothing, was given unmistakable proof her life was divinely touched. CHRONICLE OF THE RAG DOLL
CHRONICLE OF THE BAYEUX TAPESTRY'S SECRET PANELS A. S. 1944, Questioning the Sphinx How nuns guarded what came to be known as the world's most famous tapestry, the one detailing the Norman invasion of England in 1066, and how an American nun, an expert in tapetries, discovered additional panels that had not been sewn onto the masterpiece--panels that had been kept secret for the obvious reason they were found so disturbing because they were so prophetic about the world to come.
CHRONICLE OF THE BAYEUX TAPESTRY'S SECRET PANELS, Vol. IV, Retro Star
CHRONICLE OF THE BROKEN GLASS A. S. 1945, 1. Legacy How the victorious chieftains at the Potsdam council meeting from Britain, the U.S., and the Soviet Union, in the name of peace started the "War of Ice," and how Britain's "Tube Alloys" nuclear project came to nothing with suppression and disappearance of vital M-2 intelligence, and President Truman's ace in the hole, the Manhattan Project's Super-Bomb, fizzled at Alamagordo--apparently forcing America to join forces with Britain and Stalin's Russia to fight on to the finish with conventional forces against Premier Hideki Tojo's best troops and, unknown as yet to the Allies and their war planners, a whole nation swept by Kamikaze, the "Divine Wind".
CHRONICLE OF THE BROKEN GLASS, PART I, VOL. IV, RETROSTAR
2. The Pack Rat How a peddler of information, selling whatever he dug up to the highest bidder, happened on a deadly superweapon--one of three that Senhor Averinata had offered the British--that later would be used to help tip the scales against America in favor of the United Nations and a world government. To the Jews the crushing of the wine glass in a Jewish wedding recalled the destruction of the Temple by the Romans in ANNO 70, but to the Basques, it meant the whole universe was shattered--never ever to be put back together as it had been. (How could he barter and trade the destinies of whole nations as if they were trinkets and trifles? Peddlers, like foraging rats, consider only the present moment, and the penny or two gained or lost--never the long haul, which is, for a peddler, far to frightening to even consider in a rodent-type mind. Without the ship, the rat would drown in the open sea. Yet it infests the ship, spreads its diseases with its own dirt, and gives the crew a deadly plague, and the ship, without anyone to guide it to safety, strikes a rock and sinks, drowning the rats who caused the disaster. This has happened countless times. Their own nature, thus, gnaws off the rope that holds them above the pit. Pity the civilization where such men, such vermin, proliferate and gain high office! And you can always tell the end is near when such are numerous and run free, from deck to deck!).
CHRONICLE OF THE BROKEN GLASS, PART II, VOL. IV, RETROSTAR
3. The Angels of USS Indianapolis IP How on July 29, following the successful test of a new death ray in the first week of July, that dissolved atomic structures and could fuse human flesh to metal, a battleship was loaded with the deadly "gadget" and sailed for Tinian, an island in the Marianas Chain. Locked in a steel box bolted to the deck of the captain's cabin, the weapon that would knock the Japanese on the home islands to their knees would be assembled in the secret facility at North Field on Tinian, then deployed by aircraft over the first test cities of Tokyo and Kyoto, the two most revered cities in Japan and the centers of Japanese cultural life. How the best laid plan of the war came to naught, with details of immense tragedy and even angelic intervention that were so explosive in nature they could never be revealed to the American public.
CHRONICLE OF THE BROKEN GLASS, PART 3, VOL. IV, RETROSTAR
4. The Divine Wind How Operation Downfall, the invasion of the Japanese home islands, ultimately succeeded but without superweapons proved so costly to America and Russia that they had cause to recall King Pyrrhus of the Greek kingdom of Epirus, who conquered Roman armies on their home turf but sustained such heavy losses he complained in his famous statement known for its unforgettable pathos, "Another such victory and I am ruined!"
CHRONICLE OF THE BROKEN GLASS, PART 4, VOL. IV, RETROSTAR
CHRONICLE OF THE HORSE OF NAKING A.S. 1947, A light in Prison; A.S. 1950, Victory in Shibuya How a flier with Colonel Doolittle on his surprise raid of Tokyo afterwards was himself surprised to find there was a way out of the all-consuming hatred he felt for the Japanese guards who were starving and torturing him and other P.O.W.s.
How the mission commander of the Japanese squadron that devastated Pearl Harbor's naval force met the flier after his release and how a great light was passed from the dark hole of Nanking to the former mission commander in Tokyo"s Shibuya Train Station.
CHRONICLE OF THE HORSE OF NANKING, VOL. IV, RETROSTAR
CHRONICLE OF THE WINTER SACRIFICE A. S. 1947, 1. Winter's Child How deeply the alien star's rays penetrated postwar America, and how an old farmer's beloved son was killed in the Wioteheka hi, Month of Terrible Moons. 2. Plain View Farm How two deaths in a fiery plane crash were needed to thaw the frozen hearts of two other men.
CHRONICLE OF THE KILLER BEAR'S DESCENT A. S. 1951, The Bear and the Lamb How Djugashvilli fared, while on the operating table in the Kremlin, as a small army of surgeons desperately tried to preserve his life after a massive sroke; how they failed and Djugashvilli, an atheist, found himself still alive, imprisoned in an Afterlife cell which could only be described as hellish. How things got progressively worse for him, as he encountered a strange Jew wearing a prayer shawl and next faced a Judge sitting on a throne so immense it couldn't be anyone less than God sitting upon it, and how he was judged by the testimonies of thirty or so millions he had had tortured and slain, and how after that he found himself shunted into a burning lake of blast furnance intensity, and how he, like all the others in it, were forgotten.
CHRONICLE OF THE KILLER BEAR'S DESCENT, VOL. IV, RETROSTAR
CHRONICLE OF THE MAN LIKE A BRIDGE A.S. 1956, The Search How a young woman of the First World discovered the way back to her lost childhood faith, a faith that carried her all the way to Third World Cameroon wilderness in West Africa where it finally set its roots deep and briefly bloomed. CHRONICLE OF THE MAN LIKE A BRIDGE
MYSTERY CHRONICLE OF THE 50TH ANNIVERSARY A. S. 1962 The Phantom Ship How Lt. Greg Culpepper's life and career took a radical turn and plunge to the bottom of society after a storm at sea and his sighting of the R.M.S. TITANIC going down as he was inspecting the lighthouse facilities at Cape Disappointment and North Head on the mouth of the Columbia River, Washington State. MYSTERY CHRONICLE OF THE 50th ANNIVERSARY, VOL. IV, RETROSTAR
CHRONICLE OF EDYTH'S GOLDEN CROSS A. S. 1963, A Truth Not Told How Miss Edyth Hamilton, humanist, classicist, and world-renowned authority on Greek and Norse mythology, was strangely confronted on her deathbed with certain false premises that undergird her whole life-work.
CHRONICLE OF EDYTH'S GOLDEN CROSS, VOL. IV, RETROSTAR
CHRONICLE OF THE LADY OF THE SPARROWS, A Tale of Old New York and Central Park A.S. 1964, Lucky's Big Strike How Lucretiza Tisdale, a spinster lady in her nineties, fed the sparrows of Central Park faithfully every day and how her death under the wheels of a beer truck brought changes, through the very sparrows she had given soda crackers, that she could not otherwise have achieved at her age and with her insignificant, sparrowlike strength.
CHRONICLE OF THE LADY OF THE SPARROWS, VOL. IV, RETROSTAR
CHRONICLE OF THE FIGHTING ANGEL, PARTS I AND II A. S. 1963 How the Swensons, a young American newlywed couple, in training for the mission field, took a break from language school in Paris, and came to a crisis of their relationship and a man's faith in God on and beneath the Mount of St. Miguel, the Fighting Angel.
CHRONICLE OF THE FIGHTING ANGEL, VOL. IV, RETRO STAR
PART II: How the Swensons came to share their Christmas with the Fulani Tribe in Cameroon, West Africa, and how their cheer spread from there as far as the stars to a lost tribe of the Alpha Centaurii.
PART II, CHRONICLE OF THE FIGHTING ANGEL AND CHRONICLE OF THE LOST TRIBE (VOL. VI, NATAL CONVERGENCE, "A FULANI CHRISTMAS," RETRO STAR
CHRONICLE OF THE REVIVAL OF HAGIA SOPHIA A.S. 1968 How Lidia, a Greek Orthodox nun, ventured from her safe refuge in a convent in Athens, to return by tourist boat to her lost homeland in the Turkish nation that had forced her family to flee for their lives in the savage. almost genocidal war that broke out between the Greeks and Turks after World War I. How she learned things she did not expect from her day trip and contact with the enemy occupying her people's chief city and seat of the Greek Orthodox Patriarchate of Constantinople and East Rome. How she received a gift she would always treasure--and ceased feeling herself robbed by the Turks though they had taken her Greek homeland as their own and pushed out virtually all her fellow Greeks.
CHRONICLE OF THE REVIVAL OF HAGIA SOPHIA, VOL. IV, RETROSTAR
CHRONICLE OF THE SHOW ME STATE'S PROPHET (EARTH I) A. S. 1966, Elijah's Mantle How young and aspiring Brad Bright Jr. dreamed of becoming a prophet to "Holy Spirit-led, on-fire" Pentecostal churches in Missouri, his home state. How his promising life was cut short by a fatal collision with a tree when he was driving his truck home from a church youth meeting, and how his dream of ministry was defeated only temporarily, as a bit later he was brought back to serve with Elijah's mantle in the war against the AntiChrist Beast and his prophet during the post-Rapture Tribulation Period.
CHRONICLE OF THE SHOW ME STATE PROPHET, VOL. IV, RETROSTAR
CHRONICLE OF THE GIANT CHIEFS A. S. 1972, Two Sayings of Uwe Hantsbo Regarding the Atlanteans: Elektra's Sad Fate, and Atlantis on the rocks, anyone? How the Earth's tribe of original giants that stood like the tallest trees on Earth lived in a vast land that sank beneath the Eastern Sea.
CHRONICLE OF THE BLUE BRIDGE SALIENT A. S. 1973-1978 Even while the armies of France, Britain, and America struggled unsuccessfully in southern Asia to push back the communist forces from the north, a greater battle was being fought among the stars. How Atlantean star fleets combined with the red star and other star-stones to force an entry into the Great Nebula in order to destroy the protective forces centered at the Blue Brige. How, nearly successful, they were rebuffed, forcing an Atlantean subcommander to retreat to Earth.
CHRONICLE OF THE BLUE BRIDGE SALIENT, VOL. IV, RETROSTAR
CHRONICLE OF HANTSBO'S NOTES A.S. 199?, On the Bipedal Workforce of 1994tk66--A Flying Texas How Uwe Hantsbo discovered on a planetoid a most interesting cache of mutants, freeze-dried specimens of the very kinds that had been proposed by a Washington geographical society in its magazine to be authentic human prototypes proven by science and archeology. The only problem, as Hantsbo points out, is that they were found all mixed together, obvious contemporaries, not separated by millions of years or mere hundreds of thousands as was said to be the case by the East Coast Brahmin evolutionists entrenched in the powerful, elitist geographical society.
CHRONICLE OF HANTSBO'S NOTES, VOL. IV, RETROSTAR
CHRONICLE OF THE ICE BIRD, PART II A. S. 1973, Voyage of the PRION Inspired by Shackleton's legendary heroism, how an exlorer from New Zealand set out to be the first to circumnavigate Antarctica in a small boat solo, and stumbled into an unknown "Devil's Triangle" of ancient Atlantean orgin just off East Antarctica's Ross Ice Shelf that changed his course so radically he was propelled in space and also time as far as an ancient Atlantean outpost opposite the gate of the Great Nebula of Orion--the very site of what Tennison the Poet Laureate of Britain described as holding a "vast mystic charm." CHRONICLE OF THE ICE BIRD, PART II, VOL. IV, RETROSTAR
MYSTERY CHRONICLE OF THE WHITE CANOE A. S. 1977, Fairwind in Deep Waters How a young electric plant operator of mixed working class and New England blue blood background takes a cruise into the unknown mysteries of time and space aboard what had first seemed a New York based cruise ship on its way to Peru.
MYSTERY CHRONICLE OF THE WHITE CANOE, VOL. IV, RETRO STAR
CHRONICLE OF THE ICE BIRD, PART III A. S. 1978, Cavendish in the Sky with Diamonds A somewhat crusty curmugeon of a retired journalist, in remission from cancer but angry over the recent loss of his wife to the same disease, reflected on the supreme irony of his life. He had planned his retirement so differently! He had just begun writing poetry, meditations, and music under a nice nom de plume when his new, promising, third career of letters and music was stopped right in its tracks by a disaster in his own home: his wife had taken deathly ill. Cancer! Now he was too sick to go on writing and composing--even though the time to do it was his again, lying heavy on his weak, trembling hands. Feeling like the icy, polar coulds of Global Freezing would hang over his head until he died, he goes out into his ruined and half-frozen back yard and changes places with a Prion, a polar bird that has wandered into his garden and died. Somehow the bird in death becomes him, giving him wings of a starship that can touch the farthest stars and Orion, Gateway to the Morning, where something bright and shining with destiny for everyone on earth seemed to open to him.
CHRONICLE OF THE ICE BIRD, PART III, VOL. IV, RETRO STAR
CHRONICLE OF FOXY PASSES A. S. 1983 How Skip Cavendish, alias Stuart Hawkins, wrote a poetic tribute to "Foxy," a local political icon, and, drawing upon his first career in vaudeville, made a last and notable performance at the Capitol theatre before a packed house of State socialites, government leaders, and the wealthy. How the very people preyed upon Hawkins's former schoolmate, Franklin Delano "Foxy" Benedict, the state capital's foremost "facilitator" and master of the incurably corrupt government patronage system, watched in growing disgust and anger as their bizarrely costumed impresario tore Foxy's mask off in verse after verse; how the old fox could still run (or at least roll) from his pursuers, but he still could not escape his and his enemy Cavendish-Hawkins' destinies being woven together in a strange, future cyber-world that neither could have imagined, long after Foxy and his nimble "smarts" had suffered an Ichabod-like fate.
CHRONICLE OF FOXY PASSES, VOL. IV, RETROSTAR
CHRONICLE OF THE LADY OF THE ANCHORED A.S. 1983 On the Trail of St. Paul How Prunella, a sedate altar guild woman from the Midlands, England, on tour with a cruise ship company in the Middle East, finds release from a crushing depression over the accidental death of her daughter.
CHRONICLE OF THE LADY OF THE ANCHORED, VOL. IV, RETROSTAR
CHRONICLE OF THE SURVEYOR OF THE QUEEN'S PICTURES A. S. 1983-, The Knight of Darkness How Sir Anthony Blunt and his fellow Cambridge-educated colleagues became involved in a secret spy ring inside the British secret services, serving not Fascism but Soviet Russia during part of the Second World War and for some years of the following Cold War with Soviet Russia. How Sir Anthony "retired" from being a double agent to being the Surveyor of the Queen's Pictures, with the responsibility for all the Queen's artworks in the royal palaces, but how he was exposed as a spy and found guilty but was allowed to retire with some dignity to his home, while his co-conspirators fled to Soviet Russia. How in dying they singly and together discovered an Afterlife their Darwinistic beliefs had denied was possible, which delegated them to a new venture just as exciting as betraying their own country and serving her arch enemy--a contest involving the Golden Fleece and a rival ship called the Argo.
CHRONICLE OF THE SURVEYOR OF THE QUEEN'S PICTURES, VOL. IV, RETROSTAR
CHRONICLE OF THE FURLED SAIL, THE UNQUEST OF LARRY PRUFROCKSKI, A. S. 1986, The Man Who Never Launched Forth How Larry Prufrocksi, a union man and a railway worker from the Pacific Northwest, took one of his periodic tours abroad, this time a tour to Russia, Siberia, and Mongolia, naturally encountering a set of new circumstances, but meeting them with his same characteristic determination never to be changed by any of them. And he wasn't changed--right up to the moment his Air France flight, on its return to the U.S., swerved back from Long Island and vanished in what was thought to be an northern extension of the Bermuda Triangle. Pieces of the wreckage were found, however, and enough fusilage so that some artifacts and possessions of the doomed passengers were retrieved by the investigative teams. Among the items was a travel journal, kept by Larry, telling about the entire tour in his usual neat, square-lettered, no-nonsense style of writing, the same style he used for making out railway reports. Sent by mistake to the lone tour member who survived, a woman who had been kept behind in Moscow due to a sudden stomach problem, the journal was sent on to the surviving family, with her comments and condolences entered in the unused pages.
CHRONICLE OF THE FURLED SAIL, THE UNQUEST OF LARRY PRUFROCKSKI, VOL. IV, RETROSTAR
CHRONICLE OF THE SACRED COWHIDE PAINTER A. S. 1987, Ira's Letter to the 11,000th Century How an artist's paintings for a B.I.A.-Lakota Christmas arts and crafts competition were preserved for a tribe of Wasichu lost seemingly forever among the lodges of the stars.
CHRONICLE OF THE SACRED COWHIDE PAINTER
CHRONICLE OF THE LION'S DESCENT, A. S. 1995, "The Lion's Descent," Part I, "The Lion's Legacy," Part II, How a U.S. Supreme Court Justice who was a very nice and likable gentleman became responsible for a once great and godly nation's descent into self-destructive depravity and violence and also for more deaths of Americans than were slain in the death camps of Himmler and Hitler (Earth I), and how he fared in Hades (Hell) after his death.
CHRONICLE OF THE LION'S DESCENT, VOL. IV, RETROSTAR
CHRONICLE OF UWE HANTSBO'S NOTES A. S. 199?, On the Bipedal Workforce of 1994tK66, A Flying Texas How Uwe Hantsbo points out certain rather glaring flaws in the evolutionary timeline and evolutionary theory after seeing the flaws in question with his own eyes, frozen specimens of hominids and so-called human precursors, flying aboard a Texas-sized hunk of rock; how their existence supports his own view that highly intelligent, highly terrible ante-humans he names as the Atlanteans were responsible for the Dachau-like work camp on the asteriod.
CHRONICLE OF UWE HANTSBO'S NOTES, VOL. IV, RETROSTAR
CHRONICLE OF THE GREAT WEAVER PEOPLE A. S. 1997, The Secret of Dream Catching How Horace Brave Scout wanders the Southwest and finds his life-guiding vision among the caves and baskets of an extinct tribe. CHRONICLE OF THE GREAT WEAVER PEOPLE
CHRONCLE OF THE UTERO-NAUT A. S. YEAR OF THE CHILD, PART I, Orientation How Shawnta, a 19 year old wannabe careerist like her single mom, was processed at the local abortion mill newly opened in her black neighborhood.
CHRONICLE OF THE UTERO-NAUT, PART I, RETROSTAR
PART II, The Argonaut How Shawnta's unborn child (no such thing as "fetus" ever existed on earth), genius that he was, got going with the name of Jason on a very promising career that might well have benefited the whole society and probably the world, but was rudely interrupted by an abortionist's foreseps, scizzors, and vacuum--but also how the Master Plan created by the FC kicked in with a contingency plan to restore Jason's life and future.
CHRONICLE OF THE UTERO-NAUT, PART II, VOL. IV, RETROSTAR
CHRONICLE OF THE PEARLY GATES A. S. 1998, How a Pearl Was Made How a farmer's daughter's experiences in life and her decision to be forgiving came to form one half of a gate of heaven.
CHRONICLE OF THE PEARLY GATE, PARTS I-II, VOL. IV, RETROSTAR
CHRONICLE OF THE GRAND PUZZLE--Earth I A. S. 2001- How Anatoly, a survivor of a notorious Nazi death camp where Anne Franke and her sister perished along with tens of thousands of other Jews, spent his convalescence and waiting period to go to Israel by playing the lottery after the camp was in the hands of the Allies; how he shattered the laws of probability by never losing and always managing to win back his stake; how this impossible gambling feat came back to haunt him in the last minutes of his life as he lay dying in a Denver hospital, but how the Hound of Heaven led him to win the Jackpot of life, the greatest prize of all.
CHRONICLE OF THE GRAND PUZZLE, VOL. IV, RETROSTAR
CHRONICLE OF THE LOST CITY A. S. 2002, Last Breakfast in the West Wing; Melt-down on Pennsylvania Avenue How the Wasichu of the U. S., in moral and political decline over against the British Commonwealth ever since Potsdam despite the highly-publicized moon and space programs of NASA, are struck by an invisible enemy and lose all their chiefs at once, and chiefs from the rest of the world come and set up a new council fire for the nation on Manhattan Island.
CHRONICLE OF THE MILLION MAN FLESH-EATER, VOL. IV, RETROSTAR
CHRONICLE OF THE DEAD MOVIE QUEEN A. S. 2003, The Burning of Coburn How a Hollywood legend found that all her fame, fortune, and feisty feminism couldn't erase the incredible after-death reality that was evidently turning against her--not only did she find she existed when she should have dissolved into nothingness, but all sorts of strange, powerful beings seemed intent on judging her and then throwing her into what appeared to be a Pacific Ocean set on fire.
CHRONICLE OF THE DEAD MOVIE QUEEN, VOL. IV, RETROSTAR
CHRONICLE OF MOSHE, HONORGUARDSMAN A. S. "Night of the Iguana" How on Earth I, Moshe Benlevi, a young Israeli soldier, a freedom-loving Sabra, was chosen to be a part of Michael Jayson's honor guard in Israel when the EU President arrived there for the signing of his "eternal peace" accord he had brokered with the Palestinians and the Israelis. How Moshe tasted sour grapes in the deal and decided to stop the world (at least his slice of it) and get off, but how he was intercepted by someone he hadn't included in his life's equation.
CHRONICLE OF MOSHE, HONORGUARDSMAN, VOL. IV, RETROSTAR
CHRONICLE OF DJUGASHVILLI'S SERVANTS A. S. 2024 The Titan of CNNC A hostile takeover by Ted Hunter of a competing Christian network, Alpha-Omega, backfired tragically for him when his wife, converting to Christianity right in his own penthouse on top the CNNC Towers in Manhattan, took A-O's side in opposing him. A takeover that was supposed to be routine, thanks to his billions and an army of corporate lawyers, became a living nightmare when he met a world-class power player in A-0 that more than proved his match.
CHRONICLE OF DJUGASHVILLI's SERVANTS, VOL. IV, RETROSTAR
CHRONICLE OF THE FALLEN GIANT A. S. 2024, How the Dominion of Canada, like the Humpty Dumpty the ill-starred egg man in children's nursery tales, broke up due to the disastrous effects of resurgent glaciation but could not be put back together; how it gained an ephemeral capital called Flin Flondia, once called the "Sunless City," in a book by that name.
CHRONICLE OF THE FALLEN GIANT, VOL. IV, RETROSTAR
CHRONICLE OF THE LAST CAMELOT A. S. 2170-, 1. Idylls of the King
CHRONICLE OF THE LAST CAMELOT, PART I, VOL. IV, RETROSTAR
2. The Panther's Jaws
CHRONICLE OF THE LAST CAMELOT, PART II, VOL. IV, RETROSTAR
3. Women and Children First!
CHRONICLE OF THE LAST CAMELOT, PART III, VOL. IV, RETROSTAR
4. Le Morte D'X-2914000?
CHRONICLE OF THE LAST CAMELOT, PART IV, VOL. IV, RETROSTAR
5. "Merry Christmas from Lyonnesse"
CHRONICLE OF THE LAST CAMELOT, PART V, VOL. IV, RETROSTAR
6. Wotoo's Black Box; The Duck King
CHRONICLE OF THE LAST CAMELOT, PART SIX, VOL. IV, RETROSTAR
7. Last Wagon Train to Avalann How the Royal Tribe of Windsor fared in exile on a base off Charon, Pluto's moon, and how they adapted to the loss of Earth and the dissolution of the monarchy
CHRONICLE OF THE LAST CAMELOT, VOL. IV, RETROSTAR
CHRONICLE OF THE STAR CHAMBER A. S. 2363, Christ in Atlantis? How Professor Pikkard was tried before a university panel for his heretical views and found guilty without evidence to refute his case.
CHRONICLE OF THE STAR CHAMBER, VOL. IV, RETROSTAR
CHRONICLE OF CHRISTUS TRIUMPHANS, Parts I, II, & III A. S. 2392, The Christmas Factor How Dr. Pikkard, meditating on the mystic Teilhard Chardin's visionary commentary on a medieval painting portraying a "standing" not a "hanging" Christ on the Cross, went on to reflect as well as the Incarnation of Yeshua, and how he concluded that a mystic thread connected all things, even to the blood of the human body, but that he had to wait for a "later" and "younger" talent to make it known scientifically. How, unknown to him, that younger visionary came to be his own predecessor, a Darwininian Establishment-challenging young man named Behe in the 20th-21st centuries, along with his contemporaries, Gabriel Tall Chief and Horace Brave Scout, who traced golden threads and lesser threads in a grand "blood cascade" of their own in the chronicles they brought forth.
CHRONICLE OF CHRISTUS TRIUMPHANS, VOL. IV, RETROSTAR
Book Two
CHRONICLE OF YOSEF'S PILGRIMAGE A. S. 4117, Flight to Avaris How Yosef and his young wife Maryam, with Maryam's newborn Yeshua the Promised Messiah of the Jews, fled from troops and spies of Herod the Great to safety in Mizraim, and how they journeyed back to Nazareth, their natal city, once Herod was dead.
CHRONICLE OF YOSEF'S PILGRIMAGE
CHRONICLE OF THE SECOND RESURRECTION A. S. 4150, Secret Sharers, Part II How the Second Zechariah the prophet, slain in the temple courts alng with many other prophets and saints, rose from the dead as a sign of the resurrection of the Messiah way back in A.S. 30, and how he went into the holy city and appeared to many, after which he was triumphantly escorted by angels to heaven's paradise--a spectacle first recorded, with certain new additions to the Resurrection Rolol, by Secret Sharer Josheph of Arimathea.
CHRONICLE OF THE SECOND RESURRECTION, VOL. IV, RETROSTAR
UNCHRONICLE OF THE CHRISTMAS PLAY A. S. 4 6 5 ?, "Merry Christmas from Lyonnesse," A Play, How a miserly, cruel banker seeks to destroy a whole town he has foreclosed on, closing down the only means of employment, the town mill, and how a small girl, Emily Cogwell, revives faith and hope in the people by refusing to give up her own in the bitter circumstances of poverty and homelessness, and how she turns and saves the banker when he experiences a change of heart after seeing her standing alone in the town square holding the Nativity Scene's Christ Child doll.
UNCHRONICLE OF THE CHRISTMAS PLAY, VOL. IV, RETROSTAR
CHRONICLE OF THE DRIED SPRINGS IP A. S. 4760, A Chief's Son Named Laughing Waters How an old chief and his old wife who had no children were promised a son by God, and the old woman laughed, yet later she conceived and gave birth to a beautiful son she named Minnehaha.
CHRONICLE OF THE PEARL DIVER A. S. 5927 -, Shipwreck of Dreams How a despised half-breed, part Keftiuan and part Myceneaean (both nations bitter enemies in the world) and Prince Daedalus do not get along and almost come to blows over the pretty orphan girl Theseus runs off with, and later after the girl's death (and the shipwreck of Theseus's dreams) how they find a way past hatred and revenge. CHRONICLE OF THE PEARL DIVER, VOL. IV, RETROSTAR
CHRONICLE OF THE FIRE WATER MAKER A. S. 5931, The Chosen How a brewery malt masher got herself a mighty warrior as a husband, and how her head was knocked in by other poor women, and left to die, but a great chief's prayer gained her the ear of the Most High and she was healed. CHRONICLE OF THE FIRE WATER MAKER, VOL. IV, RETROSTAR
CHRONICLE OF THE BLESSINGS OF THE BREASTS A. S. 5932-, The Wayward Vine How the births of two sons, Manasseh and Ephraim, comforted and cheered Joseph in the land of his bondage, but how his beloved wife and companion's heart turned toward her people and away from her husband.
CHRONICLE OF THE BLESSINGS OF THE BREASTS, VOL. IV, RETROSTAR
TWIN CHRONICLE OF THE AMBUSHED MAIDENS, TWIN CHRONICLE OF THE AMBUSHED BRAVE A. S. 5934, 1. Dawn Flower
TWIN CHRONICLE OF THE AMBUSHED MAIDENS, VOL. IV, RETROSTAR
2. The Prince of Gilead
TWIN CHRONICLE OF THE AMBUSHED BRAVE
How a chieftain's daughter and her maid-servant fought for their virtue; how the maid-servant escaped to safety and found a young man she could make her husband; how a prince, robbed of all his wealth, was left for dead in the desert, and how he found a greater wampum.
CHRONICLE OF THE BITTER ROOT A. S. 5938, Abdullah's Return How good times fattened Abdullah but did not improve his character, and how resentment and blood revenge took root in his heart, and how he could not rest until he avenged his brethren's deaths on the head of the chief of those he held responsible--Joseph. CHRONICLE OF THE BITTER ROOT, VOL. IV, RETROSTAR
CHRONICLE OF FAT WOLVES AND HUNGRY PEOPLE A. S. 5941, Part I, A Bruised Reed and a Broken Staff; Part II, The Return of the Brothers How the little family tribe of Joseph's father began to starve in their desert hogans and needed to go for provision in another country where there was said to be abundant food and water, thanks to a most far-seeing ruler in it who had set aside one fifth of the harvest for seven straight years of abundant harvests.
PART II, CHRONICLE OF THE FAT WOLVES AND LEAN PEOPLE, VOL. IV, RETROSTAR
CHRONICLE OF THE FAR-SPEAKING VASES A. S. 5931-, 1. Secret Diary of Ipu-Pheres (cont. by Benohe-Pheres); A. S. 5942, 2. Letters of Ipu-Pheres, Jonathan H. Thompkins, and Bertha Mae 3. Letter to Reader by Editor of the 23rd Edition of RETRO STAR series. How spirit-house shamans who have not yet been born could talk to people in stone tipis which had long since vanished under the ice. CHRONICLE OF THE FAR-SPEAKING VASES, VOL. IV, RETRO STAR
CHRONICLE OF THE BLESSINGS AND CURSINGS A. S. 5957, Jacob's Last Testament How all his sons received their future shares in the Promised Land and how his blessings in some cases seemed more like curses; how Jacob's embalmed body was carried back to Ken'an and buried with his father's bones. CHRONICLE OF THE BLESSINGS AND CURSINGS, VOL. IV, RETROSTAR
CHRONICLE OF THE BLESSINGS OF THE EVERLASTING HILLS A. S. 6011, The Kingdom Pledge How Joseph, on his deathbed at age 110, prophesied that his bones would not lie forever in Mizraim, but they would be gathered to his fathers in the Promised Land by his people. How seventy five years of great blessing followed Joseph's death, but then enslavement of the Hebrews began. How blessed was the one piece of ground, the field outside Shechem, owned by the people of Jacob and Joseph. CHRONICLE OF THE BLESSINGS OF THE EVERLASTING HILLS, VOL. IV, RETROSTAR
CHRONICLE OF A CLOUDY AND DARK DAY A. S. 6719, A Mighty Chief Called Barley Cake How one young brave was chosen by God to fight tribes of thousands of enemies that oppressed and starved his people, coming every year and taking all their food away. CHRONICLE OF A CLOUDY AND DARK DAY, VOL. IV, RETROSTAR
CHRONICLE OF THE GIANT-SCALPER A. S. 6852, The Runt of Ephratah How a tribesman of tiny Ephratah, smallest portion of a small country, he himself youngest in his family and despised by his brethren, killed and scalped a giant warrior and became the chieftain of the whole country and one of the most famous kings in human memory and whose second name is spread over the whole earth.
CHRONICLE OF THE GIANT SCALPER, VOL. IV, RETRO STAR
CHRONICLE OF THE CHIEFTAIN'S DAUGHTER IP A. S. 8732, Elektra's Contingency Plan--Implemented How a chieftain's daughter lost her last sky-canoe and seemingly all her people but found a tribe who didn't know better and took her along with them.
CHRONICLE OF THE CHIEFTAIN'S DAUGHTER
CHRONICLE OF THE NIGHTENGALE A. S. 9,857, The Boy Who Sang a Lion to Sleep How a castaway son of a canal beggar and a prostitute became the savior of his sea island home city and people of Baton Roo, when they faced their greatest peril and were about to be destroyed by an armada of hundreds of ships and thousands of cannons.
CHRONICLE OF THE NIGHTENGALE, VOL. IV, RETROSTAR
CHRONICLE OF THE SEVEN STARS, THE GREAT WHITE CHAIR, AND THE END OF EARTH'S SKY-TRAIL AND THE GREAT LAST COUNCIL FIRE (EARTHS I AND II) Z-Point II
GREAT LAST COUNCIL FIRE, VOL. IV, RETROSTAR
1. Z-Point Deferred: Battle of the Seven Stars How, on Earth I, the "Light Bringer" Lucifer attacks the Seven Agensl of the Seven Cburches, determined to gain absolute control of Earth I, and how he uses this attack as a feint in order do the most damage he can to his true objective: the Blue Bridge of Orion that contains, he senses, to the Plan of Restoration for both Earths and their Universes.
CHRONICLE OF THE SEVEN STARS, VOL. IV, RETROSTAR
2. Part I: The Sentencing Trial: The Great Assize Part I How all the people who had done bad things were shown what they had done and were cast alive into the mouth of a Star-Eater along with all the spirit-creatures that lodged inside the enemy stars. Part II: City of Destruction How the cities and nations were judged and then their names and official seals and insigne cast into the Pit, and all memory erased in the mind of God of their former existence.
CHRONICLE OF THE GREAT WHITE CHAIR, VOL. IV, RETRO STAR
Part II, CHRONICLE OF THE GREAT WHITE CHAIR, "CITY OF DESTRUCTION, the "Emerald City", VOL. IV, RETROSTAR
CHRONICLE OF THE BLUE BRIDGE LINKING CHAMPIONS--EARTH I AND EARTH II How the Bridge once linking the Twin Earths was restored in the Cavern of the Great Nebula of Orion, a work that spanned the ages and completed the destiny of both worlds; how the choice to forgive by one wounded human being, a pioneer Exoduster's daughter from a farm in Kansas, joined the two half-spans together forever.
CHRONICLE OF THE BLUE BRIDGE LINKING CHAMPIONS
2. Homecoming of the City of the Great Chief IP How the council gathering of the Lamb of God, finished after an eternity of careful construction, came down from heaven and set upon the center of restored Israel, where the Nail-Pierced One and his tribes would rule the Earth's nations for a thousand years until the Final Reaping of the Earth.
Volume V Beyond the Rapture--An Eschatology Lived,
Chronicled by Horace Brave Scout
CHRONICLE OF THE GREAT CHIEF'S RETURN A. S. 200? How Yeshua comes to Earth I, unexpectedly to most people, gathers those few "Wise Virgins" who are prepared, and leaves those who were tremendously successful followers, they thought, only to find themselves lumped with the ungodly in a world society racing toward the abyss. How Heloise Turnbull, the televangelist, lost her world-wide organization and wealth along with her husband and family but found new life and a new ministry in Israel where she fled to escape the collapse of everything she had achieved.
PART ONE, BOOK ONE, JACOB'S TROUBLE, "THE VOICE FROM THE GROUND"
"Thief in the Night," Part Two, Beyond the Rapture
"The Spin Shamans," Part Three, Beyond the Rapture
"luv heat and the marcyz boyz," Part Four, Beyond the Rapture
"Hard Choices, Part Five, Beyond the Rapture
"The Wailers at the Wall," Beyond the Rapture
"Shelter from the Storm," Part Seven, Beyond the Rapture
"A Covenant God," Part Eight, Beyond the Rapture
"The Lion Unleashed," Part Nine, Beyond the Rapture
"Retreat to Petra," Part Ten, Beyond the Rapture
Book II:
Book II, Yom Kippur, Chapter 1, Volume V, Beyond the Rapture
Book II, Yom Kippur, Chapter 2, Volume V, Beyond the Rapture
Book III
Book III, The Seventh Day, Chapter 1, Volume V, Beyond the Rapture
Volume VI Natal Convergence
by Horace Brave Scout
CHRONICLE OF THE LOST TRIBE A. S. 1,136,786 How the Alpha Centaurii discovered an archive of Late Twentieth Century artifacts in a time capsule, and information revealing a Magnum Mysterium that revolutionized everything, to the point where they chose the dreaded White Martyrdom, a final search of the Universe for what they had lost, in which they discover what Ira Sulkowsky has already shown them in.... "The Christmas Factor" 61000202A-Z, Subfile A1, "Dogon Star Child"
61000202A-Z, Subfile A2, "Lakota Nativity" 61000202A-Z, Subfile A3, "A Victorian Christmas" 61000202A-Z, Subfile A4, "Christmas with James Dean"
"Subfile A4: Christmas with James Dean, A Requiem with Poinsettias" 61000202A-Z, Subfile A5, "A Fawn in Winter" 61000202A-Z, Subfile A6, "A Fulani Christmas"
"A Fulani Christmas," Vol. VI, CHRONICLE OF THE LOST TRIBE, RETRO STAR
61000202A-Z, Subfile A7, "Street of Dreams" 61000202A-Z, Subfile A8, "Winter Rose"
CHRONICLE OF THE LOST TRIBE, WINTER ROSE, VOL. VI, RETROSTAR
61000202A-Z, Subfile A9, Act III, "Christmas from Lyonnesse"
61000202A-Z, Subfile A10, ACT III, "Joseph's Letter"
CHRONICLE OF THE LOST TRIBE, VOL. VI, "Joseph's Letter," RETROSTAR "Natal Convergence!"
Volume VII Final Wars...Convergence at Orion by Horace Brave Scout IP
How two major battles fought for Orion and its secret "Skunk Works" resulted in the destruction of the chief project, the Blue Bridge, to the point where only half survived in each Universe; and how a single act of an individual was strong enough to unite the two halves into one whole, thereby completing the bridge and defeating the opposing players.
Epilogue II EPILOGUE II, "THE HARROWINGS OF HADES AND HELL," RETRO STAR

NOTE OF FRIENDLY REMINDER TO DOWNLOADERS: THIS CONTENTS PAGE DOES NOT LIST A GREAT MANY COMPLETED CHRONICLES, SO THERE IS NO WAY DOWNLOADING CAN OBTAIN THE COMPLETE RETRO STAR SERIES. THERE IS, I AM INFORMED, A CERTAIN STARLIKE ALIEN ENTITY THAT IS BEING FEATURED BY SOMEONE, AND THIS OF COURSE IS MY OWN COPYRIGHTED INTELLECTUAL PROPERTY--"BORROWED" FROM MY OWN STABLE OF STAR-STONES, OR ALIEN ENTITIES. HAVE FUN, WHILE WE GIVE YOU A BIT OF LOOSE LEASH! WHAT IS GIVEN TO PUBLIC DOMAIN HERE IS JUST ENOUGH TO OPEN A WINDOW ON THE SERIES AND ITS POSSIBILITIES TO WHOMEVER IS SERIOUSLY INTERESTED.
Earth I's supercontinent, which may have contained all the continents which presently exist: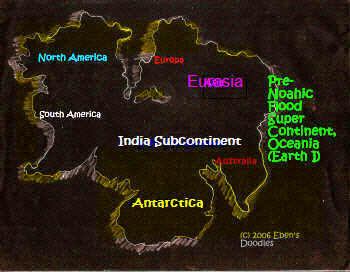 Earth II's lost first civilization, Mukalia, and its continent: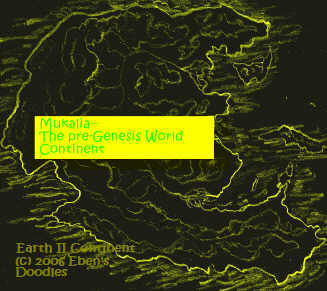 CHRONICLE OF THE QUEEN OF THE VAMPIRES
After Jason returned to rule over his city and kingdom of Iolkos, all was well in heaven and earth? Well, not quite yet. When Elektra heard what had happened in Colchis, that her amusing little pet dragon (which she had planned to use on hostages for entertaining her at royal functions) had been slain by none other than Jason, and the slayer gotten clean away too, she was determined that heads would roll. And heads did roll, literally, around her. Then she set out personally, in pursuit of Jason. He must be stopped, she thought, from spoiling all her plans for Ilios and its goddess-worship. Achaea, with the likes of Jason to make it succeed, was to be smashed, and Ilios was to rule supreme, under her scepter, of course!
Only then could she complete her plan, rebuilding the dynamos of Atlantis that once powererd her airships--which had all been destroyed when the mother continent broke up, due to the gas pools exploding under the continental shelves. All she had left now for power were her over-used, dwindling stock of power crystals--but how much longer would they last? Some were flickering, and could not perform reliably--and the others were strained to supply the enormous power she needed to keep her fleet operating. Therefore, lest she end up powerless and unplugged, with her power crystals all spent, it was essential to rebuild her power grid on the ground! That would require an empire of slaves, of course--something she did not have! But when she did--and could again manufacture all the power crystals she desired-- once again airships by the thousands would fill the air, as her great cities of the realm hummed with life and power supplied by the power crystals her wise men were again manufacturing by the hundreds.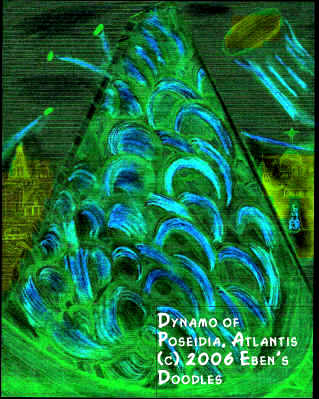 With the basic power grid in place that made the whole civilization possible, she might next attack the problem of the runaway Triangles, the launching pads to the stars installed by the Ancients on various sectors of the planet. Until then, all she had were her precious power crystals to work with.
Pulling in the enormous powers that energized the stars and the inner workings of the invisible entities that constituted every visible thing, her little horde of power crystals were indispensable to her whole civilization and her plan to restart the imperial throne, with her seated upon it, of course!
It was over these that the latest struggles in her fleet had centered, with an opposing group supporting another leader, a prince who was determined to take the throne, claiming Elektra was a concubine's baby by the emperor, not a royal wife's. "Where are her credentials? he demanded. She ought to have the royal insigne granted her at birth, but she can produce none, because she is an imposter!" With that charge, he gained considerable following.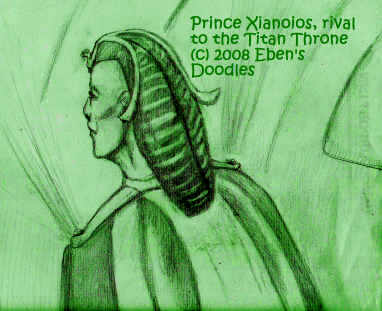 Elektra, scorning to answer the demands of an inferior, as she called him, stood on her royal blood and her claim to the throne as having prior right over a mere prince to the throne, with her slim majority of power crystals to empowerer her, and whoever she was able to cow into submission to her authority. In a battle, which she handled well by springing an ambush on her rival after inviting him to a banquet in her quarters, she settled the matter.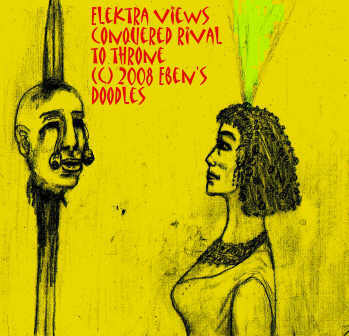 She had won, for the time being, over all opposition. It had cost some lives, of course (for the prince had a considerable entourage that her soldiers annihilated). It was a loss they could hardly absorb, as their numbers were far too few to operate even the small forces of ships she still maintained. Now she had a problem. What to do--to make up for the shortfall in personnel?
Slaves? They could not be trusted, though they were still captured to serve, as well as supply the needed blood food she and her people required. Her harvester ships made periodic runs across the inhabited portions of the earth, taking care not to stir up the populated areas too much by their activities, of course.
She knew the humans did not want the gods they worshipped to come and ravage their cities and towns and villages at will--and would run away to the hills and hide if she harvested too much in the open with her ships--so she was careful about it. Some knowledge of it did spread, but not enough to alarm the whole earth against her and her people. Even humans could fight to an extent, and form resistance to her--if she pressed them too much. To milk the cow, it was best to do it when the cow was calm, not fighting for its life! Best fan the cow's flies away, keeping her at ease, while the "milk" was drained from her collapsing veins. Make the cow even welcome her coming and miss her when she was gone! Stupid cow! Stupid earthlings! They could be milked until they had nothing left in their veins, right up to that point where they dropped and died, bled white, if they were only treated carefully and not given any reason to become alarmed or let see what was really happening to them! Killing them softly, that was the trick, and it worked every time!
If only Princess Elektra, who claimed to be born in the purple (though there was considerable disagreement on this point among the Atlanteans, something which annoyed her greatly), had known that her plans would materialize, but not in any form she had wanted or imagined. Moreover, she would not see them come to pass on the earth in its solar system, but in a far future time and place. A second Atlantis would be re-created, but not by her power but by an alien entity that would have no regard for her and her ambitions to be the new empress of a restored Atlantis as magnificent as the one she and her people had lost in the long ago--a stunning, end of the world event, a Gotterdammerung they had never quite grasped or explained, since no philosophers or wise men had made it to safety aboard the fleeing starships.

UNCHRONICLE OF THE MAN WHO NEVER LAUNCHED: Larry, the man who never launched into the unknown but, nevertheless, traveled widely, joined a tour group flying out of New York's JFK airport and toured Moscow and Leningrad, and on an option tour, the capital of SSR Georgia, a Soviet Republic at the southern end of the sky-scratching Caucasian Mountains. Here, as it happened, the Argonauts led by Jason had ended their epic journey in quest of the Golden Fleece--and the Georgians, proud descendants of the original people of Colchis (as the country was then called) were long of memory and had never forgotten. Traditions, songs, music, folklore, styles of clothes, even dances, all commemorated Jason and the Argonauts' famous visit to Aea, the capital of Colchis. Tbilisi, the capital of Georgia, trotted out, for the entertainment of visiting Westerners at the airport, Georgian dancers and singers and acrobats, and their theme was, not hard to guess, Jason and the Argonauts.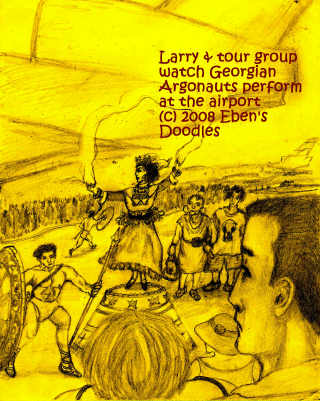 Ero's mast head lifted from the Union Train Station in the City of Destiny continued on its cyperspatial voyage, penetrating one photo-cell after another, in the virtual relality world that never happened because they were the contents of the Sea of Doubt enclosing the Vampire Bat of the Carbuncle, the Stone of Doubt and Unbelief. Despite that, they were as real as they could be to Ero and all those who inhabitated those realms.
Ero's programmed, flying mast passed over Tula, Russia, then moved toward the Tolystoyan estate called Yasnaya Polyana.
Before this photo-cell played out its contents to Ero's view, Larry, in another time and place, viewing the dancers and performers attired in the archaic Greek mode, was not impressed. He hoped it would soon be over so he could go to the hotel and take a bath, even though it would probably be in in one of those strange contraptions seen all over the Soviet Union, the type he could just barely squeeze his six foot frame into, while spraying himself with a ridiculous hand-held device.
His hopes of a nice, hot bath and an early dive into bed to catch up on lost sleep were dashed, however, when a charioteer drove through slowly as the star attraction of the Soviet Georgian welcoming committee's dance troop.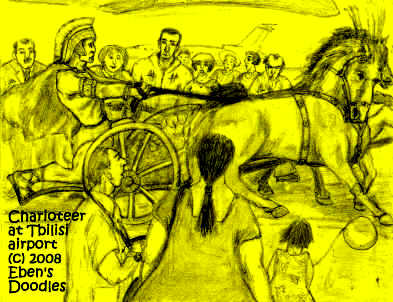 "Oh, bummer, a chariot they dragged out of some dusty, old museum--what good is that anymore?" Larry thought in disgust. "When will these ignorant, backward commie Russians ever wake up to the fact we're living in the 20th century?"
When Larry finally reached his hotel and took his ablutions in the usual contraption that passed for Georgian and Russian bathtubs and showers, he simmered inside with the unwelcome sensation that the water was not as hot as he wanted it. He had tried to get hot water out of the spigot, but it was tepid at best. Did they shut off the water heaters in the hotel after a certain hour? Apparently! They had to be conserving electricity, so the hotel had to make do with tepid water in the bath! Disgusting! Now he wouldn't feel clean, even if he used all the soap--which was poor stuff too, rough and grain-y, and not very pleasant smelling. Could the Russians ever learn to do things right? he wondered. He remembered, for some reason, a similar bar of soap, which he had used in the Russian hotel in Tula, where they had gone on an optional trip that turned bad. How had he ever cast his vote for it--he had to wonder. Had he lost his mind? The guide had raved on and on about Tolstoy's estate, Yasnaya Polyana, and how they couldn't possibly bypass it and still claim they had seen Russia's "heart and soul". The drivel of that man! He was an outrageous scoundrel!
Larry had felt good at the moment, enough to trust the man's judgment, and soon lived to rue his decision to vote "yea" along with the ladies who all clamored to take the optional trip at $150 American dollars extra. They were promised a look at Anna Kerenina and other beauties in Tolstoy's museum on the estate. She was supposed to represented by a perfect wax replica, which had a live audio in the exhibit. Tolstoy too was there, speaking in audio, from actual recordings by Alexander Graham Bell's newly created "phonograph," which was very one the famous inventor had sent the world-famous author to record his immortal voice. How could they pass this up--the doomed lover Anna who committed suicide when her husband took the child and cast her off, and the writer himself, Leo Tolstoy, who was Russia's greatest author?
Despite his aversion to museums and the extravagant claims made for their contents, Larry was in good enough humor to go along with the ladies and their aspirations--but what a mistake!
So, instead of the direct flight to Tashkent, they boarded a train and traveled to Tula and disembarked, taking a ten mile bus trip to the estate hidden in the forest hills.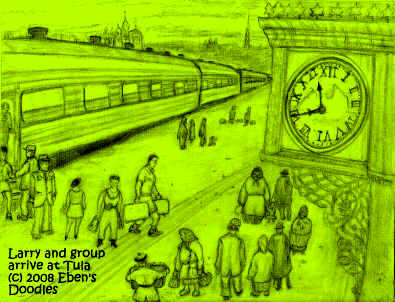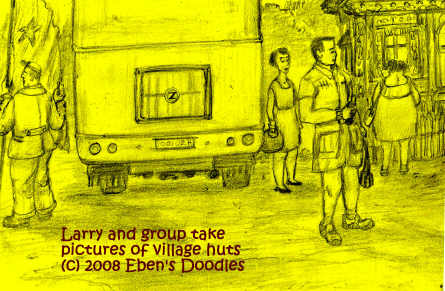 The muzhiks, or peasants, all hereditary and ancestral families working the estate for many generations, present the group with little attention, as they go on steadily with their work, unwilling to be unpaid entertainers however prestigious the guests. Yet a few are friendly enough, remembering that Yasnaya Polyana, under the original owner, Leo Tolstoy, was a place of hospitality, its gates always open, affording welcome to visitors from all Russia and many European countries, despite his wife who called even his disciples, "the dark ones" and hated strangers' intrusions on her family's privacy.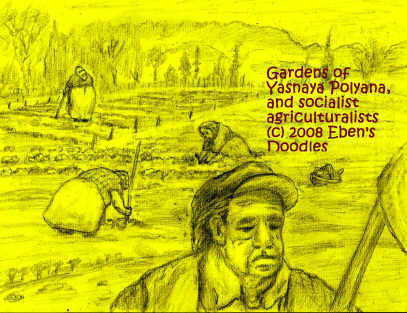 As the guide began his tour of the estate in earnest, speaking from his prepared notes, he began telling them a popular legend everyone on the estate knew. Count Leo Tolstoy, when a boy, found a magical stick of green color, supposed to bring happiness, and he and his brother dug down in the woods and hid it in a special place only they knew about, and his brother died, leaving only Leo who knew about it. Did he ever return to dig it up? someone asked the guide. "Nyet!" he declared most emphatically. "Else I would have heard of it, and seen it myself. That is why I believe it is a complete fiction, just a story made up by two little Tolstoy boys!"
Tired of the slow procession led by the obnoxiously talkative guide, who stopped every few feet to explain something and give its exact dimensions from his notebook, Larry jogged ahead just to get out of range of the guide's annoying nasal voice. He was proceeding down the path between stately, old linden trees Tolstoy had planted when a wolfish looking dog ran across in front of him. Startled, it dropped whatever it was carrying and dashed off into the woods.
Larry was examining the strangely twisted greenish vine that curled back upon its own stem when he grew aware he was not alone. Tatiana had caught up with him! What a sneaking, old snoop she is! he thought.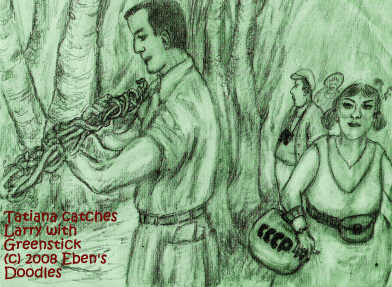 Just to put her off, Larry gave the stick a swing and it flew into the bushes and undergrowth, and there was nothing to show that it had ever existed.
"Sir, was that you were holding just now?" Tatiana demanded.
"Nothing you would find interesting!" he said. "Just some old stick a dog dropped! Now would you please excuse me?"
That was the end of the annoying conversation, he thought. She wouldn't have anything more to ask him about. As for the green stick, was it really Tolstoy's Stick of Happiness? Why wasn't it in a display case then in the museum? Why did he leave it hidden in the woods, for some half-wild mutt to dig up 80 years after his death? Was he in too much a hurry to get away from an old battleax of a wife to go retrieve the stick and take it with him on his last journey?
They would never know the answers, Larry thought. Anyway, there were more important things to deal with--as far as the guide was concerned. He quickly shepherded them all to the next highlight on the itinerary.
The great author's death mask, made when his face was overlaid with plaster where he lay in state in 1910 in a train station after fleeing his wife, was housed in a little building of its own that was stark and bare except for greenry wreaths people had left.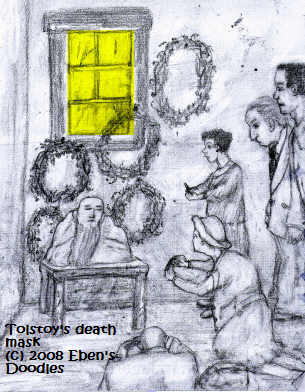 The chief exhibits were to be found at the museum attached to the estate manor house, however. Here the guide regaled the group on Tolstoy's philosophical views and also his marital affairs. He made little headway generating interest with the great man's philosophy, but when he began telling about the young Tolstoy's escapades in the highest circles of Russian society in Moscow and St. Petersburg, the women crowded round him and hung on every word as Larry looked on, thoroughly disgusted.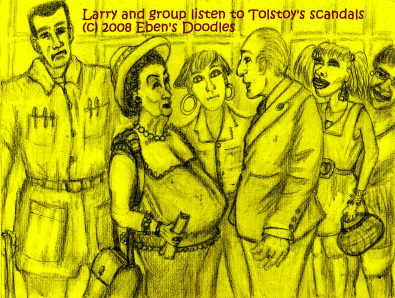 The young Russian count's portrait proved especially magnetic to the women, as they were caught like flies in a web by the dark, riveting eyes of the young and hopelessly debauched lady killer.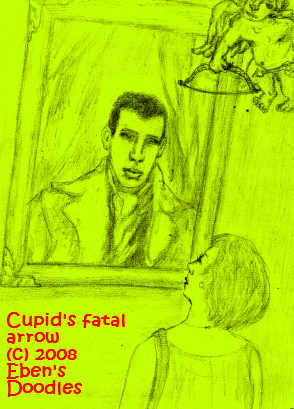 Leo's affairs with the society women did not interest him as much as the Gypsy dancers in the clubs, and a portrait of a Gypsy showed why.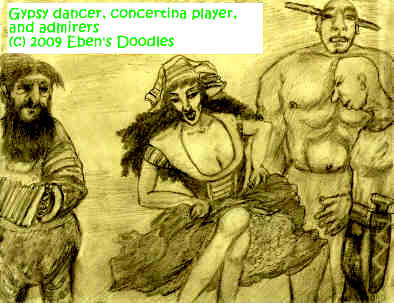 It was also apparent to everyone that Madame Tolstoy was not one to trifle with, and so they understood, with one look at her, what Leo, her philandering husband who succumbed to the fatal attraction of attractive women of questionable morals, was up against all his life--and exactly why, years after he had ceased his womanizing, he fled the house in winter when he could not bear her accusations and suspicions any longer.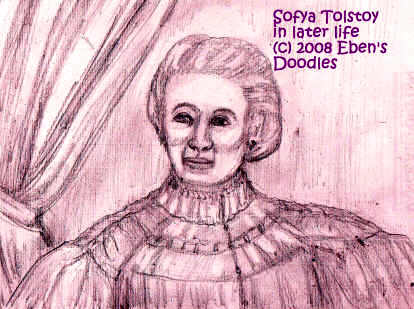 The musseum tour concluding, the guide led them all to the most sacred place in the manor house. He sat in Tolstoy's study on Tolstoy's desk while everyone else stood.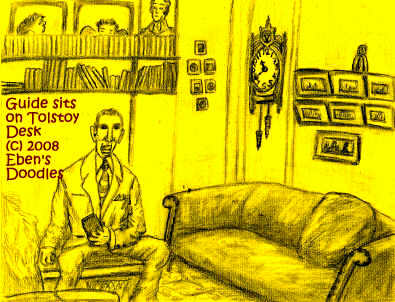 Next to the guide was the sofa on which Tolstoy was born. It was a revered place, indeed, impressing most everyone in the room from the tour, but the guide was having such a good time, he cracked one Russian joke after another, at Tolstoy's expense of course. When the jokes finally petered out, it was time for the traditional walk to the author's gravesite in the woods and the commemorative wreath laying ! And he happened to have the most beautiful wreaths for sale! the guide announced.
Larry quickly found his way out, while the guide was shamelessly overcharging the women who wanted the wreaths.
Larry's disinterest had communicated to the others, and only two women bought the wreathes and followed the guide to the author's grave.
Just the same, Larry was interested enough to follow the pilgrims as the guide led forth to the spot where they could perform the ceremony.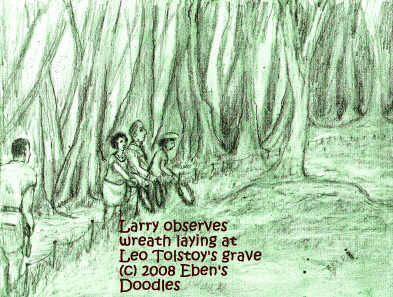 Larry noted that the guide was loitering behind when the women finished and walked back up the avenue of lindens toward the rest of the group waiting at the bus for the return to Tula. On a hunch, Larry kept his distance just enough from the guide, so he could follow him, and, as he suspected, the guide returned to the gravesite. There Larry watched him remove the wreaths, no doubt for resale, and put them in another place for safekeeping until he could return for them.
This finished, the guide hurried to join the group. Larry let him go by, then followed at a discreet distance, but noticed something or someone was behind a tree, and he crept up as quietly as he could, and then realized it had to be Tatiana, for he saw a bit of her arm and clothing that told him who it was.
He went and pulled up a stake that held the fencing along the path, and reached round the tree where she was hiding on the other side. When he touched her arm with the iron stake, a moment passed, then suddenly she screamed, and bolted straight ahead and up the path, not taking one look back as she ran for her life.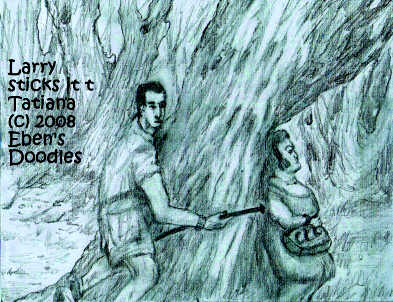 Nudged by the tip of the fence stake, Tatiana, the English-speaking mole planted by the KGB in the Moscow Tourist Office expressly to observe Americans, receives the scare of her life--an attack on her rather ample person with what appeared to her momentarily to be a gun with a silencer.
Almost doubling over with laughter, Larry followed. It was hard to keep a deadpan expression when he rejoined the group, who were all looking at him and wondering what he could have done to make Tatiana scream like that and dash to board the bus, forgetting all her dignity.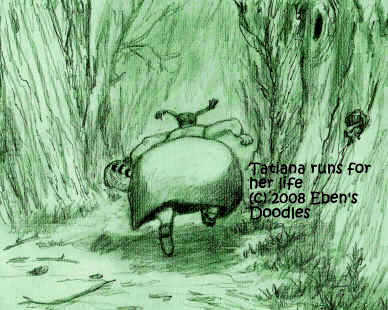 When Larry climbed on the bus, he noticed the strained atmosphere immediately, but paid no attention as he went to his seat. Ahead a few rows he could see Tatiana's annoying pig tails, but not once did she turn round to look his direction, though he realized she might be upset once she figured out who had stuck it to her and scared her out of her wits.
"Served her right!" he thought, laughing to himself. "I had her spotted from the moment I first saw her! Who do they think they are fooling?" He turned to the scenery again as the bus started off, which also refueled the conversations, which had died abruptly when he jumped onboard, flashing everybody, even Tatiana, a toothy grin.
Returned to Tula, the guide had a special attraction for the tour group, a visit to a space exploration museum, which had been recently put together and housed the rejected and obsolete overflow from the much bigger facility of the same type in Moscow. Untold billions of rubles had been thrown away on all sort of unworkable space hardware, and the government hoped desperately to recoup some of them by staging a Ringling, Barnum and Bailey-type show for them, which a smart American tourist like Larry sized up in a moment, of course, but which interested him a lot more than dead authors anyday.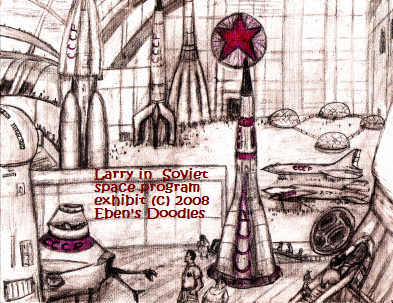 Being a man who was more comfortable with rolling stock and other machinery than he was with his fellow human beings, Larry liked the exhibits so well, he left the tour group to make closer inspections of the various exhibits than the guide would permit.
Looking into the prototype housing of one planned but cancelled robotic moon probe Krushchev had lost his shirt on (and maybe a shoe as well), which was designed for digging into the moon's crust for valuable metals and ores, he noticed that the missile shaft used for the digger's spike-pronged bit had no safety barrier, not even caution tape strung across the shaft. "Just like the Commies," he thought, "with so many disposable people in the Soviet Union, they don't bother themselves about such things as safety and human life!" Of course, he didn't care that much either--it was just amusing for him to think about!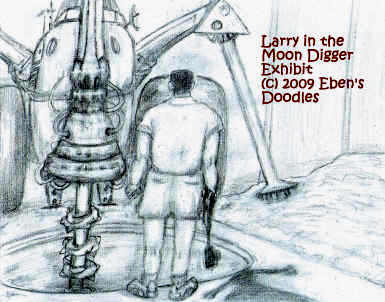 He was looking over the edge of the steel rimmed shaft when in the corner of his eye a shadow flitted swiftly his way. By reflex, he stepped aside. Immediately, a large, bulky object flew past, lost footing, and tumbled down into the deep hole.
There was a definite impact far below, a sound that resembled a lot of vanilla pudding (a lot!) splatting a wall.
Larry peered over the edge of the hole, and wondered what he should do. Could it have been Tatiana? Had she really tried to rush him and give him a KGB-style accident?
It seemed so farfetched. It was like something he read in spy thrillers or saw in the movies. Could she be so vengeful and hysterical a female to as that? But he reminded himself, she wasn't America. He couldn't apply the same standards to her. She was one of these half-civilized Russians, who were not even really Europeans. Half their country at least was in Asia and Siberia--which meant they were civilized only skin deep at best. That explained their terrific emotional fits and downright savagery. What she experienced in the moon shaft she brought entirely on herself--as he had only been teasing her a little, and shouldn't have taken it so personally. After all, he cared nothing for her--so he knew he hadn't meant anything personal.
Moving away, he went to find the guide, then reconsidered. Why would they believe him, that he hadn't pushed her in, if that was where she was? He would be arrested immediately, and considered guilty, as that was the Soviet way of doing things. His being American wouldn't count for much, not for years anyway. He'd be stuck up in some stinking, permafrosted Siberian gulag, to dig frozen turnips from the ground or take axes and chop out ditches or latrines, in the midst of a blizzard, starved and beaten up by the guards as often as they liked, while World Council of Churches bishops toured the facility approvingly while the U.S. ambassador in Moscow petitioned the Soviet Government, who no doubt would deny they knew anything about his whereabouts!
No, he couldn't risk that fate. Imagine, having to grin and stand for group pictures and look happy whenever touring bishops and churchmen and other overdressed old farts from the WCC and the various Human Rights organizations came to inspect how the prisoners were faring! It had happened to too many stupid travelers. Best say nothing, and let THEM discover Tatiana's sad tumble down the "Moon Shaft." It was either him or her, right? Better it was her then!
"Served her right too," he thought as he made his way back to the group, looking as bored and indifferent as he could. He bought an ice cream cone on the way just to reinforce the impression he wanted to make--that nothing unusual had happened to him lately.
An hour later, as the guide was ready to wrap it up with the exact measurements and sizes of various mammoth objects of Soviet technical wizardry, an officer, by looks and uniform, pulled the guide aside, there was a hurried conversation, with many violent, over-emotional Russian-style gestures.
Mopping his forehead with a big, not very clean handkerchief, the guide gave a very concerned look, counting every one of them on the tour several times, before slumping down on a chair.
"I suppose now I ought to go ask him what is going on," Larry thought. They will think something a little fishy if I don't at least show some concern in the scene.
He went over to the guide, while other women joined his lead, and then they heard that Tatiana was, indeed, missing. There was a security lockdown of the entire area, and a thorough search was going on, and they were to remain there until she was located.
A look at the guide's face told Larry the rest of the story, however. He was so pale, sweaty, and breathless, it had to be that Tatiana was already found, and it wasn't a nice discovery either. How long would it take for the KGB to make a decision and let them go? The Russian bureaucracy was notorious--it could take hours before they were considered harmless enough to be let go.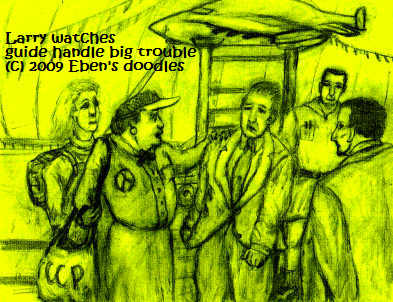 "All this fuss about that overweight, borscht-stuffed doofus?" he fumed. "As if they could care less about one minor agent, when they had thousands to replace her! Must be she hadn't filed her report to the Moscow HQ of the KGB yet, and they couldn't find it in the remains! It was the report, not Tatiana and the circumstances of her demise, that they were so concerned about. And unless it were tracked down, they could well as call the space exhibit hall home!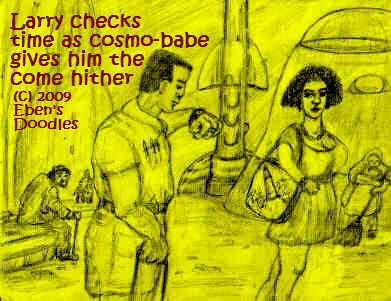 He checked his watch. He saw if they didn't leave soon, they would lose their reservations at a restaurant, and any chance at a decent dinner for that night, as the hotel's food was terrible. As he was doing that, a hoofer who plied her trade in the exhibition hall, gave him the eye, but as he showed no interest in her assets, she passed on to catch other prospects before everyone left for the night and she was alone with only the cleaning crew (typical Russians who had no money).
Hungry and bored stiff, Larry walked away, looking for an ice cream vender, but he couldn't find one, and then circled the hall, hoping to spot something he hadn't seen before. Oh, yes, the nuclear rocket! He had read about it in the brochure the guide handed out. The Alpha Centauri mission was scrubbed in the 1960s, the same time America scrubbed her own nuclear rocket--just too many problems with the nuclear fuel technology of that day. But the rocket flew--test models had demonstrated a nuclear engine could be a great space engine, carrying small amounts of fuel that lasted almost indefinitely, but the exposure to humans was just too much, and the shields necessary had been too heavy. The rocket wasn't going to make it beyond the La Roche Limit of the earth's gravitational pull, it was just too much a dead weight.
But here was a a working prototype of the Soviet nuclear rocket, still able to fly, from the looks of it! The ladder to the open hatch was still there in place, but the guide hadn't allowed any of them to climb it, since it was too tall and shaky, and they had passed the exhibit. But now was his chance to see something really interesting! He started climbing the aluminum ladder and soon was up to the door, high above the floor.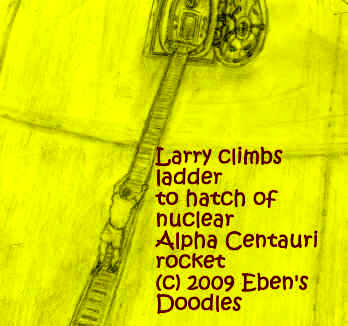 Coming episode: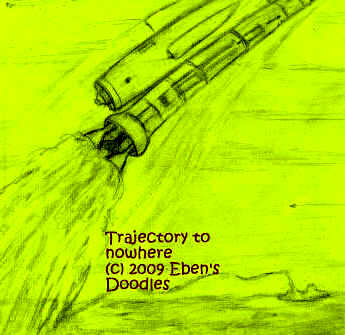 After the collapse of the Crystal Age world civilization in the 22nd century, Dutch civilization achieved a certain mastery over the deteriorating situation, holding back, temporarily, the fall from one level of technology to a lower level, and yet a lower level, until the Stone Age seemed perilously within a stone's throw.
America turned Holland America. New York turned New Amsterdam, and for a time was pre-eminent, with some industry and trade that kept forty or fifty thousand people on the verge of making a living while a few uppercrust Dutch and English lived quite well, considering the faltering economy and the drop in revenues and output from agriculture, particularly.
When a mere little boy, Pieter found it hard to stay alert in Kindergarten in his little hometown of New Alkmaar, a declining Hudson Valley town like so many others. Just a few years would pass before reality would crash for the first time down on his ears. It took the sudden death of his father, who had been a fairly prosperous carpenter in the barge building works, to fully awaken Pieter to the responsibilities of his place in the family, the only surviving son, with a mother to support. New Alkmaar, despite its deceptive charm of appearance, would turn into something very different, a place where the wolf stalked the hungry streets and the paths along the canal night and day.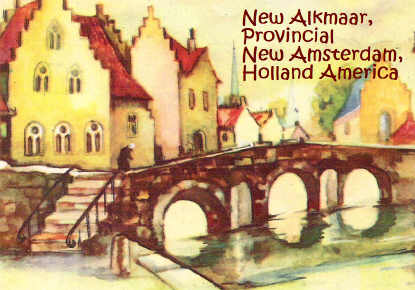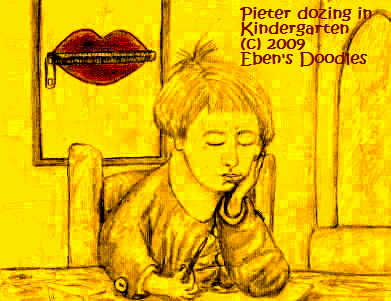 When after a few more years and his brief childhood was over, even a near fatal mill accident in which he nearly lost both legs, did not stop Pieter from doing what a Dutch man with starch and vinegar in his veins needed to do: search for work! He did what other Dutch youth, desperate for a living wage, did. He fled to the biggest city he could find and looked for work--any kind of work he could possibly do. A refugee from the half-dead rural parts of New Amsterdam province, he joined the horde of out-of-work men and boys in the big capital city of New Amsterdam, formerly called New York. He sometimes crossed the old ruins to get to inhabited parts, and scarcely noticed the signs of former life, as he tried to avoid the rag pickers who were little more than thieves and robbers, just as ready to pick clothes off a living person as a dead one.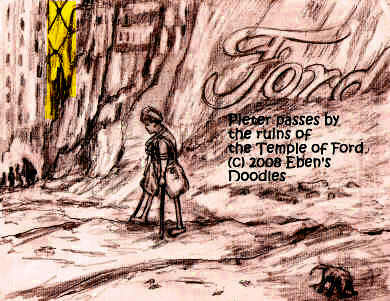 Yet even the plucky, diehard Dutch, though they ruled a neo-Dutch empire stretching from old Europe to the New World's kingdoms in Holland America and Jamaica in the Carribean and certain parts of Suriname and the islands of Curacao and Aruba off the South American coast, could not hold back the ever-encroaching glaciers engulfing North America and most other places too. Fleeing southward, refugees stopped at inns that could afford them shelter for the night and a warm and cosy fire.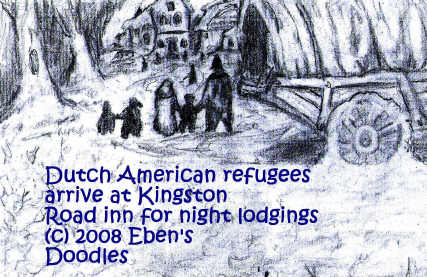 Life went on, regardless of the increasing cold, and even nuptials took place in the snows of spring that extended as late as June and July.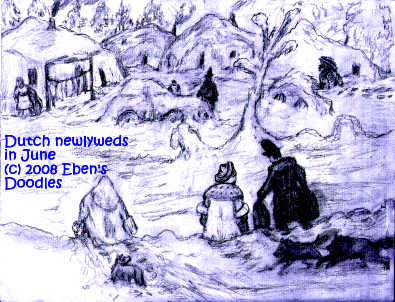 If they had any sense, they would head south, however, as far south as their Dutch guiders could take them. Unfortunately, the torpor only increased in the southern Dutch-ruled principalities, and any immigrant could not expect all the modern conveniences that were still known in the North in the bigger cities. Village life, in fact, ran somewhere along the lines of the 17th or 18th centuries.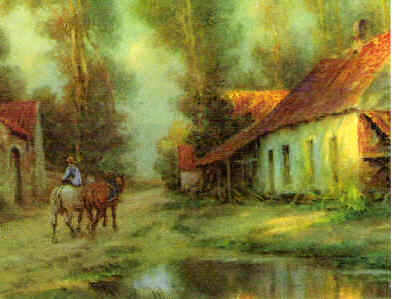 Those fortunate enough to make it to the more prosperous far south and the tropics of the Dutch kingdoms had to afford transport by water most of the way, as the paved road systems of the past had most all deteriorated. This particular family has finally scraped together passage money, and draws near to the loading zone of a barge like vessel that will be their escape from New Gelderland (formerly New Jersey).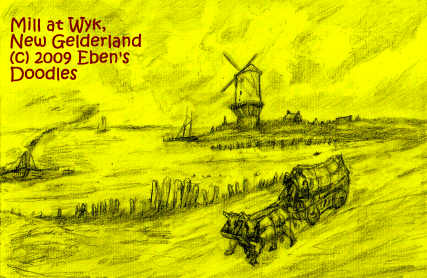 The Re-location of Earth II put the planet in a strange zone where a star cloud was the only solar power source. It was warm and bright enough to equal the Sun Earth II had lost when it became a nova (exploded by the attacking Sardius, or Carnelian), but it was not the same thing, of course.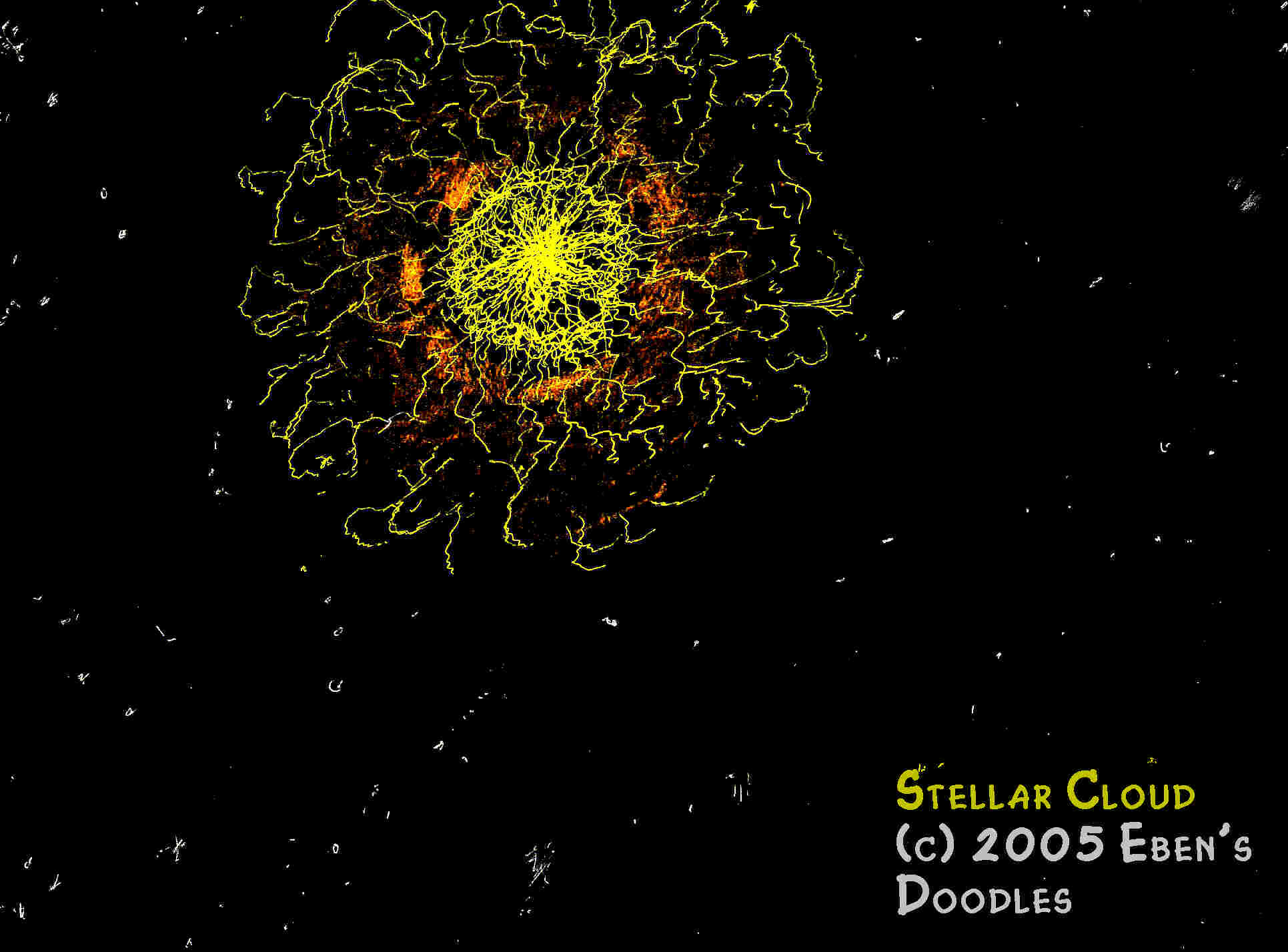 VOLUME V, BEYOND THE RAPTURE, "Part II, Jacob's Trouble": On Earth I, during the Beyond the Rapture ordeal of an Anti-Christ-bedeviled world government and global society, the Israeli prime minister flew in a Greenpeace-emblazoned, whale saving executive's private jet to a preassigned assignation with Michael's emissary, who was empowered to receive the prime minister's signature on a most important document. Thereby, he signed over the nuclear arsenal of Israel in exchange for the world government's total protection from Israel's many Arab and Muslim foes. This ensured, it was thought, world peace--since now nobody--it was further assumed--would dare take on the combined might of the World Government Ruler, Michael Jayson.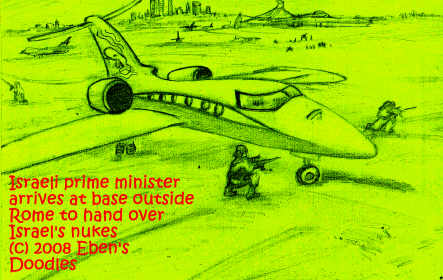 The prime minister himself had been most skeptical, going into the private conference! This had better not be a waste of time! he had thought ungenerously at the time, and his mood was not so good while he was waiting for Michael's car to arrive.
Joining Michael, they were taken immediately to the conference venue, a temporary, tent-like structure erected inside a hangar. All guards were ordered to stand out and away from the hangar, back of a cordon of soldiers and cement security barriers, and no one but the prime minister and Michael were to enter, and no one was to go in until they were finished. This way, they could speak without any possibility of someone hearing them. Walking in together, the prime minister found the tent comfortably set up with chairs, sofas, and a self-service bar, even an array of muted lights and soft music playing, but he was still uneasy at the makeshift appearance.
Having experienced rocket attacks from Gaza and southern Lebanon for years during his youth, he did not feel at ease unless he had solid concrete, at least six inches thick, above his head and around him on every side.
Michael had smiled, when he saw the prime minister's expression. "You'll have to pardon the, ah, humble, little tent picked out for us, but it is just one of several sites, and this happened to be it--picked at random by my own laptop, of course. We would meet in a more permanent structure, if I were sure there wouldn't be some hidden surveillance or bug on the premises. This way it is certain we won't be recorded for the media. I want this news I am bringing you to only go to you first-- absolutely!"
The prime minister did not have to say anything. He simply waited.
Michael, sitting down on his favorite color for sofas (royal purple) and letting himself expand on his grand idea, soon had the prime minister sitting on the edge of his own sofa across from Michael.
As Michael spoke, the prime minister thought the eyes of the World Ruler were glowing almost supernaturally, they were so bright. He had never seen Michael so brimming with joy--yes, joy!
"You'll get everything your dear, precious people have dreamed of for centuries, even thousands of years! Just think! A completely rebuilt temple in which you all can worship--top to bottom, first class! We'll even pay for it if you like! You just supervise the entire work, to see it is done perfectly according to all your specifications and--"
But there was that one little problem--how could they build on that Temple Mount!
Seeing the prime minister's eyebrows rise, Michael slowed down a bit, and chuckled. "Oh, I see I am getting ahead of myself a little. You, naturally, want to know what I have worked out with our Muslim brothers, who wouldn't permit such a structure anywhere on the Temple Mount. I have to respect that, being their president too--as you know. Well, nobody is saying you will be permitted to build on the Temple Mount. Even I could not give you that, without risking a, ah, massive problem with our dear Muslim brethren."
Michael ran his hand through his hair, gazing away for a moment, then turned back to the prime minister, who was about to leap off the sofa and start shouting for details--but, mercifully for himself, he restrained his Jewish feelings with a violent effort of sheer willpower.
"But I must not keep you on tenterhooks any longer, my dear, dear friend! You will NOT be building on the Temple Mount. No! Rather, you will be LOCATED there. That is the vital distinction. The precise way it will be done is simply this: you will build OVER the Temple Mount, as many centimeters as you choose, and to this the Muslim brotherhood guarding the site cannot object, since they do not own the air of heaven that belongs to the inhabitants of the entire globe, do they? I had them all agree first to that truth, and sign the agreement, so that when I asked them if they cared what was built in the air or atmosphere--they all declared it was no business or concern of theirs, they cared only about the sacred soil of their land, together with their holy sites and shrines. As for the stars, they belonged to heaven and to Allah, so they were not their concern either. As for the air, it was for the birds--yes, the birds. Well? What do you think. Can you accept this--you do not have to sprout feathers and prove you are birds, but this agreement I have signed by all the Muslim parties, thereby grants--well, I back it by granting you full rights to utilize the air over an unoccupied portion of the Temple Mount--is that satisfactory to you or not?"
Michael drew himself up and went to the wet bar for an iced green tea drink while the prime minister recovered and found the right words.
Turning with his glass in hand, Michael smiled. "Well? What is your decision. Do you want the air space in which to build, or don't you? I'd take it if I were you! You'll never, never get anything better than this!"
The prime minister felt he might explode. "What? What? You're giving us air space? That is supposed to hold a building like the Temple, which is a massive thing of solid stone rising several levels at least? I never heard of anything so--"
Michael's smile faded in his not quite white, bleached face--creating a strange, ashen, almost greenish hue. "Really?--is that all your gratitude today you can possibly muster, for this incredible favor I am showing you?"
The chill that suddenly fell in the room almost choked the prime minister. He nearly staggered forward as he tried to take a few steps. "You have to pardon me, sir, if I am a little surprised at your magnanimity in this instance of your favor--but could you just explain one little detail first, before I render my nation's decision?"
Michael's left eyebrow lifted, and he took a big sip of his tea, and slouched back to the couch and sat down in that soundless, smooth movement, almost stealthy, he had that resembled a panther's.
: "What little detail?" Michael said, not even looking up.
The prime minister mustered all his courage for the next few words. "How do we build a massive, heavy stone structure on thin air, sir?"
Michael's eyes shot open, and he laughed with surprise. "I can't believe my ears! You Israelis are so clever, everybody knows that! Why do I have to instruct you on your game, when you are the experts who can figure out things the rest of the world can't even hope to solve. It is just your little problem, sir, and I am fully assured you can solve it! You'll solve it, there is no doubt about it, precisely because you want the Temple so much. Now, the papers are over there on the table--simply sign them just below where I already signed, and we can both be on our way home. Conference over! Do you take it, or not! Say now, or never!"
Michael was rising, with his tea still in hand, and was moving toward the tent door when the prime minister gasped, "Why, yes, we'll take it. It is better than nothing. And you are right, we will solve this little problem of how to build on thin air. It is no problem really--no problem at all!"
It was all he could do to not burst out laughing hysterically as he signed as ordered below Michael's occultic sign that he used for all his official state signatures.
Michael had already left when the prime minister finished and hurried after him--after fortifying himself with a very stiff drink first. He must have been a minute too long at it. The car that brought him was not waiting, however, for Michael had already left. Instead, another car stood waiting, and bore the prime minister alone except for his bodyguards straight back to his plane.
Whether it was the whiskey or just plain Jewish genius rising to the rescue of Michael's plan, nobody will ever know for sure. But when the prime minister, making heavy use of the handrail, climbed back aboard his plane it flashed into his mind just how the little problem would be solved. He had it! Absolutely, without question, he had it! The Gordian knot had been cut asunder! He knew how a Temple could be built on thin air!
It had taken Michael to put it all together--Jewish genius and Michael's political genius and vision! The two became unbeatable--they were the wave of the future, in fact. The technology for such a feat as Michael had demanded Israel come up with--why, he had seen it just a few days before the conference in fact, being demonstrated for him at an experimental "interdimensional space module" facility outside Beersheva.
What had he been shown? Why, buildings, of any size or dimension or weight, constructed in air space! Landed, or earth-bound foundations, were no longer a necessity or limiting factor. Gravity and Newtonian physics were effectively suspended! Buildings, as tall as Dubai or Manhattan skyscrapers could be constructed that would actually float, so to speak, held in place only by computer-generated laser rays that guided the gyros aboard the structure and stabilized it, while GPS satellites kept the facility hovering precisely above the chosen spot or location. This was Israel's answer to its extreme scarcity of geography or land. Sea water, its corrosive properties and densities, posed great problems for colonization schemes. But Space, or air, enveloping an otherwise over-crowded earth, remained the Earth's last, virtually unlimited dimension and natural resource, and now they could build practically, economically, safely in the air, upwards and upwards without limit--and forget about Israel's narrow, constricted borders. Earthquakes were no longer any hazard at all to such structures. Violent storms could be a threat, but the Structural Interdimensionals were not fixed permanently to any one site, and storms could be moved away from if they posed real danger. The Israeli invention was top secret, of course, but they could share it with the world, now that they had Michael's signature on the treaty!
Flying back to Jerusalem, the prime minister had about an hour to himself to ponder the epochal event of the signed agreement and treaty with the World Government. He, indeed, has exceptionally good news to break like the most wholesome, nourishing bread with his cabinet, party, and the nation. A Temple--built over the Temple Mount--located there, in geographical fact, but not actually touching a particle of the Muslim-administered ground! There could be no objection from the Muslim clergy superintending the grounds, after their last agreement signed with Michael concerning the use of the air--and surely the Rabbis would see the sense of it--there couldn't be anything in the Talmud prohibiting use of the air of heaven! The Temple was a done deal! Utilizing the latest discovery creating air-space structures, the work could be started immediately upon the announcement to the world of the Treaty being signed by all parties concerned.
: News such as this cannot be kept for even an hour, so he has already used the unbreakable code devised by Israeli intelligence to transmit the basic details of Michael's agreement granting Israel a temple on the Temple Mount in a selected aerial site over the Temple Mount, to a downlink which the Supreme Israeli Rabbi has exclusive access to. Won't he be overjoyed! he thinks.
Michael is a superlative, peerless genius, who has outdone himself and all his other triumphs in statecraft in devising this perfect means to build a Jewish temple on the Muslim-administered Temple Mount in Jerusalem without raising the whole Muslim bloc in instant outrage and armed conflict with Michael's imperium!
Truly, it is an almost unimaginable, stupendous master-stroke, guaranteed to soothe Muslims everywhere that ordinarily would be imflamed to surge forward in battle across the whole globe at the very thought of handing over a single centimeter to Jewish "defilement" and occupation.
The prime minister is most pleased as he settles back in his comfortable chair, a refresher in his hands.
He regards the exchange as only fair: giving up Israel's nuclear arsenal-- which it cannot use humanely and would only use for self-defense (if Israel saw its future survival as a nation being critically threatened)--for Michael's absolute guarantee of complete, unconditional protection for the entire territory of the whole Jewish state.
Nothing less would induce Israel to have given up its last, ultimate card in the game--which it had vowed it would only play if it were threatened with extinction by an overwhelming force of an enemy or coalition of enemies and their most deadly attack of nuclear or biological or chemical weapons striking the homeland's major cities.
How had Michael ever thought of such a thing? He would seem to have been an unlikely person--coming from his background of entertainment and theme park creator and, before that, a rock singer. No one else had, up to this time, devised a way out of the centuries-old conumdrum of how to build a Jewish Temple on a Muslim-held Temple Mount. A Jewish Temple in such a place was impossible, unthinkable, so how could it be done? It had seemed a Gordian Knot, impossible to untie, until Michael resolved the problem with one fell swoop that linked Jewish genius with Michael's immensely creative, visionary powers.
The prime minister landed at Jerusalem, and the festivities began the moment he imparted the joyful news to his cabinet and the assembled Knesset shortly afterwards, with all the cameras runnning. Jerusalem nearly went mad with rejoicing. The Muslims in the city too were dancing in the streets--as Michael had promised them some wonderful things too--which completely mollified them as to any misgivings they might have indulged concerning a Jewish Temple located OVER the sacred Mount (it was not Temple Mount to them, for they recognized no temples).
The Jews at last had their Temple, but the great assurance of the Jews in Israel that their national security, and what remained of the Jewish state, were eternally preserved were utterly dashed, however, when Michael broke his own treaty with Israel. Israel this time had no bargaining chip of any significance, it had no nuclear weapons with which to fend him off or barter with him. He then turned his full wrath on a virtually disarmed Israel, sending his armies to crush Israel, and eradicate all Jews. Fleeing from the hopeless confrontation, one insurgent general and his forces withdrew from Jerusalem and other strategic points in the homeland to certain refuges in the southern Negev and across the border in Jordan. They left behind them tanks with dummie soldier-like decoys to serve to detain and distract Michael's fighter planes who pursued them with a vengeance.

For Chronicle Sixty-Two's Unchronicle I, in which Ero flies the Wally-programmed copper dome of the City of Destiny's old Union Train Station to 19th century Chicago just as the Uproarious Hog Butcher of the World erupts in the Great Chicago Fire, and next to the 21st century's dramatic debut with Puppet Master Osama bin Ladin's Muslim terrorists wreaking destruction on the World Trade Center, then a direct hit on the Pentagon, followed by a near take out of the White House, go to Unchronicle I.
CHRONICLE SIXTY-TWO, ANNO STELLAE 10,999, QUEST OF THE CYBERNAUTS

UNCHRONICLE II (THE CHRISTMAS PRODIGAL; THE HOUNDS AND THE BLACK PANTHER), CHRONICLE SIXTY-TWO, VOL. III, RETROSTAR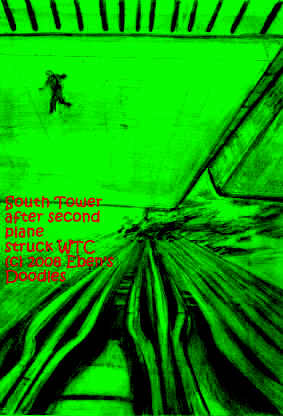 Ero, a Greek from Seriphos, the Olympic Torchbearer for his island, hadn't the slightest inkling at the time he was waiting for his relay to bring the torch to him to run with to the next relay, that he was about to embark on a much greater adventure than the Olympics could possibly provide him. He was dreaming of Olympic glory, even gold medals to hang on his chest, but meanwhile other forces greater than his personal dreams were at work to undo them and thrust him into worlds and tests and challenges unknown.
In the 20th-21st centuries The New York World Trade Center in lower Manhattan featured in its multi-structured complex two main twin towers, called North and South Towers. The North Tower with its signature mast of a towering TV antenna, struck first by a gang of Muslim Saudi Arabian terrorists-on-hire-for-jehad in their hijacked commercial jet was carrying 20,000 gallons of jet fuel and a load of captive passengers along to their unknown fate (many thought they would be returned to the airport and released eventually, as the hijackers promised them, and only when they were killing stewardesses did they have second thoughts about their ultimate destination). The South Tower was soon in the same shape as the North twin, being struck by yet another hijacked commercial jet carrying passengers and 20,000 gallons of jet fuel.
In cyberspace, Ero the Olympic Torch Bearer turned Alien Entity-challenger was given a ringside view of the catastrophes, as his flying dome zeroed in on the site of what was to be called Ground Zero. He flew up while the Towers were still standing, burning from the top down for a number of floors, but still stupendous and impressive as the once tallest buildings in the world, which these were until surpassed by the Sears Tower in Chicago.
The South Tower, though mortally struck after the North Tower, was first to collapse. Yet who could foresee it? It had to happen to be believed. It was unthinkable until it fell and bit its own dust before the eyes of the watching, horrified world. And the people inside the doomed Tower were just as incredulous, that anything like that was going to happen to it, and to them. But for the souls caught above the second jet's impact zone, it was a little more desperate in appearance. Smoke and fire were driving them outward, to gasp for air at the windows, which they broke out to escape the toxic fumes if they could.
Once they had done that, it was impossible not to look down to the ground, if they could see it at all--far, far, far, far below--almost a thousand feet below their frantically searching eyes, in fact. Was there anyone coming to rescue them? Where were the helicopters? The phone lines were jammed, the cellphones useless in their hands, as they kept punching numbers or redial. But some reached home, or loved ones, or 911, for all the good that would do. They could only scream, or cry, or--if they mustered the emotional control-- cooly recite their own epitaphs: "I am on such an such number floor, waiting for someone to come and get us down from here." Or, if less controlled, voices shouting or screaming about fire, smoke, at the window, trapped, no one coming. The voices got more frantic as the people became more hopeless. "Is anyone coming? Gotta get out of here soon--flames, smoke, it is too hot to stay here, I have to--"
And then, facing tsunanmi-like, moving walls of approaching flames and smoke, they had to scream or shout their last words and goodbyes, throw their useless cellphones away, and start, Lord have mercy, jumping. It was better to jump than burn alive. Right? Was it really? They didn't have time to meditate on their choices. The all-consuming firewall, billowing and shapeshifting into a roaring dragon, was coming at them with a fury--burning ferociously hot, its nostrils emitting flame and smoke like blast furnaces.
People further from the windows were being caught in it, toasted black, incinerated before their eyes, when they hestitated jumping and tried to run back through the flames to try and get to the stairs.
Jump! Now! Don't burn like that!
Try make a decision like that: It isn't rational, there isn't time to think, fear is pounding like jackhammers in your heart and ears and your skin feels like lead on your arms and legs, electric lead, somehow liquid, covering you, yet vibrating your bones into jelly--shaking you and paralyzing you with dread--yet... Don't burn like that! Jump out! NOW! That was what their instincts demanded (overriding their sense of self-preservation or fear of heights, even this height they were at), or be burned to a crisp in a second!
So they obeyed, heaving their fear-paralyzed bodies like solidified sacks of readi-cement out the windows somehow, and when falling, falling, they began to face that they were already dead, even as the ground, all too soon, rushed upwards with a terrific noise and wind at them, as if they were hurled through a wind tunnel turned on end. It wasn't fair, they were only office workers at their jobs--who did this to them? But all that didn't matter now! They were going to smash up just the same.
They knew only one thing--not their murderers, not some court trying their case, not some judge awarding punitive charges on their behalf, not some Congressional board of inquiry droning on and on in Washington about the incident, no, none of that: they simply had to now face whatever it felt like to impact the cement on the ground. Flesh against cement, blood against stone--bone? It was instantly pulverized, their blood spraying out like a fountain, their whole physical form dissolved into a collapsed blob that had once been a human being, with a name, a career, a family, a future, and...it was all nothing now, but a blob in a pool of blood on the ground, which people were screaming at and trying to run around to get away from as quick as they could. It is not a pretty thing to see human beings, all sizes and ages, drop and smash on the cement of the World Trade Center Plaza like so many eggs from the upper floors of the Towers--pop, pop, pop! Viva Osama bin Ladin! Happy news is on the way to cheer him. It will exceed his highest expectations. His twenty two wives, Zuhrah, Fatima, Gubdugah, Beepee, Shellah, Filippa, and all the others, will be so happy for him, and give him many more children to add to the 22 he already has in his quiver. How the Americans will be humbled when they see their towering, gleaming WTC destroyed--the fabulous New York in shambles and a mass panic, and Washington too aflame with the Capitol and Pentagon destroyed and five-star Pentagon generals running hatless down the streets after their screaming secretaries with their skirts burned off their big, fat, milk-white American buttocks!
They brought it all on themselves, after all--defying Allah the Compassionate, defying His Prophet, for whom Saudi his motherland was holy and inviolate, until the Infidel Americans had come, his country betrayed by the king, and set up their military bases, contaminating holy ground with their infidel feet, urinating on the Sacred Motherland as they stood, feet set far apart like like camels, and sprayed the whole countryside!
This smashing and burning of the WTC was just the start of what he would do to them, to drive them out of Saudi, back to their nasty holes, and leave Holy Saudi alone forever! This was just the beginning. After all, the Americans themselves, many of them in the universities and in the media, said they were deserving of such a thing as this for America's alliance with Israel and its mistreatment of the Palestinians (though Palestinians were donkey dung, not much better than infidels)--so, Allah be praised, he was only giving them what these infidels, pigs, and monkeys, said they wanted, said every day on American TV they all deserved.
Ero did not have to deal with the likes of Osama bin Ladin, fortunately, as the flying mast carried him quickly toward the exit of the photo-cell. Bursting through into the inner Eye of the Vampire Bat, the mast nearly collided with a photo-cell dealing with John Barth but instead of neo-orthodoxy's poisoned world, Ero converged with the photo-cell that swept him down into Atlantis II. Below him stretched mind-numbing, level plains, deserts, arrid vastnesses that seemed to have no end: the waterless, aluminate hardpan Nullabora barrens, which culminated in the East Erg, a field of mountainous sand dunes. Here in the east of Atlantis II, there was only one way to cross the Nullabora and live to tell about it, and that was by train, the legendary Tea and Sugar.
So for Ero the Torch Bearer, the wannabe but never-will-be Olympic champion, it's off to Atlantis II on the Re-located Earth! Rather, it's Kastorr, Wally's Cyberspatial version of it. Or to be more precise, it's the Carbuncle, with the Sea of Doubt-encircled palace-residence of the Vampire, its eyes whirling within with a photo-celled universe made up of things that never happened.
But the entire thing is based on an option, a road not taken by Ero--remember? He didn't choose to pick it up, so none of the following actually happened to him. Yet that is not to say the events are not important--far from it! It is an incontrovertible truth, a foundational truth, that things that do not happen are often more important and lasting than things that do happen. Ask any man who forgets to remember his wife's birthday or their anniversary. That fatal lapse, his failure to do anything, will never be funny or amusing to her. She will never let him forget it either. She could possibly forget his card and flowers and other endearments, if he had done right by her, but she can never forget what he did not do on that particular date. Things undone are often unalterable, or unforgivable. They work lasting, even eternal effects.
So too with the road not taken, the option not chosen. Life for most everyone is full of such roads and options not taken or chosen--and we all live with the unpleasant, serious to fatal consequences. They are most often unavoidable consequences, made worse because we cannot see the gigantic engines of nothingness, of anti-matter, producing all the evil that is ruining us in this other dimension--just because we failed to do something! It doesn't seem fair to us--but when is the Universe fair? It's unfairness, its inequality, is probably the kindest thing in the Universe, producing the most good eventually--since we could all be equally poor, or equally miserable, or equally stupid at the same time--and then what good could possibly come from that?
Unfairness is a wonderful thing and equality (as equality is enjoyed by pond slime algae, every alga the same in the same circumstances) is hell for intelligent, sentient beings. So let the Universe continue to operate unfairly, if we know what is good for us.
It is the thing we choose not to do--that is the real hitch, the thorn in the Rose of life, the rub, the fly in the ointment. Like the aboriginal boomerang, it will come round to, not just haunt us, but knock our silly heads off! Boomerangs, after all, were not playthings. They were used to hunt wild game like roos, emus, and wombats. That brings us round to Ero, who is winging down via his cybersptatial argosy, his own personal Argo, the detached mast from the Union Station Dome.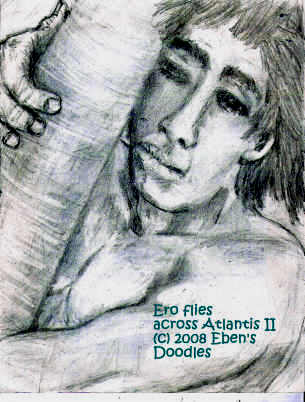 Beneath an enormous, burning, searingly bright, virtually cloudless sky, he sees an aging diesel-electric train moving steadily at 50 mph across a seemingly horizon-less plain that can claim no features, it is so flat and level and barren. There is not the slightest reason to put a curve in the track, so it runs absolutely straight, with a deadly monotony that has driven many a trainmaster either alcoholic, or suicidal, or out of his mind.
The Tea and Sugar, a mixed-goods train delivers track supplies and transports work crews called fetlers, as well as pay to other train maintenance people at small depots and settlements strung along the 1,000 plus miles of track.
Just as he was about to descend toward it, the Port Ulu to Multan flight flew across his own flight path.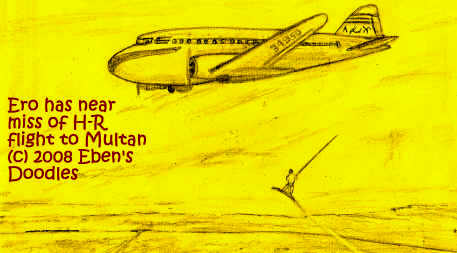 Unable to alter the flight plan encoded by Wally in the Kater's Compass, Ero converged with the old prop airliner. At the last moment, the guidance system in the Compass sensed an obstacle, and Ero was turbo-thrusted up over the plane, directly in view of the airliner's startled pilots.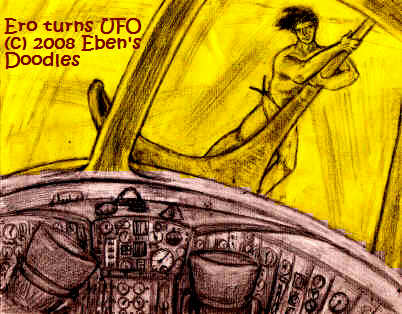 Seeing this UFO, the pilots entered it as such in their log, but without any means within hundreds of miles that could be sent to investigate, they continued on their way to Multan.
The train is the single narrow ribbon of life drawn across a seemingly limitless stretch of its opposite. No wonder the tiny groups clustered along the tracks at widely separated intervals, rush to the trackside or depot (if they have a depot) at the first telltale sound or tremble of the rails. Sometimes only three people, a single family, greeted the train, but it stopped for them, to keep them supplied with the necessities, at cost, lest the entire coastland become uninhabited, and left open for conquest.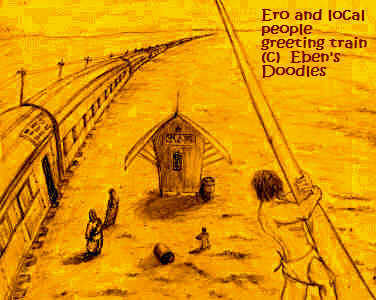 The dome mast, guided by his programmed compass, follows the train for some distance, and a river bed, normally dry, is reached. A flash flood, hundreds of miles away, has sent water far down to the coast, where wild boys from some neighboring tribe have been playing in it when Ero appears and scatters them witless off the bank and into the muddy water.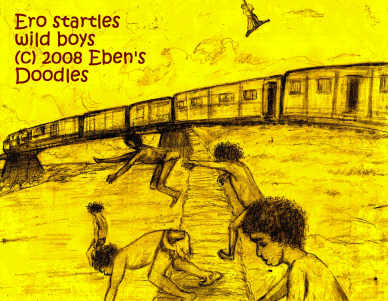 Damon Santiago Coxie, a free lance photographer from Poseidonia, thirtyish and experienced in his trade, is aboard, this trip across the Nullabora, the "Big Empty" as the desert plain is called by natives.
He had done his homework on this southermost stretch of country and its one highway, the double gauge track, that carried travelers 310 miles without a single jog. Normally, there should be few surprises--but somehow Damon wasn't so sure this time.
Geologists and cartographers knew it technically as the South-Eastern Erg, but the people who actually live there, suffering the hellishness of it, call it by name, perhaps hoping to personalize it a bit and make it a little more bearable.
After all, humanity has that trait, naming things to better get control of them But the Nullabora, controlled? Damon thought. What a silly idea. It can only be endured, with the patience of a hapless lizard that ran too far after a fly, and now is frying out in the open on sizzling hot hardpan, its sightless eyeballs shrinking and blackening in their sockets. The lizard controlled nothing, after all, and the fly got away, flying and buzzing about until he eventually ran into a smarter lizard.
A free-roving photographer for the Poseidonian Government Tourist Office, this isn't his first trip photographing the world from a train--but he knew the Tea and Sugar on the uttermost southern edge of the continent would be different from the other stretches of track and their mountain-climbing narrow gauge rails. The Herukan-Ratnan authorities, anxious to gather tourist revenues from this vast wasteland to help pay for its upkeep, issued visas to Publica-texans and other rich "Outlanders," but that did not mean they would not plant a spy or two aboard the train, just to keep their activities in view. Photographers, as a tribe, have an innate sense about such things, and so it proved, the moment he climbed aboard at Port Olu (also called Port Abdullah, "Ulla" or "Olu" for short), he suspected, way down in his gut, a sea-change was in store for him in the itinerary. A railway in such a depopulated, barren wilderness as the Nullabora was bound to collect some strange types, he knew. They were the detritus, the flotsam and jetsam, of society, washed in by hardship and bad times somewhere else where they could no longer afford to live, or maybe they were even just one step ahead of the law, fleeing from the authorities after some murder or robbery?
The train carried the usual consignment of railway workers, and common contract laborers, the "fetlers," but there were passengers, second class and even a few first class fares like himself.
First class proved a crashing bore, he soon found, the usual wealthy foreigners, over-dressed for the Nullabora, stuffing in too much rich food than was good for them.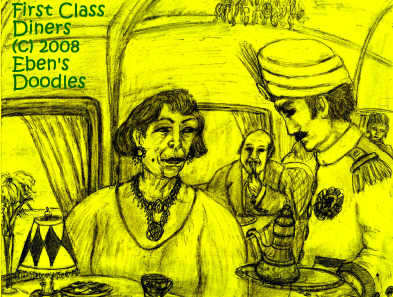 After a glance into the stuffy society of the dining car, he crossed with relief to the second class compartments. Soon he found the types he had hoped to photograph--"original aborigines," such as Ismail the rabbit hunter. Returning to his old haunts from Port Ulu, after selling his collected, dried rabbit skins to a furrier who lined the robes and gloves and even the turbans of the imans and nobles who lived in the far, colder north, Ismail had provisoned himself anew with tobacco, tea, and some other luxuries, and was enjoying his trip back to nowhere, where he roamed alone and wifeless and relatively happy for having nobody but himself to account to.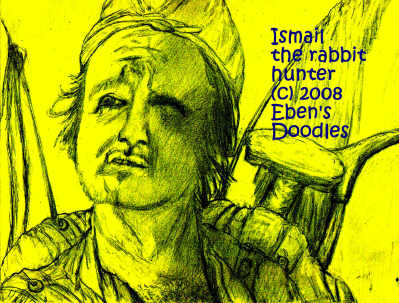 Damon always conversed with his subjects while photographing them--as he wanted to know the personal details of their lives, and something of their soul struggles, that would help him get the best picture, help him seek the unique quality of that person that made the person individual. So he asked the wandering, one-legged rabbit-hunter who was stumping through on the car where Damon was taking pictures, asked him about his rabbit-hunting, which the man was very happy to tell him about. Damon knew he would react this way, as few Nullaboreans would want to tell the secrets of their past, or their former lives before they fled to the wilderness to escape all manner of things.
Giving Damon a conspiratorial wink, he drew him aside to a place between the two cars, where the wind was roaring and the wheels clattering as if they might be coming off, but where there was no chance they would be overheard.
"Oh, it's a bloody life, mate! My peg leg hurts something bloody awful at times, as if I still have a leg there! I can hardly sleep at times, but I can't help having it along, I have to walk on somepin! But the skins are good here--the best on the market in Port Ulu! They pay me well there! I make my trip in every couple months, with all I collect (dried to toast by this bloody sun and wind out here), and get my pay, and head for the bloody Rabbit and Wolf Club in town, and when I wake up a couple days later wherever they happen to throw me--I always search for my secret stash in my wooden leg, and, sure enough, they hadn't thought to look there! I made too many mistakes losing my money to the bouncers at the bloody club--so I learned, and made my secret hideaway, and save what I need to return to the bloody Nullabora and start over!"
"But what are you going to do, when you're too old for roaming around alone?" Damon burst out. "Who's going to take care of you in your old age? What then, mate? Have you got any money saved for that eventuality?"
Ismail grinned, drew a glass flash out of his shirt, and offered Damon a swig. Damon smiled, shaking his head, and the rabbit-hunter uncapped the flask and took a draught, wiped his lips afterwards with his dirty back hand, and put the flask back.
"Oh, that! Hey, luv, I donna worrie 'bout things to come--I just live now, this bloody crook day, not tomorra, mate! I only got todayya!" He laughed, throwing his head back at his own witicism. Damon had to laugh too. The man's merry laugh was infectious. Since that was about as good a explanation as he had heard from others like him, Damon wished him good fortune with the rabbits and their skins and went back to the car, to finish his picture taking. He knew that the rabbit-hunter was just making a brave face for him, as both of them knew his fate: someday, maybe not long from this day they rode the Tea and Sugar together, his bones bleaching out on the endless plains somewhere amidst the salt pans and salt lakes and rocks and lizards, his death unnoticed and his grave unmarked.
The Second Class compartments were jammed, of course, presenting the starkest contrast with the quality folks in the First Class cars. But here was life! Life in all its rawness, desperate need, and primitive, tooth and claw struggle, with survival of the fittest, that is, the most brutal and violent elements--just the thing he wanted for his spread on the Nullabora and its inhabitants, animal, vegetable, and human.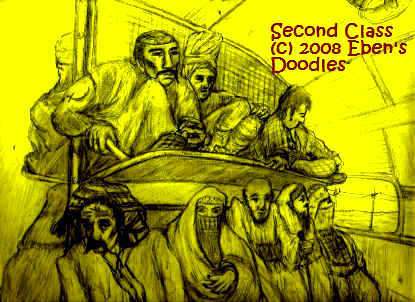 Gazing at the compartments, Damon had to wonder how so many bodies could be crammed into such small spaces, without complaint! But the reason for the uncomplaining masses was clear. All they had to do was glance out the window. If anyone created a nuisance or threatened anyone or robbed someone, out he was thrust by the train's guards, who did not bother with niceties such as court and judge to decide the case. Out he went--which was certain death, in a few wretched hours. Everyone knew that--as signs in the train declared the warning against "Social Evil," with an itemized list of infractions that would be tolerated. Women too, even travelling without menfolks, were protected, as to touch any women in a way to make her protest was to earn swift capital punishment, or, if not the sword at the neck, the same thing: thrown off the train at 50 mph.
Damon took a group picture, wondering how he would engage any of the men and women (he saw few children), as they were all withdrawn into themselves, avoiding conversation with each other while they endured the long, long, monotonous rail trip to the single-gauge transfer depot which served as the entry gate to the Mountains of the Moon (the notorious border country of Ratna and Heruka where people could escape the government authorities indefinitely, if they could find some means of sustenance in the free and lawless mountain towns and villages).
Damon, experienced as he was, and no fool, was always on his guard, however. There was safety on the train--sort of. Robberies and murders still took place, despite the guards and the capital punishment they administered any malefactors in transit. Seldom patrolling the dangerous corridors, their justice was sporadic and quick but little enough administered to strike any real fear into the troublemakers onboard.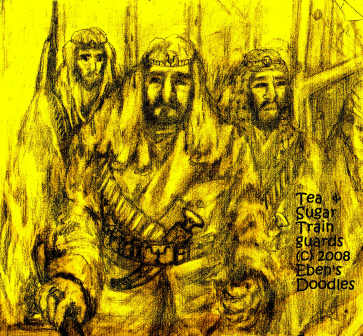 Human bones bleaching white along the tracks testified to that fact--and they weren't malefactors thrown out, usually, they were victims of crimes committed on board the speeding train by the thugs who travelled the line purposely as a way to make a living by preying upon the lowest classes of the Herukan-Ratnan Duarchy--as the poor could afford no bodyguards, and the police did not much care what happened to anyone below First Class status. Knowing life was very, very cheap on the Tea and Sugar, Damon took special care as he neared the walkways between the cars, where such crimes were most likely to occur. A quick knife thrust, their valuables seized, and the victim was then pushed from the train, and nobody was the wiser.
Knowing all about this, but reasoning that they, as train personel, were at lowest risk of being made targets, kichen scullery workers still took their vegetables and fruits and other menu items out to the area between the cars, when they wanted some space to work they couldn't find in the boiling hot kitchen. This was not particularly foolhardy. Normally, during the day there was little danger of being assaulted. But one worker, paring sweet potatoes and yams while he daydreamed about his sweet little bride to be waiting for him at Port Yosef, let down his guard a bit too much, perhaps.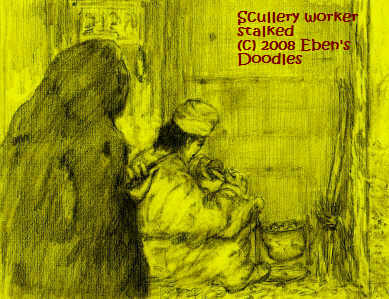 The unfortunate fellow, Daniyel Modesto ibn-Quail, got his throat slit with a razor, and he and his potatoes were thrown overboard, after his engagement ring was taken and his pockets rifled for the petty cash he was carrying.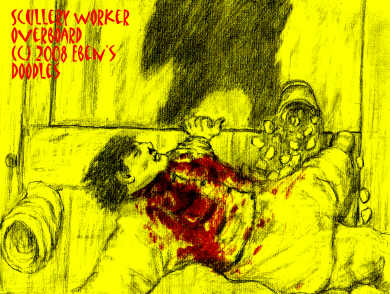 Ero, however, was better situated to see the skullduggery going on than most everyone else aboard the Tea and Sugar.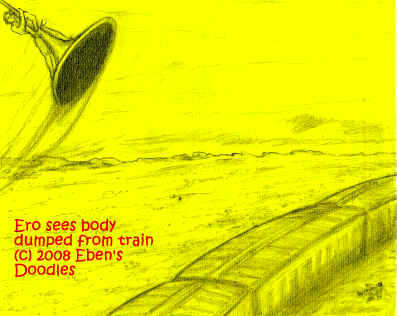 The moment the train passed after the body was dumped, he maneuvered his Kater's Compass enough to allow him to land, and he ran to the body and looked for signs of life. Obviously, the fellow was a goner, so he heaped up sand and rocks with his hands, making a makeshift burial for the remains. Then, remounting his spiked transport, he flew off toward the distant train.
Aboard the train, life proceeded as usual even with the absence of one worker in the kitchen. The first class diner head cook was angry, though, to find his special potatoes for dinner had gone vanishing into thin air!
Though he did not hear about the scullery worker's disappearance, already Damon had noticed a considerable thinning out of passengers in some compartments, where he spotted the roughest looking blokes. Why didn't the other passengers report the killers? Of course, there was only one reason: they would be targeted next by the cutthroats aboard. It was best, smartest, to keep silent, and hope to go unnoticed until they reached the transshipment center, Port Yosef.
Passing from one car to another, an elderly padre made his rounds, mainly among Second Class, and he included the fetler's car as well, as he preached to everyone who would hear him the Gospel of Y'shua.
Up from the deep south, some said he was from the Argentine empire, Padre Noaik was a strange sight in his black robe, tattered dust-coat, and clerical collar and big wooden cross at his neck. Year after year he visited the Tea and Sugar, giving out the Gospel invitation, calling all to believe and to be saved from damnation and hell. It was a brave invitation, to be sure, since he was an infidel in these parts, lands which were under the moon and sword of Isma, and had been for many centuries.
But the padre did not seem to mind the stares or the hostility of some toward infidels and foreigners, or even the threats of an occasional iman passing through, for he was an amiable man, grinning ear to ear as he greeted people and tried to get them into conversation on spiritual needs they might have.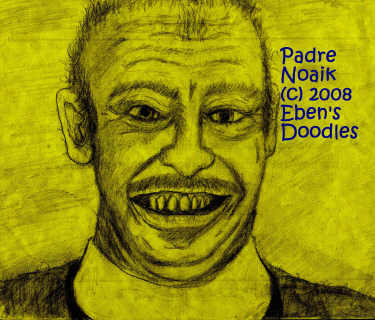 Damon met him when the padre came to visit the fetlers, just as he was going to pay them a visit too to get some pictures.

Damon had to ask him how the Gospel was doing lately. "Had any converts, Padre?" he inquired.

"No, not this trip yet, but there are a few onboard I am working on--they'll come bye and bye--if not this trip, then the next. I feel it is just going to happen, I see it in their eyes, mate! They can't hide it from me. They're seeking the truth!"

Damon chuckled. "My, you missionaries don't give up easily, do you! What keeps you going like this, year after year! You might be retired, at your age, sir, and take life's comforts, if you have a wife and home, that is."

The missionary shook his head. "No, our order is completely celibate, we don't marry while we wear the Cloth, and it is a good thing too. You can't do what I do and have a sweet, little wife pining away at home for you, and this keeps me from thinking that way too and wanting to get this business over with as soon as possible so I can scoot back to the lovin' arms of the good wife! No, this is the best way for me! I've lived all my life this way--and the end is soon coming--I can see the Celestial City shining just up the track! Until then, just me and Y'shua and the Word! My job is to meet as many people asd I can, even if only once. That way they can't say to the Lord, 'I didn't have a chance.' I tell the lads that when I go to heaven I'm going to tell Y'shua, 'I have a whole string of lads from along the line, and they want to come in too.' They listen to that. I think rough men can be softer inside than a woman. They know everything is crook, and it shouldn't be that way. I tell them, 'You keep on the rails, and you'll get there.' to me, the line is holy ground."

Damon nodded. "I can see you do find your calling fulfilling. It is written all over you--you're happy. Few men can claim that--happiness and fulfilment!"

Damon's eyes grew more sober and he looked away toward the Nullabora. "I am not certain even I could claim that, and I have everything I want and money can buy!"

Padre Noaik did not miss a beat, the moment Damon admitted he was not as assured of his happiness as his manner would have people believe. He stepped closer to the photographer, helping him as he gathered up his gear. "We should talk, soon as you get your pictures. How about it? I can be of help, if you care to take the time."

Damon shrugged. "I wouldn't want to waste your valuable time, Padre! I have no problems--none that I can't handle. It's just that I feel a kind of empty feeling, no matter what I do, or how many pretty women I take to bed, or how many drinks I put away--that empty feeling nags me each time, and I can't seem to make it go away. Have you got any medicine for that?"

Padre Noaik smiled. "Well, now, I got just the thing for you--no medicine, but it's the real cure for the heart and soul: the Word, Y'shua himself! He only can fill that place in you that is aching and crying out inside you like that. You see, son, there is a God-shaped hole in every human being's heart that only Y'shua can fill. It takes a long time for some to find it out. I am here to tell you how to fill it. So as soon as we can talk, I will give you all the Word you need to know, so you and Y'shua can get together! Okay? You'll never regret it if you do! I can promise you that, lad!"

Damon, stiffening his resolve, once he had all his equipment in hand and was ready to make his invasion of the fetler's quarters, smiled. "Well, maybe! I didn't commit myself, so we'll see how this session goes. If it goes well, then I can spare you five minutes or so. Is that a deal?"

The padre slapped Damon's shoulder. "Fair enough! I'll pray for you, that you have a good session. And a good session, is that you come out of this alive, with your pictures and camera intact!"

Damon laughed. "Thanks, I'll need your prayer then! I hear from everybody this is a pretty rough and nasty bunch! People tell me that when they're not working, all they do is fight, drink, and fight again! Nothing but animals and low life--but ought to give me some interesting pictures, if I can get them to cooperate, that is!"

That said, Damon was about to knock, when the padre caught his hand. "You think you're dealing with gentlemen? You bloody knock like that, and they'll give you a bloody fist in the face when the door opens. That's just for laughs, for openers. No, if you value your life, son, just push right in like your're somebody big and important on the Tea and Sugar line, and then just set up and start taking pictures, and boss them around too some so they respect you. They'll not bother you much then, and think they might get some nice free cold drinks out of you, if they let you do your thing. I know these boys, been working with them for years. I would introduce you to them first, but they won't care a fig about your credentials, son--for if I do that, then you're just a nabob in fine clothes and got a good job and money they don't have, and they'd just laugh in your face, then throw you and your camera out after smashing you up a bit for fun just to teach you not to meddle lightly with fetlers. No, the only way for you is to bluff 'em, push right in like a big boss, and don't let them think twice about you."

Realizing the padre knew the fetlers better than anyone, Damon's jaw tightened, then did as he was advised. The moment he was inside the fetler's car, Damon was distinctly aware he had landed in a no-man's land, in a kind of zoo or even a wild animal's den, where the laws of civilized society, even as relaxed as they were in Second Class, did not apply at all here.

He was on his own! Anything could happen to him! He could fight, yes, but with so many, would he get out alive?

The dim, smoke-clogged air stung his eyes, and then he saw that the room was packed by bodies of young, unwashed, utterly debauched "lads," most of them playing pool or drinking or lying in vomit on the floor, as his nose already told him--too many for that small a space, too, crammed in with too many beer cans and bottles and butt cans and half-eaten meals thrown in a corner, the smell of spilled, stale bread malt beer blending with the reek of an over-flowing toilet and rank human sweat.
Coming in unannounced like that, the padre was right, they paid him no more attention than lounging wild beasts would of the flies buzzing around the garbage and butt cans. As for the butt cans, Damon nearly fainted as he drew his first breaths, as they were putting out a terrific stench in the over-heated room with the tightly closed windows, not so much of cigarette ash, as urine--and just then he did see a fetler grab one, rather than bother to go to the latrine in the car, and pay nature his respects.
Damon was weak in the knees when he at last stood outside the fetler's car, leaning against the next as he thanked his fates for being so kind to him, as to cross paths with a praying missionary! Where was Padre Noaik! He looked around, going into the next car, but the missionary was no where in sight. How disappointing! Damon wanted to tell him how he had gotten some fine pictures of the fetlers, and they would be worth a bundle when he got the negatives back to his studios and then sold them to the Government Tourist Office.
Going to his own room in First Class, he was showering and trying to clean himself of the reek of fetler's den when he felt the train slowing.
"What depot next was it?" he idly wondered. He didn't have his map out--so he wasn't at all sure. How about a repeat of the last stop, a flyspeck of a depot called "Forest"? Whoever named it that was drunk. It wasn't but a few thorny bushes, termite mounds, and salt, aluminate pans glaring in the sun for miles into the distance! Why risk it? Would he bother going out now that he was feeling in urgent need of some relaxation in the diner and the adjacent "refreshment car," as the train's unregistered saloon was called? Why bother getting all his gear together, pulling on his clothes, and going out again--he had done some real slumming to get some good pictures of the fetlers, and could take a nice little breather, couldn't he?
Yet a free lance cannot afford to pass up opportunities, particularly on such a long and monotonous stretch as the Ulu to Port Yosef line! He knew that, so he groaned and quickly rinsed the scented soap off, used plenty of fine, freshly laundered cotton towels, and jumped into his clothes, grabbed his equipment, and got off with the disembarking passengers.
He just caught sight of a tattered dustcoat and white clerical collar as they vanished round a corner of the first of few low-slung bungalows, tin-roofed houses of railway workers that constituted the metropolis of Pimba, population fifteen.
Hurrying to catch up, he wasn't fast enough, he found, for the missionary was no where in sight when he was standing on the depot town's main street. He could take in the entire street with a glance, for the entire road stretched not quite a quarter mile to where a sandy, tire and can-strewn playground was started but not finished, the desolation not quite relieved by a brightly painted red and green striped water tower that supplied the flyspeck town's people and kept alive a few struggling palm trees, vegetable gardens and whatever livestock and chickens were sheltered from the blasting heat and wind of the Nullabora by high walled yards.
Two of the houses caught his attention, however. One was an unregistered watering hole, an illicit tavern, which the authorities winked at for a certain sum, of course. He knew this was the business at hand when the door flew open, and the proprietor in a dirty apron and a upper body showing the hairy pelt of a black bear roared, hustling a no longer solvent and paying patron to the street.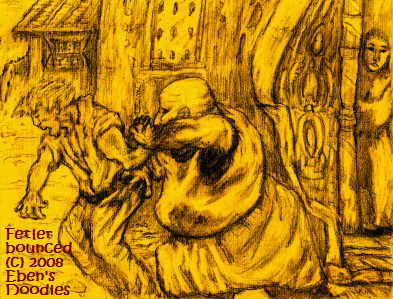 With his hand gripped on the fetler's britches, the tavern keeper gave him a violent heave that send him flying, then bouncing and rolling across the hard ground.
Damon went over to the fetler lying prone and unmoving, and thought he might try to help him. "Hey, you, are you all right, mate?" he asked, touching the fetler's arm. The fetler didn't move, so he asked agin. All of a sudden the fetler came back to life, but Damon's concern wasn't reciprocated with gratitude. All he got was a curse, and some spit, as he bent over the fellow. Leaving him alone to lie in his wretched state, Damon continued on, wiping his face with his clean handkerchief. Why kick a man when he is down? He couldn't do that--he has his own pride to think of!
"Imagine that? Spit on by such low, dirty scum as that fetler!" he thought, as he continued down the only street in town. "What he didn't do for a good picture!"
As Damon left, the fetler, minding his own low reserve of pride, hauled himself up and sat. He then rose to his feet, almost fell over on his head, but caught himself somehow. Brushing some sand off his face, he started hobbling back toward the tavern, then paused. His fists were clenched for action, and he has his knife stuck handily in his ankle sheath, but he decided he might wait on vengeance a bit--until he could walk better, that is.
Instead, he continued on by the tavern and on down the street, his feet stepping where the photographer before him had stepped, more or less. He knew the way by heart, and could find it with his eyes shut. She had always been there waiting, with her delights to be paid for, one by one. Most times she took his whole check, cashed it herself by going to the paymaster, when she took his and a stack of other fetler checks in.
He knew she put out for all the others, just as she did him, but he tried to forget that. But would she remember all the good pay he had showered on her the last two years? Didn't she owe him something for that? Wouldn't she give him a little love on credit? He had had plenty booze. He just needed a little love right now--just a little lovin'.
So Eryk made his way to his trackside lover's domicile. He turned in at the gate, knocked the code that alerted the dragoman a patron of long standing only knew, and the dragoman opened up at once.
The dragoman's glance was not so friendly, however, and Eryk, even in his bedraggled, sodden state, could see that much.
"She home? Well, then, get outa the way! I'm goin' in!" he said, and went forward, or sort of fell forward, then got his balance again somehow, and continued to the door.
Going in, he found his old lover where she was usually to be found. It took a few minutes, but he wasn't getting anywhere fast, when she pushed him away and got up and went to the window, as if to call the dragoman to come and throw him out. "Wad'z the matter, babe?" he said.
"What's the matter?" she echoed him. "What's the matter? You're the matter! You're too drunk to even walk straight! And where's your money? Tell me, did you bring any money, then where is your check? Show it to me first! You get nothing from me without cash or a check!"
The fetler tried to get off the bed, but wasn't making much headway. "Aw, don't you start that, woman! You know me! I pay good money! You know that! Why treat me like a dude? I'm a--"
She turned around, spitting out the words. "You're getting out of here, right now! I can smell it! You're flat out busted, aren't you? What I heard was true then--you're on the Tea and Sugar blacklist! The company will never hire you--you're a dead man! They were tired of paying you for the trouble you caused them all the time. You piece of garbage, you lying little animal--now you come here, after pissing in your pants, and you want something for nothing! You think to use me like a little fool, do you?"
There were other, more choice things she added to her list. But she was interrupted. There was a knock on the door, unlike any heard before in the house. It rang right through from the entrance to the back room. It startled them both. The lady of the house went to the door, opened slowly, and her eyes met with someone she hadn't seen before.
He seemed to be a mighty fine prospect, by the looks of him, and she was interested immediately. There still might be something for her that day that would please her, for all the trouble she had just endured with the "reeking piece of garbage" that was the down and out fetler!
A few minutes before, as the fetler turned in at his lover's door, Damon was about to reach the last residence and turn around, to return to the train, when he took a second look--the particular house he was examining was high walled like the rest.
But Damon's eyes were particularly sharp, and what made this one different, it had a gate guard, of sorts, who was at that moment examining Damon head to foot, through the big door's judas window.
"Well"? Damon asked, a little annoyed by the beady-looking, ratlike eyes. "Do you find me interesting, mate?" he said. "Or don't you have anything better to do than stare at strangers in town?"
The rat eye in the judas did not waver. But a very dirty thumb appeared round the edge of the gate, which was ajar, and with a jerk indicated the direction of the house in a way that told Damon this was the kind of house that offered a certain pleasure to the weary traveler. It was, Damon knew from experience, the sort that any man with sufficient money could buy.
The moment he passed through the gate, it slammed shut with a horrible creaking sound and clatter of chains and locks. The gate man, really a dragoman in striped green and red pantaloon costume and high, badly stained red turban with dirty egret feather, not to mention the long curving sword at his belt, led Damon toward the entrance of the house.
"She's puttin' out royally today, Effendi. Tea and Sugar's here for one hour doing retail and paying out fat checks to the workers--plenty time for what you're be payin' for." As long as you keep payin', she'll give out, and you can stay as long as you like, Effendi!"
Then the dragoman slouched away toward a snarling dog, sore-covered, almost hairless wolfhound which was chained to a tree. "And if you don't leave when your money runs out, Effendi, well, me and this doggie here will see you do right by her! And I got the key to the gate, remember. I'll let the beast gnaw your bones right to the marrow! He's always mighty hungry, that one! Hasn't gnawned a fine gen'lmun like you for quite some time!"
Damon's blood boiled by this time, but he decided it wasn't worth risking damage to his equipment to pound some respect into the insolent dragoman. Besides, he was curious as to the madam of the establishment. Was she young and pretty? Or old and diseased, with half her teeth knocked out and missing? He had to find out. That was the stock in his trade anyway: his innate curiosity, applied with randomness, and the unexpected--sometimes the remarkable--happened, which often gave him him his best shots.
Going forward, he reached the door, and just then it slid partly open, and Damon paused, watching as the woman of the house came into view.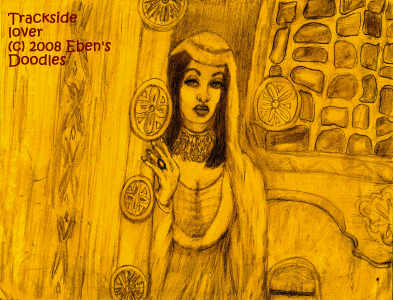 Without a word, after she looked him over from head to foot, she turned and left the door ajar, and that was enough sign, enough invitation, and he followed her in.
She had a plan of her own, and led him right to the back bedroom where an unwelcome guest was waiting impatiently for them, and ready to pick a fight.
The fetler, though he saw immediately that he was facing a much bigger antagonist than he had bargained on, stood his ground, leaning casually against the high bedstand (you might say for support).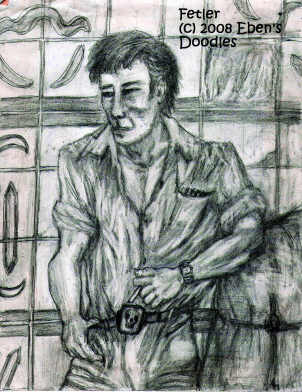 But even this fetler knew when his game was up, when he considered what the trackside whore now had in her arsenal (not to mention the dragoman and his dog). He soon quit trying to stare Damon down, and shrugged and made his way to the door, as slowly as he could to save his pride. His former lover wasn't going to let him strut out with his male ego intact, and followed.
Damon waited as he heard them exchange parting obscenities at the door, then it slammed, and the whole house shook, and dust came out of the wall.
He laughed, and settled himself down on the sofa.
Storming to the gate, the fetler grabbed an iron pipe and beat off the lock and half-demolished it, then broke out as the dragoman shouted and tried to get the dog off its chain in time to do him some damage.
But the fetler was quicker, as his rage brought back all his strength.
He was fit to go and do the same to the train what he had just done to the woman's gate. If he had met anyone, just anyone, at that moment, he would have murdered him or her.
Fortunately, the townlet was bare of inhabitants, in the street, and slowly he cooled, as he turned toward the train, and thought better of confronting the guards and all their knives and firepower with his lone knife.
Hopelessness settled back down on him like Kismet--unshakable, unbeatable, ineluctable. A black cloud with vampire like wings, sucking the life out of his very soul!
It was unspeakable wretchedness--that was its essence, and he had drunk the worst effects of it away, as long as he could, but now it had come back with a vengeance to suck out the last shreds of his soul.
He sank down on the sand and gravel, beheath a broomwood tree, and thought of falling next on his knife. Why not? He had nothing to live for.
He drew out his knife from his ankle sheath, and gazed at it. A couple more moments, and he would have done it, but life is never a tidy thing. The padre, making his rounds in the little wannabe railway town without much of any positive response to his preaching, had finished and was about to turn back to the train, when the despairing fetler heard his shuffling footfalls.
The padre was startled when a voice whispered hoarsely to him from the shade of the broomwood tree.
"Padre! I got something to tell you I think you will want to hear!"
"Oh, do you now?" He went over toward the man, a fetler he saw, lying against the grizzled, half-dead broomwood.
"What is it, son?"
The fetler grinned up at the padre. "Some friends are asking for you to stop by right away. They live in that place over there, with the gate and guard, and want you to go right in and tell them all about Y'shua--you know, the one you are always preaching to us fetlers about. Will you do it, padre? They are such thirsty, needy souls! Such sinners! They want to repent of their sins! Go right now, won't you, padre?"
The padre looked doubtfully in the direction the fetler indicated with his knife. Then back to the fetler. "You don't be fooling me, son? I know the type of lady that runs house. Her reputation makes her well-known all along the line from Port Ulu to Port Yosef. She doesn't want my kind around, and she made it very plain a time back, by sending that dog of hers to drive me off. But if you give me your word, I'll go. Do you give me your word as a man?"
The fetler lunged to his feet, and stuck out his hand. "Sure, padre, sure, I give you my solemn word! On my honor, I'm telling you the truth! Now go, father--they're waiting for you, just as I said! Don't disappoint them, go, for they want to know how to be saved, they don't want to be damned and go to hell like me and all my fellow fetlers!"
The padre shook the fetler's hand, grinned, then turned and made a beeline to the establishment that had never once permitted him to give a word there.
He did not have any trouble getting in, as the gate was no longer a barrier. Once inside the compound, the dog with its fangs bared was about to come at him, but the dragoman, seeing the man's holy robes, grabbed the chain in time and held him back.
"God bless you, good man!" the padre said, tipping his hat, and proceeded to the door.
As he knocked, there seemed to be no response. Then the door opened a crack, and that was all the padre needed, "Feliz Navidad!" he declared, with all the love and cheer in him.
For this was Christmas Eve, the night before the Navivity of Y'shua.
The fetler, meanwhile was enjoying his little joke at the padre's expense. What a joke it was, indeed! Imagine, he thought, how they would like it, being interrupted in bed by a preaching padre!
As he sat there, savoring the thought, he grew aware gradually that the night had fallen, as the stars were coming out in the purplish dusk, and a chill wind was beginning to stir the sands, and other signs too--swallows came flying to catch the insects that rose at that evening time.
A star of particular brilliance was shining, its rays reaching all the way down to the huge, wind-blasted, twisted and half dead broomwood tree.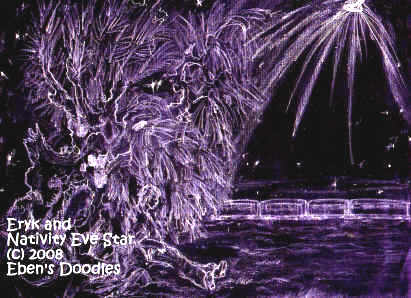 Not aware of the source of the star rays, nor caring even to look up, the fetler was totally unaware that it was Ero, who was glowing with a sort of St. Elmo's Fire, whether by Wally's doing or by chance or even Y'shua's, as this could be the same Nativity Star, by its brilliant appearance, that once shone upon his nativity in Bethlehem long before this time (not not ever entirely forgotten by his followers). The fetler rose, felt stiff in his legs, and wondered what was keeping the padre so long. But just as he was going to head back to the train, he saw someone coming--his long dust coat flapping and giving the padre away.
The sight had an unusual effect on the fetler. He had thought to laugh when the padre came and called him to task for fooling him, and being false to his word like that--but now he was not in the mood for laugh. Instead, He felt very much sorry for how he had pulled the wool over the padre's eyes, and wanted to slink away. But the padre had seen him, and was heading straight for him, so it was too late.
Before the padre could say anything, the fetler hung his head, and said, "I shouldn't have told you a story, padre! It was a low thing to do to you--and you probably caught hell for going in there like that and preaching to them,k when you weren't invited."
Padre Noaik clapped the fetler on the back, and grinned. "No, not at all--they were really pleased, when I told them all about the meaning of Yeshua's birth--in fact, it made quite an impression on them. That is why I took so long. They had a lot of questions. I think I will be seeing her again, but the fella is travelling on, he said, and might not be back for some time. He didn't convert, but he said he would be thinking about what I said. I left after prayers for them, and hurried so I wouldn't miss you and could tell you how well it went. Thanks for carrying their invitation to me! It really made a fine day of it for me!"
The fetler could not believe his ears. "You mean they didn't tell you?"
The padre's grin did not waver. "Tell me what, son?"
The fetler stared at the padre, and he was about to say something, but decided, no, why not let sleeping dogs lie? The padre didn't need to know he had played a joke on him.
Yet he couldn't let the padre go somehow. "Padre, I been meaning to talk to you, to ask you a question. Can you spare a little time. I know the train is going now, in a couple minutes, as the whistle blew twice, and that means they will soon be boarding.
"Walk along with me!" the padre said. "We can talk as we go. Now what is it?"
Somehow his prepared speech seemed so inadequate. He had thought to make an apology, but when we tried to start, it occurred to him that the padre wasn't the one to whom it really needed to go. It was someone far off, very far off.
So he asked a different question, closer to the issue at heart.
"Padre, is it every to late to make up with my papa? I said some wicked things, and stole some money too from my papa, and took off to have my fun with it in the big cities over here, and then took a job on the railroad when the money ran out. Here I am-- all my money gone, no friends who still stand by me anymore, and no job either! I--"
The padre stopped, and touched the fetler's arm. "It's not too late. I am a father myself, of sorts, with many sons like you to look after, both here and in my own country. I know how your papa must be feeling, with you gone, and not knowing if you are dead or alive. He'll be waiting for you, maybe looking out on the road every day, hoping to see you come home. Why not go and make it up with your papa and mama? From what you just told me, you got nothing here to hang on to--why not return home where they love you and want you, son? Do it now. Don't put it off!"
The fetler could not say any more about it--he was so overcome with his feelings, and they could not be expressed. The padre knew when not to press a hurting soul, and with a short prayer, he departed, leaving the fetler to gather his thoughts as to what he should do.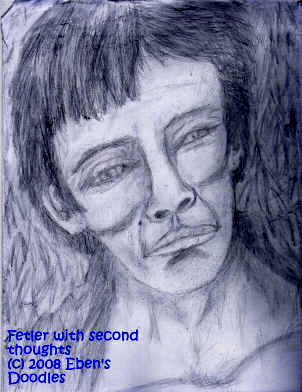 The train whistle tooted a third time, a final long blast, and then began moving slowly off. Seeing this, the fetler suddenly made up his mind. Everything came clear in a flash. Yep, he could do it! He could play the man and go home and ask his papa to forgive him for badmouthing him and stealing his papa's money he had saved up for buying special breeder bulls to build up the herd. He would ask to be taken as a hired man if his papa would have him. That way he wouldn't be starving, and he could work for his living, as he knew the work on a ranch as well as anyone.
But to do that he needed a ride on the Tea and Sugar! Home was a thousand and more miles off--and the train would take more than half the distance. So he ran with all his might, and caught the train just as it was gathering speed and might have been out of reach, if he hadn't sprinted the last fifty yards like he did.
Pulling himself up and onto the side of a car, he clung to it as he got his breath back, then when he saw no one was coming after him, he climbed up and lay down on top, exhausted. He knew he had to be careful to stay out of sight, as the guards would either shoot him, or throw him off head first if they caught him. Fortunately, he knew their movements, and how to elude them.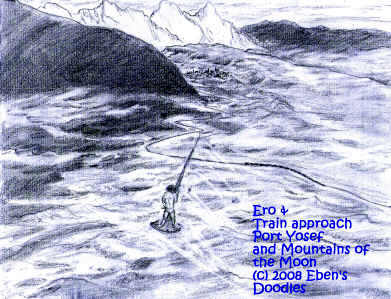 Port Yosef's walls came in sight finally of the train, but they first had to pass by the garbage dump, where the ruins of Roman antiquity, because they were judged immoral after the conquest by Isma of the entire area, were thrown out. Theodora, a Roman empress famed for her making fortunes with her own perfumery in the palace, fared no better than the emperors' statues. Scavenger cats lounged in her presence, where once only jeweled and perfumed courtiers of the imperial palace, with their ladies, had been allowed.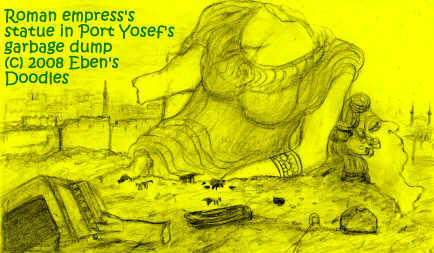 Once inside the walls of Port Yosef, the double gauge line ended at its terminus, the ornate, Multan kaliphate-era cast iron railway station.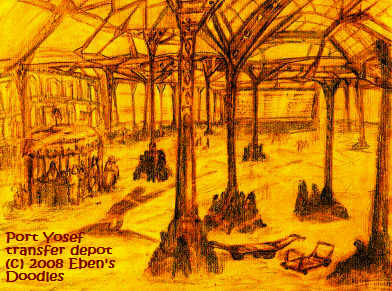 Here another single gauge line and a train, first taking on additional guards to safeguard the mail and the gold shipment from Port Yosef (where several mines operated) to Multan, awaited all passengers and their baggage continuing on into the Mountains of the Moon. Since Ero's Kater's Compass was programmed to follow the train onward, Ero had no choice in his intinerary, except for slight alterations, which could last but a short time before the original flight plan was reinstated.
The Tea and Sugar train's passengers disembarked, and many got on the single gauge passenger and freight train, which was called the Multan Orient Express, but which was hardly an express, for the train's journey was long, torturous in its climb up and over the mountain passes, and involved uncountable stops at villages and towns tucked away in the mountains.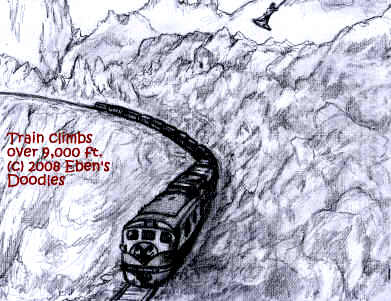 As the train climbed upwards from the plains, Ero had time to drop down to certain vantage places to await it, as it made slow progress on the steeper grades and the numberless switchbacks. He was overwhelmed by the sheer beauty of the Mountains of the Moon, for this was his first exposure to them. White sentinels scratching the sky, the white limestone that composed them had been thrust up from the seabed in a gigantic, violent upheaval when the continent of Atlantis was volcanically reborn.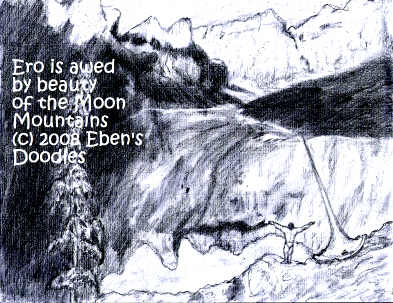 The Port Ulu to Multan Orient Express climbed laboriously the many thousands of feet to the pass as Ero followed. Beyond the pass, if an avalanche did not carry them away or destroy the track ahead, lay bandit-infested crags, that would have to be passed before they reached civilized, inhabited regions, with villages and towns that clung to the sides of the mountains like the nests of swallows.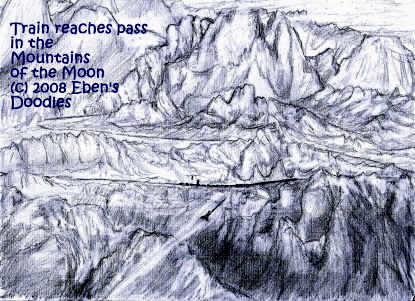 The guards get busy, however, trying to run down several stowaways. One is the laid off fetler, Eryk Woodbee from a Brazos ranch in the Pulblicatexa, who has climbed aboard, and spends time either in the unattended baggage car or on top the train, wherever he can elude detection best. As for the fetlers in their private car, he knows they want nothing to do with him--so he doesn't even try to sponge on them, as they would just throw him out if he tried.
Pilfering some food one day from a service tray set for pickup by a diner car attendant in the window of the kitchen, he is spotted and the pursuit is on.
Train guards are called at once, and go to work in their expert way.
It is just a matter of time before they corner Eryk or run him down inside the train or outside. He will be forced to jump sooner or later or be captured, or worse can happen to him--as there will be no mercy, since train hopping without paying fare was regarded as social evil, a big enough crime in that harsh society to warrant summary execution.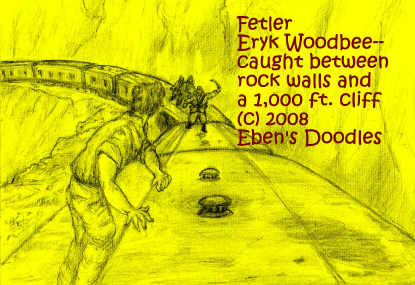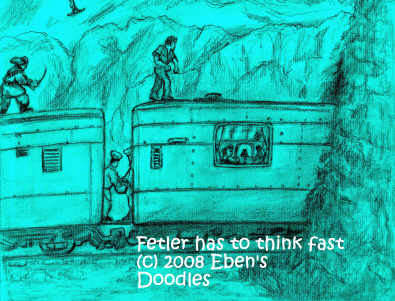 Facing a jump off the train and over a cliff, or capture and slow torture and execution in some execrement-oozing pesthole of a country prison, Eryk, sorry only that his papa will never know what happened to him, takes the third option left to him. He keeps standing as the train heads toward the tunnel, which is fitted with very effective "man-guards," which have the same function as cattle guards except that these are fatal iron spikes embedded in the tunnel entrance and ceiling.
The guards, unfortunately, have forgotten this particular approaching, man-killing tunnel. In the excitement of the chase, with the fox so close to their snapping jaws, the hounds find it is too late to drop down for cover between the cars. Forced to fall flat on the roofs of the cars, they have to take their chances with the stabbing man-guards.
The prodigal does not survive, but neither do the foolhardy guards, as not one of them makes it alive through the tunnel.
Helplessly watching all this going on atop the Multan Orient Express, Ero worked at his guidance system with the popup on his compass, but couldn't get it to respond fast enough for him to intercept the guards and rescue the fetler.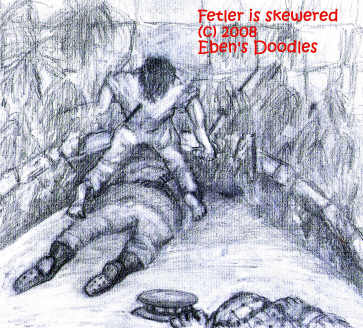 Ero, at last getting the Kater's Compass guidance system to obey his instructions on the popup, descends and then pulls the dangling fetler off the spike. That was the least he could do for him, he thought. But what now? Where could he take the body? Where could he give him a decent burial?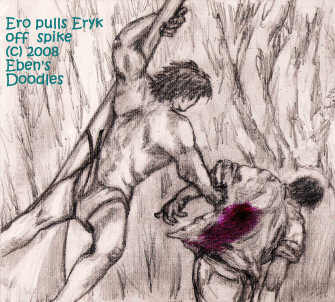 He flew up higher with Eryk aboard, and landed temporarily on a cliff edge, while he sought Help on the popup. Prompted for a name, he searched the pockets of the fetler, and found a leather wallet, empty except for some lottery stubs, a couple coupons for government emergency food rations issued at Port Ulu, a few phone numbers, but no address or name. The last thing he almost threw away was only a half torn and rumpled pink slip. Reading it, he found the name and address he needed: Eryk Woodbee, Lazy W Ranchero, Brazos, Publicatexa. It was a Tea and Sugar company notice, firing the fetler, with no option of rehire.
The map provided by Help was all the guidance system needed, and the flying mast pole was soon aloft, bearing Ero and his burden toward the northwest.
Dusk, then nightfall descended, and finally Heruka's coast was reached. But the mast continued on its flight unerringly across the Straits of Floyda, and then toward the even wider gulf that separated the two Turtle Islands. East and West Turtle Islands were now all that was left of North America after it split in two at the north to south Mississipi fault line.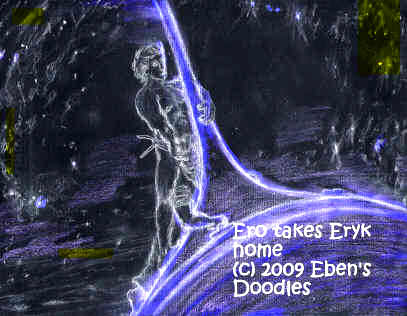 Turning west, no longer travelling north, the mast took them over the water to the Rio Brazos and followed it up to the towering domes of the huge Ceylon Nuclear Station. Beyond the fenced reserve a few miles, nestled among the low, dry, acacia and prickly pear-covered hills and grassed slopes, lay the Lazy W Ranchero. Here Ero set down in the dawning light of a new day, and he carried Eryk's body to an acacia and lay him gently down.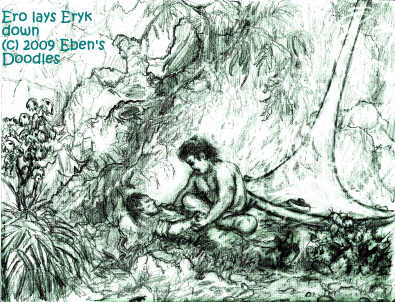 He tried to give the fetler a last bit of dignity, his hands folded properly, and his hair straightened, and his shirt made more neat, the best he could do for him, and just as he did that he heard baying hounds and cattledogs. "You're home, Eryk!" he murmured. "You're home at last! They'll take care of you now. But I'm afraid your papa's heart will be broken. But at least he will know what happened to you."
He turned and saw that some ranch hands, mounted on horses, and a pack of dogs were coming on fast to investigate. That was all he needed--Brazos ranchhands who wouldn't like anything about him, a total stranger, flying in on a wingless plane shaped like a flag pole! But there was no way he could explain himself and his flying machine to them, so he jumped back on the mast, and got away before they could intercept him. A few bullets actually winged his mast, but that was all they could do before he was out of reach, well on his way back to see how the Multan Orient Express was doing.
While Ero was away, the train continues on, with half its security force eliminated, and is now rendered more than vulnerable to the bandits. There was supposed to be double the force granted for the express train from Port Yosef to Simla, but the major general of the city's army garrison, at the behest of the local emir (who had a weakness for luxury and bribes) had overruled the station master and reduced the allotment at the last moment, citing a more dire need of guards on other sections of track.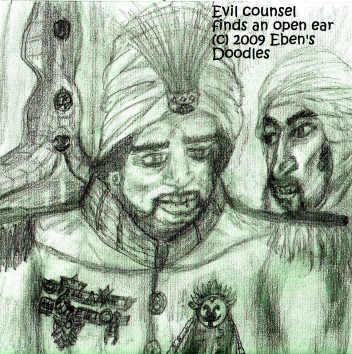 The feared confrontation comes quite soon after the train clears the tunnel, minus three luckless guards.
The engineers sees a large object on the tracks ahead, and it is a boulder, far too big for the train to push out of the way without derailing the engine itself.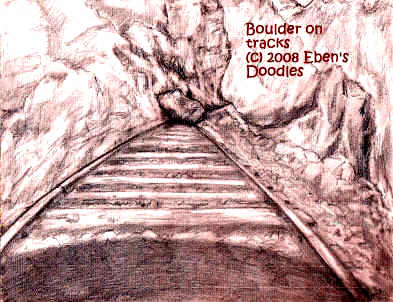 He is forced to halt the train on the tracks, a most dangerous proposition on a stretch where fifty bandits can hide within a few feet of the track and still be completely invisible until they rush out in a surprise ambush.
Stalled, with only half its guards, the train fell easy prey. Twenty some bandits rushed out, with twenty more following them a few minutes later, and began shooting whomever showed the least resistance, while robbing everyone of their valuables, car by car, as they made their sweep along both sides of the train to keep anyone from escaping.
They filled bag after bag with loot, and even though these male low caste passengers were mostly all poor farmers, laborers, and like, the women, many of whom carried the rights of inheritance to property. These womenfolk wore the family's wealth, passed down from one generation to the next, all turned to heavy gold bracelets and necklaces.
Whenever a guard was captured or shot, he was dragged out and dispatched with a curved, hammered steel sword, decapitating him as a warning to guards on the next train following to not put up so much resistance, lest they suffer the same fate.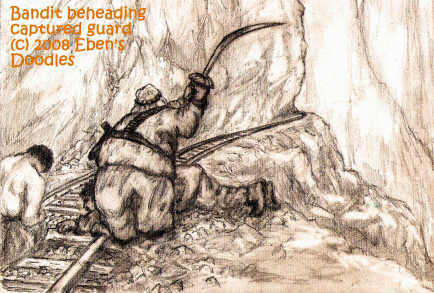 The heads were thrown alongside the track, while the bodies were pushed over the cliff.
Damon heard enough from the confused passengers to realize that attacking bandits were responsible for the stalled train, as well as the big commotion of screaming and yelling and gunshots at the rear.
He stepped out to take a look, and did not like what he saw. The bandits would soon reach the First Class cars and do the same to them as they had done to the Second Class compartments. It was going to be a bloody massacre, by the sounds of it.
He had to think fast as to his options. At first he thought he might organize the men to resist, then reconsidered. The bandits were organized and trained for this attack, whereas the men on board were civilians and would not fight as an organized unit. They wouldn't follow orders well, and the bandits would not be held back long, if at all.
As for the fetlers, who were all fighters, they didn't fight together either, and were drunk, so they'd be no good either. In fact, those who did come out to look to see what was going on, were so bleary eyed, they just stumbled back into their car to do some more drinking, or pass out again. One even staggered out, stark naked, and wasn't even aware of it, before another fetler pulled him back into the car.
It was hopeless to resist, Damon saw, so he must flee at once. He announced this to the others in First Class, but they wouldn't think of it. The fools were calling for the conductor and the guards to come to deal with the problem, and were assured that would be sufficient protection against a mere band of ruffians.
Damon tried a final time to make them see the grim reality. "But we just lost three guards a bit ago in the tunnel, and now the bandits are killing all the others they can find. We have no real defense left to us. The bandits will be here in a few minutes, when they finish butchering Second Class and raping all the women they think are pretty enough. If you value your lives, you must get out now and climb up into the rocks and hide wherever you can, or they will capture you, and take everything. That is just for starters! Then they either hold you for ransom, or they may just shoot the lot of you for fun, but they will make you all beg for your lives first."
"Remember, he repeated, eying the ladies, "they are raping the women, both young and old."
If Damon thought that reason or even common sense would get some of them to run for it with him, he was mistaken (and even a man of the world, like Damon, could misjudge his fellow humanity's capacity for folly and irrationality). Not a man or woman wanted to risk such a thing. Run into the hills without a shred of dignity like a wild animal? Leave the train? Forsake the only bit of civilization in this barbaric quarter of the mountains? Unthinkable! They thought it best to try to bribe the bandits, and--thinking that their money would satisfy the ruffians enough to persuade them to let them alone--were assured they could deal with the nuisances.
"You might all be sorry you didn't take my advice," Damon said. "But don't say I didn't warn you when they start slitting your throats or shooting you!"
Then, grabbing his camera equipment, film, and leather jacket, he jumped from the compartment and quickly climbed up into the crags. When he was sure he was high enough to elude easy capture, he stopped to catch his breath and to take a look down to see what was going on with the hostages on the train.
There was a deafening sound of an explosion mid-train, and fire and smoke that billowed far up from the blast, and then the yells of the bandits as they ran and ransacked the ruined car.
"That must be the one with the gold shipment," Damon thought.
The bandits, after loading up with as much as they could carry, including the best food and drink on board from the diner, tossed the sacks of the gold they couldn't take along into the ravine next to the train, intending to return for it. Then they struggled off with their treasures, vanishing among the big rocks.
After a wait, seeing no more bandits, Damon climbed down from his perch, and went to see if he could help the people. He badly wanted to find Padre Noaik, but he was no where to be seen, and so he thought the padre must have turned back at Port Yosef. Hadn't he said something about distributing Christmas gifts at Port Ulu to the widows and families of drowned sailors? Well, then, there was no help coming from such a fine man, he thought--no words of comfort from a true man of God--which he couldn't not deny the padre was. As for the imans on board, he knew they were worthless for such a task--being in the business of exacting obedience to religion, not relief of unspeakable human distress.
Just as he expected, Damon found the passengers all in an uproar and in total chaos. The train engineer was shot in the leg, and useless, and the conductor dead, which left the fireman, but he was hiding somewhere. What to do? He knew Simla lay ahead, but it was miles off according to his map. Somehow they had to uncouple the wrecked, blown up car, and all pile into the other half of the cars connected to the engine, and then get it to pull them the rest of the way to civilization and help. There were too many hurt people, many in bad shape. He had to get them in to a hospital to save them. Besides, the food and water on the train would soon run out, and they would starve, since the track had been sabotaged further down, no doubt, to keep any authorities coming with soldiers from Port Yosef to reach them and retrieve the gold shipment.
Seeing he had to try anyway to restore order before he attempted anything more, Damon began shouting orders, and gradually the men began to hear him above the uproar and start to do what he told them.
Taking many hours more than normal, the badly hurting train limped into Simla, the fabled mountain city, set amidst a cluser of dormant volcanoes, which a famed poet, Ibn-Ziz Al-Abdullah, described as the place where all dreams end--but the swan song, his last poem before he was beheaded, cut into pieces and fed to the sultan's songbirds to make them sing sweeter, was more hopeful:
"Simla my beloved city where the End is a New Beginning...
for though dreams die like the swan after many a summer's glide on time's river,
come, look! see the lilies bloom again amidst the tumbled stones of bygone giants!"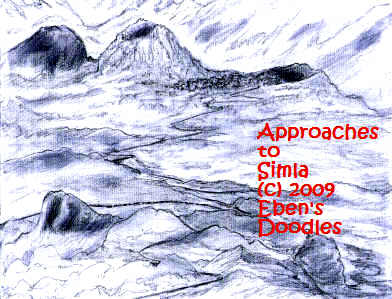 Well, the dream of a peaceful trip had definitely ended for all on board, and many feared to board the next train out, if they still had the means to pay the fare. Those who were wealthy could wire for money to be sent, of course. The others had to find relatives or friends, if they could, in the city. There were a few almshouses run by the brethren of the Cross of Yeshua, which the government permitted to operate for the sake of the poor and needy and ill, as the government of H-R did not normally provide such social services, nor could it afford them as well as the support of a bloated government bureaucracy and the sultans and kaliphate in Multan. The caliphate was now suspended by the Leftist governments that gained power over the sultans, but still the expense of the bureaucracy and all its departments and agencies, not to mention the military and the arms race with Publicatexa and the CSA which had gone nuclear, sapped the resources of the dual kingdoms and short-changed the poor where relief was concerned.
Despite the underlaying discontent and poverty of an over-taxed citizenry, Simla clung to its old vestiges of charm and opulence. Once, for centuries, it had been the winter playground of the sultans and their huge entourages filled with hundreds of courtiers, and hundreds of concubines in harems. Scented, jeweled, the city was a shining place in its heydey, and some of that glitter still shone even in the eye of the bedraggled train passengers who climbed down from the train with Damon--some very thankful for all his genius of organizing the train and getting them back to civilization, but most not even looking at him in parting.
Damon, who thought himself Number 1 anyway, didn't mind ingratitude! He did not owe them anything-- and if they didn't acknowledge their debt to him for all he did after the bandits left--well, that was just plain old human nature, as he viewed it. One thing he knew, you can't change human nature. It is the one constant in the universe. He knew a pig could be washed, given a pedicure, dressed in nice clothes, scented with the best perfumes, its teeth cleaned, hair groomed, etc., and even set at a table with spotless linen and crystal, but the pig was still swine, and would behave again like one if given the chance. All the costly, nice stuff you did for that gutter porker was utterly wasted! He wasn't going to change, no matter how much caring and compassion you lavished on the filthy hog. The moment you let it, it would go and jump right back into the stinking muck and mire of the pigsty--and would be loving it!
As Damon made his way through Customs and security posts and then proceeded into the the winter capital of the bygone kaliphs, taking shot after shot of the still impressive marvels, Damon encountered the gazes of the local women, who turned and stared at him, as though they had not seen the like before in those streets. Or maybe they had, and he was familiar somehow? In any case, though his male pride was stroked, it made him a bit uncomfortable, as he seemed to be attracting too much attention. Surely, the authorities, who, like the whole breed in these provincial towns, didn't much like strangers anyway, might pick up on that and want to question him.
Trying to blend in more with the crowd by not taking anymore pictures, he continued on, only to meet some goons in long dark overcoats blocking his way into the main merchantile quarter called the Grand Suk.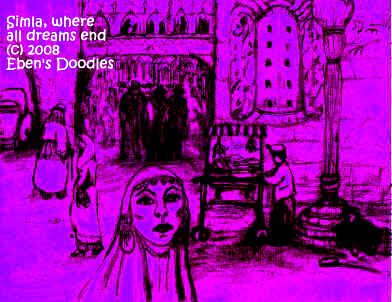 Damon is intercepted in Simla, however, kidnapped and taken to a mountain hideaway where he is interrogated in his skivvies by anonymous captors. They seem to think he is Agent X, since he has the exact looks of him!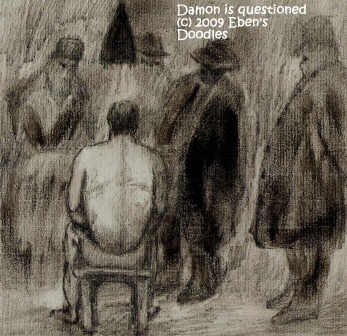 His inquisitors are disgusted, as they learn nothing, as he keeps insisting he is Damon from Poseidonia, which they evidently don't believe, as they work him for hours on that point, before throwing him into a monk like cell, with a small bared window (no glass in it), and only a metal frame bed with a blanket on it to keep him from freezing.
He realizes what kind of room it is: a cold storage for the old sultan's ski lodge! That is why it had no windows, and was so thickly insulated and had an iron door to it.
He has to find a way out soon, he realizes, as it dawns on him they have left him to freeze to death. They gave him a blanket, obviously, just to prolong his agony, not to keep him alive indefinitely. Notwithstanding, the thing he misses most is his camera and film. Without them, he feels like the whole experience is worthless, and his trip on the Tea and Sugar and all those unforgettable shots...well, he tries not to think about it. A realist, he knows he will only make himself feel worse than he already feels.
All he has is a bucket for a toilet and an old army issue steel bedstead and one blanket. What can he use to get out? In his apprentice days he had done some photography work once in a prison and learned some techniques the prisoners used to attempt escapes. There was a chance he could use their ideas now to make an escape artist out of himself! What did he have to lose?
He set to work. The bed was not so easy to tear apart, however, but he went at his work with a fury that made up partly for his utter lack of wrenches. He grabbed one end and smashed the other against the concrete wall until it began to come apart. He kept at it, and finally the bolts were loosened enough, and he could work one of the bars free from the frame. When he had his bar, he felt he had a chance to survive after all. With it he attacked the vent, for it wasn't really a window. He busted out the frame, after savaging it for some time, and then finally there was an opening he might possibly wedge his body through. But he was 6 ft. 4 inches, and not exactly slender either at the shoulders. What was he to do? He had to try, this was his only way out, unless he cold bust his way through the iron door, which was bolted on the outside.
Pushing out some of the blanket first, he climbed up and began trying one part and another of his anatomy, seeking the best way to begin his exit procedure. It could not be described, the way he wriggled and squeezed and pushed and collapsed back in exhaustion, to try again. He felt like he was scraping off all his skin and trying to make a jelly fish out of a vertebrate, though the blanket saved part of his body from a lot of abrasion as he was squeezing out.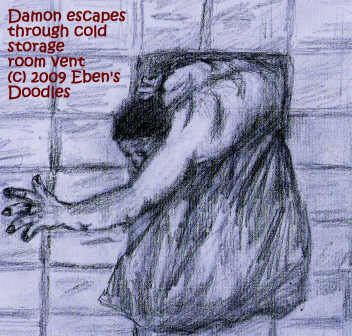 Finally, he hit on a possible way to get one shoulder out, then his head, then slowly, inch by inch, most of the rest of his shoulder, which he kept lying as flat as he could make it lie, and moved his stomach and torso out as well, sideways, a sort of snake like maneuver that eventually got a major portion of himself out, inch by inch, until finally the main part was free, and it was now just a drop to the ground, which was snow-covered, and able to take a twenty foot drop without breaking any bones, though he did not like the snow and ice one bit as he slammed into it.
Escaping from his near freezing confinement in the boarded up ski chalet that once belonged to Yazmir Wallid bin-Alfonzo, a sultan's playboy son, was going to give him a severe test of his survival skills. Getting out of the building was just the appetizer for the main course of the tortures on the menu. Damon's clothes have been taken to keep him from trying to escape (which was thought sufficient to keep him helpless and vulnerable), and so he has only his bed blanket to shield him from the polar temperatures of the wind and snows of the high elevation. He is exhausted and unable to find his way down without using the road his captors are patrolling. Maybe they are not patrolling it, but he cannot take that chance. They'll shoot him on sight, he knows. Sitting down he is trying to conserve his last reserve of body heat and strength, but he is about to give up all hope of getting out of there alive when some musk oxen pass him.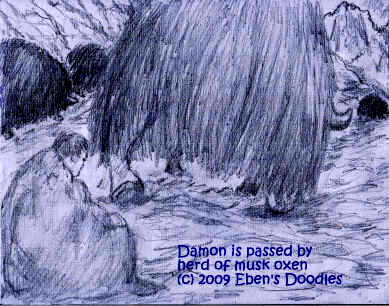 The musk oxen, with their single track minds set on finding pasture, pay him no attention at all. He might be just a rock or clump of ice and snow to them, for they had better things than lone, blue-skinned, shivering humans on their mind obviously, as they continued without pause on their way. Suddenly, Damon recalled something from a stint he had done for a Natural Science magazine, in a piece about musk oxen. They migrated! When crossing from pasture to pasture, they climbed up into the higher elevations, as they knew all the passes, and they did not stay where there was no grass and starve, but continued on until they reached another fresh pasture on the alpine slopes further down. This was his chance! They would lead him down far enough so that he could make it the rest of the way to civilization! He wouldn't freeze to death after all! The musk oxen would lead him, if he could keep up with them!
Damon followed the musk oxen, and, sure enough, they led him to the unfrozen pastures further down where he could survive. It was a long walk, but he made it out of the mountains and into Jaisalimur, a city on the highway leading to Multan.
Panhandling alongside some beggars he found working a busy corner of banks and shops (his size preventing them from running him off), he got himself a meal or two to keep going, and kept looking until he found a Sisters of Mercy almshouse. Imagine, reduced to the level of dirty beggars! It was a terrible blow to his pride, as he had never dreamed of that happening to him. As smart, good looking, and resourceful and strong as he was, he had always been the head, and everyone else the tail! But what other way did he have to get himself some decent clothes? It was no crime to go around naked, with only a dirty blanket to cover himself, for there were plenty beggars that did that--but unless he could prove he was registered for begging, they would arrest and throw him in jail, since vagrancy was a felony, punishable by beatings and months of brutal slavery in a workhouse prison.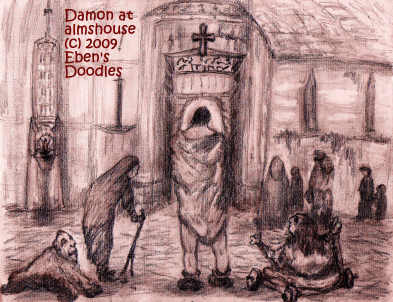 But even with all his precautions to keep a low profile, he was being watched, and as soon as he finished cleaning himself up and putting on the old but clean wool suit along with shoes provided by the charitable Sisters, he no more stepped into the street on the alley behind the almshouse then a car started up and moved toward him.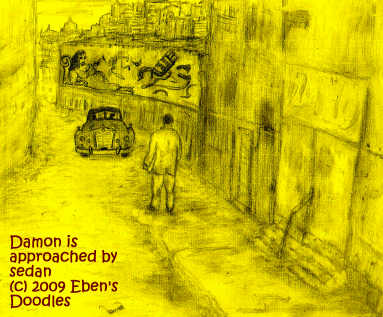 Four men in black jumped out before he could run, and within seconds he was face down on the dirty pavement, cold steel pressing against his neck as his hands were tied behind his back. Hustled into the back seat, two men slammed in beside him, and the sedan roared off. A few blocks further, after some twists and turns and other evasive maneuvers that would keep Damon from ever knowing the location, the car pulled into a warehouse somewhere in the fishmongers' district (by the odor of it), and he was dragged out, taken to a warehouse office reeking with a H-R delicacy, pickled fish guts. Then holding him they started to work on him, pouring hard liquor into him (H-R rotgut, he could tell by the nauseating aftertaste of petrol and crankcase oil). He couldn't drink a drop of it, so they gave it to him like a patient being forcefed in an asylum for violent cases of lunacy, pushing the neck of the bottle far enough down to get the stuff past his gagging throat.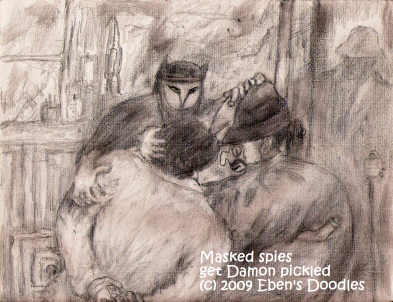 He was drowning, gagging and retching up as much as he swallowed, it seemed, but they eventually stopped to see if he needed a quart or two more. His eyes rolled in their sockets and he nearly passed out right there, and the leader nodded, and he was grabbed and crammed into a small car with a driver alongside, the engine going, and then he was driven out, but once on the street, the driver yanked him over into the driver's seat, clamped his hands on the steering wheel, and the gas pedal was rammed down with a steel weight that kept it floored.
Its engine roaring, the car rocketed off with Damon hanging to the wheel. Speeding down the avenue, he was fortunate it was not one of the busier streets, as it careened up along the curb, knocking over sign poles and scraping the buildings in between before flinging back toward the street, then hitting two more lightpoles in succession before the engine and crankcase split, and the radiator exploded in a geyser of steam and water, mixed with oil from the engine.
The sedan with the dark tinted windows following him turned away and vanished into a sidestreet as a police wagon gave chase to Damon, catching him only as the engine blew with the radiator.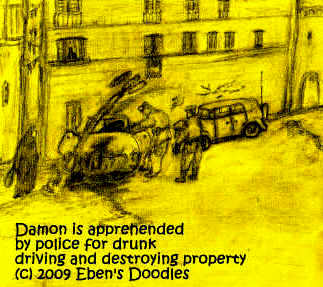 Hauling Damon out, a cop tried to make him give his name, but he couldn't get the syllables out coherently, and he had no idea what had happened, or who had done this to him. The police took him to the station, and he was put in a drunk tank to dry out while they decided what to do with him.
Since he had no identification on him, they had a real problem, and had to give him strong coffee and wait until he was sober before they could learn enough to pass sentence.
When early the next day Damon was recovering enough to give the police an account of his actions, they still could make no sense of it. They came to the conclusion he was a spy, since his telltale Poseidonian accent betrayed him as a foreigner. But, forgetting his pride after his humiliating ordeal the night before, he pleaded with them, that he was being taken for a spy, but he was only a photographer on assignment in H-R who happened to look like someone who might be a spy. Was that his fault if some stranger happened to approximate his looks?
Where are your credentials, your passport, your camera equipment? he was challenged.
He had nothing to prove, therefore, he decided to tell them everything, the whole truth.
Just the same, Damon used all his powers of persuasion, and he was indeed telling the truth, fact by fact, and he thought surely the more experienced among his questioners could tell a story-telling liar who couldn't get his facts straight and consistent from one who was trying earnestly to cooperate. He left in all the things he didn't really know for sure, without trying to clear up any mysteries or fill any gaps--which he knew would give him even more credibility, than if he embroidered his story to make it more believable and the rough edges all polished off.
He was right. His crazy tale that was the whole truth struck just the right chord of believability, since he didn't try to clean it up, or make it believable.
The Jaisalimur police commissioner was such a man to spot the truth when he heard it, an astute judge of human character good or bad, and one look at Damon convinced him this was not a run of the mill criminal, for he knew the hardened, diehard criminal elements of his precinct well enough. There was no such air of sullen defiance to this young man. He had to be an "innocent," not at all a professional law-breaker. But what about his "innocence," was that an extremely sophisticated, professional cover for some other role for which he was in the country? Was he a foreign spy on a mission of espionarge against the H-R? Yet how could a spy make such incredible blunders as this man has just committed? Spies did not usually land in their assigned countries so poorly trained as this one! Perhaps there was some truth to the wild tale he was telling about being taken for a spy by the real spy ring in the area? He knew there was such a ring, specializing in extortion, money laundering, prostitution, and even some political lobbying and bribery to finance their espionage, and had been seeking to track it for years now--but there were just too many highly connected informants, traitors to H-R, giving them tips to keep them out of his reach! But now...perhaps, if turned loose, the spies would get close enough to him, with his own men following, for him to catch the real culprits? It was worth a try, he decided.
He instructed the police station chief to let the man go with a warning. This was welcome news to the chief. Whatever the man really was about, he was proving a big nuisance, to say the least. He wanted nothing to do with a foreigner, who had driven drunk down a street, destroying some property, but killing no one. Could they recover the money for the damages? Obviously, they could not. This man had not a dinar on him! What about a stint in the workhouse? But that didn't earn them anything--it just kept the prison system going, and the police got nothing for their trouble handling him. So they decided to wash their hands of him, with the warning that a second incident would land him in prison, in the chain gangs of the workhouse, indefinitely!
And the police put men out to follow him, with orders to call the Commissioner immediately if contact was made with the spy ring.
After this shakedown, feeling rattled to the bone, Damon needed a comfortable rest and a decent place to clean up, so he went and took a room at a hotel, ran a bath, tried to wash off the whole experience of the day. He nearly fell asleep in the tub, but climbed out, toweled off, then fell into bed and lost consciousness immediately. But he did not sleep very well, and, pulling on a shirt, he rose while the city was still asleep.
He left his lights off in his single room, in case anyone was watching him. Going to the balcony, he looked out carefully, wondering if there were any taxis available. No, it was still too early, and they hadn't even pulled up at the entrance for the first business of the day. He would have to walk, and risk being picked up again! Best wait for a taxi, and then he would have a chance getting out, amidst the thick morning rush of traffic.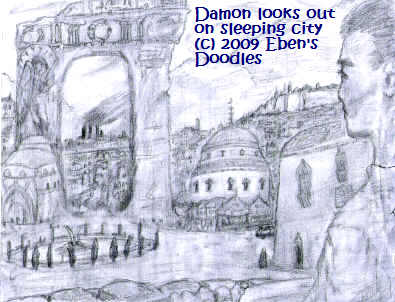 To be ready, he completely dressed and went and sat in a chair, dozing from time to time as the time slowly passed.
A few hours later, when the hotel's staff busy was preparing breakfast and putting finishing touches to the buffet and the tables, and the lobby was stirring with guests going down to the dining room, Damon thought it was just right to make his break for freedom, rather than wait any longer. Breakfast, he could catch on the run somewhere.

He had chosen the right time, he saw quickly, as the taxi he climbed into headed off from the curb into the morning traffic. Where just a few hours before there wasn't a single vehicle, the whole square was jammed with all kinds of vehicles, pedestrians, and sheep and other animals on their way to market. It was a pandemonium, so common in those parts, colorful, forever changing, yet always the same swirl of life in a provincial town that was fairly prosperous but had once seen more glorious days, if the huge Roman era ruins that studded the city still had anything to say about it.

The congestion continued even after the cab took him miles down the road from the city. Deciding to make it more difficult for anyone still on his track, Damon spotted a bus at a stop beside a fuel station, and called a halt. Paying the cabbie, Damon ran to the bus and jumped on. Wherever it was going, as long as it wasn't going back to Jaisalimur, was good enough for him.
Arriving at the metropolis and H-R capital city, Multan, Damon needs money fast if he isn't going to be arrested for vagrancy and sent to a prison workhouse. To wire his bank, Damon does the only thing he can do to quickly get the needed dinars, he sells a gold filing to a goldsmith (who extracts it on the spot and weighs it, before paying out the money to Damon.
He wires for funds from his bank, which soon arrive, and then he goes and outfits himself in a fine new suit, silk shirt and silk tie (sewn and tailored on the spot in a mens wear shop). Looking like himself again, he takes care of his other needs at a good hotel, but he doesn't get very far in his quest when he encounters a startlingly exact carbon copy of himself.
So many unbelievable things had already happened, things that made the Tea and Sugar a tea party in comparison, that he was half-prepared for this event. Hmmmm...this should give him some very interesting information, he thinks, as he regains rational thought after his initial novelty wears off a bit. But the man staggers and collapses right in front of Damon. Damon finds the cause, a dagger thrown and sunk into his twin's back, killing the fellow and also any chance Damon could find out from him why he (and no doubt his look-alike too) is being pursued.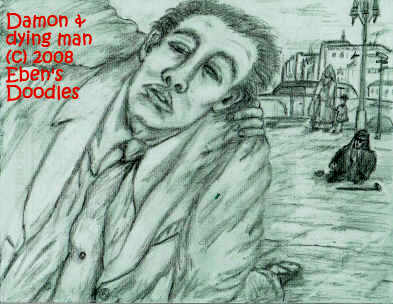 Still trying to track down his pursuers as well as the elusive Agent X who is the cause of all his troubles of mis-identity, Damon headed for the train depot, to take an express home to Poseidonia, as direct flights from Heruka-Ratna to his homeland were prohibited for security reasons. Poseidonia had no desire to import H-R's fleeing dissidents--and H-R reciprocated in like manner, so there was left no real escape route for dissidents of any kind or stripe, unless they like to swim for it in sharki-infested water.
Thus, Damon would never fly into the Port Andros airport terminal, which handled only H-R traffic, or government-approved international flights from the northern tier of countries. That was probably a wise decision on his part, as air marshalls were ordered to take him into custody on sight--an easy matter in the confined spaces of an aircraft or even in the terminal. But the train station, huge and rambling, crowded with thousands of travellers and railway station and train personnel--he could easily pass through without being apprehended.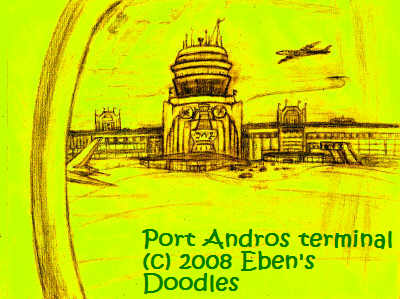 It is just as well he didn't fly, for he encounters some First Class distractions in First Class, and a train, not a plane, is the ideal place to deal justice to them, he had found on numerous prior trips. One such distraction even comes to pay him a special visit in his reserved cabin. A wealthy socialite, married to an aged Consul-General in the CSA embassy in Port Andros, has a hunger for young, handsome men and a more than passing interest in the dashing, Rhett Butler-ish Damon, but is she really on his side, or acting as an agent for the same people who are seemingly bent on destroying him? Only time, and events, will tell what this femme fatale is really up to.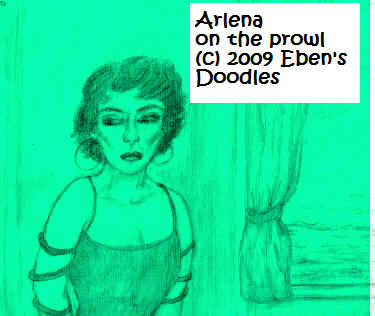 Arlena arranged for Damon to be let off the train at a particular spot, which was no where on the map, it was in in agricultural country run by big estates, but she assured him he would meet Agent X there, simply by waiting for him on the road next to the track.
After some other assurances from the very capable, experienced Arlena, that need not be detailed here, Damon left the train when the engineer, in return for a bribe from Arlena, slowed and stopped the train just long enough for him to leap down.
The train pulled away, and Damon found himself the only human being standing on a lonely stretch of uninhabited country, without a single farm building or any sign that humans lived anywhere within less than twenty or thirty miles.
He felt chilled, for some reason, and for the first time after a woman's love soiled and dirty somehow, even with Arlena's expensive perfume still lingering in his nostrils. He had had married women before, preferred them for their knowing how to please a man--so it had never bothered him before. Why now? What did it make if she was someone else's wife--as long as the husband didn't find out about it and come hunting for him with a cocked heater. Funny, Padre Noaik came to mind then and there, but he dismissed the preaching missionary from Argentina, who said to Damon he couldn't run from Yeshua no matter how far he went--Yeshua was still there waiting for him to "climb aboard His Glory Train".
"Nothing doing, Padre!" he had responded at the time. "I'm young and got my whole life ahead of me, so maybe later, but not now!"
Even though the padre's appeal struck a chord in him, he wasn't about to climb aboard Yeshua's "Glory Train " now, at any rate. He was his own man--had always been. Even if he had lost some control over his life lately, he wasn't about to surrender all of it to anybody, as long as he had anything to say about it!
Growing increasingly edgy, he was there for about twenty minutes when a car appeared a long way off, and he watched it approach like a little black bug growing biggert and bigger, even as his curiosity grew about it, but not so curious that he did not take precaution to leave the train track, cross the road and continue on into the field. When he thought he was far enough away and might escape detection, he crouched down to watch the car as it neared. The sedan with the dark tinted and curtained window in the back stopped, and Damon felt a chill, only he was glad he had taken the precaution, for he had a chance at least of getting away if it was what he suspected it was. But he was mistaken, he saw. A man got out, exchanged places with the driver, drove off, and then the former driver remained standing there, wearing a farmer's work clothes. So he was only a farm worker?
This was strange to Damon. Where was his tools or equipment? Why did he come here to such a isolated spot? But as he waited he heard another car coming, and this it came on much faster than the other, and skidded to a halt. Immediately the man leaped in, the car door slammed, and the it sped off on squealing wheels in the opposite direction!
Damon, without any time to do anything, realized this had been his chance, and he had blown it royally! He ran back to the road, and was gasping for breath, feeling himself the biggest fool in the world for muffing his big chance to end the wretchedness of a cat and mouse chase, when he heard a strange whump-pity-wump, whump-pity-whump sound, growing louder and louder.
Then he realized what he was hearing, before he even saw it. The H-R military, he had read somewhere, had earlier employed as its first line of defense a certain Dutch-invented aircraft, the gyrocopter, as its gunship. The gyro had proved serviceable for many other uses as well in campaigns, but with the advent of jets and rockets, it was instantly obsolete, a museum piece. Selling off the deposed sultan's jewels and other royal state treasures to finance the changeover, Heruka-Ratna was just too poor to junk all its gyroplanes, however, so most of its gyro-fleet was outfitted as cropdusters after the military hardware was janked out.
Gazing in the direction of the sound, Damon was bored before he even saw it, and was wondering what direction he should start walking when he noticed the crop-duster was not doing what crop-dusters ordinarily did--dust the fields with either insecticides or fertilizer. This one was headed straight for him!
Damon did not stop to wonder about it. He started running, away from the road, which was too open, and gave him no protection. He hope to find a gulley or ravine to jump into for cover, but no such luck! The fields were rolling, but not one hole appeared as he ran. The gyro quickly narrowed the gap between them, and Damon turned his head and saw the thing was going to swoop and squash him like a potato bug if he didn't do something.
He narrowly leaped aside just in time as a wheel came down.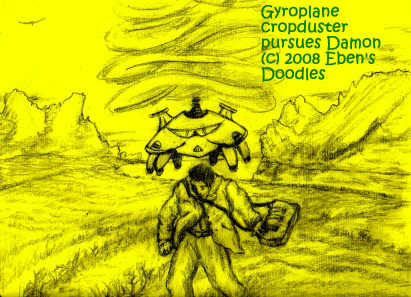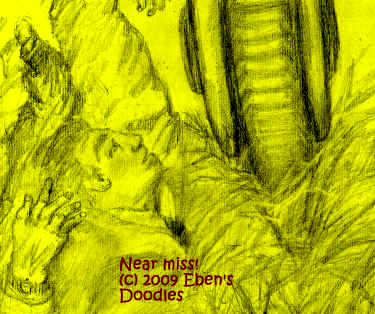 Tumbling in the dirt, he lay there a moment, heard the gyrocopter turning and then start its approach to finish the job.
Leaping up, Damon dashed in the opposite direction, trying to zig zag like a game hare chased by trained hounds. Why didn't they just shoot him? he wondered. But no bullet ripped into him, and he realized they were enjoying the chase so much they didn't want to make it too easy for themselves.
He was just about to run out of steam and collapse in exhaustion when he tripped over an iron hoe left lying in the field.
Snatching it up, he started running again, but the gyroplane was going to get him this time, he knew. What could he do? All he had was this old iron hoe!
He stopped, wound up like a discus thrower, and with all his might flung the hoe straight into the approaching whirling screw-blades.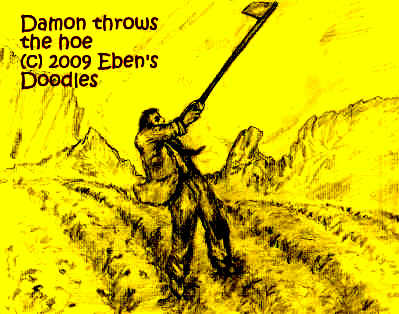 The moment he did that hefell flat to the ground, hugging it for dear life.
The gyroplane passed over him with a deafening roar of wind and screw-blades and motors. Nothing touched him, though about a couple inches of soil was lifted all around Damon's sprawled form and the sweep of the rotary screw-blades was strong enough in suction to tear up the plants in a big swath along the plane's path.
Damon couldn't see a thing in the blinding whirlwind of dust, but he could still hear. The gyroplane was climbing, or wanting to climb, but there was a grinding, snapping sound this time, followed by a much louder smashing of metal blades colliding with each other. The dust had cleared somewhat, and Damon caught a glimpse of the stricken gyro. It was still trying to climb, but the grinding and smashing sounds were worse, joined by a tremendous rattling and drumming and a final ear-splitting screech, as the whole superstructure tore itself apart. The gyro, flinging huge sections of its screw-blades like a disintegrating grass-mower and automated cocktail swizzle, sank toward the ground, and it hit hard, and Damon saw a flash, and before he could duck down and shield his head in his hands, the whole aircraft exploded in a ball of fire and billowing smoke.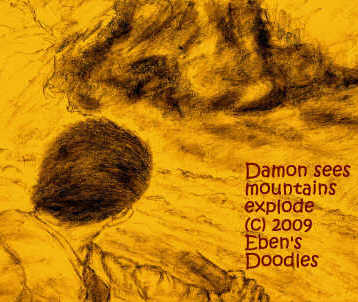 Unable to keep from looking, he saw several gyronauts struggle out of the wreckage, all in flames, and run in different directions, then collapse and flop about, still burning.
Horrified, Damon tried to get to one of the fliers, and it was too late anyway, for the man was dead, his eyes burnt to a crisp in their sockets. Smell of charred flesh and uniform was in the air, and wafted over Damon as he approached. Damon pulled his coat up over his face, but still smelled burned human flesh--and he was sick, and upchucked his stomach's contents--and that helped a little.
Nothing nasty or filthy or revolting he had seen so far in his wide travels equalled the stench and horror of this crash scene, the high octane petrol fumes mixing with the odor of fried, boiled, barbecued, filleted, and scrambled humans. Having seen the men actually burn to death, he naturally wanted only to get as far away as he could.
But he was unsure what direction to go? Return to Multan via the train track or the road which more or less followed the railway line's route? He could find a way out from there, no doubt, on either a plane, or train, or bus, even on foot. But would it be safe for him? He doubted that very much, for there were many watching eyes in Multan alerted to his description.
That left the train or taking the roads away from Multan toward his homeland. He suspected the train would not be any safer than Multan, and possibly a greater danger, so he started walking. If anyone came driving his way, he decided to get off and hide and let it go by before continuing. He might even walk at night, and hide by day in whatever shelter he could find.
That seemed a good idea, and he felt he had made the best decision he could. If only he could reach a town or some farmstead where he could hire a driver and car. He had enough money to get home, as long as he wasn't robbed. Dividing up his money, he put some in his shoe and left some in his wallet. He had lost his travel bag somewhere in the field, but had no desire to search for it. His watch too had come off his arm, the band had probably broken in is many falls and tumbles.
At first it felt rather good to walk off his stiffness and soreness, even the bruises felt a little better.
After an hour he was in the first of the foothills of the mountains, feeling thirsty and hungry, when he heard the sound of a vehicle, from the direction in which the train had gone, headed for the Poseidonian border. It didn't sound like a standard motor, more like the racket of small farm machinery, but he climbed up into the rocks near the road, and was out of sight when it started to come into view. He was right, it wasn't a car or truck but a motorized cycle with a sidecar.
He waited and could see the driver, a man with goggles, wearing a leather cap and body suit also of leather, the type used by hired taxi-cycles in Multan that were thick as the flies there. But the passenger made his heart beat faster. There was something about her--Arlena? She had sunglasses on, and a jacket, but it was her, he could tell, as she wasn't wearing a hat or scarf and her hair was the same color and style, it couldn't be anyone else.
They were about to go by when he stood up, throwing a small rock down across their path. The cycle skidded to a halt, then they were looking up to where he was standing. He climbed down, jumping onto the road, and walked over to them.
Arlena stood up in the sidecar, and tried to get out, and her driver hurried cut the motor on the cycle and hurried round to help her down, but Damon reached her first and she stayed where she was.
"Damon! So glad I found you! Come on with me, I will take you back. That is why I hired this nice man here--I had an idea you might be in trouble of some kind. And I saw the wreckage back there! How terrible? Whatever happened?"
Damon wasn't going to explain anything to her, he was glancing at her driver, and the looks both of them exchanged only increased his suspicion and sense that something was afoot.
He smiled, however, and acted as casually as he could. "What do you mean wreckage? I didn't see it. I've been walking since I left the train, for no one showed up like you said--he must have missed the assigned meeting time, right? I thought you knew what you were talking about--that someone would be sure to be there--but I saw no one!"
Arlena seemed troubled, but quickly smiled. She motioned for him to come close, for a private conversation. When he bent over to her, she continued. "Oh, it was just those men I told you about I overheard talking on the train in the corridor, who must have meant some other place for the meeting, or I got the information wrong. They really did seem up to some mischief, and after what I knew about the Grey Wolves going to stage a coup, it seemed credible enough that the agent you are seeking is the one they want to stop collecting information on them. But, darling, the important thing is you weren't involved in that flier's accident back there?-- how wonderful! It looks like such a dreadful accident! It doesn't seem like there could be any survivors, and the police will be here to look into it, no doubt."
She glanced back up the road toward Multan. Then with a look of anxiety toward Damon. "Get in, darling! We have no time to waste. They will be coming soon, and wanting to know the cause for the crash, since they would naturally think we were witnesses of it, and we need not be questioned for hours if we leave now. Damon, we can talk on the way--but we will go to the next town and get a room there. I think I know of a hotel, and it is clean enough. You can wash up there and--"
She looked more closely at him head to foot.
"My, you have gotten dirty! Your suit! You look like you have been rolling in the fields like a regular farmhand! Whatever have you been doing? Has those men you told me about been after you again?"
She swung the sidecar's door open, and beckoned to him to hop in beside her (as if there was room for more than one passenger in the single passenger cab).
Still Damon hesitated. The driver inspired no confidence in him whatsoever, he looked like an assassin who would just as soon kill him, given enough money to do the job. Besides, Arlena's favorite perfume, jasmine, was washing over him, bringing back memories of her lying beside him, but the horrors of what had happened shortly afterwards were also assailing his senses--it was all so fresh to his mind--he couldn't bring himself to trust her again.
Suddenly, seeing the driver had left the key in the cycle's ignition, he had an idea, that solved his quandary.
"There's time for a cigarette, dear. I must have one first."
Arlena fumbled in her purse, taking out a cigarette case and a lighter. She lit a cigarette and took it from her mouth and handed it to him--just the way she always did it to please a lover.
Damon jerked his head toward the driver who was watching them intently. "How about him? He's seems to be a good fellow, driving you all this way just to pick me up! Give him a little reward for his trouble. I insist on it!"
She handed her cigarette case to Damon, and he let the driver take one, along with the lighter.
"Thank you, Effendi, thank you, M'lady," the driver said, bowing to each while smiling and revealing some gold teeth in front.
Arlena gave him a tiny smile and a little wave of her hand to the driver, which Damon saw, and the driver handed back the cigarettes and jeweled platinum lighter and stepped away a few yards, standing with his back to them as he drew on his cigarette.
Arlena reached out and took Damon's arm, pulling him closer. She looked up into his face. "Darling, it will be nice tonight when we reach the next town. I will make it up to you--your not finding that man you are looking forward. I was so worried it might not work out, so I had to come and find out for sure if you were still here in the area. I couldn't leave you like that--not knowing!"
Damon's eyebrows narrowed, but he was still smiling. "I am so glad you did. You saved me a very long, tiring walk! I might have caught a ride with someone, but there is so little traffic along here, it might have been a long time, even days, before someone would stop for me."
"So you are coming!" she said brightly, moving aside to make room for him.
"Not so fast, darling!" he said. "Let me finish my cigarette. I don't like the ashes blowing back into my face!"
"Of course!" she laughed. "Finish your cigarette then! But we really should be going as soon as you do!"
As Damon was aware now, it was the time to act. And drawing on his cigarette he took a few silent steps around the cycle, paused, smiled back at Arlena, and took a few more steps behind the driver, who was standing enjoying Arlena's expensive, scented cigarette at the edge of the road, his back still turned to them. Without a shoulder, the road dropped off into a small ravine about twenty feet deep at the bottom--a drainage for the fields--with some water and mud in it. Then the driver did something that provided the perfect set-up, he leaned over to pull up his sock or retie his boot lace.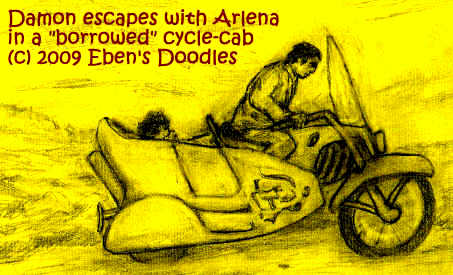 This was too good an opportunity to waste. Damon leaped the rest of the way and the driver a got a kick in the rear that sent him tumbling down the slope. Then Damon ran to the cycle, and hit the starter with his foot, and the engine, after a couple hard hits, ignited and roared to life. Before Arlena could do anything, Damon jammed his foot on the gas and the cycle leaped and bolted off up the road, its tires spinning. A few more moments it was beyond the reach and even the hearing of the driver, who was still struggling to get out of the ravine.
With the roar of the motor and the wind in his ears, Arlena's screams and protests did not bother him in the least, and eventually she remembered her dignity as a Consul-General's wife and stopped. From then on she sat sullenly looking at him as he drove them up and up into the mountains, following the road as it moved more or less toward Poseidonia in the east.
With the Consul-General's wife his captive, Damon drove the cycle's four cylinders as hard as he could, hoping the fuel aboard would be enough to get them to the next town. There was another small tank aboard the sidecar, but was there anything in it? He didn't want to stop to find out. If the motor began sputtering, he would stop to look. Until then, he didn't want to give Arlena a chance to jump out and run away from him. He still had some questions he wanted to ask her, when he got her to a safe enough place where they wouldn't be interrupted.
He was thinking hard as he was driving. What was Arlena's real motive in coming back for him anyway? Was it to find him dead or alive? Just to verify his remains or actually to save him from his pursuers--the hired assassins who were no doubt hot on his trail now, once they heard about the crash or saw the wreckage of the gyroplane. After her bad advice to him nearly cost him his life, he did not have a shred of confidence in a single word of hers--everything she said could be a lie just to set him up for a take-down.
And how had she heard of the crash? If she had searched the field first round the crash scene, she knew that he had escaped somehow, and had gone in search of him back on the road. And it had paid off--she had found him, or rather he had let her find him.
But what then? What was this driver she brought with her going to do once they found him? He was carrying something, by the looks of that bulge under his arm.
Damon glanced back at Arlena, who sat, her head down as far as possible from the now chill, mountain air, her jacket collar up round her neck and part of her clothing pulled up shielding her face to keep warm.
Thinking that a cycle fitted up for passengers might have a luxury or two, he was right. The cycle had a switch for a heater, and he found it and gave her some heat. She looked up surprised, and then snuggled down in the cab, and seemed to be resting as they continued the climb.
Without having to worry about her freezing, he had only himself to be concerned about, as the wind was cold, and his suit was wool but not warm enough.
The grade was increasing, and the climb was slower, but he kept going, with high white peaks rising all around them, and a cliff edge meeting the edge of the road without any guardrails.
He was so surprised, not pleasantly either, when he saw a car headed his way from the heights above. He saw the vehicle rounding the curve above them, so he spun the cycle and cab around, and tried to outrun the car before the killers could see them and begin chase.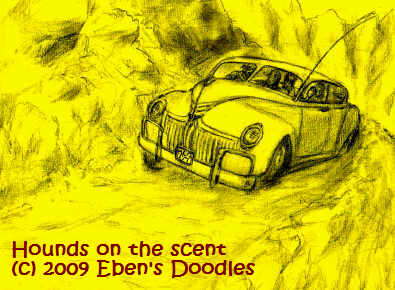 What did he have to lose by his maneuver if he was wrong? Nothing! But if he was right? He wasn't going to go meekly to the slaughter this time, if he had anything to do with it!
He glanced back once and saw Arlena's eyes were wide open, and she was looking back, almost as if she meant to climb and jump out, the moment he slowed down.
Giving her no chance, he continued, then saw a road, or what had been a road in centuries past, once level, but now sloping steeply down. It was not much more than a goat track, but there were what looked like ancient stones set up to mark its borders, but which were the remains of pedestals that had held the giant winged raptors that once guarded the processional road to the site. Arlena's face was pale white as she gripped the sides of the cab for dear life as they bounced and bumped down the fragmented roadbed, hitting stray stones which threatened to overturn the cycle and throw them over the side and down the cliffs toward the ground far below.
He had to use the brake most of the way, and then finally he couldn't go any further. The road dead-ended at an enormous stone platform set with the shell of a ruined temple, only columns remaining, atop some huge stone figures he had never known were there. He had seen great stone colossi of the gods of Mizraim, and photographed them for a travel magazine, in the far southwestern part of H-R, but these near the border of H-R and Poseidonia were a mystery to him. It seemed possible to him a recent earthquake had set off a massive landslide that uncovered the ruins--that had happened before in other places--but nothing on this scale had ever been seen in these mountains. If only he had his camera, and he wasn't running for his life! It was a photographer's wildest wish-fantasy--being first on the scene to shoot a world-class ruin, a Wonder of the World from the ancient past, that represented a complete mystery.
The fame of his discovery would spread world-wide in hours--and he could name any price for his pictures!
He cut the motor, and waited, as an ashen-faced Arlena tried to get out of the cab. It had been a horrible, rough, bone-bruising ride down, and she was shaken, and struggled to get the cab open. She was quite a sight, and he felt pity for this woman, so sophisticated, so used to luxury and having things her way, with servants answering her every need. Now she was in the utter wilds, in his control. He went round to her side, and opened it, and then helped her down, trying to be as gentle with her as he could.
"Are you crazy?" she said, her face full of fury, making it even more beautiful somehow. "Where are we? Why did you drag me here to this awful place? You've nearly killed me!"
Damon had to laugh, despite her anger at him. "Sorry! I couldn't waste any time getting here. Your friends--of maybe friends of your friends-- were coming down to get me and finish me off--I saw their car ahead of us back up there. I thought I'd best pull off to this sweet little garden spot and let them drive by, if you don't mind, darling! We can leave in a few minutes, when I see the coast is clear."
Arlena, to her credit he thought, did not show any resentment that he had found her out, that she might not be acting in his best interests.
She flicked open her cigarette case. "Light mine for me, will you?"
He did so. Then he stood watching her. After a few moments, she turned to him. Her voice was different, more resigned and matter-of-fact than before, as if she knew he knew the game was up, so why pretend any longer?
"Well, I can't tell you their identity, or precisely what government they work for, but they caught me with a fellow they planted on me, and they photographed us and then blackmailed me. They threatened to tell my husband, show him all the photographs they had, and so I had to cooperate or be ruined! I had to do whatever they told me to do, only I didn't know I would have this feeling for you when I did what they said, let you in my cabin--I guess I hadn't met someone like you before, and that made me do a stupid thing--I really didn't want you killed by them--no! I knew the man you were being taken for--and I thought--well, it didn't work out. The fates were against it. Damon, you've got to believe me, I am telling truth this time! This is the real woman, the real Arlena, talking to you! Not someone trying to manipulate you! I'm done with that. Believe me, Damon!"
He found her gripping his shirt in front, and he gently but firmly unfastened her hands and pushed her back away a few feet. "You will have to do better than that, sweetheart," he said coldly.
"The story is just too good, too neat. You have much more to tell than that. But I am certain you won't want to tell me the rest--it would be too, ah, damaging?"
Arlena gave him a look that might have killed him, and the marvel to Damon was that she looked all the more alluring and provocative. "All right, have it your way! After what happened to you back there, I suppose you think you have every right to treat me like this, suspect me, even when I am telling you the truth! I admit I have some of it coming! But what would you do, in my place, if you were blackmailed? I had to go along with them if I was to keep from being exposed by the scandal they would create."
She looked at him with narrowed eyes, in her sidelong glancing way. "But, darling, what do you intend to do now? You have no way out of here really? They will watch the road both coming and going. In fact, they may find this place--then what? Where will you run? It is a cul de sac. There are nothing but cliffs all around us, and these old, barbarous statues or gods, or whatever they are, down below us! I am your hostage, is that it? What good will I do for you? You can't demand ransom for me--they will never pay it! I am nothing to them. Let me go! You can just leave me here and escape. Why drag me along?"
Damon had no time to answer her questions or try to reason with her. It was a question of survival now, not a time to talk.
Having ditched the cycle-cab behind a rock to hide it, Damon tries to find another way out of the trap, but there isn't but one way: down!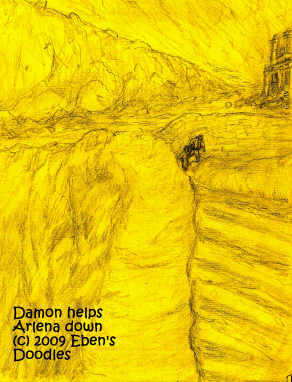 It seems to Damon that if they can just climb down out of sight, they stand a chance of eluding the goons hunting him. He helps Arlena down the side of the cliff, along the very earthquake fault that has recently opened and shifted. It was, in fact, the same shifting that has only days before uncovered the entire temple, statuary, and archives complex constructed by the Atlanteans before the catastrophe that sank Atlantis to the sea bottom in 10,000 B.C. Once the complex stood in a capital city situated on a plain, with a big river winding through, right in front of the colossi honoring the emperor, but the whole landscape has been terraformed drastically, by a number of factors, into something radically different.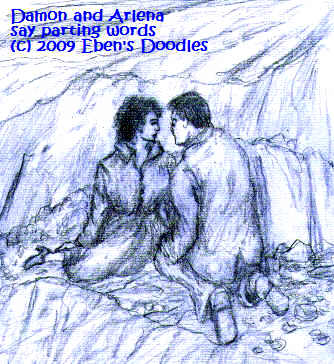 They reach a ledge where Arlena can rest a moment, but she turns to Damon when he wants to continue, pushing his hand away. "I'm not going any further. I can't! Please don't force me, it won't work! You have no chance of getting away, with me along! You know that as well as I--so let's not be stupid. This is where we part. It has to be.
Damon wouldn't hear of it. "No, no, I won't let them find you here, who knows what they will do, if they think you helped me escape?"
Arlena laughed. "It doesn't matter, Damon. They'll catch us both, and we'll die together--is that what you want? No, you have to go on your own, and I won't be the cause for you being caught and killed--that is...unnecessary. I can't think of that!"
Damon peered closely at her, and saw she was resolved, but he wouldn't give up. "We've just begun to try this way--a little more, we can be sure they can't reach us, and then maybe they will grow tired of this and let us go. They might think we fell and killed ourselves, if we just keep out of sight."
Arlena shook her head. "They won't give up that easily. I know them that well. They won't suppose anything, and won't be satisfied. They have to report to their superiors, and so they can't take back stories. They must have us, dead or alive.
Damon sighed, and couldn't think what to say next to dissuade her. But he had to know something. "You know them, you said. Who are they? Why are they hunting me down like this? And I keep running into someone who looks like my twin brother? is that the reason? The last twin I ran into was knifed. But they still kept chasing me. So what is going on?"
Arlena looked into his eyes and did not look at all afraid of her very dim prospects, but smiled. "I have a little theory, that's all. See if it seems to make sense to you. As a complete outsider to espionage, I just suppose they came across your face and pictures in some magazine, and someone decided to copy you, make a clone of sorts with an agent, and maybe more than one. They could use the Damonsth to penetrate the target country's security net, all because you were known to travel widely and your identity was therefore very useful. It would help to cover the agents, who would be penetrating key installations, so if apprehended, they could use your identity, which was a real one, not a counterfeit which the H-R authorities could quickly check out and find were bogus. They didn't care about you. So when you stumbled into the midst of their operations, you had to be eliminated, as you were exposing the whole operation. You may have two more than one country's secret service after you, as you were doing them each more damage than you could imagine!"
Damon was stunned. What other explanation could there be? Arlena had guessed right. He was a pawn for secret services, only a wretched pawn! They had stolen his identity, so now he was a nonentity, actually. His identity was now his death warrant. He would be shot on sight. And he had done nothing--his identity was now made a capital offense, just because he was born who he was. All his life was a zero, far as they were concerned. They didn't care what he had been, or would be, or anything about his dreams and ambitions. He was just a face and identity to them--nothing more--and once no longer an asset, they considered him a bloody nuisance and liability to be liquidated.
Damon felt all his self-assurance crumble, as all his individualism meant nothing as long as he was a target of the secret services of H-R and who knows how many other countries! What could he do now? He couldn't change their view of him, or their objective which was to liquidate him like a bug.
The reality, however, is forcing them to face it, no matter what the complexity of his identity problem. They are on a narrow ledge of a cliff, and this is the last time they will see each other alive. He tries to tell her how sorry he is, but she stops him.
"For once, Damon, I've slowed down enough to have some second thoughts. This is what I have put off until now. I've got to do something to help someone else--even if it doesn't help me. What good is both of us dying? And I really have nothing to return to? Nothing! They've destroyed me already. You might as well try to escape if you can. Don't try to rob me of one good thing I can do with my life, the last bit of it, by staying here. I've been a selfish woman all my life, and only I mattered--and I used everyone I could. But you are different. I see something about you I really liked. But I am not the woman for you. I maybe could be, if I had changed in time, but there is no chance of that now. You must go! So go!"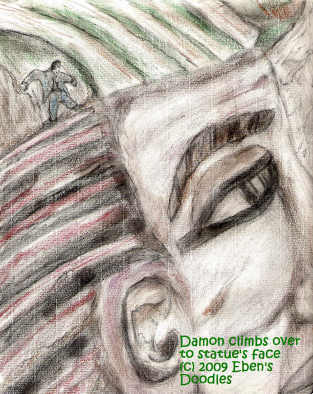 Leaving Arlena, as she won't have it any other way, Damon makes his way carefully across the cobra headdress of the colossus, fortunate to have cracks made by earthquakes that give him hand grips.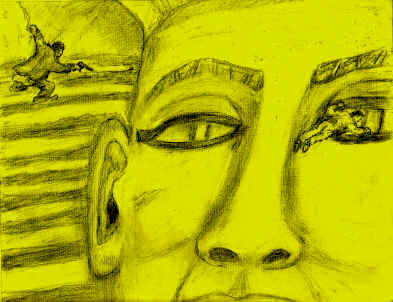 The foreign agents (or are they H-R's secret police?) send the first man down to pick off Damon and rid themselves of a nuisance. As for Arlena, they might find her useful if she comes willingly. If not, she is to be share Damon's fate. Parted, Damon and Arlena present two separate targets, however. But it is Damon they want-- precisely for the reason Arlena has hinted at during their last words together.
Damon decides to lure his tracker to overstepping himself. He feigns a hit, and screams with pain. Hearing him, the hitman makes every effort to finish him off, and he does what Damon is hoping he will do, he takes too much of a risk and slips. The poor man screams all the way down the face of the statue, then there is silence on the far rocks below. One down--how many to go? Damon isn't going to wait to see, and continue across the eye and over to the other side of the cobra headress, hoping this will put out of range, or at least deflect their shots.
He no sooner reaches the right side, when he feels sands and bits of stone raining down, and realizes someone is coming down that way for him.
Time to move? But where? This time he decides to cross over to the monolithic nose, if he can. Maybe he can crawl up inside a nostril? At least he wouldn't be so exposed on the outer surface.
As Damon is descending as fast as he can, Arlena is approached by an agent, who decides to haul her in first before proceeding to deal with her lover boy.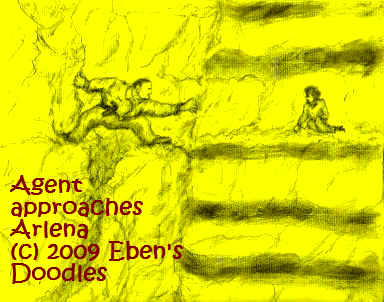 She will be easy, he figures, as he climbs down to where she is sitting and waiting for him, well aware of him, since he is breathing heavily as he makes his careful moves.
Arlena has already decided what would work best, based on her particular talents. "I'll let him dig his own grave," she thought grimly.
"I can see what's on his pea brain!"
It took some time but he finally reached her perch. But first he decided to have a little fun with her if he could. Why not? He worked hard for a living, why not enjoy a little R& R with this classy little tush? It wasn't often that types like her crossed his path. He usually had to resort to back alley sluts he had to shell out a lot of cash for, and they were toothless hags compared to her! Who could blame him? Besides, the boss was up in the car and what he didn't know didn't hurt him!
She looked so frightened of him and where she was, that he saw he wouldn't have to work very hard to convince her, that he was due something for getting her out of such a jam as she was obviously in.
"Your boyfriend left you high and dry, I see!" he called over to her in his friendliest manner. "Some fine gentleman he is! Well, I can fix that! I'll get you outa here safe and sound, just trust me! I'll take care of it just perfect for a lady like you, just you see!"
She didn't say anything, but he could see she wasn't going to resist, so he proceeded to edge her way, talking to her all the while.
"Don't be afraid, missy, you're in mighty good hands now, sweetheart! Just you relax, I know just how to handle a woman of high class like you, so you don't have to worry your pretty little head any--nossir!"
Finally, he reached her, and she seemed so helpless and utterly grateful to him, he put his arms out around her and sort of overplayed his role of knight rescuing a damsel in distress, perhaps. Going for his first kiss, he let down his guard, in any case, and the next thing he knew her knee caught him sharply in the groin, and the steel cleat on her high heeled shoe came crashing down simultaneously on his left temple, just above the eyebrow.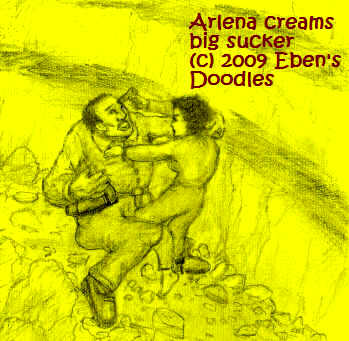 Stunned, he didn't know much else, except that someone gave him a push and then he was falling like a stone down the cliff--which was only a momentary sensation, true, but disturbing, nonetheless, as the rocks gravity rapidly pulled toward him looked most unforgiving and mean and nasty.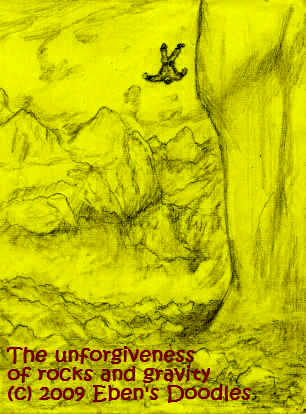 The temple at the apex is a cenotaph that once contained the now vanished god-emperor's visera in golden urns, for ceremonial visits by a priesthood perpetually at their duties, but the facility at the bottom of the colossi contains a working archives of items that are splendid, despite the many thousands of years buried beneath the sea, then riding out the millennia encapsulated within the rising mountains of the Atlantis II. With their own power source, they have withstood the crush of sea waters, and the cold of sunlessness without diminishing a degree in lustre and strength, but these crystals--for such they appear--are yet of a sort Damon has never seen before and so could not possibly appreciate.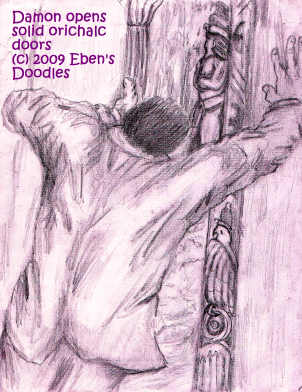 The moment he enters, however, he discovers he is in a radically different world than the one he had just left.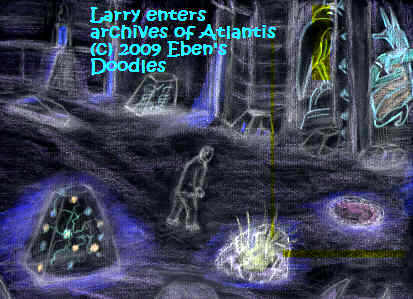 He had been all over the three inhabited continents--East Turtle Island and West Turtle Island, Ismanliya in the middle, and Argentia-Panamania, photographing and exploring all sorts of wonders, natural and man-made, but nothing he had seen, not even among the architectural glories of ruined Mizraim to the southwest that stretched for over a thousand miles along the great river Ioteru, equalled what his eyes beheld. He could not take it in--it was so strange and eerie and yet so living and full of purpose and intelligent design--even in the ruined state he found it. The crystals--for such they seemed--lay tumbled about on the floor, some lit up, others quite dead or asleep. He was intrigued with the repulsive animality of the huge statues inside. Were they ancient gods? Or vanished heroes or great leaders of this long dead culture? They looked Mizraimite, but were they? These were different somehow, and he sensed a far greater age and antiquity about them. These were seemingly for real, they were not merely statuary. He almost expected them to start moving as he gazed upon each one he met. But why so animalistic? Apparently, the ancient culture represented here, whether human or something else, blended with animals, but did not like animals for themselves, no they combined with them to create a new species of some kind--and he sensed a horror in it--his humanness was repelled by it, not drawn to it. These species were devoid of all human feeling--but they were now grown terribly fierce and cold and pitiless--so the mixture, the hybridization, was a horrible thing.
But who created this new monstrous race of giant, immensely powerful beings who could construct such a place as this and stock it with their ingenious, inscrutable treasures? He had to find out somehow, if he could, even while he knew the spies were still out to hunt him down, and there might be more coming than the ones he had already eliminated.
After Ero enters and, his mouth hanging open from amazement, exploring the archives, Ero approaches the monolith-guarded archives, taken there by the guidance system Wally installed in the stripped down, otherwise useless Kater's compass.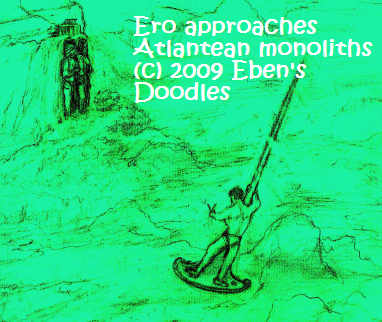 But instead of pausing, the masthead-Argo bot that Wally provided him for his travels continues its ascent, shooting up up over the monoliths, just as he sees a woman hanging to a ledge, about to drop off onto the rocks below.
He must do something to help if he can--being Ero, he cannot do otherwise. The Greek he is rises up, his true manhood and its instincts intact, and so he cannot watch a fellow human being destroy herself.
Ero works at the popup feverishly, to direct the mast-head back down. Wally the programmer had provided Zoom In, Zoom Out, and other directional modifiers, but the program was deliberately made difficult, to keep it from being used too much, and Ero was swearing in Greek as he navigated through Wally's "helps" to get the mast where he wanted it to go.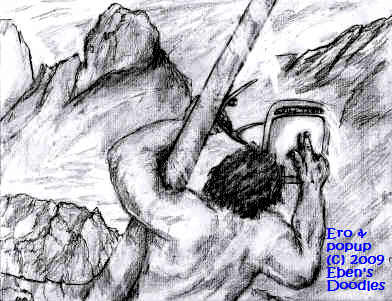 Damon wastes no time, he knows that there may be assassins on his tracks, so he isn't going to stand in one place and provide a convenient target. But the place is vast, and there are so many objects that he cannot take time to examine in detail. He passes through open doorways into one vast hall after another, all filled with things he had never imagined existed.
The three spies detailed to round up Damon and Arlena, dead or alive, were not reporting back to their chief, who sat waiting impatiently in the car.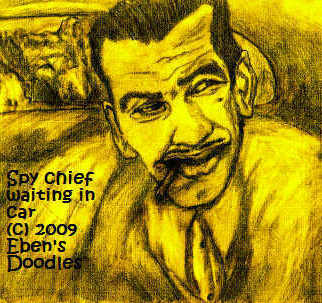 Pedro Incarnacion Federales, known in his vocation as The Shadow because of his ghostly, whispery voice and his panther-like agility as he stalked his prey, kept his window cracked for sounds of what was going on. When he could hear nothing more for some time, he had to assume things were not going so well for his team whom he knew were not much better than nincompoops. Even if the morons had all been given plastic surgery and made to look like him (he wasn't going anywhere unless he had several decoys along!), no amount of cosmetology could give them a boost in IQ. He would have to check in to it personally. This was a bloody nuisance--he didn't need anyone if they were going to bungle a simple little assignment like this! One dude and a snooty little broad running off together--rounding them up should have been a no-brainer! Why, he should have gone alone and done the job himself, making sure it was done right! Now he would have to clean up the mess they had made of it!
Getting out of the car, he decided to strip down and dress in his working clothes--just in case. In his profession, he knew being prepared was everything. Better fighters than himself, he knew, were dead meat if they came unprepared. He pulled out the trunk in the back, which had his personal gear which he let no one use but himself. Slipping out of his clothes, he pulled on his black body suit, which was a close,seamless fit, with nothing that could be grabbed or catch on something. A cap covered his head. He slipped on special shoes, and threw his alligators in the trunk, along with his fine, tailored, mohair suit, and silk shirt.
His equipment was topped by a customized luger in an underarm holdster and a long, razor-sharp knife in a sheath completed his weapons. Last of all, he pulled on leather gloves, with a spare in a pocket on his left thigh.
Taking a 150-200 coiled length of thin, light, but very strong rope, he headed for the cliff edge. Leaning over, he quickly sized up the best spot for descent.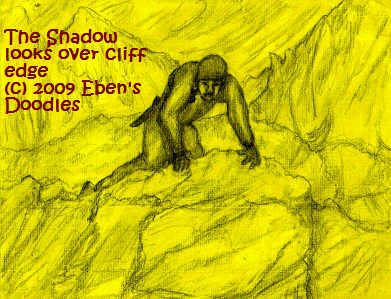 Heights didn't bother him. He knew that he would be able to deal with anything he found below--he had scaled many tall buildings before with only a rope to get somebody his employers wanted assassinated--but was surprised when he saw the flying mast, with a woman and man aboard! What kind of aircraft was that? It was maybe the latest innovation of the enemy powers he was supposed to be fighting--but whatever it was, it gave him cause to consider what he was dealing with. His men? They were no where in sight--obviously, the chumps had been too footloose to make it down this steep a cliff, and hadn't made it to the target, for he was looking at the target right now, getting away!
Not if he could help it! With a rock, he drove his pronged anchoring nail down in the hard ground, fastened his rope to it, pulled with all his might, and then threw the rest of the rope over the edge. It was more than enough to get him to the bottom, or close enough anyway. He wasted no time. In a flash he was flying down the cliff face.
He came down just a few feet from the mast, and then giving a kick off a statue, he swung right down over the mast, and then dropped the rest of the way down to it.
Damon is amazed at the sight of a king, a giant in size, encapsulated in a crystal, for what specific purposes he could not determine, of course.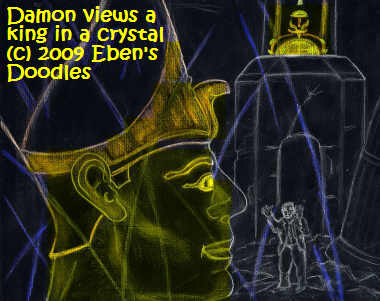 In yet another particularly huge rockcut chamber, Damon finds a giant crystal, bigger than any others he had seen. This one is sending out globes or spheres of glowing blue energy, and they are moving one after the other toward a seated figure on a throne on the other side of the hall. The figure seems closer than it is, he will find. The globes do not diminish in size, that is only the effect of the distances.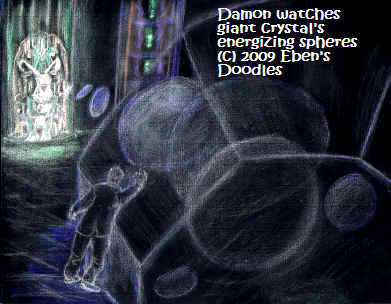 Watching the spheres or globes passing from the crystal to the throne and its occupant, Damon begins to wonder why it was set up to do that. He left the crystal and went to find out if he could. As he approached the throne, it grew in size, and continued to enlarge, until he found himself reduced to a very small person in comparison with the statue, or whatever it was. Why energize a stone statue? he had to wonder. Seemed like a total waste of energy to him.
Yet as he looked up at the statue, he was astounded at what he saw. It did not look like stone, no more than it looked human. A sort of colossal hawk sat on the golden and jewel-encrusted throne all enclosed in a thin crystal sheath much like a butterfly pupa in a chrysalis. But this was no butterfly in the making. The hawk had legs and arms like a man, only the head was not a man's but a hawk's, with a huge raptor's beak!
Appalled, Damon could not stand to look at it, but he had to. He had to find out what it was, and why it was being fed the globes. Even as he watched, a globe passed to the hawk-giant and dissolved, and the monster shuddered a bit and seemed to glow a little brighter.
Then the beak moved, and the eyelids quivered, as if they were about to open. This was not just horrible, but frightening to watch.
Backing away, Damon turned. His devil-take-the-hindmost-daring, gone. He had never even imagined a monstrosity like this one could ever exist--half-human, half-raptor, and of giant size. What kind of civilization had birthed it, pasting human and animal together liked that to make one monstrous being? The Indian tribes had stories they told and retold, he knew, that spoke of a bygone age when superbeings stalked the earth and ruled it--but those were only myths laughed at by his teachers in school, and he hadn't taken any of them seriously--until now. The Indians also described how the Earth was located in another quarter of the sky, the Indians, and was burning up and dying from too much heat from Brother Sun, and Raven had come to the rescue of people and animals and tied the Earth with strong leather cord to the tip of his arrow, and with his bow shot them all to a new home in the heavens where they could revive their strength and hunt the buffalo again.
The Indian tales gave this and other information he had to think over some other time, if he survived to think about them, that is. Whatever the species was that manufactured such monsters, he wanted nothing to do with it! Where they entirely without sense? For all their marvels, they couldn't have anything the least good to offer humanity--and if they let humans live, he thought, it would be just to grove at their feet and serve them as slaves!
He ran back all the way to the crystal, and crouched down along the side for cover. What if the beast suddenly woke up and stepped out from its chair and saw him! Wouldn't it go after him like a bird of prey would a rabbit? He would be torn to shreds by that beak in a moment or two!
Feeling defenceless and totally exposed, Damon thought hard about what to do. He needed to get clear of the giant raptor, he decided, before it woke up completely, saw him, and tried to run him down. This was, after all, its territory, its palace, not his. He didn't know his way around, as it must know.
Still crouched down, trying to keep out of sight of the thing, Damon was thinking about making a dash back to the entrance when a crazy thought flashed into his mind. No! he thought immediately. He couldn't do such a thing. Why take a chance like that?
But the thought kept coming--"Stop its feeding from the energy prism and starve the dormant White Land king to death!"
Damon almost burst out with a laugh. How? Could he move the giant crystal, the empowering prism that fed the abomination in its chrysalis? The crystal looked like it weighed tons. He only wanted to get out of the place, then report it once he was safe back in civilization. Let the government confiscate the gold and jewels and artifacts--he knew he could live nicely on his fame for discovering the site--without having a lot of wealth to protect and keeping a bodyguard the rest of his life.
The creatures most preferred seemed to be predators, the bigger the better, as Damon viewed a shark looking completely alive though embedded in a giant crystal.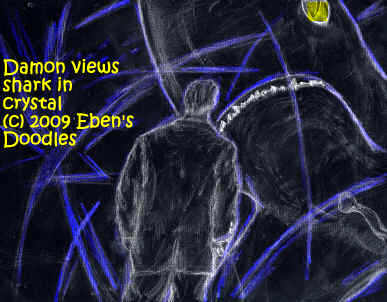 He also sees a lion, though it is much bigger than any he had seen before.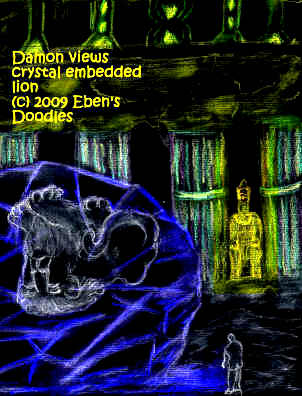 And just beyond the lion is a bull elephant, which looks to him as if it were still alive, its ears flared and ready to step out of the crystal and crush him with one foot or grab him with its trunk.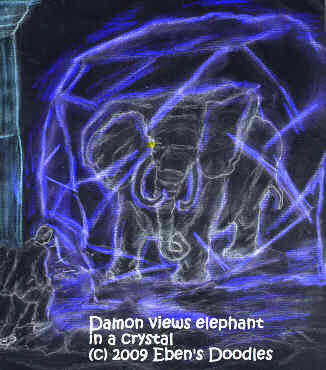 It was strange how earthquakes and upheavals at various times destroyed some rooms and their menagerie of crystal-preserved monsters, but left others completely intact and everything in them in perfect condition. Water had also run out drains, if any significant amounts had ever gotten in--as the place had evidently been perfectly sealed in its location deep in the bedrock. As for the sealed entrance, that had been swept away only in the latest earthquake, and if not for the quake that sheared off the face of the surrounding rock sufficiently, he could never have found the way in through a secondary, unsealed entrance.
Even being raised thousands of feet by upthrusting volcanism and coming to rest inside a mountain, that did not destroy the facility, it was so well anchored inside the solid rock--with an ingenious system of giant levers that kept most of it both level and free from damaging rocking back and forth.
He came to a hall that contains nothing but hundreds of glowing mirrors, or such they appear. But the mirrors are flickering with scenes, not imaging their surroundings. The largest shows a vast panorama, a riverine plain studded with cities. As he watches, it takes him closer into the scene, descending into one of the cities, and he sees the inhabitants going about their business as usual. The architecture of the structures is strange, mostly geometric, with a great many columns, and squares and avenues set with statuary of immense sizes, but somehow familiar. Where had he...? Yes, of course! The buildings most resembled the pyramids and cones and obelisks of Mizraim, did they not? In addition, strangest of all, there were hundreds of others that looked like immense sundials, or solar panels--though they weren't reflective, and he could not guess at their uses or purpose. Mizraim once had avenues such as these, too, set with giant sphinxes, rams, hawks, lions, bulls, and all sorts of other creatures the Mizraimites worshipped as gods.
The resemblance, the Mizraimite connection, was almost uncanny, though in the projected scene the buildings were not just massive stone concretions but crystal structures, and so massive that even the smaller ones could comfortably house any number of Mizraim's Houses of Eternity and temple complexes.
As for the inhabitants, they seem to be mostly slaves serving the golden, jeweled nobility and aristocrats, the elite ruling class of masters and mistresses of the super-race who sometimes appear in public, but mostly are hidden deep within the palaces and temples and pleasure pavilions of the city.
Hadn't he also caught glimpses of gangs of slaves, chained together, working the fields outside the city? They all appeared humans, with no superhuman powers, but their masters? Were they human too? Or something else? He could not tell, except that they preferred animals to humans and blended with them in new hybrid beings they themselves created. Whether or not human, the only thing certain was that the governing class was oppressing the human slave class in the most hideous way--making them do all the work of supporting them in the upmost luxury amidst magnificent settings while most of them scarcely had a rag to cover themselves.
Meanwhile, the air was thick with flying globes and disks of all kinds. They mystified him, until he saw one being boarded by the ruling classd. A transporting machine of some kind! he realized. Fashioned of a special material found on asteroids and rarely, only in tiny amounts, on earth, it absorbed its energy at one of the conelike structures, then rose and flew out the top, vanishing into the clouds, flying swiftly and without a sound. What an advance this represented in fuel, technology and aircraft! His world had nothing to compare with it! He watched a number of events being staged, all sorts of nobility present, with the emperors and empresses in attendance at a number of them in special pavilions. In one more private ceremony, a chief astrologer greeted the Queen after performing the secret rite that only her eyes could see that insured the safety of herself while travelling in her newly finished and staffed cosmic chariot to other stars and back. The few human slaves allowed were put to death immediately afterwards, of course.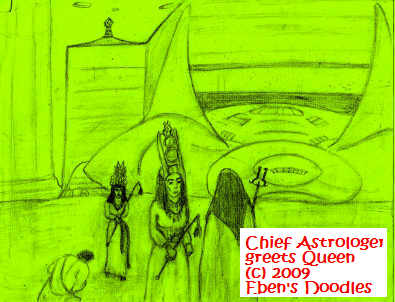 It surpassed the world's nuclear physics and rocketry. There were even cities set apparently in space on unknown planets in distant star systems he could not identify, all reached by those huge blue hollow disks they used for space travel as well as terrestrial air travel.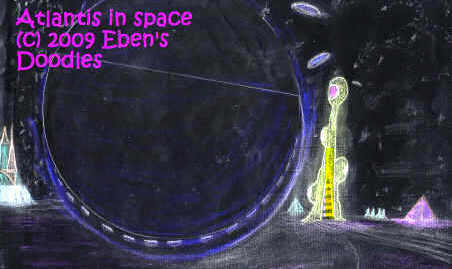 Was it a paradise of perpetual peace and happiness? No, he saw that they were well prepared for war, and there were continual revolts and struggles for the throne within and outside the ruling dynasties and royal families. Assassinations, rival claimants fighting it out, it was a cycle that embroiled the country in war after war. One weapon as especially favored, a crystaline obelisk that shot death rays far out and burned and exploded enemy aircraft and flying spheres.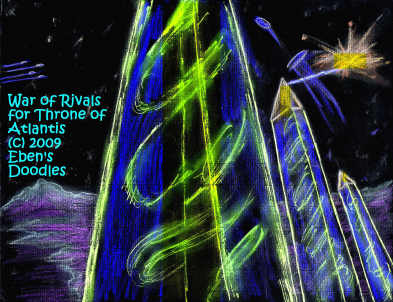 If they were so advanced, it was one thing to fight among themselves, but why did they have to press and crush the whole weight of their civilization down on the backs of their wretched human slaves? Why couldn't they just use their incredible wisdom and crystals to make a paradise for everyone, not just a tiny elite at the top? It certainly appeared they could do it, since they were so adept at creating the most wonderful transporation imaginable as well as beautiful, clean, elegant cities that all looked like jewels to his eyes set amidst perfectly laid out parks and gardens and pools?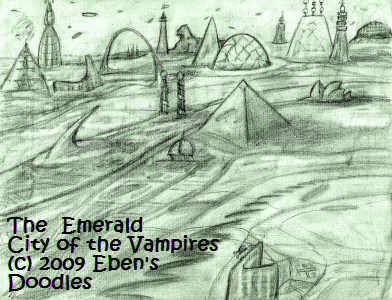 Damon wonders why there are so few food transports into the city. What staples do they consume? He sees the endless streams of workers and slaves, in and out each day, for none but the household staffs are allowed to remain in the incredibly glowing, magical-looking metropolis at night. As for the slaves, they are not only transporters of farm and factory goods and all kinds of animals for the zoos and for household pets (snakes of all kinds and crocodiles and sharks seemed to be the most popular of the exotic pets), but vintners, bakers, cleaners, domestic and household servants, gardeners, entertainers, musicians, artisans, construction crews, and... food!
Cobras appear to be most venerated, even sacred, for he sees they are allotted whole temples and the priests serve them.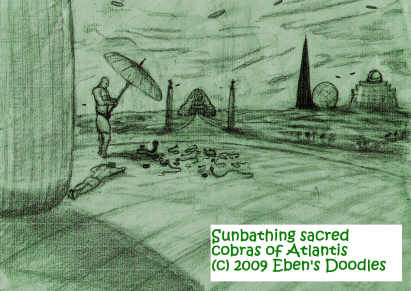 If this wasn't bad enough, he sees a chained line of boys and young men being taken, bound by the hands, and being made to kneel for their turn at a grisly kind of milking station.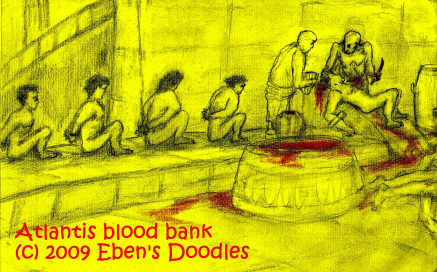 A vein is opened up in the neck or arm, and blood is drained from each one into containers, and taken away to the master and mistress of various households waiting for their favorite power drink.
Damon has the answer ot his question. Blood-sucking Vampires! So that is how they get their primary food source! Fresh fruits brought in each day and the other condiments added to them were nothing but dessert served after the main course: human blood! That proved to him that they could not be human--they treated human beings as nothing but cattle to be disposed of any way they choose.
They were also cruel sadists that enjoyed inflicting pain.
For entertainment at parties and special events drawing thousands of these gilded and jeweled vampires, huge tanks, many of gold-inlaid marble-like stone, were filled with starved sharks or crocodiles and South American piranha, and human slaves--men, women, children, babies (they particularly liked using babies) were thrown in. Thousands were sacrificed in this way, as the lords and ladies were served sherbets and other cool desserts and chilled wines in the viewing stands, oftentimes by relatives, wives, mothers and family of the perishing slaves.
What he was seeing, he would soon find was helping prepare him for more horrors to come. The facility of archives, while under construction, was even pictured, with the slaves being driven down to the excavation by armed guards. The bedrock beneath the soil was the actual site, four or five hundred feet feet down, a place where the archives, once sealed, would forever be secure, no matter what happened to to the surface world.
The slaves, however, had no stake in the imperial dreams of glory preserved forever in such archives. He could tell that they knew they were not going to be leaving the site--that they were digging their own graves, not just working an some imperial underground building project.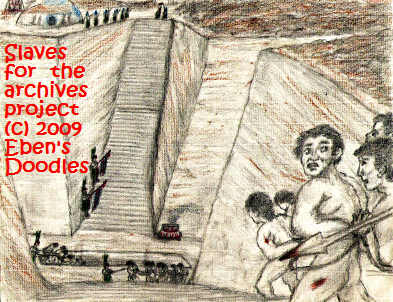 Knowing he can't spent all his time there, Damon forces himself away from the viewing crystal, and continues on exploring in the labyrinth of the archives. How far does it extend into the mountain? A half-mile? A mile or more? He has to find out before he leaves, he decides. He found it rough going in a ruined hall, where many of the pillars had fallen and littered the floor with debris. But a big crystal had also been broken, and a chip from it made a very convenient source of light he could transport.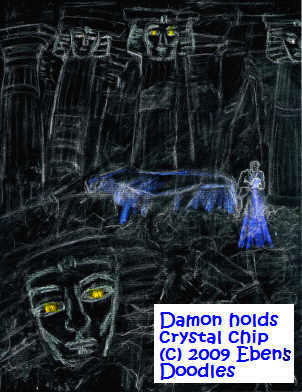 He was soon sorry he continued, rather than turn back. The terminus of the facility was most chilling to see, he was not sure he was able to stand looking at it. But he forced himself, in order to know exactly what he was dealing with. The entrance to the chamber he came to at the end of the series of halls and viewing chambers was a natural, untouched cave. The bricks that had blocked the entrance had fallen down, and he could now go in. Holding the crystal chip to light up the cave, he took a few steps into it, and saw uncountable skulls and bones of what had to be the wretched human slaves used in construction.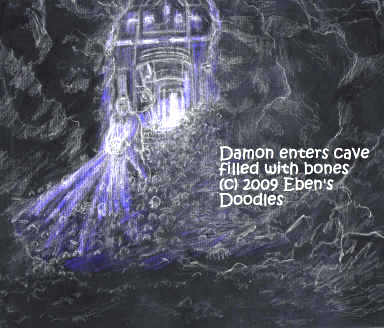 To keep the exact location a state secret, they had been shut up in the place and left to die, after their work was done, apparently. No chance was taken that they would report the way in to the facility, despite the fearsome guardians put in as security that should have kept any intruders in check. After a few moments, seeing as far as the light from the crystal he held permitted him to see, he had enough and stumbled back out.
Even after thousands of years, the smell of death and decaying dead men's bones, even a certain sense of the stark horror and fear experienced by the doomed men, sickened and appalled him. He could hardly walk after he left the hellhole.
He was trying to sneak by the raptor when he saw that it was fully aware of his presence this time. Its eyes were following his movements! He tried to hide behind a crystal, but the blood in his veins froze as he saw the monster rising to its feet.
Damon could not stay where he was! He had to try to escape, now or never!
He made a dash out of the chamber, past a very dead giant guardian-cobra (it had not survived the cold in its dormant condition, despite the energizing it received from a crystal), but a guardian raptor (not the king, but full giant raptor), revived enough to detect his alien presence, was swift, too, and as Damon rushed toward the entrance, he could hear the movements of the thing behind him, close on his heels.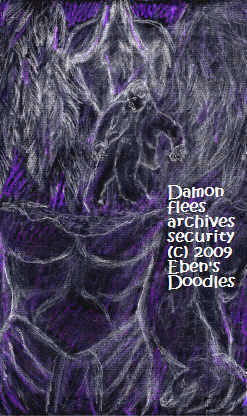 He knew better than to pause or turn around to look, he just kept going. At full speed he burst out of the entrance, and kept going, trying to get to the cover of some boulders large enough to hide him.
There was a deafening screech as the raptor reached the open air and the sunlight, which stunned the creature for a few moments, giving Damon the window of time he needed to find a hiding place. There were shadows on the ground, moving right across the ground, that cause him to glance up as he ran for hiding. He saw the flying mast moving first to one side and then another, banging against the cliff, knocking off some of a statue's features, and two men aboard the mast fighting.
Ero had just caught Arlena, as she fell or threw herself from the ledge above, and found she was wasn't even conscious--that the surprise of a black-suited assassin joining them made it impossible to fend him off.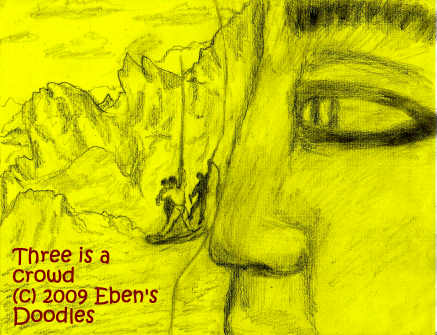 All he had one arm free, as he held to Arlena to keep her from sliding off the mast, and with one hand he had to defend himself and Arlena against a professional killer.
The only thing that helped them was the instability of the mast, which was not programmed for three occupants, with no adjustment being made by the guidance system for the added weight. The mast swung violently to the right and smashed against a giant's nose, chipping it. Then it swung violently in the opposite direction, nearly throwing Ero and Arlena off, and also making it impossible for the assassin, whose knife, meant to finish Ero off, sliced empty air.
Below them, Damon finished his dash to safety, squeezing into a crevice between two boulders, and he looked out and saw the mast overhead swinging and bucking from side to side as though it were a Publicatexan long-horned steer trying to throw its riders. What was this thing? He recognized Arlena, but not the two men with her, though he realized that one--the dark one-- was probably one of the agents aiming to snuff him.
The imperial archives' security raptor was poking with its beak and scratching about the base of the statues for Damon, at the same time, for it had recovered enough sight to ferret him out of his hole.
But the commotion overhead distracted it from Damon, and he was left alone as the monster thought it had sighted its quarry.
It began to beat its humongous wings, though the air pressure now was so low it was not going to fly as easily and swiftly as it had thousands of years earlier in a far different kind of world. Leaping upwards, however, it gained some height as the mast dropped almost within the grasp of its huge, snapping beak. Some flaps of its wings put it even closer to the prey.
What Damon saw next took his breath away, for he was sure the raptor was going to succeed. The mast-bot swung again, to one side and then another, dropping further down, and then gave a violent jerk--at the same moment that Ero gave his assailant a kick right in his sternum--and the spy chief sailed into the air, head over backwards, straight into the open beak of the giant raptor below.
So much for the popup and its half-hearted "weaponry"--"Put in Recycle Bin," "Delete," "Reserve For Other Uses"!--instead of "Kill," "Vaporize," and "Exile to Antarctica".
Yet Ero chalked up his winning score a little too soon. An agent of the Shadow's caliber, who had put hundreds of enemy agents and any number of world leaders six feet under, wasn't going to go whimpering and limp-wristed into final retirement, even when shaken by the beak like a mouse being played with. No, he was going out--if he had to--with his boots on!
Cursing from the pain of the crushing beak, he still managed to free his C.S.A.-made luger and pumped a whole clip of rapid-fire rounds into the monster's head.
As the soft-headed slugs tore through its brainpan, the fowl security dick screeched to high heaven, flapping its wings, without letting go of its prey. Then it closed its beak with a snap like a steel trap, severing the hapless Shadow cleanly in half, who thusly ended his long, nefarious career with his designer boots on, not lying back with an iced absinthe in hand, a chocolate-hued Jamaikan mistress in the other, in a lounge chair beside a posh Jamaikan hotel's pool as he had planned.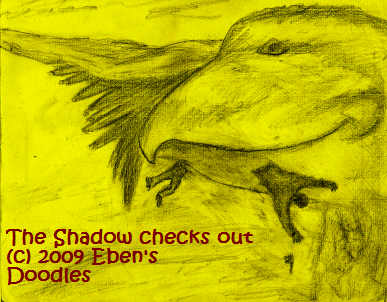 The next moment the wounded raptor collapsed, fluttering and throwing itself at the giants' feet, screeching and croaking all the while in its death-agony.
But since immortal monsters of Atlantis I, even with craniums full of lead like this raptor, do not expire so easily, having already lived thousands of years and thousands more in a dormant state, it wasn't a death-agony--not yet anyway. When Ero got control back at the mast, and was trying to fly Arlena anyplace where he could let her down before she awoke and saw him and maybe had a heart attack, the monster revived. He could see it running, flapping its wings frantically, then sail off a cliff, nearly colliding with mountain peaks as if it wanted to get away at any cost from whatever the nasty thing was that had pierced its skull and given it such a splitting headache.
Ero had more things to be concerned about now than a two-winged monster from the prehistoric past flying into a world where it clearly did not belong and could not fit. Arlena, who hung limply in his arms, would soon regain consciousness. What then?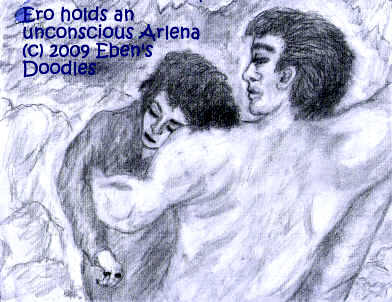 He had to think fast about his next actions. If she should see him, what kind of shock would that be after what she had just been through? How could he explain himself and Wally's impossible flying contraption to her? He was supposed to remain beyond the glass ceiling Wally had set, which, like a one-way window, kept him invisible, but which he could see easily see through without being observed. That worked perfectly well as long as he kept on the other side of the window, but now that he had directly, again, involved himself and was no longer a spectator, he was about to change things dangerously beyond Wally's programming, to the point where anything not very nice could happen. He would be responsible. Was he prepared for that?
He had second thoughts about diving in to her life. Glorious as this woman was in his arm, she was not his. He had absolutely no right to her, he knew. Damon was somewhere below, hidden by the rocks, no doubt watching them, anxious to get to her.
Ero thought then that he could let her down on the ground, but how would she get back up to the road? It would be a dangerous climb for her, perhaps impossible. No, he had to take her back up, even beyond where she had been when he first saw her. He would find a spot where he could leave her, but not so hidden that Damon could not find her easily.
He had to move quickly, he knew, and Wally's trusty popup this time made the necessary adjustments in the guidance system, and in a few moments they arrived at the top of the statues and hovered over various possible landing sites. He scanned the vicinity of the temple ruins, and moving closer saw the agent's car standing empty, a door left open and keys in the ignition, and thought for a moment of putting her in it where she would be comfortable until Damon could reach her. The spies had all been eliminated, so there was no chance they would return and find her there. He was about to set down but then saw something else, a cycle with a sidecar, parked behind a big rock. That was just the place for her. As for agents' vehicle, he knew Damon could drive it back to town, since the keys were in the ignition.
He soon gently laid her in the back of the sidecar. It was hard to leave such a lovely woman, but he knew it was best.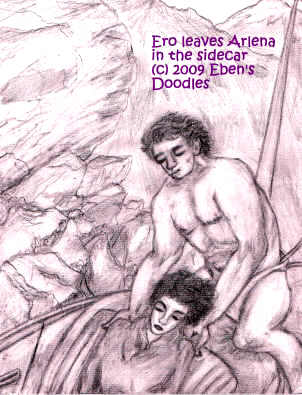 His involvement in her life finished, Ero ran back to his lance-like mast, and shot up to his perch just above the glass ceiling and then waited. He watched Damon far below making his way back up the cliff.
Should he help him? No, he decided to let Arlena's rescuer do his own rescuing. He was making good progress up the cliff, much better than his going down it.
It took little time for Damon, with the motivation he had after seeing Arlena carried up over the cliff face by the same guy who had kicked the spy chief into the raptor's mouth. Who was he? What was he up to? Damon had to find out, if he killed himself trying--and falling from the cliff was the least thing in his mind as he scrambled upwards. With some final, crazy moves, he lunged and pulled himself up over the cliff edge and lay for a moment, exhausted, gasping for breath.
Through his half open eyes, he saw the car, its door open, and he thought Arlena must be in the car. He ran toward it, but, no, it was empty. Slamming the door, he called her name, and dashed this way and that, when he thought to check the cycle, and there she was! Her eyelids were fluttering, and shot open, and they fixed on his face as he was running toward her.
She started to cry, then shook off his hands as he tried to pull her up from the sidecar. "No, I'm all right. Leave me here! I'm just fine."
Damon, who had seen the reason for her being in the sidecar, was full of questions, but she wasn't hearing any. She glanced toward the spies' vehicle. "Are they coming back, Damon? Maybe we ought to leave now, before they do!"
This practical advice brought Damon to his senses, for he was beside himself with worry for her.
"I'll take care of it! Just wait a minute here, and I will be back."
He already knew what he would do. The spies were unable to return for it, he knew, but others might.
Climbing half in the driver's side, he left the door open and started the motor, set it in gear and revved it with the brake on, then released the brake and dove out as the car leaped forward.
Spinning wheels and throwing dust and gravel behind it, the heavy touring car lurched onwards to its doom like a tank, letting nothing in its path stop it from reaching the edge of the cliff.
Then, briefly, relative silence, as the car became airborne.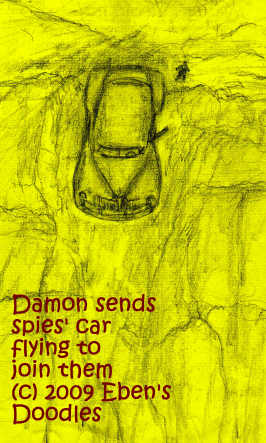 It was hard ground for Damon when he rolled on it, but the sudden terrific sound of a big metal object crashing and exploding down the side of the cliff was most welcome to his ears. He stood to his feet and dusted himself off, then wasted no more time on a slight feeling of satisfaction concerning the final disposition of the spies and their gear. After all, he could not rightly credit himself entirely with the success. Whoever the fellow was who had helped them out--he was no where to be seen--but that was just as well. "Three's a crowd," he thought. He might as well forget what he had seen whoever it was who had come to their rescue. How could he explain what he saw logically. It was impossible, he knew. So he gave up trying.
Returning to Arlena, he found her wide-eyed.
When she saw he was all right, she was furious. "Why, why didn't you tell me what you were going to do? I thought--"
Damon laughed. "Sorry, I was wrong, honey. I will explain everything from now on. But first we have to get clear of this place as fast as possible. Where these goons came from there are bound to be more just like them! And they like to keep in touch, I take it. They will be missed, make no mistake about it! And they seem to have had enough reason to kill me, without this too!"
Damon leaped on the cycle. His head was bursting with the incomprehensible marvels he had seen in the underground halls and temples, but there was no time to tell Arlena about them now. Perhaps, later? Kicking as hard as he could down on the starter, the engine sprang to life, and with Arlena handing on in her sidecar, they jolted up the slope toward the road while Ero followed them, discreetly hovering just on the other side of the glass ceiling in order to remain invisible.
It was good they left when they did. The whole landscape shuddered as they were moving upwards, and puffs and clouds of dust shot up from fissures and widening cracks, as the hill and cliff began to slip, disintegrate and move south. Revving the motor for speed, Damon sent the cycle climbing in high gear, regardless of the rough, steep grade, and hoped poor little Arlena could hang on in the jolting sidecar and not be thrown out. They came to a crack, which was rapidly becoming impassible for any motor vehicle. But they could not stop now, they might not make it across the crack in time before it opened up a hundred feet or more in depth. Was the whole mountain side going to slide off into the valley? It looked that way!
Shouting to Arlena to hold on hard, he kept going, and the cycle hit a rock and the wheel went up, the cycle and sidecar with it, and they barely cleared the huge crack, which was the fault line in quake, for everything south of it was moving downwards and fracturing to pieces at the same time.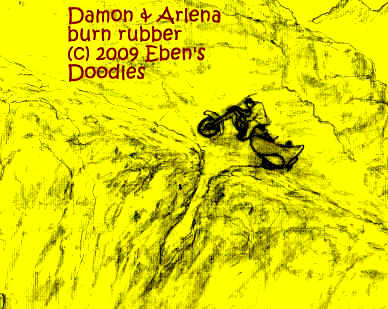 The spinning tires caught in the dirt and gravel on the other side of the crack, and they pulled away from the danger and soon were topside, up on the road. But Damon wasn't sure that was a safe place to be, so they continued on down the road a mile, then he pulled over. He rushed to Arlena, and lifted her out. She collapsed immediately, so he held her up with his arm, and they looked back and saw a huge column of dust and debris filling a large part of the sky, exactly where they had been a a minute or so before.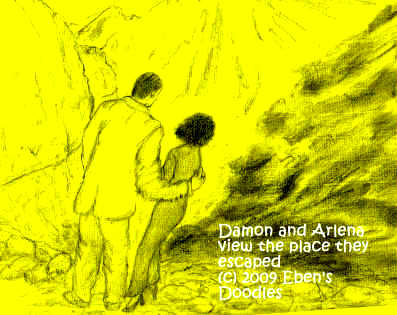 What was left of the temples and all the strange artifacts inside the underground chambers? Damon wondered. Probably nothing. Or they were all buried so deep, they would never again be uncovered by a landslide. The secrets they held were safe forever, unless he told the world, and he wasn't about to say anything, lest the bodies of the spies be uncovered and whatever country had sent them out would be looking for him again. Let them think he too was buried there! Maybe he could change his identity enough to live a relatively normal life, if he did it quietly enough. At any rate, it was time to get Arlena back to civilization! But which way should they go?
He was thinking about this a moment, when he realized that it was not all dust, there was smoke, and where there is smoke, there has to be fire! The quake generated by the shifting fault line in the Moon Mountains, it had crushed the crystals no doubt, something they were not going to take lightly. The incalculable energies pent up in them were now releasing--without any control whatsoever. They were like nuclear bombs exploding from under all the debris pile, one after the other lifting thousands of tons of rock and blasting them hundreds of feet into the air.
The ground and the road beneath them was shuddering with each concussion, and the hillsides nearest them were beginning to break off and slide down over the cliffs. Would the road get buried too or entirely break away and take them with it? They had to get out of there if they could, immediately!
It did matter now to Damon which direction they took--they had to put as much distance as possible between them and the melt-down of the crystals if they were going to survive. Getting Arlena back into the sidecar, by sweeping her up and putting her there without a word, he leaped to his seat on the cycle, gunned the motor into life, and they were off down the road.
It was only a few miles later that he saw a car up ahead. His heart sank. It had stopped, and seemed to be waiting for them.
Damon pulled over and cut the motor. He took the keys. He knew all he had was his bare hands to fight with, he had not taken the time to search the spies' vehicle for any hardware, so he was not defenceless. If he was going to have to fight, he thought Arlena might have a chance, if she would run and hide somewhere in the rocks.
Arlena was more recovered now, after a short time feeling the breeze on her face riding down a real paved road instead of a rocky obstacle course or goat track, saw what he was doing, however, before he could give her last instructions, and called out to him.
"No, it's my car! I always have it parked, my driver waiting for me, wherever I plan to get off the train, ready to take me home, as I cannot be traced so easily that way, should my husband ever get suspicious or "receive certain information" and hire a detective. He can trace me very easily on a train, but not in my own car, taking my own way home. But this time, since I was interfered with, I sent for it ahead of my planned destination, to meet me here on the road instead. No doubt he's been searching for me all up and down it. Let's go. My driver will take us back. Don't say anything. Not one word, or he'll remember you and he'll be made to talk or bribed to talk. I'll explain who you are. It will be worthless if he ever has to give it to someone. He won't ask anything more, and I can trust him not to say anything. That's why I kept him--he doesn't ask questions and he has few words to say about anything. Just to make certain of him, I pay him well to keep him happy with the arrangement! I kept having to fire chauffeurs, just to find one that was reliable, but this one, I've been able to keep him for some months now."
Damon wasn't so sure. He remembered a former hired driver, who was somewhere down the road, no doubt furious he had lost his cycle and probably ready to kill the borrower on sight if he could.
"Half all right," he said to Arlena. "You ride in the car, but I will ride right along you in the cycle. That way if everything goes as it should, I will not need this for a getaway. Besides, I want to return the cycle to its owner, who is just a poor fellow who has to make a living with it--right? Or is he just another spy friend of yours?"
He winked slyly at her, and she shot him a look that told him she was angry, outraged he should suggest such a low-bred thing!
Yes, he was being altogether rude to her, deliberately provoking her. But how could he tell which way the wind really blew with a woman like Arlena? Had she really turned a new leaf and wasn't going to cooperate any longer with the spy rings so she could keep up her secret love life--after all, blackmail and the fear of exposure can do strange things to character, he thought. Beautiful and alluring as she was, he wasn't going to be her fool if she changed her mind. This little test wouldn't hurt. Let him see just how she acted when she had things back in her control, in the palm of her little hand, once again. Then he might decide whether to accompany her the rest of the way, in her car, with her driver.
Damon escorted her to her car, a luxury, customized Zinzind, or Z-Series saloon with all walnut and leather interiors, bar, telephone, intercom for instructing the driver, and other amenities enclosed in a private, glassed in compartment for herself in back. He waited for her to be seated comfortably, then watched the driver as he mixed her the drink she requested, inserted a fresh rose the driver took from a refridgerator for the vase nearest her, opened a box of chocolates, and arranged her cushions for her, all the things a chauffeur would do for a wealthy employer.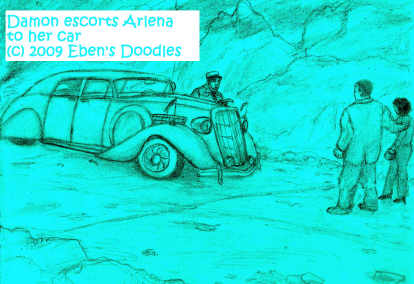 Once all this was completed, the driver, who had a choirboy's innocent look and did not look to Damon like any threat, tipped his hat to Damon but was visibly surprised when he did not join his employer in the back compartment and stepped back away. The driver closed the door and went back around and got in behind the wheel, still glancing back at Damon standing beside the car on the road as if he thought he might change his mind. Arlena turned her head away from Damon, who smiled and waved as the car moved forward at a sign from her.
She must have given another word to her driver, for the car suddenly accelerated and left him in choking in its exhaust and dust.
"No, you don't! Not even a good-bye, huh?"
He dashed back to the cycle, and a moment or two later, he was barrelling it down the road after the limo.
It was just as well they did not waste any more time back where they had been, for yet another explosion erupted, something close to an H-bomb that obliterated that entire stretch of road and a couple mountains in the vicinity.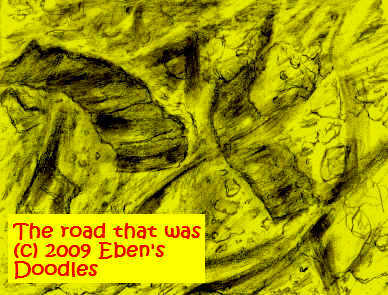 The terrific roar behind him caused Damon to turn his head, and he saw it--a huge, mushrooming cloud where the mountain road, and surrounding mountains had been.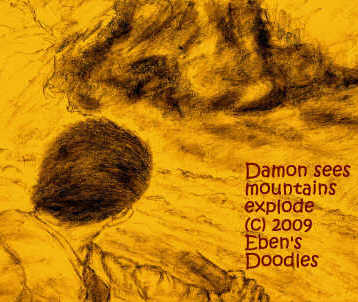 But he could not stop, Arlena's car was pulling away from him so he had to keep the cycle going for all it was worth, or be left in the dust.
He had just pulled up over the last hill when for a brief moment he saw the bridge in the distance--or, rather, what was supposed to be a bridge over a gorge, but there was only a big gap where it had been.
The momentary image flashed upon him, then he was speeding down the road, wondering if he had really seen the bridge gone or not. A few hundred feet more it began to dawn on him, and horror began to flood him.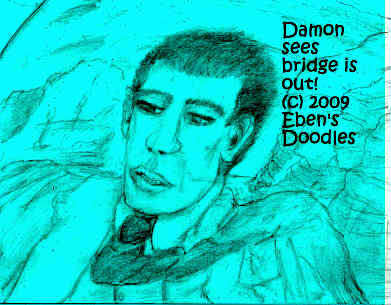 The bridge had collapsed? It was gone? Was he mistaken? After all, he had only caught a brief glimpse of where it was supposed to be, perhaps he was wrong, it wasn't the place, and the bridge would soon come in sight.
He continued on, pushing the cycle to the limit to narrow the gap between him and Arlena, and keeping his eye peeled at the same time for the bridge in the distance that was supposed to be there, but maybe wasn't.
But there was no sign of the bridge, it was too low in the distance to be seen, and they weren't climbing anymore hills so he could take a look far enough from its vantage to make sure his eyes hadn't played a trick on him.
Not knowing was bad enough, but what if the bridge was out? He had to try to stop Arlena. But every time he pulled up behind her, he was spotted, and her more powerful vehicle accelerated and he was not able to get close enough to yell to the driver to stop.
He pulled up again when her car slowed, but she accelerated again, driving him crazy, for he was frantic by now, certain that the bridge was indeed gone, and shouting himself hoarse as he tried to be be heard, though it was useless to do it, they couldn't possibly hear him.
All he could hope was the authorities had found out in time to set up roadblocks ahead. But that too was unlikely, he knew, for this was so far out from any town or city, they might not even know. And when had it happened? Perhaps it had just fallen in the latest quake, and there had been no time to react to it.
His blood seemed to freeze and alternately boil in his veins as he chased in vain after Arlena. She played a cat and mouse game with him, letting him get only so close, then pulling away once again. He couldn't stop her teasing him at the cost of her life! But he couldn't give up--or should he? Maybe she would stop in time for him to warn her? He thought of one last way he might possibly get her to quit playing her deadly game.
It was worth trying! He braked and then pulled over, and waited. Every minute dragged in the most painful way, as his heart pounded and he could hardly think straight, wondering if what he did was working or not. Had she noticed that he was no longer playing her game, and stopped to wait for him ahead on the road?
He waited ten more minutes, then couldn't bear not knowing, and started ahead, going slowly, for he didn't want to start the chase again the moment she saw him coming.
There was no sign of her car for the next mile, and the next too. The bridge wasn't too far off by now, he knew, and dread grew with each passing moment, which he fought with all his might. The bridge towers rose up into view, but they seemed damaged. But that didn't mean the span was gone, even if the towers were somewhat damaged. He still had some grounds for hope, he assured himself.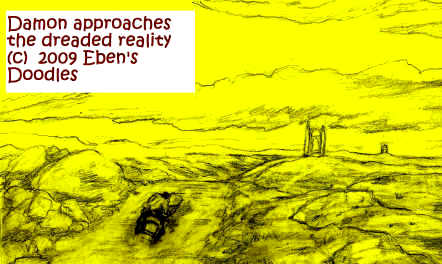 Not a single car or vehicle met him. That wasn't good. He couldn't deny that was a bad sign, indeed. No posted soldiers either. The road was empty as he moved along it, slowing the cycle as he could not bear to see what he dreaded most, an empty stretch of road all the way to the place where the bridge was supposed to be.
One hope remained--perhaps his eyes had seen wrong, there really was a bridge span, even if the superstructure was damaged. After all, he had only the briefest impressions way back in the mountains, and the light was maybe playing tricks. He hoped with all his might that...the last fifty feet were an agony. Only then did he come to a row of rocks someone had dragged there, an improvised roadblock. Who could have done it? Arlena and her driver? No, that didn't seem likely. They would have been there, waiting for him, unable to go on any further. But who else could have done it?
He couldn't stay on the cycle anymore. He pulled over and letting the motor run, let the kickstand down, and began walking the rest of the way.
His feet dragged like those of a terminal patient in a hospital, taking his last walk in the corridor. He was not even aware of breathing. All time seemed to stand still. He heard every cricket, drumming on his ears, and the singing of other insects, high pitched and painfully piercing his brain, stabbing at him as he heard his own heart laboring inside his chest, beat after beat.
His eyes did not lie. The bridge had collapsed into the gorge, which was hundreds of feet deep. A river ran in it, deep, ugly with brown, silty waves, and swift.
The wind whipped at him as he crept to the edge of the broken off span. He crawled the rest of the way and looked over the edge. His eyes were so blurred with the effect of the wind in his face, and the horribleness of what he feared was so overpowering, he could see nothing but dirty water sweeping below him, the missing span broken up and washed downstream or drowned by the deep water.
If there were parts of it visible, he wasn't able to see them, as his eyes were too watery, and he didn't want to see any more, he turned and crept backwards, then turned and lay on the broken bridge, face down, for how long, he was not aware.
He had forgotten the cycle completely, and only gradually did he hear the motor and remember he had left it running. Getting to his feet, without a look back at the river, he made it back to the cycle, staggering part of the way as if he was drunk. When he reached it, he collapsed against it and stood there, unable to comprehend what had happened, for he could not think she and her driver had escaped death in the river.
After a while, he heard the sound of aircraft, and eventually the sound came closer, and it was a gyroplane. He did not move, and the gyro circled the bridge site a couple times, then moved toward him. Then he saw it was going to land on his side, and he stood watching it as it did so, settling down a couple hundred yards up the road from him, and presently two men came walking from the craft toward him. They were government soldiers, by the looks of their uniforms.
He told them why he was there, looking for his lady friend, who had been travelling the road just ahead of him in her own car, and that both she and her driver had vanished. The soldiers eyed Damon, then went to take a look down into the river, and returned, shaking their heads. "No one will live who falls in," he was told, as if he couldn't figure that out himself. Asked if he had seen any traffic on the road, he made no mention of the spies and the huge chambers full of crystals he had seen but told them he had seen the road was gone further up, so there would be no traffic down to the bridge, at least from that side.
An hour later, their reports were completed, and they had asked him all the questions demanded by their superiors at HQ, but Damon, who had no license for the cycle and no identification, had to be taken in to be further questioned at their army base commander's office. There he told them everything, his profession, and reason for visiting H-R, and that he was on his way back to find the owner to return the cycle his lady friend had hired. But when he came to the bridge it was gone, and the car she was being driven in had evidently plunged off the bridge into the river. As for the rocks someone had laid down as a roadblock, he had no idea who had done it. Perhaps because he was believed, and they felt so sorry for him, he was still surprised when he was released and led out, and told to find his Consulate if he needed help or money for travel back to his own home country. One of the soldiers was detailed to drive him back to Multan, as he was a courier with copies of the completed reports to the commandant at the Multan army garrison concerning the bridge.
It was a long, tedious journey in the army jeep, a shockless vehicle which jolted Damon with every bump in the road. They drove along in complete silence, the soldier smoking his entire pack of cigarettes after offering Damon one, and Damon was grateful that the soldier had nothing to ask him after all the questioning had drained him of every possible fact on the subject of himself and Arlena and her driver and the car they were in when last seen.
Let off in the city center, Damon turned toward his last hotel where he had been known. He was glad he had been careful to leave a good impression with the staff and concierge, for he was hoping he might be able to make a call from there, since they might still remember him at the desk and allow him the hotel's courtesy phone at least.
Numb as he still felt from the shock of losing Arlena like that, he hardly cared about what happened after that, he felt like he was just going through the motions while he completed these arrangements.
Recognized by the smiling concierge, he was soon given the courtesy phone without any hesitation and told he could call as much as he pleased, as he was fully trusted. Calling numbers he could remember of his family, he started with his father and mother who would be anxious about his whereabouts, since he had not contacted them for days. Indeed, they were anxious about him--though used to long weeks of waiting for word for him while he was off on long photographic or filming safaris in isolated areas. This time, however, they were more than anxious, as they had heard radio reports about tremendous quakes and explosions, perhaps volcanic, in the mountains they knew he would be passing through.
Relieved though they were to hear his voice, he had all he could to assure them he was perfectly all right, and would be coming soon, provided they could wire him the needed monies direct to his hotel. Deciding not to worry them too much by telling them about the bandits and later the explosions that nearly engulfed him and Arlena, he only gave out about how he had lost his wallet, camera gear and prized shots all along the Tea and Sugar train route, and his money and identification. The losses of all that were due to problems he did not specify, but which they thought, he knew, were connected with the reports on the radio. This accomplished, he reassured them he was fine, and was just going to check in and would get some rest, before leaving for home in the morning on the next train or plane.
He was shown to his room on the third floor by a porter, who then went and returned bringing him some pajamas and bathrobe and toiletries he might need while his clothes were cleaned by the hotel staff. After thanking him, Damon closed and locked the door, glad he was in a safe place to spend the night and not out in the open being chased by two sets of spies who obviously wanted to draw blood.
Back on the road to the bridge, how could Damon have guessed that Ero was observing the entire chase from beginning to end. Seeing how it was going to go, he decided he must intervene one last time--even if it did shock Arlena more than a little, when he came down on the span, stopping her car just in time.
The driver would not even get out of the car, he was so tranfixed at the sight of Ero and his mast-bot, but Arlena did. She started walking toward him, evidently not afraid of man or beast, or whatever he was.
Then something happened that Ero did not consider. The driver, who had been observing both of them with wide eyes, hit the accelerator, no doubt by accident, and the car leaped forward. Before Ero could do anything, the car plunged off the span, though the driver tumbled out at the last moment and lay sprawled on the pavement. The fellow sprang up the next moment, took another look at Ero, yelled something, then dashed round the mast and Ero and, screaming at the top of his lungs when Ero ran to stop him, jumped off the bridge. Ero was appalled. He had no idea the fellow would be so terrified he would lose all his wits and jump. He ran to the mast, and tried to get it to take him in pursuit of the driver, but he was having no success, having interfered too often with the guidance system, and he saw Arlena was trying to get away from him too. He motioned to her without any attempt to pursue her, though he didn't speak her language, and could only make signs to her she might understand.
She stopped trying to get away from him, and he approached her, and found her weeping as she glanced down toward the spot where the driver had gone over the edge. Ero went to the edge, searching the water, but there was no sign of any car, much less the witless fellow.
He went back to Arlena, and it took her a little while to compose herself after seeing her driver drown himself. Next, she was glancing anxiously up the road. Ero understood she was looking for Damon, wondering when he would get there.
But Ero had other ideas, knowing that he could remain there, meddling in things, without losing his berth on the mast-bot. Was he prepared to stay on the ground indefinitely and take his chances with all sorts of hostile people who wouldn't understand or appreciate his presence? Hardly! Pulling some rocks away from the sides of the road to make a temporary roadblock, he was satisfied that would be enough to stop Damon, and then turned to Arlena. She understood, and seemed relieved.
It was time for him to go. He could do nothing for the driver. As for Arlena, she had been on the mast once before, without knowing it, and he offered her a place on it as he boarded it made it move toward her.
Using the translator on his popup, he typed in his message to her, and Wally's HELP and translator came up with just the right words, or a good approximation, for she nodded the moment she looked where he was pointing on the screen. Yes, she wanted a ride home!
As to destination, he pointed four ways, and she understood and pointed north. That was all he needed, and he gave the instruction to the guidance system.
That decided, it was only a moment before they were airborne. She wasn't terrified by the flight on a mast-bot, but he noticed when he glanced at her that she was determinedly looking away from the bridge, as if she didn't want to see Damon reach it and find her gone.
Would Damon understand if he found no car there and only the roadblock? Obviously, not! But there was no help for that, Ero thought. Only then did he look at her again and see her eyes were wet. Women! They were all the same. Why did she want to leave, if she felt that way about Damon?
The mast carried them swiftly northward, with the huge smoke and dust cloud from the underground complex still filling half the sky while government gyroplanes and other aircraft circled it, and they were soon descending toward Port Andros, which shone brightly at the end of the peninsula, now that the shallow sea water between the island port and the coast had been filled in as well as bridged with a causeway and road.
It wasn't a good idea to approach too closely, Ero decided, lest he be fired upon, so he set down on the outskirts in the midst of palm trees and hoped they would go undetected. She could walk from there to the nearest house and call for a cab or hired someone to driver her to town. Either way, she was able to make it safely home, he decided.
Arlena did not seem to want to remain a moment more on the mast than necessary, and did not look back as she hurried away, leaving him without a word.
What sense did she make out of him coming to her aid like that? he wondered. He would never know, he could only guess. And he had other things more important than to spend his time guessing. With Arlena taken care of, and still very sorry about her driver, though nothing could have stopped him from jumping, Ero returned to his main duty station, the tracking system in the popup locating Damon in Multan.
Meanwhile, Damon did not want to go anywhere but back to his room, not just to wait for money to arrive so he could pay the bill and leave as soon as possible for home, but to be alone to think over the astounding things he had seen. What did it all mean? He knew somehow that all his education had been laid on the wrong foundation. This revelation in the mountains of the prior civilization created by a superrace that enslaved humans and drank their blood like vampire bats confounded all his training, his entire view of the world was thrown into a wastebasket. He would have to start all over! But from what point? Where was "God"--if there really was such a One ruling the earth--in all this? Ismanic religion did not say one word that explained what had happened to the world, if what he had seen was real, and he knew it was real.
His world had been turned upside down! But words and warnings from Padre Noaik now came to mind, and entered into this most bewildering issue. Did the grinning padre from South America, from the Argentines, have the answer to unlock the entire mystery that gripped his mind and thoughts like a tightening vise? Was this Yeshua he kept preaching about as the God of all the Universe, the Lord of the Earth, really what he said? Who was right? Isma or the padre's? His teachers or the padre? He hadn't cared much to find out the truth before, because he had never encountered such a major contradiction as he had just viewed deep in the mountains. It was now apparently destroyed, or reburied so deep nobody could ever get to it to explore and itemize its contents, but he couldn't forget what he had seen and experienced there.
Lying down on his bed after a bath, he did not want a meal sent up and just wanted to rest. His pajamas and robe lay neatly on a chair nearby, but he felt too warm for them. and decided to try to sleep if his thoughts would only calm and allow him to drift off. His thoughts of Arlena, losing her like he had, did not help much. The hours went by slowly, as he heard the hotel quieten for the night, while the religious police goons made their rounds outside to clear away the drinkers and take them to wherever they took them, as well as arrest hoofers who were not operating from the government taxed brothels.
At last, however, in the wee hours, he began to doze off, lying with his uneasy dreams beneath his mosquito net.
A light flashed upon his face to one side, and he awoke feeling cold steel pressed against his head. It made him wince, and for a moment he didn't know what it was, and then it came to him: it meant big trouble. Someone had gotten in! He was in his hands, whoever he was!
The light flicked off, and the mosquito net was wrenched back away from the bed.
"Get up!" a voice growled.
The gun barrel still pressed to his head, Damon tried to sit up. He could smell the man's cigarette breath on him, so his face was close to his own.
"Please, let me get something on."
"Forget that, you won't need clothes where you're going!"
The savage, snarling voice made Damon's blood freeze in his veins.
Barely able to move in his panic, he swung his legs out of bed and rose to his feet. Meanwhile, the gun was still held smack against his head the whole time and his skull was hurting already.
"Lay down on the floor, face down!" the voice barked.
Damon had no choice, and did as ordered, though the tile was cold enough to make his vitals recoil for a moment from it.
Damon heard the door open, and some footfalls come in the room and stop. The door closed, softly.
"Well?" said a voice new to Damon.
"It's him," said the first voice.
"Good, he's caused me no end of trouble. You leave now and wait for me in the car. I want to make sure he is out of the picture myself. He won't be messing up my operation, after all the pain I went through to look like him!
The gun pressed to Damon's skull withdrew, and the next thing he heard was the door opening and then softly closing.
Some footfalls, and Damon was about make a move to jump his assassin, but the hit-man was quicker.
"Don't move."
Damon stayed where he was, thinking fast, but unable to come up with with any strategy. This was the most helpless state he had ever been in, his entire life. How could he have prepared for it or avoided it? It was even too late to think about that now.
"Look at me," the man said, turning a small torch on himself.
"Damon raised his head and saw...recognized, with a nasty jolt, HIMSELF holding a gun directly aimed at his own face, only the eyes were not his, they were utterly cold, pitiless, strange--like a predatory animal's eyes set in a little doll's head, made all the more repulsive in the greenish light.
"Why are you attacking me like this?" Damon asked. "I don't even know you, even if you do look a lot like me."
The Damon look-alike laughed. "I can tell you, since soon you won't be able to tell anyone a single word. Your looks and identity and even your role as a magazine photographer were a useful cover, to a certain point, in penetrating some rather sensitive installations, but you had to run across our tracks once too often and mess everything up for us. We had to get rid of the original, which you are. We should have done it at the start, but we slipped up and lost you for some time. Then our competitors in this racket were on your track too, as you probably could tell. They didn't know what you were about, obviously, and let you go a time or two. But at last we have you, and you won't get away this time. Now shut up! No more questions!"
Again the gun was pressed against Damon's skull.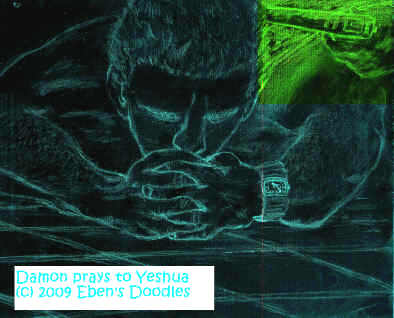 What was he to do? Was this it? The end of the cat and mouse game? He was done for, wasn't he? So he clenched his hands together as he had seen it done, praying to the same Yeshua the padre had offered him once upon a time back with the old Tea and Sugar train. "Yeshua!" he cried. That was all he could get out in the time he had left....CLICK...then, CLICK, CLICK, CLICK!
The fake Damon swore, and rattled the gun, then was pulling out another clip to insert when Damon saw his chance and gave his would-be killer a kick that sent him rolling and crashing against some furniture.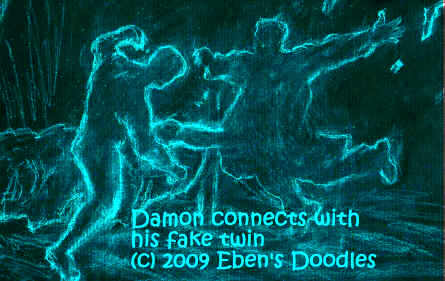 Scrambling to his feet, Damon did not wait, and kicked out the big shuttered door to reach the balcony.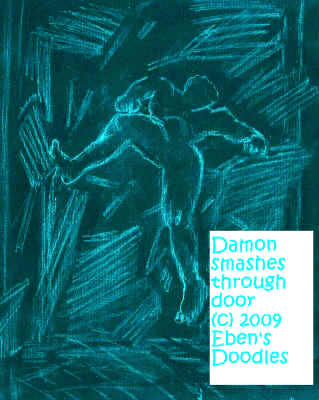 He fell out against the iron railing. But that didn't stop him from swinging down over the railing, to drop onto the next balcony.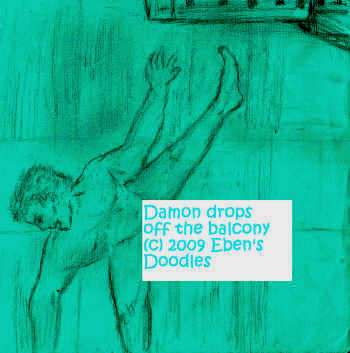 Cut and limping, he found the balcony door unlocked and went in, flicked on the nearest light, and the screaming woman in the bed soon brought the hotel staff running to see what was happening. Could anything be better than that?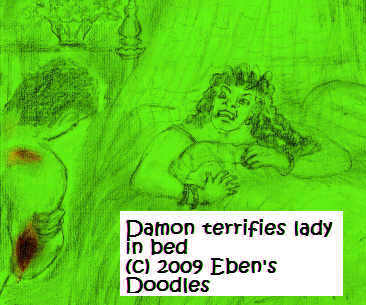 Of course, though his life was saved, a naked and bleeding Damon had a lot of explaining to do in the next hour to both the hotel manager and the police. But when the police examined Damon's room and found how the lock had been tampered with, they began to believe his story about the unknown assailant and what he had done to make his escape. And there was another even more serious disruption in the hotel: a fatal accident that they were already investigating. A third floor hotel cleaning man was being questioned. He told about a hotel guest, he thought, leaving about that time there was so much noise in Damon's rooms, but dressed in an overcoat, hat, and gloves, which he thought odd for guests of that hotel. And the man was in such a hurry to leave, he dashed by the elevator boy, who was holding the door open to the elevator cage for the cleaning man to polish, without seeing that there was no elevator at that level. The elevator, not in service, had been taken down to the basement by another cleaning man for loading up more cleaning supplies.
In Damon's room there was even a smashed nightstand and broken lamp and water glass, to confirm what Damon had said about kicking his attacker and hearing him crash into something in the dark.
When the police finished their report and decided not to take Damon but let him go, the hotel manager apologized profusely to him, and a nurse and doctor at the hotel's expense was called to care for his cuts and bruises and any broken bones. A guard was set by the hotel staff outside his door, so he wouldn't have to fear any more intruders the rest of that night or the next day either while he recuperated and rested.
When the doctor came, bringing a nursing assistant, he soon had Damon in bed, bandages and gauze dressings top to bottom, and then on leaving gave Damon strict instructions to rest for several days until he checked his condition again. As for the nurse, she was to be on hand to care for him, and report his condition if he were not responding well enough. After all, he had suffered a broken rib, and two others cracked, and numerous cuts, bruises and abrasions.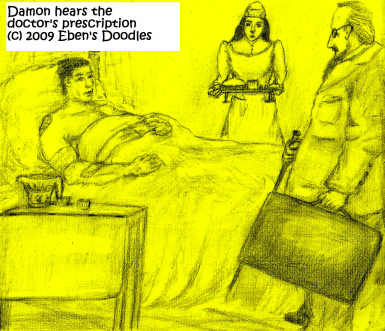 Resigned to staying in bed for a while, Damon could not argue with the doctor, as he felt the jabbing pains in his ribs whenever he moved. And every part of him seemed sore, after his tumble from one balcony to the next.
The nurse was efficient, if a little girlish in her looks. She paid him no personal attention while caring for him, but he tried to get her to answer his questions and find out more about her.
The free-ranging, lone black panther now met his match, in this unlikely young woman in the crisp, white nurse uniform. Before a few days passed, he found out that her name was Natalia de Silva and she was a follower of Yeshua, as her father, brother, mother, and herself had listened to a travelling padre a year or so ago, and had come to faith in Yeshua, the One he had introduced to them. It had made all the difference in their lives, she told him. That gave him much to think about, as he mended from his injuries and began walking the corridors for exercise. The spies? Evidently, they saw it was a lost cause, losing their Damon look-alike, the means for the operation. What did they care now what happened to Damon? He was too well cared for, night and day, and they would only waste time and men for nothing, even if they could take him out.
Damon was now a free man, and soon could leave the hotel, wearing only the big bandage around his ribs for a couple weeks more. As long as he didn't try anything really strenuous, he could buy himself a camera and return to his profession without having to defend himself from all sorts of unknown, unnamed assailants. But that wasn't the thing uppermost on his mind anymore. Even Arlena--she was no longer a center of his feelings--for a nurse like the one he had, she had stolen his heart, bit by bit, as she cared for him and answered his questions in her slow, sober way.
Getting her to laugh and forget momentarily her nursing, that was the first time he felt they really connected. He told her about some of the crazy things he had experienced on the Tea and Sugar and then in the mountains, leaving out the worst parts, and she was fascinated, and thought he had lived a life of wonderful adventures, unlike her life, which was one of service to her family and to her employer.

The instant Damon prayed, something like sheet lightning, only invisible and dark and furiously angry, surged through the whole length and breadth of the photo-cell, and Ero felt it too.
He had almost reached Multan when the navigation of his mast-bot was commandeered and overridden by new instructions (what source it had, he had no idea). But the mast turned abruptly and headed for the interior, in the direction he had come, and continued on until it came to a lake set amidst low lying forested slopes. He was just in time to see the emerald, as it was rising after a cooling bath.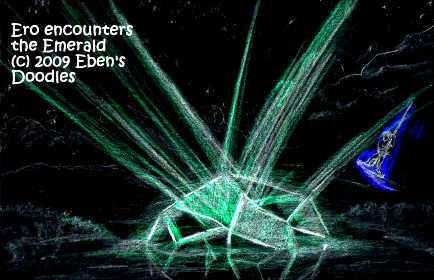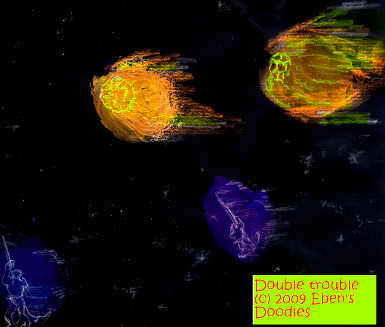 The emerald sensed his presence immediately, as it paused, then moved slowly away, gathering speed as Ero followed (he had no choice as the mast was re-programmed, and wouldn't respond to any of his popup instructions).
Suddenly, another jewel-like entity shot up into the sky, and now there were two! They did not turn but continued on, faster and faster. And he was pursuing, though he didn't know what to do if he ever caught up with them. Then something stranger happened. A copy of himself was created, perhaps to make it more difficult for them to deal with him, and so now two Eros and two mast-bots were matched with the two star-stones.
What could these things be? he wondered.
Now the popup came back to life, and there was his answer. It did not explain everything, for it was more in the nature of an advisory.
"CONINUE TRACKING THE EMERALD AND TOPAZ. DO NOT ATTEMPT TO STOP OR INTERCEPT THEM, FOR THEY WILL AVOID DIRECT CONFRONTATION IF THEY ARE NOT AGGRESSIVELY INTERFERED WITH. THEY ARE WORLD-DESTROYERS, THAT IS THEIR MISSION AND OBJECTIVE. I HAVE MY CHAMPIONS TO DEAL WITH THEM, BUT YOU SHOULD KNOW THAT THEY ARE RESPONSIBLE FOR MUCH OF WHAT YOU HAVE SEEN AND EXPERIENCED SO FAR.
The answer had come to quickly, it was as if his thoughts were being read. Could Wally do that? He had seemingly thought of everything, but this time it seemed different. Ero had a hunch, and he thought right then to ask another question, using the popup. "Who is issuing this instruction?"
"I am Yeshua."
That information hit him like a thunderbolt. But Ero had a spark of the Greek in him, which meant he was not satisfied until he knew the full truth, and nothing less would satisfy the Greek spirit in him. So he asked again.
"What purpose is it I have been shown all these things?"
"PEOPLE WILL VIEW YOU SOMEDAY, PEOPLE OF ALL KINDS LIVING IN DIFFERENT TIMES AND DIFFERENT WORLDS, WHO ARE YET THE SAME, PRISONERS IN THEIR OWN CIRCUMSTANCES, AND WHEN THEY SEE YOU EXPERIENCE THESE THINGS, THEY WILL SEE THERE IS HOPE. THEY WILL SEE FAITH CAN SAIL ACORSS ANY SEA OF DOUBT AND NOT DROWN, OR CLIMB ANY MOUNTAIN, NO MATTER HOW HIGH."
Ero didn't have another question. What could be better than the last words? From the burning, falling towers to the present moment when Damon seemed out of danger and his enemies falling back on all sides, there seemed a purpose that ran through everything he had witnessed, shining like a single golden thread in a dark tapestry, or like that threat of Ariadne's that led Theseus in the Labyrinth of long ago. And Yeshua had laid out the whole course of his journey--it shone with purpose he could now see. He was content. He had even seen the black panther, surrounded by the hounds and the hunter, climb Yeshua's tree, and been saved from pursuers who were too strong for him to handle. It was indeed time to go. Yeshua's battle with the evil stars would continue, no doubt, but, as he said, he had champions selected to fight them with his aid.
There was only one thing. He would have liked to return to Multan and see how Damon was doing, but it was not to be. The photo-cell was targeted for deletion by the host (whose anger Ero had felt like a red-hot tongs and then a freezing cold bath), and so Ero was swiftly on his way to the exit.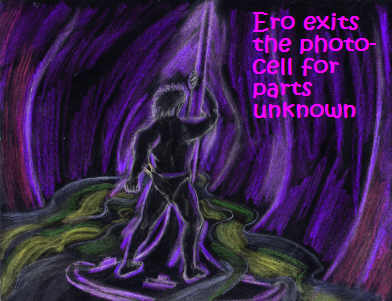 Arlena? She returned home, and found her husband was gravely ill, too ill to be revengeful when he heard her story of her affairs and acknowledged he had known and was just biding his time to divorce and disgrace her as she deserved. But now he needed her to stay and help him in his sickness. No one else would be his choice--even though they had plenty money and could hire any number of servants and nurses for him. Will you stay? he asked her. "Let us forget what happened, and start again."
"Yes, I will stay," she said. "You are a good man to forgive me. I will do whatever I can as long as you need me."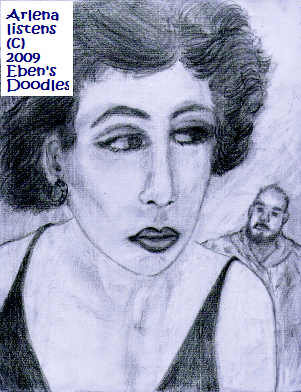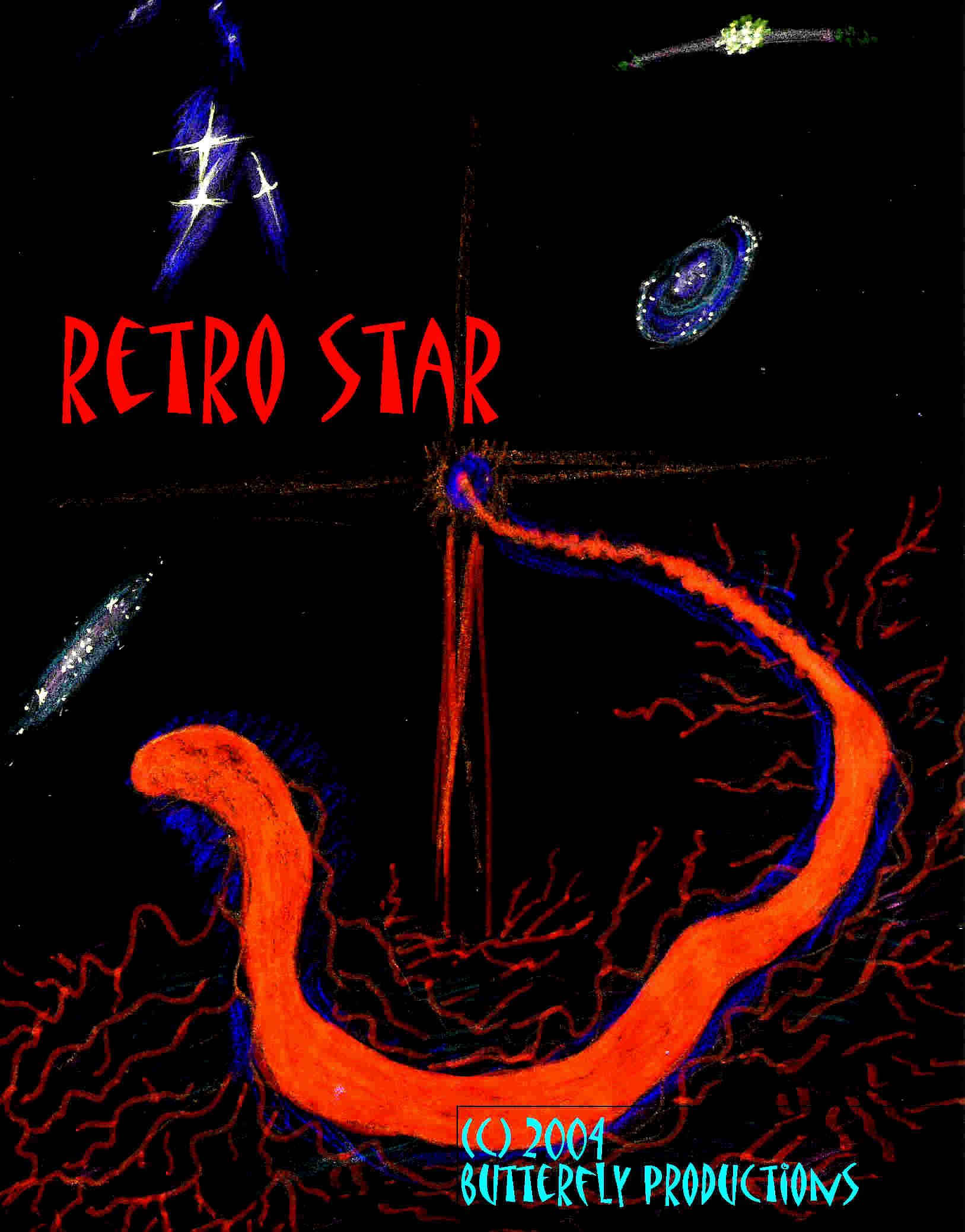 The Star-Stones, the Evil, Scheming, Destroying Jewels of Fire, & Other Fatal Jems:
Curses attached to certain diamonds and other precious jems--are they fiction or real? The late Vera Boch beautifully illustrated the malevolence and deadliness that lurked in the most alluring and costly jewels: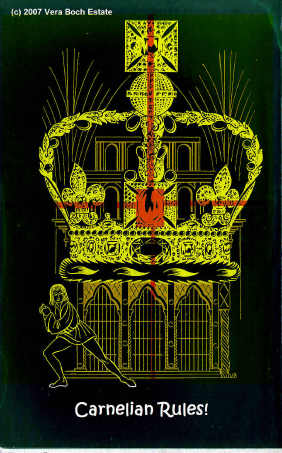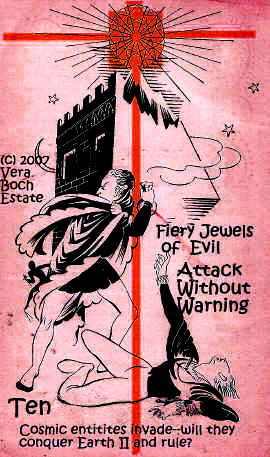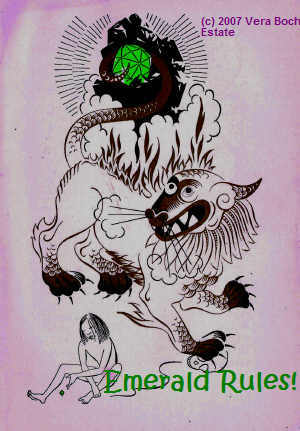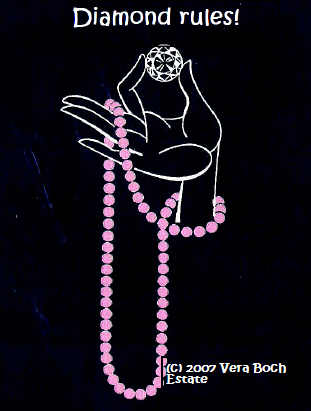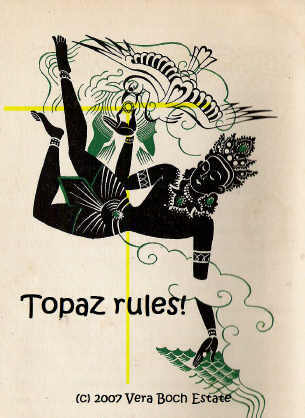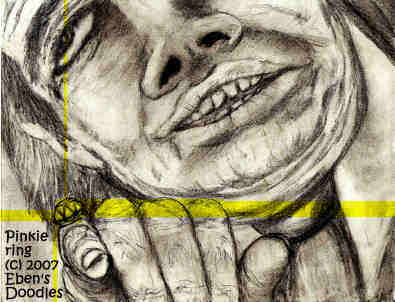 CONTRARY TO THE VIEW OF SOME LESS INTELLIGENT FORMS OF HUMAN LIFE (MOSTLY GREENPEACE ENVIRONMENTALISTS AND RABID ANIMAL ACTIVISTS--SEE THEIR MORBID, PEOPLE-RECYCLING ENVIRO-SWASTIKA BELOW), AND CONTRARY TO THE DARWINIAN THEORY-BRAINWASHED STUDENTS AND TEACHERS IN U.S. PUBLIC SCHOOLS, EARTH WAS NOT AN UNSPOILED, UTTERLY BLISSFUL PARADISE BEFORE HUMANITY CAME ON THE SCENE. IT HAD ALREADY BEEN WORKED OVER AND RUINED BY NON-HUMAN ATLANTEANS IN LEAGUE WITH THE KEEPER OF THE STAR STONES, LUCIFER, "THE LIGHTBRINGER," AND WAS REDUCED TO A TERRIBLE, STINKING MESS. IT REQUIRED A COMPLETE MAKEOVER BY YESHUA BEFORE IT WAS AGAIN HABITABLE. AN ENTIRELY NEW SPECIES, MAN, WAS CREATED AND PUT IN CHARGE OF IT, TO MAKE SURE THERE WOULD BE NO MORE INTERFERENCE WITH IT, BUT MAN CHOSE TO GO RIGHT BACK TO LUCIFER'S ORIGINAL SIN (I WILL BE GOD, I WILL BE MASTER OF MY OWN FATE), PRIDE, COMMIT IT, AND THUS PLUNGED THE WORLD AGAIN INTO LUCIFER'S CLUTCHES. THAT WAS THE FATE OF EARTH I. EARTH II FARED MUCH THE SAME, AS THE STAR-STONES THAT LUCIFER HAD PERVERTED INVADED IT, POLLUTING AND DESTROYING IT WITH WHATEVER EVILS AND SKULLDUGGERY THEY WERE BEST AT. NOW WHERE ARE WE IN THIS GRAND STORY OF THE AGES? ON WHICH TWIN WORLD ARE WE STRUGGLING AGAINST FORCES WE CANNOT SEE OR UNDERSTAND? IF THIS IS EARTH II WHERE YOU FIND YOURSELF, HERE IS THE QUESTION FOR YOU: WHO WILL STAND UP IN OUR OWN TIME AND WORLD TO CHALLENGE THE ALIENS THAT HAVE COME NOT ONLY TO KILL HUNDREDS OF MILLIONS OF INNOCENT PEOPLE BUT TAKE OUT THE ENTIRE SOLAR SYSTEM IF THEY ARE NOT STOPPED? THE ALIENS ARE HERE, BUT WHERE ARE THE CHAMPIONS TO BE FOUND TO CHALLENGE THEM AND SAVE HUMANITY AND THEIR EARTH(S)?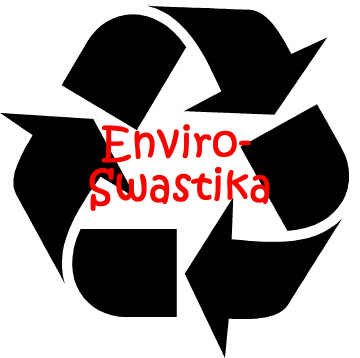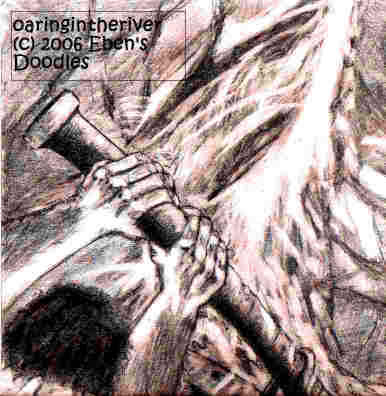 WWW.OARINGINTHERIVER.COM Master Directory