---
Part II, Envoy to the Hollow Earth
Herr Shickelgruber's timetable fortunately ran out of time--the hourglass sands drained to a trickle and then stopped falling, and that was the factor that defeated him, Time, not Allied bombing or Allied strategy or America's numberless war-factories. In all key technology he held the winning edge right to the moment of his utter defeat. But it took time to implement technology that would turn Germany's enemies back and crush their war machines--a most critical war resource he no longer possessed and could not possibly synthesize. One of the things he would have done, if he had only found time to do so, was to ferret out and destroy the Hollow Earth super-civilization, for there could be, in his Nazified Earth no room for two super-civilizations! Theirs had to go! Convinced that the Hollow Earthmen were his greatest foes--not Britain, America, and Russia--he had planned to send in his elite SS along with crack Panzer divisions, not to mention U-2s and the Doomday Weapon, the Atomic Bomb. Only a few at the top echelons knew how important this was to Shickelgruber. As it happened, he only had time to send a certain exploratory mission via Himmler's organization. Top Secret, it was coded, under Gestapo-head Heinrich Himmler's oversight: Operation Nibelungen, or, acronymically, O-N. Why "Nibelungen"? It was obvious to any German of his era, meaning the famous race of dwarves of old mythology who were believed to hoard fabulous stocks of gold and treasure beneath the Rhine called the Rheingeld, as well as dragons' hoards of jewels in caves deep in the earth. Richard Wagner, Germany's premier romanticist and opera composer of the previous century, had made the dwarves, the Nibelungen, world-famous. Convinced the story was true, pointing not so much to dwarves but a race of cunning man-like creatures inhabiting the Hollow Earth, Adolph Shickelgruber was determined to made contact. "Find them at once!" he ordered Heinrich Himmler.
Himmler in turn gave the same explicit orders to a certain authority on the subject: "Find them, deliver der Fuehrer's letter, and report back, Herr Doctor! Der Fuehrer will accept nothing but success in your mission. They are down some place there (he said, stamping his patent-leather boot on the carpet of Castle Babelsberg's chief conference hall, the same where he had commissioned a mission to locate the Holy Grail, which was his own private venture). Go down there however you can and observe all we need to know according to my instructions, and then report immmediately to me! You will obey my instruction implicitly! Understand?"
--"Verstehen Sie?"
Of course, he well understood!
Dr. Melancthon Guenther-Ochs bowed in the old-fashioned civility that still was seen being practiced in some high university circles, a thin, dignified scholar in modest but well-tailored clothing who appeared almost shockingly out of place in the gaudy-bannered, magnificent hall of the Gestapo chief. Here was a marble floor supposedly patterned with the Round Table of King Arthur, rare carpets, crystal and gold lamps and Nazi standards and fittings, and all the top brass of the Gestapo standing round their chief in utmost Third Reich glory and pride. No matter that Guenther-Ochs had not volunteered for the deposition. It was the State's privilege to appoint him plenipotentiary (albeit a spy) to the Hollow Earth civilization. A citizen had no right but to accept the appointment with greatest joy and pride!
At once, hearing this cue, the sychophants gathered round Himmler erupted. "Heil Shickelgruber!" "Heil Shickelgruber!" "Long live the Third Reich!" "All hale the glorious Thousand Year Reich!"
After the toasts and windy speeches, an ashen-faced, nearly wordless Dr. Guenther-Ochs was finally let go, being driven back by Gestapo limousine to his home adjacent to the University of Heidelberg, where for many years he had taught Ancient Civilizations Survey--Sumer, Akkad, Egypt, Assyria, Babylon, Persia, Greece, Carthage and Etruria on to the fall of Rome.
Once back in his study in his quarters, it took some minutes to restore his mental equilibrium and some color to his face. He had just been in a lions' den, and liable to be devoured at any misstep or unadvised comment on his own. He still faced being devoured at any moment, should he fail to satisfy Heinrich Himmler. "That preposterous chicken farmer!" he thought, recalling Himmler's former occupation. He rested a while, his eyes on his favorite view (the medieval ramparts of Heidelberg Castle and the River Neckar), and next gazed at a gold-framed picture of his wife, who had committed suicide a year before. She was Himmler's victim, he knew, just as surely as if he had shot her with the luger he always carried. She had been so afraid that her grandfather's Jewish blood would implicate the family and destroy all of them, that she had lost all will to continue. But he could not think about her for very long at a time, for the subject was yet too painful to ponder. So his thoughts turned to the man, reported in the papers, who had recently turned up dead in the mountains--who had to be the poor fellow Himmler had sent forth to find the Holy Grail of all things! How impossible an errand! Then when no Holy Grail was forthcoming, the man was disposed of in an "accident." That kind of murder as well as wholesale slaughter was typical of Himmler's regime! Anyone who failed a mission was liquidated--for Shickelgruber tolerated no failures in his organization.
The professor sat down in his chair, and his eyes shut, and he leaned his head back against the worn leather. "How then could he expect any better from such savages?" There was absolutely no such Hollow Earth civilization, he knew! It was a fantastic concoction of some wild-haired lunatic whose writings Herr Shickelgruber had caught wind of in his early days as a student at Vienna's Art Institute and pig-headedly, irrationally believed without a shred of credible, supporting evidence. Since the Hollow Earth did not exist, where could he plausibly look for it? This was all madness! Nazi madness!
A week later, giving word that he was taking a sabbatical, Dr. Guenther-Ochs quietly departed from his duties and home at the university. No one knew, except those in charge of Operation Nibelungen and those accompanying him, that he was en route to the middle of the Earth. But where could he access such a thing? The Arctic was supposed to contain a portal, but it would require a very conspicuous movement of men and supplies to get him all the way to his objective, the so-called "Portal of the North" identified in the book. This, of course, was not recommended by Himmler, who preferred a less obvious route for the sake of keeping the project's existence from the British and the Americans. Instead, Himmler directed Dr. Guenther-Ochs to find another portal. So Dr. Guenther-Ochs directed the U-Boat to take him to Spanish Morocco, North Africa, where he went ashore at night, taking certain prepared State documents for contact with the Hollow Earth rulers as well as his Gestapo-manufactured false identity papers. Then he boarded a Portuguese ship with a hold full of cork for the big Argentine provincial wineries headquartered in Buenos Aires. Six days later he boarded the "Royal Grand Star," a crowded, very dirty, flat-bottomed riverboat carrying returning villagers and traders upriver to the Rio Parana, a major tributary of the Rio de la Plata that flowed out of neighboring Brasil. Intending to get as far away as he could from the Gestapo's huge network of spies and never return while the Nazis still held power, he thought he would take the Rio Parana to where it was joined by the Rio Paraguay, and then continue navigating through Paraguay on whatever river craft was still available into the very heart of South America, a vast, virtually unpopulated region that, unquestionably, had to be about the best place on Earth to vanish without a trace. Several Europes could be thrown into the wilderness of South America and still retain the populated areas as they were.
As the last accompanying agent from Heinrich Himmler's organization left him at Buenos Aires, taking back to Babelsberg the false itinerary the professor had concocted, the doctor breathed easier. If the monstrous barbarian, Himmler, ever looked for him, he could look all he liked in the places the doctor had marked with red ink on the map--places he had noted were "Hollow Earth portals" ostensively giving access to the secret, subterranean civilization. No, he would be hidden beyond retrieval in the very opposite direction--deep, deep in the heart of the almost limitless jungles, marshes and swamps of the far north of Argentina and Paraguay and the southwest of Brasil. There the great rivers ran down from the mountains of Bolivia and the highlands of Rondonia to water the green hell of Brazil's vast Matto Grasso and Paraguay's Gran Chaco. Except for highlands of grass and thornbush, it was a trackless, borderless Terra Incognito, a sinkhole of malarial swamp and merciless, biting and sucking insects where no civilized man could exist for very long. It was quite an insult to his nervous system for a man of his scholarly habits and cultivated tastes to have to sink himself in the savagery of the South American heartland like this--but did he have another option? As his beloved wife had done, so he must do--give himself up to complete abandonment so that his remaining family might escape Shickelgruber and Himmler's "Final Solution". With Marie gone, and his own whereabouts unobtainable, the genealogical hounds of the Gestapo might possibly leave his family alone, holding off their executions at least until some clear word of him might be obtained. That was his calculated hope, anyway. His two married daughters and their children might still survive the war which everyone knew Germany would lose. For that rather slim possibility he would gladly sacrifice what few years remained of his life and career. As for his teaching and his many years of tenure at his post at the University, what could it mean to him while the Nazis reigned supreme in Germany? They poisoned the very air he was forced to breathe with their revival of an insufferable Germanic zenophobia, which was bad enough in itself but they had to go a step further and mix their fanatic nationalism with the most shameless and boorish manners!
Although he had left in haste, he had selected only those things that he knew would help to pass the time of extensive travel. These things he brought out of his single large, standing steamer's trunk, and oblivious to the Latin chaos and cocophony around him, he played chess with himself on a tiny set. Occasionally, an aspiring opposing player would interrupt him, drawn from the the group of hangers-on that normally gathered to watch his strange, silent gameplaying on board the Rio Parana riverboat.
Language was of no importance in this game. He would nod, and whoever it was who wished to join in at his little table shaded by a sheet tacked up above their heads, would do so.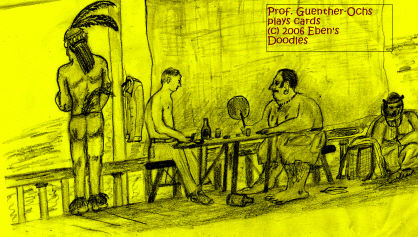 Usually the game was shared very briefly, for chess was the professor's great love, and he was very good at it. His wife's special passion was bridge, and she played it, though growing increasingly arthritic in one hand, until the last week of her life, when she gave it up. While he played chess, with or without an opposing player, and with or without his coat and shirt, Professor Guenther-Ochs could hear the music she played instead--Beethoven's "Moonlight Sonata," over and over, as she sat in her bathrobe, refusing company and any calls. Now he heard it night and day. It haunted him so much he wished he could get it out of his mind, but only a very good, intense game of chess could do that, than then only for a few minutes at a time.
Days passed on the river. They made slower progress, the professor noticed, as the river narrowed and the current increased. The stops for people to move on or off also slowed them down, and sometimes there was a big commotion in the engine room, and then they would anchor in some unnamed bend of the river while Captain Silva and his "engineer" attempted makeshift repairs with whatever was at hand. If that failed to do the job, it was a further wait, while they sent off a boat downstream to the nearest port to bring men and parts back up to them where they were stranded. Surprisingly, food continued plentiful onboard. Natives would pop up in the most isolated stretches of the river in crude canoes and paddle out to them and sell whatever they had grown, and the cook would prepare it. The professor heard the cook's boy shout the menu for dinner and wondered what the onboard cafeteria's "chicken" could be since they had used up the last crated chicken on board, and there couldn't be another such in so wild and tropical a landscape as surrounded them on the Upper Parana. He had seen caymen carried aboard on big baskets on the heads of native Indian women. Wasn't that the "chicken" of the jungle, along with iguana lizards? Fortunately, he had no appetite, so he took his usual glass of Rosario wine and turned back to his chessboard.
As it always happened, if you waited long enough the engine was somehow repaired enough for them to continue upriver. They reached another river, which the professor identified as the Rio Paraguay. Leaving the Parana, which would have carried them up into Rondonia, Brasil, the boat sailed laden with Guarani Indians, and the predominant Mestizos from Northern Argentina and Paraguay, and poor working class, refugee Brazilians in search of a better country than their own. The professor wasn't interested in the scenes, for they were so totally alien to him they appeared inpenetrable. All he cared about was to lose himself as completely as he could in them. Continuing his game, and finding fewer challengers as they sailed upriver, the professor listened to the endless encores of the "Moonlight Sonata" mixed with the throbbing vibrations of the boat's engines and the almost constant chatter of the passengers.
The Rio Paraguay, the professor found, was even more monotonous than the Parana, as the same events repeated themselves--breakdowns of the aged diesel engine, lengthy repairs that sometimes worked for a while, lyings at anchor and waiting for help to come, continued voyaging upriver, visiting port after port to drop off mail and goods and passengers and pick up more of the same. Wasn't the jungle grossly overrated by the romantic writers? The tropics were nothing but the same green trees along the riverbanks, with low hills of the same green forest rising above, and whatever was not green was muddy water in the winding channels of the river or muddy red ground in occasional clearings. Flowers were few, and they were usually so high up in the tree tops their beauty was wasted. As for the Mestizo women, they were thoughtless, dispirited creatures, while the men sported highly colored shirts and strutted about with "machismo". As they continued toward the highlands, things changed in slight ways. The endless green landscape remained much the same along the river banks, though the highlands became covered with grass and thornbushes. He noticed they took on more and more natives of Bolivia--full-blood Amarya Indians with their distinctive woolens and round-brimmed black hats.
The cities ceased to battle the jungle heat and no longer appeared. Towns also gave up the struggle and vanished from the river banks and were located inland on higher, healthier ground. Only desperately-poor, squalid little villages of sticks and mud plaster and grass roofs clung to the banks here and there. The map called them "ports"! Each was a mirror image of the other, only with a different name--Puerto la Victoria, Puerto la Esperanza, Puerto Tres Palmas with Porto Murtinho on the Brasilian shore, Feurto Olimpo, and Puerto Bahia Negra, where the river turned northeast from the Paraguay toward Corumba, Brasil. The professor, seeing how primitive the region was developing, paid for continued passage upriver. The captain gladly took his Argentine banknotes, as there remained far fewer cash-paying passengers as they went. Indians most often came aboard now, paying with small livestock or vegetables and fruit, so cash, evidently, was getting scarce as they approached the headwaters of the Alto Paraguay. Finally, there boarded genuine savages--a group Captain Silva warned him in badly broken German and French picked up from immigrant Europeans in Argentina that they were "Kaingwa," a particularly ignorant and destitute bunch of cannibals returning from marketing their woolen goods and potatoes to their village on a tributary to the Alto Paraguay called Puerto de los Angelos, or Port of the Angels. "Why then do you take them on board if they have no money?" the professor asked, and the captain shrugged and grinned, showing gold-capped teeth. "This is a poor carrier line, Senor! We must take everybody, even these Indian trash. I can turn nobody away who can pay something, even if it be a few bunches of bananas or casava roots!"
What a hellishly hot country! By now the professor had been obliged to strip off his wool professor's coat and vest permanently, wearing only his pin-stripped black trousers, which he would not give up to the heat, though all the Latin and mixed-blood Paraguayan Mestizo men still on board went about shamelessly, shirtless and almost naked, except for tattered shorts that scarcely covered them with decency. His black, silver-threaded silk ascot had gone back into the portmanteau rather early in the voyage, it is true. He continued killing an abundance of empty time on his hands with solitary chess, using the method he had invented back in his youth when he attended the University of Leipzig. No one--not even the black marketeers or petty smugglers or riverboat gamblers from the sinks of Villa Hayes, Concepcion, and San Pedro--whatever these human flotsam and jetsam were-- challenged him anymore at the game. The Kaingwa Indians simply sat and stared at him without expression, and left him quite alone otherwise. He was free to do as he pleased, sit and smoke his Turkish meerschaum pipe and look out at the passing forest and the occasional Indian dugout, or listen to the "Moonlight Sonata" that only he could hear.
Finally, he felt no desire to play any more chess. Back it went into the trunk and was locked away. Instead, he sat in his deck chair with his pipe in hand and let his thoughts drift with the muddy, hyacinth-laden current. His cabin was stifling, day or night, so he often remained in his chair. For a trifling charge mosquito nets were brought toward evening by the captain's black servant for the cabin-reserving, cash-paying passengers when the attacks were worst, and he suffered with the rest under one, though sometimes breezes blew the clouds of insects off them and gave them wonderful relief. But such times were rare and brief. Usually, the insects besieged them without any mercy, hour after hour. The professor was amazed at the endurance of the Kaingwas on board who could not afford the nets. Like wooden statues, they accepted the misery without mosquito nets for protection as if they could not feel a thing. Only he noticed that they took baths in the river whenever the boat slowed or lay at anchor. He was not so fortunate, and could not swim. As for bathing like an Indian in the river, that was out of the question anyway, since the whole boat would turn out to stare at him--a naked white European with bare buttocks like pale pumpkins affording them a kind of freakshow circus entertainment! Instead, he could take a bucket and pour it over his head and shoulders--that was his bath, as the boat had no bathtub in a private room for his use. Amazingly, even with his shirt left on, it felt no different soaking wet from river water than if he had not poured water over himself--that was how wet the air was!
His trousers hung from his thin, boney shanks like lead sheets, for he had lost quite a bit of weight though he had always been thin. Hungry though he was, he only dared eat vegetables and fruit he could buy from the venders. The boat's greasy, hole-in-the-wall eatery that separated the wheelhouse from the set of four tiny "First Class Cabins," was presided over by a black-skinned rascal who was always serving up iguana-based "chicken dinners" he could never force himself to touch, along with a Brazilian dish of beans and rice in a highly seasoned lake of ubiquitous pig fat.
Strangely, his sense of smell had come to life for the first time on his long voyage. He noticed the smells of everything around him in a powerful way. The river, the wool garments of the Amarya Indian Bolivians, the pig grease cosmetic of the Kaingwas that plastered their bodies and hair, the boat's array of diesel, cargo, and cooking smells, the various tobaccos smoked by the passengers--it shocked him, they were all assaulting him so powerfully. Just as Ludwig Beethoven the great genius had fallen stone deaf and composed his symphonies and his best music after his becoming imprisoned in a world without sound, so now the professor discovered that he, a proud and civilized man, had been mortally impaired in his chief senses. Smell returned first. Then his hearing was quickened. He could hear virtually a drop of water as it fell into the river from a leaf of a jungle tree hanging over the river bank! The deadness and monotony dropped away. Everything became intensely alive to him. Sight too increased exponentially. What was doing this to him? he wondered in amazement.
He grew so aware of things around him he could scarcely keep his skin on at times. He had never felt so alive and in touch with living things! The Third Reich grew increasingly dim and unsubstantial, compared with this throbbing, burning-hot, overly sunlit panorama of South America with its continual onslaught of raw and barbaric sensations assailing his nerves and senses. How pale grew the spectacle of human life, with its wretchedness on display in riverports north of Asuncion, compared to the giant brown anaconda of the river wriggling its way through the seemingly limitless jungle and swampland. His wife also receded into the shadows of the trees overhanging the shores, along with the "Moonlight Sonata." Instead he began hearing what he thought was Gustav Mahler. Was it the "Resurrection Symphony"? But this was a symphony that threatened to shake all civilization off his mind and body and plunge him into the very "savagery" of the tropics. He had never cared for the symphony before, but now he found the music magnificent and compelling, and it fit the whole experience of what he was feeling. How shallow and silly were his former ways, he thought. He had been stripped, but instead of nakedness he was granted an incomparable richness.
Even while he felt whole parts of his personhood and breeding and education slough off him like over-ripe layers of an onion, he sensed other parts growing or bursting into new life. It was as if he were being born again within the husk of an aged human body and jaded psyche! As if he were being granted a new spirit where he had all but given up hope for a life of happiness and fulfillment! But what was he to do with this new spirit? He had plans to forget Himmler's wild goose chase of the Hollow Earth and continue to the very heartland of South America, to bury himself in obscurity until death took him in some unknown, unmapped place. Now he wondered if he might not have to change his plans, perhaps radically. Everything deep inside him now cried out for him to fight for life, to make a complete turn around, and live! live!
But what about his beloved, lost Marie? Where did she fit in? A thorough-going modern woman in her philosophy, which agreed in most points with his own skepticism, she hadn't believed in any possibility of a soul's survival after death, much less a "resurrection." Darwin, Huxley, Hume, Sartre, Ionescu, even Albert Camus, Franz Kafka, and the obscenity-spewing Samuel Beckett of "Waiting for Godot"--her shelves were full of their anti-religious books. He was stunned for a moment. Yes, what about her? He could not--and would not!--deny SHE had once existed though his beliefs held that there was nothingness after death. Yet, without an afterlife, without Resurrection, reason shouted she had been cancelled, liquidated, as if she had never existed. Never existed! Amidst the glare of the Tropic of Cancer, she had become a phantom despite her heroic self-sacrifice. What meaning then could be attached to her life and her suicide? What meaning, indeed? There couldn't be any such thing as meaning to human life, if there was nothing surviving after death of the human soul. Gazing at the river, which cared nothing for human existence and human destiny--his very thoughts seemed to be mocked by it as utterly pointless! The river flowed on and on, pushing forward to the sea in which it would ultimately drown itself. Sighing, he sank back in his deck chair. He had left Germany so far behind by this time on his long voyage, Germany, Himmler and Shickelgruber, even poor Marie their victim, had turned to a kind of nightmarish but unreal stage set steadily receding down the river.
After a while the professor shook his head to clear his thoughts of his terrible Shopenhauer-like pessimism and world-weariness. It was like staring into Jean Paul Sartre's existentialist abyss! A short time before he had felt like a new creation, like he was on the trembling verge of "resurrection"? Now he was plummeting toward despair and darkness from which there could be no escape. What was the jungle doing to him? Was he civilized or not? He felt guilty, as if he had treacherously abandoned his beloved wife. Yet he couldn't deny that something was happening to him, severing him from everything he had known and cared about. Could he stop it once it had started--this barbarization of his soul amidst the jungles and tropical waters of South America?
At some point above Fuerte Olimpo, he heard the captain roaring and cursing, and also heard some large object plunge into the water (or did someone dive overboard for a bath?). Then he saw a head bobbing in the muddy current. There was a scream from the doomed man as he was swept downstream toward Puerto Tres Palmas, which he could never hope to reach alive. The captain, like a Nazi beast, was howling with laughter! The passengers, now mostly Kaingwas and Bolivians, stared. The river swallowed up the scene so quickly that for moments afterwards the professor wondered if he had imagined it. Could the captain be such a monster as to throw a living soul overboard in waters full of razor-teethed predators? Or had he slipped off the boat? Was there anyway to find out? No one, he could tell by looking about, seemed to care. The boat continued upriver, without the man as if he had never existed. Who had it been anyway?
The professor sat back slowly in his deck chair, his whole body trembling beyond control. What had he gotten himself into? He felt a profound chill settle on him despite the steamy heat. This was the age-old culture around him--born of the cruel jungle, its savagery, its misery and poverty. One civilized man couldn't change it, he knew. Like a beached fish, he was totally out of his element. He wanted to turn around, flee back to the familiar comforts and ancient civilities of liberal, ante-Shickelgruber Europe, but they too no longer existed--Herr Shickelgruber and his Nazis, even more savage than this South America, had seen to that!
He awoke with a start, looking about and not recognizing where he was. Accustomed to the boat's every movement by now, he sensed a change of some kind. They were just then pulling away from another small, squalid river port. He caught sight of a badly leaning, faded, crudely-painted port sign--Puerto Bahia Negra--set on rotting poles in the water and about to collapse. At the moment, in his heat-drugged state, the could not recall if this was the last port of call on the Alto Paraguay or not. Yet somehow, as he looked out, he knew it was not the same river though the trees and riverbanks looked the same as they had always looked along the Alto Paraguay and the Parana. A newly developed sense told him it was a tributary, though at this point it was swollen to the same size of the Paraguay. He realized what it was--not the scenery but the shift in direction that had alerted him, though rivers were always deceptively serpentine. To make sure, taking his compass, he confirmed his intuition. They had turned slightly northwest, and he recalled that the Alto Paraguay at the juncture would turn northeast. So they had left the Alto Paraguay for parts unknown! Was it to be Brasil or Bolivia, or were they still sailing up into Northern Paraguay? He found his footing, though dazed by his sleep in the terrible heat and damp, and went to his trunk in his tiny cabin, unlocked it, got out his book of unbound, loose maps, and there it was illuminated in the greenish light from the dirty, porthole window: the Rio Pilcomayo, and the fact they were no longer on the Alto Paraguay in Paraguay but were navigating an uncharted river in Bolivia! But here his maps failed him. This region of Bolivia was not even named! Nothing here was deemed important enough by the arrogant, city-bred Argentine cartographer to be identified. Whatever the area was called by the Bolivians, the Pilcomayo was taking them up into a Mystery scarcely touched by civilization. The now useless map literally dripped moisture from the water in the air and on his fingers. He put it back, locked the trunk, and escaped from the airless, steaming dark of his cabin to the deck. Was there some mistake? His fare was taken for Corumba, officially--though official fares and printed company routes and itineraries meant little or nothing to human dregs such as drunken riverboat captains, he suspected. Perhaps, the captain was doing the majority of the remaining passengers--the Bolivians--a favor by taking them off course toward their own land--but for what kind of pay in return?
Wind struck the boat, and there came a sudden pouring of sheetlike, leaden rain. In a moment he could see nothing. The boat shuddered in the strong current, and slowed as the captain shouted to the engineer and cursed. Would they keep going blindly ahead? Or stop? the professor wondered as he stood back against the cabin wall with his feet already soaked with the rain pouring down on the half-submerged deck.
Wave after wave of water struck the badly pitching boat, from above and from the river. The captain did not stop the engines but was going full-steam ahead, the professor could tell, and probably was just trying to keep them from being swept onto sand bars along the shore by the strong current.
Finally, when it seemed they couldn't survive so much water, the rain squall swept past, and brilliant sun struck them, with the whole scene of forest and water and boat transformed, leaving behind a double rainbow sparkling with color and life and light. How quickly things changed from one state to another and back again! the professor marvelled. Monotony, misery, then terror and near-death by drowning in the foundering boat, followed by beauty and refreshed new life! It was Resurrection, or something close to it! But what does one do with New life, with Resurrection Reality? He had no idea.
The professor looked about at the passengers, as heaps of lifeless, sodden clothing stirred and revealed, always shockingly, that they were actual human beings. As he sought their faces, he was shocked again--the same old expressionless, inscrutable faces of the both Indian groups, the Kaingwas and the Amarya-blooded Bolivians. They had seen everything, endured everything, and apparently never looked up to enjoy a rainbow. Despite the bloody wars between Bolivia, Argentina, Brasil, and Paraguay, which left Paraguay most often defeated and shorn of vast tracts of land, nothing really changed for Indians however much boundaries shifted. A near mass-drowning in a Bolivian river, with their bodies never recovered for burial but devoured by the crocodiles and cannibal fish, meant nothing to these people! He doubted he could learn anything of value from them. If they had something worth-while to communicate, some portion of their ancient wisdom, would they share it with him? Probably not. Spanish conquistadores had stolen all their treasure and enslaved them, because they had been too trusting. They had learned as a people a hard lesson: it is best not to communicate with foreigners and aliens, lest they turn on you and destroy you with the knowledge you give them.
The professor shrugged, and returned to his dripping, green and molding canvas deck chair. As the boat continued upstream toward Puerto de los Angelos, the professor observed the captain showing his true colors more and more as civilization, with its restraints, fell away in their wake. The thick-limbed, squat, mannish-hatted Bolivian women did not appeal to the captain, it seemed. Instead he ogled the slender, brown gold-skinned Kaingwa females, who wore a g-string and ropes of beads decorating arms, legs, bellies and bare breasts. With all restraint thrown aside as they left civilization far behind, the captain was always grabbing at them at every opportunity. Drinking heavily at the wheel, his hairy paunch hanging over his belt and ornate silver buckle, he became the terror of the boat whenever they anchored and he was freed from his captain's duties.
---
PLEASE CONTINUE WITH THE CONCLUDING PORTION OF CHRONICLE TWO--PART III, RESURRECTION--HOW A RELUCTANT ENVOY TO THE HOLLOW EARTH FINDS SPIRITUAL MEANING IN HIS LAST MOMENTS OF LIFE, AND HOW HIS CANOE CHANGES AN INDIAN BOY'S DESTINY