She knew him well and said nothing. However, she looked him over carefully as he moved about the shop, picking up one thing and the next, placing it nearer or farther, before setting down on the floor before the working bench.
Since it concerned business, now it was her chance. "Are you going to do aunt's chair today or something else, son of Esefpha? How about uncle's plow. He will need another one soon as the old one is no good, I hear, and he is complaining about the cost of a new one and--"
Hakuram never glanced up from work. He kept steadily at it until it was finished.
His mother, not put off, went away to her own work but looked back in from time to time. She brought him finally his breakfast, a corn patty and some sliced tomatoes and, because she was overjoyed to see him back home, several dried figs from the special jar her mother had given her.
Not to appear too silly, she looked at the item in progress and knew he didn't have either a chair or a plow in mind. It was much too long for a yoke, and looked like a drinking tube or an elephant's nose! This was too much for her. She had to ask about it.
"For whom is this, son?"
Hakuram shook his head slightly, still working hard. He hadn't time to answer questions, nor would he about anything he had in hand, and this was even more reason not to tell her and the whole village of aunts, uncles, cousins, and their respective relatives. Let them discover it in time, he decided.
Her eyes bright but just as determined to find out as he was to keep the matter discreet, the widow slipped away, leaving his breakfast. After a time he bolted it down, then went back to work. The widow came back in the shop, stood observing him work though the day was ending for such work, and sighed and went back to her weaving and cleaning. She interrupted that a while later by bringing him a piece of bread, a fat leek, and cheese, his last meal of the day. As before, he ignored it and would not stop what he was doing until he seized a moment to eat.
The night came on, and she went to bed, but Hakuram did not go to his, which he had in a corner of the shop. She had made sure of it by listening toward that spot, and the thin wall would have told her if he had lain down. Instead she heard the contant sounds of his tools on the wood of the limb he had hollowed in his expert way to make a long tube.
Finally, she heard a crash and several hand tools roll, then silence.
Darting up, she wavered on the shop entrance. Should she?
Moving the curtain aside, she looked into the gloom, but heard only the measured breaths of an exhausted man. He must have gone to sleep where he had fallen on the floor, she decided. Slipping in, she put her wool shawl over him, which was so long for a widow that it could serve as a blanket against the chill.
Going back to her cold, husbandless bed, she sat up, her eyes watching in the dark for quite some time.
...."No, the star-gazing eye is not finished!" the sleeping Hakuram told the star-man who had come to the shop. " I must have more time! I need the crystal that goes in the eye-piece, and there is none like that here in our village. I have given word, and a dealer in stones who passes through here will look for one like it in the next villages. It may be months."
But the star-man came again a short time later. He wasn't as shining in the first dream, until he parted his cloak. Hakuram grew more upset. He bowed many times. "No, it is not ready. There is no crystal for the eye. We must have it first before the work is yours. Can you not wait? I have done all I can, sire!"
A third time the star-man spoke as Hakuram began to protest. "The Seeing Eye will not be needed. A star will be sent, of the glory of God, that all can see plainly, and so this work of yours will not be needed by anybody. The one who wants it will be coming soon to this village, but he will not be seeking what you have made. So rest, little brother. Rest!"
Hakuram lay still for a moment where he had just been tossing and turning, and then he bolted upright, his eyes like saucers. Running hands through his hair, he got up, feeling his work bench, stepped over, and unbolted the door. He peered out quickly, but moonlight showed only a cur scatching itself and yawning. No one was about yet--it was the dead of the night.
He heard his mother stir in the other room. Too late he went to lie down on his bed in the corner. Her voice came to him.
"Son? What is the matter?"
He could not avoid it. His heart was bursting, and he could not contain his words as he could during the day. "An angel came to me again!"
The widow hurried to him and sank down, feeling until she grasped his hand.
"Tell me all! You cannot hide what is going on from your mother!"
How true! And the son was bursting with desire to tell someone. Why not the one whose womb had carried him?
His voice stumbling, his eyes roving the darkness, he began. "It was like the first time, only I thought it was a customer the first two times, and then he revealed himself, casting aside his outer robe, revealing the brightness of an angel of the Most High! He said--he said--"
"Yes? 'He said--'?" she prompted him, though his voice was really too loud, and others might be listening in.
"--the Seeing Eye would not be needed."
The way his voice dropped into such a matter-of-fact tone made the widow's heart sink. Surely, that was not the end of the matter, after so glorious a visitation? She was very disappointed. After all, if this was the second such visitation, she had missed hearing already about the first! Why were her men so hard of speech? Why must she pry, pry, pry just to extract a crumb now and then? People were always questioning her about this and that, and she almost never had anything to say, which made her look so empty-headed and ignorant--but what could she do?
She couldn't help it. She pressed his trembling hand to her hard and withered face.
"But why did you make it? It cost you many hard hours! That isn't good business practice!"
Hakuram sighed. "I was asked by a holy man in the hills of the stars, who has knowledge of the stars of our people. His eyes are failing, and he thought it might help, since the stars are moving toward the place where they will village together, he said, and he wanted to observe them at that time. He said he would come for it, but now there is no need since--"
The widow could not believe so many words, and she was not about to disturb his caravan of thought, so she waited, holding her breath.
"--since something is going to happen here soon, the angel said to me."
"What may it be, son?"
His eyes widened as he realized what she was saying. "Why, God-Is-Villaging-With-Us, that is His holy name, and He will be born of a virgin here among our people--you know, my bethrothed!"
The old woman rose up with haste. That wasn't, for her, a pleasing reply. Holding her hand over her mouth, she fled away before she said something a woman and a mother of her family might regret all her days.
Despite all misgivings and doubts concerning the matter, it happened as the angel promised. To confirm it with a sign, a brightness like a star came from the heavens and stood over the place of the chosen virgin--illuminating the Nativity of God-Is-Villaging-With-Us, or Immanuel. Nothing like it had been seen before. Star-men ran down from the hills and mountains to see it better. And some came with fine and costly gifts, extolling the Child in terms reserved for royalty.
Immanuel reigning in their midst, the Dogon were never the same again.
Here the canvas ran out of material, and the CCRP also had to stop, momentarily, while the second file activated. Some of actors and actresses--better at making quick changes of scene, character, and clothes--stepped quickly from one set to the other without fuss or difficulty. Not all could do this, however, and Yeshua's mother was one. A stand-in for her part on the next file presentation was called by the producer, for she evidently wasn't up to going on just now, since she was hanging back on the old set, staring into space, a strange, Mona Lisa-type smile on her face. When she did stand up and start walking, she didn't go to the next set via the convenient rocket chair in the planet-wide, transit tube system no, she went out beyond the set's perimeters and stood, staring up at the dome, or rather, through it, as if that were possible.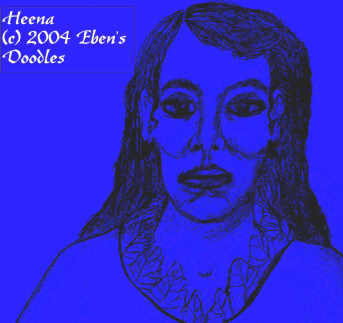 She began, with this behavior, to draw the special attention of both Quality Control and Psychology and Rehab. Had she "flipped" again into retrogressive thought-patterns and emotions? To save herself, and her small part of the colony, she needed to press on--continue with the vital CCRP agenda.
She knew that. Everyone knew it. Why then did she waste her part in the next file and stand staring up into the dome, as if searching for Something?
The right personnel approached her, of course, and started a dialogue, but it wasn't satisfactory.
"What's wrong, honey?" the Psych-Rehab woman asked gently, using her best manner, not too fast, not too diffident, but mixing the right elements of confidential tone and friendliness and a hint of motherly concern.
The actress turned, but her eyes were still gazing upwards. "Nothing. I just--I just-"
"There, there, we understand" said Psych-Rehab. "You just need to go back to your dressing room and take a little rest. In the morning, you'll feel bright and chipper and--"
"No," the woman said, shaking her head, but with the strange, little smile lighting her face as before. "I don't need to rest. I want to go."
Now Psych-Rehab's mind began turning. She was definitely concerned with this case. "Go where, honey? Where could you go? Don't you know--"
The actress shook her head, as if she were speaking to a small child. "I don't mean me, just me. I mean all of us, and you too."
"What?" Psych-Rehab burst out. "Are you saying--?"
The actress's eyes dropped finally until she saw the floundering, bewildered professional shrink,, and then they shone with purpose and determination that would be hard anyone from Psych-Rehab to deal with, since they were clearly so set and "retro". "I mean, we can't stay here playing these games any longer. It isn't necessary, at least it isn't for me. Don't you get it? But you need to play a part in this series, and then you'll find out. Go and do it! You really need to find out what I've experienced! Get out of your track and try something different. You--"
This was a bit more challenge than Psych-Rehab expected or even liked. In fact, her texts were challenged beyond the point where she could think what to do next. Clearly, she needed consultation on this case, immediately! But she wasn't going to consult in front of the patient. So she fled, leaving the actress alone for the moment, who then turned back to gazing upwards, smile back on her face.
Then, minutes later, she turned around and headed, not to her dressing room, but to the transit tube. She had to see her sister--the very person she hated most. The discovery she had made--it couldn't be kept secret, not from the one who hated and despised her in return. This was just too great a thing to be hidden in a closet. She knew if she tried that, she'd truly go mad! Besides, it was just too good a thing--she had to share it, even with her worst enemy, no matter what that enemy did with the news--for NEWS it was, GOOD NEWS that would change everything, she thought as she hurried into the cab of the first transit car at the waiting dock.
Eventually, after some false turns, she found her sister--her nemesis! She was doing her part in an Italian set that included 16th Century Venice complete with over a hundred islands and canals. Her sister was playing the Doge's daughter, an excellent part that also rewarded her with gorgeous gowns and jewels and plenty chances for assignations from gorgeously-attired courtiers and noblemen--if her sister so desired!--though, to spite her suitors on set and off, she had cropped her hair short like a boy's, and had to wear wigs.
Najana! How beautiful she was!
Much more than herself, Heena recalled. How did she do it, when she was seemingly all ice and venom beneath that flawless complexion? It was horrible, that moment, being faced with so much spite and family misery, and nearly took all the wind out of Heena--despite her best efforts to emotionally prepare herself on the way for the dreaded meeting.
Yet, she, not Najana, held the trump card--right?
Though Heena felt like she was in the lion's den, she knew she had something now her sister had no idea existed, and the thought gave her the boldness she needed to confront a bigger, more powerful, far more beautiful rival.
Najana had just finished an important scene with her father. As a high-spirited, spoiled, only child of his unhappy love affairs and disappointing marriages, possessing intellectual gifts and pride equaling her father's, she had thrown his courtiers in a tizzy demanding to be allowed the freedom to marry a young count from Byzantium--though this was the Doge who was determined to destroy Venice's arch-rival, the world's incredibly rich queen city of Byzantium on the Bosporus.
Her features flushed with the success of her performance, she turned to confront her unexpected, totally unwanted guest
"What do you want barging in on me here?" her sister inquired with a frosty tone that contrasted violently with her high color. "If you want a part in this production, you're wasting your time, since--"
Heena shook her head slowly, her eyes filling with the light of what she had seen, but also saddened to see, close up, the animosity between them, so alive and well after years of avoiding each other, set after set.
"I think It's important for YOU to hear about," Heena replied, resisting the temptation to let her sister remain in total ignorance, thereby consigning her to her personal hell of spite and rivalry and all the rest. "I've seen something on the "Christmas Factor" set that you need to hear about."
Her sister turned, toying with her fingers in a bowl of roses in water. "Really? Oh, I doubt that very much. I've heard about the "Christmas Factor"--it isn't what all they were saying. Maybe that is the sort of thing you feel comfortable in doing, my dear, but people like myself know--"
Heena could have blurted out, fairly, that her sister knew absolutely nothing, and that she was an icy-cold bigot, prig, and ignoramus, self-conceited, vengeful, and aggressive to the point of megalomania. But she knew it wouldn't impress her sister, how well she defined her--Quality Control and Psych-Rehab's files had the same profile of her, and she hadn't minded it at all, since she thought herself perfect in her own eyes, n o matter what others said about her. With strength and character like that, so unbending and self-assured, her sister wouldn't even flinch if she called her the worst things imaginable.
So, instead of fighting ice with fire, Heena shrugged, sat down, and simply said, "Maybe you're right. But you really ought to take a minute when you can and check it out. Reports are one thing, seeing it with your own eyes is another."
She went on, saying some more things in this vein, and noticed, or just sensed, a rise in temperature in her sister, a certain decline in disdain. She was "warming up" to the possibility that Heena might be on to something she knew nothing about. Of course, to an arch-rival, letting a rival enjoy any advantage is out of the question, and that alone could spur her to swallow a modicum of pride and, without admitting she might be mistaken, at least go and "check it out" when her sister wasn't present to catch her in the act.
Heena, once finished, left the dressing room and the door open. There was no good-bye, no showing her to the door. But that did not matter now. Heena knew with all her being that she had something her sister did not. It made life worth living! But she had to have more of it! How was she to get more?
Walking over the Bridge of Sighs, she wondered if she were ever to find what her whole being ached to find.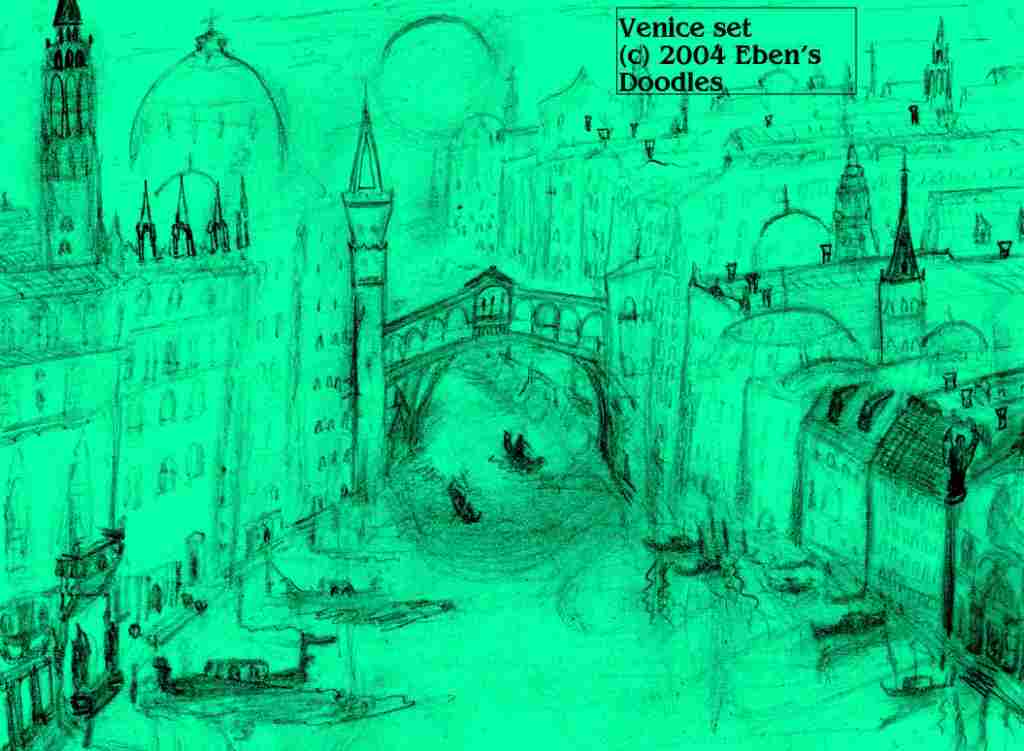 Lost in her thoughts, she didn't notice the consternation she was causing, wearing a costume designed for "Dogon Star Child" on the on-line set of the "Conquest of Byzantium by Doge Dandolo and the Crusaders."
Quality Control people were running to intercept her, but she saw them in time, and eluded them temporarily by running down some steps, jumping into a gondola, and poling her way out of their reach. How fortunate for her this was Venice, so perfect a place for foiling Quality Control, she had a good chance of keeping out of their clutches! No wonder the old original was famous for its constant schemes and plots and skullduggery--the setting of maze-like canals, the islands choked with buildings that were difficult to break into without warning, there couldn't ever be effective control, not before supercomputers and their fast-as-light quality checks on every square inch of the city, inside and out. Even now, with all that system working for them, it was very difficult and highly problematic for QC personnel to get to her.
Then it dawned on Heena as she left the gondola in another neighborhood, hurried away from the canals and stepped back into a modern transit car at a station hidden behind fake scenery. The next "Christmas Factor" file productions--they were, at present, the only way. Against the other passenger's protests, rudely programming and commandeering the car, she soon sped off, directly back to the set and her lapsed role, hoping against hope that she could regain her succeeding part as the Messiah's mother in "Lakota Nativity".
Failing that, she'd have to wait for a smaller bit part in a tear-jerking period piece called "A Victorian Christmas," where she played the mother of two little, half-starved girls. Having read the script, she didn't want the part, but that wasn't her option, to sit out while all the others did their part holding society together. She'd do it, but what good would it do? No, she wanted more parts playing Yeshua's mother.
It was like nothing else. Najana could have her sophisticated, stuck-up parts, to show everyone how polished and beautiful a performance she could pull of time after time. But Yeshua's mother?--it changed you from the inside--turning your eyes out, so to speak, so you could see yourself for thefirst time as you really were. It was horrible--seeing yourself as the evil-hearted, conceited, selfish, unforgiving, utterly corrupted thing you were--but then, after that, you could see others too and feel a measure of human feeling for them in their human condition! Her sister Najana, for example--blind since birth, and didn't know it. always putting down, always stomping on rivals, so she might be exalted!
What will open her desperately wicked sister's eyes to herself, so that she could be free as she herself felt free? Only the truth, Heena reflected. Only the "truth," which she saw she had, somehow, got hold of through "Dogon Star Child."
Heena paused as she stood on the deserted set where she had learned so much so quickly, and where her life had been, yes, "revolutionized."
She would never again be the same, thanks to "Dogon Star Child."
But, pulling herself up with a jolting pinch on her own arm, she needed to be going. Precious time was being wasted. "Lakota Navity" was on-line! And stage directions, left behind for lagging staff and players, said the set was located ten thousand miles or probably a full forty minutes away--on the recreated North American set.
How withdrawn and shut up within herself she had been! She saw it now. Poisoned with hate for her sister, drowned in the self-inflicted quagmire of bitterness and self-pity, she hadn't thought straight for more fifteen or more years! No wonder why she couldn't hear the important facts she needed to know in order to live--people were telling her, even trying to tell her, but their efforts were wasted on deaf ears!
Kicking herself mentally for her lifetime habit of cultivating disastrous, fog-brained stupidity and the way she had destroyed herself with hating and rivaling a superior sibling for years and years--how could she have assumed the set would be close by somewhere? Was there still time left in which she could turn her life around?
Her face wet flooded with tears, Heena ran toward the transit tube.


Copyright (c) 2004, Butterfly Productions, All Rights Reserved