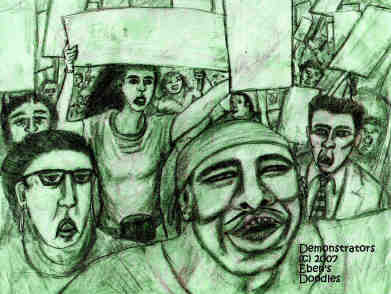 Already, there were incidents of some gang-bangers involved in scuffles ignited by exchanges of racial slurs and the "n" word, and a man just passing by the gang-bangers had been beaten to death with baseball bats and was lying with onlookers gathered around his body taking pictures and making jokes at the man's expense. Others began singing snatches of "We Shall Overcome," "Blowing in the Wind," and "The Age of Aquarius," as they protested the World Trade Commission and carbon emissions and whale harvesting by Japan and Norway, with a few "F" words accorded China for the crushing of Tibet. They smashed windows and spray painted grafitti and peace signs on cars and buildings as part of their show of solidarity against the WTC and the Global Warming trend produced by WTC factories and cars, all for the sake of the environment whose welfare was closest to their hearts.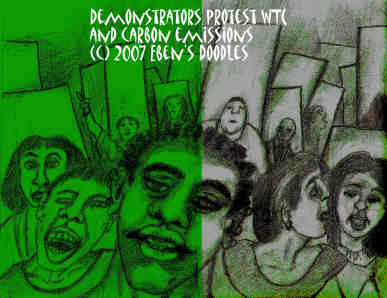 The yelling and screaming increased as the chain and baseball-bat equipped crowd fought the police who rushed at them in turn with tasers, pepper spray, and firetruck water cannons. It was over in a few minutes, as the crowd dispersed to the coffee houses and gay bars and the most rowdy of them were handcuffed and hustled into vans and driven away toward a lock-up they never would reach. But Ero saw they must have missed one of the rioters, a pyromaniac named Pang who was using his cigarette lighter and was running with it and throwing a burning rolled-up newspaper into each shop, store, and office building as he worked his way up the street.
Followed by the lookout and Hairball, Ero rushed into an espresso coffee bar, beat out the flames with a biscotti-patterned rug from the floor, but when he got to the second store, the window curtains and mannequins in Sierra Club approved UV-blocking hats and sports clothes were burning, and it was too late for that place, so he ran back out. But the other shops and stores were just as bad. He could not do anything more--the city was going to burn down on him, if he stayed. "We have to get to the harbor. We'll be all right on the water, out on the ship!" he cried to Horace and the Hairball. Together, they moved toward the port, but it was slow going--Hairball was like cold molasses and did not move quickly, even though a fire was raging, its flames shooting fire and smoke now from tall buildings up into the sky.

They had gone only a few blocks, when Hairball stopped and turned back around. Ero was horrified. "Where are you going"? he shouted.

Hairball started moving back away. He smiled crazily, shaking his head.

"You can't go back that way! You'll burn to death!" Ero protested.

For a moment, Ero was tempted to run and pull Hairball back with him to safety, and he did run after the beggar, but Hairball had vanished round a corner--and when Ero reached it, there was no sign of him. Had he gone into a building? Ero wondered. There was no time to look. A wall of flames was coming toward him down the street, overtaking and incinerating some fleeing demonstrators and their blank signs--and he and the lookout would be burnt alive if they lingered another minute.

Scooping up Horace in the hollow of his hand and cupping it against his chest, Ero ran for his life toward the White Ship.

When he got to the docks, Horace grew amazingly strong for a butterfly, slipped out of his grasp and flew off to find the ship, leaving Ero stranded on land. At that moment, Ero saw the wonderful advantage of having two wings attached to your body. He was late again! The ship had left, but he looked off toward the southwest, toward Alki Point, and thought he could see the ship's mast and a single flag, the Blue Peter.

"Tell them to wait, and I'm coming!" he shouted after Horace, though he knew Horace couldn't hear him by now.

Something he thought he didn't need right now was another popup, and it appeared right in front of him, a red flashing banner highlighting the annoying message.

"Warning! Danger! Questor must choose one of three options," it flashed at him. "Option #1: Stay on land and take your chances with the fire. Option #2: Swim out to the ship and maybe feed the fishes. Option #3, Answer three out of four questions correctly about what you learned in the Emerald City. Questor will click on the chosen option and press spacebar to activate."

Ero groaned, and aimed a kick at the popup sceeen, but it seemed prepared for this and vanished, appearing a moment later a few feet beyond with a guard rail in front of it.

Ero tried to ignore the popup, looking round for some sort of sailboat, since he couldn't swim in such cold water as this Sound had--but all he saw were big merchant ships, ferryboats, yachts, cruiseships, container ships, hydrofoils, and even the Victoria Clipper--a fleet which could easily transport thousands of people but wasn't going anywhere soon.

Its warning light now buzzing for attention, the popup could not be ignored. Ero thought fast. What real chances did he have for reaching the Argo? Would it help any if he tried to answer the popup's stupid questions?

As if his thoughts had been anticipated, the screen showed a flag, which according to the international flag code was "Yes!"

Ero was now interested, and the popup's defense rail vanished at the same time. He hit Option #3 and the spacebar with his big toe, and the first question appeared:

"Question 1: What local Indian chief did not want his name appropriated by this city, but they took it anyway?"

Ero was stumped. This wasn't his country, after all. He could not even guess it. He knew nothing about American Indians.

A horrible, Bob Barker quiz-show buzzer blasted as loud as a ship's fog horn in his ears, and then the answer appeared:

"Chief Seattle. And, fortunately, he died without seeing it become what you have seen. Next question: What five rulers, or Pentocracy, hold the power in the Emerald City? Hint: The Letter 'P'".

Ero was a Greek, of a race that loved loved riddles and conumdrums, and being an intellect from birth, he had no trouble rattling them off: "Prestige, Parentage, Pelf (or money), Position, and Perspective."

"Correct," responded the popup, giving a musical flourish of Tirolean cow bells. "Next question on the fifth ruler, Perspective. How does that relate to the Underground City and what you saw there and also in the city above? Answer by voice with no more than one paragraph, as this is an Essay Question."

Ero smiled. This was getting him really interested and challenged. For the first time he was enjoying the popup feature of the voyage.

He had two cities to compare, one past and underground, the other above ground and modern, but really they were the same city and disaster in the making, doing the same things--only the city above ground just appeared more sophisticated.

"Perspective and the Underground City relate because the glittering, postmodern city above ground is a product of guilt produced by the low, dirty, crooked city below ground level."

The bells sounded. "Question Number 3: Name three local institutions or artifacts or sociopathic behaviors you saw above ground that are specifically driven by repressed guilt."

Ero relaxed. That was easy! He rattled them off. "Art Museums financed by local robber barons, homeless shelters for the rejects of society, violent demonstrations for world peace."

Bells again. "Last question, and you must answer this correctly to receive the prize, the means to return to your ship. Are you sure you want to return to your ship now? You can remain on this dock, and it will not burn up with the others. Press Spacebar if you wish to continue with the questions."

Ero had to pause to think. What did the popup know that he didn't? Why wouldn't he want to return to his ship now? He looked around at the dock. He had no desire to stay there--it had nothing to offer but some seagulls perched on pilings that looked as if they were plaster copies, they hadn't moved a feather since he had come.

He pressed the Spacebar.

"When you saw a man looking at you through the overhead sidewalk window--there were four sets of eyes present. Identify them, please."

Actually, Ero could think of more than four. "Mine, the beggar's, God's, the Game Players', and the Game Writer's." The Quest, he knew, was a zero-sum game, and so every game had to have a designer and people who played it.

There was a terribly long pause, heightening the suspense, as Ero held his breath.

Then blowing the seagulls off their perches (they weren't plaster, after all), a full orchestra erupted with "For He's a Jolly Good Fellow!"

Ero was pleased as punch with himself. He had proved that a Greek could still think fast on his feet, and also show the world that he wasn't like most 22nd Century people, who moved unreflectively through life, understanding nothing and believing everything they were told to believe--as if they weren't men, but a species of brute animals or automatons and puppets, manipulated with strings by the Puppet Master, or those five, behind-the-scenes rulers of every nation on earth, the shadowy Pentocracy. That quality of quick, independent, critical thinking had made his people, the Hellenes, very great--greater even than the world-conquering Romans--once upon a time--and it was proving an asset even at this late date. But where was his grand prize?

He did not have long to wait. He saw a Leg-o type ladder fly down from a penthouse preschool for software billionaire's children, dropping through the flying ash and curtains of smoke of the burning city and attaching itself to the dock. Towers of the highest buildings were shooting flames--the sound of the people trapped in them was terrible, and many were jumping out the windows, only when they hit the ground they bounced all the way back to where they started, then jumped again.

He didn't have long to get away, he saw--as the dock had caught fire already. He climbed quickly down the ladder to the prize: a dinghy! Just what he needed, though he would have preferred an outboard motor to oars.

Gasping, his excitement was almost too much to bear, he decided to take it rather than leave it.

But he didn't have time to argue with the popup or the prize committee. He grabbed the oars and began making for Alki Point. He had just cleared the dock when a cruise ship further down exploded, catching some Shell Oil storage containers, which also exploded, showering the waterfront with deckchairs, striped Italian Cote d'Azur deck umbrellas, and caffein-free peppermint tea bags.

He made the little boat almost fly and skip over the water to get away from the madness and the inferno on shore. By this time, the city was doomed for sure.