Her lips moved, and she seemed to be muttering something, or even praying. Honorius went up to her. "Is anything wrong? I didn't mean to frighten you! It is just that I am Honorius Urbanus, and this is my land you are living on. What are you doing here? Are you out of your mind? The Germanii will come and attack you if you stay here, alone and undefended. You know what they do to all British women."
She rose slowly, peering at him. "You seem a decent, civilized man. You asked, so I will tell you everything. My name is Placidia of the Arbori family. I lived with my family in Aquae Sulis all my life. My father had a shop and dealt in purple and fine silks and brocades imported from Constantinople. We lived well, but lost everything, for we had no time to take anything valuable away or sell our shop and house. With only a wagon and horses to transport us, we fled south, but had to turn round on the road, for it was cut off by the barbarians. We then tried to reach Isco Dumnoniorum, where my father planned to find passage for us on a ship or fisherman's boat to take us over to Gaul. It was not meant to be. On the road to Glevum, we were attacked by another force of barbarians coming from the opposite direction."
She paused, staring hard at the ground, her shoulders shaking. Finally, after a few moments she went on. "My parents, sisters and brothers, with our household servants--of course, all slain. But I got away, by running up into the hills, and my pursuers did not want to waste time chasing one girl--so I got away.
I hid in the high hills and rocks, but I starved, so finally I came down to Glevum, and found it was all burned, and in ruins, and everyone gone. Yet I found some bread crusts and some other food in storage jars that wasn't burnt or all spoiled through, and this kept me alive, but I was in great fear, lest the barbarians return and catch me.
I wandered up here and found this little hut and the door left wide open. But I knew this hut and the estate had to be already in the hands of some warchief of the barbarians, for they no sooner take a district then they divide it up for their warchiefs, and each chief then parcels it out to his warriors to keep them in his power and for doing his bidding. Where would I go? I decided I did not want to leave my country after all. Either they let me live, or I would die here on my country's soil, I decided."
Honorius was astounded. "What did you do then? How in the world did you get to stay here, unmolested?"
Placidia smiled for the first time. "I thought of a plan. I knew the sheep had scattered when the shepherd ran away from here, so I went up into the hills and gathered some of them, and led them back here, and this lonely dog too came and joined me, and so I had something to bargain with. Then I set a fire, and waited. It wasn't long. The barbarians came with their chief to see who was burning wood."
Honorius could hardly believe his ears as Placidia continued. "I knew they would rape and kill me just as soon as let me remain in peace here, but I had these few sheep in hand, so I had something to bargain. Stop! I told them, for the war chief was able to understand some of our language. Then I made it known to them that I could keep sheep for them, if they would allow it. Did they have anyone to do that, or wanted to do that mean work?
"No, there was not one who wanted such low work in this fine new country they had just seized--as each warrior hoped to live like some fine lord in a great house very soon, with plenty of slaves to serve him and many women for his bed and pleasure. They all looked round at each other, it was so comical to my eyes, but I kept from laughing, as they are so simple-minded as brutes go.
"I had a knife, and so I showed it to the war chief, then pressed it against the big vein in my neck. "I will not let you rape me, and you will lose a shepherdess--so why not let me live, and not molest me as you have already planned, and I will do you this service?"
She laughed a little now, as she finished the story.
"I could tell the war chief was thinking, for he was rubbing his brows hard with his dirty hand. It was just as I thought--I had made good sense to the ruffian. The war chief hired me--for my life, and without being raped, he permitted me to keep his estate's sheep. I would have to gather them back here, of course, and he would take one out of five sheep each season for his table. The deal was struck, with one of their barbarous vows or oaths and the waving of their raven banner and shouting allegiance to their gods of vengence should the agreement be broken by either party, and they departed, leaving me at peace. I have my dog for protection, and he warns me of anyone's approach. He will die defending me and the sheep! And I have, best of all, the Lord! He is my strong tower and refuge. He has angels, mighty warriors, who are standing round about me in this very hut! So, you cannot do me any harm either--if you should be thinking of--!"
Yet as Honorius thought about it, he could see no future there for himself, even if Placidia thought she could make a living with the sheep and a garden.
He had to talk to her, after he made up his mind.
"If the Germanii come, they might kill me. I cannot risk that. So I must go."
Placidia's expression told him all he needed to know.
He took her hand, and she did not pull it away. "Will you come with me?"
Her face showed her struggle. "But I can't leave my country! I know there is little here anymore--but still--"
"I want you to come with me, and be my wife and bear my children. Will you come with me now?"
Placidia walked away, and he waited, but he didn't see her return, so he thought that was the end of it. He started to gather his things, what few things he had, and when he saw her return, he told her what he had to do first before he departed.
"I've put it off till now. I must go and first bury the bones of my father and mother, and sisters, and the others if I can--this is my last duty to them."
Placidia took hold of his arm. "But the Germanii would kill you if they find you there."
"I still must do my duty by them. I just could not face their bones until now. I cannot leave until they are laid to rest."
He had his title deed, and the seal ring, and his weapons, and he started walking. "Wait for me!" she said. She came back to him, wearing a cloak, and she had sandals for herself and another pair for him.
"Yes, Honorius, I will go with you and be your wife, but we must find a priest first."
He nodded.
He kissed her.
"What about the sheep? Are you just going to leave them?"
She smiled. "I wouldn't worry. The dog is faithful and will watch over them. I have left the sheep in the pasture, and they will be safe with him. The war-chief is due to come to inspect in a day or so--and he will find me gone and see to the sheep.
So they were free to go! At the villa ruins, Honorius left Placidia and went forward to where his family had been hung up on the cypresses.
It was a horrible ordeal for him, but he was a man now, he had seen death and dead men's bones often enough, and he managed to gather the bones and move them to a place beneath an oak tree. There he dug a shallow grave with a big stick, and laid the bones to rest. Before he pulled back the soil, he put in the title deed and his seal ring.
He would have said a prayer like a priest would say at a grave of a Christian, but he did not know a prayer for that. Placidia's voice startled him, however.
She was praying, he realized, kneeling as she did so.
But he also realized her words were not for the dead but for him. He began to weep. It was all he could do to stand, and then he moved away.
Placidia joined him, and together they let the estate and the life that was lost forever, not by the road, but by the wild countryside that led up into the hills and the mountains.
They climbed for some time before Honorius paused to let Placidia rest, for she was gasping for breath.
"Are you in such a hurry?" she said.
"At this pace you will kill me!"
Honorius sat down on a rock. "No, there is no need for that. I wasn't thinking. I just wanted to get away, as fast as possible!"
Placidia did not comment, but looked at him, and he glanced at her, feeling her gaze. Then he went to took her hand, and his head went down and she lay it on her lap. For some time they sat like that, and she said, "Do you know where there is a priest for us?"
He glanced up at her. "I will not dishonor you. I know where one is. But it is a journey of some days. But we will go there. To the city Segontium, where the sea is, and the straits that lie between Segontium and the western island. Rome once supplied the city generously, but no longer. It has grown poor. Yet the city has a church and a priest, and there is a big stone fort from the time of Rome, and though it is not garrisoned, the city still has not been taken and plundered by the Germanii--the tribes round about it are yet to fierce for the Germanii to attack, and there are many Britons residing there too. Perhaps they heard there is no gold there these days--whatever the reason, it is a good refuge still. Perhaps you would like to live there?"
"I don't know. At least it is in our own country--though barely! Do they speak our Roman language?"
Honorius looked at her keenly, then said, "Very few do anymore! Times have changed. We msut get used to that. But it is not in my heart to remain there, evenso."
"Where would we live then? Over in Gaul? Surely not there! And if it is Erin--you might as well leave me here! They are all heathen savages over there, serving foul idols and always fighting and drinking and--"
"I will tell you later, in Segontium!" Honorius, wisely, said, interrupting her. "But first we must find my comrades and warriors in the hills where I left them last, so that I can appoint them a leader and grant him my authority and blessing. They will be wondering how I am faring--and I cannot leave them without their knowing all is well with me--as well as it can be in this time.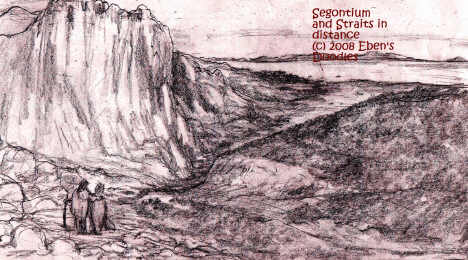 Later, in the west island, Erin of the wild Gaels, Honorius and Placidia built a home, tilled fields to plant, started a herd of sheep and goats, and then Placidia informed him one day that they would be welcoming a child into their home. They had just got happiness to share when they heard a holy man (not a Druid priest but a preacher of Christ) was coming who was preaching the Gospel.
His name, they found out, was Patricius, and he was British, not Irish.
Another surprising thing they learned from speaking to him--he had been born and raised in a small city not far from where Honorius was born and raised. It was a marvel to Honorius, and he could not quite grasp what it was that was tugging at his heart so strongly. But the evangelist seemed to know, for he spoke gently to Honorius, "God is calling you, son! Let my servants go tend to your farm and livestock, for I know you are thinking about them. Tarry with me and my company a while. You will not regret it, for God's blessing is sure when He calls a man."
As long as they could, they remained with Patricius and soaked in his messages as he preached day after day to the heathen Irish, converting many hundreds of them and baptizing them in the rivers and lochs.
A day came when Patricius himself wanted to be baptized, and went with others into the river.
Placidia followed him. When it was their turns, Patricius questioned them separately concerning their faith.
First, he dealt with Honorius. "Do you believe the Christ, that Jesus is the Son of God, the Savior of all men, and the Savior and Lord of your own soul? What say you?"
"I believe, but I have sinned," Honorius confessed.
"What is it, son?"
"I have hated the Germanii with all my might, and taken revenge on them whenever I could, and my heart still burns with anger toward them. I could never forgive them. So I have killed them, even women and children when I could, just as they killed my father and mother and my sisters!"
"But you must forgive them, or, as Christ says, he and His Father in heaven cannot forgive you!"
It was the most difficult thing Honorius ever did, letting go his unforgiveness, and forgiving the Germanii. But feeling the fatherly love of Patricius, with Placidia's loving presence at his side, Honorius forgave, and found instant release. Instantly, a burden like a cart load of Roman bricks was lifted from his shoulders. He felt as if he were born again, and his spirit had spread wings. He felt he could almost fly--he felt so light inside!
With joy he turned to Placidia, whose eyes mirrored his own expression.
Together, they left the water, and climbed up on the grass of the bank, both changed and never the same again.
Later on, when Patricius came again, there was a meeting of believers in Christ in Honorius's humble dwelling, all there because he and Placidia had been telling their neighbors the Good News about the One who forgave sinners, even while He hung on a Roman cross, suffering for their sake by paying the penalty for their sins.
These people all wanted to be baptized as well, but Honorius said that would have to wait until Patricius came again. And then there he was, just when the new child had arrived, with all his people and their wagons and tents! It was as if an angel had carried Honorius's words to the holy man!
Patricius called Honorius and Placidia with the baby in her arms out to him, and before all the church members appointed Honorius a deacon and his wife a deaconess.
But this deacon could fight. He was a warrior before he was a farmer. And so Honorius often accompanied Patricius on many visits to heathen villages and encampments of the tribes, his sword and spear ready for dealing with any assassin sent by the hostile Druid priests to stop the Gospel-bringer.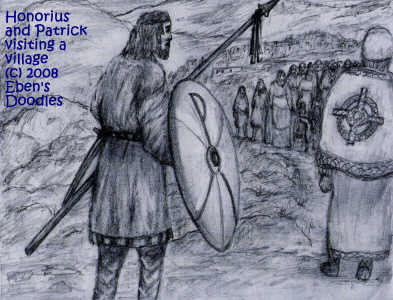 Now the Phoenix is a truly glorious bird of great abundance and blessing. Once it rises with supernatural power and beauty from the ashes of destruction and death, the immortal bird nests, and has many, many fertile eggs. Patricius directing the foundation and building, a fine and sturdy stone church was raised nearby the farmstead of Deacon Honorius and Deaconess Placidia. It was one of more than three hundred Patricius, the arch-apostle and messiah of the Irish, raised across Erin.
Honorius was a happy man, blessed with a church, wife, and family, and was honorable in all his ways. He forgot the almost mind shattering sorrows and misery of his war-ravaged, occupied home country, though he still cherished her in his childhood memories. He gave up fighting the ones who had conquered and colonized his beloved Britannica--realizing it would not be restored as it had been. Yet he lived to see his grandchildren return there--a last joy on earth he had not expected--as they carried the light of the Gospel of Christ to a heathen barbarian people, faring out from his own church and others, to Dark Kingdoms of the Angles and Saxons. Within a few years the heathens were flocking to the Cross of Christ and smashing down their pagan altars and idols with stone mallets or casting them off cliffs or consuming them in the fire. They knew a better thing when they saw it--once their eyes were not so clouded by lust for land and wealth that they could see their true state, their sins and needy souls' lost conditions.
The supernatural miracle had occurred of rebirth and new life from ashes. Though once speared and cast in the fire and utterly consumed, the Phoenix of Britannica had returned risen and triumphant and glorious, flying from Eire...back to England.

(c) 2008, Butterfly Productions, All Rights Reserved