She laughed instead and threw the stick on the table. "All right then, my dear, I won't play any more--not tonight anyway. Of course, you know I can't help it if I wake early and am cross with everybody! And I do hate it when I'm cross!"
Tipsy and not sure of her balance because the feeling in her big toe was gone, she suddenly sat down, or rather, fell back into the wicker chair, which fortunately was full of cushions and little plush animals, mostly jungle exotics that were the real thing, only stuffed. Her violent fall knocked the chair backwards under her, almost to the leaning vase with the peacock feathers.
Pieter, amazed at everything and everyone he had just seen (this Kilpaison was dark, this was chalk white!), was not quite sure afterwards what happened next. Somehow he found himself seating on a chair close by the old lady--in fact shoulder to shoulder. The grand dame, however, was not a loss for words or wit beneath her impromptu coronet of peacock plumes. She had Pieter come close and then whispered, rapid-fire, confidential information about her granddaughter until Anne cut in with a stinging slap of her glove on her grandmother's wrist. Looking very offended and put out, the grandmother removed her probing fingers from down inside Pieter's shirt and tossed her head girlishly (just like Anne).
"But he's such a nice boy! I can see his possibilities. Yes, indeed, I do! And I was just trying to warn him about the Kilpaison female temperament. You know, dear, our--"
The grandmother hand reached out again to Pieter and this time he colored violently in the face and shrank away.
Anne put her hands on her shapely, little hips and tossed her head just as girlishly as her grandmother. "He'll find that out soon enough. I'd rather you tell him about something you're fond of, say, old Maastricht?"
At the mere mention of the grandmother's hometown, a beatific smile of a Raphaelite angel broke on her withered cheeks, for she was a late, most reluctant immigrant to America. The family had moved from Holland to Jamaica and thence to New Amsterdam when she wouldn't budge.
"Make yourself at home, my dear boy!" she crooned to Pieter. "Oh, do have some of the latest imported chocolates! They're Maxim's, fresh in from Paris! Sad, but there isn't much to dear, old Paris these days, it gets less and less its old self, but they still know how to make chocolates in the one confectionery that's still operating. I detest our niggardly local Dutch chocolates, don't you? They're hard as rocks and haven't enough sugar and I swear they put in ground corncob or sawdust from some prison mattress factory to stretch the batch--I think it's called 'English helper'."
Not noticing there were no fancy, liqueur-chocolates left in the box beside her, imported or domestic, merely a drunk, chocolate-stuffed mouse, the old dowager continued.
"There, now that you're comfortable and are enjoying your brandy and coffee with cake, I want to tell you about my beautiful, beautiful city. Of course, it isn't today what it was when I was a girl, but Maastricht was the pearl of--"
Pieter listened politely as she gabbled on about her lineage after pointing out a gold-framed pencil drawing of herself in her maidenhood that looked absolutely nothing like her, his eyes dropping until he was staring at an old book titled Lamb's and Pritchard's Syllabary stuck under a foreshortened foot of the lady's chair that had been sawn off for some reason. "Solid, solid burgher," she said. "It's mostly on my late darling husband's side, though on mine, the Van Loons, thanks to events outside my control, West Indian rum traders and Jamaican milkmen of various hues got mixed in somehow--those types are always so wickedly handsome, you know--so that I'm the only one left with a classic, pure, peaches and cream complexion."
She laughed at an old joke she had just remembered. "Oh, there was a whisper or two from my mother before she died that she had noble English blood as well as some of that dear boy, Charles the Great, in her veins, but I think she only wanted us to appreciate her with a more fancy crypt than she knew she would get otherwise from us plain Dutch. By that time, of course, there wasn't much money--the cold-blooded, evil, money-grubbing English side, those upstart Milford Havens, took it all! So they buried her in a pine box like everybody else these days. She might as well been a nursery maid!"
Upbringing: "Oh, strict! puritanical, puritanical! Dutch Reformed! and impossibly, impossibly dull!" Marriage: "Kilpaison, the dear, dear man, was the best husband a woman could ever want; served me the best French chocolates in bed whenever I wasn't feeling my best!" And so on.
He himself could not possibly imagine such a chocolate-dispensing husband, but she was only warming up apparently. She fairly sailed on the subject of her religious training. Her hands moving fluently with the action, she described the setting in old Holland and how a party of her school chums were initiating other chosen few into their secret "Oblate Sisterhood of the Bat-Goddess, Theodora X." Though knowing nothing about Jewish observances, it was to be an approximation of a Jewish bat mitzvah, with a real bat. Their headquarters were the labyrinthine limestone caves of St. Peter outside town. She had got to the place where they sacrificed a hapless summer squash, decapitating it on a stone altar set up before a captured bat, the sainted Theodora (X for rank, as she was the Tenth goddess of that line), when Anne pulled Pieter away to the door.
The old widow flew into an instant sulk, which was half a smile, so it wasn't very convincing as a smile kept interfering with her cross expression. "Must you two go? He is such a darling! Has such possibility, I feel! A little adventure now and then does my heart good! You know how this old lady likes--"
Her hand went out, exactly where it would not be decent to say.
Pieter jumped back away, his face turning red.
"Now you leave his possibilities alone!" the granddaughter protested. "They're mine--you've had yours aplenty in your time, I daresay, and now it's MY turn!"
Anne threw a shawl over her grandmother's head when she started to object, and that was that. She and Pieter went down the stairs (Pieter losing his footing and nearly sliding out of control, a lingering effect of the incident in the grandmother's billiard room), no one showing them to the door except a Great Dane.
Evangeline galloped with the sound of a horse and almost knocked Pieter on his head by jumping up on him. When it happened he had just reached to open the door for Anne and so his crutches were no help. Anne pushed Pieter forward and somehow got the door closed on the wildly affectionate bitch.
How relieved Pieter was to get free of this mad, mad, Jack Dutch Kilpaison household! He had never seen anything like it in all his life--nor did he wish to ever set eyes on it again, if he could help it!
They hurried to take the penny steamer back to Manhattan and, because Anne had a fit until he gave in, another musical show at one of the theaters in gas-lit Heere Street.
On the way he had to question her, just in case. "Did you bring enough money this time?"
Anne tried not to let her irritation show and spoil the occasion as she knew Pieter was probably hoping to do so he could call off the evening out. "Of course! And I have tickets for two."
Theater-going was not his idea of having a good time, of course, but Anne always insisted on going at every opportunity, especially now when they were in between tutors at the Kilpaison "Young Ladies' Tutors Finishing School." Why he couldn't get her to go to a free lending library of Dutch Reformed religious periodicals and books, or a public art exhibition of government and city schlepen portraits at Van Fricks' was a mystery to him. It was pure malice on her part to say he didn't like fine art, especially when there was no admission charge. He would have rather spent the time with his calculus, of course, but that was too much to expect of Anne. She loved to gad about, though her own house was crammed to over-flow with gaudy, naughty, Jack Dutch books and pictures.
Anne remarked about the theater on the way that it was the only place where young people of New Amsterdam 's better homes could safely hide from the frowning city fathers. The stodgy schlepens, who mostly all lived thick as thieves along Prince's Canal, were always threatening to shut down Heere Street but never said a word about Sin City where they held certain lucrative investments. Fortunately, the hypocrites went to bed early to save lighting their fashionably narrow, high-gabled, seven-storey mansions. She also claimed she had been inside one and seen a private speakeasy going full blast on National Prayer and Fasting Day.
Afterwards, with another penny, it was off to Emilio Hiero Petronio Puciano's oyster house on Ellis Island. Definitely best of the lot, it was run by a Sicilian in an Italian colony, full of family, relatives, friends and buddies, this eatery was a lively place and amazingly cheap. If that wasn't enough, the music was superb, provided by a Gypsy master violinist who spun sheer magic at the drop of a penny.
Fortunately for Pieter's mood, the cost of transportation was minimal, or he would have refused to go. Judging from the reception she always got, Anne was a special friend of the family. Everyone fell on her, telling her how much they loved her new clothes while Pieter's face got pink in the cheeks and on his forehead
When she finally got free and they sat down at their table, they were hardly there a minute when a bucket of steamed oysters, newly taken off Nantucket and Cape Cod, plunked down on their table. With fresh breads and heaps of pasta and a bowl of melted butter and another of minty sauce to share between them, they started their meal. Anne had just begin to demolish an oyster while holding it in the shell when she glanced across the table and saw what he was doing. Pieter was throwing down several oysters and then a huge hunk of bread and a mess of pasta as a chaser without bothering to chew.
"Is that the way they taught you to eat where you came from?" she said, eyes snapping. "This is good stuff. You ought to at least taste it!"
Taste the food? Having been born and bred on chaff-filled blue mush and porridge, Pieter didn't know what she was talking about. He continued stuffing and only when she grabbed his hand did he pause.
Though he had stashed away half the meal by that time, she tried to show him something about eating food that would allow him to get a different sensation than just a stuffed belly.
"Why, you eat like some wild animal!" she laughed. "Slow down, it won't run off your plate before you can eat it!"
After her little demonstration, he tried to chew and handle it the way she did it, but it was no use. He was soon back to his old way, with Anne trying to finish with the little appetite he had not yet spoiled with New Alkmaar manners. When he had finished, long before she had, she looked at him with amazement. "I've never seen anyone eat so much so fast in my life. Where do you put it all?"
Again, Pieter did not know how to respond. It had always been feast or famine in New Alkmaar. Anne changed the subject as soon as she could. Pieter listened most soberly and without the slightest comprehension to Anne's light and sophisticated, big city talk about the latest Heere Street hit.
"Utopia Limited," for that time a lavish musical drama with an opera star singing the lead, was obviously a hit on opening night, but for another reason than just the set and the acting. It was British, and safely staged away from home poked fun at British imperialism--that is, the Clarke family. What could be more welcome to the Dutch audience, Anne commented, than to laugh at former deadly foes while enjoying the spectacle of British actors and actresses pilloring their own country?
After dining, Anne tried to make the best of it this rare occasion with Pieter and enjoyed several glasses of cheap but respectable vintage from a New Gelderland winery while Pieter stuck to plain ice water. It was understood they could talk as long into the evening as they liked. If there was a need for a table or two, Emilio's family simply migrated to the kitchen to make room. No one, once he had ordered and eaten Emilio's fine fare for a modest charge, was ever pressured to pay his ticket and go. That would have been unconscionably mean and commercial.
"Unthinkable! Unspeakable! Unpossible!" Emilio would say if the subject came up.
Customers could wait for the conversion of the Dutch, as far as Emilio was concerned. He always said he ran his oystery for friends and young lovers and nobody else! If he didn't like somebody's looks or the town he came from off-Island (for him that meant not off Ellis but his natal Sicily), he wasn't served. It did not matter a fig how much money he had or how finely dressed. Or even if he brought goons hired to put Emilio in his place. All the restauranteer had to do was whistle. The manhood of the entire Italian community would gladly come running with stiletoes drawn. It was a matter of honor to put any outsider in his place. The eatery was old-fashioned in the extreme but they all made do. An outhouse in back drained like all the other neighboring privies straight into the bay. Since the waters were tidal, a tide chart was tacked to the privy wall. It wasn't always accurate and accidents occurred.
Flocks of seagulls hanging constantly about the area did not seem to mind what drained and was thrown in the water. Any garbage heaved out the restaurant's back door was immediately grabbed in a free-for-all of beating wings, stabbing beaks, and shrill gulls' screams. Inside, booths were narrow but walled to the low ceilings, so young men courting beaux enjoyed almost complete privacy. From time to time one of Emilio's pretty, sloe-eyed daughters or his ample, moody wife, Placentia Puciano, came by to refill wine and water glasses. But that was all Emilio would permit to intrude upon young people's love-making. As he saw it, not even angels must tread upon love's holy ground.
"Ah, romance is the sauce of life, my children!" Emilio would often say, throwing up pasta-flaked hands. Then he stood beaming with fond memories of his own youthful escapades in country hayricks as Mrs. Puciano looked on with disapproval.
"It's got nothing to do with spaghetti sauce, you old fool!" Mama Puciano always corrected him, but he never seemed to hear. She had a good suspicion he purposely plugged his ears with uncooked pasta batter so he wouldn't have to hear the truth.
She couldn't help noticing other things as well. No two lovers could have been more oddly matched than Anne and her Dutch boy. She with her city ways, he with his countried Dutch manners and aloofness. Why, he ate just like an animal! He couldn't have tasted one bite of all that good food. It was an outrage to civilized sensibilities.
Yes, like oil and water, those two, she thought. Like vinegar and honey... Madame Puciano could see it plainly enough, but no one else seemingly could. But by this time of her life, she was wise enough to say nothing and let people live their own lives (even though she could see they didn't know how and probably never would).
Anne could see something was troubling Pieter. He was chewing his nails again, so she waited until he was ready to tell her.
"The explosion at the shed," he finally said, after he had put away all he could possibly eat for the days of famine ahead. "I can't help thinking about it, now I'm free of that paper haulin' and sortin' he had me do." He could well have been thinking about the incident of the starscope, but that was something he wanted to forget.
Anne showed no surprise though she must have been just as shocked as anyone at the sight of the destruction. She shivered, as if in a draught, and pulled her shawl closer. It was news that figured prominently in the papers. Though the authorities had stated their plans to look into the matter thoroughly, she knew from close quarters that nothing had been done to find the culprits. That was New Amsterdam!
She leaned closer across the table, and Pieter wrinkled his nose. It wasn't Anne's perfume, Jamaican Jasmine borrowed from her mother's vanity, but the strong smell of camphor. "Sorry," laughed Anne as she glanced down at her shawl. "Strong, isn't it? I should have given it a good airing first after taking it out of Mama's trunk! You'll have to come again and have dinner with Grandmama soon. She'll probably have another slight stroke from the excitement and lose the other big toe, but when she's feeling better she'll be asking for me to bring you back for a good long talk after she's seen you well fed with her favorite chocolates. Tonight was just an introduction. Father wouldn't ask you a thing we want to know. She's the one who's been giving me counsel about how to look my best. 'You've got real possibilities, my dear, now go get some nice young man's up!' she told me. She says that Mama, bless her, won't be needing these things any more and I might as well have them. They fetched her Papa, Grandmama said, so maybe they would work on you too. I guess she was wrong."
Anne paused in her chatter and looked away for a moment. But when she turned back, her eyes were still merry not sad. Pieter, his more practical Dutch mind on other things than frivolous women's Jack Dutch fashions, said nothing. He was still wondering how to express himself to a temperamental whirlwind named Anne Kilpaison. Ever since the meteor shower, his employer's mood, often tense, seemed to be building as if to a climax. He had even snapped at Pieter, calling him a dunce and other things, which was unlike him.
Gazing at him, Anne's smile faded and was replaced by bold, fierce determination--the side of her that had killed a jaguar finally forced to the fore. She caught his hand on the table. "Well, what do YOU think about the explosion? I hate sitting with an absolute stranger, which you are when you act this way. We might as well talk about it. It will only spoil our time together if you keep thinking and moping about it."
She still had his hand, studying him in the opportunity afforded by the close confines. "I wish I could get you to smile more, so I can see your dimples. You are always SO, SO serious! And your eyes have such a hard expression, like ice. Why, you'll wrinkle up to an old man before your time if you keep on the way you are going."
It took quite a space for Pieter to find his thoughts and respond. It was his feelings that got in the way. He didn't like cross-examination. Introspection, that was just as strange and confusing to him. When he thought he was being personal, he only became more formal. When he thought he was speaking the plain truth, it was an outright evasion everyone else could spot but which utterly convinced him.
"I--I don't know yet what to think. I just want to do the right thing by Professor Doctor Pikkard. After all the things he had me read and put together for him from the old papers, I wonder if things'll turn out the way he planned. Maybe there's worse than what people can do."
Though not a scientist, Pieter had put at least two things together concerning the balloon shed "accident" and the events in the papers. All the mysterious allusions the professor had made in the balloon the night the stars fell, together with scattered comments made before and after, had finally made an impression. If it had involved people as such, he could never have brought himself to believe it, despite the source.
But forces that went beyond people he could imagine--when normally he could not imagine anything beyond life's basics....
Anne's wonderful, dark, Jamaican eyes darkened even further, culminating in a vampish Clara van Bow pout. Then a smile lit her face. "Oh, you're just too Dutch gloomy. Why be bothered? It's not fate or like walking under a ladder and your whole life is ruined. It's just mean-hearted people who are the problem. I think I know who might be spiteful and wicked enough to have done it! You see, there are plenty people who would like to see him stopped--people in high places. Since my brilliant uncle never felt it worth his while to sue the university for the proper degree to which he was fully entitled, he's always had his detractors there despite the fact it is they who refused to give him his due. Many people who think they are more of an authority in his field are envious of all his scientific discoveries, you see. Perhaps, the worst of them are behind this latest accident. That is the most likely explanation. So now are you going to stop worrying? We know the culprits, and there really isn't anything Oom will do about them."
Pieter stopped rubbing his troubled head and worry-creased brow and looked deeply into her eyes--truly her chief claim to beauty amidst the unusual, southern dark looks that both attracted and repelled him. "But how can you say that about people like us? I don't believe it. There can't be bad such as that in people. Suppose it has nothing to do with 'people'? What if it is because of a nova?"
His inner self, for a moment, was starkly exposed. That, and the vehemence of his remark, was so startling, his face so contorted again into an old man's mask, Anne was taken aback. She wanted to laugh, seeing his mistake, but he was just too serious and she knew she'd hurt him badly. Obviously, it was a cry of a heart no plain Dutch boy could properly handle, but there was something more which she could not fathom.
Anne's best feature narrowed, and she gave him a strange darting look as her fine, white teeth came up to bite her upper lip. "Pieter, I think you--"
What she may have said in return was not to be as Emilio's youngest daughter arrived with more wine. She took their oyster buckets away and whatever was cracked and uneaten was thrown to her pet sea gulls.
That had given Anne time to control her own thoughts and feelings, and the rest of her remark went forever unsaid. She had just remembered why there was no music--the violinist had that night off. She smiled, brightening up at another thought. "They're all skating on the indoor ice rink in Minuit's Park down by Wall Street. Let's go and rent skates and if we're careful you too can do some slow ice dancing, the kind I like anyway. It's lit up with colored lights like a great big party, there's some wonderful big band music, so it's a really fine place to go."
Pieter, uncomfortable the whole time at Emilio's, was glad to change the scenery. The free fresh air outdoors also made him feel better. But skating? Even though he had skated before his accident, for the life of him, Pieter couldn't trust his wooden legs on the ice. It wasn't the skates, which were sturdy varnished horn to replace the unreliable, ever-crumbling Dutch iron. Instead, embarrassed to death, he watched Anne leap and whirl around the couples on the ice--a performance that drew the claps and cheers of the other skaters.
Afterwards, very, very late, they were walking back to her house when he stopped and did something very uncharacteristic of a plain Dutch boy. His possibilities excited to an uncontrollable urgency, he pulled her tight against his body as if he wanted to lock on to Anne's own possibilities and make them his own. Anne had been mistaken. Pieter did care for her, which she had been doubting for good reason.
Seizing the moment though she was surprised at Pieter's sudden ardor, she had to know something first. To find out, she had to push him away a bit, and that, for her temperament, was not particularly easy.
"Would you marry a little fool like me? I might even put on a beauty mark--you know, the kind some actresses have on their cheek. Would you still love me, Pieter? Now tell me the truth! That's all I'm asking. The plain truth."
Pieter, sighing deeply as his violent emotions began to creep back into the dark hole he kept them in, gazed at her with no comprehension. Slowly, it dawned on him what she was saying.
Marry? Marry a girl with a beauty mark on her cheek? He was so startled and embarrassed, he looked about to see if anyone had heard. "Please don't talk that way," he said as low as he could, afraid people were listening. "I have too much to do for your uncle first to think about such a thing."
Seeing deep worry lines appear in his face again, Anne laughed loudly, drawing a few curtains aside in neighboring windows so that Pieter felt it was time to go. In spite of him, she moved back against his body while he glanced anxiously up and around at the windows of widows and unmarried maiden aunts.
"I was just kidding!" she said. "Why marry? We're much too young and full of life for that. So try and forget you're Dutch for a moment. Kiss me like the French kiss their women. Let's give the old crows gawking at us something to crow about!"
Half in earnest, half in play, even a little hysterical after what had happened, she laid her hand on his shoulder--which was a mistake. Up to then he might have considered grabbing Anne's offered rosebuds and throwing all Dutch security to the winds for at least five minutes.
Recovering himself like a good Dutchman, he straightened up quickly and moved away from Anne to a safe distance (after all, the Kilpaisons had proved they were good at grabbing).
"No, there are things. We must wait for the proper time!" he told her, bending stiffly forward to give her a Dutchman's good-bye peck on the cheek.
"What things?" she still wanted to know, pulling back away from the peck. Rebuffed, Pieter turned Dutch-stubborn and wouldn't answer. And everybody knew that nothing on Earth could move a Dutchman in that mood.
But Anne wasn't through with him. She had a definite word. "We'll see about that! I got a feeling just now, something is going to break, something good, and all you need to do is welcome it. Do you think you can manage that?"
Having had the last word, the little prophetess shook her gold scimitar earrings and laughed. She ran a few steps, looked back, then hurried to the Kilpaison brownstone steps and was soon out of sight. Immediately, as though all connected by the same switch, lights went out in adjacent brownstones. Street and canal were now dark, except for a far-off gas lamp. What a night it had been! With a sigh deeper than the canal, Pieter turned back to Dr. Pikkard's hotel for a night of restless tossing in his own room. Perhaps it was Italian food. Or Anne's vivid clothes and strange, parting words about marriage and beauty marks, or her wild grandmother and family. Whatever it was, he felt like he had gone through a great storm in the middle of the Atlantic instead of a simple Dutch date.
Back safe in his room, he could not get the evening's events out of his mind. The GMC Pavilion Tire seemed to glow in the dark, and visions of Reno, the mill, Jack and Mae, falling stars, an ice palace with big band music playing, and even a bewitching-eyed Reno mermaid with a beauty mark on her cheek danced all night in his poor head. He even saw himself up on a Jack Dutch throne, dressed in absurd, girlish ruffled sleeves like a Gypsy violinist and with a golden crown on his head. Again, there was Anne, wagging her finger with disapproval and throwing him chocolate kisses.
Night brought out not only bad dreams. Some were good. Across the water from Pieter tossing in his bed at the Wilhelmina and the lights that burned in the professor's office suite, Ellis Island drifted into a land of sweeter dreams than Holland America could ever know.
"Ah, young romance--how sweet, how tender it is," the enchanted Emilio rhapsodized about Anne and her boyfriend. earlier in the evening--despite Mrs. Puciano's cold, fishy eye, since she saw nothing but trouble ahead for the mismatched couple.
He had caressingly rubbed thick, floury hands together as he smacked his lips and watched the "delicious" pair of love birds, Anne and Pieter, float out his door on Cupid wings of divine love. The moment the last customer had gone, Emilio started for the door, intending to enjoy the smoke he carried secretly in a pocket under his apron.
"Husband!" called out Placentia without looking his way. "Now where do you think you're sneaking off to? There are all those dishes and pots to do! I won't have my daughters spoiling their fine, marriageable hands with this terrible Dutch soap! Why, it strips the very skin off the sink!"
Gritting his gold teeth, the restaurateur kept going. He took a walk, or his approximation of one. Ellis, though hardly big enough for a passing bird to expectorate on, was at least good for fifty paces this way and that. A cold wind gusted and reminded him of where he was. Depopulated and turning to wilderness, Italy was as good as dead. Sicily was--oh, he could not bear to think of how he had left her!
Not much of a living could be had from Ellis, the saints be blessed! But the islet was covered with grand structures, left over from ancient times. Isolated just enough to preserve things, there were far fewer marks of vandalism and the English disease than elsewhere in the once great city across the water. That's why he had settled his wife and brood on sweet, little Ellis. Penny steamers were still a penny. Let his clientele come to him and spare him having to run a business under the stern gazes of the local governing Dutch. Here on Ellis there wasn't much, but there was freedom! He was like a king on the island! And his Papa before him had always said, "If your pasta iza good enuf, den you'll never have to beg nobody come. Dey beat down da door, I tell you! Momma mia!"
Yet the Old Country had enjoyed plenty of white flour--even up to the last. It was getting very difficult to get it anymore, even at a high price. Never would he turn to blue Dutch pasta! Ugh! It wasn't fit for beasts, that flour! You couldn't make them eat it!
Emilio enjoyed his cigar and wound up under the noble arches of the main immigration building. The complex was once administered by a long dead Pre-Hollandian entity called U.S.A.--which, hard to believe now, was blessedly not Dutch. Yes, the proof was everywhere--the former country's eagle insignia, for example. The Dutch hated it--thinking it too close in style to the ones used by the Indian-ruled Mexican empire to the south, Hapsburg Spain, and possibly even more hated, Clarkean Britain.
Somehow it was nice to think the island hadn't always been Dutch. He wasn't a great lover of the Dutch, who needed population and had given him refuge in America. Though he admired the way they stuck to things and didn't give up, right or wrong, blood ran too cold in their veins. He only liked one or two "Dutchies," and then liked them a great deal, probably because they were so different from the common run.
Yet even here on Ellis there was a fly in the wine. Relatives had been pressing him, Placentia included, to leave. "Husband, I see the price of white flour from Jamaica has gone up again. By the saints of heaven! Why not we go now from this awful cold, damp, windy place to--" He wouldn't discuss it. As long he could stretch his white flour supply and the oyster beds held out--and they were doing better than ever--he would stay right where he was. Somehow he couldn't see himself South American, even if it was on the north coast in Dutch Surinam--or Dutch Guinea, as some called it. Let everybody pack up and go without him, as they were threatening to do. One move to America was enough wrenching of the old heart for him. Another would kill his love for life.
Some rain found its way through a broken window and got him, so he stepped closer in under the arches. The arches, tiled long before by Sicilian artists in the unmistakable style of his island country, were his favorite spot--for quiet, male smoking, for remembering how life and love had been when he was still young enough to--ah!
It was there he liked to stand, smoke, and gaze up at the glorious stars--whenever they came out of the fog and mist of New Amsterdam, that is. Tonight he was enjoying good fortune--the skies were clear! Like crystal! crystal!
He turned his eyes to the heavens and the star map of old Sicily imprinted indelibly on his memory, but after a moment or two he realized that there was no match--the two skies were not even close. Of course, this was to be expected. He had not quite gotten used to the new configurations of the Western Hemisphere's constellations. But, then, he knew they weren't quite THIS different!
He couldn't understand it. On clear nights, he had a good view of the thing. A good third of the sky with its stars seemed to have been torn out of the map. How could that be? It was as if a dragon had swallowed them. At such times he shook his head, thinking he was seeing things. Going outdoors, he wondered if the clouds would move aside enough, and the winds
had already done the job--sweeping the rain away after only a few minutes.
When he looked up again he saw he had not been mistaken. The heavens were changed, not what he remembered from his youth. What had happened to Persio and Andromeda? Herculio and Oriano and--at least, there was Orion! The Hunter was still enjoying his pasta in the sky! But the others--where had they flown?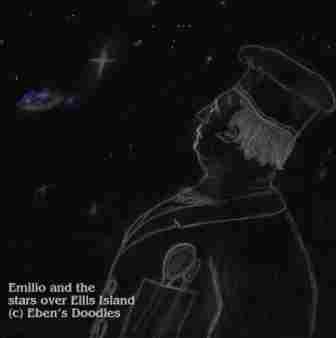 "Well, I still must have eaten and drunk too much!" he decided. "The stars I recall were there a few weeks ago, and by the saints they will be back without fail tomorrow night. Old Emilio's only imagining things, isn't he?" He turned his eyes away from the perturbing heavens to his inner landscape of beloved Sicily--his lost but not altogether lost homeland.
"I shall always love you, my beloved heart, my precious lost rose!" he mooned in helpless ecstasy, made all the sweeter for the ache of separation. "How sweet you grow with the passing years. How sweet! It nearly kills me!"
Golden though it was, Emilio's dream of youth and love was past and gone forever--however much he remembered the lost bloom in an alien land. Pieter's, though very different, was just beginning to come true, and not all because of the faithful patronage of Dr. Pikkard.
19 The Break
Pieter, a little puffy and red in the eye, came in to work the morning after Emilio's and the various other events of that fateful evening out with Anne. He found the professor at his desk. He wasn't working but was just sitting, unshaven and smudged with the same dust, webs, and ink that had lately covered his assistant.
Obviously, he had stayed up all night again. His pipe lay on top of piled newspapers, a tendril of smoke curling from a dying ember of "The Flying Dutchman," his favorite brand. Empty cups and saucers littered the desk and floor, competing with the masses of newspapers. Dr. Pikkard looked up slowly with unfocused, bloodshot eyes, which were not much redder than Pieter's.
"So you're becoming quite the big city bon vivant, I see!" he laughed hollowly, pausing to clear his husky throat. "Please get me some fresh coffee, won't you? I've rung room service too many times lately and run out of tipping money. That Puckering-Duckering fellow doesn't pay them enough, poor fellows, and I can't make them work without at least a tip!"
Bon vivant? Pieter looked at him quizzically. That was as difficult and foreign as "nova." He thought the professor was spouting Van Butler Latin at him.
"I mean you've become quite the jolly man about town." his employer, seeing Pieter's confusion, explained.
Pieter frowned. To him "jolly" could only mean one thing: Jack Dutch. He was so out of sorts byt his time he nearly turned green at the suggestion. "Oh, no, Meinheer! I'm not what you say at all!"
"Oh, yes, you are!" the professor continued blithely on. "And don't try to deny it. I was out taking a break in order to get more Flying Dutchman and just happened to see you going in to a place of public amusement--a theater in Heere Street, I believe it was."
This was the thing Pieter had feared most--being seen in a place where he hadn't really wanted to go. Now the truth was out--and what could he say? Pieter by now was not green but red all over but he could find no suitable explanation, for he had forgotten the professor himself had given Anne the tickets.
"Why be so defensive, my boy? It's quite all right for you to seek a little diversion, since you've worked so hard on this paper chase of ours. Don't feel uncomfortable about it! I had no difficulty following up your lead--brilliant, my boy, if I must say so myself! You worked faithfully and deserved to have a good time! Besides, that opera was a bit of a lark--something to do with England being a paradise back in the old days, I believe--though that's hard to imagine now in the present circumstances."
"Faithful, " "Hard-working," and "Deserving" Pieter was grateful, nevertheless, when the professor finally changed the subject. After Pieter had brought a fresh pot and had recovered somewhat from his employer's remarks-good and bad--he worked setting the room to rights. He piled stray newspapers the professor had marked for disposal back into boxes. That done, he called in Woggham his "gopher" from skulking around outside the hotel and had the boxes taken out to a canal and dumped. That was the way waste of any kind was treated in New Amsterdam. Canals were dug as much for transportation as the convenience of dumping garbage, unwanted, broken furniture, dead dogs and cats--all the effluvia of a hard-working city that found itself without spare funds to pay anymore for garbage collection and disposal.
The remaining papers, a dozen or so, remained on the professor's desk under sheets of copious notations and calculations. Dr. Pikkard was gone while this work was going on, and he returned, bathed and shaven, after the office was finally cleared of the worst of its messes and clutter. Except for the bags under his eyes, he looked quite the same alert and vibrant old gamester-scientist ready to tee off.
He sat down, however, and eyed Pieter as he chewed on his unlit pipe. Finally, when Pieter, though used to it, was beginning to feel uncomfortable, his employer spoke.
"My friend, it's time to take a walk in the ruins, the part we call the Old City. It's the next logical step, you see."
"Oh, what now?" Pieter muttered under his breath, trying with his foot to squash a beetle escaped from a specimen jar and missing. He still felt tired and frayed at the edges from the last two restless nights in bed. And all that work on the grubby newspapers! Perhaps the worst thing was seeing Anne's face light up as she kept saying, over and over, that things were going to "break" for him. He wanted no such "break." He just wanted what he had coming in life after working Dutch-hard for it.
Since the professor didn't want anyone reporting back to the hotel, he hired a horse and cart, an "Irish Jaunting Car" with big, red-painted wheels and green box. The rig took rich English tourists around--the late wars now being over long enough for renewed commercial and civilian contacts .
"Okay, we're ready to go!" the professor said to Pieter outside the hotel as passers-by gawked and the doorman looked as if he couldn't believe what he was seeing. "Don't just stand there! Up in the seat you go!"
What now? Pieter inwardly groaned, climbing up into the gaudy Jack Dutch rig. The professor was giving him a ride in the park? Just what he needed--a horrible, Jack Dutch outing with nothing good that could possibly be accomplished! How embarrassing! He wished he could have sunk out of sight, right into the ground! The whole world was watching them make fools of themselves! Having paid the black-skinned, green-liveried "Irish" driver to get lost for several hours, the professor gave the horse's haunches a smart rap of the reins and off they went with Pieter sinking as far down in the seat as he could.
Pieter's attitude was understandable. Like everyone else, he was chiefly concerned with making a living in the remaining living portions of New Amsterdam. Though at first he had been shocked by such vast tracts of ruins, he soon got used to them and paid hardly any attention to the Pre-Hollandian "Old City." Unappealingly, it stretched for miles everywhere around the Dutch city, towering over it in most places as well. Colossal in proportions, it was still in no way a living part, except that the desolate, half-dissolved but still impossibly high towers and badly decayed sky-dome could not be put from sight.
Many days and nights thick, low fogs and mists coming off the canals, rivers and bay could do that, but the wind freshened and they cleared away, there was the old, incredible pile of ugliness looming overhead! Dwarfing the New City, like an elephant next to a flea, it was an almost constant reminder that there had been some very bad times a few centuries previously. Mined like a quarry for the few materials the English disease hadn't tainted and the more valuable bat guano, vandalized and torched, there was still so much Old City it could never be entirely gotten rid of, not in a thousand years. Even countless earthquakes that not been able to bring it to ground level, there was so much for nature to play with and level. After a difficult and circuitous route, the professor stopped the horse cart. It had been hard going, getting the cart that far through the masonry and trash-littered streets. He had foreseen that a truck or car would not have made it at all. His feet still asleep from sitting up so late at work, he half-fell down to the street, Pieter following with two kerosene lanterns.
The professor handed the reins to Pieter, and Pieter tied them round the end of a huge marble slab fallen from a building. Like most of stonework and concrete in the Old City, it had a spongy, porous, dry rot quality, which tended to melt away in the rain and blow away in winter storms until dunes of the grit drifted up everywhere, some as high as the first and second floors of buildings.
Damaged lettering on the badly crumbled stone caught his attention--"ROCKE------L----E --.
The professor caught him spelling it out. "Rockefeller Center Historical Museum, this place was once called," he explained as he led toward one of the buildings. "It seems to have been the cyclopean cult center of an ancient mystery religion centered round certain goddesses called 'muses,' of which there were nine. People were very religious back in those days--for pagan Pre-Hollandians, that is. But it is hard to say just what it's use was. Apparently, the center was devoted to an immensely popular love muse named 'Radio.'
He paused in a ruined lobby of a vast building. Halls stood empty and dead, full of trash that had once been thronged with the worshippers of Radio. There was a stale smell of centuries of accumulated decay and bat colonies, overwhelming, even though the entrances were wide open, doors smashed and ripped off. "After years of tracking down possibilities, I think we have the birdie in the bush, if not quite in hand," he explained.
Pieter looked at him because of the allusion and saw a teasing sort of smile lighting the professor's sleep-deprived, haggard face
"This building, my boy, was a temple called 'Radio City Music Hall' and was famous for dancing museum priestesses called 'Rockettes,' presumably after the pious Rockefeller who built these towers as a major shrine for the edification of his generation."
The youth from New Alkmaar began looking around with a little more interest now that they had deciphered the ancient name. But he could see nothing but worthless ruin. What was there, besides the height, was there to be vain about? The building, like all the others, had been thoroughly ransacked and vandalized like all the other ancient left-overs from the 22nd Century. Obviously, it seemed better to his Dutch sensibility that it had never been built. All that money and labor wasted on a pagan edifice! It could have built a fleet of useful barges and keep the New Alkmaar Ways busy for decades.
Realizing the tour has not yet been a tour with his trainee, the professor darted a keen glance at Pieter. "I can almost read your thoughts and save myself a penny."
Pieter started. That was all too true, he knew. His employer had an uncanny ability that way.
The professor laughed. "I know you must think this is another hare-brained safari of the old professor's, but I really doubt we are wasting our time. I have spent two decades in research on this project, and your little paper chase itself helped me in part to our goal, so you can't put all the blame on me--you had a hand in it too, though unwittingly. Well, thanks to both our efforts, I finally tracked down a certain little beast I'm going to show you. I know these two cities, Old and New, precisely like I know my slide rule. Follow me."
If the rubble-choked street outside was difficult, the building indoors was much worse. Not interested in showing the main auditorium, which was full of bats he did not want to disturb, the professor led downward. Vandals and looters working for the English had stripped the floors above of anything they could possibly move, regardless of practical use or value. Almost all of the material was left to rot in the halls and rooms of the lower floors, after only the truly salable items were hauled away--and since the irreversible decay of the English disease had set in early there never had been very many things worth the trouble of getting and hauling out. The English disease, weather, and vandalism had also taken their toll on every structure, eventually, in the Old City. The city's once stupendous skyline was now a half or third of what it had been in ancient times, though even that residue was overwhelming.
"Such structures are now only good for hibernicula, or caves for bats to hibernate in during the winter or come spring to raise their young in nurseries," the professor commented. "A lot of them get killed, of course, when the buildings collapse, which happens quite often when the main struts finally give way to the English disease."
They soon left the light behind, so they lit the lanterns, both of them carried by Dr. Pikkard. Bats, disturbed by their intrusion, began flitting past.
"A common, harmless species of Brown Bats," the professor remarked. "But I think some of them are vamp--"
He tried to catch one with his hat, but the creatures were too fast and cunning to be captured by a man's hand while they were flying in their own element.
"They can see much better without light, since they use echolocation, not sight to get about. But we need all the light we can get in such a place. If one lamp should go or get broken, we can still get out by the light of the other."
Never had Pieter seen such desolation--not so close up anyway. With only bats to call it home, it seemed a world of despair inside the great building--chilling, heart-numbing despair, the kind he had felt nearly choke the life out of him back in New Alkmaar.
"The grauw have done a good job on this particular building," observed the professor, as he climbed over mounds of decayed, damp, bug-infested furniture and carpeting. Everything was now congealed into a solid, moldy mass after centuries of damp air and dust blowing into the building through shattered windows and doors.
Pieter lost the professor for a few moments. His employer had gone around a corner and the next thing Pieter heard was a yell for help, only it was a stranger's voice. He fell, trying so hard to get to Dr. Pikkard. As he was getting back to his feet, a dirty, evil-faced brute, holding his nose, scrambled past him. Still howling, his tattered cloak fluttering batlike, the creature made for the entrance.
Breathing evenly, Dr. Pikkard came up to Pieter. "Evidently, the grauw are not taught good manners in their sewers and culvert dens. He wanted my wallet without introducing himself and asking properly, so I re-set his nose which I noticed had gone a bit crooked in his line of business. You see, although I would never justify the use of violence, sometime I must have read a book on certain oriental arts of self-defense. It all came back to me the moment it was needed. All I had to do was grasp again the mental principle, and my body--more specifically, the sole of my foot--did the rest on the wretch's nose. And, now that I'm reminded of it, I applied some of those same principles and thinking to the paper chase. It revealed some truly astonishing things."
Pieter, though shaking his head, marveled at the professor's latest exercise of a phenomenal memory. Just in case, he began to look more carefully about them as they proceeded. He wondered why the professor had not thought to bring a weapon for self-defense.
"Never carry a gun, my boy," the professor said laconically, reading Pieter's thoughts again and saving himself another penny. "You'll be forever dependent on them, if you first start."
Not sure he could agree with the professor's high principles and wondering about the latest lapse from them, Pieter, nevertheless, had no choice but to follow Dr. Pikkard deeper into the temple's innards. Without working elevators, stairwells had to serve. They were all blocked and had been blocked for centuries.
First scraping off bat guano with his foot, the professor sat down on the low, squarish mound of something that could no longer be identified, though it had once been a marvel of invention in past some "electronic age." "So I suppose we might have to try it another day," Dr. Pikkard remarked, shaking his head. "I should have foreseen this."
Pieter, despite his desire end the exploration, suddenly thought of something. Woggham the ex-doorman seemed to be following him everywhere, looking for a few pennies' work if he could get it. Maybe the wretched fellow was hanging around the horse cart, hoping he would be paid a copper or two for "guarding" it while they were gone. "That would be like poor old Ernie" Pieter thought magnanimously. "I'll go fetch him. He really needs the money. That way, this trip won't be a total waste of time."
He explained to his employer that he knew of help nearby. They needed a shovel and pick too.
In a hour, Pieter and the ex-doorman were back. They were carrying tools. Soon they were laboriously picking their way down through the debris. As long as he wasn't walking, Pieter could manage the work without his crutches, his wooden legs had been built that sturdy. Finally, sweating and heaving aside trash, they burst through an open door into a hall. It was littered but still they could pass through. Dr. Pikkard led the way once again. He had taken only a few steps when he turned to Pieter, giving him instructions in a low voice that Woggham would have trouble hearing.
Pieter paid his gopher, thereby redeeming the misspent day somewhat to his thinking, and they were left alone. Woggham had been told to report back to the horse cart and guard it until their return. When he had gone, Dr. Pikkard turned again to Pieter.
"That was a good thing you did, to help me when I didn't see a way out of our impasse, but I have to say something to you. You're too trusting, perhaps. I don't like being so suspicious, but follow him. Make sure he leaves the building and returns at least as far as the cart. If he is honest, he will do so. If not--"
Having done good deeds, benefiting both Woggham and Dr. Pikkard, Pieter was miffed. Reminded of the professor's lack of faith in people, which was so like Anne's, Pieter made his way back to the street. Careful not to be seen, he looked toward the horse cart, but through he looked everywhere in the vicinity, a stray mongrel nosing around but no Woggham was to be seen. Was he going to chalk one up for the professor? No sir! Pieter thought of half a dozen reasons of why no Woggham, but he wasn't sure the professor would buy any of them. In that case, it was best, he knew, to keep Dutch-shut on the subject.
"Just as I thought," observed the professor on Pieter's return. "Grauw are all the same. They work for whoever, even two masters at one time, if it will pay them. That fellow has gone to report our presence here. Well, let him! I am not going to be detoured now that I have found it."
Pieter, gritting his teeth, wisely said nothing. He knew he had nothing to gain from arguing with an employer who persisted in seeing the bad in people. Again, the professor, getting his bearings from sketches in a small notepad, led their slow way into the ruins. Fortunately for them, the bats had not penetrated the lower regions, since coming and going was impossible there. "We are looking for a costume storage room of the aforesaid priestesses. There were many storage rooms down there, of course, filled with implements for important museum pageants they put on during the year, but we need only the right one.
The professor stopped before a high mound of strange materials. Only by gradual inspection could it be seen that it was debris that did not look particularly Dutch Reformed--hoops, trick dog stands, lady-to-be-sawn-in half boxes, Houdini-type chains and locks, top hats for producing rabbits, carrots, scarves, champagne glasses...everything required, in fact, for a full-scale presentation of "Hello, Dolly!"
The professor, with a shake of his head, turned away. "Obviously, Pre-Hollandian religion in those days had to entertain in order to keep the attention of congregations. Either they were barbaric or lacking in brain, so that all they could understand was continual carousing and revelry. Sounds wonderful to me!"
Pieter, no ardent church-goer but still faithful to Dutch Reformed roots, was scandalized once again. Yet he swallowed this effront too down and was all business and vinegar.
The professor shook his head. "No, that would be the museum altar guild's prop room. What we want is sacral vestments--" Further down the hall he stopped again. There was no telltale mound of debris outside the door. Pieter too could see that. "Eureka!" the professor cried.
They found they needed the door-smashing pick again. The double door needed to be forced. When they got in, the first thing to greet them was a shock: a man's skeleton, wrapped in shreds of a green uniform, the strips of material fallen into the rib cage but otherwise covering the leg and arm bones. A coffee mug lay nearby, the handle broken off and lying beside it. The image on the cup was a big, smiling mouse wearing clothes and white gloves.
Trying not to look at the unpleasant sight of the dead high priest, they returned to work. Dr. Pikkard, curious about the temple security box, explained to Pieter it was based on rays, possibly infrared.
"You see this?" the professor said, pointing to a box on the wall on one side of the entrance. A receiver transmitting apparatus, it directs an invisible beam of light to that little square over there. What a strange things to have in a temple! But then, they must have felt the need to discern true worshippers from those who were not."
He pointed to a reflector fifty feet away. "Then when someone steps into the beam that is communicated back to the box here, an alarm, if the person is not a sincere believer in the goddess, sounds to the high priest. It safeguards the muse from being imposed upon...devilishly clever, is it not? It must have been made in Britain, which has always had its share of both devils and clever people. Indeed, it was! See here? It's marked 'Made in Britain'! Now do you believe I know what we're about here?"
Pieter had a way of shrugging when he reserved judgment on some sensitive question. He did so now, and the professor didn't seem to notice and went on to other things. Dr. Pikkard quickly pointed out how the ancient American high priest, was not quite so clever as the Brits. He had long ago tripped the alarm himself. Evidently, he had entertained a doubt or two about her divinity, and it had rung and worn itself completely out.
"What could be worth getting so excited about?" Pieter still wondered as he listened to the rantings of the professor. The divine chamber of the muse held nothing but oddly fashioned clothes in plastic liners, though he could see the "colonial style" identified in English on the liners was hardly Dutch colonial as he knew it from old books, being far too skimpy, transparent, and decorated with Jack Dutch rhinestones. Despite himself, Pieter grew impressed. The room filled with all the Pre-Hollandian things was intact--something he had never seen before. Nothing had been taken or disturbed. For the first time they could see how ancient pagans had lived while they still inhabited the towers of the Old City. It was like a door, opened unexpectedly to a previously lost world.
At last, a light penetrated, and Pieter began to see what the professor was getting at.
Meanwhile, more interested in getting to the heart of the matter, Dr. Pikkard did not care to examine the holy robes and went on toward the opposite wall. He knocked on it with the butt end of the pick. "What we are looking for, the inner sanctum, the "penetralia" where the goddess and the temple treasure is kept, is on the other side. This is the outer chamber containing the divine wardrobe."
Pieter, catching his meaning, groaned under his breath. Even with a slight stir of real interest in the place and its meaning, he was beginning to feel the day's work in his arms and back. But there was no recourse! When the professor said to work, he had to oblige or the professor would soon get someone else to do his dirty work.
After much brutal hacking and prying, taking turns with the pick, they broke through but barely got a hole wide enough for a human body when they had to stop, forced by exhaustion. Pieter thought he had worked himself to death at the mill. This was just possibly harder work. They crawled in and Pieter was immediately disappointed. Unlike the other room with its strange artifacts, this was empty as a Pharaoh's rifled tomb. All he saw was a big block of cement lying on a tiled floor.
"What a waste of all our hard work getting here!" Pieter thought, thoroughly disgusted now with the whole enterprise. There was no sign of gold, or gleam of jewels, not even that worthless silver coin of the type sandwiched with copper that passed for legal money in the pre-Dutch society!
The professor, on the other hand, was ecstatic. Never had Pieter seen him so jubilant or excited, except when he had found the now unmentionable "Black Shadow."
Overcome by the sight of the ugly block, Dr. Pikkard had to sit down. He perched on the edge of it, moisture brightening his eyes. He shook his head slowly in sheer disbelief and wonder. "You have no idea, my friend, how long and hard I labored to find this. I was afraid there would be a worthless image of some sort and maybe some treasure. But this is of incalculably greater value! It's the biggest break of my life! The means to fight the casus belli! Now at last I--we--are to be rewarded beyond our wildest dreams!"
20 The Treasure Room?
Pieter stared at his employer. His expression could have filled a book, if someone had been there to transcribe it.
A block of old cement was the 'biggest break of the professor's lifetime'?
Just when he was beginning to put some credence in the professor's judgment, cold water was thrown over everything by the professor himself. How wrong Anne had been!
He also thought the professor had gone around the same bend in the river that Anne had taken when she changed her whole mode of dress and started pratting about a ridiculous beauty mark. The balloon mishaps, the loss of the shed, maybe even the Reno incident, they had combined to unhinge even the great brain of Dr. August Pikkard. Perhaps he had been working too hard. But the professor always worked too hard, even when he was playing games! What was a plain Dutch youth to think? There had to be another explanation.
Pieter looked the block over again, trying to see some use to it that would vindicate his employer's sanity as he bit his nails to the quick. After all, his job was at stake. If the professor had gone completely berserk, it would mean the loss of all he had done so far.
The professor, wiping his eyes, chuckled. "You think I have lost my wits, crying over this block of nothing as if it were a treasure chest of a million guilders, don't you? I can tell by that worried look of yours!"
"Meinheer, you must have saved a lot of pennies and schuylers by now!" Pieter burst out in sheer embarrassment and not a little resentment.
"I cannot help it. What you think of all this shows so plainly on your face, my boy!"
Stung, Pieter wanted to smash something, but what? Fortunately, his Dutch practicality got the better of his feelings and he took a turn around the cement block instead. It must have been about four by twelve and probably weighed several tons. There were clear signs the workman had poured the slab in a big hurry, without finishing the cleanup, for globs of half-mixed cement was scattered on the floor, together with empty bags and various tools. What was the professor intending with it? The jaunting car was too rickety to ge
t it back to town. And how were they going to get it up the stairwells? They would have to be cleared completely out first. That would need a big truck, hand carts and a gang of men.
The professor nudged Pieter's arm. "No, I haven't gone mad, my boy. Rest your mind on that subject. It's time for us to talk Dutch. I need to explain some things. So sit down and make yourself comfortable if you can on cement. Mentioned before, they would have meant nothing, or, more likely, you would not have believed them."
"Not this again!" Pieter thought, dreading another sermon on the cannibal the professor saw in every human being. But he sat as directed with the professor on the block, which should have felt cold and damp like everything else but was dry and even warm.
A few minutes later, Pieter was looking at the platform with different eyes after the professor finished his explanation. A "Cray Bio-Cellulose supercomputer" hidden in it? A machine the size of a teacup able to run the world? An "electro-magnetic power plant" energizing it, drawing on the Earth's own electro-magnetic field for inexhaustible power? Could the professor be right? Or was he truly a lunatic?
His plain Dutch mind, even with a good dose of good, solid Euclidean geometry and Newtonian calculus, was whirling and whirling, almost out of control. He not only looked it, he really was an old man at that moment.
21 The Professor's Wargame
To Pieter's mind, the mere idea of a computer, a pre-Dutch artifact being worth anything, was highly suspect--an idea he thought had been laid to rest back at Norad and a certain old, wrecked tower in the mountains. How could the 22nd Century, which had littered the world with so many huge, useless ruins and temples as Rockefeller Center and Radio City Music Hall, have created something so small and capable as the professor described to him? Surely, it was useless! absolutely frivolous! completely Jack Dutch!
"On the contrary," said the professor, divining his thoughts by Pieter's face. "Do you see those panels on the walls? I believe if we could talk to this computer it would show us pictures on the wall panels. The computer will do anything, show whatever we want to see. Science can benefit beyond measure, with such a machine as this old Cray!"
Listening to Dr. Pikkard, Pieter felt his heart grew colder, even as he listened dutifully to his employer. He might admire any extremely capable, well-oiled piece of machinery but feel nothing personally toward it. Besides, a lot of things he had swallowed down and buried were now coming to the surface. Perhaps they arose from the unusual circumstances he was always being cast into by his employer. But as they came to the surface they froze solid and lay crushing him with the weight so that he had to relieve some of the stress.
"I'll never be what this man is if I keep going this way," he thought almost sullenly, drawing some blood from one badly bitten nail. "Anne is mistaken. I will need a real college education to hold a job with him and possibly support a wife and family someday. And even if I keep the job, I'll always be just his assistant, his little dunce of a gopher, never in charge of an important project as I deserve to be."
The feeling of being one thing and the doctor of science another grew strong as he continued to listen. What then could he become? Dreams were not his thing. His soul yearned for solidities. During daylight hours, the golden horizon glimpsed in troubled sleep was mocked by the blank that confronted him in his present condition. His job, unless he acted, led nowhere.
"Your kind can never get anywhere. So go back to the hole where you belong!" his future seemed to say. It spoke to him like he were grauw and not a son of honest, thrifty, work-minded barge builders. Except for his father's accident, he knew he'd be working on barges, constructing the best on the river with his father, instead of grubbing for an airy-brained professor in bat-filled ruins. At the same time, the ghostly shape of New Alkmaar rose up, reminding him his father was dead and buried, that he was only an orphan, and calling him back to damp fogs and back-breaking labors that also led nowhere. Feeling caught between two nowheres, it was hard, even impossible, for Pieter to take without complaint. "Never!" he vowed, his reserve of positive feeling toward himself and mankind finally getting the upperhand over the turmoil and outrage eating out his insides. He felt, more and more, that he had greatness inside that no one appreciated. His dreams testified to that, didn't they? Never mind they had a tinge of Jack Dutch about them, at least they seemed to lead away from New Alkmaar!
Meanwhile, Pieter's reservations and acute, inner, unacknowledged struggle concerning the future, his role, and even the professor must have showed in his eyes and face. The professor was gazing at him, and decided to put a personal question to the troubled youth despite there was little time left. A faraway look came into the professor's eyes as his fingers drummed along the edges of the cement.
"Maybe you need a break, Pieter? You look rather drawn in the face at times and you haven't one fingernail left. Well., we'll soon be taking a little trip together, and a change of scene should do you good. As I was going to say, don't be impressed by those big stacks of printed material in my office. My friend, my accomplishments are very slim to date for all my effort--I grant you and my critics that. There is precious little that will survive of all my efforts. It will make a good bonfire someday. Oh, I may be on the way to a grand discovery, but I confess I still have not gained the object of all my endeavors. Did you ever want to do something, make something beautiful and lasting before you go down the dark road we all must tread one day? What I am doing now is not enough, even if we should succeed. There has to be something more than just pushing back the fall of night. You have to know how to turn the light back on. And I don't know how to do it or where the switch might be. I suppose I've been fighting darkness too long--and that is all I really know--fighting the darkness. My hands are soiled with it, too soiled to pull the clean, brand-new switch that will flood the world someday with light."
Startled at the confessional tone of his employer, Pieter instinctually shook his head and the professor went on, which wasn't what Pieter wished at all. "I mean, Pieter, there is in me, as in many men, a desire to do something with my life beyond this mere hard -scrabble, bread-getting madness that so consumes humanity today. What I said about that cave of cannibals was true even though my views on it were poison to you. But I mean something else entirely when I say now we are not beasts, are we? That is, we weren't created just for continual drudgery and chores."
Pieter , despite himself, began to be affected by the serious tone and struggled to express his own thoughts, which as usual got free of deeper feelings only with the greatest difficulty. Work to him was a sacred thing, but he thought the professor was speaking about mill work--which he naturally exempted from his idea of holy Dutch labor. "That is right, Meinheer. We are not beasts, as you say," he affirmed stoutly when he at last found the words. He was thinking of his co-laborers back in New Alkmaar, particularly the mill manager.
The professor darted a glance at him, sighed, then turned back to his keyboard, eyes down.
My, my, he's missed my point again! thought the professor. He seems to take to mathematics like fish to mosquito larvae, but will this upcountry blockhead ever get what life is really about? I must humor the man as much as I can , Pieter thought. If only he would not get so pointed and personal! If only! But professors were like that, always digging into other people's solemn thoughts.
Quick as the professor was to turn to serious and personal matters, he was just as quick to switch them off and get back to pressing concerns of the moment where something constructive and positive might be done.
Perhaps, he wasn't all Jack Dutch as Pieter sometimes thought. He was willing to give him the benefit of a doubt.
"We can hash over that subject later. For now I want you to return alone to the hotel. Do you think you can do that? I would go with you, but there are some things I want to try with the Cray while you are gone. We may not have time later to do it. By now 'they' know we are here, so there is no use hiding the fact. Bring some food in a basket and something to drink. Let them think we are continuing to search the building and are prepared to spend the entire night if necessary." Pieter began to glance around as the professor spoke. Again he remembered the "falling stars" and the somewhat sinister meaning his employer had then attached to them. In the same way, in the present circumstances, "they" had to refer to the unfortunate grauw, his former companions on the street. The professor was always picking on them. It was beginning to seem so unfair to Pieter, but he had work to do if he wanted to keep his job--what their was left it after this day was over.
Wasting no time at it, they filled a lantern with most of the kerosene from the other, so that Pieter had just enough to see him to the cart and back to the hotel.
"Be on the watch!" the professor said. "Stop for no one, even if it is your former assistant--Troggman, is it? If you aren't back in two hours with the food and some more kerosene, I will go search for you myself. That shouldn't be necessary if you use your God-given wits and maybe that shovel or pick in a pinch."
"But you the one who doesn't carry weapons," the assistant retorted, expressing what he actually thought before he could suppress it.
The moment the words were out of Pieter's mouth, he knew it was a tactical error.
"On your way, little man!" said the professor sharply, seemingly forgetting his recent tiff with the robber in the hallway. "Remember, consistency is the hobgoblin of small minds! A famous Pre-Hollandia poet, one of the ancients, an infidel Englishman, though we'll pardon the accident of such a birth, said that."
How serious the professor's face looked in the glow of the lantern, yet there was a telltale gleam of Pikkardian humor even in his rebuke. Feeling somewhat chastened and confused in his honest plainness, Pieter left shaking his head regarding his employer's odd quirks, a kerosene lamp and pick in tow. What was he to think anyway? The professor seemed to take serious things lightly and light things seriously. Somebody ought to make him change his ways for his own good. Was there actually a something really wicked operating in the universe, which had now come close enough to touch their lives? Or was the professor just anxious about the grauw, whom Pieter knew from experience were bad but not evil. Why did he always have to be putting down his own Dutch people? What gain was there in that? If they didn't think positive, then something really bad might happen, and they would have only themselves to blame.
The return trip was hard going, after so much work already and carrying such gear, but he made it back to the street.. The jaunting-car was untouched by the grauw, as he believed it would be. Though he had already gone through a fit of embarrassment, it didn't seem to help him a second time around. His face turned beet-red as he drew up at the hotel in the ridiculous cart. As for the owner, he found him waiting at the hotel, tipped him well enough to send him unresisting off to his home and bed, and got a meal basket made up in the kitchen. It did not take them long. The late shift kitchen crew was well used to the professor's odd times of eating--even to keeping a loaf or two of special white bread on hand for such emergencies.
Soon Pieter was headed back to the Temple of the Bat-Goddess at Rockefeller Center, with a horse and Irish jaunting-car he wished would disintegrate or go up in flames, and one now very weary human body. This was the break Anne had prophesied?
Only a wizard could have broken through the powerful, convoluted encryption of a Cray that was safeguarded and hedged about more securely than a medieval fortress--such as the immense pentagram-shaped ruins found near the Van Potomac River. He hadn't even the aid of a 20th Century "Clipper chip," national security encryption gear that enabled governments to eavesdrop on encrypted communications.
If Pikkard had not proven it before that he was five-brained, he proved it now beyond doubt--only there was no one present to applaud. Using a keyboard he found in the adjoining room, he plugged into a port and got to work immediately. Now he could both type commands and operate the voice function.
Maybe a new, second golden era for Dutch power was dawning, despite Pikkard's misgivings about himself and his life's work. Golden Age or not, he wanted games, to begin with.
QBASIC Bushy Tail Squirrel came up, since the security system held nothing compromising to world security in such material.
Your mission is to terminate the opposing player, or OP, with the exploding razzle-dazzle Killer-Acorn.
The acorn was a giant--many times the normal size and shooting out sparks like a Roman candle or a Buck Rogers rocketship. "I'll have to change this considerably to fit my purposes," mused Dr. Pikkard. "I'm not quite up to the challenge, I fear. It's beyond the range of my intelligence." But the squirrels and exploding razzle-dazzle killer-acorns soon blew up with the database he tried to inject. "Give me some calculations dealing with novas and supernovas," he commanded the computer somewhat excitably, using the voice command option. The professor was ready to leap forward to pinning down the elusive object of his paper search and other researches once and for all. It was no mere game but genuine research within the computer with all its gigantic resources and databases.
"Good. Now--"
The panel and the mathematics he had called forth suddenly went blank and a strange message flashed on and off.
Bad command or incorrect file name. Access denied to astronomical files. Further inquiries by unauthorized Programmer, prohibited. Please enter correct password or return to--return to--return--"
"Password? And return to what?" Dr. Pikkard exploded. Baffled because he thought he had broken through all the computer's defenses, he played at the keyboard, typing in possible passwords but nothing would come up. And he knew he could type for half an eternity and the odds were against him hitting the right word randomly.
All of a sudden the hair rose on the back of his neck. Without warning, something had flashed at him from a corner in the ceiling. He bent over to pick up the kerosene lantern and that sudden change of position saved him a second time from instant burning and possible death.
Dr. Pikkard threw himself on the floor. Something flashed from another corner of the room, striking a slice off the concrete block as it incinerated the toe of Dr. Pikkard's shoe. Scrambling away while trying to get his burning shoe off at the same time, the professor was trying to escape the still unknown sequence of events that was evidently trying to eliminate him from the Cray's chamber.
For the next few seconds the old primers he had read in his youth on Okinawan Japanese martial arts proved critical in saving his life. He flipped backwards, then to the side, putting the block between him each blast as it came. Of course, he knew it was only seconds before the operating system tracked his method and shot simultaneous beams down along each side of the block, eliminating every chance of escape.
With a supreme effort he rushed and dove through the hole in the door and then rolled across the floor. There were no more blasting death-rays, fortunately, to greet him in the high priest's chamber. For once, a sanctuary held true to its name. He was able to lie there and recover his breath, but meanwhile his brain was working at high gear. For some minutes he ran an even greater keyboard than the Cray's in his head.
Moving carefully so he would be out of range, he went back to the doors and peered in. The panel was still showing the last message, which meant he might have a little time left before the Cray automatically switched itself to an off-mode. Then, too, perhaps it had delayed shutting down until it had analyzed and concluded that it was safe for it to do so. "So they've built a sure-fire defense into the system," he muttered to himself. "Like Nebuchadnezzar the Babylonian king. The old fox wouldn't reveal his dreams to the astrologers and magicians for interpretation. No, they had to come up with both the dreams and the interpretation, or off goes their heads! How devilishly clever of the old boy! He wasn't potentate of once the greatest empire on Earth for nothing! Well, we'll see if the same kind of thinking can stop the Cray and me from working together.
As a last resort he meant to try ESCape, but he would have to get back into the room and remain alive long enough to work the keyboard. Now his fully alerted, arch-enemy, the computer was waiting for him, its weapons fully drawn. Looking about for something to use as a shield, not sure it would even be dense enough to give him the two or three seconds needed, he examined the room's contents. Then he realized the answer was more simple than finding sheets of thick metal. It would still be a dangerous but it was worth risking his life.
Caring nothing how absurd he looked, the next time he went in he was covered with a priestess's reflective silver cape and small mirrors strapped and tied in front of his face and anywhere else skin was exposed. Fortunate for him, Radio City priestesses were supplied with heaps of glittering gear of all kinds so there was plenty from which to choose. Drawing his breath, he stepped into the deadly arena.
Instantly, the air around Dr. Pikkard's form, head to foot, exploded full of incredible fireworks as a lightning blitz of attacking rays was split and sent off in a thousand different directions. Fortunately, they were so splintered the panels could absorb a million odd strikes, but the scientist resembled more a force of electricity than a human being.
Suddenly, it was over. The professor had reached and hit ESCape, which gave him a bank of options along with a final exiting. While he still had the option, he went for a directory and was given plenty of helps, panels of them--all, fortunately, protected against tampering or deletion. Hardly daring to breathe lest the panels go blank, he quickly scanned them and hit a file retrieval option and a coded save and double, triple, quadruple hidden file function with his own password.
The computer responded with a box of options.
Do you wish to create a sub-file under Password? Enter YES or CANCEL. If you wish for more help, enter HELP.
He hit YES. Evidently, the computer's defense system had built into it the highly reasonable assumption that the illegal operator had already been eliminated by this time, so normal operating Help procedures were released to routine On-Line Status. Then he collapsed. When he dared to look again, he started to gasp in relief.
Pikkard Sub-file created. Multiple Lock on original. Please continue, Sub-file Programmer Dr. Pikkard.
Obviously, he was back in friendly working relationship with the Cray. The professor erupted with a Dutch Ivy League "Ten Boom Bah! Bah bah bah bah---". His voice must have carried far, for overhead a hundred thousand bats were roused into the air, and the building thundered with their massed wings as they panicked.
The crisis passed, Pikkard got rid of his glitters and spangles and returned to work with a vengeance, minus only one shoe. Although he still hadn't achieved access to whatever the unknown password was protecting, he at least could access information. It took him some time to calm down enough to get back to the level of cool, collected rationality needed to absorb so much new knowledge..
He couldn't remember having so much fun in all his life. Was this work? No, it was the greatest lark on Earth, this sheer exercise of a man's God-given imagination and intelligence. Panel after panel flashed into life. All the wisdom of the ancients and innumerable holy men and monks--their painfully acquired hordes of quantum physics, relativity theory, symbolic logic--he drank it in and put much of it to work immediately. Thus he was able to call up the Earth's probable future, throwing in a major disaster or two for good measure, finally reaching an eras comparable to the Dark Ages, the long-buried Roman 1st Century A.D., and, finally, the 15th Century B.C. in an Egyptian-configured civilization, which was about as far as his mathematical clock could go with the computer.
Human civilization, turning backwards as it was according to his researches and calculations, might never reverse and take a forward linear direction to a repetition of the 24th Century--which, considering its cultural and intellectual stagnation, was all right with him! Yet geological disturbances might force the reversal. The planet just might--but there was not enough data from his research on the sea-bottom to justify hazarding a confirmation of a coming cataclysm and magnetic pole shift. He suspected the pole had shifted at least once, but he had not determined it as a fact nor when it may have happened. Perhaps the magnetic storm centers he had identified had a great deal to do with the shift.
At least he stood to lose nothing by counting on something close to a reversal and then a forward movement taking place. An indefinite slide backwards was quite possible, of course, thanks to the "English disease," on the other hand. But along with a cataclysm there would be a doubled chance of reversing the trend somewhere along the line.
It was wonderful, he thought. How much he had confirmed in his own mind in just a few minutes! From what he had already accomplished, he could clearly see there was no limit to the resources the Cray might unleash for the benefit of mankind. With it he could possibly find not only the Beastly Thing producing the world's decline but perhaps prescribe a cure that would send it back where it came from!

PLEASE GO TO PART FOUR, CHRONICLE TWENTY-THREE


Copyright (c) 2004, Butterfly Productions, All Rights Reserved