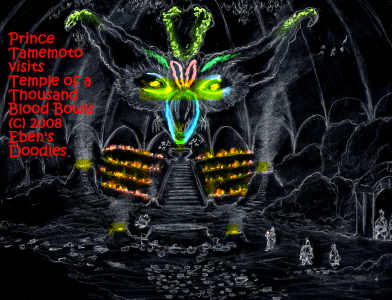 Tora Tora was surprised when he found the national state shrine of Da-Win virtually abandoned, with only a couple worshipers inside it and the usual votive bats fluttering down to drink from the huge blood bowl set beneath the god's sacred chin. Where had the hundreds of priests gone? They were commonly so fat and lazy, they were not known to range beyond the temple precincts where slaves answered to their every call for service. He went further in to see, and found a lot of priestly vestments, robes, and sacred staffs lying on the floor as if they had been thrown and cast aside in haste by their owners.
It was then he understood, the priests thought he was coming to put them all to death, and so they had fled at the news of his approach. Obviously, they had an informant in Hagi, and he had alerted the priests. This hurt the prince. How could someone in his own natal city misinterpret his teachings so badly as to frighten the priests, whom he knew to be only traditional men, darkened with the rituals and blind ceremonies of a cruel god so as to accept untrue things attributed to the gods. His latest kempaku to the emperor had dealt, in fact, with the religion of the Bat Divinities, Da-win and Ner-gul, exposing the tale of their bloodthirsty natures as contrary to reason, ethical order, and the sanctity of life. Gods should not demand the sacrifice and the blood of slaves. What kind of gods were those? Surely, the will of the gods and their nature had been misunderstood! Such gods as Nergulia served were not worthy of worship if they were the type that the priests had believed them to be.
With the priests fled to castle and court of the Tojogawas--for where else would they run?-- Tora Tora's chance to teach them enlightenment and liberty was lost for the time being. He did not bother to look in at the shrine of Ner-gul, which lay nearby, and returned sadly to Hagi.
As the tiger-prince made his way back to Hagi with his retainers, he had time to reflect on the troubling reaction of the priests to the news of his coming. Was he such a monster to them? he wondered. He had only intended to do them good, he knew, but they assumed he would fall upon them and slay them. Why? Had he made any critical remarks against the high gods of Nergulia? He did not think so. But somehow the priests had come to fear him. Was that the main reason for their flight? Or was there another reason too?
The prince reached his home and retired immediately to his private chamber, and he missed Toshi more than ever, for no disciple was more loyal or solicitous for his master's welfare.
What was frightening the priests, was it also frightening the people of Nergulia? Was it change they feared most? Was it change they considered evil?-- though change could only bring progress.
He went to his studies and wrote in his notebooks, illustrating them as he was inspired to do so. He worked out the various ideas of change that he thought were best for Nergulia--and tried to chart the effects and how they might be frightening, or indifferent and benign. This brought a new perspective. Before, he had only seen the problem and then created a solution--but now he was considering those who would have to accept the change. He had assumed that change would automatically produce good, and the good would automatically provoke gratitude--but the visit to the shrine of Da-Win had destroyed that assumption. He had to go back to his writing board and try to find a better way. Would he find it? he wondered, or would the current as well as the coming changes in the order of Nergulia produce dismay and disorder, instead of the utopia he envisioned and desired for his people?
Daily, his Flying Ears and Long Eyes (disciples who went as spies and listened to the talk in other hans which had fallen under the control of the rebel shogun) came and went, keeping their spiritual commander, Tora Tora, informed as to the insurrection of the Tojogawas. To keep himself in trim for the coming battle with the former ruling family, he held classes in the classical method of archery and also the use of the Ninja-to, both of which weapons he was a grand master. While he did this, he worked all the harder to find a solution to the dilemma--how to inaugurate radical change in Negulian society without tearing it completely to pieces and bringing disaster upon everyone.
Meanwhile, the emperor, set free of the smothering shackles of the shogun, issued decree after decree, writing with his own pen, making frequent, sweeping changes in Nergulia that Tora Tora was hard pressed to keep up with.
Slavery was abolished and all the slaves of Nergulia emancipated. The ruling classes suddenly found themselves among their equals, and no one knew what to do, as they had been raised to command their slaves, and their slaves had been bred and trained to serve their masters. Slaves also furnished a primary food source, and now they could not be eaten as before. Nor could they be ordered to work the mines and the lichen fields--so no food was being produced. Starvation soon set in all across Nergulia.
The freed slaves were first to protest, and food riots broke out for the first time in Nergulia. No one, outside those in the Tojogawa castle town, where the emperor's reforms were utterly ignored, knew what to do. The Tojogawas and their slaves still had enough to eat, but everyone else starved.
Was this calamity not the result of Prince Tamemoto's impious kempakus delivered to the emperor? Everyone held him responsible for the famine. Only Hagi remained loyal, for the people there could not forget their ancestral allegiance to the Mori clan. Slave or ruler, a Hagian lived or died under the banner of the Mori, and bore the famine as best anyone could--without complaint or murmuring.
But the prince was most distressed, seeing what his ideas had produced. He had no idea that correcting evil would produce something almost as bad. What good was freedom if everyone perished in freedom? He had to find a better way, and soon! The Nergulians were all flocking to the banner of the Tojogawas, and armies were heading toward both the emperor's Forbidden City as well as Hagi. This time there would be no beating them off. They would have their way, and everything would return to the way it had been--and all reform would be banished forever from Nergulia.
Prince Tora Tora paced back and forth in his garden for hours at a time, refusing any bit of food his disciples found and brought him. Despising their own lives, they even chased down a pregnant and tiger-yak with spears, killing it and also taking the one year old infant in her pouch, as well as the fetus in her womb for veal, and the whole town was given a meal for the day, but it was soon gone, and wild, free-roaming tiger-yaks were few--and most dangerous to hunt since they could take many spear thrusts and be none the worse for it, and, cunning as they were, play dead until the hunters were close, then spring to life and kill them all. The prince knew he had to keep them from sacrificing themselves for his sake, for they would do anything rather than see him starve, he knew. But what was he to do?
Up to this time the Tojogawas were reluctant to destroy Hagi with a massive assault of warriors aided by the starships they had commandeered. How long would they hold back their superior firepower and overwhelming numbers of their fighting force? the prince wondered. His faithful roving Ears and Eyes risked their lives daily to keep him informed on every movement, council, and stray conversation of Tojogawa nobles (even their body servants who were sometimes a bit loose-lipped about their hated masters when they had a chance in some safe corner to complain to each other of a savage beating or some other special abuse for having dropped a fork or stepped on a warrior's toe).
Laying aside his notebooks for a time, Tora Tora went out to inspect the defenses of Hagi. He looked down from the castle heights on the defensive maze of streets that surrounded the castle and kept it from being violated by enemy forces.
A Mori genius of warcraft had designed it for the daimyo, centuries past. Nobody knew his name, but his work lived on, and had never failed Hagi. Castles could be besieged, then stormed when their defenders were worn down by starvation (no more slaves remained for the warriors to eat). But though walls, reared high as the peaks round about, could not keep a castle from being taken by any enemy that would not give up easily, mazes were a different thing altogether. Who could penetrate a maze and run its gauntlet, when the defenders hid out all along the ways of it, and hurled spears, poison-tipped arrows, boulders, buckets of boiling oil, firebrands, and the like at the foe?
No one had ever written down the secret, the way in that led to the castle. It remained a state secret. A warrior could leave the castle and easily find his way out by any of the four city gates of Hagi, but the way in was made impossible to trace or map out. To make it even more impossible, parts were covered, others were not. It was easy enough to reach the markets, located just inside the first ring of the walls-- but beyond them the city appeared inpenetrable, a bewildering knot of blind alleys, vanishing roadbeds, climbing step-stoned alleys that led and ended against stone walls thirty feet thick--it was a knot that could never be entangled by a stranger, nor could it be deciphered by anyone looking for the way through and writing down what he saw, as every step in another direction opened up endless possibilities and cross streets and tunnels that he could not find duplicated anywhere else he looked.
Hagian children, born and bred in the castle town, learned the secret of the defensive castle maze imbibing their mother's milk as she went to market every day to buy flesh and bone for stew, along with some lichens, salt, and herbs for seasoning, but even they, when they learned the Hagian tongue well enough, could not tell a stranger what they knew. It simply could not be described. One wrong turn or even the right direction was not going to lead right after so many steps were taken that way--and the stranger was hopelessly lost.
Thus the way in to Prince Tamemoto could not be discovered by a Tojogawa spy or informant. The prince resided in the Castle Keep Warden's chambers, as they had been awarded his family's ancestors for some brave service rendered a long-forgotten but grateful daimyo. It was a Mori fief, held in perpetuity. As long as he lived, it was his, and thence it would pass to his son and heir. He could not bequeath it to anyone outside his family and clan, lest it revert to the daimyo of Hagi who was supreme lord of the castle and the town and its surrounding han, with only the emperor in the Forbidden City (or the Tojogawa shogun acting in his name and by his authority) wielding higher power.
Prince Tamemoto could see the maze in all its intricacy from his vantage point on a high inner wall. But most of it he could not see, for it was covered from such viewpoints and any other vantage. What he saw was just a tiny portion of it, after all, for it ran many miles, if all the streets, alleys, foot bridges, tunnels, staircases, and the many blind alleys were laid end to end. What he saw, however, always delighted and amazed him. Its creator was a true wonder of roadcraft and defensive building! Truly, Hagi with its defensive maze was a wonder of Nergulia, he thought. Until the Atlantean overlords contacted Nergulia's stars and planets, Hagi was unconquerable, unless the whole city surrendered without a struggle, and that was unthinkable. Hagians, fiercely proud of their city and their daimyo and the ancient Mori honor, would rather commit mass ritual suicide rather than submit to a foreigner. Even the emperors and shoguns had always respected Hagi, never seeking to force a new tax without the daimyo's consent--as everyone knew Hagi and its daimyo could never be forced--not without staggering losses to the emperor and shogun, that is.
Atlantean starships had changed all that, upset the perfect balance, the equilibrium between the han and castle town of the Mori and the Imperial Power seated in the Forbidden City. Now Hagi and its thirty-foot thick stone walls could be leveled in a few seconds. But what good would that produce to its conquerors? The Tojogawas would get nothing for their efforts! Nergulia, deficient in vital resources, could not afford to waste what little it had. It must preserve food, not slaughter indiscriminately. One huge victory banquet after the final battle, and they would all starve! Mass killing was out of the question, even if the shogun thought Hagi needed to be punished to teach all the other hans of the empire a lesson in obedience.
Not that Hagi was particularly disobedient--for Hagi was no different from the rest of Nergulia. It held the same society of warrior class and slave class, headed by a daimyo set over every city and han. The only difference was its inviolability and relative independence, thanks to its defensive walled street maze that zig zagged to the point of sheer madness. The prince laughed as he thought of it. One street taken would land you right out where you started. Another would send you smack against a thirty foot wall of stone, and no way out but to retrace your steps! Another yet would take you through a low alley, crouching until you were forced to crawl, and then any defender could simply stick a sword out through a slitted window on either side of your crawl hole and disembowel you without even showing himself. Or, reduced to starving in a pit that opened beneath a seemingly safe stretch of pavement, the warrior might be hauled out, only to be kicked to death by mere children using their poison-glands and foot spurs. What an inglorious death for a warrior! Warriors would rather jump off a cliff than suffer such a demeaning fate!
Perhaps the worst and most terrifying was the tiger-yak, caged by the daimyo until the city was besieged, then released to roam the maze in order to keep it clear of enemy combatants. This was a last resort, since the present daimyo had no tiger-yak in his stables, he only had the reputation of having one in reserve to use--and no one who wasn't a Hagian knew the last tiger-yak in the Mori daimyo's castle had died centuries ago, toothless from old age in its cage, never being needed to do its duty to defend the city, since the very mention of it terrified any would-be attacking daimyos and their militias.
The sheer intricate beauty of the concept of the maze never ceased to amaze, amuse, and awe Prince Tamemoto. But today he was not thinking so happily as before about the maze. Alas, the river of time and events had flowed remorseless over Hagi, and the wonderful maze system was out of date. The starships powered by crystals the Atlanteans loaned the emperor (actually the shogun in his stead) in exchange for blood stocks that they picked up periodically, they could make short shrift of the maze and cut right through them with blasts of their ray weapons until they reached the castle. In moments the castle, like the town and its maze, would burn to ash, which the winds would blow away in the next storm. Only their charred bones would remain, to be gnawed by the rats and other vermin that crept out nightly from the caves to forage.
The thought of those low scavengers gnawing his bones was most repugnant to the prince! How foul and ugly they were! He himself feared no man, nor did he fear being devoured by another warrior, yet he feared these slithering, sneaking, sly little gnawing rodents that loved the darkness and bred there copiously and ate their own mates and the young ones in their pouches--and if that failed to supply enough food--out they scurried on the surface seeking anything alive or dead, but preferably dead and rotting and roiling with red-tipped, headless but toothed worms. Ugh! He couldn't bear such a fate, nor could he even think of it. For good reason, he kept his ritual sword in his belt, ready to disembowel himself in a quick movement no one else could stop him from carrying out, if he ever needed to save face or punish himself for disgracing the emperor.
A disciple came to him on the high wall, bowing but very grave in expression. He delivered his report, that the gulag slave miners in the orichalc mines of Ner-gul's Eye were perishing. They had not received a scrap of food for weeks, and being free men, they refused to treat anyone among them as food or provender. Hence, they were starving to death, while forced to drink their own urine!
Tora Tora knew that Ner-gul's Eye was utterly waterless, and there was nothing whatsoever growing there that could feed and water the wretched slaves of the gulags--not one creature, not one lichen plant. If food and water were not brought in very soon, all the men would die the most wretched deaths.
Hurrying to his starship, which was kept safe in a huge cave beneath the castle's immense keep whose roof was cloth instead of rock, the prince issued instructions to his disciples, to run and bring all available food stocks from the castle. The daimyo would not countermand his order, he knew, trusting the prince to restore what he had taken. All he needed to turn over to the daimyo was his seal as a pledge of his intention to replenish the castle's pantry.
Where was he to get the food to replace what he had taken? the prince wondered. But he had no time to consider that now, and the ship lifted off as soon as he saw the food supplies were aboard.
It was a short trip, of course, requiring an indirect, circular flight path, and the ship landed on one of the few level spots, a former crater that much labor by the slaves had reduced to a level launching and landing pad.