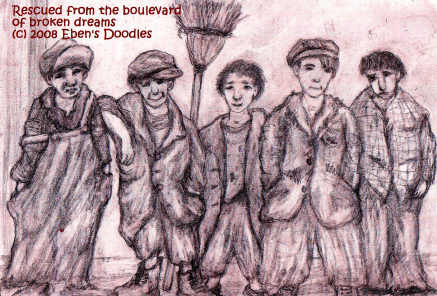 The boys were evidently waiting, just as he was--perhaps hoping for a personal word with the first adult Chicagoan who had taken a keen, loving, fatherly interest in them and their welfare.
Were they all without proper fathers? Alex wondered. And where were their mothers and grandmothers? How did they come to find themselves living on the streets, without anyone to look after them? It had to be their own fault--they were lawless, bad, good for nothing little boys, Alex concluded.
One even carried a broom, right into the building, he was so uncivilized, Alex observed. Probably had come straight from sweeping out a saloon for a beer and a horse meat sausage sandwich! Such ignorant little barbarians as these probably did not think they didn't belong in civilized society! he thought. Yet no one stopped him or took the kid's dirty broom away.
Suddenly, Mr. Moody was standing right in front of Alex! Alex was so surprised, the questions he had made up to ask him flew right out of his mind. He tried to think, but nothing came to mind. But he thought of something else, how his Rev. Wickstrom had questioned Moody's theology, commenting that Moody's notion of unlimited grace logically eliminated the need for good works--and without good works no religion could possibly be any good in the world--it was a worthless "esotericim," a "gaudy trifle not fit to engage modern society," to use Rev. Wickstrom's phrases. Remembering this, Alex knew he had something he could probably work into an article that would refute everything Mr. Moody had preached and stood for.
"Oh, Mr. Moody--"
Moody turned his head, glancing at him with those exceptionally warm, kindly eyes of his.
"Yes?" he said. Already the street boys were on to Mr. Moody, grabbing his hands and arms, but still he was waiting, Alex saw, for his response.
"I would like to ask you a few questions for the Sun-Tribune, sir, if I might, concerning your, ah, theology."
Moody peered closer at him, then shook his head. "Theology, young man? Your paper is interested in my theology? I have no theology!"
That said, Mr. Moody smiled at Alex and strode off, a dozen or so boys hanging on his thick, meaty arms and shoulders.
Alex gazed after him, his mouth dropping open, considerably at a loss. He took a few steps as if to call after Mr. Moody, but stopped. There wouldn't be any chance now of regaining his attention, he realized. He had asked the wrong question!
The wind taken from his sails, he did not know how to react at first, and drifted with the crowd for a few minutes as the building emptied of the visitors. Finding himself outside the building, though he had no reason to go outdoors, he glanced up, saw a reddish and smokey cloud hanging over the nighttime city which the street gas lamps could not drown out, and thought nothing of it. But he thought again when more and more people in the street paused to stand and point up at the sky, remarking to passers-by about it. The traffic was beginning to clog up, due to the many carts, wagons, carriages, and policemen on horseback who had stopped in the middle of the street.
Then people, with alarm on their faces, started crying "Fire!" That started the stalled traffic moving again, in all directions, as everyone began moving as fast as they could toward their various neighborhoods and homes
--everyone but Alex, that is, who only had the Y.
It did not take long before Alex thought it was much ado about nothing. What was a little smoke and fire anyway? Alex did not see what the hubbub was all about--as Bloomington had fires every so often, but only a couple buildings burned down at a time, since the empty, grassy lots kept the fires from spreading very far. A warehouse or lumberyard might burn down--but Bloomington always got along without them and went on much the same as before.
Going up to his room, he decided to spend the rest of the evening on his article, writing it in longhand, as his first draft. After he had got it to perfection, he would take it to the paper's clerical section, where they had installed some of the new typewriting machines.
He worked with his lamp burning until he finished the draft, and then sank exhausted on his bed, without removing his clothes and fell asleep immediately.
A pounding on the door made him spring to his feet. What was happening? He stumbled over to the door, getting his feet caught in a rug. He opened the door, and it was Will Withy, his clothes all rumpled and his hair uncombed.
"Everybody out of the building immediately!" the desk manager shouted right in his face.
"Why?" said Alex, rubbing his sleepy eyes.
Will looked at him as if he were crazy. "But don't you know? There's a big fire burning straight this way. Hundreds of houses have already been destroyed, and it is on course to do the business district next, and that includes us! So grab your things and get out of here, or I'll make sure you leave!"
Will rushed off as he saw Alex was moving to get his clothes and belongings.
Alex looked around, wondering what he should take. Then he stopped, Where would he run? He had no other place than the Y. Unless he tried to get to the Dalts, there was no one else in the city he knew who might possibly take him in. What a spot to be in! But there was something else--the article. He couldn't leave it. He took the eight pages of the draft, tucked him into his shirt, and decided he would try to get to the Sun-Tribune. He ought to be safe there, he reasoned. It was a solid brick and stone-faced building, not like the Y, which was a big but wooden, stucco and plastered building that would be far more flammable.
Ero, looking on from his vantage point, was watching the entire city catch fire. It starting small enough, from a single kerosene lamp overturned by a bossy in a cow shed like so many others cluttering the junk-littered back lots of the wooden tenement and saloon district called The Patch. It was milking time come dusk. A fire broke out in the hay when the cow, in the process of being milked by the woman who owned her, got impatient after the woman was called away to the house for some reason, and a hoof suddenly flew and kicked over the lamp. That sort of thing happened fairly often, but the milker or employed barn help was always present, and the fire was doused, with a gunney sack soaked with milk, if no water was available. But this time the fire was not discovered in time. The cow's owner returned too late, and she found, to her horror, a bellowing milch cow enveloped in flames, kicking her stall to pieces as she lunged back and forth, crazed with fear. What could the owner do for the crazed beast? The lady fled back to the house to get help.
But there was no stopping this fire from spreading. Fanned by the strong gusting wind that regularly swept the city's streets and neighborhoods like a thousand giant brooms, the fire leaped from the cowshed to the neighboring fences and structures. In only a few minutes rabbbit hutches, outhouses, sheds, stables, and then houses ignited, driving the occupants screaming and shouting into the streets.
Even so, Chicago was a big city, big enough to absorb a lot of mayhem at any one time and still keep going as usual. And at dusk and nightfall people were settling in to enjoying dinner and making preparations for either gaiety in the various places of amusement or going off to bed, so it took some time before the rest of the city thought it was anything for them to drop whatever they were doing and take notice.
An hour later, with all the city's fireman brigades hailed out of their houses and beds to hurry half in and half out of uniform to their various fire halls where the fire bells were ringing up a storm, the wind blew more fierce than ever and made their best efforts fail to account. It did not matter that they were soon at the scene of the blaze with their fire wagons, pumping water from big wheeled tanker-wagons onto the fire as fast as they could.
Falling back before it, the fireman saw that the fire now threatened to incinerate the entire Patch --and after that, it was no guess, the entire city was imperilled. To save the business district, which bordered the Patch and lay between the Patch and the lake, they would have to do some drastic, unpopular things. The Mayor and Fire Marshal hurriedly conferred, and the decision soon came down from them to the anxiously waiting men milling around in the street below--blow up a row of houses all along the line of fire! Use all the dynamite it takes, but get the job done as soon as possible!
It was a terrible thing to have to do--as how could they alert everybody, or see that everybody was out of those damned houses? There were the usual deaf, elderly, shut-in folks, who wouldn't know what was going on. They wouldn't budge, even if they knew--they'd hold on for dear life to the only things that mattered to them, even if the fire was blazing a block away! What about them? But they could not stop doing what might save the city--and so the order went ahead, and the men who knew explosives hurried down to the Patch, struggling through the masses of humanity, wagons, and animals that were pouring out of the Patch via every available stretch of road, open space, and river bridge.
Ero watched the first houses blow up, and then an entire row dissolved with tremendous Woomph! followed by a terrible, big, slumping sound, as if an elephant had stumbled and fallen. They had no sooner collapsed and cleared the area, when the the wall of fire reached the leveled zone. The firewall died down almost immediately, and a cheer went up around the Mayor and Fire Marshal where they stood watching from the top of City Hall. They were shaking hands when Ero saw something they could not see. Some fire was still licking at the edges of the downed row of houses--the firemen with shovels, sand, and water, still had got it all out--and the devilish wind managed to snatch up some of that lingering fire and flung sparks across the intervening space.
It could not be helped. Another blaze erupted across the fire lane! Shouting to each other to "get their asses in gear," the firemen cursed everything they could think of as they rushed across to put it out before it spread, but they could not get there in time. The wind was seemingly determined to help the fire anyway it could, and whipped the flames up from a burning shed and the roofs of houses and sheds also caught. Again the people started to flee in the hundreds and thousands, though some remained behind to try to save homes and property with buckets of water drawn from their wells.
Could another row or two of houses be blown up and stop the thing? the Mayor shouted at the Fire Marshal. At a loss to know how to fight such a wind, the Fire Marshal did not seem to think it would matter much. He gave his assent, but shook his head, and then turned to the Mayor. "It's every man for himself," he said. "We're not going to stop this big a fire, not with that blacksmith's bellows of a wind behind it!"
Ero saw the dismal looks on the Mayor and his men when the Fire Marshal gave up fighting the fire as a lost cause. The city's skyline reddened even as he spoke his fateful words.
Minutes after this, Alex was well on his way toward the offices of the Sun-Tribune. On impulse, he decided to cut across a narrow stretch of the Patch that cut through the business district as it followed the river. This was the very worst, seediest part of the Patch in reputation, containing mostly rotgut saloons, bawdy houses with floozies full of the clap, dance halls where the clients got shaken down after groping their partners for five cents, Chinese opium and gaming dens, cock fighting arenas, counterfeiters, illegal stills, assassins for hire, escapees from prison, a handful of fake counts and princes, has-been actors and actresses down on their luck, pawn shops, and the like. It was a filthy, reeking, dangerous place at the best of times, even in broad daylight. Now when a major conflagration was licking at it, it was nearly deserted, for its inhabitants had nearly all fled to the lakeside, having little possessions of their own to worry about and try to save, being mostly transients and boarders and rootless riff raff.
Perhaps the reason why Alex chose to turn down the street into this quarter of the Patch was it looked free of traffic, compared to the other, more respectable streets. Whatever his reason, it was most direct, to get to the Sun-Tribune, though ordinarily he would go around the Patch, rather than risk being robbed and beaten up.
Running fast, with no thought now of looking like a gentleman straight from the pages of Miss Godall's Magazine, he thought he could be clear through it in a couple minutes at the most.
He could see the houses burning in the Patch, but gave them no mind as he trusted in his legs to get him safely across the armpit of Chicago.
But Ero saw the wind was shifting direction, blowing the flames back on that section which it had first overflown.
As if it was making up for lost time, the fire burned twice as intense, and the wind increased. A wall of flame a hundred feet high then descended on the very neighborhood Alex was crossing through. As it advanced down on him, he passed people, the last to flee, running past him, their clothes smudged black with smoke and soot, their hair singed, and their eyes bulging with terror.