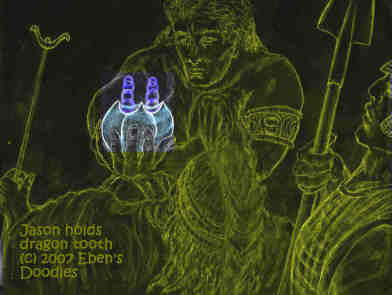 It was the strangest tooth he had ever seen, for though it was toothlike, at the center glowed bubbles that went up and down, forming and reforming as if it were alive! What was the dragon like that had produced such a tooth as this? he wondered.
The king laughed at him. "It was given me by the high gods who keep the dragon in their palace zoo. They left this one, and others, in my keeping. If I ever need their aid, they said to me, I only have to bring them out, and sow them in the open field, and they will immediately draw armed men out of the air. I have not needed any such help, for I have plenty armed men of my own, so you will be the first to use them! But the soldiers that fly down will not recognize you, perhaps, and fight you to the death! We shall see!"
After turning the dragon's teeth over to Jason, the king left without another word. Jason felt a chill holding the crystal dragon's tooth, but there was no turning back now. He took it, and the others, in a sower's burlap bag, and left the palace.
It happened just as the king said. The teeth, which he sowed in the furrow, were no sooner sown than he saw things flying in the sky, heading toward him at great speed.
He knew he had a fight on his hands, and came prepared with javelin and sword. His javelin, first!
As an airman swooped at him, Jason let his shaft fly, and being an expert, he caught the airman, piercing the transparent shield in front of him.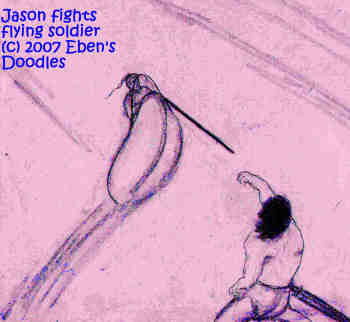 Though struck, the airman flew off, but he did not go very far, before tumbling and falling into a deep ravine. There was a loud noise, and flames shot out of the ravine, and billows of black smoke.
The other airmen, seeing it, halted their attack, and a moment later they vanished back whereever they had come from. Jason was alone--alive, and victorious!

It was time to celebrate! The Argonauts rushed forward, hoisting him on their shoulders, shouting as loud as they could, and the sound reached the nearest village, and the people ran out, wondering what was going on. They soon heard, and they too began shouting for joy in his victory, heedless of the king who hated Jason the One-Sandalled with a passion.

Jason went in triumph to the palace. This time the whole palace turned out to view the champion and his splendid, young men. No man alive on the earth could claim such exploits as Jason's, everyone knew. He would be famous forever--and his glorious deeds, done in Colchis, would rebound to the fame of their country as well. Everyone, except the king, was full of joy.

The king himself had to show himself to the jubilant crowds that streamed up to join in the event.

There was no stopping all this festivity now. The king had to declare a state banquet with all the trimmings, at which to award gifts to the victor worthy of a great king and worthy of his great kingdom, and despite all he had tried to do, the victor was the One-Sandalled and his mariners.

His daughter too, was a part of the awards. Word reached her, and she was very pleased, indeed, as she could not wish for a braver and more handsome mate than this Jason of the Achaeans. Jason was, in fact, just what she had ordered from the gods! Hadn't she given a rich present of gold--seven royal serving plates of solid gold a servant could hardly lift and the hearts of four slaves--to the goddess Hecate in her hidden, valley shrine, for aid in securing such a husband as Jason would be to her?

She sent word she would be not be coming down to greet him, but she would give him a gift too. The Colchians understood why she would not attend the royal banquet--that was not her place as a bride to be, as she would need to prepare herself and her maids for the wedding.

Of course, everyone understood too that this was not her chief reason for her doing it this way. She was a royal princess, full of her pride of station, naturally. Colchians, being half-barbarian to put it kindly, had known many a woman who fancied herself a warrior on equal with any man--or, if they were too small in body, at least their equal or even their master in her wits. Medea was one of those in the latter case. No man she had met had matched her wits. Submission to a man, then, was going to prove hard for her--no matter how much the One-Sandalled attracted her.

Jason, on his side, was content to wait for her when she would be his, at some grand wedding ceremony--and it didn't have to be grand to suit his simple tastes. But what of the greatest prize of all--the Golden Fleece? Would he postpone seeking it to be married? Most men would do that--preferring love to war. Everyone wanted to know what the groom's desire was.

"I will take the gift of my lady," he told them, "and then we will launch immediately, to go and win the Fleece of the heavenly ram before I return to take my lady and wife."

This greatly disappointed the crowds, who desired to see the wedding first, but they had no say in it, and Jason's decision did not displease the king, who did not want the marriage at all, and hoped Jason would be slain by the fierce dragon that jealously guarded the Fleece, never sleeping it was said, with eyes forever open and watchful.
As the Argonauts made last minute preparations, Medea watched secretly, where she found a private place high in a tower looking down on the king's harbor. It was a narrow tower, with only one way up so she could hear anyone approaching. There she remained, until Jason's sailing, while the palace searched high and low for her.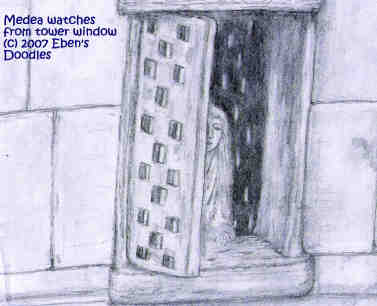 The decision made, Jason inspected the loaves of bread, the wine, and the other supplies. He had to make certain the sail and the ropes and other gear were seaworthy--though he was not intending to put to sea.
He had asked the Colchians, great and small, of the Fleece's whereabouts--and got nowhere with them. He concluded that they were either ignorant and did not know, or they were too fearful of the king to tell him, a stranger and a foreigner.

He does not ask the king, the one person who would know for certain--rather than be lied to or told someplace that would surely be his death and the deaths of his crew and the ship too.

He inquired at a temple of a certain local goat-god, where the most ancient accounts were reputedly kept in safety. The priests who served as librarians, even with a gift of gold, could tell him precious little beyond what he could already guess. They spoke of gods coming to Colchis, even up to the time of their king's first years of reign--flying in strange chariots the shape of tear drops or tongues. The gods had left certain treasures with the king to keep until they returned--though they could not describe them--having never been permitted by the king to gain access to them.

Keeping quiet about the dragon's teeth, Jason went back to the ship. What did he care about the strange gods anyway? They had nothing to do with what he was about to seek, he thought. But on the way to the king's wharf to board his ship, he paused in the gathering of buyers and sellers who congregated in the area before the royal guards cleared them away. He asked a couple traders talking together where the Fleece of Phrixus might be located.

At first they looked to see if any of the royal guards from the palace were in hearing distance, and seeing it was safe they told him what they knew. It was stolen and taken out of the country by the foreign Achaean, Phrixus and his four sons, they told him. They had abused the trust and hospitality of the king and taken the treasure secretly away in their ship by night. They shrugged--such was the way of greedy foreigners!

Jason was not at all pleased with their lies and idle talk--but he kept control of his anger. "What then has happened to them?" he inquired. "Did they reach their homeland with the treasure?"

They nodded, smiling and showing their gold teeth. "Assuredly! They are now boasting how they got away with the treasure right under the king's nose! They are feasting and dancing and having a jolly time at our expense!"

That was enough for Jason's blood to start boiling--the very idea! They made Phrixus and his sons to be nothing but base robbers and sneaks! His mighty arms itched to grab the three liars and bang their heads together, but he held back, certain he might kill one or two.

He turned away, as if sorry to leave their entertaining company. "You wouldn't happen to know something, good sirs?" he said. "Such noble fellows as you would surely know it."

Their interest up, they fell right into his little trap. "Of course, we would--what is it you wish to know, good prince?"

"Oh, where are the forests that hold the tallest, biggest trees? I may need a new mast, that's all."

The traders hastily vied to supply the information, to prove which one of them knew Colchis best.

Jason soon learned the locations of the major forests, renowed for trees that scratched heaven with their house-thick branches and seed cones the sizes of pregnant ewes. There was one found along the southern coast, where no cities thrived, but where the brigands and robbers flourished. Then there was a swamp toward the north, full of fevers, however--also little visited by people. And a third great stand of trees sprang from the headwaters of the Phasis, the stream that watered the orchards, fields, and vineyards of Aea and her surrounding villages. This forest, they averred, was the most dangerous, since it was full of deadly snakes and magical, enchanting groves where men ventured to their doom.

Thanking the men, who congratulated themselves on their wonderful knowledge of their country, Jason went to the ship. He knew all he needed, thanks to their loose tongues.

As he climbed aboard the Argo, carrying his sower's bag with the rope made of the tail hair of the Bull of Hades in it as a momento of the wondrous monster, he was met by Mopsos and the waiting, excited crew. Jason did not waste time but went to make his last inspections, noting whatever was still lacking or unfinished.

Strangely, he thought of Medea's offer of a gift. She had not given it--had she forgotten? Even as he was thinking this, a courier ran down the road to the king's harbor--his gleaming green and blue headdress of peacock feathers and sash of gold announcing that state business was soon at hand.

But why not a chariot? Jason wondered, watching the man. Ignoring the royal guards at the king's wharf, the man went straight to the side nearest where the Argo was moored. Giving orders, Jason had his men use the oars and pole the ship up next to the dock, so the man could speak more privately to him the king's matter.

He was mistaken. "A gift from the princess royal!" the courier said to Jason. Jason, leaping to the dock at once, drew the man aside.

"She commands that you tell no one--or you will not receive it."

"I will do as she wishes," he replied.

The courier then brought out of the royal bag he carried a golden casket. He handed it to Jason. Jason, not sure what to do with it, put it inside the cradle of his arm. "I have no proper royal gift as yet for her in return," he said. "Tell her, my gift will be her sight of the Golden Fleece of the Heavenly Ram!"

"Prince Jason, I will tell the princess exactly as you said," the courier replied.

The courier saluted in the Colchian manner, and ran off, again without stopping to speak with the palace guards who made no move to detain him.

Jason watched the man recede up the high, winding road, and then climbed back aboard the Argo, giving order to move it away from the dock and pull the mooring line.

He told no one but Mopsos, as the men were all busy, the preparations going forward to launch the ship. Mopsos had somehow even got hold of mops and the deck and plank seats were being given a last scrub by him and the others. What a man for cleanliness, as if cleanliness were next to godliness! Jason thought, amused. Most Achaeans were fastidious, but not as fastidious as Mopsos, who couldn't stand a speck of dirt if he could help it.

Going to the bow where he could sit, Jason held Medea's gift in the crook of his arm, and then, when it was the time, he drew it out and took a look at it. He had no idea what she had given her. Gold? Jewels? What would he do with them? He opened the casket, which was of Ilian manufacture, fitted with fine golden hinges.

Inside he found a lock of bronzen, reddish hair--Medea's? he wondered, surprised.

He touched it, and it was so fine--the softest hair he had ever touched, for he was so used to coarse Achaean hair, that grew thick and dense like sheep's wool, only jet black.

The fragrance in the hair met his nostrils as he gazed at the lock of hair. For a moment he had never smelled so wonderful a scent--it was like a wildflower's, with something like pine resin added. He closed the box--but the scent stayed in his mind--he felt bewitched by it, his senses almost drugged. His whole being seemed captivated. He stood up, almost unsteadily, grasping the upper rails of the bows for support. He glanced up toward the palace, searchingly, as if he could see her at such a great distance.

Jason's eyes widened. What was that fluttering from the topmost tower of the palace? A long, red ribbon! The palace had many flags and banners, but this ribbon--it was alone. Was it Medea's? He was certain it was.

Excited, still intoxicated by Medea's lock of hair that had ravished his heart and soul with the very scent of it, Jason climbed up the mast, pulling off a banner. He waved it, back and forth. The ribbon he saw fluttering from the tower, as if in reponse, was dropped. Falling, falling, caught by the wind, streaming this way and that, the long ribbon looked like a gleaming, red snake in the air. It was a strange sight, drawing the attention of the busy crew, who stopped to look at it as it drifted down toward the ship.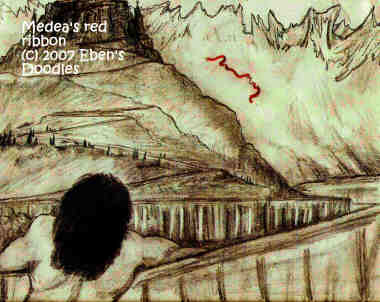 Would it fly overhead and pass them, dropping in the river?
It was not likely to fall within reach, yet it did so--a miracle in itself--coming to rest on the king's wharf. Jason was first to retrieve it--and then wrapping the lock in the ribbon, he put the casket, ribbon, and lock of hair carefully away in a good place for safekeeping.

Before dawn, well before the first light when people normally arose to start a new day's labors, Jason rose and the ship glided forth under his command, silently as a night-flying bird.

Scarcely dipping their oars, the sail doing the work for them, they moved upriver, quickly putting the king and his palace fortress behind them.

Jason gave the palace-crowned mountain scarcely a glance. It was almost completely dark anyway, with only the guards going the rounds on their patrols. Would they see his departure and report it immediately to the king? Yet he knew he would still have the advantage, even if the king sent a ship to do him mischief. Full light was coming soon, and he could not be caught by surprise.

The king, high in his tower sleeping chamber, heard the report of Jason's swift, early departure. Cursing the spies for not informing him earlier, when there was still chance of creating some difficulties for Jason, the king had to be content with the knowledge that Jason was headed upriver. That meant his doom, he was fully assured. No one ever went that way and returned to crow about it!

Even as the king shook the curtains of his canopied bed with his snores, Medea was at the king's wharf.

She had ordered a ship made in Ilios on her design that she had sent with her agents who carried the gold to pay for it. It was shaped like a swan, the royal bird that was found in the king's river, the Phasis. As it moved upriver in the daylight hours, it drew attention because of its size and beauty. Was it for a great queen? the people who saw it wondered? Who was she? Had the king remarried? He has completed his months of mourning, and was surely going to remarry soon. But what queen would submit to such a cruel tyrant? they had to wonder. Maybe that was why there were so few women of high rank in Colchis who would even consider taking his last wife's place. And then there was his daughter, whom the people talked about. She was said to be very jealous of any woman who might want to take the affections of the king, and possibly make him think that she, daughter of his first wife, was of no account. She was also said to be adept in poisons. How long would his new wife last with such a daughter of the king in the same palace? No wonder the king had remained wifeless for some time after his wife had gone to the halls of Hades! Such was the talk of the Colchians anyway!

Medea's ship had a special sail emblazoned with the sign of the cattle hides that, coated with butter, captured the river's gold and made Colchis the rich kingdom it was.

This swan was a bird of magic in her land--and was supposed to insure good sailings and good fortune and treasure at the end of them. The crew she had selected, along with the soldiers, sailed it upriver, drawing much attention to the size and beauty of the vessel.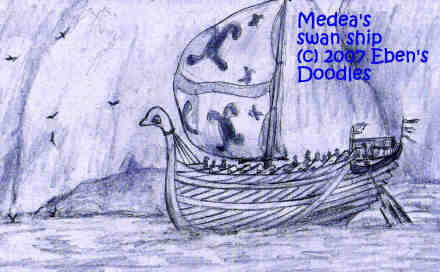 Arriving with the swanship at the very time they were most needed, her mariners took her aboard and she sat in the canopied stern.
Its sail unfurled, it made its way upriver while the morning light dawned above the highest peaks.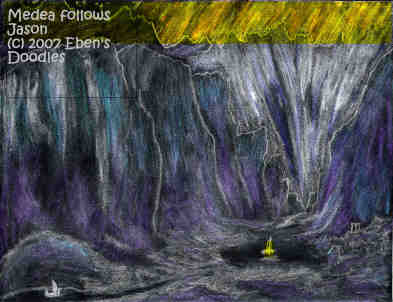 It was just as well the prince and princess set out as early as they did. There were sudden, bright glows in the heavens, which moved in unison toward the palace-fortress on its seemingly impregnable site high above the river and the city and port of Aea.
Had they come to look for Jason? The sky chariots were formed like the tongue-shaped ones that had assaulted him previously. But these were larger, and they shot flaming arrows that flew faster than any arrow could, without even using bows.

The arrows struck the towers and ramparts, a dozen in the first flight. Sudden, blinding lights erupted, then rolling thunder as if the world itself were coming to an end. The palace disappeared, enveloped in smoke and jetting fires. The second flight of arrows sped to their target, none missing the mark.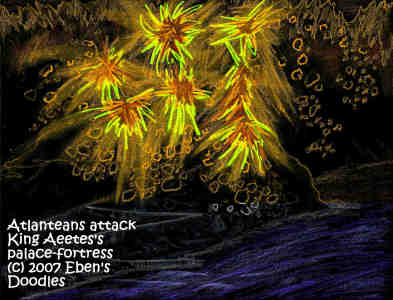 They too caused smoke and fire and tremendous noise--so that the whole city of Aea ran screaming into the streets, thinking it was an earthquake or a mountain exploding down upon them.
As thousands looked up into the sky where the palace stood, they saw what looked like a mountain on fire, spewing smoke and rocks and huge chunks of the stonework down the sides of the acropolis.

The city was now in real danger, as the inhabitants realized the avalanche was headed for their city and would arrive in a few moments.

Panicked, with no help possible from the king or his government, the crowds that had gathered in the streets rushed this way and that like wolf-attacked sheep without shepherds, some going back inside their houses for valuables or loved ones, while others--posssessing less in this world's goods perhaps--rushed toward the city gates. Alas for them! The guards were so amazed by what was happening, they were like paralytics--and the gates remained shut, their mighty bronze bars and bolts undrawn.

The fleeing crowds ran right into the gates, and many, many people were trampled. The rest of the story is not any better, for this was just the beginning of their woes. Aea suffered greatly that morning before dawning light.
The first day of sailing went without incident. Drawing near a city, Jason and his Argonauts saw that first impressions were deceiving. It was nothing but ruins, they realized, as they sailed close. Even the wharves and the shipping that should have been there in the river port had been burnt. The walls that protected the entrance to the mountain valley and the city nestling on the mountain slopes and in the valleys, they too had been burnt and broken down. Where there any people that had survived? they wondered. Who had done this destruction?
Jason, giving swords and shields out, gave the men shore leave, while he and Mopsos and the children stayed aboard to keep the ship safe from any passing robbers.

The Argonauts entered the ruined city, amazed at its size and splendor that was even apparent in the ruins and shattered buildings.
Going up the main street, they came to the marketplace, and it too was nothing but burned shells of buildings and shops. But along a ruined wall of one of the burned shops was a thatched hut or lean-to. A family, startled to see strangers, came out. The Argonauts set down their weapons, to show the family they had come in peace. The coppersmith and his family were overwhelmed, to see other human beings in the city. Evidently, they had not had visitors for quite some time.

The Argonauts were astonished that the man's speech was akin to the dialect of Tiryns and Argos. Has this city been a colony of those cities in centuries past? They could make out most of his words, as he lamented the destruction of his city by King Aeetes--whom they had considered an ally and trusted, so that they had invited him to come to receive the city's best welcome in celebration of a treaty they signed, insuring peace for them in exchange for a certain amount of gold, which was paid to him because he had the larger navy and could keep the whole coast clear of robber ships.

What a mistake! the coppersmith cried. The king had come with his warships against them, attacking them as soon as they drew up in the port. The treaty had been a mere convenience for the king to use to cloud his real intentions. It was his way to keep his plans from being discovered in time for his victims to defend themselves.

The king made quick work of the city--burning, sacking, looting, carrying everything off they wanted, gold, slaves. They seemed to want to destroy everything--but they left the three pillars at the entrance, perhaps to show that the king had destroyed a great city, which would stand a long time as a memorial to his military greatness.

The coppersmith, remembering his family's needs were urgent, offered for sale what little they had salvaged from the city and their own ruined shop.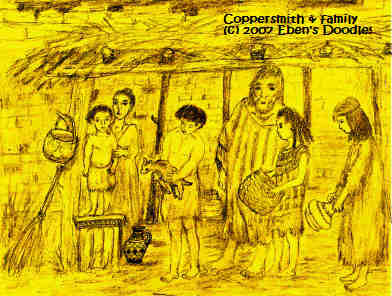 The Argonauts looked at the several pots, the basket held by one of the daughters, and even the kid goat. As for the vessels, they could buy them to help the coppersmith and his family earn something they might use to buy grain for food--but the kid goat? It was too small, and would not feed the Argonauts even if it were made into soup. Best leave it to the family who needed it far more than they, the Argonauts decided.
As they waited for one of their number to go and tell Jason, so they might have money to pay for the items, they turned to the coppersmith with questions.

"How did you escape the king's men?" they asked.

The coppersmith wiped his eyes, which were full of tears for his destroyed city and his ruined shop, and told them everything. "I was alone when the others trusted the king and his treaty. I knew something evil would come of it. We were too rich a city and had lived too long in peace for this king to leave us be. I had heard what he had done to othe cities farther off. But my people laughed at my fears. So I took my family and we went up into the hills, and hid in the trees. We saw the city destroyed and burning. The king and his men stayed for days, taking everything they wanted away to the ships, destroying the rest. When they had gone, we were near starved to death. But the city had no food, except that I knew of certain stores, that only the king had--in case of a famine. It was oil, wine, and grain. We found the storage jars, covered by the smoldering ruins. We had to wait for the embers to cool, and then I dug down to the jars. I found them cracked, burst by the flames. But one, of grain, was still sealed. We had no wine or oil, but there was grain. We could live on it, until someone came--if anyone would come to this city again. But here you are! The gods have been merciful to us today!

The coppersmith, receiving his payment of gold trinkets and rewards that Jason had kept for some good use, was beside himself. It was enough for his family to use to move to a far, secure, strong city, and begin again!

"But," he protested to the Argonauts, "this is far too much for a few pots and a basket. Surely, you can't be paying me such a fortune as this?"

The Argonauts smiled, and shook their heads. "No, Jason has given it to you, when he heard your plight. Please do not dishonor him by protesting too much."

The coppersmith fell down at the feet of the Argonauts, weeping.

They pulled him to his feet. "It is Jason's heart that was moved so greatly to help you. He has a god that does this to him--and he obeys. Please take and use your fortune any way you choose--but remember Jason, and how he helped you in your distress, and tell it to your countrymen or wherever else you choose to go. We will return this way again, in a short while, and if you have not gone with another ship, we will take you away from here." Having told him this, the Argonauts departed, returning to the ship. The family they left behind was rejoicing, happier than they had been in many days.

The Argo launched as soon as they returned. Unknown to them as they sailed upriver, still out of sight, the swanship of Medea's followed.
Unknown to both parties, Aea and the palace fortress were destroyed, and the king and his court and royal guards dead.
Only Medea's brother, Timpala, survived, and he was with the navy, attacking the city that the widow of one of Phrixus's sons had just fled along with the city's ruler and people.

Furious, when he discovered that the city was a mere shell, with no treasure to make the attack worth-while, Aeetes's son and heir considered searching for the escaped king and his people, but thought better of it. The Unfriendly Sea was far too big, and its coasts farflung and unknown, for him to hope to find them.

Turning back to Colchis with his fleet, the king's son was sure his father would be enraged when he returned empty-handed.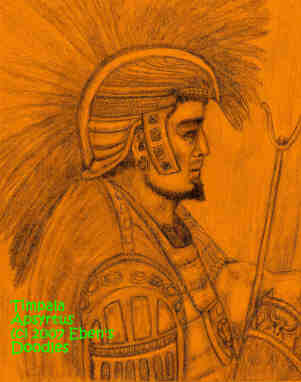 What was he to do? He had to come with heaped up gold and hundreds of slaves--or not return at all, for his father's rages were to be feared, even by his son and heir. Since he commanded the navy, he was at the moment the most powerful man in Colchis. Even his father could not muster a fleet equal to fight his and hope to win.
Then he had an idea. He would not be set upon by his father's wrath and be humiliated by being sent into exile or even executed. This father still could have more sons--and cared little for the idea of his dynasty at present--as everybody knew. No, on the contrary, he, Timpala the First, would wrest the kingdom from his aging father--for it was his to take, was it not? He was the sole heir, if his sister were not considered in a co-regency.

She was his only true obstacle, he thought, uneasily.

In truth, he feared his man-hearted, strong-witted sister the more--but first he would deal with his father!

Arriving in Aea, he had planned to proceed against his father with a blockade. He would starve them out--and then his father's royal guards would be easy pickings. He could cut them down with with his expert hired Persian bowsmen.

What shock was his when he found Aea buried under rubble and rock--and the palace-fortress that commanded the height above gone--nothing but a smoking ruin!

Timpala, so-named by his Mitannian mother, and called Apsyrtus by the Achaeans, was hard put to know what to do with his ruined kingdom and capital--both utterly desolate and depopulated. Who had done this? He knew his father had to be dead--which was a considerable relief even in the midst of his loss. It took him some time to decide, that he had no recourse but see Jason. He knew Jason had arrived, for his spies had kept him informed up until the attack on his father and his city and palace. But where was the presumptious, cocky, lion-maned foreigner?

Timpala scoured the surrounding countryside. He even searched Aea's ruins, hoping to find someone who could tell him something. Finally, he found a beggar huddling in the ruins near the main sea gate. The man was near idiotic, unable to make any sense with his blabbering tongue. Rolling his eyes, spitting all over himself, the man was manhandled by Timpala's men, which only made him worse.

Timpala tried to question him, but all he could get out of the wretch was that the One-Sandalled was gone, with a great white swan chasing him.

A swan was chasing Jason? Timpala jeered back in the idiot's face. The man was clearly witless!

Timpala had not encountered Jason's ship in the river, so he knew that Jason must have fled somewhere upriver after his treacherous deed against his host--for who else could have destroyed his father?--or he had escaped into the Unfriendly Sea--in that case, he was forever out of reach.

But if he had gone upriver in search of his countryman's Fleece, Timpala was assured of catching him. His ships were swift, and his oarsmen were the best in that area of the world. He knew he could catch Jason in a day and a half a day, as the river did not continue long above Aea.

Leaving Aea at once, for there was no point in staying longer, Timpala and his fleet set out. Jason, he believed, was the one who had destroyed his kingdom and slain his father. He must be caught and punished with a Colchian-style death, a death so terrible that even the brutal barbarians on the northern plains, normally careless of human life, shied away from the practice, since it involved transfixing a man to a big stake, his hands nailed to the main beam and his hands nailed at the wrist bone to the cross beam. That much pain put to a man disgusted even them--though it did not put off the Colchians from trying it on runaway slaves to teach a lesson to the others.
As Timpala set out after Jason, there was a very sensitive, watershed agreement reached in the council of the Atlanteans. Up to this point, they had been more a danger to themselves than Earth, with their constant struggles for dynastic rivals, supporting this one and that one, with no one able to gain complete advantage so that the whole question of who should rule Atlantis was settled once and for all.
But at last the struggle was being resolved, with fateful consequences for Earth.

Of late one contender for the throne, though a woman, had gained the upperhand, and her name was Elektra, with some real claim to the throne through her mother, a higher degree wife of the last emperor. As this became known--that she was going to assert her claim with the support of most of the princely-house Atlanteans rallied to her banner--the other claimants fled--rather than lose their heads to her executioner after some lengthly sessions of torture.

Now, thanks to Elektra's coming to power--gaining the title, "Speaker of the Royal House," the earth would suffer the Atlanteans taking up residence by two of the claimants who could do a great deal of harm if they wanted. Then, if Elektra thought to secure the earth under her authority, she would have to find and defeat the escapees, who happened to be twin brothers. But first she would have to find them. As for the destruction of Aea and its kinglet--that was a trivial matter, comnpared with her consolidating her power and locating the only two men who could possibly thwart her ascension to the throne.
Yes, she knew of the Dauphin Prince and his consort, lying in state in the archives left in Mizraim, but that was a matter of small importance to her also. With the power of state vested in her, she could leave them there forever to rot if she chose--and she so chose. As for the resettlement of her people--that was still a bit in the future, she knew. Earth was still too barbaric for them to take charge of it as overlords. But as it developed, with Atlantean knowledge and guidance, it would provide a home for her and her people--with the earthlings as her slaves, of course.
Elektra's view of humans? They were less than ants to her, of course. But they could be made useful, with enough control exerted over them. Now that the crucial questions of power and dynasty were being resolved, with her gaining the leadership of a slim majority of the nobles, she was determined to give more attention to the matter of the humans on earth. Her eyes were turning increasingly away from her own immediate household to the human species--and when she paused to examine what was transpiring in the Unfriendly Sea sector, she could not help but become interested in the career of a certain Achaean prince named "Jason the One-Sandalled" by his human contemporaries.

Those Atlantean eyes were essentially non-human eyes--completely devoid of human sympathy or feeling, but entirely self-serving, pitiless eyes, unable to tolerate anything that diverged in the least from her own agendas and her ultimate taking of her seat on the throne of a reborn Atlantis.
These theiomorphic eyes that were more like a wolf's and a snake's than human, now fastened on Jason, increasingly curious as to his activities that had created such a stir back in Ilios, whose spies were carrying reports back to the city's rulers concerning his feats of bravery and strength. Could this little human bug be a threat to her own plans for Ilios and its goddess? She might have to stamp him out of existence with her foot! At the same time, she had to deal with the defection and escape of the Princes Calais and Zeetes! It was vexing to her--she was of a single-track mind, and did not like complexity. Her theory of rule was simple: she was the state, absolute, uncontested, universal. Nothing had any right to dissent in the least from her will. Her will was the will of the Universe. Her will was the only one that could be allowed to exist. Everything depended upon her decisions and desires. Everything! And if there was opposition? She would crush it, annihilate it, without hesitation.
As the Argo cleared the last stretch of the river gorge, Jason stood at the mast, thinking of this moment, itself a triumph over many troubles, toils, and snares. As he was enjoying the thought, he caught his first glimpse of a forest up ahead, its trees so tall they stood up over the surrounding slopes of the mountains.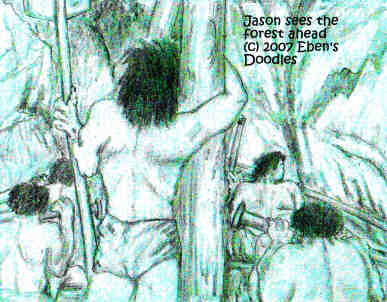 "This is it, the hidden place we are looking for! At last!" he shouted to the men. "God in the heavens has been good to us, and led us true, as an arrow to its target!" They cheered, as they realized the end of their long voyage was reaching its objective. Soon they would see Jason come bearing the Golden Fleece, shining red and gold, in his hands! The thought made them row all the harder as the sail lost wind in the narrow spaces between the rock cliffs.
Jason's men made steady progress, even in the narrowing channel. The forest grew so thick, they could push the Argo through the tangled boughs only with difficulty, but they were determined and would not turn back until they found the tree that held the Golden Fleece and its dragon-guardian.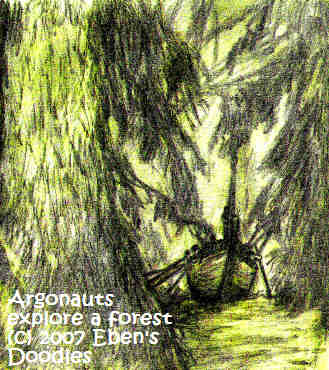 Medea, unable to follow him any further, turned back to a cove in a bend in the river, where she could wait for Jason to return with the Golden Fleece--something she never doubted he would find and win--however fierce the battle he had to wage with the dragon. She only regretted that she had not given him a potion for the dragon, to make it fall asleep at least, so that he could creep up and cut its head off. How easy that would have made his task--but she had counted on a rendevous, and it had not happened as she had planned.
As Jason and the Argonauts stopped to rest, Piros, one of Phrixus's grandsons took bread hunks and fed a forest jay which had no fear of men and came right to his hand.
Medea was still waiting the next day when her brother arrived. Though she saw his ensigns and knew he had come, she had no idea why he had followed them. Yet she did not think he had any right to meddle in her own business, whatever his reasons for coming, so she did not go to greet him--the courtesy that was normally rendered to a royal brother, unworthy though this one was to have such a sister.
Timpala, hearing she was not coming out of her pavilion to greet him, considered what to do. Should he order her out? Or should he go to her? He did not think it wise, on either count. What if he went on board her ship, and she had set a trap there, archers to slay him the moment he stepped on board? Perhaps she thought the same would happen to her--if she left her ship to come to him? He could not think what to do--for he knew how tricksome she could be--and always devised to get the advantage over a man. How he hated the thought of her doing this to him again--in full sight of his navy! He would be the laughingstock of the country, if that happened!

After more thought, he decided what to do with her. He would not have to wait for her lover to come--he would attack his sister and her ship come dawn, when they least expected it. Let them enjoy one last evening and one last sleep! He, Timpala, was a generous man!

Even as Timpala was plotting to kill his sister, his own fate was being sealed, for the Atlanteans under Elektra had not finished with their retaliation on Colchis for killing one of their own and destroying his shuttle.

Before dawn, as his men readied their weapons on board the ship chosen to carry archers and swordsmen, Timpala was up and pacing the deck. He was determined to settle the matter once and for all. This way he would never have to worry about Medea's claim to a throne in his kingdom--and her poison potions either! Once she was out of the way, he would deal with her Achaean lover, the One-Sandalled! The moment his ship came out of the jungle that covered the river channel up ahead, his ships would pounce on him. They wouldn't be able to fight off as many armed men and ships as he had brought with him! Jason was finished. And the Golden Fleece? If he had found it, he would not be able to enjoy it--for he would not carry it down with him to the caverns of Hades!

Hahaha! Timpala had to laugh. All Jason would have to his name would be one sandal! He had come to Colchis with one sandal, and he would leave and be buried with one! Even a pauper lying like a dog in the gutter of the street had two sandals to his name! One-sandalled he lived, one-sandalled he would die! Hahaha!

While Timpala was enjoying this amusing thought so typical of his kind of humor, arrows sped forth from overflying chariots of the gods--and they found their mark.
In moments Timpala's fleet was in flames. Medea, who had not slept a wink, suspecting an attack by her treacherous, greedy, dull-witted brother, heard the screaming of the burning men in the burning ships--but she could do nothing for them.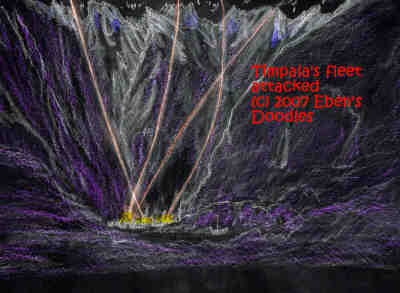 She had to consider something: at least Jason would not have to deal with her hostile brother now, as the gods apparently had decided the matter.
Jason and his champions continued to press deeper into the jungle-like forest of the upper watershed of the Phasis. They paused when they came to a clearing, where the sun shown in full and bright. Here they decided to rest and camp, for they were tired of the gloom and tangled forest, fighting it all day long, hour after hour. Here they could enjoy the sky overhead, with the sun beaming upon them, warming their hearts and bodies. And they could swim and wash off the grime of their hard work of the day! And fix something good to eat! And tell some stories, and play some games of strength or cunning--it was a welcome break for all, to be sure.
When they left the moored ship and jumped down to the shore of the clearing, they were startled when they saw a man. This was the first man they had seen in the forest, and he too was just as surprised to see them as they were to see him.

Then the man did a strange thing. He ran forward, crying out strange sounds like a yelping dog, hopping and then flopping down on the ground, holding out his arms as if to ask great favors from a god come in the flesh!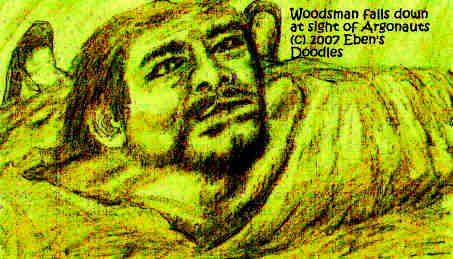 Amazed by the sight of his behavior, Jason had to go and see for himself if the man were mad or not.
He had no weapons they could see, so he was no threat to anyone. And his eyes were gleaming with mingled wonder and delight as he gazed on them, like a child might gaze upon a wonderful sweet his mother had just given him as a treat or reward.

The man looked the Argonauts over, up and down, and seemed not to get enough of them. Then he began speaking, and this was the most amazing thing of all to the Argonauts. He was speaking Achaean! Yes, it was rather barbarous sounding in his mouth, but perfectly understandable. The wonderful speech of the Achaeans poured out of the barbarian--as the Argonauts listened with mouths agape.

"Wondrous heroes of the Achaean blood! Welcome to this poor land of the Colchi! It is a very poor land, compared to yours, but we are screamingly rich in gold, the river brings it down in buckets and cart loads from the high peaks and spread it for us to gather, all the way to the river's mouth! But the king doesn't let us keep it--he has his taxes, you know! They grind us back into pauperdom, paying them all--and so the gold is worthless to us, and we must make our living in another way that will run faster than his tax collectors can run. Gold is too heavy to run, so he gets it all--but sheep, and, better yet, goats and chamois, run much faster--so the king is not able to gather his revenue on them!"

By this time the Argonauts were laughing, unable to keep it inside for the sake of civility. The man seemed to enjoy their laughter at his expense, and he kept speaking all the more.

Jason, however, did not like a man to grovel before him like that, so he put out his hand and raised him up. The man bowed, repeatedly, but that could not be helped. He seemed to want to show how pleased he was at their appearance--in his simple way.

Finally, Jason put out his finger to the man's lips, and he stopped spouting away.

"Now tell me, my friend, some things. What is your name, and where is your city?"

The man's darting, dancing eyes turned sober all of a sudden. "You will not tell the king, will you, what I said about him? He'd send a man and kill me! Or tax me to death, which would be the same thing, only slower a death! Ai ai ai! Please don't tell him about me, sire!"

Jason hastily assured him he wouldn't mention him to the king. "But tell us your name, and your city, and how we found you in this forest."

"I have no city," the man said. "It once was a city, but it is a dead place now, not even a village any more. There is just my one family living there in our wood-planked hut. Please come, and we will do our best by you, sirs!"

Your name? Jason prompted him.

"Honan," he said. "Honan the woodsman."

"And how did you come to know our speech?"

"Phrixus taught me in my boyhood."

The Argonauts were thunderstruck. Jason shook his head, as if he wasn't sure he had heard the man right. "What did you say?" he shouted at the man. Honan trembled, and fell to the ground. Then Jason laughed, pulling him up to his feet.

"We won't hurt you, good fellow! Please tell us how you knew Phrixus, and we will let you go on your way, after you dine with us, of course."

The man's eyes brightened as food was mentioned, and told them everything. He related how Phrixus had come to his country and met the king, and the king had set him up in his high palace, and everything had gone well for a time. The foreigner had even married a beautiful woman of the court, a royal, it was said. And he had four sons too--all fine, strapping champions, like their father. But the king had grown old, and he didn't like foreigners who were growing in numbers at his court like so many grass sprouts. Who knows how many grandsons Phrixus would have too, and would one of them want his throne? It was more than likely, in the old king's mind--it was certain.

Then one day Phrixus disappeared, and the sons? They scattered, and their wives and children with them. As for the Fleece--at this point the listening Jason could not withstrain himself. His hand shot out and grabbed the Honan by the neck of his garment, he was so taken by his account.

"Yes, yes, go on! What did the king do about the Fleece! Where is it?"

Honan, helpless in Jason's powerful grasp, seemed at a loss for words for once. Some Colchian expressions tumbled out, that nobody could understand in their group. He pointed, then gathered his thoughts a bit more, and said, "I can show you where it was last seen--but I won't go all the way--it is too dangerous to do that--you will have to go all the way yourself to see if it is still there!"

"What do you mean?" Jason demanded. "What is the danger?"

The man looked at him as if he were looking at a child. "You don't know? You don't know?"

Jason was losing his patience, he was so agitated by the man's wandering account by this time and how he was breaking off in the most critical parts to confuse everything.

"No, tell me then."

The man sighed, and explained slowly, as if to a small child. "Well, you will surely die! The thing that guards it, it won't let you have the Fleece--and anyone who tries is killed. Many men have tried, but they all die. It slays them--every single one of them! No one escapes to tell about it. We know they are killed, because no one who goes to see the Fleece ever returns to brag about it. By the time I became this old, with grown sons, nobody came anymore."

The simple man's eyes suddenly turned tearful.

"I never thought I would see you--as Phrixus promised me I would. When I became old, I doubted him. Then...then here you are--all of you!"

He looked at them, letting them know the whole of his thoughts in one last revelation. "I knew you had come to win the Fleece of the heavenly Ram--I knew it had to be you, the One that was promised by Phrixus, a Son of the God of heaven!"

Jason shook his head. "No, I am not a god! Or the son of God! Is that why you prostrated and bowed yourself like a slave before me? Well, you are wrong. I am a man just like you!"

But the man shook his own head vigorously, almost as if he would shake it off his shoulders. "Oh, but you are a god, and the son of God! No other One can win the Golden Fleece but you!"

Jason tried repeatedly, but he could not dissuade the man--the idea was so fixed in his mind and heart. Finally, he gave up. He turned to his Argonauts. "We need to rest and eat something--so let us resume talking at another time, when we are resting after our meal."

That was good news to the Argonauts, and they set forth immediately to make camp, catch fish, hunt, make a fire, and do all the other things necessary to make the place enjoyable.

Later, the upshot of the conversation Jason had with Honan was that he would lead the Argonauts to his house and then to the vicinity of the Fleece.

But first they would take their rest for the night, and set forth refreshed in the morning.
PLEASE GO TO PART VIII, AS IT APPEARS ON THE HOME PAGE

(c) 2007, Butterfly Productions, All Rights Reserved