"What is he planning to do with all that money?" Underwood found cause to wonder in the next weeks and months after his decision. G-Men, put on the case, reported back that Legs was doing what he had always done in the past, nothing really out of the ordinary for a social-climbing mobster. He was boozing, living high at palatial digs--one of those in Miami Beach, the other at Troy in upstate New York. Plenty of wine, women, and song--that was Legs' chief amusements, it would seem.
Breathing easier, Underwood slipped the Jack "Legs" Diamond file, marked down from High Priority, into his safe and forgot about it. Weeks after this, J. Edgar Hoover sent another, more detailed report on Legs Diamond's activities. Legs was upgrading a modest estate at Troy on the Hudson River--a considerable investment in itself, costing millions. He had added two stories to the original one, and extended the building two hundred feet. A ballroom was enlarged and decorated in lavish style. High brick security walls were put up, with guard posts and intercom and electric alarms systems. Had Legs caught wind of the Treasury investigation? Yes, he had. His agents informed him daily on what was going on in Washington. The Hoover report went on to tell about an unusual amount of excavation in the mansion's basement. Workmen, approached by FBI plainclothesmen, had been reported to say that they were building a wine cellar. But why so large, and why was it being equipped with Swiss bank titanium vault doors and an elaborate security alarm system? Hoover recommended continued surveillance of the doings at the property, round the clock.
Secretary Underwood, glancing down the long report with impatience, shook his neatly-groomed head with the part down the middle. He rang up Hoover personally. "I really see no cause to make trouble for this man," he told the surprised Hoover. "I don't want to be connected with a medieval witch hunt, just because he is a gangster. You can deal with him when he breaks the law, if you can catch him at it. I won't involve my department any longer in this affair. The matter is closed, as far as I'm concerned."
It is not recorded what the disgruntled chief of the FBI replied to Secretary Underwood or whether he said it later to his underlings. Hoover, of course, had his own reason for keeping an eye on Legs--that much dough in the underworld's hands was a big concern, if not for the national monetary system, then for local law enforcement. Legs had expanded his operation enormously. Almost everyone in New York , Brooklyn, and in the big Jersey towns were in his pay, and in turn they looked the other way wherever he moved in to skim the cream.
Atlantic City casinos, protection rackets, horse tracks--that had been his mainstay in the past. But now he reached into the upper, respectable levels of the economy, taking control of unions and union retirement funds, contractors and construction companies, hiring himself to build skyscrapers, and paying for them with public money he had loaned himself from city and state governments--governments he also controlled through his appointees. There was even evidence of a number of fronts he used for trading in blue chip stocks and bonds on Wall Street, buying heavily into the leading steel, oil coal, rail, electric, shipping, radio, automobile manufacturing, food production, and power companies.
He was no longer limited by the amount of money he had on hand; he could access the public monies of two of the wealthiest states. Seeing this big a power grab going on, Hoover was alarmed, but, try as he would, he could not get Underwood's attention again, despite report after report, each one more hair-raising. Finally, Hoover gave up. He realized that Underwood was the stubbornly obtuse type who, given sufficient reason to ignore a problem, had chosen to do just that.
He had told Underwood that Legs was addicted to wine, women, and song--and to Underwood's antiquated thinking, any man of such "low character" as to prefer such things over public service and good reputation could be counted on to sink indefinitely into depravity--indeed, he could be trusted to do so. Therefore, there was no reason to worry about him--given a loosened noose, Legs Diamond would, according to this theory, hang himself.
"That's what we get when these book-reading, opera-going, high-browed New England Brahmins meddle in government," Hoover groused in private to his trusted confidante and companion, as he sat at home relaxing with a cigar.
"Exactly," his more literate confidante agreed. "And you can trust them to always drag a Trojan horse into town and set it up in the city park!"
Not of a literary turn, Hoover couldn't imagine what "Trojan horses" had to do with it, but he knew he was going to have to be the one to clean up the mess when it was all over. That's the way it always worked when his reports were ignored. As for Legs Diamond up at Troy, construction continued at the mansion without any delays, and after a year the main work crews pulled out, and Legs called in interior decorators to do the whole place up in high society style. Legs ran a tight ship and was a stickler for detail. He really wanted to do it right, and no expense was spared. The architect and decorators who had done Rudy Vallee's three-million-buck mansion in Beverly Hills were brought in, more or less willingly, and practically everything Rudy had Legs got a copy thereof. But Legs went one better, wherever he could think of something. The ballroom was made a showcase of what Legs imagined the best of London and Paris and Rome to be. He had no reason to leave New York, next to London the biggest city in the world, except to take a relaxing couple months down in Miami when New York got too cold for his liking. But even if he didn't want to see Europe, he thought it would be a good idea to bring some Europe to Troy.
"Now what do I call this joint--er, residence," Legs said as his architect and decorators were showing him the finished masterpiece. "It's pretty grand, I think everybody would agree. Pretty grand. Hey, what names do you boys suggest?"
The architect and decorators had several suggestions. Legs shook his head. "'Hudsonia'? Naw, that sounds too obvious. And the local wise acres would soon be called it 'Hoodsonia'! 'Chattingham Manor'? Are you crazy? The goons I have to deal with would die laughing if I named it that. No, give me something with real class, something that has some culture and history--you know, something that egghead professors at the universities would probably think of. Cmon, I haven't got all day to decide upon a name!"
By this time the architect and decorators were sweating. Would their boss set their feet in cement galoshes and thrown in the river down the hill if they didn't please him? None wished to put him to the test. Flipping through illustrated folio books on European palaces and gardens, they threw out name after name, as Legs shot each down.
"No, no, I ain't gonna copy any of those. All them got dust and cobwebs on them a foot thick, you can even smell it. I want something brand-new and original! You know, unique! Nobody else musta thought up this name before me! That's the name I gotta have from you--you--"
Legs Diamond's eyebrows were formidable, black affairs at any time, and they were rapidly compressing into one deadly line that always meant he was going to rub somebody out who had deeply offended him in some way.
Suddenly inspired, a decorator squeeked out, "Boradaille."
Legs paused, and chewed on his cigar for a long moment. "What was that again?"
"Boradaille."
A wintry, polar gleam appeared in Legs' left eye (the right was glass). "Hey, I like the ring of that. Say it again."
"Boradaille."
"Again--more slowly next time." "Bor-a-daille," the man croaked, for the strain was bearing hard on him.
Legs turned sharply to the architect. "Now YOU say it! I want to hear how it sounds coming from different people, so I can be sure."
The architect said it, then the decorators, six of them, chimed in antiphonally as Legs went up and down the line, listening closely as if they were at choir practice.
Finally, he pulled out his money clip, and slapped each palm with five grand in crisp bills, and the architect with ten, an outlay that scarcely reduced the wad he carried for petty cash. "Good job, boys!" he told them, and they broke into nervous grins. "I like this swell name too! I like it a lot! I want you to have it carved over the door in real fancy letters before you go. You get that done, then you can take your money and scram."
He turned sharply away, taking the elevator down to check on the work in the basement.
A week later, the last details seen to, armored van after van began to arrive from various warehouses, and unloaded crates at the house, which were carried down to the basement's "wine cellar." When that was finished, the vault was locked, with Legs reserving the combination to himself alone after making sure the Swiss locksmith had an accident on the way home to Zurich, Switzerland.
Preparations went forward for Boradaille's open house celebration. Bands and the best bartenders were hired, Jazz torch singer Helen Morgan contracted to appear, caterers called in, Legs did everything right. Invitations were sent out, often by private courier, sometimes by mail if it was thought safe enough, and most often by telephone calls placed from public booths. Legs had followed the Treasury investigation, saw it expire, then watched "Bulldog" Hoover stubbornly keep his men on his case, so he had to be careful until Hoover gave up--something he knew would take considerably more time.
It was best, he decided, that no provocative incidents take place in the vicinity to draw Hoover's men down on the place. Hoover didn't need much of an excuse, Legs knew, to make a raid. What Hoover wanted to know, he'd soon find out by breaking through to the wine cellar. He wouldn't be able to prove what he suspected was in it, of course, not without blasting it open with dynamite or US Army artillery--which would destroy the whole building and upset the town of Troy in the process. So Legs counted on time being to his advantage--if he could manage his operation so there were no "incidents."
Legs made it clear to everyone working for him, and to every guest as well, that he was personally holding them responsible for their behavior. This was Boradaille, after all, not the Lower East Side or Newark. They were all to act like gentlemen, day and night. He had his own speakeasy, and a private band, and would bring in good food and good whiskey and anything else Boradaille required to make guests happy to be there, but there was to be no loud partying on the balconies or racing about in cars on the streets of Troy and absolutely no showing their heaters in public or taking pot shots at anybody they disliked.
Whoever stepped out of line, he was leaving the party immediately, without argument. His muscle men would escort the offending guest to his car and then escort him to the town limits on Route 4. Just to make sure, he gave them instructions to station themselves there and watch to see if the unwanted clown turned around. If that happened, he was a goner.
"Run his car with him tied up in it into the river," he told them. "Chop a hole in the ice if you have do, but get rid of the evidence." The old river would take care of any such nuisances without any fuss from the Feds.
This policy worked well for Legs the first year. Reluctantly, Hoover pulled some men off the case, as nothing ever happened to warrant a full squad of plainclothesmen, with a backup of six armored trucks with machine guns for the planned raid.
Legs eased up too, and the parties got livelier with five or six hundred guests at a single night's gathering in the ballroom--perhaps a degree too lively, for an "incident" occurred late one night at a costume ball. A fight right on the dance floor between a nasty-mouthed cod and a caped magician over the magician's moll dressed as Cleopatra, and a sawed-off shotgun was kicked out of the magician's hand before he used it on Legs' bouncers.
Sorry he had taken a chance with the guy, Legs arranged for the offending couple (a New Jersey hit man and his broad), to be transported from Boradaille. But this case was different from others. The hit man was known to go free lance and get even with clients if they crossed him. Not wishing to give the man a chance, Legs called his own hit men, of which he had several at the house that night, to handle them.
Then, after finding out that Hoover's G-men were pulled off the case that night--being called to New York for something bigger involving the Mayor and the visiting Queen Marie of Roumania--Legs decided to keep the incident local and not involve any more people. There was a nice, deep river close by, running right along his property, in fact. Why not? Rivers like that told no secrets.
Herbert Transom Fishbein--"Fishbone" to his peers--and Ignacio Marie Guzzo Ziganzoli--or "Ziggy," stopped the Packard at the river's edge late in the afternoon after the incident. With no commercial traffic on the ice-locked and closed Erie Canal, this was a deserted spot. The bank was piled with snow, and so they had brought shovels. Cursing and puffing clouds of frozen breath, the men dug a path wide enough for vehicle. Ice had been thrown up by barges, when the Erie Canal entrance was still open for business, and this they had to hack at with ice picks.
It was hard work, but they cleared the obstructions away, then paused to rest.
Ziggy, the smaller of the pair, threw down his bottle after he took a last swig, and it smashed on the river's ice. He turned to his companion.
"Hey, got some hooch? My feet are turning numb in my boots!"
The big thug reached inside a fur-lined coat, then held out a silver and glass whiskey flask of special imported Canadian whiskey.
The small man proceeded to drain it, but Fishbone grabbed it away. "Hey! You swine! Greedy pig!"
He had reason to be mad. This was no bootlegger's rotgut from somebody's bathtub but the best Irish ambrosia Joe Kennedy up north had to offer. He wiped the mouth of the flask carefully on his sleeve, then took a long sip with fine-chiseled lips that were somewhat marred by a diagonal scar. The flask vanished, with a deft movement, inside his fur coat. "Let's work!" he growled, and the little man jumped to it with no argument.
As Ziggy checked the couple in the back for identification, and removed any he found, he also ransacked the glove compartment for anything that might be used by Hoover's men against his boss, so that when he was through he was sure the vehicle and its occupants were "clean."
Giving a sign, he stepped back, and Fishbone went to work. He started the car, slipping it into first gear very slowly, while pulling on the emergency brake. Meanwhile, Ziggy got ready to shovel the blocking ice from the front wheels. Rigging up a way to pull the emergency brake off, Fishbone was just about to do so when someone spoke to them.
"What are you doing down there?"
Fishbone's head spun around with a snap, no easy task for so thick a neck and head. Ziggy yelped with surprise, jumping back.
"I said what are you doing with that car?"
Fishbone recovered first. With a sudden hook of his powerful arm he grabbed Ziggy and pulled him up to his face as if he was going to give him a big smooch. "Someone's seen us. It couldn't be a G-Man, but you gotta go and get whoever it is, while I start talking and hold his attention. I think it's some punk kid from town, that's all."
Ziggy, pulling back from Fishbone's hook looked wildy around, but couldn't make out anything but snow and a steep hillside, and bushes and trees. The whole area, up and down the river, looked like that. The deserted road leading down and following the river downstream, the hillside, the bushes, and far up above the glaring yellow lights of Boradaille shining. Knowing he had to find the kid, he started off up the road.
"Where's that ugly little creep going?" the voice came again.
"Oh, just home, that's all, to warm his cold, little footsies, " Fishbone replied cheerily. "Hey, buster, what do you like? Want a big bag of candy from the store? I'll drive you there in a minute. Just come down from wherever you are and climb in. I like kids. What's your name, kiddo? I got kids of my own, three of them in Hoboken. Real nice kids. They'll tell you I treat 'em good. I get them lots of nice presents and cake and ice cream to eat all the time. Do you think I don't like kids? Why aren't you answering?"
There was a long pause.
The voice finally drifted down, but it was sarcastic. "Sure, you do. That's why you sent your partner to go find me, so you can dunk me like a kitten in the river too--just like those two stiffs you got in back of that car!"
Fishbone, despite the chill, began to sweat. "I gotta get this kid," he muttered to himself. "Legs will dunk me, for sure, if someone like dis outsmarts his right hand man!"
He rubbed his hands, looking this way and that, trying to pick out the exact place where the voice was coming from. "I gotta keep the kid talking," he thought.
He laughed. "Hey, have you heard this joke--" He told a favorite barroom joke that put his drinking buddies under the table--most every time he told it. "Funny, huh? Did you get it?"
"I don't like dirty jokes, especially really stupid ones like yours!" the voice replied. "I think I'll go. You bore me."
Fishbone gave up on Ziggy, who was up far enough on the road but just now trying to cross the deep drifts and foundering hopelessly, even falling on his back with his legs spread ninety degrees at the crotch. To rescue the situation, Fishbone jumped up and down, waving his hands. He thought this might hold the kid's attention, if he acted silly enough.
"You're acting pretty stupid for a grown man, if you ask me," was all he got for his efforts.
Fishbone snapped like a bull flicked in the nose with a red cape. Furious, he charged up the hillside, right into the drifts, and made some progress toward the trees and bushes where he thought the kid was hiding.
He had gone some distance, reaching the Palisades, or what they called the Palisades, though they hardly compared with those downstream, when he looked back down and saw a tiny figure dart out to the car. It was his first look at the kid. Nothing but a little girl!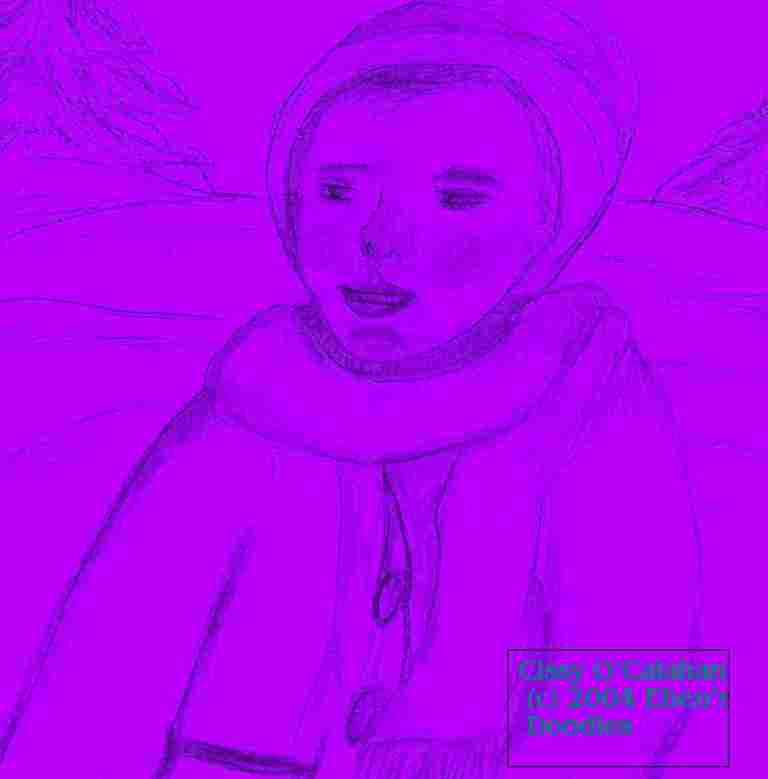 "No, you don't!" he bellowed, and started back down as fast as he could. "I'll kill this tough-guy-talking punk kid if it's the last thing I do!" he told himself.
But he wasn't fast enough. The kid jumped in, slammed and locked the door, and then did what she had seen her daddy do many times. She reversed gears, backed up, then changed gears and started forward. With the doors locked all Fishbone could do was bang on the car with his fists, and she soon left him behind as she got up speed.
The car climbed back up the road with Fishbone huffing and puffing after it. The car accelerated, and by the time it reached the driveway it was going forty miles an hour. It cleared fifty at the long driveway's end, which was the main entrance of Boradaille. Legs had decided to tweak Hoover and spin down to New York to check on some of his speakeasies' accounts, and had called for his big white and gold Packard touring car to be brought from the garage. He had not yet left the house, but was on the way to the front door with his bodyguards when the runaway car headed toward the touring car at fifty five miles an hour.
The drive was paved, and kept clean of snow by an electrical grid embedded in the cement. Thanks to it, the Packard's tires found sufficient traction when the driver whipped the wheel sharply to the right to avoid the parked limo.
Legs and his men were nearly flattened when the doors suddenly burst in, and a car flew at them, carrying everything along--broken statuary, smashed lamps, splintered boards.
Was it a raid? Was it Hoover? He couldn't tell. Leaping back, he watched, aghast, as the Packard, with apparently no one at the wheel, roared up the first stairs to the next level, then up more stairs to the second floor ballroom and then entered, sliding and careering off furniture and fixtures, taking a grand tour of the premises, meanwhile demolishing very expensive facsimiles of the Taj Mahal, the Eiffel Tower, Nelson's Monument in London's Trafalgar Square, Istanbul's Blue Mosque, the Brooklyn Bridge, the Empire State Building, Giovanni's, a Coney Island hotdog stand, and a Chinese pagoda that Legs had commissioned to grace his Grand Ballroom. The Trojan horse would have been with them on display, but it was still packed in crates at the time the first guests arrived.
Even the powerful V-8 could not keep up its momentum forever amidst so much clutter, and was half-way through Marie Antoinette's 30-foot-tall canopied bed when the tires mired and clogged inextricably in the satin sheets and mattresses and the engine died. Throwing water out and steam, cracked radiator made it too hazardous to approach for a moment, but then Legs' bodyguard saw his chance and ran and grabbed the door, yanking until a small hand released the lock.
His gun drawn, Legs looked in, and saw a pained, white face of a little girl whose feet couldn't possibly have pressed the brake or the footfeed. To compensate, she had the choke pulled all the way out, then forgotten and turned to the emergency brake.
"I brought your car back, Mr. Diamond," the girl said, trying to keep her voice steady but not succeeding. "I didn't mean to cause any trouble."
He glanced in back of her, and his eyes rolled upwards.
"How do you know my name? I never seen you before, kid." The girl slid down off the seat to the floor. She had to be only eight or nine. She looked at him sternly now, having recovered her courage.
"My Daddy told me who had this house."
"Oh? What did your daddy say about me, kid?"
"Do you want to know?"
"Yes!"
"Okay, he told me you were nothing but a creep and a gutter rat who killed off enough of the competition to get the hog's share of racketeering money."
Too surprised, he didn't deny it.
The girl looked him square in the eye. "I thought so! I have to report you to the police of course, for Daddy wouldn't let you go if he was here instead of me. I think it's called a citizen's arrest."
"You got it right," Legs mused looking at her, "a citizen's arrest--an unarmed one at that."
The same thought must have occurred to both at the same time. She looked at him and his bodyguards very cautiously, as if she were looking at a very big wolf in her back yard escaped from a zoo cage. "I was afraid you would be angry coming in here like this. Well, if you're gonna rub me out anyway like you did those two people in the backseat, I don't care now if you are angry with me for wrecking your place!"
Taken aback by her candor, Legs considered his position. More of his men were coming into the room, drawn by the tremendous commotion. He motioned them back away. "It's all right. I'll take care of it!" he snarled, and they backed away.
Then, turning sweetly to the girl, he continued, thinking as fast as he had ever thought in a tight spot. "Who said anything about that? I wouldn't think of harming a little girl for doing alittle damage to the premises she didn't mean to do. The car got out of hand, that's all. It can happen to anybody. I'll drive you home myself. Then you can do as you please, squeal on me if you like. Do whatever you want. I won't stop you."
Surprised at first, then turning suspicious, she observed him with doubtful eyes. "I think I would rather walk home. I'll be sure to get there then."
Legs put on a wounded look. "Oh, you distrust me, I see. What have I done to hurt you? I just offered you a ride, for it's a long walk in the cold for a little girl like yourself. Are you sure you don't want a nice ride? I can give you some fancy filled French chocolates to eat on the way." He turned and waved his hand toward the tables still piled with champagne, pickled walnuts, smoked salmon, chocolates, French turkey, Algerian dates, and even some of his favorite Greek dishes (for he had immigrated from Istanbul with his family when he was a boy).
"No, I'm not going to eat anything you got, mister, and I don't want any help from you. After all, you murdered two innocent people, which makes you a pretty big rat in my Daddy's book!"
She stood facing him fearlessly, a solemn-faced judge in a winter coat and a woolen cap, her reddish face square as a Dutchman's with mousey hair showing beneath the cap.
Legs put on a shocked look. "What--me a murderer? Not so! I tell you, these people were fighting, right here in the ballroom last night. He pulled out his hardware, and naturally a man has to defend himself. Who wouldn't? I'm very sorry it happened, but the fuzz--the police, I mean, would never understand it was pure self-defense, and I wasn't going to go to the pen to rot the rest of my life for these miserable, rotten--"
His tone must have gotten somewhat ugly, for the girl broke in, shaking her sensible Dutch head at him.
"Oh, cut it, mister. Let the police hear your cock-and-bull story. See if they believe it! As for me, you're wasting my time I need to do my homework for tomorrow, so I'm going home!"
Not used to being interrupted and rebuked by anybody, much less little Trojan girls, the surprised Legs let her start marching off through the ballroom, and then thought of something. He motioned to his waiting bodyguards, and Fishbone and Ziggy, being closer, moved on the girl and intercepted her. Fishbone grabbed her, despite her kicking expertly at his legs and marriage prospects.
"Take her downstairs by the elevator, there's too many people here," he barked to them.
Somehow, with the little vixen still kicking and yelling at the top of her lungs and biting the hands clamped over her mouth , they hustled her down the elevator to the basement level.
"Tie her to a chair," Legs instructed them, and the men gingerly subdued the little spitfire, some of them with teeth marks on their fingers.
When she was ready, Legs approached. "You may be just a kid, but you've seen too much. I can't let you go back to town and squeal to the fuzz and the Feds. It's my hide or yours. And it isn't going to be mine. I'm very sorry you got yourself mixed up in my affairs. It is just too bad for you."
The girl started to bawl. Tears the size of marbles rolled down her face. "Give me a handkerchief, please!" she cried. "My nose is running bad! Please, mister!"
Legs relented. He motioned to Fishbone, and Fishbone rummaged about in his pockets, but found nothing of that sort, and Legs himself had to pull a twenty dollar Sacks Fifth Avenue silk handkerchief from his pocket and offer it.
Her hands tied, she could do nothing, so he had one hand released.
She put her face into the handkerchief and blew like a longshoreman, then somehow the chair tipped, and she was falling over. All three men reached to grab her, and in getting her back up, she somehow slipped free, and kicking and scratching she fought free of the men and dashed out of the room and into the hall. She had them chasing her in a flash, and she darted through the first open door, which was a basement garage where Legs' fleet of private limos were kept gassed up, guarded and always ready to be driven at a moment's notice.
With them just behind her, she jumped into a car, slammed the door on their fingers, and started up, since the keys were kept in the ignitions. Then the men racing backwards to avoid her wheels, she hit the garage concrete doorway, which squashed the front bumper and bounced the the car off. Then she reversed, and squealing its tires the car backed up , tearing off trim and side mirrors from several cars. Turning, she roared forward again, but shot into a big cage-like wire stall that was automatic, the hydraulics set to elevate anything that weighted it to the tune of over a ton. Up she rose, her engine roaring full-blast with her clutch in. The Rudy Vallee elevator worked superbly, only there was a car already parked overhead. This now became the double roof to the ascending Packard, which was strong enough to carry the extra load. The double-decker Packard, with a desperate driver at the helm, moved off down the lane gathering speed. Again, she was chased, but with the only car available at the moment on top of her own, no one could stop her except to run on foot and try to shoot out her back tires. She reached the river, but found that she couldn't stop on the ice and snow, and so she flung open the door and leaped out, rolling harmlessly in a drift as the double-decked Packard sped out over the river ice and then made a racket of smashing through the ice, before they upended and vanished into a big, dark hole of bubbling water.
Weeping for a moment with the excitement of that had happened, the girl took another minute to calm herself and think what to do next. She then remembered the men chasing her, and she slipped quickly away toward the trees and bushes along the deer path she had earlier followed up the bank to her hiding place in a snow fort.
She hadn't but reached it when men from Boradaille reached the river's frozen edge. Gasping for breath, they stood looking out at the dark hole in the ice, throwing their arms about this way and that, pointing. She thought she could hear them say things like "Fool kid! Serves her right!"--which meant they thought she had drowned herself and the problem, for them, was fixed.
Fishbone took a swig from his imported French flask, then passed it around to the other men. In the excitement, the last to drain it must have forgot it was silver, for he dropped it, and the owner, also excited, didn't notice.
A car then came down the road, and it paused at the river's edge. As before, preparations were made, but this time there were no interruptions, and the third vehicle, with two occupants in the back seat, joined the previous two with none.
This done, the four men lit cigars, thumped each other on the back, and marched off up the road and were lost to sight.
The girl crept out. She had to be home soon, she knew, or her family would be so concerned they would have everybody out looking. She had never played so long after school as this. It was getting dark. She had seen the discarded flask fall, so she ran down to get it for proof all this had happened. Nobody would believe her otherwise, she knew.
But she paused as she picked it up. She smelled of it, made a face, then started walking, following the deer trail that led from the snow fort to where she could climb to a street that would connect with Pleasant Avenue where she lived. It wasn't more than half a mile beyond Boradaille, but in the snow and quiet along the deserted river it seemed miles away. Nobody came down here normally after the Canal closed for the fall and winter. With no barges and ships, no guards and canalmen to yell at them to keep away, she and other kids could skate and holler and do most anything without anyone to bother her. It was a great place to be free of parents and snoopy neighbors for a while each day after school. At least it had been, until today!
She took the gangster's expensive flask home, but instead of telling anyone what had happened, she decided to keep everything including the flask a secret. Who, after all, would believe her story? The rich man on the hill, maybe he had been trying to save his own life, as he claimed. Her Mom said he was a gangster, but her Mom didn't always get things right, she knew. She could be wrong about him. It could have been self-defence like he said.
Why take a chance and get into trouble for nothing? she decided. She could keep quiet, and wait and see. If the man was really nothing but a big rat, then the police would find out without her saying anything.
Just the same, she watched the papers her Daddy read every night for railroad union news, and he noticed and wondered what was up. Though she hated herself for doing it, she had to tell a big whopper to put him off. "I'm doing a report on people drowning in the river," she said, smiling. "Have there been any drownded around here lately? It's important I get a good grade on it, so I gotta know."
He checked the papers again, but shook his head. "Hey, that is no kind of report for a little girl like you! Imagine, counting stiffs in the river! What are they teaching you in school anyway! What's your teacher's name? I'll call the sucker and chew her--"
Fortunately, her Mom went to shush him with a whack of the wet dish towel on his bald head after she first yanked off his railworker's cap. Him taken care of, she turned on her youngest, yelling, "Cecily Helen O'Calahan, you get up to bed early for upsetting your father! That'll teach you to respect your parents!"
Seething at the injustice but thankful he hadn't carried out his threat, on the way out she snuck some papers away and looked for murders up in her bed, with the flashlight for light under her covers. It was exciting detective work, and she was beginning to enjoy the whole thing for the first time. Her snoopy, uppity-acting older sister Mildred, who wore lipstick at school and was always saying she was going to marry a Sanford Shirt Company supervisor when she grew up, demanded to know what was going on, but she refused to tell and made her back off by telling her what some kids at school called her.
Her brother Harry, informed by her sister, also demanded to know and threatened to twist her arm to get the story, but she handled him by a counterthreat to tell their parents about his smoking and drinking beer and talking dirty about girls with his friends after school in the lot behind the Sanford Shirt Factory, so he too backed off. It maybe was making her their common enemy, but she couldn't possibly let them in and not expect a word of it to get back to her parents, ands then they would force the whole story out of her, and who knows? She might land herself in jail!
Something Cissy O' Calahan would not likely find in a paper (since Legs had taken the trouble to buy the local rags in order to keep a lid on what was reported about him), Boradaille experienced a further installment of the incident that should have brought J. Edgar Hoover's men running from all their hiding places, machine-guns blazing, except that he was still tied up providing cover for Queen Marie in New York.
Nervous, itchy for something to do, Legs went down to the basement to look around. He had nothing particular in mind, but normally that wouldn't stop him from checking. He had a nose that could tell him whenever there was something stirring somewhere on the premises that he ought to take a look at, and not only had the nose begun to activate but he also sensed that a red flag had begun to wave, telling him that everything was going too smoothly--a real tip-off.
His sharp eyes missing nothing, he walked through the rooms and corridors, followed by two bodyguards as usual. He came to a wall solid with wine bottles, which was only cosmetic window dressing, since his wine cellar was upstairs out behind the kitchens. He knew he didn't have to try the Swiss bank vault once it was shut. There was no guard posted either. Once shut, it was shut forever--unless he used the combination, a series of four groups of numbers that, for safety's sake, he hadn't memorized. Why let Hoover grab him and screw the combination out of him? Nobody could get what he didn't know! No, he was too smart to trust his own memory, or even his ability to keep his mouth shut when Hoover applied his thumb-screws.
He continued on, taking the corridor to the subterranean garages--purposely built underground to keep his transportation safe and guarded twenty four hours a day. Nobody could get their hands on it and lay a bomb or something. He never had to worry about it, as long as he knew his men, and he made a point of that, and kept close checks on them too. They were loyal, he knew, for he had given everyone of them a clear idea of exactly would happen to them if they were ever dumb enough to go the enemy and ratted on him, or ever tried to rub him out. Bounties placed on each one, in the event that he showed up in the clink by their connivance, insured loyalty. Not wanting to rub it in, he paid them well, so they had nothing to complain of that way to other mob bosses who might want Legs Diamond out of the way for squeezing them too much.
He stepped into the garage, Fishbone and Ziggy standing quietly behind him. It took him only a moment to see his instincts had been right again. Something was wrong--very wrong!
"Where is the old girl?" he said, looking at each man who had stopped doing whatever he was doing to face the Boss.
The garagemen stared, and their supervisor spat out his chewing tobacco, and gulped. Fishbone, too, seemed bewildered.
"I said, where's the Duse?" Legs repeated with chilling emphasis, looking toward the empty stall where the aged Dusenberg (Legs' first car, a kind of keepsake because Al Capone gave it to him for doing a special job for him) had been parked under a dust cloth.
Fishbone seemed to get something caught in his craw, for he was choking as he spoke, "Ah--well, I--I mean--Boss, we didn't wanna waste any more of your classy numbers, so we took that old junker out instead."
Legs wheeled around, looked at Fishbone in a way that seemed to wither the bigger man, then he too turned pale at the gills. He walked somewhat unsteadily toward the nearest chair, and sank onto it despite the oil stains. His mouth sagging open, showing the gold teeth in front and the black-stained teeth behind, his jawbones were working as if he were trying to seize on the problem with his teeth but somehow failed to get a hold.
Sweat was popping out and pouring down Legs' face. He grimaced, his face a mass of anguished wrinkles. "What did you say--you took the Duse out?"
Fishbone staggered, then moved several steps toward the king rat as the others shrank back away. He had dropped his cigar and it rolled on the floor, but nobody cared. "Boss," he pleaded, "we sunk her with those two last beggars, you know, that was what you wanted, wasn't it?"
Legs shut his eyes, ran his trembling fingers through his hair, then massaged the upper bridge of his nose as if the pain were concentrated there. His tongue came out of his fleshy lips, and touched his nose like a trick--and, the look of a trembling, bewildered old man vanished, he sprang up totally recovered, eyed them all as if they didn't exist and moved off toward the elevator, leaving his terrified bodyguards behind.
That evening of the same day the king rat discovered the Dusenberg was on the bottom of the river, he slowly drifted out of a cloud of his best Joe Kennedy whiskey and began to think of his options.
Option 1: "I can do the blasting myself." But that would draw the G-Men down on him.
Option 2: "I can have it drilled, which is quieter and not so messy." But Hoover would hear of it, and would raid him anyway when he had the locks drilled through.
Option 3: "I can turn it over to the Feds, make a gift of it to the IRS or something, and let them try and open the vault." But Underwood would put him away for tax evasion.
Option 4: "Say nothing, and just let it rot where it was until hell froze over."
Taking a couple more snorts of Canadian comfort, he realized what it had to be, struggled to his feet, and went to a window overlooking the river and the lights of the town.
Weeks after taking the grand tour through Boradaille's ballroom in a Packard going forty or fifty miles an hour, Cissy went back to the riverside with her dad's hatchet and her most prized possession. The hole where the Dusenberg went under after the two Packards she had driven there, it had long frozen over, and there was no sign anything like that had happened.
"That couple, they're still lying in ice water down there," she thought. "They'll be there forever, unless an earthquake messes everything up, or a glacier comes and scrapes everything up and takes it away."
She wondered who they were, and how they got themselves in so much trouble. Was it true what the owner of Boradaille said? Had they tried to kill him? Or was he lying?
She remembered why she had come. She took a silver-decorated bottle out of her pocket. Her parents, sister and brother would think she was crazy, but she didn't care what they thought. She was going to do it anyway.
The note inside, it was to her pen pal, the one she had held secret from Mildred and Harry and everybody since she first thought of him.
High up, standing at a window on the new third floor art gallery, the master of Boradaille looked out and considered his enormous losses as opposed to his slim, surviving assets. He was too absorbed in his thoughts to notice the tiny figure down on the riverside or what it could be doing there. He couldn't see the silvery flask the little girl dropped into a hole she chopped in the river ice, which in spring thaw would carry amidst floes and tossing waves her message to who knows what times and situations. If he noticed the river at all, it was just to reflect that it would keep his secret, even from him. Hoover, he knew, would never let him raise the Dusenberg, without a raid to find out why he wanted so bad to take the trouble.
He started walking through the gallery. Paintings hung thick on the brocaded walls, with chandeliers lighting the corridor from one end to the other, dozens of crates covered the expensive Persian carpets. He would have to get what he could at auctions in New York and London. His agents had spent millions on the collection, though he had no idea what made these pictures valuable--not having an eye for art, nor an ear for music either. The money used was hot, so he'd have to fence the goodies, and that meant a loss of ninety per cent of the value no less.
He felt nothing glancing at the paintings, whatever the subject. They were just an investment, and now he needed to liquidate his remaining assets to help cover a gigantic short-fall, wherever he could put his hands on anything valuable.
It made him grit his teeth, to think that he was sitting on over four billion dollars, and he had to scrape pennies together to keep his operation from folding up on him. Incredible! He never thought he'd ever live to see it happen to him, but the wolf was at the door, and so the paintings, carpets, even the French wines had to go! He had already sold his Miami beach home to Capone's girl friend,and was lucky to find someone with the cash who would ask no questions of him and say nothing to any of Underwood's or Hoover's plainclothesmen.
Boradaille? He would have sold it too, even for zero down, but there wasn't any taker--Troy was no longer fashionable since he and his crowd had moved in. The high society you found at Manhattan's Knickerbocker Club-- they came in the old days to the area, but now they wouldn't touch anything he had to offer. He had no option really but to let the place go back to the county, by not paying taxes.
For something to do, he went over closer to the biggest painting, titled in gilt on the bottom of the massive gold frame, "The Abduction of Helen and the Siege of Troy."
To his eyes all it looked like was a muddled mass of dark clouds with forked lightning, sea waves, sentry fires, crazy-looking wooden sailboats drawn up in a cove below the city, and soldiers in little frilly skirts and nothing on underneath throwing spears at the high walls of a town that held a tower where an old man with a gold crown, and a young woman and a man holding her arm stood on a balcony watching the armies fight below the walls. Even more confusing was the corner nearest him, where the inside of the city was pictured, and there stood a big wooden horse, with soldiers climbing and running to torch the city.