CHRONICLE OF THE TIME ROCKET, VOL. IV, RETROSTAR
CHRONICLE OF RAGNAROK A. S. 1937, Singer of the Ancient Seer How a bard left the Emerald Island to look at old vellum books and paintings preserved by the Benedictines in a monastery in Padua, Italia, and how they warned him about a second great world conflict of the Wasichu nations, which would usher in the new world order and the rise of a lion-bodied, man-headed Beast, the False Messiah, who would seize world power and crush out all the light of liberty and decency in Civilisation. CHRONICLE OF RAGNAROK, VOL. IV, RETROSTAR
CHRONICLE OF THE MOUNTAIN TOMB A. S. 1938, Eugenio's Secret How a Basque fighting with the Loyalist forces in the Spanish Civil War found ancient scrolls and artifacts in a tomb that were older than even Eskual Herria, the Basque homeland that predated every other nation and nationality in Europe.
CHRONICLE OF THE MOUNTAIN TOMB, VOL. IV, RETROSTAR
CHRONICLE OF THE OSLO TAPESTRY A. S. 1938, Katrine's Secret How a Norwegian woman, living alone, grew so desperate about her dry spiritual condition that she would do anything, even take pictures of leaves and shadows in her garden, if it would help restore her faith--pictures forming a tapestry portraying events to come that would have astounded the world if all of them had been made public. CHRONICLE OF THE OSLO TAPESTRY, VOL. IV, RETROSTAR
CHRONICLE OF THE RUINED CATHEDRAL A. S. 1940, Winter of the Soul How Coventry was sacrificed, along with its ancient cathedral and much of its population, by a decision of Churchill who aimed to let the bombers through without any warning to Coventry in order to make the Nazis believe their secret code had not been cracked by Britain's code breakers at Bletchley House. How a half-literate scrubwoman in the smoking ruins of the Cathedral found the means to confront the unspeakable tragedy of losing practically everything in the bombing and firestorm that destroyed Coventry; that is, her husband, children, neighbors, city, cathedral, even her house and job.
CHRONICLE OF THE RUINED CATHEDRAL, VOL. IV. RETROSTAR
CHRONICLE OF THE SEA LION A. S. 1940, 1. Convergence at Abbotsbury How a pious, elder daughter caring for an aged, ailing mother, prayed the right prayer, effectively throwing a switch to a most powerful blessing 1,900 years old.
CHRONICLE OF THE SEA LION, PART I, VOL. IV, RETROSTAR
2. Winter's Grace How a Welsh "College of Intercessionary Prayer-warcraft and Fasting," founded by a former coal miner, succeeded in turning the major events of World War II, starting with the Battle of Britain.
CHRONICLE OF THE SEA LION, PART II, RETROSTAR
3. No Wings But a Prayer How Sir Francis Cecil, hereditary Lord St. Aubyn of the Mount of St. Michael, Cornwall, while squadron commander of Spitfires in the Battle of Britain, was struck wingless by enemy fire but continued flying, and how he was taken out over the coast where he witnessed an even greater event taking place off the notoriously stormgirt Chesil Banks.
CHRONICLE OF THE SEA LION, PART III, VOL. IV, RETROSTAR
4. Ivy's Grand Slam How a little English girl in Portsmouth changed her bedtime prayer and turned back an incoming V-2, setting it on a trajectory that almost took Shickelgruber out of the war.
CHRONICLE OF THE SEA LION, PART IV, VOL. IV, RETROSTAR
CHRONICLE OF THE PILLAR OF LIGHT, A. S. 1940- , How on Earth I Elijah, a Romanian boy growing up in a brutal Communist-ruled country, found a miracle-producing faith to stand up against the impossible odds of confronting a militaristic, atheist dictatorship destroying his beloved homeland, and how he made a new life for himself, succeeding after tens of thousands before him had been slain in the attempt.
CHAPTER 1, CHRONICLE OF THE PILLAR OF LIGHT
CHAPTER 2, CHRONICLE OF THE PILLAR OF LIGHT
CHAPTER 3, CHRONICLE OF THE PILLAR OF LIGHT
CHAPTER 4, CHRONICLE OF THE PILLAR OF LIGHT
CHAPTER 5, CHRONICLE OF THE PILLAR OF LIGHT
CHAPTER 6, CHRONICLE OF THE PILLAR OF LIGHT
CHAPTER 7, CHRONICLE OF THE PILLAR OF LIGHT
CHAPTER 8, CHRONICLE OF THE PILLAR OF LIGHT
CHAPTER 9, CHRONICLE OF THE PILLAR OF LIGHT
CHAPTER 10, CHRONICLE OF THE PILLAR OF LIGHT
CHAPTER 11, CHR0NICLE OF THE PILLAR OF LIGHT
CHAPTER 12, CHRONICLE OF THE PILLAR OF LIGHT
CHAPTER 13, CHRONICLE OF THE PILLAR OF LIGHT
CHAPTER 14, CHRONICLE OF THE PILLAR OF LIGHT
CHAPTER 15, CHRONICLE OF THE PILLAR OF LIGHT
CHAPTER 16, CHRONICLE OF THE PILLAR OF LIGHT
CHAPTER 17, CHRONICLE OF THE PILLAR OF LIGHT
CHAPTER 18, CHRONICLE OF THE PILLAR OF LIGHT
CHRONICLE OF THE ORACLE OF MENO A. S. 1938-1941, St. Roderick's Secret How a Basque patriot, deserting the Loyalist army in the Spanish Civil War, became a free lance secret agent for the British side against the Nazis, luring Shickelgruber into the race for a Super-Bomb while withholding vital information that would have made the Nazi project a success.
CHRONICLE OF THE ORACLES OF MENO, VOL. IV, RETROSTAR
CHRONICLE OF THE RAG DOLL A. S. 1943, Christmas at Auschwitz How a young, brilliant, blind chemist, soon to perish in a gas chamber, afraid it was all for nothing, was given unmistakable proof her life was divinely touched. CHRONICLE OF THE RAG DOLL
CHRONICLE OF THE BAYEUX TAPESTRY'S SECRET PANELS A. S. 1944, Questioning the Sphinx How nuns guarded what came to be known as the world's most famous tapestry, the one detailing the Norman invasion of England in 1066, and how an American nun, an expert in tapetries, discovered additional panels that had not been sewn onto the masterpiece--panels that had been kept secret for the obvious reason they were found so disturbing because they were so prophetic about the world to come.
CHRONICLE OF THE BAYEUX TAPESTRY'S SECRET PANELS, Vol. IV, Retro Star
CHRONICLE OF THE BROKEN GLASS A. S. 1945, 1. Legacy How the victorious chieftains at the Potsdam council meeting from Britain, the U.S., and the Soviet Union, in the name of peace started the "War of Ice," and how Britain's "Tube Alloys" nuclear project came to nothing with suppression and disappearance of vital M-2 intelligence, and President Truman's ace in the hole, the Manhattan Project's Super-Bomb, fizzled at Alamagordo--apparently forcing America to join forces with Britain and Stalin's Russia to fight on to the finish with conventional forces against Premier Hideki Tojo's best troops and, unknown as yet to the Allies and their war planners, a whole nation swept by Kamikaze, the "Divine Wind".
CHRONICLE OF THE BROKEN GLASS, PART I, VOL. IV, RETROSTAR
2. The Pack Rat How a peddler of information, selling whatever he dug up to the highest bidder, happened on a deadly superweapon--one of three that Senhor Averinata had offered the British--that later would be used to help tip the scales against America in favor of the United Nations and a world government. To the Jews the crushing of the wine glass in a Jewish wedding recalled the destruction of the Temple by the Romans in ANNO 70, but to the Basques, it meant the whole universe was shattered--never ever to be put back together as it had been. (How could he barter and trade the destinies of whole nations as if they were trinkets and trifles? Peddlers, like foraging rats, consider only the present moment, and the penny or two gained or lost--never the long haul, which is, for a peddler, far to frightening to even consider in a rodent-type mind. Without the ship, the rat would drown in the open sea. Yet it infests the ship, spreads its diseases with its own dirt, and gives the crew a deadly plague, and the ship, without anyone to guide it to safety, strikes a rock and sinks, drowning the rats who caused the disaster. This has happened countless times. Their own nature, thus, gnaws off the rope that holds them above the pit. Pity the civilization where such men, such vermin, proliferate and gain high office! And you can always tell the end is near when such are numerous and run free, from deck to deck!).
CHRONICLE OF THE BROKEN GLASS, PART II, VOL. IV, RETROSTAR
3. The Angels of USS Indianapolis IP How on July 29, following the successful test of a new death ray in the first week of July, that dissolved atomic structures and could fuse human flesh to metal, a battleship was loaded with the deadly "gadget" and sailed for Tinian, an island in the Marianas Chain. Locked in a steel box bolted to the deck of the captain's cabin, the weapon that would knock the Japanese on the home islands to their knees would be assembled in the secret facility at North Field on Tinian, then deployed by aircraft over the first test cities of Tokyo and Kyoto, the two most revered cities in Japan and the centers of Japanese cultural life. How the best laid plan of the war came to naught, with details of immense tragedy and even angelic intervention that were so explosive in nature they could never be revealed to the American public.
CHRONICLE OF THE BROKEN GLASS, PART 3, VOL. IV, RETROSTAR
4. The Divine Wind How Operation Downfall, the invasion of the Japanese home islands, ultimately succeeded but without superweapons proved so costly to America and Russia that they had cause to recall King Pyrrhus of the Greek kingdom of Epirus, who conquered Roman armies on their home turf but sustained such heavy losses he complained in his famous statement known for its unforgettable pathos, "Another such victory and I am ruined!"
CHRONICLE OF THE BROKEN GLASS, PART 4, VOL. IV, RETROSTAR
CHRONICLE OF THE WINTER SACRIFICE A. S. 1947, 1. Winter's Child How deeply the alien star's rays penetrated postwar America, and how an old farmer's beloved son was killed in the Wioteheka hi, Month of Terrible Moons. 2. Plain View Farm How two deaths in a fiery plane crash were needed to thaw the frozen hearts of two other men.
CHRONICLE OF THE KILLER BEAR'S DESCENT A. S. 1951, The Bear and the Lamb How Djugashvilli fared, while on the operating table in the Kremlin, as a small army of surgeons desperately tried to preserve his life after a massive sroke; how they failed and Djugashvilli, an atheist, found himself still alive, imprisoned in an Afterlife cell which could only be described as hellish. How things got progressively worse for him, as he encountered a strange Jew wearing a prayer shawl and next faced a Judge sitting on a throne so immense it couldn't be anyone less than God sitting upon it, and how he was judged by the testimonies of thirty or so millions he had had tortured and slain, and how after that he found himself shunted into a burning lake of blast furnance intensity, and how he, like all the others in it, were forgotten.
CHRONICLE OF THE KILLER BEAR'S DESCENT, VOL. IV, RETROSTAR
CHRONICLE OF THE MAN LIKE A BRIDGE A.S. 1956, The Search How a young woman of the First World discovered the way back to her lost childhood faith, a faith that carried her all the way to Third World Cameroon wilderness in West Africa where it finally set its roots deep and briefly bloomed. CHRONICLE OF THE MAN LIKE A BRIDGE
MYSTERY CHRONICLE OF THE 50TH ANNIVERSARY A. S. 1962 The Phantom Ship How Lt. Greg Culpepper's life and career took a radical turn and plunge to the bottom of society after a storm at sea and his sighting of the R.M.S. TITANIC going down as he was inspecting the lighthouse facilities at Cape Disappointment and North Head on the mouth of the Columbia River, Washington State. MYSTERY CHRONICLE OF THE 50th ANNIVERSARY, VOL. IV, RETROSTAR
CHRONICLE OF EDYTH'S GOLDEN CROSS A. S. 1963, A Truth Not Told How Miss Edyth Hamilton, humanist, classicist, and world-renowned authority on Greek and Norse mythology, was strangely confronted on her deathbed with certain false premises that undergird her whole life-work.
CHRONICLE OF EDYTH'S GOLDEN CROSS, VOL. IV, RETROSTAR
CHRONICLE OF THE LADY OF THE SPARROWS, A Tale of Old New York and Central Park A.S. 1964, Lucky's Big Strike How Lucretiza Tisdale, a spinster lady in her nineties, fed the sparrows of Central Park faithfully every day and how her death under the wheels of a beer truck brought changes, through the very sparrows she had given soda crackers, that she could not otherwise have achieved at her age and with her insignificant, sparrowlike strength.
CHRONICLE OF THE LADY OF THE SPARROWS, VOL. IV, RETROSTAR
CHRONICLE OF THE FIGHTING ANGEL, PARTS I AND II A. S. 1963 How the Swensons, a young American newlywed couple, in training for the mission field, took a break from language school in Paris, and came to a crisis of their relationship and a man's faith in God on and beneath the Mount of St. Miguel, the Fighting Angel.
CHRONICLE OF THE FIGHTING ANGEL, VOL. IV, RETRO STAR
PART II: How the Swensons came to share their Christmas with the Fulani Tribe in Cameroon, West Africa, and how their cheer spread from there as far as the stars to a lost tribe of the Alpha Centaurii.
PART II, CHRONICLE OF THE FIGHTING ANGEL AND CHRONICLE OF THE LOST TRIBE (VOL. VI, NATAL CONVERGENCE, "A FULANI CHRISTMAS," RETRO STAR
CHRONICLE OF THE REVIVAL OF HAGIA SOPHIA A.S. 1968 How Lidia, a Greek Orthodox nun, ventured from her safe refuge in a convent in Athens, to return by tourist boat to her lost homeland in the Turkish nation that had forced her family to flee for their lives in the savage. almost genocidal war that broke out between the Greeks and Turks after World War I. How she learned things she did not expect from her day trip and contact with the enemy occupying her people's chief city and seat of the Greek Orthodox Patriarchate of Constantinople and East Rome. How she received a gift she would always treasure--and ceased feeling herself robbed by the Turks though they had taken her Greek homeland as their own and pushed out virtually all her fellow Greeks.
CHRONICLE OF THE REVIVAL OF HAGIA SOPHIA, VOL. IV, RETROSTAR
CHRONICLE OF THE SHOW ME STATE'S PROPHET (EARTH I) A. S. 1966, Elijah's Mantle How young and aspiring Brad Bright Jr. dreamed of becoming a prophet to "Holy Spirit-led, on-fire" Pentecostal churches in Missouri, his home state. How his promising life was cut short by a fatal collision with a tree when he was driving his truck home from a church youth meeting, and how his dream of ministry was defeated only temporarily, as a bit later he was brought back to serve with Elijah's mantle in the war against the AntiChrist Beast and his prophet during the post-Rapture Tribulation Period.
CHRONICLE OF THE SHOW ME STATE PROPHET, VOL. IV, RETROSTAR
CHRONICLE OF THE GIANT CHIEFS A. S. 1972, Two Sayings of Uwe Hantsbo Regarding the Atlanteans: Elektra's Sad Fate, and Atlantis on the rocks, anyone? How the Earth's tribe of original giants that stood like the tallest trees on Earth lived in a vast land that sank beneath the Eastern Sea.
CHRONICLE OF THE BLUE BRIDGE SALIENT A. S. 1973-1978 Even while the armies of France, Britain, and America struggled unsuccessfully in southern Asia to push back the communist forces from the north, a greater battle was being fought among the stars. How Atlantean star fleets combined with the red star and other star-stones to force an entry into the Great Nebula in order to destroy the protective forces centered at the Blue Brige. How, nearly successful, they were rebuffed, forcing an Atlantean subcommander to retreat to Earth.
CHRONICLE OF THE BLUE BRIDGE SALIENT, VOL. IV, RETROSTAR
CHRONICLE OF HANTSBO'S NOTES A.S. 199?, On the Bipedal Workforce of 1994tk66--A Flying Texas How Uwe Hantsbo discovered on a planetoid a most interesting cache of mutants, freeze-dried specimens of the very kinds that had been proposed by a Washington geographical society in its magazine to be authentic human prototypes proven by science and archeology. The only problem, as Hantsbo points out, is that they were found all mixed together, obvious contemporaries, not separated by millions of years or mere hundreds of thousands as was said to be the case by the East Coast Brahmin evolutionists entrenched in the powerful, elitist geographical society.
CHRONICLE OF HANTSBO'S NOTES, VOL. IV, RETROSTAR
CHRONICLE OF THE ICE BIRD, PART II A. S. 1973, Voyage of the PRION Inspired by Shackleton's legendary heroism, how an exlorer from New Zealand set out to be the first to circumnavigate Antarctica in a small boat solo, and stumbled into an unknown "Devil's Triangle" of ancient Atlantean orgin just off East Antarctica's Ross Ice Shelf that changed his course so radically he was propelled in space and also time as far as an ancient Atlantean outpost opposite the gate of the Great Nebula of Orion--the very site of what Tennison the Poet Laureate of Britain described as holding a "vast mystic charm." CHRONICLE OF THE ICE BIRD, PART II, VOL. IV, RETROSTAR
MYSTERY CHRONICLE OF THE WHITE CANOE A. S. 1977, Fairwind in Deep Waters How a young electric plant operator of mixed working class and New England blue blood background takes a cruise into the unknown mysteries of time and space aboard what had first seemed a New York based cruise ship on its way to Peru.
MYSTERY CHRONICLE OF THE WHITE CANOE, VOL. IV, RETRO STAR
CHRONICLE OF THE ICE BIRD, PART III A. S. 1978, Cavendish in the Sky with Diamonds A somewhat crusty curmugeon of a retired journalist, in remission from cancer but angry over the recent loss of his wife to the same disease, goes out into his ruined back yard and changes places with a Prion, a polar bird that has wandered into his garden and died. Somehow the bird in death becomes him, giving him wings of a starship that can touch the farthest stars and Orion, Gateway to the Morning, where something bright and shining with destiny for everyone one arth seemed to open to him.
CHRONICLE OF THE ICE BIRD, PART III, VOL. IV, RETRO STAR
CHRONICLE OF THE LADY OF THE ANCHORED A.S. 1983 On the Trail of St. Paul How Prunella, a sedate altar guild woman from the Midlands, England, on tour with a cruise ship company in the Middle East, finds release from a crushing depression over the accidental death of her daughter.
CHRONICLE OF THE LADY OF THE ANCHORED, VOL. IV, RETROSTAR
CHRONICLE OF THE SURVEYOR OF THE QUEEN'S PICTURES A. S. 1983-, The Knight of Darkness How Sir Anthony Blunt and his fellow Cambridge-educated colleagues became involved in a secret spy ring inside the British secret services, serving not Fascism but Soviet Russia during part of the Second World War and for some years of the following Cold War with Soviet Russia. How Sir Anthony "retired" from being a double agent to being the Surveyor of the Queen's Pictures, with the responsibility for all the Queen's artworks in the royal palaces, but how he was exposed as a spy and found guilty but was allowed to retire with some dignity to his home, while his co-conspirators fled to Soviet Russia. How in dying they singly and together discovered an Afterlife their Darwinistic beliefs had denied was possible, which delegated them to a new venture just as exciting as betraying their own country and serving her arch enemy--a contest involving the Golden Fleece and a rival ship called the Argo.
CHRONICLE OF THE SURVEYOR OF THE QUEEN'S PICTURES, VOL. IV, RETROSTAR
CHRONICLE OF THE SACRED COWHIDE PAINTER A. S. 1987, Ira's Letter to the 11,000th Century How an artist's paintings for a B.I.A.-Lakota Christmas arts and crafts competition were preserved for a tribe of Wasichu lost seemingly forever among the lodges of the stars.
CHRONICLE OF THE SACRED COWHIDE PAINTER
CHRONICLE OF THE LION'S DESCENT, A. S. 1995, "The Lion's Descent," Part I, "The Lion's Legacy," Part II, How a U.S. Supreme Court Justice who was a very nice and likable gentleman became responsible for a once great and godly nation's descent into self-destructive depravity and violence and also for more deaths of Americans than were slain in the death camps of Himmler and Hitler (Earth I), and how he fared in Hades (Hell) after his death.
CHRONICLE OF THE LION'S DESCENT, VOL. IV, RETROSTAR
CHRONICLE OF UWE HANTSBO'S NOTES A. S. 199?, On the Bipedal Workforce of 1994tK66, A Flying Texas How Uwe Hantsbo points out certain rather glaring flaws in the evolutionary timeline and evolutionary theory after seeing the flaws in question with his own eyes, frozen specimens of hominids and so-called human precursors, flying aboard a Texas-sized hunk of rock; how their existence supports his own view that highly intelligent, highly terrible ante-humans he names as the Atlanteans were responsible for the Dachau-like work camp on the asteriod.
CHRONICLE OF UWE HANTSBO'S NOTES, VOL. IV, RETROSTAR
CHRONICLE OF THE GREAT WEAVER PEOPLE A. S. 1997, The Secret of Dream Catching How Horace Brave Scout wanders the Southwest and finds his life-guiding vision among the caves and baskets of an extinct tribe. CHRONICLE OF THE GREAT WEAVER PEOPLE
CHRONCLE OF THE UTERO-NAUT A. S. YEAR OF THE CHILD, PART I, Orientation How Shawnta, a 19 year old wannabe careerist like her single mom, was processed at the local abortion mill newly opened in her black neighborhood.
CHRONICLE OF THE UTERO-NAUT, PART I, RETROSTAR
PART II, The Argonaut How Shawnta's unborn child (no such thing as "fetus" ever existed on earth), genius that he was, got going with the name of Jason on a very promising career that might well have benefited the whole society and probably the world, but was rudely interrupted by an abortionist's foreseps, scizzors, and vacuum--but also how the Master Plan created by the FC kicked in with a contingency plan to restore Jason's life and future.
CHRONICLE OF THE UTERO-NAUT, PART II, VOL. IV, RETROSTAR
CHRONICLE OF THE PEARLY GATES A. S. 1998, How a Pearl Was Made How a farmer's daughter's experiences in life and her decision to be forgiving came to form one half of a gate of heaven.
CHRONICLE OF THE PEARLY GATE, PARTS I-II, VOL. IV, RETROSTAR
CHRONICLE OF THE GRAND PUZZLE--Earth I A. S. 2001- How Anatoly, a survivor of a notorious Nazi death camp where Anne Franke and her sister perished along with tens of thousands of other Jews, spent his convalescence and waiting period to go to Israel by playing the lottery after the camp was in the hands of the Allies; how he shattered the laws of probability by never losing and always managing to win back his stake; how this impossible gambling feat came back to haunt him in the last minutes of his life as he lay dying in a Denver hospital, but how the Hound of Heaven led him to win the Jackpot of life, the greatest prize of all.
CHRONICLE OF THE GRAND PUZZLE, VOL. IV, RETROSTAR
CHRONICLE OF THE LOST CITY A. S. 2002, Last Breakfast in the West Wing; Melt-down on Pennsylvania Avenue How the Wasichu of the U. S., in moral and political decline over against the British Commonwealth ever since Potsdam despite the highly-publicized moon and space programs of NASA, are struck by an invisible enemy and lose all their chiefs at once, and chiefs from the rest of the world come and set up a new council fire for the nation on Manhattan Island.
CHRONICLE OF THE MILLION MAN FLESH-EATER, VOL. IV, RETROSTAR
CHRONICLE OF THE DEAD MOVIE QUEEN A. S. 2003, The Burning of Coburn How a Hollywood legend found that all her fame, fortune, and feisty feminism couldn't erase the incredible after-death reality that was evidently turning against her--not only did she find she existed when she should have dissolved into nothingness, but all sorts of strange, powerful beings seemed intent on judging her and then throwing her into what appeared to be a Pacific Ocean set on fire.
CHRONICLE OF THE DEAD MOVIE QUEEN, VOL. IV, RETROSTAR
CHRONICLE OF MOSHE, HONORGUARDSMAN A. S. "Night of the Iguana" How on Earth I, Moshe Benlevi, a young Israeli soldier, a freedom-loving Sabra, was chosen to be a part of Michael Jayson's honor guard in Israel when the EU President arrived there for the signing of his "eternal peace" accord he had brokered with the Palestinians and the Israelis. How Moshe tasted sour grapes in the deal and decided to stop the world (at least his slice of it) and get off, but how he was intercepted by someone he hadn't included in his life's equation.
CHRONICLE OF MOSHE, HONORGUARDSMAN, VOL. IV, RETROSTAR
CHRONICLE OF DJUGASHVILLI'S SERVANTS A. S. 2024 The Titan of CNNC A hostile takeover by Ted Hunter of a competing Christian network, Alpha-Omega, backfired tragically for him when his wife, converting to Christianity right in his own penthouse on top the CNNC Towers in Manhattan, took A-O's side in opposing him. A takeover that was supposed to be routine, thanks to his billions and an army of corporate lawyers, became a living nightmare when he met a world-class power player in A-0 that more than proved his match.
CHRONICLE OF DJUGASHVILLI's SERVANTS, VOL. IV, RETROSTAR
CHRONICLE OF THE FALLEN GIANT A. S. 2024, How the Dominion of Canada, like the Humpty Dumpty the ill-starred egg man in children's nursery tales, broke up due to the disastrous effects of resurgent glaciation but could not be put back together; how it gained an ephemeral capital called Flin Flondia, once called the "Sunless City," in a book by that name.
CHRONICLE OF THE FALLEN GIANT, VOL. IV, RETROSTAR
CHRONICLE OF THE LAST CAMELOT A. S. 2170-, 1. Idylls of the King
CHRONICLE OF THE LAST CAMELOT, PART I, VOL. IV, RETROSTAR
2. The Panther's Jaws
CHRONICLE OF THE LAST CAMELOT, PART II, VOL. IV, RETROSTAR
3. Women and Children First!
CHRONICLE OF THE LAST CAMELOT, PART III, VOL. IV, RETROSTAR
4. Le Morte D'X-2914000?
CHRONICLE OF THE LAST CAMELOT, PART IV, VOL. IV, RETROSTAR
5. "Merry Christmas from Lyonnesse"
CHRONICLE OF THE LAST CAMELOT, PART V, VOL. IV, RETROSTAR
6. Wotoo's Black Box; The Duck King
CHRONICLE OF THE LAST CAMELOT, PART SIX, VOL. IV, RETROSTAR
7. Last Wagon Train to Avalann How the Royal Tribe of Windsor fared in exile on a base off Charon, Pluto's moon, and how they adapted to the loss of Earth and the dissolution of the monarchy
CHRONICLE OF THE LAST CAMELOT, VOL. IV, RETROSTAR
CHRONICLE OF THE STAR CHAMBER A. S. 2363, Christ in Atlantis? How Professor Pikkard was tried before a university panel for his heretical views and found guilty without evidence to refute his case.
CHRONICLE OF THE STAR CHAMBER, VOL. IV, RETROSTAR
CHRONICLE OF CHRISTUS TRIUMPHANS, Parts I, II, & III A. S. 2392, The Christmas Factor How Dr. Pikkard, meditating on the mystic Teilhard Chardin's visionary commentary on a medieval painting portraying a "standing" not a "hanging" Christ on the Cross, went on to reflect as well as the Incarnation of Yeshua, and how he concluded that a mystic thread connected all things, even to the blood of the human body, but that he had to wait for a "later" and "younger" talent to make it known scientifically. How, unknown to him, that younger visionary came to be his own predecessor, a Darwininian Establishment-challenging young man named Behe in the 20th-21st centuries, along with his contemporaries, Gabriel Tall Chief and Horace Brave Scout, who traced golden threads and lesser threads in a grand "blood cascade" of their own in the chronicles they brought forth.
CHRONICLE OF CHRISTUS TRIUMPHANS, VOL. IV, RETROSTAR
Book Two
CHRONICLE OF YOSEF'S PILGRIMAGE A. S. 4117, Flight to Avaris How Yosef and his young wife Maryam, with Maryam's newborn Yeshua the Promised Messiah of the Jews, fled from troops and spies of Herod the Great to safety in Mizraim, and how they journeyed back to Nazareth, their natal city, once Herod was dead.
CHRONICLE OF YOSEF'S PILGRIMAGE
CHRONICLE OF THE SECOND RESURRECTION A. S. 4150, Secret Sharers, Part II How the Second Zechariah the prophet, slain in the temple courts alng with many other prophets and saints, rose from the dead as a sign of the resurrection of the Messiah way back in A.S. 30, and how he went into the holy city and appeared to many, after which he was triumphantly escorted by angels to heaven's paradise--a spectacle first recorded, with certain new additions to the Resurrection Rolol, by Secret Sharer Josheph of Arimathea.
CHRONICLE OF THE SECOND RESURRECTION, VOL. IV, RETROSTAR
UNCHRONICLE OF THE CHRISTMAS PLAY A. S. 4 6 5 ?, "Merry Christmas from Lyonnesse," A Play, How a miserly, cruel banker seeks to destroy a whole town he has foreclosed on, closing down the only means of employment, the town mill, and how a small girl, Emily Cogwell, revives faith and hope in the people by refusing to give up her own in the bitter circumstances of poverty and homelessness, and how she turns and saves the banker when he experiences a change of heart after seeing her standing alone in the town square holding the Nativity Scene's Christ Child doll.
UNCHRONICLE OF THE CHRISTMAS PLAY, VOL. IV, RETROSTAR
CHRONICLE OF THE DRIED SPRINGS IP A. S. 4760, A Chief's Son Named Laughing Waters How an old chief and his old wife who had no children were promised a son by God, and the old woman laughed, yet later she conceived and gave birth to a beautiful son she named Minnehaha.
CHRONICLE OF THE PEARL DIVER A. S. 5927 -, Shipwreck of Dreams How a despised half-breed, part Keftiuan and part Myceneaean (both nations bitter enemies in the world) and Prince Daedalus do not get along and almost come to blows over the pretty orphan girl Theseus runs off with, and later after the girl's death (and the shipwreck of Theseus's dreams) how they find a way past hatred and revenge. CHRONICLE OF THE PEARL DIVER, VOL. IV, RETROSTAR
CHRONICLE OF THE FIRE WATER MAKER A. S. 5931, The Chosen How a brewery malt masher got herself a mighty warrior as a husband, and how her head was knocked in by other poor women, and left to die, but a great chief's prayer gained her the ear of the Most High and she was healed. CHRONICLE OF THE FIRE WATER MAKER, VOL. IV, RETROSTAR
CHRONICLE OF THE BLESSINGS OF THE BREASTS A. S. 5932-, The Wayward Vine How the births of two sons, Manasseh and Ephraim, comforted and cheered Joseph in the land of his bondage, but how his beloved wife and companion's heart turned toward her people and away from her husband.
CHRONICLE OF THE BLESSINGS OF THE BREASTS, VOL. IV, RETROSTAR
TWIN CHRONICLE OF THE AMBUSHED MAIDENS, TWIN CHRONICLE OF THE AMBUSHED BRAVE A. S. 5934, 1. Dawn Flower
TWIN CHRONICLE OF THE AMBUSHED MAIDENS, VOL. IV, RETROSTAR
2. The Prince of Gilead
TWIN CHRONICLE OF THE AMBUSHED BRAVE
How a chieftain's daughter and her maid-servant fought for their virtue; how the maid-servant escaped to safety and found a young man she could make her husband; how a prince, robbed of all his wealth, was left for dead in the desert, and how he found a greater wampum.
CHRONICLE OF THE BITTER ROOT A. S. 5938, Abdullah's Return How good times fattened Abdullah but did not improve his character, and how resentment and blood revenge took root in his heart, and how he could not rest until he avenged his brethren's deaths on the head of the chief of those he held responsible--Joseph. CHRONICLE OF THE BITTER ROOT, VOL. IV, RETROSTAR
CHRONICLE OF FAT WOLVES AND HUNGRY PEOPLE A. S. 5941, Part I, A Bruised Reed and a Broken Staff; Part II, The Return of the Brothers How the little family tribe of Joseph's father began to starve in their desert hogans and needed to go for provision in another country where there was said to be abundant food and water, thanks to a most far-seeing ruler in it who had set aside one fifth of the harvest for seven straight years of abundant harvests.
PART II, CHRONICLE OF THE FAT WOLVES AND LEAN PEOPLE, VOL. IV, RETROSTAR
CHRONICLE OF THE FAR-SPEAKING VASES A. S. 5931-, 1. Secret Diary of Ipu-Pheres (cont. by Benohe-Pheres); A. S. 5942, 2. Letters of Ipu-Pheres, Jonathan H. Thompkins, and Bertha Mae 3. Letter to Reader by Editor of the 23rd Edition of RETRO STAR series. How spirit-house shamans who have not yet been born could talk to people in stone tipis which had long since vanished under the ice. CHRONICLE OF THE FAR-SPEAKING VASES, VOL. IV, RETRO STAR
CHRONICLE OF THE BLESSINGS AND CURSINGS A. S. 5957, Jacob's Last Testament How all his sons received their future shares in the Promised Land and how his blessings in some cases seemed more like curses; how Jacob's embalmed body was carried back to Ken'an and buried with his father's bones. CHRONICLE OF THE BLESSINGS AND CURSINGS, VOL. IV, RETROSTAR
CHRONICLE OF THE BLESSINGS OF THE EVERLASTING HILLS A. S. 6011, The Kingdom Pledge How Joseph, on his deathbed at age 110, prophesied that his bones would not lie forever in Mizraim, but they would be gathered to his fathers in the Promised Land by his people. How seventy five years of great blessing followed Joseph's death, but then enslavement of the Hebrews began. How blessed was the one piece of ground, the field outside Shechem, owned by the people of Jacob and Joseph. CHRONICLE OF THE BLESSINGS OF THE EVERLASTING HILLS, VOL. IV, RETROSTAR
CHRONICLE OF A CLOUDY AND DARK DAY A. S. 6719, A Mighty Chief Called Barley Cake How one young brave was chosen by God to fight tribes of thousands of enemies that oppressed and starved his people, coming every year and taking all their food away. CHRONICLE OF A CLOUDY AND DARK DAY, VOL. IV, RETROSTAR
CHRONICLE OF THE GIANT-SCALPER A. S. 6852, The Runt of Ephratah How a tribesman of tiny Ephratah, smallest portion of a small country, he himself youngest in his family and despised by his brethren, killed and scalped a giant warrior and became the chieftain of the whole country and one of the most famous kings in human memory and whose second name is spread over the whole earth.
CHRONICLE OF THE GIANT SCALPER, VOL. IV, RETRO STAR
CHRONICLE OF THE CHIEFTAIN'S DAUGHTER IP A. S. 8732, Elektra's Contingency Plan--Implemented How a chieftain's daughter lost her last sky-canoe and seemingly all her people but found a tribe who didn't know better and took her along with them.
CHRONICLE OF THE CHIEFTAIN'S DAUGHTER
CHRONICLE OF THE SEVEN STARS, THE GREAT WHITE CHAIR, AND THE END OF EARTH'S SKY-TRAIL AND THE GREAT LAST COUNCIL FIRE (EARTHS I AND II) Z-Point II
GREAT LAST COUNCIL FIRE, VOL. IV, RETROSTAR
1. Z-Point Deferred: Battle of the Seven Stars How, on Earth I, the "Light Bringer" Lucifer attacks the Seven Agensl of the Seven Cburches, determined to gain absolute control of Earth I, and how he uses this attack as a feint in order do the most damage he can to his true objective: the Blue Bridge of Orion that contains, he senses, to the Plan of Restoration for both Earths and their Universes.
CHRONICLE OF THE SEVEN STARS, VOL. IV, RETROSTAR
2. Part I: The Sentencing Trial: The Great Assize Part I How all the people who had done bad things were shown what they had done and were cast alive into the mouth of a Star-Eater along with all the spirit-creatures that lodged inside the enemy stars. Part II: City of Destruction How the cities and nations were judged and then their names and official seals and insigne cast into the Pit, and all memory erased in the mind of God of their former existence.
CHRONICLE OF THE GREAT WHITE CHAIR, VOL. IV, RETRO STAR
Part II, CHRONICLE OF THE GREAT WHITE CHAIR, "CITY OF DESTRUCTION, the "Emerald City", VOL. IV, RETROSTAR
CHRONICLE OF THE BLUE BRIDGE LINKING CHAMPIONS--EARTH I AND EARTH II How the Bridge once linking the Twin Earths was restored in the Cavern of the Great Nebula of Orion, a work that spanned the ages and completed the destiny of both worlds; how the choice to forgive by one wounded human being, a pioneer Exoduster's daughter from a farm in Kansas, joined the two half-spans together forever.
CHRONICLE OF THE BLUE BRIDGE LINKING CHAMPIONS
2. Homecoming of the City of the Great Chief IP How the council gathering of the Lamb of God, finished after an eternity of careful construction, came down from heaven and set upon the center of restored Israel, where the Nail-Pierced One and his tribes would rule the Earth's nations for a thousand years until the Final Reaping of the Earth.
Volume V Beyond the Rapture--An Eschatology Lived,
Chronicled by Horace Brave Scout
CHRONICLE OF THE GREAT CHIEF'S RETURN A. S. 200? How Yeshua comes to Earth I, unexpectedly to most people, gathers those few "Wise Virgins" who are prepared, and leaves those who were tremendously successful followers, they thought, only to find themselves lumped with the ungodly in a world society racing toward the abyss. How Heloise Turnbull, the televangelist, lost her world-wide organization and wealth along with her husband and family but found new life and a new ministry in Israel where she fled to escape the collapse of everything she had achieved.
PART ONE, JACOB'S TROUBLE, "THE VOICE FROM THE GROUND"
"Thief in the Night," Part Two, Beyond the Rapture
"The Spin Shamans," Part Three, Beyond the Rapture
"luv heat and the marcyz boyz," Part Four, Beyond the Rapture
"Hard Choices, Part Five, Beyond the Rapture
"The Wailers at the Wall," Beyond the Rapture
"Shelter from the Storm," Part Seven, Beyond the Rapture
"A Covenant God," Part Nine, Beyond the Rapture
"The Lion Unleashed," Part Nine, Beyond the Rapture
"Retreat to Petra," Part Ten, Beyond the Rapture
Please return for Book Two of Beyond the Rapture, "Yom Kipppur"
(Chronicle completed)
Volume VI Natal Convergence
by Horace Brave Scout
CHRONICLE OF THE LOST TRIBE A. S. 1,136,786 How the Alpha Centaurii discovered an archive of Late Twentieth Century artifacts in a time capsule, and information revealing a Magnum Mysterium that revolutionized everything, to the point where they chose the dreaded White Martyrdom, a final search of the Universe for what they had lost, in which they discover what Ira Sulkowsky has already shown them in.... "The Christmas Factor" 61000202A-Z, Subfile A1, "Dogon Star Child"
61000202A-Z, Subfile A2, "Lakota Nativity" 61000202A-Z, Subfile A3, "A Victorian Christmas" 61000202A-Z, Subfile A4, "Christmas with James Dean"
"Subfile A4: Christmas with James Dean, A Requiem with Poinsettias" 61000202A-Z, Subfile A5, "A Fawn in Winter" 61000202A-Z, Subfile A6, "A Fulani Christmas"
"A Fulani Christmas," Vol. VI, CHRONICLE OF THE LOST TRIBE, RETRO STAR
61000202A-Z, Subfile A7, "Street of Dreams" 61000202A-Z, Subfile A8, "Winter Rose"
CHRONICLE OF THE LOST TRIBE, WINTER ROSE, VOL. VI, RETROSTAR
61000202A-Z, Subfile A9, Act III, "Christmas from Lyonnesse"
61000202A-Z, Subfile A10, ACT III, "Joseph's Letter"
CHRONICLE OF THE LOST TRIBE, VOL. VI, "Joseph's Letter," RETROSTAR "Natal Convergence!"
Volume VII Final Wars...Convergence at Orion by Horace Brave Scout IP
How two major battles fought for Orion and its secret "Skunk Works" resulted in the destruction of the chief project, the Blue Bridge, to the point where only half survived in each Universe; and how a single act of an individual was strong enough to unite the two halves into one whole, thereby completing the bridge and defeating the opposing players.
Epilogue II EPILOGUE II, "THE HARROWINGS OF HADES AND HELL," RETRO STAR
NOTE OF FRIENDLY REMINDER TO DOWNLOADERS: THIS CONTENTS PAGE DOES NOT LIST A GREAT MANY COMPLETED CHRONICLES, SO THERE IS NO WAY DOWNLOADING CAN OBTAIN THE COMPLETE RETRO STAR SERIES. WHAT IS GIVEN TO PUBLIC DOMAIN HERE IS JUST ENOUGH TO OPEN A WINDOW ON THE SERIES AND ITS POSSIBILITIES TO WHOMEVER IS SERIOUSLY INTERESTED.
Before Atlantis, there was Mukalia. Atlantis learned a great deal from the mother civilization, and continued many of its traditions. The power crystals, for instance, with the wisdom that made them so useful, transferred to Atlantis after what was left of Mukalia was being explored by long-tailed ratfish and giant squids on the bottom of the sea.
The Star of Bethlehem was something different from what the magi understood it to be. It moved independently, stopping and going, leading them to the exact site of Yeshua's birth city, Bethlehem.
,p>
In 22nd Century Greece, in the last hours of the Crystal Age, Ero, an Olympic Torch bearer, waits for the torch on a lonely road in the Peloponessos, the southern island that is the site of Olympia, where the Games started in classical Greek times thousands of years before. Little does he know as he waits impatiently for the torchbearer to show up, that his DNA specimen, taken by the Olympic commission shortly before, will ultimately land him in a far future time and place as an Argonaut.
The White Ship begins with an intermediate stage. Popup boards appear from time to time to give them enough information to make their decisions.
Ero, the last Cyber-Argonaut to arrive, wings his way through cyber-space to his rendevous with the White Ship, or Argo V, and passes a number of remarkable objects on the way--valuable hardware from all eras of time caught up in a kind of airborne Ebay, only nobody could order any of it.
At the first anchorage, the Black Ship awaits the White Ship. Given shore leave, some of the flat-dimensioned pirates camp out and enjoy the local half-human fauna--which they serve up roasted, no matter how grotesque the creatures.
The pirate vessel, the Black Ship, lies at anchor, deceptively peaceful-looking. It unexpectedly, from time to time, changes shape, however, adding and subtracting decks and superstructure, fore and aft, as if it were gearing up for something. At this moment it looks like a Dutch merchant.
The crew also shifts shape. When they dive in the water they turn to sharks, but they resume their former flat, card-like shapes when they leave the water. One Black Ship hand, Arthur Jackson, prefers zipping around the water as a sleek shark more than he likes his awkward existence as a playing card on land. He would stay in the water indefinitely, but there is a limit in the time set for each shape-shift. If he goes over it, the water feels like boiling oil and battery acid combined, and he has to get out immediately. An escapee from Wolverton, his DNA got into Tutasix, and Wally recruited him along with others from the same reform school. Sent to Wolverton by the authorities as an incorrigible juvenile for cheating on a test, talking back to a teacher, and sharing a bottle of beer with a school mate, Arthur Jackson was fortunate they had not known some of his other achievements--such as burglary, arson, and the murder of an old Chinese man for a couple dollars he found afterwards in his pocket.
Captain Wolvewoeld is a man of long, varied experience--assault, murder, kidnapping, robbery, conspiracy, destruction of public property, sabotage, explosives, air piracy, extortion, and sedition. His Coat of Arms (shown on the ship's pennant) is Argent, above two bars gules, three mullets gules. Crest-coronet. Crest: a demi-eagle rising sable. Motto, in Latin: Exitus Acta Probat (The End Justifies the Deeds). Initial device: Ww, fess point gules. He would have made (or perhaps he did) a good Nazi SS officer.
Arrived on the White Ship, a Cyber-Argo, Ero has some adjusting to do.
The ship is really an airship before it takes to water, and it flies to its the appointed meeting place with its rival and opposite, the Black Ship.
The Argo V is towed to its anchorage by a Triton, or merman serving as a harbor pilot, that is as powerful as any tugboat.
A cybernaut takes a look at Ero, but Ero, despite his open eyes, doesn't even see him.
Ero, as everyone else aboard has done, meets his skipper, Captain Pikkard. Along with being an oarsman, Ero is appointed ship's musician by Pikkard, as he can sing as well as an Orpheus ever sang for the first Argo and provide some cheer for the voyage, as soon as he can find or make himself a suitable guitar.
The cooks aboard the Black Ship, a black woman and her helper, are being mistreated. They desert to the White Ship, and Captain Pikkard, after hearing their story, gives them refuge. The Black Ship doesn't send anyone to pursue the women, but a cannon is aimed at the White Ship--and for a few moments it looks like they will be blown out of the water befor the game even begins. But the cannon retracts, and there s no outbreak of hostility. The women remain--to do the White Ship's meals. Captain Pikkard sends them to the galley, what there is of a galley aboard so small a ship.
There is little danger of any of the cybernauts taking an interest in the serving women on board. The black woman, Madame Tumpo, is all business when it comes to her duties as ship cook, and her helper, Betti, is an almost mindless victim of the pirates--more like a child than an adult. Amazingly, in her former life, she had been a film star in Holland America--but you wouldn't guess that looking at her now. She was treated so wretchedly, she is half-crazed and almost toothless.
As the cyber-Argo, the White Ship, sails the upper part of the Puget Sound of the Northwest, romance breaks out almost as soon as the ship comes into sight of a tribe of some lovelorn women on the shore.
Captain Pikkard is the last one to stand in the way of romance and marriage (which go together like a horse and carriage in vitual reality), and a Cyber-Argonaut knight weds his sweet lady love.
Yet as the wives of sailers all know when they make their solemn vows, there is going to have to be separation for a time when the ship leaves port, as all ships must do to complete their voyages. After a brief but poignant honeymoon on a secluded island beach for the married couple, the White Ship continues on its way, entering a swift-currented channel that sweeps it between the halves of a ruined bridge. Where is the Black Ship, by the way? They have not seen it in days, and that is not necessarily a good sign.
Even in the Cyber-Spatial Inland Sea of the Puget Sound, there are treacherous rocks with ship-smashing rip tides and sneaker waves--sure doom for any passing vessels. The White Ship just barely clears, losing a bit of its stern ornament.
Each ship is allowed three turbo thrusts. To escape the pirates, who were waiting just on the other side of the Clashing Rocks, Captain Pikkard chose his option to escape with only the loss of his tail feathers. The White Ship reappeared just off Point Defiance, Tacoma, or what was Tacoma in the 1970's before it was hit by a 9.7 killer quake that dropped the whole peninsula and outlying areas into a hole that nearly reached China.
Sent ashore to provision the ship and have a look around, the crew dispersed. Ero went walking along the Ruston village beachfront, which had been a scene of liveliness decades earlier with lumberyards, boat-building, a fising fleet marina, and busy docks lined with ships from all over.
Now it was deserted--as this city was in virtual reality, with scarcely an inhabitant to hold down Fort Nisqually that had been moved up to be the centerpiece of Point Defiance Park. He wandered up there and took a look at Never Never Land and the old, reconstructed fort.
After a look around at some other oddities, he went back down the steep streets to the waterfront, which suited him more, being a sea-loving Greek.
Since they were supposed to help provision the ship, he started looking around. N ot a person showed himself at the smelter with the towering stack, or at a huge grain elevator, or in the rows of warehouse.
Suddenly, a rabbit bolted out of the open door of a warehouse when he went to look in. Seeing his dinner getting away, Ero gave chase. The rabbit made for the beach in a zig-zag way of rabbits. Though wondering about this particular specimen, he had chased hares enough in the Peloponnesos and even on Seriphos his home island enough to know their tricks. Certain it would try to make for its hole under driftwood or rocks, he raced to head it off. But the rabbit dove into a tangled wood pile.
Ero swore as he thought of the wasted time and energy. He was very hungry by now. He found a club and waited where he last saw the rabbit.
He did not have long to wait. But what he saw made him hold off clubbing it.
It was something out of a story for children, a rabbit-man! Only it was not at all attractive. A human face appeared attached to a rabbit's body. Its troubled, weak and watery eyes searched about, then filled with dumb shock as it saw him.
Grunting with disgust, Ero backed away and then ran back to the road. He hoped he would never be forced to kill and eat such a pallid, mixed-up creature.

As he walked along the side of Commencement Bay, gazing across it to the hills on the other side and then at a big stadium in the hillside, with a hotel-like building above it, he wondered what he would find in the city that lay beyond.

After a lot of walking, he entered the downtown, which was full of empty, dreary buildings, and came round a waterway to a big domed building.
Going in out of curiosity, he found it empty, except for one man sitting at a two-legged table, playing solitaire. The fellow, dressed in boots and fisherman's gear, hardly noticed him, though the two of them could not make a stranger pair.
Crazy Dan, hardly looking up from his cards, introduced himself. He had been a great man in the area once, when there were still a lot of people. Where they all went, he had no idea. It was a pretty dull place, he said, now that he had only Kelly's Tav just down the block to wet his whistle, and this place, the old Union Station which no longer ran trains full of people heading for Seattle or Portland. Now it was just him, and the pigeons in the dome. Ero looked up. The dome fascinated him. He wondered if he could climb up from the outside and get a view of the whole city from it. Crazy Dan, however, continued talking, telling Ero his whole life story, or a good part of it. Biggest dang Ford dealership in the whole Northwest! He got to the top by taking sledge hammers and smashing his own cars in the lot. That really got folks to give him attention. Once he got their attention, he could get their money. And he was a millionaire before his hammer arm got tired! With his dough he planned to build the biggest mansion on Mercer Island. He planned to invite Seattle's hoity toity nobs over to his place and show them a real Picasso! That would draw them in for sure. Then he would show them the rest of his swanky estate--the indoor pool with the real Orca whale in it, and other things he had dreamed of buying while he was raking it in down at the dealership. Once he sold it--that is--he'd make all his golden dreams come true. But that dang earthquake interrupted everything--and he had just time to grab his hat and head for the door like you're supposed to do when...well, he and the door dropped, and here he was, the next thing he knew. It was Tacoma, but it wasn't Tacoma. No people! Or just a handful, that is--the ones that hung out at Kelly's old watering hole.
"Go down and greet them," he said to Ero. "They'll appreciate a new face. Lord knows I'm sure sick of theirs! And that old screeching mother-in-law of Kelly's they call Fast Lucie who comes every evening and sings! She's ninety five, if she is a day! I try never to be there for that, but somehow I always get stuck, and here she comes in the door and I am trapped! I must have heard her sing "When the Red, Red Robin Comes Bob-Bob-Bobbin Along!" a million times by now."
Ero wasn't listening as the old man complained, still playing his cards. He headed for the door, and soon found a way up this interesting train station that had no trains but still had a lot of dome to it.
He reached the dome finally, which sat on what looked like a set of big metal teeth.
He pulled himself up past the ring of teeth and climbed the last stretch to the top.
At last Ero could sit and take the view. "What mountain is that?" he wondered idly. It overshadowed the whole view, and the city was a small spot on its side, seemingly, seen from his unobstructed vantage point.
The mountain was so close, it seemed he could touch it. Rising to his feet, just to amuse himself he reached out, and drew his hand back as if he had been bitten. His eyes widened. He had touched the mountain! He knew he had done it. But how?
He reached out again, and though careful not to slip over the edge of the dome, he found that the mountain and the clouds and sky were not real at all. They were a scene somebody had pulled across the view, to give it a nicer look. Curious as much as repelled, he leaned out as far as he could and touched the mountain again. It gave way to his touch, and it even parted as if it were a curtain. That settled it for him. He wasn't afraid any longer of falling. He leaped at the mountain, grabbed it, and the next moment he was swinging behind it, still with a grasp on the paper thin mountain.
Behind it was darkness, lit by something in the background. He jumped away from the curtain and landed in a landscape, very steep, strewn with rocks piled one on top of the other. He climbed up to get a better view of the top of the rocky slope.
Far off he could see what looked to be buildings or shrines, glowing with a strange intensity. But he felt as he gazed that something was gazing back at him, something full of hate and cunning and great power. Suddenly, he did not want to explore any further into this backstage of his world. He turned and made his way as fast as he could to the bottom of the rocks, and then made a leap that carried him through the backside of the mountain and out into the light of day. He rolled to a stop, painting, still shocked at what he had found. He jumped up, looked around, and there rose the Union Station as regally and substantially as before. Ero blinked rapidly. Had he imagined the world behind the mountain? The mountain looked absolutely real where he stood. He took a few steps toward it, then reconsidered, and spun around, and, as he had been advised, found the street that Crazy Dan said would take him to Kelly's Tavern.
He did not have to walk very far. It was three blocks down on the left side of the street, which he saw on a street sign was named Pacific. It was a small, brick sided building, a few yards from tracks that cross Pacific and headed toward the back of Union Station.
He could not tell anything from the windowless walls of the tavern, exccept that the sign said "Kelly's, and "Good food, Good Music, Good Drinks and Punchcards."
He found himself in the dark immediately, and his eyes had to adjust first before he could see anything ahead of him in the dark wood paneled room. It looked like any tavern, except that the little tables were arranged close to a loudspeaker system and mike, and a couple drums and a few instruments. He went and seated himself, and no one came to throw him out because he wasn't dressed like the others. A couple sat at one table, hand in hand beneath the table, and they were the only ones in the tavern except for a big-stomached, older man with wispy, reddish hair and his thin, even older looking helper who were washing up behind the bar.
The wispy-haired man, wearing a white bartender's apron emblazoned with "Kelley the Bouncer," laid it aside, and picked up a bass electric guitar and sat down and began to tune it. The couple at their table sat talking quietly, totally absorbed in each other. Both paid no attention whatsoever to anything but each other.
The older man came out to Ero's table, his towel on his arm, and gave him a menu and a drinks list. He went away.
Ero did not even have time to look at it as the door behind him swung open, and an old woman entered, going directly to her table which had a Reserved Sign on it next to a pot of tea, a wine glass, and a lit candle.
She did not sit but bent over the wispy-haired man, and they talked for a few moments, and then the red haired man rose, took the mike and announced that his mother-in-law, Fast Lucie, would favor them with a special song! As he made this announcement, the older bartender sat at a small organ and was playing an accompaniment to Kelly's words, adding flourishes, as Kelly plucked at his bass electric guitar and told dirty jokes.
" Now picture this, ladies and gentlemen! These two nuns are being molested..." he always began, for it was the same string of jokes night after night after night.
After he had finished the last and dirtiest nun joke, underscoring the punch line with combined flourishes of the organ and his electric guitar, thus drowning out any groaning or catcalls, Kelly turned to the special feature of Happy Hour.
"Yes, ladies and gentlemen! Have we ever got a a special treat for you all tonight! Yessir! Fast Lucie, whom you all know as the Owl Party Candidate of 1976 who placed third with 46, 807 votes for the office of Secretary of State in this godforsaken state, has still got her opera diva's vocal chords in fine fettle, and she's agreed to try out a brand-new number, the smash hit, "Red, Red Robbin," which is presently Number 1 on Kelly's Hit Parade!"
After this introduction, Ero wasn't sure he wanted to hear her any more than Crazy Dan back at the Union Station. But as he turned to go, he stopped, finding himself literally up against a blank wall. No door! This made Ero almost go crazy to discover without the slightest warning! He rushed the opposite direction, looking for a window, another door, any way out of the building. Nothing! He could still break out if he could, by using the furniture, to beat a hole in the wall, even though it looked like real brick. He wasn't going to be trapped like Crazy Dan!
But he was trapped, for Fast Lucie wasted no time, and with an almost deafening accompaniment of organ and bass guitar had begun belting out her signature song.
Her wobbling voice somehow missing every note at which she aimed, she finished the first stanza of "When the Red, Red Robin comes bob-bob-bobbin' along...along!" Then another stanza followed, and another! Ero's head was spinning with all the bobbin', bobbin', and bobbin' of the lyrics, when she switched to a second number, "Show Me the Way to Go Home." The moment she started that, a man sitting with his hands over his mouth as he gaped at her with bulging, soulful eyes, burst out bawling, "It's too late! Too late!"
All this--the bass guitar, the organ, Fast Lucie and the bawling man, was more than Ero could take.
"Show me, show me, please, mister...show me the way to go home...
He was just about to run and ram his head against the wall if he had to in order to escape when Fast Lucie suddenly blinked her eyes and shut her mouth in the middle of a stanza and fell down at her reserved table. Her glass of blush wine was filled, and her pot of tea was refreshed, and Kelly and the bartender smiled despite her old legs collapsing under her like that, and the lovers at their table even looked up and grinned, then went right back to their private conversation.
Fortunately, a door had appeared where it had been before, and seeing it Ero escaped without a moment's hesitation. He burst out into the fresh air, and then fled back up the street, just to get as far away as he could. Nothing, he was determined, was going to trap him like that again. He headed straight for the ship, running as fast as he could.
The steep hills, however, soon slowed him down. He grew confused. The streets all looked the same to him. He was trying to find the stadium he had seen, but he must have passed it, he thought. He kept going, in the direction of the waterfront where the Argo was tied up--at least he thought he was heading that direction. Coming down Carr Street, after what seemed like several miles, he saw the water ahead. But he was footsore, and stopped to rest. At that moment he saw a simple frame house with a high gable, a porch and a sign above it titled "Seamen's Rest." A motherly looking woman in a flowing, old-fashioned, peasant-like black dress was standing on the porch, smiling and beckoning to him. A young blonde-braided girl, also dressed extremely old-fashioned in a long dress and a dark, lace-fringed cap, stood by her as if they were awaiting him.
Interested, drawn to them despite his desire to get back aboard the White Ship, he gave in and went over to the porch where they stood, unwavering eyes fixed on him.
"You're a young man from the White Ship," the woman said with a singsong accent, "and I am Mrs. Funnemark, Christine's mother."
Put at ease by her kind manner, Ero nodded. "What do you have here, a hotel or boarding house?"
The young girl laughed and shook her braids.
"No, it is a Christian mission, but as a seafarer you are most welcome to stay and rest until your ship departs. Please do come in! We will try to make it at least half as comfortable for you as you have it back in your home country."
The former Olympic torch bearer of the secular 22nd Century Crystal Age did not know what a mission was, Christian or otherwise, and had no desire to find out. Besides, the house had the strange look of being way out of its time period, by at least a couple centuries. How could he put it politely, that he wasn't interested in their hospitality and "comfort"? Then he thought of something. "I am probably late to my ship. They might leave without me."
Both women laughed! "Oh," Mrs. Funnemark said, "I've met your good captain already, and he agreed to lay over another day if any of his hands are late in returning. So come right in and have some coffee and doughnuts. Christine here will sing you a nice song at the piano! She plays well for her age, I think you will agree."
Ero could not resist that--he felt he was starving for food, for the first time since he disembarked. Anything, even these offered "doughnuts" sounded good to him right then. He hurried after the women into the house, and found himself in a parlor with overstuffed chairs, a lot of newspapers and books, a piano, and a highly polished table with a bouquet of flowers set on it in a tall crystal vase.
Filled with embroidered pillows and lace doilies and needlework flags of Norway, it was a quaint though beautiful room, everything dusted and shining with polish and cleanliness.
He saw a staircase at the side, leading to the second level, on which he heard slow, halting footsteps and a tapping with them. A mariner came down slowly and entered the parlor, greeted Mrs. Funnemark and Christine, who introduced him to Ero as Mr. Christolph, the sole survivor of the British clipper Atalanta that sank in Deception Pass. Mr. Christolph, unable to sail again from injuries in the Atalanta's sinking, using a cane, exchanged some books from the little library in the parlor, and taking a doughnut and some more coffee went even more slowly back up the stairs.
Mrs. Funnemark glanced at the old sailor as he went away. She smiled at Ero, observing, "Many sailors are like that, I find, toward the end of their seafaring. It is a dangerous, hard life they have. They start off so young, many of them mere boys who skip out of school if they can to run off to sea for the adventure of it. They are strong and courageous and good-hearted. That serves them for a time, but the hardships wear on them, and they turn old before their time. Without education, children in their minds, they fall prey to the temptations of the ports, many of them. All the money they earn is taken from them--so they never can save anything. When they finally are old, they suffer in their bodies, and need care. So when they come by here, we try to do whatever we can to ease them. They never remain here long, for their adventurous hearts always urge them to move on to some other place--always roaming, until they die in a lonely room somewhere. They like to be quiet here and remember their younger days, the good days, at sea, so we let them talk when they want to, or be silent if they wish! I am telling you all this, because you are just starting out, are you not?
Sitting down where the women showed him, Ero was handed a tray with a big pile of fresh doughnuts and a steaming cup of coffee. As he devoured the homemade but somewhat bland doughnuts (though he would have preferred roast goat with rice, some cheese and olives, Turkish coffee and dessert of marzipan), he heard the girl begin singing at the piano, and her voice, though not remarkable, was sweet enough. He began to listen once his stomach pangs went away. Mrs. Funnemark refreshed his cup, and offered him cream and sugar.
The room was warm, and he felt so at ease there that his head fell back on the couch, and the next thing he knew someone had laid a blanket over him, and then gently guided his head to a pillow and his feet to the other end of the sofa, and he was oblivious to the world.
When he awoke, he found Mrs. Funnemark sitting by him in a chair, working on some kind of knitting in her wicker basket. She saw he was awake, and then put the basket down on the highly polished, fir-planked floor.
Her raised eyebrows and smile seemed to encourage him.
"What is this place"? he burst out. "Why are you doing this for me?"
Mrs. Funnemark glanced toward a gold-framed picture of a bearded sea captain over the fireplace mantel. "My husband and his ship and crew went down, all drowned--and so I felt called of the Lord to do something for seamen if I could. I sold our home in Norway, and here where we landed my daughter and I have tended seamen like you since then. We have never regretted it. So many sailors have come to our door--we have a guestbook you must sign before you leave and go back to your ship, young man."
Ero looked at the guestbook she had meanwhile picked up and was handing to him.
It fell open, and her eyes caught the names on the sheet. She started telling him about the entries, whom they represented.
After he listened to her tell something about each ship, he had to ask her something. "What is this city? I don't think I like being here. I want to leave. It is like no city I have ever known. Where are all the people?"
She smiled, but her eyes were not smiling. "It is called the City of Destiny, young man. It has three Gates, or three Doors--the Door of the World, the Door of Flesh, and this Door of Seamen's Rest Christine and I keep here for sailers like yourself--make of it what you will. You can leave this city now with your ship and good captain, but you must choose once you've come ashore. What door, what doors, did you choose, young man? For I know you have gone into the city before you came here."
Ero did not like such questions, but they made him think, and Greeks like to think even more than sailing a good ship over the sea. "What do you mean by 'World," and what is 'Flesh'?" he asked, just like a Greek.
Mrs. Funnemark, gathering the plates and napkins, turned to Christine. "Dear, you tell him, while I go and wash up. If I need you to come and tidy things a bit more, I'll call."
She went out to the kitchen, leaving Christine and Ero in the parlor--who could not have presented a more strange sight.
Christine turned to Ero, who was embarassed to be left alone with her, though she was too old-fashioned to his eye to be attractive.
The sea captain's daughter eyed him keenly, as one who knew sailors top to bottom, fore and aft. And she knew exactly what lanyards were, and what to pull to haul up the main sail or trim the jib sail too.
She held out a small, glossy-black book. "Here, read this please. It isn't very long. It will tell you what the Door of Flesh is."
Ero took the book reluctantly, glancing at its title, "Diary."
Christine noticed his glance and explained. "It is a sailor's account of his time here. He came off the clipper, Dashing Wave."
Ero opened it to the first entries, and it was in English, but that was one of the world's official languages, so he had no need for Christian to translate.
He began reading.
Oct. 19--"This is Jack London, seaman, able and ready for anything, come hell or high water. Shipped in Dashing Wave laid at Tacoma...Discovered that Mrs. and Miss Funnemark keep a Seamen's Rest on Carr St., Old Town. Paid them a visit & enjoyed myself immensely.
Oct. 29--"Was paid off this morning. Decided not to sign back on. Went to Seamen's Rest, but could not settle myself to read. Met a dandy fellow, sailor from Captain Wolvewoeld's clipper, Sea Wolf, took him around town...we had quite a spree. Turned up at the Rest slightly excited, but cold not sit still for five minutes...had to run out for more beer at Kelley's.
Oct. 30--"After dinner I went to the Rest, where I had a long talk with Miss Funnemark, being greatly touched by her wonderful faith in God.
Nov. 17--"Turned out 10:30 in a very uneasy state of mind, a sense of foreboding evil overpowers and smothers me like big black wings...met Miss Funnemark who told me I should not do anything crooked...am sure something is going to happen, tho' don't know what. At the Rest, heard of the loss of the Dashing Wave. It went down off Alsea Bay, 16 miles south of Yaquina Bay, taking some of my chums. Would God do that if he were a good God as the Funnemarks tell me? I doubt it!
Nov. 18--"Captain Wolvewoeld returned to port, and is needing a few hands. Should I sign on or not? Can't decide. You have to sign on pretty much for life, with this skipper. Not sure I want to spend my whole life on his one vessel. Heard he was looking for hands down by Yaquina Bay near where the Dashing Wave, bound for Britain via the Horn, went down--but no sign of anything but the wheat cargo and some barrels on the beaches.
Nov. 19--"Got on a horrible drunk with the boys from the Sea Wolf, then went to the Rest...Oh, how I felt when I came to myself and found out where I had been and where I was."
Ero flipped through the next pages, all blank, then turned to Christine. "Is that all?" he asked, surprised. "It is a very short account he wrote. Why isn't there more?"
Christine looked down. "But he chose and ended it exactly there. You see, he took his own life on November 20. Since the book was left here, we came into possession of it. He gave us no address when he signed our guestbook, so we can't sent it to his family or relatives. Now do you understand what Mama meant by "Flesh" and the fateful Door it represents?"
Ero thought for a moment, shifting uncomfortably on the sofa, which seemed to grow hot, then cold. He remembered Kelleys, and the sailor's account pictured what happened to anyone who could not escape from there. Maybe he thought he could escape his desires if he killed himself? Maybe he thought that was the only way out? Was it? Ero could not be sure. He too had desires--and he had never dreamed that he should resist their control over him--not until, that is, he read the sailor's account and heard from Christine how he ended up.
It made him think all the more. He could not resist asking something that had nagged him about Crazy Dan, and until now he had not been able to put it into words. This seemed to be his opportunity to get clear on the matter, before he shipped out with his captain.
He rose and moved toward the door. "I gotta go, but I do have another question. What is the Door of the World?"
"You can be a slave to the desires of the flesh, which ultimately demand your soul in payment" she said. Ero, out of the porch, paused. It was quiet on the porch, then he was moved to aay, "I don't think I have been much of a slave to my desires, though I now see where they can lead a man. But the World? What is that?"
She followed him down the steps. He eyes seemed to grip his. "The World? It is the lust of the eye and the pride of life that is in it. Men hunt the World's glittering gold, wealth and status, power and prestige--and they too will turn hunted and lose their souls when the World demands full payment. Remember, what the World gives so sweetly, it will someday take back, with shark's teeth. That is why you should not seek its honors and rewards, or if you do seek them, then don't give your heart to them."
Her words "they too will turn hunted..." and "it will someday take back, with shark's teeth" burning inside his heart, the former Olympic torch bearer walked quickly off.
"Good-bye!" she said. "You are always welcome at the Rest!"
Only when the high gable of the Funnemarks' home was out of sight did Ero realize he was carrying something. The diary! He took a few steps back toward the Rest, then stopped. He shook his head, then flung the suicide's last words into the bushes off to the side and continued on, hurrying to the White Ship, anxious as he was to get away from Kellys, Crazy Dan, and now Seamen's Rest.
He was almost all the way down Carr Street, which turned into a Skid Road for the big logs that fed the mills on the waterfront, when a pop-up board caught him, buzzing off to one side of the road, on high grassy shoulder.
Ero swore, but the buzzing only got worse as he went further down the road. Going back, he read what it had to say.
QUESTOR MUST RETURN TO THE SEAMEN'S REST HOUSE, AND SIGN THE GUESTBOOK. YOU MUST ALSO RETURN THE DIARY YOU THREW AWAY. PRESS SPACEBAR ONCE IF YOU UNDERSTAND INSTRUCTIONS. OTHERWISE, PRESS THE HELP BUTTON FOR FURTHER INSTRUCTIONS, MAP OF THE AREA, AND ROAD DIRECTIONS. IF THESE ARE INSUFFICIENT TO GUIDE YOU, CHOOSE ANY BOT ON THE SIDEBAR, AND IT WILL LEAD YOU TO THE HOUSE.
Furious, Ero gazed back up the road toward the Rest. Had the Funnemarks made trouble for him? How did anyone but them know he had not signed the guestbook and thrown the diary?
The almost deafening, microphonish crackle and buzz of the pop-up board would not quit until he hit the spacebar at the bottom of the screen. He hit it twice, and a bell sounded, and a deep voice almost shouted him off his feet, "THREE STRIKES AND YOU'RE OUT! QUESTOR WILL COMPLY WITH INSTRUCTIONS OR START THE QUEST AGAIN AT THE BEGINNING. CHOOSE ANY BOT--WALKING FISH, JUMPING JELLY BEAN, ROLLING POTATO...IF YOU CANNOT FIND THE HOUSE ON YOUR OWN."
Ero passionately hated the thought of being led around by a potato or a bean or a walking fish. And "Start again at the beginning?" He didn't like the sound of that. The very idea put him in a more sober attitude, and now cooperating he hurried back up the road--botless. He remembered where he had thrown the diary, and he was relieved when he saw it. If he had to face the Funnemarks again, they would be certain to ask about it.
Wally had done an excellent job programming the Quest from start to finish, and all the details too showed his amazing foresight. Not only were Ero's feet as tough as leather, which made shoes unnecessary, but he did not feel cold and could run about like any Olympic torch bearer back in warm and sunny Greece. Yet even Wally had not anticipated everything. Returning to Seamen's Rest was now past the time of the time frame allotted to the Funnemarks.
Ero knocked on the door, not finding the Mrs. and Miss. Funnemark standing on the porch. After four knocks still nobody answered, so he was about to turn away when he heard the tap-tap-tap of a cane approaching the door from within.
The shipwreck survivor opened the door and gaped at Ero as if he were a complete stranger.
Irritated, Ero said: "I've come to return a book the Funnemarks loaned me..."
Before he could say any more, the old sailor turned and went away, leaving Ero standing there in the dloorway like a fool.
Not knowing what to do, he took a step in, and then saw the big note pinned to the newly set up Christmas tree.
"Thank you for returning the Diary, which is our cherished keepsake, all we have of the poor, lost sailor. And please don't forget to sign our guestbook. Before you go, help yourself to the doughnuts on the counter in the kitchen. There is milk in the cooler. We will be back presently, to greet another sailor and another ship when they come in. God be with you and keep you--Your servants in Christ, Mrs. Faith Funnemark, and Christine.
Stunned that the Funnemarks were so sure he was going to come back to the Rest, Ero did as he was instructed. He signed the guestbook, then put the Diary down on the sofa where Christine had given it to him. He noticed another note, pinned to pillow decorated with the flag of Norway. It read, "Dear Ero, I hope you do not think I am too forward as a girl, but I hope we meet again. Remember there are three doors, and if you choose the right one, I promise you we will meet again. That would be most pleasing to me--Best Wishes, Christine. P.S. The clothes in the box on the porch were left by a sailor who has not come back for them, and we washed and ironed them for you. They look just your size.
Forgetting the doughnuts, Ero went out, closing the door. He had not seen a box by the coor when he came, but there was a box waiting for him. He popped the box open and found two sea-blue pants and shirts, socks, and canvas shoes and even a sailor's cap and scarf. Suddenly, he felt like he could use some warmer gear, as snow flakes began swirling down around him on the already whitened porch. He glanced up, surprised to find the sky thick with snowfall. Shivering, he dressed quickly, and with the scarf and hat and thick socks and shoes, the blue flannel shirt and pants made him feel warm enough for the northern weather he was experiencing for the first time.
With the other change of clothes bundled into a kit that he stowed under his arm, he started off, his feet crunching in a foot of snow. He glanced back at the house, and it looked so cheerful, with a wisp of smoke from the chimney above the high gable, and a lantern lit in a window shining out on the drifted snow. It was beautiful.
But a thought suddenly intercepted him. "Why not go and enjoy a few beers at Kelley's to warm you for the long voyage ahead?"
That sounded like a very fine idea to him, and he changed direction and headed toward the downtown section of the City of Destiny. Strangely, the snowfall stopped right at the city limits and it grew warmer the closer he got to Kelley's. It was so hot he couldn't stand the shirt, and he stripped it off. Again, he was a little out of synchonization in the allotted time frame, and he dropped his kit on the ground, as he saw something ahead moving determinedly along the same route he was on.
A frog! It was hopping, making big hops, straight toward Kelley's Tavern.
Where was the high-pitched voice coming from? Not from a frog surely? He caught up to it, and got it in his hand.
It was startled for a few moments and clammed up, but as he waited, it slowly began singing again, "When the Red Red Robbin Comes Bob-Bob-Bobbin' Along!"
Ero, a look of horror coming over him, put the frog gently down on the snowy sidewalk in front of Kelley's. He backed away, but not before he saw the frog vanish and Fast Lucie stand where the frog had been a momnt before. Still singing, she went in the door.

Kelley came out almost immediately, his big apron stained with the makings of pizza, beckoning to him with his arm. "You're just in time! Cmon in! You don't wanna miss the good times, Happy Hour, and Fast Lucie here doing the entertaining! You even get one free pull tab on the house after the first two beers--after that it's one freebie every four drinks. You can win yourself a bundle. We're all winners here--you'll see! It's just a matter of time!"

Ero backed away even further, then turned and ran. He heard Kelley yelling, and Fast Lucie too, but he soon put them out of sight and hearing as he raced back straight to the waterfront of old Ruston and the White Ship.

Several times he passed strange creatures of one kind or another--with human faces attached improbabably to animal bodies--but he gave them hardly a glance as he sped past.
Brun O'Kele, the Hawaiian chief, has his own coastline, without a single condo or hotel to spoil the view, ever since a world-wide tsunami and other terra-forming events completely changed the landscape of his native islands.
An Atlantean ship searches for a pair of humans in the Hawaiian islands they can use to repopulate South America.
Having searched most of the islands, the Atlantean ship finally finds what it has come for--a lone male human out fishing for his dinner.
One moment Brun's sailing along in a good breeze that will take him beyond the reef where the big fish are snatching at the smaller reef fish, the next moment he is being dragged into the air--his arms and legs flailing helplessly like some tentacled creature he has caught with his gaff.
Swallowed by a mouth set in the belly of the big flying ray fish, Brun finds himself in a cage. He overturns it, trying to get out. The room darkens, and he cannot see where he is--and he subsides, realizing it is useless to struggle--but determined to kill anything or anyone the moment he has a chance to see what he is doing.
How long he has been a captive, he has little time to estimate, as the light blazes, blinding him, and then he hears waves washing beneath the room. Suddenly, the cage door pops open, and Brun wastes no time in departing. Without having to think, he leaps through the mouth of the flying ray fish.
Before he can heave rocks at the flying ray fish, it vanishes, leaving him back on the shore of his island. But as he looka around, it seems different somehow from his native island. The colors are different, and the scents are not the same. A horror comes over him, and he staggers toward some rocks and climbs up, just to steady himself. Where is he? His mind reels at the thought he has been taken to an unknown land and set free.
It dawns on him. No fish had a belly like the one he had been in. It was not flesh. It was not wood nor stone. It was hard, but smoother than any stone--like the hard and sharp-cutting black glass the smoking mountains made. And it had captured him and released him in a strange and alien land!
He had to find out one thing--how he might be able to find a way out and back to his home islands. Hope leaped in him. Quickly he began to climb up, to see what there was around him, and if he could possibly catch a glimpse of his beloved islands and coasts from there.
He stopped climbing, and then he saw it was not a sea, though it was large and bigger than any lake he had known--and the strange color--too dark to be crystal clear and brilliant waters of his own land. Where was he? Would he ever be able to sail back to his home? he wondered, his heart pounding like heavy surf and feeling like it might stop beating.
His feelings for his lost homeland aside, Adam is available, but now where is Eve?
If you have entered this page from other sites such as Butterfly Productions Home Page, there is a new domain of nine sites, www. oaringintheriver.com, containing Retrostar, featured by major search engines.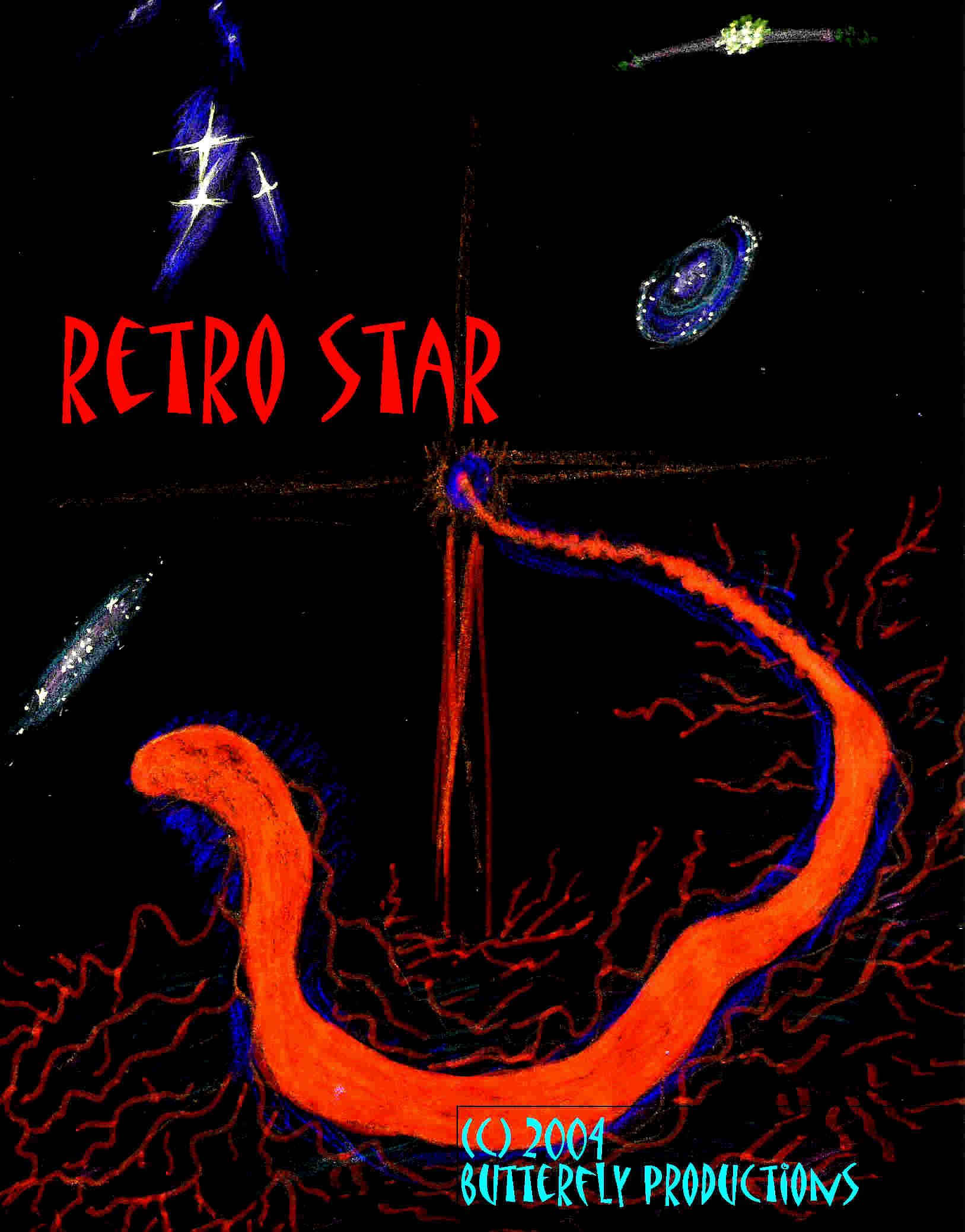 To return to WWW.OARINGINTHERIVER.COM:
WWW.OARINGINTHERIVER.COM Master Directory