CHRONICLE OF THE TIME ROCKET, VOL. IV, RETROSTAR
CHRONICLE OF RAGNAROK A. S. 1937, Singer of the Ancient Seer How a bard left the Emerald Island to look at old vellum books and paintings preserved by the Benedictines in a monastery in Padua, Italia, and how they warned him about a second great world conflict of the Wasichu nations, which would usher in the new world order and the rise of a lion-bodied, man-headed Beast, the False Messiah, who would seize world power and crush out all the light of liberty and decency in Civilisation. CHRONICLE OF RAGNAROK, VOL. IV, RETROSTAR
CHRONICLE OF THE MOUNTAIN TOMB A. S. 1938, Eugenio's Secret How a Basque fighting with the Loyalist forces in the Spanish Civil War found ancient scrolls and artifacts in a tomb that were older than even Eskual Herria, the Basque homeland that predated every other nation and nationality in Europe.
CHRONICLE OF THE MOUNTAIN TOMB, VOL. IV, RETROSTAR
CHRONICLE OF THE OSLO TAPESTRY A. S. 1938, Katrine's Secret How a Norwegian woman, living alone, grew so desperate about her bone-dry spiritual condition that she would do anything, even take pictures of simple leaves and shadows in her garden, if it would help restore her faith--pictures forming a tapestry portraying events to come that would have astounded the world if all of them had been made public.
CHRONICLE OF THE OSLO TAPESTRY, VOL. IV, RETROSTAR
CHRONICLE OF THE RUINED CATHEDRAL A. S. 1940, Winter of the Soul How Coventry was sacrificed, along with its ancient cathedral and much of its population, by a decision of Churchill who aimed to let the bombers through without any warning to Coventry in order to make the Nazis believe their secret code had not been cracked by Britain's code breakers at Bletchley House. How a half-literate scrubwoman in the smoking ruins of the Cathedral found the means to confront the unspeakable tragedy of losing practically everything in the bombing and firestorm that destroyed Coventry; that is, her husband, children, neighbors, city, cathedral, even her house and job.
CHRONICLE OF THE RUINED CATHEDRAL, VOL. IV. RETROSTAR
CHRONICLE OF THE SEA LION A. S. 1940, 1. Convergence at Abbotsbury How a pious, elder daughter caring for an aged, ailing mother, prayed the right prayer, effectively throwing a switch to a most powerful blessing 1,900 years old.
CHRONICLE OF THE SEA LION, PART I, VOL. IV, RETROSTAR
2. Winter's Grace How a Welsh "College of Intercessionary Prayer-warcraft and Fasting," founded by a former coal miner, succeeded in turning the major events of World War II, starting with the Battle of Britain.
CHRONICLE OF THE SEA LION, PART II, RETROSTAR
3. No Wings But a Prayer How Sir Francis Cecil, hereditary Lord St. Aubyn of the Mount of St. Michael, Cornwall, while squadron commander of Spitfires in the Battle of Britain, was struck wingless by enemy fire but continued flying, and how he was taken out over the coast where he witnessed an even greater event taking place off the notoriously stormgirt Chesil Banks.
CHRONICLE OF THE SEA LION, PART III, VOL. IV, RETROSTAR
4. Ivy's Grand Slam How a little English girl in Portsmouth changed her bedtime prayer and turned back an incoming V-2, setting it on a trajectory that almost took Shickelgruber out of the war.
CHRONICLE OF THE SEA LION, PART IV, VOL. IV, RETROSTAR
CHRONICLE OF THE PILLAR OF LIGHT, A. S. 1940- , How on Earth I Elijah, a Romanian boy growing up in a brutalM Communist-ruled country, found a miracle-producing faith just like Jason the Argonaut's to stand up against the impossible odds of confronting a militaristic, atheist dictatorship destroying his beloved homeland, and how he made a new life for himself, succeeding after tens of thousands before him had been slain in the same attempt to win freedom.
CHAPTER 1, CHRONICLE OF THE PILLAR OF LIGHT
CHAPTER 2, CHRONICLE OF THE PILLAR OF LIGHT
CHAPTER 3, CHRONICLE OF THE PILLAR OF LIGHT
CHAPTER 4, CHRONICLE OF THE PILLAR OF LIGHT
CHAPTER 5, CHRONICLE OF THE PILLAR OF LIGHT
CHAPTER 6, CHRONICLE OF THE PILLAR OF LIGHT
CHAPTER 7, CHRONICLE OF THE PILLAR OF LIGHT
CHAPTER 8, CHRONICLE OF THE PILLAR OF LIGHT
CHAPTER 9, CHRONICLE OF THE PILLAR OF LIGHT
CHAPTER 10, CHRONICLE OF THE PILLAR OF LIGHT
CHAPTER 11, CHR0NICLE OF THE PILLAR OF LIGHT
CHAPTER 12, CHRONICLE OF THE PILLAR OF LIGHT
CHAPTER 13, CHRONICLE OF THE PILLAR OF LIGHT
CHAPTER 14, CHRONICLE OF THE PILLAR OF LIGHT
CHAPTER 15, CHRONICLE OF THE PILLAR OF LIGHT
CHAPTER 16, CHRONICLE OF THE PILLAR OF LIGHT
CHAPTER 17, CHRONICLE OF THE PILLAR OF LIGHT
CHAPTER 18, CHRONICLE OF THE PILLAR OF LIGHT
CHRONICLE OF THE ORACLE OF MENO A. S. 1938-1941, St. Roderick's Secret How a Basque patriot, deserting the Loyalist army in the Spanish Civil War, became a free lance secret agent for the British side against the Nazis, luring Shickelgruber into the race for a Super-Bomb while withholding vital information that would have made the Nazi project a success.
CHRONICLE OF THE ORACLES OF MENO, VOL. IV, RETROSTAR
CHRONICLE OF THE RAG DOLL A. S. 1943, Christmas at Auschwitz How a young, brilliant, blind chemist, soon to perish in a gas chamber, afraid it was all for nothing, was given unmistakable proof her life was divinely touched. CHRONICLE OF THE RAG DOLL
CHRONICLE OF THE BAYEUX TAPESTRY'S SECRET PANELS A. S. 1944, Questioning the Sphinx How nuns guarded what came to be known as the world's most famous tapestry, the one detailing the Norman invasion of England in 1066, and how an American nun, an expert in tapetries, discovered additional panels that had not been sewn onto the masterpiece--panels that had been kept secret for the obvious reason they were found so disturbing because they were so prophetic about the world to come.
CHRONICLE OF THE BAYEUX TAPESTRY'S SECRET PANELS, Vol. IV, Retro Star
CHRONICLE OF THE BROKEN GLASS A. S. 1945, 1. Legacy How the victorious chieftains at the Potsdam council meeting from Britain, the U.S., and the Soviet Union, in the name of peace started the "War of Ice," and how Britain's "Tube Alloys" nuclear project came to nothing with suppression and disappearance of vital M-2 intelligence, and President Truman's ace in the hole, the Manhattan Project's Super-Bomb, fizzled at Alamagordo--apparently forcing America to join forces with Britain and Stalin's Russia to fight on to the finish with conventional forces against Premier Hideki Tojo's best troops and, unknown as yet to the Allies and their war planners, a whole nation swept by Kamikaze, the "Divine Wind".
CHRONICLE OF THE BROKEN GLASS, PART I, VOL. IV, RETROSTAR
2. The Pack Rat How a peddler of information, selling whatever he dug up to the highest bidder, happened on a deadly superweapon--one of three that Senhor Averinata had offered the British--that later would be used to help tip the scales against America in favor of the United Nations and a world government. To the Jews the crushing of the wine glass in a Jewish wedding recalled the destruction of the Temple by the Romans in ANNO 70, but to the Basques, it meant the whole universe was shattered--never ever to be put back together as it had been. (How could he barter and trade the destinies of whole nations as if they were trinkets and trifles? Peddlers, like foraging rats, consider only the present moment, and the penny or two gained or lost--never the long haul, which is, for a peddler, far to frightening to even consider in a rodent-type mind. Without the ship, the rat would drown in the open sea. Yet it infests the ship, spreads its diseases with its own dirt, and gives the crew a deadly plague, and the ship, without anyone to guide it to safety, strikes a rock and sinks, drowning the rats who caused the disaster. This has happened countless times. Their own nature, thus, gnaws off the rope that holds them above the pit. Pity the civilization where such men, such vermin, proliferate and gain high office! And you can always tell the end is near when such are numerous and run free, from deck to deck!).
CHRONICLE OF THE BROKEN GLASS, PART II, VOL. IV, RETROSTAR
3. The Angels of USS Indianapolis IP How on July 29, following the successful test of a new death ray in the first week of July, that dissolved atomic structures and could fuse human flesh to metal, a battleship was loaded with the deadly "gadget" and sailed for Tinian, an island in the Marianas Chain. Locked in a steel box bolted to the deck of the captain's cabin, the weapon that would knock the Japanese on the home islands to their knees would be assembled in the secret facility at North Field on Tinian, then deployed by aircraft over the first test cities of Tokyo and Kyoto, the two most revered cities in Japan and the centers of Japanese cultural life. How the best laid plan of the war came to naught, with details of immense tragedy and even angelic intervention that were so explosive in nature they could never be revealed to the American public.
CHRONICLE OF THE BROKEN GLASS, PART 3, VOL. IV, RETROSTAR
4. The Divine Wind How Operation Downfall, the invasion of the Japanese home islands, ultimately succeeded but without superweapons proved so costly to America and Russia that they had cause to recall King Pyrrhus of the Greek kingdom of Epirus, who conquered Roman armies on their home turf but sustained such heavy losses he complained in his famous statement known for its unforgettable pathos, "Another such victory and I am ruined!"
CHRONICLE OF THE BROKEN GLASS, PART 4, VOL. IV, RETROSTAR
CHRONICLE OF THE HORSE OF NAKING A.S. 1947, A light in Prison; A.S. 1950, Victory in Shibuya How a flier with Colonel Doolittle on his surprise raid of Tokyo afterwards was himself surprised to find there was a way out of the all-consuming hatred he felt for the Japanese guards who were starving and torturing him and other P.O.W.s.
How the mission commander of the Japanese squadron that devastated Pearl Harbor's naval force met the flier after his release and how a great light was passed from the dark hole of Nanking to the former mission commander in Tokyo"s Shibuya Train Station.
CHRONICLE OF THE HORSE OF NANKING, VOL. IV, RETROSTAR
CHRONICLE OF THE WINTER SACRIFICE A. S. 1947, 1. Winter's Child How deeply the alien star's rays penetrated postwar America, and how an old farmer's beloved son was killed in the Wioteheka hi, Month of Terrible Moons. 2. Plain View Farm How two deaths in a fiery plane crash were needed to thaw the frozen hearts of two other men.
CHRONICLE OF THE KILLER BEAR'S DESCENT A. S. 1951, The Bear and the Lamb How Djugashvilli fared, while on the operating table in the Kremlin, as a small army of surgeons desperately tried to preserve his life after a massive sroke; how they failed and Djugashvilli, an atheist, found himself still alive, imprisoned in an Afterlife cell which could only be described as hellish. How things got progressively worse for him, as he encountered a strange Jew wearing a prayer shawl and next faced a Judge sitting on a throne so immense it couldn't be anyone less than God sitting upon it, and how he was judged by the testimonies of thirty or so millions he had had tortured and slain, and how after that he found himself shunted into a burning lake of blast furnance intensity, and how he, like all the others in it, were forgotten.
CHRONICLE OF THE KILLER BEAR'S DESCENT, VOL. IV, RETROSTAR
CHRONICLE OF THE MAN LIKE A BRIDGE A.S. 1956, The Search How a young woman of the First World discovered the way back to her lost childhood faith, a faith that carried her all the way to Third World Cameroon wilderness in West Africa where it finally set its roots deep and briefly bloomed. CHRONICLE OF THE MAN LIKE A BRIDGE
MYSTERY CHRONICLE OF THE 50TH ANNIVERSARY A. S. 1962 The Phantom Ship How Lt. Greg Culpepper's life and career took a radical turn and plunge to the bottom of society after a storm at sea and his sighting of the R.M.S. TITANIC going down as he was inspecting the lighthouse facilities at Cape Disappointment and North Head on the mouth of the Columbia River, Washington State. MYSTERY CHRONICLE OF THE 50th ANNIVERSARY, VOL. IV, RETROSTAR
CHRONICLE OF EDYTH'S GOLDEN CROSS A. S. 1963, A Truth Not Told How Miss Edyth Hamilton, humanist, classicist, and world-renowned authority on Greek and Norse mythology, was strangely confronted on her deathbed with certain false premises that undergird her whole life-work.
CHRONICLE OF EDYTH'S GOLDEN CROSS, VOL. IV, RETROSTAR
CHRONICLE OF THE LADY OF THE SPARROWS, A Tale of Old New York and Central Park A.S. 1964, Lucky's Big Strike How Lucretiza Tisdale, a spinster lady in her nineties, fed the sparrows of Central Park faithfully every day and how her death under the wheels of a beer truck brought changes, through the very sparrows she had given soda crackers, that she could not otherwise have achieved at her age and with her insignificant, sparrowlike strength.
CHRONICLE OF THE LADY OF THE SPARROWS, VOL. IV, RETROSTAR
CHRONICLE OF THE FIGHTING ANGEL, PARTS I AND II A. S. 1963 How the Swensons, a young American newlywed couple, in training for the mission field, took a break from language school in Paris, and came to a crisis of their relationship and a man's faith in God on and beneath the Mount of St. Miguel, the Fighting Angel.
CHRONICLE OF THE FIGHTING ANGEL, VOL. IV, RETRO STAR
PART II: How the Swensons came to share their Christmas with the Fulani Tribe in Cameroon, West Africa, and how their cheer spread from there as far as the stars to a lost tribe of the Alpha Centaurii.
PART II, CHRONICLE OF THE FIGHTING ANGEL AND CHRONICLE OF THE LOST TRIBE (VOL. VI, NATAL CONVERGENCE, "A FULANI CHRISTMAS," RETRO STAR
CHRONICLE OF THE REVIVAL OF HAGIA SOPHIA A.S. 1968 How Lidia, a Greek Orthodox nun, ventured from her safe refuge in a convent in Athens, to return by tourist boat to her lost homeland in the Turkish nation that had forced her family to flee for their lives in the savage. almost genocidal war that broke out between the Greeks and Turks after World War I. How she learned things she did not expect from her day trip and contact with the enemy occupying her people's chief city and seat of the Greek Orthodox Patriarchate of Constantinople and East Rome. How she received a gift she would always treasure--and ceased feeling herself robbed by the Turks though they had taken her Greek homeland as their own and pushed out virtually all her fellow Greeks.
CHRONICLE OF THE REVIVAL OF HAGIA SOPHIA, VOL. IV, RETROSTAR
CHRONICLE OF THE SHOW ME STATE'S PROPHET (EARTH I) A. S. 1966, Elijah's Mantle How young and aspiring Brad Bright Jr. dreamed of becoming a prophet to "Holy Spirit-led, on-fire" Pentecostal churches in Missouri, his home state. How his promising life was cut short by a fatal collision with a tree when he was driving his truck home from a church youth meeting, and how his dream of ministry was defeated only temporarily, as a bit later he was brought back to serve with Elijah's mantle in the war against the AntiChrist Beast and his prophet during the post-Rapture Tribulation Period.
CHRONICLE OF THE SHOW ME STATE PROPHET, VOL. IV, RETROSTAR
CHRONICLE OF THE GIANT CHIEFS A. S. 1972, Two Sayings of Uwe Hantsbo Regarding the Atlanteans: Elektra's Sad Fate, and Atlantis on the rocks, anyone? How the Earth's tribe of original giants that stood like the tallest trees on Earth lived in a vast land that sank beneath the Eastern Sea.
CHRONICLE OF THE BLUE BRIDGE SALIENT A. S. 1973-1978 Even while the armies of France, Britain, and America struggled unsuccessfully in southern Asia to push back the communist forces from the north, a greater battle was being fought among the stars. How Atlantean star fleets combined with the red star and other star-stones to force an entry into the Great Nebula in order to destroy the protective forces centered at the Blue Brige. How, nearly successful, they were rebuffed, forcing an Atlantean subcommander to retreat to Earth.
CHRONICLE OF THE BLUE BRIDGE SALIENT, VOL. IV, RETROSTAR
CHRONICLE OF HANTSBO'S NOTES A.S. 199?, On the Bipedal Workforce of 1994tk66--A Flying Texas How Uwe Hantsbo discovered on a planetoid a most interesting cache of mutants, freeze-dried specimens of the very kinds that had been proposed by a Washington geographical society in its magazine to be authentic human prototypes proven by science and archeology. The only problem, as Hantsbo points out, is that they were found all mixed together, obvious contemporaries, not separated by millions of years or mere hundreds of thousands as was said to be the case by the East Coast Brahmin evolutionists entrenched in the powerful, elitist geographical society.
CHRONICLE OF HANTSBO'S NOTES, VOL. IV, RETROSTAR
CHRONICLE OF THE ICE BIRD, PART II A. S. 1973, Voyage of the PRION Inspired by Shackleton's legendary heroism, how an exlorer from New Zealand set out to be the first to circumnavigate Antarctica in a small boat solo, and stumbled into an unknown "Devil's Triangle" of ancient Atlantean orgin just off East Antarctica's Ross Ice Shelf that changed his course so radically he was propelled in space and also time as far as an ancient Atlantean outpost opposite the gate of the Great Nebula of Orion--the very site of what Tennison the Poet Laureate of Britain described as holding a "vast mystic charm." CHRONICLE OF THE ICE BIRD, PART II, VOL. IV, RETROSTAR
MYSTERY CHRONICLE OF THE WHITE CANOE A. S. 1977, Fairwind in Deep Waters How a young electric plant operator of mixed working class and New England blue blood background takes a cruise into the unknown mysteries of time and space aboard what had first seemed a New York based cruise ship on its way to Peru.
MYSTERY CHRONICLE OF THE WHITE CANOE, VOL. IV, RETRO STAR
CHRONICLE OF THE ICE BIRD, PART III A. S. 1978, Cavendish in the Sky with Diamonds A somewhat crusty curmugeon of a retired journalist, in remission from cancer but angry over the recent loss of his wife to the same disease, reflected on the supreme irony of his life. He had planned his retirement so differently! He had just begun writing poetry, meditations, and music under a nice nom de plume when his new, promising, third career of letters and music was stopped right in its tracks by a disaster in his own home: his wife had taken deathly ill. Cancer! Now he was too sick to go on writing and composing--even though the time to do it was his again, lying heavy on his weak, trembling hands. Feeling like the icy, polar coulds of Global Freezing would hang over his head until he died, he goes out into his ruined and half-frozen back yard and changes places with a Prion, a polar bird that has wandered into his garden and died. Somehow the bird in death becomes him, giving him wings of a starship that can touch the farthest stars and Orion, Gateway to the Morning, where something bright and shining with destiny for everyone on earth seemed to open to him.
CHRONICLE OF THE ICE BIRD, PART III, VOL. IV, RETRO STAR
CHRONICLE OF FOXY PASSES A. S. 1983 How Skip Cavendish, alias Stuart Hawkins, wrote a poetic tribute to "Foxy," a local political icon, and, drawing upon his first career in vaudeville, made a last and notable performance at the Capitol theatre before a packed house of State socialites, government leaders, and the wealthy. How the very people preyed upon Hawkins's former schoolmate, Franklin Delano "Foxy" Benedict, the state capital's foremost "facilitator" and master of the incurably corrupt government patronage system, watched in growing disgust and anger as their bizarrely costumed impresario tore Foxy's mask off in verse after verse; how the old fox could still run (or at least roll) from his pursuers, but he still could not escape his and his enemy Cavendish-Hawkins' destinies being woven together in a strange, future cyber-world that neither could have imagined, long after Foxy and his nimble "smarts" had suffered an Ichabod-like fate.
CHRONICLE OF FOXY PASSES, VOL. IV, RETROSTAR
CHRONICLE OF THE LADY OF THE ANCHORED A.S. 1983 On the Trail of St. Paul How Prunella, a sedate altar guild woman from the Midlands, England, on tour with a cruise ship company in the Middle East, finds release from a crushing depression over the accidental death of her daughter.
CHRONICLE OF THE LADY OF THE ANCHORED, VOL. IV, RETROSTAR
CHRONICLE OF THE SURVEYOR OF THE QUEEN'S PICTURES A. S. 1983-, The Knight of Darkness How Sir Anthony Blunt and his fellow Cambridge-educated colleagues became involved in a secret spy ring inside the British secret services, serving not Fascism but Soviet Russia during part of the Second World War and for some years of the following Cold War with Soviet Russia. How Sir Anthony "retired" from being a double agent to being the Surveyor of the Queen's Pictures, with the responsibility for all the Queen's artworks in the royal palaces, but how he was exposed as a spy and found guilty but was allowed to retire with some dignity to his home, while his co-conspirators fled to Soviet Russia. How in dying they singly and together discovered an Afterlife their Darwinistic beliefs had denied was possible, which delegated them to a new venture just as exciting as betraying their own country and serving her arch enemy--a contest involving the Golden Fleece and a rival ship called the Argo.
CHRONICLE OF THE SURVEYOR OF THE QUEEN'S PICTURES, VOL. IV, RETROSTAR
CHRONICLE OF THE FURLED SAIL, THE UNQUEST OF LARRY PRUFROCKSKI, A. S. 1986, The Man Who Never Launched Forth How Larry Prufrocksi, a union man and a railway worker from the Pacific Northwest, took one of his periodic tours abroad, this time a tour to Russia, Siberia, and Mongolia, naturally encountering a set of new circumstances, but meeting them with his same characteristic determination never to be changed by any of them. And he wasn't changed--right up to the moment his Air France flight, on its return to the U.S., swerved back from Long Island and vanished in what was thought to be an northern extension of the Bermuda Triangle. Pieces of the wreckage were found, however, and enough fusilage so that some artifacts and possessions of the doomed passengers were retrieved by the investigative teams. Among the items was a travel journal, kept by Larry, telling about the entire tour in his usual neat, square-lettered, no-nonsense style of writing, the same style he used for making out railway reports. Sent by mistake to the lone tour member who survived, a woman who had been kept behind in Moscow due to a sudden stomach problem, the journal was sent on to the surviving family, with her comments and condolences entered in the unused pages.
CHRONICLE OF THE FURLED SAIL, THE UNQUEST OF LARRY PRUFROCKSKI, VOL. IV, RETROSTAR
CHRONICLE OF THE SACRED COWHIDE PAINTER A. S. 1987, Ira's Letter to the 11,000th Century How an artist's paintings for a B.I.A.-Lakota Christmas arts and crafts competition were preserved for a tribe of Wasichu lost seemingly forever among the lodges of the stars.
CHRONICLE OF THE SACRED COWHIDE PAINTER
CHRONICLE OF THE LION'S DESCENT, A. S. 1995, "The Lion's Descent," Part I, "The Lion's Legacy," Part II, How a U.S. Supreme Court Justice who was a very nice and likable gentleman became responsible for a once great and godly nation's descent into self-destructive depravity and violence and also for more deaths of Americans than were slain in the death camps of Himmler and Hitler (Earth I), and how he fared in Hades (Hell) after his death.
CHRONICLE OF THE LION'S DESCENT, VOL. IV, RETROSTAR
CHRONICLE OF UWE HANTSBO'S NOTES A. S. 199?, On the Bipedal Workforce of 1994tK66, A Flying Texas How Uwe Hantsbo points out certain rather glaring flaws in the evolutionary timeline and evolutionary theory after seeing the flaws in question with his own eyes, frozen specimens of hominids and so-called human precursors, flying aboard a Texas-sized hunk of rock; how their existence supports his own view that highly intelligent, highly terrible ante-humans he names as the Atlanteans were responsible for the Dachau-like work camp on the asteriod.
CHRONICLE OF UWE HANTSBO'S NOTES, VOL. IV, RETROSTAR
CHRONICLE OF THE GREAT WEAVER PEOPLE A. S. 1997, The Secret of Dream Catching How Horace Brave Scout wanders the Southwest and finds his life-guiding vision among the caves and baskets of an extinct tribe. CHRONICLE OF THE GREAT WEAVER PEOPLE
CHRONCLE OF THE UTERO-NAUT A. S. YEAR OF THE CHILD, PART I, Orientation How Shawnta, a 19 year old wannabe careerist like her single mom, was processed at the local abortion mill newly opened in her black neighborhood.
CHRONICLE OF THE UTERO-NAUT, PART I, RETROSTAR
PART II, The Argonaut How Shawnta's unborn child (no such thing as "fetus" ever existed on earth), genius that he was, got going with the name of Jason on a very promising career that might well have benefited the whole society and probably the world, but was rudely interrupted by an abortionist's foreseps, scizzors, and vacuum--but also how the Master Plan created by the FC kicked in with a contingency plan to restore Jason's life and future.
CHRONICLE OF THE UTERO-NAUT, PART II, VOL. IV, RETROSTAR
CHRONICLE OF THE PEARLY GATES A. S. 1998, How a Pearl Was Made How a farmer's daughter's experiences in life and her decision to be forgiving came to form one half of a gate of heaven.
CHRONICLE OF THE PEARLY GATE, PARTS I-II, VOL. IV, RETROSTAR
CHRONICLE OF THE GRAND PUZZLE--Earth I A. S. 2001- How Anatoly, a survivor of a notorious Nazi death camp where Anne Franke and her sister perished along with tens of thousands of other Jews, spent his convalescence and waiting period to go to Israel by playing the lottery after the camp was in the hands of the Allies; how he shattered the laws of probability by never losing and always managing to win back his stake; how this impossible gambling feat came back to haunt him in the last minutes of his life as he lay dying in a Denver hospital, but how the Hound of Heaven led him to win the Jackpot of life, the greatest prize of all.
CHRONICLE OF THE GRAND PUZZLE, VOL. IV, RETROSTAR
CHRONICLE OF THE LOST CITY A. S. 2002, Last Breakfast in the West Wing; Melt-down on Pennsylvania Avenue How the Wasichu of the U. S., in moral and political decline over against the British Commonwealth ever since Potsdam despite the highly-publicized moon and space programs of NASA, are struck by an invisible enemy and lose all their chiefs at once, and chiefs from the rest of the world come and set up a new council fire for the nation on Manhattan Island.
CHRONICLE OF THE MILLION MAN FLESH-EATER, VOL. IV, RETROSTAR
CHRONICLE OF THE DEAD MOVIE QUEEN A. S. 2003, The Burning of Coburn How a Hollywood legend found that all her fame, fortune, and feisty feminism couldn't erase the incredible after-death reality that was evidently turning against her--not only did she find she existed when she should have dissolved into nothingness, but all sorts of strange, powerful beings seemed intent on judging her and then throwing her into what appeared to be a Pacific Ocean set on fire.
CHRONICLE OF THE DEAD MOVIE QUEEN, VOL. IV, RETROSTAR
CHRONICLE OF MOSHE, HONORGUARDSMAN A. S. "Night of the Iguana" How on Earth I, Moshe Benlevi, a young Israeli soldier, a freedom-loving Sabra, was chosen to be a part of Michael Jayson's honor guard in Israel when the EU President arrived there for the signing of his "eternal peace" accord he had brokered with the Palestinians and the Israelis. How Moshe tasted sour grapes in the deal and decided to stop the world (at least his slice of it) and get off, but how he was intercepted by someone he hadn't included in his life's equation.
CHRONICLE OF MOSHE, HONORGUARDSMAN, VOL. IV, RETROSTAR
CHRONICLE OF DJUGASHVILLI'S SERVANTS A. S. 2024 The Titan of CNNC A hostile takeover by Ted Hunter of a competing Christian network, Alpha-Omega, backfired tragically for him when his wife, converting to Christianity right in his own penthouse on top the CNNC Towers in Manhattan, took A-O's side in opposing him. A takeover that was supposed to be routine, thanks to his billions and an army of corporate lawyers, became a living nightmare when he met a world-class power player in A-0 that more than proved his match.
CHRONICLE OF DJUGASHVILLI's SERVANTS, VOL. IV, RETROSTAR
CHRONICLE OF THE FALLEN GIANT A. S. 2024, How the Dominion of Canada, like the Humpty Dumpty the ill-starred egg man in children's nursery tales, broke up due to the disastrous effects of resurgent glaciation but could not be put back together; how it gained an ephemeral capital called Flin Flondia, once called the "Sunless City," in a book by that name.
CHRONICLE OF THE FALLEN GIANT, VOL. IV, RETROSTAR
CHRONICLE OF THE LAST CAMELOT A. S. 2170-, 1. Idylls of the King
CHRONICLE OF THE LAST CAMELOT, PART I, VOL. IV, RETROSTAR
2. The Panther's Jaws
CHRONICLE OF THE LAST CAMELOT, PART II, VOL. IV, RETROSTAR
3. Women and Children First!
CHRONICLE OF THE LAST CAMELOT, PART III, VOL. IV, RETROSTAR
4. Le Morte D'X-2914000?
CHRONICLE OF THE LAST CAMELOT, PART IV, VOL. IV, RETROSTAR
5. "Merry Christmas from Lyonnesse"
CHRONICLE OF THE LAST CAMELOT, PART V, VOL. IV, RETROSTAR
6. Wotoo's Black Box; The Duck King
CHRONICLE OF THE LAST CAMELOT, PART SIX, VOL. IV, RETROSTAR
7. Last Wagon Train to Avalann How the Royal Tribe of Windsor fared in exile on a base off Charon, Pluto's moon, and how they adapted to the loss of Earth and the dissolution of the monarchy
CHRONICLE OF THE LAST CAMELOT, VOL. IV, RETROSTAR
CHRONICLE OF THE STAR CHAMBER A. S. 2363, Christ in Atlantis? How Professor Pikkard was tried before a university panel for his heretical views and found guilty without evidence to refute his case.
CHRONICLE OF THE STAR CHAMBER, VOL. IV, RETROSTAR
CHRONICLE OF CHRISTUS TRIUMPHANS, Parts I, II, & III A. S. 2392, The Christmas Factor How Dr. Pikkard, meditating on the mystic Teilhard Chardin's visionary commentary on a medieval painting portraying a "standing" not a "hanging" Christ on the Cross, went on to reflect as well as the Incarnation of Yeshua, and how he concluded that a mystic thread connected all things, even to the blood of the human body, but that he had to wait for a "later" and "younger" talent to make it known scientifically. How, unknown to him, that younger visionary came to be his own predecessor, a Darwininian Establishment-challenging young man named Behe in the 20th-21st centuries, along with his contemporaries, Gabriel Tall Chief and Horace Brave Scout, who traced golden threads and lesser threads in a grand "blood cascade" of their own in the chronicles they brought forth.
CHRONICLE OF CHRISTUS TRIUMPHANS, VOL. IV, RETROSTAR
Book Two
CHRONICLE OF YOSEF'S PILGRIMAGE A. S. 4117, Flight to Avaris How Yosef and his young wife Maryam, with Maryam's newborn Yeshua the Promised Messiah of the Jews, fled from troops and spies of Herod the Great to safety in Mizraim, and how they journeyed back to Nazareth, their natal city, once Herod was dead.
CHRONICLE OF YOSEF'S PILGRIMAGE
CHRONICLE OF THE SECOND RESURRECTION A. S. 4150, Secret Sharers, Part II How the Second Zechariah the prophet, slain in the temple courts alng with many other prophets and saints, rose from the dead as a sign of the resurrection of the Messiah way back in A.S. 30, and how he went into the holy city and appeared to many, after which he was triumphantly escorted by angels to heaven's paradise--a spectacle first recorded, with certain new additions to the Resurrection Rolol, by Secret Sharer Josheph of Arimathea.
CHRONICLE OF THE SECOND RESURRECTION, VOL. IV, RETROSTAR
UNCHRONICLE OF THE CHRISTMAS PLAY A. S. 4 6 5 ?, "Merry Christmas from Lyonnesse," A Play, How a miserly, cruel banker seeks to destroy a whole town he has foreclosed on, closing down the only means of employment, the town mill, and how a small girl, Emily Cogwell, revives faith and hope in the people by refusing to give up her own in the bitter circumstances of poverty and homelessness, and how she turns and saves the banker when he experiences a change of heart after seeing her standing alone in the town square holding the Nativity Scene's Christ Child doll.
UNCHRONICLE OF THE CHRISTMAS PLAY, VOL. IV, RETROSTAR
CHRONICLE OF THE DRIED SPRINGS IP A. S. 4760, A Chief's Son Named Laughing Waters How an old chief and his old wife who had no children were promised a son by God, and the old woman laughed, yet later she conceived and gave birth to a beautiful son she named Minnehaha.
CHRONICLE OF THE PEARL DIVER A. S. 5927 -, Shipwreck of Dreams How a despised half-breed, part Keftiuan and part Myceneaean (both nations bitter enemies in the world) and Prince Daedalus do not get along and almost come to blows over the pretty orphan girl Theseus runs off with, and later after the girl's death (and the shipwreck of Theseus's dreams) how they find a way past hatred and revenge. CHRONICLE OF THE PEARL DIVER, VOL. IV, RETROSTAR
CHRONICLE OF THE FIRE WATER MAKER A. S. 5931, The Chosen How a brewery malt masher got herself a mighty warrior as a husband, and how her head was knocked in by other poor women, and left to die, but a great chief's prayer gained her the ear of the Most High and she was healed. CHRONICLE OF THE FIRE WATER MAKER, VOL. IV, RETROSTAR
CHRONICLE OF THE BLESSINGS OF THE BREASTS A. S. 5932-, The Wayward Vine How the births of two sons, Manasseh and Ephraim, comforted and cheered Joseph in the land of his bondage, but how his beloved wife and companion's heart turned toward her people and away from her husband.
CHRONICLE OF THE BLESSINGS OF THE BREASTS, VOL. IV, RETROSTAR
TWIN CHRONICLE OF THE AMBUSHED MAIDENS, TWIN CHRONICLE OF THE AMBUSHED BRAVE A. S. 5934, 1. Dawn Flower
TWIN CHRONICLE OF THE AMBUSHED MAIDENS, VOL. IV, RETROSTAR
2. The Prince of Gilead
TWIN CHRONICLE OF THE AMBUSHED BRAVE
How a chieftain's daughter and her maid-servant fought for their virtue; how the maid-servant escaped to safety and found a young man she could make her husband; how a prince, robbed of all his wealth, was left for dead in the desert, and how he found a greater wampum.
CHRONICLE OF THE BITTER ROOT A. S. 5938, Abdullah's Return How good times fattened Abdullah but did not improve his character, and how resentment and blood revenge took root in his heart, and how he could not rest until he avenged his brethren's deaths on the head of the chief of those he held responsible--Joseph. CHRONICLE OF THE BITTER ROOT, VOL. IV, RETROSTAR
CHRONICLE OF FAT WOLVES AND HUNGRY PEOPLE A. S. 5941, Part I, A Bruised Reed and a Broken Staff; Part II, The Return of the Brothers How the little family tribe of Joseph's father began to starve in their desert hogans and needed to go for provision in another country where there was said to be abundant food and water, thanks to a most far-seeing ruler in it who had set aside one fifth of the harvest for seven straight years of abundant harvests.
PART II, CHRONICLE OF THE FAT WOLVES AND LEAN PEOPLE, VOL. IV, RETROSTAR
CHRONICLE OF THE FAR-SPEAKING VASES A. S. 5931-, 1. Secret Diary of Ipu-Pheres (cont. by Benohe-Pheres); A. S. 5942, 2. Letters of Ipu-Pheres, Jonathan H. Thompkins, and Bertha Mae 3. Letter to Reader by Editor of the 23rd Edition of RETRO STAR series. How spirit-house shamans who have not yet been born could talk to people in stone tipis which had long since vanished under the ice. CHRONICLE OF THE FAR-SPEAKING VASES, VOL. IV, RETRO STAR
CHRONICLE OF THE BLESSINGS AND CURSINGS A. S. 5957, Jacob's Last Testament How all his sons received their future shares in the Promised Land and how his blessings in some cases seemed more like curses; how Jacob's embalmed body was carried back to Ken'an and buried with his father's bones. CHRONICLE OF THE BLESSINGS AND CURSINGS, VOL. IV, RETROSTAR
CHRONICLE OF THE BLESSINGS OF THE EVERLASTING HILLS A. S. 6011, The Kingdom Pledge How Joseph, on his deathbed at age 110, prophesied that his bones would not lie forever in Mizraim, but they would be gathered to his fathers in the Promised Land by his people. How seventy five years of great blessing followed Joseph's death, but then enslavement of the Hebrews began. How blessed was the one piece of ground, the field outside Shechem, owned by the people of Jacob and Joseph. CHRONICLE OF THE BLESSINGS OF THE EVERLASTING HILLS, VOL. IV, RETROSTAR
CHRONICLE OF A CLOUDY AND DARK DAY A. S. 6719, A Mighty Chief Called Barley Cake How one young brave was chosen by God to fight tribes of thousands of enemies that oppressed and starved his people, coming every year and taking all their food away. CHRONICLE OF A CLOUDY AND DARK DAY, VOL. IV, RETROSTAR
CHRONICLE OF THE GIANT-SCALPER A. S. 6852, The Runt of Ephratah How a tribesman of tiny Ephratah, smallest portion of a small country, he himself youngest in his family and despised by his brethren, killed and scalped a giant warrior and became the chieftain of the whole country and one of the most famous kings in human memory and whose second name is spread over the whole earth.
CHRONICLE OF THE GIANT SCALPER, VOL. IV, RETRO STAR
CHRONICLE OF THE CHIEFTAIN'S DAUGHTER IP A. S. 8732, Elektra's Contingency Plan--Implemented How a chieftain's daughter lost her last sky-canoe and seemingly all her people but found a tribe who didn't know better and took her along with them.
CHRONICLE OF THE CHIEFTAIN'S DAUGHTER
CHRONICLE OF THE SEVEN STARS, THE GREAT WHITE CHAIR, AND THE END OF EARTH'S SKY-TRAIL AND THE GREAT LAST COUNCIL FIRE (EARTHS I AND II) Z-Point II
GREAT LAST COUNCIL FIRE, VOL. IV, RETROSTAR
1. Z-Point Deferred: Battle of the Seven Stars How, on Earth I, the "Light Bringer" Lucifer attacks the Seven Agensl of the Seven Cburches, determined to gain absolute control of Earth I, and how he uses this attack as a feint in order do the most damage he can to his true objective: the Blue Bridge of Orion that contains, he senses, to the Plan of Restoration for both Earths and their Universes.
CHRONICLE OF THE SEVEN STARS, VOL. IV, RETROSTAR
2. Part I: The Sentencing Trial: The Great Assize Part I How all the people who had done bad things were shown what they had done and were cast alive into the mouth of a Star-Eater along with all the spirit-creatures that lodged inside the enemy stars. Part II: City of Destruction How the cities and nations were judged and then their names and official seals and insigne cast into the Pit, and all memory erased in the mind of God of their former existence.
CHRONICLE OF THE GREAT WHITE CHAIR, VOL. IV, RETRO STAR
Part II, CHRONICLE OF THE GREAT WHITE CHAIR, "CITY OF DESTRUCTION, the "Emerald City", VOL. IV, RETROSTAR
CHRONICLE OF THE BLUE BRIDGE LINKING CHAMPIONS--EARTH I AND EARTH II How the Bridge once linking the Twin Earths was restored in the Cavern of the Great Nebula of Orion, a work that spanned the ages and completed the destiny of both worlds; how the choice to forgive by one wounded human being, a pioneer Exoduster's daughter from a farm in Kansas, joined the two half-spans together forever.
CHRONICLE OF THE BLUE BRIDGE LINKING CHAMPIONS
2. Homecoming of the City of the Great Chief IP How the council gathering of the Lamb of God, finished after an eternity of careful construction, came down from heaven and set upon the center of restored Israel, where the Nail-Pierced One and his tribes would rule the Earth's nations for a thousand years until the Final Reaping of the Earth.
Volume V Beyond the Rapture--An Eschatology Lived,
Chronicled by Horace Brave Scout
CHRONICLE OF THE GREAT CHIEF'S RETURN A. S. 200? How Yeshua comes to Earth I, unexpectedly to most people, gathers those few "Wise Virgins" who are prepared, and leaves those who were tremendously successful followers, they thought, only to find themselves lumped with the ungodly in a world society racing toward the abyss. How Heloise Turnbull, the televangelist, lost her world-wide organization and wealth along with her husband and family but found new life and a new ministry in Israel where she fled to escape the collapse of everything she had achieved.
PART ONE, BOOK ONE, JACOB'S TROUBLE, "THE VOICE FROM THE GROUND"
"Thief in the Night," Part Two, Beyond the Rapture
"The Spin Shamans," Part Three, Beyond the Rapture
"luv heat and the marcyz boyz," Part Four, Beyond the Rapture
"Hard Choices, Part Five, Beyond the Rapture
"The Wailers at the Wall," Beyond the Rapture
"Shelter from the Storm," Part Seven, Beyond the Rapture
"A Covenant God," Part Eight, Beyond the Rapture
"The Lion Unleashed," Part Nine, Beyond the Rapture
"Retreat to Petra," Part Ten, Beyond the Rapture
Book II:
Book II, Yom Kippur, Chapter 1, Volume V, Beyond the Rapture
Book II, Yom Kippur, Chapter 2, Volume V, Beyond the Rapture
Book III
Book III, The Seventh Day, Chapter 1, Volume V, Beyond the Rapture
Volume VI Natal Convergence
by Horace Brave Scout
CHRONICLE OF THE LOST TRIBE A. S. 1,136,786 How the Alpha Centaurii discovered an archive of Late Twentieth Century artifacts in a time capsule, and information revealing a Magnum Mysterium that revolutionized everything, to the point where they chose the dreaded White Martyrdom, a final search of the Universe for what they had lost, in which they discover what Ira Sulkowsky has already shown them in.... "The Christmas Factor" 61000202A-Z, Subfile A1, "Dogon Star Child"
61000202A-Z, Subfile A2, "Lakota Nativity" 61000202A-Z, Subfile A3, "A Victorian Christmas" 61000202A-Z, Subfile A4, "Christmas with James Dean"
"Subfile A4: Christmas with James Dean, A Requiem with Poinsettias" 61000202A-Z, Subfile A5, "A Fawn in Winter" 61000202A-Z, Subfile A6, "A Fulani Christmas"
"A Fulani Christmas," Vol. VI, CHRONICLE OF THE LOST TRIBE, RETRO STAR
61000202A-Z, Subfile A7, "Street of Dreams" 61000202A-Z, Subfile A8, "Winter Rose"
CHRONICLE OF THE LOST TRIBE, WINTER ROSE, VOL. VI, RETROSTAR
61000202A-Z, Subfile A9, Act III, "Christmas from Lyonnesse"
61000202A-Z, Subfile A10, ACT III, "Joseph's Letter"
CHRONICLE OF THE LOST TRIBE, VOL. VI, "Joseph's Letter," RETROSTAR "Natal Convergence!"
Volume VII Final Wars...Convergence at Orion by Horace Brave Scout IP
How two major battles fought for Orion and its secret "Skunk Works" resulted in the destruction of the chief project, the Blue Bridge, to the point where only half survived in each Universe; and how a single act of an individual was strong enough to unite the two halves into one whole, thereby completing the bridge and defeating the opposing players.
Epilogue II EPILOGUE II, "THE HARROWINGS OF HADES AND HELL," RETRO STAR
NOTE OF FRIENDLY REMINDER TO DOWNLOADERS: THIS CONTENTS PAGE DOES NOT LIST A GREAT MANY COMPLETED CHRONICLES, SO THERE IS NO WAY DOWNLOADING CAN OBTAIN THE COMPLETE RETRO STAR SERIES. THERE IS, I AM INFORMED, A CERTAIN STARLIKE ALIEN ENTITY THAT IS BEING FEATURED BY SOMEONE, AND THIS OF COURSE IS MY OWN COPYRIGHTED INTELLECTUAL PROPERTY--"BORROWED" FROM MY OWN STABLE OF STAR-STONES, OR ALIEN ENTITIES. HAVE FUN, WHILE WE GIVE YOU A BIT OF LOOSE LEASH! WHAT IS GIVEN TO PUBLIC DOMAIN HERE IS JUST ENOUGH TO OPEN A WINDOW ON THE SERIES AND ITS POSSIBILITIES TO WHOMEVER IS SERIOUSLY INTERESTED.
In the good early days of Jason and the Argonauts's Quest of the Golden Fleece, Mopsos enjoys making friends with a group of river dolphins after they reached Aea, the capital and port city of the gold-rich country of Colchis, the far east kingdom where the dragon (a pet of Elektra's set out to pasture) guards the Golden Fleece of the Heavenly Ram. To get to the spot where the Fleece of Phrixus is said to be, they will need help, and that is where the dolphins, when they are trained, will be of real help.
Mopsos, after spending time with the river dolphins, decides to join them in their own element.
CHRONICLE OF THE QUEEN OF THE VAMPIRES
After Jason returned to rule over his city and kingdom of Iolkos, all was well in heaven and earth? Well, not quite yet. When Elektra heard what had happened in Colchis, that her amusing little pet dragon (which she had planned to use on hostages for entertaining her at royal functions) had been slain by none other than Jason, and the slayer gotten clean away too, she was determined that heads would roll. And heads did roll, literally, around her. Then she set out personally, in pursuit of Jason. He must be stopped, she thought, from spoiling all her plans for Ilios and its goddess-worship. Achaea, with the likes of Jason to make it succeed, was to be smashed, and Ilios was to rule supreme, under her scepter, of course!
Only then could she complete her plan, rebuilding the dynamos of Atlantis that once powererd her airships--which had all been destroyed when the mother continent broke up, due to the gas pools exploding under the continental shelves. All she had left now for power were her remaining stock of power crystals--but how much longer would they last? Some were flickering, and could not be used--and the others were strained to supply the power she needed to keep her fleet operating. Therefore, lest she end up powerless and unplugged, with her power crystals all spent, it was essential to rebuild her power grid on the ground! Once again airships by the thousands would fill the air, as her great cities of the realm hummed with life and power supplied by the power crystals her wise men were again manufacturing by the hundreds.
With the basic power grid in place that made the whole civilization possible, she might next attack the problem of the runaway Triangles, the launching pads to the stars installed by the Ancients on various sectors of the planet. Until then, all she had were her precious power crystals to work with.
Pulling in the enormous powers that energized the stars and the inner workings of the invisible entities that constituted every visible thing, her little horde of power crystals were indispensable to her whole civilization and her plan to restart the imperial throne, with her seated upon it, of course!
It was over these that the latest struggles in her fleet had centered, with one side supporting another leader, while she stood on her royal blood and her claim to the throne as having prior right to them. She had won, for the time being, over her opposition. It had cost some lives, which they could hardly absorb, as their numbers were far too few to operate even the small forces of ships she still maintained.
Slaves? They could not be trusted, though they were still captured to serve, as well as supply the needed blood food she and her people required. Her harvester ships made periodic runs across the inhabited portions of the earth, taking care not to stir up the populated areas too much by their activities, of course.
She knew the humans did not want the gods they worshipped to come and ravage their cities and towns and villages at will--and would run away to the hills and hide if she harvested too much in the open with her ships--so she was careful about it. Some knowledge of it did spread, but not enough to alarm the whole earth against her and her people. Even humans could fight to an extent, and form resistance to her--if she pressed them too much. To milk the cow, it was best to do it when the cow was calm, not fighting for its life! Best fan the cow's flies away, keeping her at ease, while the "milk" was drained from her collapsing veins. Make the cow even welcome her coming and miss her when she was gone! Stupid cow! Stupid earthlings! They could be milked until they had nothing left in their veins, right up to that point where they dropped and died, bled white, if they were only treated carefully and not given any reason to become alarmed or let see what was really happening to them! Killing them softly, that was the trick, and it worked every time!
If only Elektra, born in the purple, had known that her plans would materialize, but not in any form she had wanted or imagined. Moreover, she would not see them come to pass on the earth in its solar system, but in a far future time and place. A second Atlantis would be re-created, but not by her power but by an alien entity that would have no regard for her and her ambitions to be the new empress of a restored Atlantis as magnificent as the one she and her people had lost in the long ago--a stunning, end of the world event, a Gotterdammerung they had never quite grasped or explained, since no philosophers or wise men had made it to safety aboard the fleeing starships.
CHRONICLE OF THE FURLED SAIL, THE UNQUEST OF LARRY PRUFROCKSKI, CONCLUSION, VOLUME IV, RETROSTAR
For a man who had never unfurled his sail and launched his boat of life, it had to come as a shock, even a first taste for him of sheer terror, to find himself suddenly being propelled into another dimension. Standing on the shore of an unknown, alien sea, Larry was struck speechless at the sight of his pathetic, prosthetic-like hands and limbs.
He was not there very long before a "deck" of card-men came shuffling up through the sand and flotsam of the beach, all showing the same card's thickness of his own body. They all gave out fiendish hoots at the sight of him, and rushed forward. Ganging up on him, he was immediately in their power and couldn't escape, for they had ropes and chains, and wouldn't hesitate to tie him up if he showed any resistance or tried to run. Taking him with them, they told him he was now part of their crew, commissioned a sailor, a mariner on what looked to the appalled Larry like an ugly black, 16th century-type slave ship.
Larry also didn't like any of this one bit! He was not about to be anyone's deck-swabbing drudge, either--but, in his present condition--somehow reduced to a wretched playing card, with no way off the slaver except by leaping into the water and drowning (for he didn't think he could swim without his former arms and legs)--he did not have any choice but to submit!
Being an intelligent man who could always spot his best interests in any given situation, Larry knew when to bide his time and keep his own counsel, while looking for a chance to jump ship. If only he could find a way home--but where was home? The ship was sailing around what seemed to be the Puget Sound--which relieved his mind somewhat, since it was his home area, but he had no desire to get off anywhere but his hometown--for then he knew he would make it, knowing the streets and layout better than any of his fellow mariners. As for the captain, Wolvewoeld by name, he looked like a Nazi SS officer and was a terrible slave driver! He was a killer, too--for one of the first things he saw the captain do was slice a man through with his machete-like sword when the wretch hesitated a moment whether to obey an order. The pieces of the card-man, cut right through his midriff, were flopping around, one part going one direction, the other part with the still screaming head going another--when the captain snorted and gave the pieces each a kick over the side.
As for the wretch's blood, the new man--Larry--was thrown a mop and bucket and commanded to clean up the mess.
Cursing under his breath, Larry lowered the bucket on a rope and drew up some water from the bay and did the nasty work, and when he was through cleaning the deck, he flung down the mop and bucket in disgust. The captain noticed this, and he went straight to Larry, raising his sword over Larry's horrified head, one swing of which would decapitate him for sure. Trying to shield himself, Larry could not think of one thing to do--but the captain laughed, a horrible and most unlikely sound coming from so hard and expressionless a face--and, lowering his sword, called for the men to stuff Larry into the cannon instead.
"For flagrant insubordination compounded by disrespect of the ship's mop, the new swab is to be taught a lesson, which in his case is capital punishment. Men, roll out Old Bertha! And give her plenty of powder! I want to see if you can hit that mountain side over there!"
Struggling and protesting in vain, Larry was seized, dragged, and then stuffed, headfirst, into a big cannon kept on wheels and ready to be rolled out in a minute to deal with any enemy ship that might appear within range.
Half a barrel of black powder was tamped in after Larry, and then the fuse was lit while the whole crew clapped hands over their ears.
The rest was what you would expect from a powerful, working cannon--a tremendous blast, a cloud of smoke that engulfed the whole ship, followed by the furious flight of the hapless ejecta through the cloud and into the sky. Though he greatly preferred not to be, Larry was launched forth on his final journey.
Following the trajectory, the captain was not to be disappointed, as he peered through his handy pocket telescope. On the scree-covered side of the mountain he had chosen for the shot, he sighted a hit.
"Nice work, boys!" he complimented the men. He turned to his chief mate. "Break out a glass of ale for each man--have a little party before the next practice shot!" he laughed.
He did not know it, however, that the huge amount of powder produced such velocity to it that Larry's head did not stop but continued right on through the thin-crusted mountain and sailed into the main body of the entity that encompassed the cyberworld.
Skipping like a pebble or a coin across the surface of a dark sea, Larry's head traveled quite a long distance.
But finally with a gurgle, it sank into the dark waters, Larry still protesting and calling for help in a place where there could not possibly be any.
THE END OF THE CHRONICLE OF THE FURLED SAIL
The Black Ship's cannon shot that launched Larry into the Sea of Doubt was in cyberspace. But long before this shattering event, Larry, while still in the surface world, experienced another equally painful launching forth. It is odd how life can pop out of a neat, little box you put it in at a most inconvenient moment--and this happened to none other than Larry when he was about to land at JFK, along with his fellow passengers on the Air-France flight from Moscow to New York. With just minutes to go, and clearance given by JFK to begin final descent toward the specified runway, Larry suddenly found a giant vacuum had been applied somehow to the cabin and its contents. Things blew out--the lighter items to begin with--soon followed by ragged fragments of the cabin floor, ceiling, wiring and plane body and its electronic components, a mad, whirling, flying junkyard that investigators from the airline would later take months to reassemble.
Larry, still very much alive, even though prospects of remaining alive were radically reduced at that moment, sat strapped to his seat as it ripped up from the floor and flew. As he was launched into space still strapped to the seat, his mind was beginning to process the experience, and he was starting to realize he was in some kind of trouble and that the plane had a serious problem that might compromise its ability to deliver him safely and routinely to JFK.
He knew nothing of the Triangle, much less that it could move north like that, but the Triangle located off Burmuda had slipped again northward and was now running amok off Long Island. Sometimes, in this temporary northern outreach, a tendril even snaked from there to Nantucket Island, and captured a yacht or even a plane, which would bring much grief to the Kennedy family in the future when they lost another family member in a plane accident, the grown and newly married only son of the late Jacqueline Bouvier Onassis (a.k.a. Kennedy) and the assassinated JFK.
The Triangle contained a world of unassorted flotsam and jetsam, and enough people to populate a whole country, not to mention ships and other sizable artifacts to recreate about every stage of development from Atlantis in its terminal 11th millennium B.C. and the Old Kingdom of Egypt in the 3rd millennum to seafaring Phoenicia in the 9th century and thereafter, on to the Greek and Roman Periods ending in the 5th century A.D., followed by the barbarian tribes and then on to the Viking, Spanish, English, Dutch explorers in the 9th, 10th, 11th, 15-16-17th centuries, finally on to America in the 20th and 21st Century--only all these constituents were in a constant flux of ebb and flow, and jumbled more or less together, kept in a state of being transported but yet never arriving at any fixed destination--Limbo, in other words.
Without realizing what it was, Larry could see well enough and decide that he did not want to be where he found himself. He was, fortunately, still strapped to his cabin chair as he flailed about helplessly, flying one direction and then another while catching fleeting glimpses of 17th century Indians in war-painted canoes, a 15th century Spanish sailor from Cadiz, a Portuguese fisherman from the 20th century, an ancient Greek fallen off of Phineas's oared ship--or perhaps, the Phoenician named Phlebas, and other equally strange sights, such as a flying wet bar from the Caribbean.
Though Larry could not know the facts, a Microsoft employee on pregnancy leave had just ordered a "Jump Up And Kiss Me" rum drink when something went radically wrong at the four star hotel built over the water--it was if a giant vacuum had pulled out the wet bar and herself and the bartender, Tom Tom, and his pet monkey, George, for suddenly they were sucked into a swirling vortex that whirled them upwards and toward parts unknown. Paid with peanuts for peeling the bananas for the daiquiris, the monkey forgot his job and gibbered and clung for dear life to the nearest palm tree.
The lighting of the Triangle was just as erratic as its malfunctioning Atlantean transporting system, and flicked on and off. Suddenly, Larry was plunged into darkness lit only by strange wispy colors that flashed here and there, contributing to his discomfort, with no reasonable design or reason for them. At the same time he was assaulted by a flock of spinning Frisbee-like objects. In fact, they were Frisbees--which the Triangle had gulped in huge quantities when a Liberian freighter-banana boat carrying cheap Chinese toys to Miami to unload, ran onto a reef east of the Bahamas and broke up, spilling Frisbees by the millions just as the Triangle was rising once again to the surface in yet enough uncontrolled eruption.
Immediately after the Frisbees, a bluish entity, shaped like a man holding to the inside of a curved ring, flew toward him. A neon-blue dart then shot at Larry, bit him on the cheek, and then flew back to the golden ringed man, and then the ring and its rider circled him and vanished. Larry did not know what to make of it. He felt his cheek, and there was no feeling, as if the skin had been anesthetized, though the fact was he had just been cookied, and a DNA specimen taken. He did not have time to wonder about it for very long, as something big was happening that would engulf him and take his full attention for some time to come.
Like a machine hopelessly broken, but plugged in can still put out some movements that approximate what it was designed to do--so too the Triangle's power crystals sputtered to life and for a few moments began transporting whatever fell within their transporting search rays. Caught in one of the rays, Larry was immediately flung toward the stars, encapsulated in the transporting mandorla, an energized cell that would take him to his destination, if only there was a destination powered up enough to receive him properly. Lacking that, he might travel forever, from one part of the universe to the other, never arriving, like a man without a country set aboard a sailing vessel that would never sail into port.
CHRONICLE OF THE NIGHTENGALE, VOL. IV, RETROSTAR
After North America, the Great Turtle Island, was split by a superquake right at the New Madrid faultline into two huge parts, East and West Turtle Islands, creating the straits that swallowed the plains and prairies and low coastal areas from the Gulf all the way to the Arctic Sea, which in turn spread a wonderful new climate, and keep the whole area round the sea warm, even in winter, so that cities sprang up, with ice free ports even in the Arctic Circle. One city had been anciently founded as a riverport on the banks of the now submerged Mississipi, Baton Rouge--was never completely uninhabited, and it became an island city after the superquake, and this island (or many little islands built on, and joined together into one great and powerful seafaring principality) grew up into a second Venice called Baton Roo. Baton Roo must have furnished a haven to a lot of Italian-descent refugees, for in their new island home they remembered the fabulous glories of Venice, long since lost, and recreated them here.
The triumphant new religion that swept up through both halves of North America was Isma, and the Ismanic armies pushed all the way from Atlantis II to the snows and ice of the far north. Baton Roo, though founded by mostly Scandinavians turned back to their ancient Viking ways, was added to this and that empire on the mainland of East Turtle that included Georga or the revived Confederacy's empire centered on Kingston (later called the CSA). Growing more powerful and rich, Baton Roo succeeded in throwing off the mainland's control, and beat every navy sent to reconquer them. Independent, Baton Roo flourished, not longer having to pay stiff tributes every year to far-off sultans and emperors--and now could concentrate on its own empire-building and the extension of its trade network, the Baton Roo League of cities.
The warm sea of the straits between East and West Turtle Islands became Baton Roo's own sea, and everything passed in trade passed through Customs at Baton Roo or the tariffs were paid to Baton Roo naval patrols and warships. A warship a day was turned out on the fast production lines of the Arsenal, the city's naval complex. No other rival could equal Baton Roo's navy or hope to penetrate her naval defenses of huncreds of forts strung along the straits and also situated on every considerable island. With its warships and navy, Baton Roo reigned supreme and entered upon its Golden Age.
In a city so rich and powerful and greedy as Baton Roo, the rich and the ruling class became corrupted and arrogant and heedless of the poor, however. State charities did not help the many poor in the city, despite the vast amount of congratulation given the grand donors to the charity at the various state balls and festivals staged for the benefit of the poor beggars and the homeless living along the canals (for the city did not have paved streets, but utilized canals instead). The major, marble paved squares were also places where the poor were found, because they could hope for a bare living by begging from the rich passers-by.
Pio was one boy, looking like hundreds or thousands in Baton Roo who kept body and soul together (at least temporarily) by begging.
He did not have a last name, for Giovanni his beggar father did not think to give him one, when he himself did not have one.
Born blind to a husbandless girl who herself begged along the canals, begging was all Giovanni knew. For a time he was married to a fellow beggar girl, and before she drowned herself, one child was produced from the hopeless union--Pio--a child they could not support or care for properly. After his mother vanished, like so many beggars vanished into watery graves without any mention of them thereafter, Pio grew up knowing only a life of a beggar, and his father told him where to go and how to cry and beg for a piaster or two. A ducat of course would have been a fortune, so that was not to be requested--it would never happen. But the rich could find a piaster (worth a loaf of bread) or two to throw to the down and out beggars now and then.
Sometimes though, whole days of hard work at begging passed without a piaster, and the beggars starved, or they went to the markets and begged cast-off, half-rotten vegetables or fish beginning to smell bad and turned unsalable--and sometimes that kept them until times and hearts melted and turned more generous. Festivals were good times (not that they received the monies donated to the poor, for they did not), because the watching crowds at the royal regattas were more open in their pocketbooks than during the usual workdays, when they had to think of their own expenses and the high taxes the governmemt of the city's ruler, the Doge, imposed on them without any vote ever being taken.
When Pio was seven (and was small and younger looking for his age), his father took his day's earnings and then, spitting in disgust at the few paltry coppers sandwiched with tin that were minted in Gorga, a backward principality on the mainland, announced that he could no longer afford to keep him. He was to launch forth on his own! This was the most crushing thing for Pio. Abandoned to the wide world, which did not love him, by a father who did? Blind Giovanni loved Pio, his motherless son, in his own way--though he had not known a loving mother himself. It was better than nothing, knowing that you had a father. But now Pio had neither mother nor father--he was orphaned! Cast adrift on the vast and hostile sea of life!
Pio had no way to support himself except by begging, so that is what he did. He slept in a corner of some abandoned building, then in the morning crept out early (to avoid the city police who were hard on transients squatting in abandoned buildings) to the nearest public square or stationed himself by a special event going on, to catch the passers-by who were merchants or traders or ship owners with purses bulging with gold ducats.
But the highly refined aristocrats of Baton Roo heartily despised beggars--so this was not a way for Pio to get much of anything for his growling stomach for that day.
The aristocrats hurried on their way, oblivious of the plaintive cries of the little beggar in his tattered clothes. They really did not want to acknowledge that such children existed in their grand city, much less give them anything personally to "encourage" begging. After all, they gave huge sums already to the official grand state charities, where they were awarded all sorts of applause and medals for their charitable giving to the poor. Huge paintings were done of them too, to be set up in the most important buildings for people to look at and admire. What award could Pio give them in return for some cash? He could give nothing in return! That was obvious from the sight of him. So they treated him exactly like they treated dirty litter--they kicked it away or walked around it as fast as they could as they made their way to and from their golden-bowed, satin-cushioned gondolas.
Pio was heart-broken by being turned away by his own papa into the cold and heartless world of this great city, but he did not know that his father was thinking about him evenso. Giovanni knew a man of some means, a fellow who had a boat and plied the canals as a taxi. This was not a royal looking taxi, of course, but it served for the working classes or even individuals a little higher up who wanted to get a cheap ride somewhere and didn't mind being seen in such a humble conveyance. Pio was hired by this man one day, found somehow by word of mouth (for beggars pass information one to the other and know more than the authorities oftentimes think they know, even regarding high affairs of state!). Told to come along with him, Pio, having nothing to lose, obeyed when he heard his father had sent the man to give him work.
Into the man's boat he stepped, and a new life opened up for Pio immediately.
He was the boatman's helper now. He did all sorts of little errands for the boatman, whose names was Luigi Tuscany Bonaventure, a grand name to the beggar boy's ears. The boatman also seemed very rich to Pio, as he not only wore a velvet brocade coat, but a velvet hat as well, and he had the same sort of outfit for Pio to put on, so that his rags would not turn the boatman's paying fares away in disgust.
Never did Pio feel grander than when he wore his red hat and his green coat, all velvet, though worn, faded, and cast off long ago by some rich person into a bin for distribution to the poor. The beggars of course never got these discarded clothes--but the boatmen sometimes did, as they were first to hear of anything thrown into the bins that stood nearby the central tower square, which was where Luigi liked most to locate, as most people were found there going on their ways and needed boats like his to cross the Grand Canal.
This life might have gone on for some time, as it had for Pio's predecessor until the boy became too big and was sent away to support himself however he could, but the city's rulers grew so assured of their power and navy that they were going to wage war against the most powerful empire centered on Multan. This they had not dared before, and they had always paid the huge yearly tribute of 100,000 gold ducats demanded by the Sultan and Grand Kaliph of Multan--but now they felt they could beat the enemy navy in its home ports and throw off all suzereignty forever.
The one warship produced a day at the Arsenal was increased to two. The city stirred with more life and excitement as news spread about the Doge's decision to make war (as the state secret of this magnitude could not be long kept from the people). Even the beggars were affected, as people gave more generously in times of such excitement and possible change of fortune to the better. And boatmen were never more busy, as tradesmen, navymen, admirals, all sorts of people who hoped to profit from the coming war, packed the squares of the city and thronged the boats plying the hundreds of canals.
Daily, the Doge watched at his seaward-llooking window in the Palace as his warships sailed outward bound for the armada assembling in a secret place for the coming attack on all of Multan's imperial ports.
Pio did not take much notice, except that he was very busy, running this and that errand for his master. He extended his gloved hand, took the patron's hand as the man stepped into the boat, kept a nice cushion in the right place for him to sit on, and even fanned away the plaguey flies and gnats as the passage was made. Pio did not sing so well, but Luigi's base voice made up for Pio's slender treble. They entertained the passenger, if he desired it, with all sorts of popular, risque but simple-minded love songs sung along the canals of the city. This passed the time for the passengers, and the boatmen liked to show off their singing abilities as well. Sometimes their voices earned more tips than their expert oaring, so it paid to be a good singer and know the latest songs.
Luigi had not been attentive when passing beneath a low stone bridge, and his right, oaring shoulder and arm had been struck hard, and he had oared since that day always in considerable pain. It did not get better, and so he was grown irritable with Pio, critical of everything he did. One day Luigi sang so much, he strained his chords and became hoarse, and a cold did not help. He could not sing a note, and his voice was almost gone when he whispered to Pio--"Sing, you silly little canary! Sing your heart out! Get us a good tip this time, or, you little bastard whelp of a dog and a whore, over the side you go for a dunking!"
Not usually cruel to Pio, verbally or physically, Pio did not take him seriously enough perhaps. He sang, but without much heart or enthusiasm, and sure enough, Luigi, who was bad-tempered because of his hurting shoulder and arm, added to his cold and lack of singing voice and the loss of tips, grabbed the less than profitable, mediocre canary and into the water he went! Pio was a drenched and sodden mess when the boatman hauled him back out of the filthy canal with his boat hook.
"That'll teach you," rasped the boatman. "Now sing like a sweet canary of the Doge's, or over the side you go again!"
Pio was now very upset, and crying, but, having perfect pitch without knowing what that was, he tried his hardest to keep his notes from wavering and going sour or off-key.
With the next passenger, he did not do as well as he wished, however, and again no tip. Luigi was now in the mood to take out his spleen and frustration on the only person available--the poor little green and red-tinged tweeter he had on board. Into the dirty water bath Pio went again! Sputtering, water coming out his nose, Pio was hauled back aboard eventually, but the boatman would not relent and grant him any mercy.
"We will both have to beg in the streets, if we don't get more tips today. The fares aren't enough to keep both of us in bread. So sing! Sing your heart out this time, boy, or I'll drown you yet! You'll not get away! I'll hold your head under like a puppy's until you're done for, and nobody will give me so much as a curse--they'll all say good riddance to you, you worthless baggage!"
Luigi was not stretching things. It was a hard life, lived by men whose hearts hardened according to the circumstances they could not avoid--and who else but orphan boys like Pio were made to bear the brunt of the suffering and financial distress their betters could not escape? Trying to keep back the flood of tears, frightened nearly out of his wits, for he felt he was wet enough, Pio tried to do better.
This time he was so terrified by the inevitable dunking he knew was coming, that something snapped in him, and he really did sing from his heart, only in a way that startled everyone within earshot. Too flustered to be able to call to mind the words of the songs he had learned from Luigi, he began singing extempore, or calypso style, songs that nobody had ever heard before. Pio himself, being so young and inexperienced in life, did not know he knew the things he was singing about, but he had to sing something, and these songs just poured out of him like a river--they could not be restrained. His voice too snapped and became deeper, and the volume increased tremendously! He could be heard for a long distance, and people everywhere were turning their heads to see where the nightengale's wonderful music was coming from.
Pio was the city's instant singing sensation. There was good reason for the acclaim. This terror-conceived voice was one in a century--it was not male, nor was it female, it was both, and yet clear and belllike, stronger than a girl's yet more tender than a man's could be. It melted every heart within earshot, and the cynical, crusty hearts of Baton Roons were not easily melted.
Then the lyrics, created on the spot, were astounding, and perfectly matched with the tunes. They created the very scenes that the city was known for, yet did it in a way that told stories, stories of melancholy, confused youth, of lost love, of violated innocence, treachery betweeen bosum friends, betrayals of misplaced trust, of base greed and lust for wealth, of ambition that climbed too far and fell to the depths, of hopeless lives, of misspent talents, of drunken, self-destroying lives, of many, many things that make up the warp and woof of the taspestry of life in a great but very worldly, wicked city such as Baton Roo was. Beautiful, tawdry, glittering, deceptive, seductive, poisonous, and deadly--all the threads were there, the gold and the fool's gold, the muslin and the satin, figured silk brocade and callico cotton, the paste rhinestones and the diamonds, the glass beads and star sapphires, all mixed together in the pattern.
Pio, summoning all the powers of his hidden, marvelous gift of song and memory, created the soul of Baton Roo in those first few moments, a soul that had not existed before, except as scattered, confused, shadowy elements dancing here and here in the canal waters, reflecting off the walls of the palaces and warehouses and ships and barges, flickering momentarily in a man's eye, then dying in the smile of a young woman hired for pleasure, leaping to life in an innocent baby's face, then fading in the wrinkles of an old, starving beggar who had seen it all--appearing, then disappearing, never quite gathering strong enough to last, but here, finally, the city came together, heart and soul united for the first time, in Pio's songs. Prodigies of talent in instruments and singing and dancing had existed before, had their brief career on the stages of the city and in the palaces of the rich, then faded away--quickly losing popularity as someone younger, more accomplished, more dazzling in appearance, rose to view. But this prodigy was altogether different, shining on a higher and exalted level none had reached before--his listeners all realized it without having to think about it.
His master, gaping at the boy wonder as he performed, was kicking himself, however, mentally cursing himself for almost drowning the songbird, which was his right to do as a slave owner. How could he have known this poor singer in the past was capable of emitting such beauties as were pouring forth from his little throat? And where did he get so many songs, and how did he put them together, changing them into much better ones, like he was doing, right on the spot? The little ninny could not possibly do such things--but there he was, drawing thousands of important people to listen to him, and the whole rest of the city was coming to join them--for Luigi could see a crush of boats trying to get to them in the already boat-choked canal!
The city came to an absolute standstill. Nobody could do any business. They all had to listen. The people were bewitched by the incredible, angelic voice pouring forth from this little boy nightengale in their midst, and the boats of all kinds with every class of people gathered by the hundreds round Luigi's, and he could not move as they all listened enthralled to Pio's first concert. The repetoire seemed almost endless, but Luigi, seeing a fortune of gold ducats falling like a golden shower into his boat, realized that he had better save the songbird's voice for another, rainier day than this, so he clapped a dirty gloved hand over his songbird's mouth, then against the roaring and catcalls and protests and curses of the crowd, pushed and oared his boat free of the others and made it back to their lodgings in a cheap inn on the outskirts of Baton Roo, nearest the seagate where the warships and merchantmen passed in and out of the city.
Pursued, Luigi had all he could do to keep the mob off of Pio as he scrambled to get his treasures off the boat and ashore to the landing. Swinging his oar like a long-handled scythe, he flew at the men rushing to intercept him, pushing them back into their boats, some leaping right in the water to avoid being brained. The way was cleared for a few moments. Rushing his ducats in one hand and Pio in the other up to his slum lodgings in one of the ruined palaces divided into flats and slophouses, Luigi flung the door shut after them, bolted it, and worked like a mad man piling up the beds and all the chairs and litter of broken furniture to be had in the apartment. Pio sat and watched him while he worked.
The huge mound now blocked the entrance. He could hear pounding on the massive door, and also people calling up to his windows to bring the boy wonder out to the crowds to sing another song, but he could ignore them for the night, though he could not resist hurling down a few choice remarks about their mothers and sisters, trusting to his flat's barred windows, though some bricks did pelt the side of the building. Let the little monkeys throw things! he laughed. They wouldn't be breaking in on him now--not without an armed force and a battering ram, he knew.
Luigi took some wadded up cheese and bread from his coat pocket and threw it to the crying boy for his dinner, then broke out a bottle of watered, vinegarish wine, gulped half of it down, and thanked his lucky stars (and the Prophet of Isma too for piety's sake) for not having drowned Pio like a gutter rat as he had thought to do, he had been so disgusted with him and the cost of keeping him.
Then, lo and behold, the half-drowned rat, some canal whore's little bastard, became a gosling laying golden eggs, right before his eyes!
As he counted out the gold ducats he had scooped from the boat into a big sack, they looked to him big as goose eggs, since he had never handled solid gold ducats before in his life--only a debased silver florin once in a blue moon.
How long would his little golden-mouthed gosling lay such wondrous eggs--for five years until Pio would turn twelve? Until his voice changed to a man's? What then, oh sweet devils of heaven? Luigi's narrow eyes squeezed almost shut in the gloom of the cavernous chamber (which had been a sea baron's harem in better days), and rubbed his thick, coarse beard as he wondered about the future.
But five years was a good amount of time to gather more such gorgeous eggs, he concluded, finishing off the bottle with a sour belch and a couple hiccoughs and forgetting all about spending a ducat or two of his windfall, sending some lounging fellow outside in the square to fetch him a twelve course meal fit for a king--and Luigi's thoughts whirled with the riches he saw cascading down upon his open hands like a golden river of Ophir.
No, you old whoremaster, he thought, he needed to keep close watch on his sweet-tongued gosling--and let no one near him--not that night anyway, lest he be snatched away by the Doge's men in the crowd. As for forthcoming concerts, there would be plenty opportunities, doubtless, in the coming days!
As he lay on the floor on his filthy pallet left there by long dead canal whores, Luigi fingered his splendid, freshly minted ducats with the Doge's own hook-nosed image stamped on them, counting them over and over, and scarcely got a wink of sleep that first night after Pio's grand debut.
As for Pio, he soon stopped crying over Luigi's unusually rough treatment and squatting on his pallet he devoured the cheese and bread, which was a bigger portion than his master usually gave him for dinner (for usually Luigi ate all the cheese). With such a banquet in his belly, he forgot the concert in the canal and his new voice--which he hadn't even imagined he had in his throat--and fell back asleep on the dirty, pillow-less pallet on the floor, exhausted, still wearing his sodden clothes.
At golden daybreak, the Grand Marshal set out in his big gondolla, at the command of the Doge, and arrived with a contingent of guards at the seagate landing.
Pio awoke with a fever, his lips parched and his forehead burning, when the noise of the door being broken down roused him from his nightmares. His master was putting up a terrific fight, trying to keep the Doge's bailiff and his armed men from getting in--but the Count Prefect of the City and Grand Marshal, Martino d'Ghibbellini, had the titles and authority to arrest anyone he pleased and would not be deterred, and only had to call in more men, and they came and made short work of the barrier Luigi had piled up to keep them out.
Meeting with unexpected mercy despite his resistance, Luigi was left with his windfall of ducats (which would keep him comfortably for years, if he didn't throw them away on binges of wine and parties with whores living along the Love Canal, lighted up with red lanterns at night, where they were allowed by the city to ply their trade with sailors and merchants). But they took Pio against Luigi's protests, removing the wet coat and wrapping the half-delirious boy carefully in blankets and a cloth of gold and carrying him to the waiting Grand Marshal's gondolla for a quick trip straight to the Doge's palace and the Doge's own physicians.
The physicians dignosed a cold, nothing particularly serious, and ordered the boy put immediately to bed, and a contingent of maids to see to his care. It is hard to keep a canal boy down (unless it is typhus or typhoid, the two iron maidens of the city that preyed mostly on the lower classes), and so Pio soon responded to the warm, dry bed and good food and fine care. When he was well, the Doge's wife, the Dogess, paid him a visit, and she came with her attendants and some of the harem eunuchs, as women did not go unattended in the city, unless they were street women and prostitutes.
She was also wearing her masque, which was required for all proper women going about in male society. As long as her appearance was made ugly and anonymous with a masque, she was allowed her freedom outside the palace harem.
She inquired of the boy's chief physician and his maids about him, his father and mother, his former home, and other particulars. Learning that he was a vagabond's son, abandoned to the boatman's care, with no mother to care for him (being one of the lost women who work the boatmen and gondoliers and such for their hired charms), she had pity for him and wanted to do more for him (for she was tender hearted).
His golden-throated gift was the talk of the town, and when she saw his care was very good and his improvement was excellent, she wondered if he could sing again. When she asked him, he did not seem to know he could sing. Pio did not even know who was his visitor, except that she looked like one of the grand ladies he occasionally saw stepping into golden gondollas as they left their palaces at rare intervals to go and visit a lady at another palace in the city.
That she was the Doge's chief wife was beyond his understanding. He did not know the city's supreme ruler was the Doge, much less than this was his chief wife appearing in his own bed chamber.
Pio knew he was in a palace, but whose? Nobody had told him yet, fearing to say anything lest it would be the wrong thing to tell a child just recently plucked from the lowest levels of society. Nobody could understand, among the servants particularly, why the Doge had even admitted him to his own palace. Such a thing had never happened before, they all knew. Comnmoners were never permitted, unless they came as servants or slaves.
As guests? unthinkable? Perhaps, the boy was a special slave, brought in to entertain? That seemed most likely to these unimaginative, fear-driven minds.
Grand balls and festivals were frequent in the Doge's palace, though the Doge rarely attended them. His wife, however, did not miss any opportunity to leave her cloistered existence in the harem, being young and loving life--such as a wife of the Doge was permitted to indulge, that is.
One day, the maids brought Pio some splendid clothes, took away his other garments, and bathed and dressed him properly. A royal-looking diadem was added, after his hair was most carefully washed, trimmed, scented, and combed. He had been treated to the best the palace had to offer, and did not object, as he had never experienced so many wonderful things all at once. His cold gone, Pio looked forward to leaving his bed chamber and re-entering the city he had always known--not just the palace, large and grand as it was. Bred, born, and raised in the open air, he needed the air and light like any wild creature.
But he was mistaken, for he was not taken out into the open air of the city and put in a gondolla. He was instead escorted with much pomp into the large hall of state, reserved for balls and receiving foreign ambassadors. A great celebration of some kind was in progress, even Pio could understand, when he saw the hundreds of people, all dressed like royalty in their silks and jewels. Strangely, they turned at the announcement of his coming and became very quiet, as he was led in by the Palace's Major Domo and the Chief Eunuch of the Harem and a group of palace guards. No one made any noise, and Pio was given to understand by the Chief Eunuch that he was to sing anything he cared to sing.
Having planned nothing, which was perhaps a good thing, Pio obeyed just as he had obeyed his master Luigi and opened his mouth as the hundreds of the city's richest and most powerful people waited in a dead hush.
All wondered, would he sing divinely as before in the canal, when all the city cast aside whatever it was doing and rushed to hear him before he fell silent? No one who had heard him then was disappointed. It was the voice of a century, everyone acknowledged, as though the city had kept track of all the singers of the past. Yet no one could remember anyone this great--so perhaps it was true, he surpassed any great voice of previous times, being greater than all his predecessors in living memory. Or had he lost his voice, being sick, as everyone knew from the tales passed from street to street by the gondoliers and boatmen as part of their trade. What a pity that would be!
Would the Doge and the whole company gathered at his invitation be robbed of the night's chief entertainment, the singing of a boy nightengale? The cynical, hard-hearted city waited, not expecting a second miracle--but still hoping against hope, having rushed here to the palace just for the slight, very slight possibility that one might indeed witness a repeat of the previous performance in the canal.
Pio began singing, softly, then gaining voice steadily, and some of the palace musicians on hand accompanied him on various harps. It sounded to most ears like a triste, a melancholy love song of the deep south, the Argentines--but it was clear it was something more than that. Again, the magical gift of this unknown child prodigy burst forth in all its golden glory--using but transcending all the art of previous ages and taking their breath away, and making all stare at him, finding it unbelievable that a mere canal urchin could sing so powerfully and evocatively, forming and expressing the city's soul in a way nobody had been able to do before. Some who knew past glories better than most whispered, "Orfeo reborn!" But who was Orfeo, the divine musician of past ages--next to this nightengale of flesh and blood!
Men or women, it made no difference. High or low, aristocrat and prince or servant or palace guard--Pio was singing directly to their hearts--somehow turning a golden key with his nightengale voice and wondrous ability with music and words to speak to them in a way nobody else would be allowed or even think to do.
Unconsciously, unpretentiously, unplanned, Pio sang on, transforming the evening into an enchanted space of time where all else pressing on people's minds was clean forgot.
Pio's gift had given him the city's poor and the commoners, and now it gave him the hearts of the rich and powerful. He won them utterly, and they lay surrendered in his hand, listening to every word and note, unable to find one flaw--for his performance was a masterpiece.
Only gradually did it dawn on them that this Argentine style triste was not sheerly for entertainment or for inspiring nostalgic tears for lost love--for it was really a warning to them all, individually, and particularly a warning shot over the bow to the mighty, ambitious Doge.
Was he present? Yes! Casting aside any fear he had of assassination at a crowded, open public gathering like this, he had come down from his private apartments to hear the nightengale in his charge, and he knew immediately he was not disappointed. His physicians would be richly rewarded, for he could tell at once that the whole gathering was greatly pleased with the boy wonder's singing. Indeed, this boy had proved to be a fitting decoration to the ducal court!
But as he paused to listen, drawing near to Pio though standing off behind him, he began to realize that this triste was not the ordinary kind at all. It was merely a form the boy was using, however he did it, to spin a most remarkable national epic of some kind, which had never existed before, the Doge knew.
Where was this piece going to end? Victory, or defeat? The boy was singing of great war on the horizon, and peril, and picturing the warships going forth to assault the enemy in the south--but to what end?
Surprised and a little disturbed that a mere child could concern himself with the affairs of state (and how could he know them so intimately in detail?), the Doge listened all the more intently, trying to determine which way the song would go--for he was beginning to be a little unhinged by the portents and signs in the song, and that a little boy such as this could capture the city's soul so completely he could speak to the chief ruler and leading people of the realm as though they all were but a foolish child that needed instruction of some kind!
How dare anyone, a subject of the Doge no less, presume to do that? But this boy sang so angelically, all was forgiven, the Doge, looking about for reactions could see, and it was thought no presumption by the assembly--as the words were perfectly suitable, and the portrayal of the city's armada sailing forth to win gold and glory was most exciting and beautifully accomplished. It was thrilling to the Doge, moreover, to hear the might of the city, which was its great navy, pictured in this wonderful way, and the arms and cunning and warcraft of the men and their leaders, epically drawn as if he were the greatest poet and they all were engaged in an epic struggle of good against evil, and wisdom against folly.
That was the sugar that made the medicine go down, but what was the medicine?
It came forth, and the Doge turned pale as he listened. He saw his own black heart exposed and hung up for the world to see! He also saw the fruit of his follies--the glorious pride of the city, its navy, lying scattered across the rocks of beach after beach on distant shores--smashed, beaten, defeated, then driven by storms onto the rocks to finish what foreign powers had started.
The few, tattered-sail remnants of the once grand navy, with only a hundred men or so surviving from the ten thousands sent forth on a thousand, flag-decked ships all bristling with cannons, crept back into Baton Roo, heading for the Arsenal for repairs, as they were sinking even as they sailed. The Doge saw himself in the song facing a riot of the citizens, who were so enraged at him they had set fire to the palace, driving him up to the roof, as he could not go down and not be cast into the canal and drowned like an unwanted dog or cat.
If that wasn't bad enough, each listener present saw his own shame and perfidy and evil-doing, all done in secret, now exposed to the same withering light that had just shone upon the Doge, making him seem the most pathetic spectacle of a vain, gold-and-glory obsessed man who had overreached himself, who brought nothing but disaster by his plans for enriching and empowering the great city under his charge. His dream of empire cast into the mud, he was finished!
Full of fury (his pomp and splendor put to ridicule by the songster), the Doge stormed away, his aides and guards stumbling over themselves as they tried to catch up. He knew he could not very well end the outrageous concert right then and there, but when he regained his private apartments, he ordered the servants out and sat alone in his chair, wondering how to best deal with this all-revealing, all-too-candid songbird on his hands. As for the nightengale's ominous hints about the royal navy and a coming defeat of his war fleet, that was nonsense! he thought. Nothing the old empires had could equal his navy! He would sweep their fleets away like autumn leaves in a West Wind, strip all their ports, both on the sea coasts and up the rivers, completely bare. Then he would send his soldiers aboard his troop ships ashore, where they would loot and sack and do whatever soldiers are known to do, while others loaded the ships with the spoil to carry back to Baton Roo. His enterprise could not possibly fail! The nightengale was crazy--and also a little dangerous, if such things as he had sung about were believed any anybody. Best to have the boy strangled as soon as possible, with his body thrown into a unused cistern and bricked up so there would be no sign of had happened to him.
But what about the aristocrats, the proud and lofty class that resided high in golden and marble suites in the many-storeyed mansions along the canals and who flitted about in sleek, swift, gilded gondollas from one party to another? Their sophistication and culture reduced to tawdry shreds, these leaders of high society visibly twisted like criminals in a bonfire as they were shown to be nothing but vain vapors, treacherous ones at that.
While their ears were enchanted with the superlative musicality of the boy singer, they all saw their secret hearts exposed just as the Doge's--and to themselves, where their lies and secrets stood out etched in bold relief, demanding their attention. Secret amours and betrayals were not secret--when the heart turned in on its own guilt and pointed the finger exactly at the person responsible for these intrigues. Betrayed lovers had committed suicide, others had fought back with daggers, springing out of the curtains in a man's or a woman's bedchamber to slay the rival in his or her bed, catching that one while lovemaking with yet another lover. Baton Roo was notorious for such assignations--they went on at all hours of the day and night, for Baton Roo never really slept, though it often went to bed. The Doge himself was married to fourteen women, but kept numerous mistresses, who came and went from his chambers in full sight of his official wives.
If the facts were made public, which they were not, Baton Roo was a giant floating cess pool of crime and perversion and lust and violence--all covered with a glittering exterior that fooled even the most cynical. And Isma's chief imans lifted their golden gloved hands and gave it the blessing of God! The holy leaders were themselves the worst satyrs and perverts--though they taught that the people should practice strict moral and attend rigorously to their duties of prayer and tithing and giving their sons and daughters to the religious orders. All this the nightengale faithfully revealed. It was as if the whole city was reflected in a gigantic mirror that showed every flaw, sin, crime, and folly hiding beneath the glittering surface.
The Doge took the song as a personal insult rather than a timely forewarning of impending doom. He issued orders for Pio to be taken quhiet away and disposed of in the way Baton Roo undesirables were--an unwitnessed assassination, then a private burial at sea. Strangled with a bow string, or poison, or the dagger, the exact means were a matter indifferent to the Doge, just as long as the nuisance was dispatched and no trace of him remained in the city.
The Marshall-Prefect of the City, however, privately demurred when he received the Doge's orders. Being closer to the people, he could foresee the effect this disappearance of the people's darling would have. It was not a welcome thing in a time of war, for it would divert the people in a way that could possibly undermine the war effort.
Already over-taxed, the city was ripe for rioting, he knew. The poorest district, with its tall wooden tenements, were just waiting for a candle thrown into a heap of papers or rags. The rats' warren thousands of Baton Roons paid high rents to live in, was a place they would gleefully put to he torch, even if it meant losing their wretched possessions--they hated their oppressors that much and, thus, would not pass up any opportunity to strike back.
No, he decided, he would not risk it. A Doge could always be replaced, but not the city. With no holdings on the mainlands on either side, Baton Roo had no place to flee if they lost their home islands.
The Doge was foolish to risk the safety of the whole city in order to assuage his wounded pride--pride bitten to the quick by a little boy's song!
Charged with the city's safekeeping and policing, he saw no need to sacrifice the city for the Doge's vanity. Quickly, he decided how best to circumvent the Doge's command. He went in person and, after ordering all the servants out, instructed the boy as to what he must do, and then the Marshal rolled him in a carpet. A beggar boy's body, found drowned in a canal, was substituted for Pio, and dressed in his fine robes, and then carried out by retainers past the ducal apartments, with the Doge looking on approvingly through an ivory screen, that shielded him from profane public gaze.
That very night, in the early hours just before dawn when the city's last party goers had been carried to their beds while sunk in drunken sleep, Pio was on his way by a swift boat to an outlying islet with a watchtower the Marshal kept manned for just such delicate operations as this.
Satisfied that the matter was taken care of, the Doge returned to his war room and his maps to chart the next moves of his fleet as reports from spies and commanders alike came in by swift galleys and even courier pigeon.
Two weeks passed, and then on the report that a fleet was approaching, the populace gathered festively attired in their most gorgeous clothes on the sea walls by the tens of thousands to watch their victorious fleet returning. But there was no victorious fleet, only a few remnants, their sails torn, holes blasted in their hulls, signs of bloody fighting and even fire, scarring them as they limped, sinking, back into port.
Rumors raced throughout the city. What had happened to the navy? What had done this to the fleet? Was it almost entirely lost? Were more such sorry specimens coming? Or was this all?
More thousands flocked to the sea walls and the sea gates to peer, wives and families looking out anxiously, forgetting to eat and drink, and the weeping increased hour by hour, as despair set in. All was lost--lost! The men weren't coming home! Husbands, fathers, sons, brothers, lovers, friends--ten thousand vanished in the Doge's insane gamble and campaign against the empire of the South.
All these families and wives and children of the slain sailors and soldiers, they were ruined, and the city itself was ruined, for without a navy Baton Roo was utterly defenceless. Anyone could send a small force now of middling warships mounted with a few cannons and seize and plunder and destroy the once great and powerful city, burning it down to the water line after they finished raping the women and sacking all its treasures.
Terrified at their coming fate--for there would be no escape from their many enemies, they knew--the women rushed to the shines and temples of Isma for safety, and there the imans and mullahs prayed day and night, prostrated, for the city's deliverance.
What men there were left, together with the Marshal and the royal guard who now went over to the side of the rebels, joined mobs of angry women and stormed the palace. The Doge, taking his secret staircase below the canal, then crossing to a locked up mansion, intended to escape by night in an ordinary looking sailed boat he had filled with gold and jewels. With his money he could go and bribe even the Kaliph himself to take him in and give him safe haven.
But when he reached the mansion via his secret tunnel, he found the door opening to it locked and barricaded. He was forced back into his palace, which he found in flames. Where was he to go now? He began to run this way and that in the palace as more and more of it erupted in flames. Chased down, he was allowed to flee into one of the towers overlooking the Grand Canal, and when that too caught fire from flaming arrows shot through its windows, the city's populace watched as the Doge's writhing body, in flames, fell into the water and sank like a stone, weighted down as he was by his heavy, gold-threaded robes and the big pockets he had filled with jewels.
But the jubilant crowds did not have much time to rejoice over the fall of the wicked Doge. They now had the Marshal and City Prefect as their leader, but his palace guard could not protect the whole city from attack. With only a couple ships, and the gondollas, left to him to use, what was that against a trained and equipped navy sent by their foes to capture and destroy the city?
If they fought, they lose everything. If they did not fight, the result would be the same. Their enemies would kill the men and rape and enslave the women, and after that burn the city after it had been sacked.
In despair the people stood watch on the towers and the walls, watching for the inevitable warships to appear on the horizon. At least they could give a warning in time for the people to flee as best they could by gondolla, those who could find one for hire, or owned one, that is. The majority of citizens were without even that slim hope of escape, and would remain where they were, to suffer all the enemy would inflict upon them as a defeated nation.
Isma had failed! The mullahs and imans in the splendid shrines and temples no longer offered up prayers, for what use was that now? Kismet had fallen. Their fate was decided and sealed. The eternal scales of justice, which were set even above Isma and the Prophet, had weighed their good and evil deeds, and their evil outweighed their good--or so they reasoned. They were all finished! Death was coming, full-sailed, and banks of oars plying vigorously along the sides of hundreds of incoming warships.
The Empire of Multan and its allies, joined by Baton Roo's rivals on the two mainlands of the Turtle, the were coming to exact full vengeance for the Doge's treacherous attack, that would have succeeded if only someone in the Doge's own war cabinet had not forwarded copies of his plans to Multan's Kaliph.
The people on the walls and high in the towers felt their blood run cold, and their faces turned grey and ashen, as they watched the entire horizon fill with sails and prows. The armada was vast, like nothing the world had seen before. Nothing could stop such a force from its objective--the utter annihilation of the hated robber city and the plundering of all its wealth.
While the people were weeping and casting their gold and jewels into the canals, and even setting fire to their houses, so as to throw themselves into the flames and perish, rather than suffer the violation of their daughters and wives while they were forced to look on, something unnoticed but strange was happening. A tiny craft was launched from the islet where the little watchtower stood, abandoned, except that the isle was used for exiled stray cats that were dumped there to rid the city of unwanted pests. As for Pio's guards, they forgotten all about Pio and had fled in their own boat, hearing that an immense fleet of enemy ships was on the way to attack Baton Roo. It was just as well Pio had his own makeshift boat, for they could not have brought him back, being under strict orders to await summons from the Marshal. Deciding their own lives meant more to them than staying on duty, they left Pio to his fate, whatever it would turn out to be.
No one noticed it until it was right under the city's walls and at the seagate leading to the South. Paddling along in his tiny, improvised tin boat, Pio fought the swirling currents and turned the boat toward the city's seagate. Where had he gotten his boat? Only a canal boy could have done it. He had taken an old, discarded, cracked tin wash tub that had washed up on the isle's beach and patched it with leftover pitch he found in the tower that had been used for the roof's leaks. Covering the bottom with a layer of wood and sand to keep his feet out of the pitch, he had set off. Pio was dressed raggedly and comfortably again as a canal beggar boy, but with no shirt, so he could paddle all the harder. It wasn't something he knew little about. He had made little boats before. He knew how to propel them too, so he quickly made headway back to the city so he could look up his father and give him the loaves of bread and the wedges of cheese he had brought along from the food his guards had left behind.
The people on the wall could not believe their eyes! What was the little boy doing--sailing his makeshift tub boat toward the seagate just as the incoming attack fleet was sighted?
Pio was recognized by some, however, and then his name spread until thousands were saying it.
What could they do for him? The seagate to the south, like the other gates, was barricaded with boats they had loaded with bricks and sunk, and they could not open it for anyone now. Antonio Scarlati, a circus performer and a man of quick wit and courage, recognized Pio. He knew a good act when he saw one, and wanted this boy wonder as the showpiece act in his own circus family if he could get him. He borrowed a long rope and with it tied to a post, he went over the wall, first stripping off his long tailed monkey circus costume before sliding down to the bottom. When he reached Pio, he dropped into the water, and tied the rope round the little boat with Pio still in it.
Pio was pulled back up, and his rescuer had to wait as it was lowered again so he too could be pulled up, hopefully before the enemy ships reached the seawall and started their bombardment of the undefended city with their vast and lethal array of cannonry.
As soon as Pio was retrieved, the rope was dropped to Antonio. He quickly looped it round himself and greeted with roses and tulips cast by women he was drawn up--just in time as the enemy fleet from Multan and its allies drew within firing range of the walls.
Since one mere naked man being hauled up the wall on a rope is of no concern to the fleet admiral, Antonio is allowed to escape a little target practice with a barrage of cannon balls.
Both Pio and Antonio were wrapped in beautiful robes and flowers and jewels were pressed upon them as the crowds of people rejoiced at the rescue of their boy wonder. The sight of Pio's daring rescue gave heart to the despairing and frightened people. They decided to fight for their lives and their city with whatever cannons and weapons they could muster. Pio, who had vanished mysteriously, had now returned as a kind of harbinger of good fortune and was commissioned on the spot to sing their battle songs, with Antonio acting as his business manager as the ducats began raining down at Pio's flower smothered feet.
While the rescue was going on, other matters were being being arranged that affected the city's destiny directly. The Grand Marshal, now the acting, if not official Doge of the city and principality, sent an uniformed aide to the south seagate, with commands to the guards and their commander. His men had notified him about the events on the wall, including Pio's rescue by a circus performer. Could they be used somehow? Quickly, the Marshal thought of a plan, that might work to stall the enemy just long enough for the remaining warships, under last minute repairs, to be fitted out to defend the city. One would not be enough. They had five new warships, held back until the other five were repaired, and the ten would be sufficient to hold one gate at least, though the Marshal's plan was more imaginative, and was designed to surprise the enemy in a way that would make them think the defending naval forces were much bigger than they were. Men hurried to the gate by the most swift gondolla available. They raced and pushed through the throngs that were massed around Pio and Antonio. Pulled aside, Antonio was informed by the commander of the South Gate, that he was to hold the enemy fleet's attention in any way he could and as long as he could. It meant the city's very survival! Could he do it?
Antonio, with the likes of Pio in his charge, together with the rest of his circus family, including some musicians, was up to the challenge. "Yes, Your Grace, we shall hold them, we know every trick, and they will not do anything to us as long as three days--rest assured!"
Three days? He had entertained crowds in the city's major squares for as much as a day, with multiple acts, but three days? Pio, obviously, was Antonio's trump card, for whenever Antonio's circus acts palled, Pio would be brought out with fanfares of golden trumpets and the dancing of beautiful girls.
With no time to waste, Antonio gave orders to his family members, and they ran to bring the various animals, ropes, costumes, instruments, and other items needed.
While the things were fetched and the stage erected on the wall, Antonio jumped into his monkey costume and began cavorting and playing tricks on the parapets, to capture the attention of the admirals and their navies and postpone the initial ultimatum and then the bombardment if the city refused to surrender (and, of course, they would refuse).
With ropes hanging down and secured to the parapets, Antonio could scamper along them, then climb up, then perform all sorts of precarious capers, with the musicians adding to the din and confusion and interest. He knew the admirals would be examinging the walls right at that moment with their telescopes, and would be astounded enough to call a halt to the fleet while they tried to fathom what it was they were seeing.
It was just as Antonio had planned. The South Gate's commander watched in amazement as Antonio went through his daring escapades high above the water and the incoming fleet slowed, then stopped in its tracks, evidently stalled by the spectacle.
Antonio continued his antics as long as he could keep the enemy's attention, then the moment the stage was mostly complete, he directed his family to escort Pio to the high stage, and to sing his little heart out. From that high vantage point, his voice would carry a long distance across the water, if the crowds were quiet. The commander, informed by Antonio, immediately moved to command utter quiet, and the crowds, realizing that something unusual was about to happen, hushed. All that could be heard then was the banging of hammers and the roaring of the ironsmiths' fires in the the Arsenal as the repairs on the warships were speeded up.
Pio, installed high up on a flowered golden chair in a special costume Antonio had him put on, with banners flying over his head, understood that his city was in great peril of attack, and that somehow his singing was going to be important in its saving. How? He did not have to know that.
Patting Pio's check, Antonio grinned with his monkey's grotesque face, making the boy laugh. "Laugh now, but don't laugh when you sing, my boy! Sing like a nightengale, with its heart breaking for its wounded and dying mate!" Antonio cried up to him. "Sing, my little friend, your loveliest songs that will melt the hearts of the very dragons and beasts of the deep! Those are most cruel men out there, but they can be conquered by such a divine voice as yours! Capture their hearts and hold them prisoners, just like you did to all of us here!"
The enemy fleet had moved, in the meantime, its hundreds and hundreds of ships bristling with cannons and guns and shields drawing closer in, still without firing. An envoy's boat was being prepared, and manned, to deliver an ultimatum.
Even while the envoy was on the way to the blocked gate, Pio began to sing as only he, with a voice heard but once in a century, could.
CHRONICLE SIXTY ONE, ANNO STELLAE 10,999, QUEST OF THE CYBERNAUTS
"The Road Not Taken"--An Unchronicle
Ero, an initially reluctant Cyber-Argonaut electronically shanghaied for the crew of the White Ship's epic exploration of Kastorr, a Cyberworld gameboard concocted by Wally the Cyber-Butterfly for his long-awaited retirement, encountered a number of devilish and angelic anomalies, one of them popping up on his visit to the Union Train Depot, a turn of the 20th century landmark in the City of Destiny. Old Red Kelley on the sax despite his weak heart and his tough octogenarian mother-in-law, Fast Lucy at the mike, sailing through "Red Red Robin," the angels of Sailors Rest who flew away but left him a fully decorated, candlelit Christmas tree complete with presents for him, a Rabbit-man holed up in a sawmill's logpile...would the City of Destiny's wonders never cease? Small chance of that--since it contained "Never-Never Land"!
He had, in fact, toured Never- Never Land inhabited by the grandmotherly, kindly Mother Goose, only to encounter the most hideous vampires and attacking hordes of bats. A climb brings him to yet another unexpected experience. The magnificent dome of the train depot takes on a life of its own and affords him a second glimpse of something far worse than any vampire or bat.
Climbing to the top of the depot's all-copper dome, Ero saw an object lying by the base of the unused flag pole. After a moment's hesitation...he leaned over to pick it up.
A small, faded red morocco leather case with what looked like bird peck marks on it revealed a 19th century naturalist's Kater's Compass, fully intact and still functional for surveying work. Inside the cover "Property of Usborne, Esq." was inscribed in flaking gilt the color of old-gold.
The oddest thing happened when he moved it enough to realign the needle--the whole landscape shifted wherever the needle pointed. And, with a 180 degree turn, the dome beneath his feet unscrewed like a lid from a jar and lifted off neatly from the main body of the structure, giving Crazy Dan while playing cards at his usual hang-out an unexpected open view of the cyber-sky that made his car saleman's mouth fall open ear to ear. He thought the roof had somehow blown off, and missed seeing Ero hanging to the flagpole as he soared up and away, northward, the antique surveyer's compass, thanks to Wally's tweaking it, acting like a gyroscope and automatic pilot in one.
Now Crazy Dan was expert at spotting green stuff and fleecing rafts of monied suckers from the Emerald City but was never known for his powers of aesthetic taste and observation (what use were such qualities in a car dealership?). If it had been green, he would have spotted it immediately! But this object was red, a faded red. Thus he did not see a compass, falling away from Ero and down over the walls and architectural decorations, bouncing off the sides of the building facing Schonfield's Furniture and Storage, until it almost reached street level, catching on one of the spear-like heads of an iron fence. But it didn't hang there long. The moment the dome's shadow crossed over the Schonfield building the compass, as if magnetized, sprang to life, fluttering up and away like a bird, following the flying dome.
But before the gyro and guidance system Wally thoughtfully provided the Union Station could reach the flying dome and Ero's control as Wally had intended, the cyberdome's unicorn-like mast struck the cyber-envelope of Kastorr a powerful, lance-like blow, and it exploded, sending sheets of sillicate like material cascading all round Ero and the dome.
,p>
Soaring up and through into another world, much darker than Kastorr and smelling of dead and rotting fish that almost gagged him, Ero's eyes adjusted as he peered into the purplish gloom, and then he saw something large looming in the distance, which grew bigger with each passing second. What could it be? It looked like a sort of monolithic Egyptian temple complex like Luxor and Karnak, but this temple extended beyond his gaze into the mists and seem to have no end. Around it were set here and there glowing circular, pillared structures, which seemed to be radiating light and energy, and all this strange dark, stagnant and rotten-smelling world was covered with water, surrounding the main edifice and the much smaller substations like a single vast defensive moat.
The Kater's Compass had not yet caught up with the Flying Dome, as it was moving so quickly and erratically, misguided by its former haphazard movements. The palace was like a lodestone, however, attracting the Flying Dome. It was also the largest single object, and was so colossal it could hardly be avoided as the Flying Dome continued. Moving downwards again, the Flying Dome sped directly at the gigantic water palace--and Ero thought he would surely be smashed against it. But the walls divided into pillars, and the Flying Dome--a tiny thing compared to the immense walls--easily slipped between the pillars and headed into the interior, which was so vast there was no danger of hitting anything right away.
The runaway flying dome did not run any great danger of crashing into anything, not for a while anyway, as the palace stretched seemingly without end, beyond the limits of his vision. Behind Ero, the Kater's Compass, programed with Wally with the dome's navigation system, was gaining on him steadily, flying with unswerving accuracy to the dome as if it were magnetically attracted to the bluish-glowing, copper sheathing. But before they could reunite, Ero found the dome nearing a strange kind of fountain, which grew in size and became so vast he was afraid the dome might fly right into it and he would drown.
Gushing and overflowing with a red liquid, Ero had no idea what it was, except it reminded him of blood.
Fortunately for him, the flying dome lurched and flew past, and then the Kater's Compass guidance system swooped down toward Ero, who caught it on the wing.
A buzzing, red-glowing popup immediately appeared on the compass, flashing an urgent message.
"Questor, Central Programming advises you correct course at once by directing needle upwards by tilting Kater's Compass, or dome will remain in flight for no more than three seconds after this message."
Ero, of course, did not argue, and complied immediately as advised, and the popup, no longer useful, vanished. As the flying dome rose under Ero's control, with the compass securely in Ero's hand and the needle pointing upwards as well, he saw there was another object hovering overhead--vast and batlike. It instantly flashed into his mind what it was there to do--it was a bat, and it was coming for a drink at that massive fountain beneath him--and the liquid continually pouring out of it had to be blood! Blood! What else would a bat want? This vast, dank, malodorous, water-floored palace was the haunt of a monster vampire, and here it was! He had no sword in hand, no cannon, the monster was just too big to fight with any weapon he could think of--what was he going to do?
His hands rigid on the compass control, the flying dome did exactly as he directed it, only Ero was not really thinking at this point as he hurtled toward the monster, which grew more gigantic as he sped right at it.
"We are going to collide!" he thought, though the thought was not really a sensible one, as the flying dome shrank in comparison to the vast vampire, turning to the size of a tiny pinprick of sharp-pointed metal--a sort of tack that couldn't possibly slay so great a monster (as a mosquito could not kill an elephant).
In less than a couple seconds Ero gazed with horror as the flying dome, with himself clinging for dear life to its lance-like narwhal-like tusk, plunged straight into the vampire's left eye, which was not at all so bright as it appeared at a distance.
As Ero plunged through the cornea, the yellow of the vampire's eye was, he found, due to the clouds of flying card-like shapes that jammed the interior. Not a physical eye at all (since a spirit-form did not need physical eyes to see), it swarmed with billions of photo-cells or files, that flicked on brightly, then dimmed like dimmer lights, then flicked on again. This had given the vampire's eyes their bright outer sheen, but the eyes themselves were seas and oceans of darkness, a seething, wicked darkness that Ero could sense was the essence of malevolence and hatred and spite. He felt as if everything he believed were instantly exposed, ridiculed, disproven, and his whole being pilloried for believing what he did.
As he struggled against the tusanami-like waves of hateful denial that swept down over him and mocked every atom of his being, Ero had no time to think about what was attacking him, for the flying dome converged with one of the flying cards. Instantly, the card sprang to life as Ero's mind was filled with the card's contents. It was Alex Hooper's whole life, played through Ero's mind in brief seconds.
First he saw an old-fashioned, 19th century city street and brick buildings, none of them above four storeys, and one with a doorway marked 105 Main, and Bloomington Courier on a sign above a big window. Was that a "newspaper"? Ero had heard of newspapers being published as late as the first part of the 21st century, after which the Internet supplied people directly with news of kinds, available at a touch of their fingertips on their cellphones and internet-serving devices. Inside the newspaper office he saw a young man of about his own age sitting and hard at work at something. Alex Hooper, the Courier's youngest reporter, was writing against a fast approaching deadline on his assigned articles for the next day's printing and issue.
Alex paused to sip his creamless coffee, then found it was stone cold and stale. He glanced toward the window, wondering if he should run for a fresh pot at the tavern across the street that sold it cheap and hot and black as soot. A jolt of that rotgut would help him through the next hour, speed him up so he reached the finish line on time, but he could hardly drag himself out of his chair to do it. He was exhausted--having worked several hours straight, and having stayed up the night before, only getting a few hours sleep. Why did the editor, slave-driving Cyrus Oldham, pile so much on a scrub reporter? He jabbed the pen into the paper, he was so upset at the thought.
He needed this job for the little money it paid--there wasn't going to be anything else for him in town but a blacksmith's helper position, or a stable boy's dirty drudgery, or some such low and stinking, manual labor. Here at least he could wear an ironed white shirt with cuffs and use his high school education, while hoping to save enough to matriculate at college someday.
He paused a little longer, still gazing wistfully out the window. How he hated Bloomington! It was sheer hell for a young man of his talents and ambition and brainpower. He didn't know anyone who cultivated the finer things of the mind like he did--he was absolutely alone as he went to the library shelves, reading one book after another, all the way down the racks of the philosophers, great poets and thinkers, and even the masterpieces of literature and art.
No, Bloomington's citizenry found "better" things to do than read and improve their minds! It was just like the stupid, ugly shoes that were stuck on the building's one entrance, on its door frames, on either side, which he had to pass between every time he went to work at the Courier. Imagine putting shoes, turned sole outwards with a hole in each one, on the upper doorpost to bring in customers to a combination barber-shoe repair shop! How more crude could you get than that? That was old, money-grubbing Bloomington for you! Utterly shameless! Ever since the stoneware pottery and ironmonger's mill closed and the logging operations moved to the virgin forests of Minnesota, to make ends meet people did all sorts of humiliating, tawdry, tacky things! Though people tried to keep up appearances, it was all shame and pretence and shabby hypocrisy--Bloomington had no truly genteel, intellectually cultivated and informed people at all left in the city limits, nor any sense of refinement of the soul!
No one read good books to be found in the one library in town--they read only the Bible and books of devotion and prayer and such sniveling trash! It was all work and drudgery and meanness, six days a week! The seventh? Then they trooped, family by family, to church and submitted to the most tedious, brainless pontificating by a pompous ass of a parson to be found on earth.
He would be sure to pick a college as far from the town as he could get a train to take him! Perhaps he would even go out of state--to New York City! Imagine that! He would the the first in his family to do a thing like that--head east where people still knew what fine things were and lived truly cultivated lives. His parents would be mightily upset, of course, and worry that he would be corrupted by the big city and its worldly ways, when Blloomington was all they knew, and they thought it was the best of all possible worlds, being a town with one dominate church, his parents' United Methodist congregation, named, inevitably, Bloomington United Methodist Church.
But for Alex what a stuffy, old dump to have to grow up in--it was absolutely suffocating! He could predict everything that could possibly happen, except when a big fire might break out in an old warehouse or when somebody would run over a chicken on Main Street! He had made it out of boyhood, but he was determined to throw himself off the railway bridge into the river if he had to spend his manhood there just like his parents and all their dumb friends! What a fate worse than an early death! The very thought of being trapped in Bloominton the rest of his life made him feel like he was going to have another breathless, gasping attack, so he sprang up and dashed out for a breath of fresh air.
Ero saw Alex standing on the street corner of Main and Harrison, leaning against a lamppole, and all Alex's thoughts coursed through him like rapid-fire bursts from a Gatling gun, just as the events of Alex's life burst out of the photo file, a review of Alex's life that was quite like the reviews of lives that drowning people often see.
Ero watched a smile break out on the boy's gloomy face!
"Yeah, yeah, that's what I will do! I won't write what they expect me to write--that predictable stuff they seem to think has to be in the paper. Who cares what they want to make of the world or how they see it--they don't have a clew what the real world is like, and don't want to know. All they want to know is Bloomington! Well, I'll be my own man for a change, the master of my own destiny, the captain of my own ship, like Ralph Waldo Emerson says, and tell them the whole truth for once--the truth they're avoiding all their petty lives, and which they need to hear.
"Who else but me, Alex Hooper, will dare to tell them like it is?
"I will do it! I swear I will! That article quoting the whole sermon last Sunday--I will add brilliant Darwinian rebuttals to everything Rev. Smith said. And I have Olney's Ruins and Shelley's Defense of Atheism essay too to quote from. That will turn the whole stupid congregation of empty-headed fools upside down, as they realize what a backward, dogmatic buffoon they have been listening to all these years, presuming he is the golden-tongued oracle of God, when all he does is rehash the messages he pulls out of a volume of Spurgeon's Collected Sermons.
"Then the mayor's speech--I will point out all the flaws and deceit in his reasoning and explain what is really going on with his proposed budget, how he will stand to gain, enrich himself, by the road improvements and the alteration to the railway bridge and the other projects that tax payers are having to fund with increased taxes--which they all think are necessary (thanks to my editor's lying editorials), but which they don't really need, as the only purpose for these projects is to line the mayor's pockets! That's the unvarnished truth--which my editor is too much of a money-grubbing coward, too much in the pay of the all-powerful mayor, to tell the public! And I will rewrite the others, the editorial that favors the war with Spain--I'll show that there isn't a shred of truth to the claim that Spain blew up our warship in that harbor down in Cuba, that it is all a hoax by the New York City papers to push us into war so they can increase their papers' readership--and next I will blow the whistle on our do-nothing, fat, lazy City Council, which has just agreed to hand itself a bonus and salary increase without making any prior public announcement of it. I will also quote some really good authors, like Shelley, Hume, Olney, Twain, T. H. Huxley, Thomas Paine and Voltaire...boy, why didn't I get going on these great ideas before? All I did was suffer like a dumb beast, just for this lousy pay I get--when I could be doing my part to change the world for the better!"
Ero saw, however, that Bloomington did not take immediately to Alex's reforms and revelations. They did not like looking at their own city's dirty laundry. A corrupt administration had always been in charge, and this one at present was no worse than the previous ones. Besides, regarding the menfolk, the mayor was liked as a "man's men," who could crack a dirty joke with them, share his good cigars round a group of checkers players on the City Hall steps, and his wife, though known to be a smart one, wasn't a snooty trouble-maker on the Altar Guild of the church, nor did she run off with the Blue Ribbon for the best apple pie at the county fair more than the other women with their entries. So why should they want any change, in a world that was maybe not going so well for their pocketbooks, but things were far worse elsewere, right? China, for instance. They were all starving over there, right?
Alex made most everyone important in town mad. The pastor was incensed, he was not at all amused, particularly when Dr. Pangloss's philosophy and even his person in Voltaire's infidel book, Candide, was applied to him. The mayor? He put the editor on notice that if he couldn't control the wild ravings of his own "printer's devil," that he would consider pulling some "contracts" and "ads" in the future he had planned to throw the Courier's way. As for the charges? Absurd! He wouldn't answer and had no need to demean and lower himself by answering to a mere boy who thought too much of himself just because he read books and could quote them.
So Alex was reprimanded, and put on probation, his articles carefully scrutinized by the editor and anything remotely creative or politically slighting to the status quo and its administrators in the world of Bloomington inked out with red and the offending articles sent back. That caused Alex a lot of extra labor, and no pay for it either--since it was correction of his own "mistakes" and the editor refused to pay for Alex's "mistakes."
But Alex had most trouble accounting to his parents. They gave him huge chunks of their minds. They had no idea he would take things he read in books and apply them to very important people in Bloomington or say such cutting, mean things about how the city's affairs were being run! They demanded he quit reading such dangerous books--they were ruining his life, and he might even lose his job at the paper. Then what? What would happen to his prospects? He could look forward to being editor someday, or at least assistant editor, when Mr. Oldham was feeling a need to lessen his workload.
"What prospects?" Alex fumed, when he sat afterwards in his room, his ears still burning with his parents' scoldings. He glanced at his desk's book case crammed with library books on loan--most all over-due. He had to return them now, as his father would force him, and then what? He needed them if he was to continue to learn what was going on in the outside world--it was his only real education, he believed. It was the only way he could expand his mind, to keep his brain from being shrunk to the size of a walnut like the brains of everyone around him had already been shrunk!
Being on probation at his job also was worse than death, in his opinion. He no longer had any freedom to write. It was worse than ever, to have every word gone over by the editor's magnifying glass, which he used to better spot some inkling of deviancy in his thought or meaning.
Worse, he had no freedom to think, if his books were returned to the library (where they sat unread on the shelves and gathered dust!). As much as possible, he escaped from the house and the work at the Courier and went on long walks. He had to think of something, somehow he could break out of the strait-jacket of Bloomington. He had tried to make them think differently in the town, and it had all backfired on him. He had guessed it would, but he couldn't help himself. They deserved everything he said. He had exposed the whole gamut of hypocrisy, small-mindedness, and conventional low life the town was accustomed to substitute for real life--and he was hated for it! They had muzzled him, gagged him immediately--without any discussion of the many valid points he had made! It made him furious to think about it, but he had to think of a way out. It didn't help to get mad, he realized. He had to take action and do something to better himself, despite the setback.
It all came to this: what action? What was he going to do? He didn't have the money to bolt! Not by a long shot! It took a couple hundred to make the move and get himself into college--and he hadn't but $75. That wouldn't be enough. He would be able to get there, but where was his tuition for the year? They wouldn't let him in the door!
He took out his application papers. He could forget about recommendations. He had offended the very people he had thought to ask, and now they would write something that would not help him in the least. One bad mention, and the college or university board would pass him over. There were just too many applicants for them to take a risk on anybody--unless his parents were well-known and could vouch for his performance.
Ero watched the whole development of Alex's growing frustration. Then he saw Alex suddenly check the train's timetable, throw some clothes and books in a cheap carpet bag with a flower pattern covering it, and sneak out of the house the back way--then run to the depot, arriving just as the train was loading for Chicago.
Alex was hurrying to the ticket booth when he saw Dr. and Mrs. Wickstrom, and knew they would recognize him immediately and want to know where he was going, and all the particulars. What would he say? How could he explain? His parents would find out his whereabouts in a letter from the Wickstroms, even before he was ready to tell them anything. Who knows what would happen then. Would they come and search and drag him back to Bloomington? Or alert the authorities to do it for them?
He paused, and thought fast. Either give up the idea of leaving by train, or go First Class, spending money he could ill afford to spend. He knew Dr. Wickstrom, a deacon of the church, was such a notorious tightwad he would never travel First Class--so he could avoid them altogether and the probing questions they were bound to ask.
He had no desire of long, bumpy wagon rides, hitched, all the way to Chicago--besides, he was dressed up, and it would ruin his $15 suit. He might even get robbed, tied up, and dumped by the wayside on some lonely stretch where there was nothing but fence posts and fields!
Paying for his First Class fare, he could hardly swallow as he realized he had spent a quarter of his savings. As he hurried to a First Class cabin, he felt better, though, knowing that he could hobnob with the well-to-do for the next couple hours and forget, at least try to forget, the loss of the money amidst the splendor he had only known as a boy peeking in the windows when a train stopped until the station master chased him away.
A bowing Negro man in a porter's uniform was waiting, setting out a special red carpet-covered step for him, extending a white gloved hand to him to help him board.
"Welcome aboard, sir!" the man said. "Have a good journey! Diner to your left, and the Gentlemen's Smoker to your right, followed by the Pullman Sleeper for your retirement in the evening."
Stepping right into the role of a wealthy young man of quality and genteel upbringing about to make his mark in the world, Alex nodded to the fellow and boarded the First Class car, after handing the porter his carpet bag to put in the baggage car and a whole nickel tip.
It was a tremendous relief once he was inside, the problem of the Wickstroms' prying into his itinerary and plans eliminated. They would have spoiled everything for him!
He had an overdue library book of Tennyson's In Memoriam in his vest pocket to read, and his fashionable walking cane for long walks in the park or "constitutionals"--standard equipment for Young Gentlemen in his copy of Miss Goodall's Book of Etiquette for Young Gentlemen of Fine Breeding," and that was all he carried with him. Having peered in as a boy whenever the First Class cabins were at the depot, Alex had a good idea what they contained, but it was vastly different, he found, being inside one. It was like another world entirely--it felt, smelled, and communicated to him in a way that the dull, dusty workaday world of Bloomington had never done to him. He felt he had somehow launched upwards, in a few steps up from the station platform, and entered a wonderful new world full of exciting possibilities.
He found few people in the cabin, but he thought more would come in a few minutes, perhaps from the adjacent dining car and Gentleman's Smoker, as it was nearing time for dinner.
He was not there long in a seat by the window, fingering his slim volume of Tennyson's poetry, when a big-hatted, youngish lady in fashionable clothes sailed by, paused, then came and sat right by him.
Trying to remember the proper greetings to someone of her high class from Miss Goodall's primer, Alex was phrasing some opening sentences in his mind when she broke the Miss Goodall's rule that a lady must not first address a strange gentleman.
"Where are we stopped now?" she said, with a slightly pettish, spoiled, irritated tone.
The town's name was in plain sight, painted on the depot wall in large brown, white-edged letters, but she was perhaps myopic, so he replied, "Bloomington," in a tone that he meant to convey he, being a rich young man with brilliant prospects, had only the most casual acquaintance with such a hick town.
"Oh, really?" she replied indifferently, but turning to him with a warm, sweet smile that absolutely enchanted Alex, along with the perfume that wafted over him from her silk skirts.
"Yes--that's the name of this wretched, little farm town," he said, faltering, as he was so captivated by her already. "You wouldn't like it. It's really nothing--nothing to speak of--a bump on the road to better places--"
"I do wish they wouldn't stop in such out of the way places then!" she added. "It is a nuisance making all these dreary stops in the country. I had hoped for a more direct train than this one--but I wanted to be back as soon as possible. I have a nice litle party planned, you see, and there's all sort of preparations I--"
She paused, her eye on his little book.
"What are you reading, do you mind telling me?," she asked, abruptly changing tack as her arm pressed against his.
Alex showed her his book. "--I also like Byron and Shelley and Wordsworth and other English Romantic Period poetry very much--though, like Lord Alfred Tennyson, it is on the sad side generally."
"Melancholy--you mean? Melancholia is so much finer a state of mind and heart than mere sadness, don't you agree? Oh, I love being melancholy, sunk in a brown study, they used to say! Modern life is entirely too, too frivolous--at least the people I know. I much prefer the more serious minds and hearts, people who know life at its deepest and most tender--but they are so extremely rare in Chicago. It is such a harsh and cruel and smelly place for sensitive people like us--I hated it immediately when we moved here from Milwaukee four years ago, when Daddy sold his invention to Mr. Cyrus McCormick, something to do with perfecting Mr. McCormick's reaper, and bought that big house above the lake--"
She paused, took a dainty gold-flowered silk fan out of her purse, fanned herself most elegantly, then smiled in the demure girlish way that had first captured his heart.
Encouraged by her manner, Alex ventured a remark of his own. "How are you able to live in such a crass city then--I mean, do you read a lot to pass the time?"
She seemed to leap at his question, pressing against him all the more. "Oh, but I am telling all about myself, and you? You haven't said one word about yourself, and I haven't let you. I've just been rattling on about myself!"
Even as she said this, the cabin gave a lurch, throwing them apart, and the train was moving off, leaving, he hoped, boring old Bloomington and all the things he despised, forever behind him.
Just then Alex remembered what he should have done before the conversation went this far. He sprang up, dropping his poetry book, and bowed and extended his hand. "Alex Hooper at your service, Madam!"
She was surprised at this display of bookish old world manners and stiff, awkward execution, but laughed, then extended her kid-gloved hand. "Dorothea Worth Dalt--but you can just call me Dorrie--as I hate Dorothea!"
Alex sat back down, and the conversation sped on, and time was forgotten. Suddenly it was all over, as "Dorrie" arose, explaining she had to get to the diner, as her husband Mr. Dalt would be wondering what had happened to her. He could get angry, she added, if his dinner was held up.
But still she turned back, handing him a gilt-lettered card from her purse. "Do come and visit me soon! We simply must finish this delightful conversation about your adorable Tennyson and the other wonderful poets I'm sure you are reading. Ivanhoe was marvelous--I read several chapters once of that book. And I do love the poets and writers of England, Scotland and France! They have so much sensitivity, something which the modern world knows nothing about, especially in Chicago! All Chicago cares about is making heaps and heaps of money! Ugh! But you seem different somehow. So do please call on us, preferably in the afternoon when I receive calls in the drawing room. If you call in time, I'll invite you to my party this coming Friday after next. You will meet some nice, sensitive people there--it's difficult to do, but I try to invite that sort to my parties if I can find any in the city."
A smile, a final handshake, and the most exciting person Alex had ever met hurried away in her crackling, silken, perfumed skirts. He didn't dare follow. He hadn't the money for a full five-to-seven course meal. Then it would be followed by drinks and cigars, even more expense with tips to the waiters and bartender. No, best stay in the cabin where he was, and read his poetry book the rest of the way, and try to control his rising fears of what he might be getting himself into when he landed at Chicago's main depot.
On its way to becoming the hog butcher of the world, Chicago already was the nation's busiest railway center, surpassing New York with over 200 trains arriving and departing a day at this hub of the nation where trains from both coasts met here with passengers and cattle and farm produce and grain and took away factory goods, canned meat, and passengers. Alex had heard something about the huge train yards of Chicago, that they were even bigger and busier than the city's famed stockyards, and now he saw for himself it was true. Never had he seen so many tracks converging on a single giant, iron-girded building. Trains were coming out of the building and going in. Suddenly a shadow settled over them and they were inside the canopy like building that had no doors at either end, for no doors could be vast enough for the incredible, hooting, steaming traffic that poured through this Cyclop-sized structure night and day.
The cabin rolled to a halt, steam was pouring out around the cabins from the boilers up ahead, clinkers were raining down on the roof amidst the smoke from an outgoing train, and the porter was shouting up and down each cabin, "Chicago! Chicago! Detrain here, ladies and gen'lmen, for all points east-- New Yawk, Philly, Newok, Bawstin! Collect all baggage!"
There was a rush to disembark, and with his ears ringing with "Chicago! Chicago! Detrain here!" Alex found himself being hustled off the train amidst a stream of passengers. No one paid any attention to him now--it was every one for himself in this great, devouring metropolis that cared only for money and power, spitting out anything less.
"Oh, where is my bag put?" Alex suddenly thought, alarmed he might lose it in the swirling, deafening madness and confusion. But as he stepped down from the train car, he saw the baggage car was just a few cars down from his, and already it was being unloaded for the impatient passengers. The local union of baggage handlers, however, roughly shouldered aside the train's personnel and did not allow anyone but themselves to transfer baggage from the train to the platform, and then they expected big tips as they handed it to the people who came to claim it.
This wasn't the way things were done at Bloomington, Alex knew. No local union had that much control over the big railways and the baggage! This was sheer robbery! He could get his own bag, thank you! And without paying anybody!
He spied his carpet bag as he peered over the baggage handlers' heads, and tried to reach in, but a baggage handler turned and gave him a push back. "Nossir! Dat's our job! Let me git it fur ya! Which one is yourn?"
Alex made another move to reach past him again, but the baggage handler was even more rough with him, giving him double the push. This made Alex mad, but what was he to do? The baggage handler was the bigger man in size, if not height, and he had his fellow baggage men to back him up too.
He had no choice, so he pointed to his bag, and the fellow grabbed it and then shoved it at Alex. "Okay, you can take it now, sir!"
Alex put his hand out to take it, but the baggage handler yanked it away, sticking out his hand for a tip. "Ya furgit somethin'!"
Never had he been so insulted. Alex was red in the face by now, but he dug in his pocket and slapped a nickel in the man's dirty palm. The baggage handler frowned as he looked at it. "Naw, that ain't enuf! Try agin, dude!"
Furious, Alex sacrificed another precious nickel, which would have bought him a solid lunch of eggs, bacon, pancakes, fried potatoes, and coffee--a sum he knew was more than the usual tip could possibly be for this unwanted "service"--and the fellow smiled this time, showing his chewing tobacco stained teeth, and shoved the bag so hard at Alex he was thrown back, sprawling on the dirty boards of the platform, while everyone stared at him with surprise.
Scrambling to his feet, he could not stop flying back at the man, his fists flailing, but someone grabbed his arms from behind and said to him, "Don't mind him, sir, he's just a little unsociable lately with gen'lmen from outa town, that's all. Take your little bag now and go real peaceable, and there won't be iny trouble. Git it?"
Alex, the moment his arms were released, spun around and saw facing him a Negro dressed in the same way the union baggage handlers were dressed, only he was a mountain of a man in size, his muscles bulging in his neck and half-exposed arms. Gulping, Alex grabbed his bag and fled, putting the raucous hee haws of the baggage handlers behind him as fast as he could.
"Boy, you done skirred that snotty little rube real bad!" one crowed to the others, and they all laughed the harder.
It took quite a lot of walking in the labyrinth of over-crowded neighborhoods and districts that fanned out without any order or civic planning before he began to look around and tried to forget the ugly bullying scene back at the depot.
As a high wind gusted right into his face and made it difficult to walk against it, for the first time he realized he had bitten off more than he could chew in coming to Chicago, as this was a metropolis, not a humdrum, sheltered little town like Bloomington. A thousand Bloomingtons could fit inside Chicago, and still be swallowed up!
With all styles of hats, hairdoes, and clothes looking so strange and odd to his eyes, people from all the world and representing many races thronged Chicago's vast thoroughfares, streets, and emporiums.
Great and small, wealthy and beggars, working class and bankers, professionals and day laborers, farmers and saloon keepers and university bred men, sinners and saints, thieves, ruffians, sharpies, gamblers, and the most genteel and fashionably dressed ladies he had ever seen--that was variety enough, but added to these were Chinamen with pigtails come to set up laundries and restaurants, Negroes, Indian chiefs in tall eagle feather headdresses, German peasants and tradesmen in woolens right off the boat, black robed Jews with sidelocks from Middle European countries, saucy saloon girls with red-velvet, low-cut bodices and fancy feathered hats and gold, high-heeled dancing shoes, Gypsies in their colorful costumes performing with their bears and monkeys--a hundred different nationalities coming as immigrants and all mixed together in an unending panorama in the endless city streets. Truly, this was the world's city, a city of crossroads, and people passing through or coming to stay from all parts of the globe.
Feeling footsore, dodging muddy water and horse manure splashed from the wheels of thousands of passing wagons and carriages, trying to keep out of the way of loggers, stockyard men, and other rough types that crowded together down the sidewalks, shouldering even ladies and elderly people aside from their path, Alex stumbled across the Y.M.C.A. on Madison Street.
Ero watched it happen this way. As some of the biggest stockyard brutes Alex had seen, cattle blood all over their clothes, started his way and he saw he was going to be pushed into a huge mud wallow that ran alongside the sidewalk, he didn't hesitate. He took an extreme right turn through the nearest doors of a big, newly opened building. There he stood, confused and surprised at first. Strangely quiet in the large lobby, it was like an oasis of calm and cleanliness in the midst of a big, dirty, smelly, brawling circus of a city. Looking about, he was relieved when he realized where he had landed. It was just what he needed! He hadn't thought of it, but the Young Men's Christian Association had, he knew from its well-known reputation, just the right prices for any young man seeking a clean, safe place without boarding with a lot of bedbugs and thieves. Here he could hang his hat and set his prized gentleman's walking stick for a while. As for it being Christian, he decided he could manage to live with that, since he wasn't going to be there very long and wouldn't be compromised in his atheist beliefs, he reasoned, with such a short stay as he planned was necessary.
A few minutes later, he was at the front of the line waiting to cleck in, and the desk clerk in a Y.M.C.A. emblazoned shirt introduced himself as Will Withy and asked him what he needed.
Holdin his walking cane like a gentleman, Alex stood straight and yet relaxed, with the air of a man of the world who knew his way around big cities like Chicago.
"Well, sir, I am looking for a single room, while I look for suitable employment," Alex explained. "Would you have anything in that line?"
This was simple enough, Alex thought, but Will Withy peered at him more keenly than Alex would have liked, and did not seem too impressed. On the contrary, concern showed in his face.
"But have you got your parents' permission? What did they say about your coming here? I can't believe they'd let someone as young as you come out here on your own to fend for yourself. Despite all the big businesses, this is not an easy place for finding work. There's thousands of able bodied men out of work, and most of them are day laborers, without any fixed jobs. They don't really want steady work, as they are always quitting to drink up their day's wages, whether they have wives or children to support or not. And besides these rough and untrustworthy fellows, there are all sorts of wicked people who would want to take advantage of you any way they can. Can you spot them and stay clear of them? And what work exactly are you wanting to try? What is your experience and training?"
Not expecting to be quizzed about such things, Alex was not prepared, and he was annoyed. Speaking a little defensively because he knew there was little comparison with Chicago and Bloomington, he declared, "I've been employed in a newspaper, and maybe that will be my profession, if I like your Chicago paper well enough." The Y.M.C.A. man looked at him with amazement. "We have more than one, don't you know? Which one? "The Sun-Tribune? The Morning Telegraph? The Times? The Patch Dispatch? They haven't notified me here that they are hiring at the moment, but perhaps in a few days. You can check them yourself, but we would be the first to know here, as they have an agreement with Mr. Farwell, who by the way paid for this fine building we have, to let us know first before they make it public in print."
Alex gave the only Chicago paper he had read back in Bloomington--the Chicago Sun-Tribune, which came in old issues used for packing the printers ink and paper they used at the Courier. Will Withy checked his list of jobs, and then shook his head. "Sorry, none of the papers are hiring at present. You'll have to wait. But maybe you have a second profession in mind. That would be a good idea to try while you wait for a job on the paper. Otherwise you might be waiting forever! Everyone wants to work for the big papers--they're mostly all unionized, the work is indoors during the winter, and the wages are good compared to the stockyard jobs, which is where most immigrants and newcomers to the city end up, like it or not."
When the inquisitive Will Withy was through extracting, Alex had reluctantly given out all his wretched particulars and lack of prospects, as the clerk knew just what to ask and keep prodding until he got the whole story.
As the line was growing long behind Alex, he smiled and said, "You'll have to go and ask around the big dry goods stores for stock boy jobs or maybe errand boy or even janitor jobs in the company offices or the city government buildings--that's about all you'll get now, since there is so much competition, and they're all trained and experienced too. It's sounds unkind to have to tell you this, Alex, but you'd be wise to return to Bloomington on the next train you can catch. Don't stay here, Chico will eat you alive! It's a very mean, hard-hearted, dangerous place, outside these walls--here you are safe and we will look after your welfare, but you have to go out sometime, and then you are on your own. Only God can help you in this jungle of the big city! I'll have to tell you my own story sometime, how I as rescued right off the street, and would be dead by now, if--but, oh, by the way, we have a prayer and Bible study meeting three times a week for the young men in Room 212, the main hall on the second floor, at 7:30 p.m. Be there! Our president will be on hand to speak at the meetings, he's just returned from a long trip abroad. You'll get the encouragement you'll need if you decide to stay on, despite my best advice!"
"I don't need to think about it. I'm my own man and I'm staying!" Alex insisted. "Please assign me a room, a single room for a week. I will pay in advance, as that is my decision."
Will Withy smiled at Alex's show of manly determination, said he would trust him for the room's payment and he could pay when he signed out, then handed him the key and wrote his name down and the date he would be signing out. Along with a cake of soap and toothpaste and comb in a small kit, there was a pocket New Testament and a tract, which the clerk pointed out to Alex, and, lastly, a drawn map of the area so Alex could find the newspaper headquarters he was seeking.
"I'd add shaving soap, but I see you probably don't shave yet, right? Don't forget, you're invited to the prayer and Bible study meeting! I'll be there. In fact, everybody will be--we usually have two to four hundred hundred boys, everybody that's staying here, as well as thirty or forty boys off the street that Mr. Moody picks up along the way here. Mr. Moody is having the meeting, you see, and wouldn't miss it! He loves telling us about Jesus and the Word of God. You wouldn't want to miss Mr. D. L. Moody--he's like nobody you have ever heard! Talks so fast you really have to listen hard to get all his words."
Alex frowned, grabbed his bag and headed up the wide stairs to his room. Prayer and Bible study meeting! he thought. That was the last thing he came to Chicago to do! And as for Moody, who was he? Wasn't he the "foolish young preacher" his pastor said was a revivalist you couldn't trust, as he hadn't any education and hadn't ever gone to seminary?
After he settled his things in his room, he shut the door and went into the hallway to see if he could get some information from the other residents. He had to be careful on the bare, newly varnished wooden floors, he found. They shone like glass and were just as slick. He remembered that the building was built by Mr. Farwell's money, and looking around he saw it couldn't have been too long ago. Everything smelled fresh and newly painted, as if the building wasn't even a month old.
Examining Dorrie's elegant calling card, he asked around and learned that the Dalts' address placed them somewhere at the lakeside just north of the city, probably on a slope with a view of the lake and city. It was no doubt a mansion set amongst others just as splendid along a grand, tree-lined, rose-graced avenue gated and guarded with Pinkertons. How would he get to it? It might be miles from the downtown and too far to walk, he might have to use some city transport and then hire a cab the rest of the way, or whatever he could afford. But first he would have to find lodgings. Then what? He would have this one contact to make, but needed a place to stay should "Dorrie" ask him. He couldn't just pop in on her while he was still a transient without even a sitting room to set his things in.
A thousand questions she might ask, and a thousand more possible explanations polished up from his repetoire of Miss Goodall's primer ran through his mind as he gazed out the window, trying to ignore the missed meal and his slight headache and dizzy feeling he got whenever he skipped eating.
What was most suitable for the ears of a high society woman, as this lady appeared to be? How old she was, he had no idea--older than himself, he thought, but not much older, surely. She talked so like a girl, she couldn't possibly be thirty. She must be in her early twenties. And what would impress her, coming from what he appeared to be, but was not? He had to keep up a certain air of being accustomed to affluence but possessing up and coming prospects that would suit his youth--so what was his profession or his reason for coming to Chicago going to be? He had to think of many things he could answer her should she ask.
It was a long trudge up the hill from where the horse-drawn omnibus turned around at the end of its suburban route and returned to the city limits. The wind whipped his clothes wildly as he climbed the slope, and he saw some boys, evidently frightened as they were yelling, running away, and smoke coming from the grass and brush behind them. Realizing they had set fire to the grass, he had to hurry to try to avoid it. But Chicago was known for strong wind, and the grass fire raced toward him with leaps and bounds. He realized he would have to turn around and run for his life. Just then the fire stopped, though the wind didn't, carrying the smoke right over his head in a big cloud that swept skywards that spread out over the city.
Gasping with surprise, he wondered what had happened. He carefully approached the rapidly dying fire line, and then found it had burned itself out along a recently cleared strip of ground someone had plowed up for a garden. That had saved him, for the dead, tinder-dry grass and brush was just as thick on the side where he had been standing, only the sparks had not reached it, shooting upwards instead into the uprising winds.
Vastly relieved, he gave a sniff to his suit collar, and it wasn't affected as he had feared, so he could call on the Dalts without having to go back first and change (though he had nothing as good to change into as this suit).
He continued his climb and soon came to a new street, which had a guard post and gate controlling the hillside leading down toward the city limits. He showed the Dalts' card to the Pinkerton he found on duty, then followed the guard's directions which took him straight to the mansion which was set at the end of a long winding street, with other lots around it not yet occupied. The wind was blowing hard, so rather than chase his hat, he took it off and continued the rest of the way, hat in hand.
At the front door set behind the impressive row of tall, blindingly white Grecian-style pillars, he knocked several times with the bronze door knocker, and a man answered at the door. Alex could hear someone playing the piano.
"Yes?" the small, older, formally dressed man said rather disinterestedly to Alex, and Alex, deciding it was a butler and not Mr. Dalt, deftly handed him his own card, which he had printed on the sly along with a big job of business cards for a client at his employer's press just in case he might need one.
"Please inform Mr. and Mrs. Dalt that I am calling," Alex said, removing his hat and keeping his voice as casual and cultivated as possible, as if he went calling at grand houses frequently.
The butler glanced from the card to Alex, seemed doubtful, then asked Alex to wait, and left him at the door, which stood ajar. Alex heard a piano lid crash, then a door being shut just as hard, and rapid heel sounds, receding away from him.
The butler returned, and there was a slight difference in his manner, a certain rigidity by which Alex could detect something not too promising, and his heart sank.
"I'm sorry, sir, Mr. and Mrs. Dalt are not in. They are out of town. Call another time, perhaps in a few weeks, if you like. They might be back from New York then, unless they take a trip abroad, and then it will be another six months."
Alex stood stunned. He could not believe the butler's words. He reached for Mrs. Dalt's card, and brought it out. The butler glanced at it, but shrugged, and handing over Alex's card to him, slowly shutting the door in Alex's red, flushed face.
Alex stared at the door for a moment, as if he could not believe what had just happened. Too crushed to walk away at that dreadful moment, Alex leaned against a pillar for support, and tried to get his breath and self-confidence back.
This was a disaster for him on all counts. What had gone wrong? He had expected so much, but was treated like she had never met him or exchanged one word with each other! Nor had invited him, as good as invited him, to her coming party!
Was it his card, which lacked an impressive gilt edge, a giveaway perhaps to a society person that he was a sheer nothing, a poor boy trying to escape from a small town in the country? He had tried hard to put on a good impression, but they had seen through it? What had he done wrong? Miss Goodall's book had failed him!
Finally, he stumbled away, for he couldn't stand there like that looking like an utter fool. Someone might hail a patrolling Pinkerton dick and have him taken away. It wasn't proper behavior to loiter among the homes of the rich, and only people who came in wagons and carts and serviced them with ice, milk and cream, and coal or took their laundry for washing were permitted to come and go--and he was not in any way entitled to be there, not after being refused at the Dalts.
The wind was blowing hard in his face, forcing him to hold his hat in his hand, and so he decided to take another route back, without taking the road. He was walking slowly from the grounds and had rounded the walled yard running from the back of the mansion when he heard someone call his name. "Alex! Mr. Hooper!"
He could not hear it well, as the voice was muffled and seemed to come from behind the tall and thick yews on the other side of the wall. Crossing over the lawn, he approached the garden wall and then saw there was a gate, and a lady's gloved hand was beckoning to him.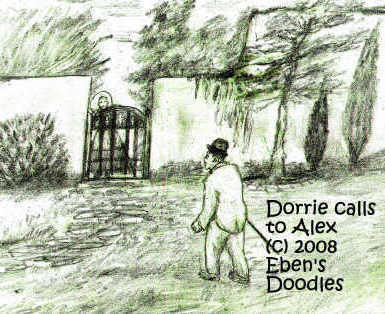 Going over to the gate quickly, he found Dorrie Dalt! Astonished, he had no words, but she hushed him anyway with a hand over his lips.
"I can't let you go like that! I'm so glad you walked back this way instead of by the road, so I could catch you without being watched! How low and rude and uncultured of us! My husband is a brute, a tactless beast, he is so insanely jealous of me and my friends! But he can't stop my parties and my inviting whomever I wish--as my money came with me in this marriage, and according to the terms my Daddy drew up, I am my own woman, married or not, with or without stuffy old Theodore, who is twenty years older and doesn't understand young people in the least! So you shall come to my party next Friday--if you would like! Be here at 4 sharp, and I'll leave word for you to be let in--no matter what. If my husband is here, you'll be directed round to the back entrance and I'll make sure Theo finds out too late to stop your joining us--so you're coming, whether Theo likes it or not! He wouldn't dare cause a scene in front of everybody! And my personal friends are my own business--not his! He never invites me to his men's club meetings! So come, won't you, Alex? We have so much in common, with books and poetry and such, don't you think? There aren't ten people in Chicago who read the books you do--there's so much barbarism here. You might even want to recite your favorite poem when we stage our tableaux. Please don't think of disappointing me!"
Still giving him no chance to do anything but nod, she smiled in her sweet, enchanting way, then closed the garden gate and vanished into the shrubbery.
Alex's heart, which had nearly died in his breast a few minutes before, now sang like a lark as he made his way all the distance back down from the heights of the wealthy and down through the warren of traffic-clogged and muddy streets of the mass of Chicagoans to the Y.M.C.A.
Ero watched Alex during the next few days as he wandered about the big city, looking for work at the shops or any place where a young man with his education might be wanted, while waiting for Mrs. Dalt's party on Friday. Growing tired of his wanderings and being turned away from the shops and huge stores, and not wanting to try the saloons and finally the stockyards, Alex gathered his courage and went in to apply at the Chicago Sun, and he was immediately directed to the union crew chief, who managed the hirings for the printing presses and the clerical staff.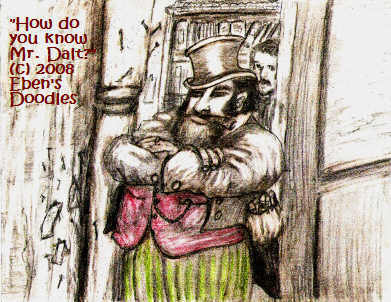 Stepping out of a dusty, cobwebbed, cigar-reeking den back behind a long row of enormous printing presses and dozens of typesetters frantically busy at work, the union boss, Rasmus D. Thigpen (shortened from Erasmus Durham Thigpen, whom the printers' devils called 'Pigpen' out of his earshot), gave only the briefest glance at the applicant. With a long list of names for every possible position, he wasn't interested in adding Alex Hooper's. But he took one look at Alex's gilt-edged card (which by mistake was not his business card but the Dalts' calling card) and his eyebrows raised. He turned to the discouraged Alex, who was about to turn and go.
"Hey, boy, how do you know the Dalts? I've been trying for over a year just to speak to the gentleman about a certain matter important to me, and he can't seem to find one minute for an interview. Can you get a word in for me? I really need to see him about somethin'. You've got a job here under me, if you can do that!"
Alex's sagging shoulders straightened all of a sudden, and ready to promise anything, he nodded, and Thigpen snatched a yellowing paper slip from a nail on the wall.
"Here then, we got nobody to do this particular bash job, so you do it! The guy its about has been outa town quite some time, I hear, preaching up a storm over in England to hunnerds of high class suckers they have over there, but he's supposed to be back in town any day now. You're a reporter now for the paper! You report first and last to me, git it? Now you go and rake up the stinking dirt on him--give us the details of the racket he is running down there at the Y.M.C.A., using those street kids of his he scoops up out of the gutters in order to milk this town's bleeding hearts and rich folks for contributions to his so-called 'Sunday School.' Sunday school, my arse! Mr. Farwell is one of 'em, he's solid in Moody's bag, puts out tons of cash for Moody's projects. We know this Moody's pullin' in thousands more with this bogus ministry of his, and it's gotta be goin' right in his pockets. He's no different from inybody else in this dog eat dog town! So rustle up some little proof of it--just enough so as to make the town wonder if they haven't been hornswoggled. We don't have to see it taken to court. Naw, not that much proof! Just one little article in our paper should be enough to shut up this big-mouthed preacher and send him packin' to another town where they don't know him quite so well. Be sure you don't quote anybody or name anybody big here that would land us a libel suit, or you be dead--I'll take care of you myself!
So you're on probation, and don't get paid until I see it is worth printin'! You can maybe use the desks in the clerical department, if somebody will let you, and later, if you prove yourself, you can have your own desk. Well, do you want the position? Of course you do! Now to the more important matter. You've got to promise me you will ask Mr. Dalt for me, the next time you see him, whether I can see him about being my sponsor at the Red Indian Brotherhood. At least get him to listen to me a minute, and I know how to sweeten the whole thing for him. Can you get that interview for me? This is the only opening I've got for you--so if you can't handle it, there's plenty of other--"
"Oh, I can handle it, sir!" Alex said, extending his hand to Thigpen, who looked at it disgustedly. "Oh, cram it! I don't even know who you are! I wouldn't wipe my arse on the likes of you. You aren't anything here yet, and I only shake hands with my betters. As for you--you're just dirt, even if you do know the Dalts somehow. Do a good job, get me what I asked, then maybe I will be ready to shake your hand. Now beat it! I don't like looking at pink-cheeked, beardless choir boys tryin' to act like real men!"
Alex stumbled out of the Chicago Sun-Tribune and down the steps crowded with young men like himself trying to get a job on the paper but made to wait indefinitely outside--on the chance a union hirer might come up short on workers and need somebody to fill in for an important press deadline.
He was exclaiming over and over to himself, "I got a job! A job!", not noticing that the other applicants, fellows just as needy as himself, were staring at him with anger, wondering how he got ahead of them and landed the job they had waited days and even weeks to get the chance to apply for.
But he soon sobered enough to think. What kind of job was it really? Would it pay enough to be worth the work he would have to put into it? What was this article anyway he had to write? And could he get Mr. Dalt to agree to seeing the likes of this dingy Rasmus Thigpen, someone who looked like he belonged more in the stockyards knocking cows in the head with a mallet than he did in a respectable newspaper's precincts?
Alex's blood chilled at the thought of Mr. Dalt feeling deeply insulted by the request and refusing. He knew Mr. Dalt was perfectly justified in refusing the company of such a creature as Thigpen. What then? He would be thrown out of his new job if he didn't produce, even if he did write an excellent article on the man Thigpen had described to him. After all, Mr. Thigpen was dead set on getting accepted at Mr. Dalt's Red Indian club.
He paused to read the scrap of paper on which Thigpen's assistant had jotted his assignment. There was just a man's name--D.L. Moody. Alex's eyes widened as he remembered it. Hadn't Will Withy invited him to go to this man's prayer meeting and Bible study? It was one of the days the Moody fellow would be present to speak. He checked his silver-plated, Roebuck Company timepiece, a $10 gift from his father and mother for his graduation which he carried in his coat's inner pocket for safekeeping, since it was the most valuable accessory to a gentleman's portfolio he possessed, other than his knowledge of fine literature and poetry. He had just enough time to go to his room, take a good hot tub bath, dress, then make it to the meeting with his pencil and notepad, if he hurried.
As soon as he left his little room dressed in his brushed suit and his washed hair combed back neatly, Alex followed the stream of young men like himself all moving in one direction, toward the meeting hall. A grandmotherly lady came walking toward him, and stopped. "Excuse me, Aare you going to hear Mr. Moody?" she asked, giving him a smile.
Taken aback by her friendliness, all he could do was nod and say, "Yes, I'm planning to hear him, Ma'am." As for his reason, he wasn't about to tell her that! "You won't regret it, young man!" she said, then paused as she glanced at him again. Her smiled faded. "I--I hesitate to tell you this. I just received an impression of something that is going to happen to you. Oh, I do hope it won't, and I will pray for you, that you be spared any harm."
This got Alex's attention. He waited, unable to decide whether she was crazy or really had something worthwhile to hear.
"Young man, I saw just now a fire burning, a great conflagration. And you were running, running straight into it! I don't know what that means. Could it be the fires of youthful temptation, in which so many young souls in this wicked city perish? Perhaps the Lord will inform me, so I will pray for discernment. If He reveals to me the meaning, I will be sure to let you know. Will you be staying here for the next few days? If so, I can reach you here, as I often come to pray for Mr. Moody's meetings, but I have to be going now--my sister is ill with an attack of consumption, and my mother is aged and needing care, as my sister cannot help her, to free me up for prayer here. Please excuse me! I forgot, people call me Auntie Sarah. And your name, young man?"
"Alex Hooper."
She gave him her hand ever so lightly, moving her lips as she did so in what might have been a silent prayer, then turned and moved swiftly away to the stairs, and went down, leaving Alex wondering what on earth to make of her "impression," or whatever it was.
Poor and homeless, raggedy boys from the street and YMCA residents hurried past him, and he remembered what he needed to do, so he went in, arriving late, as everyone was already seated.
<>
He had to sit in the last row at the back, as the big meeting room was already jammed, with over two or three hundred men and boys. Seated on the aisle, he could see the speaker directly ahead however, already casually standing and giving his message by the side of podium, not behind it.
The wide roving D. L. Moody did not believe in time being wasted, evidently. The whole audience was sat utterly hushed and unmoving intent to catch every word of the rapid-fire delivery of a message on grace and faith.
Alex saw that Moody was a broad, thickset, not overly tall man, dressed in a decent russet brown suit of no particular, fashionable cut, with lots of wind-blown bushy beard, moustasches, and curly hair fallen in locks across his high forehead. Was this the great man, the international speaker, that had just returned from engagements in England? He looked to Alex like a tradesman or shopkeeper, of a middling sort of business, like a dry goods or general store. How could sophisticated, rich people be attracted to such a man, when they could afford the best of everything in America and Europe? What was his angle? Mr. Thigpen would had sent him to find that out, had he not?
To learn all he could, Alex had to listen to what Moody was saying, so he began to take quick notes, trying to keep up with Moody who held a scrap of paper that evidently was his notes but scarcely ever glanced at it as he delivered his message non-stop.
It was impossible, Alex soon found, to keep up with the fast talking Moody. Then his pencil broke. But the message ended shortly after that--for even if it had been a long one, you could not tell that by the clock--for Moody raced against it, and always won. The meeting did not break up at that point, however. Several songs were sung, as Mr. Sankey, a worker in Moody's crusades and evangelistic meetings, rose to lead the youthful gathering in several hymns.
The moment the singing was ended, men and boys poured in the aisle and tried to reach Mr. Moody, but there was no getting close to him, he was so completely mobbed by those at the front.
Giving up the idea of a personal interview, Alex had to content himself with his impressions, while he kicked himself mentally for not bringing along more pencils. The notes he had taken might help, but he would have to rely on his memory to flesh out the message.
Rather than try to push through the crowd to get closer to Moody, Alex moved the opposite direction and waited in the hallway. It took some minutes for Moody to make his way from the front to the rear, and in that time Alex noticed a group of street urchins--the sort he had heard Moody patronized and tried to do something with by recruiting them for his Sunday School.
The boys were evidently waiting, just as he was--perhaps hoping for a personal word with the first Chicagoan who had taken a keen, loving, fatherly interest in them and their welfare. Where they all without fathers? Alex wondered. How did they come to find themselves living on the streets? One carried a broom, right into the building, he was so uncivilized, Alex observed. Such ignorant little barbarians as these probably did not think that amiss! he thought.
Suddenly, Mr. Moody was standing right in front of Alex! He was so surprised, the questions he had made up to ask him flew right out of his mind. He tried to think of one, but nothing came to mind. So instead he said the first thing that popped into his mind.
"Mr. Moody--"
Moody turned his head toward him, glancing at him with those exceptionally warm, kindly eyes of his.
"Yes?" he said. Already the street boys were on Mr. Moody, holding his hands and arms, but still he was waiting, Alex saw, for his response.
"I would like to ask you a couple questions, sir, if I might, concerning your theology."
Moody peered closer at him, then shook his head. "Thelogy, young man? I have no theology!"
For "Yom Kippur," Book II of "Beyond the Rapture," Vol. V, go to the link provided for Horace Brave Scout's account of how the Turnbull family on Earth I met the challenges of the seven year reign of the Anti-Christ and his battles for supremacy over Earth I as he goes to war to smash the last rivals he has resisting his absolute power, followed by the Reign of Yeshua that would last 1,000 years (or one, Seventh Day, in the divine calendar).
Book III, The Seventh Day, Chapter 2, Volume V, Beyond the Rapture is in progress on his page. Chapter 1 has a link in the master directory above in the section for Volume V, Beyond the Rapture, Chronicle of the Great Chief's Return.
Book III,
The Seventh Day,
Chapter 2
Yeshua had not forgotten his promise to the people of Russia, when he judged the nation as a goat nation, but told the Russians that he would remember them because of their great suffering under a host of cruel and unjust rulers in the past, and make them a new nation that would not walk in the evil and crooked ways of the former one. He would also appoint them a new and noble king to rule over them, who would be a just and kind man, establishing a centuries-long era of great peace and plenty and happiness for them such as they had never known before. Who would not want this? The Russian peoples were overjoyed at the news--and they were not going to be disappointed, for Yeshua himself would see to it that they received all He had promised them.
Yeshua also said he would send his servant to choose a king out from their noble young men, one who would be most suited for such high responsiblity and would not become proud, luxurious in his tastes, oppressive in his laws and taxes, cruel, vengeful and immoral--which was what their former rulers were.
Harry Turnbull, appointed as Yeshua's special envoy to go to Russia to help in the healing and restoration of that long-oppressed people and nation, arrived at the proper time for the choosing of a new king.
Actually, the young man he selected was Yeshua's prior choice--his name given him back in the conference he and Heloise had with the Lord in Jerusalem.
So it was not a difficult task. He merely had to find the appointed man. Arriving in Russia, at a place where many people had gathered and re-established some thriving cities, towns, and villages, with many outlying farms and hamlets, Harry found the people had already set up elders and wise men and were under a limited government of their own, so that lawlessness would not prevail while they waited for the particulars of Yeshua's government to be made known to them.
The elders had the civil power to try any breaker of the law, such as the Ten Commandments, which were now the law of the whole land, as well as the law of the world. The Decalogue, the Ten Commandments, the eternal law of God first given by God to man through Moses on Mount Horeb in Arabia, were again the basis for all law on earth, so they were more than sufficient to start an equitable society, after being suspended by the World Union dictator and his anti-God laws. Thus there was peace and justice already established when Harry arrived to do his initial inspections of the various populated and repopulating Russian provinces .
His duties included the inspection as well as the choice and installation of a king.
He would remain as long as he thought it necessary, to see that the new king was functioning properly and whether the people had accepted him and his rule.
Since it would be a first time that a ruler chosen by God had ruled them (even though prior kings had claimed divine appointment and right), the Russian people would need some time to adjust, of course, but there was plenty of time, and no need to hurry the process, Harry thought.
The chief trait he admired most about the Russians was their seeking the uncompromised truth. That impressed him most, though it did not make people, who desired less than the truth, comfortable. He also enjoyed the Russian people for their boundless hospitality, rolicking good humor, and unpretentious ways, and loved their lands' unparalled beauty and vastness, and now the climate was much improved as well. They could grow crops year round if they liked, the temperatures were so mild that winter was only a fading memory. Snow and ice were banished by the global change in weather, thanks to Yeshua, so they would never again suffer the starvation and rigors of the long Russian winter that had caused such hardship, suffering, and loss of life for uncountable Russians in the past.
The Russians were very good at cultivating the rich, black chernozen soil, and they grew abundant crops, and were soon quite well to do. Their surpluses they traded for things they wanted from neighboring countries and peoples. But they also developed their own crafts, and had little need of luxuries except to dispose of grain, hides, cattle, timber, and metal ore surpluses that might go to waste otherwise.
The wide-ranging arts of the Russians flourished again, and embroidery and weaving and making of beautiful clothes spread throughout Russia. They all had fine clothes to wear now, and they wore them even at work, as they did not need to dress poorly, as they had so many changes of clothes and did not have to save their best for the main festivals and work in rags the rest of the year--the practice in the former old Russia.
The vulgar and immodest styles of the Great Tribulation were now universally abhorred. Dignity and grace and modesty were again valued--though that did not exclude striking patterns and colors. The people returned to long-lost clothing designs from previous ages, and these were much favored, as they were brightly colored, and the patterns were challenges to the tailors and weavers and women expert with the needle. They were also natural, and composed of local materials they could raise or create or make themselves, without requiring massive factories and enormous expenditures of electric power and polluting and disturbing the earth to dig out the raw materials that went through very complicated changes until they came out as finished products people could wear.
Synthetics were not needed or liked. Sheep were raised for wool, and the wool went into clothing and tapestries and fine rugs. The homes were filled with beautiful woven things, and the people were soon well-dressed, even in the farmsteads!
Harry was amazed at the splendor of the Russians, who had an eye for beautiful things and the ability to create them.
He thought he looked quite shabby in their country, coming to them in a simple Middle Eastern or Arab-style robe. But the Russians were polite, and they gave not the slightest indication they thought he was not as well dressed as he might be for being Yeshua's royal envoy sent from Jerusalem to choose them a king.
The excitement bubbling away in the people was evident to Harry as he travelled about the new cities, town, villages and farms. He was invited everywhere to stay, but he could not stay long at any one place, for he had much to do to inspect so great acountry in size. 70 million Russians were no small amount to deal with! He wanted to make sure that everyone was getting on as he or she ought, under Yeshua's rule, which demanded justice and peace and prosperity for everyone on earth.
Having seen the whole country after months of travel transported on several of Pamela's dragons, Harry then took residence in one of the largest cities, and waited. He was sure the man would find him first, as the word had gone out, that whoever had heard from Yeshua should come and present himself as a candidate.
Harry soon heard from several different young men, but Harry knew in an instant that they were not, each of them, chosen by Yeshua. Something was not quite right, even though they looked regal enough in looks and stature and bearing.
Yeshua was looking for a measure of humility, he sensed, as he sent the men away and continued waiting.
Finally, after turning away a dozen other wannabe kings, Harry was beginning to wonder if the man would ever show up. What was keeping him? he wondered? Was he too busy in his business or farm or family? Had he just married and could not bear to leave his bride alone? There was some good reason, no doubt, for few men would ignore the chance to become a king. Or was he thinking he was too unworthy for such an exalted position with such huge responsibilities?
Perhaps he saw himself as too small a man for so great a task? There was such a thing, Harry knew, as too much humility--for the question was not whether he were worthy (for no man was worthy!) but was he obedient? Was he going to obey the Lord's summons and appointment? That was the real question. In the Bible account Saul, before Samuel anointed him king over Israel, was overly humble and self-effacing, running away from the calling of king, but later as king he became overly proud and even arrogant and too full of himself--humility, for him, was not accompanied with any saving measure of obedience to God. Disbeying God's commands, he destroyed himself and also his sons and dynasty. Obedience, then, is fundamental to a good king, even before humility, as seen in Saul's tragic case.
Yet, for such a task, haste was not a wise thing in the candidate--and a man who knew the Lord's calling on his life was not obliged to rush to seize the mantle of kingship. He could think it over a while, and take the time to count the cost. He would surely need to reflect on the changes that kingship would necessarily bring, and come to some sort of peace with the changes, and also the demands and challenges that kingship and the throne would inevitably bring.
A wise man, then, would take a little time to think it over first before coming forward--but not too long a time! If he was a delayer, arrived tardily, that would be forgivable, but it was not a gracious first act of a king to keep the Lord's envoy waiting beyond an acceptable time.
A day dawned when Harry was wondering if the man would ever appear. He was just about to be annoyed with whomever it was, when the people of the house where he was given rooms brought a visitor to him. He is the Lord's choise, they told him. And he has brought his pet bear with him! Harry smiled, and let them know that he wanted to be alone with the candidate, to see if he agreed!
The man came in to Harry's room, a she-bear trundling slowly in with him attached to a leash, and his two aides, both nephews of his, were with him too, standing like two squires with a knight as in the Middle Ages.
Their eyes met, and Harry nodded, indicating that he wished for the gentleman to proceed. The moment the young nobleman came and bent his knee, extending his hand to the older man in greeting, Harry knew--yes! This is the one, indeed!
Taking a flask of pure and fragrant anointing oil he carried with him from Jerusalem, he touched the king's forehead and hair, anointing and sealing the office of the king upon the young man's head and brow.
"What is your name?" Harry asked as he slipped the anointing oil back inside his robe. "No, don't tell me. It no longer is your name. The Lord said you are to be called Vladimir, to redeem that good name from the past--will you accept the name given you by the Lord?
The spanking new Vladimir the First of New Russia (though the country's new name was to be given later) blinked with surprise, nodded slowly, and stared at Harry.
"Then you shall be crowned Vladimir king of the Russians! Let your companions inform the others, and I shall remain here to see that you will do well by your people, Vladimir, ah, Your Majesty! You will need a Council and a company of wise men gathered round you to see that you steer the ship of state in a right and good and wise way, so as not to abuse your powers or oppress the people in any way that would serve your interest above theirs. I will be here as long as it takes to find these worthy men and bring them here to serve at your side."
Harry rose, then waved his hand for the new king to come and sit in his chair.
Vladimir momentarily looked as if he were embarrassed and might protest (for he was a truly humble young man who respected elders), but Harry's stern glance quickly checked that impulse, and he went and took the offered chair, sitting down and with his attendants stepping forward to stand at his side. As for the pet she-bear, Alexandra, the king let her curl up on a rug, where she settled down comfortably.
The whole household, which knew (as Russians do) all that was going on behind the closed door of the room, could not be held back a moment more, and they burst in. Harry smiled, and gestured, indicating the new king in his makeshift but sturdy throne fashioned from a single piece of golden oak.
The family was suddenly abashed, seeing a real king sitting on a chair in their own house! It left them breathless! With shock in their faces and bewilderment, they did not know what to do, but the youngest, a little girl of four, went forward first, without any fear, and put her hand in the king's.
He smiled at her, and she beamed, then hopped up to his lap. Of course, there was no further ice or formality after this--but that wasn't a problem, Harry felt. Their former kings had been autocrats, ruling far from any contact with the common people in the exalted splendor of their palaces while the Russian people subsisted like beasts in unheated, squalid huts--it was not to happen again! The new Russian king would be one to mingle with the people, as one of them, yet a ruler too, who would decide the most important matters of state in terms of truth, justice, and righteousness, and also lead a delegation from the Russian provinces of his kingdom each year up to Jerusalem at the Feast of Tabernacles.
It was a brand-new day, a time to celebrate with singing, dancing, banquets, and all sorts of games, music, tests of agility or strength, and merriment that the Russians, who invented the year-round festival, were adept at--the start of a glorious epoch of achievement and happiness for the Russians, and a new kind of king was now in their midst to guide them--one who rules to help them, not hurt and exploit them as their past czars and kings had done. There were also, to be sure, some tears, as the older ones recalled the bad times Russia had known under cruel leaders--men like Peter the Great, Lenin, Stalin, and the lesser fry, like Vladimir Putin, who emulated the great monsters, their megalomaniacal lust for power, vices, and over-all venality. Then the almost constant wars had taken so many, many lives--they were uncountable--which meant nothing to them in general numbers, as they could only recall lost love ones--sons, husbands, fathers-- swallowed up in the last catastrophic conflicts of the old world order.
But now they could rejoice in this: never again would there be an unjust ruler over them, an autocrat holding himself aloof from the people like a cruel and unreachable emperor (or Czar, as the former Russians had called their Caesars), touching their lives only to oppress them and tax them into povery or throw them into a prison or mine in Siberia the rest of their days for resisting his unrighteous and tyrannical rule, the new king would be approachable, intimate with the lot of the people he ruled, a genuine "first among equals." Harry would see to it that everything went well in the beginning stage, even if there were absolutely no precedent in Russia for what Yeshua had inaugurated.
On Harry's return to Jerusalem, Yeshua called him to his throne and instructed him on the new world order of righteousness that would completely replace the old order Satan had ruled. Many nations would no longer exist, as they had been Israel's worst enemies, and hurt her most--this could not be forgiven, and so they vanished as entities--and no one wept for them either.
The world, Harry learned, was first to be divided into nine Eden-like "gardens" or "congregations." These were Love, Joy, Peace, Forebearance, Kindness, Goodness, Faithfulness, Gentleness, and Self-Control--named after the Fruits of the Spirit, in which each was centered. Geopolitics, the play of force and deceit and outright aggression, which had raged out of control and produced discord, havoc, and war since the time of Adam, no longer applied to the nations. Peace treaties would no longer be signed and then broken by the signatories, who were all the time they were in conference and even when signing were nothing but treacherous cynics planning further aggressions. Pax Romana, even though last about five centuries, had been temporary, enforced by brute force of invincible Roman legions. Pax Christos, with Yeshua as Pantokrator, was to last unbroken for 1,000 years--all founded on Almighty God's omnipotence. And how much better too!
War (civil and between states or peoples) was abolished in all these spiritual zones among the nations, for they were no longer rivals or competitors. Despite the huge swaths of devastation and nuclear contamination and ruin of earthquakes--the people simply moved to the good areas that were left while the bad areas were recovering, and the climate was so much improved round the earth, north and south, they found no difficulty growing more food than they needed and restarting their societies. From Jerusalem there flowed troops of Yeshua's emissaries, who went out to the nations like the Turnbulls, to help, guide, and restore them. Healers too went about the worst areas too, dealing with those still suffering from nuclear blasts. These were given leaves from the Tree of Life in Jerusalem, which cured them instantly, just as it cured any disease instantly.
Despite Yeshua's ordering of the overall structures, there was a vast area of freedom to rebuild, organize, and beautify the world as the nations' peoples took advantage of the wonderful climate and the astounding growth of their crops and herds. People were so full of health and vitality, that few tasks were thought too difficult for them--as a young man could carry a whole tree, and a child could carry a big log. It was truly the rise of superhumans--only they were now back to the levels of intelligence and strength enjoyed by the antediluvians, the long-lived race before Noah's time and the Worldwide Flood--except the difference was that they were living righteously, not abusing their wonderful bodies with immorality, violence, and fighting one another.
Called back to Yeshua's throne, the members of the Turnbull family assembled from the far quarters of the earth to hear what the Lord had next for them to do. They were surprised to hear what He told them. He said they had been sent separately, to learn each his or her special gifting, but now that was accomlished, and it was time for them to be sent as "one indivisible oil" to anoint the nations in the way He had in his heart to do. This anointing, this oil, would cause a most thorough, deep, and transforming change to spread over the whole earth, not just one nation here, and one nation there, with all sorts of neediness and lack of growth in between to keep people from going forward together. No, Yeshua had ordained that the whole earth should grow as one into the stature of the fulness of Himself, the Head of all the nations. That is the way the body grows, in unison, not with one foot growing at a different pace than the other foot, nor one arm faster than the other, and so on. That was the way of the old world, which had been a grab-bag of all sorts of wealth and poverty, hitech and lowtech, and great nations and small nations, powerful and weak--making for much resentment, envy, fear, insecurity, aggression, greed, and of course, war. All such divisions and short-comings and inequalities would be done away with, once and for all. Wicked men seeking power over nations to do them harm and do their neighbors harm them had always learned to exploit such things--but now there would be no soil for them to plant their evil intentions in. There would be harmony among the nations, and that meant growing together, simultaneously, in all areas of life, corporate and individual. Harmony had been an age-old ideal, but nobody, not even the most intellectual and wise, nor had the most powerful emperors and world-conquering military men such as Alexander the Great, had been able to achieve harmony. Harmony had been brought by force, but it was gone in a short time, blown apart by other forces that did not like being imposed upon. Now harmony was to be a natural growth, within the true and genuine peace established by The Lord, Yeshua. A universal Utopia had arrived that was not going to exist only in the pages of a dreaming philosopher's book--it was to be a living reality!
How could this be done? No one knew, except the Lord Yeshua, King over all the earth.
But first the Lord of Heaven had something for His Son--a new name hinted of by the prophet--and this Name was so holy it came down from heaven, attended by the rejoicing of billions of angels. The whole earth saw the angels, and there was not room enough for them on the earth, so they filled the skies instead, as everyone one earth watched the proceedings in Jerusalem.
Scoflaws had once laughed when a man of God once described seeing a 900 foot angel. Now there was no smiling and laughing. Two angels of greater than unimaginable stature flew down and stood upon the earth, each holding a shimmering silver mirror. One reflected the proceedings to the other, who then turned it upwards.
Everyone could now see the great Name-Giving Ceremony and Celebration in Jerusalem--all without the former, old world's expensive, complex system and network of satellites and uplinks and cameras and studios utilized by television.
Yeshua was not the Lord's only Name, as the earth now discovered. How amazed they were! Yeshua meant "The God Who Saves." That was common knowledge to men of all ages who knew the Jews and the Bible. But now everyone learned this great Name of all names was only given him for a time and season. Now for the Millennium when He ruled as King of kings and Lord of lords, His true name, hidden until now by the Father and the Spirit, was made known to all, including the angels, who were just as astonished as any human beings witnessing the event.
The instant the Name of names descended upon the Son of God--a splendor, a Shekinah glory, broke forth from the face of Yeshua that was so unspeakably bright no one could look at it. Itt was if the sun itself was eclipsed, He became so bright. And what was His Name? It was Hebrew, Yahweh the Lord of Righteousness.
At long last, Earth I looked upon Righteousness as He really appeared, in his full glory, and it was as if One brighter than the sun he created were standing there on the earth in the midst of his holy temple in Jerusalem.
Only then did it become apparent why he remained in his temple. His brightness was so great now that he could not go about as before--always eclipsing the sun and too bright for people to look upon directly. Instead, as Moses long before went forth to the Shekinah Glory on Mt. Horeb, sparing the people a near withering exposure to the full brightness of Jehovah, so his messengers bore His expressed will to the world. He sent forth his emissaries and servants out of His glory, such as the Turnbulls and the 144,000. He had no need to leave the temple anyway, as he had all these ambassadores, and, of course, uncountable angels and their chariots that now were fully visible to all living on the earths--invisibility no longer necessary.
The Star-Stones, the Evil, Scheming, Destroying Jewels of Fire, & Other Fatal Jems:
If you have entered this page from other sites such as Butterfly Productions Home Page, there is a new domain of nine sites, www. oaringintheriver.com, containing Retrostar, featured by major search engines.
To return to WWW.OARINGINTHERIVER.COM:
WWW.OARINGINTHERIVER.COM Master Directory