CHRONICLE OF THE TIME ROCKET, VOL. IV, RETROSTAR
CHRONICLE OF RAGNAROK A. S. 1937, Singer of the Ancient Seer How a bard left the Emerald Island to look at old vellum books and paintings preserved by the Benedictines in a monastery in Padua, Italia, and how they warned him about a second great world conflict of the Wasichu nations, which would usher in the new world order and the rise of a lion-bodied, man-headed Beast, the False Messiah, who would seize world power and crush out all the light of liberty and decency in Civilisation. CHRONICLE OF RAGNAROK, VOL. IV, RETROSTAR
CHRONICLE OF THE MOUNTAIN TOMB A. S. 1938, Eugenio's Secret How a Basque fighting with the Loyalist forces in the Spanish Civil War found ancient scrolls and artifacts in a tomb that were older than even Eskual Herria, the Basque homeland that predated every other nation and nationality in Europe.
CHRONICLE OF THE MOUNTAIN TOMB, VOL. IV, RETROSTAR
CHRONICLE OF THE OSLO TAPESTRY A. S. 1938, Katrine's Secret How a Norwegian woman, living alone, grew so desperate about her bone-dry spiritual condition that she would do anything, even take pictures of simple leaves and shadows in her garden, if it would help restore her faith--pictures forming a tapestry portraying events to come that would have astounded the world if all of them had been made public.
CHRONICLE OF THE OSLO TAPESTRY, VOL. IV, RETROSTAR
CHRONICLE OF THE RUINED CATHEDRAL A. S. 1940, Winter of the Soul How Coventry was sacrificed, along with its ancient cathedral and much of its population, by a decision of Churchill who aimed to let the bombers through without any warning to Coventry in order to make the Nazis believe their secret code had not been cracked by Britain's code breakers at Bletchley House. How a half-literate scrubwoman in the smoking ruins of the Cathedral found the means to confront the unspeakable tragedy of losing practically everything in the bombing and firestorm that destroyed Coventry; that is, her husband, children, neighbors, city, cathedral, even her house and job.
CHRONICLE OF THE RUINED CATHEDRAL, VOL. IV. RETROSTAR
CHRONICLE OF THE SEA LION A. S. 1940, 1. Convergence at Abbotsbury How a pious, elder daughter caring for an aged, ailing mother, prayed the right prayer, effectively throwing a switch to a most powerful blessing 1,900 years old.
CHRONICLE OF THE SEA LION, PART I, VOL. IV, RETROSTAR
2. Winter's Grace How a Welsh "College of Intercessionary Prayer-warcraft and Fasting," founded by a former coal miner, succeeded in turning the major events of World War II, starting with the Battle of Britain.
CHRONICLE OF THE SEA LION, PART II, RETROSTAR
3. No Wings But a Prayer How Sir Francis Cecil, hereditary Lord St. Aubyn of the Mount of St. Michael, Cornwall, while squadron commander of Spitfires in the Battle of Britain, was struck wingless by enemy fire but continued flying, and how he was taken out over the coast where he witnessed an even greater event taking place off the notoriously stormgirt Chesil Banks.
CHRONICLE OF THE SEA LION, PART III, VOL. IV, RETROSTAR
4. Ivy's Grand Slam How a little English girl in Portsmouth changed her bedtime prayer and turned back an incoming V-2, setting it on a trajectory that almost took Shickelgruber out of the war.
CHRONICLE OF THE SEA LION, PART IV, VOL. IV, RETROSTAR
CHRONICLE OF THE PILLAR OF LIGHT, A. S. 1940- , How on Earth I Elijah, a Romanian boy growing up in a brutalM Communist-ruled country, found a miracle-producing faith just like Jason the Argonaut's to stand up against the impossible odds of confronting a militaristic, atheist dictatorship destroying his beloved homeland, and how he made a new life for himself, succeeding after tens of thousands before him had been slain in the same attempt to win freedom.
CHAPTER 1, CHRONICLE OF THE PILLAR OF LIGHT
CHAPTER 2, CHRONICLE OF THE PILLAR OF LIGHT
CHAPTER 3, CHRONICLE OF THE PILLAR OF LIGHT
CHAPTER 4, CHRONICLE OF THE PILLAR OF LIGHT
CHAPTER 5, CHRONICLE OF THE PILLAR OF LIGHT
CHAPTER 6, CHRONICLE OF THE PILLAR OF LIGHT
CHAPTER 7, CHRONICLE OF THE PILLAR OF LIGHT
CHAPTER 8, CHRONICLE OF THE PILLAR OF LIGHT
CHAPTER 9, CHRONICLE OF THE PILLAR OF LIGHT
CHAPTER 10, CHRONICLE OF THE PILLAR OF LIGHT
CHAPTER 11, CHR0NICLE OF THE PILLAR OF LIGHT
CHAPTER 12, CHRONICLE OF THE PILLAR OF LIGHT
CHAPTER 13, CHRONICLE OF THE PILLAR OF LIGHT
CHAPTER 14, CHRONICLE OF THE PILLAR OF LIGHT
CHAPTER 15, CHRONICLE OF THE PILLAR OF LIGHT
CHAPTER 16, CHRONICLE OF THE PILLAR OF LIGHT
CHAPTER 17, CHRONICLE OF THE PILLAR OF LIGHT
CHAPTER 18, CHRONICLE OF THE PILLAR OF LIGHT
CHRONICLE OF THE ORACLE OF MENO A. S. 1938-1941, St. Roderick's Secret How a Basque patriot, deserting the Loyalist army in the Spanish Civil War, became a free lance secret agent for the British side against the Nazis, luring Shickelgruber into the race for a Super-Bomb while withholding vital information that would have made the Nazi project a success.
CHRONICLE OF THE ORACLES OF MENO, VOL. IV, RETROSTAR
CHRONICLE OF THE RAG DOLL A. S. 1943, Christmas at Auschwitz How a young, brilliant, blind chemist, soon to perish in a gas chamber, afraid it was all for nothing, was given unmistakable proof her life was divinely touched. CHRONICLE OF THE RAG DOLL
CHRONICLE OF THE BAYEUX TAPESTRY'S SECRET PANELS A. S. 1944, Questioning the Sphinx How nuns guarded what came to be known as the world's most famous tapestry, the one detailing the Norman invasion of England in 1066, and how an American nun, an expert in tapetries, discovered additional panels that had not been sewn onto the masterpiece--panels that had been kept secret for the obvious reason they were found so disturbing because they were so prophetic about the world to come.
CHRONICLE OF THE BAYEUX TAPESTRY'S SECRET PANELS, Vol. IV, Retro Star
CHRONICLE OF THE BROKEN GLASS A. S. 1945, 1. Legacy How the victorious chieftains at the Potsdam council meeting from Britain, the U.S., and the Soviet Union, in the name of peace started the "War of Ice," and how Britain's "Tube Alloys" nuclear project came to nothing with suppression and disappearance of vital M-2 intelligence, and President Truman's ace in the hole, the Manhattan Project's Super-Bomb, fizzled at Alamagordo--apparently forcing America to join forces with Britain and Stalin's Russia to fight on to the finish with conventional forces against Premier Hideki Tojo's best troops and, unknown as yet to the Allies and their war planners, a whole nation swept by Kamikaze, the "Divine Wind".
CHRONICLE OF THE BROKEN GLASS, PART I, VOL. IV, RETROSTAR
2. The Pack Rat How a peddler of information, selling whatever he dug up to the highest bidder, happened on a deadly superweapon--one of three that Senhor Averinata had offered the British--that later would be used to help tip the scales against America in favor of the United Nations and a world government. To the Jews the crushing of the wine glass in a Jewish wedding recalled the destruction of the Temple by the Romans in ANNO 70, but to the Basques, it meant the whole universe was shattered--never ever to be put back together as it had been. (How could he barter and trade the destinies of whole nations as if they were trinkets and trifles? Peddlers, like foraging rats, consider only the present moment, and the penny or two gained or lost--never the long haul, which is, for a peddler, far to frightening to even consider in a rodent-type mind. Without the ship, the rat would drown in the open sea. Yet it infests the ship, spreads its diseases with its own dirt, and gives the crew a deadly plague, and the ship, without anyone to guide it to safety, strikes a rock and sinks, drowning the rats who caused the disaster. This has happened countless times. Their own nature, thus, gnaws off the rope that holds them above the pit. Pity the civilization where such men, such vermin, proliferate and gain high office! And you can always tell the end is near when such are numerous and run free, from deck to deck!).
CHRONICLE OF THE BROKEN GLASS, PART II, VOL. IV, RETROSTAR
3. The Angels of USS Indianapolis IP How on July 29, following the successful test of a new death ray in the first week of July, that dissolved atomic structures and could fuse human flesh to metal, a battleship was loaded with the deadly "gadget" and sailed for Tinian, an island in the Marianas Chain. Locked in a steel box bolted to the deck of the captain's cabin, the weapon that would knock the Japanese on the home islands to their knees would be assembled in the secret facility at North Field on Tinian, then deployed by aircraft over the first test cities of Tokyo and Kyoto, the two most revered cities in Japan and the centers of Japanese cultural life. How the best laid plan of the war came to naught, with details of immense tragedy and even angelic intervention that were so explosive in nature they could never be revealed to the American public.
CHRONICLE OF THE BROKEN GLASS, PART 3, VOL. IV, RETROSTAR
4. The Divine Wind How Operation Downfall, the invasion of the Japanese home islands, ultimately succeeded but without superweapons proved so costly to America and Russia that they had cause to recall King Pyrrhus of the Greek kingdom of Epirus, who conquered Roman armies on their home turf but sustained such heavy losses he complained in his famous statement known for its unforgettable pathos, "Another such victory and I am ruined!"
CHRONICLE OF THE BROKEN GLASS, PART 4, VOL. IV, RETROSTAR
CHRONICLE OF THE WINTER SACRIFICE A. S. 1947, 1. Winter's Child How deeply the alien star's rays penetrated postwar America, and how an old farmer's beloved son was killed in the Wioteheka hi, Month of Terrible Moons. 2. Plain View Farm How two deaths in a fiery plane crash were needed to thaw the frozen hearts of two other men.
CHRONICLE OF THE KILLER BEAR'S DESCENT A. S. 1951, The Bear and the Lamb How Djugashvilli fared, while on the operating table in the Kremlin, as a small army of surgeons desperately tried to preserve his life after a massive sroke; how they failed and Djugashvilli, an atheist, found himself still alive, imprisoned in an Afterlife cell which could only be described as hellish. How things got progressively worse for him, as he encountered a strange Jew wearing a prayer shawl and next faced a Judge sitting on a throne so immense it couldn't be anyone less than God sitting upon it, and how he was judged by the testimonies of thirty or so millions he had had tortured and slain, and how after that he found himself shunted into a burning lake of blast furnance intensity, and how he, like all the others in it, were forgotten.
CHRONICLE OF THE KILLER BEAR'S DESCENT, VOL. IV, RETROSTAR
CHRONICLE OF THE MAN LIKE A BRIDGE A.S. 1956, The Search How a young woman of the First World discovered the way back to her lost childhood faith, a faith that carried her all the way to Third World Cameroon wilderness in West Africa where it finally set its roots deep and briefly bloomed. CHRONICLE OF THE MAN LIKE A BRIDGE
MYSTERY CHRONICLE OF THE 50TH ANNIVERSARY A. S. 1962 The Phantom Ship How Lt. Greg Culpepper's life and career took a radical turn and plunge to the bottom of society after a storm at sea and his sighting of the R.M.S. TITANIC going down as he was inspecting the lighthouse facilities at Cape Disappointment and North Head on the mouth of the Columbia River, Washington State. MYSTERY CHRONICLE OF THE 50th ANNIVERSARY, VOL. IV, RETROSTAR
CHRONICLE OF EDYTH'S GOLDEN CROSS A. S. 1963, A Truth Not Told How Miss Edyth Hamilton, humanist, classicist, and world-renowned authority on Greek and Norse mythology, was strangely confronted on her deathbed with certain false premises that undergird her whole life-work.
CHRONICLE OF EDYTH'S GOLDEN CROSS, VOL. IV, RETROSTAR
CHRONICLE OF THE LADY OF THE SPARROWS, A Tale of Old New York and Central Park A.S. 1964, Lucky's Big Strike How Lucretiza Tisdale, a spinster lady in her nineties, fed the sparrows of Central Park faithfully every day and how her death under the wheels of a beer truck brought changes, through the very sparrows she had given soda crackers, that she could not otherwise have achieved at her age and with her insignificant, sparrowlike strength.
CHRONICLE OF THE LADY OF THE SPARROWS, VOL. IV, RETROSTAR
CHRONICLE OF THE FIGHTING ANGEL, PARTS I AND II A. S. 1963 How the Swensons, a young American newlywed couple, in training for the mission field, took a break from language school in Paris, and came to a crisis of their relationship and a man's faith in God on and beneath the Mount of St. Miguel, the Fighting Angel.
CHRONICLE OF THE FIGHTING ANGEL, VOL. IV, RETRO STAR
PART II: How the Swensons came to share their Christmas with the Fulani Tribe in Cameroon, West Africa, and how their cheer spread from there as far as the stars to a lost tribe of the Alpha Centaurii.
PART II, CHRONICLE OF THE FIGHTING ANGEL AND CHRONICLE OF THE LOST TRIBE (VOL. VI, NATAL CONVERGENCE, "A FULANI CHRISTMAS," RETRO STAR
CHRONICLE OF THE REVIVAL OF HAGIA SOPHIA A.S. 1968 How Lidia, a Greek Orthodox nun, ventured from her safe refuge in a convent in Athens, to return by tourist boat to her lost homeland in the Turkish nation that had forced her family to flee for their lives in the savage. almost genocidal war that broke out between the Greeks and Turks after World War I. How she learned things she did not expect from her day trip and contact with the enemy occupying her people's chief city and seat of the Greek Orthodox Patriarchate of Constantinople and East Rome. How she received a gift she would always treasure--and ceased feeling herself robbed by the Turks though they had taken her Greek homeland as their own and pushed out virtually all her fellow Greeks.
CHRONICLE OF THE REVIVAL OF HAGIA SOPHIA, VOL. IV, RETROSTAR
CHRONICLE OF THE SHOW ME STATE'S PROPHET (EARTH I) A. S. 1966, Elijah's Mantle How young and aspiring Brad Bright Jr. dreamed of becoming a prophet to "Holy Spirit-led, on-fire" Pentecostal churches in Missouri, his home state. How his promising life was cut short by a fatal collision with a tree when he was driving his truck home from a church youth meeting, and how his dream of ministry was defeated only temporarily, as a bit later he was brought back to serve with Elijah's mantle in the war against the AntiChrist Beast and his prophet during the post-Rapture Tribulation Period.
CHRONICLE OF THE SHOW ME STATE PROPHET, VOL. IV, RETROSTAR
CHRONICLE OF THE GIANT CHIEFS A. S. 1972, Two Sayings of Uwe Hantsbo Regarding the Atlanteans: Elektra's Sad Fate, and Atlantis on the rocks, anyone? How the Earth's tribe of original giants that stood like the tallest trees on Earth lived in a vast land that sank beneath the Eastern Sea.
CHRONICLE OF THE BLUE BRIDGE SALIENT A. S. 1973-1978 Even while the armies of France, Britain, and America struggled unsuccessfully in southern Asia to push back the communist forces from the north, a greater battle was being fought among the stars. How Atlantean star fleets combined with the red star and other star-stones to force an entry into the Great Nebula in order to destroy the protective forces centered at the Blue Brige. How, nearly successful, they were rebuffed, forcing an Atlantean subcommander to retreat to Earth.
CHRONICLE OF THE BLUE BRIDGE SALIENT, VOL. IV, RETROSTAR
CHRONICLE OF HANTSBO'S NOTES A.S. 199?, On the Bipedal Workforce of 1994tk66--A Flying Texas How Uwe Hantsbo discovered on a planetoid a most interesting cache of mutants, freeze-dried specimens of the very kinds that had been proposed by a Washington geographical society in its magazine to be authentic human prototypes proven by science and archeology. The only problem, as Hantsbo points out, is that they were found all mixed together, obvious contemporaries, not separated by millions of years or mere hundreds of thousands as was said to be the case by the East Coast Brahmin evolutionists entrenched in the powerful, elitist geographical society.
CHRONICLE OF HANTSBO'S NOTES, VOL. IV, RETROSTAR
CHRONICLE OF THE ICE BIRD, PART II A. S. 1973, Voyage of the PRION Inspired by Shackleton's legendary heroism, how an exlorer from New Zealand set out to be the first to circumnavigate Antarctica in a small boat solo, and stumbled into an unknown "Devil's Triangle" of ancient Atlantean orgin just off East Antarctica's Ross Ice Shelf that changed his course so radically he was propelled in space and also time as far as an ancient Atlantean outpost opposite the gate of the Great Nebula of Orion--the very site of what Tennison the Poet Laureate of Britain described as holding a "vast mystic charm." CHRONICLE OF THE ICE BIRD, PART II, VOL. IV, RETROSTAR
MYSTERY CHRONICLE OF THE WHITE CANOE A. S. 1977, Fairwind in Deep Waters How a young electric plant operator of mixed working class and New England blue blood background takes a cruise into the unknown mysteries of time and space aboard what had first seemed a New York based cruise ship on its way to Peru.
MYSTERY CHRONICLE OF THE WHITE CANOE, VOL. IV, RETRO STAR
CHRONICLE OF THE ICE BIRD, PART III A. S. 1978, Cavendish in the Sky with Diamonds A somewhat crusty curmugeon of a retired journalist, in remission from cancer but angry over the recent loss of his wife to the same disease, goes out into his ruined back yard and changes places with a Prion, a polar bird that has wandered into his garden and died. Somehow the bird in death becomes him, giving him wings of a starship that can touch the farthest stars and Orion, Gateway to the Morning, where something bright and shining with destiny for everyone one arth seemed to open to him.
CHRONICLE OF THE ICE BIRD, PART III, VOL. IV, RETRO STAR
CHRONICLE OF THE LADY OF THE ANCHORED A.S. 1983 On the Trail of St. Paul How Prunella, a sedate altar guild woman from the Midlands, England, on tour with a cruise ship company in the Middle East, finds release from a crushing depression over the accidental death of her daughter.
CHRONICLE OF THE LADY OF THE ANCHORED, VOL. IV, RETROSTAR
CHRONICLE OF THE SURVEYOR OF THE QUEEN'S PICTURES A. S. 1983-, The Knight of Darkness How Sir Anthony Blunt and his fellow Cambridge-educated colleagues became involved in a secret spy ring inside the British secret services, serving not Fascism but Soviet Russia during part of the Second World War and for some years of the following Cold War with Soviet Russia. How Sir Anthony "retired" from being a double agent to being the Surveyor of the Queen's Pictures, with the responsibility for all the Queen's artworks in the royal palaces, but how he was exposed as a spy and found guilty but was allowed to retire with some dignity to his home, while his co-conspirators fled to Soviet Russia. How in dying they singly and together discovered an Afterlife their Darwinistic beliefs had denied was possible, which delegated them to a new venture just as exciting as betraying their own country and serving her arch enemy--a contest involving the Golden Fleece and a rival ship called the Argo.
CHRONICLE OF THE SURVEYOR OF THE QUEEN'S PICTURES, VOL. IV, RETROSTAR
CHRONICLE OF THE SACRED COWHIDE PAINTER A. S. 1987, Ira's Letter to the 11,000th Century How an artist's paintings for a B.I.A.-Lakota Christmas arts and crafts competition were preserved for a tribe of Wasichu lost seemingly forever among the lodges of the stars.
CHRONICLE OF THE SACRED COWHIDE PAINTER
CHRONICLE OF THE LION'S DESCENT, A. S. 1995, "The Lion's Descent," Part I, "The Lion's Legacy," Part II, How a U.S. Supreme Court Justice who was a very nice and likable gentleman became responsible for a once great and godly nation's descent into self-destructive depravity and violence and also for more deaths of Americans than were slain in the death camps of Himmler and Hitler (Earth I), and how he fared in Hades (Hell) after his death.
CHRONICLE OF THE LION'S DESCENT, VOL. IV, RETROSTAR
CHRONICLE OF UWE HANTSBO'S NOTES A. S. 199?, On the Bipedal Workforce of 1994tK66, A Flying Texas How Uwe Hantsbo points out certain rather glaring flaws in the evolutionary timeline and evolutionary theory after seeing the flaws in question with his own eyes, frozen specimens of hominids and so-called human precursors, flying aboard a Texas-sized hunk of rock; how their existence supports his own view that highly intelligent, highly terrible ante-humans he names as the Atlanteans were responsible for the Dachau-like work camp on the asteriod.
CHRONICLE OF UWE HANTSBO'S NOTES, VOL. IV, RETROSTAR
CHRONICLE OF THE GREAT WEAVER PEOPLE A. S. 1997, The Secret of Dream Catching How Horace Brave Scout wanders the Southwest and finds his life-guiding vision among the caves and baskets of an extinct tribe. CHRONICLE OF THE GREAT WEAVER PEOPLE
CHRONCLE OF THE UTERO-NAUT A. S. YEAR OF THE CHILD, PART I, Orientation How Shawnta, a 19 year old wannabe careerist like her single mom, was processed at the local abortion mill newly opened in her black neighborhood.
CHRONICLE OF THE UTERO-NAUT, PART I, RETROSTAR
PART II, The Argonaut How Shawnta's unborn child (no such thing as "fetus" ever existed on earth), genius that he was, got going with the name of Jason on a very promising career that might well have benefited the whole society and probably the world, but was rudely interrupted by an abortionist's foreseps, scizzors, and vacuum--but also how the Master Plan created by the FC kicked in with a contingency plan to restore Jason's life and future.
CHRONICLE OF THE UTERO-NAUT, PART II, VOL. IV, RETROSTAR
CHRONICLE OF THE PEARLY GATES A. S. 1998, How a Pearl Was Made How a farmer's daughter's experiences in life and her decision to be forgiving came to form one half of a gate of heaven.
CHRONICLE OF THE PEARLY GATE, PARTS I-II, VOL. IV, RETROSTAR
CHRONICLE OF THE GRAND PUZZLE--Earth I A. S. 2001- How Anatoly, a survivor of a notorious Nazi death camp where Anne Franke and her sister perished along with tens of thousands of other Jews, spent his convalescence and waiting period to go to Israel by playing the lottery after the camp was in the hands of the Allies; how he shattered the laws of probability by never losing and always managing to win back his stake; how this impossible gambling feat came back to haunt him in the last minutes of his life as he lay dying in a Denver hospital, but how the Hound of Heaven led him to win the Jackpot of life, the greatest prize of all.
CHRONICLE OF THE GRAND PUZZLE, VOL. IV, RETROSTAR
CHRONICLE OF THE LOST CITY A. S. 2002, Last Breakfast in the West Wing; Melt-down on Pennsylvania Avenue How the Wasichu of the U. S., in moral and political decline over against the British Commonwealth ever since Potsdam despite the highly-publicized moon and space programs of NASA, are struck by an invisible enemy and lose all their chiefs at once, and chiefs from the rest of the world come and set up a new council fire for the nation on Manhattan Island.
CHRONICLE OF THE MILLION MAN FLESH-EATER, VOL. IV, RETROSTAR
CHRONICLE OF THE DEAD MOVIE QUEEN A. S. 2003, The Burning of Coburn How a Hollywood legend found that all her fame, fortune, and feisty feminism couldn't erase the incredible after-death reality that was evidently turning against her--not only did she find she existed when she should have dissolved into nothingness, but all sorts of strange, powerful beings seemed intent on judging her and then throwing her into what appeared to be a Pacific Ocean set on fire.
CHRONICLE OF THE DEAD MOVIE QUEEN, VOL. IV, RETROSTAR
CHRONICLE OF MOSHE, HONORGUARDSMAN A. S. "Night of the Iguana" How on Earth I, Moshe Benlevi, a young Israeli soldier, a freedom-loving Sabra, was chosen to be a part of Michael Jayson's honor guard in Israel when the EU President arrived there for the signing of his "eternal peace" accord he had brokered with the Palestinians and the Israelis. How Moshe tasted sour grapes in the deal and decided to stop the world (at least his slice of it) and get off, but how he was intercepted by someone he hadn't included in his life's equation.
CHRONICLE OF MOSHE, HONORGUARDSMAN, VOL. IV, RETROSTAR
CHRONICLE OF DJUGASHVILLI'S SERVANTS A. S. 2024 The Titan of CNNC A hostile takeover by Ted Hunter of a competing Christian network, Alpha-Omega, backfired tragically for him when his wife, converting to Christianity right in his own penthouse on top the CNNC Towers in Manhattan, took A-O's side in opposing him. A takeover that was supposed to be routine, thanks to his billions and an army of corporate lawyers, became a living nightmare when he met a world-class power player in A-0 that more than proved his match.
CHRONICLE OF DJUGASHVILLI's SERVANTS, VOL. IV, RETROSTAR
CHRONICLE OF THE FALLEN GIANT A. S. 2024, How the Dominion of Canada, like the Humpty Dumpty the ill-starred egg man in children's nursery tales, broke up due to the disastrous effects of resurgent glaciation but could not be put back together; how it gained an ephemeral capital called Flin Flondia, once called the "Sunless City," in a book by that name.
CHRONICLE OF THE FALLEN GIANT, VOL. IV, RETROSTAR
CHRONICLE OF THE LAST CAMELOT A. S. 2170-, 1. Idylls of the King
CHRONICLE OF THE LAST CAMELOT, PART I, VOL. IV, RETROSTAR
2. The Panther's Jaws
CHRONICLE OF THE LAST CAMELOT, PART II, VOL. IV, RETROSTAR
3. Women and Children First!
CHRONICLE OF THE LAST CAMELOT, PART III, VOL. IV, RETROSTAR
4. Le Morte D'X-2914000?
CHRONICLE OF THE LAST CAMELOT, PART IV, VOL. IV, RETROSTAR
5. "Merry Christmas from Lyonnesse"
CHRONICLE OF THE LAST CAMELOT, PART V, VOL. IV, RETROSTAR
6. Wotoo's Black Box; The Duck King
CHRONICLE OF THE LAST CAMELOT, PART SIX, VOL. IV, RETROSTAR
7. Last Wagon Train to Avalann How the Royal Tribe of Windsor fared in exile on a base off Charon, Pluto's moon, and how they adapted to the loss of Earth and the dissolution of the monarchy
CHRONICLE OF THE LAST CAMELOT, VOL. IV, RETROSTAR
CHRONICLE OF THE STAR CHAMBER A. S. 2363, Christ in Atlantis? How Professor Pikkard was tried before a university panel for his heretical views and found guilty without evidence to refute his case.
CHRONICLE OF THE STAR CHAMBER, VOL. IV, RETROSTAR
CHRONICLE OF CHRISTUS TRIUMPHANS, Parts I, II, & III A. S. 2392, The Christmas Factor How Dr. Pikkard, meditating on the mystic Teilhard Chardin's visionary commentary on a medieval painting portraying a "standing" not a "hanging" Christ on the Cross, went on to reflect as well as the Incarnation of Yeshua, and how he concluded that a mystic thread connected all things, even to the blood of the human body, but that he had to wait for a "later" and "younger" talent to make it known scientifically. How, unknown to him, that younger visionary came to be his own predecessor, a Darwininian Establishment-challenging young man named Behe in the 20th-21st centuries, along with his contemporaries, Gabriel Tall Chief and Horace Brave Scout, who traced golden threads and lesser threads in a grand "blood cascade" of their own in the chronicles they brought forth.
CHRONICLE OF CHRISTUS TRIUMPHANS, VOL. IV, RETROSTAR
Book Two
CHRONICLE OF YOSEF'S PILGRIMAGE A. S. 4117, Flight to Avaris How Yosef and his young wife Maryam, with Maryam's newborn Yeshua the Promised Messiah of the Jews, fled from troops and spies of Herod the Great to safety in Mizraim, and how they journeyed back to Nazareth, their natal city, once Herod was dead.
CHRONICLE OF YOSEF'S PILGRIMAGE
CHRONICLE OF THE SECOND RESURRECTION A. S. 4150, Secret Sharers, Part II How the Second Zechariah the prophet, slain in the temple courts alng with many other prophets and saints, rose from the dead as a sign of the resurrection of the Messiah way back in A.S. 30, and how he went into the holy city and appeared to many, after which he was triumphantly escorted by angels to heaven's paradise--a spectacle first recorded, with certain new additions to the Resurrection Rolol, by Secret Sharer Josheph of Arimathea.
CHRONICLE OF THE SECOND RESURRECTION, VOL. IV, RETROSTAR
UNCHRONICLE OF THE CHRISTMAS PLAY A. S. 4 6 5 ?, "Merry Christmas from Lyonnesse," A Play, How a miserly, cruel banker seeks to destroy a whole town he has foreclosed on, closing down the only means of employment, the town mill, and how a small girl, Emily Cogwell, revives faith and hope in the people by refusing to give up her own in the bitter circumstances of poverty and homelessness, and how she turns and saves the banker when he experiences a change of heart after seeing her standing alone in the town square holding the Nativity Scene's Christ Child doll.
UNCHRONICLE OF THE CHRISTMAS PLAY, VOL. IV, RETROSTAR
CHRONICLE OF THE DRIED SPRINGS IP A. S. 4760, A Chief's Son Named Laughing Waters How an old chief and his old wife who had no children were promised a son by God, and the old woman laughed, yet later she conceived and gave birth to a beautiful son she named Minnehaha.
CHRONICLE OF THE PEARL DIVER A. S. 5927 -, Shipwreck of Dreams How a despised half-breed, part Keftiuan and part Myceneaean (both nations bitter enemies in the world) and Prince Daedalus do not get along and almost come to blows over the pretty orphan girl Theseus runs off with, and later after the girl's death (and the shipwreck of Theseus's dreams) how they find a way past hatred and revenge. CHRONICLE OF THE PEARL DIVER, VOL. IV, RETROSTAR
CHRONICLE OF THE FIRE WATER MAKER A. S. 5931, The Chosen How a brewery malt masher got herself a mighty warrior as a husband, and how her head was knocked in by other poor women, and left to die, but a great chief's prayer gained her the ear of the Most High and she was healed. CHRONICLE OF THE FIRE WATER MAKER, VOL. IV, RETROSTAR
CHRONICLE OF THE BLESSINGS OF THE BREASTS A. S. 5932-, The Wayward Vine How the births of two sons, Manasseh and Ephraim, comforted and cheered Joseph in the land of his bondage, but how his beloved wife and companion's heart turned toward her people and away from her husband.
CHRONICLE OF THE BLESSINGS OF THE BREASTS, VOL. IV, RETROSTAR
TWIN CHRONICLE OF THE AMBUSHED MAIDENS, TWIN CHRONICLE OF THE AMBUSHED BRAVE A. S. 5934, 1. Dawn Flower
TWIN CHRONICLE OF THE AMBUSHED MAIDENS, VOL. IV, RETROSTAR
2. The Prince of Gilead
TWIN CHRONICLE OF THE AMBUSHED BRAVE
How a chieftain's daughter and her maid-servant fought for their virtue; how the maid-servant escaped to safety and found a young man she could make her husband; how a prince, robbed of all his wealth, was left for dead in the desert, and how he found a greater wampum.
CHRONICLE OF THE BITTER ROOT A. S. 5938, Abdullah's Return How good times fattened Abdullah but did not improve his character, and how resentment and blood revenge took root in his heart, and how he could not rest until he avenged his brethren's deaths on the head of the chief of those he held responsible--Joseph. CHRONICLE OF THE BITTER ROOT, VOL. IV, RETROSTAR
CHRONICLE OF FAT WOLVES AND HUNGRY PEOPLE A. S. 5941, Part I, A Bruised Reed and a Broken Staff; Part II, The Return of the Brothers How the little family tribe of Joseph's father began to starve in their desert hogans and needed to go for provision in another country where there was said to be abundant food and water, thanks to a most far-seeing ruler in it who had set aside one fifth of the harvest for seven straight years of abundant harvests.
PART II, CHRONICLE OF THE FAT WOLVES AND LEAN PEOPLE, VOL. IV, RETROSTAR
CHRONICLE OF THE FAR-SPEAKING VASES A. S. 5931-, 1. Secret Diary of Ipu-Pheres (cont. by Benohe-Pheres); A. S. 5942, 2. Letters of Ipu-Pheres, Jonathan H. Thompkins, and Bertha Mae 3. Letter to Reader by Editor of the 23rd Edition of RETRO STAR series. How spirit-house shamans who have not yet been born could talk to people in stone tipis which had long since vanished under the ice. CHRONICLE OF THE FAR-SPEAKING VASES, VOL. IV, RETRO STAR
CHRONICLE OF THE BLESSINGS AND CURSINGS A. S. 5957, Jacob's Last Testament How all his sons received their future shares in the Promised Land and how his blessings in some cases seemed more like curses; how Jacob's embalmed body was carried back to Ken'an and buried with his father's bones. CHRONICLE OF THE BLESSINGS AND CURSINGS, VOL. IV, RETROSTAR
CHRONICLE OF THE BLESSINGS OF THE EVERLASTING HILLS A. S. 6011, The Kingdom Pledge How Joseph, on his deathbed at age 110, prophesied that his bones would not lie forever in Mizraim, but they would be gathered to his fathers in the Promised Land by his people. How seventy five years of great blessing followed Joseph's death, but then enslavement of the Hebrews began. How blessed was the one piece of ground, the field outside Shechem, owned by the people of Jacob and Joseph. CHRONICLE OF THE BLESSINGS OF THE EVERLASTING HILLS, VOL. IV, RETROSTAR
CHRONICLE OF A CLOUDY AND DARK DAY A. S. 6719, A Mighty Chief Called Barley Cake How one young brave was chosen by God to fight tribes of thousands of enemies that oppressed and starved his people, coming every year and taking all their food away. CHRONICLE OF A CLOUDY AND DARK DAY, VOL. IV, RETROSTAR
CHRONICLE OF THE GIANT-SCALPER A. S. 6852, The Runt of Ephratah How a tribesman of tiny Ephratah, smallest portion of a small country, he himself youngest in his family and despised by his brethren, killed and scalped a giant warrior and became the chieftain of the whole country and one of the most famous kings in human memory and whose second name is spread over the whole earth.
CHRONICLE OF THE GIANT SCALPER, VOL. IV, RETRO STAR
CHRONICLE OF THE CHIEFTAIN'S DAUGHTER IP A. S. 8732, Elektra's Contingency Plan--Implemented How a chieftain's daughter lost her last sky-canoe and seemingly all her people but found a tribe who didn't know better and took her along with them.
CHRONICLE OF THE CHIEFTAIN'S DAUGHTER
CHRONICLE OF THE SEVEN STARS, THE GREAT WHITE CHAIR, AND THE END OF EARTH'S SKY-TRAIL AND THE GREAT LAST COUNCIL FIRE (EARTHS I AND II) Z-Point II
GREAT LAST COUNCIL FIRE, VOL. IV, RETROSTAR
1. Z-Point Deferred: Battle of the Seven Stars How, on Earth I, the "Light Bringer" Lucifer attacks the Seven Agensl of the Seven Cburches, determined to gain absolute control of Earth I, and how he uses this attack as a feint in order do the most damage he can to his true objective: the Blue Bridge of Orion that contains, he senses, to the Plan of Restoration for both Earths and their Universes.
CHRONICLE OF THE SEVEN STARS, VOL. IV, RETROSTAR
2. Part I: The Sentencing Trial: The Great Assize Part I How all the people who had done bad things were shown what they had done and were cast alive into the mouth of a Star-Eater along with all the spirit-creatures that lodged inside the enemy stars. Part II: City of Destruction How the cities and nations were judged and then their names and official seals and insigne cast into the Pit, and all memory erased in the mind of God of their former existence.
CHRONICLE OF THE GREAT WHITE CHAIR, VOL. IV, RETRO STAR
Part II, CHRONICLE OF THE GREAT WHITE CHAIR, "CITY OF DESTRUCTION, the "Emerald City", VOL. IV, RETROSTAR
CHRONICLE OF THE BLUE BRIDGE LINKING CHAMPIONS--EARTH I AND EARTH II How the Bridge once linking the Twin Earths was restored in the Cavern of the Great Nebula of Orion, a work that spanned the ages and completed the destiny of both worlds; how the choice to forgive by one wounded human being, a pioneer Exoduster's daughter from a farm in Kansas, joined the two half-spans together forever.
CHRONICLE OF THE BLUE BRIDGE LINKING CHAMPIONS
2. Homecoming of the City of the Great Chief IP How the council gathering of the Lamb of God, finished after an eternity of careful construction, came down from heaven and set upon the center of restored Israel, where the Nail-Pierced One and his tribes would rule the Earth's nations for a thousand years until the Final Reaping of the Earth.
Volume V Beyond the Rapture--An Eschatology Lived,
Chronicled by Horace Brave Scout
CHRONICLE OF THE GREAT CHIEF'S RETURN A. S. 200? How Yeshua comes to Earth I, unexpectedly to most people, gathers those few "Wise Virgins" who are prepared, and leaves those who were tremendously successful followers, they thought, only to find themselves lumped with the ungodly in a world society racing toward the abyss. How Heloise Turnbull, the televangelist, lost her world-wide organization and wealth along with her husband and family but found new life and a new ministry in Israel where she fled to escape the collapse of everything she had achieved.
PART ONE, JACOB'S TROUBLE, "THE VOICE FROM THE GROUND"
"Thief in the Night," Part Two, Beyond the Rapture
"The Spin Shamans," Part Three, Beyond the Rapture
"luv heat and the marcyz boyz," Part Four, Beyond the Rapture
"Hard Choices, Part Five, Beyond the Rapture
"The Wailers at the Wall," Beyond the Rapture
"Shelter from the Storm," Part Seven, Beyond the Rapture
"A Covenant God," Part Nine, Beyond the Rapture
"The Lion Unleashed," Part Nine, Beyond the Rapture
"Retreat to Petra," Part Ten, Beyond the Rapture
Please return for Book Two of Beyond the Rapture, "Yom Kipppur"
(Chronicle completed)
Volume VI Natal Convergence
by Horace Brave Scout
CHRONICLE OF THE LOST TRIBE A. S. 1,136,786 How the Alpha Centaurii discovered an archive of Late Twentieth Century artifacts in a time capsule, and information revealing a Magnum Mysterium that revolutionized everything, to the point where they chose the dreaded White Martyrdom, a final search of the Universe for what they had lost, in which they discover what Ira Sulkowsky has already shown them in.... "The Christmas Factor" 61000202A-Z, Subfile A1, "Dogon Star Child"
61000202A-Z, Subfile A2, "Lakota Nativity" 61000202A-Z, Subfile A3, "A Victorian Christmas" 61000202A-Z, Subfile A4, "Christmas with James Dean"
"Subfile A4: Christmas with James Dean, A Requiem with Poinsettias" 61000202A-Z, Subfile A5, "A Fawn in Winter" 61000202A-Z, Subfile A6, "A Fulani Christmas"
"A Fulani Christmas," Vol. VI, CHRONICLE OF THE LOST TRIBE, RETRO STAR
61000202A-Z, Subfile A7, "Street of Dreams" 61000202A-Z, Subfile A8, "Winter Rose"
CHRONICLE OF THE LOST TRIBE, WINTER ROSE, VOL. VI, RETROSTAR
61000202A-Z, Subfile A9, Act III, "Christmas from Lyonnesse"
61000202A-Z, Subfile A10, ACT III, "Joseph's Letter"
CHRONICLE OF THE LOST TRIBE, VOL. VI, "Joseph's Letter," RETROSTAR "Natal Convergence!"
Volume VII Final Wars...Convergence at Orion by Horace Brave Scout IP
How two major battles fought for Orion and its secret "Skunk Works" resulted in the destruction of the chief project, the Blue Bridge, to the point where only half survived in each Universe; and how a single act of an individual was strong enough to unite the two halves into one whole, thereby completing the bridge and defeating the opposing players.
Epilogue II EPILOGUE II, "THE HARROWINGS OF HADES AND HELL," RETRO STAR
NOTE OF FRIENDLY REMINDER TO DOWNLOADERS: THIS CONTENTS PAGE DOES NOT LIST A GREAT MANY COMPLETED CHRONICLES, SO THERE IS NO WAY DOWNLOADING CAN OBTAIN THE COMPLETE RETRO STAR SERIES. WHAT IS GIVEN TO PUBLIC DOMAIN HERE IS JUST ENOUGH TO OPEN A WINDOW ON THE SERIES AND ITS POSSIBILITIES TO WHOMEVER IS SERIOUSLY INTERESTED.
In the early morning, just before dawn, the captain sprang aboard his ship, and woe betide anyone who was late! He might have to swim a bit, yelling for mercy, before he was thrown a line and dragged sopping aboard!
The ship did not have to sail far. Honan pointed to his "humble hut" on a high ridge just beyond the forest's edge. Off to one side they could also see the king's mount, where his palace and fortress had stood, but were now in ruins, Honan said to Jason.
He explained further as the ship moved past the mount, and the once thriving city and port.
"Once the Fleece was hung in the sacred tree in the holy wood, the king found he could not sleep as well as before. This was the father of the one who took the throne, the treasure, and the army and navy away--leaving the people to fend for themselves. Many followed the king, the others tried to stay here, but the city dwindled day by day without the king's trade and the ships that came to do business with him. Finally, no one was left but my household."
"But what about the Fleece of Prixus?" Jason prompted him. "And tell me what happened to the hero and his sons, if you please!"
This seemed a hard question for the woodsman. He started on first one thread of it, then another, but finally settled on a way to tell the story. "As I said, Phrixus made his sacrifice of the winged ram which had carried him hither in safety from certain death in his own country. But this Fleece did not set well somehow in our kingdom. Our king could not sleep while it hung in the boughs of the sacred oak in the forest. He also began to see how Phrixus's family was growing apace, with new sons being added to his family yearly, like so many vigorous beansprouts, while he had only one son of his own..."
Honan paused, scratching his beard, and shaking his head as if in amazement over things he only could see.
Jason, quick-witted and hot-blooded like most all his fellow Achaeans, was growing impatient with the woodsman's not getting to the point. He was about to say something when the man resumed, more quickly this time, as if he were anxious to quit the story and return home, which was now drawing close to them all as they were looking up toward the high ridge on which it could be plainly seen for miles around.
"Forgive me, sire, I am old now, and my teeth are loose. These things took place so long ago--only my mother is alive to tell of them fully. I was only a boy at the time. Well, as I said, the old king could not sleep. Finally, he decided. Phrixus went hunting, as he liked to do, and he did not return from the mountains. His sons fled, perhaps fearing they too might disappear in the same manner. The Fleece, we all thought, was forgotten. But no, men came hunting it, having heard of it, its fame being spread all across the wide world by traders. Everyone had the name of Phrixus on their lips--wishing to see him and hear him tell the grand story--but he was not to be found. They were all very disappointed, hearing how he had vanished hunting, killed and eaten by some wild beast perhaps.
The braver ones wanted to go and see the Fleece for themselves--and the king let them go with his good wishes, knowing that a great serpent had lately made its den near by the Fleece hanging in the sacred oak.
Where had the serpent come from? No one could say for sure. It was sent by the gods, the folk thought. It was the divine guardian of the Fleece, so that profane hands, could not sully or taint the holy thing from heaven. That seemed reasonable to most people. Others, however, said the serpent was an evil thing--and ought to be slain and the Fleece regained. If they were brave and had the courage, the king encouraged them to just try it. He was sick to death of the Fleece by this time, and wanted to get rid of both it and the serpent and these foreign "looky-yous" to boot.
One after the other took the old king's offer and went--and never came back to brag about it. The Fleece remained right where it was--to the king's disgust. He could not sleep--no sleep potion sufficed to bring him a night's peaceful repose. Haggard and dark around his eyes, he could scarcely drag himself to the throne for each day's business.
At this point the king's son, now grown the age when a young man might take his aging father's scepter (willingly given him or not), intervened. The king was found dead in his royal bed, a pillow nearby with the king's own features impressed into it. Some said the pillow's image was a sign of the gods, that this king's fame would live forever, with his image breaking forth everywhere, just as it had in the cloth of the pillow.
The new king, Aeetes, did not like the Fleece in his vicinity any more than his father had liked it. He up and moved his throne and kingdom treasure, taking his navy and army, downriver to a new site closer to the river's mouth...
By this time, the ship was at the shore edge, with the men poling for depth as they maneuvered to the best, sheltered place to anchor the ship.
Jason turned to the business at hand. "Thank you, woodsman! But now, what is your wish? Do we let you go, and we continue on our way seeking the Fleece? Or will you guide me to it?"
Jason had said the wrong thing here, evidently, by the woodsman's expression. "No, sire, I do not dare do such a thing. But I will take you close by, where the serpent begins his tunnels. From there you must go on your own!"
"Agreed!" Jason said. "But I will give you a reward for all your troubles."
The woodsman bowed. "Please come now with me, sire, and bring your men, and I will give you quarters for the night, and perhaps something to eat, and a pillow for your head?"
That sounded very fine to Jason's ears. He nodded, and the woodsman beamed to think he would be the host for such a fine hero as this one--whom he had almost despaired of every seeing. None of the other claimants of the Fleece had filled the discription Phrixus had given him of the glorious One who would come to liberate the Fleece and set free the men of earth from all the shackles of fear and sin with it--no one but this One-Sandalled, had even come close to the vision given him as a boy by the noble hero Phrixus.
Beside himself with excitement to think that the vision given him as a boy by Phrixus was now coming true before his eyes, Honan scrambled from the ship and dropped into the shallow water at the river's edge. Climbing up to the bank, he waved to the Argonauts to follow. But he was not going to wait long, as he began moving up toward the house on the ridge. The Argonauts, as they completed their duties, were given leave by Jason. He set a guard at the ship to await him, and he was last to leave of those going to stay with the woodsman in his house.
The woodsman had evidently sounded the news before the Argonauts reached the house, which was really not a hut but a number of rather large earthen rooms, some reaching to a double height, with log and thatch roofs, and all wood-plank floors. The woodsman met them at an outer gate and drew Jason into the compound which was ringed by thatch and timbered outer walls.
"My family lived here a long time--and I am the last, though I have this one son who may live here when I am gone. Here he is, with fresh water from the brook that runs from the ice on the mountains above. I named him Anakreon, which you might like--being an Achaean name."
Honan turned to his son. "Show our honorable guests what the vase you carry can tell us about Phrixus and the One he spoke of to me as a boy!"
Anakreon seemed very pleased to do this. He set the vase down and ran off. A short time later he returned with a hand of grapes from the vines that grew round the sides of the house and compound. He rubbed them on the sides of the vase, and suddenly pictures formed. Jason gazed at scene after scene, showing Phrixus flying with his sister Hele across the waters between Europe and Asia the Lesser--and then Helle falling off into a channel and perishing, while Phrixus clung to the winged Ram of Heaven all the more and continued safely to the land of refuge, far Colchis. Here he sacrificed the Ram out of gratitude for its service in saving his life from the wicked king of his country.
All this Jason recognized from the vase's grape-tinted pictures as he turned it slowly round in his hands. Finally, he came to the One promised by Phrixus, pictured as a man with one-sandal and one bare foot, just as he had chosen to go shod and unshod in the wide world on his quest.
"See, you, you are the One the vase of Phrixus speaks of in the oracle!" shouted the woodsman, unable to contain his joy. He shouted again, and there was a commotion inside the house. Jason saw someone coming out of the dim interior of the main dwelling, a very old woman.
Jason, sensing her great age and dignity, rose, wiping the grape stains from his hands as best he could.
Hobbling with a burl-headed stick clutched in one hand, she made her way toward him as he waited.
She stopped a few paces away, fixed her one good eye on him, and seemed to be thinking or meditating on things few people could know.
Since she seemed to sway on her feet, perhaps fearing a fall on the hard stones, Honan reached out to steady her, but she was sharp in her remaining eye, for she flicked her stick at his hand and he withdrew it quickly.
"I will speak to this One privately--you all go away!"
Evidently, this old woman ran the place, or thought she did--Jason observed--as Honan retired a few paces off without protest, and Anakreon also left with the vase, carrying it to one of the outbuildings and going into it.
Jason bent low to hear the old woman, who was speaking to him in a measured, slow, but understandable Achaean speech, though it sounded terribly barbarous as she remembered it from the day of Phrixus.
"Greetings, I am your humble servant, Bagdiela, born in the city to Tammod the tanner. He worked for Phrixus, preparing him clothes and armor and such, for a good price too! Phrixus always paid us well, and we never cheated him, nor did he cheat us! Phrixus was my father's friend, and I was my father's favorite, marriageable, and liked him very well, but he had a wife, and his sons too took other wives. So I married one of my own people--and he was not so good as Phrixus and his sons--but he brought me to this place, and I have lived her all my days since we were made man and wife.
Her eye brightened as she turned from the dim shadows of the past. "But that is like a leaf blown away by the wind of winter--it will not come back to the tree from which it sprang. I wish to tell you something more! Please hear your daughter, noble Stranger! I am free to tell you!"
A tear began forming from the old mother's good eye, even as Jason watched.
"I have gone grey at the temples, yes, my head is white, there's nothing of the grace of youth that's left to me, and my teeth are like an old woman's. Life is lovely. But the lifetime that remains to me is little. For this cause I mourn. The terrors of the Dark Pit never leave me. For the house of Death is deep down underneath, the downward journey is to be feared, for once I go there I know well there's no returning..."
Jason, impressed by the old woman's profound wisdom, did not know what to say to comfort her. What she said and described was true--true for all mortal men! All men were enslaved by one thing: the fear of death. How could he help her, when he too had to admit he was a slave to that fear--despite his youth and strength. Someday too he would find himself turned old, and hobble like a bent old woman a stick in her hand, poking at the ground to steady her! Such was a fate no one could escape, if he lived long enough! And death--that was the end of all lovely things--it was the Dark Pit that he had to look forward to as his destiny, in the utter end! It was enough to make him too mourn, even as he was on the verge of finding and winning the Golden Fleece of the Heavenly Ram!
Compassion for the frail, old one, who no doubt would sink into the Dark Pit soon, swept over him, and he forgot about himself. "Please, old mother, do not trouble your mind so! You have your sons and family--a roof and house to shelter you from the evil winds and ice and snow of winter, even those that you feel now are chilling your bones. Is this not favor from the high God? He has been good to you, has He not?"
She seemed not to have noticed his interruption as she gathered her breath and energy. Still swaying on her feet, she eyed him even more keenly with her one good eye. "Noble Youth! Hear me on this other matter. I am not worthy to tie even the lachets of your sandals (she had not noticed he wore one sandal and it had no companion), but permit me this much.
"Good men, I have observed a few such in long life, are those who keep good faith and keep their souls from sin. They say, among the wise of my people, and yours too, as Phrixus told my father and me, that such good men do not go to the Dark Pit below as slaves forever to darkness and fire forever, suffering their desserts without release. No! They sail in the ship of the gods to the tower of Cronus, where the winds sweep from the Ocean across the island of the blessed."
She lifted her walking stick, as if to strike Jason in his chest. "Tell me the truth now! Is there such a place as that? Is that the end of good men who do not sin and who keep good faith in heaven's will for them? Speak!"
Jason's thoughts whirled. Put on the spot like that, he was helpless to think of a way to comfort the old seeker and yet tell the truth, as far as he knew it. He had his doubts, that any man could be so good as that: to deserve to sail on the heavenly ship to the isle of the blessed on which the wondrous Tower of Cronus climbed all the way to heaven's height.
"No," he said, truthfully. "Yes, there is such a place, but it is not gained by any of us, for our fathers and we have sinned against one another and not kept faith enough to earn a sailing to the lovely island of the blessed." He was not surprised when his reply was not what she wished to hear, though she had demanded the truth from him, not the humoring of an old woman turned toothless and witless.
Her shoulders sagged as he finished speaking, and he saw she was slowly collapsing, as she was losing her grip on her stick and was about to topple over.
He quickly added, reaching out his hand in case she did fall, "But do not despair, dear mother! I've come to tell you something almost as good. Even if we fail to be chosen to sail to the island of the blessed and live forever in the Tower of Cronus, there is another place we might still find for our future home..."
Surprising Jason, she reached out and caught his offered hand, and as she leaned on him, he felt her whole weight was as light as feather!
"Yes, what place is that?" she whispered, as if it were her dying gasp.
"My father told me before I set sail for this land. He said the singers had told of it to his forefathers. There is a city below this wide and green earth, lit with a sun of its own, and there scarlet roses bloom year round, fragrant as frankincense, and the trees are heavy with golden fruit. In this place the best of men can go and be at peace and be comforted for their troubles in life. Here you will find your rest, good mother!"
There was a pause, and it seemed chilling to Jason. The hand in his was like a bird'[s claw, only icy. She witdrew it sharply. "No!" she hissed at him. "I won't be held worthy of even that place! It is the Dark Pit for the likes of me, for I once killed a rival for my husband with poison in her wine! I know there is no hope! I had hoped that You, the One that Phrixus promised, would say a word or two that might guide me rightly."
She turned and started to hobble off back to the doorway of the house, then stopped. "But you don't know? Why is you cannot tell me what I need to know? I do not have any time left to wait for another to tell me. It must be you--or I am lost! Lost forever! I shall not escape the Dark Pit after all!"
Jason, forgetting that his Argonauts were staring at the both of them, wondering how long the private interview might continue, went and knelt down at the old mother's side. He grasped her hand gently as he could, the bones might break, they were so thin and brittle with advanced age and long wear.
He gazed into her good eye, and said, "No, I cannot help you this moment, but I am going to get the Fleece. It belonged to the Ram of Heaven. I believe it is the answer for you, and me too in my time when the darkness comes to claim me. What will I have to answer the darkness of death? It will be the Golden Fleece, shining of heaven's glory in my dying grasp. That too will be yours to grasp, old one! I will bring it to you--only do not breathe your last before I return! Promise me this, old mother!"
The words poured straight from his heart. They would have raised a smile from any other person, particularly those from the great cities of the earth, where such questions are laughed at as trivial concerns and nothing that need concern a busy, learned man of the world and its affairs. But this simple old woman heard Jason's words gladly, drinking them in without any doubt, and trusting him unreservedly, as he could tell by the wave of gratitude that shone so brightly in her one good eye.
She seemed to relax, and he then helped her into the house where she sat down on a large pillow. There, Lyssa, a daughter of Honan, met them, carrying clean, woven cloth for their heads to lie upon at night and also keep off the night chill from their bodies.
Honan gestured to Anakreon who had returned. "Show our honored guests their room, and then lead them back here when they have washed and refreshed themselves a bit, for we will have a meal prepared by then!"
Jason thanked his host, then with his men followed Anakreon to their quarters in the newly swept outbuilding. Lyssa also followed discreetly, keeping her eyes averted, as she lay out the cloths for them, and then swiftly left to go for more from the big wooden trunk that her father had made.
Jason, seeing his men begin their washing, stepped outside for a moment. He glanced up into the heavens, and struck his thigh with his fist. How could he have been so presumptious as to promise the old woman all that? It was enough to promise the Fleece, or at least the sight and the touch of it--but that she should escape the clutches of the Dark Pit below on her dead soul? Was he a god to promise her life among the blessed? He struck his thigh a second time.
Disgusted that he had mislaid his sense and been so careless with his tongue, he gazed toward the river, beyond the ship, and then across it to the deep forest where the Fleece was hidden somewhere in a grove of ancient oak trees. There the tapestry of his life would be woven afresh, the threads of the Fleece, the serpent, and whatever he did there to take the Fleece from its guardian, all drawn together in a pattern he could not see now, but which all the world might look upon later, when he was long gone from the earth. That much he knew for certain.
More than anything, he wanted to go immediately off someplace and think through the issues that had been stirred up in his heart and soul when speaking to the old woman. But first he had to attend to urgent business. He hurried down to the ship, the dogs following him half-way down the steep slope.
He found Mopsos and the boys eating a fish they had caught and roasted over a fire Mopsos had made on the beach. Jason took the seer aside for a more private talk--and they sat down on a large rock. Jason began.
"I am free to tell you this as a friend, no longer a captain over you. I make you master of the ship and the expedition, for I give my authority to you. Though you are not a man of war at heart but a man of peace, I trust you will love these men and lay down your life for them--as a captain sometimes must if he is to lead them worthily..."
Mopsos, gazing at Jason with widening eyes, said nothing, but his eyes were saying much to Jason as he continued with his message.
By now the boys had finished the fish and were playing small lengths of cast-off ropes, tieing knots that Mopsos had taught them. The eldest, Piros, was trying to catch a fish with a noose tied at the end of his rope that he threw into the water--while the others were laughing as he only got sticks and reeds for his trouble.
"Will you take this ship and the men back to their homes for me, should I not return?"
Mopsos did not respond for a few moments, his face full of questioning, but then he nodded, and Jason, relieved, went on.
"Very good! I know that much needs to be explained, but that is the most important matter. If I do not return, you may go and find out what has become of me. If you find my bones, burn them, or bury them beneath a pile of stones to keep the wild animals from gnawing them. Then take the Argo and sail her back to Iolkos. My effects are yours, but this is the disposition. First, do not tell my uncle the king in my place anything. He will want to interfere, if you do. Do no accept any favors or advice from him either. Conduct your business swiftly, and then depart without informing him of anything. His spies are everywhere, so they will bring tales to him anyway of your actions--that is why you must be swift to do them before he can divert or stop you.
Jason paused, gazing at Mopsos, and again Mopsos, knowing the ways of kings, nodded.
"Go and speak kindly to the widows of all the Argonauts we have lost, and do what you can for them and their families. Sell the ship for a good price (and it has many years of sailing left in her!). Give a fair part to the widows, and to the widows of Phrixus's sons if you can find them, and to my aged parents. There should be enough for them all in the ship's sale--for she is Argus's craftsmanship, highly valued by those who know fine work. As for the men who have served me so faithfully, give them my belongings, whatever I have left with my parents that they do not wish to keep, and also whatever I have left on the ship."
Jason smiled, and paused. He reached and unstrapped his one sandal. He handed it to the amazed seer. "This is yours. Its mate I left at the Mountain Gate of my city to await my return as I promised it! A beggar there saw me leave it--he may still be there, so greet him in my name and give him a silver piece! But you take it as a token remembrance of me. I would gladly give you my sword and shield, my friend, which are my best things, but you are not keen on such things, so I thought my sandals--which my father made carefully for me and this journey--might be of more value to you."
He then told Mopsos about the jeweled casket. Taking the boys, they returned to the ship, where the boys continued fishing with their knotted ropes.
Jason got the casket and removed the lock of hair. Tieing it to a lock of his own, he handed the casket to Mopsos. "Whatever you get for it in the jewelers' lane, take some gold or silver pieces for your own journey in life, and give the rest to the poor and the aged widows."
After he got out his cape, Jason turned to go, putting his hand on Mopsos's ox-like shoulder. "I will need this for the night chill, so I will take it along with my weapons."
Mopsos was glad he took it along. It would help to identify Jason's bones beyond doubt, as it was dolphin-fringed, of a kind only an Achaean prince or king would own.
Now that the business was finished, Jason was more sad than excited. He might be seeing Mopsos and the grandsons of Phrixus, not to mention his Argonauts, for the last time. Despite this strong chance, he did not look back.
Grasping his shield, as sword strapped to his side, he went over the side, dropped into the shallows, and climbed out on to the shore.
Mopsos and the boys stood watching him go as he climbed the ridge. He vanished from sight just as they heard the first yips and barks of Honan's guard dogs.
Recognizing his scent, they did not rush at him as before, but rolled on the ground, baring their throats and their bellies to him in friendship. Only the black one, half a wolf, growled and while not running silently at him as before moved slowly away up the trail ahead of him. She paused, glancing back at him, and Jason met her eye.
"That one I would like to have given me by Honan if he would part with her," he thought. "She has an unchained spirit I like in her--much freer than the dogs!" At the moment their eyes met, he felt she had some liking for him, despite her growls and show of unfriendliness. Why was she leading him like that, if not because she were drawn to him despite ancient distrust of man woven into her?
The boys were full of questions for Mopsos, who at first seemed distracted and was not hearing them. When Jason was out of sight, only then did he turn back to the boys and try to answer them.
As children do, they had sensed something serious had happened, and wanted to know exactly what it was.
"Where is the captain going? Can we go too? Why doens't he take us with him? Why do we have to stay on the ship when the others can go free as they please? This is no fun, we want to go with him! Father Mopsos, let us go! Please!"
"All these questions!" Mopsos chided them, pulling them to him with his big arms. "I will tell you the answers, one by one--but not now. Wait a bit. We have something better to do first--a new game you all can play!"
Their eyes brightened. Despite some Colchian ways, they were easily diverted, like all high-spirited Achaean children, with the possibility of some new toy or new game.
Mopsos did not know what to do when he promised it, but fortunately he thought of a game he had played as a child with his brothers and friends. Would they know it? He took a chance, offering "Hide and Seek a Cowardly Barbarian." He showed them how to play it, as he was too big to hide himself on the Argo. None of the boys had been taught it in either Trapesos or Colchis, so it was a delight for them. Scattering to hide themselves as cowardly barbarians would, while the seeking Achaean "champion" waited until they were out of sight, they soon had forgotten Jason's strange leave-taking.
As the boys slept that night, Mopsos remained awake, looking out and up toward the house of Honan on the high ridge. Where was Jason, and was he staying the night with Honan? Would the Argonauts return in the morning. They had to wait to see if Jason would return or not from his solitary quest of the golden Fleece--for he understood fully that Jason would go alone to complete the king's tasks and not put any of his men at risk--that was the reason for his last testament and will.
Finally, after seeing the stars of Orion the Hunter begin to rise above the snow and ice-crowned crags of Colchis, he lay down with his cloke over him. It was very quiet and still under the stars--with little wind. He began to drift into sleep when he felt "Bump!" on the hull. He thought nothing of it--a floating log perhaps--which would do no damage in the shallows.
Bump! Mopsos felt it more than the first one, and even heard a swishing sound, as if a big fin had clove the water. Bump! This third time, the bump on the hull came from the opposite side of the hull.
Alerted, Mopsos sprang silently to his feet--which was a little amazing, considering his size. Grabbing a sword, he carefully moved over to the side and vicinity of whatever or whoever had bumped the ship's hull.
What could it be? he wondered, as he peered into the dark. The moon and stars were verhy bright, and the water like glass, but a shape of something rose in his vision, parting the waters with s knobby snout and big paddle-like fins.
Astounded, Mopsos realized what it might be. The dolphins had followed them all this way?
To make sure, he went and got a left-over roasted fish and threw it into the water. Immediately, a dolphin leaped out, grabbed the fish, and enjoyed its tasty, fried snack.
Three other dolphins appeared for their snacks, circling round and waving their snouts at him.
Mopsos wanted to get the boys up, he was so delighted, but he decided to let them sleep. There would be enough excitement in the morning. The dolphins would not leave them now--they had come a long way.
Taking a parting look at his friends after throwing the last scraps of the fish meal to them, he went back and lay down.
After leaving Mopsos and the boys at the ship, Jason reached the house of Honan and paused for a moment at the entrance of the main, timbered room where the family gathered to eat.
The door had been left open for the fresh air of the early evening to enter. Inside he could see his Argonauts (not in Mopsos's charge) sitting at the low table, filling themselves to their hearts' content with the good Honan's gracious hospitality.
He put a sandalled foot up and the instant it touched the step he knew he was not going in. He also knew what he had to do. He set his foot down and knocked on the lintel to get the men's attention, and Ancaeus came out, his face showing his surprise that Jason was remaining outside.
"Tell the others for me, and our host, that I will be going to complete the task set for me by the king--and you are to wait for me--and Mopsos is put in charge of you in my place. If I cannot return on my own, or have been slain by the dragon, you are all to return home under his leadership as captain. Serve him faithfully as you served me!"
Ancaeus nodded, his eyes grave and his jaw firm. "I will tell them all what you said, captain!" "That is all," Jason said, turning. "Mopsos will tell you all he has been given to tell you--and please do not remain here at Honan's and eat him out of house and home! Hunt and fish, and share with this family what you have--will you? And thank Honan for me! I will bring the Fleece here, as I promised the old woman of the house and gave her my pledge, when I return--if I return, God willing."
Jason patted the trustworthy Ancaeus on the shoulder, then left, taking a path that lead up to the mountain slopes above. Safe for the night, the goats of Honan were all in wattle-enclosures, guarded by the dogs, he noticed as he passed by.
He did not see Honan or his son or daughter or wife. No doubt they were busy preparing a second course for the Argonauts' fine dinner--for he knew that Colchian dinners could go on for hours, course after course!
As for himself, he did not want to eat anything now. He had to get himself alone, as far from people as possible, and deal with the things storming inside him--things he could not even tell Mopsos.
Climbing as far as he could in the remaining light, he stopped on a ridge of level ground where many small streams of water from the snow and ice crags came running together and made a single brook. Here he could rest his thoughts a bit within sight of the playing water, he thought, as he sifted through them and tried to understand certain things better.
cloak With his cloak around him, he sat on a smooth stone, and tried to rest, but his thoughts continued to whirl round inside him despite the peaceful setting.
He rose up restlessly, looking out over the wide world spread beneath his high perch, while his hair blew back, releasing the red-gold lock of Medea's hair from his own black mane.
The stars shone like lustrous jewels, shining particularly bright in the sign of Orion the Hunter, which he, like any Achaean worth his salt, always loved to see greeting him from the heavens.
The troubles of his heart and mind--they did not go away because he was able to see the beauty of the world so well from his vantage--so he sat back down.
It was high time he sought the counsel of high heaven! he thought. How rarely he had done that, he considered. Being a busy man, he was most at ease with action, not reflectin and meditation. Few men were like Mopsos--very few, indeed! But that did not mean Mopsos was to be pitied. Indeed, kings sought him ought for his rare wisdom--even though he was yet so young a man that his wisdom shamed the white-bearded counsellors of many kings.
But Jason knew it was not Mopsos's destiny that was at issue that night--nobody's but his own, he realized. Suddenly, he burst out like he had never before done--speaking his mind and heart freely to the heavens and the God of the heavens and the earth. Would God hear him, the words of a mere mortal? He did not stop to wonder about it, he was so full he had to speak, believing he would be heard even though no one among his people could have assured him that his words would reach as far as the windows of the palaces of the Most High God.
The Most High God? That was the God, he knew from his father who had spoken of Him. His people no longer regarded him, but they had run after many gods, offering them bribes for this and that favor--but he did not want to think about such foolish people. The priests of the temples were greedy for people's offerings and money--that was the reason for the whole thing. Not one priest could get the ear of the Most High God--they would scoff at such a thing. But this god's image, with a suitable bribe, would not disappoint a man!
Pfaugh! What pig slop this was! How ugly the whole religion of the Achaeans had become! Jason thought. He agreed totally with his father and Mopsos and Orpheus. It was a depraved, selfish religion--and fooled nobody. Why had they forsaken the Most High God, the Father of All which their forefathers knew, and chosen all these pitiful, bribe-taking gods and their oily, palm-itching, gold-grubbing priestlings?
Jason had no answer for his people's whoring after other gods. All he knew for sure was that the gods now worshipped by the Achaeans did not suit him--not in the least. He despised them all. They behaved worse than most men! Immoral, cruel, changeable, selfish--only their strength and beauty were admirable things--but all the rest was not worthy of heaven. So why should he respect them? Did they even exist? He had never seen any of the gods--but he could see the Father of All existed, in the existence of the world and its shining beauty and wonderful order. All creatures testified that the Father of All existed in all-powerful majesty and glory. But did the Father of All care for his creatures?
Jason had thought about that before. Yes! He saw how the creatures themselves cared for their own young so tenderly, giving up their own lives as parents to protect their young if necessary. How much more would the Father of All, who put such love in mere creatures, be loving and careful and tender toward the creation of His hands!
He could love such a merciful, kindly Father of All, and he did love him. He also wanted to live worthily as a son would want to do with such a Father as this One. He had always sought to please his earthly father, and he did please him, but had he pleased the heavenly Father?
Jason had to think about this. He could not tell. He thought instead of the task set for him. He had chosen to go and fetch the Golden Fleece, not knowing all that was going to be added to it. Just the voyage was test enough for him and his champions! But the king Aeetes had made it doubly hard, with his set of tasks and labors, which were impossible for any man to complete.
Was he a god or half a god like the fabulous, storied Herakles? No! He did not presume to be a Herakles or an Orion the Hunter, or a Perseus, or any other great and glorious Hero whose sign shone forever in the stars of the heavens. But he did think that a man of strong heart and body might be enough to regain the immortal Fleece of Phrixus. As a youth with his heart beating with the love of adventure and boundless life, he had eagerly accepted the challenge, and laughed forth. Other men might prefer the quiet, safe shallows, but he was not such a man. His spirit felt free when he was launched forth on the deep, his course set for the trackless unknown--with glory perhaps gleaming on the far horizon.
Was it glory or fame attached to his name the reason for his taking the Quest of the Golden Fleece upon his shoulders? Was that all?
Yes, he was like Achaean youths all over the cities of the Achaean realm--glory and fame were uppermost in their minds and hearts. They preferred them, indeed, to long lives spent without luster or renown. They would rather risk their lives than plow their fields like dumb cattle, without prospects of ever finding anything better to do with their lives! They wanted to make a difference in the world--not walk in the tracks of other men, eating their dust!
So, in this way, he was the same. But getting this far to his goal was telling him something more. He sensed futility in the questings of most youths--what if they got what they sought--what then? What was left in life--once they won what their thirsty hearts desired so greatly? What did they do with the glory and fame they gained from doing great exploits of one kind or other? How many songs of praise could they hear the pretty maidens sing of them in the street festivals without their ears burning and their cheeks blushing with the extravagance of the ceaseless praises? Heroes were but men--after all. They coughed, spat, fell ill, made water, ate, loved a woman, begot offspring, grew old, and died like any ordinary man, sooner or later. The fool and the wise man, his father said, go down into the same dark earth when they breathe their last.
Jason sat quieted like a weaned child leaning against his mother, trying not to think, but the issues kept bubbling up like a quenchless spring. He thought of his promise to the old woman, who feared death's soon approach. How many days did she have left in the warm sunlight? Not many, it was plain. Not many! And she had said she had murdered a rival--no wonder she had reason to fear death. Her rival was turned a vengeful soul, waiting for her no doubt in the fires of the Dark Pit, to vent on her all her hate the moment she appeared down there!
It was a terrible thought! And how about himself? he wondered. He was a young and randy buck, at his peak of strength, but now he faced certain death when he went to fight the dragon. Would he fare any better than the others who tried the same thing? What made him any stronger, or better with a sword, than his predecessors? They had all perished-- so how could he escape the same fate? Did he have something they did not have that would give him the advantage they all lacked?
He could think of no advantage. Yes, he was full-blooded Achaean--and the Achaeans were supreme masters of the sea and also more free and brave in spirit and mind than all other peoples of the wide earth--but there was some immodest pride, he sensed, in his people's view of their race and its achievements, and would a man's pride be a help to him when the dragon attacked him in the grove of oaks?
He knew that overweening pride, or hubris, came before the fall of many great men--who had trusted in themselves too much--so pride would be his undoing too, if he let it be. But how was he to proceed? He needed a word from heaven now more than he had ever needed it before. He had accomplished much in his life--and could be proud of it if he chose, as other men would be proud--but what if he failed now? What would happen to all he had achieved? It would dissolve to dust and whirl away in the wind! That was all it really meant! It had no more substance, really, than that!
So what was the worth of pride, or the worth of great achievements--they all dissolved to dust, when a man perished.
Troubled, Jason drew his cloak closer around his shoulders in the growing chill of the night. Even though the aspen grove that surrounded the little brook kept off the wind and protected him, it was cold, and his hungry body felt it all the more.
The old woman's questions haunted him all the more, as it grew colder and darker in his heart and spirit. Her questions became his own--how would he face his own plunge into the Dark Pit? What was that going to be like? He had not done evil deeds such as she had intimated, and so did not fear the retaliations of wrongful deeds done against other men, but had he "kept faith," or done no sin?
How could he presume to be sinless? No man alive or dead could presume to be sinless. But, though not sinless, would not his good deeds outweigh his bad deeds when set in the scales of divine justice? That is what most all men hoped would happen to them. "I haven't murdered a man unjustly," one would say. That man might have been a thief or a liar, but he thought murder was worse a crime in degree. Was it worse in God's eye? And then another rascal, who had murdered a man, would find some excuse for the murder because of some injury the victim had done him prior to the murder, or think that because he hadn't been a liar and a thief or betrayed his city to its enemies that Heaven would let him off somehow!
But what certainty was there that they would see themselves weighed in the balance of God and not found wanting to some degree or other? They just hoped they would weigh in to the good, then gave it no thought any longer--not, that is, until Death the Reaper robed in black garments with the scythe in his boney hand was knocking at their door! He had seen such people--even as this old mother of Honan--in life's extremity--fearful of death, clutching at the least possible hope to escape what they knew was coming for them.
Fools did not bother to think of their coming death until the last moment--and then they were altogether consumed with it--but unable to accept their death peacefully, being totally unprepared. What a miserable death fools had. And most all men were such fools! Even this poor old mother of Honan's--she too was such a fool. But he did not despise her for that--nor could he despise any man in such a state. They were to be pitied. But helped? If he could give hope to them, he could give hope to himself! And what hope did he truly have?
Thinking this way, he felt so ashamed. Feeling such overwhelming compassion for the old woman, he had foolishly given her hope that things might turn out differently for her, despite her murder of a rival for Honan's love. He had promised that she would be the first after him to grasp the Golden Fleece of Heaven's Ram. He might as well as promised the sun, moon, and stars with it!
The task of obtaining the Fleece and wresting it away from the dragon was impossible! He didn't even have Medea's potions to cast sleep upon the dragon or serpent or whatever it turned out to be. How could he have promised the old, dying mother such a thing! How?
He sprang up in his agony, unable to sit any longer. Besides, he felt dirty, not having bathed that day. He went to the brook and when he was through and wrapped himself in his warm cloak, he felt clean--at least on the outside of his body. But how could a man clean the inside? How could a man clean his own spirit, he had to wonder.
He started pacing, unable to keep still. How long he paced like that, he did not take any notice. Was it one watch? Was it two watches of the night?
While he was in that state, and the sweat was raised on his brows, thickly beaded like big drops of dew that tumbled down into his eyes and down his cheeks, a stealthy thought slipped seductively into his mind. "Why not end it all here, my friend? Just throw yourself over the cliff--and all your pain will swiftly end! You won't feel a thing, other than the first rock on which you land at the bottom! Quick! Don't be a fool, risk everything you've accomplished, and fail! Die like a hero, by your own choice! Don't risk failure and disgrace! Why suffer the rest of your life when you fail as you surely will fail? Use your wits, man! Jump! Jump!"
The alluring thought actually drew him as he followed it, right out to the cliff's edge. The darkness was fathomless beneath the edge--just one sudden leap, and he wouldn't have to worry about anything ever again! Right?
The voice had grown almost thundering--it was so loud in his soul's ear--but though he was leaning forward, about to obey the "Jump! Jump!"--something else composed of his father and mother's love and counsel, his friends, the Argonauts, Mopsos and the orphan boys, even his promise to the pleading old woman down at Honan's house--formed a mighty hand that pressed him back from the cliff's edge. He would not do it! He could not do it. He made his choice!
Failure or not, he wasn't going to take the easier way, he decided. Immediately, the tempting voice died away, dwindling to a whisper in the aspen leaves as they whirled round in a breeze. "You fool!" it whispered. "You'll fail now for sure, and have only the rags of disgrace to wrap round your wretched bones when you grow old, forgotten and lonely, in some dirty hut in the countryside. You had your chance to die gloriously now, in the flower of your youth, at the very peak of your immortal fame, but you've chosen to throw it all away for nothing, you fool!"
"I don't care if I do die poor and forgotten!" Jason thought. "I want to live and see what gracious Heaven can do to help me-- for I need Heaven's help to do this impossible thing. How will I know what Heaven's God, the great and merciful Father of All, will do for me, if I don't go on with this Quest to the end?"
In the first morning light, Jason, his ordeal of a night of inquiry and temptation over, made his way down the mountain to the river, to see where he could best cross it, without having to involve Mopsos and the ship.
Honan's dogs did not even bark as he made his swift way past the house and its goat enclosures and vineyards--and he would have regretted that most of all.
Going to the shore where he was out of sight of the Argo, he paused to look out to the opposite shore. He thought it looked close and easily within his power to reach by swimming--and he knew he was an excellent swimmer.
The only thing amiss was that he would have to leave his weapon and shield behind. The cloak was enough weight to pull, but he could manage it well enough. Could he fight the guardian of the Fleece without a sword? Should he go for help from Mopsos? He still did not want to do it--but unstrapped his sword. Laying his princely sword and shield in full sight where they could be found by Mopsos or his Argonauts or even Honan and his son, he left them and strode down into the water.
As he pushed off into the deep channel, he had woefully misjudged the river, he soon discovered. He had swum many brooks and rivers in Achaea's lands, but this one was different--it was so cold and icy in the main current. The shallows had fooled him completely. Out in the main current, which was very strong, he was soon numb, and his limbs moved with the greatest effort. He felt his strength go out of his body. Would he drown? He thought he was drowning already, as he sank further and further down in the water as he lifted his ice-cold arms out and tried to pull himself forward against the surging current that defeated every effort of his and swept him down the channel.
For all its gold and treasure, it was a merciless, man-killing river, and it was determined to kill him! No one would know what happened to him, except that he had put aside his weapon and his shield on the shore and foolishly tried to swim across a river that would let no man boast of doing it.
He felt utterly helpless, as he struggled in the icy waters.
As he could not move any more, he felt he was lost and his face was slipping beneath the dark wave when a nudge from beneath pushed him back to the surface. The nudge was stronger the next time, lifting him half-way out. Numb as he was, he realized it had to be a fish. Then he knew it was a dolphin! The dolphin let him grab hold of it, and it quickly swam toward the shore, three others escorting them.
Thanks to the dolphin's powerful, threshing paddles and tail, they were soon there, and Jason let go of the dolphin and staggered up out of the water and fell on the warm shingley beach, soggy cape and all. Saved! Rescued by dolphins! Gasping more from shock of his rescue than the water's cold, he didn't know whether to laugh or cry! What would the maidens in the festivals of his people make of this latest exploit of his! A fish had saved the mighty hero Jason from certain drowning!
He was so grateful, he turned around, to see his rescuers, but they were gone--was it a dream? But he knew it was no dream. He had really been drowning like a ship's rat fallen off the boat--and would be a body floating down the river if not for the dolphins coming to his aid!
Then the truth struck him! Heaven, and Heaven's God, had sovereignly come to his aid and sent the merry-hearted, clever-headed wonders of the seas and rivers called dolphins--the very ones Mopsos had trained, he now realized.
Encouraged greatly, he no longer regretted leaving his weapon and shield behind. He had hope now, thanks to his miraculous rescue, that even more favor from Heaven would be his as he continued to "keep faith" and not quit. Who knows? he thought, growing excited again. "Who knows if Heaven will smile on me and the prize will be all I had hoped in my heart it would be--Immortality on the blessed isle for all who possess it?"
What he found not far from the shore on which he landed, however, dashed his hope of immortality and chilled him even more than the glacial river that guarded the gates to the forest and the sacred oak grove.
Long after the re-location of Earth II, Atlantis II is flourishing with civilizations, and finally, after the time of Joseph II, they develop in a linear fashion into 20th century type societies that are locked shield to shield, in a Cold War. Both sides are bristling with hundreds of nuclear-armed missiles, and all it takes is a wild card to tip the balance of power and trigger a combo cataclysm, Armageddon and Gotterdammerung. Homer is that wild card, though he doesn't mean to be. He is experiencing an extreme identity crisis--which young people his age can well understand. He crosses over into Atlantis seeking his long, lost father who was last reported headed that direction, and the moment he sets foot on Atlantis he becomes the catalyst that will soon ignite a world's destruction.
Over on Earth I, the Rapture has taken place just as the evangelicals believed and said it would, but Heloise Turnbull, one of the most successful televangelists, has been left, unaccountably, since she had built her whole message around the doctrine of the Rapture. It takes her a while to adjust and realize the cause for why she was left behind is herself--and meanwhile, she has to flee the U.S. to Israel, where she hopes she can sit out the collapse of her empire and all the legal wranglings over her ministry's assets. When the Anti-Christ attacks Israel, which has identified him as an imposter and not Messiah and pulled away from his dictatorial control, Heloise is forced to flee Jerusalem with a Jewish family where she has served as a caregiver, maid, and whipping post for a tormented old Holocaust survivor who goes through maids like Kleenexes.
Heloise, once a dictator herself in her own way, has learned a great deal through the daily humbling the old Jewish harridan has administered to her with considerable zeal and relish.
At the time she flees via an Israeli army chopper belonging to the breakaway units of the Israeli Army, she is ripe for reconciliation with her family and the husband who divorced her for her loveless treatment of him and her two daughters and son--sacrificing them all for the sake of building her ministry up to Forbes 500 status.
Aloes, her son, is the most angry with her, but he lands at the secret base of the lost city of Petra, set deep in the south Jordanian desert rocks and canyons, to join the hidden base of Israelis who are trying to escape extermination in Jerusalem by the occupying armies of the World Dictator and his allies.
Heloise goes to meet Aloes as he lands.
It goes better than she has hoped, after she admits to him everything that had separated them. He forgives her. The painful, festering breach between them is healed. She becomes his mother again, even though he is now a grown man.
Lower right hand corner, Ero the Olympic Torch Bearer in transit from the Genotype Archives of Tutasix, Atka Island, to Argo V, the White Ship.
RETROSTAR GAMEPLAYERS, HAVING FINISHED PART I OF THE VOYAGE OF THE ARGO V: QUEST OF THE CYBERNAUTS, CHRONICLE SIXTY-TWO, MUST CHOOSE THE BEST OPTION OF THE THREE AVAILABLE FOR PART II:
If you have chosen the right option, follow it to the final destination, fabled Colchis (the City of Victory on Kastorr yet to be identified by the Cybernauts) and the Golden Fleece won by the Questors. If you chose the wrong option, review the voyage of the Cybernauts, and try again (THIS SECOND CHANCE FOR YOU IS THE REASON FOR THE RETROSTAR CHAMPION BANNER SONG, "AMAZING GRACE.")
If you have entered this page from other sites such as Butterfly Productions Home Page, there is a new domain of nine sites, www. oaringintheriver.com, containing Retrostar, featured by major search engines.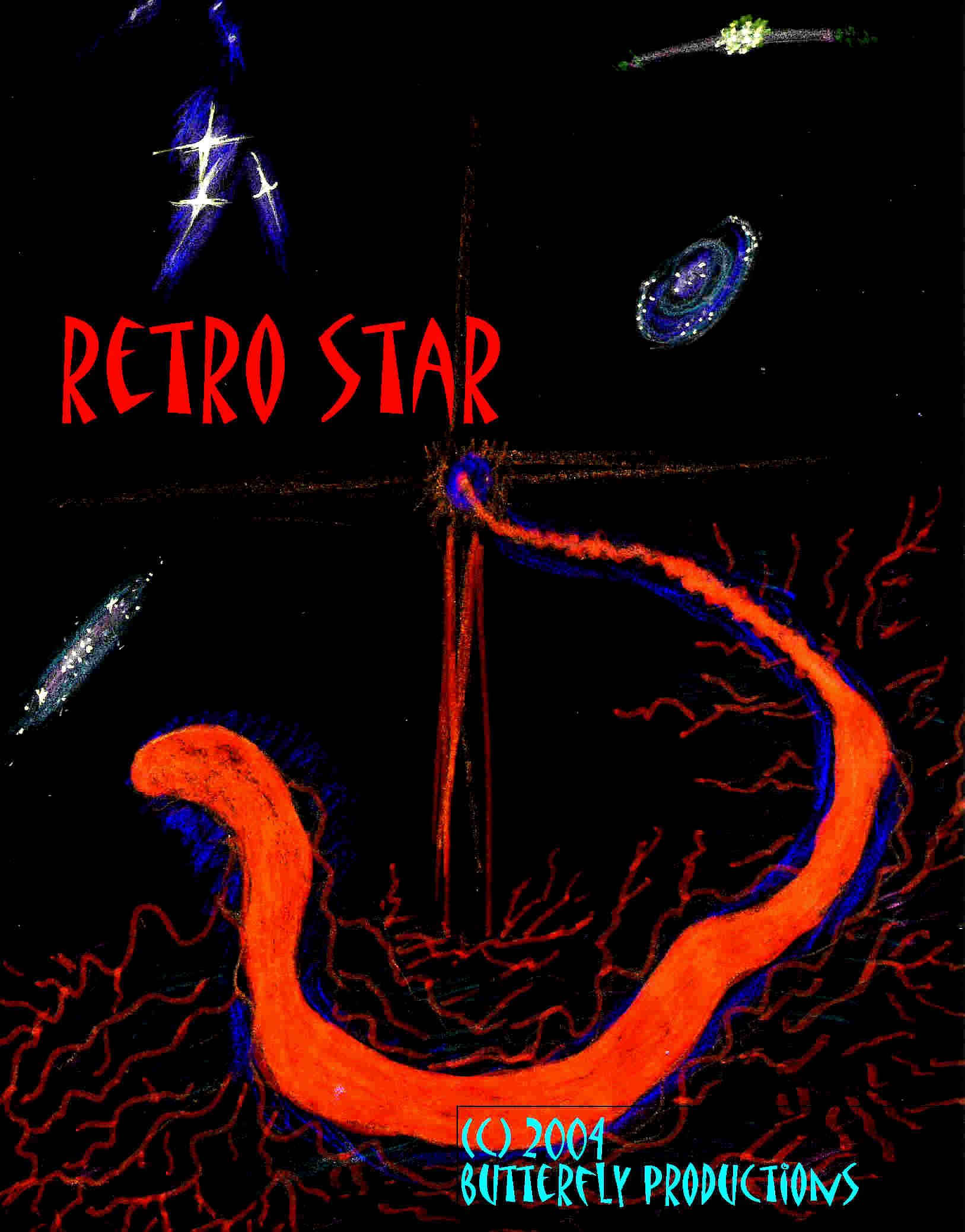 To return to WWW.OARINGINTHERIVER.COM:
WWW.OARINGINTHERIVER.COM Master Directory