CHRONICLE OF THE TIME ROCKET, VOL. IV, RETROSTAR
CHRONICLE OF RAGNAROK A. S. 1937, Singer of the Ancient Seer How a bard left the Emerald Island to look at old vellum books and paintings preserved by the Benedictines in a monastery in Padua, Italia, and how they warned him about a second great world conflict of the Wasichu nations, which would usher in the new world order and the rise of a lion-bodied, man-headed Beast, the False Messiah, who would seize world power and crush out all the light of liberty and decency in Civilisation. CHRONICLE OF RAGNAROK, VOL. IV, RETROSTAR
CHRONICLE OF THE MOUNTAIN TOMB A. S. 1938, Eugenio's Secret How a Basque fighting with the Loyalist forces in the Spanish Civil War found ancient scrolls and artifacts in a tomb that were older than even Eskual Herria, the Basque homeland that predated every other nation and nationality in Europe.
CHRONICLE OF THE MOUNTAIN TOMB, VOL. IV, RETROSTAR
CHRONICLE OF THE OSLO TAPESTRY A. S. 1938, Katrine's Secret How a Norwegian woman, living alone, grew so desperate about her bone-dry spiritual condition that she would do anything, even take pictures of simple leaves and shadows in her garden, if it would help restore her faith--pictures forming a tapestry portraying events to come that would have astounded the world if all of them had been made public.
CHRONICLE OF THE OSLO TAPESTRY, VOL. IV, RETROSTAR
CHRONICLE OF THE RUINED CATHEDRAL A. S. 1940, Winter of the Soul How Coventry was sacrificed, along with its ancient cathedral and much of its population, by a decision of Churchill who aimed to let the bombers through without any warning to Coventry in order to make the Nazis believe their secret code had not been cracked by Britain's code breakers at Bletchley House. How a half-literate scrubwoman in the smoking ruins of the Cathedral found the means to confront the unspeakable tragedy of losing practically everything in the bombing and firestorm that destroyed Coventry; that is, her husband, children, neighbors, city, cathedral, even her house and job.
CHRONICLE OF THE RUINED CATHEDRAL, VOL. IV. RETROSTAR
CHRONICLE OF THE SEA LION A. S. 1940, 1. Convergence at Abbotsbury How a pious, elder daughter caring for an aged, ailing mother, prayed the right prayer, effectively throwing a switch to a most powerful blessing 1,900 years old.
CHRONICLE OF THE SEA LION, PART I, VOL. IV, RETROSTAR
2. Winter's Grace How a Welsh "College of Intercessionary Prayer-warcraft and Fasting," founded by a former coal miner, succeeded in turning the major events of World War II, starting with the Battle of Britain.
CHRONICLE OF THE SEA LION, PART II, RETROSTAR
3. No Wings But a Prayer How Sir Francis Cecil, hereditary Lord St. Aubyn of the Mount of St. Michael, Cornwall, while squadron commander of Spitfires in the Battle of Britain, was struck wingless by enemy fire but continued flying, and how he was taken out over the coast where he witnessed an even greater event taking place off the notoriously stormgirt Chesil Banks.
CHRONICLE OF THE SEA LION, PART III, VOL. IV, RETROSTAR
4. Ivy's Grand Slam How a little English girl in Portsmouth changed her bedtime prayer and turned back an incoming V-2, setting it on a trajectory that almost took Shickelgruber out of the war.
CHRONICLE OF THE SEA LION, PART IV, VOL. IV, RETROSTAR
CHRONICLE OF THE PILLAR OF LIGHT, A. S. 1940- , How on Earth I Elijah, a Romanian boy growing up in a brutalM Communist-ruled country, found a miracle-producing faith just like Jason the Argonaut's to stand up against the impossible odds of confronting a militaristic, atheist dictatorship destroying his beloved homeland, and how he made a new life for himself, succeeding after tens of thousands before him had been slain in the same attempt to win freedom.
CHAPTER 1, CHRONICLE OF THE PILLAR OF LIGHT
CHAPTER 2, CHRONICLE OF THE PILLAR OF LIGHT
CHAPTER 3, CHRONICLE OF THE PILLAR OF LIGHT
CHAPTER 4, CHRONICLE OF THE PILLAR OF LIGHT
CHAPTER 5, CHRONICLE OF THE PILLAR OF LIGHT
CHAPTER 6, CHRONICLE OF THE PILLAR OF LIGHT
CHAPTER 7, CHRONICLE OF THE PILLAR OF LIGHT
CHAPTER 8, CHRONICLE OF THE PILLAR OF LIGHT
CHAPTER 9, CHRONICLE OF THE PILLAR OF LIGHT
CHAPTER 10, CHRONICLE OF THE PILLAR OF LIGHT
CHAPTER 11, CHR0NICLE OF THE PILLAR OF LIGHT
CHAPTER 12, CHRONICLE OF THE PILLAR OF LIGHT
CHAPTER 13, CHRONICLE OF THE PILLAR OF LIGHT
CHAPTER 14, CHRONICLE OF THE PILLAR OF LIGHT
CHAPTER 15, CHRONICLE OF THE PILLAR OF LIGHT
CHAPTER 16, CHRONICLE OF THE PILLAR OF LIGHT
CHAPTER 17, CHRONICLE OF THE PILLAR OF LIGHT
CHAPTER 18, CHRONICLE OF THE PILLAR OF LIGHT
CHRONICLE OF THE ORACLE OF MENO A. S. 1938-1941, St. Roderick's Secret How a Basque patriot, deserting the Loyalist army in the Spanish Civil War, became a free lance secret agent for the British side against the Nazis, luring Shickelgruber into the race for a Super-Bomb while withholding vital information that would have made the Nazi project a success.
CHRONICLE OF THE ORACLES OF MENO, VOL. IV, RETROSTAR
CHRONICLE OF THE RAG DOLL A. S. 1943, Christmas at Auschwitz How a young, brilliant, blind chemist, soon to perish in a gas chamber, afraid it was all for nothing, was given unmistakable proof her life was divinely touched. CHRONICLE OF THE RAG DOLL
CHRONICLE OF THE BAYEUX TAPESTRY'S SECRET PANELS A. S. 1944, Questioning the Sphinx How nuns guarded what came to be known as the world's most famous tapestry, the one detailing the Norman invasion of England in 1066, and how an American nun, an expert in tapetries, discovered additional panels that had not been sewn onto the masterpiece--panels that had been kept secret for the obvious reason they were found so disturbing because they were so prophetic about the world to come.
CHRONICLE OF THE BAYEUX TAPESTRY'S SECRET PANELS, Vol. IV, Retro Star
CHRONICLE OF THE BROKEN GLASS A. S. 1945, 1. Legacy How the victorious chieftains at the Potsdam council meeting from Britain, the U.S., and the Soviet Union, in the name of peace started the "War of Ice," and how Britain's "Tube Alloys" nuclear project came to nothing with suppression and disappearance of vital M-2 intelligence, and President Truman's ace in the hole, the Manhattan Project's Super-Bomb, fizzled at Alamagordo--apparently forcing America to join forces with Britain and Stalin's Russia to fight on to the finish with conventional forces against Premier Hideki Tojo's best troops and, unknown as yet to the Allies and their war planners, a whole nation swept by Kamikaze, the "Divine Wind".
CHRONICLE OF THE BROKEN GLASS, PART I, VOL. IV, RETROSTAR
2. The Pack Rat How a peddler of information, selling whatever he dug up to the highest bidder, happened on a deadly superweapon--one of three that Senhor Averinata had offered the British--that later would be used to help tip the scales against America in favor of the United Nations and a world government. To the Jews the crushing of the wine glass in a Jewish wedding recalled the destruction of the Temple by the Romans in ANNO 70, but to the Basques, it meant the whole universe was shattered--never ever to be put back together as it had been. (How could he barter and trade the destinies of whole nations as if they were trinkets and trifles? Peddlers, like foraging rats, consider only the present moment, and the penny or two gained or lost--never the long haul, which is, for a peddler, far to frightening to even consider in a rodent-type mind. Without the ship, the rat would drown in the open sea. Yet it infests the ship, spreads its diseases with its own dirt, and gives the crew a deadly plague, and the ship, without anyone to guide it to safety, strikes a rock and sinks, drowning the rats who caused the disaster. This has happened countless times. Their own nature, thus, gnaws off the rope that holds them above the pit. Pity the civilization where such men, such vermin, proliferate and gain high office! And you can always tell the end is near when such are numerous and run free, from deck to deck!).
CHRONICLE OF THE BROKEN GLASS, PART II, VOL. IV, RETROSTAR
3. The Angels of USS Indianapolis IP How on July 29, following the successful test of a new death ray in the first week of July, that dissolved atomic structures and could fuse human flesh to metal, a battleship was loaded with the deadly "gadget" and sailed for Tinian, an island in the Marianas Chain. Locked in a steel box bolted to the deck of the captain's cabin, the weapon that would knock the Japanese on the home islands to their knees would be assembled in the secret facility at North Field on Tinian, then deployed by aircraft over the first test cities of Tokyo and Kyoto, the two most revered cities in Japan and the centers of Japanese cultural life. How the best laid plan of the war came to naught, with details of immense tragedy and even angelic intervention that were so explosive in nature they could never be revealed to the American public.
CHRONICLE OF THE BROKEN GLASS, PART 3, VOL. IV, RETROSTAR
4. The Divine Wind How Operation Downfall, the invasion of the Japanese home islands, ultimately succeeded but without superweapons proved so costly to America and Russia that they had cause to recall King Pyrrhus of the Greek kingdom of Epirus, who conquered Roman armies on their home turf but sustained such heavy losses he complained in his famous statement known for its unforgettable pathos, "Another such victory and I am ruined!"
CHRONICLE OF THE BROKEN GLASS, PART 4, VOL. IV, RETROSTAR
CHRONICLE OF THE WINTER SACRIFICE A. S. 1947, 1. Winter's Child How deeply the alien star's rays penetrated postwar America, and how an old farmer's beloved son was killed in the Wioteheka hi, Month of Terrible Moons. 2. Plain View Farm How two deaths in a fiery plane crash were needed to thaw the frozen hearts of two other men.
CHRONICLE OF THE KILLER BEAR'S DESCENT A. S. 1951, The Bear and the Lamb How Djugashvilli fared, while on the operating table in the Kremlin, as a small army of surgeons desperately tried to preserve his life after a massive sroke; how they failed and Djugashvilli, an atheist, found himself still alive, imprisoned in an Afterlife cell which could only be described as hellish. How things got progressively worse for him, as he encountered a strange Jew wearing a prayer shawl and next faced a Judge sitting on a throne so immense it couldn't be anyone less than God sitting upon it, and how he was judged by the testimonies of thirty or so millions he had had tortured and slain, and how after that he found himself shunted into a burning lake of blast furnance intensity, and how he, like all the others in it, were forgotten.
CHRONICLE OF THE KILLER BEAR'S DESCENT, VOL. IV, RETROSTAR
CHRONICLE OF THE MAN LIKE A BRIDGE A.S. 1956, The Search How a young woman of the First World discovered the way back to her lost childhood faith, a faith that carried her all the way to Third World Cameroon wilderness in West Africa where it finally set its roots deep and briefly bloomed. CHRONICLE OF THE MAN LIKE A BRIDGE
MYSTERY CHRONICLE OF THE 50TH ANNIVERSARY A. S. 1962 The Phantom Ship How Lt. Greg Culpepper's life and career took a radical turn and plunge to the bottom of society after a storm at sea and his sighting of the R.M.S. TITANIC going down as he was inspecting the lighthouse facilities at Cape Disappointment and North Head on the mouth of the Columbia River, Washington State. MYSTERY CHRONICLE OF THE 50th ANNIVERSARY, VOL. IV, RETROSTAR
CHRONICLE OF EDYTH'S GOLDEN CROSS A. S. 1963, A Truth Not Told How Miss Edyth Hamilton, humanist, classicist, and world-renowned authority on Greek and Norse mythology, was strangely confronted on her deathbed with certain false premises that undergird her whole life-work.
CHRONICLE OF EDYTH'S GOLDEN CROSS, VOL. IV, RETROSTAR
CHRONICLE OF THE LADY OF THE SPARROWS, A Tale of Old New York and Central Park A.S. 1964, Lucky's Big Strike How Lucretiza Tisdale, a spinster lady in her nineties, fed the sparrows of Central Park faithfully every day and how her death under the wheels of a beer truck brought changes, through the very sparrows she had given soda crackers, that she could not otherwise have achieved at her age and with her insignificant, sparrowlike strength.
CHRONICLE OF THE LADY OF THE SPARROWS, VOL. IV, RETROSTAR
CHRONICLE OF THE FIGHTING ANGEL, PARTS I AND II A. S. 1963 How the Swensons, a young American newlywed couple, in training for the mission field, took a break from language school in Paris, and came to a crisis of their relationship and a man's faith in God on and beneath the Mount of St. Miguel, the Fighting Angel.
CHRONICLE OF THE FIGHTING ANGEL, VOL. IV, RETRO STAR
PART II: How the Swensons came to share their Christmas with the Fulani Tribe in Cameroon, West Africa, and how their cheer spread from there as far as the stars to a lost tribe of the Alpha Centaurii.
PART II, CHRONICLE OF THE FIGHTING ANGEL AND CHRONICLE OF THE LOST TRIBE (VOL. VI, NATAL CONVERGENCE, "A FULANI CHRISTMAS," RETRO STAR
CHRONICLE OF THE REVIVAL OF HAGIA SOPHIA A.S. 1968 How Lidia, a Greek Orthodox nun, ventured from her safe refuge in a convent in Athens, to return by tourist boat to her lost homeland in the Turkish nation that had forced her family to flee for their lives in the savage. almost genocidal war that broke out between the Greeks and Turks after World War I. How she learned things she did not expect from her day trip and contact with the enemy occupying her people's chief city and seat of the Greek Orthodox Patriarchate of Constantinople and East Rome. How she received a gift she would always treasure--and ceased feeling herself robbed by the Turks though they had taken her Greek homeland as their own and pushed out virtually all her fellow Greeks.
CHRONICLE OF THE REVIVAL OF HAGIA SOPHIA, VOL. IV, RETROSTAR
CHRONICLE OF THE SHOW ME STATE'S PROPHET (EARTH I) A. S. 1966, Elijah's Mantle How young and aspiring Brad Bright Jr. dreamed of becoming a prophet to "Holy Spirit-led, on-fire" Pentecostal churches in Missouri, his home state. How his promising life was cut short by a fatal collision with a tree when he was driving his truck home from a church youth meeting, and how his dream of ministry was defeated only temporarily, as a bit later he was brought back to serve with Elijah's mantle in the war against the AntiChrist Beast and his prophet during the post-Rapture Tribulation Period.
CHRONICLE OF THE SHOW ME STATE PROPHET, VOL. IV, RETROSTAR
CHRONICLE OF THE GIANT CHIEFS A. S. 1972, Two Sayings of Uwe Hantsbo Regarding the Atlanteans: Elektra's Sad Fate, and Atlantis on the rocks, anyone? How the Earth's tribe of original giants that stood like the tallest trees on Earth lived in a vast land that sank beneath the Eastern Sea.
CHRONICLE OF THE BLUE BRIDGE SALIENT A. S. 1973-1978 Even while the armies of France, Britain, and America struggled unsuccessfully in southern Asia to push back the communist forces from the north, a greater battle was being fought among the stars. How Atlantean star fleets combined with the red star and other star-stones to force an entry into the Great Nebula in order to destroy the protective forces centered at the Blue Brige. How, nearly successful, they were rebuffed, forcing an Atlantean subcommander to retreat to Earth.
CHRONICLE OF THE BLUE BRIDGE SALIENT, VOL. IV, RETROSTAR
CHRONICLE OF HANTSBO'S NOTES A.S. 199?, On the Bipedal Workforce of 1994tk66--A Flying Texas How Uwe Hantsbo discovered on a planetoid a most interesting cache of mutants, freeze-dried specimens of the very kinds that had been proposed by a Washington geographical society in its magazine to be authentic human prototypes proven by science and archeology. The only problem, as Hantsbo points out, is that they were found all mixed together, obvious contemporaries, not separated by millions of years or mere hundreds of thousands as was said to be the case by the East Coast Brahmin evolutionists entrenched in the powerful, elitist geographical society.
CHRONICLE OF HANTSBO'S NOTES, VOL. IV, RETROSTAR
CHRONICLE OF THE ICE BIRD, PART II A. S. 1973, Voyage of the PRION Inspired by Shackleton's legendary heroism, how an exlorer from New Zealand set out to be the first to circumnavigate Antarctica in a small boat solo, and stumbled into an unknown "Devil's Triangle" of ancient Atlantean orgin just off East Antarctica's Ross Ice Shelf that changed his course so radically he was propelled in space and also time as far as an ancient Atlantean outpost opposite the gate of the Great Nebula of Orion--the very site of what Tennison the Poet Laureate of Britain described as holding a "vast mystic charm." CHRONICLE OF THE ICE BIRD, PART II, VOL. IV, RETROSTAR
MYSTERY CHRONICLE OF THE WHITE CANOE A. S. 1977, Fairwind in Deep Waters How a young electric plant operator of mixed working class and New England blue blood background takes a cruise into the unknown mysteries of time and space aboard what had first seemed a New York based cruise ship on its way to Peru.
MYSTERY CHRONICLE OF THE WHITE CANOE, VOL. IV, RETRO STAR
CHRONICLE OF THE ICE BIRD, PART III A. S. 1978, Cavendish in the Sky with Diamonds A somewhat crusty curmugeon of a retired journalist, in remission from cancer but angry over the recent loss of his wife to the same disease, reflected on the supreme irony of his life. He had planned his retirement so differently! He had just begun writing poetry, meditations, and music under a nice nom de plume when his new, promising, third career of letters and music was stopped right in its tracks by a disaster in his own home: his wife had taken deathly ill. Cancer! Now he was too sick to go on writing and composing--even though the time to do it was his again, lying heavy on his weak, trembling hands. Feeling like the icy, polar coulds of Global Freezing would hang over his head until he died, he goes out into his ruined and half-frozen back yard and changes places with a Prion, a polar bird that has wandered into his garden and died. Somehow the bird in death becomes him, giving him wings of a starship that can touch the farthest stars and Orion, Gateway to the Morning, where something bright and shining with destiny for everyone on earth seemed to open to him.
CHRONICLE OF THE ICE BIRD, PART III, VOL. IV, RETRO STAR
CHRONICLE OF FOXY PASSES A. S. 1983 How Skip Cavenish, alias Stuart Hawkins, wrote a poetic tribute and, drawing upon his first career in vaudeville, made a last and notable performance of it at the Capitol theatre before a packed house of Washington State socialites, government leaders, and the wealthy. How the very people preyed upon by his former schoolmate, Franklin Delano "Foxy" Benedict, the capital's foremost "facilitator" and master of the government patronage system, watched in growing disgust and anger as the bizarrely costumed Hawkins tore Foxy's mask off in verse after verse; how the old fox could still run (or at least roll) from his pursuers, but he still could not escape his and his enemy Cavendish-Hawkins' destinies being woven together in a strange, future cyber-world that neither could have imagined, long after Foxy and his nimble "smarts" had suffered an Ichabod-like fate.
CHRONICLE OF FOXY PASSES, VOL. IV, RETROSTAR
CHRONICLE OF THE LADY OF THE ANCHORED A.S. 1983 On the Trail of St. Paul How Prunella, a sedate altar guild woman from the Midlands, England, on tour with a cruise ship company in the Middle East, finds release from a crushing depression over the accidental death of her daughter.
CHRONICLE OF THE LADY OF THE ANCHORED, VOL. IV, RETROSTAR
CHRONICLE OF THE SURVEYOR OF THE QUEEN'S PICTURES A. S. 1983-, The Knight of Darkness How Sir Anthony Blunt and his fellow Cambridge-educated colleagues became involved in a secret spy ring inside the British secret services, serving not Fascism but Soviet Russia during part of the Second World War and for some years of the following Cold War with Soviet Russia. How Sir Anthony "retired" from being a double agent to being the Surveyor of the Queen's Pictures, with the responsibility for all the Queen's artworks in the royal palaces, but how he was exposed as a spy and found guilty but was allowed to retire with some dignity to his home, while his co-conspirators fled to Soviet Russia. How in dying they singly and together discovered an Afterlife their Darwinistic beliefs had denied was possible, which delegated them to a new venture just as exciting as betraying their own country and serving her arch enemy--a contest involving the Golden Fleece and a rival ship called the Argo.
CHRONICLE OF THE SURVEYOR OF THE QUEEN'S PICTURES, VOL. IV, RETROSTAR
CHRONICLE OF THE SACRED COWHIDE PAINTER A. S. 1987, Ira's Letter to the 11,000th Century How an artist's paintings for a B.I.A.-Lakota Christmas arts and crafts competition were preserved for a tribe of Wasichu lost seemingly forever among the lodges of the stars.
CHRONICLE OF THE SACRED COWHIDE PAINTER
CHRONICLE OF THE LION'S DESCENT, A. S. 1995, "The Lion's Descent," Part I, "The Lion's Legacy," Part II, How a U.S. Supreme Court Justice who was a very nice and likable gentleman became responsible for a once great and godly nation's descent into self-destructive depravity and violence and also for more deaths of Americans than were slain in the death camps of Himmler and Hitler (Earth I), and how he fared in Hades (Hell) after his death.
CHRONICLE OF THE LION'S DESCENT, VOL. IV, RETROSTAR
CHRONICLE OF UWE HANTSBO'S NOTES A. S. 199?, On the Bipedal Workforce of 1994tK66, A Flying Texas How Uwe Hantsbo points out certain rather glaring flaws in the evolutionary timeline and evolutionary theory after seeing the flaws in question with his own eyes, frozen specimens of hominids and so-called human precursors, flying aboard a Texas-sized hunk of rock; how their existence supports his own view that highly intelligent, highly terrible ante-humans he names as the Atlanteans were responsible for the Dachau-like work camp on the asteriod.
CHRONICLE OF UWE HANTSBO'S NOTES, VOL. IV, RETROSTAR
CHRONICLE OF THE GREAT WEAVER PEOPLE A. S. 1997, The Secret of Dream Catching How Horace Brave Scout wanders the Southwest and finds his life-guiding vision among the caves and baskets of an extinct tribe. CHRONICLE OF THE GREAT WEAVER PEOPLE
CHRONCLE OF THE UTERO-NAUT A. S. YEAR OF THE CHILD, PART I, Orientation How Shawnta, a 19 year old wannabe careerist like her single mom, was processed at the local abortion mill newly opened in her black neighborhood.
CHRONICLE OF THE UTERO-NAUT, PART I, RETROSTAR
PART II, The Argonaut How Shawnta's unborn child (no such thing as "fetus" ever existed on earth), genius that he was, got going with the name of Jason on a very promising career that might well have benefited the whole society and probably the world, but was rudely interrupted by an abortionist's foreseps, scizzors, and vacuum--but also how the Master Plan created by the FC kicked in with a contingency plan to restore Jason's life and future.
CHRONICLE OF THE UTERO-NAUT, PART II, VOL. IV, RETROSTAR
CHRONICLE OF THE PEARLY GATES A. S. 1998, How a Pearl Was Made How a farmer's daughter's experiences in life and her decision to be forgiving came to form one half of a gate of heaven.
CHRONICLE OF THE PEARLY GATE, PARTS I-II, VOL. IV, RETROSTAR
CHRONICLE OF THE GRAND PUZZLE--Earth I A. S. 2001- How Anatoly, a survivor of a notorious Nazi death camp where Anne Franke and her sister perished along with tens of thousands of other Jews, spent his convalescence and waiting period to go to Israel by playing the lottery after the camp was in the hands of the Allies; how he shattered the laws of probability by never losing and always managing to win back his stake; how this impossible gambling feat came back to haunt him in the last minutes of his life as he lay dying in a Denver hospital, but how the Hound of Heaven led him to win the Jackpot of life, the greatest prize of all.
CHRONICLE OF THE GRAND PUZZLE, VOL. IV, RETROSTAR
CHRONICLE OF THE LOST CITY A. S. 2002, Last Breakfast in the West Wing; Melt-down on Pennsylvania Avenue How the Wasichu of the U. S., in moral and political decline over against the British Commonwealth ever since Potsdam despite the highly-publicized moon and space programs of NASA, are struck by an invisible enemy and lose all their chiefs at once, and chiefs from the rest of the world come and set up a new council fire for the nation on Manhattan Island.
CHRONICLE OF THE MILLION MAN FLESH-EATER, VOL. IV, RETROSTAR
CHRONICLE OF THE DEAD MOVIE QUEEN A. S. 2003, The Burning of Coburn How a Hollywood legend found that all her fame, fortune, and feisty feminism couldn't erase the incredible after-death reality that was evidently turning against her--not only did she find she existed when she should have dissolved into nothingness, but all sorts of strange, powerful beings seemed intent on judging her and then throwing her into what appeared to be a Pacific Ocean set on fire.
CHRONICLE OF THE DEAD MOVIE QUEEN, VOL. IV, RETROSTAR
CHRONICLE OF MOSHE, HONORGUARDSMAN A. S. "Night of the Iguana" How on Earth I, Moshe Benlevi, a young Israeli soldier, a freedom-loving Sabra, was chosen to be a part of Michael Jayson's honor guard in Israel when the EU President arrived there for the signing of his "eternal peace" accord he had brokered with the Palestinians and the Israelis. How Moshe tasted sour grapes in the deal and decided to stop the world (at least his slice of it) and get off, but how he was intercepted by someone he hadn't included in his life's equation.
CHRONICLE OF MOSHE, HONORGUARDSMAN, VOL. IV, RETROSTAR
CHRONICLE OF DJUGASHVILLI'S SERVANTS A. S. 2024 The Titan of CNNC A hostile takeover by Ted Hunter of a competing Christian network, Alpha-Omega, backfired tragically for him when his wife, converting to Christianity right in his own penthouse on top the CNNC Towers in Manhattan, took A-O's side in opposing him. A takeover that was supposed to be routine, thanks to his billions and an army of corporate lawyers, became a living nightmare when he met a world-class power player in A-0 that more than proved his match.
CHRONICLE OF DJUGASHVILLI's SERVANTS, VOL. IV, RETROSTAR
CHRONICLE OF THE FALLEN GIANT A. S. 2024, How the Dominion of Canada, like the Humpty Dumpty the ill-starred egg man in children's nursery tales, broke up due to the disastrous effects of resurgent glaciation but could not be put back together; how it gained an ephemeral capital called Flin Flondia, once called the "Sunless City," in a book by that name.
CHRONICLE OF THE FALLEN GIANT, VOL. IV, RETROSTAR
CHRONICLE OF THE LAST CAMELOT A. S. 2170-, 1. Idylls of the King
CHRONICLE OF THE LAST CAMELOT, PART I, VOL. IV, RETROSTAR
2. The Panther's Jaws
CHRONICLE OF THE LAST CAMELOT, PART II, VOL. IV, RETROSTAR
3. Women and Children First!
CHRONICLE OF THE LAST CAMELOT, PART III, VOL. IV, RETROSTAR
4. Le Morte D'X-2914000?
CHRONICLE OF THE LAST CAMELOT, PART IV, VOL. IV, RETROSTAR
5. "Merry Christmas from Lyonnesse"
CHRONICLE OF THE LAST CAMELOT, PART V, VOL. IV, RETROSTAR
6. Wotoo's Black Box; The Duck King
CHRONICLE OF THE LAST CAMELOT, PART SIX, VOL. IV, RETROSTAR
7. Last Wagon Train to Avalann How the Royal Tribe of Windsor fared in exile on a base off Charon, Pluto's moon, and how they adapted to the loss of Earth and the dissolution of the monarchy
CHRONICLE OF THE LAST CAMELOT, VOL. IV, RETROSTAR
CHRONICLE OF THE STAR CHAMBER A. S. 2363, Christ in Atlantis? How Professor Pikkard was tried before a university panel for his heretical views and found guilty without evidence to refute his case.
CHRONICLE OF THE STAR CHAMBER, VOL. IV, RETROSTAR
CHRONICLE OF CHRISTUS TRIUMPHANS, Parts I, II, & III A. S. 2392, The Christmas Factor How Dr. Pikkard, meditating on the mystic Teilhard Chardin's visionary commentary on a medieval painting portraying a "standing" not a "hanging" Christ on the Cross, went on to reflect as well as the Incarnation of Yeshua, and how he concluded that a mystic thread connected all things, even to the blood of the human body, but that he had to wait for a "later" and "younger" talent to make it known scientifically. How, unknown to him, that younger visionary came to be his own predecessor, a Darwininian Establishment-challenging young man named Behe in the 20th-21st centuries, along with his contemporaries, Gabriel Tall Chief and Horace Brave Scout, who traced golden threads and lesser threads in a grand "blood cascade" of their own in the chronicles they brought forth.
CHRONICLE OF CHRISTUS TRIUMPHANS, VOL. IV, RETROSTAR
Book Two
CHRONICLE OF YOSEF'S PILGRIMAGE A. S. 4117, Flight to Avaris How Yosef and his young wife Maryam, with Maryam's newborn Yeshua the Promised Messiah of the Jews, fled from troops and spies of Herod the Great to safety in Mizraim, and how they journeyed back to Nazareth, their natal city, once Herod was dead.
CHRONICLE OF YOSEF'S PILGRIMAGE
CHRONICLE OF THE SECOND RESURRECTION A. S. 4150, Secret Sharers, Part II How the Second Zechariah the prophet, slain in the temple courts alng with many other prophets and saints, rose from the dead as a sign of the resurrection of the Messiah way back in A.S. 30, and how he went into the holy city and appeared to many, after which he was triumphantly escorted by angels to heaven's paradise--a spectacle first recorded, with certain new additions to the Resurrection Rolol, by Secret Sharer Josheph of Arimathea.
CHRONICLE OF THE SECOND RESURRECTION, VOL. IV, RETROSTAR
UNCHRONICLE OF THE CHRISTMAS PLAY A. S. 4 6 5 ?, "Merry Christmas from Lyonnesse," A Play, How a miserly, cruel banker seeks to destroy a whole town he has foreclosed on, closing down the only means of employment, the town mill, and how a small girl, Emily Cogwell, revives faith and hope in the people by refusing to give up her own in the bitter circumstances of poverty and homelessness, and how she turns and saves the banker when he experiences a change of heart after seeing her standing alone in the town square holding the Nativity Scene's Christ Child doll.
UNCHRONICLE OF THE CHRISTMAS PLAY, VOL. IV, RETROSTAR
CHRONICLE OF THE DRIED SPRINGS IP A. S. 4760, A Chief's Son Named Laughing Waters How an old chief and his old wife who had no children were promised a son by God, and the old woman laughed, yet later she conceived and gave birth to a beautiful son she named Minnehaha.
CHRONICLE OF THE PEARL DIVER A. S. 5927 -, Shipwreck of Dreams How a despised half-breed, part Keftiuan and part Myceneaean (both nations bitter enemies in the world) and Prince Daedalus do not get along and almost come to blows over the pretty orphan girl Theseus runs off with, and later after the girl's death (and the shipwreck of Theseus's dreams) how they find a way past hatred and revenge. CHRONICLE OF THE PEARL DIVER, VOL. IV, RETROSTAR
CHRONICLE OF THE FIRE WATER MAKER A. S. 5931, The Chosen How a brewery malt masher got herself a mighty warrior as a husband, and how her head was knocked in by other poor women, and left to die, but a great chief's prayer gained her the ear of the Most High and she was healed. CHRONICLE OF THE FIRE WATER MAKER, VOL. IV, RETROSTAR
CHRONICLE OF THE BLESSINGS OF THE BREASTS A. S. 5932-, The Wayward Vine How the births of two sons, Manasseh and Ephraim, comforted and cheered Joseph in the land of his bondage, but how his beloved wife and companion's heart turned toward her people and away from her husband.
CHRONICLE OF THE BLESSINGS OF THE BREASTS, VOL. IV, RETROSTAR
TWIN CHRONICLE OF THE AMBUSHED MAIDENS, TWIN CHRONICLE OF THE AMBUSHED BRAVE A. S. 5934, 1. Dawn Flower
TWIN CHRONICLE OF THE AMBUSHED MAIDENS, VOL. IV, RETROSTAR
2. The Prince of Gilead
TWIN CHRONICLE OF THE AMBUSHED BRAVE
How a chieftain's daughter and her maid-servant fought for their virtue; how the maid-servant escaped to safety and found a young man she could make her husband; how a prince, robbed of all his wealth, was left for dead in the desert, and how he found a greater wampum.
CHRONICLE OF THE BITTER ROOT A. S. 5938, Abdullah's Return How good times fattened Abdullah but did not improve his character, and how resentment and blood revenge took root in his heart, and how he could not rest until he avenged his brethren's deaths on the head of the chief of those he held responsible--Joseph. CHRONICLE OF THE BITTER ROOT, VOL. IV, RETROSTAR
CHRONICLE OF FAT WOLVES AND HUNGRY PEOPLE A. S. 5941, Part I, A Bruised Reed and a Broken Staff; Part II, The Return of the Brothers How the little family tribe of Joseph's father began to starve in their desert hogans and needed to go for provision in another country where there was said to be abundant food and water, thanks to a most far-seeing ruler in it who had set aside one fifth of the harvest for seven straight years of abundant harvests.
PART II, CHRONICLE OF THE FAT WOLVES AND LEAN PEOPLE, VOL. IV, RETROSTAR
CHRONICLE OF THE FAR-SPEAKING VASES A. S. 5931-, 1. Secret Diary of Ipu-Pheres (cont. by Benohe-Pheres); A. S. 5942, 2. Letters of Ipu-Pheres, Jonathan H. Thompkins, and Bertha Mae 3. Letter to Reader by Editor of the 23rd Edition of RETRO STAR series. How spirit-house shamans who have not yet been born could talk to people in stone tipis which had long since vanished under the ice. CHRONICLE OF THE FAR-SPEAKING VASES, VOL. IV, RETRO STAR
CHRONICLE OF THE BLESSINGS AND CURSINGS A. S. 5957, Jacob's Last Testament How all his sons received their future shares in the Promised Land and how his blessings in some cases seemed more like curses; how Jacob's embalmed body was carried back to Ken'an and buried with his father's bones. CHRONICLE OF THE BLESSINGS AND CURSINGS, VOL. IV, RETROSTAR
CHRONICLE OF THE BLESSINGS OF THE EVERLASTING HILLS A. S. 6011, The Kingdom Pledge How Joseph, on his deathbed at age 110, prophesied that his bones would not lie forever in Mizraim, but they would be gathered to his fathers in the Promised Land by his people. How seventy five years of great blessing followed Joseph's death, but then enslavement of the Hebrews began. How blessed was the one piece of ground, the field outside Shechem, owned by the people of Jacob and Joseph. CHRONICLE OF THE BLESSINGS OF THE EVERLASTING HILLS, VOL. IV, RETROSTAR
CHRONICLE OF A CLOUDY AND DARK DAY A. S. 6719, A Mighty Chief Called Barley Cake How one young brave was chosen by God to fight tribes of thousands of enemies that oppressed and starved his people, coming every year and taking all their food away. CHRONICLE OF A CLOUDY AND DARK DAY, VOL. IV, RETROSTAR
CHRONICLE OF THE GIANT-SCALPER A. S. 6852, The Runt of Ephratah How a tribesman of tiny Ephratah, smallest portion of a small country, he himself youngest in his family and despised by his brethren, killed and scalped a giant warrior and became the chieftain of the whole country and one of the most famous kings in human memory and whose second name is spread over the whole earth.
CHRONICLE OF THE GIANT SCALPER, VOL. IV, RETRO STAR
CHRONICLE OF THE CHIEFTAIN'S DAUGHTER IP A. S. 8732, Elektra's Contingency Plan--Implemented How a chieftain's daughter lost her last sky-canoe and seemingly all her people but found a tribe who didn't know better and took her along with them.
CHRONICLE OF THE CHIEFTAIN'S DAUGHTER
CHRONICLE OF THE SEVEN STARS, THE GREAT WHITE CHAIR, AND THE END OF EARTH'S SKY-TRAIL AND THE GREAT LAST COUNCIL FIRE (EARTHS I AND II) Z-Point II
GREAT LAST COUNCIL FIRE, VOL. IV, RETROSTAR
1. Z-Point Deferred: Battle of the Seven Stars How, on Earth I, the "Light Bringer" Lucifer attacks the Seven Agensl of the Seven Cburches, determined to gain absolute control of Earth I, and how he uses this attack as a feint in order do the most damage he can to his true objective: the Blue Bridge of Orion that contains, he senses, to the Plan of Restoration for both Earths and their Universes.
CHRONICLE OF THE SEVEN STARS, VOL. IV, RETROSTAR
2. Part I: The Sentencing Trial: The Great Assize Part I How all the people who had done bad things were shown what they had done and were cast alive into the mouth of a Star-Eater along with all the spirit-creatures that lodged inside the enemy stars. Part II: City of Destruction How the cities and nations were judged and then their names and official seals and insigne cast into the Pit, and all memory erased in the mind of God of their former existence.
CHRONICLE OF THE GREAT WHITE CHAIR, VOL. IV, RETRO STAR
Part II, CHRONICLE OF THE GREAT WHITE CHAIR, "CITY OF DESTRUCTION, the "Emerald City", VOL. IV, RETROSTAR
CHRONICLE OF THE BLUE BRIDGE LINKING CHAMPIONS--EARTH I AND EARTH II How the Bridge once linking the Twin Earths was restored in the Cavern of the Great Nebula of Orion, a work that spanned the ages and completed the destiny of both worlds; how the choice to forgive by one wounded human being, a pioneer Exoduster's daughter from a farm in Kansas, joined the two half-spans together forever.
CHRONICLE OF THE BLUE BRIDGE LINKING CHAMPIONS
2. Homecoming of the City of the Great Chief IP How the council gathering of the Lamb of God, finished after an eternity of careful construction, came down from heaven and set upon the center of restored Israel, where the Nail-Pierced One and his tribes would rule the Earth's nations for a thousand years until the Final Reaping of the Earth.
Volume V Beyond the Rapture--An Eschatology Lived,
Chronicled by Horace Brave Scout
CHRONICLE OF THE GREAT CHIEF'S RETURN A. S. 200? How Yeshua comes to Earth I, unexpectedly to most people, gathers those few "Wise Virgins" who are prepared, and leaves those who were tremendously successful followers, they thought, only to find themselves lumped with the ungodly in a world society racing toward the abyss. How Heloise Turnbull, the televangelist, lost her world-wide organization and wealth along with her husband and family but found new life and a new ministry in Israel where she fled to escape the collapse of everything she had achieved.
PART ONE, JACOB'S TROUBLE, "THE VOICE FROM THE GROUND"
"Thief in the Night," Part Two, Beyond the Rapture
"The Spin Shamans," Part Three, Beyond the Rapture
"luv heat and the marcyz boyz," Part Four, Beyond the Rapture
"Hard Choices, Part Five, Beyond the Rapture
"The Wailers at the Wall," Beyond the Rapture
"Shelter from the Storm," Part Seven, Beyond the Rapture
"A Covenant God," Part Nine, Beyond the Rapture
"The Lion Unleashed," Part Nine, Beyond the Rapture
"Retreat to Petra," Part Ten, Beyond the Rapture
Please return for Book Two of Beyond the Rapture, "Yom Kipppur"
(Chronicle completed)
Volume VI Natal Convergence
by Horace Brave Scout
CHRONICLE OF THE LOST TRIBE A. S. 1,136,786 How the Alpha Centaurii discovered an archive of Late Twentieth Century artifacts in a time capsule, and information revealing a Magnum Mysterium that revolutionized everything, to the point where they chose the dreaded White Martyrdom, a final search of the Universe for what they had lost, in which they discover what Ira Sulkowsky has already shown them in.... "The Christmas Factor" 61000202A-Z, Subfile A1, "Dogon Star Child"
61000202A-Z, Subfile A2, "Lakota Nativity" 61000202A-Z, Subfile A3, "A Victorian Christmas" 61000202A-Z, Subfile A4, "Christmas with James Dean"
"Subfile A4: Christmas with James Dean, A Requiem with Poinsettias" 61000202A-Z, Subfile A5, "A Fawn in Winter" 61000202A-Z, Subfile A6, "A Fulani Christmas"
"A Fulani Christmas," Vol. VI, CHRONICLE OF THE LOST TRIBE, RETRO STAR
61000202A-Z, Subfile A7, "Street of Dreams" 61000202A-Z, Subfile A8, "Winter Rose"
CHRONICLE OF THE LOST TRIBE, WINTER ROSE, VOL. VI, RETROSTAR
61000202A-Z, Subfile A9, Act III, "Christmas from Lyonnesse"
61000202A-Z, Subfile A10, ACT III, "Joseph's Letter"
CHRONICLE OF THE LOST TRIBE, VOL. VI, "Joseph's Letter," RETROSTAR "Natal Convergence!"
Volume VII Final Wars...Convergence at Orion by Horace Brave Scout IP
How two major battles fought for Orion and its secret "Skunk Works" resulted in the destruction of the chief project, the Blue Bridge, to the point where only half survived in each Universe; and how a single act of an individual was strong enough to unite the two halves into one whole, thereby completing the bridge and defeating the opposing players.
Epilogue II EPILOGUE II, "THE HARROWINGS OF HADES AND HELL," RETRO STAR
NOTE OF FRIENDLY REMINDER TO DOWNLOADERS: THIS CONTENTS PAGE DOES NOT LIST A GREAT MANY COMPLETED CHRONICLES, SO THERE IS NO WAY DOWNLOADING CAN OBTAIN THE COMPLETE RETRO STAR SERIES. WHAT IS GIVEN TO PUBLIC DOMAIN HERE IS JUST ENOUGH TO OPEN A WINDOW ON THE SERIES AND ITS POSSIBILITIES TO WHOMEVER IS SERIOUSLY INTERESTED.
FOR THE CHRONICLE OF THE QUEST OF THE GOLDEN FLEECE, PARTS I-VIII, AND CONCLUSION, GO TO VOLUME IV AND THE JASON AND THE GOLDEN FLEECE CHRONICLE, ANTE ANNO STELLAE 1230-1200.
The Greeks, starting with their predecessors, the Minoans of Crete (or Keftiu, the Princes Island), and continuing with the Mycenaeans, then the Achaeans (the mysterious Dorians), and then the world-conquering Macedonians led by Alexander the Great, finally on to the classical Greeks of Pericles, Socrates, Demosthenes, Plato, Aristotle, and others too numerous to mention--a race of epic deeds and epic character flaws immortalized by Homer and continuing on to the decadent, pleasure-loving, inebriated, crumbling-from-within Greece the Romans knew and conquered--this entire calvalcade of many-splendored peoples missed the whole point about their own stars, constellations, and the matchless, wonderful accounts they had inherited from more ancient times and peoples. Encapsulated in one moment, perhaps, that lost greatness, that Magnum Mysterium, that was only later to be lived and explained in word and deed by a certain carpenter's son from a nothing of a town in northern Israel--until then, there was for succeeding generations only the fading brightness of the glory Jason and his Argonauts and the four grandsons of Phrixus (all destined orphans, like us!) once bore home triumphantly on the bow of their ship the Argo:
But what price glory? All the surviving Argonauts, as well as Jason and his four adopted sons, the grandsons of Phrixus, carried home the memory of Mopsos and his pyre burning far into the night as they lifted their weapons in salute and sang victory songs fit for champions in his honor.
Long after the re-location of Earth II, Atlantis II is flourishing with civilizations, and finally, after the time of Joseph II, they develop in a linear fashion into more or less 20th century type societies (with Kolumbia the northern empire remaining a very backward hermit kingdom run by orthodox mullahs, and South American countries not much better off) that are locked shield to shield, in a Cold War. Both sides have the Bomb, and all it takes is a wild card to tip the balance of power and trigger a combo cataclysm, Armageddon and Gotterdammerung. Homer is that wild card, though he doesn't mean to be. He is experiencing an identity crisis--which young people his age can well understand since most all, unless they are brain-dead or hopelessly brainwashed, go through a rather stormy channel in life that resembles the one the Argo, in ages before Homer's time, sailed through while her crew tried desperately not to be smashed by the Clashing Rocks.
Following some now stone-cold tracks, Homer, unknowingly the Emerald-challenging "O" in the DUBESOR line of letterman-champions, crosses over into Atlantis seeking his long, lost father who was last reported headed that direction, and the moment he sets foot on Atlantis he becomes the catalyst that will soon ignite an entire world's destruction.
Back during his last years of school, however, he was still on a track to a conventional life as proprieter of the Bean family's landmark trading post and outfitting business. Yet, revealing a telltale sign of something out of the ordinary about him, he had excelled, of all things, in a martial art called fencing--and had earned the grade of Three Stars of Isma, and the right to wear three sacred stars, two on his boots, and one on his padded chest vest.
This award entitled him to entrance to the exclusive schools that trained mullahs, though fencing was, for mullahs, purely a ceremonial ritual handed down from ancient times at the imperial courts and no longer regarded as a real sport. Master of the Three Stars, where could he go from there, unless he opted to become a muttering, chanting mullah fingering prayer beads all day long? But he didn't want that--he preferred an ordinary, active, working life, involved with society and the open air and nature. To wear long, holy robes and keep to the church and its high, stuffy walls and prescribed round of prayers was no life for a young fellow, to his thinking. The very idea suffocated him. Besides, he had become too restless, during the last years of his schooling, to settle down just yet. He had to find out, for instance, what had happened to his father.
Graduated from the local medresse attached to the church, Homer settled down to his work at the store, but his mind wandered, and he started making mistakes that were costing the business, particularly on the outfitting side of the business. It bothered him more than he liked to admit, that he was, virtually, fatherless and motherless--with the hint of illegitimacy about his birth.
He thought he could handle most anything in life, being eighteen, and just starting out his adult life--yet a simple fall on some icy steps changed everything, his whole life, in a second's time.
Higgins the maid finds him at the bottom of the stairs, fortunately before he can freeze to death, and gets help.
Waking up in a hospital bed, your head bandaged, is most unpleasant, but he was so groggy, and still half-conscious, the reality for him was blurred and took some time to sink in. It was not a quick recovery, either. In the care of a doctor and nurse, he had plenty time to think things over, and also adjust, but the hospital seemed to complicate rather than simplify his life--for here he ran into Faye.
They had met before (how could you avoid anyone in such a small town world as Makon?), but the dividing walls of the society were so high, it was an impossibility from the start, when he discovered he was more than interested in this Christian Indian girl, who had come to the Bean store now and then for supplies.
People in his class and religion did not get involved with primitive tribespeople, especially since they were infidels, practicing the Christian idol-worship of three gods they called the Trinity. That made them no better than subhumans. His religion, Holy Isma, was the only true rellgion on earth--and it was not his right to cross the vast gulf fixed between the holy people of Isma and the infidels by God and His Prophet since time began. Of course, his brand of the Isman religion was not orthodox, but the gulf remained, however much other things changed.
As an infidel Christian, polytheist and savage Indian, Faye could still serve the more secularist society of the C.S.A. as a nurse (though never a teacher)--and so she was free to earn a living that way for herself and her family residing somewhere in the woods. But there was to be no fraternizing with the patients (who were all Ismanic, of course, since Indians could not afford hospital care and wouldn't be permitted it even if they could afford it). Yet nurse and patient could not be stopped from having conversations, and thing were said that might not have pleased the local iman--if he had heard it. Faye challenges Homer on his faith--and that, for Homer, is hard to take, as he cannot deny what she is saying may well be true of his faith.
Homer ends up disturbed, as he cannot deal with his own feelings about Faye on top of his problems dealing with his lost father and sequestered idiot mother. It is enough to have an effect on his healing process.
As Homer is not showing the recovery he ought to be making, he is taken to a much more advanced city in medicine, for a second doctor's diagnois, then returned to Makon. A strange thing happens. A country hick, who had heard at the store what had happened to Homer, pops in on him unannounced and makes a gift of a ferret kit to him.
No one can tell the sex in a ferret, especially a kit's, the woodsman explains to Homer, but if it starts collecting leaves and fuzz for nesting, then you know it's a girl. Almost immediately, Homer's foggy mind clears. It proves just the thing to distract Homer from the muddle of his unsolvable perplexities. He has something to take care of now--a pet that he can feed and also take out on his therapeutic walks on the grounds.
Homer improves enough to be allowed to go home, with prescription medicine and instructions not to strain himself with work at the store or cause himself any mental stress. In other words, he must take life very easy for some time yet, as he slowly mended.
This is not possible as a lifestyle for Homer, as he is too young, too accustomed to an active life, to obey the doctor's instructions. Avoid mental stress? That was laughable, for one in his situation. He had to find some answers for the questions plaguing him night and day, or he thought he might go crazy with the headaches they caused him.
After quizzing his very reluctant grandmother, dragging out every detail he could, while barely recovered from a bad fall and concussion, Homer set out from home, for the train that didn't quite reach Makon but picked up passengers ten miles out where the logging companies had gathered their logs at a company depot and shipped them to the Alantah market.
It was a sad day when he set out, with his trusty ferret Rainy snuggled up warmly in his inside coat pocket, to walk to the town's one gas pump station, to be driven from there by the only hired car in town, because though he felt he had no choice, he wasn't really hoping he would be happy with his father even if he found him. His father, after all, had run off from his mother and the town, without explanation and with no sign he cared a fig for Homer's mother. And his grandmother and the doctor had insisted on a trip--for his health sake--but, again, he had his own quest that was his real reason impelling him to leave his once comfortable nest of Makon and all he had known--not to mention Faye, a high-spirited Christian Indian girl he was becoming more than just interested in--though his own religion forbade any such attachment.
He carried nothing but two slim suitcases with some changes of clothes, a few books, and his medications, in case he had more problems with his head wound. Yet there was something else--a couple plates of what his grandmother called "celadon," a special, very expensive and rare porcelain, of pale greenish color, that the imperial courts of Multan had favored because it was supposed to turn black if poisoned food was set on it. How it had gotten out of the Forbidden City's royal palace in Multan and turned up in Makon, nobody knew--yet the Judge Bean had found it left behind at Homer's father's residence.
And his grandmother, when he was going out the door, called to him. "Homer dear, I have something else your father left behind. The Judge showed it to me, and I kept it for you--just in case you wanted it."
With a shy look she opened her tiny hand and a golden amulet shone in her fingers. He took it, and saw the countries of the Holy Land etched on it, as well as the rest of the world, in a trifoil, flower-like design.
Homer arrives in Alantah, and joins the Holy Land Tour. The flight out to Poseidonia--its capital, Port Andros is the port of entry to Multan, since it is still forbidden to enter the Holy City directly--is more eventful than Homer, still recovering from his recent accident, likes. The latest Miss CSA-Teen World, Talulah Coldbank, has arrived at the airport after her triumph in the Finals at Kingston, and since the Holy Land Tour has only sixty people and doesn't reserve all the seats, leaving one unoccupied, she is accepted aboard when she decides to take the only seat left on the first plane out, rather than wait with her own entourage. Her hairdresser, maid, manager, and press agent, scheduled for a flight hours later, will follow with her luggage.
Homer happens to be seated by Miss Teen World in First Class, who is admiring a huge, flashing jewel on her finger as he finds his seat and sits down. He doesn't recognize her at first, being a little hazy in his mind still from his bunged up head--but her green eyes are unforgettable, and then it comes back as to who she is. She had been a customer of his at the Trading Post, before her winning the Miss CSA-Teen World competition, but that is all they had in common--as she tells him she is going on to bigger and better things than the [expletive] old C.S.A. ever had to offer her. She didn't mind flying by herself either! she added. She loathed the people she had to take along--they were always telling her she couldn't do this and that and the other thing! It was absolutely stifling to be around such nincompoops! They wer no fun at all!
Homer listened to her rattle on and on about the stupid people she had met in Kingston, and how she had beaten every rival for the crown and won the judges over with her high class act and her perfect accent and--she didn't elaborate any further on what else she did--which he was thankful for, since her voice and her way of running other people down was wearing on his nerves.

What bad luck he had being given a seat right next to this long-legged, red haired, green-eyed vixen! he thought, feeling a headache coming on. She had given him a bad time before at the Trading Post, now that he recalled, and now here was a repeat performance. Fortunately, she doesn't seem to recognize him--and continues telling him about her parties in Kingston after her victory, and flashed the ring she had just been given by a certain admirer in Alantah, who has arranged to meet her later on her tour of Heruka Ratna. As she went on about herself and all her clothes and furs and the events planned for her various appearances, Homer lets her talk without listening, hoping he can get through the experience without his head hurting too much.

They had just lifted off and the stewardesses were busy serving cold drinks and taking orders for the first course of their dinner when Miss Teen World decided she was being slighted by not being served before everybody else, even though she wasn't really entitled to First Class, having not reserved a place with the Holy Land Tour.

"I don't care if I'm not in this damn tour!" she snarled. "I paid for this seat--and I'm entitled to first serving--all the more since I'm Miss Teen World, if you don't know, you blithering idiots!"

She started screaming obscenities at the stewardess, who tried to quiet her with promises to bring her anything she wanted despite her not being with the tour--but that wasn't good enough. "I want the [expletive] captain--tell him to come here immediately or I'll have him sacked when we get to Port Andros!" Talulah demanded.

The stewardess was horrified, and showed it. "I'm sorry, he's busy flying the plane, Miss!" she protested.

Talulah rose out of her seat, she was so enraged at this latest insult to her, the reigning Teen Queen of the Confederate States of America, that the stewardess, trying to back up with her cart, was not quick enough.
Everyone on the flight, including the captain and co-pilot, heard the girl's piercing shriek. When the captain came rushing out to see what was going on, he saw the stewardess collapse in tears on her cart, holding her arm and moaning.
That was the last Homer saw of her--as she was quickly taken away--still holding the arm that Talulah had raked deeply with her long, razor-sharp nails.
No one came back to serve Talulah after that--she was left completely alone the rest of the flight--and Homer starved, as both of them completely missed their four course dinners.
Homer sat back, wondering what to do--but what if he moved?--the plane was full--there was no other seat open. So he sat where he was, miserably counting the minutes until they landed, while Talulah, the little green-eyed fox, busied herself with refreshing her lip blush for the next crowd of paparazzi she was prepared to meet at the airport.
As soon as the plane touched down at Port Andros, the seaside capital of Poseidonia, the still very disturbed passengers could not be held back any longer, and they rushed toward the exits to get off. The wounded stewardess, her arm bandaged, is taken off first, however, despite Talulah's protests who claimed precedent.
Moving with the others of his tour group toward the gate, trying to put as much distance as he could between himself and the still protesting beauty queen, he wishes he had not packed his medications in his bags--he would like something now to make him feel better. Even one aspirin would have given him relief. But he thinks that is the last he will see of the vicious beauty princess when he disembarks and a screaming crowd of fans and photographers and reporters sights Talulah and mobs her.
Why are there so many people at the airport? he wonders. Is it all for the beauty queen? But no, there are Poseidonian soldiers everywhere. Has a new dictator taken charge? Or is there a revolt going on? Whatever is happening, thousands are trying to get out of the country at the same time.
He is so ravenous by this time, he doesn't care what kind of government is in charge--and so he heads for the closest restaurant in the airport, telling Mr. Knudson the tour leader that he has to get something to eat. He finds a single open stool at the food bar and sits down, pointing at a picture sandwich on the menu. The waitor brings it and leaves the tab. Wrapping a piece of his sandwich meat in a napkin for Rainy to eat later, he wolfs down the rest. He is just going to get up and go and pay for it when a strange thing happens--a Publicatexan, it so happens, is seated by him, and starts talking to him in Confederate, though with an accent that murders Homer's much softer, musical language--bragging about his ranch and the size of his herds of longhorns, and he even flashes the oversized gemstone on his ring in Homer's face. "Yah, man, ah picked this doo-dad right offa my own patch of dirt, right down in the creek bed below my hacienda!" the man laughed. "Looks mighty good for a cat's eye, don't you think?"
Homer stares at it. He blinks. He has seen it before! Where? Then he remembers. It looks so like Talulah's, he isn't aware of anything else, not noticing that the owner is grabbing at his throat and trying to say something.
Homer notices something is very wrong, however, when the man begins sliding off his stool, his eyes glazed, and his hands clutching and knocking over his water glass and plate of food.
Staring at the man in shock, Homer is very much the small town boy out of his element, and so doesn't know what to do--but somehow, instinctively, as if for Talulah's sake, he grabbed the man's outstretched finger and pulled off her ring, then ran.
Out in the main terminal again, Homer slips the ring into his pocket with Rainy to guard together with his wallet and is swallowed by the crowds.
He doesn't have time to think about his action, taking a dying man's ring, a very strange thing to do for someone he doesn't even like. But his surroundings are so strange and chaotic, he isn't acting logically anymore.
Looking desperately around, he fails to sight anyone from his tour group in the long ticket and baggage lines. Had they taken a bus and gone into the city for a special sight? Had they taken another flight out when he was in the restaurant? He had no idea--as the itinerary tour did not include military coups and special instructions about what should be done if any took place. All he could tell was that he was marooned, the only one from his tour left in the airport apparently!
At this point, he oddly calms down, submitting to the inbred fatalism, the kismet, of his religion instead of a panic attack. He thinks he can easily connect with them at Multan, the next main city on the tour in the intinerary brochure.
As far as it went, it was a comforting thought in rather tense circumstances. But nothing goes right for him at Multan either, after a short half-hour flight from Port Andros. He thought it would be possible to spot Mr. Knudson or someone else from his tour group, but after a few minutes of walking up and down the terminal to the various gates, people bumping into him front and back, he sees that was a pretty stupid idea he had. Wondering what to do next, he is still looking around confused and lost when a nattily-dressed gentleman walks up to him, hands him a gilt-edged card, and then without explanation quickly walks away. Homer looks at it, examines the strange name and address, and understands it must be an invitation to someone's home. He puts it in his pocket, and goes for his luggage, intending to head for his hotel on his own. He has no sooner got his luggage, when a grinning skycap offers to carry it for him. Before he can answer, the boy grabs both pieces and takes off. Before Homer can stop him, his luggage is out of sight--hijacked! He runs to chase down the smiling little thief, but the crowd swallows up the boy and a million Multanese boys who look like him--so, goodbye luggage and the royal celadon dish he had carefully wrapped so he could use it as a prime item in his search for his father!
Homer is disgusted--this was supposed to be the Holy Land--the birthplace of holy Isma--and the people were proving to be nothing but the most shameless crooks--and he was sorely tempted to take the return flight home at this point--but he recalls the reason he has come, and the lost luggage doesn't matter so much then. He can always buy more clothes, as he still has plenty money, though mostly in traveler's cheques. Or does he? There has to be pickpockets around. He claps his hand over his wallet--and is tremendously relieved, it is still there, along with Talulah's ring. If he lost his wallet and money, he'd also lose the gold amulet, perhaps the most precious thing he had left of his father's. Just in case, he moves his wallet as well as the ring to his inside coat pocket, sharing the deep pocket with Rainy, which is still soundly asleep, soon clutching the big-stoned ring in his paw, since it prefers to run around at night.
Leaving the airport terminal, he decides not to take a taxi, as a swarm of dozens of cabbies shout and grab at him and honk their horns, giving him good cause to wonder if they want to rob him too. Seeing him turn away, the cabbies really begin to stage a kind of riot. Fights break out right before his eyes--as if they were taking out their frustration on each other.
Not to be outdone, black marketeers, carrying their stock in trade (a fake shoeshoe box filled with cash for changing currencies at an illegal, low rate with foreigners), edged toward him.
Shaking his head at them and saying "Yok," ("no") virtually the only word he knew in their language, he moved away a few steps--which didn't put them off at all, and about four of them moved on him from all sides.
Just the sight of of these professionals chills his blood. But there was even bigger trouble brewing. The longer he hesitated, the more angry the cabbies seemed to get--as if he was insulting them all by not making his choice--and some started to spit and curse and shake their fists at him. Multan was full of grand buildings but had so many poor people and the competition was so fierce, he realized--he could see the desperation in their eyes--it was like nothing he had seen in the worst parts of Alantah and the CSA.
Thinking he was probably much safer without a ride, he starts out on foot, and has to push his way through a small army of pedicabs, which are just as thick and aggressive as the taxis. The moment he steps away from the terminal, the huge metropolis swallows him, and he wanders in a maze of twisting, narrow streets, wondering how he is going to find his hotel when he can't read the street signs (and there are precious few signs to be read anyway!). When he passes under the same arch twice, he realizes he is hopelessly lost.
How long has he been going in circles? He doesn't know, as he checked his watch, only to find a bare wrist! He is stunned. It was an expensive watch, platinum with inlaid gold, the best his grandmother could find in Alantah! His graduation watch too! How could he have let someone lift it right off his wrist without him feeling a thing? Did he lose it on the plane or at the airport? He has no idea.
The soles of his feet are beginning to hurt from the cobblestones. He realizes his shoes aren't the right kind for Multan's rough and broken paving stones. His head has not stopped throbbing either. He badly wants to lie down with a cool damp cloth on his forehead, but where is the Imperial International Hotel? He tries to look up through the narrow strips of sky squeezed between the tall dark warehouses, but he can't see anything like a gleaming, white-balconied hotel tower.
The streets get narrower as he continues, only wide enough for one vehicle at a time.
A car is coming from behind, he hears, but pays no attention until he realizes he is going to be run over if he doesn't get out of the way. He sees a doorway but doesn't dare turn into it--the men will catch him for sure, and the car keeps coming, brushing so close to the wall he realizes he is going to be hit. Turning round a corner, he runs for his life--and the car pursues him.
His blood pounding in his head, he races round a curve of the narrow street, only to find yet another death-trap stretch of alley-like street. He keeps running but is almost despairing of getting away when a boy steps into the street from a bakery with a huge platter of Multanese pastries piled incredibly high over his head, everything stacked perfectly so that he could manage the load. Dashing right up to the startled delivery boy, Homer did the only thing he could think, he grabbed an armful of cream puffs and heaved them at the car coming at him, then leaped to the side. There was an ear-splitting squeal of brakes, as the cream filled pastries splattered across the windshield and the car turned sharply.
The rest was a horrible boom of metal smashing into brick, and then spraying water from a burst radiator after the car rammed the the side of the bakery. That was just the beginning. People poured out of the bakery, workers and the owner and customers, with everyone slipping in the cream and pastries on the cobblestones as they lunged to get at whomever had caused the accident. Screams, shouts, two men climbing out of the car and staggering about amidst the cream puffs were mobbed immediately, and Homer, seeing that he better take the opportunity to leave the scene now or never, ran in the opposite direction.
The street was a climbing street for foot traffic only, and it took him straight up toward the foreign quarter, where the city's largest modern hotels, as well as embassies, banks, and foreign firms were situated.
Stepping out onto a wide, tree-lined boulevard, he was soon in another world totally different from the one he had left--and quickly found his hotel on the broad, CSA-style avenue.
Checking in, though he had to explain his loss of luggage to the front desk concierge, he was led up to his rooms.
Handed his key, the bellhop winked, then left him without going in with him or waiting for a tip.
A little amazed by the bellhop's manner, Homer stepped in, then saw he wasn't alone. A red-sequined jacket was hanging on a chair in the outer room, along with a still smoking gold-tipped, jasmine-scented cigarette in an ashtray.
Going to the next room, he stood speechless at the door. A woman was sitting on his bed!
Homer's already sober face took on the most unhappy, violated look, as if it had been slapped. A huge tear dropped from his eye and splashed on the tile floor. He knew somehow she had been sent. "Someone did this to me when I came to find my father?" he thought, but before he could send her packing, the ferret, with the ring in its mouth, chose that moment to pop its head out of Homer's coat and take a look and a sniff around with its gleaming, sharp, greenish eyes, white masked face, and wriggling nose.
The woman's scream made Homer's ears ring for an hour afterwards. She nearly knocked him over as she ran out of the rooms--as if she had just seen the biggest, most ugly rat crawl out of a man's clothes. One of her heels broke off as she ran, but she pulled off her shoes and then continued running toward the stairs, not stopping to wait for the elevator.
He hated the idea of staying in the rooms that night that still smell of the call girl's jasmine cigarette, so he went down to the lobby. It was late, but he tried to make a call home to Makon, but the line wouldn't go through. The telephone system was so broken--the concierge directed him to a room where professionals tried to make it work for him, for pay. Even they had to give it up--not tonight he was told. "Please try again in the morning, Effendi," a girl said to him, smiling. Maybe then his call would go through.
He sat down in the lobby, trying to think of what to do. Should he write to his grandmother? Surely, that would tell her something--if she had heard already that he was missing from the tour. He got some hotel stationery, wrote what had happened, then gave it to the concierge to mail--for a charge on his tab, of course.
That done, Homer felt better. He still wasn't up to returning to his rooms, and even saw the bellhop who had winked, but the fellow wasn't winking now, and wouldn't even look his way. Homer wanted to see if he knew anything, but when he started toward him, the bellhop shot off through a "Personnel Only" door, and Homer, rushing up to it, found it locked.
Homer was furious. He thought for a moment of making a complaint, but the concierge--somehow, Homer sensed his complaint would be meaningless--a foreigner making trouble for no good reason. His stomach was rumbling, and feeling the restlessness of Rainy in his pocket, Homer decided to go out and get some air, and, not wanting anything from the hotel restaurants, see if he could find something to eat in the neighborhood.
He didn't have far to go to find his dinner. The city was full of vendors, who pushed their carts of bread, and lamb-stuffed pastries and roasted chestnuts and various sweets along with hot chai (tea) even in the Foreign Quarter, or New City.
He bought all he wanted--two veal-stuffed pastries, a glass of chai, and then a whole raw lamb chop for Rainy to gorge on.
Crossing the road from the hotel, he sat in a park and enjoyed his delicious food as the city's skyline of cloud-piercing prayer towers and domes turned to lavender and then burgendy, then red and gold. Rainy wolfed down his tasty meat, and with his belly visibly stuffed was satisfied and began playing round on the grass with some twigs, flinging them into the air and snapping his little, razor-sharp teeth on them just for practice.
Homer was amused, for the ferret was always good at entertaining itself, with whatever lay at hand. Rainy was learning many things too. All Homer had to do was hold out his hand, and the ferret knew what to do--it leaped up, and ran from his hand to his arm, then dove into his pocket.
When Homer saw it was dark, and not too safe a place for a lone tourist to be loitering in a strange city, he went back to the hotel, and then sat in the lobby, resting his head on the comfortable plush of a sofa, and even fell asleep, with Rainy doing the same, though it stuck its head out of the pocket, and had its keen, darting eyes open for quite a long time, watching the hotel staff move around the lobby as though it were Homer's guard dog.
When Homer awoke, it was rather late in the morning--but he felt much better. By this time, the staff at the desk was looking at him as if he was behaving oddly for spending so much time down in the lobby, so Homer decided to go up to his rooms. He had just opened the door when the hotel directress came with several cleaning maids in tow. Homer could see right off that this woman was not one to suffer fools or incompetence, as she directed the maids about like a sergeant in the military.
As her help scurried to obey her sharp commands, she turned to Homer and examined him with narrowed eyes. After her examination, she began. "I hear you had a little trouble here yesterday, sir. I am most sorry for the annoyance you may have suffered. We have no idea how that despicable creature got in--as I have questioned every one of the men who service this floor, and none had any information or knowledge of her. I can assure you, however, that it won't happen again. I have ordered all my staff as well as hotel security to be on the look out for any such trash in the future!"
As she was saying this, Homer realized that she wasn't really concerned with him or his feelings concerning the matter, as her tone was just too perfunctory and professional. And as she was speaking, she was looking about, and sniffing. Before he could stop her, she raised a spray can and pressed the release.
A plume of misted scent shot far out into the room. His heart sank. Just as he feared, the sickening sweet odor of jasmine flooded the whole area. It made him gag immediately. He turned so pale that even the hotel director noticed and stared at him.
"Don't you like this wonderful scent, sir? Everyone perfers it in our city--it is the fragrance of the sacred jasmine, which the last kaliph preferred above all other flowers to grace the royal harems of his Sublime Porte!"
It was all Homer could do to keep from retching right then and there in her presence. Somehow he held it back, then excused himself, left the room, and ran to the nearest public restroom and reached a sink without a moment to spare.
In the days following the incident, Homer does not spend much time in his rooms--which felt very uncomfortable to him, thinking someone he wouldn't like now knew his whereabouts. Besides, the rooms still reeked of jasmine, thanks to the hotel directress.
On a holy day, he walks the silent streets where the people are hidden away behind their closed doors and shuttered windows, thinking how differently things had turned out for him. All he wanted was a normal life--but everything that was happening was unlike anything he had ever experienced or known back in Makon.
As was his duty as a follower of Isma, he went and gave alms to the beggars who were clustered in their usual haunts, outside holy shrines and at places where tourists were sure to pass. He gave his alms, but looking at the beggars he realized it would never be enough to take them off the streets--they were destined to remain there, living on handouts, which were only enough to give them a simple meal once a day, but not enough for anything else. Normally, he would not have thought twice about their fate. But Faye's talk about her god had challenged him more than he had realized. He was giving alms out of duty, and because it would help get him into heaven--but not from love for them, of course. One did not love beggars--it was not required in his religion. Yet Faye had said her God required that she love beggars and even love her enemies! Love his enemies? Love these unwashed, stinking, useless beggars? He could not imagine doing that--but the idea of a God who loved such wretched creatures bothered him, nevertheless.
When the time passes and nobody he can recognize turns up (and he would have a hard time recognizing them, having spend so few hours with them before they were separated from him), he is watching a puppeteer performing some well-known, popular folk tale series, "Abdullah the Grand Vizier and His Wondrous Thousand and One Adventures with His Flying Camel, the beautiful Zuhrah."
Homer had heard of him, but this was his first encounter with a live performance. The main character was a hit with the common people, being a buffoon and a pompous little fellow with a huge nose and a turban that is way too big for him and who is always getting into trouble and hair-raising situations with assassins from some unknown, secret society of infidels. Even his flying she-camel with the ravishing, big eyes isn't enough to help him escape all the troubles he attracts.
Homer's heart stopped as he moved to one side of the crowd, only to see a car pull up to the curb and four men get out and begin scanning the people. They are definitely looking for someone they want to do something he instinctively knew he wouldn't like done to himself--so he ducked into the crowd and tried to make his way through to the other side.
He passed close to the puppeteer on one side, however, and then, through a opened screen in the man's booth, saw a pistol with a silencer pointed at him. He dove, and then heard a man cry out, then another, as various people were hit in the line of fire--but he kept going, pushing through the now panicked, stampeding crowd.
The stampede was his saving, for the whole square in front of the Yeni Cami (or the New Mosque) was such chaos that the hitmen sent for him had no chance of moving anywhere for some time--and then the police were running from all the surrouding posts to restore order and arrest whoever was shooting.
The silence of the narrow, crevice-like streets off the square was almost deafening to Homer's ears. He had to stop running to catch his breath, but he kept going. Ending up at the docks, he thought for only a moment, then walked on the first one--thinking this was double insurance he would put off his track anyone who might be following him.
Homer, however, had to learn the hard way that you don't disapper in a city of even eleven million--all crammed into one city meant for two or three million at most--once you are known. He was known, obviously, from the time he landed, even before then--in truth. He still carried the invitation to a private home--and that alone said he was known and expected in the city.
Moving into the ferryboat wondering where it was going, Homer looked around at the passengers, but so far nobody seemed at all interested in a lone northern tourist in casual, foreign clothes.
The boat carried up to 2,000 passengers, and vehicles too--having been an outfitter, he knew every detail of the transportation systems his patrons would be using. The vehicles drove on from the side, he saw, as he stood watching passengers and vehicles come aboard "The Ecstasy of a Jasmine-Scented Lover," as the boat was named, along with a huge logo on the stacks that pictured the ideal of Multan's male population--a famous film star with pale, moon-like face, parted blood-red lips, and sad sloe eyes and gold-painted eyelids.
Blowing its horn, the vessel was ready to depart within a short time after Homer boarded. A ticket man was moving through the passengers, taking their money, as nobody paid for tickets off the boat.
Homer paid for his, and the man took his money, then looked at him a second time, and Homer felt uneasy as the man moved off. The ticket man did not take any more tickets, but went straight to the bridge and went in.
Homer decided it was a good idea to keep moving on the boat. He went over to the other side, and was looking at the view of the other shore of the great river, the villas, fortresses, and huge cannon-holding towers and old imperial army barracks that stretched as far as he could see, when he noticed a shoeshineman wanted his business.
"Shoeshine, Effendi?" A short but stocky man, with glinting, gold-capped teeth and the woolen cap and scruffy suitcoat and rumpled tie, grinned up at him.
Homer shook his head and moved off, but the man caught his sleeve, and in a gruff voice, no longer smiling, demanded his business.
Homer shook his hand off and walked as fast as he could to another area, but he saw he wasn't going to get away. And the shoeshineman had several men joined him in following him. They were not making it a scene to alarm the passengers, who were sitting and taking the sun on the open decks as the boat moved away from the city upriver. Instead, they were slowly moving in on him, in such a way that he had to keep moving to avoid them.
Homer was thinking furiously. Where could he go on the boat? Big as it was, they would be sure to find him? If he ran, he might gain some time, however, so he started running, making it up to another deck, then running the whole length, then making it down the stairs as fast as he could, two decks this time, so that he when he came out he found himself on the vehicle deck.
It was dark there, but he could see light gleaming where the entrance was--and in the light he knew he would be seen--so he bent low along the cars as he moved between them. He was hoping he would find a spot where nobody might find him. Would he? He had no idea if it would work or not.
He heard voices, and thought it might be boat personnel, but he peered up over a car's hood and saw, no, it was the shoeshineman leading his fellow thugs. Fast as he had run, they hadn't been far behind him!
Their angry expressions and their quick movements told him they would ransack the whole deck for him until they drove him out of hiding.
Homer gulped. He knew there was only one option left. Would poor, little Rainy be up to it? So far he or she had not budged--as if the critter was dead to the world, the ferret slept so soundly during the day--but what Homer was thinking of would no doubt wake it up with a terrific shock, he knew.
Homer reached the vehicle gate. Here the water was not as churned up as at the back where the propellers could make mincement of him--but that was all he had going for him--as swimming in unholy water was absolutely forbidden, he would be defiled. Except for ceremonial baths and foot washings for church meetings, swimming in unconsecrated water (which the iman had not cleansed with his prayers) was forbidden in his religion. Would it count that these were the waters of the Holy City? He didn't know. Would he lose his place in heaven? He didn't know. He just knew he had to save his life, and Rainy's too.
The shock of leaping into a major river that was moving the opposite direction from the boat was more than he had foreseen, but he clapped his arms around his chest to shield Rainy the last moment, which also shielded his face. Down under the surface, it was every man (and every ferret) for himself, as Homer battled to the surface and to stay afloat in the wake of the boat.
Fortunately, the fishing was known to be very good where he was in the deep part of the channel, and he was floating in the current right toward a group of small net-fishing boats who were trying to catch a last prime fish or two for sale at the fish market for the city's late-dining restaurants. He wasn't going to have to struggle very long in the water, before a fisherman spotted him.
And so it was! A fisherman who stayed out longer than the others--being old now, and not so good at hauling in heavy nets for catching the big bottom fish--fishing with a shorter, lighter net for pan-sized trout and perch, held out an oar to the desperate Homer padding to keep himself and Rainy (who had climbed out sodden but none the worse) on his back afloat.
The plunge off the boat into the river, and all the excitement of the chase of four against one (and a half, counting Rainy) was now telling on Homer. He was hardly able to sit upright in the boat, and the fisherman, who wasn't one for talking unnecessarily, oared him toward the shore without a word.
Homer had to be helped out, he just was so weak in his legs. His head throbbed too, and he wished he had his medicine had not been lost with his baggage.
Homer was not well at all--after his ordeal. The fisherman, used to hauling in suicides and rubbed out crime family's rivals, not survivors, took him to his net-mending shed where he had a cot for him to rest on. Homer got no further for several days, as he slowly recovered strength, while the fisherman, a most kind, grandfather man named Ugur, nursed him back to life with a bowl simple fish soup, street vender bread, and sometimes a lamb chop admidst the herbs and river crayfish, not to mention the universal beverage of Multan, a glass of hot lemony, cinnamon-spiced chai. All the time Homer was resting, the fisherman never left him alone, that he knew, and was always mending nets he had contracted from other fisherman to mend--which they gladly paid him so they could be freed from tiresome net mending and spend their time more profitably fishing.
From time to time Homer would awake and lie still, just watching the slow, methodical movements of the master net mender. With a huge needle and a thread of netting hemp between his lips, he would run his hands through the nets, searching until he found loose or missing threads. It was slow, meticulous work, for one hole or weak spot could widen and break with fish pushing hard against it and a whole catch could be lost. Homer, who knew something about fish, and something about nets, had never seen anyone with this man's skill, however. He was fascinated, watching him--for the old man was so absorbed in his work that he never once looked at anything but the nets--not until he abruptly sighed, stick the needle and thread into a big chunk of candle wax on the floor, which afforded him light with a netting thread for a wick, and stand up, rubbing his bent back until it straightened.
When Homer remembered Rainy, he felt in the blankets where the ferret liked to snuggle, and he was gone. Had Rainy run away? That was Homer's first thought. But later he saw Rainy come in the shed dragging a huge port rat that was bigger than Rainy. He had cleaned out the shed very quickly of all the mice and vermin and even the pigeons, and was already finding himself larger, juicier game. Homer, pleased that Rainy had not forsaken him for the thrills of the big city, went back to sleep, but was abruptly awakened by a terrific commotion in the rafters overhead. Even Ugur was surprised, and took a club and waited for whatever it was to show itself. Suddenly, down fell a black bull snake at the net mender's feet and Rainy right on top of it. The snake was many times bigger, but the contest was soon over, as Rainy bit and held on like a bulldog--as the snake thrashed weaker and weaker.
Grabbing the tail, Ugur pulled the monster out of the shed, with Rainy still holding on to its throat.
Ugur came back in, shaking his head and smiling at Homer who was now sitting up in bed. "Isma be praised!" Ugur exclaimed, his eyes wide with admiration. "Isma be praised!" he repeated, using an expression everyone of the Isman religion knew from earliest childhood.
Feeling like he was able to go now, Homer stood, looking around for his clothes. All he had on was his holy garment, the linen ukar-i-kyrt, or "Robe of the Righteous"--which no believer was allowed to part with, day or night. Even when a man fell dead, the ukar-i-kyrt accmpanied the body to the grave--and it was said the soul ascended to the Judgment Hall in it, and any soul that presented itself without one was instantly seized by the angels and cast into the flames. Even then, the garment did not guarantee admission into the bliss of heaven--the voluptuous, apricot-eyed houris and their delights to be enjoyed forever on divans of purest silk set amidst cool, scented pools and fountains. To enter heaven, the imans taught that one had to be a martyr, killing infidels and losing his own life in the struggle, or commit nothing but perfect acts of pure goodness and piety and give unceasing charity to the poor--something no man, being naturally selfish and unwilling to impoverish himself, could reasonably claim to do.
No, the holy garment did not guarantee anything really--but no one dared to disobey the commandment to wear it--doing so was a sure ticket to the ever-burning flames of the Evil One.
Ugur seemed to anticipate everything. He was silently holding out Homer's clothes to him, along with his wallet, and Homer took them and dressed. As for his shoes, he had to have help, for he couldn't quite manage the laces. Finally, he was dressed, and felt even stronger, as though he could walk by himself without Ugur's help or a cane.
Homer went to the door of the shed, leaned on the door frame, and looked out. He had never really seen the area around him--and he looked at all of it in detail--the tethered and anchored fishing boats, the docks, the high bulwarks of the river embankment, the warehouses, the shipping firms, the various goods stacked in high piles and in crates or on barges ready to be moved, the derricks that lifted the loads from boat to dock. the people--fishermen, housewives coming to meet the fishing boats for the first chance at the catch, small boys not yet in school looking for errands to do or just to pass the time looking about for anything interesting, loitering men who had no paying work, a few beggars who could not work and sought none, and a vendor or two offering cheap but filling sesame bread rolls, or glasses of hot chai, or sweetened, colored drinking water in tall silver jugs with elaborate decorations--everything crowded together in a mass that did not waste a bit of space.
The scene was typical of the working part of the busy waterfront, for here were no villas and palaces of the sultans and his courtiers, as well as the more modern mansions of Herukan-Ratnan officials and dignitaries, nor the imposing embassies of ambassadors.
Here a man could be poor, as poor as a net mender and part-time fisherman like old Ugur, and yet not go hungry and a beggar--if the fisher folk knew the man was honest and could be useful to them.
Homer glaced back at Ugur, who was quietly watching him, a net in one hand he was about to go back to mending. Homer glanced around, then at Ugur, then knew what he wanted to do.
He took a small fortune out of his wallet, which still left him more than enough for his own expenses and hotel bill (and if his money ran low, he could always go to the hotel desk and wire for more from home, he knew). Putting it on his bed, after he made it, Homer went to the shed door, looked back at Ugur who was sitting down and again mending nets, and then looked for Rainy. The bull snake, or whatever remained of it, was nowhere in sight, and as Homer was searching round the sides of the shed--he felt something clutch his ankle and hold on. Looking down, he saw it was Rainy, his belly stuffed so full of the bull snake he couldn't climb up. Homer wasn't about to put Rainy in his pocket in that condition, so he took the gorged ferret to his bed and put him there to recover. The moment Homer set him down on the warm wool blanket, the ferret curled up and was dead to the world, and looked as if it could sleep for hours. In the meantime, Homer decided he might as well go and try to find the address given on the card inviting him to the man's home. Who was this "Dr. Cayman"? he wondered. He felt he had to find out before he left Multan.
After his experiences in the Foreign Quarter and the vicinity, his feet seemed drawn to the Old City, and so he crossed the royal bridge once closed to all commoners during the daylight hours all through the reigns of the Sultans but now open to traffic, foot and vehicular, which made the old bridge thunder with thousands of cars, buses, and trucks all hours of the day and night. Along with the major shrines of the city, the quarter held the royal palaces enclosed by high walls and huge, fortified gates, and there was a public square holding the gilded statue of the firs Prime Minister of the dual Heruka-Ratnan state, set in front of the Parliament and the state Treasury and other national government buildings. In addition, there was, outside the Forbidden City that shielded the long-dead sultans from his subjects, the Grand Bazaar that had been the life-blood of the city's economy for ages. Its thousands of shops stretched for miles in a complicated, many-tracked maze no one could map or travel in a day. Not feeling up to all this excitement, Homer made his way toward the more residential parts, and then started trying to match the street address to the signs he met along the way.
He realized that a hired cabbie could take him in a short time exactly where he needed to go, but, after being shot at and chased nearly to his death, he was very wary, and kept away from people as he tried to make himself as inconspicuous as possible in his search.
He wished now he had brought a hand gun, or at least his hunting knife. Even with a cane, he could kill a man, he knew. But a foreigner buying such items, other than the cane, might be questioned by the police, who would demand why he thought he needed them. As for their own armed citizenry, and the great many secret societies and criminals operating in the city, that was a different matter to the police--it was foreigners who were thought to be the chief threat to the Holy City's peace and welfare--Homer knew, having heard of Multan's unbridled suspicion for all foreigners, even those who shared the Faith of Isma.
The private residences were not that many--and were crowded, he found, between the huge shrines and walls and fortresses. Just when he thought he might wander forever and not turn it up, the street sign he was looking at matched the one on the gold-edged card. He stood and looked at the house. It was a mansion, but an antique, built hundreds of years before his time, he could easily tell from the style and all the intricately carved wood and ceramic tile. The Mulberry tree out front, it was so gnarled and twisted in its trunk and branches, it too looked centuries old.
Should he go and return, or go directly to the door at the end of the long entryway? he wondered. He decided to seize the opportunity--which might not come again, considering what he had already gone through. Coming to a low iron gate and a gatehouse that had once been gilded with gold leaf, he found no one there, and then opened the gate and went toward the door. Aftger a moment's hesitation looking at the gilded bronze alligator-with-man's-head-in-mouth door knocker, knocked with his hand instead.
Over on Earth I, the Rapture has taken place just as the evangelicals believed and said it would, but Heloise Turnbull, one of the most successful televangelists, has been left, unaccountably, since she had built her whole message around the doctrine of the Rapture. It takes her a while to adjust and realize the cause for why she was left behind is herself--and meanwhile, she has to flee the U.S. to Israel, where she hopes she can sit out the collapse of her empire and all the legal wranglings over her ministry's immense assets. When the Anti-Christ attacks Israel, which has identified him as an imposter and not Messiah and pulled away from his dictatorial control, Heloise is forced to flee Jerusalem with a Jewish family where she has served as a caregiver, maid, and whipping post for a tormented old Holocaust survivor who goes through maids like Kleenexes.
Heloise, once a dictator herself in her own way, has learned a great deal through the daily humbling the old Jewish harridan has administered to her with considerable zeal and relish.
At the time she flees via an Israeli army chopper belonging to the breakaway units of the Israeli Army, she is ripe for reconciliation with her family and the husband who divorced her for her loveless treatment of him and her two daughters and son--sacrificing them all for the sake of building her ministry up to Forbes 500 status.
Aloes, her son, is the most angry with her, but he lands at the secret base of the lost city of Petra, set deep in the south Jordanian desert rocks and canyons, to join the hidden base of Israelis who are trying to escape extermination, a Second Shoah in Jerusalem, inflicted by the occupying armies of the World Dictator and his allies.
Heloise goes to meet Aloes as he lands.
It goes better than she has hoped, after she admits to him everything she had done that had separated them. He forgives her. The painful, festering breach between them is healed. She becomes his mother again, even though he is now a grown man.
VOLUME V, BEYOND THE RAPTURE, PART II,
YOM KIPPUR
The days following Aloe's arrival were chiefly ones of getting to know one another, in the whole family, for everyone had changed dramatically, not least of all, Heloise.
Aloes was very restless, however. He fully intended to enlist to join the Israeli Army, if they would accept him.
Heloise did not like the sound of that, but respected his decision enough not to argue with him. She did not think the Israelis would take him, as he was not Israeli in nationality, and there were other counts against him too--his lack of any military training and the course he should have taken in high school to prepare him for it. The Israelis, she knew, were very exacting in their requirements--and they didn't budge on them either. She hoped Aloes was not setting himself up for a big disappointment so early in his life--one which he did not need at this point, she felt. But what was she to do? She had to let him become a man--for this is what this move of his signified, she instinctively, as a mother, knew was happening with him.
Aloes seemed a brand-new person, his face and movements full of purpose and excitement and anticipation, after announcing his decision to his family. He wasn't asking their approval, but they all knew he badly wanted it. It was a hard thing--to appear to support him in something they realized couldn't possibly result in a change for the better.
He had to wait a few days, however, before the commander of the army of resistance, the Gideon Task Force, as it was called, arrived. There was no set time for his arrival--as there probably were informers among the refugees--and they weren't going to risk an assassination of the only general of Free Israel's GTF that they had left.
Aloes could hardly sleep at night, Heloise noticed, for he was living for the moment he could run and enlist as a mercenary--as he thought that was the best way for a non-national to be accepted.
In the daylight hours he was studying war and basic training manuals he had scavenged from a firebombed library and brought along--hoping to glean some kind of knowledge of guns and maneuvers that would help him.
He offered to clean the rifles the army men had--but was refused, of course. He could only examine them visually, and try to imagine how they worked.
Doing anything he could to make himself useful around the Israeli army camps, he did learn some things, and also was able to practice on his budding Hebrew with some of the more patient soldiers who thought he was almost too friendly an American but appreciated his helpful ways, always on hand to volunteer for the dirty, sweaty, time-consuming jobs of housekeeping and off-loading trucks and digging trenches for various defenses which they didn't have enough men to do as quickly as they needed.
He even took his army-issue sleeping bag and slept outside the tomb entrance, hoping to be the first to spot the general's chopper. He searched among the glittering stars--which were more like jewels than stars--they were so brilliant and faceted. Would the general ever come? Had he been assassinated somewhere back in the secret installation outside Jerusalem where the anti-Christ's forces were pounding away with all their firepower, using air strikes and field artillery and bunker-busting missiles to finish his mop-up of the last crack units of the Israeli army? Would they have to wait weeks more, only to hear the crushing news that the general wasn't coming after all? What would they do then? They might as well surrender! But he knew he wouldn't even as he considered the thought.
The Anti-Christ would behead them all before an arena packed with his cheering slaves, after torturing them to get all the information he wanted. That was what he always did to anyone who dared to resist him.
No, there would be no surrender, general or no general.
Aloes continued thinking about it. After they heard the general had been taken and executed, would Free Israel have to move again? And where? This was the safest place in the world--an almost inpenetrable maze of thousand-foot-deep crevices and wadis. The Siq that led to Petra wouldn't permit anything but a single jeep at a time--and so they were safe--no big armor could ever reach them. Only by air was the site accessible, yet it was hidden--the tombs and buildings of Petra overhung by the high cliffs--which all looked the same by air. Anyone firing at them had to fire blind--for they would see nothing from the air. Nothing!
And the Israelis had make it even more difficult to spot their missiles and motor pools, depots and supply camps. They were covered with thorn bushes and netting, so thick they were invisible from the air. Trenches and detection lines set with sensors made it impossible for anyone to approach them on foot either without alarms being set off--and then there were the land mines further out, both anti-personnel and armor-piercing--a double barrier, if you didn't count the highly trained, ever watchful commandoes of Free Israel, who were constantly on guard, and at night too with heat-sensing scanners and night vision goggles.
Petra was as good as impregnable--or at least, in the area Free Israel had dug into, made so costly for any attacker that he would probably lose 80-90% of his forces and their equipment in a full assault.
Aloes was amazed at the thoroughness--the Israelis had the best techniques and gear in the world--and the training needed to make it work superbly, in second-by-second precision timing. To belong to such a fighting force--small as it now was--was the highest calling he could think of. It was called the Gideon Task Force, he knew, but though Gideon was a brave Israelite commander who fought the invading armies of camel-ridng Midianites raiding Israel in the time of the tribes, David seemed a better way to picture them, to Aloes's mind.
Just the thought of he shepherd boy David hoisting his slingshot and taking on the swaggering, blasphemous Goliath was the perfect way to describe the tiny Gideon Task Force taking on the seemingly invincible massed armies of the Anti-Christ and World Dictator--surely, defying the worst odds imaginable! Yet the thought of it was enough to thrill him to the core and make him want to do anything to get in on the action--even if it resulted in another Masada.
If he had to shine all the shoes and boots of the entire brigade and dig latrines and trenches and the dugouts for the missile launchers to hide in, just to get their good opinion of him, he would gladly do it! Never had he met such a dedicated bunch of men (and women too!)--all fiercely individual as only Sabras could be, but bonded to each other to the death--and each would give his life for the other if that was called for, rather than live and see a teammate get hit. But they weren't fighting for themselves and each other as much as for freedom. Never would they accept being boot-licking slaves to the World Dictator and bow down to him and his government officials. They would fight him and the whole world's armed forces to the death--and count it a pleasure! He even called himself God when he started to stamp on Israel, to cow them into submission with all the rest of the nations. But he had not known what he was dealing with when he touched Israel--Israel was different--Israel would not accept tyranny for any reason and by any man, however wonderful he seemed or how hopeless it may have looked to defy him. Israel--Aloes thought about it for a few moments, trying to get his impressions together in a single thought, a single unified conception--and he couldn't--for he was still on the outside, looking in. Would they open the door to him? He felt he would fling himself off a cliff above Petra if they refused him. His family would take it hard, he knew, but he wanted in that badly.
Hanging around the Israeli camps as he did, Aloes was the first in his family, or even among the refugees, to hear the news. Asher, an Israeli lieutenant who had taken Aloes under his wing, winked and took him aside. " No, don't put down your shovel, just listen!" said Asher. "Turn your face and don't look at me, and then I'll tell you."
Aloes obeyed.
"The big man has turned east, to stop the Asian armies!"
The moment he said that, Asher walked off.
Aloes, glancing at Asher's back just once before turning back to his work, felt cold in the burning sun. It was easy to figure out what Asher meant with his code words, needed even among the Israelis of Free Israel, since the Dictator had his informants everywhere. Who else could be the "big man"? There was only one "Big Man" left in the world--the Antichrist, the son of the giant, heathen, uncircumcised, blaspheming Goliath who defied the armies of Israel. But if he turned east, had he forgotten little David in his rear? Or was he more concerned with the threat from the East and didn't have time to deal with David at Petra?
Aloes's thoughts whirled at the possibilities of this action. The whole course of the war was turning--Israel's way, for the first time since the opening attacks of the Anti-Christ on Israel.
Now there was a chance--a tiny glimmer of a chance--this tiny remnant of Israel would survive to regather the shattered pieces of the nation that the Big Man had crushed underfoot. There had to be thousands, hundreds of thousands, interned somewhere in his prison camps waiting execution. The women raped, the men beaten and tortured, the children starved--they would be in terrible pain--surely, the Israelis would make their first offensive move, since retreat, to help them! Surely!
Aloes knew he was right about this, having spent enough time with Israelis to know how they thought and felt about their own. Now Free Israel's only mobile, offensive force could do something about them--if the right combination of surprise and brilliant strategy could pull off a rescue attempt, just as the Israelis had done back in the 20th century, when they freed a planefull of Israelis kidnapped by a Ugandan dictator called Idi Amin--a man who had already slaughtered two hundred thousand of his own people without a tear in order to rule over the country with an army of rapists and murderers and thieves. That rescue had been written into all the books--it was so daring, so brilliant, and so impossible--yet only one poor elderly lady had died--the one so sick Idi Amin had taken her from the airport to the hospital and later executed when he heard her countrymen had all slipped from his net.
Prime Minister Netanyahu's brother, heading the rescue operation, had also died, catching a stray bullet at the airport--he too had been sacrified just when he was about to gain a very high position somewhere in the army or in the government, but the whole thing was glorious even with these deaths--and the world--at least the freedom-loving part--had never forgotten the utter courage and self-sacrifice of the rescuers who put all their lives on the line for those of the captives.
Aloes knew this had to be his main chance. It was the moment to strike for some part in the rescue. They would take only volunteers for such a suicide mission--and maybe--just maybe--they would accept a friendly foreigner like him, and take him along to do a particularly daring job not even an Israeli would do. Would he be coming back? Probably not! Probably not! But how else was he going to get in? He had to take this one opportunity--it was the only open door--short-handed, they might just take a volunteer. He had to see--or never know what could have happened if he stuck his neck out.
Aloes finished the trench, then threw it, and sat down. He was sweating gallons, the salt getting in his eyes, but he didn't care. He had to figure out how he was going to volunteer for a mission he shouldn't have known about. Asher had tipped him off, but he couldn't compromised his friend. They would be sure to suspect anyone who had shown the least bit attention to him. No, he had to think of something to divert them first.
Then he knew! His task done, he ran back all the way to the tomb. He was gasping and covered with grime, his hair hanging down over his eyes, when he staggered into the tomb and surprised his family gathered round a small table (an army cot laid with piece of armor for a smooth surface).
"What is it?" Heloise cried, springing up. She rushed to him.
He dropped down, trying to get his breath.
"I've got some really important news, but you have got to let the other refugees know before you tell any Israeli solder--let it come from someone else, rather than any of us--what I am going to tell you. It's the strategy I had to think up--so that they won't think we have spies in their camps. You wouldn't want them to think bad of us, would you?"
Aloes hated to think he was deceiving his own family--but he knew he couldn't tell them everything--not just now anyway.
Getting their cooperation, he continued. "Don't ask me how I learned this, just listen to me. We're safe here! The Anti-Christ isn't going to bother with us after all--not for a while anyway?"
Aloes's parents both gazed at him thunderstruck. "How do you know this?" Heloise said in a quiet, strained voice.
"Like I said--take my word for it, I know! He's not coming here after all--he's got more important business to attend to than attack us and lose most of whatever he sends to root us out!"
"He's not?" his sisters chorused. "He's not going to attack us?" They looked round at their parents and also Esther and her family, who we re just as shocked, since they had heard about this "Anti-Christ" before from the Turnbulls in their midst and were now more than inclined to believe he really was the monster of blasphemy that the word "Anti-Christ" signified.
The whole group began to celebrate when the reality finally sank in--they were saved! saved! The terrible dread of weeks had suddenly been lifted off them all--they were going to live and not die! Aloes's sisters began to weep, and even Esther's mother's eyes were shedding big tears of relief--she who had never wept for anyone, not since her tears had dried up after the first time she had been gang-raped as a little girl at the Nazi concentration camp.
Heloise went and pulled Aloes outside the tomb entrance. She could not have been more grim. "Aloes, do you know what you are doing? This could be the cruelest thing a man could do to us--give us all hope when it isn't true. Are you sure? Are you really sure about this?"
Aloes was held her gaze, and nodded. She reached and swept the hair away from his eyes and forehead and she looked deep into his eyes. Then she stepped back, and began weeping quietly. "I believe you," she said. "I can see you are convinced, and that is enough for me. You're not playing with us!"
She turned away and began laughing. Then stopped abruptly. She turned to him. "I thought I was going to go mad, waiting with the others for the attack, knowing it could come any minute, and this was the last place on earth we could run. Now...can you tell me anything more?
Aloes' father came out, and looking at them, paused and stood looking at them.
Aloes looked off toward the Israeli positions. "I can only add, that the Anti-Christ has gone to stop the Asians, the armies that are coming at him from the East. I guess his peace treaty with them fell through after all--they had enough of him and aren't going to let him have the Middle East oil fields after all. That's all I know."
Before his mother could ask anything more, not trusting himself to keep back his intention for telling them this much, he turned to leave. As he took a couple steps away from the entrance toward the path leading down, his mother noticed and winced as if he was leaving them for good.
Aloes glanced at her, wondering if he had already been betrayed by a mother's intuition. Had she sensed what he could not tell her? He was still going to go through with his plan, whether she had guessed it or not.
Her face full of anguish, she still didn't call him back. "Do you want us to tell the others?" she said weakly. "Isn't that what you wanted us to do?"
"Oh, yeah!" he said, as casually as he could. "I don't want them suspecting my source, you know, and so if everyone knows, that will cover my tracks a bit. Just mention it to someone you know you can trust to spill the beans to the others--and it will soon get around. You women know what I am talking about, don't you?" He smiled, and that broke the tension, for his mother laughed.
"Yes, I think we women can manage it for you!"
She paused, then was serious again. "And thanks, Aloes! It's been a great relief to hear. Thanks for telling us before the others--thanks!"
She turned to his father. "Dad, do you have something?"
"No, he's grown--he can make his own decisions--but I'll be praying with your Mom, Al!"
He gave them both a salute and then made it back down the goat track as fast as he could--his heart in his hand now he was on his way to seeing his dream come true. "Wow!" he thought. "I'll soon be pulling on an Israeli commando's uniform if I can pull it off the right way!"
The thought was so thrilling he was not looking very carefully at what was ahead. He never did see the rock that he stumbled over on the almost vertical slope, and found himself flying without anything under his feet, and the next thing he knew someone was bending over him, dampening his head with a wet towel.
Where was he? he wondered. It took him some time to figure it out. He was lying down on a cot, and overhead there were no stars, just a dark tent sunk halfway into the ground and some criss-cross netting showing where the entrance was, letting in some light from ground level.
Then he recognized the face--Asher! "You're got to take this," Asher said, holding a canteen to Aloes's mouth. "I put some strong aspirin in it already for your head. Then rest. You got a bad knock on the head, but I think you'll be all right--your skull is pretty thick. When you're better, the medic said he'd come and give you another checking out--but he didn't seemed too worried."
Aloes drank almost the whole canteen, then sank back on the cot. It was so hot in the tented dugout, but he was used to the heat of Petra by now.
He was vaguely aware that Asher was spreading his bedroll and kicking off his boots and peeling his shirt. Was Asher his nurse? That was quite a step down for a lieutenant, wasn't it? How come nobody else but Asher? Were they that short-handed? What was going on?
"Thanks for looking after me," Aloes said, his head beginning to hurt for thinking so much. "Guess I fell back there on the trail."
"Shut up, big mouth!" said Asher, his eyes smiling but his face deadpan. "We can talk later. And you may not want to hear it!"
Please return for more of Part II of Volume V, Beyond the Rapture: Yom Kippur.
If you have entered this page from other sites such as Butterfly Productions Home Page, there is a new domain of nine sites, www. oaringintheriver.com, containing Retrostar, featured by major search engines.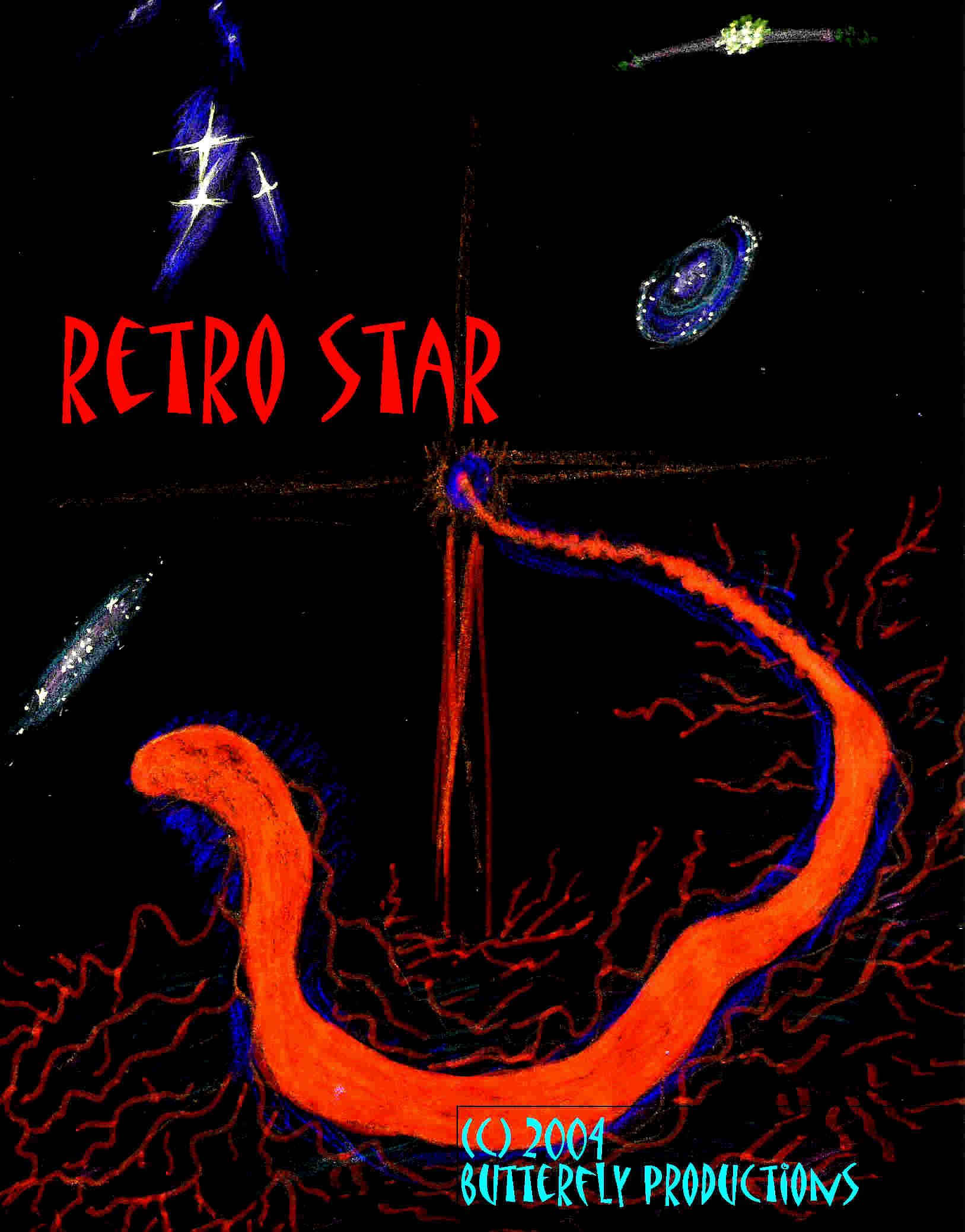 To return to WWW.OARINGINTHERIVER.COM:
WWW.OARINGINTHERIVER.COM Master Directory