CHRONICLE OF THE TIME ROCKET, VOL. IV, RETROSTAR
CHRONICLE OF RAGNAROK A. S. 1937, Singer of the Ancient Seer How a bard left the Emerald Island to look at old vellum books and paintings preserved by the Benedictines in a monastery in Padua, Italia, and how they warned him about a second great world conflict of the Wasichu nations, which would usher in the new world order and the rise of a lion-bodied, man-headed Beast, the False Messiah, who would seize world power and crush out all the light of liberty and decency in Civilisation. CHRONICLE OF RAGNAROK, VOL. IV, RETROSTAR
CHRONICLE OF THE MOUNTAIN TOMB A. S. 1938, Eugenio's Secret How a Basque fighting with the Loyalist forces in the Spanish Civil War found ancient scrolls and artifacts in a tomb that were older than even Eskual Herria, the Basque homeland that predated every other nation and nationality in Europe.
CHRONICLE OF THE MOUNTAIN TOMB, VOL. IV, RETROSTAR
CHRONICLE OF THE OSLO TAPESTRY A. S. 1938, Katrine's Secret How a Norwegian woman, living alone, grew so desperate about her bone-dry spiritual condition that she would do anything, even take pictures of simple leaves and shadows in her garden, if it would help restore her faith--pictures forming a tapestry portraying events to come that would have astounded the world if all of them had been made public.
CHRONICLE OF THE OSLO TAPESTRY, VOL. IV, RETROSTAR
CHRONICLE OF THE RUINED CATHEDRAL A. S. 1940, Winter of the Soul How Coventry was sacrificed, along with its ancient cathedral and much of its population, by a decision of Churchill who aimed to let the bombers through without any warning to Coventry in order to make the Nazis believe their secret code had not been cracked by Britain's code breakers at Bletchley House. How a half-literate scrubwoman in the smoking ruins of the Cathedral found the means to confront the unspeakable tragedy of losing practically everything in the bombing and firestorm that destroyed Coventry; that is, her husband, children, neighbors, city, cathedral, even her house and job.
CHRONICLE OF THE RUINED CATHEDRAL, VOL. IV. RETROSTAR
CHRONICLE OF THE SEA LION A. S. 1940, 1. Convergence at Abbotsbury How a pious, elder daughter caring for an aged, ailing mother, prayed the right prayer, effectively throwing a switch to a most powerful blessing 1,900 years old.
CHRONICLE OF THE SEA LION, PART I, VOL. IV, RETROSTAR
2. Winter's Grace How a Welsh "College of Intercessionary Prayer-warcraft and Fasting," founded by a former coal miner, succeeded in turning the major events of World War II, starting with the Battle of Britain.
CHRONICLE OF THE SEA LION, PART II, RETROSTAR
3. No Wings But a Prayer How Sir Francis Cecil, hereditary Lord St. Aubyn of the Mount of St. Michael, Cornwall, while squadron commander of Spitfires in the Battle of Britain, was struck wingless by enemy fire but continued flying, and how he was taken out over the coast where he witnessed an even greater event taking place off the notoriously stormgirt Chesil Banks.
CHRONICLE OF THE SEA LION, PART III, VOL. IV, RETROSTAR
4. Ivy's Grand Slam How a little English girl in Portsmouth changed her bedtime prayer and turned back an incoming V-2, setting it on a trajectory that almost took Shickelgruber out of the war.
CHRONICLE OF THE SEA LION, PART IV, VOL. IV, RETROSTAR
CHRONICLE OF THE PILLAR OF LIGHT, A. S. 1940- , How on Earth I Elijah, a Romanian boy growing up in a brutalM Communist-ruled country, found a miracle-producing faith just like Jason the Argonaut's to stand up against the impossible odds of confronting a militaristic, atheist dictatorship destroying his beloved homeland, and how he made a new life for himself, succeeding after tens of thousands before him had been slain in the same attempt to win freedom.
CHAPTER 1, CHRONICLE OF THE PILLAR OF LIGHT
CHAPTER 2, CHRONICLE OF THE PILLAR OF LIGHT
CHAPTER 3, CHRONICLE OF THE PILLAR OF LIGHT
CHAPTER 4, CHRONICLE OF THE PILLAR OF LIGHT
CHAPTER 5, CHRONICLE OF THE PILLAR OF LIGHT
CHAPTER 6, CHRONICLE OF THE PILLAR OF LIGHT
CHAPTER 7, CHRONICLE OF THE PILLAR OF LIGHT
CHAPTER 8, CHRONICLE OF THE PILLAR OF LIGHT
CHAPTER 9, CHRONICLE OF THE PILLAR OF LIGHT
CHAPTER 10, CHRONICLE OF THE PILLAR OF LIGHT
CHAPTER 11, CHR0NICLE OF THE PILLAR OF LIGHT
CHAPTER 12, CHRONICLE OF THE PILLAR OF LIGHT
CHAPTER 13, CHRONICLE OF THE PILLAR OF LIGHT
CHAPTER 14, CHRONICLE OF THE PILLAR OF LIGHT
CHAPTER 15, CHRONICLE OF THE PILLAR OF LIGHT
CHAPTER 16, CHRONICLE OF THE PILLAR OF LIGHT
CHAPTER 17, CHRONICLE OF THE PILLAR OF LIGHT
CHAPTER 18, CHRONICLE OF THE PILLAR OF LIGHT
CHRONICLE OF THE ORACLE OF MENO A. S. 1938-1941, St. Roderick's Secret How a Basque patriot, deserting the Loyalist army in the Spanish Civil War, became a free lance secret agent for the British side against the Nazis, luring Shickelgruber into the race for a Super-Bomb while withholding vital information that would have made the Nazi project a success.
CHRONICLE OF THE ORACLES OF MENO, VOL. IV, RETROSTAR
CHRONICLE OF THE RAG DOLL A. S. 1943, Christmas at Auschwitz How a young, brilliant, blind chemist, soon to perish in a gas chamber, afraid it was all for nothing, was given unmistakable proof her life was divinely touched. CHRONICLE OF THE RAG DOLL
CHRONICLE OF THE BAYEUX TAPESTRY'S SECRET PANELS A. S. 1944, Questioning the Sphinx How nuns guarded what came to be known as the world's most famous tapestry, the one detailing the Norman invasion of England in 1066, and how an American nun, an expert in tapetries, discovered additional panels that had not been sewn onto the masterpiece--panels that had been kept secret for the obvious reason they were found so disturbing because they were so prophetic about the world to come.
CHRONICLE OF THE BAYEUX TAPESTRY'S SECRET PANELS, Vol. IV, Retro Star
CHRONICLE OF THE BROKEN GLASS A. S. 1945, 1. Legacy How the victorious chieftains at the Potsdam council meeting from Britain, the U.S., and the Soviet Union, in the name of peace started the "War of Ice," and how Britain's "Tube Alloys" nuclear project came to nothing with suppression and disappearance of vital M-2 intelligence, and President Truman's ace in the hole, the Manhattan Project's Super-Bomb, fizzled at Alamagordo--apparently forcing America to join forces with Britain and Stalin's Russia to fight on to the finish with conventional forces against Premier Hideki Tojo's best troops and, unknown as yet to the Allies and their war planners, a whole nation swept by Kamikaze, the "Divine Wind".
CHRONICLE OF THE BROKEN GLASS, PART I, VOL. IV, RETROSTAR
2. The Pack Rat How a peddler of information, selling whatever he dug up to the highest bidder, happened on a deadly superweapon--one of three that Senhor Averinata had offered the British--that later would be used to help tip the scales against America in favor of the United Nations and a world government. To the Jews the crushing of the wine glass in a Jewish wedding recalled the destruction of the Temple by the Romans in ANNO 70, but to the Basques, it meant the whole universe was shattered--never ever to be put back together as it had been. (How could he barter and trade the destinies of whole nations as if they were trinkets and trifles? Peddlers, like foraging rats, consider only the present moment, and the penny or two gained or lost--never the long haul, which is, for a peddler, far to frightening to even consider in a rodent-type mind. Without the ship, the rat would drown in the open sea. Yet it infests the ship, spreads its diseases with its own dirt, and gives the crew a deadly plague, and the ship, without anyone to guide it to safety, strikes a rock and sinks, drowning the rats who caused the disaster. This has happened countless times. Their own nature, thus, gnaws off the rope that holds them above the pit. Pity the civilization where such men, such vermin, proliferate and gain high office! And you can always tell the end is near when such are numerous and run free, from deck to deck!).
CHRONICLE OF THE BROKEN GLASS, PART II, VOL. IV, RETROSTAR
3. The Angels of USS Indianapolis IP How on July 29, following the successful test of a new death ray in the first week of July, that dissolved atomic structures and could fuse human flesh to metal, a battleship was loaded with the deadly "gadget" and sailed for Tinian, an island in the Marianas Chain. Locked in a steel box bolted to the deck of the captain's cabin, the weapon that would knock the Japanese on the home islands to their knees would be assembled in the secret facility at North Field on Tinian, then deployed by aircraft over the first test cities of Tokyo and Kyoto, the two most revered cities in Japan and the centers of Japanese cultural life. How the best laid plan of the war came to naught, with details of immense tragedy and even angelic intervention that were so explosive in nature they could never be revealed to the American public.
CHRONICLE OF THE BROKEN GLASS, PART 3, VOL. IV, RETROSTAR
4. The Divine Wind How Operation Downfall, the invasion of the Japanese home islands, ultimately succeeded but without superweapons proved so costly to America and Russia that they had cause to recall King Pyrrhus of the Greek kingdom of Epirus, who conquered Roman armies on their home turf but sustained such heavy losses he complained in his famous statement known for its unforgettable pathos, "Another such victory and I am ruined!"
CHRONICLE OF THE BROKEN GLASS, PART 4, VOL. IV, RETROSTAR
CHRONICLE OF THE WINTER SACRIFICE A. S. 1947, 1. Winter's Child How deeply the alien star's rays penetrated postwar America, and how an old farmer's beloved son was killed in the Wioteheka hi, Month of Terrible Moons. 2. Plain View Farm How two deaths in a fiery plane crash were needed to thaw the frozen hearts of two other men.
CHRONICLE OF THE KILLER BEAR'S DESCENT A. S. 1951, The Bear and the Lamb How Djugashvilli fared, while on the operating table in the Kremlin, as a small army of surgeons desperately tried to preserve his life after a massive sroke; how they failed and Djugashvilli, an atheist, found himself still alive, imprisoned in an Afterlife cell which could only be described as hellish. How things got progressively worse for him, as he encountered a strange Jew wearing a prayer shawl and next faced a Judge sitting on a throne so immense it couldn't be anyone less than God sitting upon it, and how he was judged by the testimonies of thirty or so millions he had had tortured and slain, and how after that he found himself shunted into a burning lake of blast furnance intensity, and how he, like all the others in it, were forgotten.
CHRONICLE OF THE KILLER BEAR'S DESCENT, VOL. IV, RETROSTAR
CHRONICLE OF THE MAN LIKE A BRIDGE A.S. 1956, The Search How a young woman of the First World discovered the way back to her lost childhood faith, a faith that carried her all the way to Third World Cameroon wilderness in West Africa where it finally set its roots deep and briefly bloomed. CHRONICLE OF THE MAN LIKE A BRIDGE
MYSTERY CHRONICLE OF THE 50TH ANNIVERSARY A. S. 1962 The Phantom Ship How Lt. Greg Culpepper's life and career took a radical turn and plunge to the bottom of society after a storm at sea and his sighting of the R.M.S. TITANIC going down as he was inspecting the lighthouse facilities at Cape Disappointment and North Head on the mouth of the Columbia River, Washington State. MYSTERY CHRONICLE OF THE 50th ANNIVERSARY, VOL. IV, RETROSTAR
CHRONICLE OF EDYTH'S GOLDEN CROSS A. S. 1963, A Truth Not Told How Miss Edyth Hamilton, humanist, classicist, and world-renowned authority on Greek and Norse mythology, was strangely confronted on her deathbed with certain false premises that undergird her whole life-work.
CHRONICLE OF EDYTH'S GOLDEN CROSS, VOL. IV, RETROSTAR
CHRONICLE OF THE LADY OF THE SPARROWS, A Tale of Old New York and Central Park A.S. 1964, Lucky's Big Strike How Lucretiza Tisdale, a spinster lady in her nineties, fed the sparrows of Central Park faithfully every day and how her death under the wheels of a beer truck brought changes, through the very sparrows she had given soda crackers, that she could not otherwise have achieved at her age and with her insignificant, sparrowlike strength.
CHRONICLE OF THE LADY OF THE SPARROWS, VOL. IV, RETROSTAR
CHRONICLE OF THE FIGHTING ANGEL, PARTS I AND II A. S. 1963 How the Swensons, a young American newlywed couple, in training for the mission field, took a break from language school in Paris, and came to a crisis of their relationship and a man's faith in God on and beneath the Mount of St. Miguel, the Fighting Angel.
CHRONICLE OF THE FIGHTING ANGEL, VOL. IV, RETRO STAR
PART II: How the Swensons came to share their Christmas with the Fulani Tribe in Cameroon, West Africa, and how their cheer spread from there as far as the stars to a lost tribe of the Alpha Centaurii.
PART II, CHRONICLE OF THE FIGHTING ANGEL AND CHRONICLE OF THE LOST TRIBE (VOL. VI, NATAL CONVERGENCE, "A FULANI CHRISTMAS," RETRO STAR
CHRONICLE OF THE REVIVAL OF HAGIA SOPHIA A.S. 1968 How Lidia, a Greek Orthodox nun, ventured from her safe refuge in a convent in Athens, to return by tourist boat to her lost homeland in the Turkish nation that had forced her family to flee for their lives in the savage. almost genocidal war that broke out between the Greeks and Turks after World War I. How she learned things she did not expect from her day trip and contact with the enemy occupying her people's chief city and seat of the Greek Orthodox Patriarchate of Constantinople and East Rome. How she received a gift she would always treasure--and ceased feeling herself robbed by the Turks though they had taken her Greek homeland as their own and pushed out virtually all her fellow Greeks.
CHRONICLE OF THE REVIVAL OF HAGIA SOPHIA, VOL. IV, RETROSTAR
CHRONICLE OF THE SHOW ME STATE'S PROPHET (EARTH I) A. S. 1966, Elijah's Mantle How young and aspiring Brad Bright Jr. dreamed of becoming a prophet to "Holy Spirit-led, on-fire" Pentecostal churches in Missouri, his home state. How his promising life was cut short by a fatal collision with a tree when he was driving his truck home from a church youth meeting, and how his dream of ministry was defeated only temporarily, as a bit later he was brought back to serve with Elijah's mantle in the war against the AntiChrist Beast and his prophet during the post-Rapture Tribulation Period.
CHRONICLE OF THE SHOW ME STATE PROPHET, VOL. IV, RETROSTAR
CHRONICLE OF THE GIANT CHIEFS A. S. 1972, Two Sayings of Uwe Hantsbo Regarding the Atlanteans: Elektra's Sad Fate, and Atlantis on the rocks, anyone? How the Earth's tribe of original giants that stood like the tallest trees on Earth lived in a vast land that sank beneath the Eastern Sea.
CHRONICLE OF THE BLUE BRIDGE SALIENT A. S. 1973-1978 Even while the armies of France, Britain, and America struggled unsuccessfully in southern Asia to push back the communist forces from the north, a greater battle was being fought among the stars. How Atlantean star fleets combined with the red star and other star-stones to force an entry into the Great Nebula in order to destroy the protective forces centered at the Blue Brige. How, nearly successful, they were rebuffed, forcing an Atlantean subcommander to retreat to Earth.
CHRONICLE OF THE BLUE BRIDGE SALIENT, VOL. IV, RETROSTAR
CHRONICLE OF HANTSBO'S NOTES A.S. 199?, On the Bipedal Workforce of 1994tk66--A Flying Texas How Uwe Hantsbo discovered on a planetoid a most interesting cache of mutants, freeze-dried specimens of the very kinds that had been proposed by a Washington geographical society in its magazine to be authentic human prototypes proven by science and archeology. The only problem, as Hantsbo points out, is that they were found all mixed together, obvious contemporaries, not separated by millions of years or mere hundreds of thousands as was said to be the case by the East Coast Brahmin evolutionists entrenched in the powerful, elitist geographical society.
CHRONICLE OF HANTSBO'S NOTES, VOL. IV, RETROSTAR
CHRONICLE OF THE ICE BIRD, PART II A. S. 1973, Voyage of the PRION Inspired by Shackleton's legendary heroism, how an exlorer from New Zealand set out to be the first to circumnavigate Antarctica in a small boat solo, and stumbled into an unknown "Devil's Triangle" of ancient Atlantean orgin just off East Antarctica's Ross Ice Shelf that changed his course so radically he was propelled in space and also time as far as an ancient Atlantean outpost opposite the gate of the Great Nebula of Orion--the very site of what Tennison the Poet Laureate of Britain described as holding a "vast mystic charm." CHRONICLE OF THE ICE BIRD, PART II, VOL. IV, RETROSTAR
MYSTERY CHRONICLE OF THE WHITE CANOE A. S. 1977, Fairwind in Deep Waters How a young electric plant operator of mixed working class and New England blue blood background takes a cruise into the unknown mysteries of time and space aboard what had first seemed a New York based cruise ship on its way to Peru.
MYSTERY CHRONICLE OF THE WHITE CANOE, VOL. IV, RETRO STAR
CHRONICLE OF THE ICE BIRD, PART III A. S. 1978, Cavendish in the Sky with Diamonds A somewhat crusty curmugeon of a retired journalist, in remission from cancer but angry over the recent loss of his wife to the same disease, reflected on the supreme irony of his life. He had planned his retirement so differently! He had just begun writing poetry, meditations, and music under a nice nom de plume when his new, promising, third career of letters and music was stopped right in its tracks by a disaster in his own home: his wife had taken deathly ill. Cancer! Now he was too sick to go on writing and composing--even though the time to do it was his again, lying heavy on his weak, trembling hands. Feeling like the icy, polar coulds of Global Freezing would hang over his head until he died, he goes out into his ruined and half-frozen back yard and changes places with a Prion, a polar bird that has wandered into his garden and died. Somehow the bird in death becomes him, giving him wings of a starship that can touch the farthest stars and Orion, Gateway to the Morning, where something bright and shining with destiny for everyone on earth seemed to open to him.
CHRONICLE OF THE ICE BIRD, PART III, VOL. IV, RETRO STAR
CHRONICLE OF FOXY PASSES A. S. 1983 How Skip Cavenish, alias Stuart Hawkins, wrote a poetic tribute and, drawing upon his first career in vaudeville, made a last and notable performance of it at the Capitol theatre before a packed house of Washington State socialites, government leaders, and the wealthy. How the very people preyed upon by his former schoolmate, Franklin Delano "Foxy" Benedict, the capital's foremost "facilitator" and master of the government patronage system, watched in growing disgust and anger as the bizarrely costumed Hawkins tore Foxy's mask off in verse after verse; how the old fox could still run (or at least roll) from his pursuers, but he still could not escape his and his enemy Cavendish-Hawkins' destinies being woven together in a strange, future cyber-world that neither could have imagined, long after Foxy and his nimble "smarts" had suffered an Ichabod-like fate.
CHRONICLE OF FOXY PASSES, VOL. IV, RETROSTAR
CHRONICLE OF THE LADY OF THE ANCHORED A.S. 1983 On the Trail of St. Paul How Prunella, a sedate altar guild woman from the Midlands, England, on tour with a cruise ship company in the Middle East, finds release from a crushing depression over the accidental death of her daughter.
CHRONICLE OF THE LADY OF THE ANCHORED, VOL. IV, RETROSTAR
CHRONICLE OF THE SURVEYOR OF THE QUEEN'S PICTURES A. S. 1983-, The Knight of Darkness How Sir Anthony Blunt and his fellow Cambridge-educated colleagues became involved in a secret spy ring inside the British secret services, serving not Fascism but Soviet Russia during part of the Second World War and for some years of the following Cold War with Soviet Russia. How Sir Anthony "retired" from being a double agent to being the Surveyor of the Queen's Pictures, with the responsibility for all the Queen's artworks in the royal palaces, but how he was exposed as a spy and found guilty but was allowed to retire with some dignity to his home, while his co-conspirators fled to Soviet Russia. How in dying they singly and together discovered an Afterlife their Darwinistic beliefs had denied was possible, which delegated them to a new venture just as exciting as betraying their own country and serving her arch enemy--a contest involving the Golden Fleece and a rival ship called the Argo.
CHRONICLE OF THE SURVEYOR OF THE QUEEN'S PICTURES, VOL. IV, RETROSTAR
CHRONICLE OF THE SACRED COWHIDE PAINTER A. S. 1987, Ira's Letter to the 11,000th Century How an artist's paintings for a B.I.A.-Lakota Christmas arts and crafts competition were preserved for a tribe of Wasichu lost seemingly forever among the lodges of the stars.
CHRONICLE OF THE SACRED COWHIDE PAINTER
CHRONICLE OF THE LION'S DESCENT, A. S. 1995, "The Lion's Descent," Part I, "The Lion's Legacy," Part II, How a U.S. Supreme Court Justice who was a very nice and likable gentleman became responsible for a once great and godly nation's descent into self-destructive depravity and violence and also for more deaths of Americans than were slain in the death camps of Himmler and Hitler (Earth I), and how he fared in Hades (Hell) after his death.
CHRONICLE OF THE LION'S DESCENT, VOL. IV, RETROSTAR
CHRONICLE OF UWE HANTSBO'S NOTES A. S. 199?, On the Bipedal Workforce of 1994tK66, A Flying Texas How Uwe Hantsbo points out certain rather glaring flaws in the evolutionary timeline and evolutionary theory after seeing the flaws in question with his own eyes, frozen specimens of hominids and so-called human precursors, flying aboard a Texas-sized hunk of rock; how their existence supports his own view that highly intelligent, highly terrible ante-humans he names as the Atlanteans were responsible for the Dachau-like work camp on the asteriod.
CHRONICLE OF UWE HANTSBO'S NOTES, VOL. IV, RETROSTAR
CHRONICLE OF THE GREAT WEAVER PEOPLE A. S. 1997, The Secret of Dream Catching How Horace Brave Scout wanders the Southwest and finds his life-guiding vision among the caves and baskets of an extinct tribe. CHRONICLE OF THE GREAT WEAVER PEOPLE
CHRONCLE OF THE UTERO-NAUT A. S. YEAR OF THE CHILD, PART I, Orientation How Shawnta, a 19 year old wannabe careerist like her single mom, was processed at the local abortion mill newly opened in her black neighborhood.
CHRONICLE OF THE UTERO-NAUT, PART I, RETROSTAR
PART II, The Argonaut How Shawnta's unborn child (no such thing as "fetus" ever existed on earth), genius that he was, got going with the name of Jason on a very promising career that might well have benefited the whole society and probably the world, but was rudely interrupted by an abortionist's foreseps, scizzors, and vacuum--but also how the Master Plan created by the FC kicked in with a contingency plan to restore Jason's life and future.
CHRONICLE OF THE UTERO-NAUT, PART II, VOL. IV, RETROSTAR
CHRONICLE OF THE PEARLY GATES A. S. 1998, How a Pearl Was Made How a farmer's daughter's experiences in life and her decision to be forgiving came to form one half of a gate of heaven.
CHRONICLE OF THE PEARLY GATE, PARTS I-II, VOL. IV, RETROSTAR
CHRONICLE OF THE GRAND PUZZLE--Earth I A. S. 2001- How Anatoly, a survivor of a notorious Nazi death camp where Anne Franke and her sister perished along with tens of thousands of other Jews, spent his convalescence and waiting period to go to Israel by playing the lottery after the camp was in the hands of the Allies; how he shattered the laws of probability by never losing and always managing to win back his stake; how this impossible gambling feat came back to haunt him in the last minutes of his life as he lay dying in a Denver hospital, but how the Hound of Heaven led him to win the Jackpot of life, the greatest prize of all.
CHRONICLE OF THE GRAND PUZZLE, VOL. IV, RETROSTAR
CHRONICLE OF THE LOST CITY A. S. 2002, Last Breakfast in the West Wing; Melt-down on Pennsylvania Avenue How the Wasichu of the U. S., in moral and political decline over against the British Commonwealth ever since Potsdam despite the highly-publicized moon and space programs of NASA, are struck by an invisible enemy and lose all their chiefs at once, and chiefs from the rest of the world come and set up a new council fire for the nation on Manhattan Island.
CHRONICLE OF THE MILLION MAN FLESH-EATER, VOL. IV, RETROSTAR
CHRONICLE OF THE DEAD MOVIE QUEEN A. S. 2003, The Burning of Coburn How a Hollywood legend found that all her fame, fortune, and feisty feminism couldn't erase the incredible after-death reality that was evidently turning against her--not only did she find she existed when she should have dissolved into nothingness, but all sorts of strange, powerful beings seemed intent on judging her and then throwing her into what appeared to be a Pacific Ocean set on fire.
CHRONICLE OF THE DEAD MOVIE QUEEN, VOL. IV, RETROSTAR
CHRONICLE OF MOSHE, HONORGUARDSMAN A. S. "Night of the Iguana" How on Earth I, Moshe Benlevi, a young Israeli soldier, a freedom-loving Sabra, was chosen to be a part of Michael Jayson's honor guard in Israel when the EU President arrived there for the signing of his "eternal peace" accord he had brokered with the Palestinians and the Israelis. How Moshe tasted sour grapes in the deal and decided to stop the world (at least his slice of it) and get off, but how he was intercepted by someone he hadn't included in his life's equation.
CHRONICLE OF MOSHE, HONORGUARDSMAN, VOL. IV, RETROSTAR
CHRONICLE OF DJUGASHVILLI'S SERVANTS A. S. 2024 The Titan of CNNC A hostile takeover by Ted Hunter of a competing Christian network, Alpha-Omega, backfired tragically for him when his wife, converting to Christianity right in his own penthouse on top the CNNC Towers in Manhattan, took A-O's side in opposing him. A takeover that was supposed to be routine, thanks to his billions and an army of corporate lawyers, became a living nightmare when he met a world-class power player in A-0 that more than proved his match.
CHRONICLE OF DJUGASHVILLI's SERVANTS, VOL. IV, RETROSTAR
CHRONICLE OF THE FALLEN GIANT A. S. 2024, How the Dominion of Canada, like the Humpty Dumpty the ill-starred egg man in children's nursery tales, broke up due to the disastrous effects of resurgent glaciation but could not be put back together; how it gained an ephemeral capital called Flin Flondia, once called the "Sunless City," in a book by that name.
CHRONICLE OF THE FALLEN GIANT, VOL. IV, RETROSTAR
CHRONICLE OF THE LAST CAMELOT A. S. 2170-, 1. Idylls of the King
CHRONICLE OF THE LAST CAMELOT, PART I, VOL. IV, RETROSTAR
2. The Panther's Jaws
CHRONICLE OF THE LAST CAMELOT, PART II, VOL. IV, RETROSTAR
3. Women and Children First!
CHRONICLE OF THE LAST CAMELOT, PART III, VOL. IV, RETROSTAR
4. Le Morte D'X-2914000?
CHRONICLE OF THE LAST CAMELOT, PART IV, VOL. IV, RETROSTAR
5. "Merry Christmas from Lyonnesse"
CHRONICLE OF THE LAST CAMELOT, PART V, VOL. IV, RETROSTAR
6. Wotoo's Black Box; The Duck King
CHRONICLE OF THE LAST CAMELOT, PART SIX, VOL. IV, RETROSTAR
7. Last Wagon Train to Avalann How the Royal Tribe of Windsor fared in exile on a base off Charon, Pluto's moon, and how they adapted to the loss of Earth and the dissolution of the monarchy
CHRONICLE OF THE LAST CAMELOT, VOL. IV, RETROSTAR
CHRONICLE OF THE STAR CHAMBER A. S. 2363, Christ in Atlantis? How Professor Pikkard was tried before a university panel for his heretical views and found guilty without evidence to refute his case.
CHRONICLE OF THE STAR CHAMBER, VOL. IV, RETROSTAR
CHRONICLE OF CHRISTUS TRIUMPHANS, Parts I, II, & III A. S. 2392, The Christmas Factor How Dr. Pikkard, meditating on the mystic Teilhard Chardin's visionary commentary on a medieval painting portraying a "standing" not a "hanging" Christ on the Cross, went on to reflect as well as the Incarnation of Yeshua, and how he concluded that a mystic thread connected all things, even to the blood of the human body, but that he had to wait for a "later" and "younger" talent to make it known scientifically. How, unknown to him, that younger visionary came to be his own predecessor, a Darwininian Establishment-challenging young man named Behe in the 20th-21st centuries, along with his contemporaries, Gabriel Tall Chief and Horace Brave Scout, who traced golden threads and lesser threads in a grand "blood cascade" of their own in the chronicles they brought forth.
CHRONICLE OF CHRISTUS TRIUMPHANS, VOL. IV, RETROSTAR
Book Two
CHRONICLE OF YOSEF'S PILGRIMAGE A. S. 4117, Flight to Avaris How Yosef and his young wife Maryam, with Maryam's newborn Yeshua the Promised Messiah of the Jews, fled from troops and spies of Herod the Great to safety in Mizraim, and how they journeyed back to Nazareth, their natal city, once Herod was dead.
CHRONICLE OF YOSEF'S PILGRIMAGE
CHRONICLE OF THE SECOND RESURRECTION A. S. 4150, Secret Sharers, Part II How the Second Zechariah the prophet, slain in the temple courts alng with many other prophets and saints, rose from the dead as a sign of the resurrection of the Messiah way back in A.S. 30, and how he went into the holy city and appeared to many, after which he was triumphantly escorted by angels to heaven's paradise--a spectacle first recorded, with certain new additions to the Resurrection Rolol, by Secret Sharer Josheph of Arimathea.
CHRONICLE OF THE SECOND RESURRECTION, VOL. IV, RETROSTAR
UNCHRONICLE OF THE CHRISTMAS PLAY A. S. 4 6 5 ?, "Merry Christmas from Lyonnesse," A Play, How a miserly, cruel banker seeks to destroy a whole town he has foreclosed on, closing down the only means of employment, the town mill, and how a small girl, Emily Cogwell, revives faith and hope in the people by refusing to give up her own in the bitter circumstances of poverty and homelessness, and how she turns and saves the banker when he experiences a change of heart after seeing her standing alone in the town square holding the Nativity Scene's Christ Child doll.
UNCHRONICLE OF THE CHRISTMAS PLAY, VOL. IV, RETROSTAR
CHRONICLE OF THE DRIED SPRINGS IP A. S. 4760, A Chief's Son Named Laughing Waters How an old chief and his old wife who had no children were promised a son by God, and the old woman laughed, yet later she conceived and gave birth to a beautiful son she named Minnehaha.
CHRONICLE OF THE PEARL DIVER A. S. 5927 -, Shipwreck of Dreams How a despised half-breed, part Keftiuan and part Myceneaean (both nations bitter enemies in the world) and Prince Daedalus do not get along and almost come to blows over the pretty orphan girl Theseus runs off with, and later after the girl's death (and the shipwreck of Theseus's dreams) how they find a way past hatred and revenge. CHRONICLE OF THE PEARL DIVER, VOL. IV, RETROSTAR
CHRONICLE OF THE FIRE WATER MAKER A. S. 5931, The Chosen How a brewery malt masher got herself a mighty warrior as a husband, and how her head was knocked in by other poor women, and left to die, but a great chief's prayer gained her the ear of the Most High and she was healed. CHRONICLE OF THE FIRE WATER MAKER, VOL. IV, RETROSTAR
CHRONICLE OF THE BLESSINGS OF THE BREASTS A. S. 5932-, The Wayward Vine How the births of two sons, Manasseh and Ephraim, comforted and cheered Joseph in the land of his bondage, but how his beloved wife and companion's heart turned toward her people and away from her husband.
CHRONICLE OF THE BLESSINGS OF THE BREASTS, VOL. IV, RETROSTAR
TWIN CHRONICLE OF THE AMBUSHED MAIDENS, TWIN CHRONICLE OF THE AMBUSHED BRAVE A. S. 5934, 1. Dawn Flower
TWIN CHRONICLE OF THE AMBUSHED MAIDENS, VOL. IV, RETROSTAR
2. The Prince of Gilead
TWIN CHRONICLE OF THE AMBUSHED BRAVE
How a chieftain's daughter and her maid-servant fought for their virtue; how the maid-servant escaped to safety and found a young man she could make her husband; how a prince, robbed of all his wealth, was left for dead in the desert, and how he found a greater wampum.
CHRONICLE OF THE BITTER ROOT A. S. 5938, Abdullah's Return How good times fattened Abdullah but did not improve his character, and how resentment and blood revenge took root in his heart, and how he could not rest until he avenged his brethren's deaths on the head of the chief of those he held responsible--Joseph. CHRONICLE OF THE BITTER ROOT, VOL. IV, RETROSTAR
CHRONICLE OF FAT WOLVES AND HUNGRY PEOPLE A. S. 5941, Part I, A Bruised Reed and a Broken Staff; Part II, The Return of the Brothers How the little family tribe of Joseph's father began to starve in their desert hogans and needed to go for provision in another country where there was said to be abundant food and water, thanks to a most far-seeing ruler in it who had set aside one fifth of the harvest for seven straight years of abundant harvests.
PART II, CHRONICLE OF THE FAT WOLVES AND LEAN PEOPLE, VOL. IV, RETROSTAR
CHRONICLE OF THE FAR-SPEAKING VASES A. S. 5931-, 1. Secret Diary of Ipu-Pheres (cont. by Benohe-Pheres); A. S. 5942, 2. Letters of Ipu-Pheres, Jonathan H. Thompkins, and Bertha Mae 3. Letter to Reader by Editor of the 23rd Edition of RETRO STAR series. How spirit-house shamans who have not yet been born could talk to people in stone tipis which had long since vanished under the ice. CHRONICLE OF THE FAR-SPEAKING VASES, VOL. IV, RETRO STAR
CHRONICLE OF THE BLESSINGS AND CURSINGS A. S. 5957, Jacob's Last Testament How all his sons received their future shares in the Promised Land and how his blessings in some cases seemed more like curses; how Jacob's embalmed body was carried back to Ken'an and buried with his father's bones. CHRONICLE OF THE BLESSINGS AND CURSINGS, VOL. IV, RETROSTAR
CHRONICLE OF THE BLESSINGS OF THE EVERLASTING HILLS A. S. 6011, The Kingdom Pledge How Joseph, on his deathbed at age 110, prophesied that his bones would not lie forever in Mizraim, but they would be gathered to his fathers in the Promised Land by his people. How seventy five years of great blessing followed Joseph's death, but then enslavement of the Hebrews began. How blessed was the one piece of ground, the field outside Shechem, owned by the people of Jacob and Joseph. CHRONICLE OF THE BLESSINGS OF THE EVERLASTING HILLS, VOL. IV, RETROSTAR
CHRONICLE OF A CLOUDY AND DARK DAY A. S. 6719, A Mighty Chief Called Barley Cake How one young brave was chosen by God to fight tribes of thousands of enemies that oppressed and starved his people, coming every year and taking all their food away. CHRONICLE OF A CLOUDY AND DARK DAY, VOL. IV, RETROSTAR
CHRONICLE OF THE GIANT-SCALPER A. S. 6852, The Runt of Ephratah How a tribesman of tiny Ephratah, smallest portion of a small country, he himself youngest in his family and despised by his brethren, killed and scalped a giant warrior and became the chieftain of the whole country and one of the most famous kings in human memory and whose second name is spread over the whole earth.
CHRONICLE OF THE GIANT SCALPER, VOL. IV, RETRO STAR
CHRONICLE OF THE CHIEFTAIN'S DAUGHTER IP A. S. 8732, Elektra's Contingency Plan--Implemented How a chieftain's daughter lost her last sky-canoe and seemingly all her people but found a tribe who didn't know better and took her along with them.
CHRONICLE OF THE CHIEFTAIN'S DAUGHTER
CHRONICLE OF THE SEVEN STARS, THE GREAT WHITE CHAIR, AND THE END OF EARTH'S SKY-TRAIL AND THE GREAT LAST COUNCIL FIRE (EARTHS I AND II) Z-Point II
GREAT LAST COUNCIL FIRE, VOL. IV, RETROSTAR
1. Z-Point Deferred: Battle of the Seven Stars How, on Earth I, the "Light Bringer" Lucifer attacks the Seven Agensl of the Seven Cburches, determined to gain absolute control of Earth I, and how he uses this attack as a feint in order do the most damage he can to his true objective: the Blue Bridge of Orion that contains, he senses, to the Plan of Restoration for both Earths and their Universes.
CHRONICLE OF THE SEVEN STARS, VOL. IV, RETROSTAR
2. Part I: The Sentencing Trial: The Great Assize Part I How all the people who had done bad things were shown what they had done and were cast alive into the mouth of a Star-Eater along with all the spirit-creatures that lodged inside the enemy stars. Part II: City of Destruction How the cities and nations were judged and then their names and official seals and insigne cast into the Pit, and all memory erased in the mind of God of their former existence.
CHRONICLE OF THE GREAT WHITE CHAIR, VOL. IV, RETRO STAR
Part II, CHRONICLE OF THE GREAT WHITE CHAIR, "CITY OF DESTRUCTION, the "Emerald City", VOL. IV, RETROSTAR
CHRONICLE OF THE BLUE BRIDGE LINKING CHAMPIONS--EARTH I AND EARTH II How the Bridge once linking the Twin Earths was restored in the Cavern of the Great Nebula of Orion, a work that spanned the ages and completed the destiny of both worlds; how the choice to forgive by one wounded human being, a pioneer Exoduster's daughter from a farm in Kansas, joined the two half-spans together forever.
CHRONICLE OF THE BLUE BRIDGE LINKING CHAMPIONS
2. Homecoming of the City of the Great Chief IP How the council gathering of the Lamb of God, finished after an eternity of careful construction, came down from heaven and set upon the center of restored Israel, where the Nail-Pierced One and his tribes would rule the Earth's nations for a thousand years until the Final Reaping of the Earth.
Volume V Beyond the Rapture--An Eschatology Lived,
Chronicled by Horace Brave Scout
CHRONICLE OF THE GREAT CHIEF'S RETURN A. S. 200? How Yeshua comes to Earth I, unexpectedly to most people, gathers those few "Wise Virgins" who are prepared, and leaves those who were tremendously successful followers, they thought, only to find themselves lumped with the ungodly in a world society racing toward the abyss. How Heloise Turnbull, the televangelist, lost her world-wide organization and wealth along with her husband and family but found new life and a new ministry in Israel where she fled to escape the collapse of everything she had achieved.
PART ONE, JACOB'S TROUBLE, "THE VOICE FROM THE GROUND"
"Thief in the Night," Part Two, Beyond the Rapture
"The Spin Shamans," Part Three, Beyond the Rapture
"luv heat and the marcyz boyz," Part Four, Beyond the Rapture
"Hard Choices, Part Five, Beyond the Rapture
"The Wailers at the Wall," Beyond the Rapture
"Shelter from the Storm," Part Seven, Beyond the Rapture
"A Covenant God," Part Nine, Beyond the Rapture
"The Lion Unleashed," Part Nine, Beyond the Rapture
"Retreat to Petra," Part Ten, Beyond the Rapture
Please return for Book Two of Beyond the Rapture, "Yom Kipppur"
(Chronicle completed)
Volume VI Natal Convergence
by Horace Brave Scout
CHRONICLE OF THE LOST TRIBE A. S. 1,136,786 How the Alpha Centaurii discovered an archive of Late Twentieth Century artifacts in a time capsule, and information revealing a Magnum Mysterium that revolutionized everything, to the point where they chose the dreaded White Martyrdom, a final search of the Universe for what they had lost, in which they discover what Ira Sulkowsky has already shown them in.... "The Christmas Factor" 61000202A-Z, Subfile A1, "Dogon Star Child"
61000202A-Z, Subfile A2, "Lakota Nativity" 61000202A-Z, Subfile A3, "A Victorian Christmas" 61000202A-Z, Subfile A4, "Christmas with James Dean"
"Subfile A4: Christmas with James Dean, A Requiem with Poinsettias" 61000202A-Z, Subfile A5, "A Fawn in Winter" 61000202A-Z, Subfile A6, "A Fulani Christmas"
"A Fulani Christmas," Vol. VI, CHRONICLE OF THE LOST TRIBE, RETRO STAR
61000202A-Z, Subfile A7, "Street of Dreams" 61000202A-Z, Subfile A8, "Winter Rose"
CHRONICLE OF THE LOST TRIBE, WINTER ROSE, VOL. VI, RETROSTAR
61000202A-Z, Subfile A9, Act III, "Christmas from Lyonnesse"
61000202A-Z, Subfile A10, ACT III, "Joseph's Letter"
CHRONICLE OF THE LOST TRIBE, VOL. VI, "Joseph's Letter," RETROSTAR "Natal Convergence!"
Volume VII Final Wars...Convergence at Orion by Horace Brave Scout IP
How two major battles fought for Orion and its secret "Skunk Works" resulted in the destruction of the chief project, the Blue Bridge, to the point where only half survived in each Universe; and how a single act of an individual was strong enough to unite the two halves into one whole, thereby completing the bridge and defeating the opposing players.
Epilogue II EPILOGUE II, "THE HARROWINGS OF HADES AND HELL," RETRO STAR
NOTE OF FRIENDLY REMINDER TO DOWNLOADERS: THIS CONTENTS PAGE DOES NOT LIST A GREAT MANY COMPLETED CHRONICLES, SO THERE IS NO WAY DOWNLOADING CAN OBTAIN THE COMPLETE RETRO STAR SERIES. WHAT IS GIVEN TO PUBLIC DOMAIN HERE IS JUST ENOUGH TO OPEN A WINDOW ON THE SERIES AND ITS POSSIBILITIES TO WHOMEVER IS SERIOUSLY INTERESTED.
FOR THE CHRONICLE OF THE QUEST OF THE GOLDEN FLEECE, PARTS I-VIII, AND CONCLUSION, GO TO VOLUME IV AND THE JASON AND THE GOLDEN FLEECE CHRONICLE, ANTE ANNO STELLAE 1230-1200.
The Greeks, starting with their predecessors, the Minoans of Crete (or Keftiu, the Princes Island), and continuing with the Mycenaeans, then the Achaeans (the mysterious Dorians), and then the world-conquering Macedonians led by Alexander the Great, finally on to the classical Greeks of Pericles, Socrates, Demosthenes, Plato, Aristotle, and others too numerous to mention--a race of epic deeds and epic character flaws immortalized by Homer and continuing on to the decadent, pleasure-loving, inebriated, crumbling-from-within Greece the Romans knew and conquered--this entire calvalcade of many-splendored peoples missed the whole point about their own stars, constellations, and the matchless, wonderful accounts they had inherited from more ancient times and peoples. Encapsulated in one moment, perhaps, that lost greatness, that Magnum Mysterium, that was only later to be lived and explained in word and deed by a certain carpenter's son from a nothing of a town in northern Israel--until then, there was for succeeding generations only the fading brightness of the glory Jason and his Argonauts and the four grandsons of Phrixus (all destined orphans, like us!) once bore home triumphantly on the bow of their ship the Argo:
But what price glory? All the surviving Argonauts, as well as Jason and his four adopted sons, the grandsons of Phrixus, carried home the memory of Mopsos and his pyre burning far into the night as they lifted their weapons in salute and sang victory songs fit for champions in his honor.
But before turning toward the isles of home, the Argonauts had one last duty to perform, which Jason could not ignore or cast aside. He had promised Honan's mother her dying wish.
Was she still living? It did not matter, they were going to return to Honan's house.
As they came to the house, the Argonauts found that they were not a moment too soon. The old one was, indeed, on her death bed--clinging to life only so that she might set her remaining eye on the Golden Fleece promised to her by Jason.
How sad, though, that she became blind in both eyes just hours before Jason arrived.
She had no hope now, but Jason brought the Fleece of the Heavenly Ram in to her anyway. He held it out, calling to her.
Miracle in itself, the old woman revived, and struggled to sit up, with a granddaughter helping her.
She was weeping from both her blind eyes as she felt the fleece with her trembling fingers. Finally, too exhausted to sit any longer, she sank back onto her bed. She was whispering something, and Jason bent close to hear.
"I am at peace! At last! All is well with my soul! All is well!"
Jason could hardly believe what he heard her say, but she had repeated it, and she really did think all was well with her--despite her murder of a rival. Could it be? he wondered. Could it be a mere touch of the Heavenly Ram's fleece had brought her release from her crime of murder and all the guilt of her sin?
Honan and his family now gathered round the old woman as she breathed her last, and Jason and the Argonauts waited outside, while the family mourned.
It was time for them to go--and so Jason told Honan, when he came out of the house, that they were due back in Achaea's isles. Would he mind if they departed now?
Jason had a gift for Honan, however. He cut off a part of the Fleece and handed it to Honan. "Perhaps you will remember us when you look at it," he said. Honan nodded, then remembered his guests' needs on their long voyage, and had them brought bread, and smoked veal, and other foods for their journey, and the Argonauts thanked him, and then set off down the path, with Honan accompanying them. Honan's son was there already, waiting for them.
Surprised, Jason looked at him, and the boy glanced at his father determinedly, and Honan sighed. Honan turned to Jason. "He wants you to take him as an oarsman, and I cannot keep him here any longer against his will. Will you take my son along on your voyage? I know you will keep him well, as he grows to manhood. I have taught him all I knew to teach him. He is bright. He can learn many more things from you, if you think him of possible use to you and your ship, Captain. Perhaps, someday he will return here with a ship of his own!"
Jason saw that the boy was nearly a man. He needed something more than the life this dying part of Colchis had to offer--and truly, the Argo was the only chance for him to find a better life.
"He may join us," he told the father. As Jason spoke, the boy's glum face (as if he had been expecting a crushing disappointment) broke into such a wide grin of delight that it nearly cracked his lips.
The father and son gave each other parting embraces, and then said their farewells in their own language.
Soon Honan was a speck on the shore as the Argonauts (now including Honan's son who was plying, or trying to ply, an oar) looked back at him. They caught a good current and were moving swiftly toward Aea, passing many landmarks in the time it had taken many hours to reach on the way upriver. Only then did Honan's son realize this was a complete separation from his former life and his family, and he forgot he was a man, dropped his oar, and shed t tears.
Even as the fire and smoke carried the eulogies and songs honoring the the great Mopsos up into the sky, far off from razor-peaked Colchis the beggar of the Mountain Gate in Iolkos stood vigil, for he had appointed himself keeper of the sandal of the champion, Jason, who had set sail with fifty heroes to go and win the Golden Fleece in the legendary land of gold, dragons, and sacred groves--Colchis.
How did he come to be the keeper? For days after Jason departed the port and city ruled in his absence by his uncle, Peleus, the beggar paid little attention to the sandal Jason had left hanging by its lachet on the name post of the city. Life seemingly was going on the same--but then the beggar's thoughts returned to the sandal. The more he looked at it, and thought about it, he began to see its significance in regard to himself and his own meagre, not very promising prospects.
If he fell too sick to care of himself, what then? He was doomed to perish right there, uncared for, in the street. The street dogs, a wild bunch, would soon find his body and do what such brutes always did, devour him, starting even before he was completely dead if they saw he was too weak to resist. They were always ravenous--sneaking in toward nightfall from the dumps outside the city where they scavenged the refuse and garbage--to see what slops--fish heads, bones of lamb roasts, or even contaminated meat-- might be thrown out the kitchen windows by lazy slaves or wives short on servants who didn't want to make the trip to the dumps outside the city.
Yet along with this dark thought of his certain end, a light began to shine in an unexpected quarter--even this corner of the city by the Mountain Gate. Since Jason had come through and dropped his sandal on top of the old name post, things were, indeed, no longer the same. Only now was the beggar discovering this fact, as he pondered the sandal, and the one who had left it.
Why this one sandal? What good was one sandal on one foot? Two were needed to protect a man's soles from the rough rocks of the paths and streets one travelled from childhood to the grave. Yet Jason had done the unthinkable, shed a sandal--a finely-made one at that, the beggar could see--and gone away unshod on his left foot!
How strange! But how thought-provoking! A man had to have a reason for doing this! the beggar concluded. Unless he were a lunatic, he had a reason--but what was it?
The beggar thought and thought. He even asked a few passers-by, who did not show much interest in the question, and soon left to go on their journeys or business--without another thought about the beggar and his odd question.
So the beggar was left to his own resources. His sleep was even not so good, as the question churned round and round in his dreams. He saw the sandal in those dreams, spinning, turning, even walking up and down the street--and so he could not avoid the question, whether by day or night.
Somehow, this man and his sandal are destined to some great exploit, that even the likes of me has a part in somehow--the beggar began to surmise. With his slight crack in the darkness of his mind, a golden light began to dawn on the dark horizon. He who had nothing really to look forward to--just the present day in which he hoped for a thrown petty coin or two of little value with which to buy a boiled fish and a few olives and maybe a sip or two of poor, vinegarish wine to slake his hunger and thirst, as well settle his poor digestion.
One day his whole life was overturned in a few moments. Peleus's men came to inspect the Mountain Gate, taking the measurements, and when he heard them talking, he realized the king had some major changes in mind for it.
"That's nice, with the work men present to eat their lunches, they will throw the discards of their bread, olives, and fish to me--and I will feast for days no doubt, without any care for the next day."
But as he eavesdropped on the king's men he realized the changes might not all be so good for himself. They were going to widen the roadbed, double its width in fact, so that the king could drive two chariots abreast in and down the road without going single file. Apparently, the king had grander prospects than waiting for Jason to return to take the throne from under him. He was not going to give up the city and throne after all? How could this be? the beggar wondered, staring at the important officials and architect who were on the site, stirring up the dust in a cloud with their horses.
A chariot from the king's palace was even brought, then two, and they were positioned at the gate. This gave them an even better idea how much of the street beyond the wall needed widening. One official said, or, rather commanded, "That house has to go--and that garden wall--and that house on the other side too! We can't let them obstruct the way, as the king has ordered the street be straightened as well as made wide enough for two chariots run abreast."
The beggar didn't like the sound of this at all. Must these houses and walls be torn down? What then? Where was he to move now? Where he was had been so convenient, up against a wall that shaded him from the withering eastern sun. Even if he was to hot in the late morning, relief came soon after that as the shade of the wall lengthened and covered him. Then if some cool breeze came down from the mountain slopes above and entered the street, he was made even cooler--and so he had got by in the heat that way. But now the wall was to go! His shade had evaporated. Where was he to find a similar wall against the eastern sky if the street were widened and the wall knocked down?
The officials and builders and architect paid the beggar no attention of course, and if they saw him, they viewed him with pity and contempt--not throwing one coin his way.
The beggar did not care about it--he didn't like Peleus nor his court and his servants--they were all so high and mighty, and cared nothing for the poor like himself.
The very important men and their horses went away and the beggar was left viewing the street. It looked the same, but all had changed for him. He was losing his place, and with it perhaps his last bit of comfort in this world. What would happen to him, if he had to sit so far away from the Mountain Gate that the passers-by wouldn't give him anything--thinking only of reaching the markets or their places of business or their homes? Peleus did not permit beggars in the markets and among the shops--he couldn't go there. Only here at the Mountain Gate was he left alone--and now that was over! He was like the garbage and refuse to the king, worth nothing, worth no consideration. How he fared after the street was widened and the gate was enlarged for two chariots to enter abreast, that was of no consequence to the mighty king, Peleus!
The beggar's whole countenance fell, and he sat in deepening despair. "Woe!" he moaned. "I am undone by the cruel king!"
The only thing he could hope was for Jason to return and set things right. But when would that be? Would that ever happen? The king did not seem to think, shown by his actions, that Jason would survive the hazards of his long sea voyage to Colchis, much less survive the dragon that guarded the Fleece itself. Peleus, in fact, was enjoying great banquests and festivities in the palace, paid for by the new taxes he levied upon the city and the kingdom.
The city's rich--who supported the king--were growing richer, and the poor were more oppressed than ever.
No one anymore seemed to have a little extra to give the beggar, and he was beginning to starve, going whole days, then several days in a row, without a bit of food. As for wine, that was completely out of the question--he had a hard enough time trying to get some water in his jug. Yet he knew that soon the hired workmen with the slaves and criminals under the king's power would come--which meant some food for him, or did it? Would they keep everything to themselves, having less than before given them by their wives?
Even that looked for boon was drying up, as he considered the new changes at the gate.
What was he to do? He was, he knew, helpless, utterly unable to do anything.
A wave of fear and dread swept over him, and he was drowning in it, unable to swim and rise to the top!
It was at this point, when everything seemed so hopeless, that the beggar went to sleep in the heat of the day. He was so weak--he could not keep awake now to call out to any of the passers-by in his thin voice.
As he had seen before in dreams, the sandal of Jason the champion appeared, shining with gold, but something else, very golden appeared with it--the fleece of a golden ram, complete with huge curving horns and four hooves! Together they flew from the harbor up to the palace, where he saw men running out to fight, but they threw down their weapons and fled, leaving Peleus--for the king himself had come out with his royal guard--to fend for himself. Peleus then fell down, his robe was swept off him by a big wind, and he ran away down the street naked, the crowds cheering and catcalling, as he passed through them.
This strange dream ended, and the beggar was jolted awake by the sound of many voices. The cracked open his red, heat-swollen eyelids and saw the workmen newly arrived, together with chained criminals and a gang of slaves led by a taskmaster. They were carrying implements to dig and break down the walls and gate and the unwanted houses. The houses were set upon by the king's men, who drove the people out, and there was much screaming, crying, and protesting, but it did them no good--the king had issued his royal command, and the Mountain Gate and street leading from it would be widened according to his royal architect's measurements and design!
The next couple days passed while the beggar viewed the first work accomplished on the Gate, demolishing it, while the stones that could be used were set aside for reuse. Carts were taken from owners in the city by royal demand and used to transport the rocks from the quarry outside the city that the quarrymen had already prepared for the Gate and the stone work of the street--for the whole work was to be a splendid sight, just as the king intended to be done to the waterfront and the agora and the acopolis (a small outcropping, to be sure) where his palace stood commanding the heights over the city.
Iolkos was going to be made worthy of a king, the great king Peleus!
The beggar watched two criminals approach the name post of the city. What now? the beggar wondered. He called out to them. "Are you taking that away too?"
What business is it of yours, you dog?" the men laughed at him. We aren't taking it away, we are going to break it and throw it with other rubble from that wall behind you into the harbor for the new breakwater the king ordered laid. Now let us work--or we will get the lash if we aren't seen working!
"No, no! Don't take it away! What is the king thinking of? It is the name of the city, and it is sacred--given us by our forefathers!"
The criminals looked at him with disbelief, and then roared. "What are you crowing about, you silly old bird? The king's order must be obeyed--and the name--don't you know this city has a new name? Are you crazy?"
"New name?"
"Yes, this city is now Peleos, after the king's own royal name! Now shut your mouth and don't bother us again, or we will knock your head with a rock and throw you in the cart and dump you in the harbor along with the rubble!"
The beggar looked at them and knew they meant their threat, for they were brutes, their crimes well worthy of the lash and the boot of the jailor.
Slaves and carts lined up along the wall, and then the beggar saw he was going to have to move that very day? But where? Where?
The name stone was struck with mallets, which broke it into handy pieces the criminals threw into the first wagon. A sandal was sent flying--Jason's! Crawling toward it, the beggar seized it, and continued. He tried to keep just out of the work area, so he didn't have to move again that day. In that way he tried to stay as close as he could to his own haunts, but he saw it was fast disappearing. The street bed itself was hacked up, dug out, and the unusble stones of no value were thrown into the carts for hauling to the king's new breakwater at the new port he was constructing.
The beggar clutched Jason's sandal and moaned, as he thought of the troubles to come.
When the workmen left and the king's men left, he crawled back through the mounds of dirt and hewn and shaped quarry rocks, searching for some scrap of castaway lunch. But he searched in vain, for the dogs always got to the area first, even before the workmen left. Some of the workmen had dogs themselves along with them, and fed them scraps they threw them to make the men laugh as how they scrambled for them.
The beggar was starving--his rags were hanging on his bones, with scarcely anything covering his bones anymore. His eyes sunk in, the beggar began to see death's Grim Reaper approaching him slowly from the end of the street. As the dark shadows joined and it became dusk, then night, he felt the breath of the Reaper on his neck and his forehead. Soon he knew he could not draw his breath--it would be easier not to fight on any longer--he no longer had the strength to struggle to keep alive any longer.
Into a troubled sleep he fell and then dreamed. The golden sandal and the golden fleece which had joined together to drive the wicked king Peleus out of the palace now resumed their journey and passed down the street to the Mountain Gate. Here they hovered above him, shining with all their glory.
Without even thinking about it being a strange to do, the beggar began mumbling a cry, even a prayer, to the God of his forefathers. He had not thought about him since his childhood, when he was still cared for by his aged parents. His mother had taught him about this God of All. Somehow he had forgotten it, lost in all his miseries since he had been forced to go out on the streets to seek a beggar's livelihood (if it could be called a livelihood). That was all he had known--want, and begging to stay barely alive! But now he prayed! He prayed to God--"O Great Father of All, have mercy on me, a dying beggar without any food nor drink! Hear the voice of the oppressed and do justice to the poor and afflicted one. Have mercy on me, and I will serve thee alone!"
The moment he prayed this, he felt a great peace fall upon his trembling, shivering shoulders, and his rags grew warm and kept him warm all night as if they were the finest wool blanket from the bed of the king in his fine palace bedchamber. In the early morning, at cockcrow, the beggar awoke, surprised, for one thing, that he had not been attacked by the wild dogs roving in through the demolished gate, and, next, that there was a jug and a basket lying beside him covered with a fine linen cloth.
He could not believe the sight of them at first. Was it a cruel dream sent to torment a famished, dying beggar? Or was it real? He reached out his trembling hand and touched them. He gasped--they were real!
He laid aside the linen--and saw loaves of fresh baked bread, a cheese, two fine broiled fishes, and olives and grapes. He tore into the bread first, then was so dry in his mouth he lifted the jug--and it was cold, watered wine--he had never tasted so fine a vintage!
His weeping could not stop him from eating at the same time--and any passers-by must have glanced twice at the beggar, wondering what he was up to, and how he had come by so fine a meal--a veritable banquet for a beggar.
The beggar was not even finished with his wonderful banquet--given him by unknown benefactors in the night--when the unfinished street and gate were filled with people, all talking loudly and gesturing and casting angry looks back toward the hated palace of the oppressor, the tyrant Peleus.
It soon looked to the beggar that the whole city had gathered at the wrecked Mountain Gate. What were they saying?
"It was good the way it was, so why this expensive change!" said one man. "Yes, he's taxing us to death for this needless building of his!" said another. A woman wailed, "I cannot buy my own children food enough to feed them, after these new taxes and levies of the king! What will I do--feed them grass and bark?"
Other women joined her, wailing and beating their breasts. The men grew all the more excited and angry, shaking their fists. Some held pitchforks, knives, and clubs, anything that could be used as a weapon.
After the noise grew even louder, and the clamor increased with new additions of citizenry--people even coming in from the country to join the crowd--the king's men came on horseback, shaking their fists, commanding them to disperse at once. "The king orders you back to your homes and work places at once! A whip for the back of every man, and forty lashes, if you don't go immediately!"
The crowd, which was now in the hundreds, jeered, united in one voice and in anger against the tyrant and his men.
They surged forward as if to pull the king's men from their horses, and the king's soldiers, lashing at the hands that grabbed at them and their horse, suddenly galloped away back to the palace, dozens of men running after them and pelting them with rocks.
The crowd continued its gathering for quite some time, but when the king did not send any more soldiers, their anger began to wane, for there was nothing to take their anger out on. Within another hour the whole area emptied, leaving the beggar alone with his thoughts, Jason's sandal, and his strange and wonderful provision.
The beggar was happy as a awallow in springtime. He now had enough for several days--and could forget starvation for a time. He had no idea how he had been spared a most miserable death, and being devoured by the wild dogs, but he was thankful. A thought came to him: why not thank God for his miraculous repast?
So he did, right there in the daylight hours--he raised his clasped hands toward heaven and thanked the Father of All.
After that day, there came news via a passer-by. The king, badly frightened by the uprising of the whole city, had called back his levies and new taxes. He wasn't going to enlarge the Mountain Gate and widen the street after all. What was done would be repaired and returned to its former condition.
As for the king, he had heard something else--that the beggar at the gate was the reason for the disturbance that nearly cost him his throne. The people were defending the beggar, who had been cast from his begging post, along with the post!
Then, just as this welcome news came to the beggar, even better news reached his ears. He had been declared the king's ward! The same day, mats arrived from the palace for him to rest upon, together with a canopy to shelter him from the sun's burning rays at noontide and during the long afternoon. Food as well arrived, via the slaves and cooks of the palace kitchen. He had more than enough now--and again the beggar clasped his hands toward heaven, and no matter who was present, poured out this thanks to the Father of All as His great provider and benefactor.
That very night as the beggar slept like a baby beneath the clean, warm, fine-smelling woolen blanket brought from the palace, he heard a voice call him: "My son, your prayer is heard, and I have answered you. You have been faithful in little, and now I will put you over much. Your affliction is comforted, and I will bestow even more favor upon you. I will send another benefactor to take you to the palace of the king, where you will abide until your end. Be at peace! Rest in my hands!"
And it was so as the Voice promised the beggar. Jason arrived at last one fine day (which was the end of Peleus, to be sure, who had reigned most wickedly and cruelly all the time Jason had been absent from his kingdom). The false king was routed out by the one carrying the Golden Fleece on his mighty shoulders, his adopted sons, the grandson of the great Phrixusd, holding the train of the Fleece. Laughing and jeering and rejoicing the people of Iolkos jeered and hooted at Peleus as he ran, barefoot, down the street to get away. No one of his former court or any his rich friends lifted a finger to help him, for they were afraid now of Jason being king and holding them responsible for their part of the king's misrule and oppression of the people.
Justice and judgment, along with mercy, were restored by the kingship of Jason. The crimes that Peleus had committed against many innocent men were rectified as much as possible. Widows who had been defrauded (and their husbands or sons murdered by the king's order) were given their property back.
He also retrieved his sandal from the beggar, sending for him and bringing him to the palace in a royal chariot! In a royal audience, before all the assembled Argonauts and the people, Jason said to the beggar:
"I heard of you from the people! You were the one I first met in my city, for you guarded the Mountain Gate, did you not? You kept my sandal safe--and now, as reward for your faithfulness, I fulfill my vow I made when I left it at the name post--that whoever honored me in this city from the time I hung my left sandal on the name post would be richly rewarded! Well, you are the man! You are the man!" You honored me, a stranger to you, and now I will honor you in return!
King Jason offered the beggar a place for life in the palace, and his own rooms, and all his food and drink and clothing. The beggar, knowing a good thing when he saw it, immediately accepted.
Nothing was spared his needs, and unlike many ungrateful men blessed with suddenly improved fortunes, he was most thankful to the giver, but also giving thanks to God, the Father of All, to the end of his remaining days.
Now and then he would go by chariot or litter to see the Mountain Gate where he formerly resided for many, many hard years of dearth and suffering. But Jason had made it most beautiful, building it with fine stones and carvings of the Golden Fleece, the Ship of the Argonauts sailing across the lintel--even a figured carving of the exploits of various Argonauts, and a saying that the wise Mopsos would have approved, which said for men of that time and succeeding ages:
"O Wayfarer Passing Through the Narrow Gate, Seek First God and His Righteousness, and All Things Good and Happy will be added unto you!
It was a popular gate from that time on. People who passed through it felt a blessing fall upon them--unless they were wicked, bent on committing some evil deed either in the city or out of it. The old name fell away. It began to be called "Happy Gate," and so it remained for as long as the gate stood there.
Jason, moreover, returned it to its narrow state as a gate for only one man to enter or exit at a time. He did this purposely, not to make it inconvenient for the city but because he remembered that Mopsos had once told him, "Narrow is the gate that leads to life, and few there be that find it. But broad is the way that leads to a man's destruction. Many, alas, many go to destruction, taking the easier way in life, thinking they are safer travelling together, like fish in a school!"
So this single-file gate leading to and from the mountains overlooking Iolkos, as long as it stood, would teach that wise lesson and the wisdom of Mopsos to all men who would listen, to all men who wanted to live and not die.
After Jason returned to rule over his kingdom, all was well in heaven and earth? Well, not quite yet. When Elektra heard what had happened in Colchis, that her amusing little pet dragon (which she had planned to use on hostages for entertaining her at royal functions) had been slain by none other than Jason, and the slayer gotten clean away too, she was determined that heads would roll. And heads did roll, literally, around her. Then she set out personally, in pursuit of Jason. He must be stopped, she thought, from spoiling all her plans for Ilios and its goddess-worship. Achaea, with the likes of Jason to make it succeed, was to be smashed, and Ilios was to rule supreme, under her scepter, of course!
In the upcoming Park III of Chronicle Sixty, Talulah lands in more trouble than even she can handle. Her comeuppance is as cruel as the way she had treated others in order to win a beauty pageant crown.
FOR MORE OF PART II, CHRONICLE SIXTY, TALULAH'S STAR, TELLING HOW HOMER'S QUEST FOR IDENTITY WAS FATALLY CONNECTED WITH A TEEN BEAUTY QUEEN'S POWERFUL JEWEL OF EVIL THAT IN COMBINATION WITH A SECOND ALIEN ENTITY BROUGHT THE CONFRONTATION OF ATLANTEANS AND HUMANS THAT PRECIPITATED A FULL-BLOWN NUCLEAR WORLD WAR. GO TO CHRONICLE SIXTY IN THE DIRECTORY. THIS CHRONICLE IS IN PROGRESS, WITH PART III TO COME ON-LINE IN THE NEAR FUTURE ON THIS PAGE.
CHRONICLE SIXTY, VOL. III, PART III, THE GREY WOLF:
When do you know the Shadow Line, dividing your former life and the advent of sheer nightmare, has passed over you? Homer had already experienced some terrible things and even his near death several times in the last day or so--but he was now to find out that all that had been mere preparation. Yet it wasn't preparation enough, he would soon find as he made his way slowly into the darkened, silent Cayman mansion.
He turned and closed the door behind him carefully, then moved toward the light that was coming in from the upper windows of the first room.
His nerves were on edge already, for the house struck him as too quiet somehow. It was now growing dark, and less light was coming in, which didn't lessen the sense of foreboding he felt.
He came to the curved archway leading to the rest of the mansion's many rooms, a staircase leading to upper floors as well as doors opening to the terrace.
Here his eyes fell upon a strange dark stain on the tiled floor.
He did not realize it at the time, but he was in deepening shock before it mentally registered just what he was seeing. He leaned over and picked up something, a woman's shoe! Or was it a child's? It was so small.
He was staring at it dumbly when he noticed it was half full of the same liquid that lay in a big puddle on the floor. He set the shoe back carefully, and didn't notice that his fingers were now bloody.
The big puddle of stuff on the floor--blood? He knew it was, but his mind was protesting all the while. Things like this didn't happen to someone like himself. He was a small-town Georgia boy. There weren't people being murdered in his town like this--maybe in big cities, which he sometimes heard about. And sometimes things went wrong out in the logging camps--but that was to be expected, with all the drinking and fighting that went along with the rough and tumble types that did the work. But it had never touched his life, what went on in such places. But now--here it was--smack in front of his face. Maybe his head wound was acting up a little too. He couldn't grasp any of it, or think that it was actually happening to him. He had been raised to be quality society--as far as Makon knew quality society, that is.
Nevertheless, he had to continue what he had started. He had to find the Caymans, or at least a servant, before he could decently get back to his own reason for coming to Multan. There had to a a good reason for the dinner being put off like this and the house left unattended, he thought.
He took the staircase, an ancient, creaking flight of mulberry-wood steps. It led to a number of small rooms, narrow halls, all elaborate and decorated in a centuries-old style. Some had chandeliers and were filled with books and art objects. Others looked as if they had never been opened--not for years-- for cobwebs were thick on everything in the rooms.
He opened a door to one of the larger rooms, and it was a master bedroom, he could tell.
In one end stood a crib. Was it the Cayman baby's? he wondered.
He went over to it and saw the baby was in the crib, but something was wrong. The baby was lying too still. The baby wasn't even breathing, as it lay with eyes gazing up without any flickering of eyelashes. It was then he noticed the oxygen tank, lying on its side under the crib, and attached to it a long plastic line for feeding air through the nostrils.
The shoe with blood in it, the puddle of blood on the floor, now this dead, suffocated baby boy. Homer, staring at it, slowly backed away. He was still backing away when he ran into the open door, which moved and almost closed, shutting him in, but he turned suddenly by instinct and flung out of the room. He rushed toward the stairs, and was down to the ground floor without using most of the steps. He almost slipped right into the blood, but jumped and missed it.
He had to get some air and clear his mind if he could of the sight of the dead baby.
The terrace doors were not shut, he saw they were open, and he pushed through and went out onto the terrace. A cool breeze hit his face at that moment, and he drank it in for a moment as his mind whirled with thoughts he could not control. What was he to do? Where were the parents? Who had done these terrible things to the Caymans? Who would kill an innocent, helpless baby? What had happened to the servants and the Caymans?
He took only a few steps and saw a pool in front of him under an elevated wing of the house.
What were those dark objects lying at the bottom?
He went to the pool's edge and looked down into the water. The bodies----Mr. and Mrs. Cayman?
Homer did not think from that point until he was standing in the street. He had burst running from the front door to where he now found himself in a street of the Old City. His running had disturbed his companion, for Rainy had climbed out and was on his shoulder. Looking wildly around, Homer wondered what the best way would be leading to the airport. All he wanted was to take the next flight out of this nightmare world he had stumbled into. As for finding Talulah and returning her ring, he had forgotten all about it.
Over on Earth I, the Rapture has taken place just as the evangelicals believed and said it would, but Heloise Turnbull, one of the most successful televangelists, has been left, unaccountably, since she had built her whole message around the doctrine of the Rapture. It takes her a while to adjust and realize the cause for why she was left behind is herself--and meanwhile, she has to flee the U.S. to Israel, where she hopes she can sit out the collapse of her empire and all the legal wranglings over her ministry's immense assets. When the Anti-Christ attacks Israel, which has identified him as an imposter and not Messiah and pulled away from his dictatorial control, Heloise is forced to flee Jerusalem with a Jewish family where she has served as a caregiver, maid, and whipping post for a tormented old harridan who could not forget the nightmarish abuse she had suffered as a young girl in the Nazi death camps--and had to take it out on somebody, even her own family, if there was nobody else available.
Heloise, of course, being a foreign goy, was ideal for the abusive old woman to take out her inner pain on. And she wasted no opportunity to make life an absolute hell for Heloise--as if the Anti-Christ Dictator wasn't making life hellish enough for the inhabitants (and particularly the underground Christian believers) of earth.
It was the last straw, however, for the Jews when their World Union "Premier" invaded their new temple and declared himself Messiah and God in one, and even set up a holographic image of himself for people to worship when he wasn't on the premises sitting on his throne.
As one man, the Israelis forgot all their differences, sectarianism, and secularism, and politics, and revolted, staging mass demonstrations outside the defiled temple, seizing the image which they called "the abomination of desolation" and destroying it, pulling to pieces the World Union guards who had already opened fire on them.
The World Union could not let this revolt go unchecked. It was a most sensitive, faith-based issue--which could quickly boil over Israel's borders into the neighboring Moslem Arab states which were keenly observing it. They too had a deity, Allah, and would the World Leader do the same to them as he had just done to the Jews at their own temple. Was he going to march in to the Dome of the Rock or Al Aqsa Mosque or even the Shrine of the Rock in Mecca and declare himself both Allah and Mohammed returned to earth? What would stop him from such sacrilege, after what he had already done to defile Israel's temple?
This fear was already running rampant in the Arab bloc of nations, and adding to the tension everyone felt in Israel the moment they cast the detestable holographic image out into the street and ran a tank over and over it until it was ground to dust.
Watching this happen from his headquarters in Rome, the world's ruler decided finally to act in order to keep the Arabs from joining the revolt in defense of their own god and prophet. The world dictator finally turned on his once trusting but not outraged ally, Israel, with the same fury he had used on Christians--giving the Jews a rerun of the Holocaust. His armies fell upon Israel, disarmed of its nuclear defenses according to the treaty they had signed with him in exchange for a World Union-guaranteed peace with the Arab bloc, and quickly overran the tiny country--carving it up and letting the Arab nations in his empire devour the Jews to their hearts' content. The rapes, the executions, the beheadings of rabbis, the destruction of synagogues, the leveling of whole areas of Tel Aviv and Jerusalem for the sheer joy of destroying anything Jewish--it was barbarism that had not been seen since the days of Titus and Genghis Khan and the Spanish Inquisition. And what had the Jews done to warrant such ferocity and extermination? Nothing except settle on and develop a small strip of land nobody wanted--not until the Jews had sweated and slaved and used their ingenuity to turn it into some of the most productive land on earth. That was just too much an effront to the Arab neighbors of Israel. They had possessed it for centuries, and the land was virtually worthless, unable to support only a low population with subsistent lives--so to witness these few Jews transform the barren wilderness of Palestine into a cornucopia, into a lush, blooming oasis full of plenty--that was more than Israel's Arab neighbors could take. Moslems were superior, as they were taught since earliest childhood, and yet these inferior Jews--not any better than swine in their opinion--had surpassed them in a mere generation, and on the same tracts of rocky, arrid land where they had scratched a bare existence for centuries. How did they do it? It had to be Satan's trickery--the Jews could not possibly have performed such a miracle.
And so the Arabs, in taking part in the dismemberment of Israel and the genocide, were wiping the slate clean, they thought, when they joined the world leader at his invitation in the conquest of Israel. There would be no more Israel, and no more shame either--everyone would soon forget what Israel had been like-- and people would soon adjust to the howling wilderness and the lack of food and the hardscrabble existence they had always known in this area before the upstart Jews had invaded to upset things.
Heloise had been one witness of the second Shoah, or Holocaust, and she would never forget the sight of Jerusalem bombed and burning. Then the armies roaring in--sacking, raping, burning, blowing up this building and that building, bulldozing whole neighborhoods, attacking and defiling churches and synagogues--doing all the things barbarian hordes do. She really could not tell any difference between the Anti-Christ's soldiers and his Arab allies--they acted exactly the same and possessed the same venom against the Jews and all things Jewish.
Yet she knew it wasn't really inhumanity she was witnessing--it was something far more sinister--it was the Evil One himself, wreaking vengeance for all he had suffered at empty tomb of Christ, when it dawned on him that he had won a battle, killed Christ, but lost the war.
Heloise could easily imagine how he thought about the events of the Cross and the Resurrection. The Cross had been a defeat of God, in Satan's book. His victory, and Christ's death. But the Resurrection reversed it entirely, he soon found out. The Resurrection defeated him, the mighty Satan, and make Yeshua the lowly carpenter, the Son of God and Messiah, the victor! That victory had stolen everything he had thought he would possess forever--the keys to death and hell--the prisons above and below the earth where he held the whole of humanity in shackles of fear and guilt and condemnation. Forced to give them up to the risen Christ, he was shorn of all his power. Now all he could do was bluff and intimidate and deceive and distract--for he was, essentially, powerless, now that humanity had been given a way to escape his kingdom and enter Yeshua's--by choice. That was the only weak chink in Yeshua's new armor--choice! Humans still had to choose--and so he realized early on, if he could deceive them enough to think the choice wasn't worth making, or would cost them too much, or was meaningless, or could be put off to a more convenient time--he had them suckered! He could still populate hell with all his conquered human souls--and hurt God in the only way he could still hurt him.
It was a harrowing experience being a witness of Israel's destruction. The Moslem Arabs, Turks, and various Central Asian cohorts had shown their true colors--their irrational, pathological hate for Israel had turned them into utter beasts and they were no longer human beings--they only looked human. As for the Anti-Christ, he was acting true to form, no longer keeping up any pretension or claim to human compassion or civilized humanity. Of course, with her looks she was relatively safe--as the good-looking Jewish women were the most sought after. But as the days passed, the armies turned to raping even the elderly and the mentally retarded and children. Nothing was beneath them! Men and boys were raped as well--those who were still alive, that is, after the first massacres when all the male population was herded together and shot. The Anti-Christ's concentration camps were packed with survivors, but these were convenient places for the soldiers of the Antichrist and the Arab allies to come on their nightly rampages, as they looked for more men, boys, women, and girls to rape and torture.
One night, however, there was a terrific shock for everyone in her compound, when IDF, dressed as world government troops, burst in, killing their drunken guards and herding them out to waiting jeeps and trucks. Thehy were given a wild trip into the Judaean wilderness, and they all wondered if they would not all die there as soon as their captors realized what had happened and came in hot pursuit.
Yet, unknown to them, the IDF's breakaway units had done their prep work well--they had sent mortars and missiles into the communication centers of the Antichrist and his allies--and created enouch confusion that their raid on the Hillel compound was not reported for hours--giving them the critical window of time to get scot away.
Ahead of the jeeps and trucks, the Gideon Task Force (the secret name for the remaining units of the IDF) had secured the area where they would be picked up and flown to the secret base outside Israel's territory. Nobody has any idea where it is, except Heloise, who knew from her own Bible prophecy teaching that it was probably Petra--and she would be proven correct.
Weeping with relief, exhausted from the bone-numbing ride in vehicles with little or no shocks, the refugees fell into the arms of the waiting Gideon Task Force and were loaded onto the helicopters.
At the time she flees via an Israeli army chopper belonging to the breakaway units of the Israeli Army, she is ripe for reconciliation with her family and the husband who divorced her for her loveless treatment of him and her two daughters and son--sacrificing them all for the sake of building her ministry up to Forbes 500 status.
Aloes, her son, is the most angry with her, but he lands at the secret base of the lost city of Petra, set deep in the south Jordanian desert rocks and canyons, to join the hidden base of Israelis who are trying to escape extermination, a Second Shoah in Jerusalem, inflicted by the occupying armies of the World Dictator and his allies.
Heloise goes to meet Aloes as he lands.
It goes better than she has hoped, after she admits to him everything she had done that had separated them. He forgives her. The painful, festering breach between them is healed. She becomes his mother again, even though he is now a grown man.
VOLUME V, BEYOND THE RAPTURE, PART II,
YOM KIPPUR
The days following Aloe's arrival were chiefly ones of getting to know one another, in the whole family, for everyone had changed dramatically, not least of all, Heloise.
Aloes was very restless, however. He fully intended to enlist to join the Israeli Army, if they would accept him.
Heloise did not like the sound of that, but respected his decision enough not to argue with him. She did not think the Israelis would take him, as he was not Israeli in nationality, and there were other counts against him too--his lack of any military training and the course he should have taken in high school to prepare him for it. The Israelis, she knew, were very exacting in their requirements--and they didn't budge on them either. She hoped Aloes was not setting himself up for a big disappointment so early in his life--one which he did not need at this point, she felt. But what was she to do? She had to let him become a man--for this is what this move of his signified, she instinctively, as a mother, knew was happening with him.
Aloes seemed a brand-new person, his face and movements full of purpose and excitement and anticipation, after announcing his decision to his family. He wasn't asking their approval, but they all knew he badly wanted it. It was a hard thing--to appear to support him in something they realized couldn't possibly result in a change for the better.
He had to wait a few days, however, before the commander of the army of resistance, the Gideon Task Force, as it was called, arrived. There was no set time for his arrival--as there probably were informers among the refugees--and they weren't going to risk an assassination of the only general of Free Israel's GTF that they had left.
Aloes could hardly sleep at night, Heloise noticed, for he was living for the moment on the thought he could run and enlist as a mercenary--as he assumed that was the best way for a non-national to be accepted.
In the daylight hours he was studying some obsolete but still helpful war and basic training manuals he had scavenged from a firebombed library and brought along--hoping to glean some kind of knowledge of guns and maneuvers that would help a little.
He offered to clean the rifles the army men had--but was refused, of course. He could only examine them visually, and try to imagine how they worked.
Doing anything he could to make himself useful around the Israeli army camps, he did learn some things, and also was able to practice on his budding Hebrew with some of the more patient soldiers who thought he was almost too friendly an American but appreciated his helpful ways, always on hand to volunteer for the dirty, sweaty, time-consuming jobs of housekeeping and off-loading trucks and digging trenches for various defenses which they didn't have enough men to do as quickly as they needed.
He even took his thin army-issue sleeping bag and slept outside the tomb entrance, hoping to be the first to spot the general's chopper. He searched among the glittering stars--which were more like jewels than stars--they were so brilliant and faceted. Would the general ever come? Had he been assassinated somewhere back in the secret installation outside Jerusalem where the anti-Christ's forces were pounding away with all their firepower, using air strikes and field artillery and bunker-busting missiles to finish his mop-up of the last crack units of the Israeli army? Would they have to wait weeks more, only to hear the crushing news that the general wasn't coming after all? What would they do then? They might as well surrender! But he knew he wouldn't even as he considered the thought.
The Anti-Christ would behead them all before an arena packed with his cheering slaves, after torturing them to get all the information he wanted. That was what he always did to anyone who dared to resist him.
No, there would be no surrender, general or no general.
Aloes continued thinking about it. After they heard the general had been taken and executed, would Free Israel have to move again? And where? This was the safest place in the world--an almost inpenetrable maze of thousand-foot-deep crevices and wadis. The Siq that led to Petra wouldn't permit anything but a single jeep at a time--and so they were safe--no big armor could ever reach them. Only by air was the site militarily accessible, yet it was hidden--the tombs and buildings of Petra overhung by the high cliffs--which all looked the same by air. Anyone firing at them had to fire blind--for they would see nothing from the air. Nothing!
And the Israelis had make it even more difficult to spot their missiles and motor pools, depots and supply camps. They were covered with thorn bushes and netting, so thick they were invisible from the air. Trenches and detection lines set with sensors made it impossible for anyone to approach them on foot either without alarms being set off--and then there were the land mines further out, both anti-personnel and armor-piercing--a double barrier, if you didn't count the highly trained, ever watchful commandoes of Free Israel, who were constantly on guard, and at night too with heat-sensing scanners and night vision goggles.
Petra was as good as impregnable--or at least, in the area Free Israel's last units of the IDF had dug into, made so costly for any attacker that he would probably lose 80-90% of his forces and their equipment in a full assault.
Aloes was amazed at the thoroughness--the Israelis had the best techniques and gear in the world--and the training needed to make it work superbly, in second-by-second precision timing. To belong to such a fighting force--small as it now was--was the highest calling he could think of. It was called the Gideon Task Force, he knew, but though Gideon was a brave Israelite commander who fought the invading armies of camel-ridng Midianites raiding Israel in the time of the tribes, David seemed a better way to picture them, to Aloes's mind.
Just the thought of the shepherd boy David hoisting his slingshot and taking on the swaggering, blasphemous, nine-foot-tall, heavily armored Goliath was the perfect way to describe the tiny Gideon Task Force taking on the seemingly invincible massed armies of the Anti-Christ and World Dictator with all the armed might of the world at his disposal--surely, that was defying the worst odds imaginable! Was it more than the lottery's 8 million to one?
Yet the thought of the astronomical odds arrayed against them was enough to thrill him to the core and make him want to do anything to get in on the action--even if it resulted in another Masada.
If he had to shine all the shoes and boots of the entire brigade and dig latrines and trenches and the dugouts for the missile launchers to hide in, just to get their good opinion of him, he would gladly do it! Never had he met such a dedicated bunch of men (and women too!)--all fiercely individual as only Israeli-born Sabras could be, but bonded to each other to the death--and each would give his life for the other if that was called for, rather than live and see a teammate get hit. But they weren't fighting for themselves and each other as much as for freedom. Never would they accept being boot-licking slaves to the World Dictator and bow down to him and his government officials. They would fight him and the whole world's armed forces to the death--and count it a pleasure! He even called himself God when he started to stamp on Israel, to cow them into submission with all the rest of the nations. But he had not known what he was dealing with when he touched Israel--Israel was different--Israel would not accept tyranny for any reason and by any man, however wonderful he seemed or how hopeless it may have looked to defy him. Israel--Aloes thought about it for a few moments, trying to get his impressions together in a single thought, a single unified conception--and he couldn't--for he was still on the outside, looking in. Would they open the door to him? He felt he would fling himself off a cliff above Petra if they refused him. His family would take it hard, he knew, but he wanted in that badly.
Hanging around the Israeli camps as he did, Aloes was the first in his family, or even among the refugees, to hear the news. Asher, an Israeli lieutenant who had taken Aloes under his wing, winked and took him aside. " No, don't put down your shovel, just listen!" said Asher. "Turn your face and don't look at me, and then I'll tell you."
Aloes obeyed.
"The big man has turned east, to stop the Asian armies!"
The moment he said that, Asher walked off.
Aloes, glancing at Asher's back just once before turning back to his work, felt cold in the burning sun. It was easy to figure out what Asher meant with his code words, needed even among the Israelis of Free Israel, since the Dictator had his informants everywhere. Who else could be the "big man"? There was only one "Big Man" left in the world--the Antichrist, the son of the giant, heathen, uncircumcised, blaspheming Goliath who defied the armies of Israel. But if he turned east, had he forgotten little David in his rear? Or was he more concerned with the threat from the East and didn't have time to deal with David at Petra?
Aloes's thoughts whirled at the possibilities of this action. The whole course of the war was turning--Israel's way, for the first time since the opening attacks of the Anti-Christ on Israel. China, Myammar, Laos, Combodia, Viet Nam, Pakistan, Bangladesh, Nepal, Bhutan, Malaysia, Indonesia, India, Afghanistan and Iran--their combined armies of tens of millions, even hundreds of millions, were heading west on the Chinese-made road to lock horns with the Anti-Christ! This was exactly what his mother had preached and warned about in the days of her television ministry, wasn't it? She had quoted Revelation, which told of an army of the "kings of the East" who would lead a force of 200 million men against the Anti-Christ in the last days--and now it was actually happening! They would see it happen!
Now there was a chance--a tiny glimmer of a chance--this tiny remnant of Israel would survive to regather the shattered pieces of the nation that the Big Man had crushed underfoot. There had to be thousands, hundreds of thousands, interned somewhere in his prison camps awaiting execution with his state-of-the-art laser-guillotine. The women raped, the men beaten and tortured, the children starved while Amnesty International, Humanity-Watch, and other human rights organizations looked the other way--they would be in terrible pain--surely, the Israelis would make their first offensive move, since retreat, to help them! Surely!
Aloes knew he was right about this, having spent enough time with Israelis to know how they thought and felt about their own. Now Free Israel's only mobile, offensive force could do something about them--if the right combination of surprise and brilliant strategy could pull off a rescue attempt, just as the Israelis had done back in the 20th century, when they freed a planefull of Israelis kidnapped by a Ugandan dictator called Idi Amin--a man who had already slaughtered two hundred thousand of his own people without a tear in order to rule over the country with an army of rapists and murderers and thieves. That rescue had been written into all the books--it was so daring, so brilliant, and so impossible--yet only one poor elderly lady had died--the one so sick Idi Amin had taken her from the airport to the hospital and later executed when he heard her countrymen had all slipped from his net.
Prime Minister Netanyahu's brother, heading the rescue operation, had also died, catching a stray bullet at the airport--he too had been sacrified just when he was about to gain a very high position somewhere in the army or in the government, but the whole thing was glorious even with these deaths--and the world--at least the freedom-loving part--had never forgotten the utter courage and self-sacrifice of the rescuers who put all their lives on the line for those of the captives.
Aloes knew this had to be his main chance. It was the moment to strike for some part in the rescue. He knew Israeli practice in rescue operations. They would take only volunteers for such a suicide mission--and maybe--just maybe--they would accept a friendly foreigner like him, and take him along to do a particularly daring job not even an Israeli would do. Would he be coming back? Probably not! Probably not! But how else was he going to get in? He had to take this one opportunity--it was the only open door--short-handed, they might just take a volunteer. He had to see--or never know what could have happened if he stuck his neck out.
Aloes finished the trench, then threw it, and sat down. He was sweating gallons, the salt getting in his eyes, but he didn't care. He had to figure out how he was going to volunteer for a mission he shouldn't have known about. Asher had tipped him off, but he couldn't compromised his friend. They would be sure to suspect anyone who had shown the least bit attention to him. No, he had to think of something to divert them first.
Then he knew! His task done, he ran back all the way to the tomb. He was gasping and covered with grime, his hair hanging down over his eyes, when he staggered into the tomb and surprised his family gathered round a small table (an army cot laid with piece of armor for a smooth surface). Everyone dropped what they were eating--Israeli army k-rations Heloise and Esther tried to make as palatable as possible--to stare at him.
"What is it?" Heloise cried, springing up. She rushed to him.
He dropped down, trying to get his breath.
"I've got some really important news, but you have got to let the other refugees know before you tell any Israeli solder--let it come from someone else, rather than any of us--what I am going to tell you. It's the strategy I had to think up--so that they won't think we have spies in their camps. You wouldn't want them to think bad of us, would you?"
Aloes hated to think he was deceiving his own family--but he knew he couldn't tell them everything--not just now anyway.
Getting their cooperation, he continued. "Don't ask me how I learned this, just listen to me. We're safe here! The Anti-Christ isn't going to bother with us after all--not for a while anyway. That'll give us a time window to do some more diggin' in."
Aloes's parents both gazed at him thunderstruck. "How do you know this?" Heloise said in a quiet, strained voice.
"Like I said--take my word for it, I know! He's not coming down here after all--he's got more important business to attend to than attack us and lose most of whatever he sends to root us out!"
"He's not coming?" his sisters chorused. "He's not going to attack us?" They looked round at their parents and also Esther and her family, who we re just as shocked, since they had heard about this "Anti-Christ" before from the evangelical Christian Turnbulls in their midst and were now more than inclined to believe he really was the monster of blasphemy that the word "Anti-Christ" signified.
The whole group began to celebrate when the reality finally sank in--they were saved! saved! The terrible dread of weeks had suddenly been lifted off them all--they were going to live and not die! Aloes's sisters began to weep, their arms around each other, and even Esther's mother's eyes were shedding big tears of relief and thankfulness--she who had never wept for anyone, not since her tears had dried up after the first time she had been gang-raped as a little girl at the Nazi concentration camp.
Heloise went and pulled Aloes outside the tomb entrance. She could not have been more grim. "Aloes, do you know what you are doing? This could be the cruelest thing a man could do to us--give us all hope when it isn't true. Are you sure? Are you really sure about this?"
Aloes was held her gaze, and nodded. She reached and swept the hair away from his eyes and forehead and she looked deep into his eyes. Then she stepped back, and began weeping quietly. "I believe you," she said. "I can see you are convinced, and that is enough for me. You're not playing with us!"
She turned away and began laughing. Then stopped abruptly. She turned to him. "I thought I was going to go mad, waiting with the others for the attack, knowing it could come any minute, and this was the last place on earth we could run. Now...can you tell me anything more?
Aloes' father came out, and looking at them, paused and stood looking at them.
Aloes looked off toward the Israeli positions. "I can only add, that the Anti-Christ has gone to stop the Asians, the armies that are coming at him from the East. I guess his peace treaty with them fell through after all--they had enough of him and aren't going to let him have the Middle East oil fields after all. That's all I know."
Before his mother could ask anything more, not trusting himself to keep back his intention for telling them this much, he turned to leave. As he took a couple steps away from the entrance toward the path leading down, his mother noticed and winced as if he was leaving them for good.
Aloes glanced at her, wondering if he had already been betrayed by a mother's intuition. Had she sensed what he could not tell her? He was still going to go through with his plan, whether she had guessed it or not.
Her face full of anguish, she still didn't call him back. "Do you want us to tell the others?" she said weakly. "Isn't that what you wanted us to do?"
"Oh, yeah!" he said, as casually as he could. "I don't want them suspecting my source, you know, and so if everyone knows, that will cover my tracks a bit. Just mention it to someone you know you can trust to spill the beans to the others--and it will soon get around. You women know what I am talking about, don't you?" He smiled, and that broke the tension, for his mother laughed.
"Yes, I think we gossipy old women can manage it for you!"
She paused, then was serious again. "And thanks, Aloes! It's been a great relief to hear. You lifted a big heavy cloud off of all us! Thanks for telling us first before the others--thanks!"
She turned to his father. "Dad, do you have something?"
"No, he's grown--he can make his own decisions--but I'll be praying with your Mom, Al! Prayin' hard too!"
"Okay, I'll accept that as your vote of confidence!" he laughed. He gave them both a salute and then made it back down the goat track as fast as he could--his heart in his hand now he was on his way to seeing his dream come true. "Wow!" he thought. "I'll soon be pulling on an Israeli commando's uniform if I can pull it off the right way!"
The thought was so thrilling he was not looking very carefully at what was ahead. He never did see the rock that he stumbled over on the almost vertical slope, and found himself flying without anything under his feet, and the next thing he knew someone was bending over him, dampening his head with a wet towel.
Where was he? he wondered. It took him some time to figure it out. He was lying down on a cot, and overhead there were no stars, just a dark tent sunk halfway into the ground and some criss-cross netting showing where the entrance was, letting in some light from ground level.
Then he recognized the face--Asher! "You're got to take this," Asher said, holding a canteen to Aloes's mouth. "I put some strong aspirin in it already for your head. Then rest. You got a bad knock on the head, but I think you'll be all right--your skull is pretty thick. When you're better, the medic said he'd come and give you another checking out--but he didn't seemed too worried."
Aloes drank almost the whole canteen, then sank back on the cot. It was so hot in the tented dugout, but he was used to the heat of Petra by now.
He was vaguely aware that Asher was spreading his bedroll and kicking off his boots and peeling his shirt. Was Asher his nurse? That was quite a step down for a lieutenant, wasn't it? How come nobody else but Asher? Were they that short-handed? What was going on?
"Thanks for looking after me," Aloes said, his head beginning to hurt for thinking so much. "Guess I fell back there on the trail."
"Shut up, big mouth Yankee!" said Asher, his eyes smiling but his face deadpan. "We can talk later. There's something coming. And you may not want to hear it!"
Please return for more of Part II of Volume V, Beyond the Rapture: Yom Kippur.
If you have entered this page from other sites such as Butterfly Productions Home Page, there is a new domain of nine sites, www. oaringintheriver.com, containing Retrostar, featured by major search engines.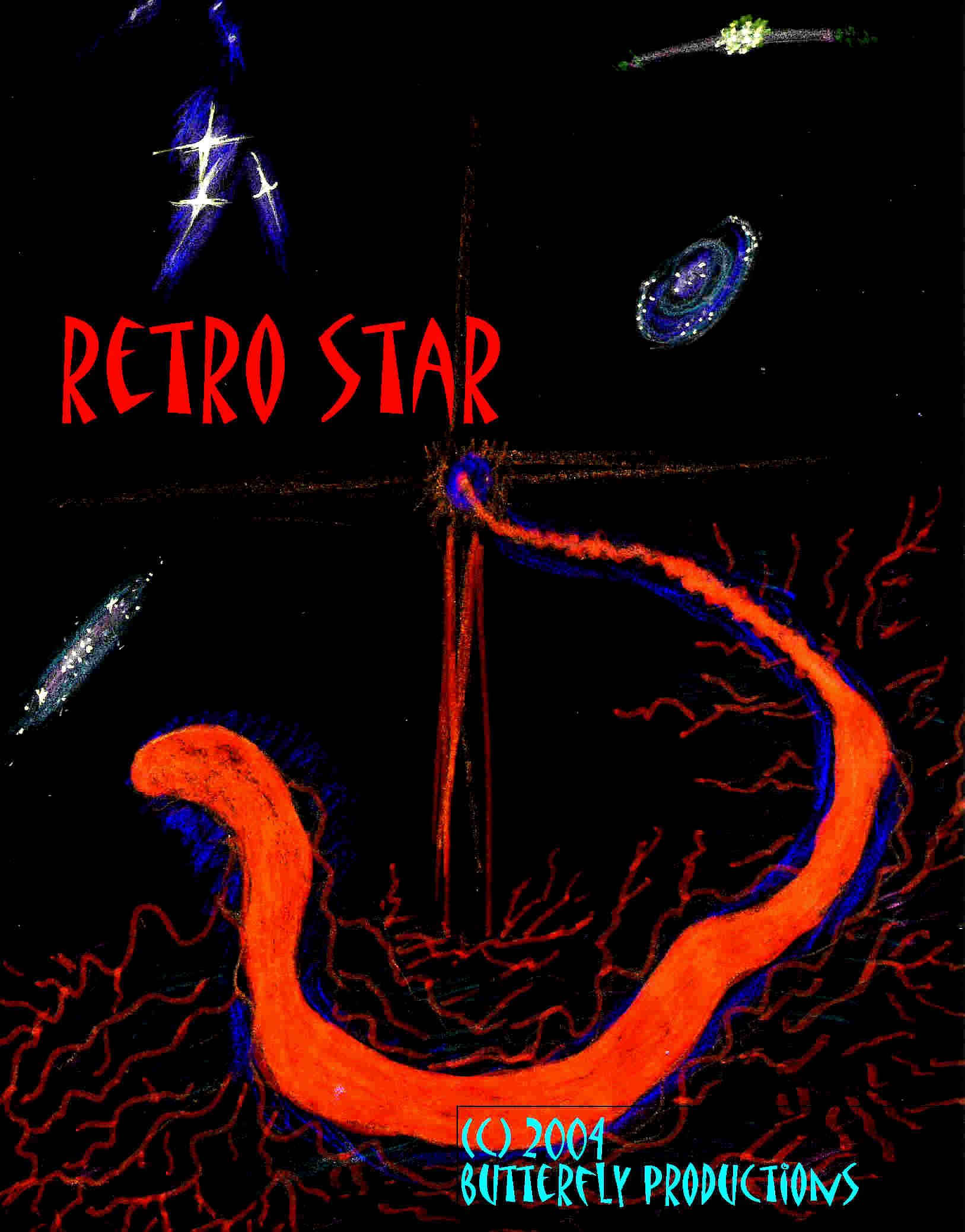 To return to WWW.OARINGINTHERIVER.COM:
WWW.OARINGINTHERIVER.COM Master Directory