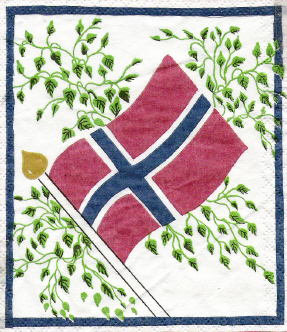 Stadems Saga Continues

More of Life On & Beyond Plain View Farm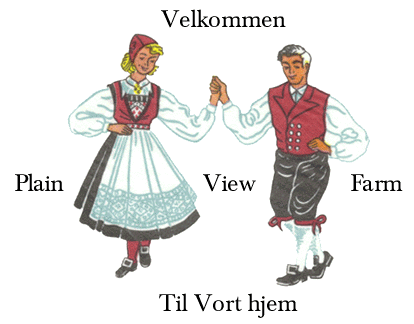 Kids at Chamberlain, S.D., Lakota Indian Tribe, sent this picture, and we took the liberty of putting in these letters! Thanks go to St. Joseph's School, Chamberlain, S.D.
VELKOMMEN! Remember how the front door is for more formal events, but the back door is everyone can "come as you are"? No wonder the back door is the most used door! Well, that is the same here. You can be comfortable in any sort of clothes, and can even come straight from the barn if you like, with your shoes smelling of, let's say, hay. Be yourself, and step right in! The porch has just the right space for boots, or heavy winter coats and mittens. A cat may be sitting as close to the door as possible, so just step on over Puss and enter. What is that absolutely heavenly fragrance you smell? Why, Mama's fresh-baked bread! And there is the aroma of fresh-perked coffee, homemade pie and doughnuts too!
What more of a welcome and greeting could you want than all this traditional Norwegian farm ambiance in all its homely splendor?

--------------------------------------------------------------------------------

You know its the back yard because of the windmill, which you can read about in one of Pearl's stories, by the way! And don't miss checking out her horse stories.

PLAIN VIEW FARM, THE EARLY, UNPRETENTIOUS, SOME WHAT ODORIFOUS BACKYARD VIEW THAT WASN'T TRYING TO IMPRESS ANYONE!

--------------------------------------------------------------------------------
Since this is a Norwegian household, expect a Scandinavian Smorgasbord and all you Swedes, Danes, Finns, and Icelanders out there won't be disappointed either! Even if you aren't Scandinavian, you are just as welcome! The coffee and doughtnuts were an appetizer, and here comes the real food!
Help yourself to any number of special things you won't find anywhere else. Here you will find tributes to Dakota Pioneers, tales of Plain View Farm for children, a photo album, the Plain View Farm picture calendar, genealogy, tributes to our special school the Academy, trips to Norway "The Old Country," our Scandinavian cartoons, and our holiday and Christmas celebration section contributed mainly by Estelle Rangen (who has gone on to glory, after a most courageous, even inspiring battle against cancer).
We have recently illustrated the Plain View Farm musical drama we hope to see portrayed someday on the Farm, using it as a natural stage!
There is much, much more, so come and sit at the table and enjoy! Don't eat and rush away. Come back for second, thirds, and fourths! Return guests will always find something new as well.
THE BARN PAPA ALFRED STADEM BUILT, REPLACING ONE A TORNADO COMPLETELY WRECKED. THIS BARN TOO IS NOW HISTORY, AS THEY SAY. IT FELL DOWN IN A BIG STORM, BUT IT IS BEING REPLACED AS A NEW PROJECT FOR BUILDING A MULTIPURPOSE MEETING PLACE WITH A BARN LIKE EXTERIOR HAS NOW BEGUN. GOD IS PROVIDING THE MEANS WITH THIS COMING NEW STRUCTURE TO HAVE A MEETING PLACE THAT WILL ACCOMMODATE MUCH LARGER NUMBERS THAN THE SPISE HUT AND HOUSE COULD HOLD. THIS IS A VERY EXCITING DEVELOPMENT, MUCH PRAYED FOR! PLEASE GO TO THE BUFFALO MOUND SITE OR THE PLAIN VIEW FARM ON GEOCITIES FOR DETAILS ON THE PROJECT, AND THE UNIQUE PICTURE OF THE BARN THAT STEPHEN STADEM HAS CREATED TO HELP RAISE THE NEEDED FUNDS.

ARTHUR STADEM TRIBUTE
61 years have passed for us in the family since Arthur D. Stadem's passing from this earth to heaven (no one has the slightest doubt, who knew him, that he was heaven-bound) in the sudden plane crash January 9, 1947. To commemorate him better, his page has been worked on, so that it has pictures, and more will be added.
Please check out this page, for it tells about a most remarkable person. He, unlike many people, was a man of few words.
Calvin Coolidge was such a person. One woman wagered with another that she could get him to say more than two words. She told the President about this wager. "You lose," he remarked.

Papa and Mama's first son, Arthur Donald Stadem, was, indeed, quiet, but his life spoke volumes about the Lord and the great love he had for Him from his earliest boyhood.
As his school records, exams, and teachers' comments testify, he progressed upwards toward excellence in all he did. It was his faith in God that motivated him, we believe. With that same faith, he could not help but honor his beloved parents. He did everything to make their existence more happy and secure, and earned the pride they had in their fine, faithful son. He strove to do his best in order to be a pleasing savor, so to speak, to God his Creator and Savior. How few young people have that attitude? Know any? He definitely was such. With his money he saved from the service in the Navy during the Second World War, he bought land for his parents, to enlarge their means of livelihood.
Truly, he was like an angel among us--and his memory today is still deeply cherished by his surviving sisters and brother, not to mention his nephews and nieces.

"Winter's Child," A Tribute to Arthur D. Stadem, by Grateful Nephew Ronald Ginther
A SPECIAL TREAT FOR CHILDREN ARE OUR PLAIN VIEW FARM CHILDREN'S STORIES HERE ON THE STADEMS SAGA WEBSITE! Check out the Tales for a Lille Tupa and Tupin, which are all, except one, illustrated! You will like them, so try them out on your children, and they will love them! They are true stories, by the people who experienced them!
ALSO, PLEASE CHECK OUT THE THREE ACTS OF THE PLAIN VIEW FARM MUSICAL, WHICH HAVE BEEN ILLUSTRATED WITH PORTRAITS OF ALL NINE CHILDREN AND ALSO PAPA AND MAMA STADEM.
PLAIN VIEW FARM, THE MUSICAL DRAMA, By Ronald Ginther

Paul Rangen, a beloved cousin who went Home to Heaven in 2000, signed our guestbook more than once and expressed his appreciation of the Plain View Farm websites. But Paul is even more a blessing since then! I found that out unexpectedly re-reading a letter he had sent out to the whole relationship four months before his Homegoing. He was telling about how his hope, at the point of vanishing, was unexpectedly revived by a radio testimony from the very same station where he worked. He had collapsed on the way from church, been taken to Intensive Care at the hospital, and the letter describes what happened as he desperately needed a touch from God to revive his spirits--and how God came through for him. This letter did not minister to me in 2000 like it did just a few days ago, when I found myself in different circumstances (not in a hospital with lung disease) but a situation that seemed hopeless and with no way of it turning better. Maybe others can identify with this. If you can, or desperately need a touch from God, and are praying but seemingly not being heard, please link to Paul Rangen's letter. When friends and family fail you, when even God doesn't seem to be listening, here is an opportunity for "God to make a way where there seems to be no way."
Paul Rangen's Letter, April 8, 2000

"Why Augustana Academy Closed," a View by Ronald Ginther
And Please Look Into our New Master Directory for all Nine Sites:
WWW.OARINGINTHERIVER.COM Master Directory

Links to other Plain View Farm pages and other Plain View Farm sites on the Web
REUNION 2008 IS SOON COMING! TIME TO GIT OLD BETSY OUT OF THE GARAGE AND READY FOR THE ROAD!
Please go to the new series, Plain View Farm Reunions, as they are now appearing on the Plain View Farm family of websites, to relive the golden memories of Christian fellowship, food, and fun that will never fade away. You will also find information on Stadem Grandson Stephen Stadem's beautiful new watercolor picture of the old Plain View Farm barn, which he created to raise funds for the building of the proposed new multipurpose meeting facility.
Pastor Joe and Estelle Rangen's Christmas Message, 1987, on the Buffalo Mound Website
The Stadem Plain View Farm Reunion Series
PLAIN VIEW FARM HOME PAGE
July 4th is coming up, the time to celebrate our nation's heroes and all those who serve in the armed forces to protect our liberty and extend the blessing of freedom to those who have never known it. Visit this page and take advantage of the resources listed there, including the link to the website of the most famous medic of World War II who received President Truman's highest regard and his nation's highest honor--Desmond Doss.

SPECIAL TRIBUTES TO STADEM VETERANS
"GIANT FOOTPRINTS"--TRIBUTES TO DAKOTAN PIONEERS OF RURAL BRYANT
TRIBUTES TO THREE LOVED ONES RECENTLY "GRADUATED TO HEAVEN, WITH SUMMA CUM LAUDE HONORS"
STADEM FARM CALENDAR, 1999
THE STADEM FAMILY PHOTO ALBUM
CENTRAL FOR ROAD MAPS FOR NAVIGATING OUR COMBINED PVF SITES
SCANDINAVIA: DUCK HEAVEN TOONS
HOLIDAY CELEBRATION CENTRAL
PLAIN VIEW FARM: THE MUSICAL DRAMA
AUGUSTANA ACADEMY CENTRAL
TRIBUTE TO STADEM FOREBEARS
RON'S WRITINGS DIRECTORY
TALES FOR A LILLE TUPIN AND TUTA: "TORNADO!"
TRIPS TO NORWAY BY SVANOE FAMILY AND AUGSBURG COLLEGE GOSPEL QUARTET
"STADEM ROOTS" BY BARBARA BENSON, AND HER STADEM GENEALOGY ARTICLE, ONE OF OUR MOST POPULAR FEATURES!
EVER WONDER WHAT HAS GONE WRONG WITH THE PUBLIC AND EVEN THE PRIVATE SCHOOLS IN AMERICA GENERALLY? WHY IS HARVARD, FOR EXAMPLE, FOUNDED AS A CHRISTIAN SCHOOL DEVOTED TO TRAINING UP YOUNG PEOPLE IN GODLINESS AND CHRISTIAN SERVICE TO CHURCH AND COUNTRY, COMPLETELY THE OPPOSITE TODAY? A REAL MUST TO READ--THIS VERY PROPHETIC AND FARSIGHTED SPEECH GIVEN TO AUGUSTANA ACADEMY STUDENTS AND FACULTY IN 1947 BY PEARL STADEM-GINTHER IS ABSOLUTELY RIGHT ON, PERFECT FOR TODAY'S SCHOOLS--IT ALL CAME TO PASS, AS ANYONE CAN SEE TODAY, BUT PROVIDES THE WAY TO MAKE A REAL, CONSTRUCTIVE CHANGE FOR THE BETTER. A REAL CHANGE MUST BEGIN WITH RETURNING TO CHURCH, A BIBLE-BASED CHURCH, AND PIETY--REAL, SINCERE FAITH IN GOD EXPRESSED IN LOVE FOR JESUS AND LOVE OF OTHERS...JUST LIKE OUR PILGRIM FOREBEARS, WHO FOUNDED OUR ONCE SPIRITUALLY GREAT NATION...

TRIBUTE TO CHRISTIAN EDUCATION BY PEARL GINTHER

PLEASE ALSO LINK TO OUR PRAIRIE FARM SITE ON ANGELFIRE FOR A NUMBER OF SOBERING AS WELL AS FUNNY REFLECTIONS OF THE FARM AND MAMA AND PAPA STADEM BY DAUGHTER ESTELLE AND OTHERS IN THE FAMILY:
Life on Prairie Farm

© 2008, Butterfly Productions, All Rights Reserved

PLEASE SIGN OUR GUESTBOOK! WE'D LOVE TO HEAR FROM YOU! YOU CAN REALLY ENCOURAGE US THIS WAY. THANK YOU!
GUESTBOOK

This Page Hosted by YahooGeocities