CONGRATULATIONS! YOU ARE ABSOLUTELY CORRECT! THE TIGER PRINCE SAW NOTHING JUSTIFIED HIS FURTHER DELAY, AND WHERE HE WAS POSITIONED, THERE COULD BE NO DELAY ANYWAY ON THIS PART. IT WAS SILLY, EVEN IRRATIONAL, TO PROCRASTINATE, EVEN IF HE COULD HAVE DONE IT IN HIS CIRCUMSTANCES. YESHUA WAS EVERYTHING HE HAD EVER DREAMED OF, WITHOUT PREVIOUSLY KNOWING THERE WAS A SINGLE SUPREME BEING IN THE UNIVERSE. WHY NOT SURRENDER? THERE WAS EVERYTHING TO BE GAINED! HE WAS, THUS, TREMENDOUSLY EXCITED BY HIS DECISION, TO CAST EVERYTHING ON HIS NEW LORD AND KING.

Tora Tora's New Life
The Tiger Prince bowed very low as if he were doing obeisance to his Emperor. But even as he did so, he realized something. "He is God! Not the Shogun, or Emperor, or even a Daimyo of Hagi! Our gods proved to be nothings! A mere word from me felled them and scattered the priests! They were always false things, created by our ancestors from their fears and ignorance, and so when I spoke the truth about them, that they were false, it destroyed them, they were exposed and revealed for what they are: mere puffs of smoke! But this Yeshua! He truly is God--and I never knew such a One before! How does such a clot of dirt such as myself meet God?"
The realization sunk home, and he was almost shattered. He fell down, his strength left, and he felt he were going to die, he could hardly breathe! What does a mortal do in the presence of his Maker, the Creator of the Universe and all its innumerable stars and worlds, the One who holds everything together, from stars to electrons, and yet can find opportunity to meet with a lowly created being, speaking personally to him!
The immensity of this realization was almost crushing the life out of him! He was gasping, unable to take it in when he felt a gentle touch on his shoulder.
Glancing up in surprise, he found the Lion of Judah, Yeshua, standing beside him, offering his hand.
Unable to resist, the prince raise his hand, the last bit of strength he had left spent doing it, and when his fingers touched Yeshua's enormous energy and power and courage and even joy flooded through Tora Tora's fingers like an electric thunderbolt. He sprang to his feet, his hand still in Yeshua's. At that moment--his starship, caught until now in a time-warping PAUSE--was turned, without any sense of the hull-ripping G-forces being completely neutralized. With Yeshua's hand pulling and propelling him and his ship, Tora Tora was on his way in a completely different direction, blasting back out of the Shogun's city and, a second later, shooting free of the planet itself.
As Tora Tora revived, he also found himself fixed by Yeshua's gaze. It was the same smiling and knowing kind of gaze that he had given Tora Tora previously in the viewscreen. But with a difference: there was a seriousness too, as if there was something Yeshua had on his mind, that he now intended to share with his disciple from Nergulia.
Suddenly, Yeshua was gone! Tora Tora, astonished, looked around, but there was no sign of Yeshua ever being there. And no Presence either! Everything seemed exactly as before, and he felt terrible loneliness and loss wash over him like a great wave! How terrible! "No, come back!" he cried, running around the ship. Finally, he stopped, he realized how foolishly he was acting. He had Yeshua's word, didn't he? It was his Lord and Master's word of instruction. Yeshua had promised to be with him, no matter what happened. That was enough for a soldier. He had to obey his Lord now, and then wait for more instruction, if there was any needed.
Calming down, the prince thought over his duties. He was to return home temporarily, and as long as it took set things to rights there, if he could. It was time to return home.
He was sitting in his captain's chair when he heard a voice singing. He could hear the words too.
Jumping up, Tora Tora looked around wildly. He was sure there was no stowaway aboard, so where was the voice coming from! It was uncanny! He had never heard a Nergulian sing before--never! Nergulians could not sing a note! He had heard the squeaking, squawking, screeching of creatures on his home planets--but never a singing voice such as this one!
Looking around for a time, he failed to find any source for the voice, and was forced to give up his search. He returned to his captain's chair, and was sitting there, thinking about his shishi, whom he planned to see first on his return, when the voice started in again!
This time Tora Tora remained still, listening intently, determined to discover the source.
Tora Tora could take no more of this anonymous court minstrel and his concert. He sprang up and called out in a loud voice. Who is singing? What are you doing on my ship! Show yourself at once! I won't throw you overboard, if you will come willingly and reveal yourself! You have my word, the word of a prince of Hagi!"
The mystery singer seemed to ignore him and went on:
Hours later, Tora Tora fell asleep in his chair, but the mystery voice began singing again. He did not open his eyes this time, but tiredly listened to it, and then he realized the source. He reached up, and felt his own throat, and it was moving, as if the chords were generating the words and notes. If he gripped his throat, there was less sound in the room, and the words were muffled, he discovered.
He was too tired at that moment to try to stop it, and the voice sang him back to sleep.
When he awoke, the viewscreen was filled with galactic groups that formed super-colossal letters containing billions of galaxies and clouds of birthing stars. Had his ship veered off course? He knew he had never seen these configurations before--and stared in wonderment as he traced out R-O-S-E-B-U-D.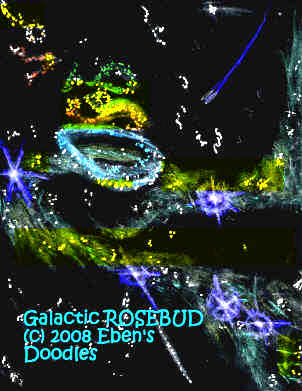 (c) 2008, Butterfly Productions, All Rights Reserved