With his hand gripped on the fetler's britches, the tavern keeper gave him a violent heave that send him flying, then bouncing and rolling across the hard ground.
Damon went over to the fetler lying prone and unmoving, and thought he might try to help him. "Hey, you, are you all right, mate?" he asked, touching the fetler's arm. The fetler didn't move, so he asked agin. All of a sudden the fetler came back to life, but Damon's concern wasn't reciprocated with gratitude. All he got was a curse, and some spit, as he bent over the fellow. Leaving him alone to lie in his wretched state, Damon continued on, wiping his face with his clean handkerchief. Why kick a man when he is down? He couldn't do that--he has his own pride to think of!
"Imagine that? Spit on by such low, dirty scum as that fetler!" he thought, as he continued down the only street in town. "What he didn't do for a good picture!"
As Damon left, the fetler, minding his own low reserve of pride, hauled himself up and sat. He then rose to his feet, almost fell over on his head, but caught himself somehow. Brushing some sand off his face, he started hobbling back toward the tavern, then paused. His fists were clenched for action, and he has his knife stuck handily in his ankle sheath, but he decided he might wait on vengeance a bit--until he could walk better, that is.
Instead, he continued on by the tavern and on down the street, his feet stepping where the photographer before him had stepped, more or less. He knew the way by heart, and could find it with his eyes shut. She had always been there waiting, with her delights to be paid for, one by one. Most times she took his whole check, cashed it herself by going to the paymaster, when she took his and a stack of other fetler checks in.
He knew she put out for all the others, just as she did him, but he tried to forget that. But would she remember all the good pay he had showered on her the last two years? Didn't she owe him something for that? Wouldn't she give him a little love on credit? He had had plenty booze. He just needed a little love right now--just a little lovin'.
So Eryk made his way to his trackside lover's domicile. He turned in at the gate, knocked the code that alerted the dragoman a patron of long standing only knew, and the dragoman opened up at once.
The dragoman's glance was not so friendly, however, and Eryk, even in his bedraggled, sodden state, could see that much.
"She home? Well, then, get outa the way! I'm goin' in!" he said, and went forward, or sort of fell forward, then got his balance again somehow, and continued to the door.
Going in, he found his old lover where she was usually to be found. It took a few minutes, but he wasn't getting anywhere fast, when she pushed him away and got up and went to the window, as if to call the dragoman to come and throw him out. "Wad'z the matter, babe?" he said.
"What's the matter?" she echoed him. "What's the matter? You're the matter! You're too drunk to even walk straight! And where's your money? Tell me, did you bring any money, then where is your check? Show it to me first! You get nothing from me without cash or a check!"
The fetler tried to get off the bed, but wasn't making much headway. "Aw, don't you start that, woman! You know me! I pay good money! You know that! Why treat me like a dude? I'm a--"
She turned around, spitting out the words. "You're getting out of here, right now! I can smell it! You're flat out busted, aren't you? What I heard was true then--you're on the Tea and Sugar blacklist! The company will never hire you--you're a dead man! They were tired of paying you for the trouble you caused them all the time. You piece of garbage, you lying little animal--now you come here, after pissing in your pants, and you want something for nothing! You think to use me like a little fool, do you?"
There were other, more choice things she added to her list. But she was interrupted. There was a knock on the door, unlike any heard before in the house. It rang right through from the entrance to the back room. It startled them both. The lady of the house went to the door, opened slowly, and her eyes met with someone she hadn't seen before.
He seemed to be a mighty fine prospect, by the looks of him, and she was interested immediately. There still might be something for her that day that would please her, for all the trouble she had just endured with the "reeking piece of garbage" that was the down and out fetler!
A few minutes before, as the fetler turned in at his lover's door, Damon was about to reach the last residence and turn around, to return to the train, when he took a second look--the particular house he was examining was high walled like the rest.
But Damon's eyes were particularly sharp, and what made this one different, it had a gate guard, of sorts, who was at that moment examining Damon head to foot, through the big door's judas window.
"Well"? Damon asked, a little annoyed by the beady-looking, ratlike eyes. "Do you find me interesting, mate?" he said. "Or don't you have anything better to do than stare at strangers in town?"
The rat eye in the judas did not waver. But a very dirty thumb appeared round the edge of the gate, which was ajar, and with a jerk indicated the direction of the house in a way that told Damon this was the kind of house that offered a certain pleasure to the weary traveler. It was, Damon knew from experience, the sort that any man with sufficient money could buy.
The moment he passed through the gate, it slammed shut with a horrible creaking sound and clatter of chains and locks. The gate man, really a dragoman in striped green and red pantaloon costume and high, badly stained red turban with dirty egret feather, not to mention the long curving sword at his belt, led Damon toward the entrance of the house.
"She's puttin' out royally today, Effendi. Tea and Sugar's here for one hour doing retail and paying out fat checks to the workers--plenty time for what you're be payin' for." As long as you keep payin', she'll give out, and you can stay as long as you like, Effendi!"
Then the dragoman slouched away toward a snarling dog, sore-covered, almost hairless wolfhound which was chained to a tree. "And if you don't leave when your money runs out, Effendi, well, me and this doggie here will see you do right by her! And I got the key to the gate, remember. I'll let the beast gnaw your bones right to the marrow! He's always mighty hungry, that one! Hasn't gnawned a fine gen'lmun like you for quite some time!"
Damon's blood boiled by this time, but he decided it wasn't worth risking damage to his equipment to pound some respect into the insolent dragoman. Besides, he was curious as to the madam of the establishment. Was she young and pretty? Or old and diseased, with half her teeth knocked out and missing? He had to find out. That was the stock in his trade anyway: his innate curiosity, applied with randomness, and the unexpected--sometimes the remarkable--happened, which often gave him him his best shots.
Going forward, he reached the door, and just then it slid partly open, and Damon paused, watching as the woman of the house came into view.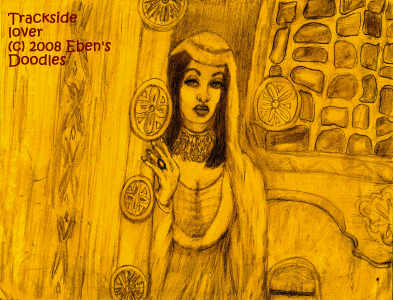 Without a word, after she looked him over from head to foot, she turned and left the door ajar, and that was enough sign, enough invitation, and he followed her in.
She had a plan of her own, and led him right to the back bedroom where an unwelcome guest was waiting impatiently for them, and ready to pick a fight.
The fetler, though he saw immediately that he was facing a much bigger antagonist than he had bargained on, stood his ground, leaning casually against the high bedstand (you might say for support).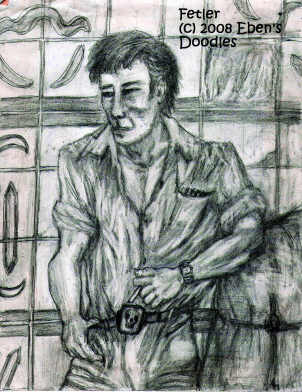 But even this fetler knew when his game was up, when he considered what the trackside whore now had in her arsenal (not to mention the dragoman and his dog). He soon quit trying to stare Damon down, and shrugged and made his way to the door, as slowly as he could to save his pride. His former lover wasn't going to let him strut out with his male ego intact, and followed.
Damon waited as he heard them exchange parting obscenities at the door, then it slammed, and the whole house shook, and dust came out of the wall.
He laughed, and settled himself down on the sofa.
Storming to the gate, the fetler grabbed an iron pipe and beat off the lock and half-demolished it, then broke out as the dragoman shouted and tried to get the dog off its chain in time to do him some damage.
But the fetler was quicker, as his rage brought back all his strength.
He was fit to go and do the same to the train what he had just done to the woman's gate. If he had met anyone, just anyone, at that moment, he would have murdered him or her.
Fortunately, the townlet was bare of inhabitants, in the street, and slowly he cooled, as he turned toward the train, and thought better of confronting the guards and all their knives and firepower with his lone knife.
Hopelessness settled back down on him like Kismet--unshakable, unbeatable, ineluctable. A black cloud with vampire like wings, sucking the life out of his very soul!
It was unspeakable wretchedness--that was its essence, and he had drunk the worst effects of it away, as long as he could, but now it had come back with a vengeance to suck out the last shreds of his soul.
He sank down on the sand and gravel, beheath a broomwood tree, and thought of falling next on his knife. Why not? He had nothing to live for.
He drew out his knife from his ankle sheath, and gazed at it. A couple more moments, and he would have done it, but life is never a tidy thing. The padre, making his rounds in the little wannabe railway town without much of any positive response to his preaching, had finished and was about to turn back to the train, when the despairing fetler heard his shuffling footfalls.
The padre was startled when a voice whispered hoarsely to him from the shade of the broomwood tree.
"Padre! I got something to tell you I think you will want to hear!"
"Oh, do you now?" He went over toward the man, a fetler he saw, lying against the grizzled, half-dead broomwood.
"What is it, son?"
The fetler grinned up at the padre. "Some friends are asking for you to stop by right away. They live in that place over there, with the gate and guard, and want you to go right in and tell them all about Y'shua--you know, the one you are always preaching to us fetlers about. Will you do it, padre? They are such thirsty, needy souls! Such sinners! They want to repent of their sins! Go right now, won't you, padre?"
The padre looked doubtfully in the direction the fetler indicated with his knife. Then back to the fetler. "You don't be fooling me, son? I know the type of lady that runs house. Her reputation makes her well-known all along the line from Port Ulu to Port Yosef. She doesn't want my kind around, and she made it very plain a time back, by sending that dog of hers to drive me off. But if you give me your word, I'll go. Do you give me your word as a man?"
The fetler lunged to his feet, and stuck out his hand. "Sure, padre, sure, I give you my solemn word! On my honor, I'm telling you the truth! Now go, father--they're waiting for you, just as I said! Don't disappoint them, go, for they want to know how to be saved, they don't want to be damned and go to hell like me and all my fellow fetlers!"
The padre shook the fetler's hand, grinned, then turned and made a beeline to the establishment that had never once permitted him to give a word there.
He did not have any trouble getting in, as the gate was no longer a barrier. Once inside the compound, the dog with its fangs bared was about to come at him, but the dragoman, seeing the man's holy robes, grabbed the chain in time and held him back.
"God bless you, good man!" the padre said, tipping his hat, and proceeded to the door.
As he knocked, there seemed to be no response. Then the door opened a crack, and that was all the padre needed, "Feliz Navidad!" he declared, with all the love and cheer in him.
For this was Christmas Eve, the night before the Navivity of Y'shua.
The fetler, meanwhile was enjoying his little joke at the padre's expense. What a joke it was, indeed! Imagine, he thought, how they would like it, being interrupted in bed by a preaching padre!
As he sat there, savoring the thought, he grew aware gradually that the night had fallen, as the stars were coming out in the purplish dusk, and a chill wind was beginning to stir the sands, and other signs too--swallows came flying to catch the insects that rose at that evening time.
A star of particular brilliance was shining, its rays reaching all the way down to the huge, wind-blasted, twisted and half dead broomwood tree.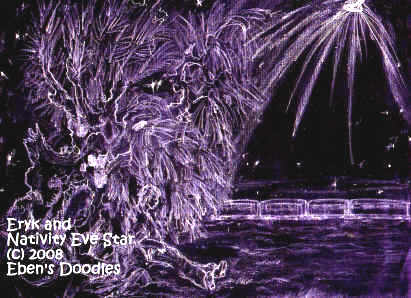 Not aware of the source of the star rays, nor caring even to look up, the fetler was totally unaware that it was Ero, who was glowing with a sort of St. Elmo's Fire, whether by Wally's doing or by chance or even Y'shua's, as this could be the same Nativity Star, by its brilliant appearance, that once shone upon his nativity in Bethlehem long before this time (not not ever entirely forgotten by his followers). The fetler rose, felt stiff in his legs, and wondered what was keeping the padre so long. But just as he was going to head back to the train, he saw someone coming--his long dust coat flapping and giving the padre away.
The sight had an unusual effect on the fetler. He had thought to laugh when the padre came and called him to task for fooling him, and being false to his word like that--but now he was not in the mood for laugh. Instead, He felt very much sorry for how he had pulled the wool over the padre's eyes, and wanted to slink away. But the padre had seen him, and was heading straight for him, so it was too late.
Before the padre could say anything, the fetler hung his head, and said, "I shouldn't have told you a story, padre! It was a low thing to do to you--and you probably caught hell for going in there like that and preaching to them,k when you weren't invited."
Padre Noaik clapped the fetler on the back, and grinned. "No, not at all--they were really pleased, when I told them all about the meaning of Yeshua's birth--in fact, it made quite an impression on them. That is why I took so long. They had a lot of questions. I think I will be seeing her again, but the fella is travelling on, he said, and might not be back for some time. He didn't convert, but he said he would be thinking about what I said. I left after prayers for them, and hurried so I wouldn't miss you and could tell you how well it went. Thanks for carrying their invitation to me! It really made a fine day of it for me!"
The fetler could not believe his ears. "You mean they didn't tell you?"
The padre's grin did not waver. "Tell me what, son?"
The fetler stared at the padre, and he was about to say something, but decided, no, why not let sleeping dogs lie? The padre didn't need to know he had played a joke on him.
Yet he couldn't let the padre go somehow. "Padre, I been meaning to talk to you, to ask you a question. Can you spare a little time. I know the train is going now, in a couple minutes, as the whistle blew twice, and that means they will soon be boarding.
"Walk along with me!" the padre said. "We can talk as we go. Now what is it?"
Somehow his prepared speech seemed so inadequate. He had thought to make an apology, but when we tried to start, it occurred to him that the padre wasn't the one to whom it really needed to go. It was someone far off, very far off.
So he asked a different question, closer to the issue at heart.
"Padre, is it every to late to make up with my papa? I said some wicked things, and stole some money too from my papa, and took off to have my fun with it in the big cities over here, and then took a job on the railroad when the money ran out. Here I am-- all my money gone, no friends who still stand by me anymore, and no job either! I--"
The padre stopped, and touched the fetler's arm. "It's not too late. I am a father myself, of sorts, with many sons like you to look after, both here and in my own country. I know how your papa must be feeling, with you gone, and not knowing if you are dead or alive. He'll be waiting for you, maybe looking out on the road every day, hoping to see you come home. Why not go and make it up with your papa and mama? From what you just told me, you got nothing here to hang on to--why not return home where they love you and want you, son? Do it now. Don't put it off!"
The fetler could not say any more about it--he was so overcome with his feelings, and they could not be expressed. The padre knew when not to press a hurting soul, and with a short prayer, he departed, leaving the fetler to gather his thoughts as to what he should do.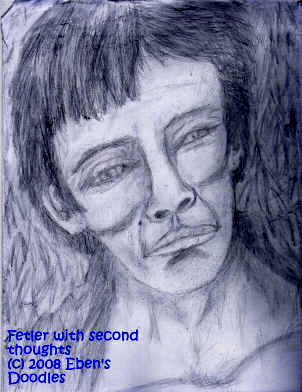 The train whistle tooted a third time, a final long blast, and then began moving slowly off. Seeing this, the fetler suddenly made up his mind. Everything came clear in a flash. Yep, he could do it! He could play the man and go home and ask his papa to forgive him for badmouthing him and stealing his papa's money he had saved up for buying special breeder bulls to build up the herd. He would ask to be taken as a hired man if his papa would have him. That way he wouldn't be starving, and he could work for his living, as he knew the work on a ranch as well as anyone.
But to do that he needed a ride on the Tea and Sugar! Home was a thousand and more miles off--and the train would take more than half the distance. So he ran with all his might, and caught the train just as it was gathering speed and might have been out of reach, if he hadn't sprinted the last fifty yards like he did.
Pulling himself up and onto the side of a car, he clung to it as he got his breath back, then when he saw no one was coming after him, he climbed up and lay down on top, exhausted. He knew he had to be careful to stay out of sight, as the guards would either shoot him, or throw him off head first if they caught him. Fortunately, he knew their movements, and how to elude them.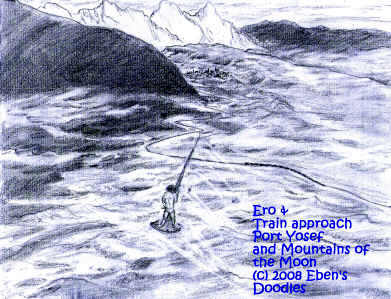 Port Yosef's walls came in sight finally of the train, but they first had to pass by the garbage dump, where the ruins of Roman antiquity, because they were judged immoral after the conquest by Isma of the entire area, were thrown out. Theodora, a Roman empress famed for her making fortunes with her own perfumery in the palace, fared no better than the emperors' statues. Scavenger cats lounged in her presence, where once only jeweled and perfumed courtiers of the imperial palace, with their ladies, had been allowed.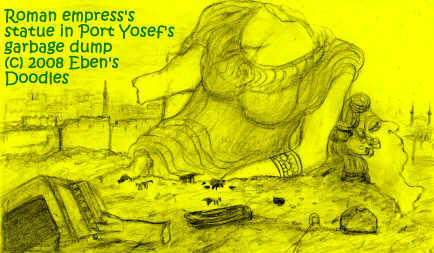 Once inside the walls of Port Yosef, the double gauge line ended at its terminus, the ornate, Multan kaliphate-era cast iron railway station.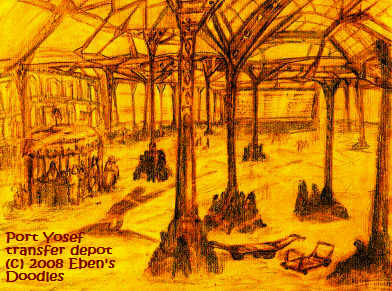 Here another single gauge line and a train, first taking on additional guards to safeguard the mail and the gold shipment from Port Yosef (where several mines operated) to Multan, awaited all passengers and their baggage continuing on into the Mountains of the Moon. Since Ero's Kater's Compass was programmed to follow the train onward, Ero had no choice in his intinerary, except for slight alterations, which could last but a short time before the original flight plan was reinstated.
The Tea and Sugar train's passengers disembarked, and many got on the single gauge passenger and freight train, which was called the Multan Orient Express, but which was hardly an express, for the train's journey was long, torturous in its climb up and over the mountain passes, and involved uncountable stops at villages and towns tucked away in the mountains.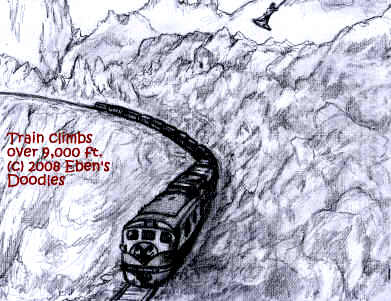 As the train climbed upwards from the plains, Ero had time to drop down to certain vantage places to await it, as it made slow progress on the steeper grades and the numberless switchbacks. He was overwhelmed by the sheer beauty of the Mountains of the Moon, for this was his first exposure to them. White sentinels scratching the sky, the white limestone that composed them had been thrust up from the seabed in a gigantic, violent upheaval when the continent of Atlantis was volcanically reborn.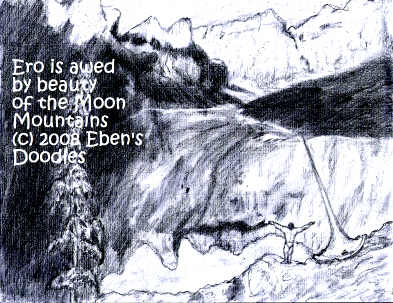 The Port Ulu to Multan Orient Express climbed laboriously the many thousands of feet to the pass as Ero followed. Beyond the pass, if an avalanche did not carry them away or destroy the track ahead, lay bandit-infested crags, that would have to be passed before they reached civilized, inhabited regions, with villages and towns that clung to the sides of the mountains like the nests of swallows.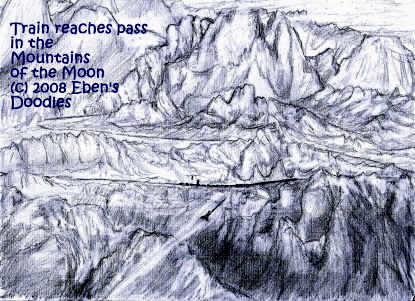 The guards get busy, however, trying to run down several stowaways. One is the laid off fetler, Eryk Woodbee from a Brazos ranch in the Pulblicatexa, who has climbed aboard, and spends time either in the unattended baggage car or on top the train, wherever he can elude detection best. As for the fetlers in their private car, he knows they want nothing to do with him--so he doesn't even try to sponge on them, as they would just throw him out if he tried.
Pilfering some food one day from a service tray set for pickup by a diner car attendant in the window of the kitchen, he is spotted and the pursuit is on.
Train guards are called at once, and go to work in their expert way.
It is just a matter of time before they corner Eryk or run him down inside the train or outside. He will be forced to jump sooner or later or be captured, or worse can happen to him--as there will be no mercy, since train hopping without paying fare was regarded as social evil, a big enough crime in that harsh society to warrant summary execution.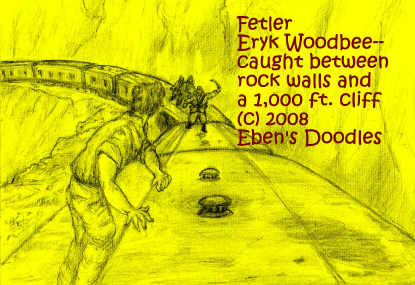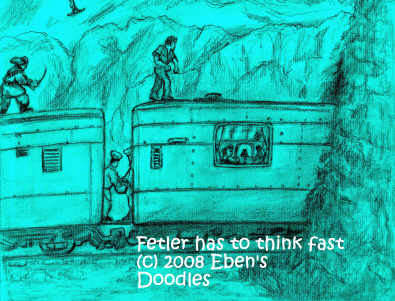 Facing a jump off the train and over a cliff, or capture and slow torture and execution in some execrement-oozing pesthole of a country prison, Eryk, sorry only that his papa will never know what happened to him, takes the third option left to him. He keeps standing as the train heads toward the tunnel, which is fitted with very effective "man-guards," which have the same function as cattle guards except that these are fatal iron spikes embedded in the tunnel entrance and ceiling.
The guards, unfortunately, have forgotten this particular approaching, man-killing tunnel. In the excitement of the chase, with the fox so close to their snapping jaws, the hounds find it is too late to drop down for cover between the cars. Forced to fall flat on the roofs of the cars, they have to take their chances with the stabbing man-guards.
The prodigal does not survive, but neither do the foolhardy guards, as not one of them makes it alive through the tunnel.
Helplessly watching all this going on atop the Multan Orient Express, Ero worked at his guidance system with the popup on his compass, but couldn't get it to respond fast enough for him to intercept the guards and rescue the fetler.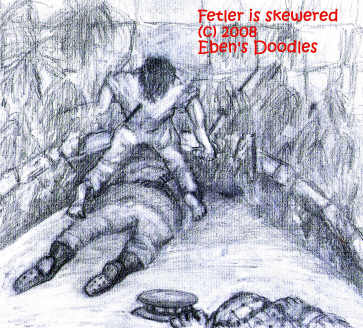 Ero, at last getting the Kater's Compass guidance system to obey his instructions on the popup, descends and then pulls the dangling fetler off the spike. That was the least he could do for him, he thought. But what now? Where could he take the body? Where could he give him a decent burial?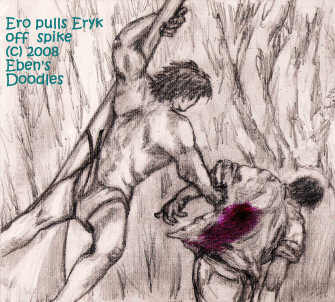 He flew up higher with Eryk aboard, and landed temporarily on a cliff edge, while he sought Help on the popup. Prompted for a name, he searched the pockets of the fetler, and found a leather wallet, empty except for some lottery stubs, a couple coupons for government emergency food rations issued at Port Ulu, a few phone numbers, but no address or name. The last thing he almost threw away was only a half torn and rumpled pink slip. Reading it, he found the name and address he needed: Eryk Woodbee, Lazy W Ranchero, Brazos, Publicatexa. It was a Tea and Sugar company notice, firing the fetler, with no option of rehire.
The map provided by Help was all the guidance system needed, and the flying mast pole was soon aloft, bearing Ero and his burden toward the northwest.
Dusk, then nightfall descended, and finally Heruka's coast was reached. But the mast continued on its flight unerringly across the Straits of Floyda, and then toward the even wider gulf that separated the two Turtle Islands. East and West Turtle Islands were now all that was left of North America after it split in two at the north to south Mississipi fault line.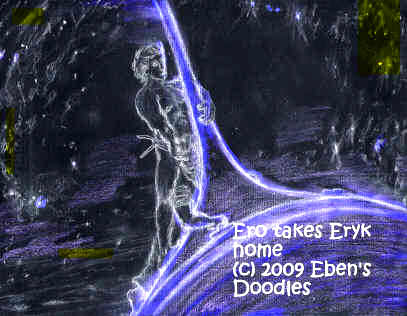 Turning west, no longer travelling north, the mast took them over the water to the Rio Brazos and followed it up to the towering domes of the huge Ceylon Nuclear Station. Beyond the fenced reserve a few miles, nestled among the low, dry, acacia and prickly pear-covered hills and grassed slopes, lay the Lazy W Ranchero. Here Ero set down in the dawning light of a new day, and he carried Eryk's body to an acacia and lay him gently down.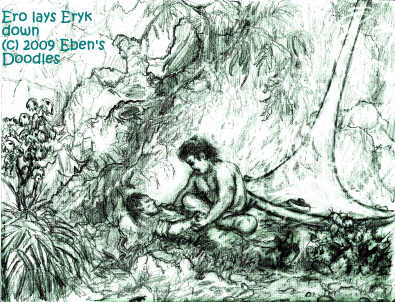 He tried to give the fetler a last bit of dignity, his hands folded properly, and his hair straightened, and his shirt made more neat, the best he could do for him, and just as he did that he heard baying hounds and cattledogs. "You're home, Eryk!" he murmured. "You're home at last! They'll take care of you now. But I'm afraid your papa's heart will be broken. But at least he will know what happened to you."
He turned and saw that some ranch hands, mounted on horses, and a pack of dogs were coming on fast to investigate. That was all he needed--Brazos ranchhands who wouldn't like anything about him, a total stranger, flying in on a wingless plane shaped like a flag pole! But there was no way he could explain himself and his flying machine to them, so he jumped back on the mast, and got away before they could intercept him. A few bullets actually winged his mast, but that was all they could do before he was out of reach, well on his way back to see how the Multan Orient Express was doing.

PLEASE GO TO PART II OF UNCHRONICLE II, THE HOUNDS AND THE BLACK PANTHER
(c) 2009, Butterfly Productions, All Rights Reserved