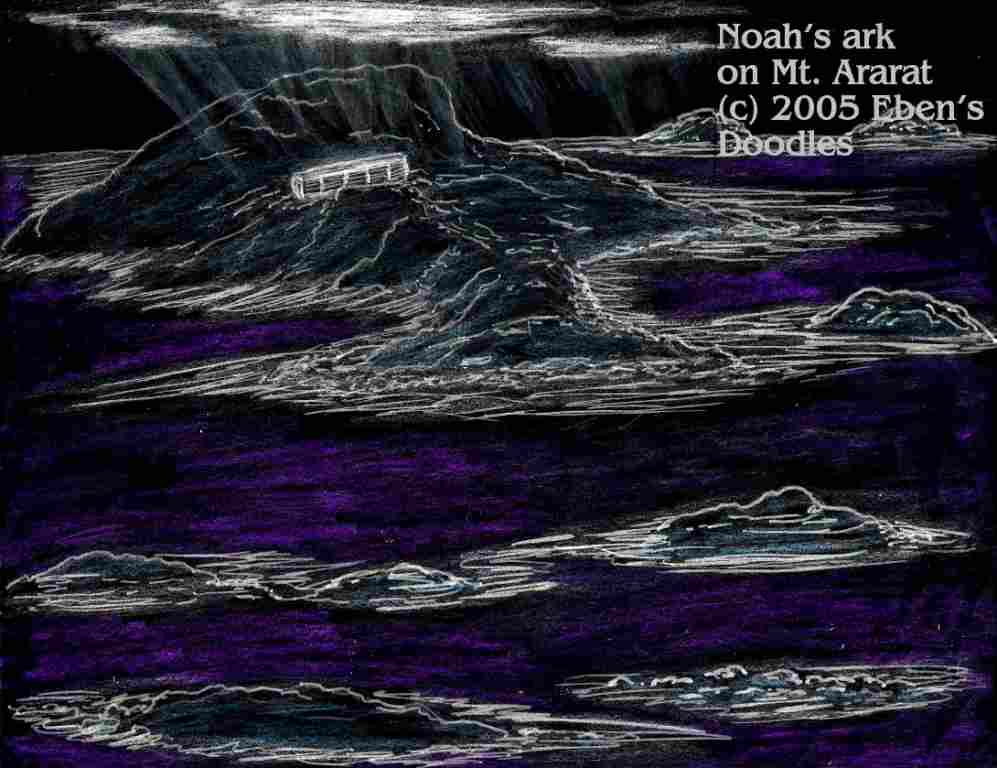 He hadn't gotten the impression of a country called Van, however, being so important as the man said it was. "I weren't taught about your country, just that there was a mountain where Noah and the Ark landed."
He jumped up, feeling he had been sitting too long and needed a change.
The Armenian rose more slowly and with a slight grimace as if he had some knee problem. He grasped Van's hand. "It was good talking to you, and I hope we can talk again!"
"Yes, I would like to," said Van, though he was uneasy with the closeness of body contact that the Armenian seemed to need. Instantly, he felt he had cut the conversation too short. Where would he go now? Back to his room? He hated the thought. Yet he felt drawn to it. What would he see anyway? He had some idea, having pored through some finger-stained issues of Playboy, which boys at school passed along from locker to locker.
He couldn't deny his own interest to find out more on the subject. After all, he had no desire to remain a greenhorn virgin indefinitely. He needed experience if he was ever to marry, didn't he? What was he so afraid of? Travis, he reasoned, was only "having an affair." It was with a married woman, no doubt, but Travis was old enough to know what he was doing, wasn't he?
So, growing bolder, Van headed back to his room. He unlocked the door and strode manfully in, expecting to hear a scream and a muffled remark from Travis under the covers. But he found nothing of the sort. While Travis's bed was neatly made, his own bed was torn apart, the blankets and sheets all on the floor. The towels in the bathroom were on the floor, soaked. He found cigarettes, some with lipstick on them, stubbed out in an ash tray transferred to his lamp table. He sat down on the bed, trying to feel like a man of the world, trying to absorb the reality of what had happened to him.
Then he remembered his cuff links, of all things. He looked over on Travis's side of the room. The bed showed nothing, not even a wrinkle. The dresser drawers were closed.
He went to the dresser and pulled open the upper drawer. Then he paused. Should he take the liberty of going through Travis's things? Why couldn't he wait and then ask Travis later? But he had to know for sure, and so when he didn't see the cuff links he pulled out the second drawer. There he saw his shaver, cuff links, and several pairs of his best stockings, along with his missing tee shirts, all with Travis's things.
He pulled out his own drawer to put his things back where they belonged and found a Hawaiian shirt he prized gone. He had intended to wear it on the cruise, and it now was missing! He searched both the drawer and then his suitcases, but it was nowhere.
He went to his bed, pulled some blankets back on it, and sat down. The realization hit him. It couldn't have been a mistake this time, all those things of his ending up in Travis's drawer. He had even added to the list, fingering his Hawaiian silk shirt.
When Travis did not show up after an hour of waiting, Van went for dinner. He returned, and still no sign of Travis. He waited around, went out and walked the decks, didn't see the Armenian gentleman and his family anywhere, and returned to his room, thinking he might listen to music later in the disco or even ask someone there to dance.
It was a lonelyheart's experience for him at the disco, he found. He sat out the dances, for everyone was paired off, and he couldn't bring himself to ask any of the older married women who sat at the tables.
His blood running high from the music but with no way to express what he felt, he returned late to his room, and spent restless hours trying to sleep on top a bed that had been the scene of Travis's escapade.
He was asleep finally when the door cracked open, someone came in, took a few items from the dresser, and slipped back out before he could get the light on.
"Travis?" he called. But he was too groggy and too late, and if it was Travis, he was too quick for Van.
By daybreak Van decided to go and hunt up Travis. He really wanted to see what Travis would say about his activities and being gone so long.
He showered, shaved, and dressed, then went out, got some breakfast, then went in search. But he couldn't track down his cabin mate. He did find the Armenian family man, however, and the man was just as friendly, willing to tell him about his troubled homeland, and even details about their escape to America, and how they had gone into business in California, with offices set up in Los Angeles and New York, that had to do with importing oriental rugs.
The rug business did not interest Van particularly, so he decided to resume search for the ship's Casanova.
Without a sign of him to be seen, Van returned disappointed to his room, footsore and thinking of a nap. The door, he found, was dead bolted. To get in, he would need the steward's special key. Van sighed and leaned back against the door. "Not again!' he thought. This was getting to be too much a pattern. Were they in his bed again? Why his bed? He decided he had had enough of their trampling on his rights like that.
The steward must have kept an eye out of him, for he came forward, smiling. "I can let you in, sir, if you wish."
Van motioned vigorously, but suddenly he had no desire to go in at that moment. He backed away. "I'll try it later, if you don't mind."
The steward shrugged. "Certainly, sir! Certainly! Just let me know, and I'll let you in at once!"
"Thank you," said Van, and he turned and went back up to the outer decks. There he hung around for a hour or so, and got tired of that and decided to go below, whether Travis and his friend were ready for him or not.
"It will serve him right, using my bed for his shenanigans, if I walk in on them a second time!" he thought grimly.
The steward came with the key and let him in. The room was empty. Travis was gone, and the place was a shambles.
He went to his drawer, on a sudden intuition. It had been rifled through, the cuff links, shaver, tee shirts, and some stockings removed.
"He might as well take my shorts too!" he cried, in a flash of anger. Then he counted his things, and he was missing some shorts too! At this rate, he wouldn't have enough clean changes for the voyage, and he couldn't stand the idea of not having a fresh change at least once a day!
Now he really felt steamed. "He's a no-good thief!" he thought. "And a womanizer!" Where he had learned such phrases, he could not say, but they were just the ones to describe Travis, he found.
He was wondering, a few minutes later, what to do, when Travis burst in, brushed by Van and collapsed on his own bed, lying with his legs sprawling over the sides. A moment later, he stirred, sighed, then got himself a cigarette.
"Hey, buddy," he said to Van who was staring at him, "light me up, will ya? I've been pretty busy and little brother's all tuckered out!"
Van couldn't say what he felt at that moment. Surprise, anger, disgust, mixed with amazement that someone like Travis existed? He could see Travis lying there, wearing the stolen Hawaiian shirt, no doubt wearing stolen shorts and stockings, and what had happened to his shaver and cuff links? Travis patted his crotch. "Baby, baby, baby," he moaned. "I tell ya, buddy, these women onboard won't take no for an answer! Even I can't keep up with the demand!"
He held out his cigarette toward Van, and Van was so numb he got a book of matches, lit the cigarette, then sat on his bed, staring at Travis.
Taking several deep drags, Travis relaxed, letting his words run a bit, along with a few sung bits and pieces of a Peter Duchin rendition of "Smoke Gets In Your Eyes." Hearing Travis's sing for the first time, Van listened, but his mind was on many other things. But he hadn't any idea how to begin his wide range of questions. He just knew that Travis owed him a great deal of explanation for his behavior toward him the last twenty four hours. Was it going to go on the way it had? Van didn't like the idea at all. He felt like he was just being used, and not only used but trampled on by Travis's high-flying lifestyle.
Travis rolled over, studying Van for a moment. "Oh, lighten up, will you? You look like the family dog just got run over and spilled its guts on the road!"
Before Van could retort with something that even Travis might not like, Travis rolled again and was on his feet, stubbing out his half-finished smoke on a bed sheet.
"But—" Van began, but Travis, scenting what was up, was too fast for the young man from Queens.
"Later, old buddy, we'll talk all you want. You need to wise up on a few things—like the facts of life, for one! I can tell you all you'll ever need to know about women, believe me. Listen to me, I know where to get you Grade A tush anytime, anywhere!"
"Oh yeah, there are other things in life besides tush!" Van shot back vehemently as he really meant every word.
The remark was wasted, as Travis shut the door on him, and Van was left, anger rising uselessly in him.
"He thinks he knows everything and has done everything! Just because he can date these older women, he thinks I know nothing about life. He's a thief, a hustler, a lounge lizard, and a scam artist—that's all he really is! What a creep!"
Rising mad, forgetting he was using his mother's vocabulary, he glanced into the mirror above the dresser and saw how red his face was. But what did it do for him, getting mad like that? He wondered. Travis was just laughing at him, he realized. Travis knew he could do nothing, not until they docked back in New York.
But he realized he could do something. He emptied out his one drawer of the dresser, locked his remaining things in his suitcases, and then went out to buy himself a shaving kit at the ship's pharmacy. He didn't need a shave every day yet, but there was no telling when he could collar Travis long enough to find out what had happened to his shaver.
He left the room, feeling better than he had for some hours. He went and saw a French film about the Atomic bombing of Hiroshima—HIROSHIMA MON AMOUR--with English subtitles, which seemed to be a serious story but he kept looking at the women in it and couldn't concentrate on the story, which seemed too foreign and incomprehensible to him. Afterwards, he ate at a restaurant, and when leaving ran into the Trakarian family, who invited him to join a family volleyball match. The volleyball game with the two sons and daughter of the Trakarian family, joined by their friends on board, made his day for him. The experience of being with people his age had been the best so far onboard. As for Travis, he had shown that he didn't need him to enjoy himself. When Mr. Trakarian asked him to join the family for an evening Bible study, he was surprised at such an invitation, but thanked him and said he had to get back to his cabin.
But Travis was not someone he wanted to encounter at the moment, so he headed for the upper decks for a look out at sea from the highest vantage points as the Fairwind neared the Carolinas toward evening. The wind was brisk up there, and it was invigorating. He felt young, free, with his whole life ahead of him. He thought back to New York and Queens, and what a good time he was having while his family went about their humdrum lives. His cruise seemed a success for the first time on the voyage.
He looked forward to the following day and its possible events. As for Travis, who gave him a bad taste in his mouth, he would just have to tolerate him and his ways, and make the best of having to share a room with a crotch-scratching ape. He decided he wasn't going to let the likes of Travis spoil his cruise, for which he had spent a lot of hard-earned money.
He took the view of the Carolina coast, the sunset, and the sea, and when it was too dark to enjoy it any longer he went to a casino, just to watch people throw away fortunes. He didn't have money to try his luck, but he enjoyed watching those who did.
All of a sudden he was surprised to see Travis, standing with two older women at one table, playing chips they handed to him. And Travis was winning! He was on a roll! A crowd soon gathered round as the stakes mounted in the thousands. The women, particularly the youngest, most beautiful, flocked to Travis's side, and Van could see Travis soon was taking more notice of them than his game. His luck went down as his interest in women hanging on his every move went up. He made some desperate last throws and suddenly it was all over—-the casino raked in all his chips. Smiling, Travis shrugged.
Then the two older women dragged him away, turning angry glances at the younger women, who turned back to their partners.
Van left, wondering where could he go without running into Travis everywhere on the voyage and having to watch his antics. Even his own room was no sanctuary as long as Travis had a key.
He was in bed, sitting up with a volume of Santayana's philosophy he had promised himself to read but reading instead THE MALTESE FALCON, when Travis came in, dinner jacket draped across his shoulder.
"So you like the high-brow, literary scene, do you?" Travis remarked, smiling, as he gave the Santayana a superior glance. "I'm no book-worm like you! I prefer living life, myself, rather than just reading about people who do! People who got to read for their thrills are more dead than alive, in my opinion!"
Van said nothing, and kept reading, though his blood began to boil.
Surprising Van, Travis prepared to go to bed at a decent hour too.
When he found he couldn't concentrate, Van turned out his night light and turned over and shut his eyes.
He couldn't sleep, for he kept hearing Travis, who couldn't sleep apparently, slapping cards as he played solitaire on his bed.
This went on for two or three hours, Van thought. Finally, Travis seemed to have enough of that, and he lay back down. A few more minutes passed, with the light finally out, and then Van thought he heard footfalls on the carpet, very light, going toward the dresser where Van remembered he had left his wallet lying.
"Oh no!" Van thought. He switched on his night lamp, and Travis was at the dresser, just then turning with the wallet in hand.
"What are you doing?" Van cried out.
Travis laughed, dropped the wallet back on the dresser top, and lounged back to bed. "What do you mean? I was just checking for something in my wallet!" "You mean MY wallet, joker!"
"Oh, is it yours, dearie? I thought it was mine. Sorry, my mistake! Couldn't tell in the dark!"
Van rose up on his bed, unable to control himself.
"You've taken my shaver, my New York World's Fair cuff links, my Hawaiian shirt, tee shirts, stockings—-swiped everything you wanted off me, admit it! Do you think I'm a moron or something? That I don't know what I brought with me? I want it all back now, and not at the end of this cruise! Do you hear me, Travis? I say, did you hear me?"
All of a sudden Travis seemed to become a statue, or time seemed to stop. Whatever happened, Van had time to listen to the pounding of his heart. Travis then moved, shrugged, and lazily rose, giving his backside a good scratch. He belched and moved toward the restroom. Coming out a few minutes later, cigarette on his lower lip, only then did he pause.
"Okay, little smart ass, you have your nerve, putting the finger on me! Room service took it, stupid. Everybody knows room service is a bunch of thieves. You ought to know better than to leave your stuff out for them like that. Just don't go blaming me for your own mistakes! I might just take offense. I've duked it out with guys who accused me of things before I didn't do—but you, you're just a snot-nosed, low class kid from the armpit of Queens, and I don't fight with kids! So be glad I'll let you off this time."
Van knew Travis now was a boldfaced liar, the worst thing in his book. Could he take Travis, if it came to a fight? He and Travis were about the same size and build, he saw. He was angry enough to fight him at this point, but what good would that do?
They might both be put off the ship at Port Everglades, their last port call in the U.S. His whole trip would be ruined. He wouldn't even be refunded his fare. Travis would probably talk his way onboard another cruise ship, but he knew he couldn't, he would slink back home in shame for messing up his grand voyage of a lifetime.
It was hard to swallow down so much anger, but somehow Van managed. He wanted to be a thousand miles away at that moment. "He dares call me low class when he's nothing but low life," he thought, recalling Travis and his companion in his bed. "And to think I have to be caged with him for twenty more days!"
Travis seemed adept at reading thoughts, particularly those hostile to him. "Aw, we might as well decide to get along. You can't fight onboard ship, there's nowhere to go but the H20, and there's plenty of sharks following us for the kitchen scraps! Why, a fella could be walking the deck, say, and a little shove by somebody could send you over the side so fast you wouldn't have time for one last fart. I know, buddy boy. I've heard of cases like that, real tragedies, and actually it's happened a couple times on cruises I've taken.
"Poor guys! So if you think about it, it isn't worth it, making any kind of trouble aboard ship." He yawned. "So, if you'll excuse me, I'm going to retire for the night and get some well-earned beauty sleep. You can do as you like, but tomorrow is another day where men will be men, and boys will be boys. That's the world, take it or leave it.
"You might as well go with the tide, old buddy! Otherwise, you'll just make things hard for yourself. And if it ever enters your mind to rat on me-—well, you better think it over carefully. I wouldn't do anything stupid, if I were you."
Van—-infuriated by the suggestion he might "rat" on Travis to the ship's authorities, leaped out of bed, grabbed his wallet, then returned to bed. Somehow, without another word passing between them, Van was able to remain in the same room with someone he had come to loathe.
Sometime later he awoke, hearing Travis get up and go to the bathroom. The light was on for a few minutes, then was switched off. Travis crept out, locking the door after him. Relieved that Travis was gone, even though probably on another escapade, Van was able to sleep.
Was it a hour later, or hours? It was still dark and there was tremendous pounding on the door. "Lemme in!" cried a muffled voice that the rudely awakened Van recognized.
With a groan, he heaved out of bed and went and opened the door. Van automatically reached and flicked the light on an unspeakable sight.
It was Travis, shirtless, his pants falling down to his knees, and his face was smeared red.
Ducking past, Travis went into the bathroom, slamming the door. Van heard sounds of water running furiously and splashing on the floor.
"Travis, what happened?" Van called outside the door. "Were you in a fight? Are you hurt?"
"Naw, stupid! Bug off! I'm busy!"
There was sound of more water being sloshed about in the sink and onto the floor. "This woman I just met was having her stupid period, that's all. Then her husband came back from playing the tables just as I was getting some good pussy, and I had to run for it. No big deal. Happens to the best of us!"
Van's stomach gave a dry heave. He felt like he would throw up as he turned and went back to his bed. He lay down, staring up at the ceiling.
A minute or so later he heard Travis come out of the bathroom, throw down a soiled towel, and then fall and crash on his bed so hard it gave an audible crack and slumped over on one side.
Van couldn't think of anything to say, and what could be said? Travis was Travis. Animals like him obviously couldn't change.
He woke up in the dark, the room was cold and empty, for the porthole had been opened and left. He gazed out-—brilliant moonlight on the water as the ship rushed southward to a port call off the Everglades.
Travis seemed far and away at that moment. As if the whole scene were enchanted, it seemed Travis had no place in any of it. "I'll go up on deck and see what it looks like from there," he thought.
Dressing in a light jacket and sweater, he went out. He passed very few people at that hour of the morning.
When he reached a good vantage spot, where he could see nothing but the sea for miles round the speeding ship, he paused and leaned on the rail, gripping it with his hands. How beautiful! He thought. Wouldn't his family envy him now, seeing this with him? Wouldn't they give anything to be in his shoes? Yeah!
The only black spot on the voyage was Travis his cabin mate, whom he knew he couldn't escape no matter how hard he tried. Even on such a big ship he could not be avoided, Van knew. Feeling he was trapped and he had no other alternative, he decided he would seek out the captain and report everything. Travis was a thief and a liar and deserved detention on board. Van decided he wanted nothing further to do with Travis and his "high-flying" life-style of sleeze-ball "fun and romance." Let him sit out the voyage somewhere in the ship under lock and key!
With that momentous decision made, Van turned to go back down. Suddenly, somebody hurled his whole body's force at Van, toppling him back over the rail. Somehow he caught the railing as he was falling on the other side, but his nylon-masked assailant was just as quick to kick at his hands to finish the job. God! Van cried as the kicks smashed his fingers and loosened his grip. Another kick and he knew he was going to fall and feed the sharks while alive if he didn't drown first.
Suddenly, the whole ship gave a terrific lurch. A gigantic surge of water then began to ride up the side of the vessel, lifting it at the same time all along that side. Water poured round him and swept into the ship. For some reason the reversed Niagara had parted where he hung precariously, but had drowned the ship and its passengers. Van, instead of falling, found himself lying almost flat on the hull. The man assaulting Van yelled and fell back away from him immediately in the river that overwhelmed him. The inundated ship continue to lean over, farther and farther.
"We're going to capsize and sink?" Van thought in that terrible moment when it appeared the world was about to end. What had they struck? He couldn't even think of what it could be. But he happened to glance backwards into the boiling surf of waves close to his feet and he saw something odd, a lighthouse possibly. And in the raging water and froth were the tops of gates-—and he recognized them—the very gates he had helped load , when he was fifteen, onto the barges in New York years before. Now they floated up in the water as if made of feathers!
Arranging themselves in a row, the gates stood up completely on the water, erect and complete in every detail.
Meanwhile, the ship continued to founder.
Holding to the rail with all his might, Van thought it was the end for him—the last survivor, as far as he could tell.
What could he do?
He thought he heard mass screaming in the doomed vessel beneath him, with hands beating on the walls and ceilings. But how could he? All the passengers had either been swept off or were now under water drowning or drowned, if not crushed to death under smashed furniture and collapsed bulkheads. Slowly, the moments stretched as he thought he would do under with the ship at any moment-—yet the waters began to subside, and the ship began to move back on its keel. It was so slow that Van had time to scramble back on board as the waters rushed off its decks. Sparkling in the moonlight, everything washed clean, the ship seemed perfectly normal, except it was deathly quiet. He knew, despite appearances, it was nothing but a ship of death. Nobody else could have survived!
That being left alone was just too much for any young man to take. Panic swept him. It was the most terrible feeling. He thought he would scream, but nothing but hoarse gasps came out. He didn't know what to do. All he could do was cry inwardly, "O God!" over and over. Gradually, he calmed down enough to think.
Van could see the three New York World's Fair Gates fully restored, still floating in the water. Foremost, with the other two in the background, was the Dutch wooden shoe-decorated New Amsterdam Gate.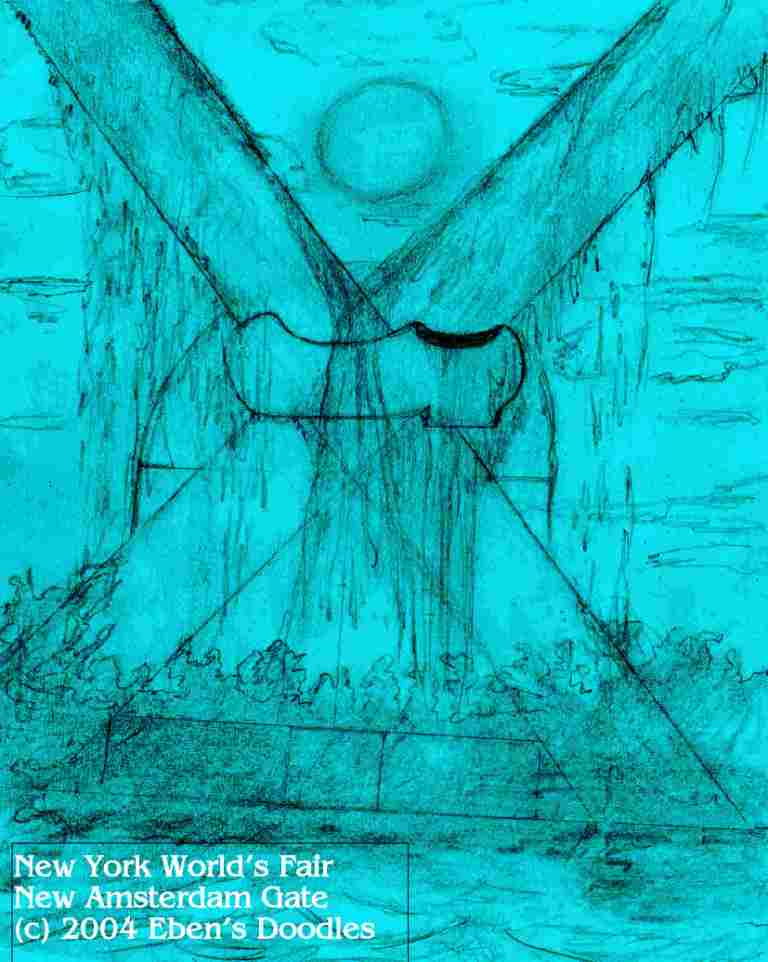 He gazed around him, the empty ship deck. Going below, slipping on the wet floors wherever it wasn't carpeted, he began his desperate search for human beings, even though he knew they couldn't possibly be alive. Water had swept everything away, leaving only scraps of seaweed, jelly fish, and live fish. He tried first one corridor, then another. He found no one. No one! How could three thousand people have vanished? But he couldn't turn up a single soul.
It is phenomenal what desperation can accomplish. Somehow he found his own cabin, and in the wreckage amidst some flopping little fish he stooped to pick up a wallet. It was Travis's, which he had seen Travis pull out to get something when they were last in a bar together! He could tell by the palm trees etched in the morocco leather—-Travis bragged to him it had cost him "half a grand" for this wallet in Saks, Fifth Avenue when it was obviously a trinket from a Coney Island arcade. Water had swept so quickly through the cabin, bursting out the porthole, and draining back out the door that the wallet was scarcely wet. It fell open in his hand, and the cards, already spilling from it, tumbled out onto the floor.
One was a Social Security card marked Julius L. Barnard. Then his vehicle registration for a late model red convertible Mustang. The other cards all bore the same name. And the address on several was the same: 2700 Dearborne Avenue, Sioux City, Iowa. A few other items, bearing the Barnard name, were long-overdue--a citation for drunken driving, a ticket for driving without a license, and a summons to court for wife beating and withholding child support. But what really mystified him was the clipping from a paper of a hit and run driver who had run over and killed a pregnant woman on a city sidewalk, with police out to find the late model red Mustang reported by several witnesses.
"Julius Lindbergh Barnard"? Van couldn't believe what he saw at first. He had never heard the name before. What was it doing in Travis's wallet? He looked through the remaining compartments—no money, but a pair of earrings that could have been diamonds and a couple dimes and a nail clipper in the coin compartment. The nail clipper—it was his! Travis had stolen his nail clipper! He knew it was his because it was an expensive New World's Fair souvenir he treasured. There was no mistaking it, since on the front it had a Dutch boy in wooden shoes decorating it as a momento of the New Amsterdam Gate and the World's Fair symbol, the U.S. Steel-made Unisphere on the back It had been given him after he finished his work one day by their supervisor, who had been impressed with his work, enough to call him out and present it to him before all the others. He was so proud of that nail clipper, and let no one borrow it. It was the last thing he wanted to lose!
Glad he had the valued memento back, he gripped it hard and put it back in his own wallet. He glanced at one last card from the wallet. "Exmoor Cruise Staff Training Academy," it was entitled. Under that was the name, Julius Barnard, with the words, "Completed Kitchens & Food Service Course Program," with the date and the signature of T. Knuff, identified as school administrator.
Something about the writing of the signature made him look again. He searched for a specimen of Travis's writing and found a sample, an addressed letter Travis had thrown away in the trash. Matching them with the Exmoor card, he shook his head.
The puzzle came together in an instant. "Of course!" he thought. He kept the card and let the wallet fall to the floor. It seemed at that moment that somehow all made sense. Travis was a petty forger and fraud, a thief who had learned how to take advantage of people aboard cruise ships as a trainee in shipboard food service. Maybe he was even the hit and run, homicidal driver reported in the Sioux City paper! Having "solved" Travis's case like an old-time private investigator, he forgot momentarily the much bigger problem—-the mass death and destruction around him. At that moment, logic did not apply. He felt in the midst of chaos that there was, somehow, somewhere, an order in the disaster, underlying everything that had happened. For hadn't Travis gotten what he had coming to him? He had no other evidence that the nail clipper, which had come back to him on the waters after Travis, evidently, had been swept away out the porthole. But however slim the bit of evidence, it was enough to tell him that things would turn out all right, as long as he "kept his head" about him. At that moment the words of a Trojan girl's letter to him as if in confirmation, written long before he found it, shot into his mind like a lightning bolt: "Stay on the ship!"
Then the thought hit him almost as hard: maybe her advice was all wrong Then maybe he was dreaming all this up, and in actually he was lying somewhere in the dark waters with all the others who had drowned. A few more moments and it would all fade away in his dying brain! But as he waited to see what would happen the moments passed and nothing of the sort transpired. He heard water dripping everywhere, the sound of waves churning below the porthole, the turbulence slowly dying back as he listened. He crept to the porthole, almost afraid to look out, and he forced himself to look and saw the three World's Fair Time Gates still floating on the bright, ruffled water. "What are they doing there?" he wondered. He had seen the Time Capsule at the Fair, along with the exhibit telling all about it and its contents, which when they were buried at the site were supposed not to be opened for five thousand years. What force had brought them up from the sea bottom? How could they have come up to the surface like that, since they were made of concrete and weighed multiple tons? Of course, ships weighed much, much more, and they floated! Yet he knew they couldn't possibly displace water in the way a hulled vessel could and had to sink straight to the bottom when the NYC garbage barges opened cargo doors for dumping at sea.
His head whirling with questions he could not answer, he couldn't stand the thought of the cabin anymore. Also, the moonlight was going due to clouds moving in. He made his way back to the top deck, checked in at the empty bridge and was about to go out when he saw several magazines in the entrance. Something like instinct told him he should pick them up and look at them. It seemed a crazy impulse at the time, but he obeyed. One was 1965, the other was 1977. He didn't feel in the mood to read magazines, which was understandable, but he still felt impelled to open them. The water had scarcely soaked them, it had come and gone so quickly. He had no difficulty separating the pages. The 1965 issue carried articles about the end of the Civil War: "Grant and Lee at Appomattox," "France Meets the Sea in Brittany and Normandy," with a map of Brittany and Normandy stretching to Mont de Miguel and Omaha Beach, and the current 1977 issue featured "Egypt, Her Dazzling Past and Her Hopeful Future," along with "Chief Joseph" and others as well that he didn't go into.
"They are your new itinerary for the cruise," a voice spoke to him in his mind. "You stumbled into the Temple of Time, so choose well which Time Gate you want to enter." Van dropped the magazines like white hot ingots. What? He spun around, but he saw no one. He couldn't think for a moment. Was he going crazy? Had he heard what he thought he heard? An itinerary, drawn from magazine articles? A "Temple of Time" "Time Gates"? What was this all about? "You mean," he said, addressing open space, "I'm not going to Machu Picchu and Lima?" There was no reply to his scornful outburst, but he knew the answer. This was no time to go off his head and talk to empty space! The ship obviously was in no condition to go anywhere. It might even sink! He had to get help! He had to wave his shirt and let someone in the air see him, that he was still alive onboard! Surely, he thought, the ship would be spotted lying dead in the water, and help would be sent. He couldn't be left very long aboard the ship before it was spotted and reported to the Coast Guard.
It was a comforting thought, and he went and sat down on a desk chair that he set upright. It was one of the few left intact, as the rest had been immediately swept overboard off the other side. All he had to do was sit calmly and in a few minutes, or possibly an hour or two, help would come. It had to come! He was still sitting there, wondering where the rescuers were, when he grew aware of someone standing in front of him. He sprang to his feet, his eyes riveted on the stranger, a brown-skinned man wrapped in a blanket, with coal-black eyes and long, glossy hair, complete with feathers in his hair and tied like a bracelet to his arm and wrists. An Indian? On board the Fairwind? It couldn't be! A Martian would be likelier!
The Indian seemed to note the young man's confusion and consternation. He motioned in a way that even Van understood, to sit back down. Not knowing why, Van obeyed. He sat, staring at the strangest sight of his life: a savage Indian aboard a modern cruise ship. The apparition, for Van couldn't believe he was seeing a living Indian, spoke to him. "My people call me Black Elk," he said gravely, his eyes fixed on Van, eyes Van could not possible lie to or evade they were so stern, fearless, and truthful--like an eagle's might be.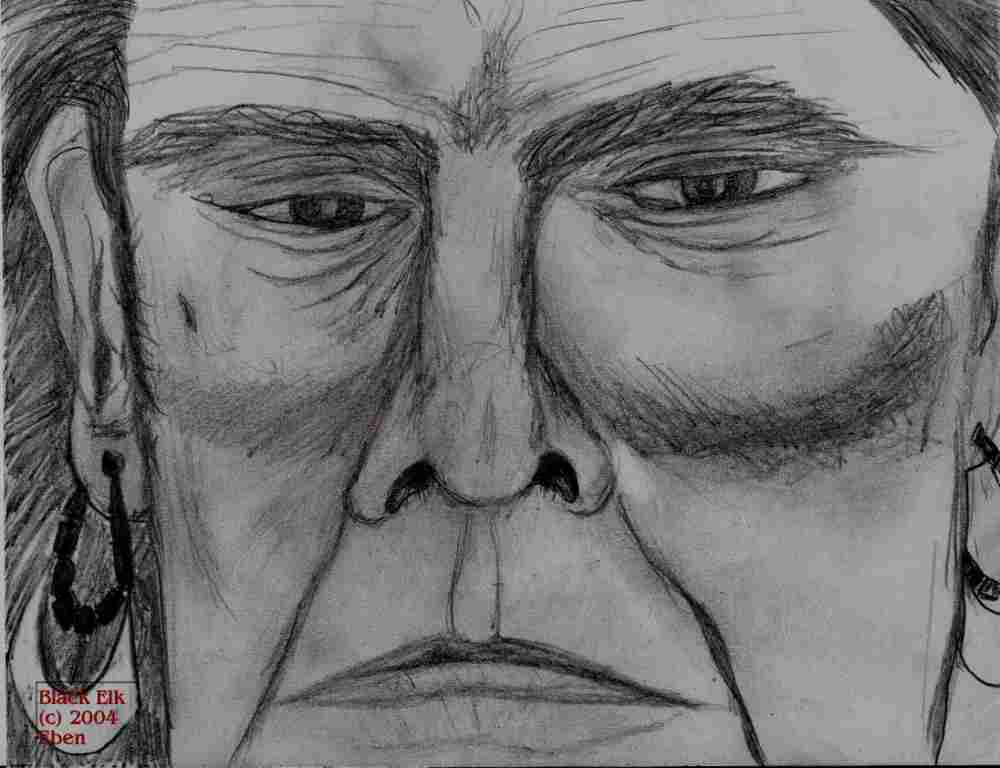 "I have been sent to this Great White Canoe to help you understand. Do not be afraid for the others, who have gone to the lodges of their own making—you alone are left alive. Your voyage is not ended. I will accompany you on part of your journey."
Having said this, the Indian turned and looked toward the Time Gates. "But you must choose which one. Have you chosen? You must have chosen already, for I have been sent."
This was utterly preposterous! Van was thinking. He hadn't chosen anything! It was all happening to him, the craziest things, without any say on his part.
The Indian seemed to divine his thoughts. He turned back to gaze at Van as if he were looking at a child. "We now will go to the places you have wanted to go, when they were shown to you."
Van jumped up from his chair. "Wait a minute! I'm not going anywhere with you! I'm going to be rescued! I have to stay right here, and wave my shirt when the first scout plane flies over! It won't be long—"
The Indian did not seem to hear Van's excited protests. He kept looking at the New Amsterdam Gate, which then grew larger, so large in fact that the ship was moving right toward it like a toy ship might in a tub of water."
Van felt his blood run cold as the Gate grew so enormous that the ship was going to be either crushed against it or—"
A few moments later the gate was passed-—they were safely through! Van looked back, and the three gates were visibly sinking back into the water, which leaped up around them with huge, crashing, white-frothed waves. A moment more, and they vanished before his eyes, swallowed up as if they had never existed!
Now only he, the Indian chief, and the ship were left on the wide open sea.
Just then, as he had shouted at the Indian, a plane headed their way. He could hear and see it coming. He grabbed his shirt, tore it off, and ran like a crazy man down the deck, waving it at the sky as if this was his last chance to get off the doomed ship.
The plane passed over, climbing higher into the sky, not even pausing to circle round the ship, and Van slowed down in his run, then stopped, out of breath but still waving his shirt until the plane's sounds completely died away in the distance.
He felt crushed, but a positive thought came to his mind. "There has got to be another! I'll just wait until it comes! Hopefully, we won't be caught in a storm before it arrives!"
Avoiding the Indian, he continued down the deck, then climbed to the upper decks to get a better vantage for signaling his rescuers.
As if a gigantic page was flipped, he saw as he gazed out over the sea the sky roll back and another sky substituted. It was a sky with a skyline of skycrapers he immediately recognized! The Big Apple's!
It was a night sky, with fountains dancing in a long line in a pool beneath the satellite-ringed world globe of the Unisphere, all lit up brilliantly. Just beyond to the right were circular-domed towers, and beneath, covering the grounds, thousands and thousands of fairgoers scurrying antlike. But the scene shifted—the Unisphere and towers fell away and a roof rose up overhead, composed of many ribs and colors—the New York pavilion which he recognized from his visit there when he was a lot younger. He saw the Time Capsule hanging like a bronze torpedo, suspended just above floor level by a nylon cable from the ceiling high overhead. People were standing around gawking—a mother in a black coat, with blond hair parted in the middle, with two crewcut teen boys who were probably her sons. Meanwhile, a group of older, street gang teenagers, passing by the exhibit just then were glancing at the information and pictures displayed on panels in the background to the right.
"This is the Temple of Time," said a voice behind him. "It is your people's work. Your people made a god of time, yet nothing will turn out as you and your people have dreamed!"
Van spun around, and saw the Indian. He had been followed!
"What are you doing here?" he cried rudely. "I don't need a guide. Who asked you anyway? I am leaving this ship! What you do is your own business!" he said, realizing he sounded not too adult at the moment because he was so upset.
The Indian did not respond in any way that Van could tell. He just kept gazing quietly at Van, as if waiting for something.
"Well?" said Van, exasperated after a few moments of this. "What do you plan to do? You heard me! I'm not going with you, if that is your idea!"
Suddenly, the chief looked up over Van's shoulder, and Van followed his gaze, and he then realized he wasn't listened to anymore. The scene had shifted dramatically. New York and the World's Fair had vanished. Beyond him, instead of sea, lay nothing but wide-open deserts, with rocky outcrops and the hazy outlines of mountains on the far horizon. The ship, as if it could move freely in any medium, whether land or sea, was cruising slowly and majestically toward the plains in the far distance.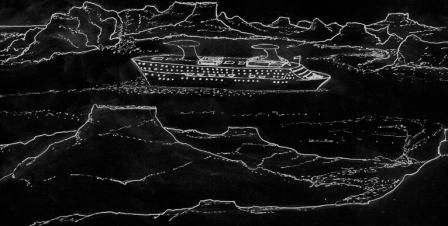 Van, looking over the side, felt like he might go completely mad as he watched their progress. What in the world had happened to the rational, blue collar, humdrum world he had known, where everything abided by set and known laws of physics? What laws applied now to what he was witnessing? Obviously, everything was turned upside down! He could expect to see anything happen.
Then he remembered something, the Indian's name. He turned sharply on him like an inquisitor from the Middle Ages. "You claimed your name is Black Elk. Who are you, really? What are you doing aboard this ship. We had a—well, something bad happened, and everybody aboard has been drowned except me. Then you show up! And the next thing the ship goes on this weird cruise, taking me places no real ship could go! Can you explain this? And even if you say anything, can I believe it?"
The Indian shook his head slowly. "In your language I am called Black Elk," he began again as if interrupted. "I have been given life! I was dead, lying in sin and darkness like my people, a practicioner of our native medicine craft which could not heal even my own body's ills, but now I am made alive in the true knowledge of God. Forevermore, I live in Him and His Son, Jesus Christ! He has given me His very Spirit. In Him the sacred hoop is restored. I shall obey His will forever. Let may all the earth and every creature obey Him."
Van, with only a vague acquaintance with his Christian roots, couldn't tell what the Indian was talking about. He turned away, disgusted. He looked up, hoping desperately for any sign of his tardy rescuers.
"I must be dreaming this!" he cried out. "This is a bad dream!"
The Indian smiled at him. "No, but you are the living dream of a great Dreamer, and you must complete your journey, for I came by obedience to the God of the Sky Lodges to help you. If you had not truly lived, you would not be here with me, viewing these things. Otherwise, you would wander on your Great Canoe forever and never find your way out back to your own time and your own people. That is the fate of many who first sailed with you. They have never left this Great Canoe, but they are all without eyes and see nothing. "
Van, hearing the phrases, "find your way out back to your own time and your own people," suddenly felt very alone, very lost, and very confused. He looked around. Was it true, as Black Elk intimated, that the souls of his fellow passengers, including Travis, were still aboard, but locked in a blind sort of existence, a kind of Limbo for the sightless? The thought was horrendous to him. What had they done that was so bad they deserved such a fate? How he wanted to be released from his nightmare cruise to parts unknown. He wanted it with all his being. But the ship, he saw, was moving steadily on, guided by an invisible captain's hand.
The plains, Van could see, were swept by winter winds, and the sky was darkening. The green grass had turned to parched tufts standing out of the snow. Where were they?
Then Van recalled that he had glanced at the article about Chief Joseph of the Nez Perce retreat into northern Montana, the Indians fighting their way north as they tried to escape from the U.S. army chasing them to an inevitable last stand.
"You are about to see the Light," said the Indian, interrupting Van's thoughts. "We are going in this great canoe to the battlegrounds of the Nez Perce and the one they called Chief Joseph."
Beginning in the mountains, the homeland of the Nez Perce, in northern Idaho, the itinerary took them into the Rocky Mountains of eastern Montana, as the band of 250 warriors and 500 women and children, fled the Northwest. The next 1,700 miles showed Van battle after battle with the U.S. Army, which was equipped with Gatling guns, howitzers, and repeating rifles.
Seeing the Army soldiers, which did not seem to see the Fairwind that stood so huge above them, Van realized it had to be before the turn of the century, so that he had been taken far back in time. He watched the Indians continue their retreat in the dead of winter, down from the mountain and into the river plains, as they headed first south through the Bitterroot Mountains then north to the much lower, hill-sized Bearpaw Mountains.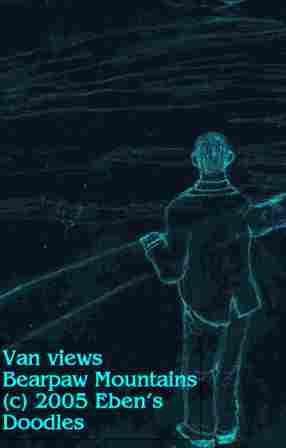 A map of the escape route came to mind, drawn from an instant glance in the magazine!
He also knew the outcome, which was defeat and capture for the Indians by the army soldiers just a few miles short of their goal, the border with Canada. Outrunning one army band, the Indians were intercepted by another army under Col. Nelson Miles.
After five days fighting in the snow and cold, the Nez Perce split forces. One group under Chief Yellow Wolf, with 200 others, fled across the Canadian border to join Sitting Bull. Chief Joseph, however, his heart sickened with so many dead and wanting to see the suffering ended, surrendered with his remaining people.
But then the scene shifted, and Van saw a camp of utter defeat and rout by the army soldiers, when Col. Nelson and his men surprised and attacked sleeping families in Montana's Big Hole Basin, shift to a simple, pioneer-style homestead on an Indian reservation. There were two old men sitting in the yard, one was an Indian, holding his broad-billed hat on his knees, while next to him was a white, a Wasichu, with a white and grizzled beard and no hat.
"He is John Gibbon, one of the Wasichu soldiers who attacked my Lakota people with Col. Nelson," Black Elk explained to Van, who had turned, without thinking, to him for just such a word. "The other is one you call Chief Joseph."
Van nodded, overcome by a glimmer of understanding concerning what the scene could mean.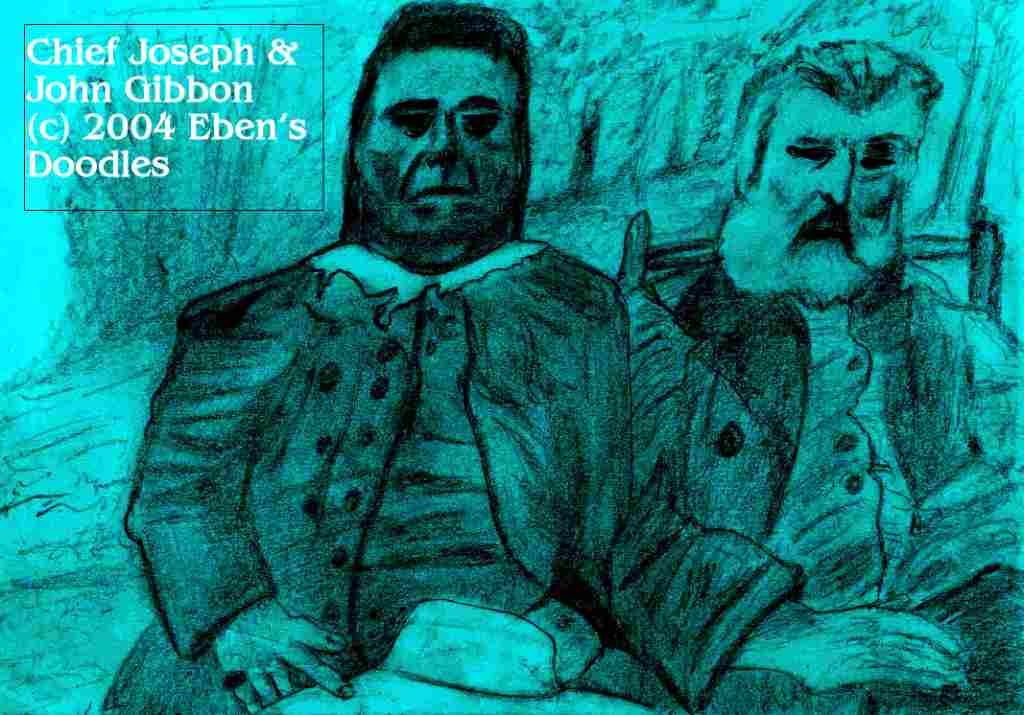 But how could Chief Joseph let someone like John Gibbon sit on a chair next to him like that? How could they be reconciled? It was unthinkable, after having seen the slaughter of the Indians in the Big Hole Basin during the surprise attack by the army soldiers. Yet it was so! Van couldn't deny the evidence before his eyes.
If Van entertained any further doubt he was real and living, it was swept away by the following scene, which proved so captivating that Van realized for the first time how very heavy the hand of Destiny lay upon his heart and life.
"I must have been born and lived only for this moment," he realized, as he set eyes on the McLean house at Appomattox, Virginia, just before the surrender of Robert E. Lee's forces to the Federals represented by General Grant. And he was thrilled beyond any words to describe the experience.
As with most Americans who were not scholars devoted to the study of the Civil War, the event at Appomattox had been so watered down, so poorly taught by succeeding generations of teachers, he scarcely had any idea what happened there on April 9, 1865.
Just prior to the signing of the surrender paper by Lee, the Army of Northern Virginia, the Confederate Army, had suffered its final defeat. Starving, half-naked, without ammunition, they had fought bravely to the last, but nothing could win them a break-through of Grant's encircling lines of thousands of well-fed, well-armed soldiers. The southerners' flag of truce went up. General Grant, in his field headquarters, stepped outside to view it.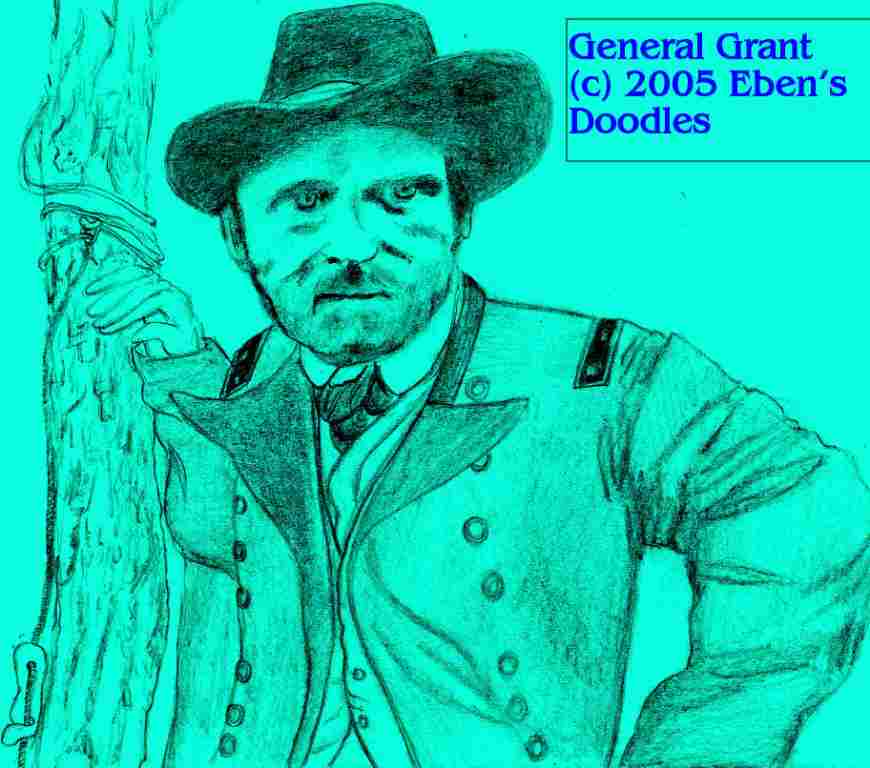 Lee arrived first by horseback at the McLean House. After the surrender, he returned home and would stand by his door, remembering these events, which burned in his spirit.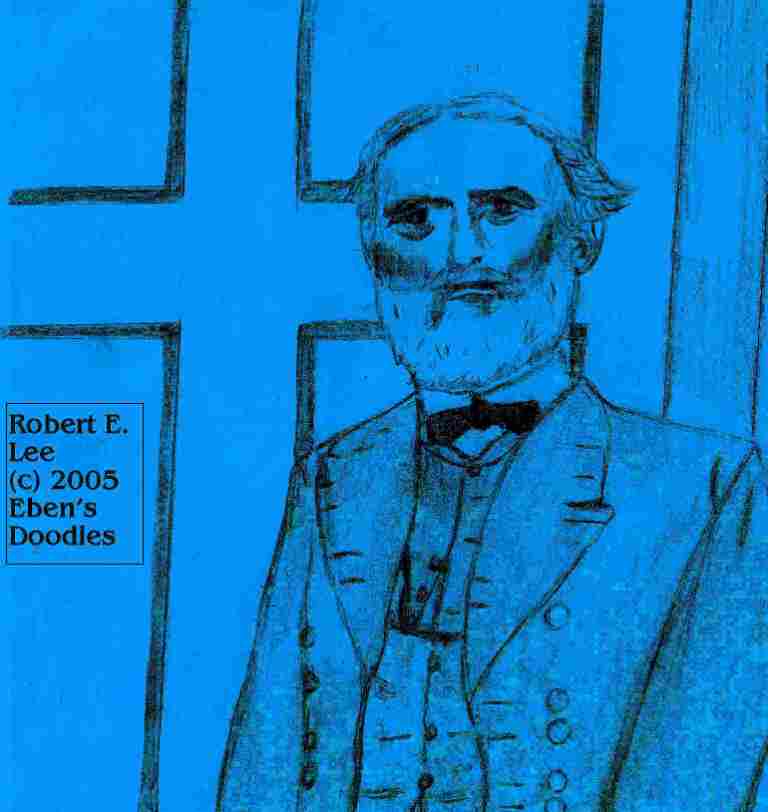 The victor, General-in-chief Grant, arrived next. In three hours it was over. As Lee rode away, he did so honorably, carrying even his sword as the generous terms of surrender allowed him. The next day commissioners from both armies made arrangements to which Lee and Grant had signed. Not only was the Confederate army paroled in defeat, but the Confederates were given back their horses and mules, if they had claim to any-—an unheard of concession by the victorious party after a bloodbath of a civil war.
Every Rebel-spilt drop of Union or Northern blood should have cried out for revenge on that day, not concession and reconciliation! Yet, following their general's example, following President Lincoln's example too, the Union Army did not cheer and fire its arms at its victory but saluted the defeated Confederates for their stubborn, brave, courageous struggle against overwhelming odds for over four years.
Van was shaken to his core as he viewed the signing of surrender by General Lee, and to him this was the most memorable part of the events of Appomattox. Also from his wonderful, high vantage, he saw, leaning from the towering prow of the Fairwind, the whole countryside of rural Virginia covered with the camps of armies, Johnny Reb and Union, as well as the Appomatox Rail Station and the various county roads, the Peers, Isbell houses, the County Jail, the Court House, the Woodson Law Office, the Tavern Kitchen and Guest House, the Meeks Stable, and Meeks Store and House, down to the McLean House where the great war of the Wasichu brothers was ended and the schism between the North and South finally mended as best it could be.
How to end a war among brothers had been shown to him. But it was a troubling view, in a way. He had watched the proceedings in the McLean house's parlor from start to finish, from 1:30 p.m. to nearly 4 with the sun sinking in the west toward the mountains and the great heartland plains beyond where another war would soon be waged and decided. He saw Grant and Lee attended by their various aides in the McLean parlor, and among Grant's men stood Col. Ely Parker, a Seneca Indian, according to Black Elk. Col. Parker had helped with the draft of the letter of surrender terms. Just behind Col. Parker, at the signing by Lee of his letter of surrender, stood a blond-haired, blond-mustasched young major general whom Black Elk did not have to identify for Van.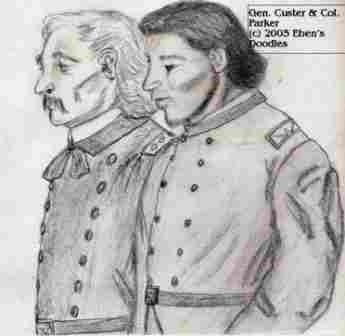 "Custer!" he cried to himself. "General Custer!" He could scarcely believe his eyes. What was he doing at the surrender, when later he would go and attack villages of Lakota Indians, only to be wiped out to the last man by those he had so viciously attacked?
Black Elk, again, divined Van's secret thoughts. "A man follows his own heart, my son. Its evil or good will turn him to the right or the wrong path," he said, indicating the various roads in the village of Appomattox. "That is the reason a man must know his own heart, or he will do as this poor man later did. He must master the darkness like a wild horse, or someday, somehow, it will turn and kill him. That is what happened with Custer. He failed to rule himself."
In a moment's time it all came together. His struggle-—born of his parents' struggle for mastery in the household—his futile seeking to escape and being confronted by someone like Travis, who had made an art of escaping responsibility for his actions—now the overwhelming evidence what rivalry for power, greed and lust can do to destroy a soul and a great nation—all this forced him to make a choice. Would he follow in their steps or not?
How his dark heart wanted power and influence, wanted money, and lusted! His heart was—-he realized—-his own worst enemy. The individual human heart, not somebody else, was the true villain in the long, dark trail of the human story.
Van offered his hand, and Black Elk, without even a hesitation for the sake of the Battle of Wounded Knee, gripped it firmly and manfully. It was the hardest thing Van had ever done, he knew, but he chose to do it, seeing into the caverns of his own heart as Black Elk had just advised.
The Fairwind, at that moment, sailed into port at the end of the 21 day cruise. Van watched in amazement. All returned to the condition it was before disaster struck. All were safe aboard, not a soul lost, or so it seemed. Travis, in defiance off everything right in the world, walked off too, as perky as a gamecock with his bevy of female conquests looking on, his bags bulging with stolen goods. But one man walked off changed—-better for the cruise, not the worse.
Van, not surprised that no one met him at the dock, returned to Queens and found the same old cycle of emotionally bloody, domestic warfare, but he soon saw that Queens could not get the same grip on him as it had in the past. He was free! Just like Black Elk! Free! Gloriously free! Truly, he had seen the Light and built statelier mansions in his soul than Queens would ever know.
Was there ever a disaster in the so-called Burmuda Triangle? Did the Fairwind actually capsize and everyone but Van drown like kittens in a rain barrel? Now, to his eyes, they looked again very much alive-—but he knew better. Living dead, that was all they really were. Could he tell them? No! He had tried, during the last moments before leaving ship, to get through to Travis.
Before they had parted, Travis shrugged off Van's excited account of the "revised itinerary" of the ship taking him to places such as NYC's World Fair of 1965, Bear Paw, Montana in 1877, and Appomatox, Virginia, on April 9-10, 1865, with optional trips to Pharaonic Egypt "I always suspected you were a crazy loon," he laughed. "Now you just proved it beyond any doubt!"
With tears smarting in his eyes, Van could only reply, "Black Elk said you would do this."
"Do what?" Travis laughed.
"He said you would follow your own heart and the dark things reigning in it, and then one day you would fall in the pit you yourself had dug."
Travis had then rolled his eyes and whistled. "Oh man! I paid my good money to listen to this sentimental, poetic crap? Lemme off this old banana boat immediately! I've had enough of your mealy-mouthed, Puritanic moralizing for two life-times!" And off he went in search of another cruise ship, two porters struggling to carry bags bulging with of items Van knew very well belonged to half the passenger list.
The Trakarians? At one point only did their revised itinerary and his intersect. It came about on the optional trip to Egypt that they ran across each other. While they were touring Abu Simbel they told how they had been taken to places like Mont St. Miguel, Omaha Beach, and Andersonville, by way of a different Time Gate, the Meadow Lake Gate-—all three sites having to do with meadows, swamps, or beaches. It had been incredibly life-changing for them, Sakos Trakarian explained to Van. He told Van they had forgiven the Turks everything! Everything!
And he wished there was time to tell Van all that had happened, and what they had learned, but there wasn't time enough in the world. Van, on his side, agreed. How could he share fully what had happened to him? No one would think, except the Trakarians, he was anything but out of his mind.
Years after the cruise, Van, retired from teaching art and math to Pine Ridge Reservation students in an academy he founded and called Kimimila, made a pilgrimage to rural Nespelem, Washington. There, in a cemetery on the Colville Indian Reservation, he found on the hillside a marble column. Carved in the stone was a face he recognized from close acquaintance. "He led his people in the Nez Perce War of 1877. Age about 60 years. Died September 21, 1904."
His name? Hinmahtooyahlatkekht—-Thunder Rolling in the Mountains. But Van knew him simply as Chief Joseph.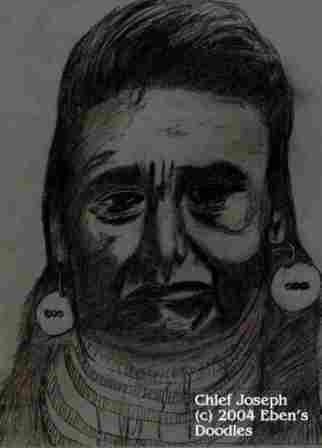 He included a visit to Black Elk's grave too when he visited the Rosebud and Pine Ridge Reservations close by the Black Hills of South Dakota.
On his return east to visit his parents' graves in Queens he stopped by Troy, New York.
There he found the trail led no futher, for whoever had written the letter and put it in a bottle, advising the finder to "stay on the white ship," was impossible now to identify, even if she were still living in "stupid old Troy."
Like the ancient, tragic Greek prophetess Cassandra of the Trojan War period, everything she had warned him about in her letter had come true.
Undeniably, he had seen the Room of Death, the Ruined Tower rearing up in his own heart's depths, and the Time Gates.
Everyone but him and the Trakarians—who, he was informed by them, had experienced something equally unique on a cruise that had the same challenge he had faced--had drowned. Even if their bodies later walked off the boat, they still had drowned. What do you say to drowned men and women anyway? For them the Light could not shine again, they had chosen something else in passing, and the passing was in the night.
He certainly had changed, as the girl of the bottle's letter had promised. But would they ever meet in life? She was certain they would meet. Maybe, he thought, on this one point she had missed it. How could they ever meet? He didn't know her name. And by now she was very, very old, and quite likely passed on.
He walked down to the canal, the famed Erie. Parts still existed, preserved by various organizations of canal enthusiasts. He was looking down in the water, and the impulse came to throw a pebble and watch the water on the now still, unruffled waters. He heard the stone strike the water and saw the ripples spread out immediately.
It was then he understood. The ripples of Troy's inglorious "Cassandra's" life, and his own, would have to meet somewhere, at some point or other. They had met once, to be sure. Surely, they would meet again. Life itself was based, he knew now, on just those very ripples mysteriously running into each other across vast gulfs of time and space.
Somehow he knew his own life story would reach her, and she would be rewarded for having reached out to him initially.
Pardon an old man, but he wept at the thought that they reach each other like that.
If that were not so, he would never have started a school for the hopeless in the outback of South Dakota. He remembered the Nez Perce too, how valiantly they had fought and lost a war for freedom. No queen of England ever rose to the greatness of a simple but lionine Nez Perce woman, Ta-ka-mappo, who fought with a rifle like a man.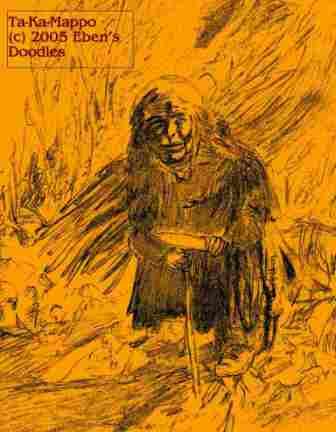 If that were not so, he would still be in cancer-riddled, time-enslaved, mystery-killing Queens, lying in a cemetery plot like cold facts in a statistical file, or, if he was still breathing, off travelling to nowhere and back in an Airstream after retiring from a ConEd electric plant.
All along the hall on both sides of the New York hospital, parents and relatives sat waiting their turns to see loved ones.
"It's your fault poor Vanny's like this—-a vegetable all the rest of his life!" the woman said, as her husband rolled his eyes and turned back to the sports section he was reading.
He has already told her, in so many words, a hundred times or more, it was HER fault! After all, she had always been encouraging him in stupid, artistic pursuits so that he would take off before graduation on an expensive cruise and get his head knocked in like he did. If Vanny had listened to his father and stuck to ConEd and electrical work, this tragedy, this totally wasted life, wouldn't have happened!
Waiting for the nurse to let them in for another visit, the couple with graying streaks in their hair said nothing more, and when the door opened and a nurse beckoned them, they dragged themselves up and went in. There was absolutely no change, they found. He looked as young as ever, and, if anything, younger!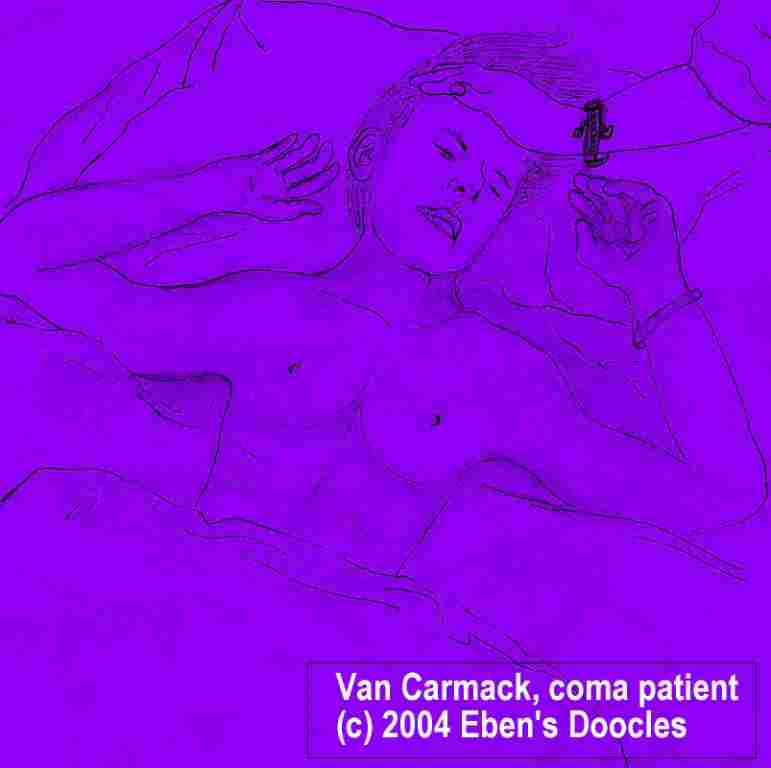 And the nurse stood gently stroking Van's forehead with her hand, her charm bracelet looking to the mother so out of place in a hospital, the most uncharming of all places!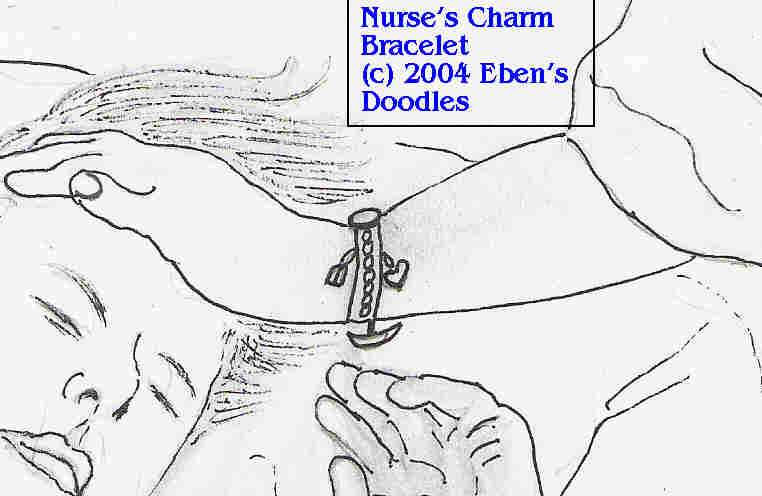 After the usual twenty minutes they gave up trying to call Van out of his coma and went back home to resume old white and blue collar arguments.


Copyright (c) 2005, Butterfly Productions, All Rights Reserved